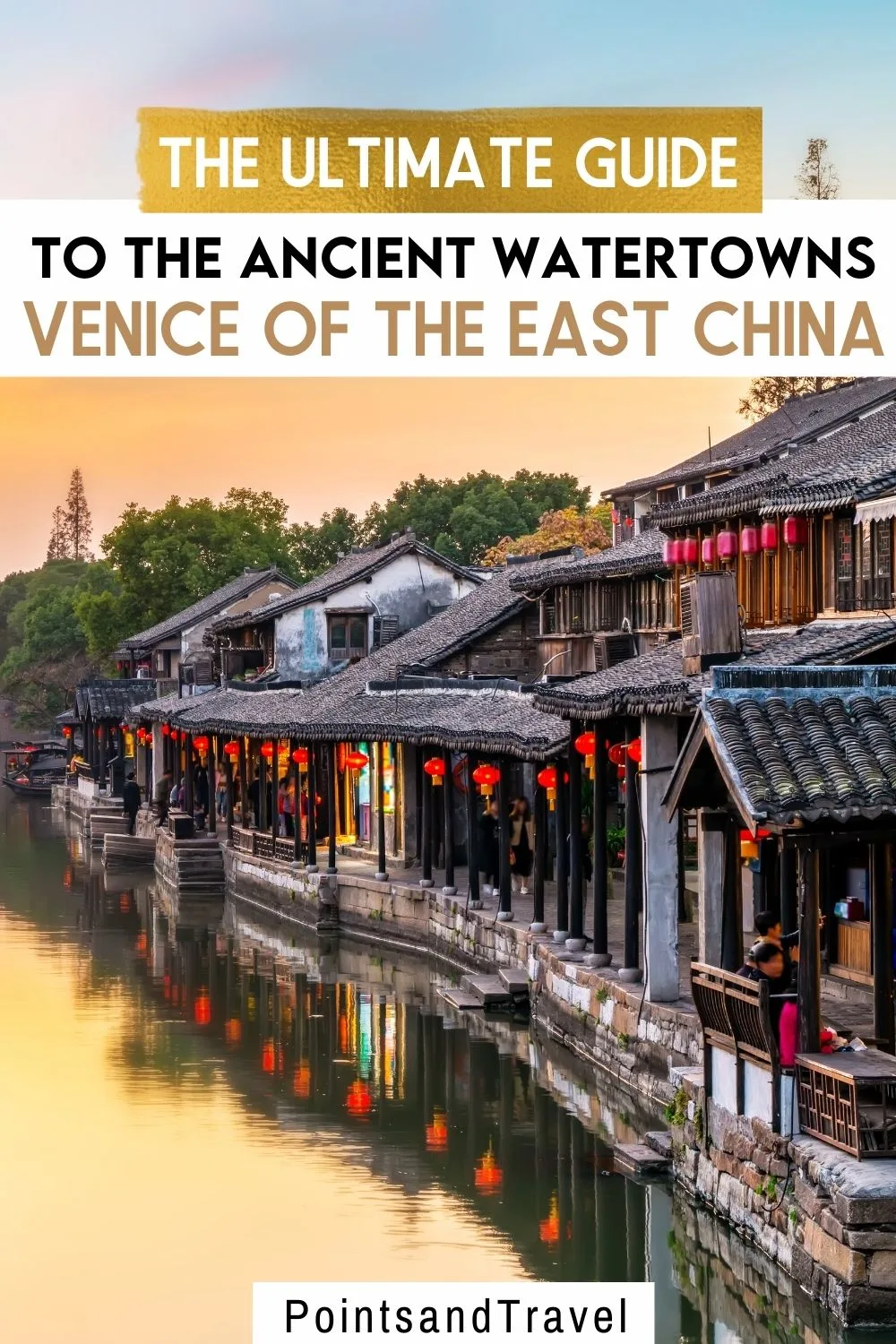 It was a photo of some old buildings reflected in a canal labeled "China Water town" that caught my eye on Pinterest. I did a bit of sleuthing on the web and found out there are eight ancient water towns about 1-2 hours from Shanghai. When a trip to Thailand was materializing for me, I decided on a stopover in Shanghai to check them out. Now the question was – how to explore these water towns.
---
China's Water towns
---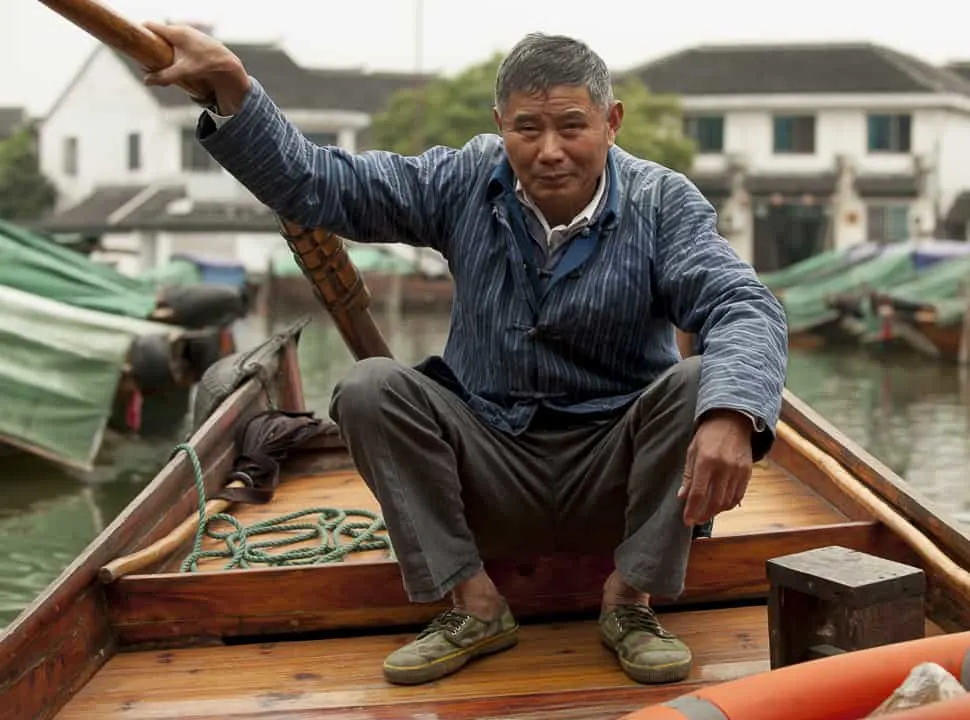 Venice of the East
There were plenty of options for day tours from Shanghai, but I'm not one that takes to being herded around like cattle on a big group tour. I wanted to spend a night or two in these ancient villages, wake up to see the sunrise over the canals, and really hunker down and soak in this culture.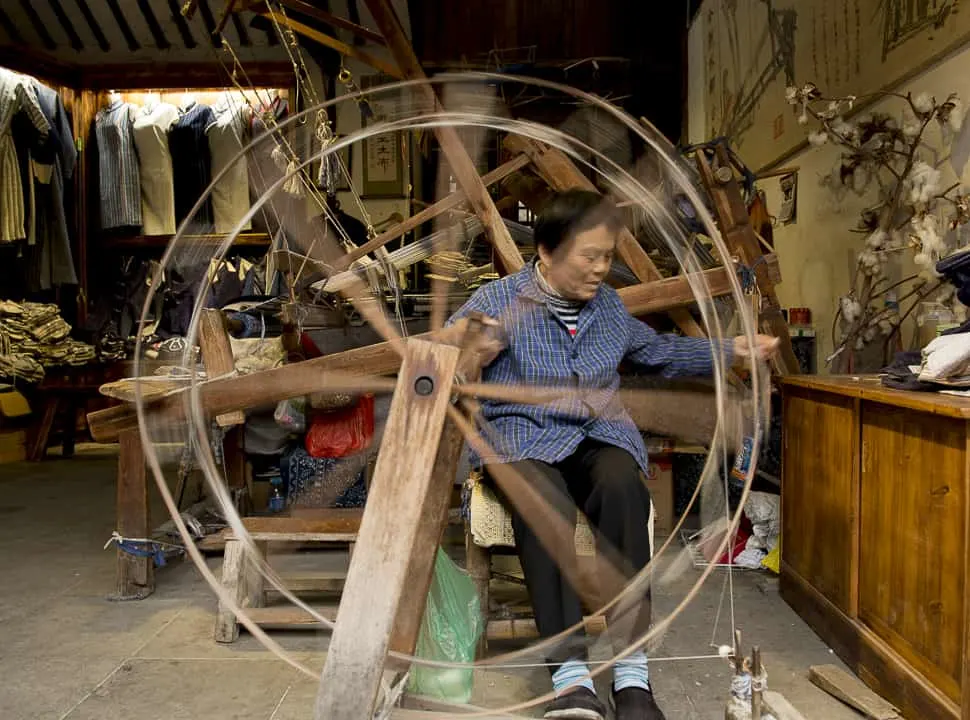 I turned to Viator Tour Guides, where I've had great success in finding private guides. I landed on Harris (it is Chinese-like to adopt an English name), who spoke English, was located in Shanghai. He had his own vehicle so he could be both driver and guide. With his help, I settled on two China water towns to visit over the course of three days and then started looking for lodging.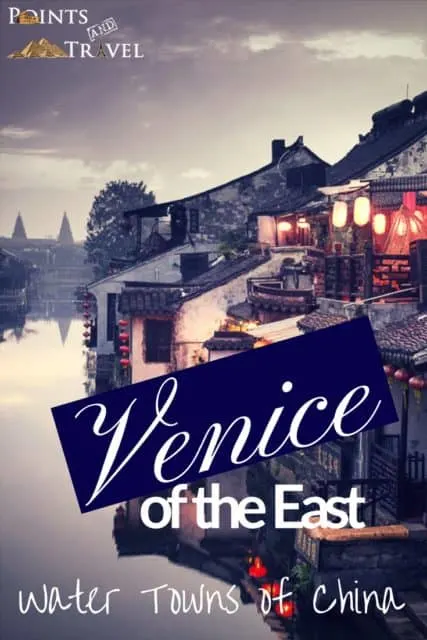 China Water towns
These ancient villages are so far off the beaten path that I couldn't find any places to stay on popular travel websites. Harris then came to my rescue. I told him I wanted to be in the heart of these water town villages, in a place that offered a traditional Chinese bed, and without any hesitation, he was able to book rooms for me at some of the local properties.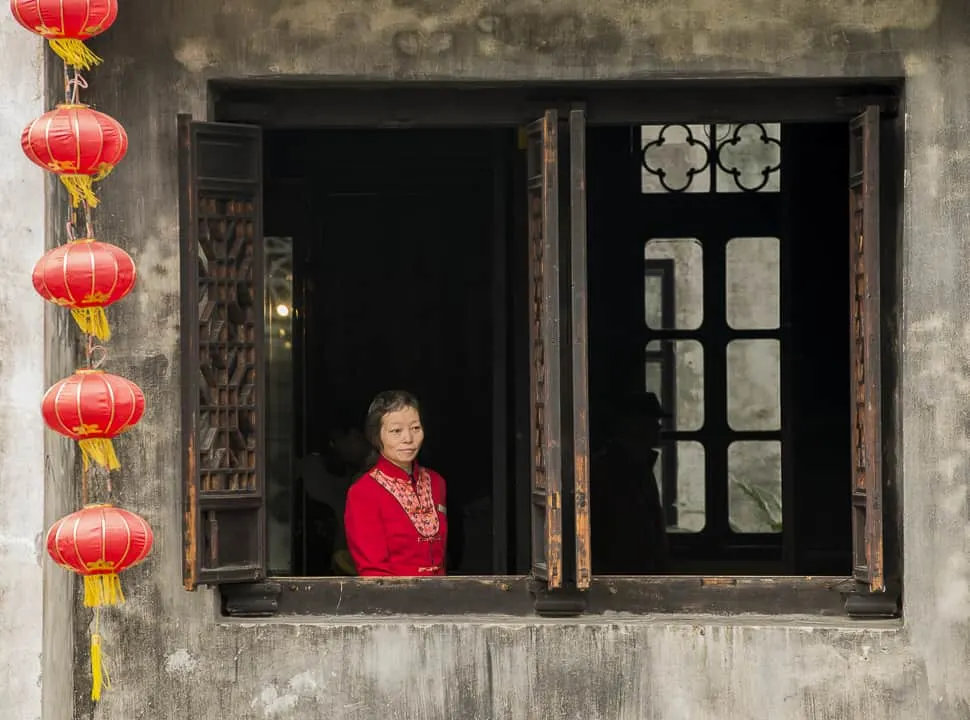 Xitang Water Town
Harris greeted me upon arrival at the Shanghai airport, then it was off to Xitang (a drive of roughly 90 minutes). More than a thousand years old, this village looks like something out of a fairytale, with its maze of canals laced together with stone bridges, covered walkways, and stucco-like houses and shops hugging the water. As close as we could come by vehicle to the heart of Xitang was about a ½ mile. So we lugged my belongings along the cobbled, narrow passageways until we reached Guihe Garden Hotel.
Guihe Garden Hotel
The gracious owner, who spoke only a bit of broken English, showed me to my room with a stunning ornate Chinese bed. I would describe this bed as a beautifully carved box with open sides and a single mattress wrapped in a silk coverlet sitting on top of a wooden base. As it turns out, it was the most uncomfortable sleep I've had in years!
"The bed", Photo by Donnie Sexton
It wasn't hard to get up to see sunrise since I had been up most of the night, wrestling with that flimsy cover and trying to find a bit of comfort on that rock hard platform.
---
How to spend two weeks in China Guide
---
Venice of the East in the Early Morning
Around 5:30 am, I took a short walk through a narrow corridor and was at the canal in that soft, dreamy light that appears just before the sun comes up. There were a few locals milling about at this early hour, all staring at me. Was my zipper down or did I have a trail of toilet paper stuck to my shoe?
By mid-morning, I understood the reason for all the stares – I was a non-Asian foreigner speaking a strange language – something very uncommon in this China water town where most of the inhabitants were elders. Harris and I met for breakfast, then I was off to explore on my own. I told Harris that I couldn't do another night in "the bed". He retorted with a belly laugh and said he would get me switched into a regular bed.
Pleasant Locals in Xitang Water town
The locals were cautiously pleasant; hand gestures took over as my form of communication. Wandering through the streets at my own pace was simply joyous, and an amazing way to see this daily life unfold. If I stopped to take a photo of a foodie stall, invariably the vendor would hand me a sample. A young couple was having wedding pictures taken along the canal and they motioned me to take photos as well.
A group of high school art students settled down in a courtyard to sketch and paint and were clearly pleased that I was admiring their work.
A group of schoolgirls was busy with selfies on one of the arched stone bridges. I can't recall another trip where I felt engulfed in a foreign land, but completely safe and loving the day-long walk among the canals. Harris found me late in the afternoon and asked if I wanted to visit a Buddhist temple. I'm game for almost everything so we zigzagged out of the old part of Xitang, jumped in the car, and drove a short distance to the temple.
Temple Worship Service
There was a worship service of sorts going on; most of the room was filled with monks save for a few women at the back of the temple wearing dark robes. They turned to look at me as we entered, smiled, and gestured me to join them. It was one of the moments where there were no cultural boundaries and to this day remains one of my treasured memory in this China water town.
Zhouzhuang Was The Next Water Town!
After the second night in Xitang, we would head to Zhouzhuang, one of the most commercialized water towns that sees a large number of visitors during the day. The great thing about a private driver/guide is you can stop anywhere there is something intriguing to see or photograph. By now, Harris was starting to understand me and how focused I was on photography. He suggested a stop in another tiny water town where the local market was in full swing.
Am I an Alien? Time Traveller
No doubt the locals thought I was an alien from outer space. Now they were not only staring but touching me and following along, motioning me to buy a live duck or one of the eel-like fish swimming in plastic laundry tubs or a chunk of raw meat hanging out in the sun.
I was feeling like a time traveler who had been whisked back a few centuries earlier to this hamlet where time seemed to have stood still. A tiny thought in the back of my mind said if I got lost here, no one would ever know where to start looking for me. What a cool water town to be lost in!
Zhouzhuang was busy; for the first time in two days, I wasn't the only non-Asian. A few Europeans and Australians filled the cobblestone streets; there were plenty of shops with sweets, teas, baked goods, and a variety of Chinese goods, with vendors that could speak a bit of English.
Bishui Yunju Boutique Hotel
My accommodation, Bishui Yunju Boutique Hotel, was smack dab in the center of town, and came with a normal bed! Come evening, when the streets emptied of tourists, Zhouzhuang took on an enchanted ambiance; red lanterns glowed everywhere; the lights from the shops and houses were beautifully reflected in the waters of the canals. The air was calm and the temperature perfect for just strolling about in this Venice of the East-type of town.
Water Towns of China – Amazing!
The water towns of China, while definitely an effort to get there, are so worth it. They are their own living history. You don't see them talked about on travel websites or magazines, especially on "hot destinations, or must go now" lists. Which is all the more reason to seek them out – especially if the words "adventure, remote, and mind-blowing" are part of your game plan while traveling.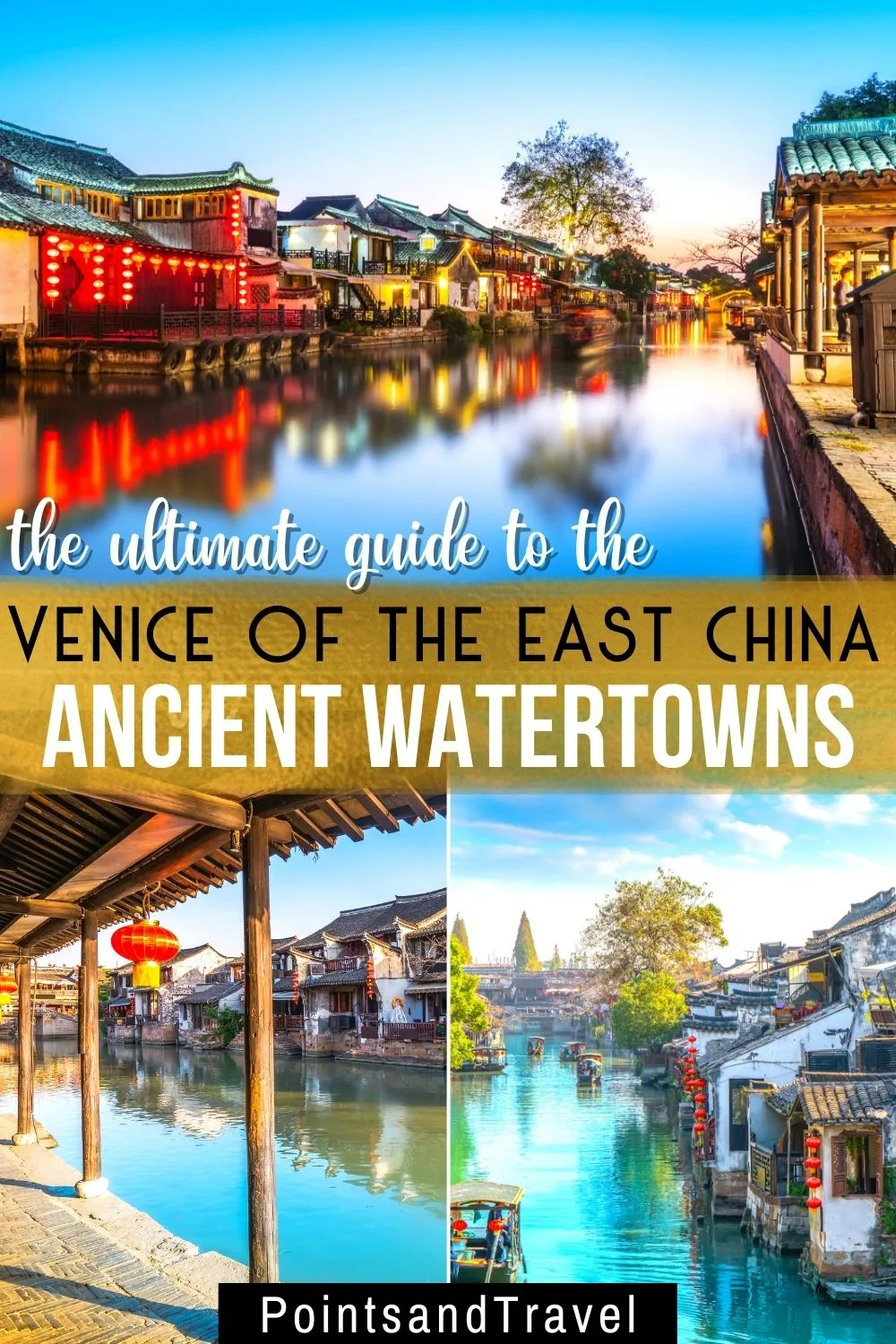 You can follow travel writer Donnie Sexton over on Instagram @donniesexton1