All over the islands of Greece, there are crisp white and seafoam blue churches, many only accessible by boat or private entrance. People say that there are over 300 churches on the more well-known islands of Santorini and Mykonos, depending on your sources. They seem to be everywhere I looked. I even heard there is one on the island of Mykonos for every day of the year! I found out that many are built by local families in their backyards to help family members commemorate their lives. Some greek isles churches are so small, that they are only one room in size.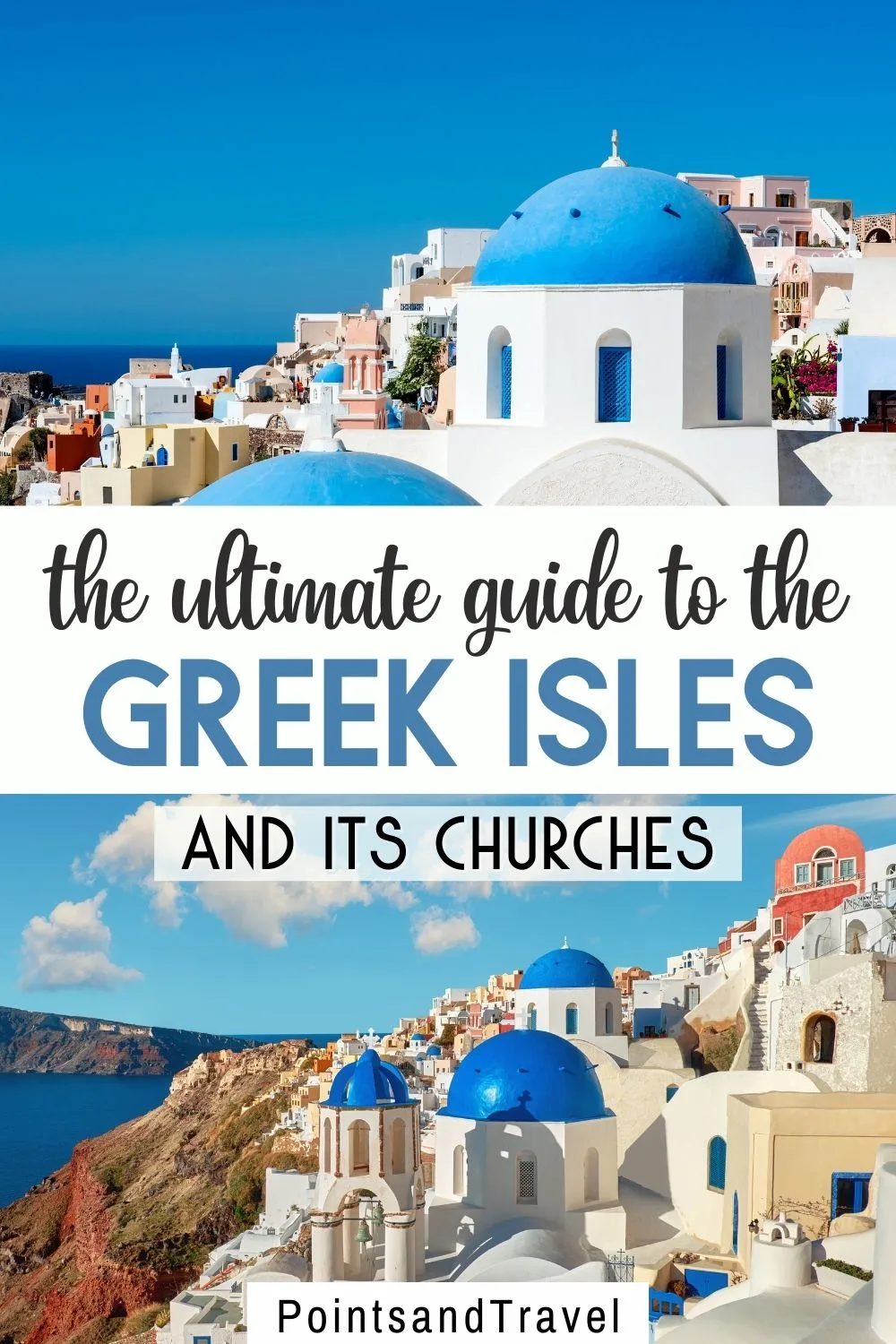 The most impressive one I saw was in construction called Virgin Mary Paraportiani, a cluster of five churches. Another important church is the Panagia Tourliani, which was built in 1542 by two monks in the monastery of Ekatontapyliani. I know for sure I counted and photographed literally hundreds of Greek Isles churches while I was in both Mykonos and Santorini.
---
What's in this post:
hide
The Greek Isles and its Churches
---
You may not realize it, but religion is an important part of Greek culture. Greece as a country is extremely Christian Orthodox. They literally have countless examples of holy sites such as churches and historic monasteries that are scattered throughout the Greek Isles. It seems that each of the Greek Isle churches has its own unique story and many of them are intertwined with myths and traditions of Greece. In fact, the Greek Orthodox Church forms the third largest branch of Christianity after the Roman Catholics and the Protestants. So many of the churches are authentic and timeless and have been declared World Heritage sites.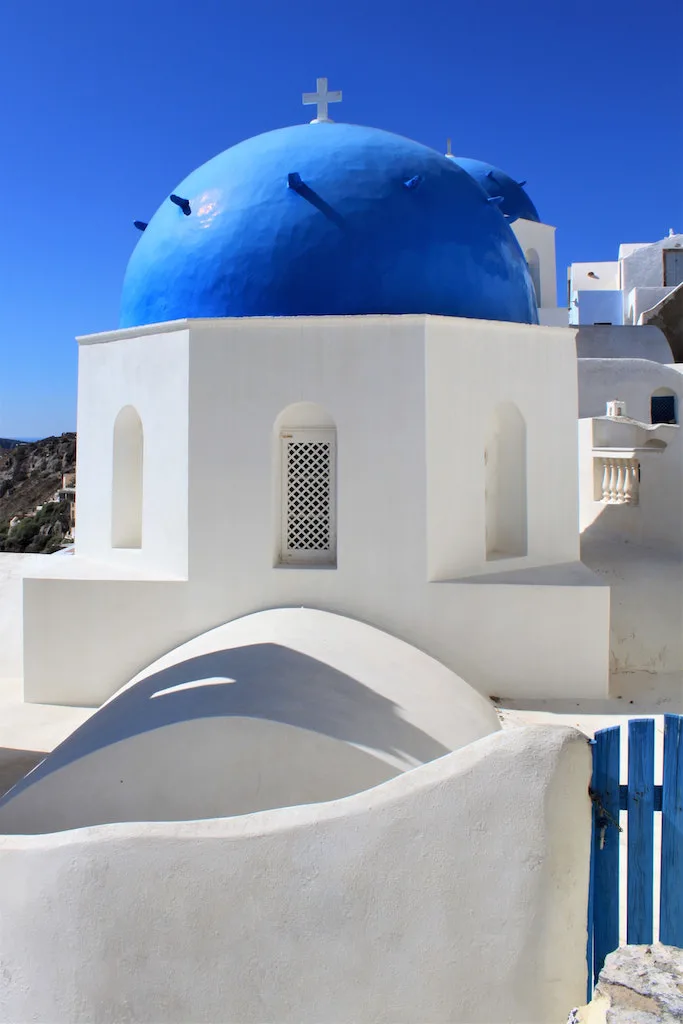 I don't know about you, but what I find fascinating and super unique is the architecture of the churches in Greece. I saw them everywhere, they were perched upon the top of a hill, in people's backyards, in "isolated or hidden" spots, some were hidden in the city's alley, and at the center of large public squares. These Orthodox churches are characterized by their famously "seafoam to deep blue" domed architecture and the interiors are mostly decorated with frescoes inside.
Santorini's Greek Isle Churches
I photographed these Greek Island churches from our two-door, 5 speed Fiat that zoomed past them with their whitewashed walls and their gorgeously painted blue domes. They had matching doors, usually with a crystal white cross on top. I honestly wanted to stop at every one of them to take a photo, but I had many adventures to take that first day in Santorini, so I tried with all my might as a passenger in the tiny Fiat to get a decent shot! The character of these Greek Isle churches charms almost everyone who sees them and they vary depending on where they are located and the region of Greece where they are located.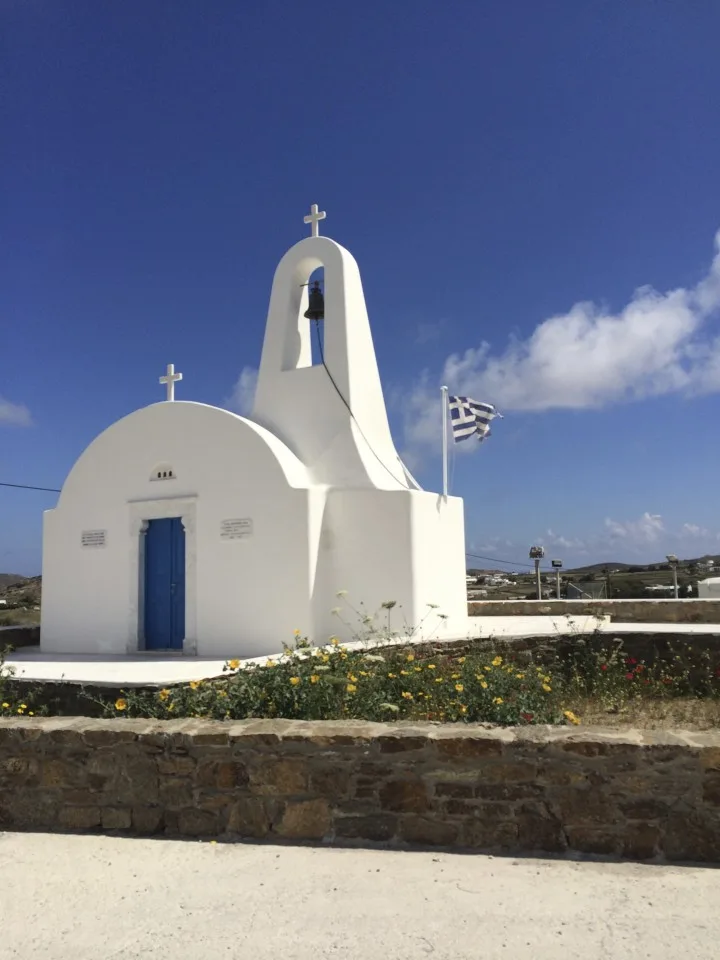 Secluded Church – Chapel of Agios Nikolaos
Many of the Greek churches are located in beautiful and yet hard-to-reach places on the crescent-shaped island. I was lucky enough to find one of the most secluded ones on the island of Santorini, known as the Chapel of Agios Nikolaos. The Chapel of Agios Nikolaos just happens to be a Greek Orthodox church, just like the one in my neighborhood. Only this one is so much better! My guide was my friend and fellow travel writer Chrissy, who had lived here a few years before and knew the perfect place to take me.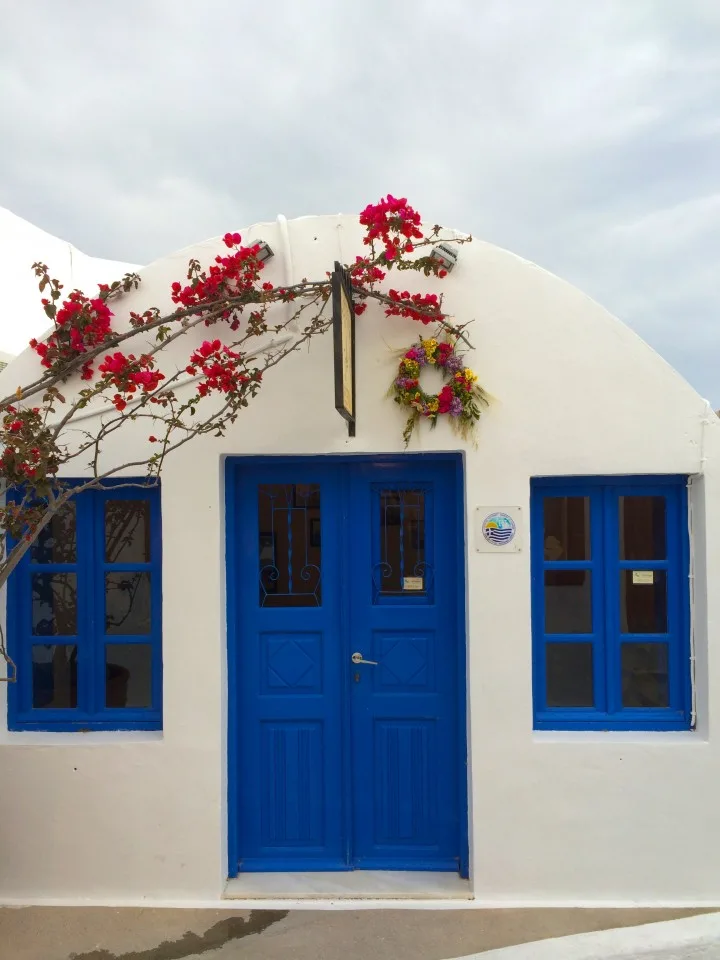 Churches in Greece
Honestly, it was the quintessential place for me to go on my first moment in Santorini, the southernmost island in the Cyclades chain, since I was in love with the "Dream of Santorini" for so many years. She had dubbed the area "lover's cove", or "the heart of Santorini" and had previously scoped it out as one of the perfect places for a man to propose marriage to a lucky gal in Santorini! Thus began my whirlwind three days of visiting this island of enchanting beauty and my love affair with this Greek isle church.

Greek Cyclades Churches
One thing I did want to mention was that churches in the Cyclades islands are mostly whitewashed with blue painted domes – from dark blue to seafoam blue, but mostly, they are all blue. In other regions, like the Ionian islands, the colors are strongly influenced by the Venetian (14th-18th century) and Renaissance (15th -16th century) periods. While if you are on the mainland, many of the churches date back from Byzantine times. You can also find many Byzantine churches on the island of Naxos.
Greek Church Hiding Away
Zooming around on old dirt roads, going up hills and zipping past pastures of green fields spattered with golden-yellow daisies, then a second right, then a left, then on to a dirt field!
"Really? This is where you wanted to take me?" I muttered as I stepped my foot out onto the dusty land.
Her lips were sealed.
"Yes, come on, let's go!" she said as she took off on a skinny hiking trail that looked like it lead to nowhere.
And so off on the weedy, dirt footpath, we went.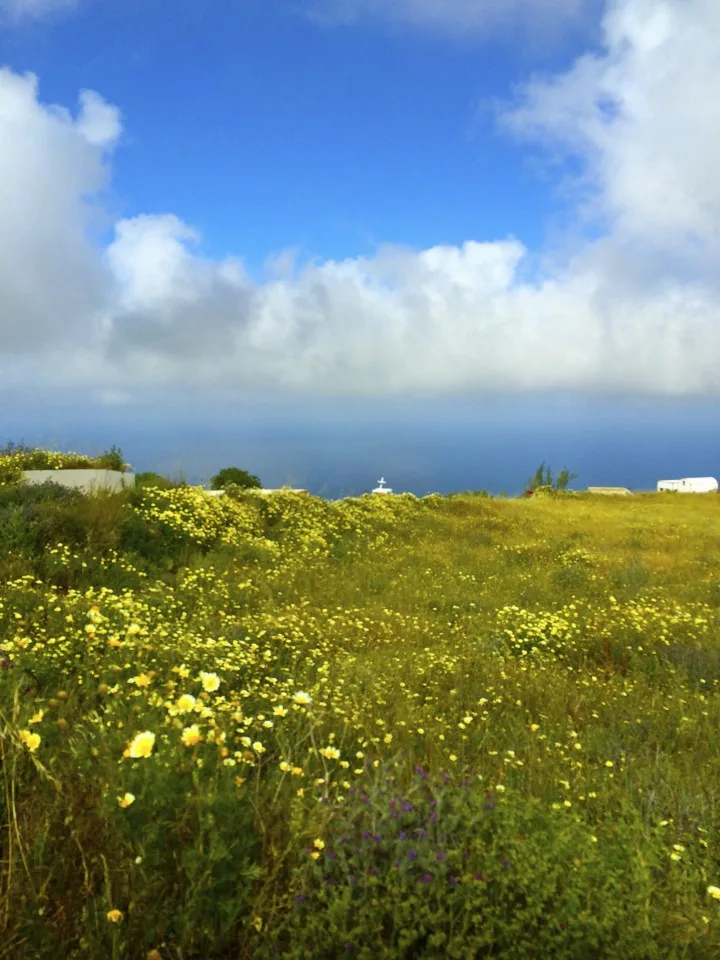 ---
Can you see it back there? Way back there in the middle? in Santorini, Greece?
---
Off to A Hidden Greek Isle Church
Chrissy had previously lived on this very Greek island a few summers back and when I mentioned a trip to Santorini, she jumped at the chance to go back with me! While my husband has never had a desire to go there, Chrissy on the other hand did, I love this island and couldn't wait for more. When she was in Santorini before, she had scoured the island for amazing sites to write about on her travel blog, even asking around to the locals and she said she couldn't find even a single one that knew about this hidden spot of a Greek isle church!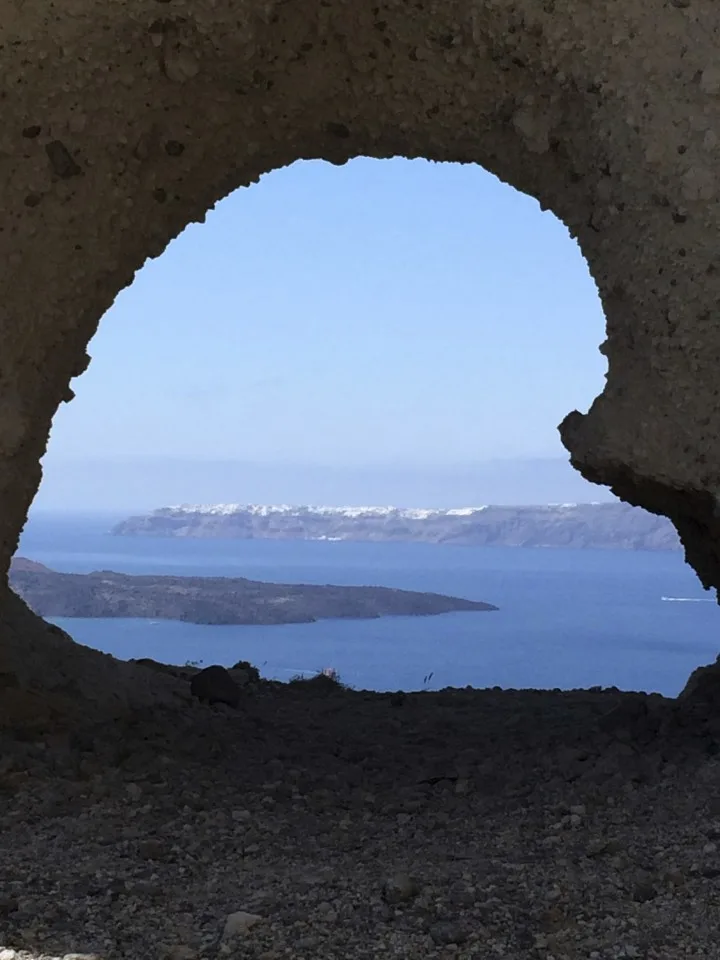 Heart-shaped Caldera Greek Isles Church
This "hidden spot" is where there is a heart carved naturally into the side of the caldera, giving a stunning view of the volcano which is only steps from the Chapel of Agios Nikolaos. The Chapel of Agios Nikolaos was built carefully into the side of the caldera. It is in the Megalochlori area of Santorini and tucked deep away from the eyes of the guide books, so you won't find it there, but I can tell you, it exists and it is absolutely worth a visit! I don't think I would have ever found it if wasn't for her and I am glad I did!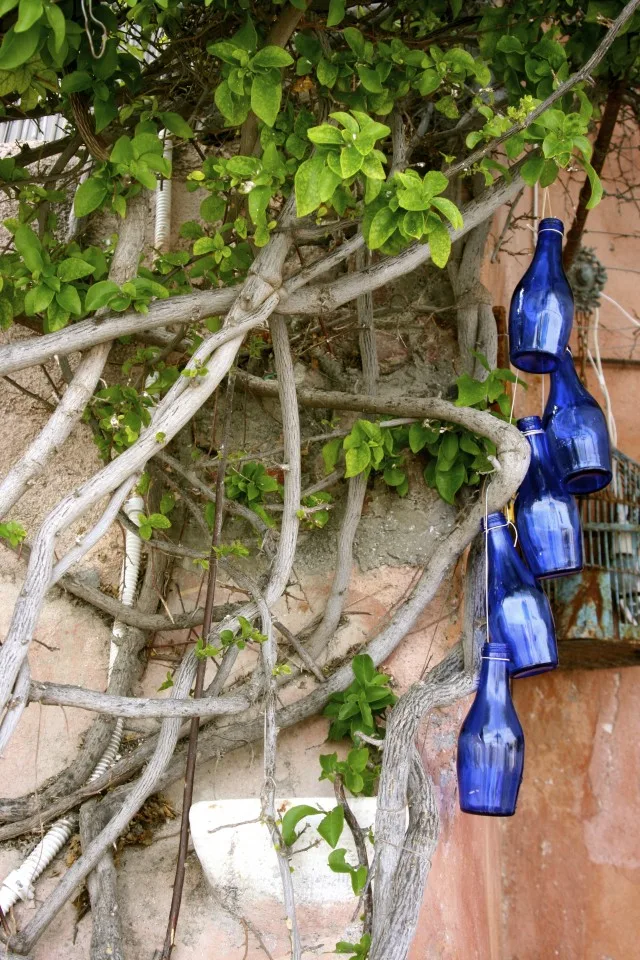 Church in Greece
This greek isle church was aptly named after St. Nicolas, the patron saint of sailors and as the story goes, a sailor was out to sea in dangerous high waters, he prayed to God to help him get home safely, and swore if he returned he would build a church in honor of his prayer. And so here it is: a gorgeous, small white church built cliffside in the Greek isles.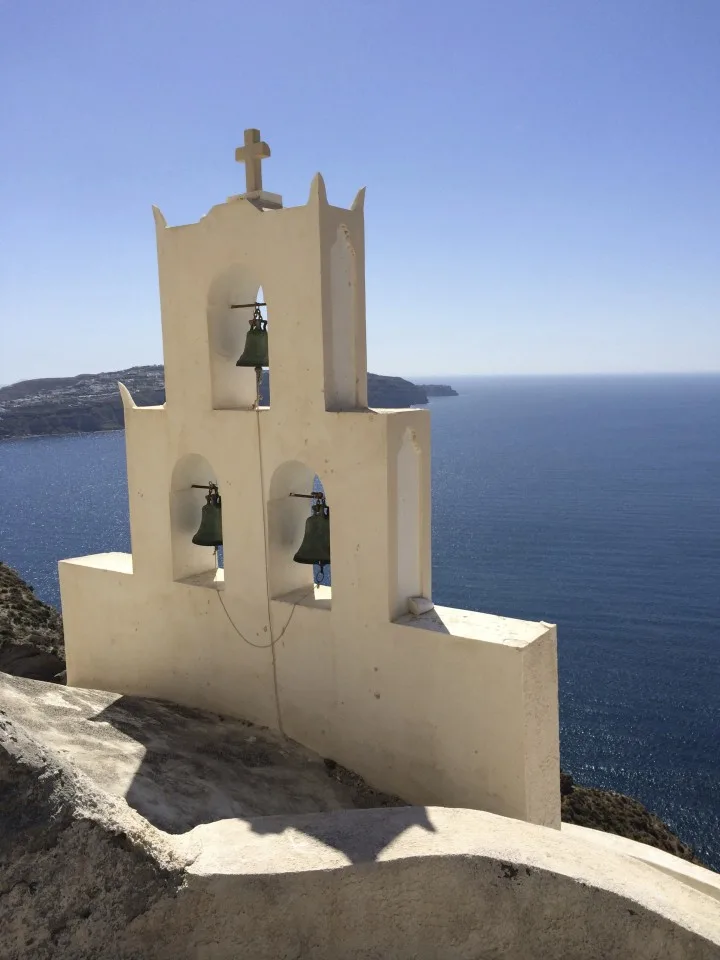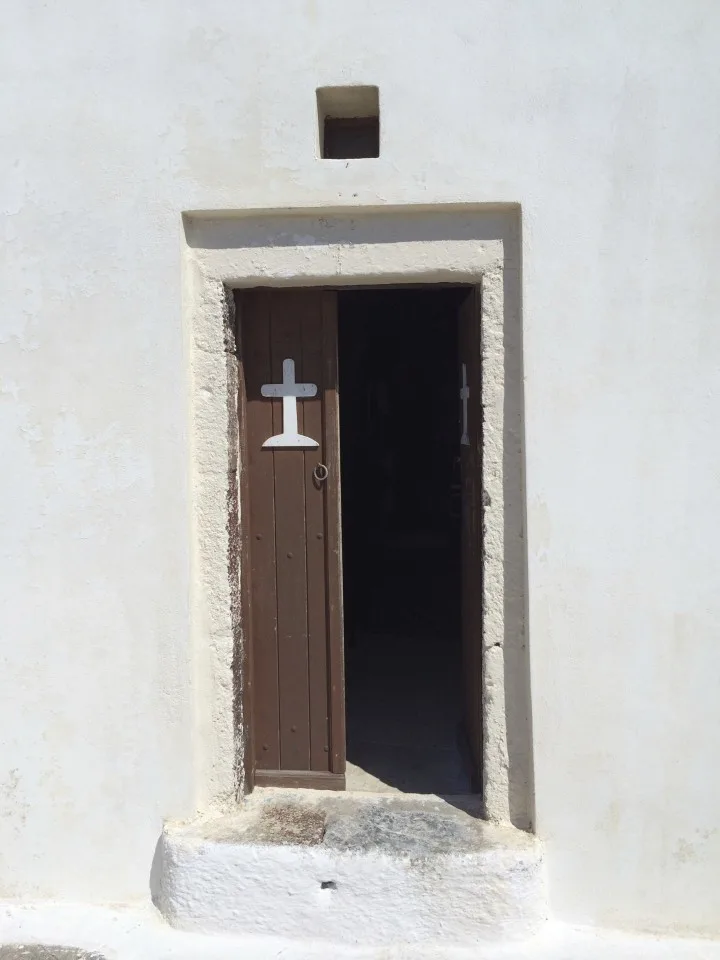 Blue Domed Churches of the Greek Isles
Not only did I see this church in Santorini, but I saw literally hundreds in Mykonos as well. Maybe one day, I can be hired to go back and document each one, with a name and an address/location marker, and make a coffee table book out of them, now that would be a dream come true for me!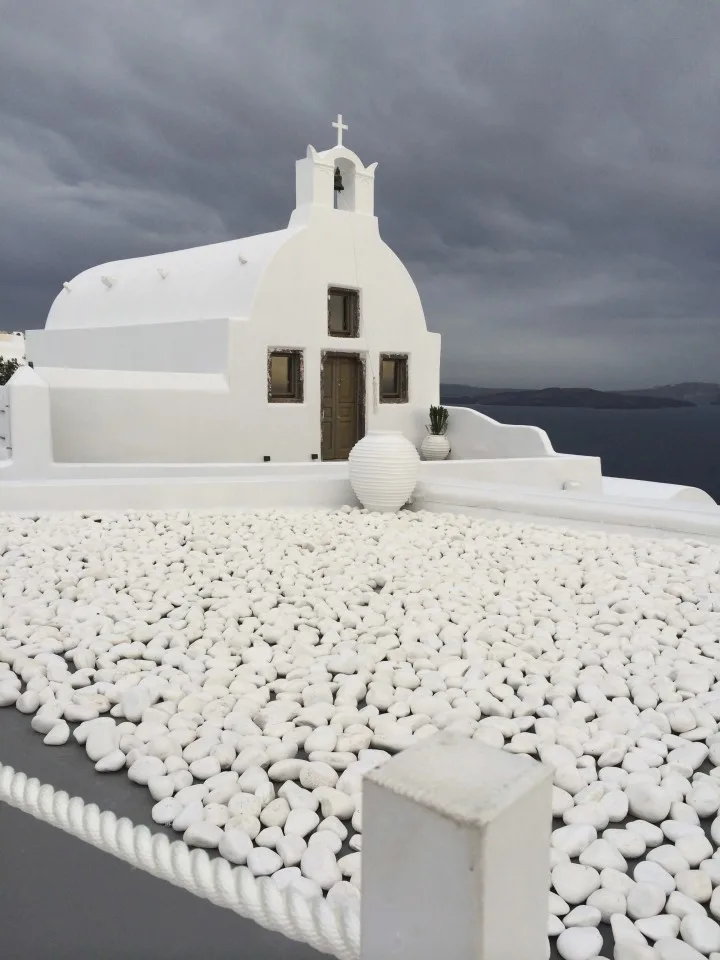 Greece Church: My Lost Paradies Found
I found my Lost City of Atlantis right here in the Aegean Sea. Plato's classic story of Lost Paradise has been found in the Greek isles!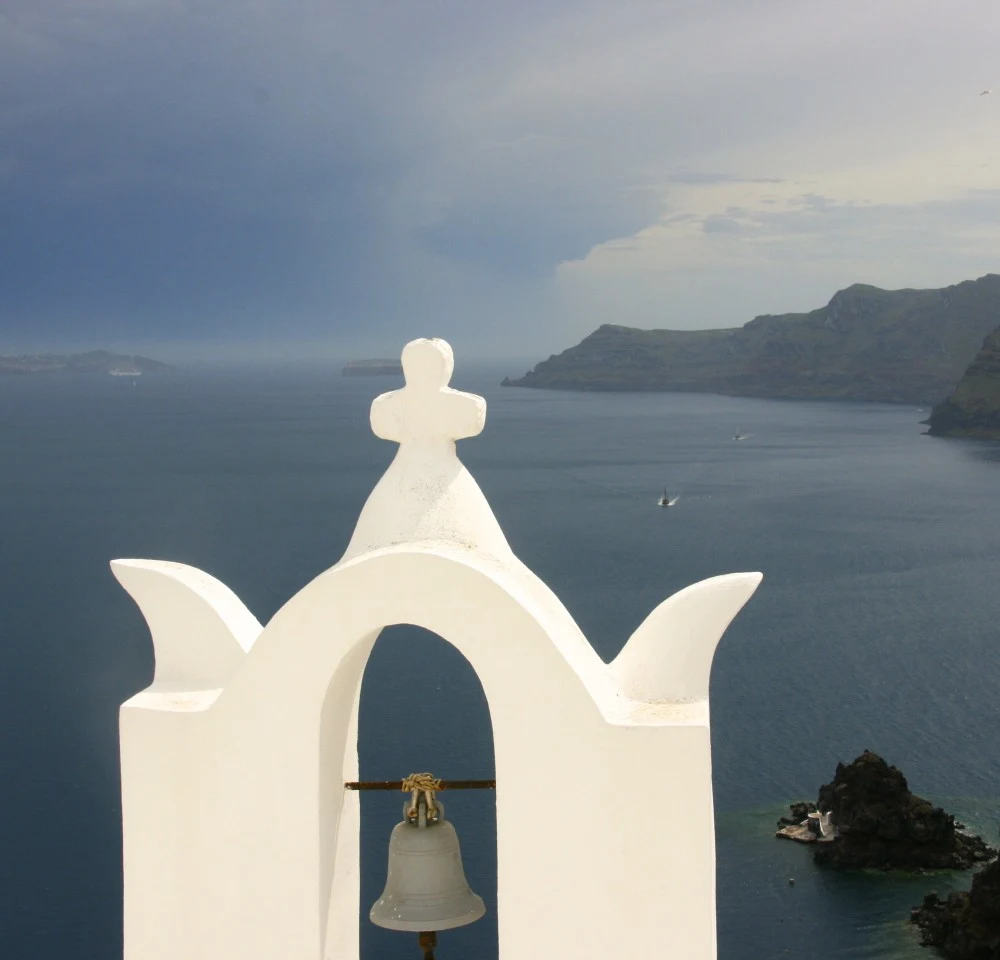 ---
Need Directions to the Heart-Shaped Greek Isle Church?
How to get to the heart carved in the cliff and the chapel of Agios Nikolaos from Fira or you can google directions to Artemis Suites Caldera and take it from there:
-Take the main road out of the center of Fira going South
-Follow straight along the edge of the caldera
-Follow the fork to the right with signs to Pyrgo, Perissa, Port, and Akrotiri
-Pass the Santo Winery
-Continue to follow the road to the right
-Look for Artemis Suites Caldera on the right
-Turn right into their driveway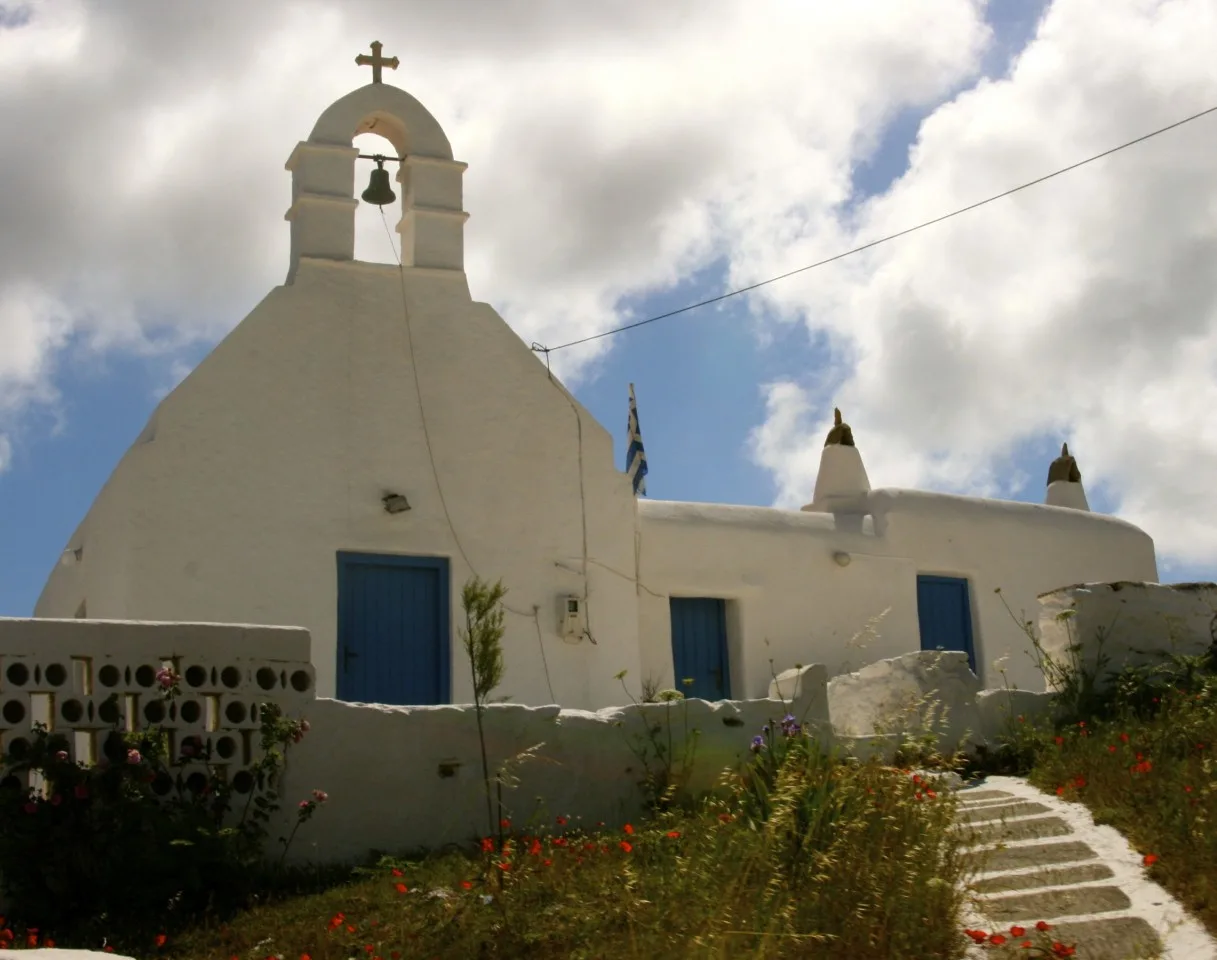 – Follow the road that is on the right through the chicken, goat, and donkey field! (goats were there the day I went)
-Park on the dirt driveway, look toward the ocean
-Follow the hiking trail towards the ocean until you come to a set of stairs
-Follow the stairs down and you will see the heart on your right and the bell tower of the chapel down the path on your left, keep descending down the steps till you come to the tiny door of the chapel. It is unlocked, and you go can inside.
---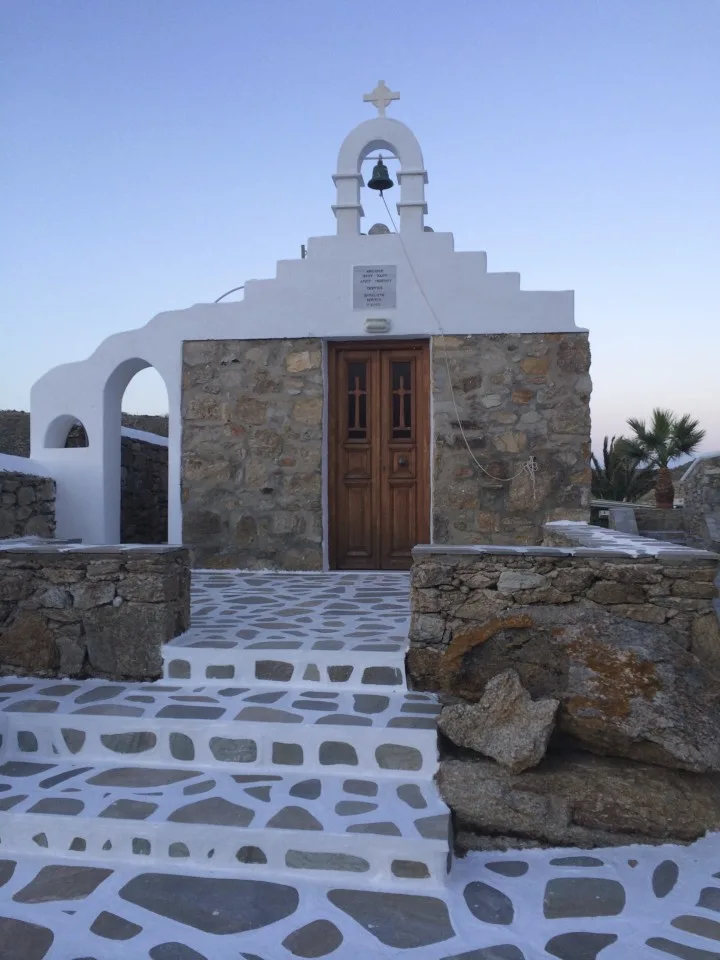 ---
I have found the "Lost City of Atlantis", Plato's classic story of Lost Paradise! Tell the world that it has been found!
---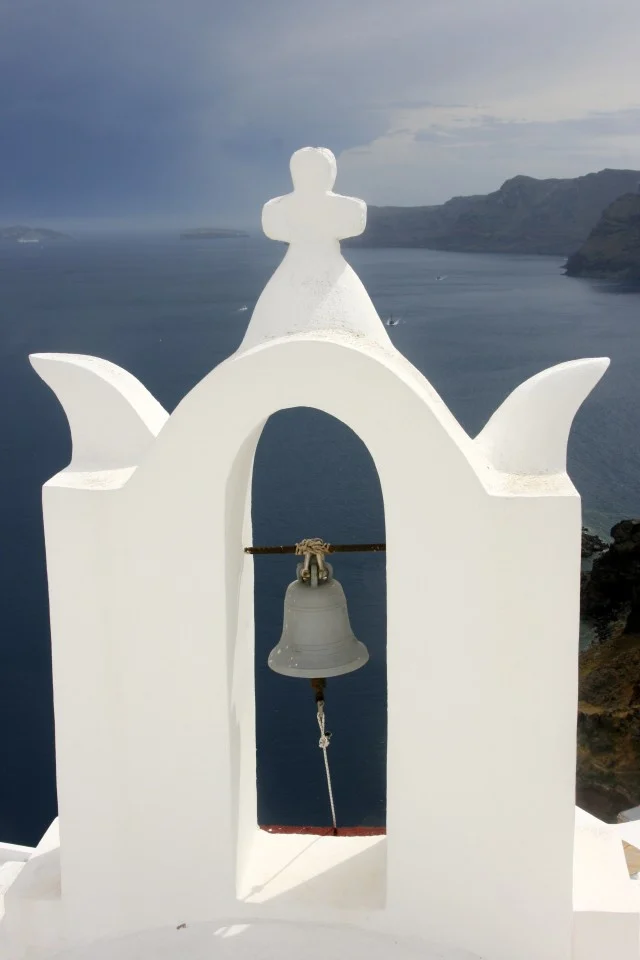 Other Articles about Greece:
Santorini Guide: 5 Things to Do
Mykonos, Greece: Dreams of Bohemian Luxury
Memories of Santorini Island (for when time passes)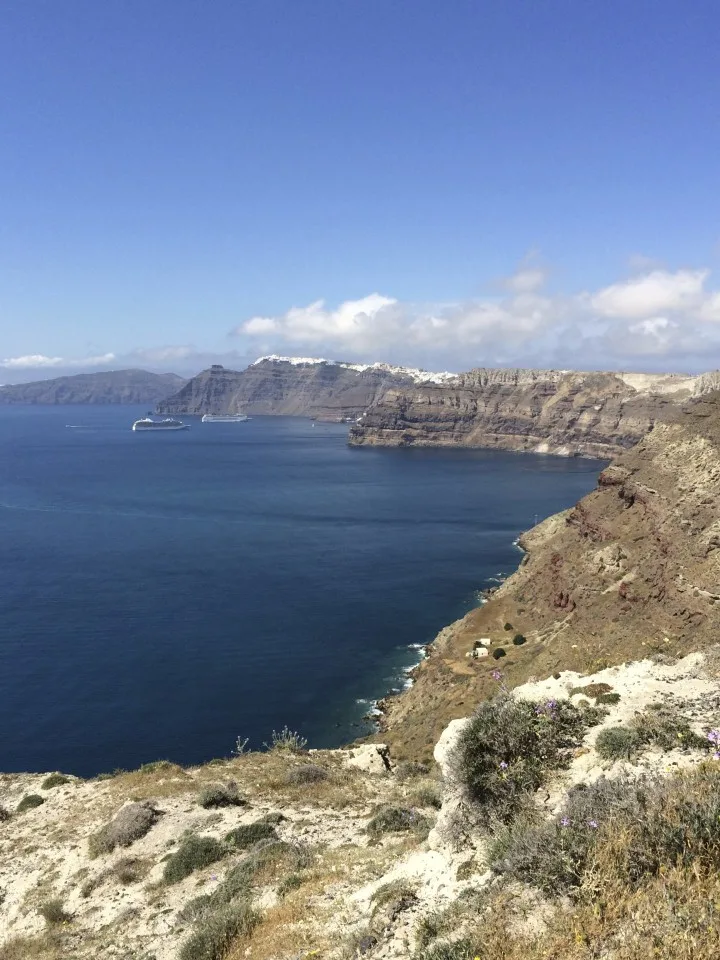 ---
Do you know where I can find a Greek island church near me? or Greek Orthodox churches near me?
I wish!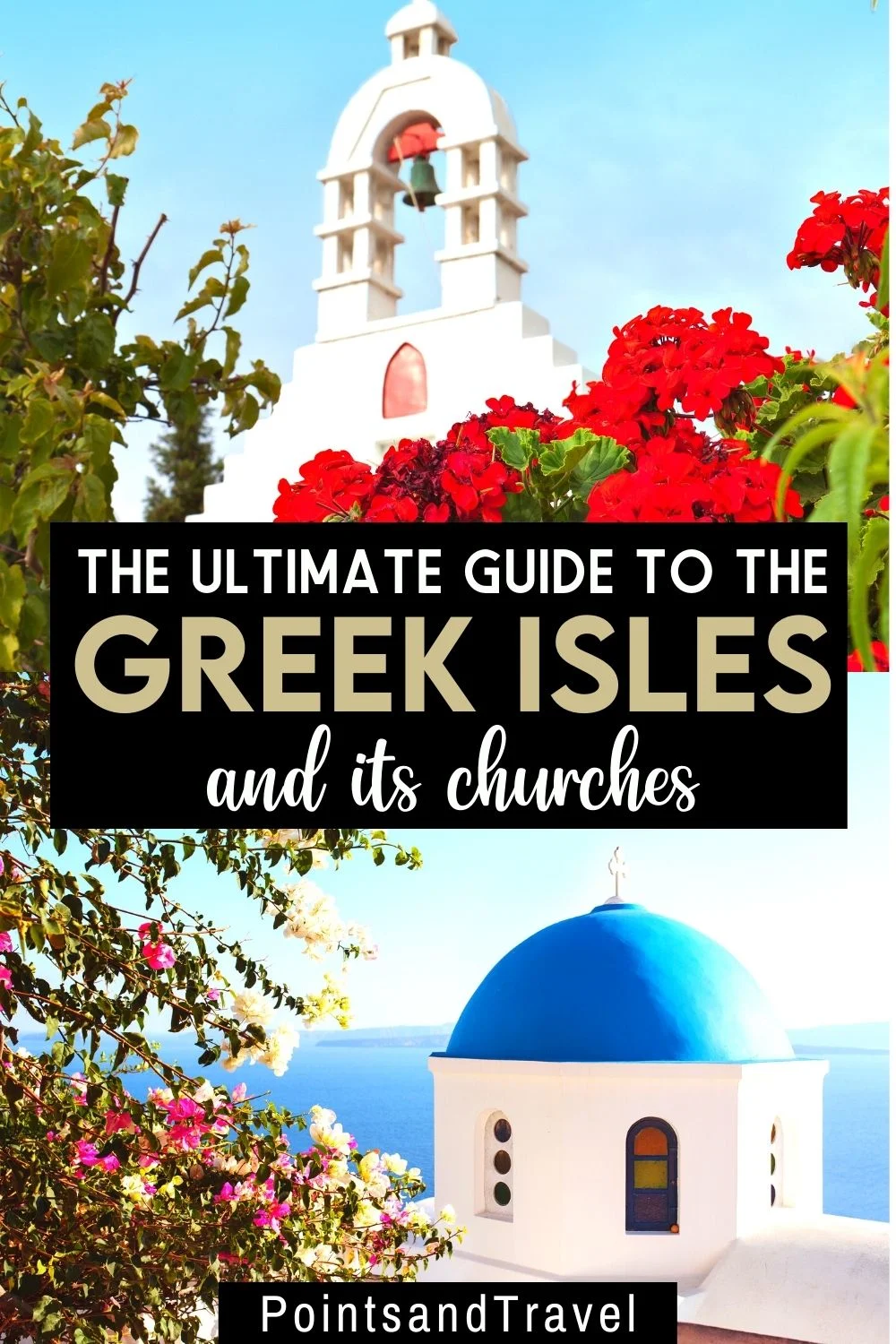 Disclosure: This trip came from deep within my heart and was a gift to me.