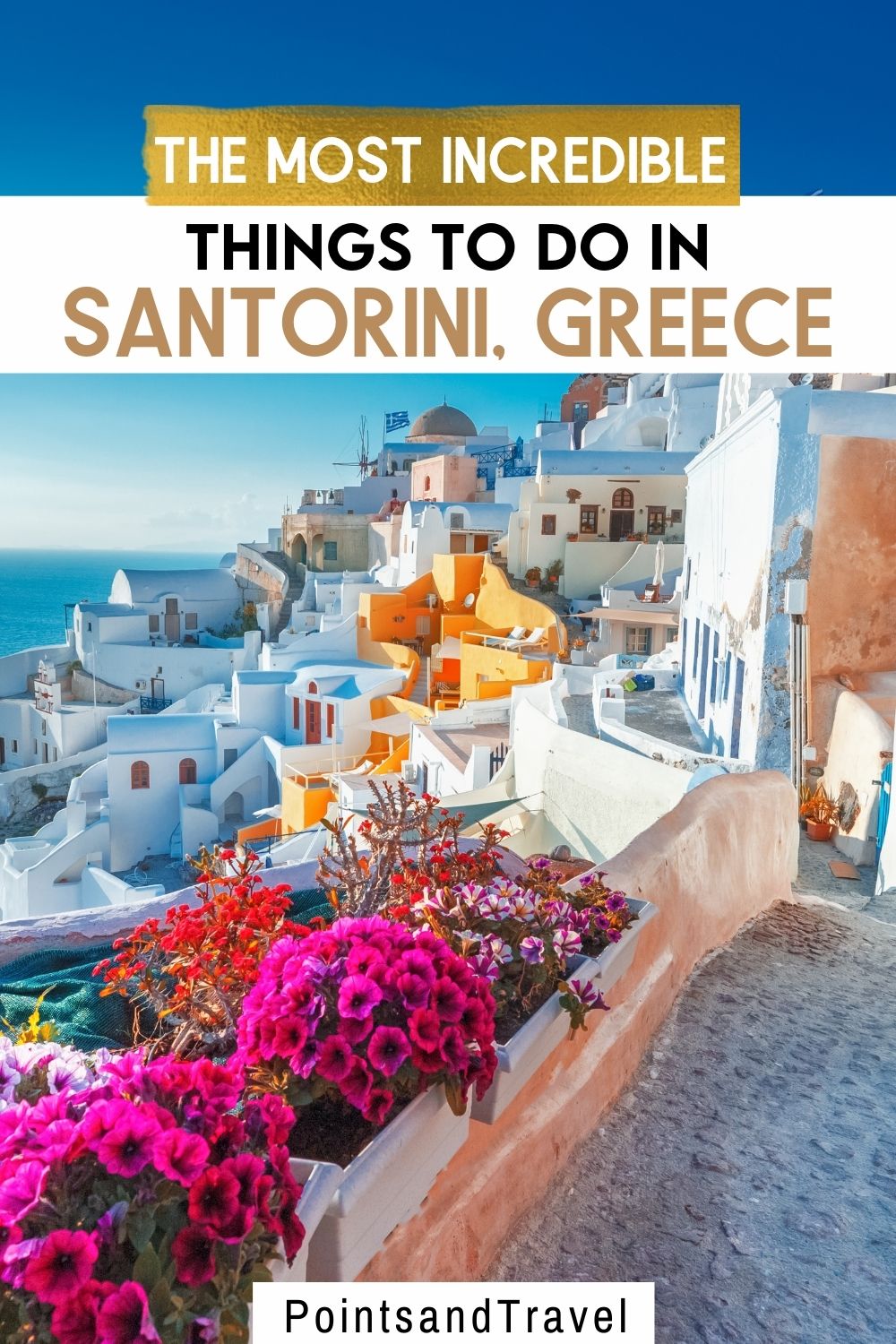 ---
Santorini is just one of the many Cyclades Islands in Greece that literally has everything I want on an island. Hidden and blue-domed churches, stunning sunsets, abundant antiquities, beautiful beaches, volcanoes rising out of the Aegean Sea, cave houses, and whitewashed stone buildings that dot the landscape. Add in all the fresh food you will eat to the equation and you've got an unbeatable vacation. In fact, I would go as far as to say that Santorini is probably one of the most iconic Greek islands to visit in the world. So before I ramble on anymore, I want to share some of the very best things to do on Santorini.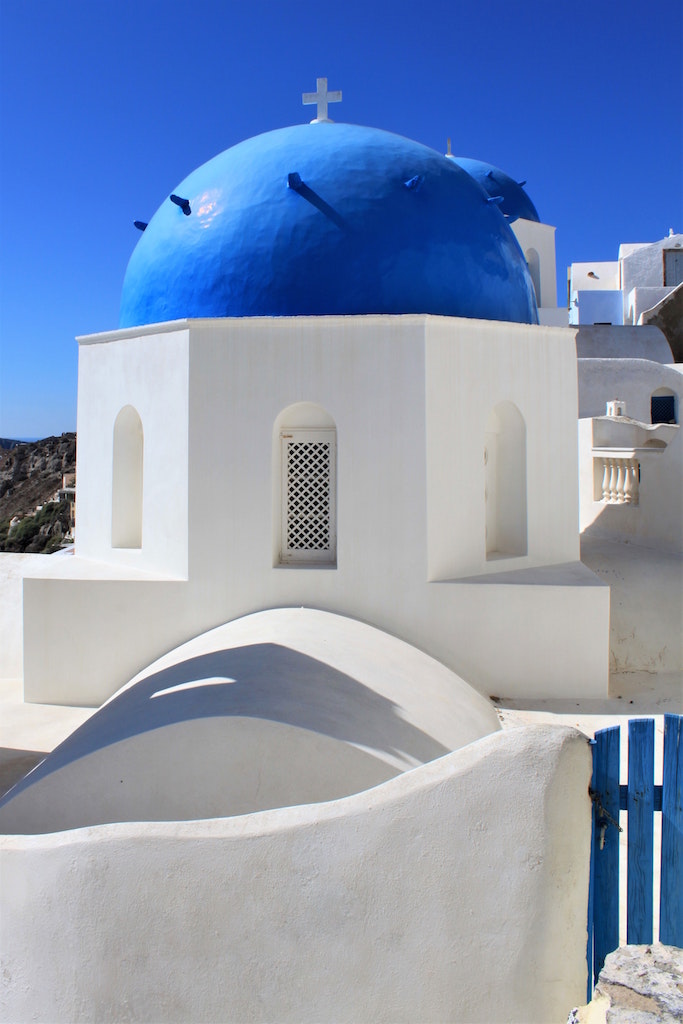 ---
What's in this post:
hide
✦ Things to do on Santorini!
(+ Where to Stay)
---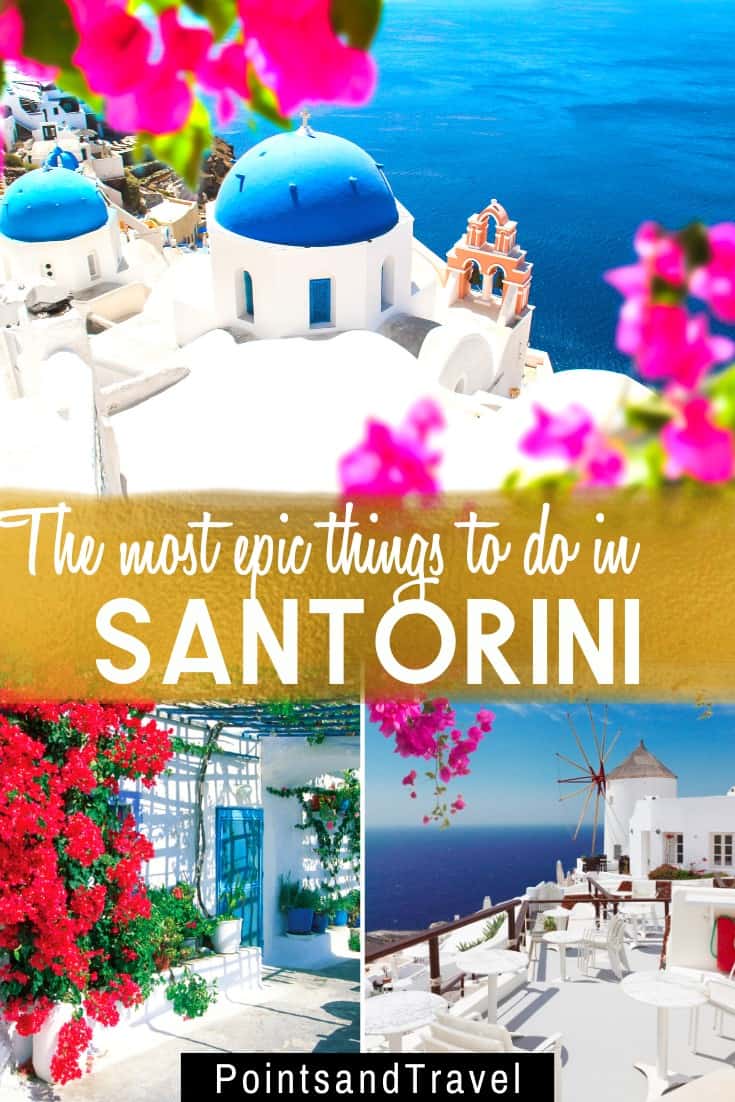 Santorini is one of those places I'd gladly revisit over and over again. For me, it always stays on the top of my bucket list. And after visiting 93 countries, I can easily say that the Greek Isles are some of my favorite islands in the world! And with over 227 inhabited islands — no wonder it is a travelers' favorite! I especially loved the travel experience that I spent on a yacht going around Santorini Island and seeing its colorful beaches – red, white, and black sand beaches! Wouldn't it be great to rent a house there in the summer for a month? I think so!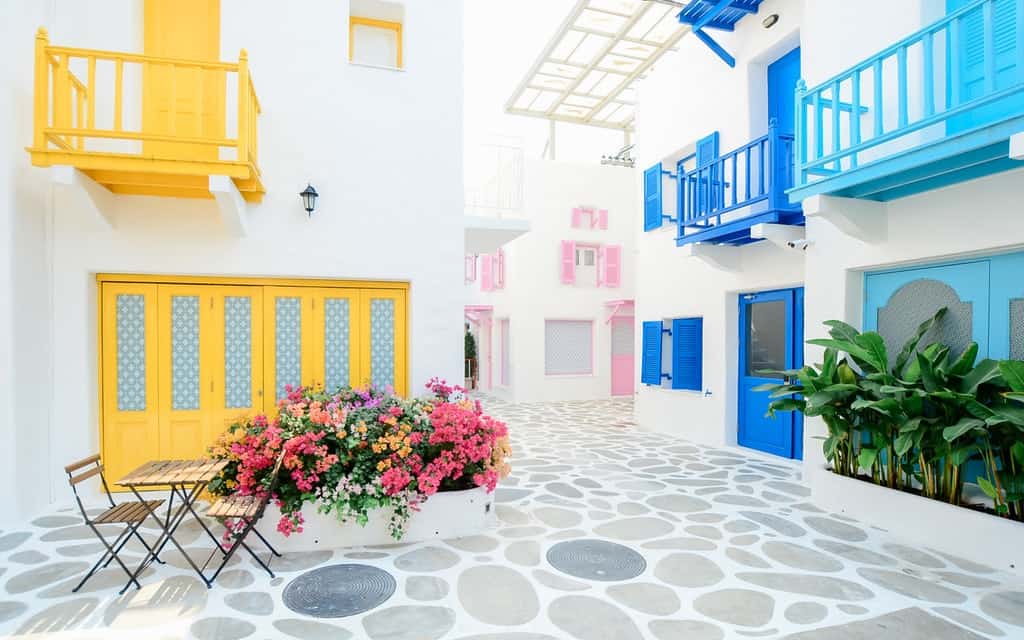 We're Already on a Yacht!
Our glasses ching as we smile and look out over the villas jutted up next to the mountains with gorgeous bougainvilleas, cactus, and fig trees abound. This is the stuff Santorini holidays are made of. The cheers, the setting, the food as well as love is always in the air in Santorini. What is not to love about it? And off we go exploring a few things to do in Santorini.
---
"Yamas! "Stin ygeia mas!" my host says! "Cheers! To our good health!"
---
This is one gorgeous island, where people many times choose to come on their honeymoon. I am here solo with a friend, but cannot wait to explore the island further. One day I would love to bring my husband here. After spending over a week on Santorini, I have made my list of the best things to do on Santorini for a tourist who doesn't feel like one. So come follow along!
✦ Things to do on Santorini:
#1 Rent a car and explore the Island
We rented the cutest little car and went to the "Heart of Santorini", directions on how to get there are on my linked page to see the Chapel of Agios Nikolaos built into the side of the caldera. Pre-organizing a rental car is also ideal when planning your trip to Santorini as it allows you to explore all over the island. Believe me, this place is magical, a bit hard to find, but perfect once you walk down to see it, so don't miss it!
#2 Visit the Donkey Brewery
Greece is typically known for its wine, there is another alternative: Donkey Brewery. They have three brews: red donkey, yellow donkey, and the crazy donkey! Donkey beers have become some of the most sought-after brews in Greece and you will see their products in many of the local restaurants. Stop by the brewery for a quick tour and a delicious sampling of Donkey Brewery's beer.

#3 Head on over to Santo's Winery
Head on over to Santo's Winery, where you can try a slue of delicious Greek wines, hors d'oeuvres to nibble on, and taste famous Greek olives! It's a great way to spend a lazy afternoon. I chose to drink all the wine they offered and got a bit tipsy before leaving the place!
Don't want to go it alone or as a couple? Then try this tour of Santorini wine roads during the day or tour of visiting three family estate wineries at sunset. We know you won't be disappointed… as there is nothing better than wine at sunset in Santorini!
#4 Take a Catnap in a Luxury Windmill Villa!
If you make your way to Imerovigli on Santorini Island (or they have a location in Artemonas, Greece too), you can actually spend the night inside a luxury windmill at the Windmill Villas! These newly-built luxury windmills have a kidney-shaped pool with hydro-massage jets and are less than 2600 feet from the beach! They even have private sun terraces with panoramic views of the Aegean Sea. They are simply romantic, so bring along your special someone!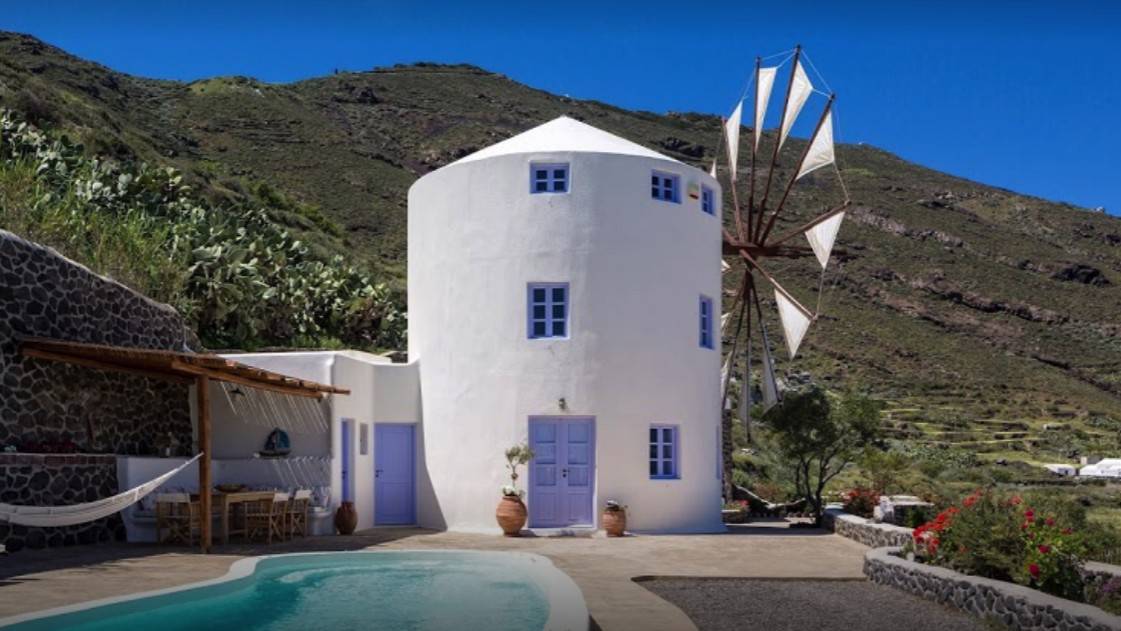 ---
Want to go to Greece in 2020? Here is the Perfect Greece Itinerary
---
Things to do on Santorini
#5 Taste the Local Santorini Food
Try the Greek specialty of candied figs with feta cheese and Greek honey, which make for the perfect apertivos. Or how about feta stuffed olives, that are deep-fried? Greek food is delicious.
#6 Explore an Archaeological Excavation Site
The Akrotiri Archaeological Excavation Site features ruins from the ancient city of Akrotiri. It was buried by a volcanic eruption sometime in the 16th century. You can explore the excavation site where long walkways take you around the entire perimeter of this massive site.
Not only did it cause the island of Thera (the big island that once was Santorini) to sink beneath the ocean, it left a huge crater on Santorini. Leading to many assumptions that this may very well be the home of Atlantis or at the very least the possible inspiration for Plato's story of Atlantis. This tour is awesome!
---
✦ Other Related Things To Do in Greece:
Mykonos Greece, Dreams of Bohemian Luxury
---
#7 Sail the Seas in a Catamaran or Yacht
Take a catamaran day to sail across the bay to see the smaller volcanic islands that make up the rim of the crater and to see the colorful beaches of Santorini. I charted a catamaran with my travel partner and there was only one other couple on the yacht along with the crew. It is a way to catch a glimpse of the caldera from the sea instead of from land.
It also allows you to see some of the most famous beaches (the red, the black, and the white beaches of Santorini!). It was the best day I had in Santorini and one of the best Santorini things to do. There is lots of water out there in the Aegean Sea, so might as well get out on it! There are also classic caldera catamaran cruises available all over the island.
#8 Swim at Each of the Sandy Beaches
Now that you know about each of the sandy-colored beaches, you might as well go for a visit as Santorini's beaches are legendary.
The famous Red Sand Beach is probably the most unique sandy beach of them all. The incredible geological formations of the red and black volcanic rocks are in contrast to the crystal clear turquoise waters of the Aegean sea. Therefore, a visit to the Red Sand Beach is a must for every visitor of Santorini.
The Red Sand Beach is located next to the ancient site of Akrotiri. It is a small beach that can be seen from the headlands if you decide to not take the rocky path along the mountain to reach the beachfront. but if you do, be careful, as it is recommended that you wear hiking or walking shoes. The path that leads to the beach is a short one but rough. I would say that flip flops or sandals should not be worn.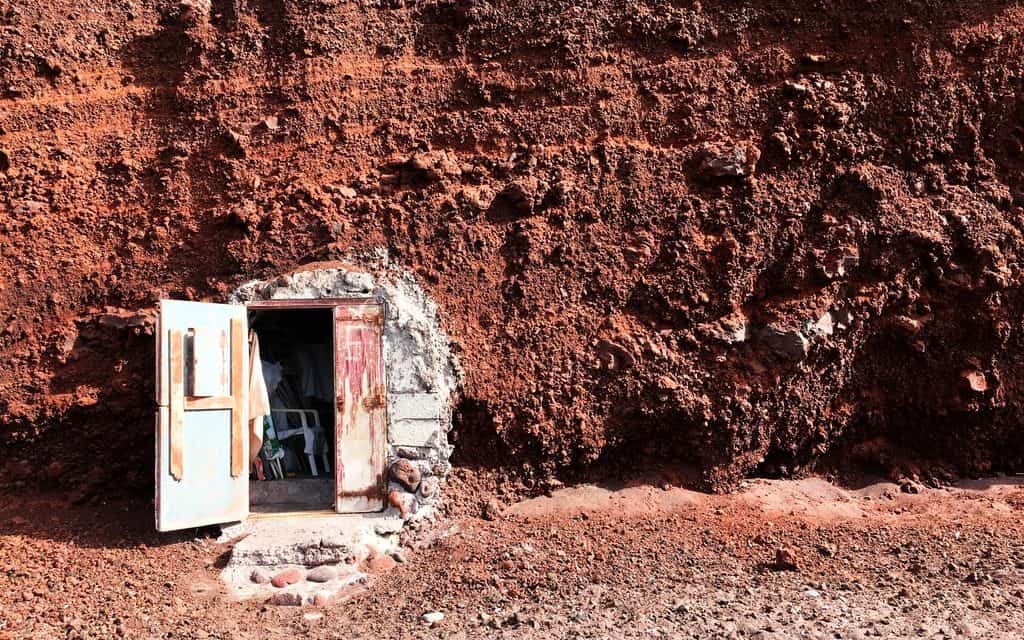 The Black Sand Beach (Perissa Beach) is located in the village of Perissa. The volcanic activity on the island is highlighted here in the form of its unique, black sand
Vlychada Beach is a white sand beach. Vlychada is an easily accessible beach by car and located on the south coast of Santorini. The volcano, the wind, and the sea all created this amazing sand and pebbles.
Also, in the village of Akrotiri, you can find the white pebbled beach that is surrounded by white towering cliffs and a small cove. These pebbles are pumice stones, gray volcanic sand, and tiny pebbles. The water here is crystal clear. Another important characteristic is the fact that it is difficult to access it, therefore it's not for everybody.
There are two ways to get to this white-pebbled beach, either by boat from Red Beach or on foot from Cambia Beach. But the path from Cambia Beach is not easy, so be sure and have your best shoes on, I would say it is for those who love adventure.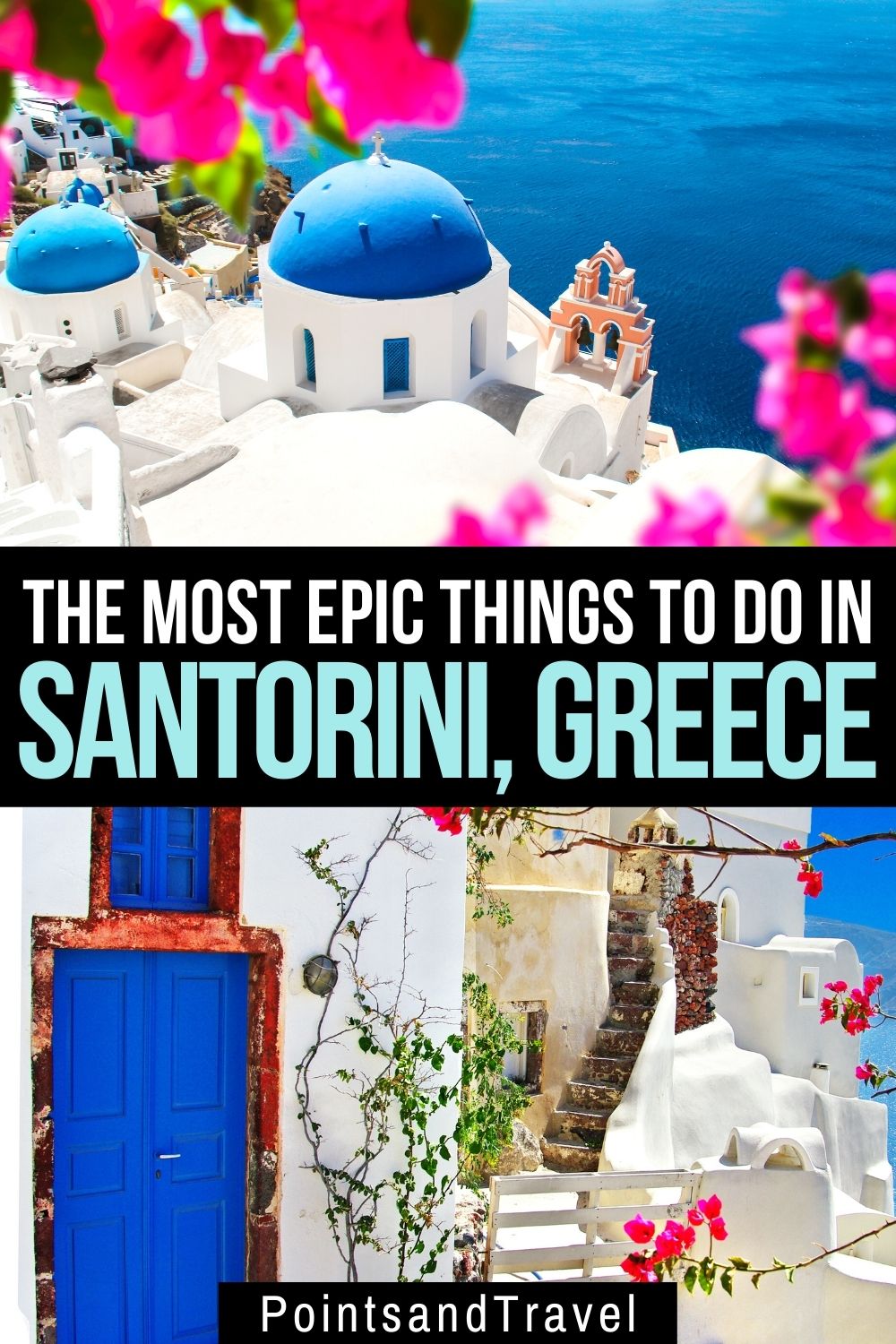 Things to do on Santorini
#9 Get a Fish Pedicure
Make your way to the town of Fira to find the Fish Spa Kagal Wellness Center over on Mitropoleos Street. Here you can place your feet into the tanks where itty bitty Garra Rufa fish will gently suck away all the dead skin on your feet. They say this makes your feet super smooth. Try it for a fun afternoon to relax and unwind.
#10 Stay in a Cave House
Stay in a cave house. The architecture is unique and you will enjoy these houses built by the fisherman years ago and they have now been turned into modern and luxurious holiday retreats by famous architects who use the curves of the waves to inspire them!
#11 Hike from Fira to Oia
You can take a 9 km hike from Fira to Oia. This walk takes about 3 hours depending on how many stops you take. The view is absolutely incredible and one of the most scenic hikes in Santorini. I am sure you will have time to stop and take photos of the caldera for when you need a break. Be sure and wear proper hiking or tennis shoes, and enjoy your time out in nature. Then go watch the sunset in Oia and have a cocktail!
#12 Go to the Highest Point of Santorini
If you have a car (or you can take a tour of the island and this may be included) Profitis Ilias is a mountain-top monastery that is worth exploring in Santorini. The roads are crazy with hairpin twists and turns. So you may be wondering if it is a good idea but once you get there, they have plenty of parking. I recommend going early, as sometimes it gets crowded.
The beauty and peacefulness of Profitis Ilias Monastery wrap itself around you and you breathe in a deep sigh of relaxation when there! The chapel is very small but very pretty! I wandered around taking in the tranquility as there were no crowds when I visited, but I have heard it can get crowded. It is one of my favorite places on Santorini! The monastery doesn't have too many places to venture off to, but you can go inside some of the monastic buildings. But for me, the best part is the views across the island!
Things to do on Santorini
#13 Watch the Sun Set at Oia
Ok so we included it – after all, when you visit Santorini, you must see a sunset from Santorini! Just know that you will not be alone with this idea! I can promise you that the Oia Castle will be packed with tourists. Yes, Oia does get incredibly busy around sunset, but who can begrudge others from wanting exactly the same experiences as we want? Literally, this is fascinating watching the sunset and the people arrive, as you have dinner, wine, and conversation.
You can also admire it from Fira, Firostefani, or Skaros in Imerovigli. For a more secluded spot, choose Faros in Akrotiri, where you will be almost the only one there. Or you can choose the highest spot on the island, the Monastery of Profitis Ilias. As the view from here is stunning, typically less crowded, and you will see the sunset over the entire island! So choose your spot and enjoy one of the best things to do on Santorini.
#14 Take a Photography Tour of Santorini
As you probably know from your Santorini holiday planning, there are so many beautiful sights to capture while exploring beautiful Santorini. To get the best memories to take home and keep, how about trying a photography tour of Santorini? These take you around different parts of the island and are available for all levels of photographers – from beginners to more advanced DSLR users.
#15 Jump from the Cliffs at Ammoudi Bay
Down from the cliffs south of Oia, is the port of Ammoudi. Take the path south past the restaurants towards a small island that you can swim out to (it's called Agios Nikolaos). On the island, there's a ledge you can jump into the sea from.
#16 Take a Boat Ride to Thirassia Island
The nearby island of Thirassia (that used to be part of Santorini before the volcanic eruption) is well worth the short boat ride for views out over the Caldera and back at Santorini. Boats leave frequently from both the Old Fira Part and Ammoudi with the last one back being at around 5 pm (check carefully or you may have to spend the night!).

Things to do on Santorini
#17 Explore a Volcano
The island of Nea Kameni is home to a volcano that you can hike close to, finding sulfur vents along the way. The crater is about five hundred feet up! Note that the only way to get here is by boat on a volcano tour.
#18 Take a Cable Car Ride or Ride a Donkey
From Fira to the Old Port, there are three ways to get there: take a donkey, walk the almost 600 steps, or take the cable car. The cable car goes every twenty minutes and costs 5 euros each way. Down at the port, there are tour companies, souvenir and gift shops, and restaurants.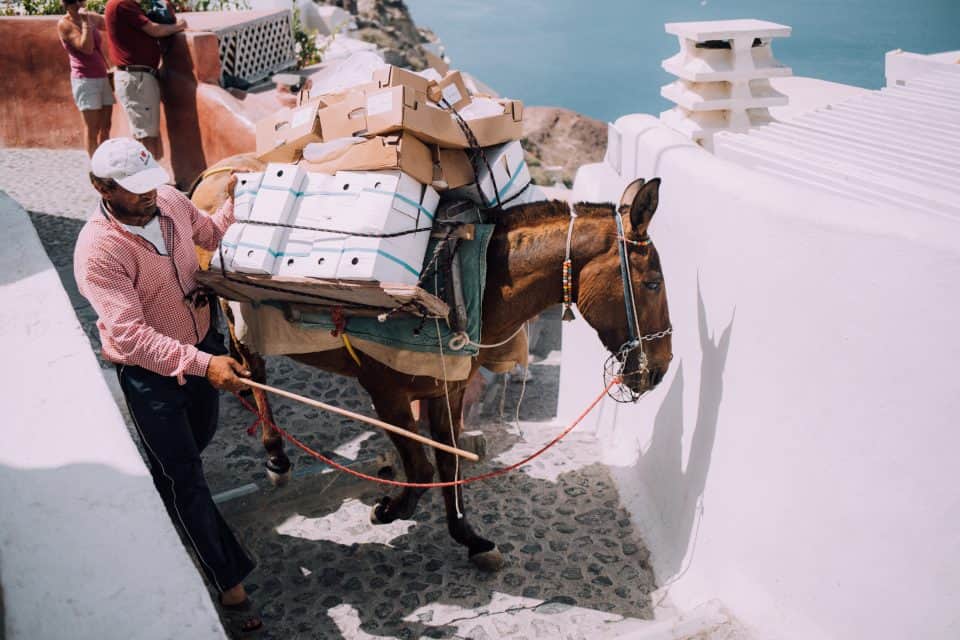 #19 Go Cat Spotting!
I swear at each and every corner of this island, I spotted one of these beautiful creatures! I don't know about you, but I simply love cats (and dogs as well!). They are so cute and cuddly and they are everywhere!
#20 Check out the Open Air Cinema
Going to an outdoor movie is a perfect thing to do in Santorini and Kamari Village is the perfect place to do it. With its open-air cinemas, you can sit in the director's chairs, have lovely cocktails and there is plenty of popcorn. But be sure and get there early if you want a great seat!
Things to do on Santorini
#21 Drink a Frappe
Frappé coffee is a Greek iced-coffee made from instant coffee, water. and sugar. They say it was invented by a Nescafe representative in 1957 accidentally! The representative was in Thessaloniki at the time. Frappés are sold primarily in Greece and are one of the most popular drinks in both Greece and Cyprus. Literally, in every corner cafe, you can find the best Frappes.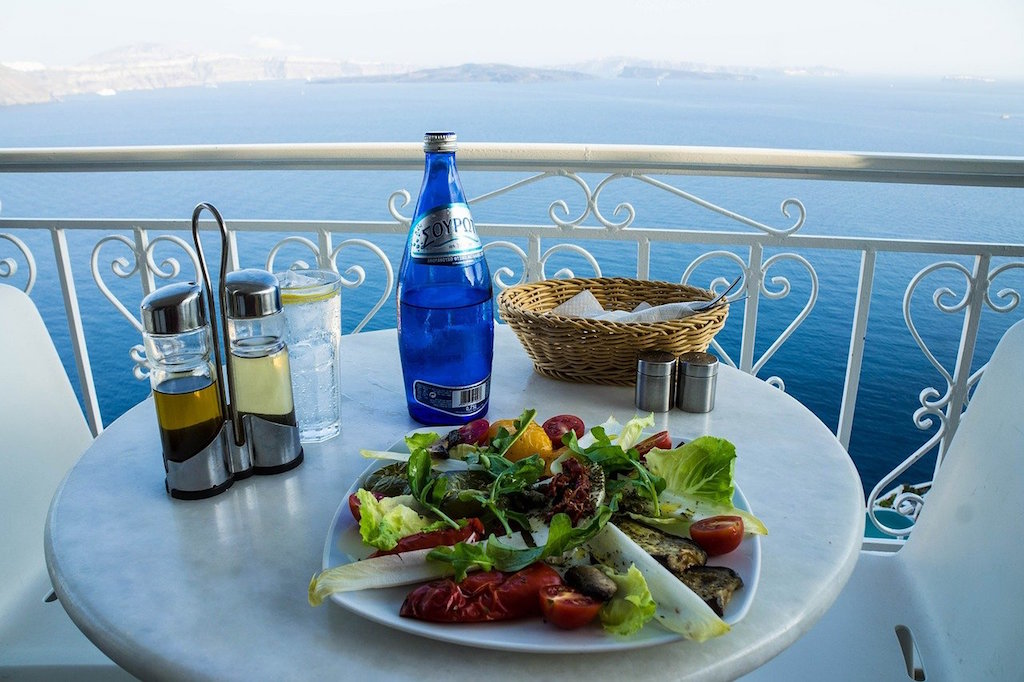 #22 Visit Akrotiri Lighthouse
Honestly, this place is pretty cool. It is perched on the opposite end of the island from Oia, Akrotiri Lighthouse is one gorgeous point to hike to. You can visit it by a small car or even an ATV (small quad bike). It is worth a visit!
#23 Visit the quaint village of Pyrgos
One place I have to tell you about is Pyrgos. With less than 1000 people living on the island, and steps away from the edge of a Caldera, this place oozes charm, friendly locals, and a photo opportunity around every corner – This place is gorgeous and won't let you down.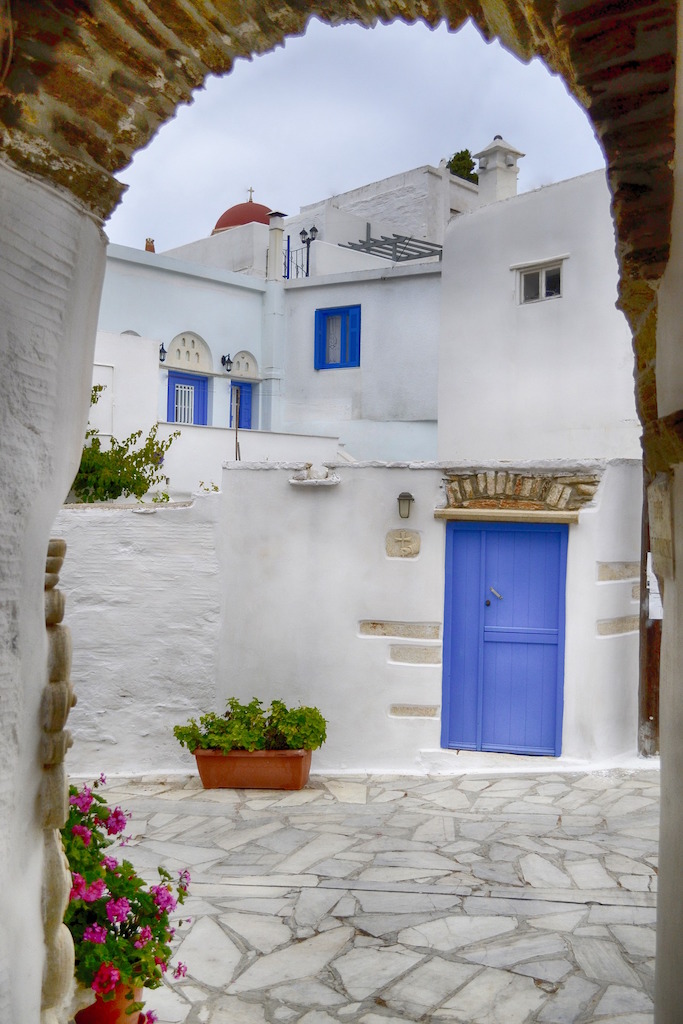 #24 Explore Megalochori Island
Megalochori Island is a tiny town that is perfect to explore for a few hours in the early morning. Rent a boat or a small crew and ask them to take you over to Megalochori Island so you can visit the church and the town's bakery. After seeing the gorgeous church we headed on over to the bakery for one of those Saganaki thingies. What is Saganaki? It is fried cheese in filo pastry that is covered in honey! Yum. This dish is prepared in a frying pan to get the best results possible for all the fried cheesy goodness. I swear I ate one almost every day I was there once I found out about them. Our visit was a nice break from an Oia breakfast!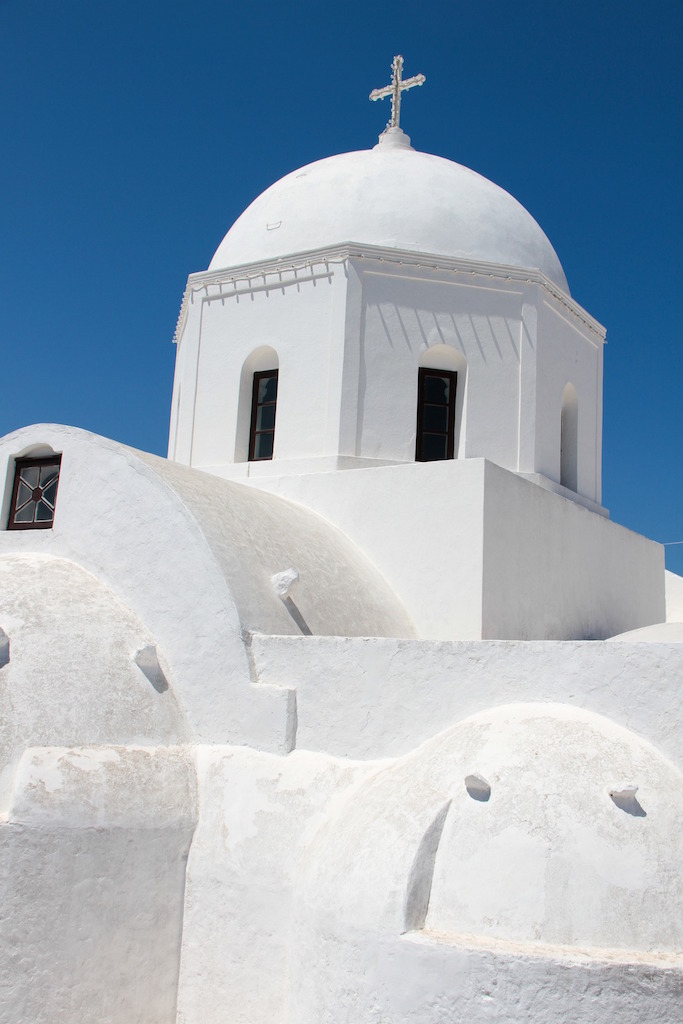 ✦ When is the best time to go to Santorini?
High Season: June to August
Low Season: October to April
Shoulder Season: May and September (the best time to go in my humble opinion!)
As mentioned above, the best times to visit Santorini are in the shoulder seasons in May (before the summer starts) and September (when the summer ends). During these times the weather will not be as hot and it is definitely less crowded. You may not be aware, but many businesses such as restaurants, tour operators, and some hotels actually close for the season! The high season is the summer months from June to August.
✦ Where to stay on Santorini Island
Tourists typically stay in four main villages on Santorini Island: Oia, Fira, Imerovigli, and Perissa.
✦ Accommodation in Oia, Santorini
Oia is a super popular village in the northwestern tip of Santorini. It has the typical whitewashed houses that are carved into the cliff and overlooks a vast caldera filled with water. It is one of the most popular places to stay (it tends to be right in the middle of all the action) and is typically a more luxurious area to stay. But remember, it can be VERY crowded, so prepare yourself for that!
For accommodations: I can recommend Thira Suites and Fava Eco Residences.
But if you really want to impress your loved one: Check out Mystique, A Luxury Collection Hotel in Santorini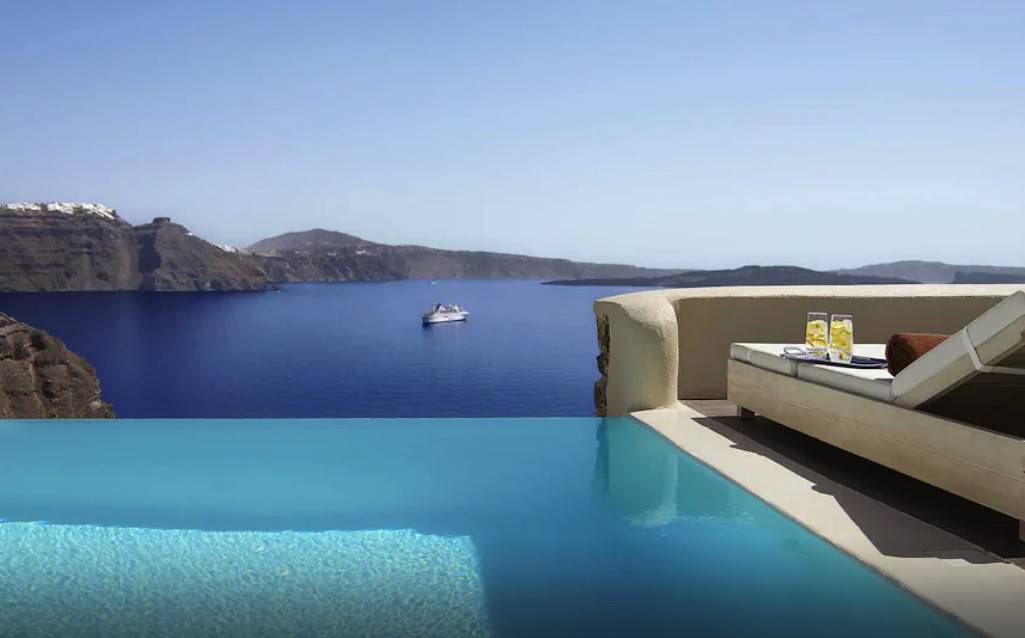 The gorgeous hotel is carved into the rugged Caldera cliffs and overlooks the turquoise Aegean Sea. With the amazing Cycladic architecture, this hotel is a loved destination for honeymoons and romantic escapes. Mystique's 41 suites and villas, the two swimming pools, its Asian Spa, and gym are linked by a network of cobblestone pathways. It is one gorgeous place that is not to miss!
---
TIP: If you are staying in a hotel near Oia, then you are lucky, as you can enjoy the sunset of Oia right from your balcony and you can do it with your travel partner and not with the crowds that swarm to Oia for the perfect sunset.
---
✦ Hotels in Fira, Santorini
Fira is the capital of Santorini and its clifftop location has views of Nea Kameni, a still-active volcanic island. From Fira, there is also a panoramic view of an 11-mile long caldera.
For accommodations: In Fira, I can recommend Belvedere Gerakas Luxury Suites and Sun Rocks Hotel
✦ Staying in Imerovigli, Santorini
Imerovigli is a tiny village of 470 inhabitants that is next to Fira and is famous for its beautiful sunsets and lovely churches made in the Cycladic architectural style. It consists of apartments, hotels, and houses that are built around a caldera.
For accommodations: I can recommend Astra Suites, which is a 26-room, 4-star apartment-hotel with a full-service spa and jacuzzi, and of course free WiFi! It is near the airport and also close to Nea Kameni Volcano and Skaros Rock. And of course, Windmill Villas! that was mentioned above.
✦ Accommodation in Perissa, Santorini
Perissa is one of the coastal villages known for its black sand beach. And of course, you will find the whitewashed Timiou Stavro church with its blue domes nearby.
For accommodations: Here I can recommend Hotel Sea View and Margarenia Studios
---
When choosing where to stay, I can recommend that you choose a hotel that has a private hot tub, an infinity pool, and an amazing view!
---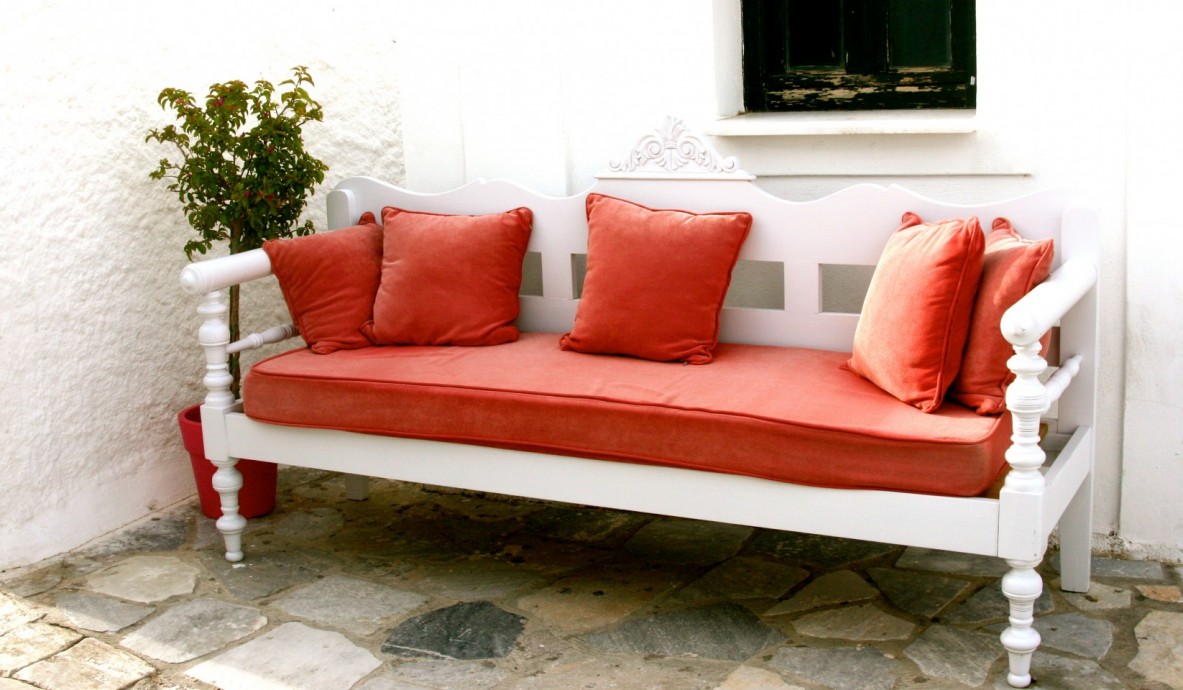 ✦ WIFI And Staying Connected on your Santorini Holidays!
Most likely you will have wifi at your hotel, but it is always a good idea to bring along a pocket-sized personal WiFi hotspot to keep you connected during your time in Santorini. WIFI hotspots are typically a cost-effective way to keep up with your latest information from home (emails, social media, etc) and to use when renting a car for your map GPS system. They are usually charged for up to 4-5 hours at a time.
---
✦ Other Related Things To Do in Greece:
Dreams do Come True: Greek Isles
---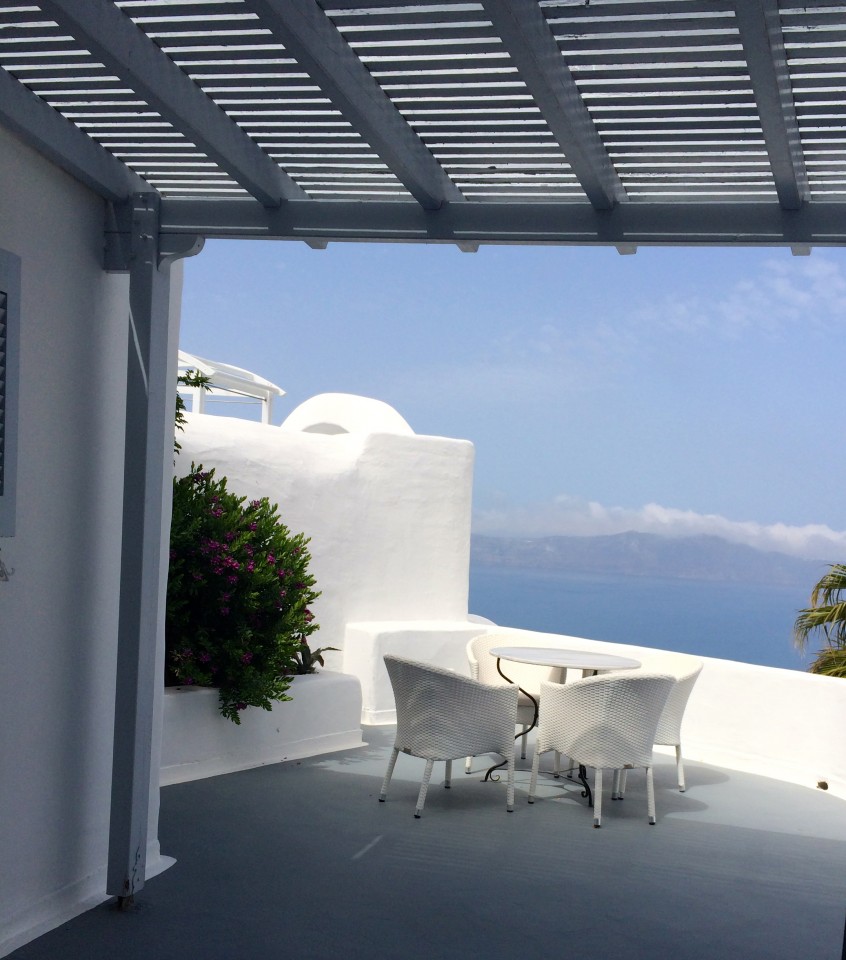 Disclosure: The day I sailed Santorini, I was a guest of Brama Yachts and I cannot recommend them enough. The crew was professional, delightful, and fun. They treated us like kings and queens for the voyage and the food was delicious!