In addition to being a country of great importance, Greece cuisine is responsible for having world-famous foods such as Moussaka, Spanakopita, Feta Cheese, and Frappes. Greece is widely known for using its fresh ingredients to create some of the most tantalizing Greek dishes. In this article, I would like to share with you 25 Greek foods that should be eaten in Greece. Plus some famous Greek liquors that you should try! And who doesn't want to know what Greeks eat for Easter or Christmas?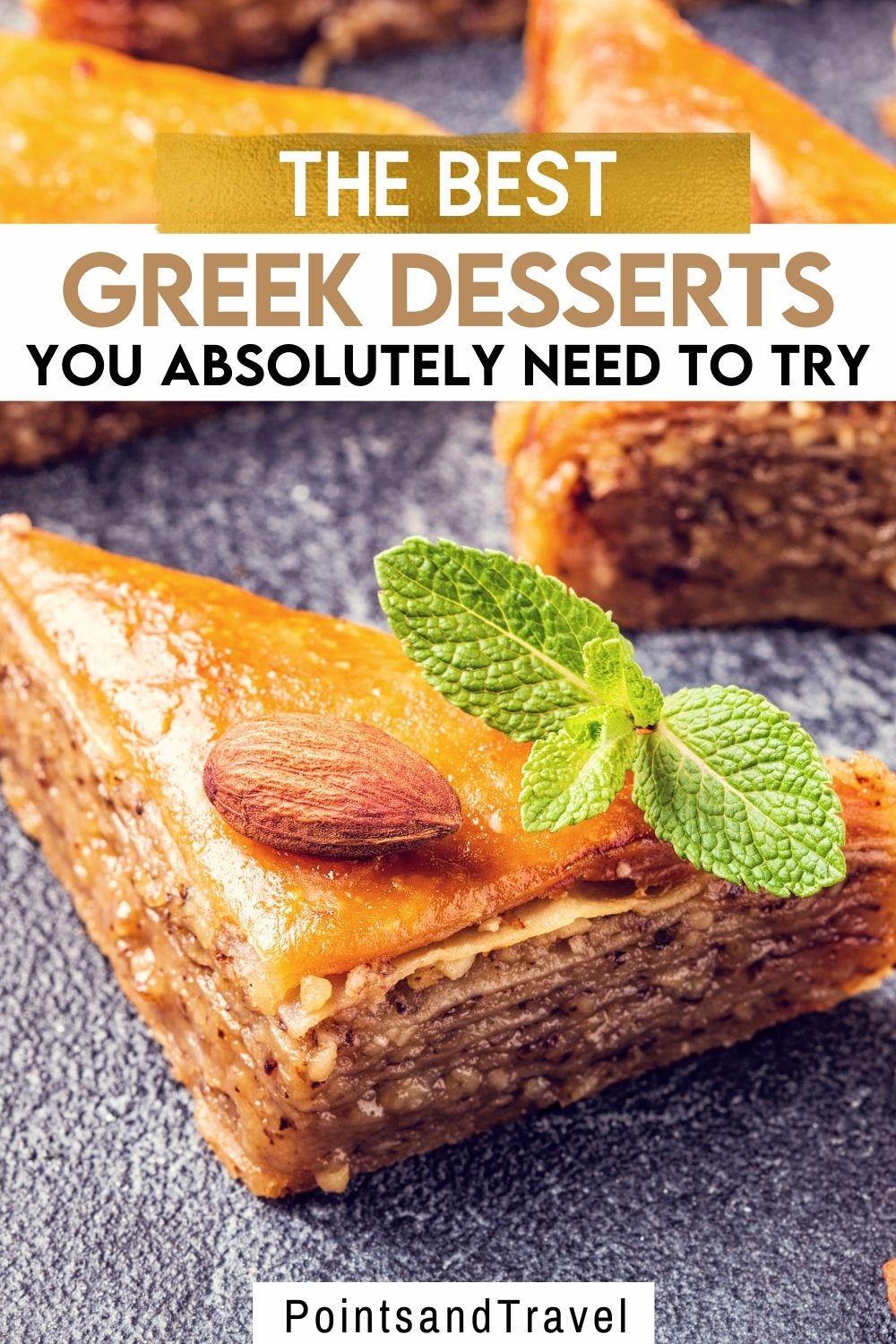 ---
25 Traditional Greek Foods
You should Eat in Greece!
---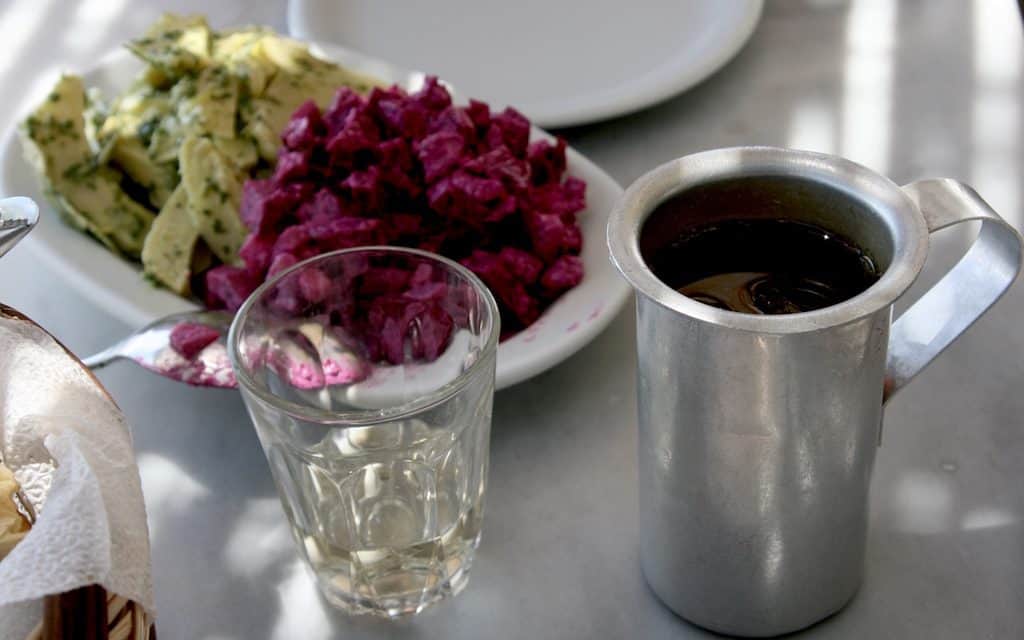 The Greeks Mediterranean cuisine is heavily influenced by Italy, Libya, Egypt, and Cyprus. Plus Albania, Bulgaria, Turkey, and the Republic of Macedonia are close by to help add to the good of Greece flavors. These factors have certainly made an impact on traditional Greek cuisine. Fresh vegetables, seafood, and fish play a significant role in the dishes mostly because of Greece's long coastline. The flavors of Greek food change as the seasons and geography change. In fact, Greek food has long been known for its nourishing and simple herbal flavors.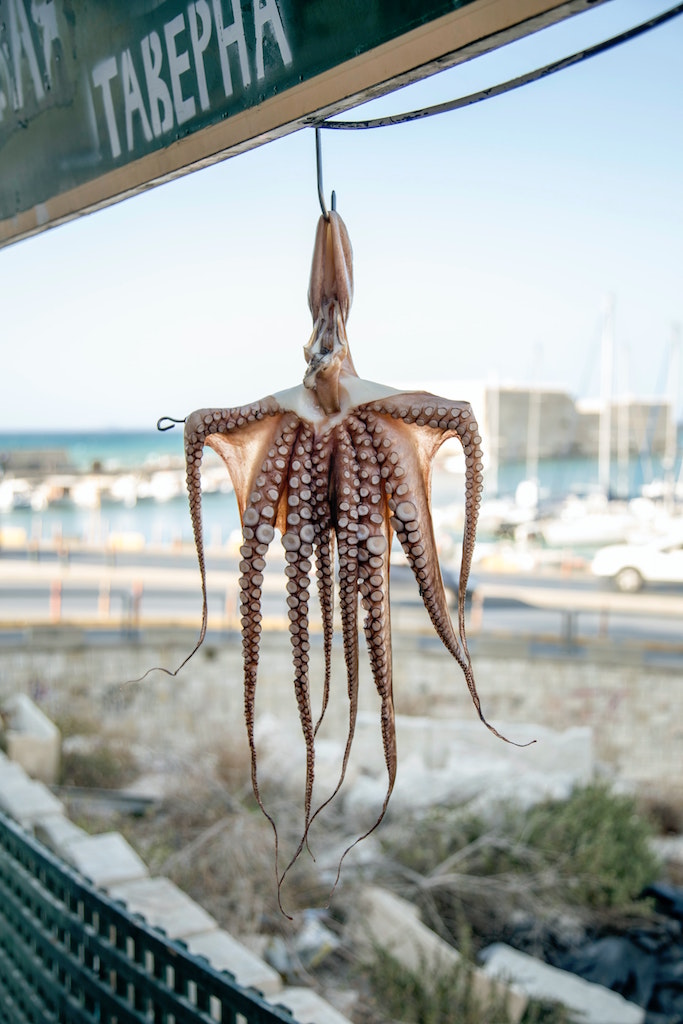 I would go as far as to say that Greek cuisine is considered among the healthiest cuisine in the world. They have a keen eye emphasizing that their food is baked rather than fried and that most traditional Greek foods have no heavy creams or sauces. Their use of unsaturated fats by using olive oil and honey (versus canola oil and sugar) is a smart move on their part and keeps the Mediterranea diet (ie. food of Greek is on the top of the longevity lists!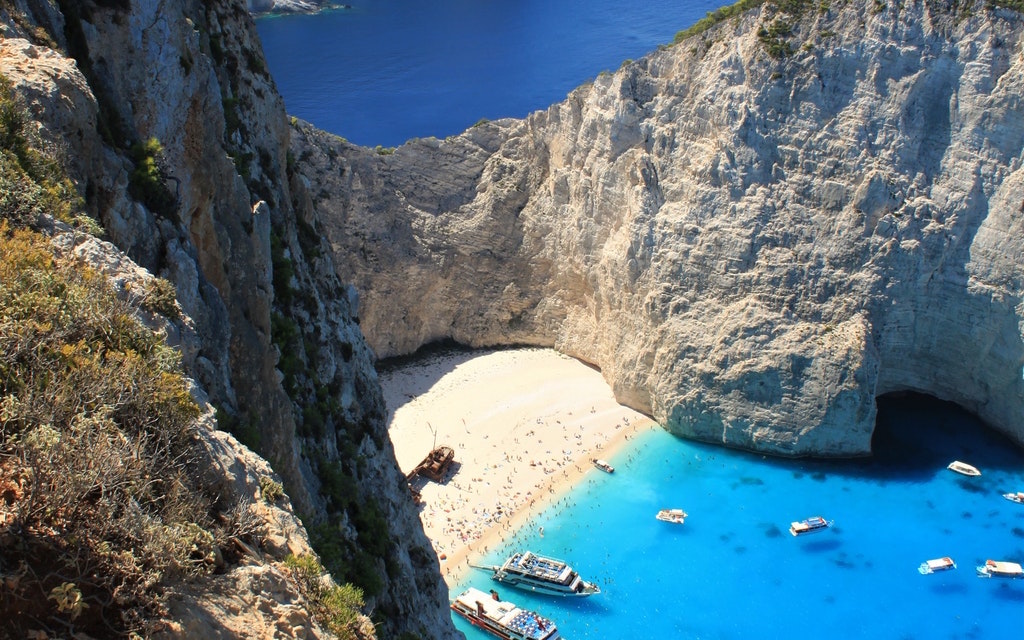 And I certainly don't mind if you call me crazy, but before I traveled to Greece I had no idea how delicious Greek food would be. By my second trip to this Mediterranean country, I formed a deep love for the tasty traditional Greek cuisine. Each day I would walk those Greek streets searching for dishes of cheese known as Saganaki, Souvlaki, feta cheese, and olives. I absolutely love Greek cuisine!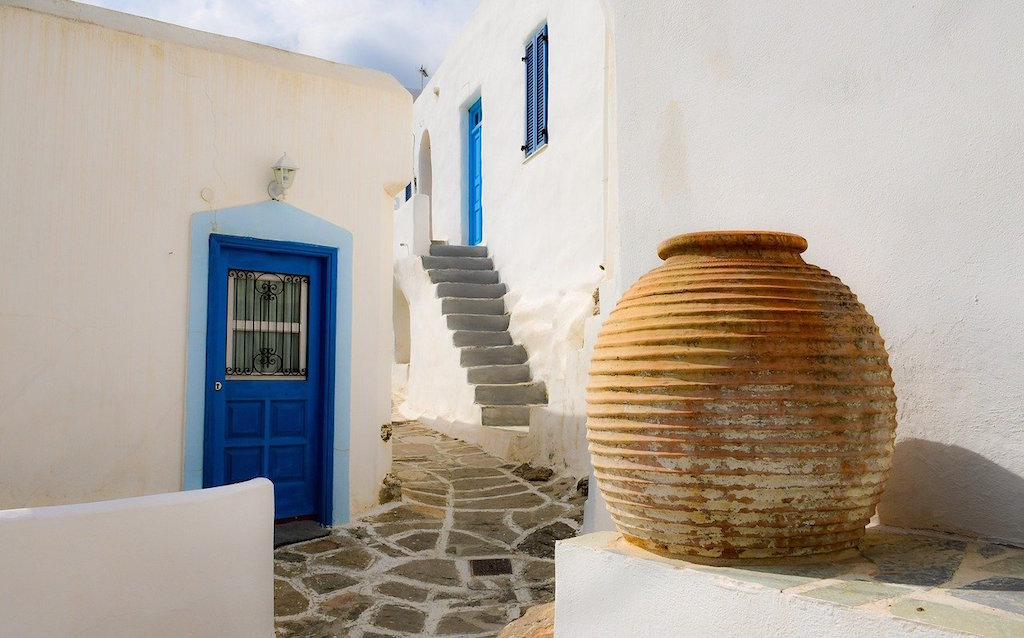 ---
Honestly, my belly couldn't be happier with Greek food in it!
---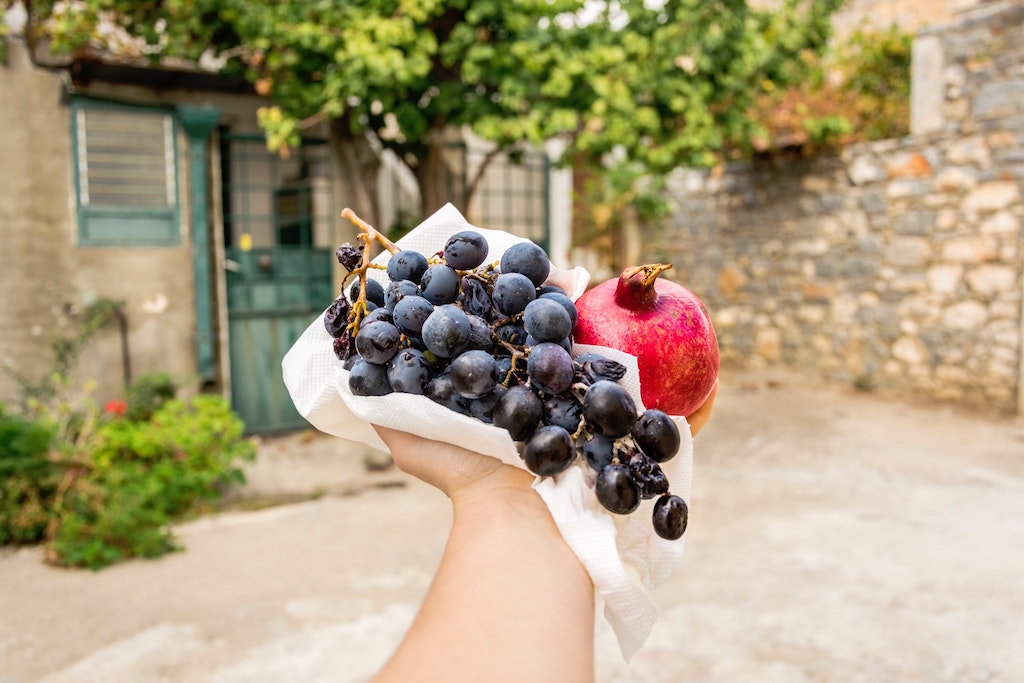 Greek food is not only something that is nutritious to your body, but also to your soul. A Greek meal is supposed to have you taste not only the yummy flavors but also enjoy the traditional meal with friends and family. Now that I have been talking up a storm about this Greek food, you must visit Greece and you must eat this fresh food in Greece, I think it's time to learn some things about Greek cuisine, Greek recipes, and age-old Greece traditions.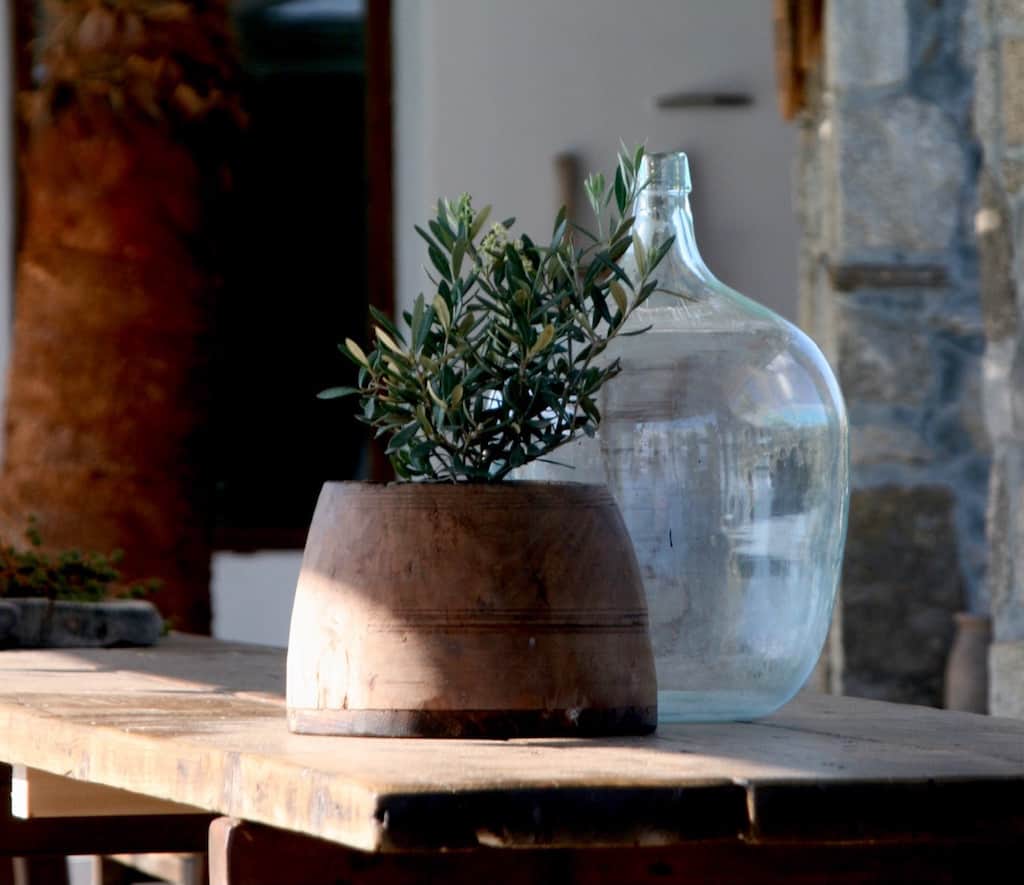 Here are some of my favorite Greek Cuisines not to be missed when traveling through Greece:
From moussaka to souvlaki and everything in between, here are 25 of the dishes everyone in Greece knows and loves:
1. Feta Cheese
To be honest, the first thing that comes to mind when I hear the word "Greek food" is feta cheese. I know that might sound somewhat cliche to me, but it's true. In the movie, "My Big Fat Greek Wedding", I learned that the most common words used in the English language come from Greek words, like feta. The word 'feta' comes from the word 'pheta' which means 'slice', so there you go! Feta cheese was traditionally made in Ancient Greece and supposedly eaten and mentioned in the poem, The Odyssey by Homer. Feta comes from goat and/or sheep milk that has been pickled, drained, salted, and aged. It is the perfect Greek food staple to have in your fridge and goes perfect on bread or in a salad.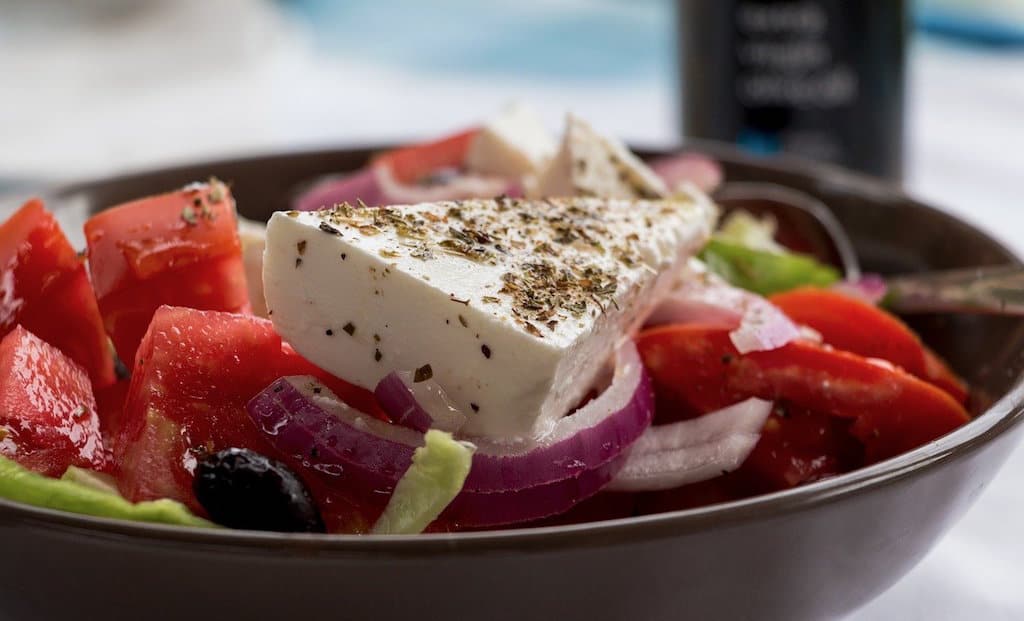 I have also tried the dessert version known as Feta Mi Meli. The feta is wrapped in a filo pastry before oven-baked with honey is drizzled over it. The balance between the salty feta and the sweet honey creates a memorable taste that is familiar in most Greek food. Recipe >>> The Spruce Eats
2. Olive Oil
Although olive oil is more of a dressing than a food, it is still a huge staple among Greek food fans. Greece is the third-largest producer of olive oil and you can tell that the Greeks know their stuff. It was around 3,500 BC that the first olive tree was planted in Crete. From there, the blessed olive oil was created and exported to the mainland of Greece and other surrounding countries.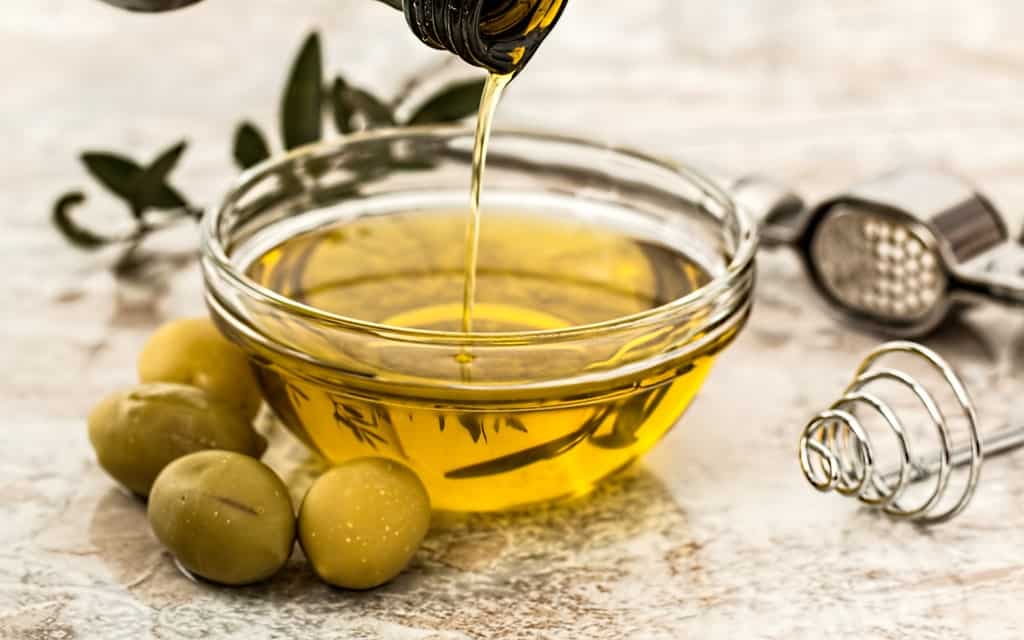 Recipe >>> My Recipes
3. Baklava
Although originally from the Ottoman Empire, baklava is one of the most heavily linked desserts to Greece traditional food. It is a rich dessert that is composed of layers of phyllo dough that are combined together with honey. The origin of the baklava can be traced back to the 1650s and it has been linked to countries such as Turkey, Algeria, and Ethiopia. It is probably the most popular food item among all Greek desserts.
Recipe >>> Simply Recipes
4. Yiaprakia Stuffed Cabbage Rolls
One of the simplest, but delicious Greek foods is the Yiaprakia stuffed cabbage rolls. This is a traditional Greek cuisine dish that dates back to the Moreas peninsula. This dish is created by using Mediterranean herbs and spices such as dill, cumin, and parsley. The true star of the dish is the minced meat that is packed into the white cabbage. If you haven't tried this traditional food in Greece, you must!
Recipe >>> My Greek Dish
Traditional Greek Food
5. Christopsomo or Christmas Bread
In Greece, this bread is commonly referred to as 'Christmas bread'. This Greek food is usually only made during the Christmas holiday. The main ingredients are flour, butter, milk, sugar, milk, walnuts, and eggs (that have been dyed red). The name of this bread translates to "Christ's bread", which is very fitting given the time of year it is consumed.
This Greece bread is always decorated with an "X" on it. This is the Greek letter Chi and happens to be the first letter in the word "Xριστος" which is Greek for Christ. So remember when you see "Xmas" instead of the full word "Christmas", you are really seeing the Greek abbreviation! Recipe >>> Mostly Greek
Santorini Island Guide – Things to do!
Diapontia Islands – Simply the Best!
6. Melomakarona Cookies
I just can't get away from the Greek desserts, especially the melomakarona "honey" cookies. They are another dessert that has grabbed my attention. These cookies are simple, yet satisfyingly delicious. They are made with sugar, olive oil, flour, and honey. This Greek Food cookie is often made during the Christmas season and shared with loved ones.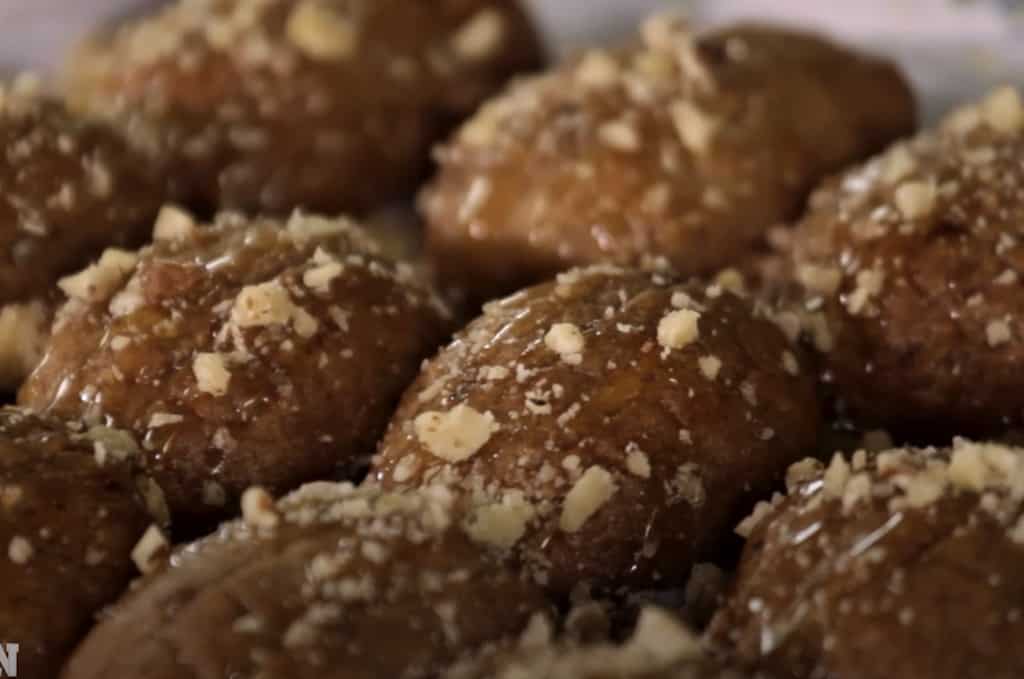 Recipe >>> Akis Petretzikis
7. Phyllo Dough
The Phyllo dough is an ingredient that is used all over the world. The Greeks invented the phyllo dough in the Byzantine era and it was simply made from wheat and flour. Phyllo dough is very tricky to work with because it is very thin and can easily break. Instead of going for a homemade recipe, which can take time and great skill, I recommend buying phyllo dough at your local supermarket and use it to create your Greek food masterpieces. Otherwise, it can be bought by many Greek grandmothers, who can whip it up pretty darn fast. Purchase >>> Amazon
8. Mayeritsa soup
Mayiritsa soup is a traditional Greek dish made for Easter. Most Greeks follow the Greek Orthodox church and have a ritual of fasting during Lent. Traditionally, this Greece food is eaten at midnight on Easter to break the fast. This delicious soup is made with the remaining parts of the lamb or goat that is used to make an Easter meal. I recommend making this soup with the most traditional ingredients that are used during Greek holidays.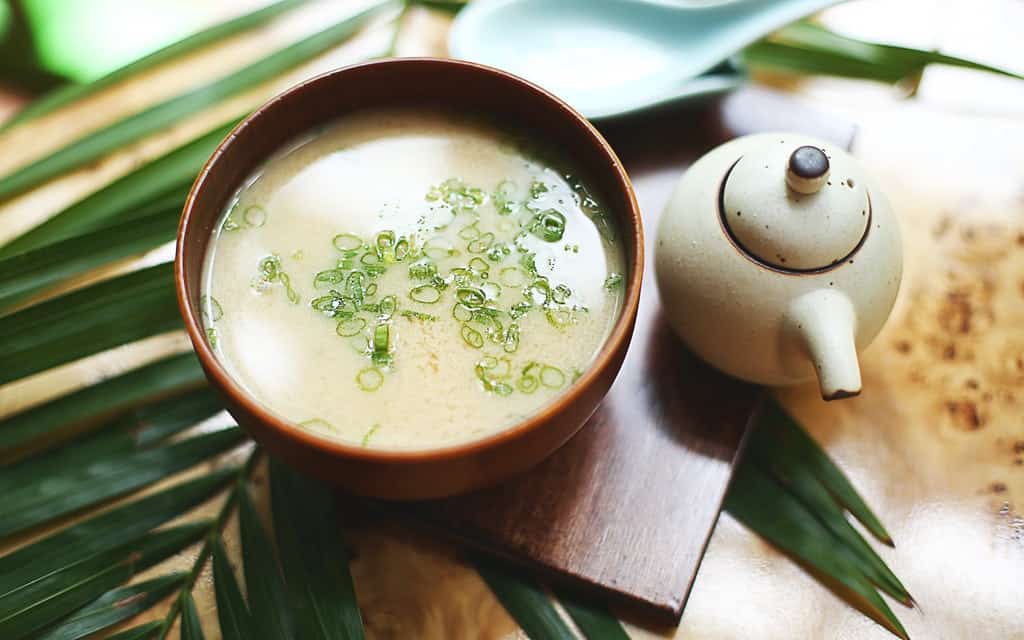 Recipe >>> Greece Is
9. Pita Bread
I don't think I have ever walked into a Greek restaurant without having eaten pita bread. The Greek Pita flatbread is a real staple food among Greek cuisine. The simple ingredients of flour, water, salt, and yeast make the perfect combination to create the yummy pita bread.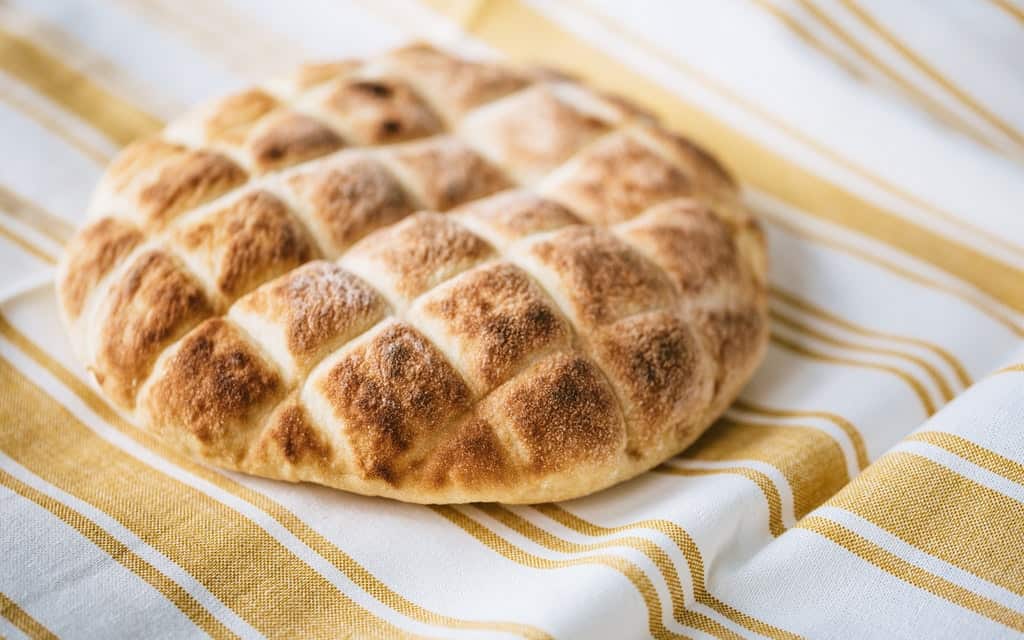 Recipe >>> Half Baked Harvest
Greek Food Not to Miss
10. Greek Salad or Horiatiki
You didn't think I would miss the Greek traditional food that is served worldwide known as the Greek salad, did you? To most English-speaking countries, the Horiatiki is known as the traditional Greek salad. This Greece salad is composed of tomatoes, onions, cucumbers, salt, pepper, olive oil, and feta cheese. Depending on the region of Greece you are in, some Greek food examples might be Kalamata olives, bell peppers, or caper berries in your salad.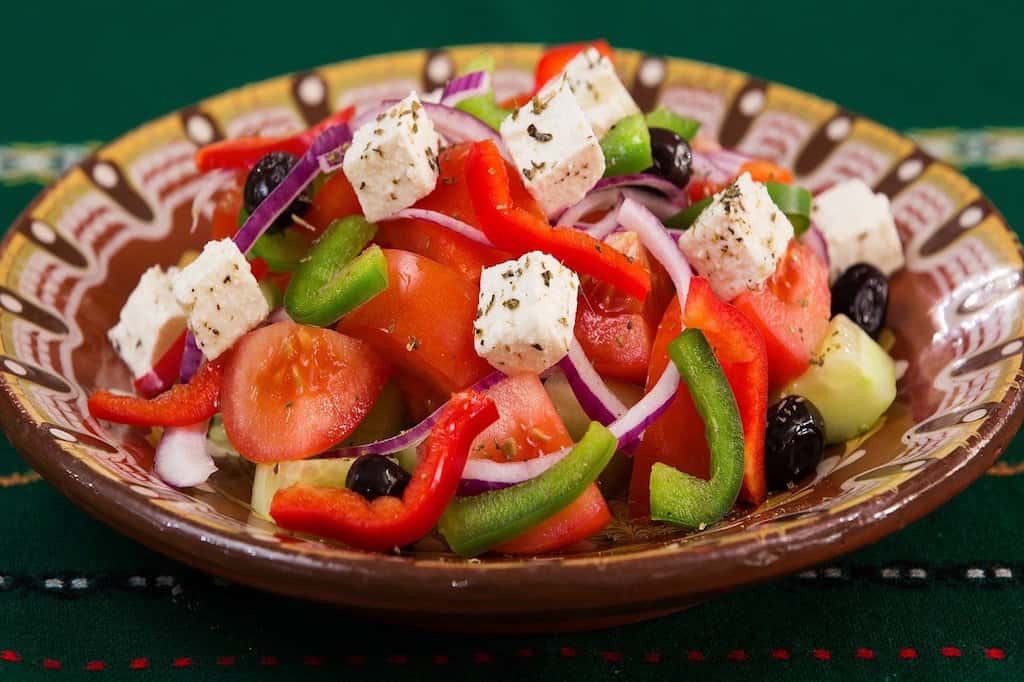 Personally, I love the food of Greece since it is grown from the fertile soil of Greek land. To me, it has special minerals in the soil that make their vegetables and fruit taste better. Recipe >>> The Endless Meal
Santorini's Secret Lovers Cove
11. Spanakopita
One of the most famous savory pies in all of Greece is Spanakopita. The famous poet Philoxenos was the first to mention this Greek food in the literature that dates back to the 5th century. I think it is fascinating that after all these years, the Greeks have not lost sight of their origins and have kept these yummy dishes alive for years. We call them traditional Greek meals.
This scrumptious Greek food dish is made with spinach, herbs, feta cheese, and scallions that are nestled in-between phyllo dough layers and then brushed with butter or olive oil. If you are in the mood to eat Spanakopita and you are in Greece, then check out this restaurant. They have a wonderful list of Greece food menu items to choose from.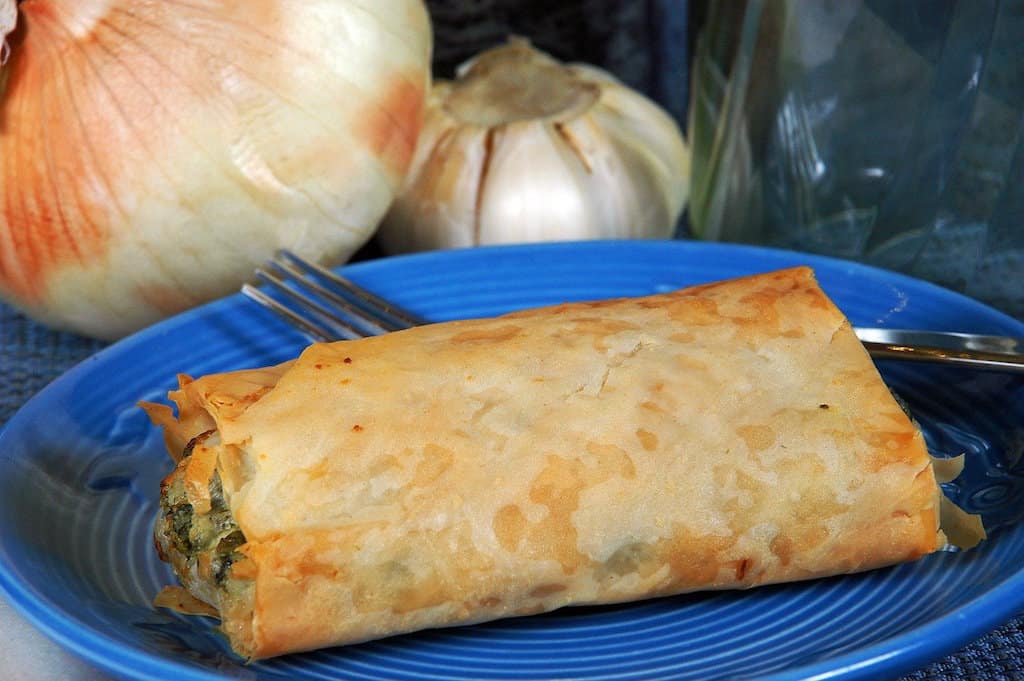 Recipe >>> The Mediterranean Dish
12. Tiropita Pie or "Greek Cheese Pie"
As you may have guessed, phyllo dough is a true staple food among Greek food. It is also the front and center of the Greek pastry, tiropita pie, or Greek cheese pie. Unlike other Greek cuisine dishes, this dish banks from the ancient greeks of Sicily, Italy. The tiropita pie is typically served as an appetizer and can be stuffed with different cheeses and egg mixture, depending on the region you are in.
If you are wondering about the history of tiropita pie, it is a layered dish that may have originated from layered pan-fried bread. This was most likely developed by the Turks of Central Asia before their westward migration to Anatolia in the late Middle Ages.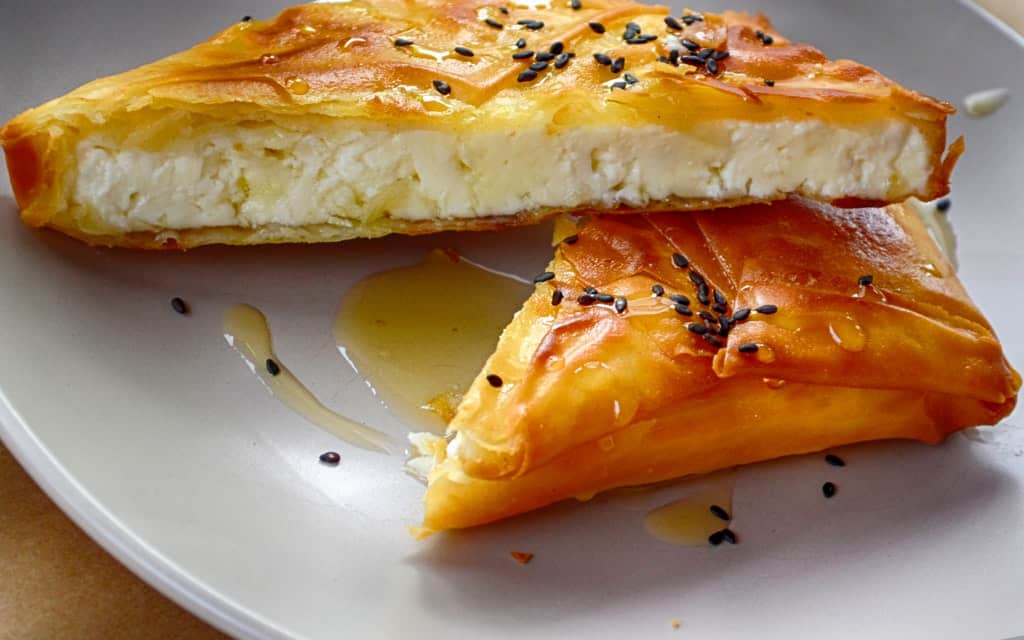 Recipe >>> Curious Cuisiniere
13. Galaktoboureko
Another delectable Greek dessert is the Galaktoboureko. This Greek dessert is made with semolina, custard, and filo dough. Similar to other desserts and pastries, the galaktoboureko is made in a large sheet pan and then cut into individual portions in order to get a delicious taste in every bite. I love to eat this Greek cuisine. Recipe >>> Greek City Times
14. Revithosoupa
Easter seems to be the perfect time to make those special once-a-year Greece food dishes like Revithosoupa. It appears that Greeks are real sticklers for their food traditions and that includes hearty Easter soups. Fasting for 40 days comes with the Greek Easter tradition and the best way to break the fast is with the Revithosoupa. This soup is made from chickpeas, onions, rosemary, olive, lemon, and black truffle oil. It tastes delicious!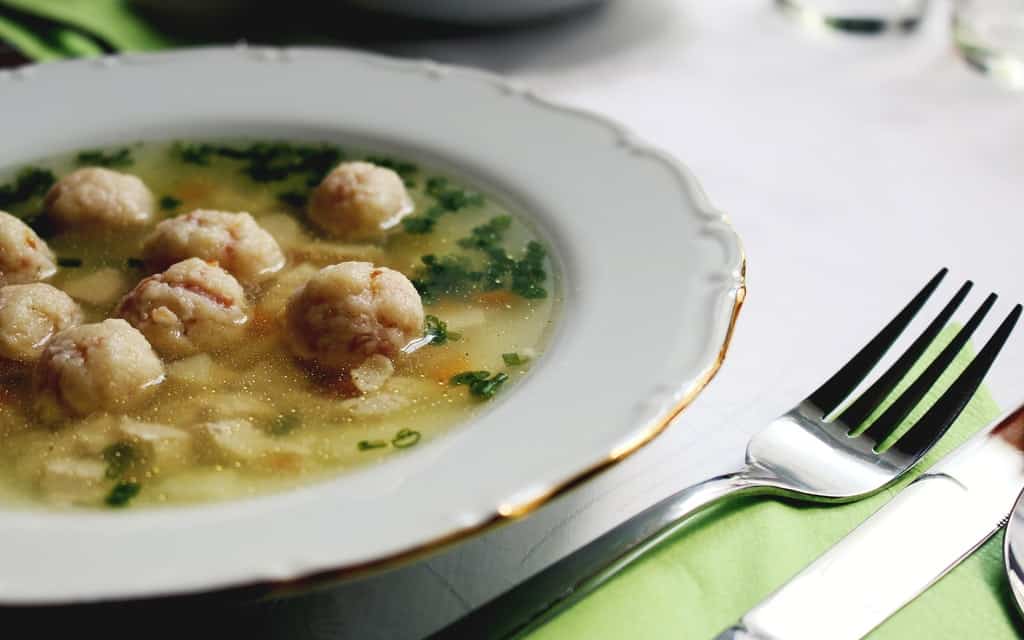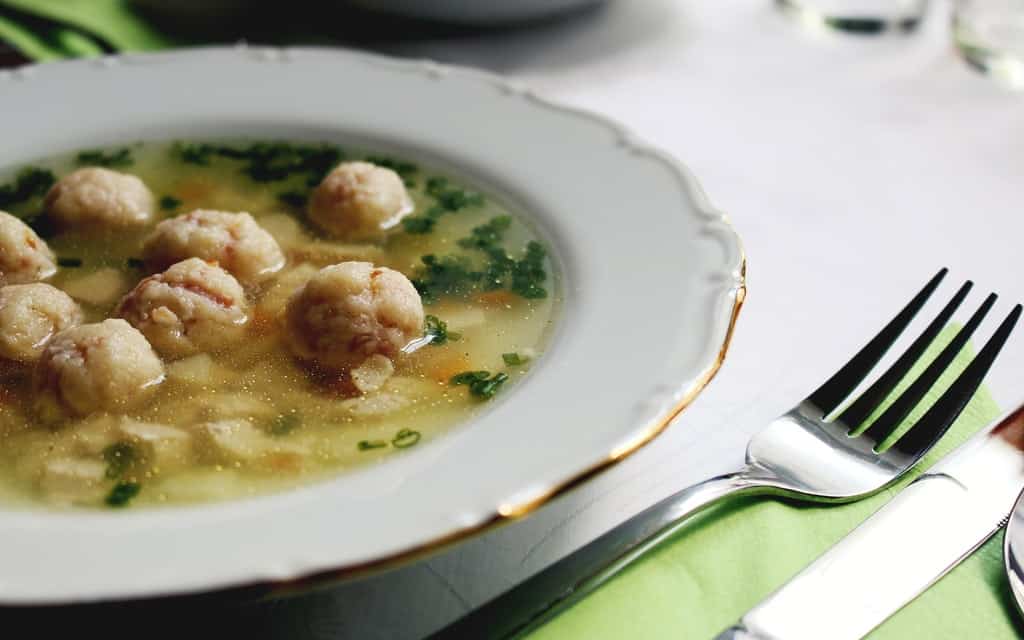 Recipe >>> Kopiaste
Greek Food We Love
15. Saganaki
One of the best Greek appetizers is the fried cheese known as Saganaki. Depending on the Greek region you are in, different cheeses are used to make this tasty dish. Such cheeses include graviera, halloumi, kasseri, feta cheese, and formaela cheese. The Greeks prepare this dish in a frying pan to get the best results possible for all the fried cheesy goodness. When you are in Greece, I recommend checking out this restaurant for a great Saganaki dish. They have a wonderful Greek menu with special desserts.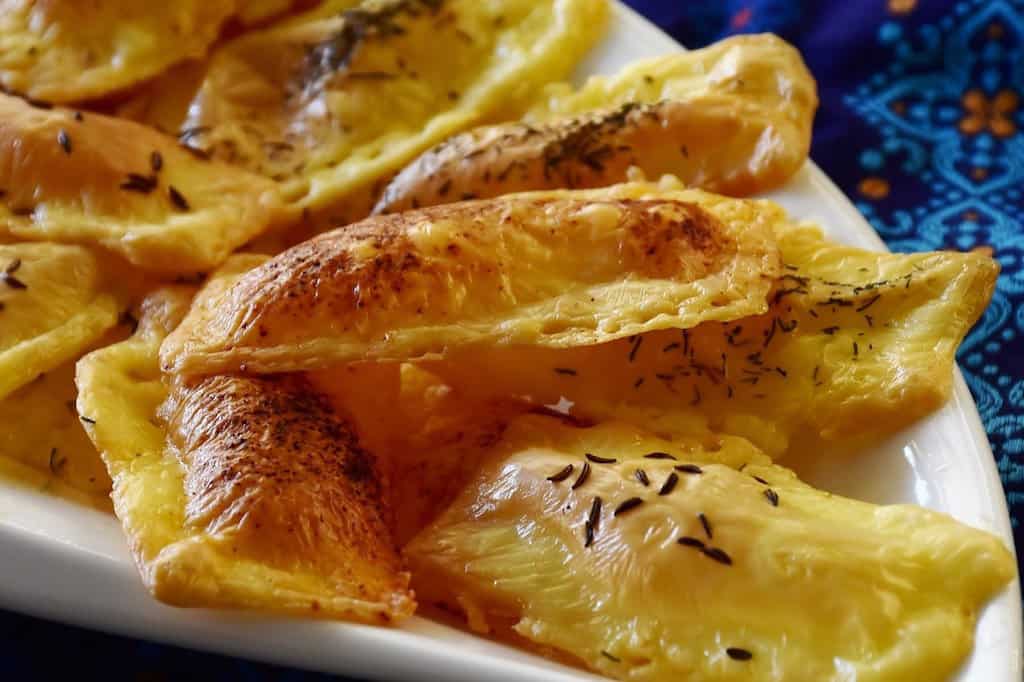 Recipe >>> Olive Tomato
16. Gyro
Possibly hailing from the Middle East and Asia, the gyro has been an essential food in Greek culture. During the early 1920s, the gyro started arriving in Greece from places such as Istanbul, Turkey, and Armenia. A gyro is made on a vertical rotisserie that is prepared with pork, chicken, or beef. Once the meat is cooked, it is stuffed in pita bread and then topped with tomato, onion, and a special sauce. This is a crowd favorite among tourists and locals alike. So be sure and have a greek gyro on your trip to Greece.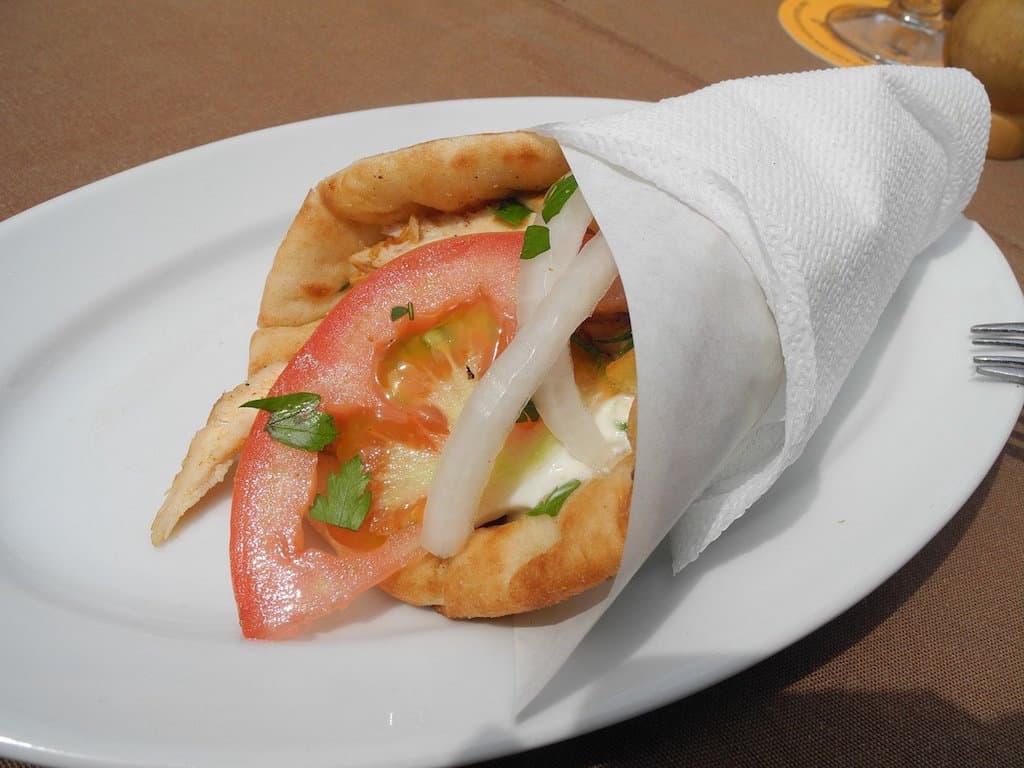 Recipe >>> Greek Boston
17. Souvlaki
Souvlaki is considered to be the world's first form of fast food. Ancient Greeks made souvlaki by grilling meat on a spit and then serving it with bread. In Athens, this type of fast food is also called Kalamaki. This ever-popular Greek cuisine is often eaten right off the skewer and served with fried potatoes and lemon, on a piece of pita bread.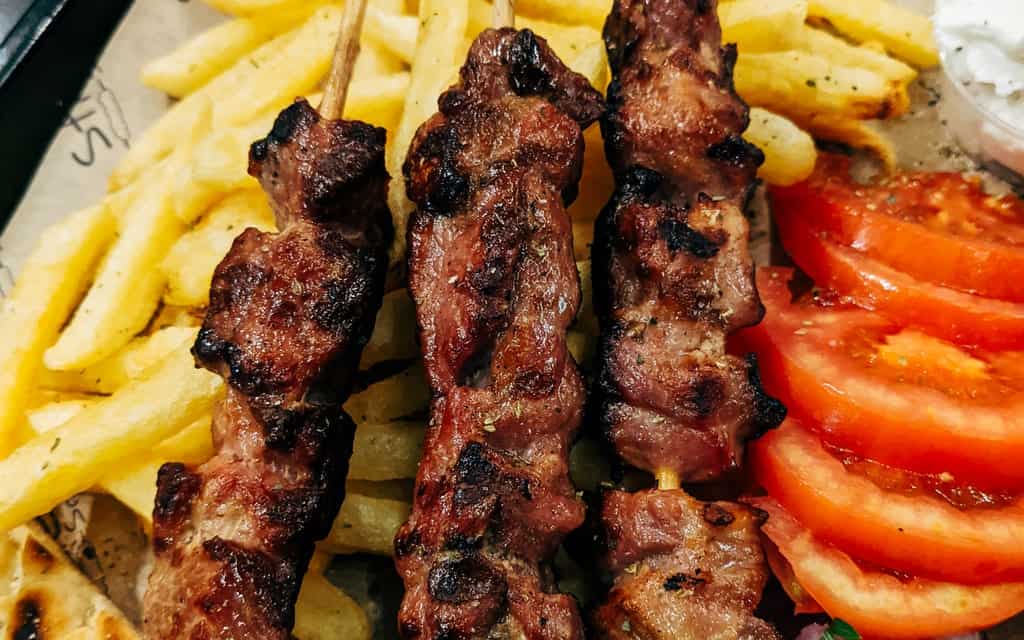 Recipe >>> Masterclass
18. Moussaka or Greek Lasagna
Another Greek famous dish that was inspired by the Arabas is the Moussaka. It wasn't until 1910 that the famous chef, Nikolas Tselementes, made this dish using a bechamel sauce on top. Bechamel is a French sauce that is made from butter, flour, and milk. If you want to prepare this hearty Greece food dish, then set aside a couple of hours and use the recipe below. Moussaka is considered a Greek specialty food and quite difficult to make.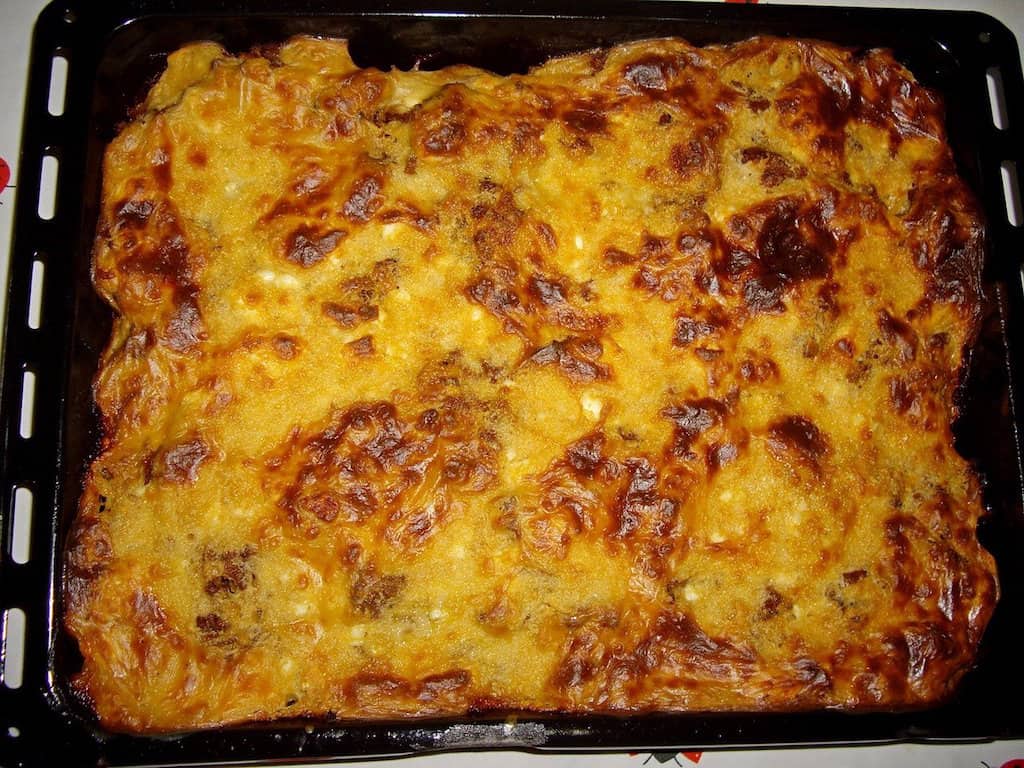 Recipe >>> RecipeTinEats
19. Calamari
Although the word might seem Greek, "Calamari" is actually the Italian word for squid. The Greeks were so impressed by the name and preparation of calamari that they started incorporating it into their cuisine. Fried calamari can be found in almost all fish restaurants in Greece such as a Psarotaverna (which serves fish and seafood dishes). All you need to make these fried critters is patience.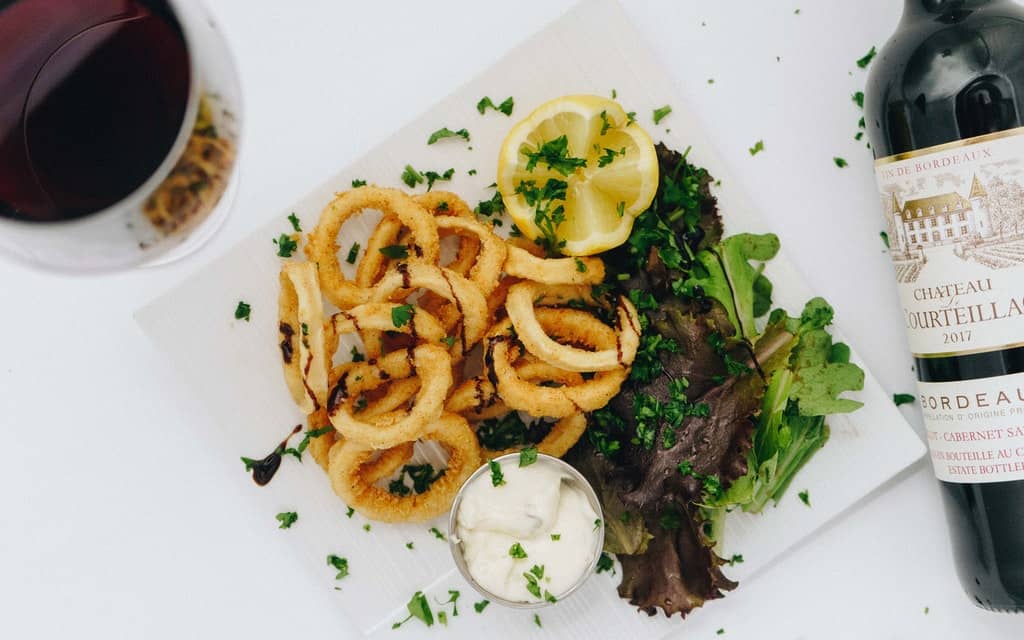 Recipe >>> Fifteen Spatulas
Best Greek Food & Greece Cuisines You Have Ever Tasted
20. Pastitsio
I have yet to talk about a Greek pasta dish yet and now is the chance with the Pastitsio. Similar to the reinvented Moussaka by chef Nikolas Tselementes, this Italian-inspired baked ziti has become a Greek food favorite. The main ingredients in this dish are Greek ziti, Kefalotiri cheese, ground beef, and Bechamel sauce. This is a Greek Mediterranean food that most people love.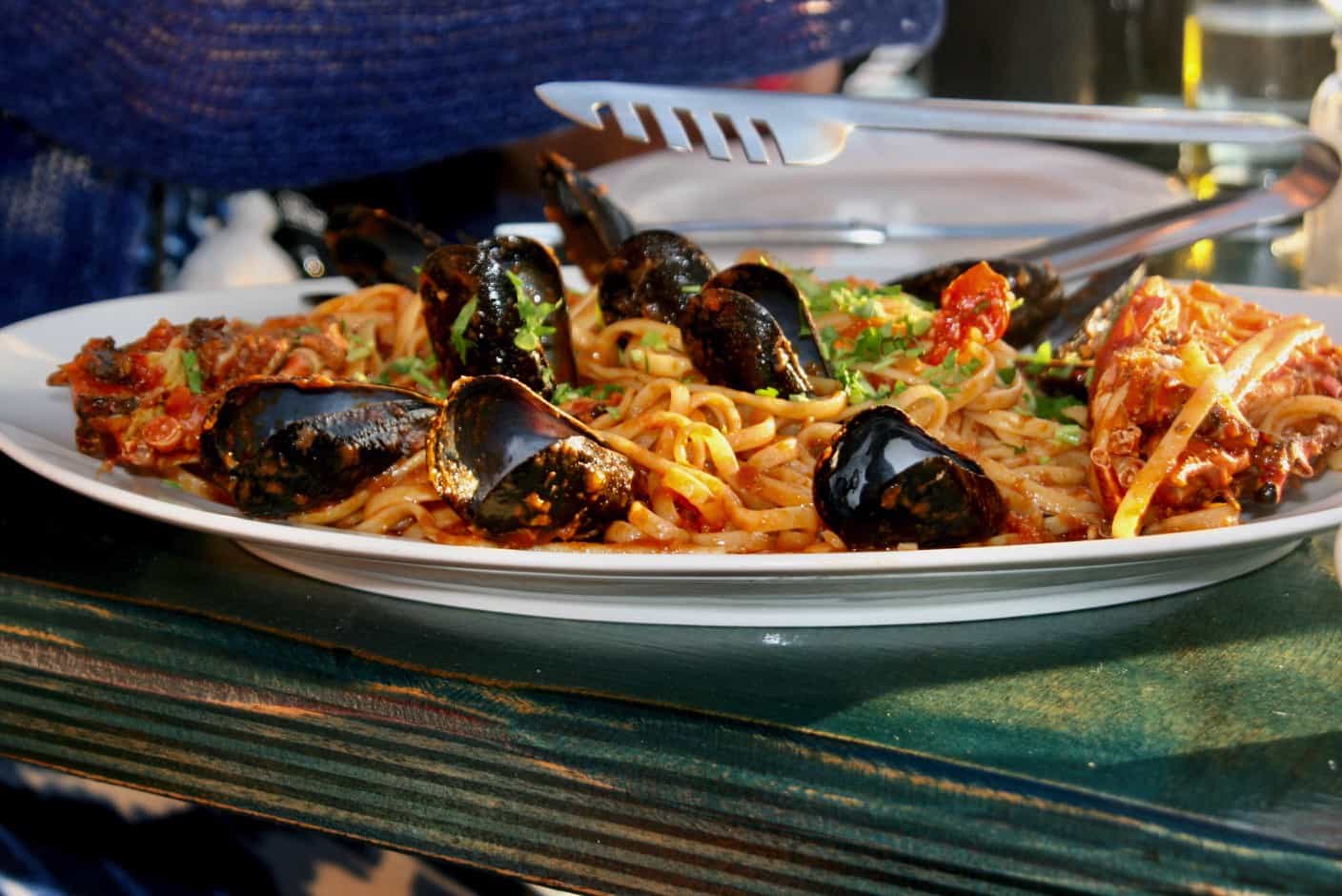 Recipe >>> Recipe Girl
21. Yemista
Another well-known and traditional Greek dish is Yemista or Gemista. The main ingredients in this Greek cuisine are olive oil, peppers, tomatoes, rice, and vegetables. It is a dish that was first introduced to the Greeks during the Greek-Turkish War when the Turkish used to stuff their dishes. I love this Greek-style stuffed pepper. Recipe >>> Lazy Cat Kitchen
22. Lavraki
Greece is bordered by two different seas and it seems appropriate for Greeks to have fresh fish on a daily basis. One of the traditional Greek delicacies is Grilled Lavraki. This Greece cuisine has been caught by fishermen since ancient times, but has always been a difficult catch and is considered one of Greek's delicacies when you can get it. This fish dish is based on the Greek sea bass and includes tomatoes, garlic, white wine, and olive oil.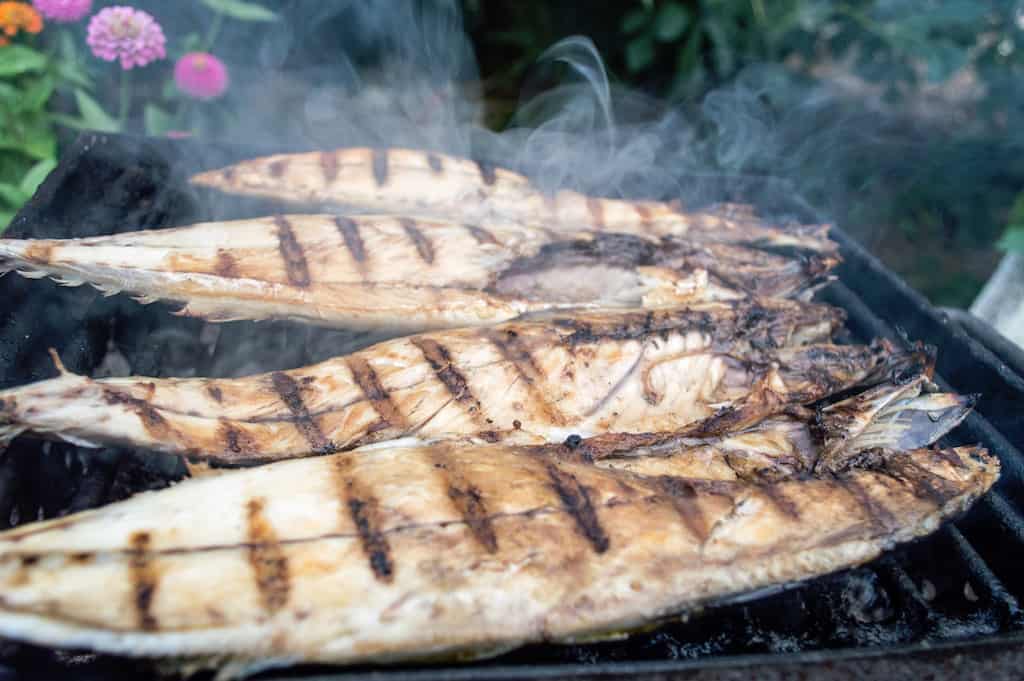 Recipe >>> Scrumpdillyiscious
23. Domadakia or Stuffed Grape Leaves
If you are looking to try something unique and different, then you must eat the Domadakia (stuffed grape leaves). These stuffed grape leaves are an interesting alternative to a stuffed pepper or spanakopita. Most recipes include ground beef, rice, parsley, a lot of onions, and eggs. You can substitute the ground beef for pork. This photo is a great example of a Greek food dish filled with fava beans and stuffed grape leaves which are served on almost every table in Greece.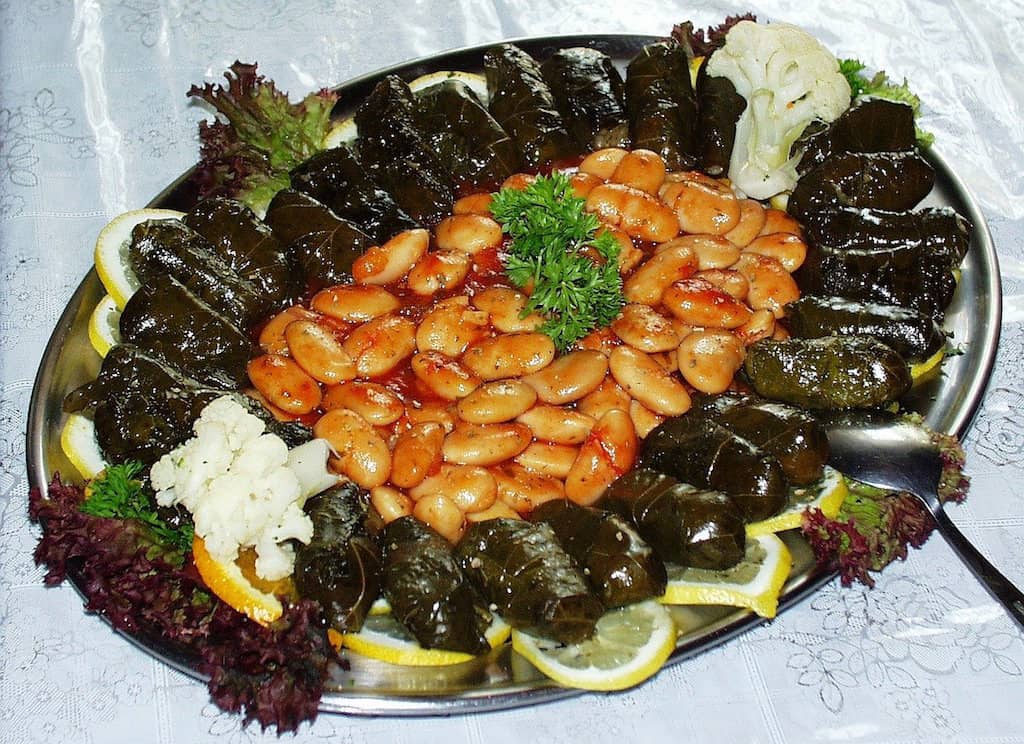 Recipe >>> Dimitri's Dishes
24. Taramasalata Spread
If you are a fan of spreads and fish, then you must try the Taramasalata. The main ingredient of this spread is cured cod, which is called "tarama" in Greek. Whenever you are in the mood to eat this fish spread then you can always look up Greek food near me to find a Greek restaurant that serves it.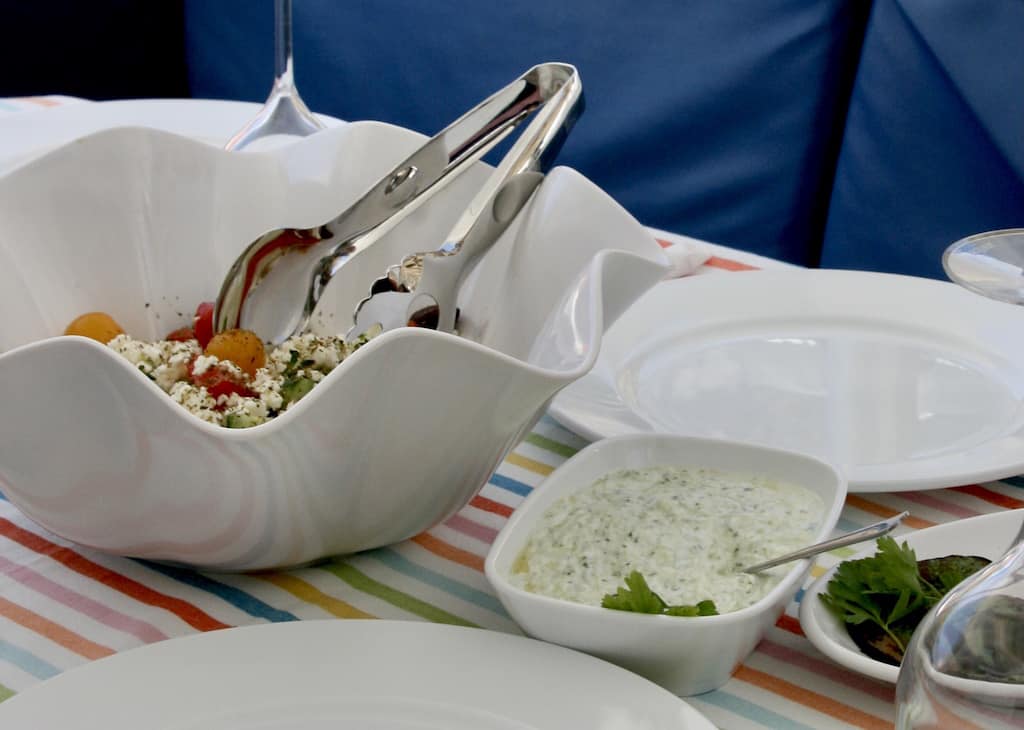 Recipe >>> Nourished Kitchen
Traditional Greek Food to Die for!
25. Kolokithokeftedes (Courgette or Fried Zucchini Balls)
Vegetables are a staple ingredient in the Mediterranean diet, which translates into why the Greeks love them! A traditional veggie dish is Kolokithokeftedes, better known as "fried zucchini balls" or "Courgette balls". The secret to making the perfect zucchini ball is making sure it is creamy in the middle, but with a crunchy exterior. To make the perfect zucchini balls, check out the recipe below.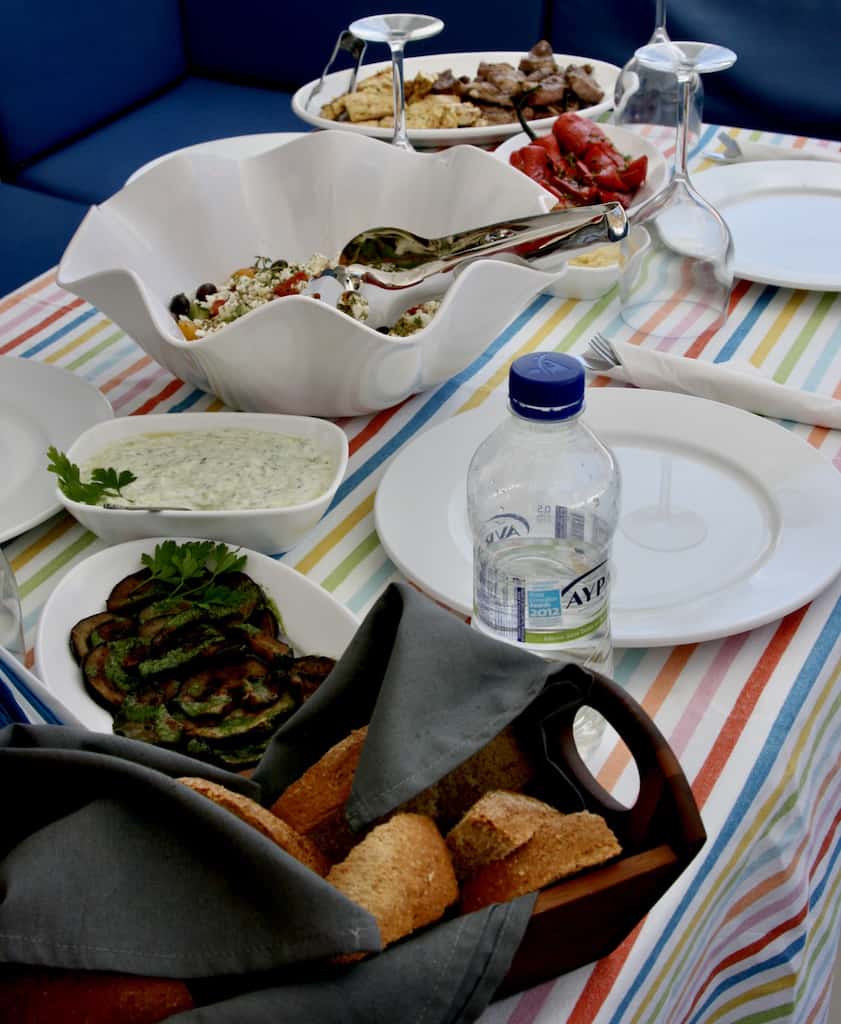 Recipe >>> A Seasoned Greeting
26. Taramasalata (Ταραμοσαλάτα)
Have you ever heard of Taramasalata? This pungent or peculiar dip has a starchy base of soaked breadcrumbs or potatoes with added lemon juice and olive oil. Variants can include garlic, spring onions, or peppers, or vinegar instead of lemon juice. It is a fluffy white to light pink dip that is salty and is made out of Tarama. But what is Tarama? Tarama is the "tiny eggs or cured roe" of cod, carp, or the grey mullet. Typically this dish is eaten on Clean Monday (the first day of Greek Lent) with Lagana flatbread. The Greeks call it a salad, but I would call it a dip.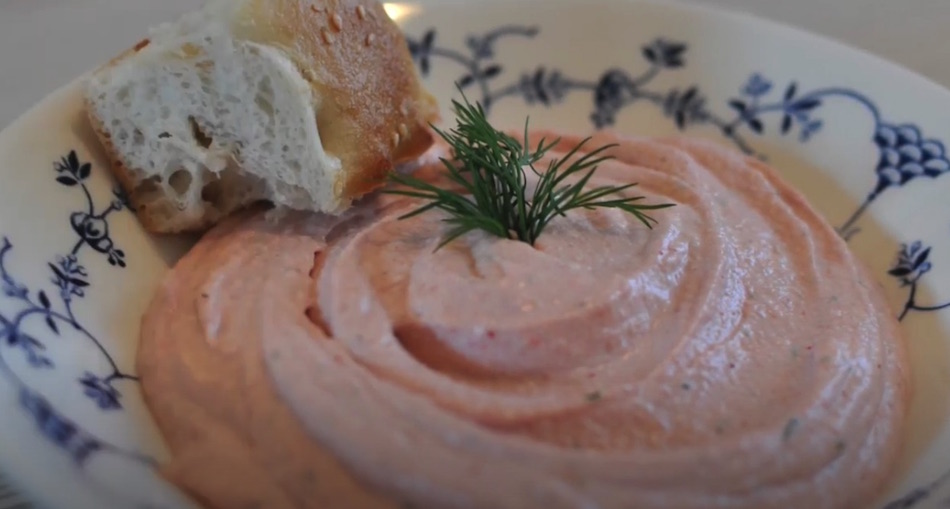 Recipe>>>Taramasalata (Ταραμοσαλάτα) All this talk about food in Greece food has given me a craving for some baklava or tiropita, and even a Greek salad, just maybe not in that order. Once you taste any of the Greek foods on this list, you are sure to want more. So be sure and make a greek food list before going to the grocery store! Taste by taste and bite by bite, you might just eat everything listed above. As they say in Greek, απολαύστε το φαγητό, or "enjoy the Greek food".

So, by now, you must be dreaming of a trip to Greece? I know I am. You can start by dusting off your camera and getting it ready to capture the cliffside sunsets and the gorgeous white stucco house with bougainvillea vines growing up the walls. But I do want to let you know that you will, for sure, come back a few pounds heavier from all that feta cheese and halloumi doused in olive oil that you ate last night at many tavernas in town.
Well Known Greek Liquors
1. Ouzo
The most famous Greek liquor is, of course, Ouzo. Ouzo has a strong and dry herbal taste and typically has high alcoholic percentages (from 38 to 49%). Many Greeks add water to their Ouzo, which turns it a milky white color, or sometimes it will have a faint blue tinge. It is served with ice cubes in a small glass.
2. Krasomelo/Oinomelo (Mulled Wine)
This drink is the Greek version of mulled wine, also known as Krasomelo or Oinomelo. You cannot have a Greek Christmas celebration without Greek Mulled Wine. This sweet and spicy beverage is used in Greece to warm taste buds in the evening. This is the Greek version of mulled wine, and it's popular to drink around Christmas.
3. Mastika or Mastichato
Mastika, also known as mastichato, is a sweet liquor that is made on the island of Chios. It is produced with mastika resin and has an anise taste similar to celery, herbs, parsley, or pine. Typically it is consumed at the end of a meal. It is claimed to have medicinal properties to aid digestion. It blends well with some Greek food but is not as strong a taste or flavor like Ouzo is.
6 Traditional Greek Food Greeks Eat for Easter
Balsamic-glazed figs
Cheese pastry cups (kalitsounia)
Easter bread with red eggs (tsoureki)
Greek Easter biscuits (koulourakia paschalina)
Skewered chicken (kotosouvlaki)
Spit-roast lamb
8 Traditional Greek Food Greeks Eat for Christmas
Baklava
Christopsomo Bread
Egg Lemon Chicken Rice Soup
Melomakarona Cookies
Karythopita Walnut Spice Cake
Kalitsounia Kritis Cheese Pastries
Kourabiethes Cookies
Yiaprakia Stuffed Cabbage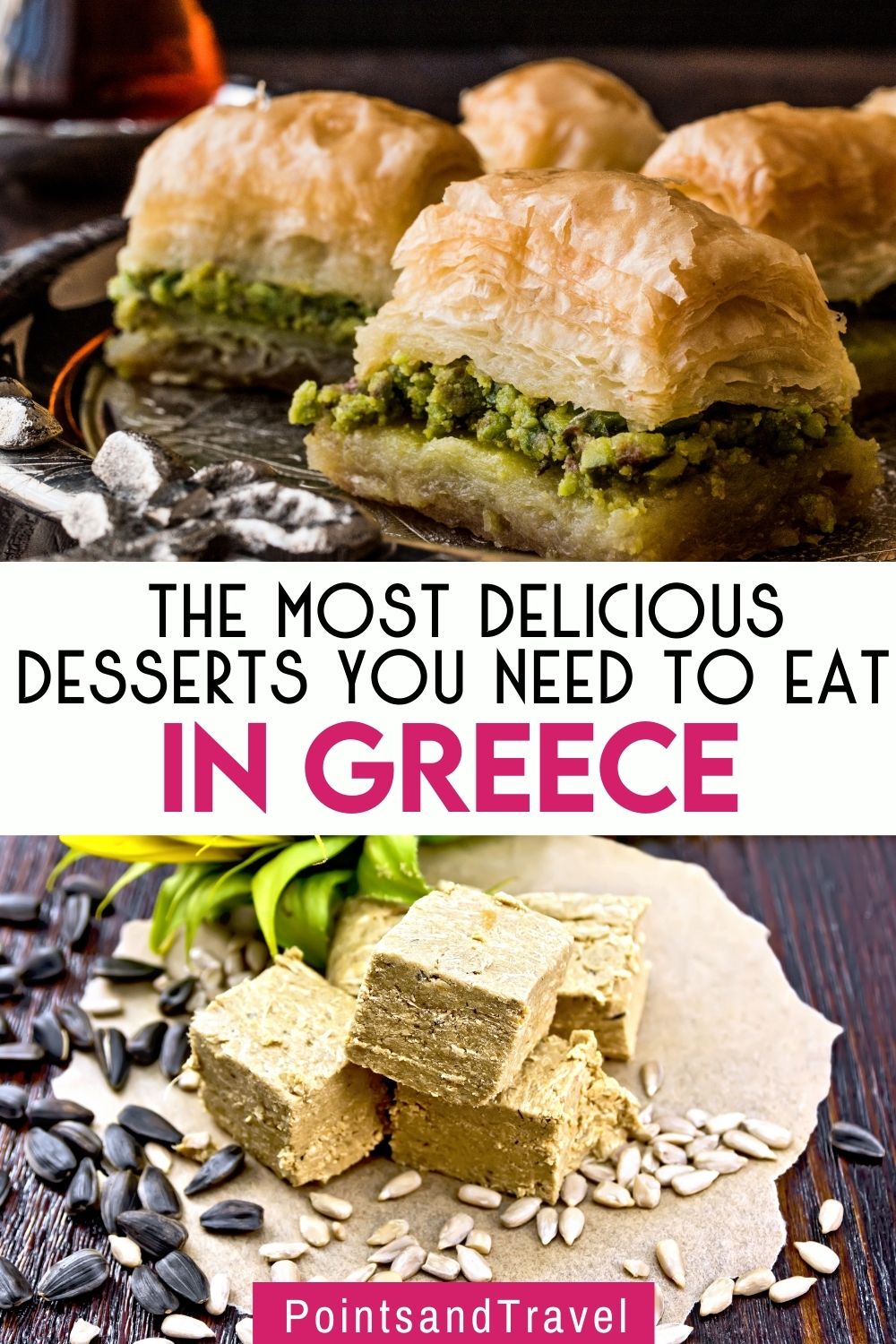 What are your favorite Greek foods, dishes, cuisine, or liquors?
Are there Greek foods near me? Tell me in the comments below.