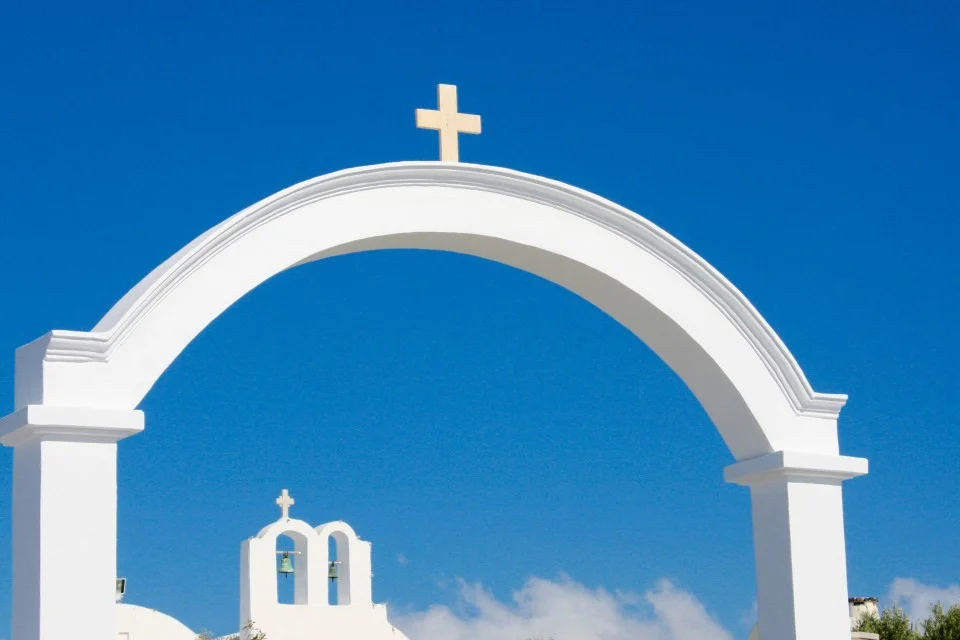 A Trip to Santorini
I had dipped my toes in the crisp, cool water and squealed with excitement as the yacht sailed away. I couldn't believe this moment had finally arrived, a trip to Santorini. It was exactly how I had dreamed about it a thousand times before. This was where I wanted to be on the day I turned half a century old. In the dream, I would be lounging on a yacht, with my toenails perfectly painted red or pink, the slimmest I had ever been. My view would be the color of blue, shades, and shades of it. From deep navy to turquoise to indigo, the shades would shimmer in my eyes like postcards from the French Riviera.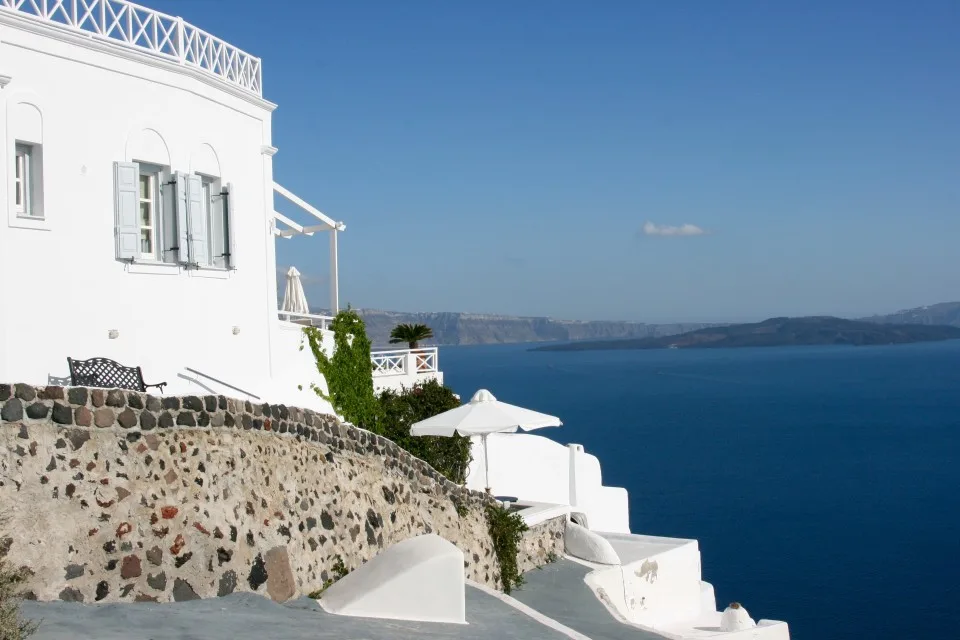 A Trip Down Memory Lane
Two years later, I found the lava rock from the Greek Isles back in the corner of my oldest son's closet. Cleaning out his room to make way for my teenage son to go to college was emotionally difficult and I dreaded the day that he was going to leave. We had finished packing up his room, loaded the car, and dropped him off for his very first day of college. He had lived a lifetime in this room and it was sad for me and his Father to see him go.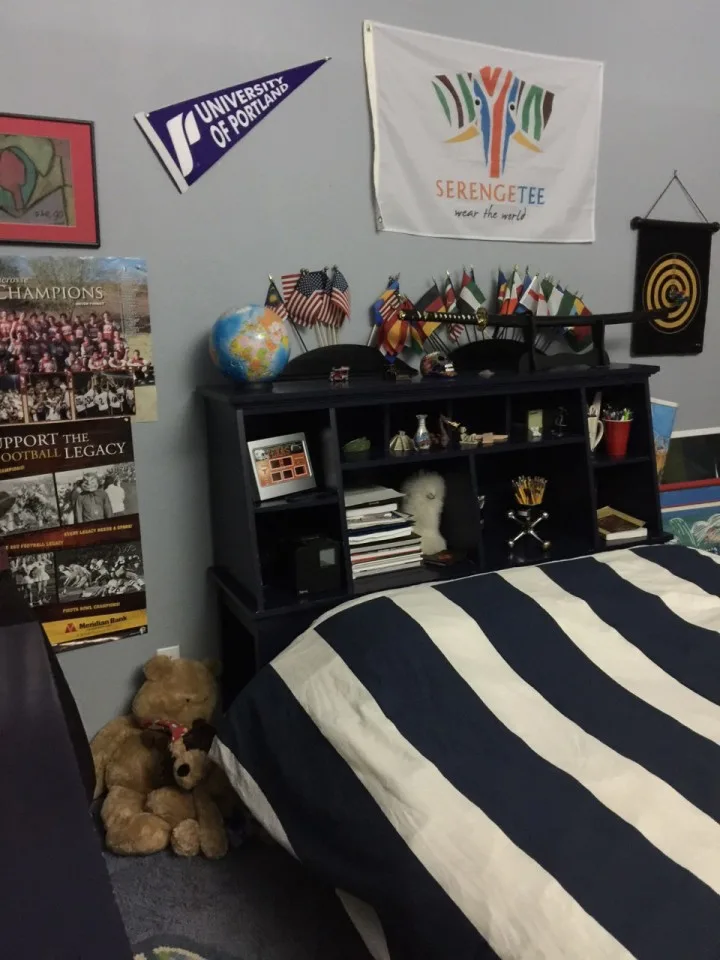 The aftermath of his room haunts me and occasionally I would go in there and lay down on the bed. I still miss him like crazy. But today I had decided the room really did need a thorough cleaning. "What if we had guests for Christmas?" They would have to stay in this room, so I needed to get it cleaned up. I hadn't even had the maid come in here except occasionally over the years, still wanting to keep it just like it was the day he left, except for all the things he didn't take! And I had bags of that stuff everywhere.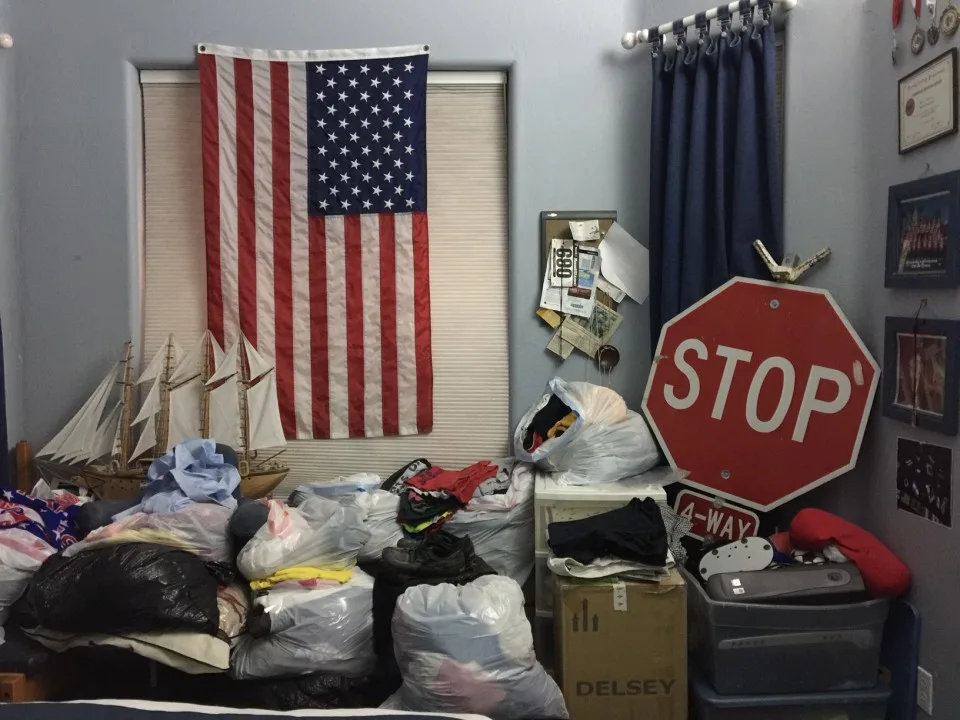 Memory Lane Cleanup Time
Inching the vacuum cleaner as close to the wall as possible in the back of his closet, I hit something… Pushing up against it again, I had to lay down on the floor and reach as far underneath the shelf that held his shoes close to the floor to figure out what it was. With my stretched-out hand, I felt something sharp, prickly, and solid. With one more swipe, I was able to grasp it and pulled it out only to realize it was
THAT lava rock…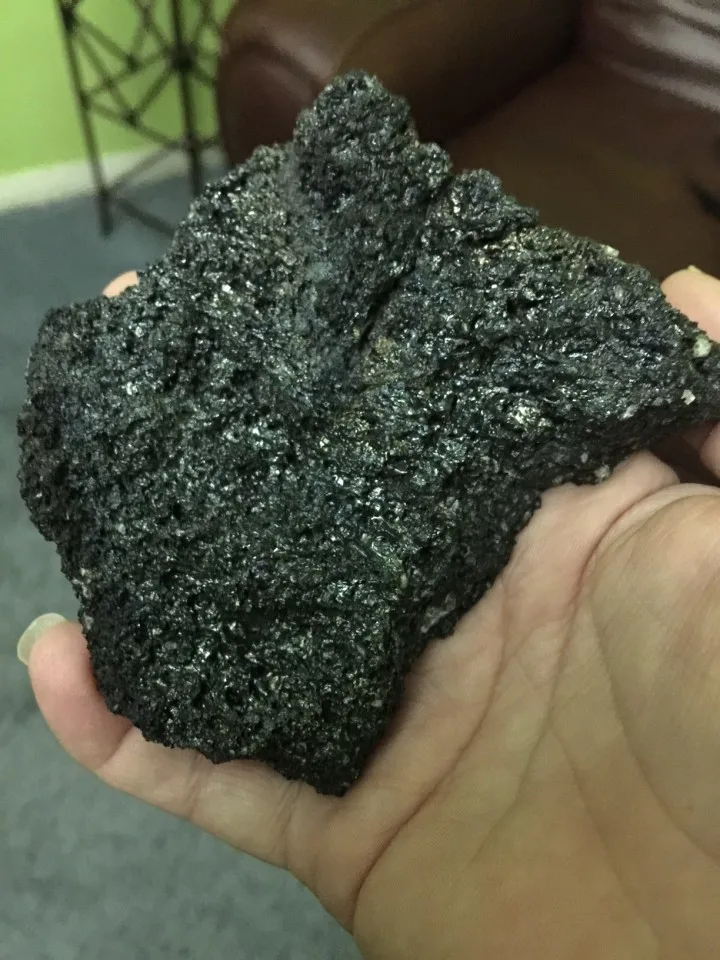 THAT lava rock…
Lava Rock Memories and A Trip To Santorini
Not just any ole' lava rock, but the one that brought back piles of memories, a happy tear, and reminded me of one of the happiest days of my life. Don't get me wrong, the happiest days are the ones when I had my kids, the day I got married, college-degree days, and the days my family had successes. Everything else is downhill after that. But still, there are many highlights, and this one stands out above most of the rest.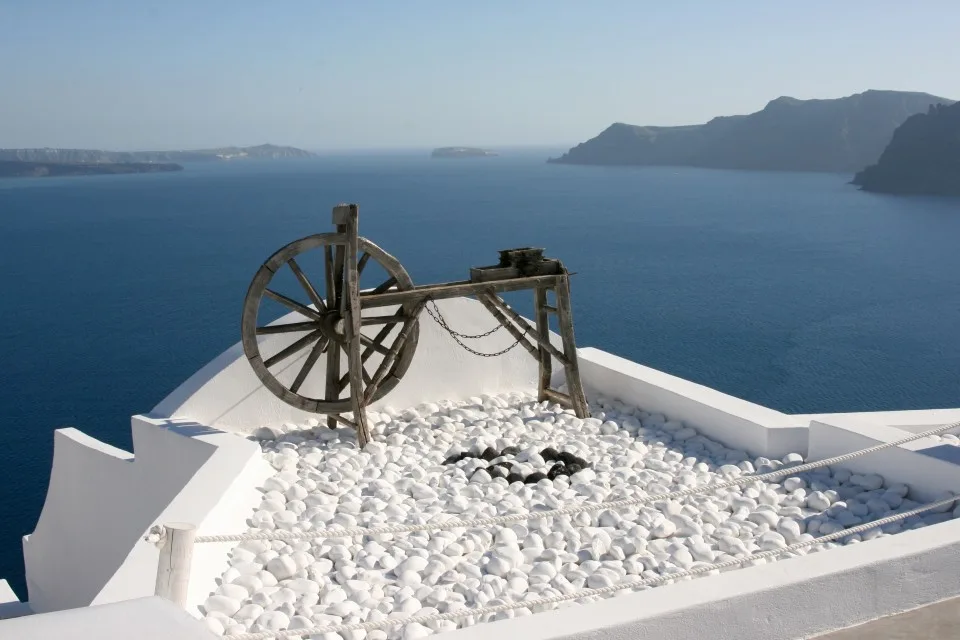 Santorini and the Greek Isles
Here I was at the awe-inspiring Caldera Santorini on the largest island in a circular archipelago in the Greek Isles. They were literally the remnants of an island that was destroyed by a volcanic eruption. Which brings me back to that rock that I held firmly in my hand, along with the vacuum cleaner hose in the other. I held on to it tight, wanting to literally grasp every single memory I could get out of this little piece of volcanic ash and see those glistening sun rays hit that water.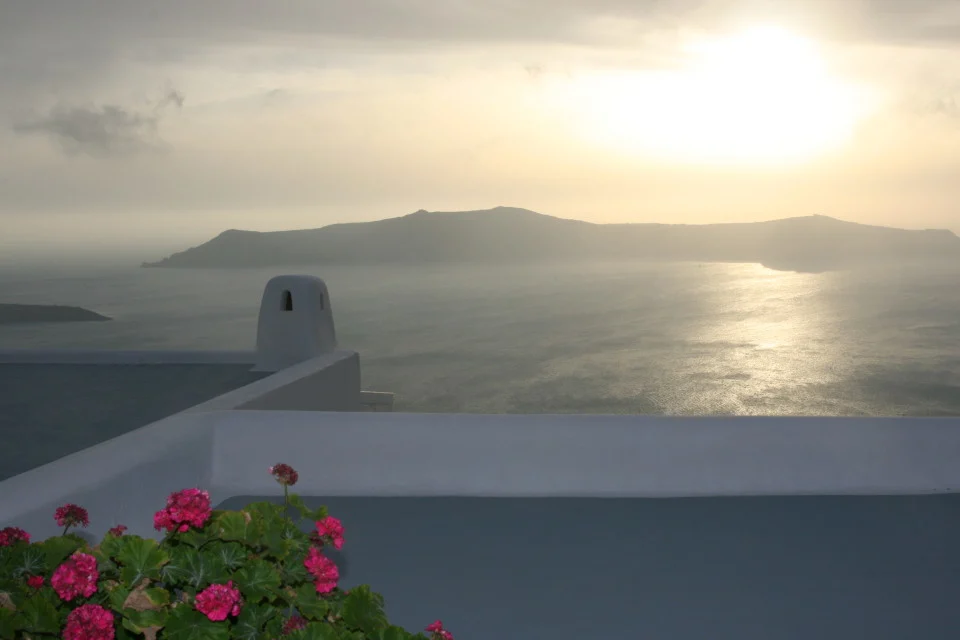 Secret Lover's Cove in Santorini
I had arrived on Santorini island, rented a car, and was on a whirlwind tour with my beautiful, blonde tour- guide friend, when she mentioned she wanted to show me this hole in the rock caldera overlooking the coast, that she had deemed "Lover's Cove". She told me her own version of how she had found this place.
She was riding on the back of a motorbike with a local guy she met when she lived here summers ago. He had brought her here to see this secret site on caldera Santorini. She wanted to share it with me, as she thought it was the perfect place for a guy to propose to his honey. She talked about it incessantly since we arrived, so I had to see it!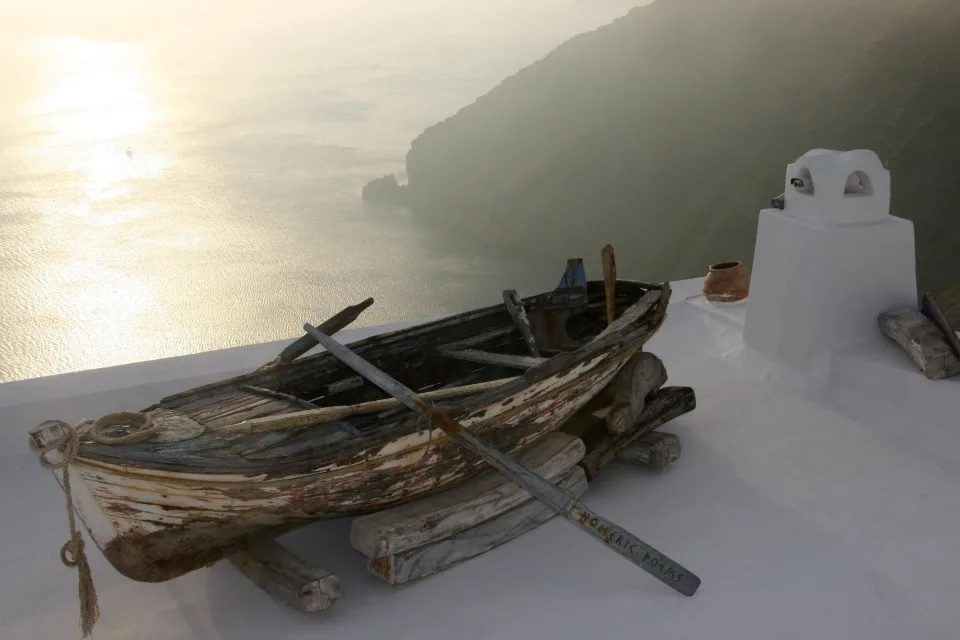 Typically, a tourist who visits Greece would never find their way here, because honestly, it is in the middle of nowhere and completely unmarked. You could have driven by here a dozen times on the local road and never even think to look for it, as it was a part of the cliff down below and completely out of sight. Here is a closer look:
The Secret Trail to Lover's Cove – Santorini
After she parked the car, we got out and she pointed in the direction we should go. Suddenly a dirt trail appeared and we hiked down the narrow path below to the edge of the cliff to see this stunning view. The ocean waters had etched a heart into the side of the cliff rock. And down below, you could see a tiny, quaint stone-white church, the Chapel of Agios Nikolaos, built right into the rock. I have never seen such a perfect spot!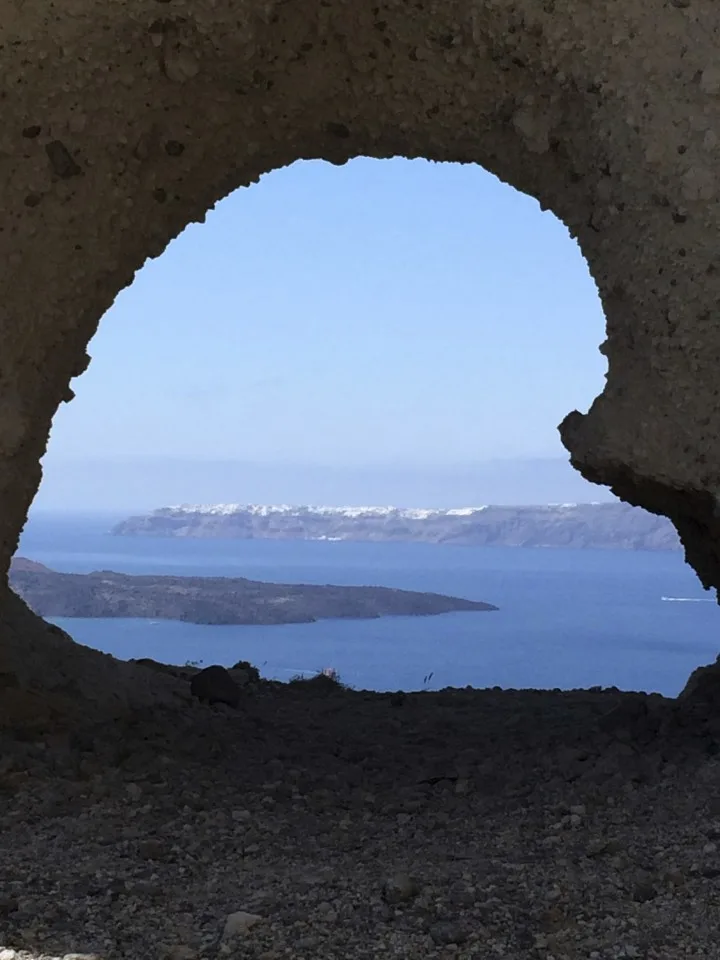 Trip to Santorini and the Rock
It was here I found the rock, well actually, the rock found me. While my friend had gone ahead, I was slipping and sliding around on the narrow, rocky downhill path in my sandals. I had lost my balance and fell, landing softly on this lava rock that is now in my hand. Without thinking much about it, I slipped that rock into my pocket, as at the time my boys loved geology, rock science, and minerals. I must have thought about them at that very moment, as I knew I had a story to tell them: the story of Santorini Island and its lava rocks. I find it funny now how one can gather so many memories out of one little piece of earth. And this earth is one of the most beautiful places I have ever seen in my life.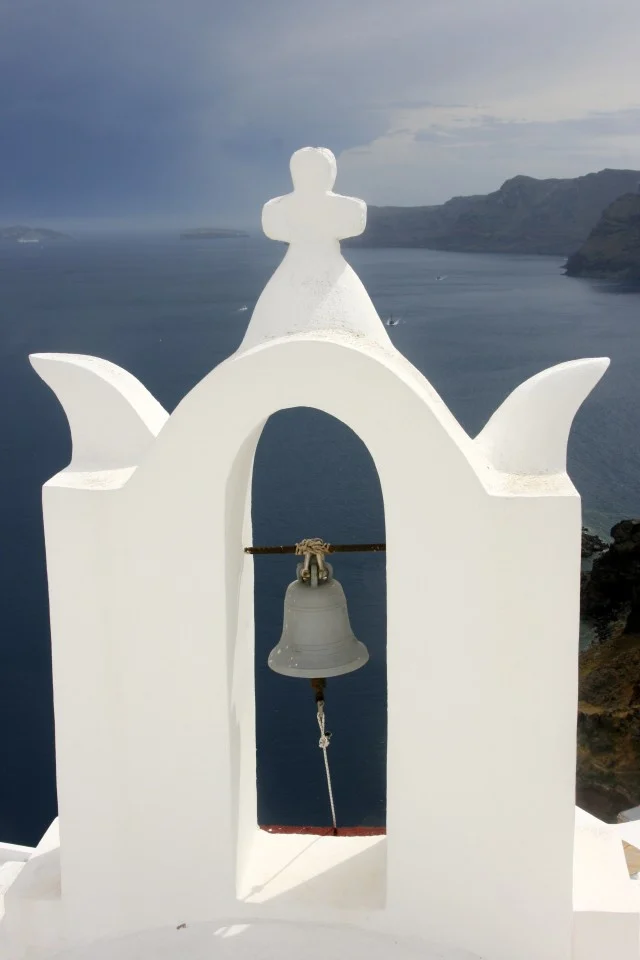 Santorini Greece Vacation
---
Thira, Fira, or Santorini as the world likes to call it, grabs a hold of you and never lets you go once you have seen its beautiful blues, and for me, that love went deep. Deep down in my soul and practically tore my heart out. It is worthy of dreams and sleepless nights.
---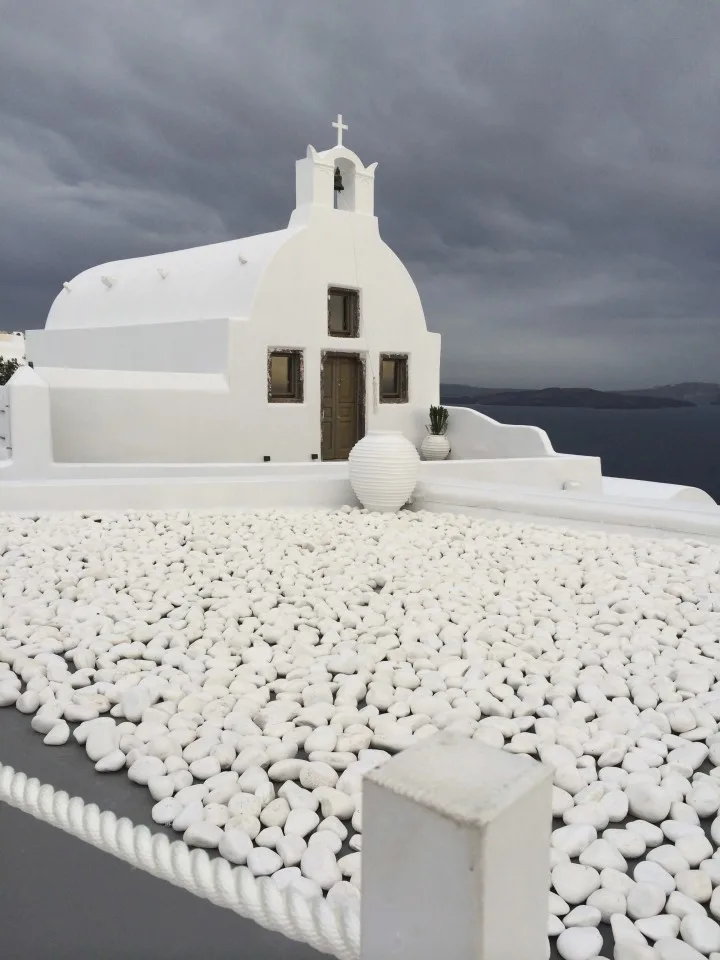 Santorini Beaches
With its' multi-colored cliffs soaring over 300 meters high above the Aegean Sea, its' beaches with red rocks and black sands, and every shade of dirt and rock in between, this island is as pretty as they come.
The Colors of Santorini Island:
RED/

BLACK
From the deck of the yacht, you can see the colors of the famous vivid red sand at Red Beach near Akrotiri and the black sands of Perissa Beach. The remains of ancient Thera are close by.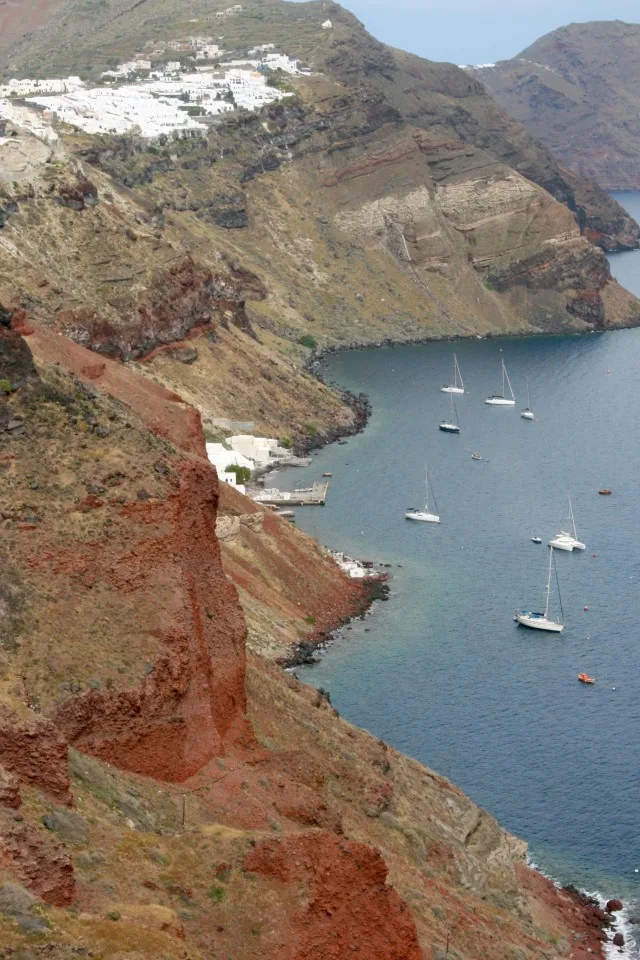 YELLOW/ORANGE/RED/PINK
As a sunset chaser, I climbed up to what is considered the most beautiful view in the world in the village of Oia, where hundreds gather every night at the viewpoint. Here I watched the sunset dip below the horizon as the sky lit up a spectrum of yellow, reds, and orange and stole my heart forever.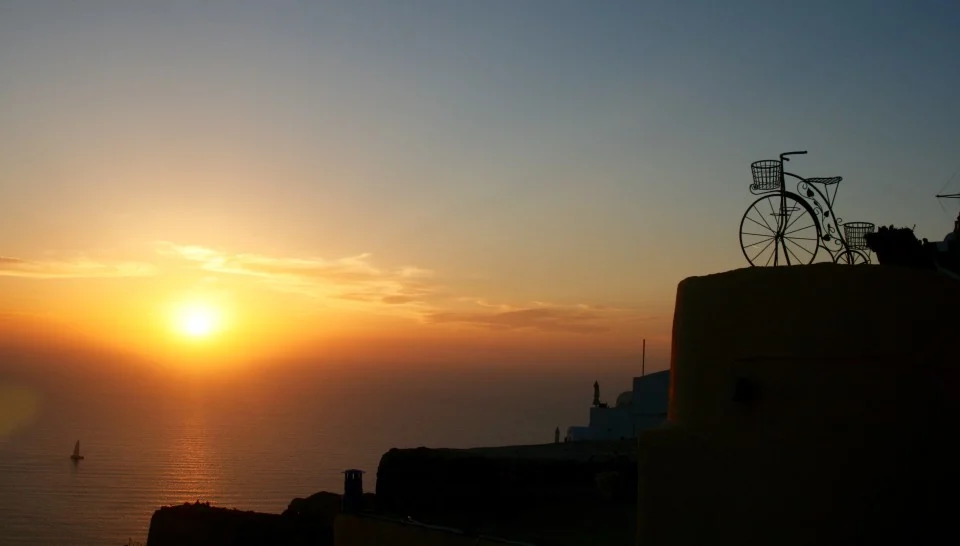 BLUE/WHITE/CREAM
In the distance, you can literally see hundreds of them, those famous Greek blue domed churches, whitewashed buildings and infamous windmills flapping in the wind.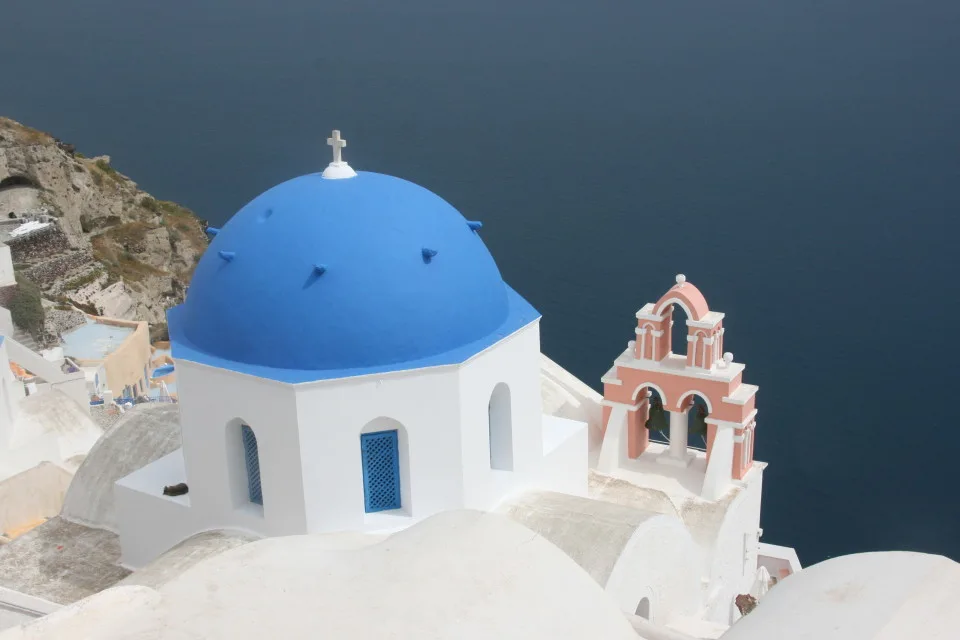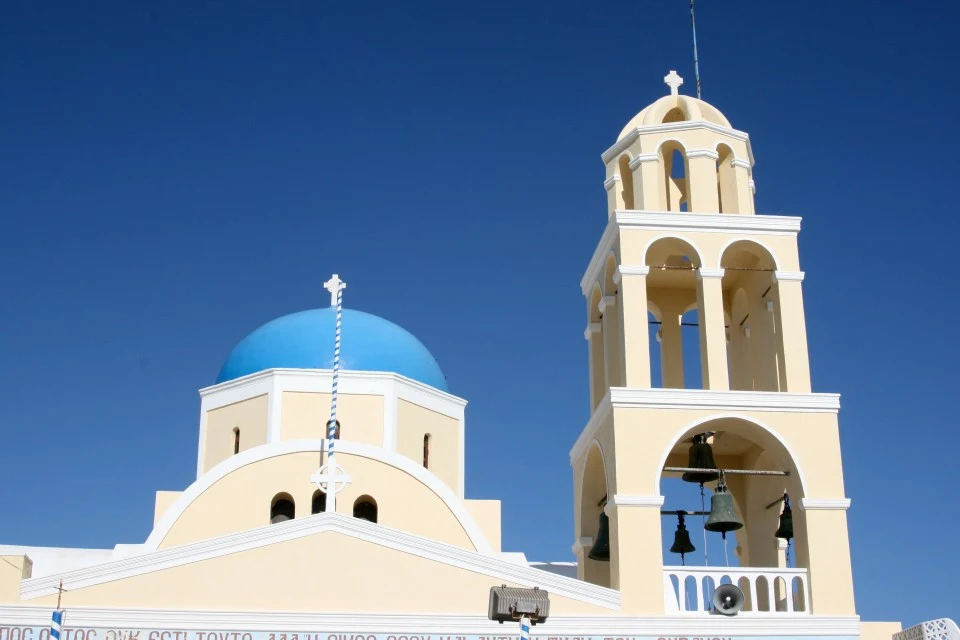 Santorini Memories
So as I grasped that rock in my hand that day, the vacuum cleaner in the other, I decided right then and there, with tears of joy dripping down my face, that I would return to lovers cove (this time with my husband!) and replace this piece of ash, lava rock to the place where it (and I) belonged.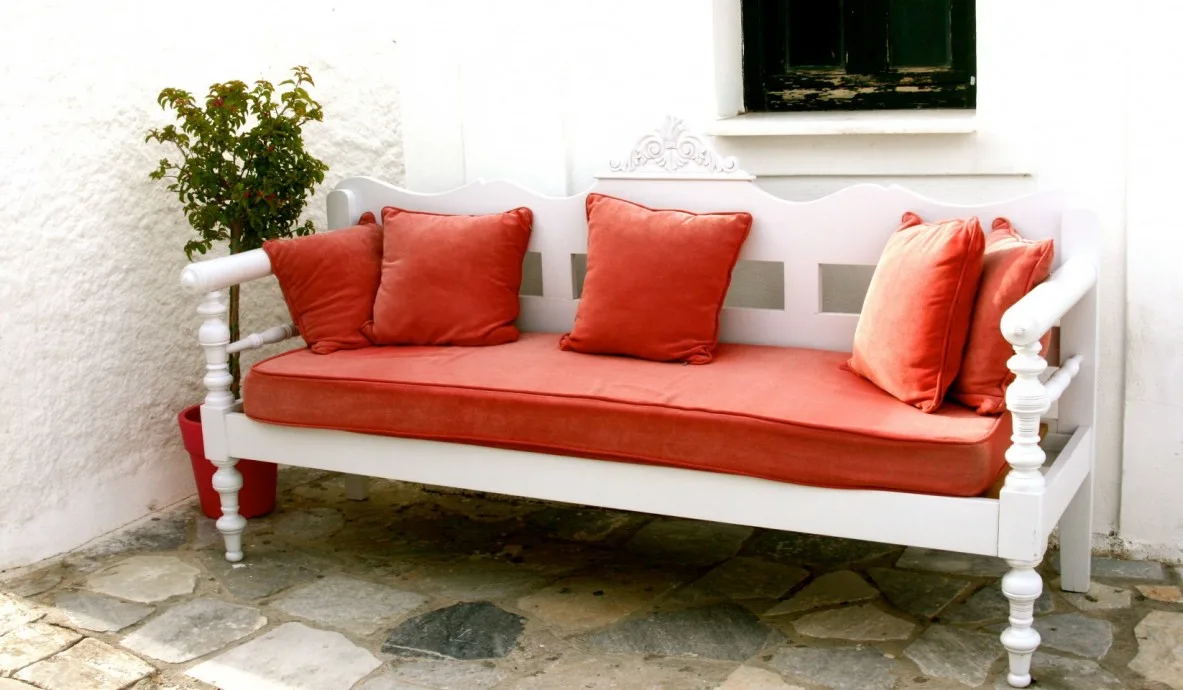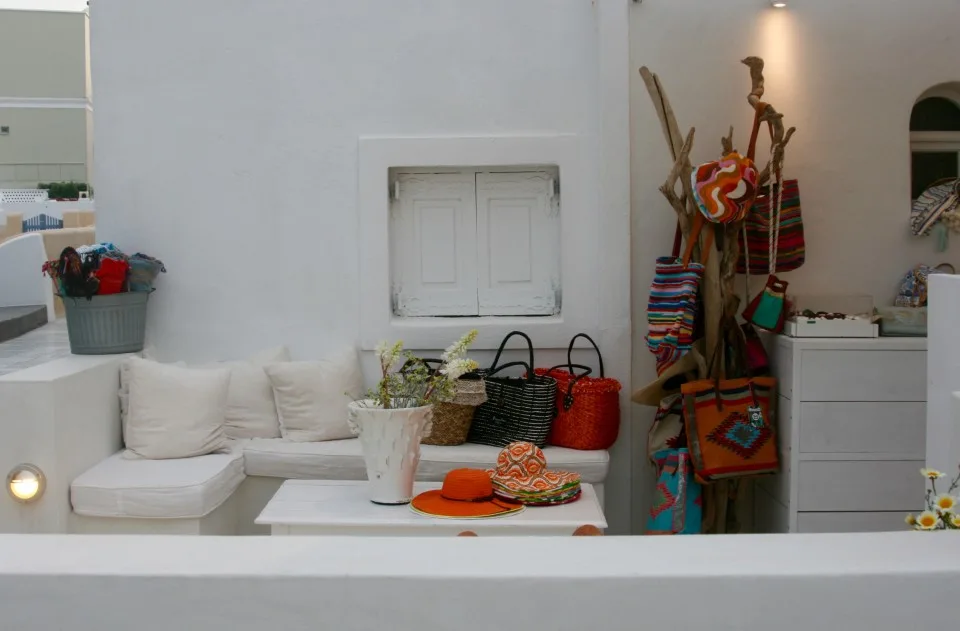 Santorini, until we meet again. I think I am coming soon.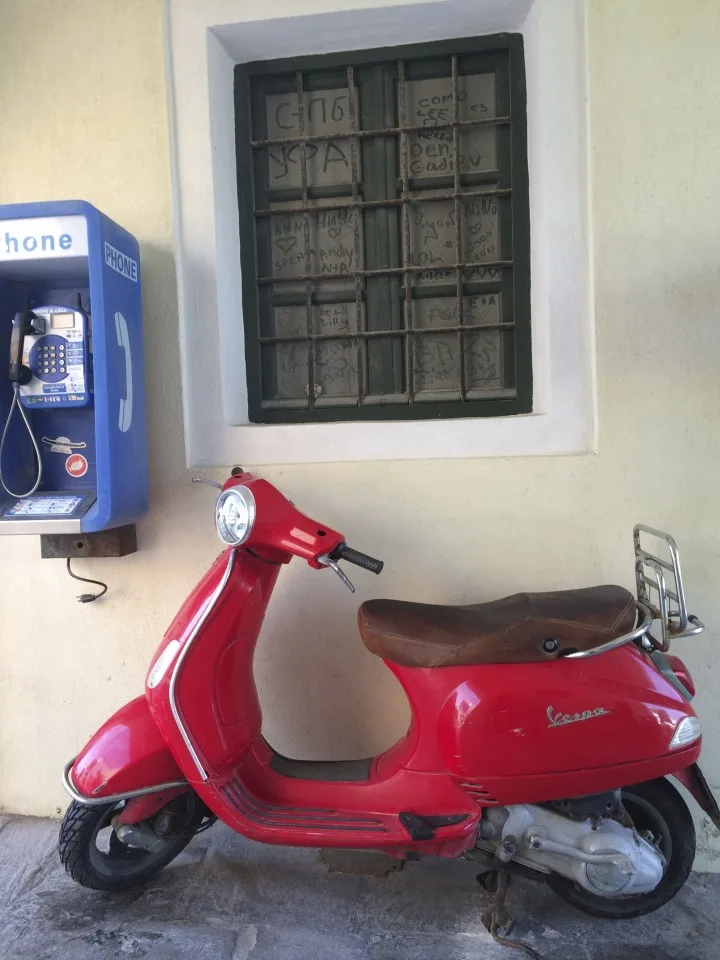 Oh, and if you have three days in Santorini, I know about the perfect guide for you!
Other Related Things To Do in Greece:
Mykonos Greece, Dreams of Bohemian Luxury
Praying For a Safe Voyage at Sea: The Greek Isles and its Churches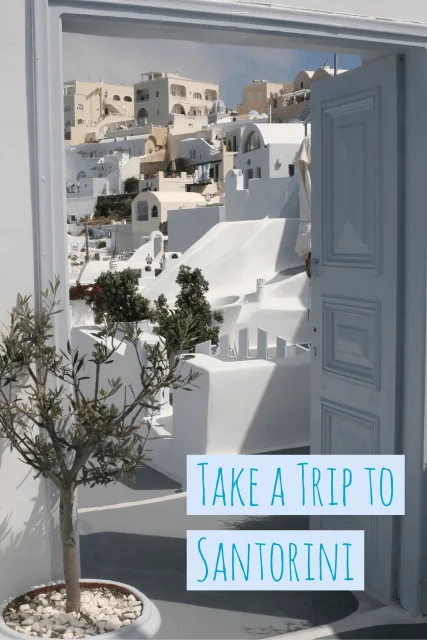 Disclosure: Cacinda Maloney is offering tips and inspiration to fellow travel enthusiasts. This post was sponsored by Travelocity.