Known as the Island of the Winds, Mykonos Island is in the Cyclades group of islands in the Aegean Sea. It is also known for its summer party atmosphere where hip Europeans come to spend lazy days of summer partying like they have nothing else to do but give themselves up to their raw emotions. With massive dance clubs that attract world-renowned DJs and clubs that stay open well past dawn, this place is one massive party from June to August. But what is it like during the shoulder season at the Mykonos Beaches? For me, it is pure bliss. Mykonos beaches are some of the most gorgeous ones in all of Greece and I couldn't wait to explore this tiny island for the very first time.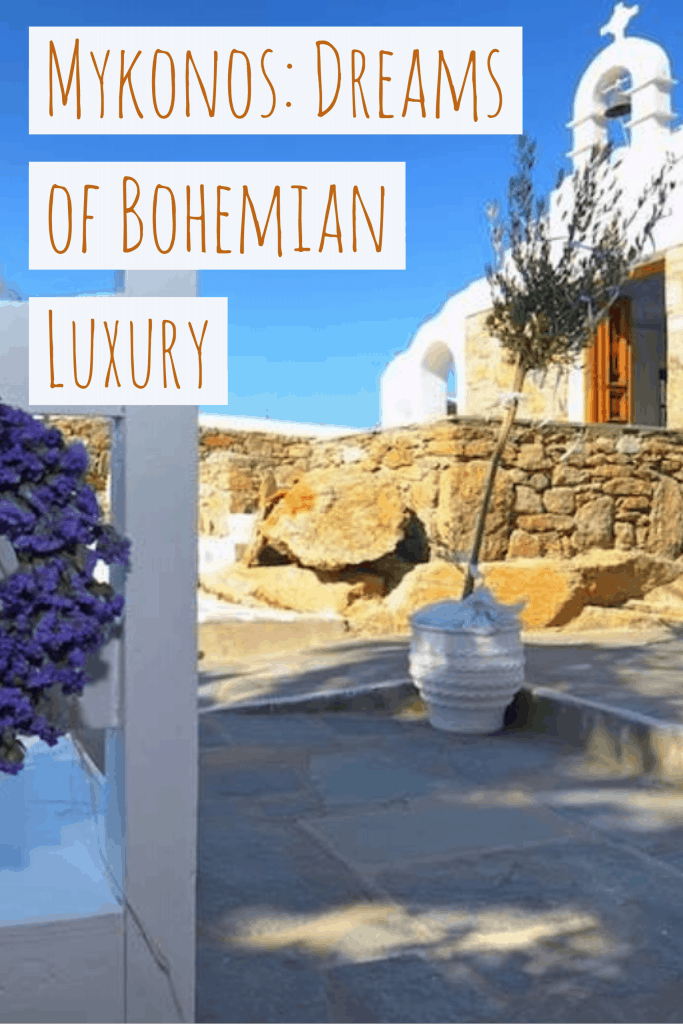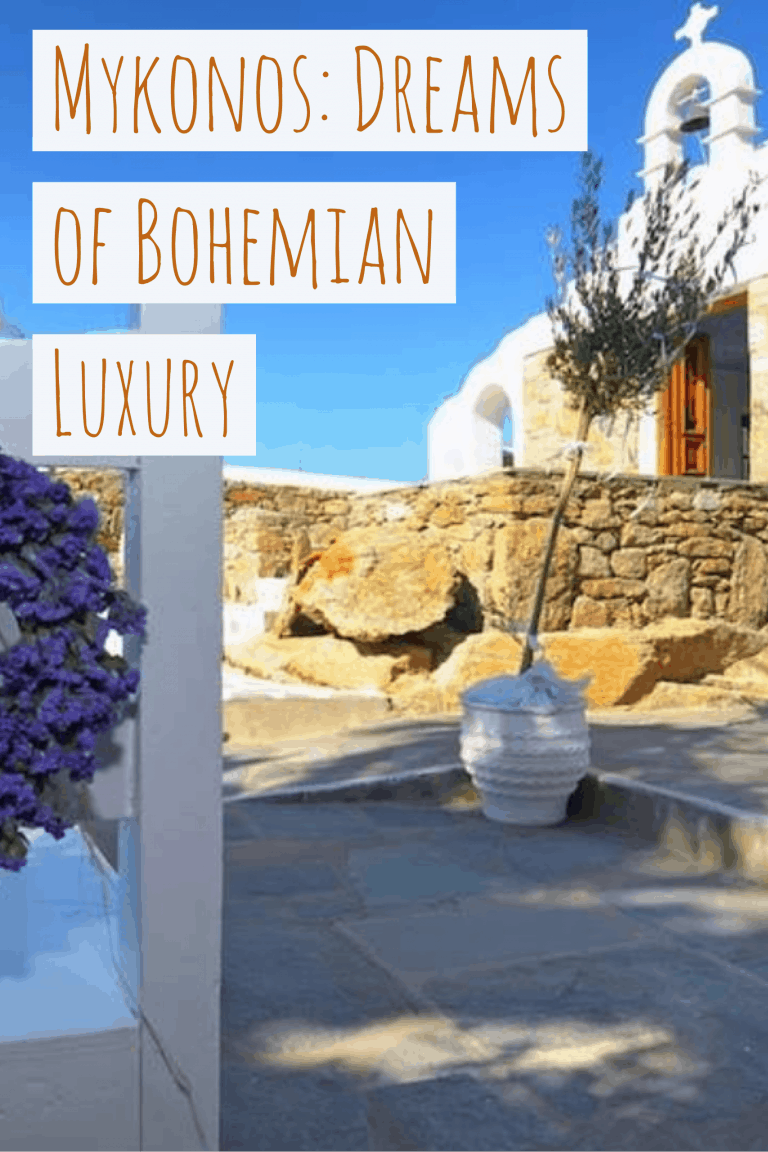 ---
I said, "This year I will go to Greece. I will go to Mykonos and Santorini. "
But it didn't happen.
---
Each year I think about my travel aspirations and dreams and each year I wonder, "When will be the year I go to Greece?"  For years I have dreamed of going to these exotic islands of ice-blue capped and crisp white villas with crosses dotting the landscape.  Each year it doesn't happen.
You would think that a traveler like me would just be able to say, "Hey, I want to go to the Greek Islands" and then it would happen.  But it doesn't occur like that and these stunningly gorgeous islands have evaded me for years.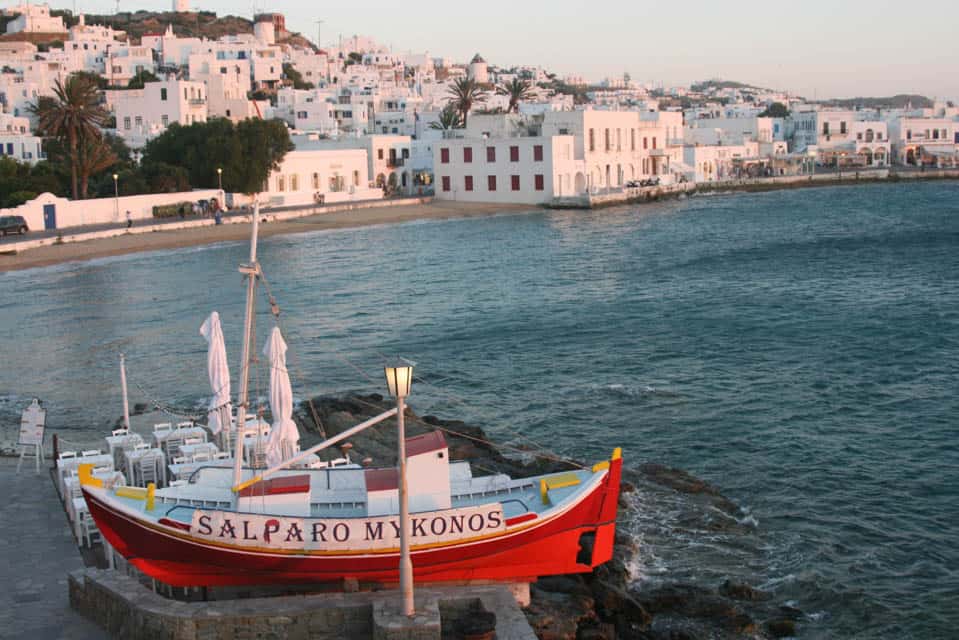 Mykonos Beaches: Excuse #1.
I can tell you that I have a husband and kids and a business and a schedule or that it is a hop, skip and a jump over there.  I can say I want "time" to enjoy it. Not a quick jaunt over there and a quick jaunt back. I can say that I want to stay for a while and imagine myself overlooking the turquoise blue sea with the cool wind blowing in my hair and to stare at the glittering sand.
---
"She stood in the doorway and heard the mission bells' ring."
---
I can say I want to unwind and connect myself to the islands.  I can say that I want to get away from that constant busy talk in my head, that sometimes whispers and sometimes shouts at me.
Mykonos Beaches: No excuse, Just do it.
Deep down inside I want Greece to come to me. I dream about it. And when I dream I see a place like San Giorgio Hotel.  She had me at "hello" on one of my late night internet searches, with her boutique rooms that overlook the San Giorgio beach on the Mediterranean island of Mykonos. This place was designed for those who seek simple pleasures.
I feel welcome in this place like it is a home, not a hotel.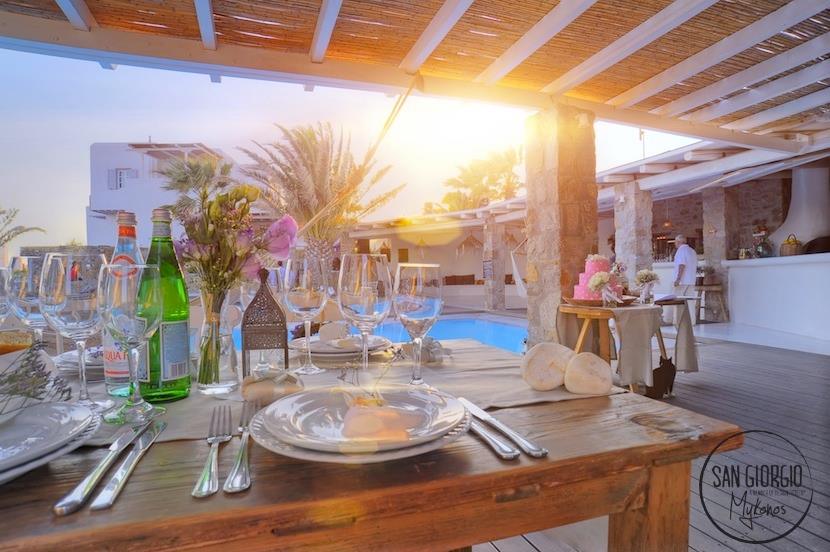 I had experiences that I will remember forever, for one day I will be too old to come and enjoy this deep blue sea in faraway lands.
I never to forget my time spent here.
Life here reminds me that this is the way life should be.
---
I stand at the entrance to this room, holding "a key, antique, and brass, in the shape of a cross and a star at the end that will fit perfectly into the keyhole that was shaped like a circle with a triangle underneath."-Linda Heart
---
---
"What is luxury? Luxury for me is to say, okay, I'm doing what I really want to do."
-Thomas Heyne
---
---
"Simplicity is the keynote of all true elegance."
― Coco Chanel
---
Isn't San Giorgio Hotel dreamy?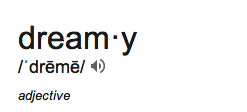 Idealistic, romantic, starry-eyed, impractical, unrealistic, utopian, quixotic; 
"You and your ideas are a bit too dreamy for me."
I don't care, let me dream!
Mykonos Beaches:
Mykonos is a beach paradise whether you're looking for swimming, sunbathing, beach parties, or water sports. Mykonos is loaded with great beaches. You can visit the nearby beaches throughout the day, by renting a car (Like I did ) or also the buses run often until late evening in the Summer.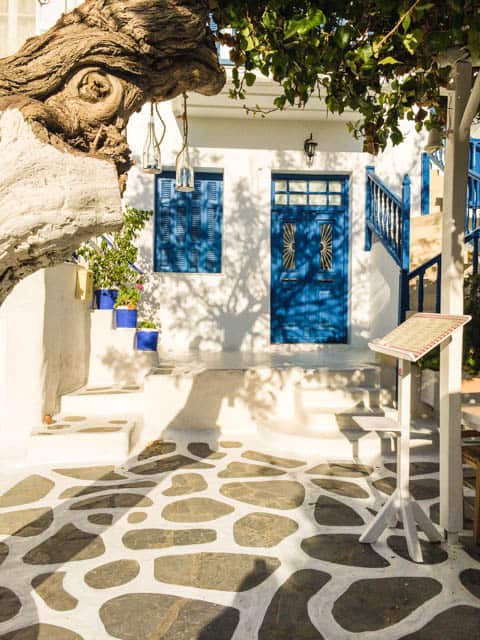 Paradise Beach:
Mykonos beaches such as Paradise and Super Paradise have a lot of cool bars and music and are known as the party beaches. Tons of late night and early morning partying with international DJ's flown in from around the world to the jet set lifestyle and predominately gay. Paradise beach is a sandy beach popular.
Ornos and Platys Gialos Beaches:
For families and couples, the Mykonos Beaches of Ornos and Platys Gialos Beaches are great.  Walking along the coast between the beaches of Psarou and Paradise Beach is a highlight of a visit to Mykonos.
Psarou Beach:
Where the latest trends in fashion are born and worn, Psarou beach is the place to seen. With the gloriously now famous Nammos Restaurant, complete with luxurious cabanas, yacht parking and services, opulent beach life, and the latest trends in fashion, everything can be taken care of for you at a price when you visit Psarou Beach. Be on the lookout for jet-setters and celebrities. Psarou Beach is almost always calm from the wind, even when the wind is all around the cove. This tranquil cove is easily accessible by yacht via a dock just a few steps away from Nammos.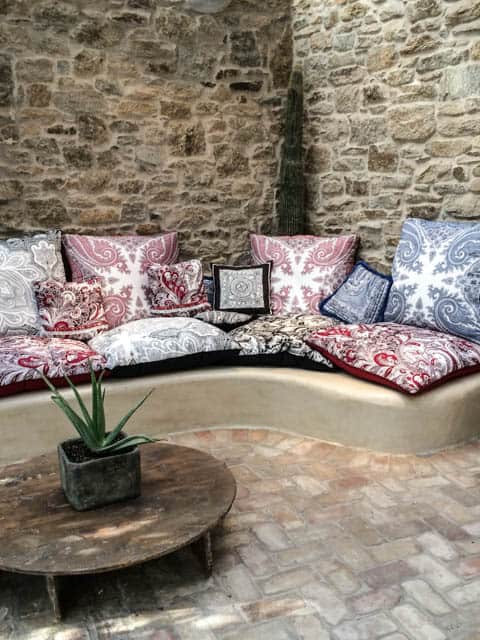 Where to Stay in Mykonos:
Where:  San Giorgio Hotel, Mykonos, Greece

P.O. Box 153
Paraga
Mykonos 84600
Greece
Tel.: +30 22890 27474
Fax. +30 22890 27481
Trip Advisor Rating: #51 out of 180 hotels
Price Range:  150 EUR – 720 EUR per night!!!
Rooms:  There are 34 rooms.
Room Tip: "Try to book rooms 50 or 51, the views are amazing I heard!"
The photographs on this page are courtesy of San Giorgio Hotel's media, other than the one mentioned courtesy of Suitcase Stories. My visit to Mykonos was courtesy of San Giorgio Hotels.
Other Articles about Greece:
Santorini Guide: 5 Things to Do
Praying For a Safe Voyage at Sea: The Greek Isles and its Churches
Dreams do Come True:  Greek Isles