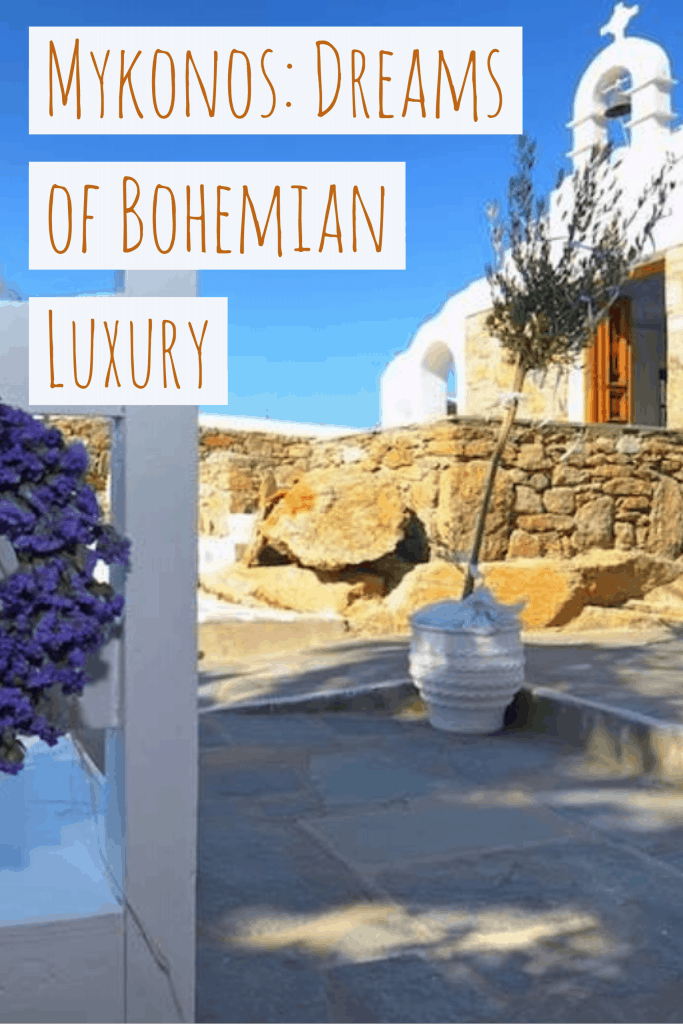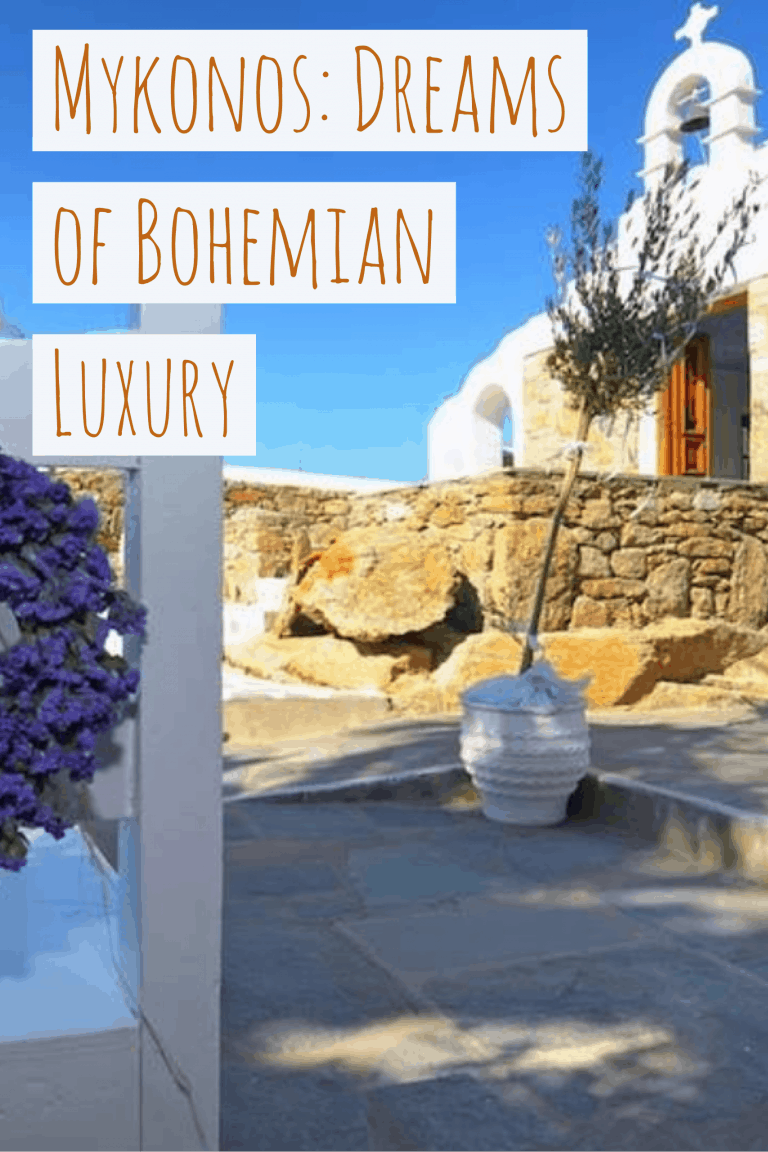 So you are going to Mykonos? Mykonos is loaded with great beaches (and churches) and in my humble opinion, they have some of the best beaches and towns in all of the Greek empire, including the Mediterranean. Mykonos beaches are a paradise whether you're looking for swimming, sunbathing, beach parties, or any type of water sports. You can visit the Mykonos beaches throughout the day by renting a car/moto (like I did), by taxi boat, or by riding the local buses to get there. The buses run often and pick up until late into the evening in the summer.
What are the best beaches in Mykonos?
And just so you are familiar, most of the best beaches on Mykonos are located along the southern coast of the island. As it gets super windy in the northern part of the island in the summer months of June, July, and August. Let me give you a rundown of the island's favorite beaches along the Southern Coast.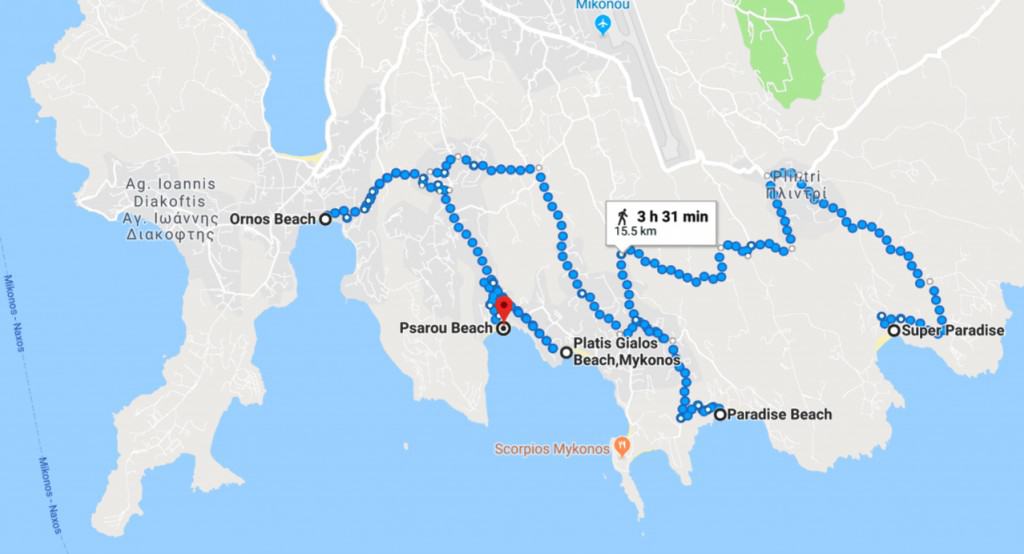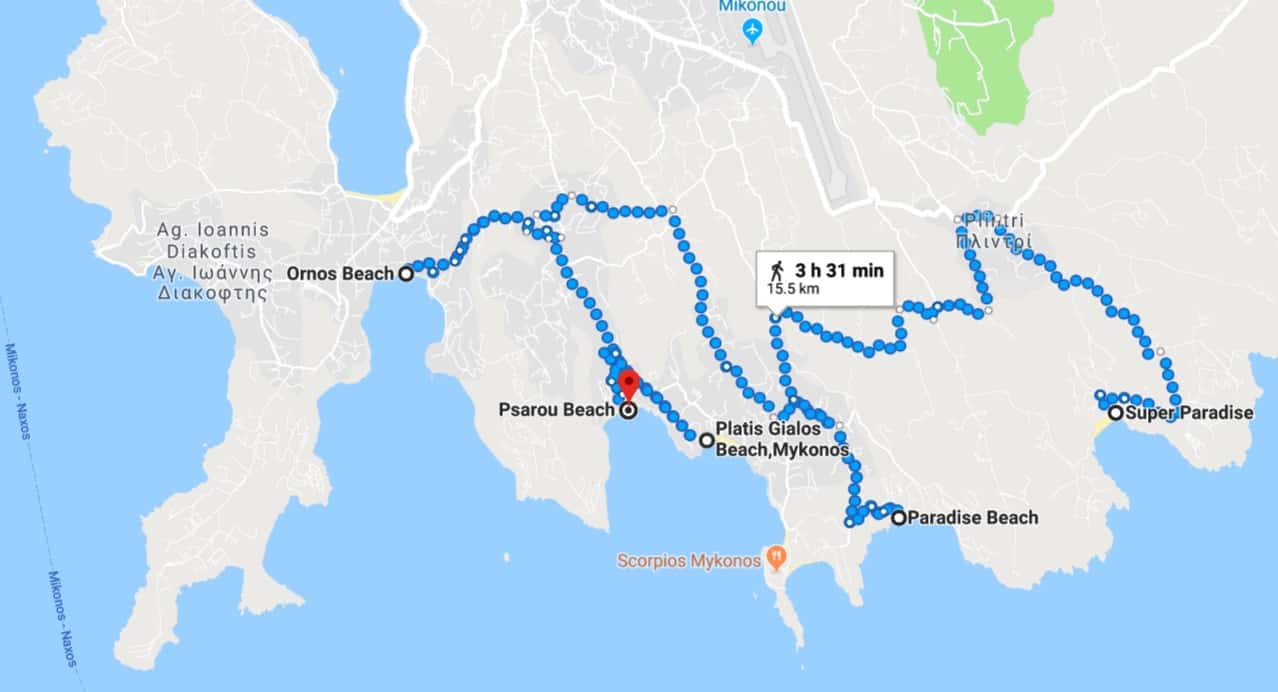 #1: Paradise Paradise Beach
#2: Super Paradise Beach
Mykonos beaches such as Paradise and Super Paradise have a lot of cool bars and loud music and are known as the "party beaches". They are considered the most popular beaches in Mykonos. Tons of late night and early morning partying with international DJ's that are flown in from around the world to the jet-set lifestyle and predominately gay men visitors end up here. It is also considered the best gay-friendly beach in the Greek Isles. Paradise beach is a sandy beach with everything from diving and snorkeling to any type of water sport. It is also nudist-friendly. Super Paradise has golden sand and is considered one of the busiest beaches in Mykonos.
---
If you want to stay near Paradise or Super Paradise beaches, I can recommend:
---
#3: Ornos Beach
#4: Platys Gialos Beach
For families and couples, the Mykonos Beaches of Ornos and Platys Gialos Beaches are great. Ornos Beach is located in a bay and is a quieter beach than Paradise and Super Paradise Beaches. But that is not to say that it doesn't get busy! It is set up already with beach lounges and umbrellas, as well as cafes and beach bars, so all you have to do is show up! There is plenty of water sports available here like windsurfing and water skiing, as well as paddleboards.
Platys Gialos Beach is great to visit when you just want to relax due to its calm waters, golden sands, and relaxed vibes. And since Platys Gialos Beach is located between the beaches of Psarou and Paradise Beach, walking along the shore is a highlight of any visit to Mykonos.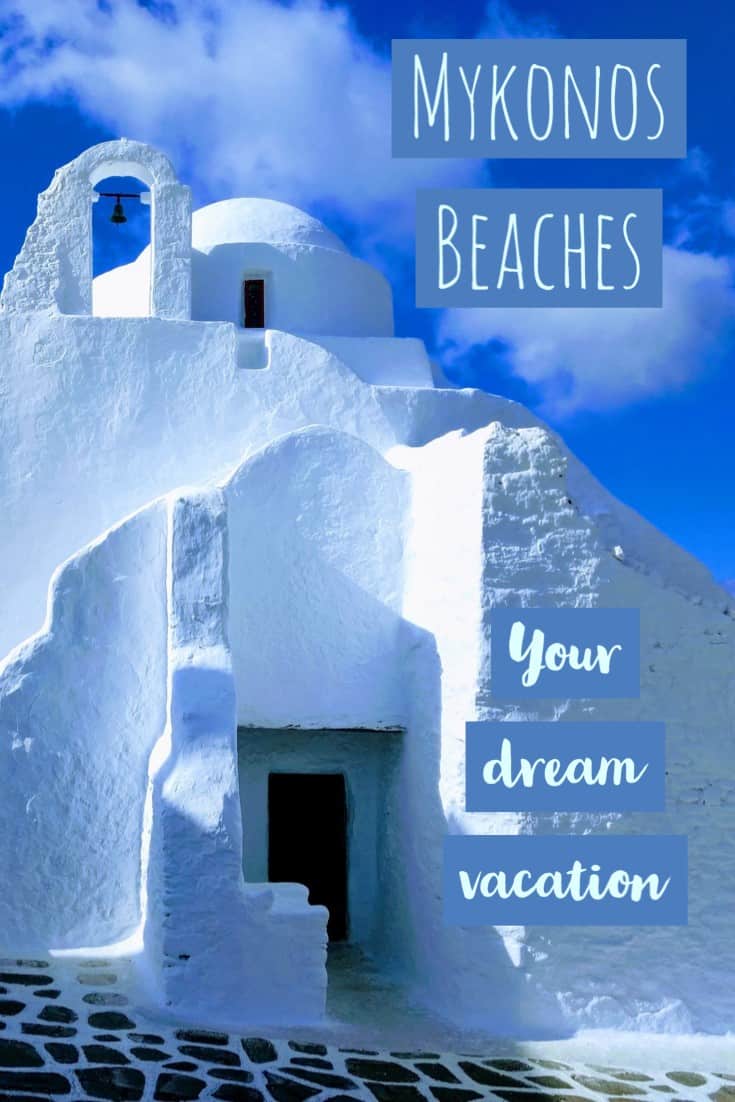 #5: Psarou Beach
Where the latest trends in fashion are born and worn, Psarou beach is "THE place to seen". With the gloriously now-famous Nammos Restaurant, complete with luxurious cabanas, yacht parking and services, opulent beach life, and the latest trends in fashion, everything can be taken care of for you at a price when you visit Psarou Beach.
Psarou can easily be considered to be the most cosmopolitan of all the Mykonos beaches. Be on the lookout for jet-setters and celebrities. Psarou Beach is almost always calm from the wind, even when the wind is just around the cove. This tranquil cove is easily accessible by yacht via a dock is just a few steps away from the famous Nammos, as well as other restaurants, beach clubs, and bars.
---
If you want to stay near this beach, I can recommend:
Mykonos Blu Grecotel Exclusive Resort, Mykonos
or
---
---
Best Beaches in Mykonos: The Island of the Winds
Known as the Island of the Winds, Mykonos Island is in the Cyclades group of islands in the Aegean Sea. It is also known for its summer party atmosphere where hip Europeans come to spend lazy days of summer partying like they have nothing else to do but give themselves up to their raw emotions. With massive dance clubs that attract world-renowned DJ's and clubs that stay open well past dawn, this place is one massive party from June to August.
But what are the best Mykonos Beaches like during the shoulder season? For me, it is pure bliss. Mykonos beaches are some of the most gorgeous ones in all of Greece and I couldn't wait to explore this tiny island for the very first time.
This reminds me to tell you something about Mykonos you may not know: Mykonos Island practically shuts down from October to April! This was something I had no idea about, so be sure and plan accordingly when going to Mykonos and its gorgeous beaches. I personally prefer the shoulder season which is either before the island gets revved up in late April/May or when it is winding down in Sept/early October. That way you can enjoy this gorgeous paradise all to yourself! Otherwise, get ready for the crowds of tourists who visit here every summer!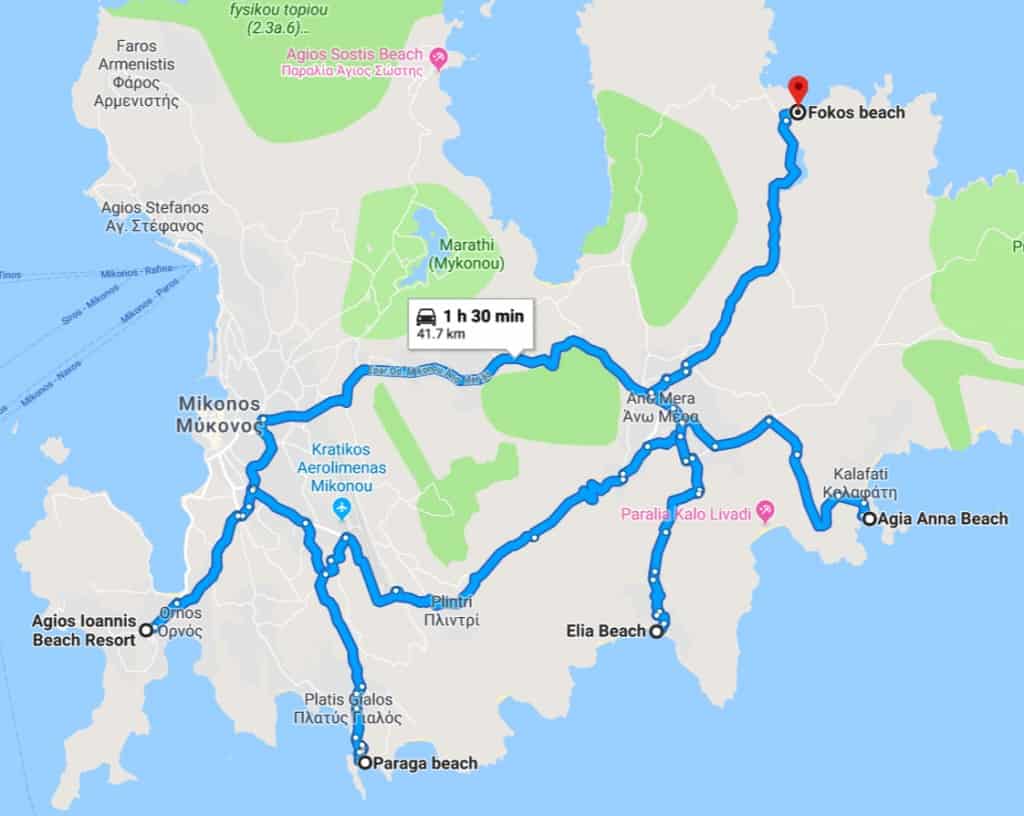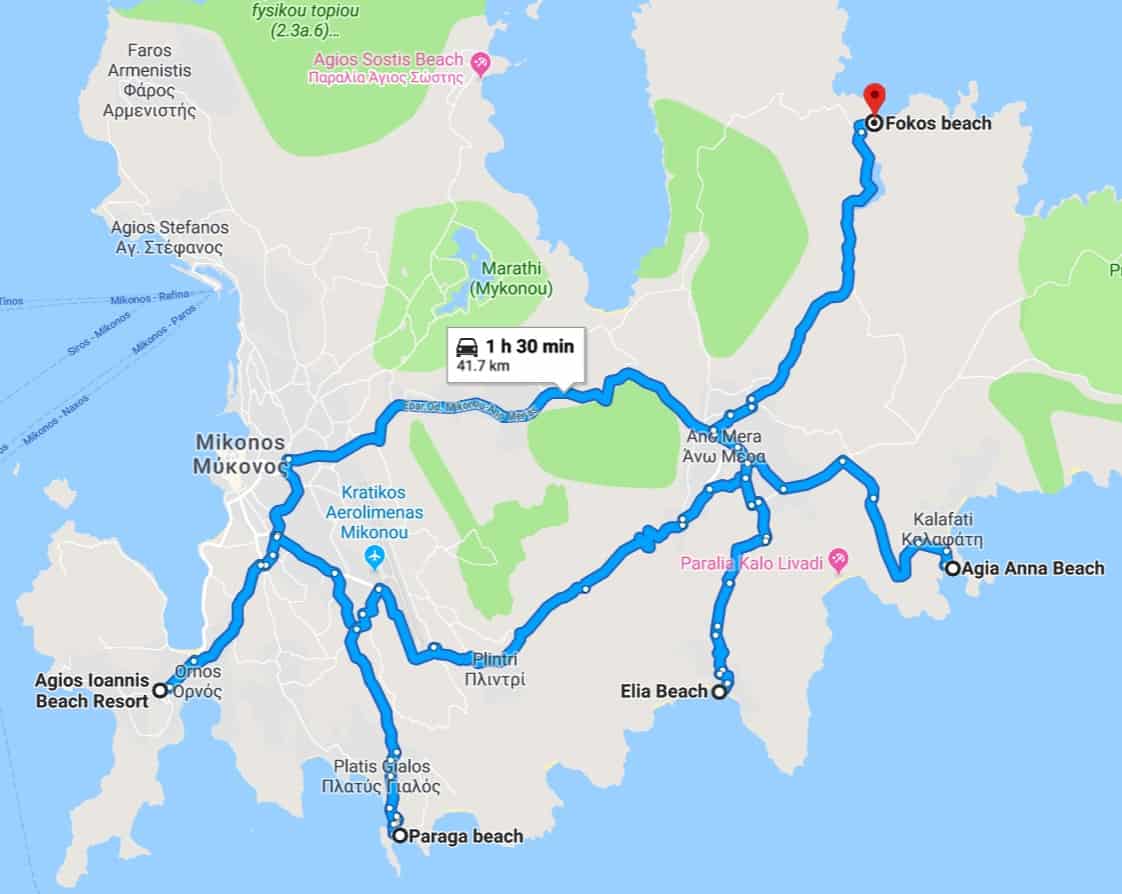 More Best Beaches of Mykonos:
#6 Agios Ioannis Beach
#7: Agia Anna Beach
Agios Beach is a narrow beach that may be too secluded for some people. However, there are direct buses in high season from the Mykonos town stop. Lesser-known Agia Anna Beach is also a quiet beach with one very good restaurant, ok maybe two very good restaurants. It is an easy walk from Paraga Beach and Platys Gialos Beach.
---
If you want to stay near Agios Beach, then I can recommend:
---
Best Mykonos Beach: #8 Paraga Beach
#9: Elia Beach
Paraga Beach is close to Paradise Beach (a 15-minute walk away) and is near the San Georgio Hotel that I wholeheartedly can recommend. A narrow piece of land that projects from the coastline into the sea separates the two sandy beaches of Parag. That allows visitors two options – the southern side of Paraga Beach is quieter. The Northern side is busier, but also offers water sports and tavernas. So take your pick!
Elia Beach is considered the longest beach of all the Mykonos Beaches. During the summer months, there are 5 buses a day from the town of Mykonos to Elia. There is also a boat from Platys Gialos to Elia. For me, there was plenty of parking at this beach.
Best Mykonos Beach for Seclusion: #10 Fokos Beach
If you are looking for the most secluded beach in Mykonos, you have probably found it in Fokos Beach. No taverna, no parking, no activities, but if you want quiet and alone, this is the place for you.
---
Mykonos Beach #11: Lia Beach
Lia Beach is similar to other beaches, as it has two sides: left and right. The left side is managed by Andreas with blue sunbeds and red umbrellas. The right side is managed by Liasti. Andreas also has a taverna set back from the beach before the entrance to Liasti's car park. On both sides, there is a full beach service so you can order on the beach and have it delivered to your sunbed.
Mykonos Beach #12 Agrari Beach
This is NOT a family beach, so keep that in mind when you visit this beach. It is a gay and nudist beach. It is, however, a very pretty beach, just don't bring your kids if you don't want them exposed to nudity or other shenanigans going on at this beach. I have heard from several others that the music is simply too loud here, so keep that in mind,
Mykonos Beach #13 Megali Amos Beach
This beach is one of the least visited beaches, as even though it is the closest beach to the town of Mykonos, people tend to avoid it because it is extremely windy, has no umbrellas most likely due to the strong winds, and there are often groups of school kids here for excursions.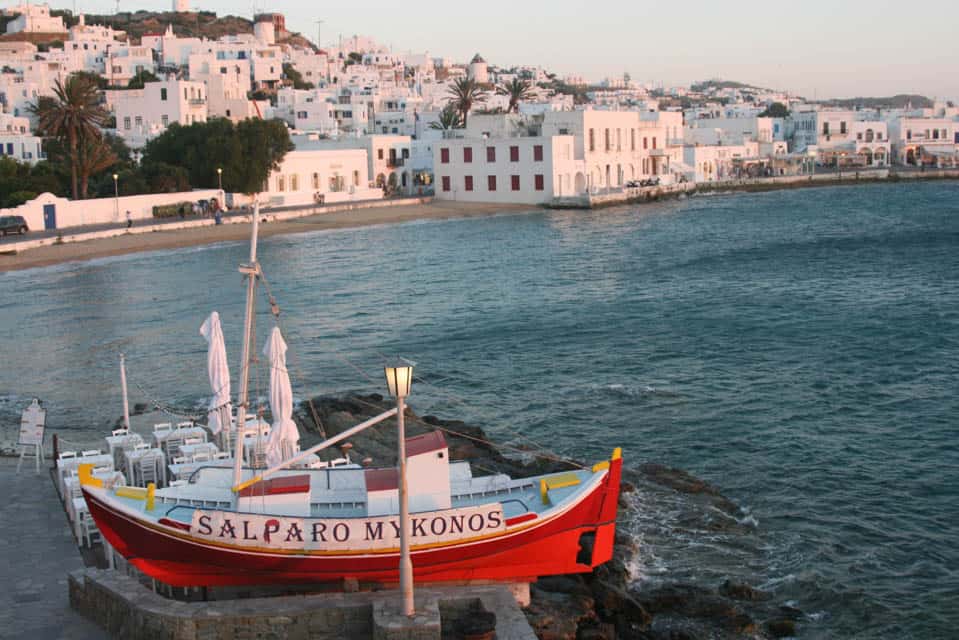 Where to Stay in Mykonos for Bohemian Luxury:
Where: Soho Roc House, Mykonos, Greece

Soho Roc House is near these two Mykonos Beaches: Paraga Beach and Paradise Beach!
Paraga, Mykonos 84600
Greece
Trip Advisor Rating: #51 out of 180 hotels
Price Range: 150 EUR – 720 EUR per night!!!
Rooms: There are 33 rooms.
Room Tip: "Try to book rooms 50 or 51, the views are amazing!"
---
"She stood in the doorway and heard the mission bells' ring."
---
---
The moment I stepped into Soho Roc House, I knew I was in the right place. This place is downright dreamy. And honestly, it was exactly what I had been dreaming about most of my life when it comes to a beachside paradise.
Mykonos Beaches: There is No excuse, Just do it.
When I dream, I see a place like Soho Rock House. She had me at "hello" on one of my late-night internet searches, with her boutique rooms that overlook the San Giorgio Beach (its' tiny) on the Mediterranean island of Mykonos. This place was designed for those who seek simple pleasures. So eventually, I made it there:
Dreams do Come True: Greek Isles
I feel welcome in this place like it is my home, not a hotel. You will fee the same.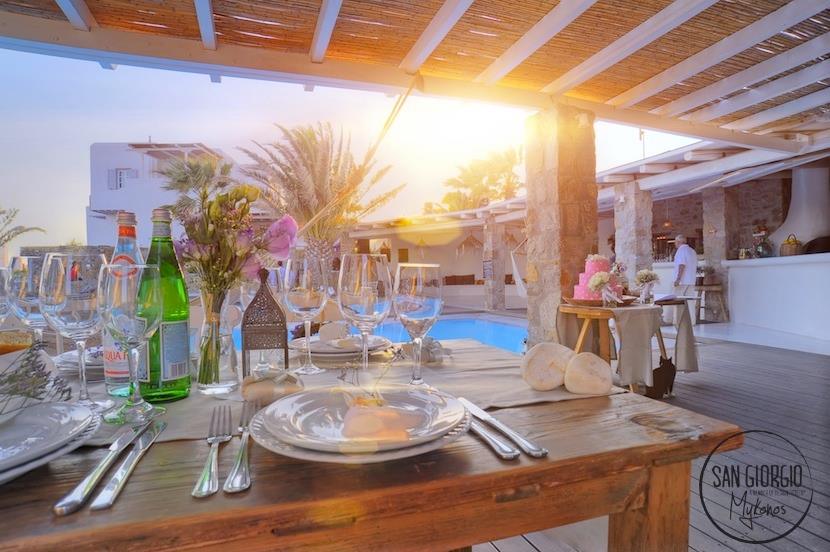 I had experiences here that I will remember forever, for one day I will be too old to come and enjoy this deep blue sea in faraway lands.
I will never forget my time spent here.
Life here reminds me that this is the way life should be.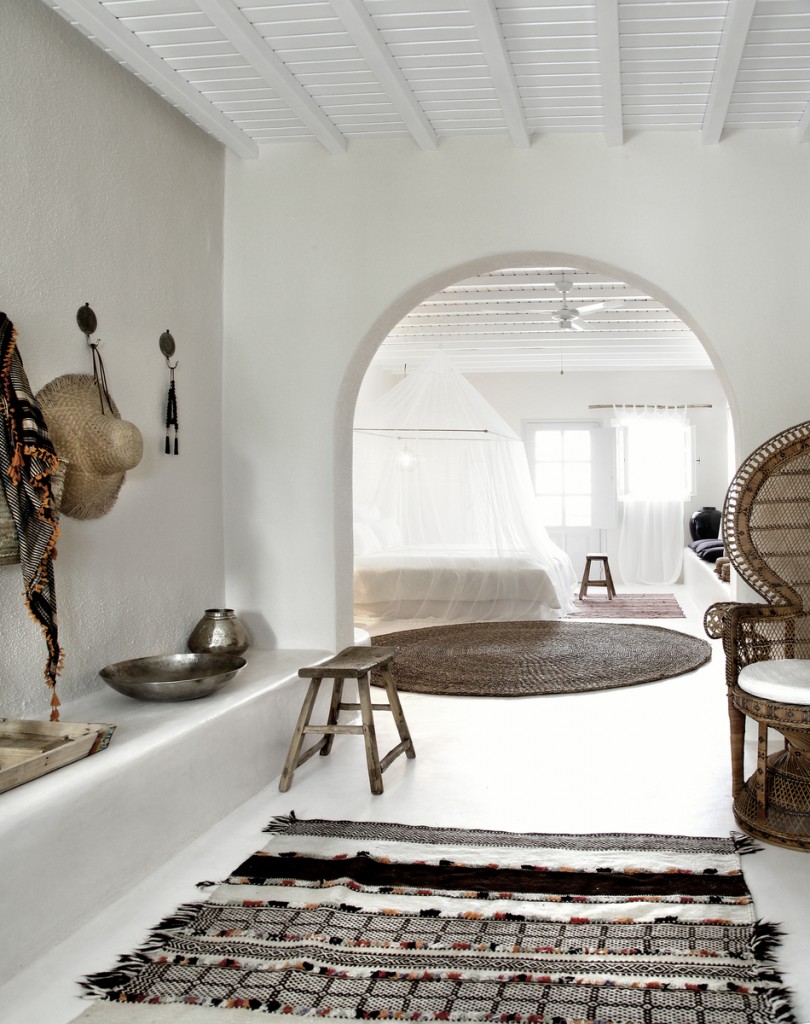 Mykonos, Greece
---
I stand at the entrance to this room, holding "a key, antique, and brass, in the shape of a cross and a star at the end that will fit perfectly into the keyhole that was shaped like a circle with a triangle underneath."-Linda Heart
---
---
"What is luxury? Luxury for me is to say, okay, I'm doing what I really want to do."
-Thomas Heyne
---
---
"Simplicity is the keynote of all true elegance."
― Coco Chanel
---
Isn't Soho Roc House dreamy?
Idealistic, romantic, starry-eyed, impractical, unrealistic, utopian, quixotic;
"You and your ideas are a bit too dreamy for me."
I don't care, let me dream!
The photographs on this page are courtesy of Soho Roc House's media, other than the one mentioned courtesy of Suitcase Stories. My visit to Mykonos was courtesy of Soho Roc House.
Other Recommended Reading about Greece:
Santorini Guide: 5 Things to Do
Praying For a Safe Voyage at Sea: The Greek Isles and its Churches