Regensburg, Germany is a Bavarian medieval city along the Danube River in southeast Germany. It is well known for its well-preserved medieval old town. It also has a famous 12th-century Stone Bridge that has 16 arches that cross the Danube River to the old town center. Located in the south of Germany, Regensburg is a popular day trip from Munich. An atmospheric and charming town, we highly recommend a visit. In this post, you'll find all the inspiration you need for one day in Regensburg including activities and things to do in Regensburg, hotels in Regensburg and everything in between.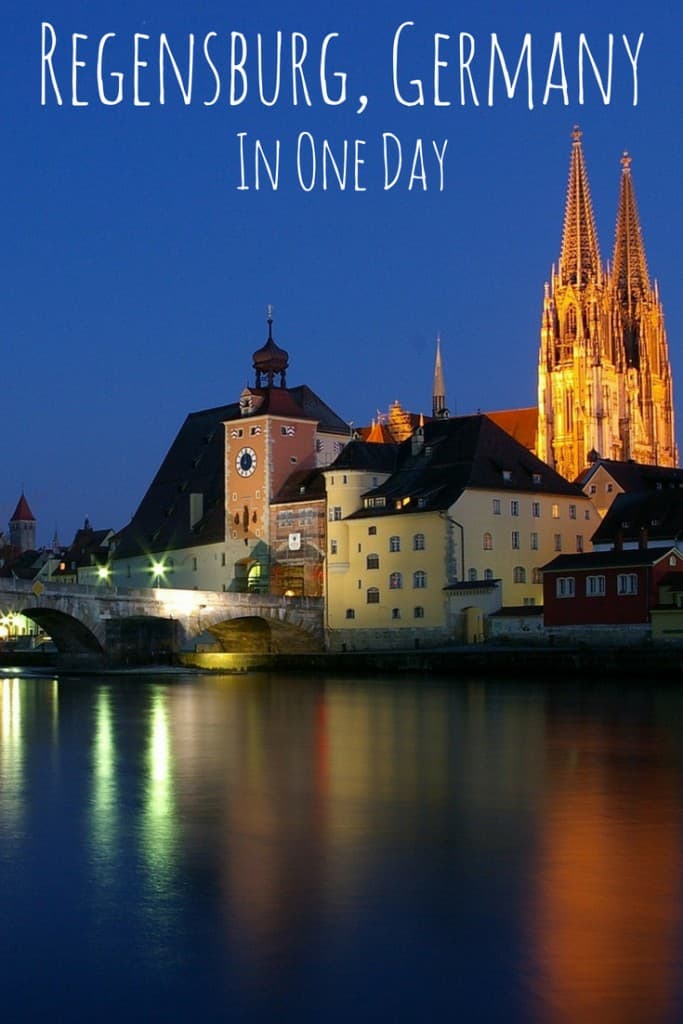 One Day in Regensburg Germany
I had been on my Viking Journey through this region of Germany when in the early morning, we glided past cobbled lanes, underpasses, and archways out of Passau making our way towards the Black Forest. We passed small villages with their tiny boardwalks along the river's edge. We marveled from our balcony of the Viking River's Elgin ship at the mystical landscape in the Autumn sun as we were ready to enjoy Bavaria's famous white sausages, honey mustard, locally crafted beer, and a day spent in Regensburg, Germany, a UNESCO world heritage city.
Early in the morning, the city is quiet and its riverbanks sometimes shrouded in atmospheric mist – so we recommend arriving early if you can!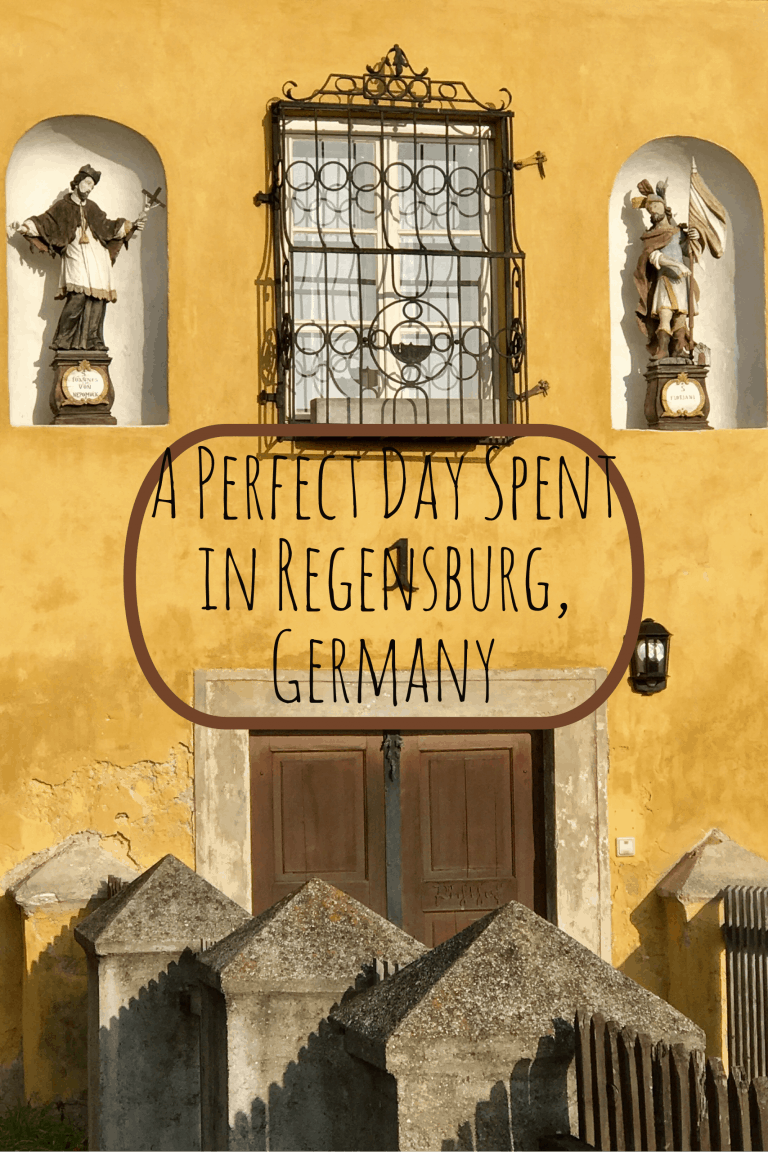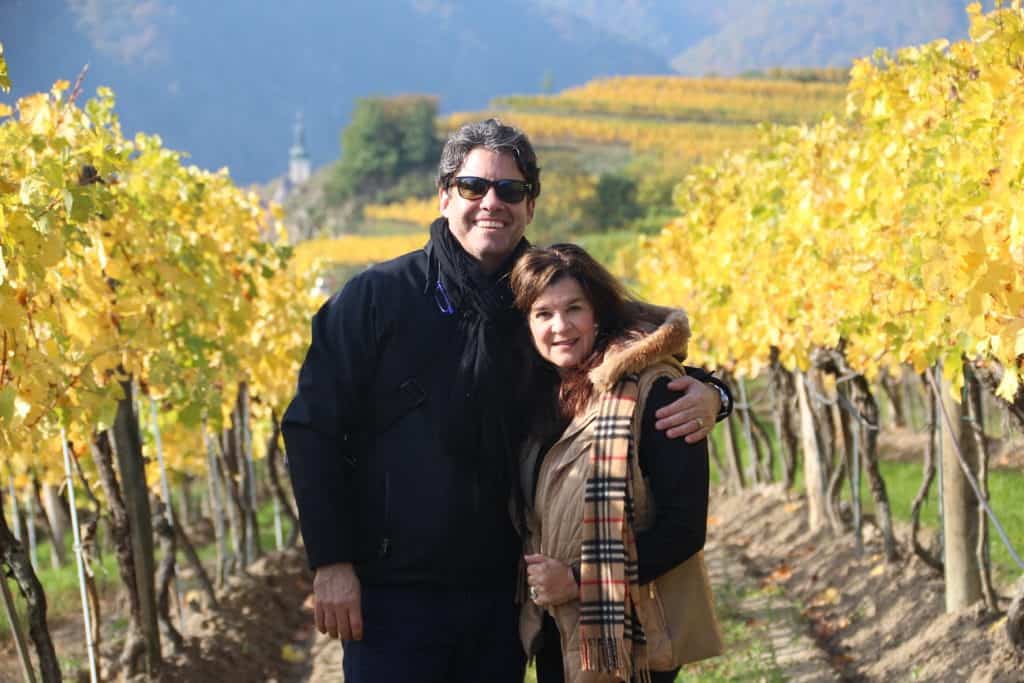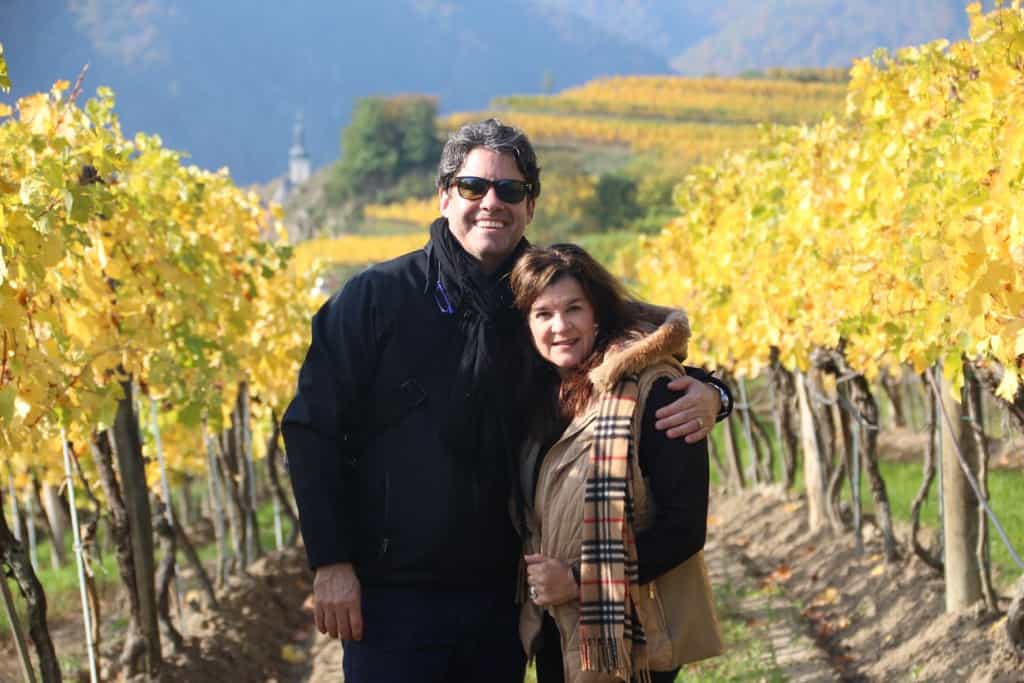 The Weather in Regensburg Germany
When we visited, the weather was that of a perfect autumn day: sunny, with a cool breeze. The weather in Regensburg (and the rest of southern Germany) ranges from hot and sunny in summer months, to freezing temperatures during winter. Both spring and autumn (fall) are ideal times to visit Regensburg, with colorful leaves and often bright sunshine.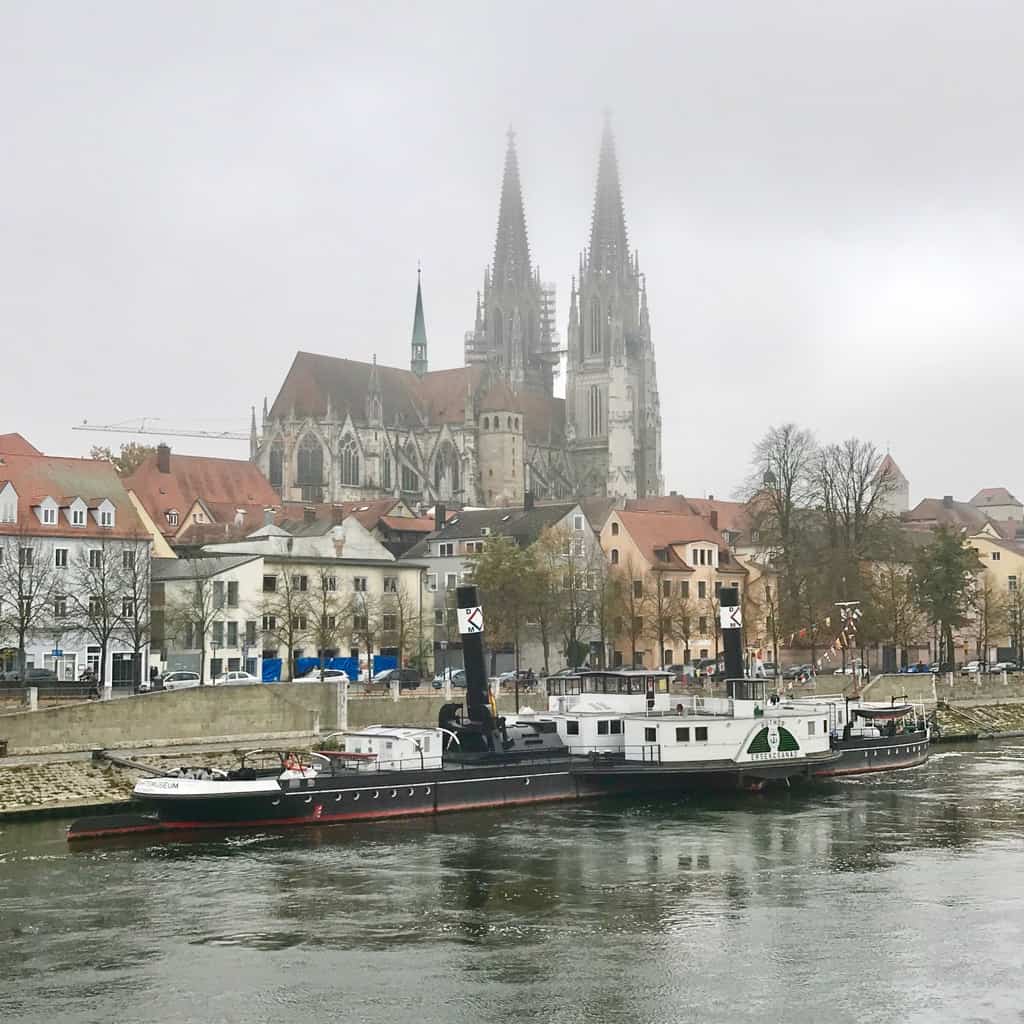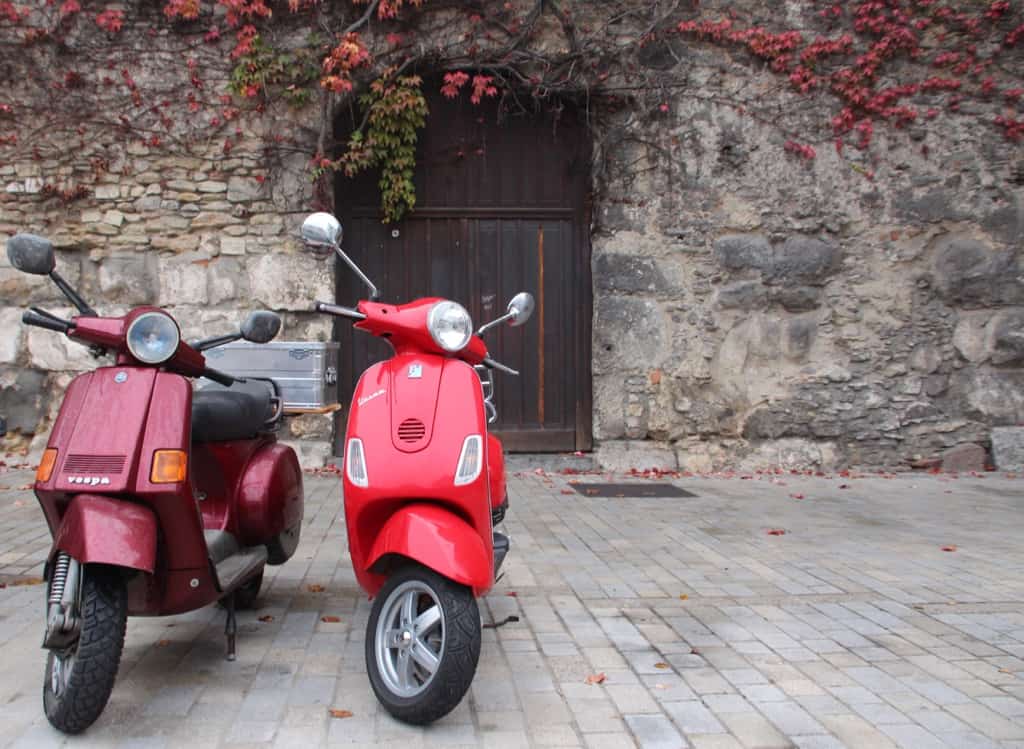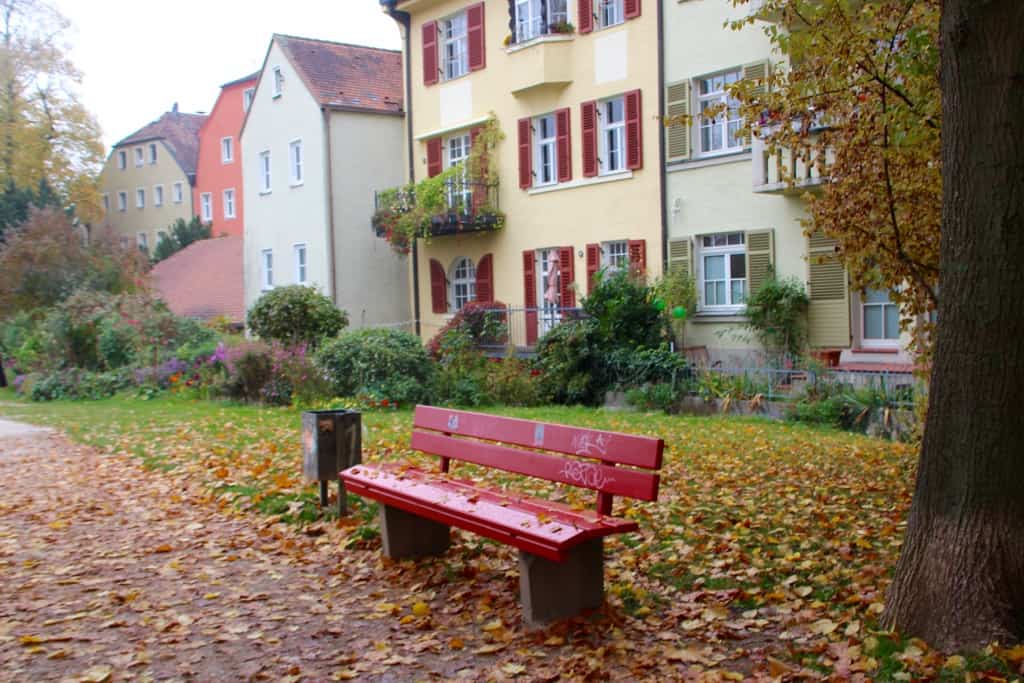 Things to do in Regensburg Germany
Regensburg has plenty of shopping options, and it was one of our favorite stops on our Viking River Cruise for the purpose of souvenir shopping.
Upon arrival, my husband and I immediately hit the streets, ready for the day to begin with early morning shopping, photography, and simply spending more time with each other. We walked through the narrow streets and navigated ourselves towards town before popping into a magical gift shop that was off the beaten path. Somehow it seemed to have everything we wanted. I bought 3 largish locally-crafted rings, a 12 set of switchblade knives for our future Christmas table dinners made of varying shades of onyx blue stone.
I bought a hand-woven pot holder and a jeweled golden heart with a majestic coat of arms emblem on the front. My husband bought two pairs of European readers since he is more into style than I am, a golden Christmas Santa Claus figurine, and a flowing scarf for his Mother's Christmas present. We spent hours picking out the perfect Bavarian gifts for ourselves and others.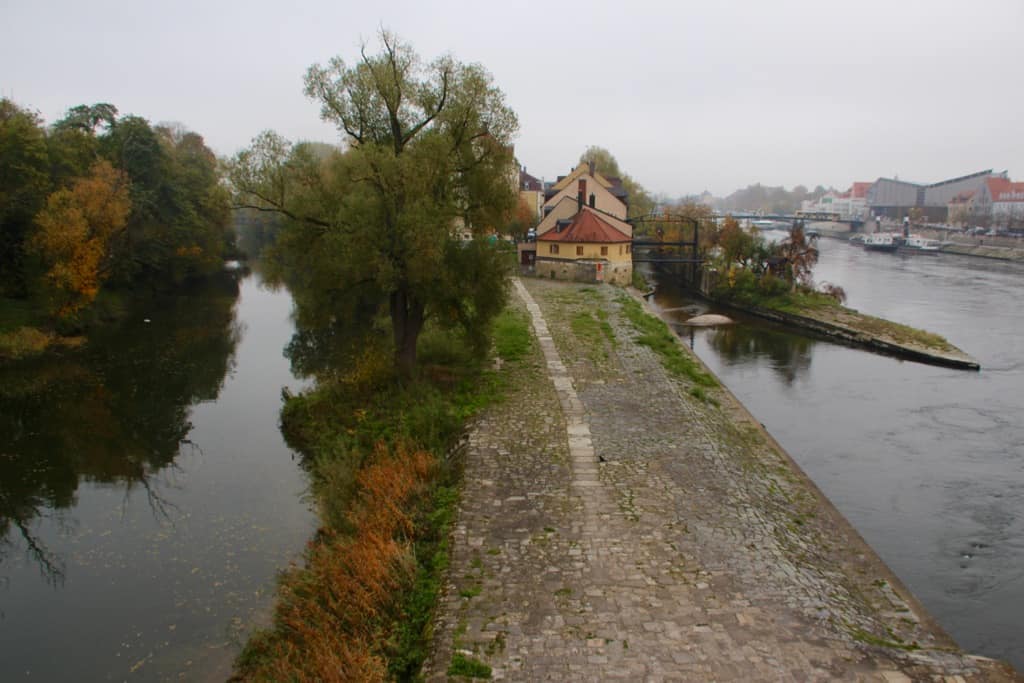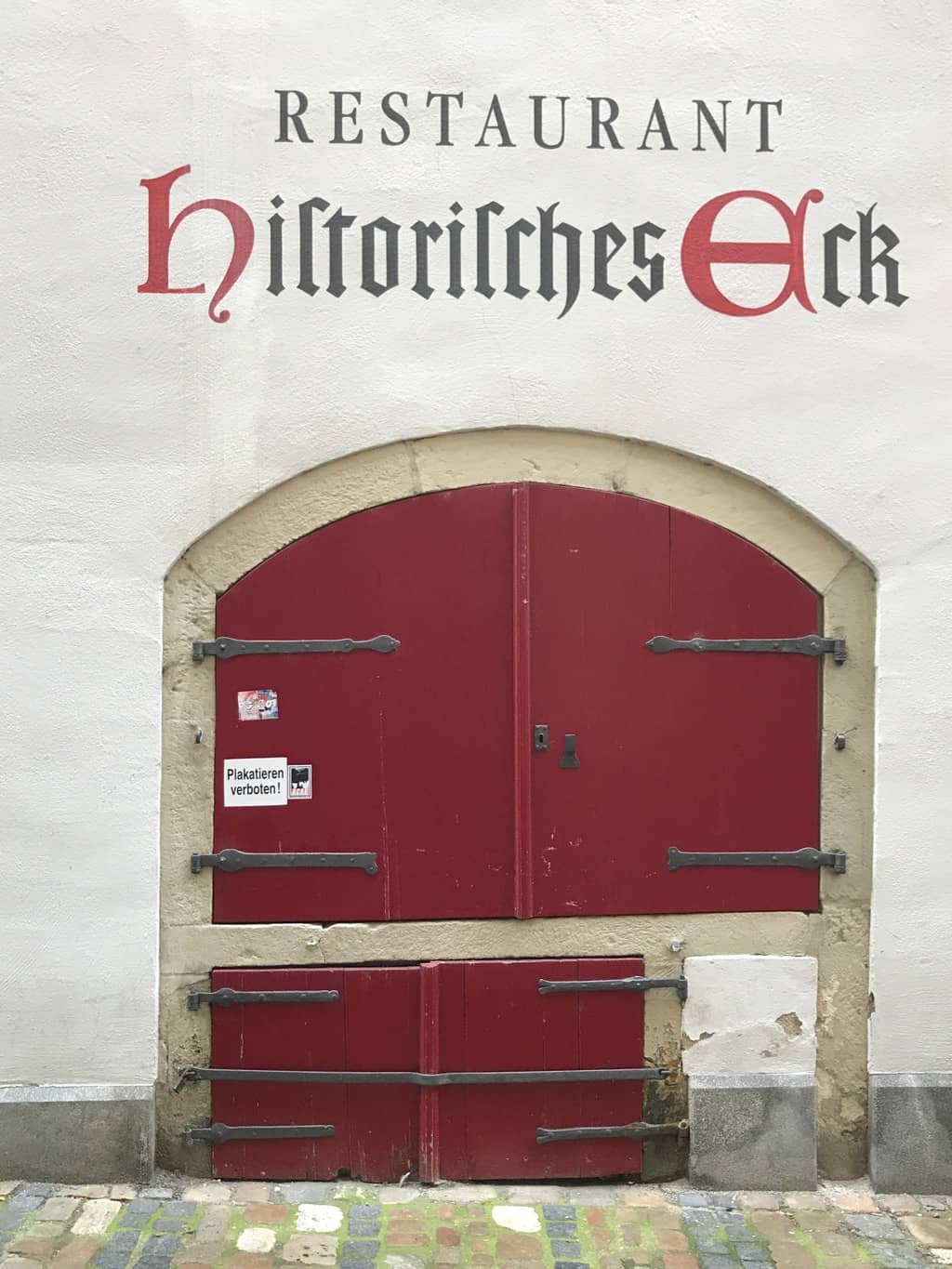 Later in the city, we would pop into my favorite German Mustard store, that I couldn't wait to find again, buying over 28 "toothpaste-like" tubes of mustard in every flavor. We completely felt welcome in this oldest city on the Danube River, as behind us at the checkout, a local German man purchased us HIS favorite mustard as a gift. We felt comfortable in this town by his serendipitous gift that we received and later we gave away many tubes of that delicious mustard to fellow passengers on the Viking ship. When we eventually got home, it was the first thing we wanted to have, grilled sausages and that German mustard!
Where to Eat in Regensburg Germany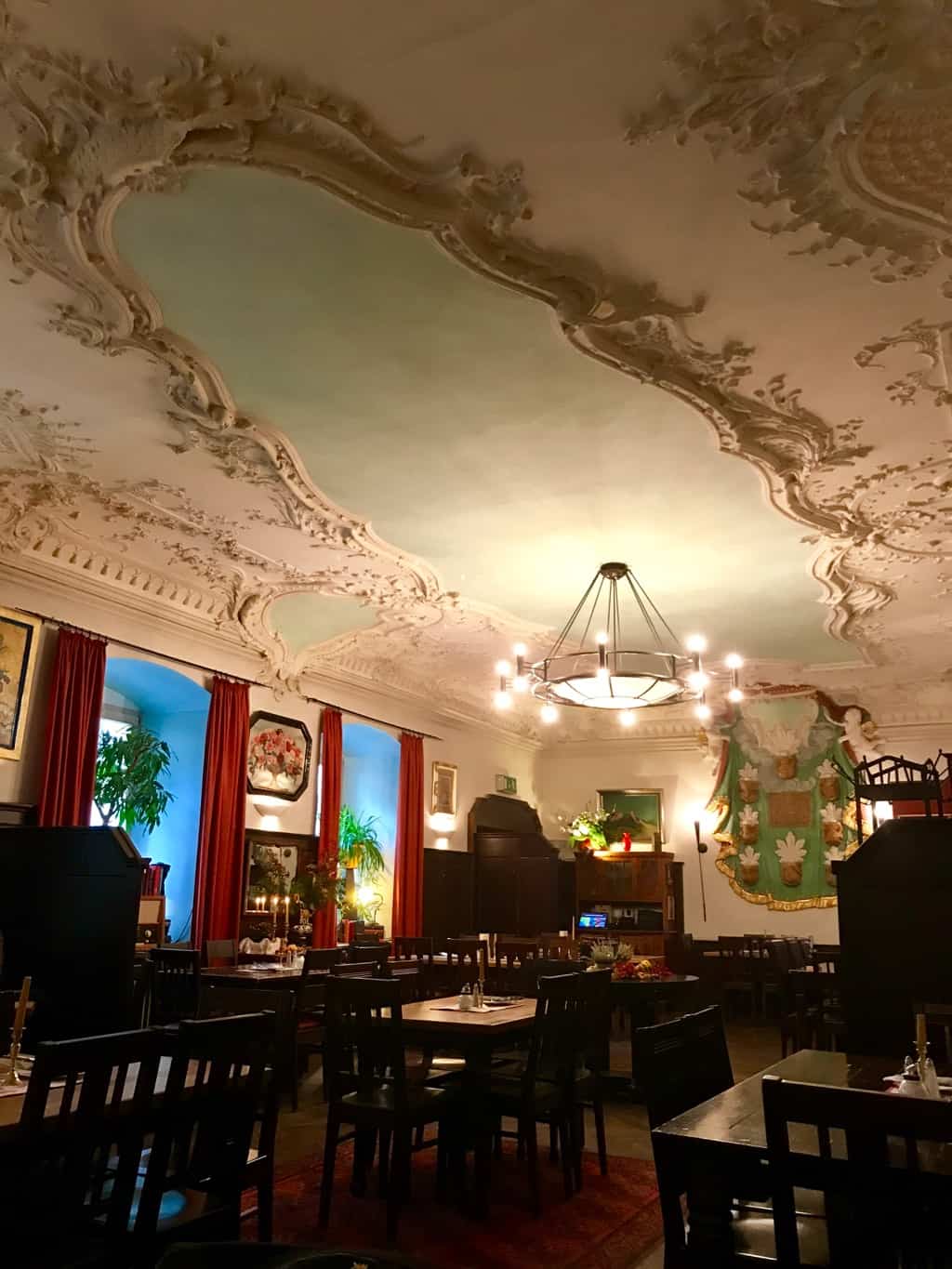 For lunch, we peeked into the recommended Altstadt Regensburg mit Stadtamholf, Restaurant and had those Bavarian white sausages we heard so much about, as well as, potato soup, and he had a Pilsner Beer, and me a European Sweeps Bitter Lemon, (no ice) with an additional slice of lemon. We chatted the hour away, enjoying our time alone together and having found a mutual love of this ancient city with its rich history.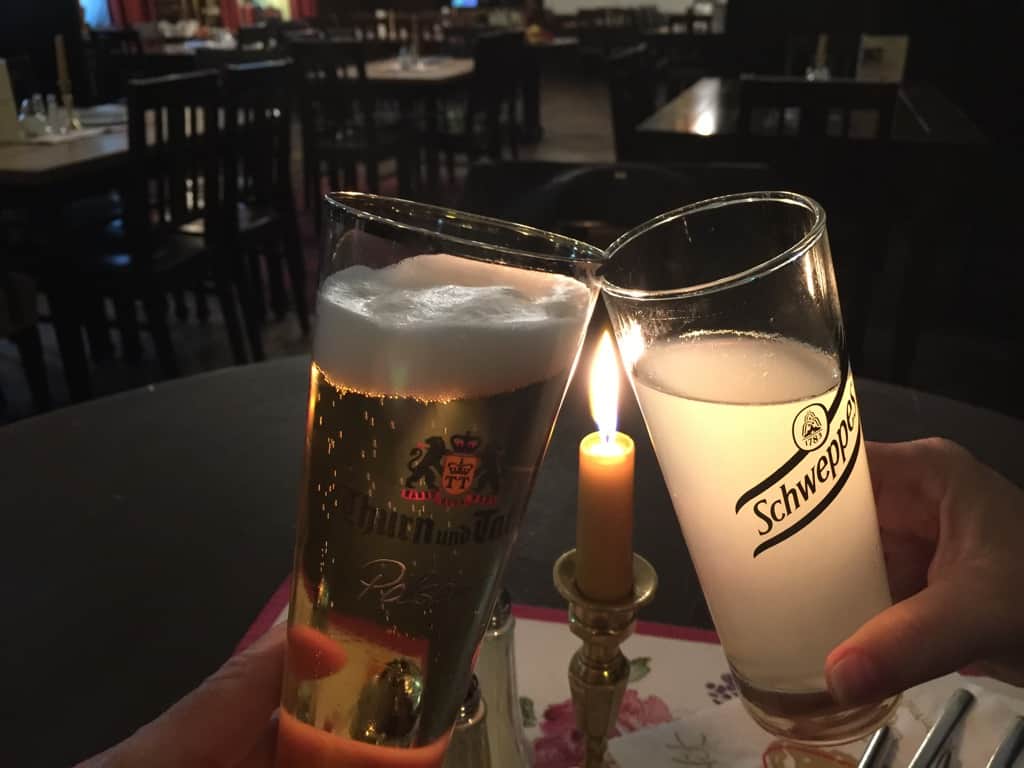 Almost three hours later, we met up with friends for our microbrewery tour of Bavaria, where the guide led us among the gothic architecture cathedral and various alleyways to some of the finest brews in all the land. We crossed the 16 arched Old Stone Bridge, constructed in the 12th century near the Sausage House, that has been there since 1298! It started to get a bit colder, but still doable.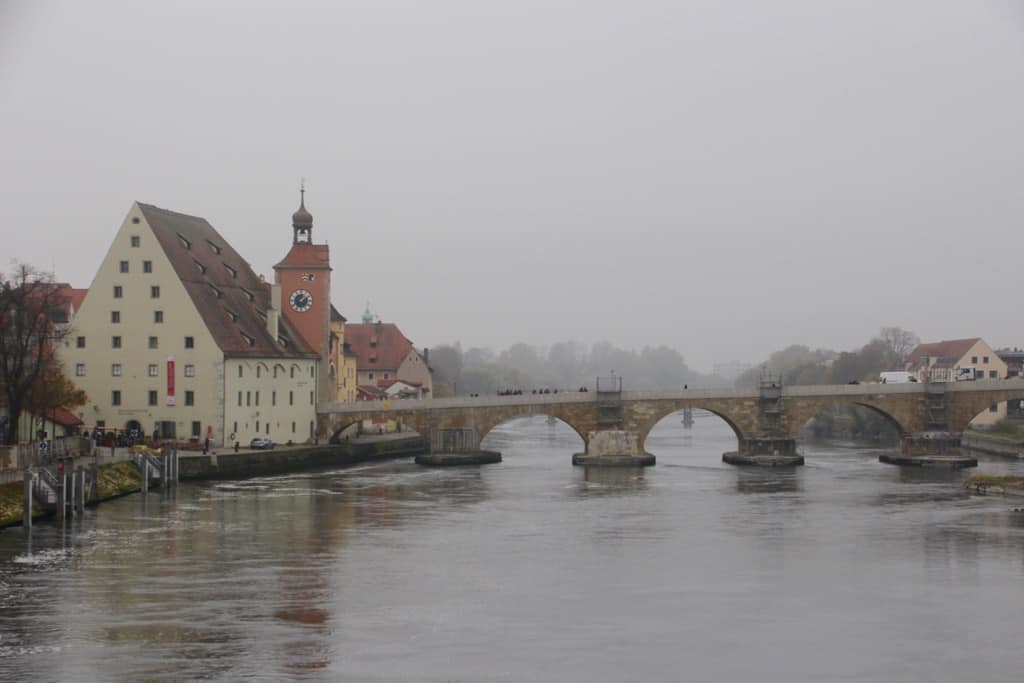 The bridge is considered a medieval masterpiece and an example of engineering during that time. On the opposite side of the bridge, the Fall colors came alive, like something I have never experienced before in my life. I could barely catch up with the group, as I had to stop every few seconds just to take a photograph.
Where to Stay in Regensburg Germany
For those who choose to stay longer than a day, Regensburg has a range of accommodation options, from small family-owned hotels to international chain-style hotels.
The old city and most of the hotels in Regensburg are located on the south side of the river, but there are also a few located on the islands in the Danube river, such as the Hotel Luis Stadl with views over to the old city. This time, our accommodation was onboard the Viking boat, but next time we would definitely be tempted to linger longer in Regensburg!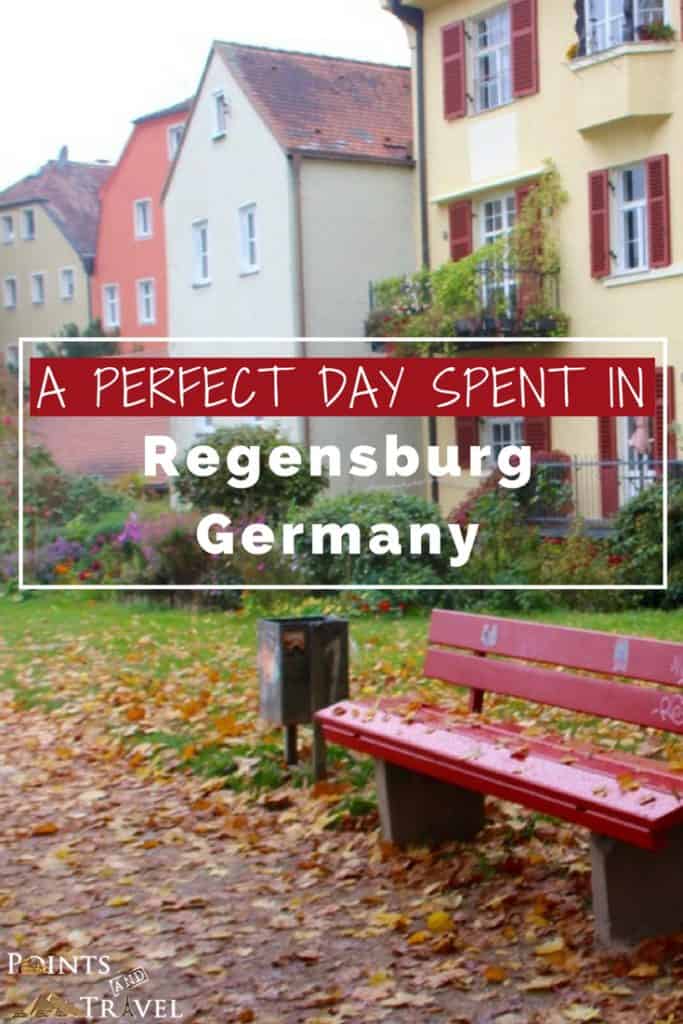 Its no wonder this city is a UNESCO world heritage city, as well as the best preserved medieval city in Europe. It was lucky enough to have escaped major damage during World War II and I have been lucky enough to visit it twice now with Viking River Cruises! Once for the Christmas markets in December and once again now, in the perfect shoulder season of October.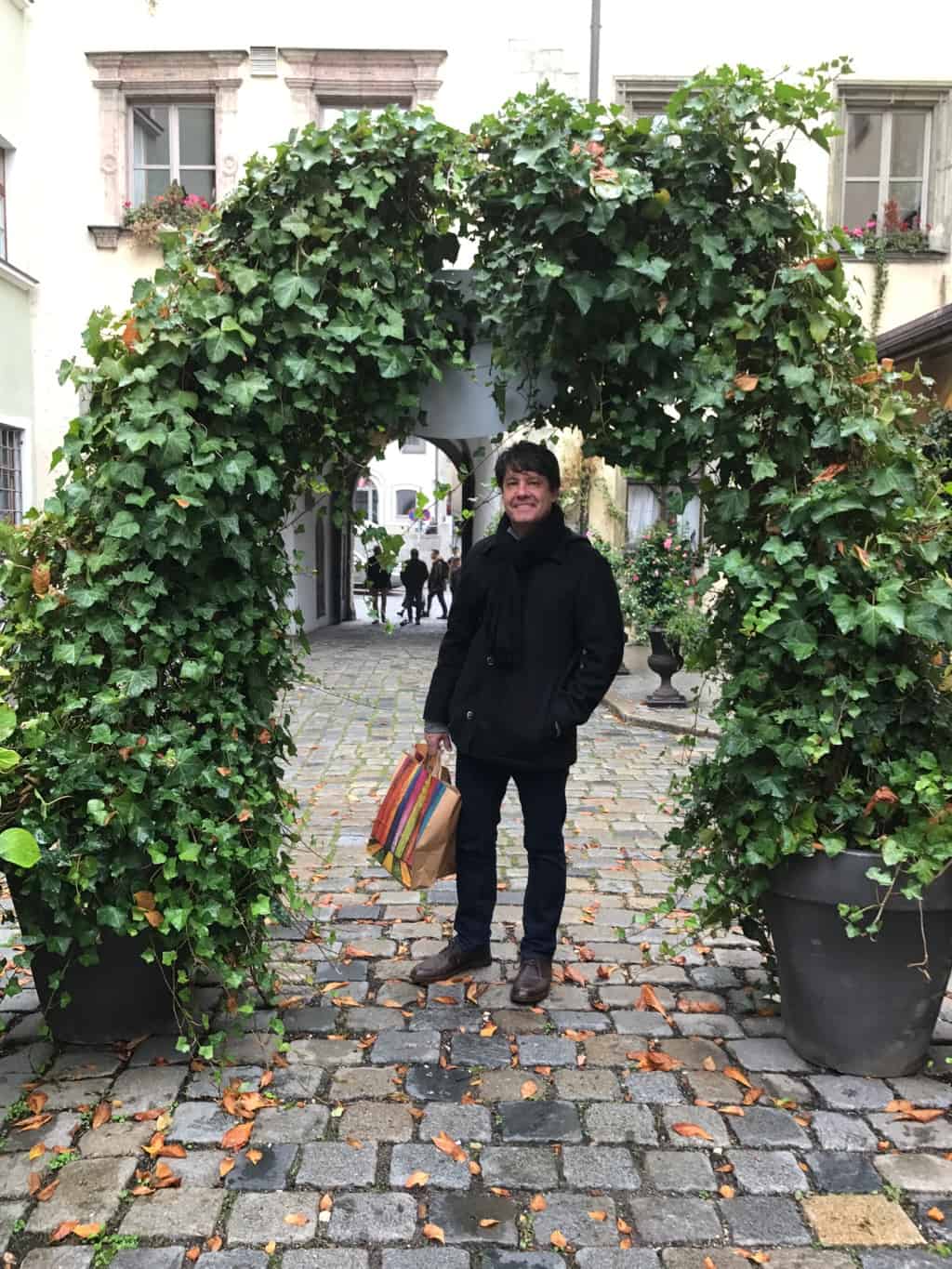 Here is a toast to my rock star husband, whom I drag all over the world and who lets me drag myself all over the world in order to quench my everlasting desire to see what is out there.
Disclosure: As is common in the travel industry, I was provided with accommodations, meals and other compensation for the purposes of a review by Viking River Cruises. While it has not influenced my review, PointsandTravel.com believes in full disclosure of all potential conflicts of interest. All Photos are by the author.
Recommended Reading Related to Viking River Cruising:
Best European Christmas Markets on the Rhine River – Viking River Cruise
Highlights of a Danube River Christmas Markets Cruise
Hansel and Gretel: the Black Forest Near Breisach, Germany
Viking Star: Things to Know Before You Go