Overwater Bungalows and Island Lodges
This stunning French Polynesian jewel, otherwise known as Bora Bora, is the epitome of luxury travel and the place to be for anyone looking to embark on an idyllic and once in a lifetime honeymoon. It is here where you will be able to wistfully laze the days away in your over-the-water bungalow with a cocktail in-hand as you admire the view over the lagoon. Here you will never forget the most incredible sunsets imaginable. It will be some of the best times of your life! A Bora Bora Honeymoon!
This, my friends, is Bora Bora!
Allow me to set the scene.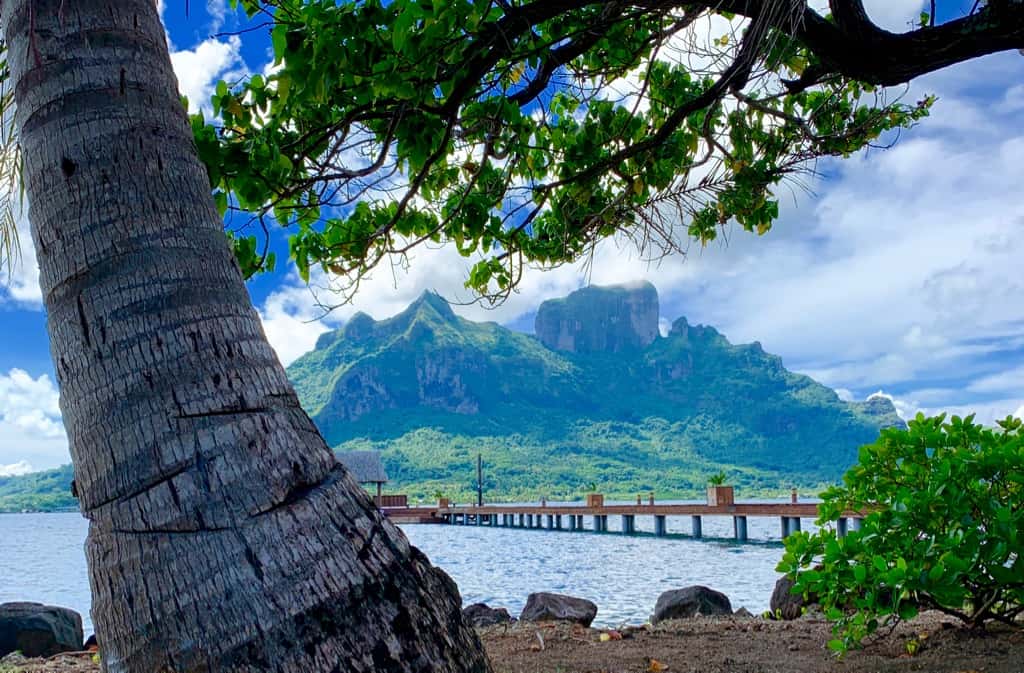 With Bora Bors's rugged, yet dormant remnants of volcanic twin peaks, jutting out majestically from the heart of this lush green island you will be surrounded by a barrier reef. It will have the most mind-blowing crystal-clear waters you've ever seen. And your luxe overwater bungalow is to die for. For this is pure paradise… this is Bora Bora!
---
Bora Bora Honeymoon
---
And it is exactly because of this astounding and other-worldly beauty that Bora Bora was nicknamed the "Pearl of the Pacific" by the explorer James Cook. A true testament to its original Tahitian name "Pora pora mai te pora", which translates as "created by the Gods''. That sounds appropriate to me!
In this guide about resorts in the most epic honeymoon destination, I'll outline everything you need to know to plan an unforgettable escape to the gorgeous island of Bora Bora in French Polynesia.

Where is Bora Bora?
The island of Bora Bora, a short one-hour flight northwest of Tahiti, is located in the South Pacific Ocean and forms a part of the Society Group of Islands in French Polynesia. The main island itself is encircled by a handful of smaller 'Motu's' (smaller reef islets), a barrier reef, and of course, the lagoon with its dreamy turquoise waters, that Bora Bora has become so famous for.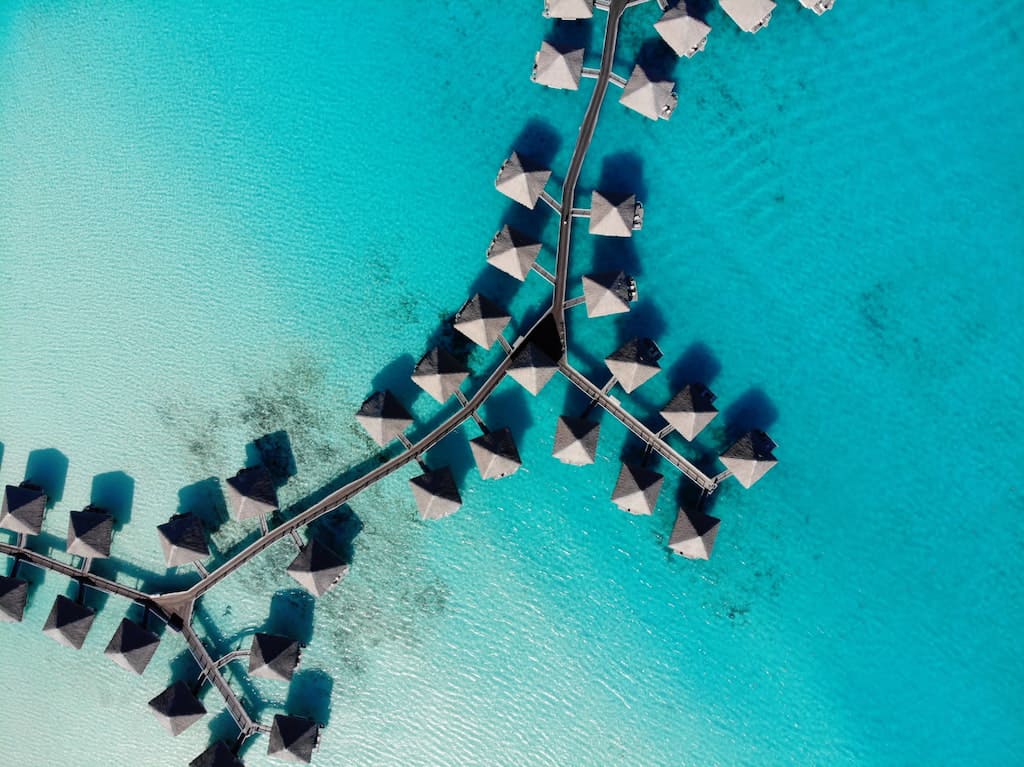 How do I Get to Bora Bora?
For most travelers planning a visit to Bora Bora, the most logical and direct way to get there would be to travel by air, connecting via Tahiti through Faa'a International Airport in the city of Papeete, also called Tahiti International Airport. With airport code PPT.
For North American travelers, there are direct flights from Honolulu, Los Angeles, San Francisco, and Vancouver to Tahiti. There are also direct flights from Auckland in New Zealand, from Tokyo in Japan and from Paris, France to name only a few other international destinations. Once you've landed in Tahiti, it is a quick 50-minute flight, after which you'll land at the Motu Mute Airport in Bora Bora, airport code BOB. Air Tahiti offers six to ten flights between 6:00 am and 7:30 pm daily.
It's worth noting that the airport is located on a separate islet. From here you embark on a catamaran shuttle service, offered free of charge by Air Tahiti, for a quick 20-minute hop over to Vaitape, the main port on the island. Make sure to check if your resorts offer their direct shuttle boat to collect you upon arrival.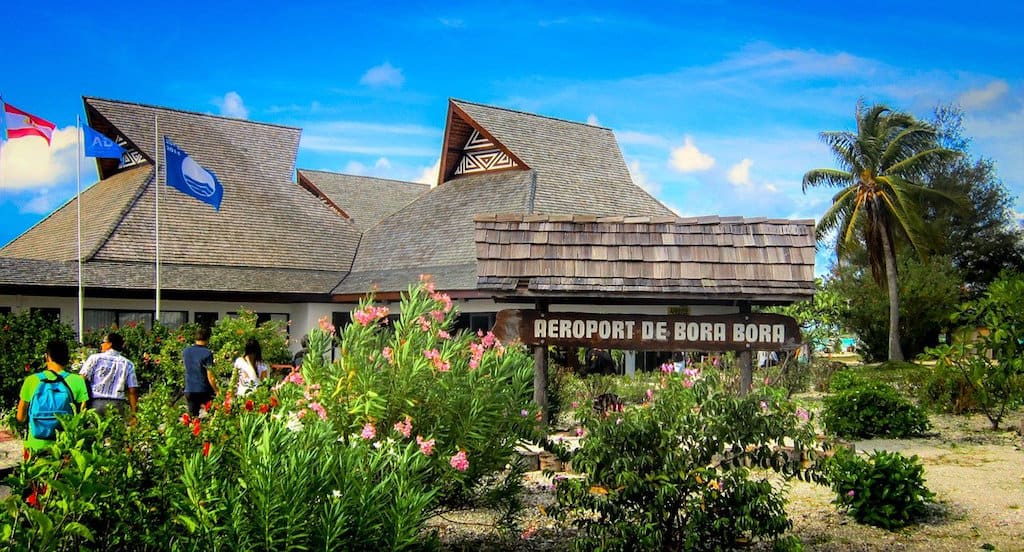 ---
Bonus Tip: If you do plan on making the most of your visit to French Polynesia and want to visit a few of the other Polynesian gems, then consider booking a Tahiti Air island hopping pass that allows you to save up to 60% on the inter-island airfares, compared to having booked all your flights individually.
---
Honeymoon Planning and Things to Remember
Planning a honeymoon to Bora Bora is no doubt on many couple's travel bucket list, and for good reason too. Here are a few honeymoon planning tips and suggestions to hopefully help and inspire you to plan your dream Bora Bora honeymoon to perfection.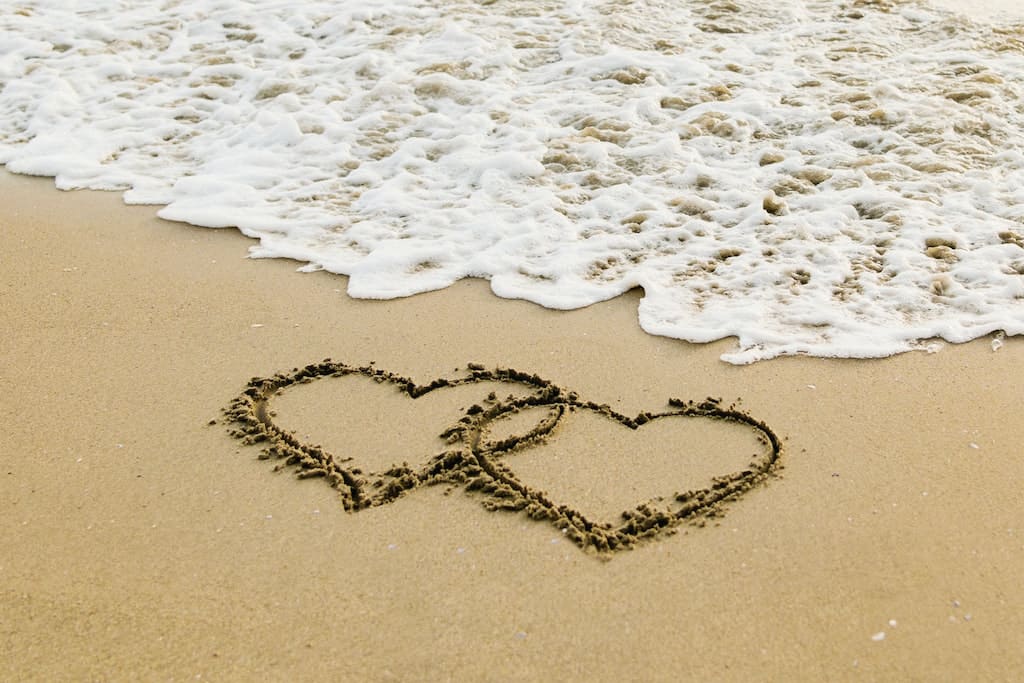 All-inclusive Packages
Bora Bora does have a reputation for being extremely expensive. Considering its remote location, the island has to import much of its produce. Thankfully though, many resorts offer all-inclusive packages which will ensure you don't end up with any extra and unexpected costs.
---
Buy Duty-Free Liquor
Following up on that last point, consider stocking up on some duty-free liquor en route to Bora Bora. Bora Bora liquor can be expensive at these resorts, so my suggestion is to bring your own duty-free liquor for the room!
---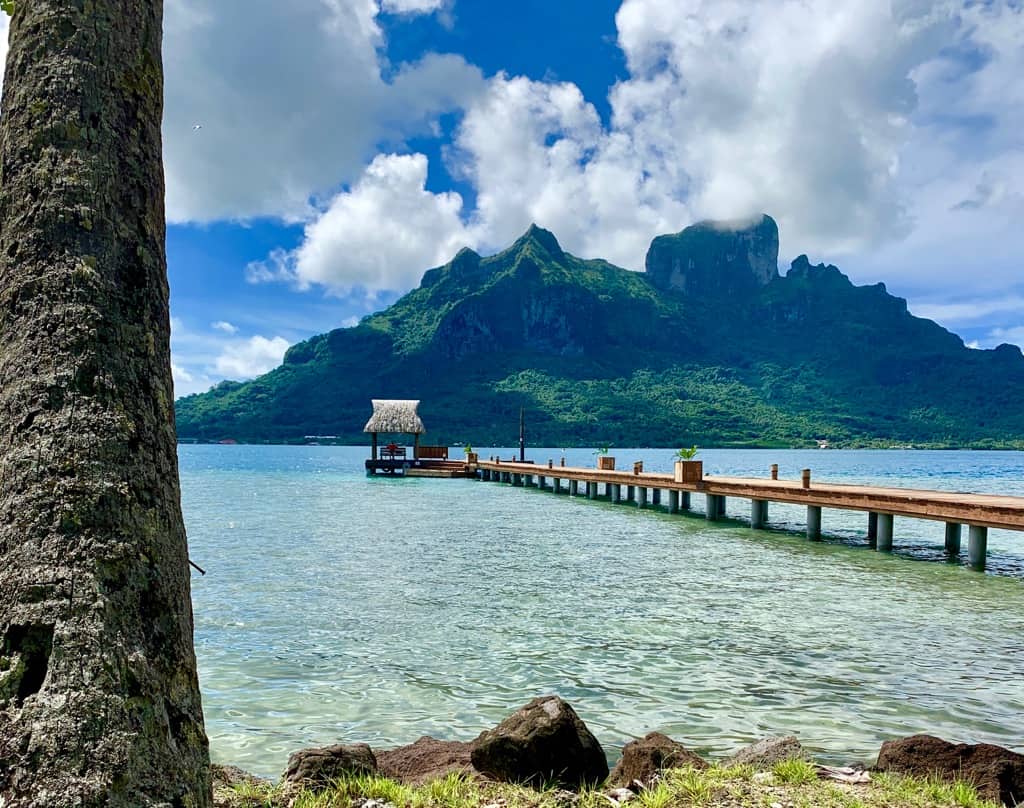 Resorts offer Wedding Planning
Bora Bora is a famed and much-loved honeymoon and a couple's destination, and it makes sense given the romantic backdrop. If you are thinking of combining your honeymoon with an exotic beach wedding, then consider that many resorts also do offer wedding planning and honeymoon services too. Perfect for those planning to elope to a tropical island getaway!
---
Explore All That Bora Bora Has To Offer
This island utopia is the perfect place to unwind and recharge. Although many people will tell you that there isn't much to keep you busy, I beg to differ. Not only is there an abundance of water sports, activities, and resort amenities to keep you occupied, but many resorts also offer cultural and island tours. This will allow you to explore all that Bora Bora has to offer. This includes nature and conservation projects too.
Four (4) Pure Luxury Resorts in Bora Bora
Having truly defined the art of luxury travel, Bora Bora resorts have been welcoming discerning travelers with open arms for decades. Why not kick-start married life by booking a stay at one of these ultra-luxurious Bora Bora resorts. I can assure you; you'll never want to leave, as it doesn't get much better than this!
#1 Four Seasons Bora Bora Resort
For an all-out indulgent experience, the five-star Four Seasons Resort Bora Bora is the personification of luxury and comfort. As you sit back on your over-the-water bungalow deck with a drink in hand, you can admire the magnificent views over the lagoon set against the backdrop of Mount Otemanu.
The resort boasts an array of amenities and activities to make your stay extra special. These include an open-air fitness center, spa facilities, kayaking, cruises as well as free guided snorkeling excursions.
But, for that extra special touch, you can book a private dining experience for you and your loved one, where you'll be canoed across to your very own private palm tree-lined 'motu' (island) for a personalized Polynesian culinary experience that is simply out of this world! Be sure and explore the lagoon! It doesn't get much better than that!
#2 Intercontinental Bora Bora & Thalasso Spa
Another fabulous five-star option is none other than the Intercontinental Bora Bora & Thalasso Spa Resort. Set on the stunning Motu Piti Aau island, only accessible by boat, you'll be immersed in honeymoon heaven the moment you step foot here. Immerse yourself in the spectacular marine life, as you go scuba diving around the coral reef, relax at the resort's private beach, or appreciate the breath-taking Bora Bora sunsets aboard a sunset cruise.
Lastly, don't forget to book a unique seawater therapy session at the award-winning Deep Ocean Spa. For the duration of your honeymoon stay here, choose to book from a selection of luxury over-the-water villas or suites, many with their own private plunge pools. Do note, there are two International resorts in Bora Bora, but this is definitely the one to book for all-out luxury.
#3 The St. Regis Bora Bora Resort
Bora Bora has no shortage of exquisite five-star resort properties to choose from. The St. Regis Bora Bora Resort is another prime example of a truly unique and refined Bora Bora experience worth booking. You'll appreciate the spacious and modern Polynesian interiors of your over-the-water Bungalow, complete with glass viewing panels that offer a sneak peek into the alluring waters down below. Or you can experience the privacy of a land villa with incredible beach views from which to admire the Polynesian sunset.
The resort presents a choice of 4 restaurants and 2 bars from which you can wine and dine to your heart's content on fare specially created by world-class chefs. Add to that the spa facilities, fitness center, and the bespoke St. Regis Butler Service. It is easy to see why this resort is the ideal honeymoon getaway.
#4 Le Meridien Bora Bora
Offering a selection of over-water villas, suites, or private beachfront bungalows, the Le Meridien Bora Bora rounds out our list of the 4 pure luxury resorts to choose from when booking your romantic honeymoon getaway in Bora Bora. The five-star Le Meridien Bora Bora gives you two the chance to also connect first hand with its pristine nature and surroundings. Go snorkeling and get up close to the tropical aquatic life found here.
Or you can visit the nearby Ecological Center and Turtle Sanctuary focused on rehabilitation efforts on the island. After a day of exploring all the delights of the resort and its surroundings, unwind and recharge at the day spa or the fitness center. Alternatively, head to the private beach where you can take advantage of kayaks, canoes, and other water sports, all of which are free of charge to guests.
Five (5) More Smart Luxury Resorts
It is no secret that Bora Bora can set you back a pretty penny in the pursuit of a memorable luxury honeymoon getaway. So, if you're after smart luxury, top-notch resorts at a fraction of the cost, compared to the above-mentioned resorts (although still somewhat pricey, but always worth it), then consider booking one of these 5 smart luxury resorts for your epic Bora Bora honeymoon.
#5 Intercontinental Le Moana
Located on the southern tip of the main island lies the four-star Intercontinental Le Moana, another great accommodation choice to complement your romantic honeymoon in Bora Bora. Choose from a selection of Polynesian-styled beachfront or over-the-water bungalows.
You can dine at the Noa Noa Terrace Restaurant or simply sit back and enjoy a cocktail at the poolside Vini Vini Bar & Restaurant. Also, on offer to guests is a private resort beach as well as a host of different water sports activities too. To add that special romantic touch, don't forget to book a couple's spa treatment or ask the concierge to book a romantic dinner (or ask for their list of other romantic ideas), to make your honeymoon that much more unforgettable.
#6 Conrad Bora Bora Nui Resort
Voted in 2019 as the best resort in French Polynesia in the Condé Nast Traveler readers' choice awards, the five-star Conrad Bora Bora Nui Resort has all the trimmings you'd come to expect from a world-class luxury resort. Set on the private island of Motu To'opua, guests get to a range of facilities and amenities that include a day spa, a choice of 4 restaurants, infinity pool, fitness center, and not to mention the beautiful stretch of white powdery beach overlooking the pristine waters of the lagoon.
Choose from a range of land and over-the-water bungalows for your stay, each featuring sleek and modern resort-style interiors, some of which have their own plunge pool or catamaran nets dangling over the crystal waters.
#7 Sofitel Bora Bora Private Island
The five-star Sofitel Bora Bora Private Island is another resort that is likely to make your honeymoon in paradise one you'll never forget. Exuding classic Polynesian charm and character and overlooking the impressive lagoon, this resort is a quick 2-minute hop over by boat to the main island. It offers a selection of free water sports including kayaking and snorkeling.
Lounge on the white sandy beach, or pamper yourself and your loved one with a spa treatment or yoga session. Or if you prefer, you can relax at your beach or over-the-water villa as you admire the romantic scenery of Bora Bora.
#8 Bora Bora Pearl Beach Resort & Spa
Set on the lush tropical island of Motu Tevairoa with sweeping views out over the turquoise waters, looking back at the main island is the 4-star Bora Bora Pearl Beach Resort & Spa. It is a Relais & Chateaux property. Regardless of whether you book a garden suite complete with its own private pool, a beachside suite that features your own private hot tub, or you splash out on the over-the-water bungalow from which you can splash into the pristine waters of the lagoon, your honeymoon here will no doubt be filled with memorable moments.
The Pearl Beach Resort & Spa offers all the amenities and services you'd expect from a world-class luxury resort. These include a private beach, a bar, and 3 restaurants to dine at, tennis courts, water sports equipment, an outdoor swimming pool, and the Tavai Spa facilities. For that extra special romantic touch, book a private beach dinner for two and savor a gourmet three-course meal as you dine under the stars.
#9 Vahine Island Resort & Spa
Last, but certainly not least, and rounding out the list of the most epic honeymoon resorts near Bora Bora, is the four-star Vahine Island Resort & Spa. If you're wanting to get away from the crowds and prefer a more secluded setting for your honeymoon, then this resort is a perfect choice. The idea for this resort was to build something completely different than the larger hotels near Bora Bora. It was to be peaceful, quiet, and exclusive.
Located on the private Motu Tahaa Island, this resort features only 9 bungalows, ensuring you enjoy a private and magical stay. Choose between the Beach Bungalow, Over-the-water Bungalow, Beach Suite, or the lavish Villa Royale for your stay. Explore the island through some of the free activities on offer, including kayaking, paddle boarding, beach games, snorkeling, or a nature tour through the Motu. The Vahine Island Resort & Spa also offers a selection of both guided and private tours to make the most of your visit to Bora Bora. To get to this island, you must fly into the airport called Raiatea. From there it is a 30-45 minute boat ride to the private islet by Tahaa Island..
When to Visit Bora Bora?
Planning when to visit Bora Bora on your luxury honeymoon getaway is perhaps one of the most important factors to consider in order to make the most of the weather and all that this gorgeous island has to offer. Due to the fact that the island is situated just south of the Equator, monthly high and low temperatures don't fluctuate by much throughout the year. So the temperature stays pretty constant, meaning that even the winter months, Bora Bora is still fairly warm and sunny.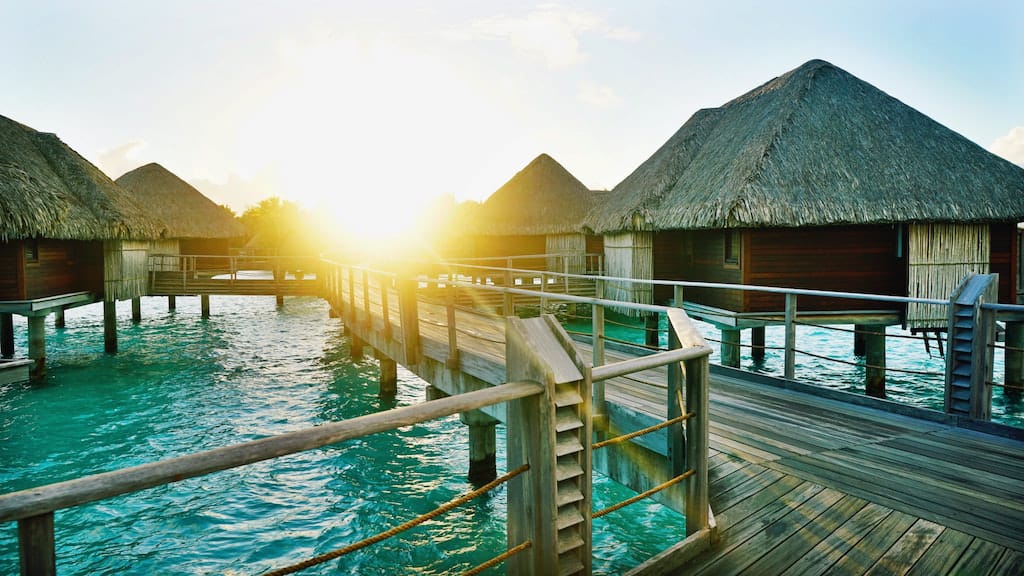 As such, it may come as a surprise to some that the high season in Bora Bora does take place throughout the drier winter months, spanning from June through October.
Interestingly though, tourist seasons are affected by a higher chance of rainfall. In Bora Bora, this occurs during the island's humid summer months that run from December through to March, which is in turn regarded as low season.
Arguably the best time to visit Bora Bora would be during the 'shoulder' season, the months of April to May, as well as November.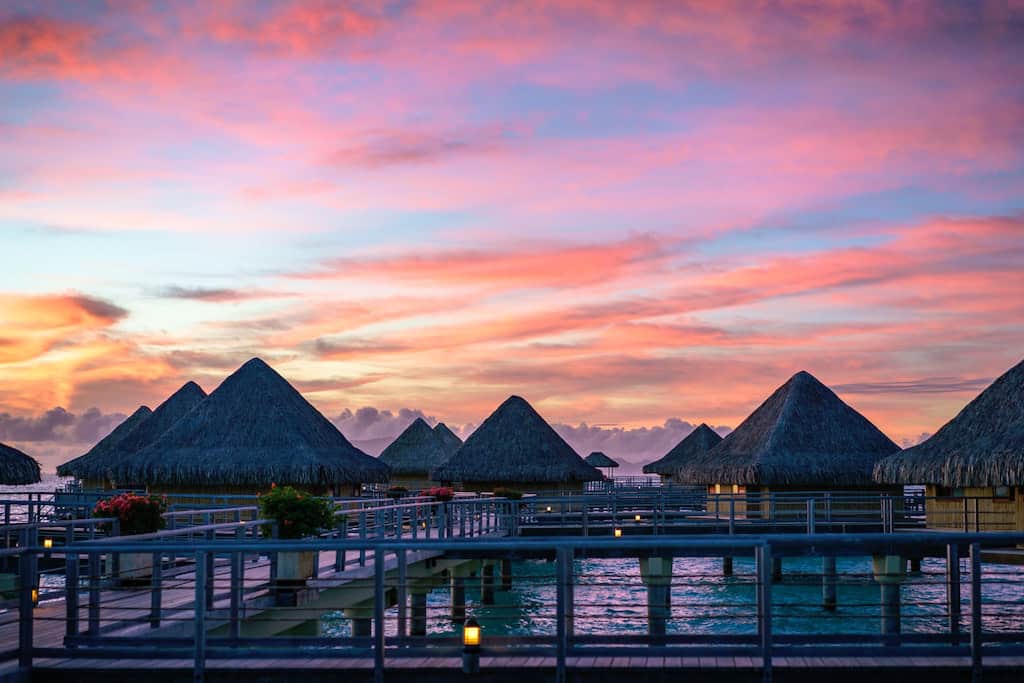 So there you have it. Bora Bora is a destination perfect for taking it easy after a tiring and probably stressful wedding. Now you can enjoy some downtime with your new better half.