I recently visited Budapest, Hungary with Avalon Waterways to check out their new "Active and Discovery" excursion tours that are offered on their European River cruises. Since I have been on my share of European river cruises along the Rhine, Main, and the Danube, I was excited to try out their new style of excursions. One of my choices for a "Discovery" excursion was called the Retro Tour. Avalon Waterways billed the tour as a way to travel "back in time in Budapest History". And since I love the city of Budapest, I was easily hooked!
These Trabants created quite the scene for our "pit stops" along the retro tour! Every time we stopped, I saw people flashing their cell phone cameras at us and smiling! Each stop transported us back in time, back to the olden days of Budapest. Honestly, this tour was so much fun. In fact, I think it may have been one of my favorite tours just for the nostalgia of it all! (Although I loved the "Discovery" tour I took to Clam Castle and the "Active" bicycle tours that I took in Budapest, Vienna, and the Wachau Valley)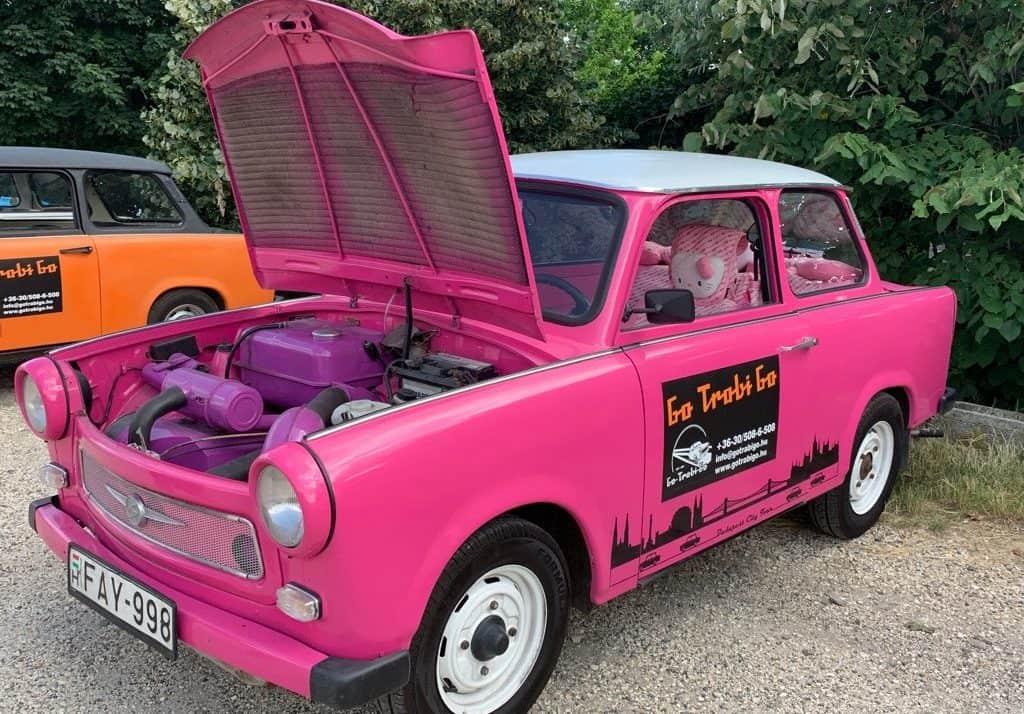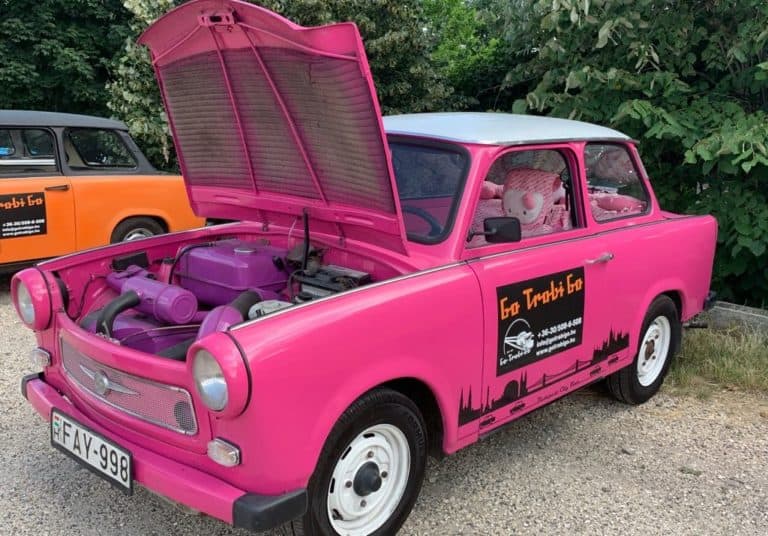 One of the stops on our Avalon Waterways' retro tour was to the most famous ruin bar in Budapest called Szimpla Kert. And since I have been to Budapest many times, I had been here before, but it is always fun to revisit. During my previous visits to Budapest, I have seen my share of pubs and bars.
What Exactly Are Ruin Bars?
Basically, Budapestians have one day of the year they can put out trash and discard items they no longer want on the street, as authorized by the city. On that day, the city workers come by and pick up all the discarded items. But the owners of this ruin bar decided to hire people to pick up the discarded items in the street and "decorate" abandoned buildings found in the city with all the "stuff" that they collected.
Budapest Has Many Ruin Bars
Budapest has a lot of ruin bars in the Jewish Quarter because it was once home to a flourishing Jewish community before WWII. But when thousands of Jews were deported, this area fell into neglect and poverty. This neglect continued into the 1960s, 70s, and 80s. Many buildings and houses were abandoned. So ruin bars created a buzz to allow locals and now tourists to come back to these type of neighborhoods. Today, these neighborhoods have emerged into some of the best pub crawl neighborhoods on the Pest side of the Danube River in Budapest!
Budapestians call these pop-up pubs "ruin bars". They are sprinkled throughout the run-down neighborhoods. Ruin bars are great to bring in tourists to these impoverished neighborhoods. As mentioned before, the bar owners find abandoned buildings, rent them out or buy them. Then they clean them up (sort of– as you can still see pipes coming out of walls or ceilings/electric wires on the outsides of the wall, etc). Then they install a bar, decorate it in wild fashionable decor and the people flock to them.
Ruin Bars Are Known for Their Eclectic Decor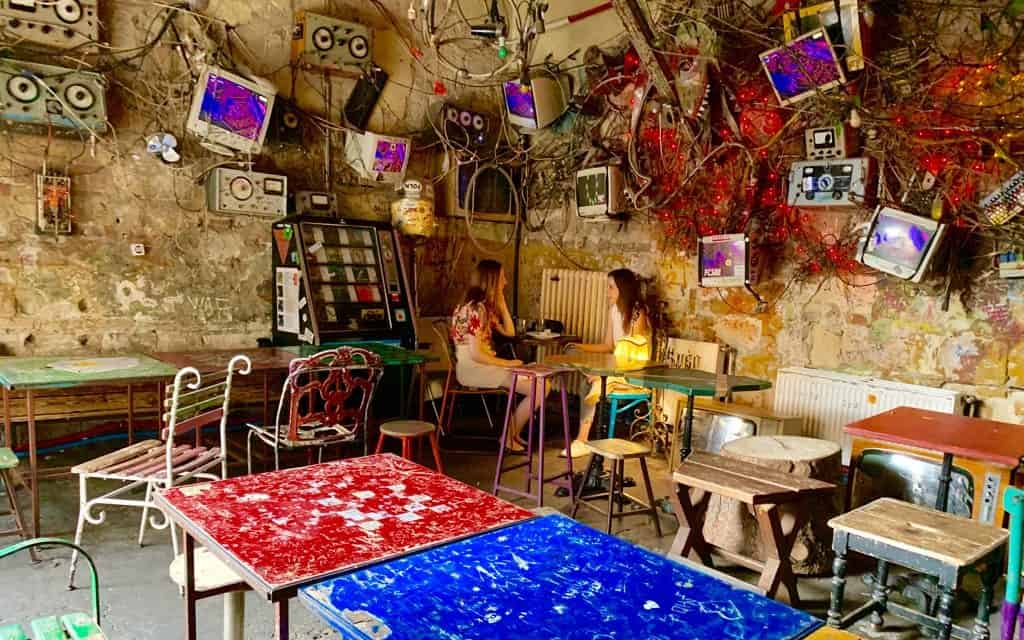 As mentioned before, ruin bars are typically housed in dilapidated buildings with great architecture that has been brought back to life! They tend to be filled with discarded furniture, dated interior design pieces, graffiti, and old electronics that you haven't seen in years!
You can pretty much guarantee there will be graffiti on the walls, in the stalls of the bathroom, and everywhere else! Primarily, they are the new "hip cool pub" for the young at heart! Many of these pubs are located very near to each other. So you can walk or take public transportation from one pub to the next pub. So you don't even have to worry about drinking and driving. Remember safety first!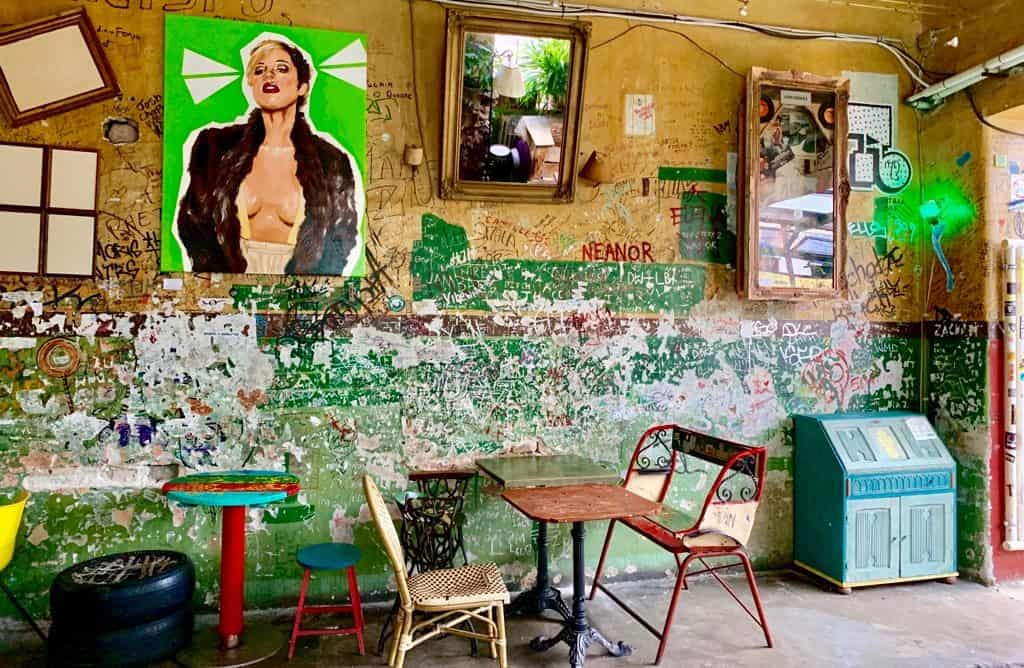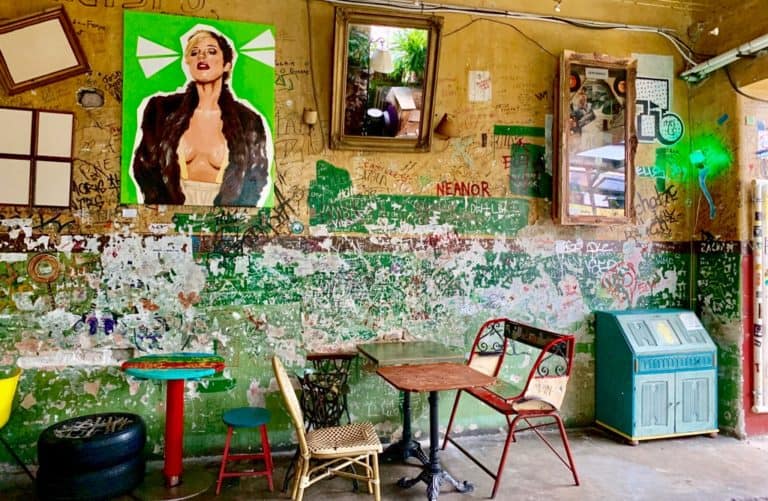 This capital city has plenty of pub crawl bars or ruin bars to choose from. Since you don't have months to find them all while on your one-week vacation to Budapest, let me help you by recommending my top pub crawls in Budapest.
Pub Crawl in Budapest
Trabant Retro Lounge & Bar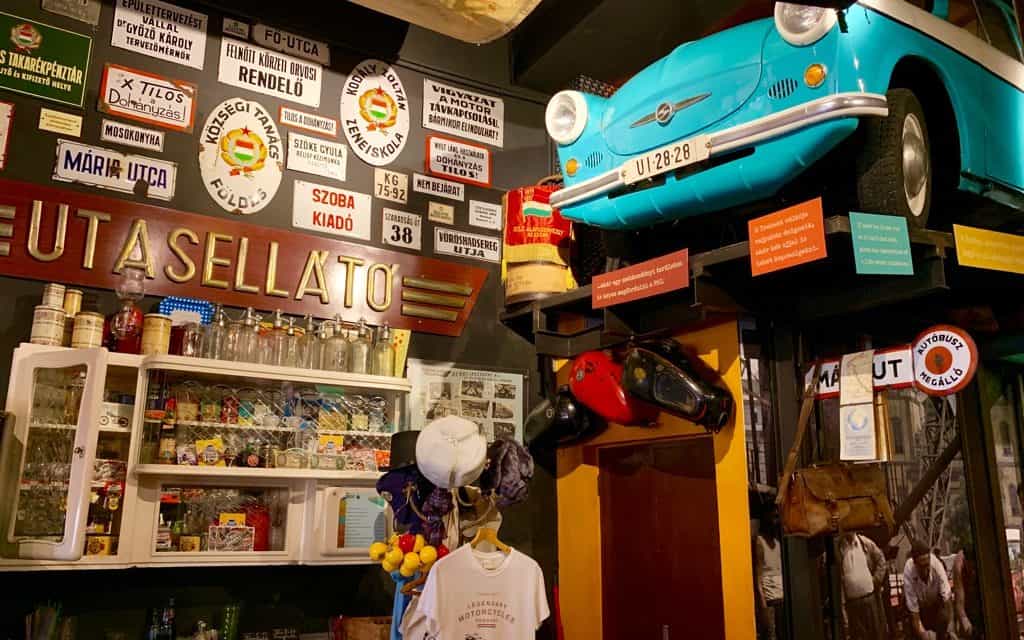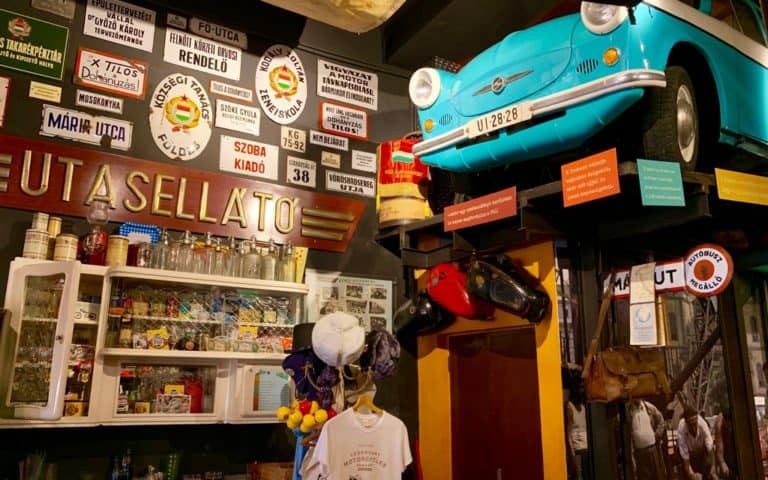 Trabant Retro Lounge & Bar was also on my Retro tour with Avalon Waterways. It was stop number one. What I loved about it was that it truly was like walking back in time… Russian time that is. In fact, our guide grew up here in Budapest and walking around the Retro Bar he said it was like reminiscing about his childhood days! It was filled with pieces that reminded him of his past life in Budapest as a communist country and also of his grandmother!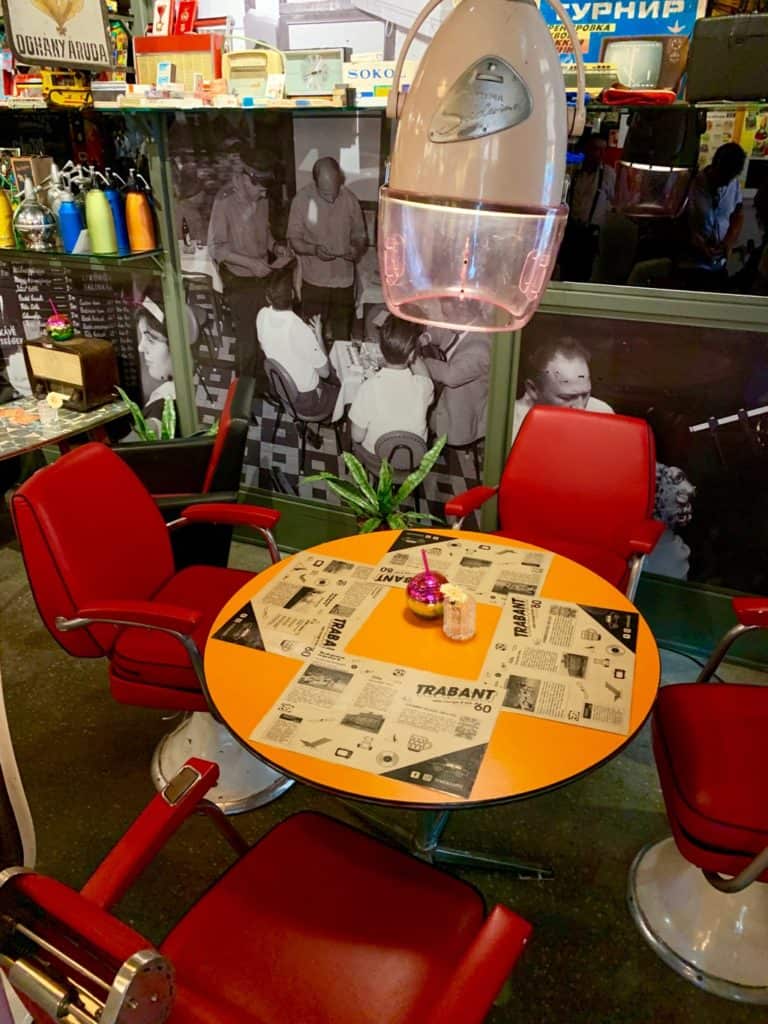 It was a glimpse into everyday life during what they call the 'Goulash Communism' days. Come in, look around, order a wine spritzer or a sour-cherry soda in this downtown retro bar. You won't be disappointed as you look around at the Trabant lodged into the ceiling, the old-style hairdresser dryers and dial-up telephones. Don't forget to look up to the hanging luggage on a rotating dry cleaning conveyor belt!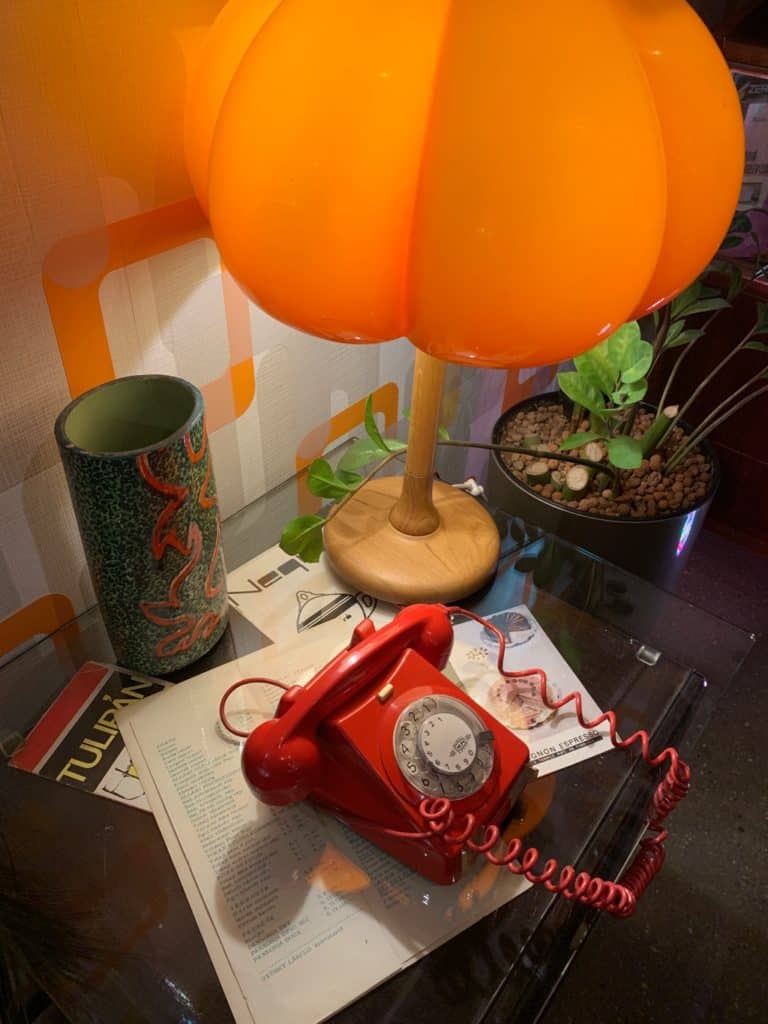 For Sale Pub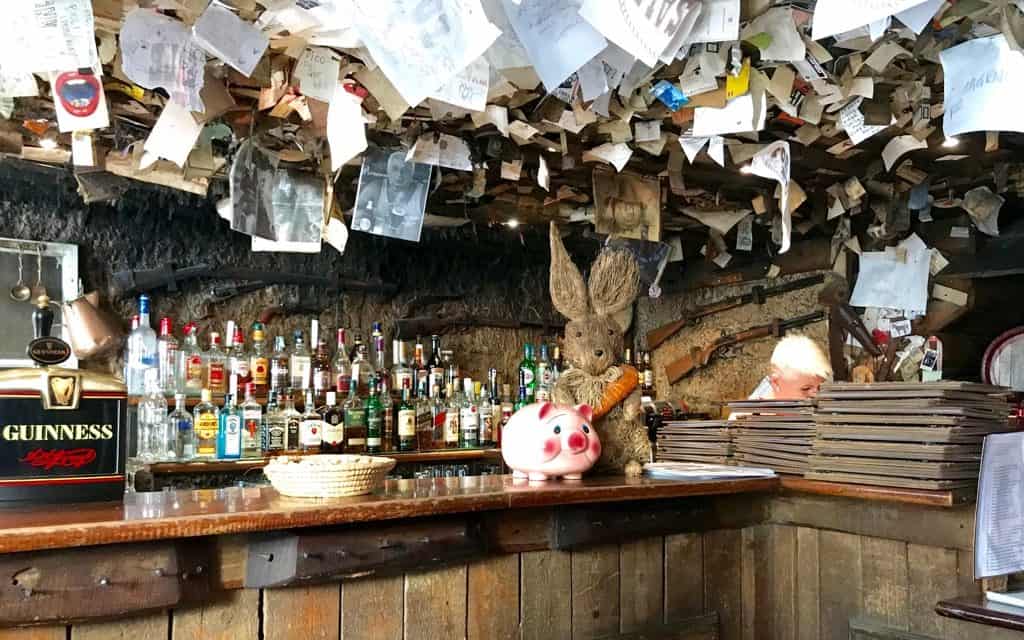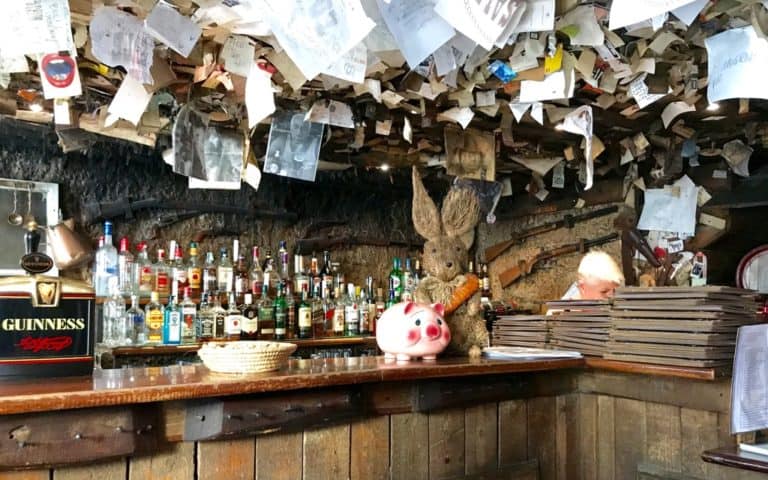 For Sale Pub is one of those bars that is decorated by the guest's artwork, photos, and any other paper you can imagine hanging from the ceiling. With its brick fireplace and straw-strewn wooden floors, go in, then grab a seat and sit for a while. This pub is located right across from the Great or Central Market Hall, where many tourists stumble upon it! It is a fun little stop in this massive capital city. And the portion size of the food is huge – where they actually warn you of this on their menu!
Koleves Vendeglo
I was hesitant to put this one on the pub crawl list, but after thinking about it, its garden is like an open-air village pub in the countryside of Hungary. Where the adults are having their beer, yet the kids are hanging out eating ice cream and playing outside. So stop by for a nice drink in the evening.
Koleves Vendeglo is also known as the "Stone Soup Restaurant". You might as well make a reservation and eat off of the restaurant's eclectic menu that mixes traditional Hungarian food with local Jewish food! Everything from matzo ball soup and roast goose to catfish stew with noodles!
Ruin Bars in Budapest
Szimpla Kert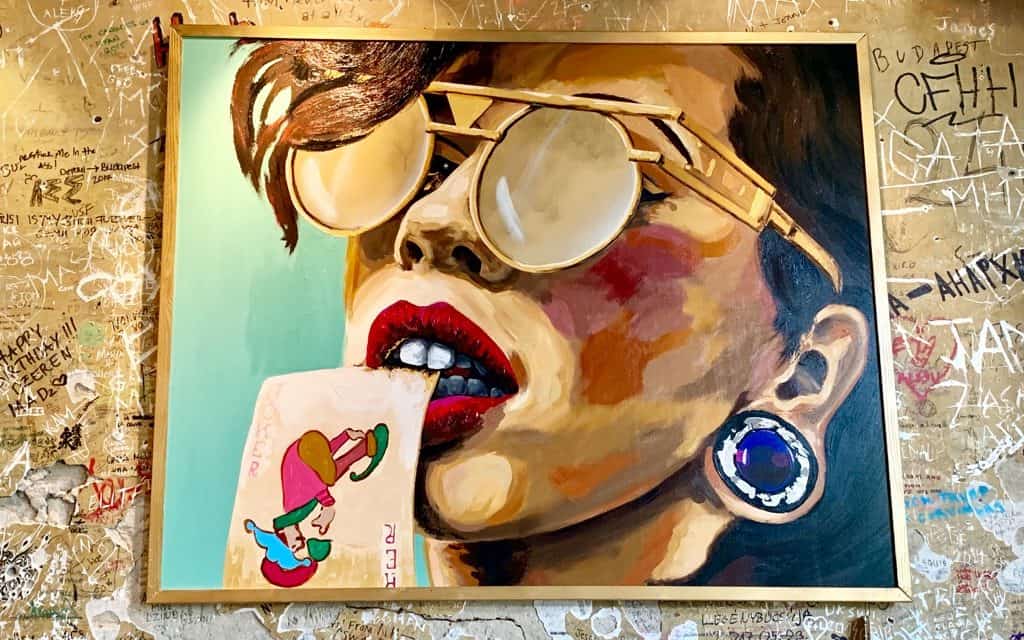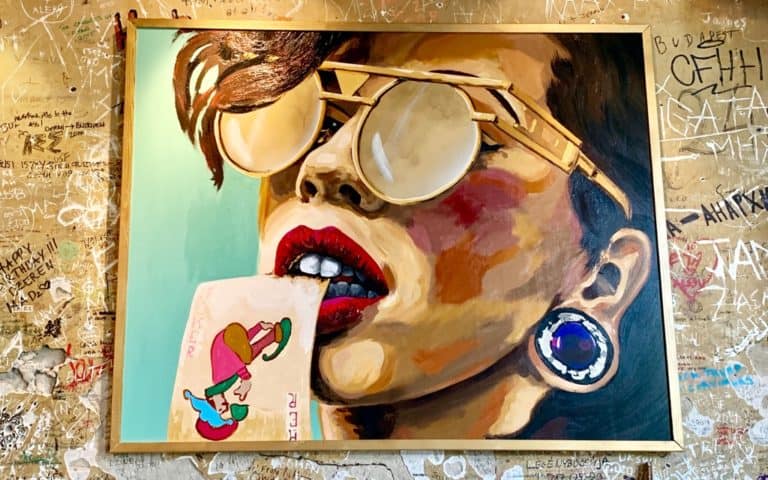 Probably the most famous ruin bar (ever!) in Budapest is Szimpla Kert, meaning "Simple Garden". Be sure and go upstairs and look all around. Order a drink, walk around, as it is THE original ruin bar. I believe it is the biggest and the oldest ruin bar in town. It even has an old stripped out Trabant (East German car) to have a drink in if you want! But then once you have checked it out and have taken all your photographs: get out of there! As it has evolved into a tourist haven!
If you only want to take a peek, go there during the day, so you can really see it. At night and on the weekend, this place is packed full of visitors. Either way, it is a must-visit on any trip to Budapest, if only for a bit of your time.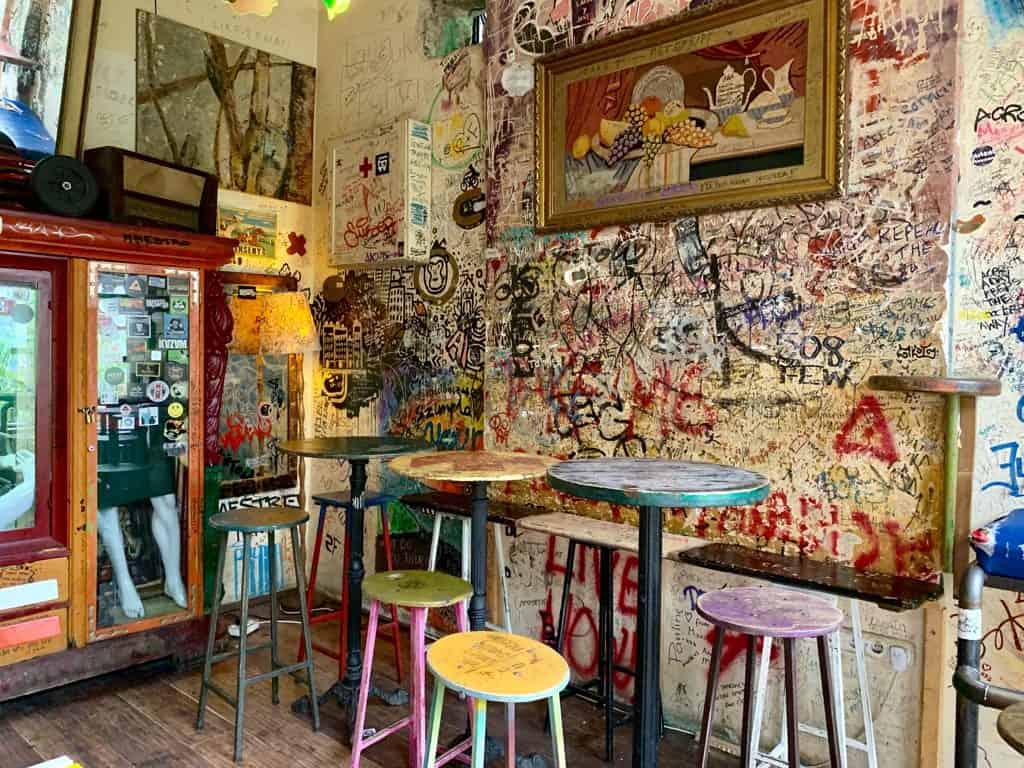 Kolevest Kert
Kolevest Kert is just up the road from Szimpla Kert and it is great to visit in the afternoon because it is more relaxed and also is outdoors. Next to Kolevest Kert are Mika Kert and Ellato Kert, they are not quite as nice but do pop your head in for a moment. Once you have had a chance to see them all, I'll let you decide which one of these Budapest pubs you like the best.
Corvin Teto
This ruin bar is located in an abandoned supermarket on the roof! top This rooftop terrace makes it very popular in the summertime, as it has a view of the buildings of Pest and the hills across the Danube River of Buda. It makes for a nice sunset bar to have a drink. It also is more "clubby" and has lots of dancing and music, especially electronic music (not really my cup of tea, but I have one college-aged son who loves that style and insisted we go here!)
Instant
Instant is probably the largest ruin bar ever. It is located in an entire apartment building! This one has more of a club-like atmosphere with over 20 rooms to hang out in. They knocked out many of the walls so that you can see from one apartment to another. You can sit in basic furniture, ie discarded couches, and chairs that resemble a living room! They even have furniture attached to the ceiling! So get ready for this if that is what you are looking for! As they have DJ's and lots of music and dancing. Since it is more "clubby" than bar, it is also more expensive.
Fogashaz
Fogashaz is not as lively as Szimpla Kert, as it aims to be more of a local hangout than Szimpla Kert. It is smaller and less touristy. You will find a more local crowd here having drinks in this area around Klauzal ter, the heart of the old Jewish district. It has bicycles and glasses hanging from the ceiling, so I am sure you won't want to miss seeing that!
At one time, it was believed to be an old dentist's office, as they found a sign in the building when installing the bar. Therefore, some call it the "House of Teeth"! At Fogashaz Haz there is not a lot of loud music like in other pubs, but they do have ping-pong tables for your athletic endeavors!
One of our last stops on the retro tour with Avalon Waterways was our stop to Momento Park. This park is an open-air museum lying on the outskirts of town where the largest monuments and statues dedicated to the cold war are resting. It was quite a sight to see!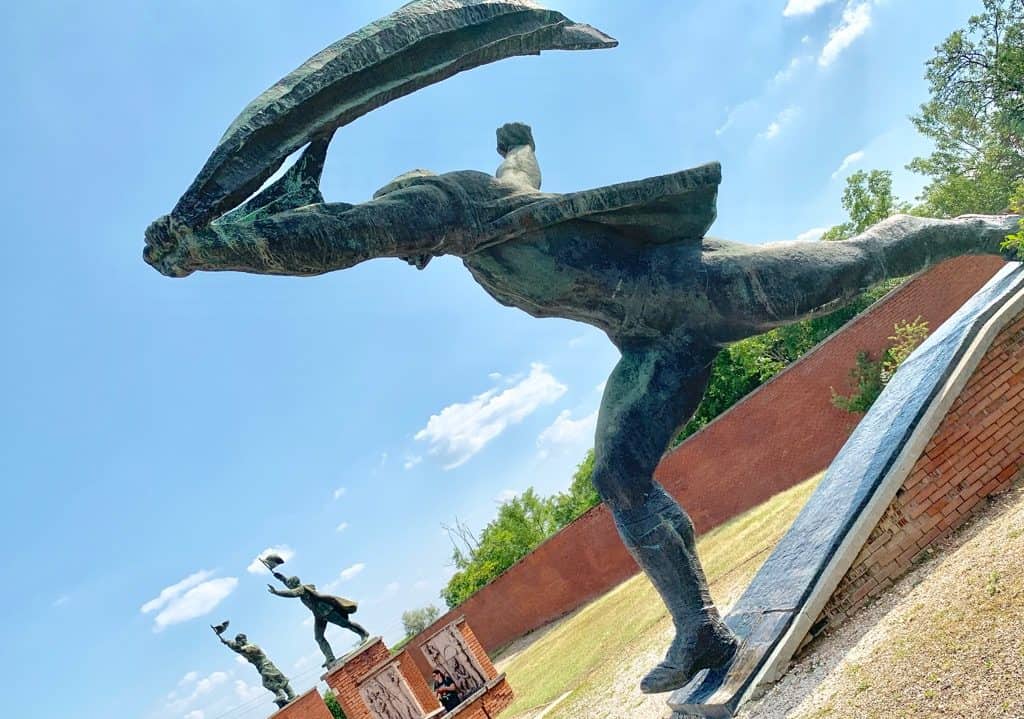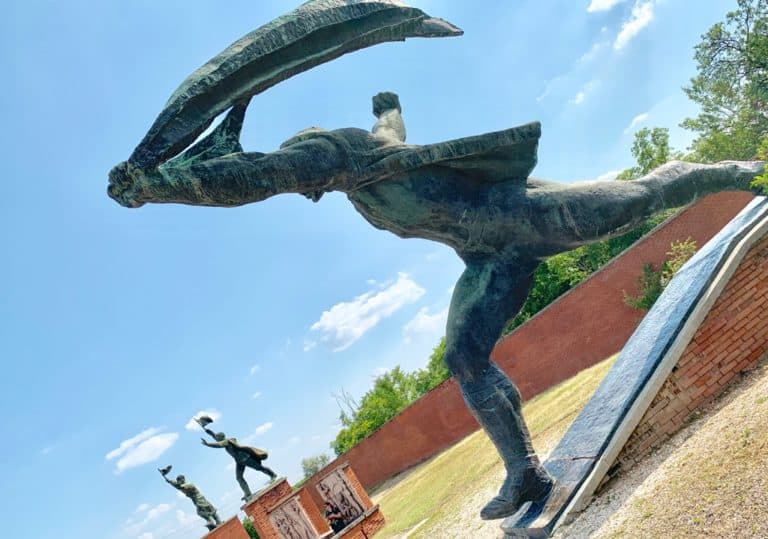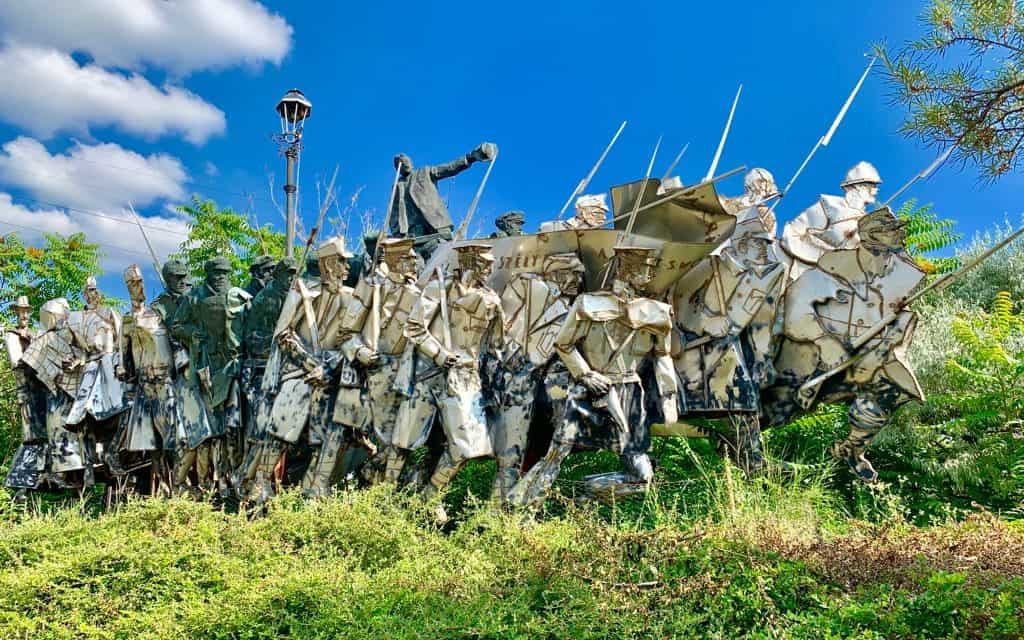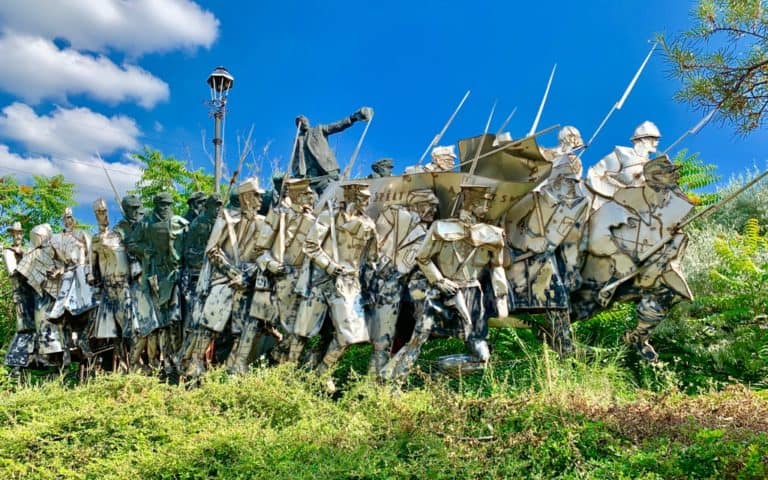 My fascination with this city never ceases to amaze me and every time I visit, I always find new and different things to do. I certainly appreciated the retro tour given by Avalon Waterways, as they helped me find something new this time too! I also love visiting these crazy pubs and ruin bars for fun (not really for drinking, but when in Rome…).
Obviously, there are many more pubs and ruin bars to explore in Budapest (such as Anker Kert, Ellto House, Ellto Garden, Retox Bar, and Fuge Advar, but I am trying to keep my list of pub crawls short and doable on a quick city visit!).
Like it? PIN it!
Read about another excursion I took on AmaWaterways: Cycling the Danube River
Disclosure:  As is common in the travel industry, Dr. Maloney was provided with accommodations, meals, and other compensation for the purposes of review managed iambassador in partnership with Amazon Waterways. While it has not influenced her review, PointsandTravel.com believes in full disclosure of all potential conflicts of interest. All Photos are by the author. There may be affiliate links in this article.