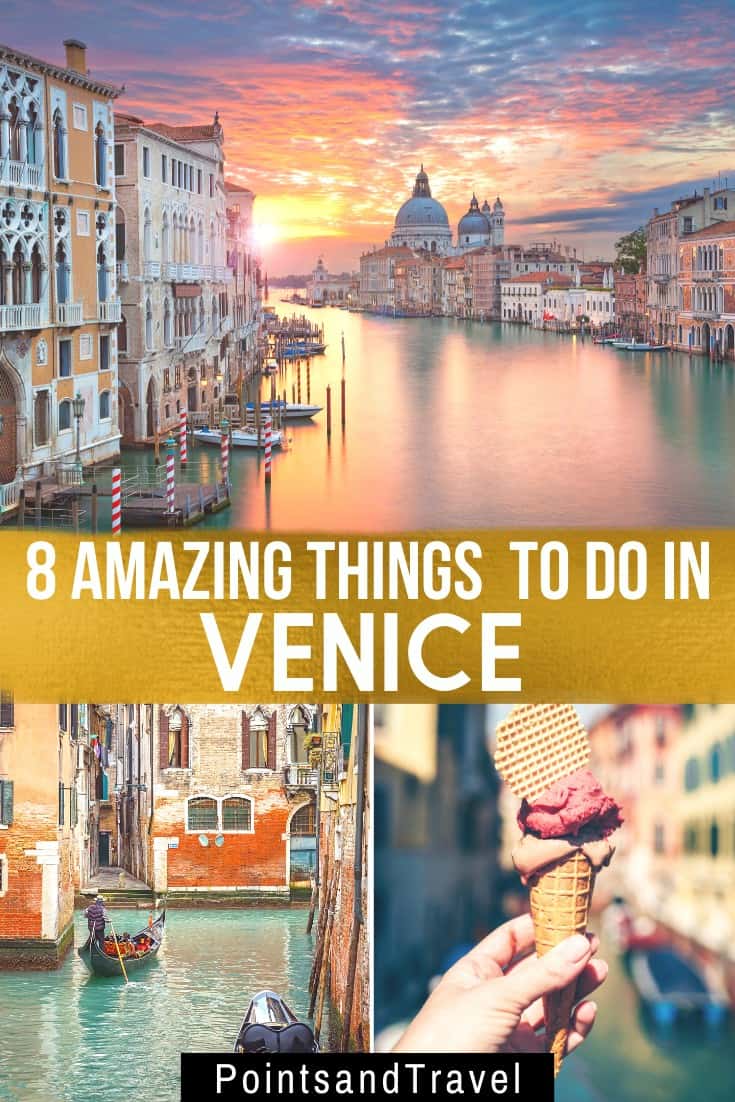 If you ask me how I like to travel, I would say "solo." As a photographer, I find it's easier to wander alone and take my time to get exactly the right shot that I want. So on my third visit exploring Venice, I found a few of the best things to do in Venice, Italy. I was totally prepared to take in a day at the Carnival of Venice, Italy, and then spend the next few days bumbling around this magnificent city with only myself for company.
---
What's in this post:
hide
Things to do in Venice Italy
---
That said, I had the good fortune of being introduced to a company called Italian Days Food and Wine Tours who offers tours in several Italian cities, including Venice.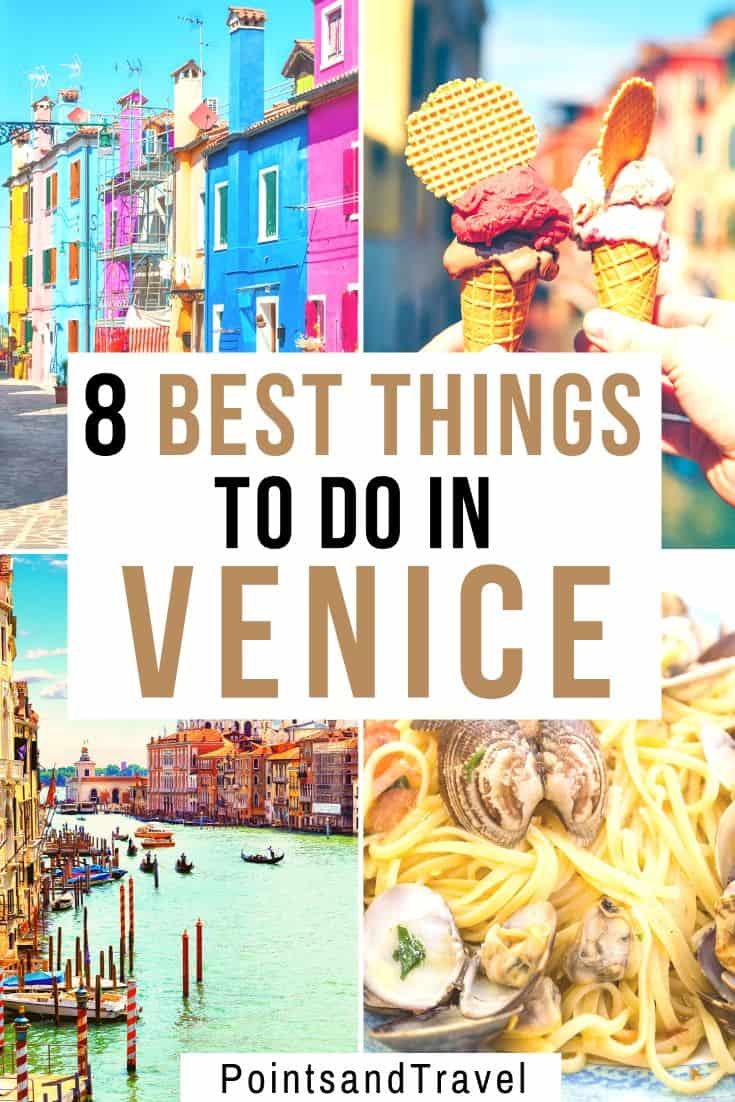 I figured out of four days on my own exploring Venice, it might be good to tap into the local food scene, so I emailed the Venice sales manager of the company and licensed tour guide, Lorenzo Guglielmi. Before long, I was getting frequent emails from Lorenzo suggesting ideas for photography and local experiences far beyond the food scene.
8 of the Best Things to do in Venice:
#1: Visit The Island of Murano
Before I ever stepped foot in Venice, Lorenzo had set up a tour of a glass factory on the island of Murano along with a flamework class – the technique for creating glass beads. There was no question Lorenzo was going to be my new best friend in Venice. We agreed to meet early on my first full day in Venice and it was off to the races, or in this case, the island of Murano.
By lunchtime, I had toured the amazing NasonMoretti Glass Factory and had watched a gold-rimmed water goblet take shape from a molten piece of liquid glass that eventually would sell for $80. I had also spent two hours with glass artist Alessia Fuga creating four glass beads in her tiny studio. This ended up being one of the best things to do in Venice Italy.
#2: Visit Local Bars and Sample Wine and Cicchetti
After a bite of lunch, it was back to Venice where Lorenzo spent the rest of the day showing off this city that he loves and giving me a taste of how he typically runs his "walk and talk" tours. We made a few stops at the local bars, known as "bacari", to sample the local wines, as well as indulge in "cicchetti".
Cicchetti, similar to tapas, are small servings of finger food, such as sandwiches, little plates of olives or sardines, cheese or cold cuts, all on display for patrons to pick and choose. Bacari are tucked into tiny spaces throughout Venice with limited seating and generally packed to overflowing. On one of our stops, I noticed a group of three gondoliers on break cajoling over wine, and instinctively I knew I was mingling with the locals.
---
" Venice is like eating an entire box of chocolate liqueurs in one go." – Truman Capote
---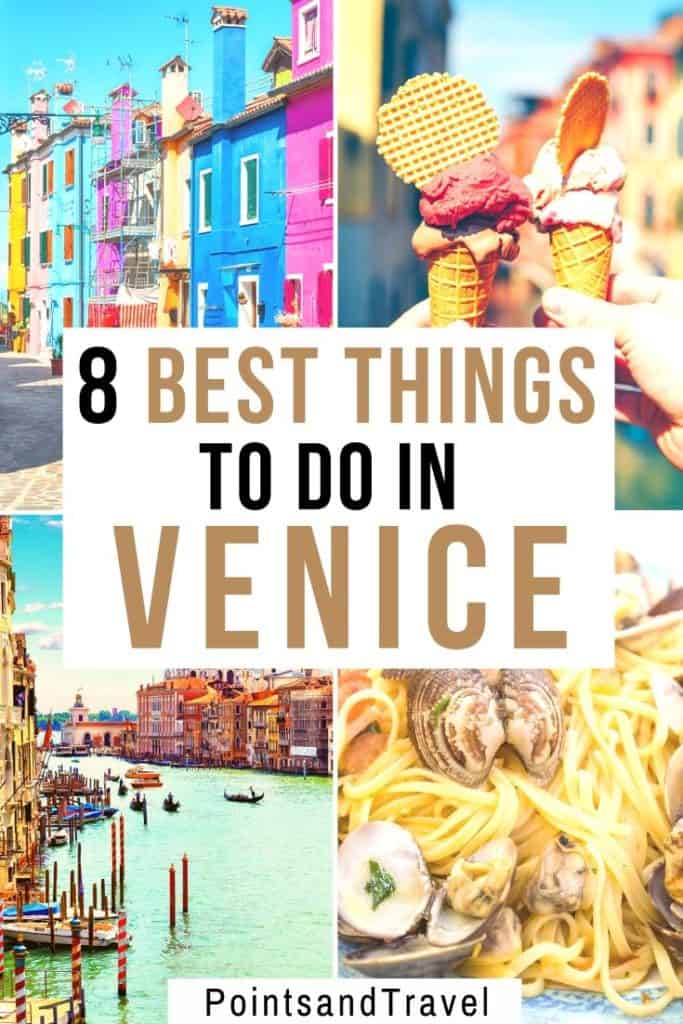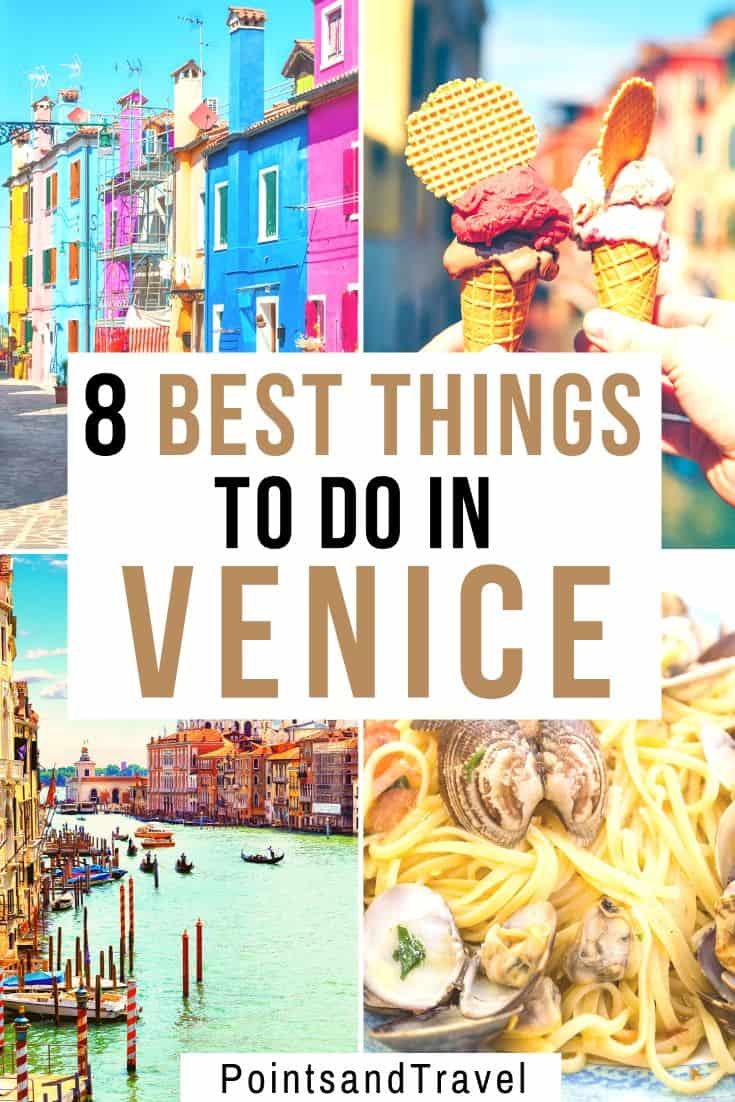 ---
Recommended Reading about Venice, Italy:
Things to do in Venice in 2 Days
---
#3: Shop at the Local Food Markets
In between the "bacari" visits, Lorenzo was anxious to show off some unusual places on the backstreets of Venice. We walked through the colorful food market and window-shopped some tempting sweets. We made a stop at the Scala del Bovolo, Palazzo Contarini in the San Marco district.
Bovolo is a Venetian word for "snail" and appropriately describes the look and feel of this external spiral staircase attached to a former palace. There is a small fee of $10.28 to climb this beauty. Next, we headed to T Fondaco Dei Tedeschi, a stunning high-end department store in an old palace with a rooftop terrace that affords a sweeping view of the Venice lagoon.
#4: Check out the Libreria Acqua Alta
The day wasn't complete without a stop at the most amazing bookstore, Libreria Acqua Alta, (meaning bookstore of high water) which felt like something out of a Harry Potter book. Thousands of books, stacked from floor to ceiling were stuffed into every nook and cranny in the narrow building adjoining a canal.
Sitting front and center was an old gondola spilling over with books and somewhere in all this dusty, musty scenario was the proprietor, sitting behind a cluttered counter with his trusty cat. A small terrace out back had a staircase made out of books where you could climb up peek over the stone wall into the canal. Libreria Acqua Alta is more than a bookstore, it's truly an attraction.
#5: Wander and Get to Know the City
As we walked, Lorenzo shared bits of insights and knowledge about his city. Venice has 400+ bridges, about 90 of which are private. The city is interlaced with 176 canals. Venice is made up of a collection of about 115 islands. Lorenzo mentioned that Venice is an unusual city for kids.
It's a city they can own; without cars, rollerblades, and bikes – they only need to watch out for the canals. Campos (or squares) found frequently throughout Venice, serve as playgrounds for the young ones. In the warm summer months, Italian Days typically offers boat tours in combo with the walking tour.
In the warm summer months, Italian Days typically offers boat tours in combo with the walking tour. Lorenzo teams up with Captain Marco, to showcase the best of Venice lagoon and the surrounding islands using a beautiful old wooden fishing boat. Marco is the taxi driver of the luxury Hotel Belmond Cipriani.
But his true passion for vintage boats made him move a step further into a private association with the important mission of introducing people to the soul of the Venetian lagoon.
He was in the process of refinishing his boat for the upcoming season and invited us to take a look. As we entered a warehouse, Marco and his handsome smile popped up from the hull of his boat covered in sanding dust. His project was a work of art as much as it was a vessel. I could see this would be a charming experience exploring Venice with Marco at the helm and Lorenzo pouring the Prosecco or perhaps Bellini and serving up Cicchetti.
#6: Take a Venice Boat Tour
What's to appreciate about Italian Days is their adaptability to fulfill your expectations of a Venice experience. With the Venice boat tour, you can opt to have lunch with locals Nini and Nino in their exquisite garden. Nini is a well-known Venetian artist and Nino is a cook with over 40 years of professional experience in the kitchen.
The boat/walking tour lasts around three hours and is ideally suited for six people. In addition, there are walking tours of Venice (2-3 hours in duration), as well as options to tour a glass factory and participate in a glass bead-making class. I feel confident in saying that whatever you hope for in your Venice trip, Lorenzo could assist in making it happen.
#7: Hire A Local Guide
I thank fate for my introduction to the Italian Days that eventually lead me to Venice and Lorenzo. I've seen sights that traveling solo I might have stumbled on, but with a guide, I zeroed into the good stuff in the heart of Venice and it's reflected in the photos I came home with.
By the end of the day, Lorenzo and I had become fast friends. He invited me to his home for a nightcap and to meet his family. In turn, I've extended my best invitation for him and his family to come to Montana. I want to share my passion for the place I love and call home with him, as he has done with me.
---
So there you have it 7 fun things to do in Venice, Italy!
---
Where to Stay in Venice:
Understanding Venice Neighborhoods
As you know, Venice is for those who romanticize travel, as it truly is a dream destination for many of us crazy dreamers who travel! Located in a lagoon in the Adriatic Sea in Northern Italy, Venice is the perfect destination to enjoy a long weekend or even a week exploring its neighborhoods. But the age-old questions still remain – Where to stay in Venice?
Well, the only way to figure that out is to understand the neighborhoods that are located in Venice. But no matter which neighborhood you choose, remember that each one is unique and perfect in its own way. Just choose the neighborhood that is right for you. After all, Venice is one of the top destinations that Italy has to offer, so keep reading to find out where you want to stay:
Neighborhoods in Venice – Called Sestieri
Neighborhoods in Venice are called Sestieri and there are 6 of them: Cannaregio, Castello, Dorsoduro, San Marco, San Polo, and Santa Croce.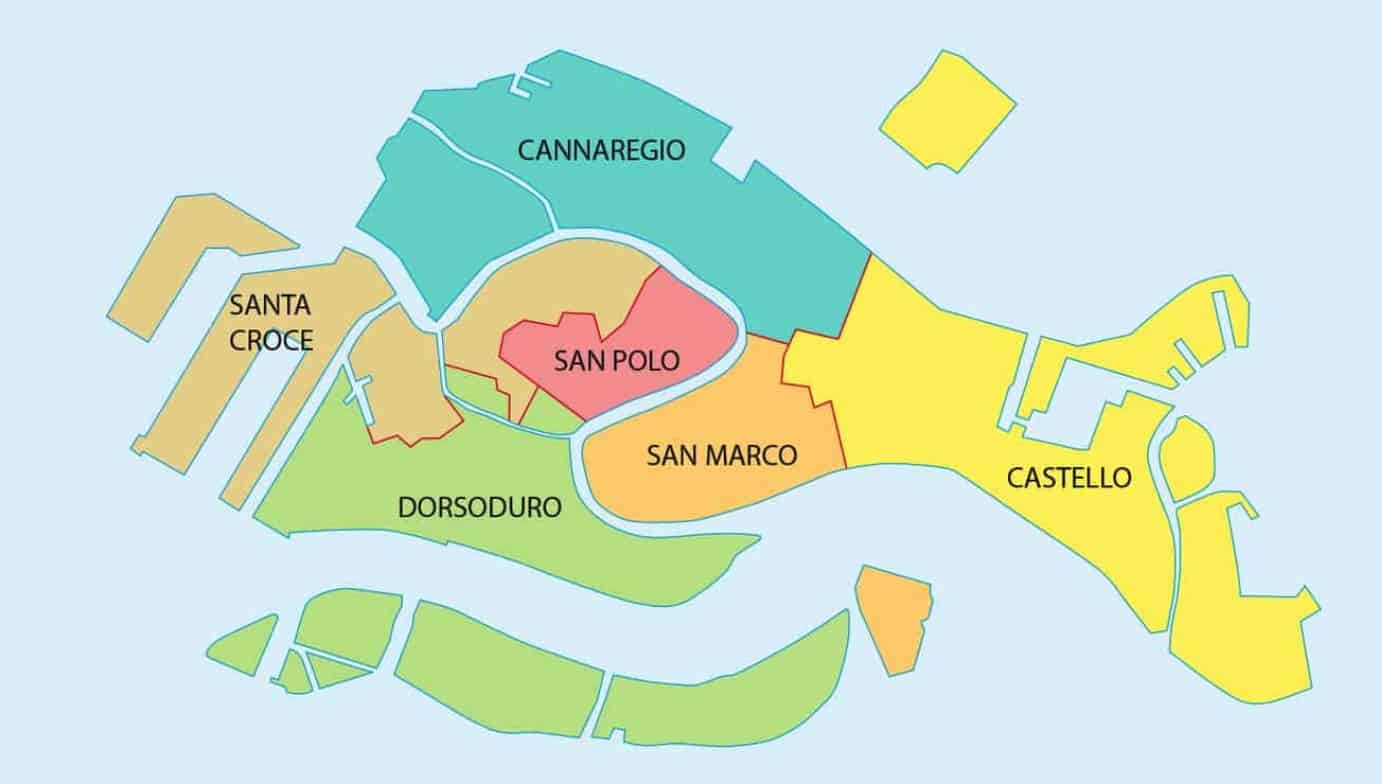 #1 Cannaregio Neighborhood in Venice
Cannaregio is a sestiere that has more of a local feel that is a bit less expensive than the more touristy areas. This is the neighborhood where most of the locals live and therefore this makes it more affordable. It is also the home of Venice's Jewish Ghetto, where you can experience Ca d'Oro which is a Venetian Palace, and the Church of Madonna dell' Orto.
Here you will find works of art by the painter Tintoretto along with his burial site. The area is quiet, works if you are on a budget, and has a good Venetian feel to it although it is a bit further walk from the main touristy areas. To stay here you will need to walk a lot and/or take public transport. Cannaregio is best if you like quiet nights, photography, and enjoy city walks. Couples in particular like this neighborhood!
Best Hotels in Cannaregio: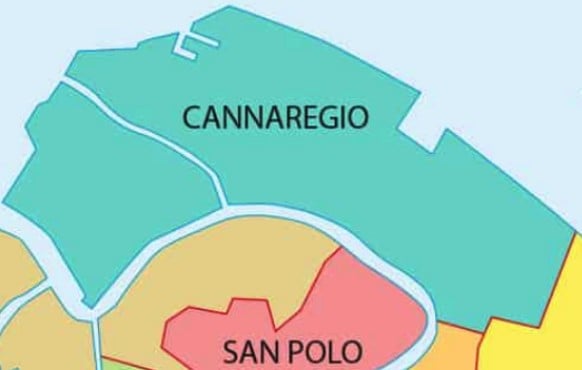 Moderate: Alla Vite Dorata
Located in Cannaregio about a 10-minute walk to Rialto Bridge, this gorgeous Bed & Breakfast has some of the most gorgeous rooms you have ever seen. With original wood-beamed ceilings and four-poster beds – how can you go wrong? Of course, a breakfast buffet is included and served with a canal view!
Luxury: Ca' Bonfadini
Ca' Bonfadini is housed in a 16th-century building in Cannaregio and offers very elegant accommodations with air-conditioned rooms and a flat-screen TV (with, of course, all the satellite channels, but you most likely won't be watching TV!) As you will be out on your balcony watching the boats go by with your canal view! A breakfast buffet is included. The Rialto Bridge is about one mile away. Piazza San Marco is 1.2 miles away.
#2 Castello Neighborhood in Venice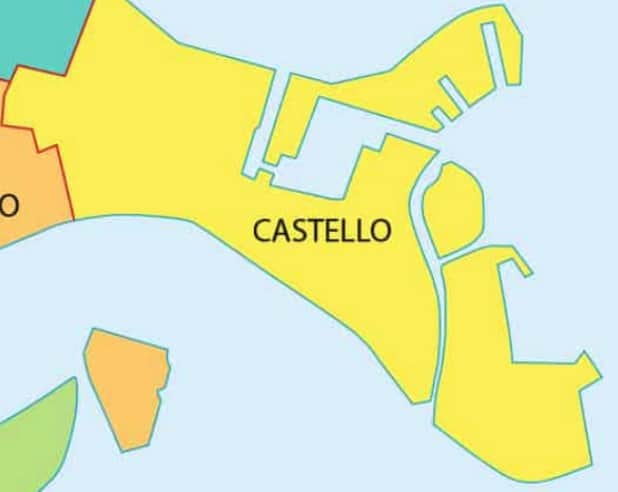 Castello sestiere is a great choice if you are looking to be a bit closer to the tourist places, yet want to find something that is a bit quieter. As this district's western side is near St. Mark's Square, yet because it is the largest neighborhood in Venice, there are other areas that are a bit more off the beaten path. Castello is unique in that it has grown around a naval dockyard, the historic Arsenale, which was once the largest shipyard in Venice.
Here you can find the Santa Maria Formosa Church and Campo, as well as the basilica of Santi Giovanni Bellini! The prices vary in this neighborhood. And it can be a long walk to the more popular tourist sights. Castello is a great choice for those who are interested in nice ambiance, culture, and exploring the old town.
Best Hotels in Castello Neighborhood, Venice
The
is a designer hotel offering stylish and suites with satellite TV and free Wi-Fi. Some rooms have views of the Rio della Guerra canal. The breakfast room overlooks the canal. The hotel is a 3-minute walk from and a 5-minute walk from the .
Pure Luxury: Hotel Danieli, a Luxury Collection Hotel
This legendary hotel overlooks the Venice Lagoon and is a mere 650 feet from St. Mark's Square. The three buildings it is located in date back to the 14th, 19th, and 20th centuries all connected via a covered bridge. Each room is spacious and finely furnished. Plus many of the rooms offer a view of the lagoon, so be on the lookout for those rooms! And be sure and have a drink at the Bar Terrazza Danieli or the sophisticated Bar Dandolo! Plus, the nearest water-bus stop is just a 2-minute walk away.
#3 Dorsoduro Neighborhood in Venice
Dorsoduro is known for its art – so if that is something you enjoy, then this district is for you! Here you will find the Peggy Guggenheim Collection of famed modern art from Dali, Picasso, and Mondrian. As well as this is where Venice's most famous art gallery is located, the Accademia. Also, the Church of San Sebastiano holds paintings from Veronese, Titian, and Tintoretto.
This neighborhood is centrally located, and yet has a chic and vibrant feel to it. It also has a busy nightlife! Just south of Campo Margherita it is a bit quieter than other areas. Dorsoduro is near the Grand Canal and also includes the island of Giudecca. Dorsoduro is a great choice for travelers interested in art, museums, churches, and photography.
Great Hotel in Dorsoduro:
Staying here may get you the celebrity treatment you are looking for! It is one of the top picks in Venice for sure, as it is a 5-star Palace that overlooks the Grand Canal and is next to the Basilica of Chiesa of Santa Maria della Salute.
Dating back to 1892, the Sina Centurion Palace combines its original decor with a more contemporary feel. They also have a private dock for your arrival from the airport or by water taxi. The Salute Vaporetto (water bus) is right outside. The rooms have wood-beamed ceilings and hardwood floors with a modern bathroom. A buffet breakfast is served and drinks are served in the hotel's private courtyard.
#4 San Marco Neighborhood in Venice
San Marco is the most popular neighborhood and also where you will find the most tourists in Venice. It truly is the most idealistic image of Venice you will find. With its iconic sights such as St. Marks Basilica, the Doge's Palace, and the Bridge of Sighs.
It truly is no wonder that it is the most popular place to stay, but coming along with that is the crowds of cruisers and tourists that visit Venice each day. I would say though, if it is your first trip to Venice, you may want to stay here as this is the heart of Venice where the most iconic and romantic things happen.
So more expensive and less of the local feel – but maybe what you are looking for? San Marco is a great choice for travelers interested in romance, history, and ancient landmarks.
Great Hote in San Marco:
Luxury: St. Regis, Venice
A stay at the gorgeous St. Regis Venice features wonderful views of the Grand Canal, dinner at a panoramic restaurant and bar, and Venetian-style decor. It is a luxurious setting no matter which way you look at it! You can enjoy the elegant wine bar or have a drink in the terrace bar overlooking the Grand Canal! Fortunately, St. Regis Venice is surrounded by shops, cafés, and restaurants and is a 5-minute walk from St. Mark's Basilica.
#5 San Polo Neighborhood in Venice
San Polo is one of the most charming and beautiful neighborhoods in Venice and also one of the oldest sesterces. This area is good for its overall atmosphere, convenience to iconic landmarks and its central location. Of course, the biggest iconic landmark is the Rialto Bridge, but you may be lucky enough to stand on it with hundreds of other tourists and even luckier if you get a great photographic shot! If you do find that perfect shot of the Grand Canal, be sure and let me know!
So, of course, stop by here, but also visit the Church of Santa Maria Gloriosa dei Frari, the church of San Rocco, the church of San Giacomo (the oldest church in Venice), and the Campo San Polo. They also have the fruit and fish markets located here as well as some great restaurants. San Polo is a great choice for travelers interested in walking, photography, and old-town exploration.
Great San Polo Hotel:
Luxury:

Palazzo Morosini Degli Spezieri
Located within a few steps of Ca' d'Oro in Venice, Palazzo Morosini Degli Spezieri offers a terrace with a private bathroom, along with a small unit kitchen complete with a microwave, oven, and dishwasher, accommodations with a TV. You also have a chance to relax in the garden. San Michele, Rialto Bridge, and Basilica San Marco are all nearby. Even the Venice Marco Polo Airport is 8 miles away.
#6 Santa Croce Neighborhood in Venice
Santa Croce is full of gorgeous buildings and is a bit less crowded than the more crowded districts, and it is less expensive as well. It is also the transportation hub of Venice, so it is very convenient to stay in Santa Croce because of that. Here you can see the Fondaco dei Turchi that was once a neighborhood for the Ottoman Turkish population in Venice and now houses the Museum of Natural History, as well as the Church of San Giacomo dell' Orio.
This neighborhood is perfect if you have rented a car and are driving in as they have large parking garages where you can leave your rental during your stay in Venice. There is also a large bus state (the Piazzale Roma) and the ferry terminals are located here. Santa Croce is a great choice for travelers interested in city walks, scenery, and sightseeing.
Great Hotel in Santa Croce:
Luxury: Hotel Al Ponte Mocenigo
Hotel Al Ponte Mocenigo occupies 2 floors of an ancient Venetian building with a shared courtyard. The rooms have elegant Venetian decor with a private bathroom and air conditioning, along with a minibar. They also have a continental buffet for breakfast in the breakfast hall. Piazzale Roma bus station is 12 minutes away by walking and the Rialto Bridge is a 10-minute walk away with St. Mark's Square a 20-minute walk by foot.
---
Recommended reading about Italy:
Furore, Italy: The Most Beautiful Place on Earth
Portofino, Italy: At least Once in a Lifetime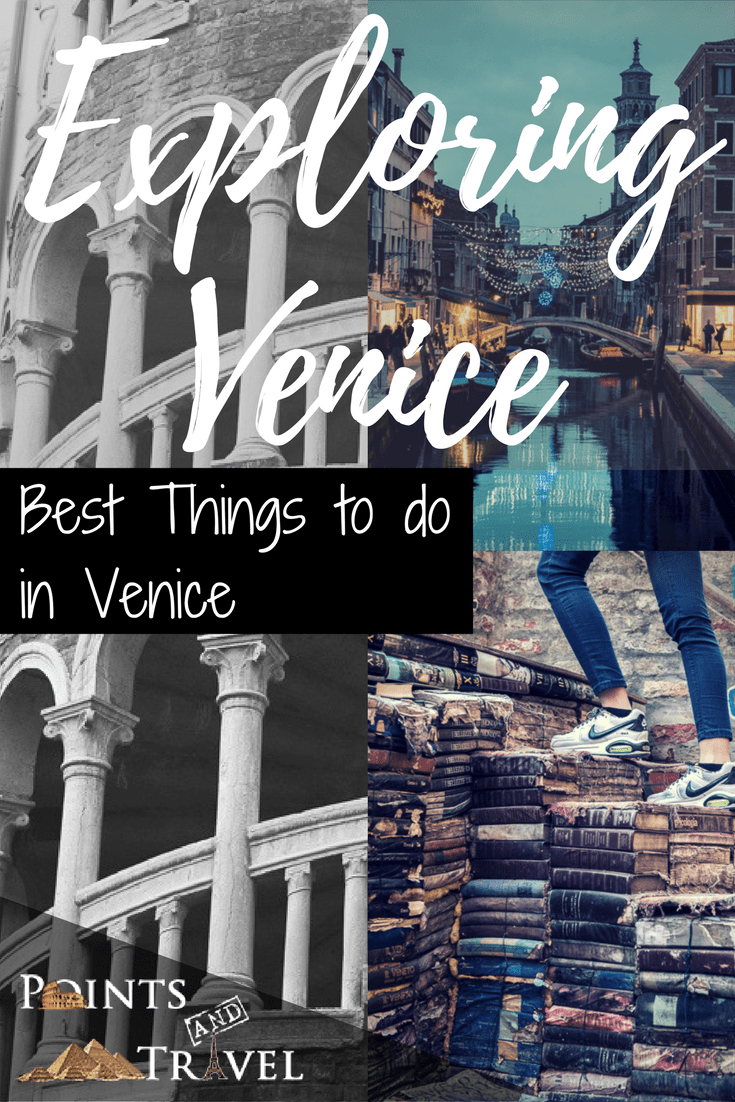 Story by Donnie Sexton:
Donnie Sexton has been with the Montana Office of Tourism for 26 years, splitting her time as a staff photographer and working closely with the media. She is a self-taught photographer and has been fortunate to take a few workshops along the way with some inspiring instructors. She has an insatiable appetite for travel that has been documented primarily through her photos. She always tells a story behind her images that define a destination or an experience.
Disclosure: As is common in the travel industry, Donnie Sexton and Dr. Maloney were provided with accommodations, meals, tours, and other compensation for the purposes of review in partnership with many brands. While it has not influenced their review, PointsandTravel.com believes in full disclosure of all potential conflicts of interest. All photos are by the author, given authority over, or are licensed under creative commons. There may be affiliate links in this article.