Start reading to learn about traditional German foods and an accumulated list of what to eat in Germany while you are there! As you know, Germany is nestled between the Alps, lakes, and the seas, as well as among other countries in central and western Europe. Germany is the land of poets like the famous Grimm brothers near the Black Forest and master thinkers like Albert Einstein. Aside from being a home to those in the arts and sciences, Germany is also the land of tasty food and beer!
---
What's in this post:
hide
What to Eat: Traditional German Food!
---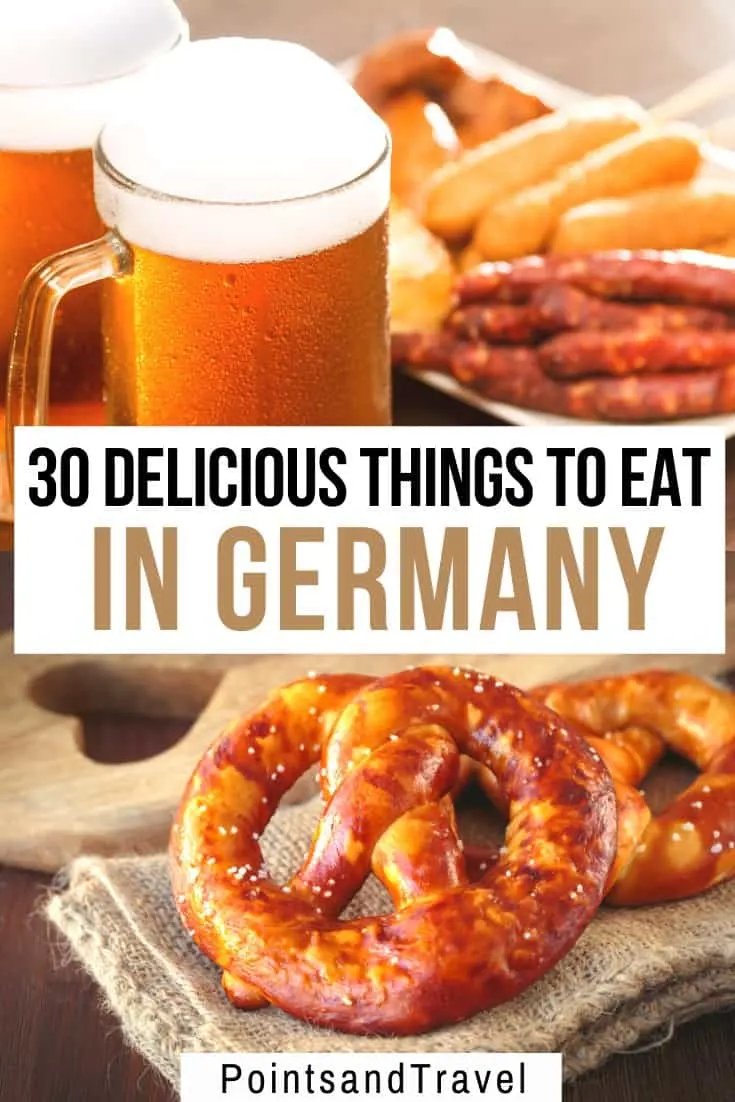 If you didn't already know, the region of Bavaria officially named beer as a food! There are also many traditional dishes and foods that Germans are famous for. German sausages and the Black Forest Cake come to my mind first. Germany has also been credited with inventing Gummie bears by Bonn resident Hans Riegal! Isn't it so cool how much culture and richness goes into each delicious meal that comes out of Germany? I think it is!
Traditional German Sausages:
The first thing that I thought of (and most people think of) when they hear the word "German food" is the traditional German sausage with sauerkraut and a German beer! These famous sausages have made their way into the hearts and supermarkets around the world. And I for one, love them.
In fact, every time I go back to Regensburg, Germany in Bavaria, I always have to stop by the oldest German brat house in town, just to have a taste of that deliciousness. The historic Regensburg Sausage Kitchen, otherwise known as Wurstkuchl has been right next to the old stone bridge for more than 500 years! You can go inside and sit down for a tasty sausage or stand in line outside and eat it facing the Rhine River, you choose! And don't even get me started with trying to pick the perfect mustard to go along with it!
Germany Sausages you must try on your trip to Germany:
Bratwurst (grilled sausage)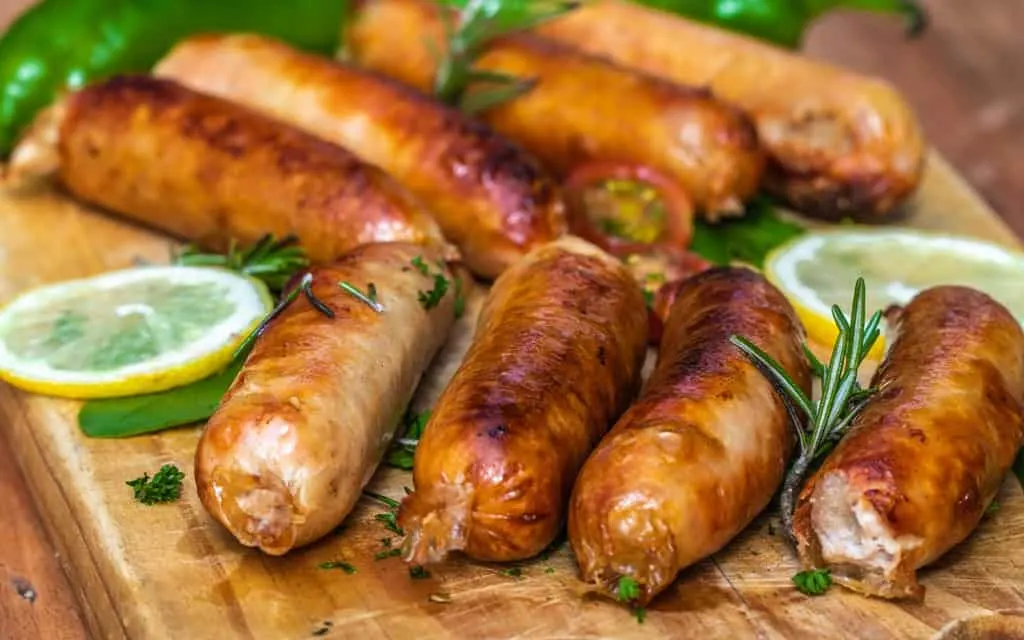 Bratwurst is a type of minced-meat and grilled sausages that originally come from the town of Wibenburg-Treuchtlingen in Franconia, a region in Germany. The literal translation of bratwurst means "hacked meat sausage". Nowadays, these types of sausages have been modified for each region of Germany and there are different sausages for each food pleasure. A bratwurst meal is usually served with sauerkraut, onions, and some form of potatoes (potato salad, sauce, or mashed). With more than 40 different types of German bratwursts, you are bound to have a favorite or two such as the smaller Nuremberg or the spicy Thuringer rostbratwurst.
Weisswurst (white sausage)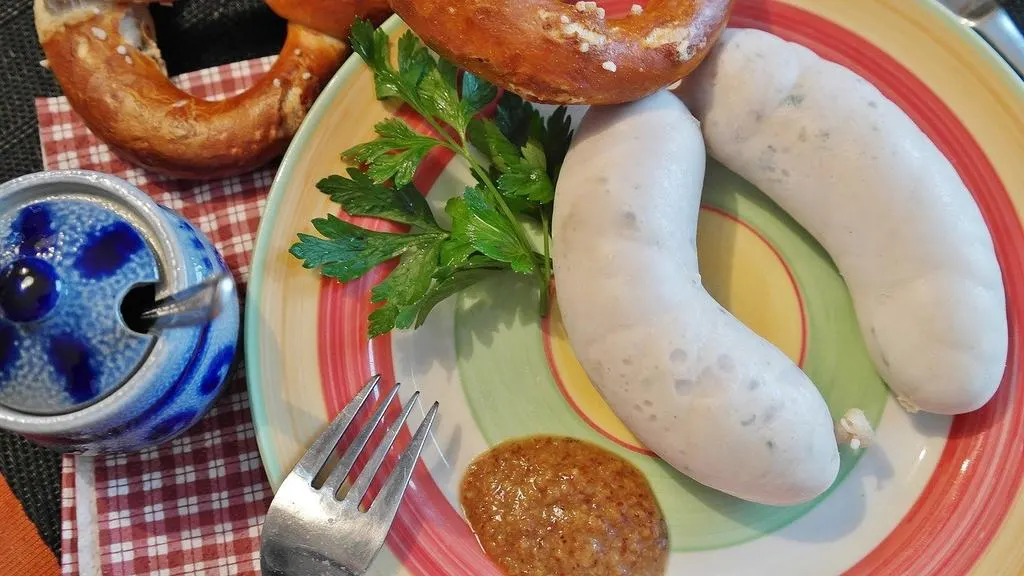 Weisswurst is pork-back bacon and veal sausage. In order to enhance the taste of this Bavarian sausage, it is served with parsley, lemon, onions, and/or ginger. This sausage was created as a mid-morning snack to eat between breakfast and lunch. The whitish-grey color of these sausages easily distinguishes itself from other German sausages.
Knockwurst or Knackwurst (pork sausage)
Knockwurst hails from the Holstein region and it made from ground pork and veal. This sausage is short and fat, but with lots of flavor and garlic. The name comes from the word knacken which means "to crack". As you cut into these scrumptious sausages, you will hear an oddly satisfying crackling sound.
Currywurst (sausage with curry)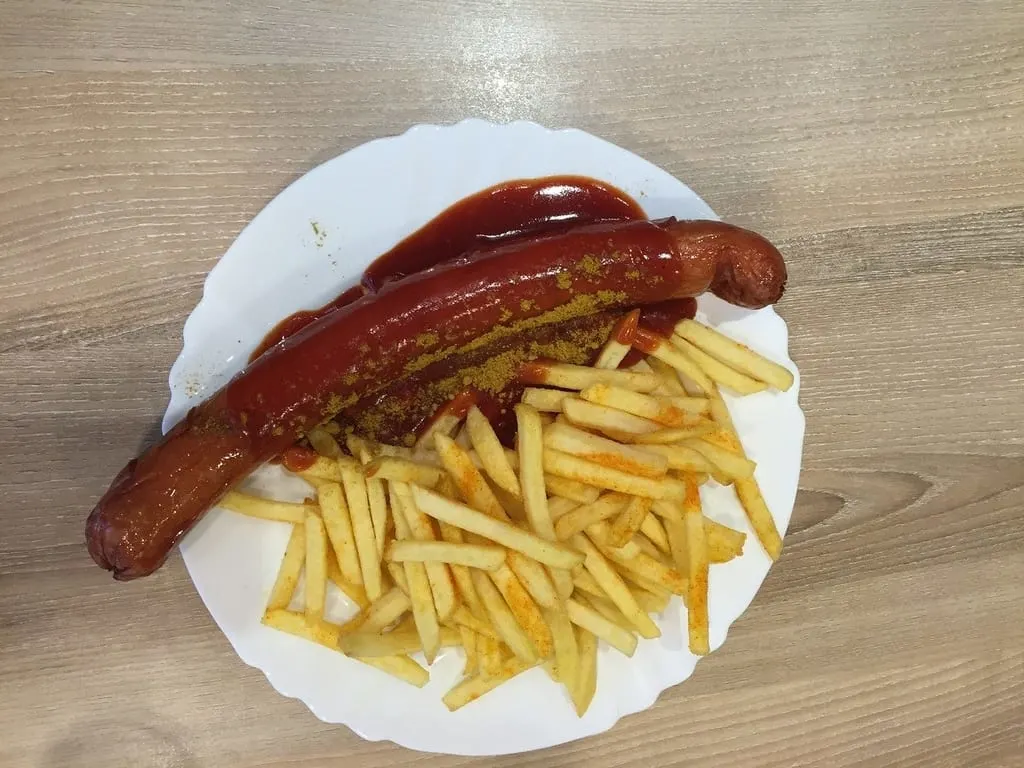 Currywurst is a hot grilled or boiled sausage with curry. This is commonly eaten as street food or as a take-away dish that you can get at a stand-up counter. The delicious sauce that comes with this sausage was created in Konigsberg by Herta Heuwer.
Traditional German Meat dishes:
Wiener Schnitzel (veal breaded cutlet)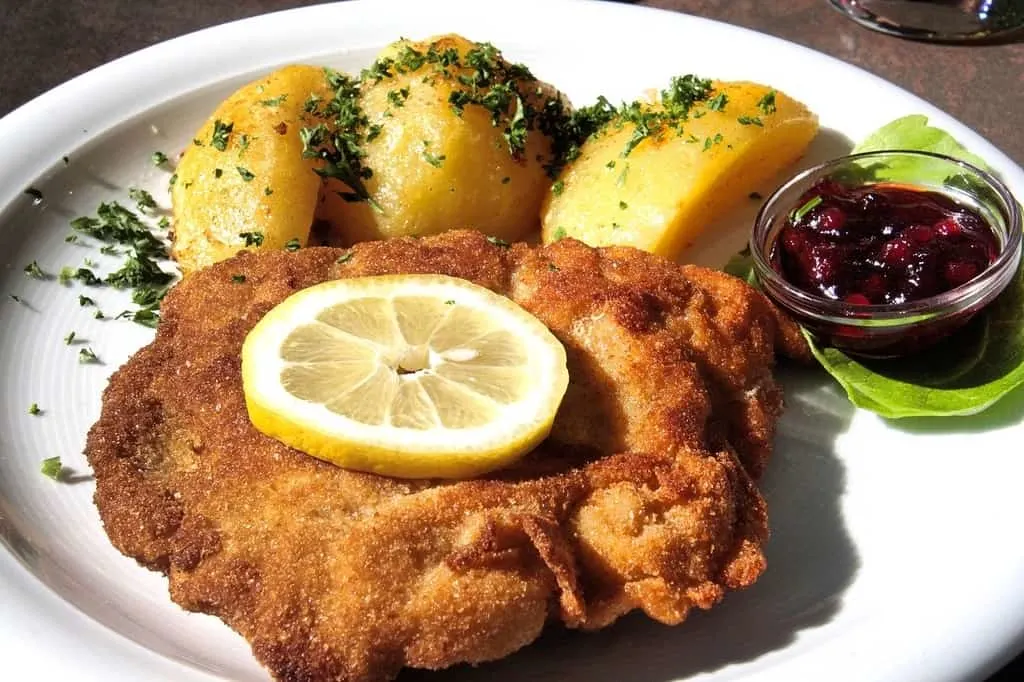 Similar to an Italian fried cutlet, the wiener schnitzel is a veal breaded cutlet. You can celebrate the National Wiener Schnitzel Day on September 9th. The only way to make this meal is by using a thin slice of veal and then add breading and deep fry it for a crunchy and delicious crust. The first recipe for this meat dish dates back to 1831. Be aware that schnitzel is really the way the meat is prepared, so this can also be done with chicken, turkey, or even pork. And if you want a different version by adding cream sauce, you will have a jägerschnitzel or rahmschnitzel.
Sauerbraten (roast beef stew)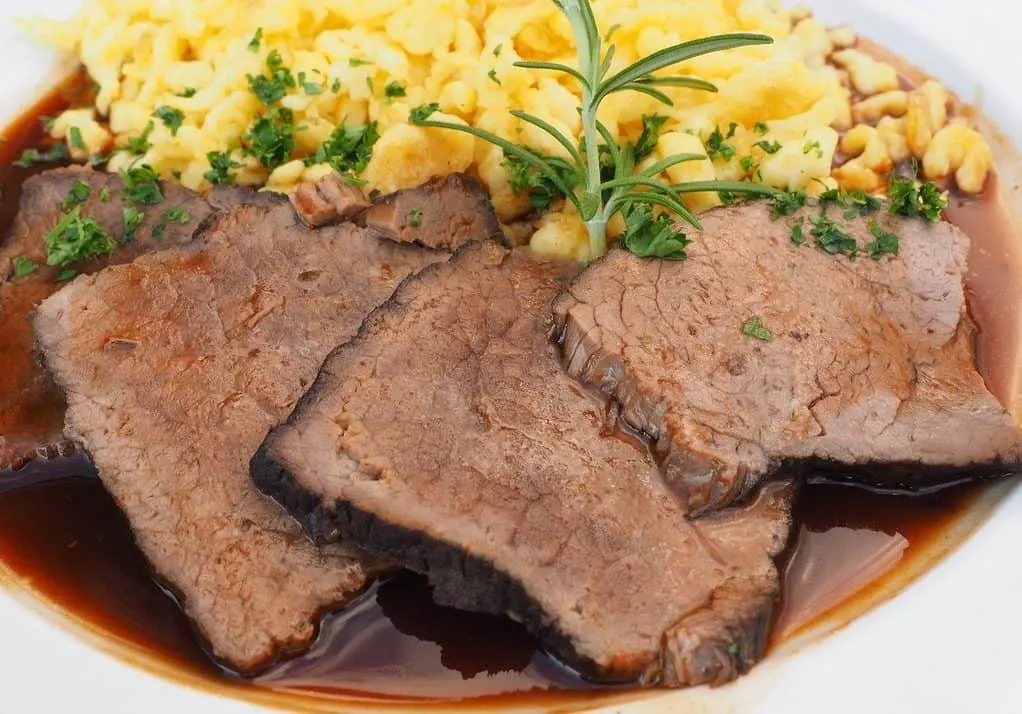 One of Germany's national and most popular dishes in Franconia, Thuringia, Rhineland, Saarland, Silesia, and Swabia is the roast beef stew or Sauerbraten. The original recipe for this stew is believed to come from Charlemagne in 700-800 A.D. To get the full effect of this amazing dish, one must marinate the beef roast for a few days and then add in gingersnap cookies for a delicious effect. Sauerbraten takes time, but your patience will be rewarded! Sauerbraten is best served with spätzle (or potato dumplings), red cabbage, and its own meat gravy.
Schweinshaxe (pork knuckle)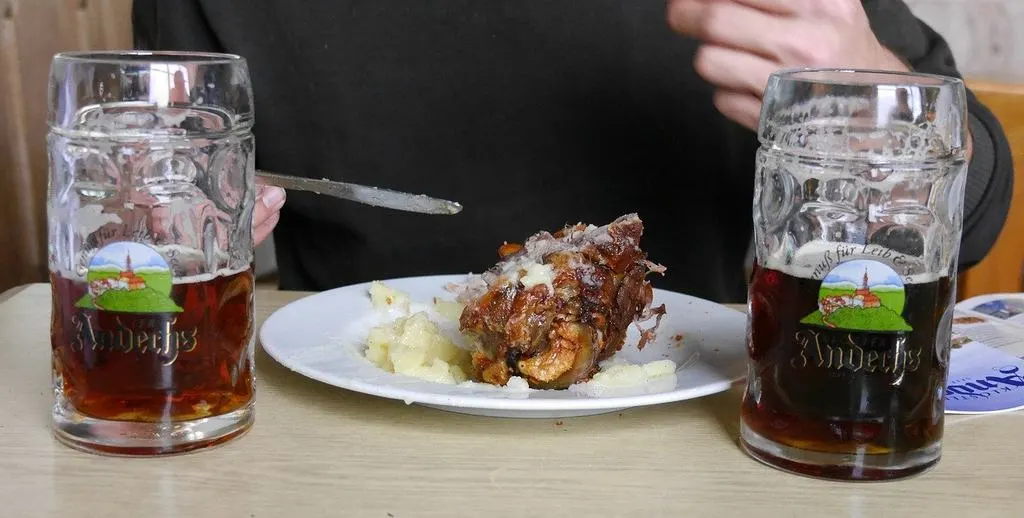 Head on over to any Bavarian beer hall, then you will undoubtedly see the schweinshaxe or pork knuckle on the menu. In the Berlin area, this same dish is pickled, boiled, or grilled and is called Eisbein. Regardless of the different names or cuts of the meat, this dish is always made from a pig's leg. The traditional dish of Schweinshaxe comes from the part of the leg that is attached to the pig's foot.
Rouladen (sliced meat)
If you thought that the American meatloaf was the first beef roll of its kind, then you are totally wrong. Rouladaen is typically thin beef slices that are spread with mustard on top, then filled with salt pork and a slice of pickle. The western Germans and those from the Rhine region created the famous rinderroulade or beef roll. This meal is made from a blend of pickles, mustard, onions, bacon, and meat and then topped with a red wine gravy.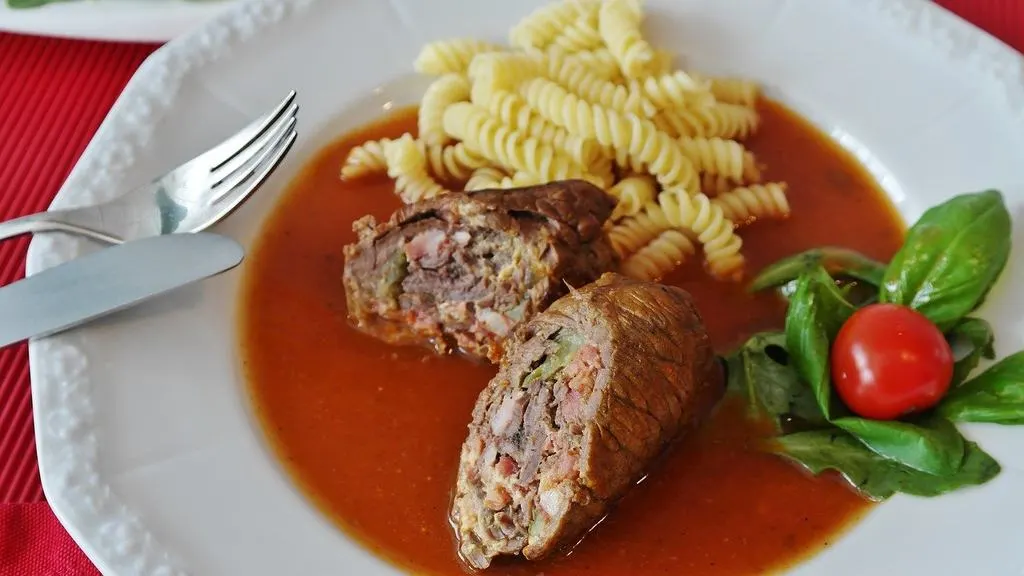 Hasenpfeffer (rabbit stew)
One of the tastiest dishes to get you through a cold winter's day is the hasenpfeffer or rabbit stew. This German stew contains rabbit or hare, onions, pepper, salt, bay leaf, wine, and other seasonings.
Hasenkeule (leg of a hare)
Hasenkeule is essentially the roasted back legs of a hare. I have heard many say it is simply amazing.
Himmel und erde, or himmel un ääd
This dish is commonly known as "Heaven and Earth". This meat dish is popular in the Rhineland, Westphalia, and Lower Saxony regions. The main ingredients for this dish are mashed potatoes, black pudding, and apple sauce. The earliest recipe for this dish dates back to the 18th century.
Saumagen (pig stomach)
Germans do not like to waste any part of the pig and a pig's stomach makes the perfect meat in the Palatinate dish, Saumagen. In order to make this stuffed dish, you must have pork, potatoes, onions, marjoram, nutmeg, and white pepper. The Germans love this amazing dish especially when it is paired with white wine. The origins of this dish are a little unclear as both the Palatinate farmers and Schlachtfest locals believe they came up with the dish first.
Rollmöpse (fish)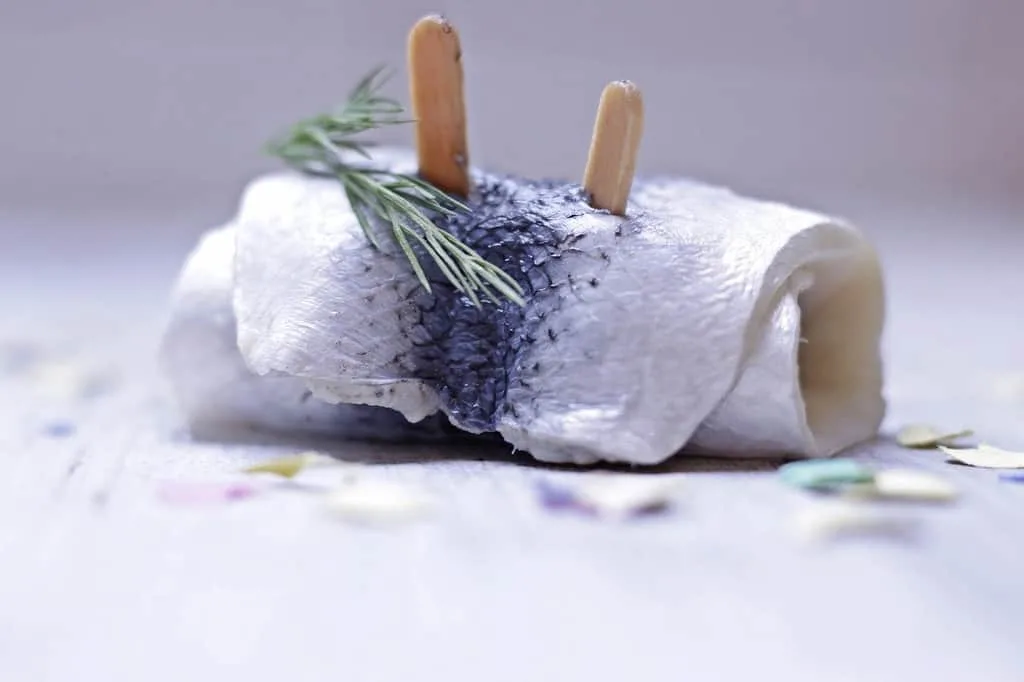 When people think of German meat dishes, they automatically think of veal, pork, or beef. However, there are savory fish dishes such as the Rollmopse. This dish is a marinated Herring (fish) fillet and rolled with pickles and onions. This dish is commonly found pre-made or ready-to-eat in supermarkets. This dish was created during Lent in Medieval times to use as an alternative dish when certain meats could not be consumed.
Schweinshaxe with sauerkraut and potatoes
Schweinshaxe is usually pre-boiled (or marinated) in a caraway seed and garlic brine, it is then roasted until the skin is crispy, which I love! It is then served with mustard, horseradish, and pickled chili peppers. The Bavarian version is served with potato dumplings and red cabbage or with sauerkraut and potatoes.
Traditional German Appetizers
You cannot eat a meat dish in Germany without adding an appetizing side dish. Here are some of the delicious side dishes commonly used in Germany.
Sauerkraut (fermented cabbage)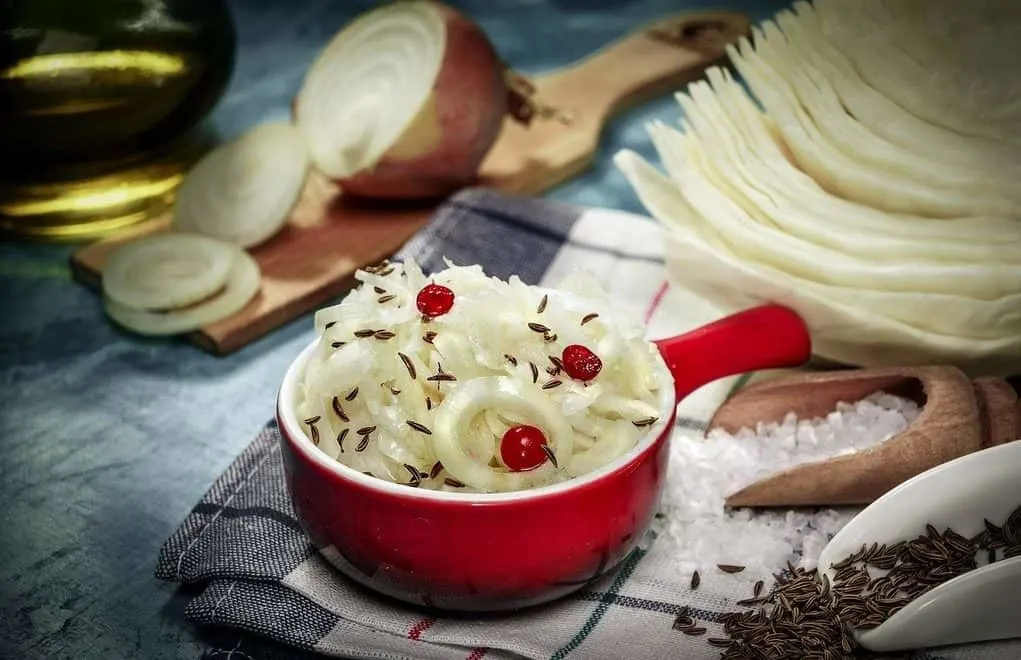 The most common super-food of Germany is the sauerkraut. This side dish is made from fermented cabbage and was created in the 17th century. Sauerkraut is made from finely cut cabbage and contains active probiotics that help fight against harmful toxins.
Kartoffelpuffer (potato pancakes)
The Germans are really huge fans of potatoes and they add them as sides to many dishes. Potato pancakes are also known as Reibekuchen, Kartoffelpuffer, Reibeplätzchen, Grumbeerpannekuche, and Reiberdatschi. This delicious side dish is often served at winter or Christmas festival as finger food.
Kartoffelkloesse (potato dumpling)
Potatoes are on this list again and German cannot get enough of this versatile veggie. These potato dumplings are soft and yummy. These dumplings are stuffed with sourdough bread and are traditionally served during the Christmas season. If there are any leftover kartoffelpuffers, you can slice them and fry them in a pan with butter, the results are amazing.
Spargel ( white asparagus)
The spring season in Germany marks the best time for the white asparagus to grow. An interesting fact about this vegetable is that it takes three years to completely grow. The city of Schwetzingen in the Baden-Württemberg region is known as the "Asparagus Capital of the World" and Germans love to eat this veggie at least once a day during its peak season.
Pommes Frites (potato fries)
Similar to french fries, pommes frites are typically fried in animal fat, such as duck fat, and often fried twice!
Spätzle (flour, egg noodle)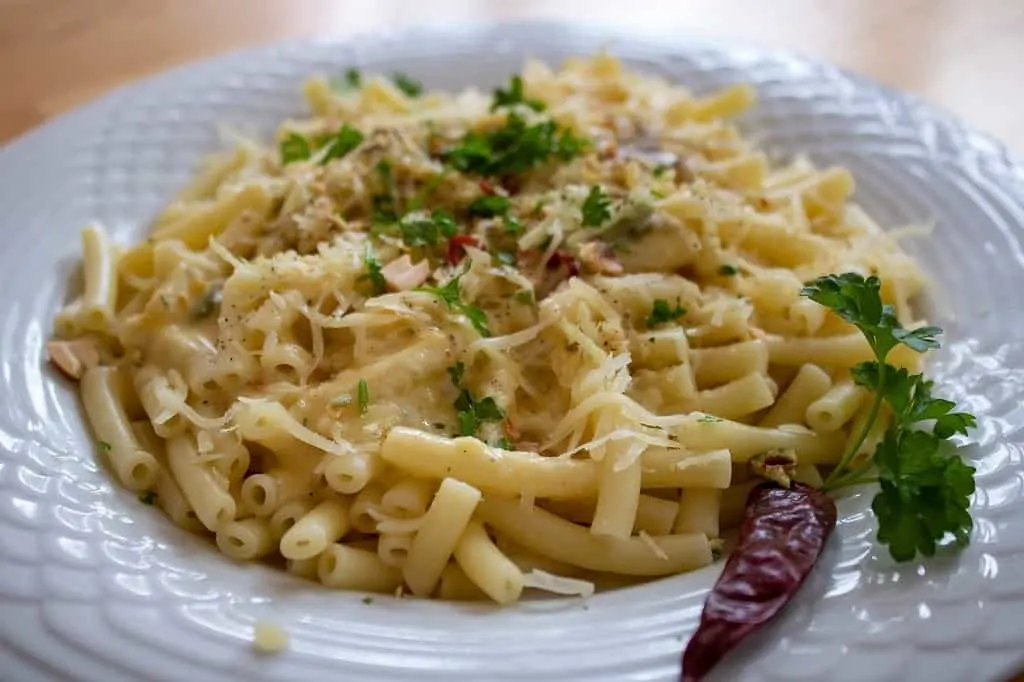 Eggs are the main ingredient in this side dish that again comes from the Baden-Württemberg region. The spätzle is made from flour, salt, water, and eggs and is basically German pasta. It is a dish commonly used throughout Germany and other surrounding countries. This popular dish of pasta does not have a specific origin because many countries claim to have invented it first. But if you want to make Spätzle a main dish, turn it into "spätzle with cheese" as mentioned below.
Käsespätzle (German mac & cheese)
If you are missing a little bit of faux American cuisine, then you might want to try the better German version of the Macaroni and Cheese. This side dish is made with egg noodles and cheese and it is very popular in Southern Germany. The dish is made the same as spätzle until the end when you add emmenthaler cheese and fried onions as you fry the noodles.
Pinkel mit grünkohl (kale with sausage)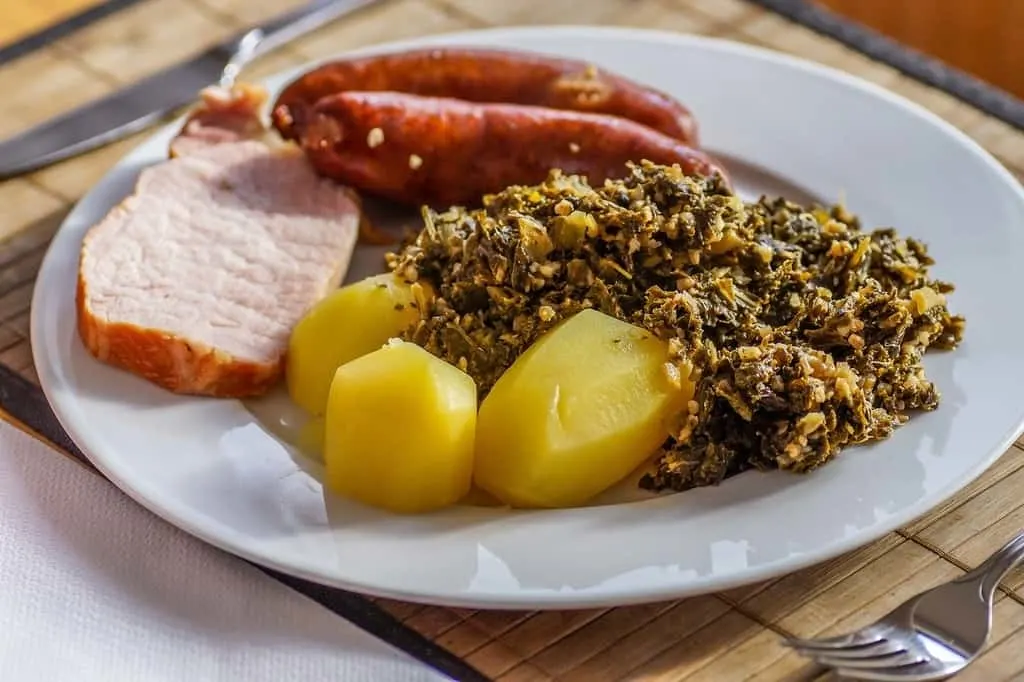 Germans like to think of themselves are somewhat healthy eaters and try to add as many vegetables to their dishes. This side dish is essentially cooked kale with sausage. It is a common dish that is found in East Frisia, the Rhine area, and Northern Germany.
Kartoffelsuppe (German potato soup)
Ideally, this soup is made with potatoes that you use for mashed potatoes, so that style of potatoes make this soup better. It should also include garlic, onion, carrots, celery, stock, bay leaf, salt, pepper, lemon zest, butter, onions, and olive oil. Many add "half and half" or light cream to make this soup creamy. It is usually served with crusty country bread.
Butterkäse (cow's milk cheese)
If you have never heard or tried butter cheese before, then get right on that. Butter cheese is made from semi-soft cow's milk and has a buttery appearance. It has a similar consistency to butter and a smooth flavor but does not contain any butter, only in the name.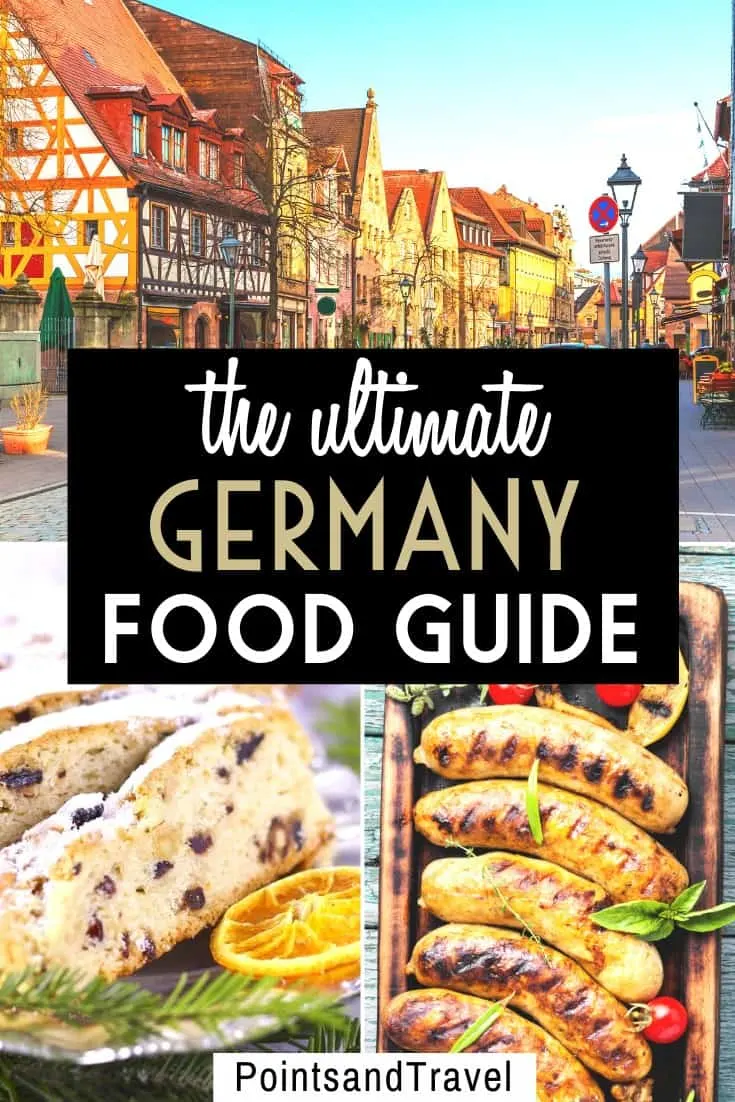 Wurst Salad (German meat Salad)
Wurst Salad is a German meat salad that is easy to prepare and includes bologna, pickles, tomatoes, and chives in a vinaigrette dressing.
Traditional German Snacks: (Zwischenmahlzeit)
German snacks are called Zwischenmahlzeit, and is what is eaten in between meals to satisfy the hunger cravings a German can have! Although the German snacks can be sweet or savory, they are just a holdover until a hearty lunch or dinner is served.
Brezeln (Pretzel)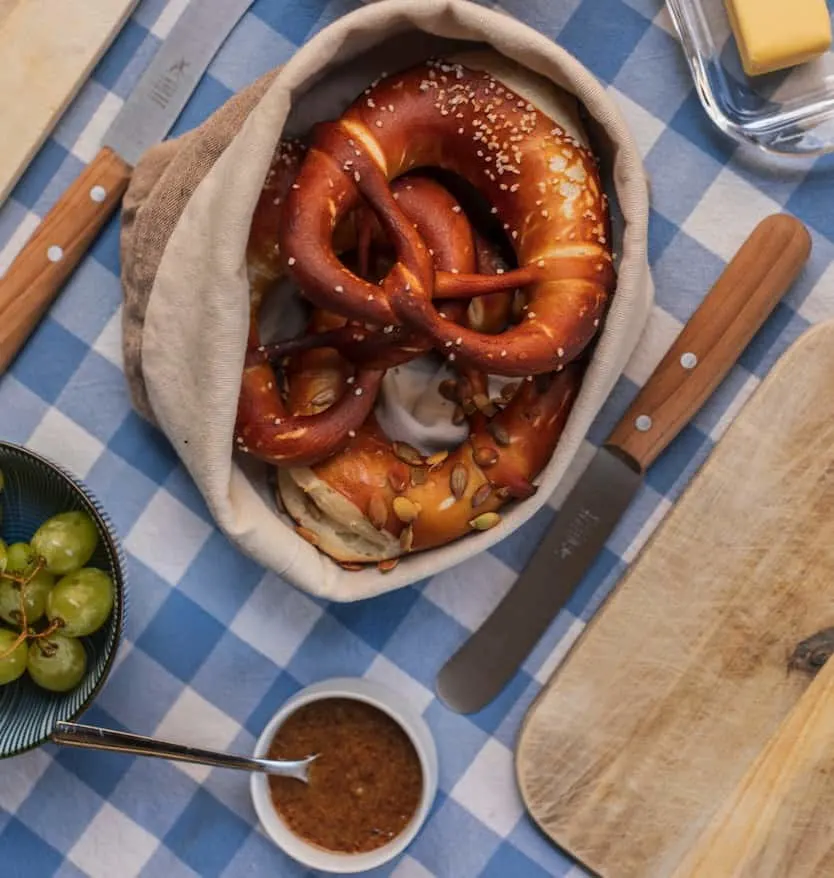 Similar to the pretzel known around the world, the brezeln or salzstange is the German pretzel that pairs perfectly with a cold German beer. This pretzel can be found anywhere from supermarkets to street vendors. The best (and only) way to eat this German snack that is lightly salted is to dip it in authentic German mustard.
The traditional snack most people think about when it comes to Germany has always been the giant pretzel. It is typically made from dough, tied in a knot, and can be anything from a soft variety to a harder crispier version. It even has its very own special day, which is April 26. As that day is deemed National Pretzel Day.
Gummie Bears
As mention before, this German snack was actually invented in Germany in 1922 by Hans Riegel. Hans started the company Haibo using the first two letters of his name plus where he was from, the city of Bonn: HANS RIEGEL BONN. He even wrote his doctoral dissertation about "the development of the world sugar industry during and after the Second World War". So as you can see, this passionate German was crazy about this sugary German snack he had created.
He was loving to referred to as the Gummie Bear Billionaire! His entire life was dedicated to the Haibo company, as he was single and had no children. But he was inspired by his customer: the children who ate his snacks and was the marketer for the company, getting ideas for candies via comic books and children's shows. There are actually flavors in Germany that are not available worldwide, like Creamy Ice!
Typical German Condiments:
Mustard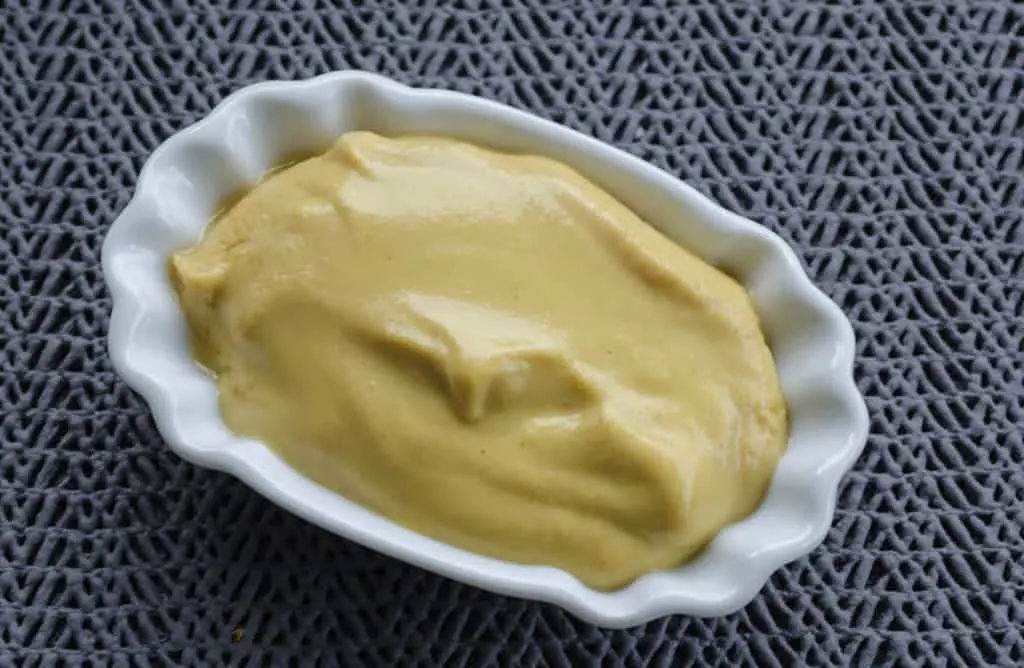 You won't be disappointed with the great variety of mustards in Germany, believe me! From the smooth and sharp – or "scharfer senf" – which goes well with all meats and cheeses to the sweet and delicate Bavarian "susser senf", or even the traditional mustard for the mild sausage known as Wiesswurst. A few of the most popular brands of German mustard include Handlmaier (sweet Bavarian mustard) and Lowensenf. Also, the Regensburg Sausage Kitchen has its own version of mustard – a well-known sausage cake mustard from the historical recipe of Elsa Schricker.
For those who are obsessed with this tarty condiment, then you must check out the Mustard Museum in Dusseldorf near the airport. This museum opened its doors in 2004 and it has been satisfying people's needs to learn more about this delicious condiment.
Traditional German Desserts
Black Forest Cake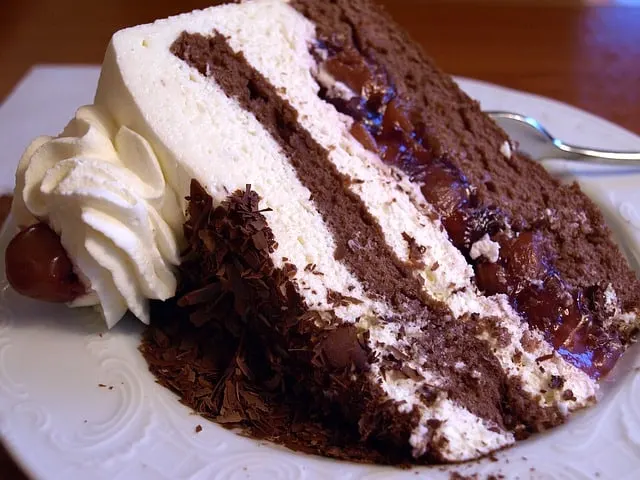 Chocolate lovers are sure to be in German dessert heaven as they take a bite of this authentic German cake, Schwazwalder Kirschtorte, made with chocolate cake, whipped cream, and cherries. The name of this cake comes from the liquor Schwarzwalder Kirsch that is found in the southwest part of Germany. The K & U Bakery in Germany made the largest Black Forest Cake for a world's record in German desserts in 2006. This massive cake weighed 6600 lbs. and was measured at 32 feet in diameter!
---
Want to read more about Germany's Black Forest?
"Carnival: Enchanting Creatures Lurking in the Black Forest"
"Carnival: More Enchanting Creatures "
Breisach Germany – The Black Forest of Hansel and Gretel
Guide to celebrating Carnival in Schramberg, Germany
Carnival Raft Race in Schramberg, Germany
---
Stollen (Bread with nuts/spices)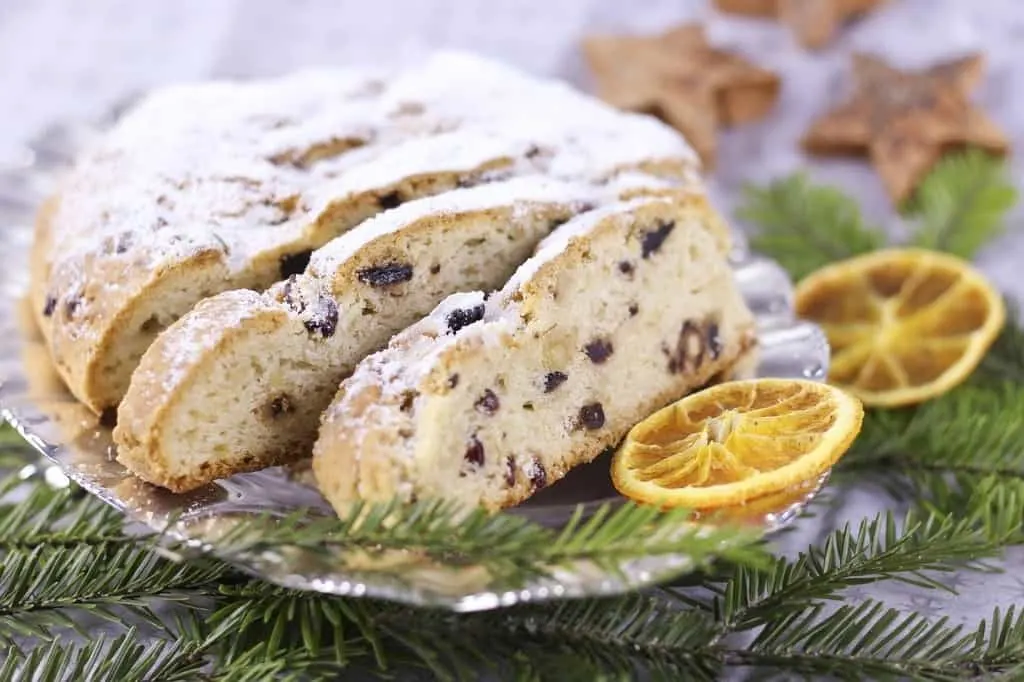 Germans love their bread with nuts and spices- which is what the German dessert Stollen is made from. Although this bread can be found throughout the year, it is most commonly made during the Christmas season and is sold as Weihnachtsstollen. Oddly enough the original recipe for this German dessert did not include the use of butter because it was expensive so long ago. It took almost 40 years for the use of butter to be granted to use for all bakers, without having to pay an annual fine! Now this German dessert can be found on tables across Germany every Christmas season!
This tasty cookie is often mistaken for a gingerbread cookie. Although this German dessert is similar in texture and taste, the lebkuchen is sweet and spicy and has a coated dark chocolate wafer under the cookie. This dessert is commonly sold during Christmas time. The city of Nuremberg in the Bavarian region is credited for being the home of the best bakers of the lebkuchen.
Apfelkuchen (apple cake)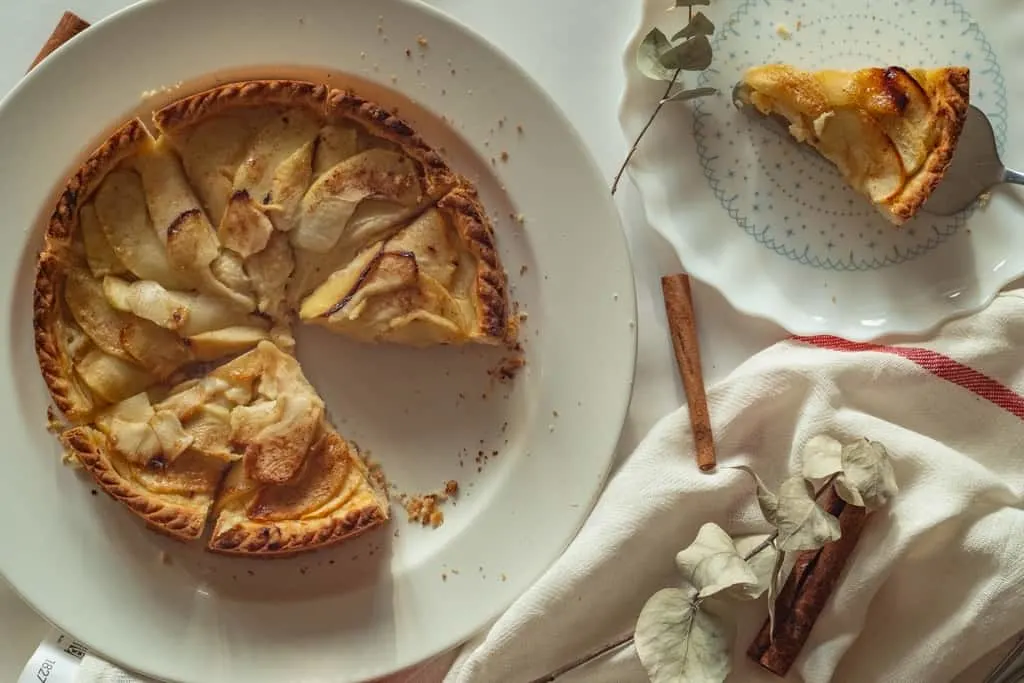 This sunken apple cake is a German favorite dessert. Many people might confuse this dessert with the famous apple strudel, but it has a different consistency and texture. This pie consists of a layer of cake, then an apple filling, and then is topped with apples.
Schneeballen (fried dough food)
Schneeballen or also known as a "snowball" or "little potato dumplings", is a pastry made from shortcrust pastry. Schneeballen is very popular in the area of Rothenburg ob der Tauber, Germany.
Mohnstrudel (poppy seed strudel)
A fine mixture between sweet and savory is what you will bite into when you eat a poppy seed strudel, known as the mohnstrudel. This German apple strudel lets you enjoy the true taste of the poppy seed as the main ingredient.
Kaiserschmarrn (pancake)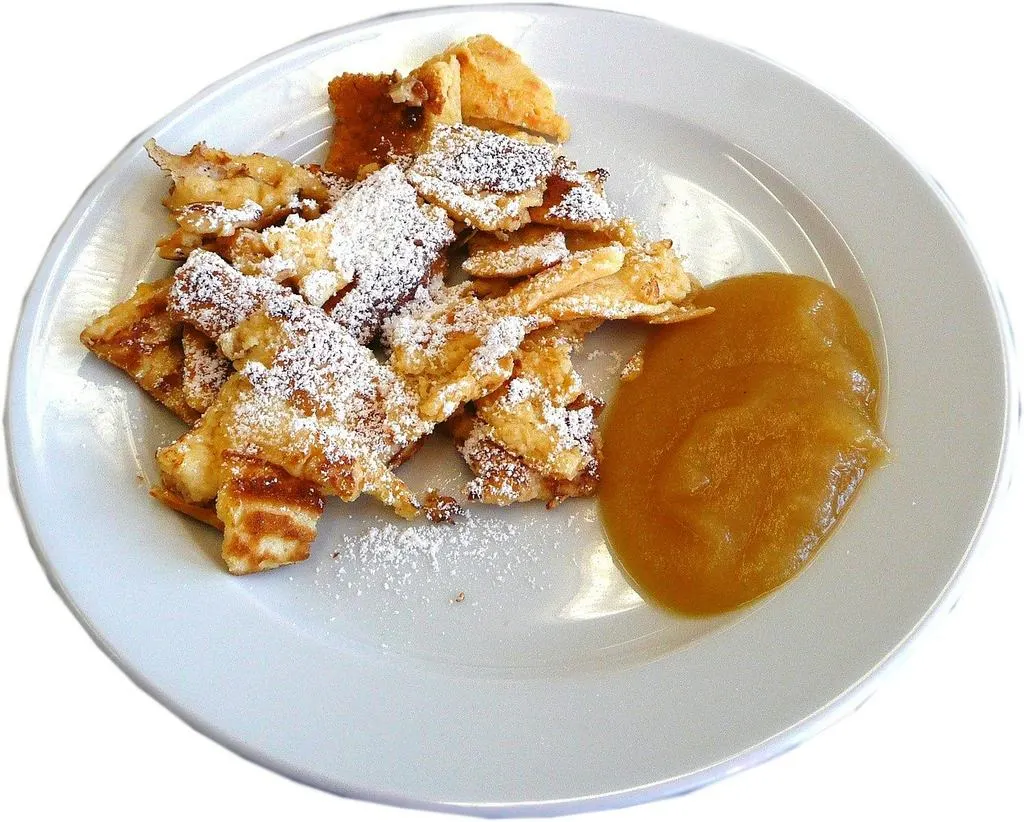 The tasty American pancake is simple when compared to the Bavarian pancake, Kaiserschmarrn. Instead of the traditional round shape of the pancake, the German version splits the pancake into pieces and then adds powdered sugar and a fruit compote (traditionally made of plums or apples) on top. This is one of German's favorite traditional foods for dessert.
Bavarian Creme
You can't miss this German dessert favorite of Bavarian Creme. In fact, it literally got its name from a region in Germany known as Bavaria! The Bavarian creme is a chilled custard with light whipping creme and typically has some sort of compote fruit or fresh fruit on top.
Käsekuchen (German cheesecake)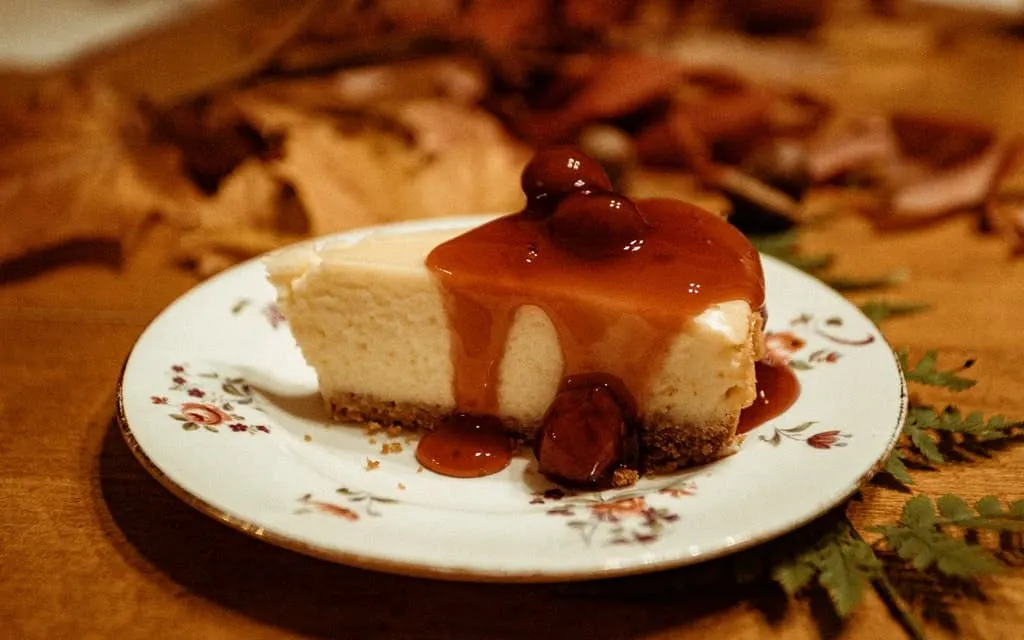 And who can forget the traditional German dessert of the famous cheesecake? A truly authentic German cheesecake is light and airy made with sweetened quark and cream cheese. It is often eaten in the mid-morning of the day at German snack time.
Traditional German Drinks
Wine
October is the best season for this tasty (partially-fermented) young, white wine known in Germany as Federweisser und zwiebelkuchen (wine with an onion tart). This wine is made from different grapes such as Bacchus or Ortega ad Siegerrebe. All of the grapes used to make this yummy wine are white grapes. The best food to eat while sipping on this slightly alcoholic sweet wine is hearty and savory onion tarts, especially in the Mosel and Rhine River areas of Germany. This is because the wine is light and effervescent and it pairs well with savory foods.
German Beer

If you thought that beer was not an official food, then like I mentioned before, you thought completely wrong. In the region of Bavaria, beer has officially been added to the food category. Germans love to show off their food culture and what better way to do that than with a beer in a beer garden! Even my college-aged kids flew to Munich for Octoberfest to join in the fun! And they loved it!
Munich has over 60 beer gardens in the city such as Gutshof Mentnerschwaige, Augustiner Keller, and Waldwirtschaft. Accordingly, the German beer houses that produce beers for Octoberfest are known as the "big six" and are these well-known German brands: Augustiner, Hacker-Pschor, Löwenbräu, Paulaner, Spaten, and Hofbräuhaus. Some of the most popular German beers also include Pilsner, Doppel, Bock, Maibock, Hefeweizen, and Altbier.
For beer lovers, the best time to visit Germany is during Oktoberfest. This popular festival runs from mid-September to the first Sunday in October. This Bavarian festival combines a beer festival, food bonanza, and traveling fair all into one giant festival. During this annual festival, you can immerse yourself into the German way of life and taste all the German foods you want, including beer!
So let your taste buds run wild as you eat all the scrumptious German dishes, snacks, and desserts. Plus now that you have read this huge compiled list of German foods and drinks, you know what to look for when in Germany!
Read more about Germany:
What and Where to Eat in Munich
What to See in Weimar, Germany
Secret Towns in Germany You Need To Visit
Historic Germany in the Spring!
Things to Do in Regensburg Germany If You Only Have a Day
10 Age-Old German Landmarks You Must See to Believe!
Swinging in a Ballhaus in Berlin, Germany
Reflections of the Wall of Berlin
Disclosure: I have been to Germany so many times that I can no longer count, but many of my trips have been sponsored. As is common in the travel industry, I was provided with compensation for the purpose of review. While it has not influenced my review, PointsandTravel.com believes in full disclosure of all potential conflicts of interest. For all photos used in this article, Pointsandtravel has been granted the usage rights of these photos. There may be affiliate links in this post.