Above photo by: https://creativecommons.org/licenses/by-nc-sa/4.0/deed.en
People from around the world visit Germany for its historical significance, delicious food, and, of course, in late November and all of December for its Christmas Markets. The famous tradition of hosting Christmas Markets originated in Germany during the 14th century, so this country is inundated with wonderful Christmas Markets. I would say that almost every major city in Germany has at least one Christmas Market.
In Germany, they are called Weihnachtsmarkt (a Christmas Eve market) or Christkindlmarkt (a Christ Child Market). Many German cities have multiple markets and they vary in quality and size. Christmas Markets celebrate the four weeks before Christ was born, known as Advent. Primarily they sell food and gifts that one would generally buy around the holiday season to celebrate the birth of Jesus Christ.
German Christmas Markets – Things to Know
If you have decided to take a trip to Germany to visit the BEST Christmas Markets, then there are a few things you should know.
Instead of Santa Claus, a figure known as Christkind brings children their gifts on December 6th, which is St. Nicolas's Day.
The winter season in Germany brings cold, rainy, and snowy days. So, pack appropriate clothing, including a jacket and boots, plus a cute hat, scarf, and gloves to keep you nice and toasty.
Not all Christmas Markets open at the same time or day, so know the correct times and days of a specific market before you head out the door. I have made this list of the beginning and end dates of the markets and the opening and closing times for each Christmas Market.
Get ready to dish out a few Euros to use the public restroom. Most Christmas Markets will have to pay public toilets, mostly .50 euro per stall.
---
Highlights of a Christmas Market Cruise down the Danube
---
BEST German Christmas Market
Many cities can say they boast the BEST Christmas Market in all of Europe, but not all Christmas Markets are created equally. I was so happy when I found this article from the European Best Destinations website because ONE of Germany's Christmas Markets made it to the top 5 of BEST CHRISTMAS MARKETS IN ALL OF EUROPE in 2019!
This was voted on by the readers of this website. With more than 200,000 voters, they ranked their top 20 selections for the BEST CHRISTMAS MARKETS IN ALL OF EUROPE! They also did rankings for the best sunny Christmas Markets and for the best Christmas lights in Europe.
So, can you guess which German city got ranked number 5 out of the top 20? I am so excited to tell you that it was a city that I recently had a chance to visit during my "Historic Germany Tour" in October! It is possibly a village you may not have heard of! As I had not heard of it before!
Erfurt Germany's Christmas Market Named TOP FIVE in ALL of Europe!
Erfurt Germany's Christmas Market was selected among the many charming Christmas Markets within Europe from France, United Kingdom, Austria, Czech Republic, Croatia, Hungary, Romania, and many more locations! So what an honor it was to make the rank of number 5! Without further ado, I want to bring to you the BEST Christmas Markets in GERMANY! So let's take a look at:
The Ultimate Guide to the Best Christmas Markets in Germany:
(In alphabetical order)
Aachen, Germany Christmas Market
The Aachen Christmas Market is a well-known way beyond the city's borders – as the city itself is located near Germany's borders with Netherlands and Belgium. Some even call it a "spa" city. And the place to be for the Christmas Markets is the Aachen Cathedral, which was founded around 800 A.D. A gothic chancel was added later to the Cathedral. Every year during Advent, the squares and lanes around it are transformed into a paradise of Christmas music, sparkling lights, and tempting aromas.
When: From 22nd November to the 23rd of December
Times: Daily 11 am – 9 pm
Berlin, Germany
On Gendarmenmarkt square in Berlin, you can enjoy a festive mix of seasonal food, crafts, and on-stage entertainment. Even though Berlin has over 70 Christmas markets, this one seems to be the most popular and famous.
When: It starts Nov 25 to Jan 1
Times: 11 am to 10 pm; 11 am to 6 pm on Christmas Eve and 11 am to 1 am on New Years Eve
Cologne, Germany Christmas Market
There are many different Christmas Markets throughout the city of Cologne, but the most famous one is the Cologne Cathedral Christmas Market, located in front of the Cologne Cathedral. Each day there is a different and unique event held at this market. Some of the events include a Christmas Jazz concert, Christmas caroling, Christmas dance shows, workshops, live choirs, and a children's show choir.
When: It opens on November 25th and ends on December 23rd.
Times: This market is open from 11 am to 9 pm Sunday to Wednesday, from 11 am to 10 pm on Thursday and Friday and 10 am to 10 pm on Saturday.
There is also one called the North Rhine Westphalia that I keep hearing about!
Dresden, Germany Christmas Market
The oldest Christmas market in Dresden is the Striezelmarkt, which dates back to the 15th century! This market features a 44 foot long and 16 foot high Christmas arch and also a 46 foot high Christmas pyramid. Visitors should definitely check out the Rauchermann (smoking man) ornament, wooden ornaments, and the traditional nutcracker in the over 200 wooden stalls with over 2.5 million visitors.
When: This market opens on November 27th and ends on December 24th.
Times: It is open every day from 10 am to 9 pm.
Erfurt, Germany Christmas Market
Erfurt Germany was very fortunate to be named one of the top 5 Christmas Markets in Europe's BEST! So, where is Erfurt? Erfurt is only a 45-minute train ride from Berlin, but truly, when I visited this quaint town, it seemed a world away! It is the capital city of Thuringia, a German State and it is one of Germany's best-preserved medieval cities. Erfurt is also the home to one of Europe's oldest continuously inhabited bridges: the Merchant Bridge, as it is has been around for over 500 years!
While I was there, I could see they were gearing up for another great Christmas Market Season. The most visited market in Erfurt is the Erfurt Christmas Market on Domplatz Square. And even though over 2 million visitors come here every year, honestly, I was told that it doesn't feel that way. Since the town itself is a bit further away from any major cities, there are actually fewer tourists and more open spaces for you to shop and enjoy the Christmas Market as the location where it is held is quite large.
When: This market is open from November 26th, 2019 to December 22th, 2019.
Times: The opening hours of this market are Sunday to Thursday from 10 am to 8 pm and Friday and Saturday from 10 am to 9 pm.
Visitors can marvel at the 82-foot high Christmas tree that dazzles in the city's Domplatz Square. The square itself is beautifully decorated with a huge candle-lit Christmas tree and a large hand-carved wooden crèche or what Americans call a nativity scene. The Domplatz Christmas markets have more than 200 booths that offer traditional Thuringian handicrafts and sweets.
They also have all types of rides and entertainment that include choirs, orchestras, and even storytellers. They have organ concerts in the many churches throughout the city as well. Other beautiful attractions to see at this market is the Nativity scene, the Christmas pyramid, the Children's eco-bakery, and the glowing Cathedral steps. Surrounded by buildings of the historic old town, the Domplatz Square provides a magical atmosphere at Christmas time and is an ideal place for the annual Christmas Fair. Look at the photograph below, see what I mean?
What to snack on in Erfurt, Germany: mulled and spiced wine, baked apples, gingerbread, the "Stollen" – a special Christmas cake from the region, here they have a delicious kind of Stollen, the Schittchen – and a famous Thuringian grilled sausage!
---
Erfurt Christmas Market is the most popular and well-liked
Christmas Market in all of Germany!
---
Frankfurt, Germany Christmas Market
The city of Frankfurt holds one large market in the historic part of the city, the Weinachtsmarkt Frankfurt. A sparkling and bodacious tree is the centerpiece of this market. There are dozens of quaint stands that line the city center and most showcase hand-crafted ornaments and nutcrackers.
When: This market opens on November 25th and closes December 22nd.
Times: The hours of operation are Monday-Saturday 10 am to 9 pm and Sunday 11 am to 9 pm.
---
CHRISTMAS TIP: Every year on a weekend in December a medieval Christmas market takes place in the zoo in almost any German town that has a zoo. It is always a great spectacle!
---
Heidelberg, Germany Christmas Market
The Christmas spirit is in full swing at the Heidelberg Christmas Market. Visitors from around the globe can check out the beautiful open-air ice-skating rink at the foot of the world-famous Heidelberg Castle! Here you can experience "Christmas on ice", which is Heidelberg's essential winter experience! Sparkling lights are lit throughout the city as the Christmas festivities get underway at this market. I love Heidelberg for its romantic ambiance!
When: This market officially opens on November 25th and closes December 22nd.
Times: The hours it is open are Sunday – Friday from 11 am to 9 pm and Saturday from 11 am to 10 pm.
Munich Germany Christmas Market
More than 3 million people visit the Marienplatz Christkindlmarkt in Munich. This market has been presented to the public for centuries. It has been displayed in front of the Munich Town Hall for over 30 years. The perfect view of this magical wonderland of a Christmas Market is from the towering St. Peter's Church. Visitors of the market are in for a treat when they see the bustling shopping streets, crowded ornament stands, and decorated courtyards.
When: This market opens on November 27th and closes at 2 pm on December 24th.
Times: Its hours are Monday to Saturday, from 10 am to 9 pm and Sunday from 10 am to 8 pm.
Nuremberg, Germany Christmas Market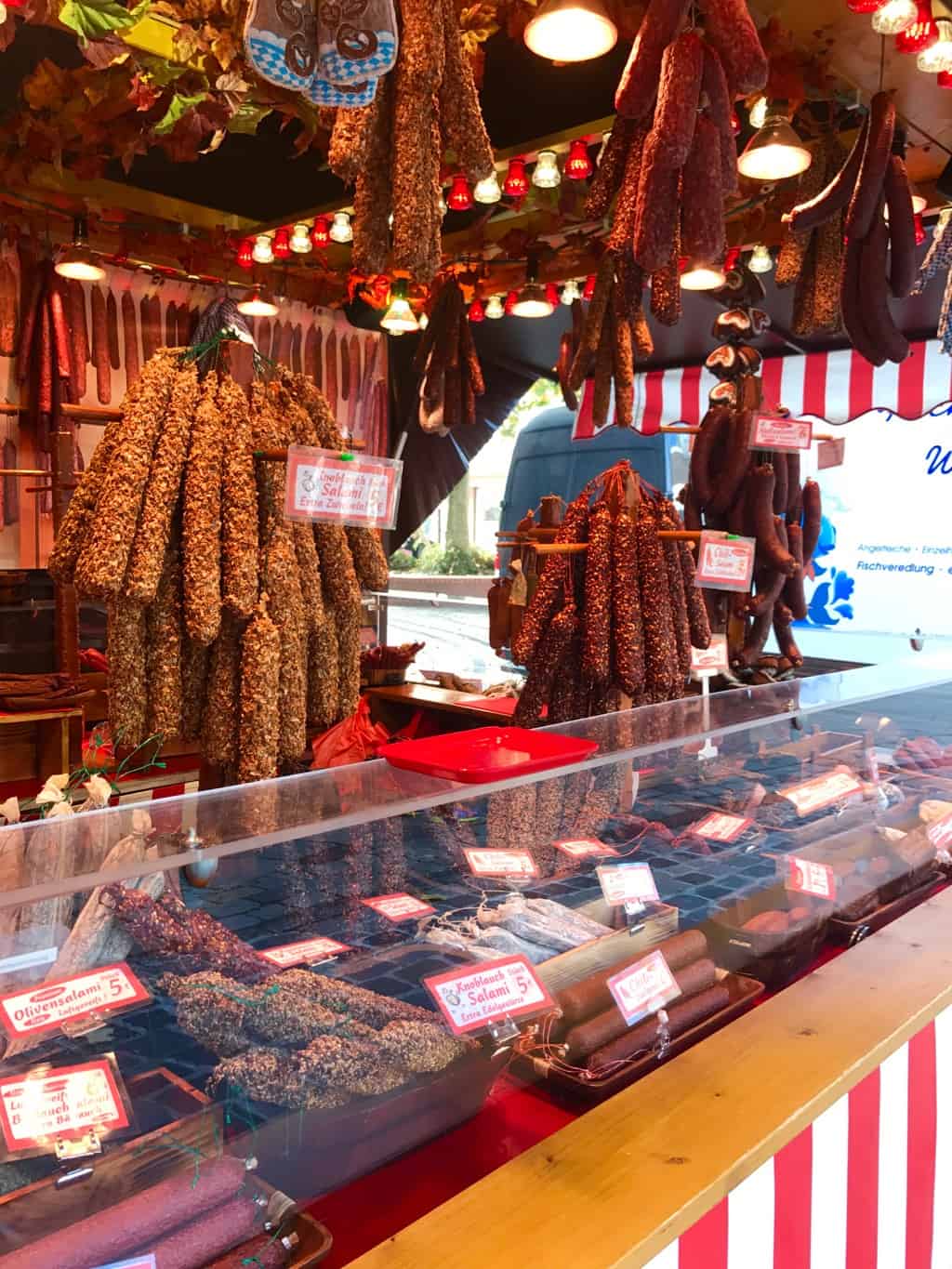 Nuremberg's Christmas market is probably the most well-known Christmas Market in all of Germany and the most kid-friendly market among all the Christmas Markets in Germany. The Nuremberg Christkindlesmarkt has its own Children's Christmas Market that has a swirling mini-Ferris wheel, fairground rides, an ornate carousel, and a gingerbread bakeshop. So be sure to pack up the kiddos nice and warm!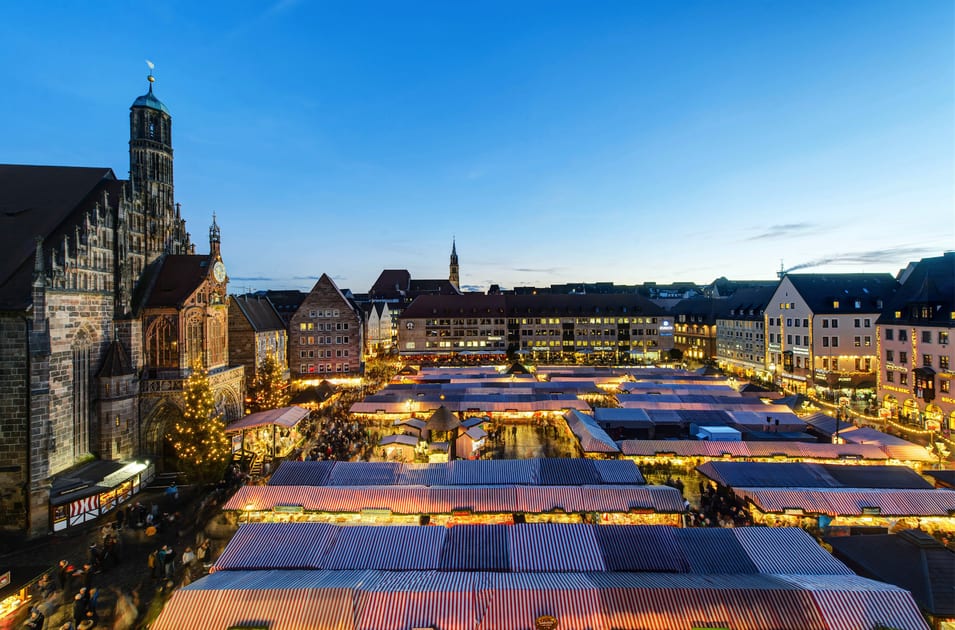 It is also one of the oldest, dating back to around the early 1600s. They primarily sell locally-made handicrafts and the stalls themselves are even sourced out of local spruce wood! Out of the almost 200 wooden huts, some 30 of them were made back in the late 1800s. You can see that Germans care a lot about the Christmas Markets. And at the Nuremberg's Christmas Markets, they serve you up something special and locally sourced: GERSTACKER blueberry glühwein. Spiced mulled wine made with blueberries!
When: It opens on November 29th and runs until December 24th.
Times: It is open from 10 am to 9 pm every day, but with a special opening on December 24th from 10 am to 2 pm.
---
Other German Locations to Visit:
Historic Germany in the Spring! Let's Go!
10 Age-Old German Landmarks You Must See to Believe!
Secret Towns in Germany You Need To Visit
Breisach Germany – The Black Forest of Hansel and Gretel
---
Regensburg, Germany Christmas Market
Regensburg, Germany has a wonderful Christmas market on Neupfarrplatz plaza and is one of the most popular Christmas markets in the city. There are also several other smaller Christmas markets in Regensburg, Germany but this one is the most visited since it is located in the center of town and easy to get to.
Here there are quite a few food stands here and one, in particular, serves the famous half-meter long spicy sausage that is known as Feuerwurst! So be sure and inf this booth. They also have bags of sweet toasted almonds and chestnuts (Maroni). But food is not the only thing they have here, they have plenty of glühwein!
As for gifts, they have homemade pottery, ornaments, leather goods, soaps, and candles! Bring the kids, as there are two mini carousels! They also have homemade puppets and toys for the kids.
When: Opens November 25th and closes on December 23rd.
Times: Open from Sunday to Wednesday from 10:00 am to 8:00 pm; and from Thursday to Saturday: 10:00 to 9:00 pm.
Rothenberg, Germany Christmas Market
The most romantic Christmas Market in Germany is the Reiterlesmarkt. Visitors should check out the German Christmas Museum. There is also a beautiful Christmas tree is at the center of this splendid market. Couples can admire the sparkling lights and the stunning decorations as they walk hand-in-hand through this market.
When: This market is open from November 29th to December 23rd.
Times: The gates of this market open on Monday through Thursday from 11 am to 7 pm and Friday- Sunday from 11 am to 8 pm.
Stuttgart, Germany Christmas Market
The Stuttgarter WeihnachtsMarkt shares the joyfulness of Christmas lighting, amazing concerts, and a decorative city center to the entire world. People of all ages can join in the Christmas celebration with savory sweets, toy stands, and tree decorations.
When: This market is open from November 27th to December 23rd.
Times: The hours of operation are Monday-Thursday, 10 am to 9 pm, Friday and Saturday, 10 am to 10 pm and Sunday 11 am to 9 pm.
Wurzburg, German Christmas Market
This Christmas market dates back to the 19th century and takes place in the center of the Old Town. The historic upper and lower market square with the Gothic Chapel of St Mary provides a scenic backdrop for 120-140 wooden stalls. You can even sample delicious Franconian Christmas cookies and roasted almonds along with your gluhwein (mulled wine).
When: This market opens November 29 to December 23, the day before Christmas!
Times: Monday through Saturday from 10 am to 8:30 pm and Sunday from 11 am to 8:30 pm.
Foods Found At Germany Christmas Markets
If there is one thing you should not miss out on at any Christmas Market, it is the food! You must try at least one of these savory and sweet treats, all of which are German specialties. Below is a list of the tasty snacks you will find at almost all of the above-mentioned markets.
Gingerbread cookies: these cookies come in all different shapes and sizes
Candied nuts: These tend to be the traditional staple in the Chrismas Markets in Germany. You will smell and see may fragrant nuts and roasted chestnuts ("Maroni").
My personal favorite though is Nutella crepes with sliced banana
Mutzen: These are like powdered donuts.
Bratwurst: an authentic German sausage served with mustard and typically with a nice chunk of bread.
Germknöde: a round dumpling filled with jam and topped with vanilla cream sauce, primarily found in Germany
Let's just say, you'll have a hard time deciding what to eat and you can't go wrong!
More Foods & Drinks Found At Germany Christmas Markets
Schokokuss: a marshmallow fluff covered in chocolate!
Stollen: a cake-like yeast bread that usually has candied fruit, currants, orange or lemon zest, spices, and cardamom spices for flavoring
Kartoffellpuffer: fried potatoes served with applesauce or garlic sauce
Kinderpunsch: hot, mulled wine made with alcohol
Glühwein: hot, mulled wine made with spices
The drink 'Feuerzangenbowle', which is made by lighting rum-soaked sugar cones on fire and allowing it to drip into mulled wine. Head's up – it's strong!
And remember: During the Christmas season, no German home is complete without an Advent wreath. Advent is traditionally celebrated on the four Sundays before Christmas. During these cozy celebrations, there are plenty of homemade cookies to be enjoyed.
What Clothes to Pack for a German Winter
And while you are planning your trip to the German Christmas markets, don't forget to make a list of what to bring with you. While German winters may not experience below-freezing temperatures like some Northeastern USA destination, it can still be very cold with temperatures ranging between 33 F and 45 F. It is always a good idea to be prepared for snow, rain, and freezing winds. The list below is some key packing items to throw into your suitcase if you decide to visit Germany in the winter. You can also add to this list, but make sure you have these essentials:
Warm sweaters
Winter jacket
Fleece pants/sweatpants
Gloves
Scarves or something that covers your ears
Sturdy Boots for icy/snowy conditions
Hand warmers
Warm socks
Long Johns
Umbrella
Waterproof and comfortable/Non-slip shoes
Whether you have planned a holiday trip to Germany or not, take into consideration the must-see Christmas Markets on this list. Obviously, it is impossible to visit all of these markets, but you should pick your favorite ones and visit them. Don't forget to shop for unique ornaments and taste some delicious Schokokuss (those chocolate-covered marshmallow treats!
And if you are there for the holidays, it might be good to know that a traditional Christmas meal is made of a roast goose with potato dumplings, red cabbage, and kale!
And while you are at it, you can make it easy on yourself by taking the BEST European Christmas Market Cruise or even visit a Christmas Market in Basel, Switzerland! If you like, you can even read my love letter to Strasburg, France!
---
Interested in OTHER HOLIDAYS in Germany? Check out these articles about
Carnival in Germany?
Guide to celebrating Carnival in Schramberg, Germany
Carnival Raft Race in Schramberg, Germany
"Carnival: Enchanting Creatures Lurking in the Black Forest"
"Carnival: Enchanting Creatures Lurking in the Black Forest" Part 2
The Ultimate Guide to Lederhosen!
---
Are you getting hungry? What to Eat in Germany: Snacks, Desserts & Other Traditional Dishes
---
Disclosure: As is common in the travel industry, Dr. Maloney was provided with accommodations, meals, and other compensation for the purposes of review in partnership with the German Tourism Board. While it has not influenced her review, PointsandTravel.com believes in full disclosure of all potential conflicts of interest. All Photos are by the author or are licensed under creative commons. There may be affiliate links in this article.