Did you know you can head out to the Sierra Nevada Mountains for a weekend of fun in the snow that typically involves skiing, snowboarding, snowshoeing, and even "jacuzzi time" with your friends? I didn't either until recently. Apparently, I have a group of friends that go on an annual ski trip to North Lake Tahoe every year! Who knew? In fact, they enjoy it so much, that they are ready to go back. I think I will join them this winter during the ski season (and take my hubby!).
---
What's in this post:
hide
How to Plan the Perfect
Lake Tahoe Winter Vacation!
---
And believe me, I am not the only one wanting to go to enjoy the winter in Lake Tahoe! Many of my ski-bum friends go out to this wintery wonderland quite often! Many go nearly every weekend or even pretty much all winter long, as long as there is snow. Yet when I talked to others about it at my spin club, I was surprised by the number of people that have never been either! Even though they commonly go to California for quick trips and vacations. This would be a good trip for them. So many of my friends go to Telluride instead, but I say, get out of your square box…
Go, book a trip to North Lake Tahoe instead!!
So are all my friends loaded with cash in their pockets? Of course not, but they do know how to find the best deals for rental cabins, Airbnb's, and even the best resorts that Lake Tahoe has to offer. How do I know this? They taught me the in's and out's of doing this and I am here to show you how! That is why I have created this guide: to teach you all the things you need to know about planning a Lake Tahoe Winter vacation (on a budget or not, as I have many friends from all economic categories!) and where to stay!
Have you ever been to Lake Tahoe in the Winter or the Summer or anytime in between? Tell me about it in the comments!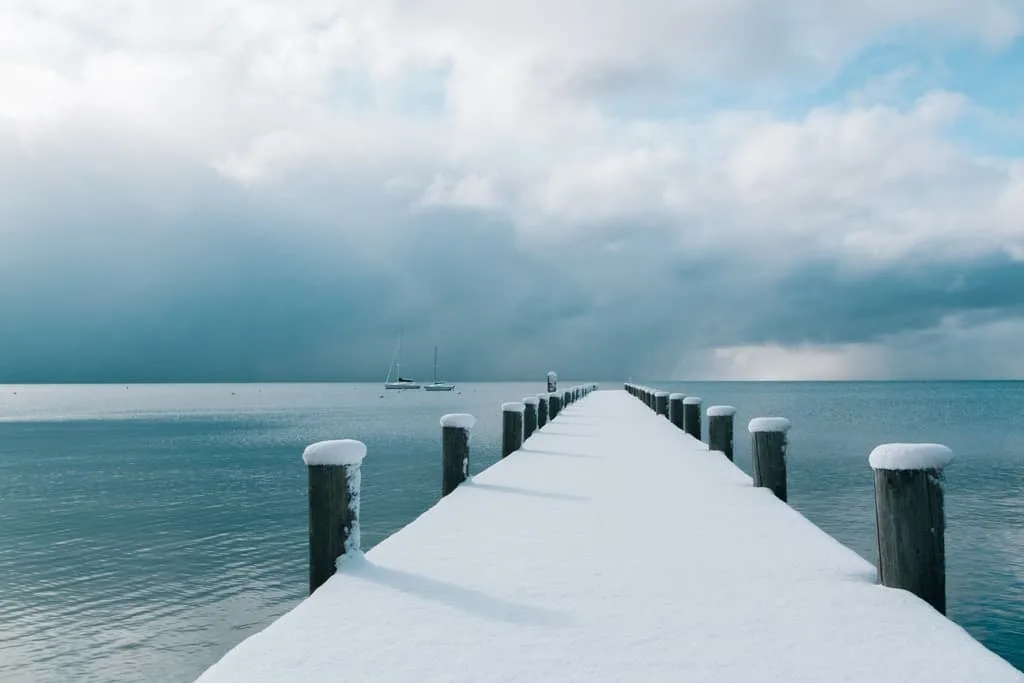 Things No One Tells You BEFORE You Visit Lake Tahoe in Winter for the FIRST time!
---
#1: When going to Lake Tahoe try to get there during good traffic times!
It does depend on if you are driving or flying in. I love Lake Tahoe in December.
#2 Rent a Car (Get chains in the Winter)
There are several car rental options available at the Reno InternationalAirport. I chose Enterprise. You can pick up a car from multiple suppliers such as Hertz, Avis, and Enterprise and drive from the airport to North Lake Tahoe. Just remember if you go in winter to Lake Tahoe, be sure and add on the cost of chains for the car!
#3 Drive into North Lake Tahoe
If you are looking to drive to North Lake Tahoe from the Reno International Airport, then the best option would be to take Nevada route NV-431 West to CA-267 North. The drive from the Reno International Airport to North Lake Tahoe is roughly 38 miles (fastest route) and takes about an hour (without traffic) to get there.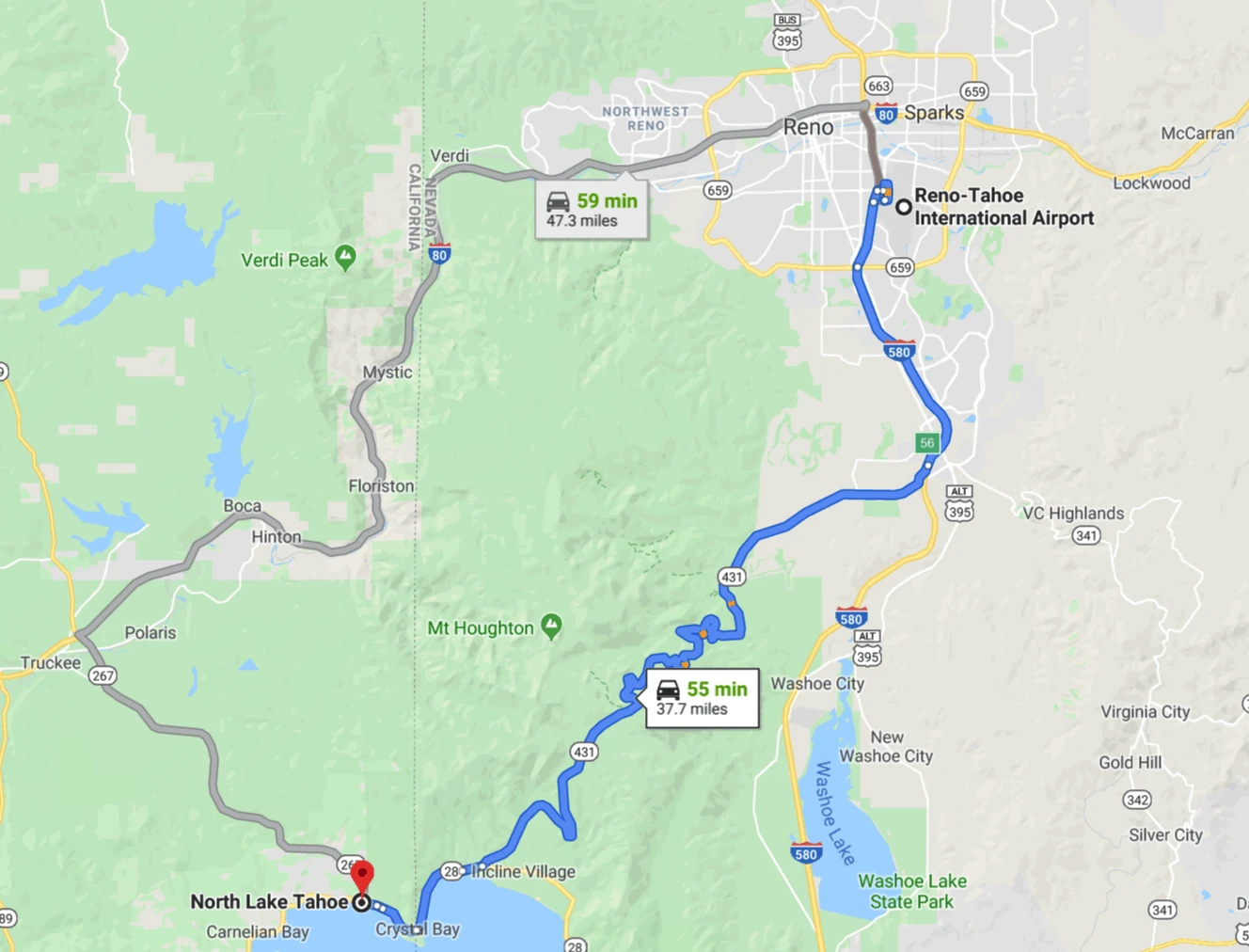 Driving: Not sure if you are aware of it, but many people from Northern California love to come down to Lake Tahoe too. They listen to the weather forecast and come down when there is good snow, (I know my Petaluma friends love it!). This area brings a lot of traffic to Lake Tahoe in the Winter especially! I even heard many of them stop in the city of Davis for the In and Out Burger to break up the time spent on the road! They also bring chains with them for the car and road conditions. So keep that in mind!
Now my friends from Phoenix drive too (but mostly they like to fly into the Reno, NV airport). So this Winter, I will have to decide if I drive my four-wheel-drive vehicle or if I fly and rent a vehicle for my ski trip to Lake Tahoe.
Flying: The best place to fly into is the Reno, NV airport, rent a car, and then drive from Nevada to Lake Tahoe. This is a pretty easy way to get into the area. There could be some road closures and slow driving getting into the area, so be sure and check the weather before coming in to decide how long it will take you to get here. Also, be sure, and rent a car with CHAINS!
#4 You might get snowed in while visiting Lake Tahoe!
You see, Lake Tahoe has unusual weather! Many times it might dump snow overnight (as my friends say that this is quite common and has happened to them). Then you will wake up to lots of snow, but this also involves road closures! So just beware that you might not make it back to work (at least on time!). Haha!
Sometimes you get to take extra snow days before you go back to work or go home! The only hassle is that no one can leave until they clear the roads and then once they do, there are solid traffic jams in and out of Lake Tahoe, so it takes a while to get to where you are going, either back to the Bay Area or Phoenix, Arizona!
#5 Lake Tahoe Is NOT as COLD as you THINK!
When I visit Lake Tahoe, I always think it is going to be freezing in the wintertime. I don't know why, but sometimes when I am standing in the snow and a snowflake lands on my nose, I look down at my iPhone and realize it is only 52 degrees Fahrenheit outside! Like what? How does that happen?
If you look around the ski resorts, you can see people skiing and snowboarding in ski pants and t-shirts, so there you go. I mean, you can bring your warm gear layered, but remember, you may have to layer down later!
In my opinion, this is great for Arizonians, as we don't know how to dress in winter weather anyway, and I heard the same thing about Californians! I mean, we never really wear winter clothes EXCEPT to go to wintery places like Lake Tahoe or to get down on our hands and knees and put CHAINS on our vehicles! Yikes! My husband had to do that once!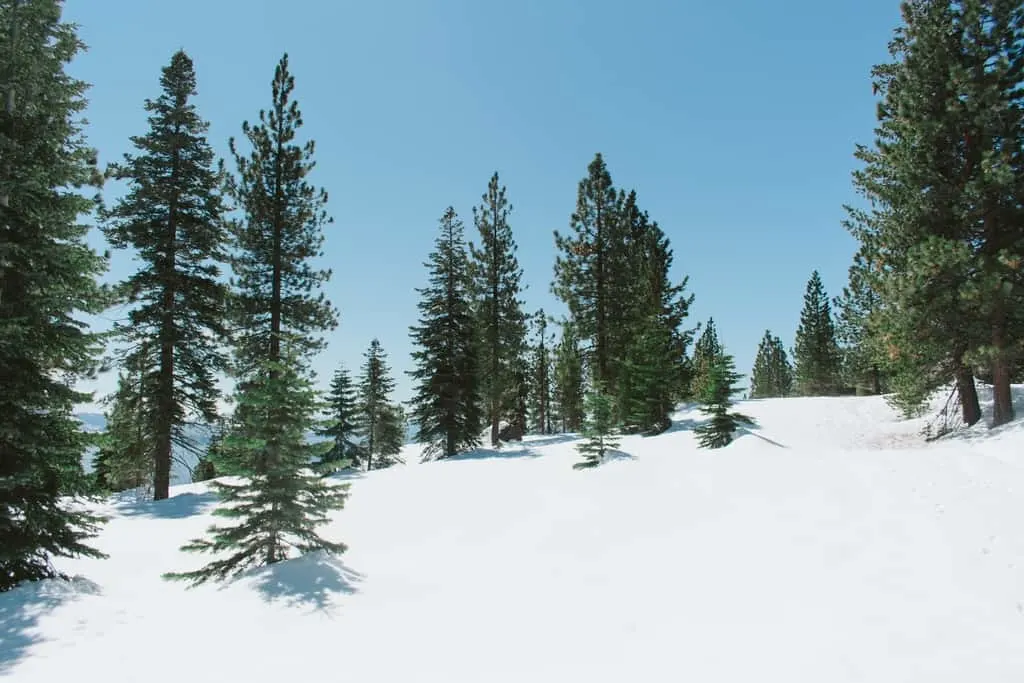 ---
Don't Worry! I will give you a break down of my favorite Ski Resorts and hotels in North Lake Tahoe to stay in the Winter in this article! So Keep Reading!
---
#6 Just because it is Not THAT COLD…Don't forget that the weather can change in a heartbeat!
Remember, you are still in the Sierra Madre Mountains, so the weather can get tricky in mountainous conditions. Driving conditions can change rapidly. You can be skiing on a bluebird kind of day, then all of a sudden, the sky can grow dark, and soon you can be stuck in white-out conditions. So always be aware of your surroundings and realize that the weather can change rapidly here.
Snow can pile up, especially after it gets dark. So I do recommend to stay close to the area where your rental place is once it gets dark. As sometimes it takes a while to get back or the road could be closed!
Looking for more awesome snowy getaways and winter sports wonderlands? Check out some of our other posts about winter:
#7 Chains are a necessary evil when driving into Lake Tahoe in the Winter
I mentioned this before, but you have to have chains if you are going to be driving in these snowy conditions! When you rent a car, rent the chains too! If you are driving your vehicle, be sure and get chains for your car or four-wheel drive. They do have checkpoints around the Lake and believe me, they will not let you drive without chains OR a Four-wheel drive vehicle. It can get quite hairy out there!
I should know, as I had to learn the hard way and turn around to my nearest hardware store that was carrying chains. Sure, it was inconvenient, but they said it was necessary. My advice is just to buy them before you go for your vehicle and learn how to put them on BEFORE you arrive in Lake Tahoe! Or, as I said, rent them with your car rental.
If you forgot, there are a lot of places that offer chain rentals along the way into Lake Tahoe. Plus, the benefit is that they put the chains on for you city slickers (myself and my husband included)!
#8 If you have NEVER visited Lake Tahoe before, it can seem a bit surprising!
The odd thing is that there is no MAIN city or town like you see in Park City, UT, or Ruidoso, NM, or any other major ski resort areas. There are a lot of tiny, smaller towns that each have their shopping districts, art centers, parks, museums, restaurants, and places to stay! I did find this a bit unusual, but the Lake is huge, so it makes sense that the things going on around the Lake are just that… spread out around the lake!
It is NOT like Quebec City in the Winter! All cute and cuddly… but it is still SUPER cool, so don't get me wrong, it is just different. Instead, it is like a lot of independent towns along the perimeter of the Lake. And along with that comes driving AROUND the lake, ie everything is all spread out, and so you have to drive quite a bit unless you stay in the general area of the hotel or cabin that you booked.
Lake Tahoe is surrounded by many small towns that face the lake, and public transportation is limited to the Tahoe Area Regional Transit, which offers bus services throughout the area. They also offer five daily shuttles between Truckee and Tahoe City. Because this region is like a road trip waiting to happen, driving is a popular option among many visitors.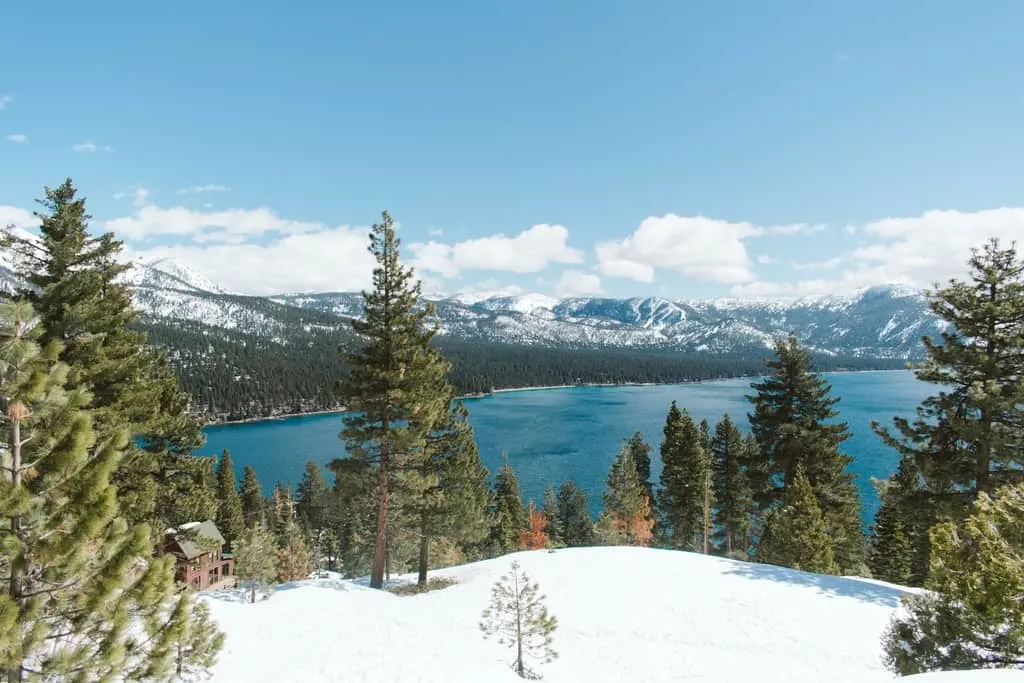 #9 Don't Be Afraid of the SNOW WARNINGS on your iPhone!
Remember you are going into a mountainous region. These are high altitudes that make for the warnings you are receiving on your phone. But just because the WARNINGS say USE EXTREME CAUTION in capital letters, that usually means a storm might be coming in but it is mostly in the higher altitudes of a mountain, not on the roads where you will be driving!
My friends told me if they DON'T get a WARNING, then they worry, as that means they may not have good snow coming in. Which is a bummer if you were planning on skiing instead of hiking that weekend!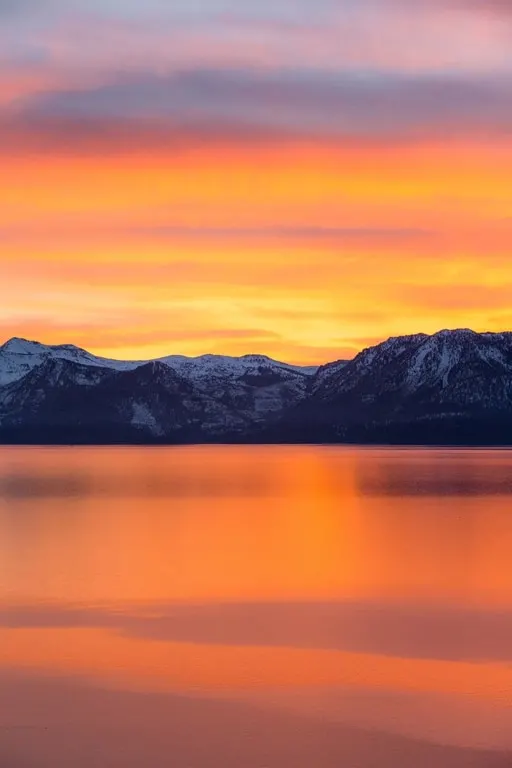 #10 So North Lake Tahoe or South Lake Tahoe?
(I choose NORTH!)
I don't know if you read my other article about a 72-hour itinerary in North Lake Tahoe, but if you didn't… Lake Tahoe is located in TWO states: California and Nevada. No offense Nevada (you guys have other things people like, like casinos and slot machines) but the California side is WAY cooler! The California side has that outdoor and nature-y vibe that everyone likes, especially in the winter!
And if you've never visited Lake Tahoe before, you may not realize that there are two different places to visit in Lake Tahoe on the California side: North and South Lake Tahoe. So what works for you?
The main difference as I see it is the quality of the resorts that you may or may not be staying at. The Southside seems more uppity and the Northside seems more nature-y. Like South Lake Tahoe is the place to see and be seen where all the action is.
Whereas the Northside is filled with people who don't care if you see them or not! Do you know what I mean? They tend to be more into nature and the peace that it gives them when they are out in the natural world. They tend to like things a bit quieter or simply like to party alone or with friends. Now, this is just my opinion, so you can explore whichever area you like!
Also remember that North and South of Lake Tahoe are about one hour's drive away from each other, depending on the weather conditions! In the Winter, that drive is a bit harder to do and may turn into two hours! The road can be snowed or iced over, so just be aware of this!
So there you have it, how to plan an awesome Lake Tahoe Winter trip!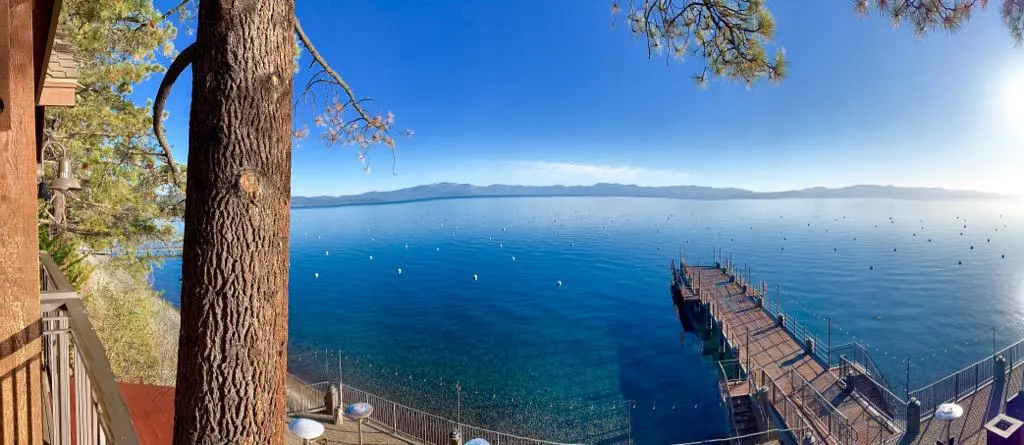 Heading to the beautiful North Lake Tahoe is sure to be a treat for the eyes. It is even a great place to quiet the mind, as North Lake Tahoe is a breathtaking area that is surrounded by wildlife, flora, and a gorgeously stunning lake. When you go, I bet you are wondering, what are the best Lake Tahoe resorts? When it comes to planning a Lake Tahoe winter trip, the big question is: which hotel has the things that I want when it comes to the way I travel, as each of us travels differently!
There are many ski resorts in the area that are famous, and they are famous for good reason – as many of these Lake Tahoe resorts own some of the best ski terrains in the United States. But not all North Lake Tahoe resorts are created equally. Some are luxurious and expensive (I stay in these!) and some are more budget-friendly (my kiddos stay here) and everything in between! So choose what fits for you and your family.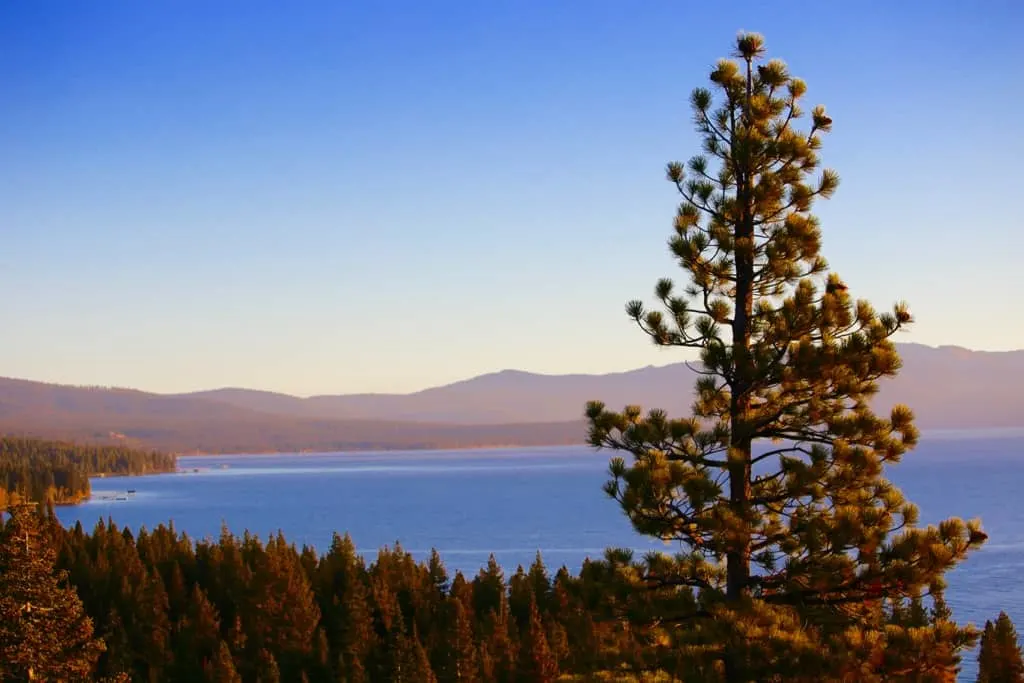 Best time to Visit Lake Tahoe
They say the best time to visit North Lake Tahoe is in the late winter/early spring because the temperatures are moderate (roughly 30-60 degrees Fahrenheit). This is when the Alpine meadows begin to blossom, the ski resorts are typically still open and some hiking trails have reopened. But, Lake Tahoe also has more than 300 days of sunshine per year, so the other peak time to visit is in the summer. However, the views of the gorgeous lake are superb all year long!
---
But regardless of WHEN you visit North Lake Tahoe, it will be a relaxing and fun experience.
---
The compiled list below is a breakdown of good to great hotels to stay in while visiting North Lake Tahoe. The hotels range from a luxury 5-star resort to 2, 3, 4 star-hotels. Believe me, North Lake Tahoe has it all and can accommodate everyone's budget! Remember, I said not all my friends are loaded with cash, so I gave you plenty of options!
Where to stay: Lake Tahoe Resorts
Mega Luxury 5 Star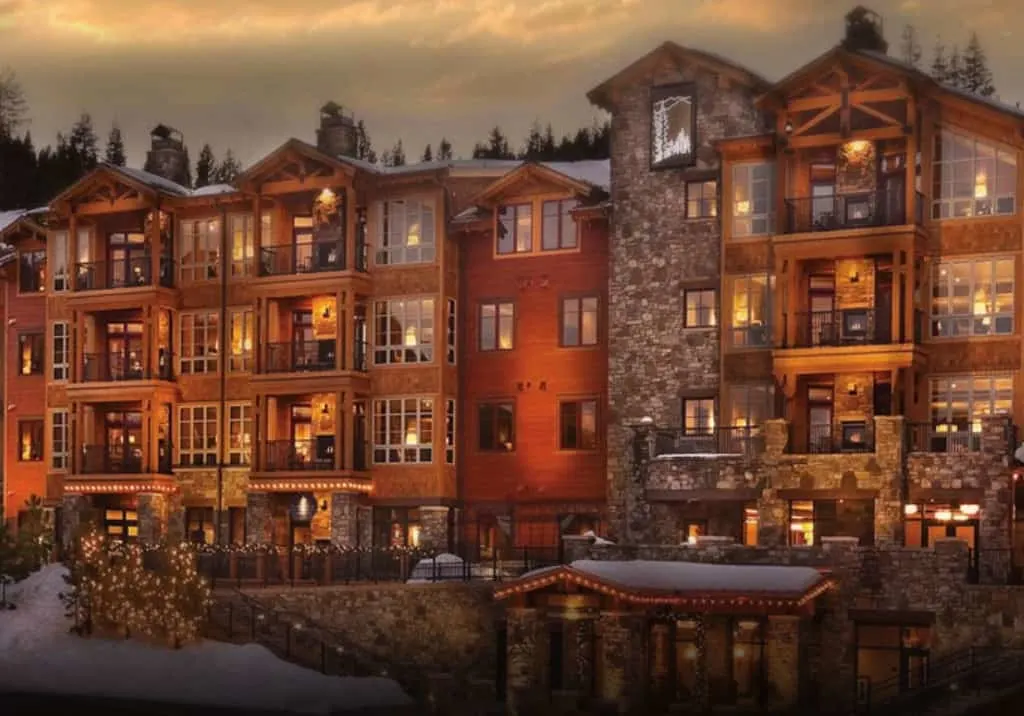 Nothing screams luxury more than this lodge! There are more than 60 rooms in this village, in which all rooms have a fireplace and safe. The dining options at this resort include craft beer tasting, cupcake wars, a sushi bar, and a pizzeria. Some of the amenities that are offered include ATM/banking, spa, outdoor swimming pool, free WiFi, 24-hour front desk, pool tables, pool sun loungers, terrace, concierge, fitness center, wheelchair accessible parking, electric car charging station, and outdoor BBQ grills. Spring is a great time to visit this resort due to the amazing adventures available such as biking, mountain biking, and climbing. I will stay here on my next visit!
High-End Four Star Hotels
The Ritz offers its guests a non-smoking facility with a business center, gift shop, lounge/bar, a Jacuzzi, spa, outdoor swimming pool, 24-hour front desk, game room, skiing lessons, ski passes, concierge, and valet parking. Guests can dine at the following restaurants: Manzanita, The Living Room, Backyard Bar & BBQ, Cafe Blue, and Highlands Bar. Winter is the best time to visit this hotel because it is beautifully decorated and has many ski options available.
This high-end hotel offers plenty of amenities to its guests such as free WiFi, arcade/game room, children's pool, fitness center, playground, outdoor pool, spa, laundry facilities, ATM/banking services, free newspapers, daily housekeeping, fireplace in the lobby and a 20,000 sq. ft. casino. Guests can dine at any of the 3 restaurants – The Lone Eagle Grille or Lone Eagle Lounge, the Sierra Cafe, or Cutthroat Saloon. They have a private, sandy beach area right in front of the Lone Eagle Grille that is gorgeous and filled with Adirondack chairs that face lakeside. From here you can order from the Lakeside Beach Bar & Grill without getting out of your chair! Room service is also available.
Plus, they even have a quick takeaway place called Tahoe Provisions & Tahoe-to-Go! They have poolside service at the Stillwater Pool Bar & Grill. Plus you can enjoy the Pier 111 Bar, as the Pier 111 Bar is suspended over Lake Tahoe at the end of Hyatt's 275-foot floating pier! The best time to visit this hotel is in the summer when activities such as canoeing, swimming, fishing, biking, and hiking are available. I visited here for the spa, and it was fabulous!
This resort offers guests an extensive list of things to do such as a fitness center, ice skating, outdoor tennis court, shopping, mountain biking, children's pool, 3 spa tubs, 3 outdoor pools, arcade/game room, spa, cross-country skiing, and a golf course. Other amenities at this resort include daily housekeeping, bellhop, hair salon, golf cart, and pro shop, free WiFi, and free newspapers. Dining options at this resort include Alfresco dining at the Six Peaks Grille, Alfresco dining at Sandy's Pub, golf course view at the Cascades buffet, and Alfresco dining at Sweet Potatoes. With all the wonderful activities, any time of year would be perfect to visit this resort.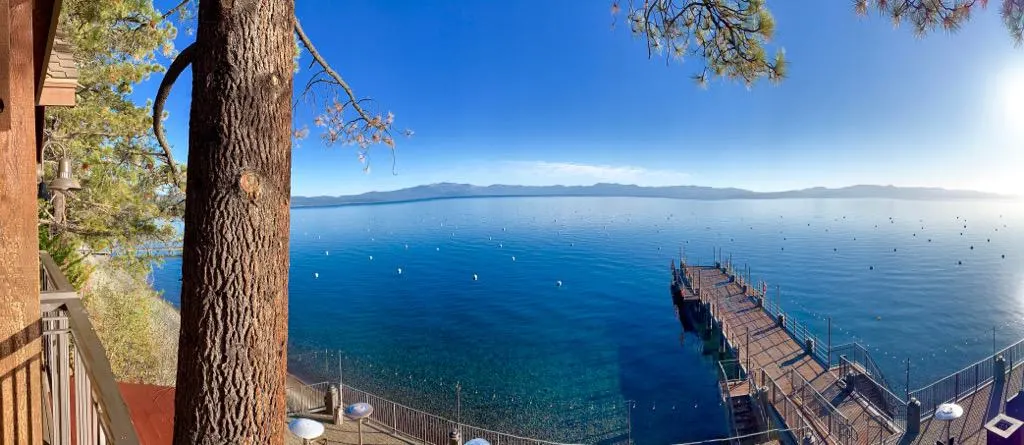 A multi-lingual staff is available to accommodate guests of this quaint inn. This inn is located 1-minute from Homewood Mountain Resort and 6.8 miles from the Tahoe City Marina. Amenities at this hotel include a 24-hour front desk, fireplace, free parking, free breakfast, free WiFi, free ski shuttle, a private beach, and a marina on-site. Guests can eat at the West Shore Cafe during the Spring and Summer only, which is a beachfront dining restaurant. Spring is a great time to visit because you can participate in nearby activities such as sailing, water skiing, hiking, kayaking, and boat tours. I stayed here on my pre-winter visit to Lake Tahoe in the Marlette Suite, you can see a video of this suite here. It was fabulous!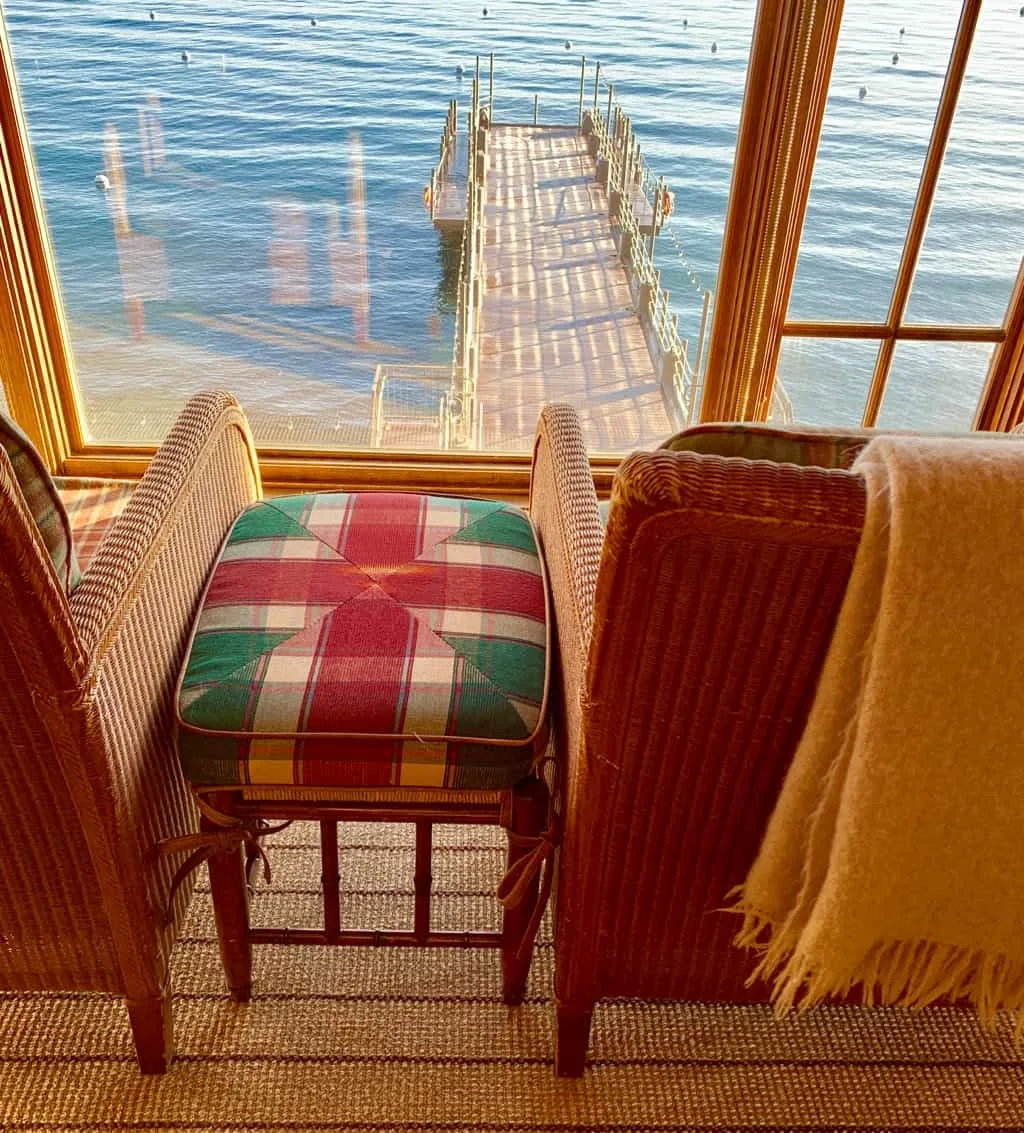 Three Star Hotels
Located in Truckee, this lodging spot offers free WiFi, free parking, ski rentals, ski pass vendor, a game room, swimming pool, and shuttle service. So bring the kiddos! Amenities that are available at an additional cost include a Jacuzzi, massage, fitness center, ski school, and babysitting! There are four restaurants at this hotel: Yamakai Fish and Sushi Co, Tavern 6330′, Petra and Rubicon Pizza Company. Springtime is a great time to visit this lodge because it offers an outdoor pool, golf course access, tennis court, and fishing excursions!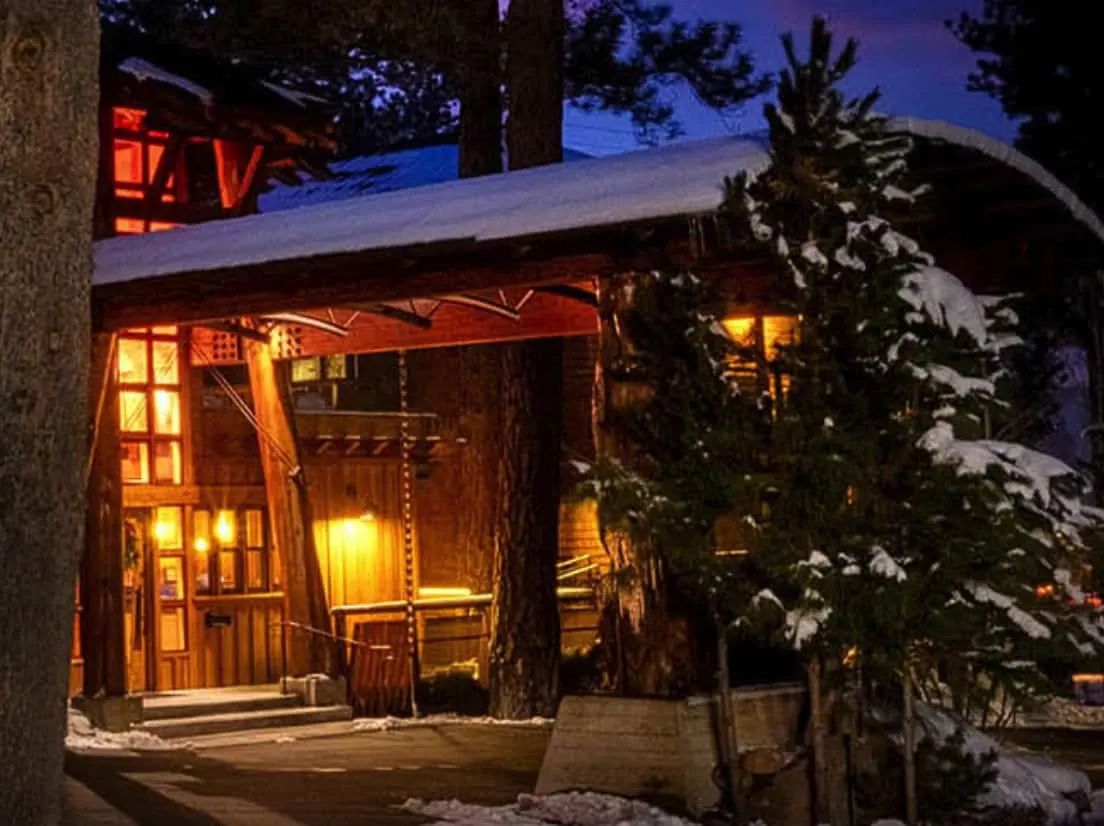 This European-style hotel offers non-smoking rooms, family rooms, and suites that are all equipped with kitchenette, heating, and air-conditioning. There are restaurants, bars, and lounge areas. They also offer a free breakfast, free parking, and free WiFi to all guests. Other amenities offered at this hotel include a concierge, laundry service, hot tub, children's activities, dry cleaning, and a spa. The best time to visit would be during the Winter so one can take pleasure in the skiing activities nearby and the hot tub.
With over two hundred slot machines, table games, roulette, and keno games, the casino is the highlight of this 3-star hotel. This Crystal Bay lodge is a 3-minute walk from the California state line and 5 miles from the Incline Village Golf Course. Amenities offered at this lodge include an outdoor pool, hot tub, bar, free WiFi. It is pet-friendly. There are three on-site restaurants: Cafe Biltmore (open daily from 7 am-9 pm), Bilty's (which offers a seasonal menu) and offers a late-night munching menu at Breeze Bar. Visit any time of year to enjoy the casino, great food, and drinks.
Two Star Hotels:
The Firelight Lodge offers rooms equipped with a gas fireplace, a mini-fridge, coffee maker, alarm clock, microwave, toiletries, hairdryer, bathtub-shower combo, and free wireless internet! The hotel spa is open daily from 10 am-10 pm and the pool is open from 8 am-8 pm during the summer season. Summer is the best time to visit this hotel because the pool is open, you can rent a kayak, go biking, and hiking trails are always available. There are no restaurants at the hotel but every guest a free continental breakfast. You can also find the following restaurants within a couple of miles: Jiffy Pizza, Old Range Steakhouse, and Hiro Sushi.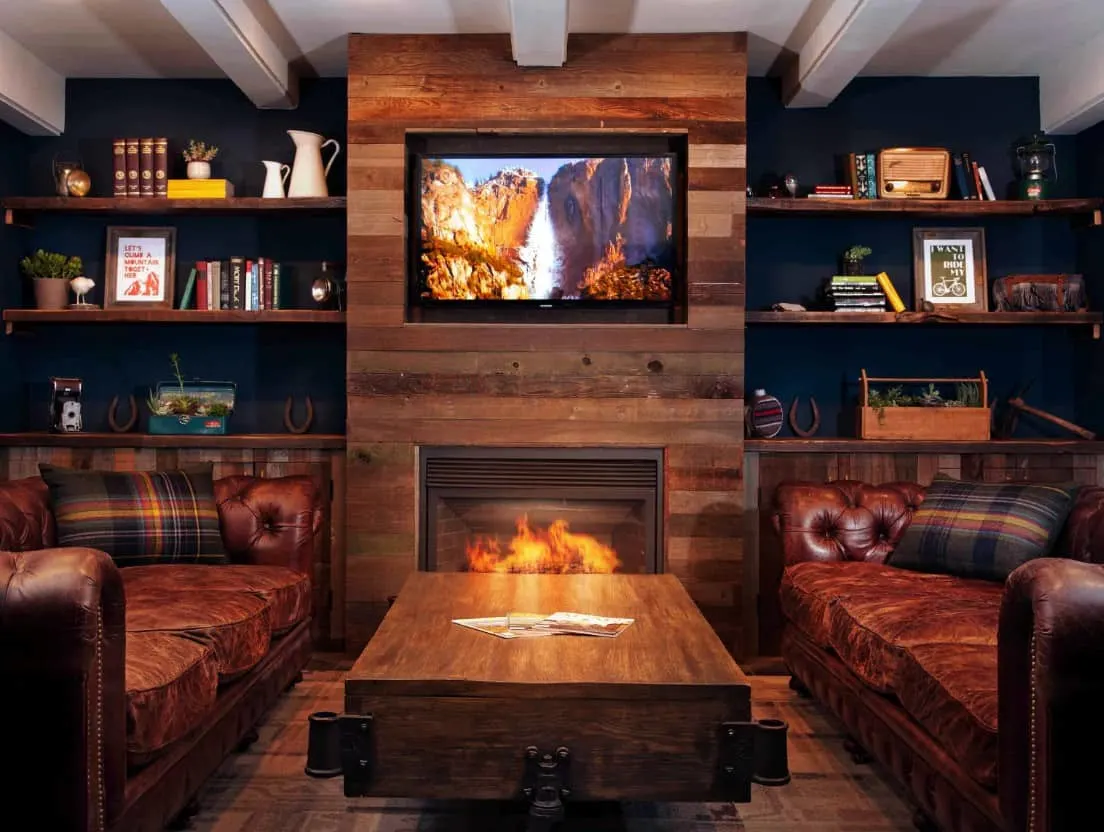 Basecamp hotel offers free parking, free WiFi, daily housekeeping, outdoor fireplaces, picnic areas, a game room, gift shop, and kids' indoor play area. The rooms at this hotel are equipped with heating, air-conditioning, free toiletries, telephone, cable channels, electric kettle, and a private bathroom. There are snack bars and a bar at this hotel, but no restaurant. The Coffee Connexion is located within .1 mile of this hotel. The best time to visit is in the Winter because the snowy weather brings forth the skiing adventures at Alpine Meadows (in my opinion!).
This hotel sits in the northern part of Lake Tahoe and less than 10 miles from Lake Tahoe Nevada State Park and Tahoe City Golf Course. There are 10 suites at the hotel in which all include gas fireplaces, flat-screen TVs, mini-fridges, and free Wi-Fi. There is a steakhouse called Steak & Lobster House, as well as a cozy bistro located within this hotel called Cilantro + Barley Cantina with delightful meal options. It was voted BEST Casino in Lake Tahoe! Guests can enjoy a soak in the jet tub after a long winter's day skiing down the slopes of Tahoe!
So, there you have it. This is a full list of places to lodge in when traveling to North Lake Tahoe. It might be hard, but now is the time to pick your favorite lodging area and head to North Lake Tahoe! Now that I know WHERE to STAY, can you tell me?
When is the Ski Season in North Lake Tahoe?
Sure, typically the ski season begins in December and goes through May. But of course, that all depends upon Mother Nature! Sometimes it snows as early as October and I have heard that they could have snow through July. You just never know! But you can pretty much guarantee some snow between December and May.
How many Ski Resorts are located in North Lake Tahoe?
As you can see from this map, there are 12 ski resorts are within the range of North Lake Tahoe. (There are 4 that are in the range of South Lake Tahoe, which I won't mention here.)
The main ski resorts in North Lake Tahoe are Squaw Valley Resort, Alpine Meadows Ski Resort, and Northstar California Resort. But smaller resorts like Homewood Mountain Resort and Diamond Peak at Incline Village offer jaw-dropping views of North Lake Tahoe. Granlibakken Ski and Sled Hill is a private 74-acre wooded valley and only one mile from Tahoe City. And Tahoe Cross Country Ski Area is close by.
The more outlining ski resorts include Boreal Mountain, Sugar Bowl, and Donner Ski Ranch. Soda Springs and Mt. Rose are a few more in the area.
---
Lake Tahoe Travel Tip: If you don't mind the distance from the lake, Sugarbowl Resort is in Norden, CA near the Donner Pass (Donner Ski Ranch) of the Sierra Nevada Mountains, which is approximately 46 miles west of Reno, NV on Interstate 80. This is also close to Boreal Mountain, which is about a 30-minute drive from Lake Tahoe. All are affordable and family-friendly.
---
I know WHERE to go, but WHERE should I buy tickets?
Honestly, my friends tell me the best place to get great deals for ski tickets at most of these resorts is Costco! Say what? Yep, that's right. Costco sells ski passes to Homewood Mountain! As a Costco member, you can get 2 Adult Ski Passes for $149.99 valid for the entire ski season for two days and emailed right to you! What a deal! It and Boreal Mountain seem to be the cheapest ski passes, with Boreal Mountain running about $80 a day during the ski season on the weekend.
If you are looking to find affordable skiing or snowboarding, when you fly into the Reno International Airport 0r even if you drive in, you can stop by the Costco on the way to Carson City. Here you can find two Sierra-at-Tahoe lift passes for $150! This deal isn't advertised online. But works great for this SOUTH Lake Tahoe Resort. I don't want to drive that far, but my kids in college do, so sometimes they snowboard there.
---
Looking for South Lake Tahoe Airbnb's for families?
---
Also online, you can google each ski mountain listed above for North Lake Tahoe and find their pricing online or go to Lifttopia for a comprehensive guide of costs from most North Lake Tahoe ski resorts. I recommend purchasing your ticket in advance, so you don't have to stand in too long of a line!
Disclosure: As is common in the travel industry, Dr. Maloney was provided with accommodations, meals, and other compensation for review for this article by the North Lake Tahoe Tourism Board. While it has not influenced her review, PointsandTravel.com believes in full disclosure of all potential conflicts of interest. All Photos are by the author or are mentioned below the photo. There may be affiliate links in this article.