A gorgeous place to visit for the perfect 72-hour itinerary is North Lake Tahoe that straddles between two states, Nevada and California, in the USA. I had the fortunate opportunity to visit North Lake Tahoe recently and enjoyed my time there just before the winter weather had arrived. Some say the best time to visit North Lake Tahoe is during the Spring, but honestly, I thought my timing was pretty perfect for engaging in a few outdoor activities, as well as, a few indoor ones on this off-season pre-winter weekend itinerary! And you can enjoy it too, once you get introduced to North Lake Tahoe and all it has to offer, so come along with me for the ride.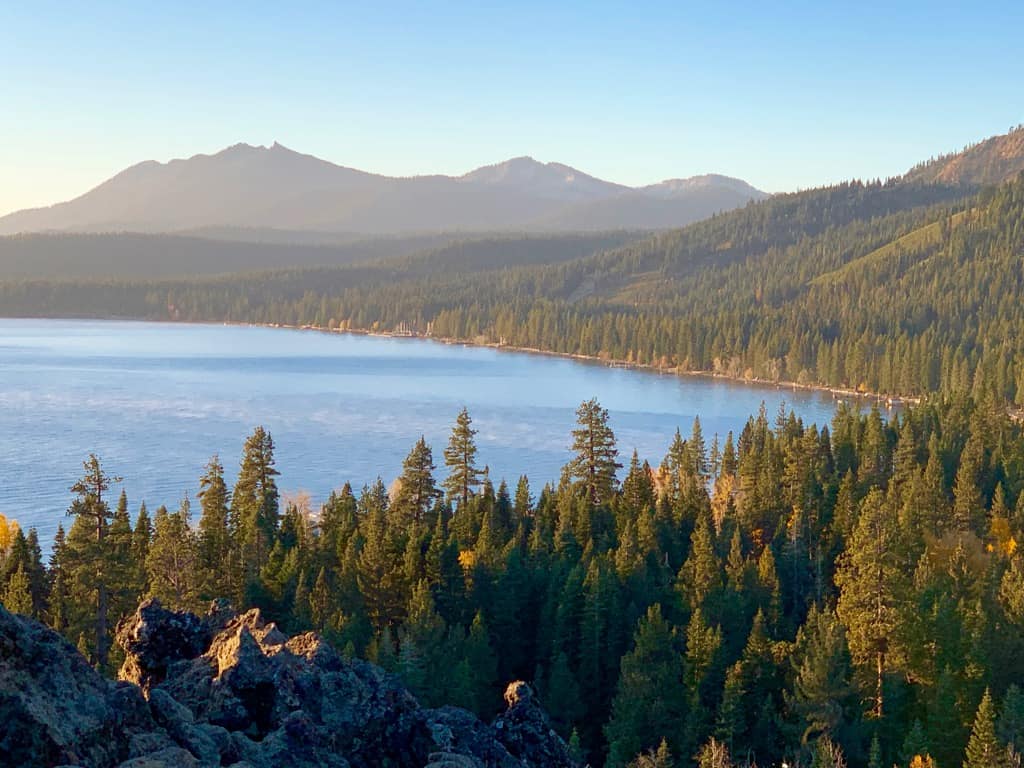 North Tahoe Straddles Two States!
Did you know North Lake Tahoe is actually located in two different states? I didn't know that either, but, it is! It straddles Nevada and California! Honestly, I don't think I knew that until I flew into Reno, Nevada, and then drove across the border into California at different places along my route! The lake itself is the largest alpine lake in all of North America. It is spectacular for its sheer size, as well as, the color and clarity of its Caribbean-esque water. The day I arrived, the waters were high, almost like an ocean!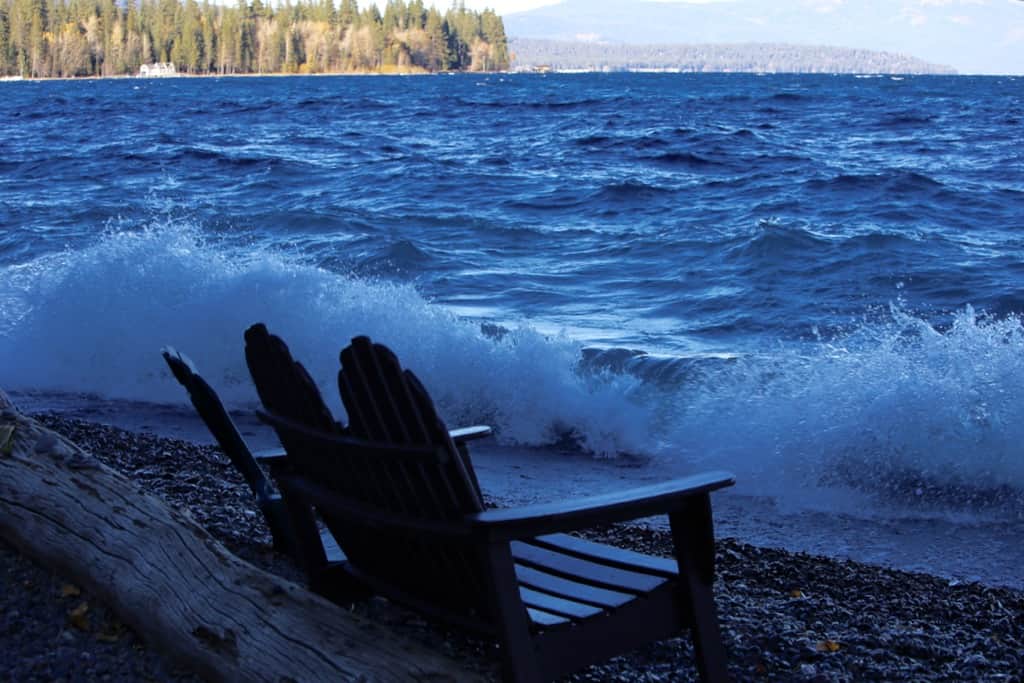 North Lake Tahoe is home to the Great Outdoors!
Also, North Lake Tahoe is home to hundreds of miles of bike trails, hiking trails, six communities, and a lot of festivals, races, concerts, and sporting events! So there are plenty of things to do on this 3-day weekend itinerary once you get here! For me, it worked perfectly into my love of adventure and allowed me to get connected to Lake Tahoe's natural beauty.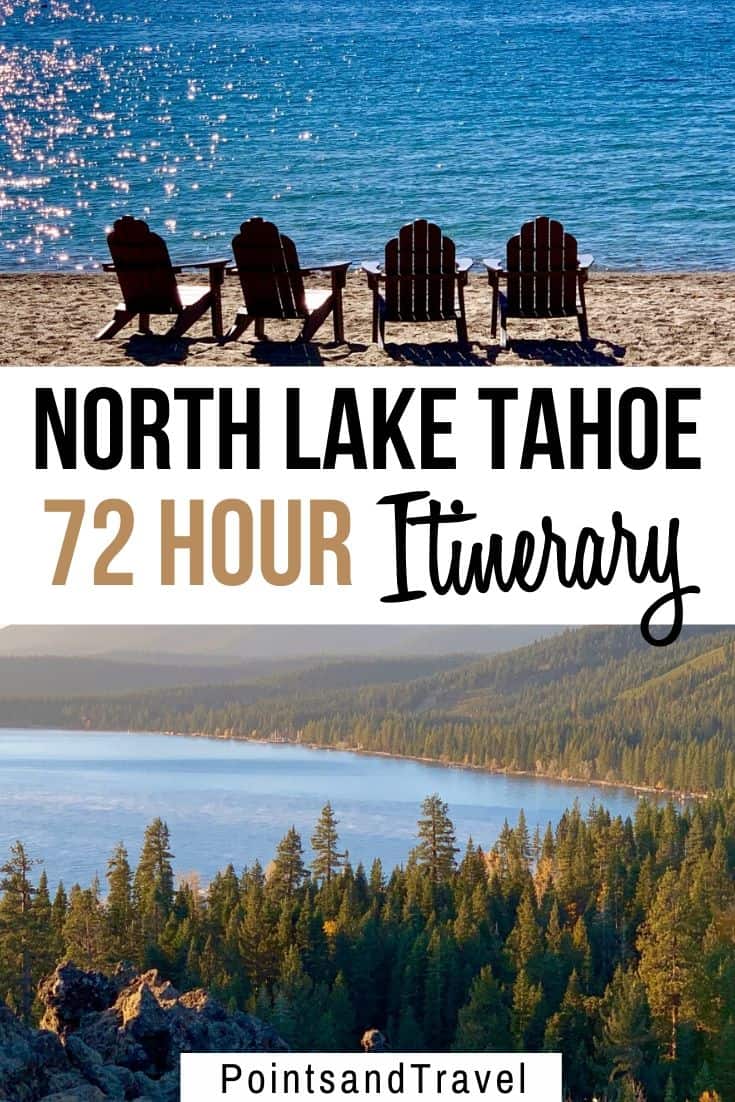 ---
And beautiful she is!
---
Where do I fly into? Reno/Tahoe International Airport in Reno, NV
North Lake Tahoe is close to the Reno/Tahoe International Airport, as most people arrive in North Lake Tahoe by airplane and then rent a car or take the shuttle bus to their destination. The rental car was simple and easy to do, so I recommend doing that. The drive from Reno to Tahoe was gorgeous and it just got prettier and prettier the closer I got to Tahoe City and "the Wye" intersection. So come along with me, as I outline a full itinerary for 72-hours in the North Lake Tahoe area near Tahoe City.
Perfect Three Day Itinerary in North Lake Tahoe
---
DAY 1: ARRIVAL into Lake Tahoe, after the drive from Reno, Nevada
10:00 AM Visit the North Lake Tahoe Visitor's Center
Upon your arrival at "the Wye" intersection in Tahoe City, you will notice the Visitor's Center right on the corner next to Fanny Bridge. This is where the magic begins! As the Visitor's Center is the perfect place to get all the information you will need to know about maps, activity suggestions, the latest events happening, and restaurant recommendations. You will not be steered in the wrong direction at this Visitor's Center, as they are friendly and ready to help you plan your time here.
10:30 AM Stop at the Historic Fanny Bridge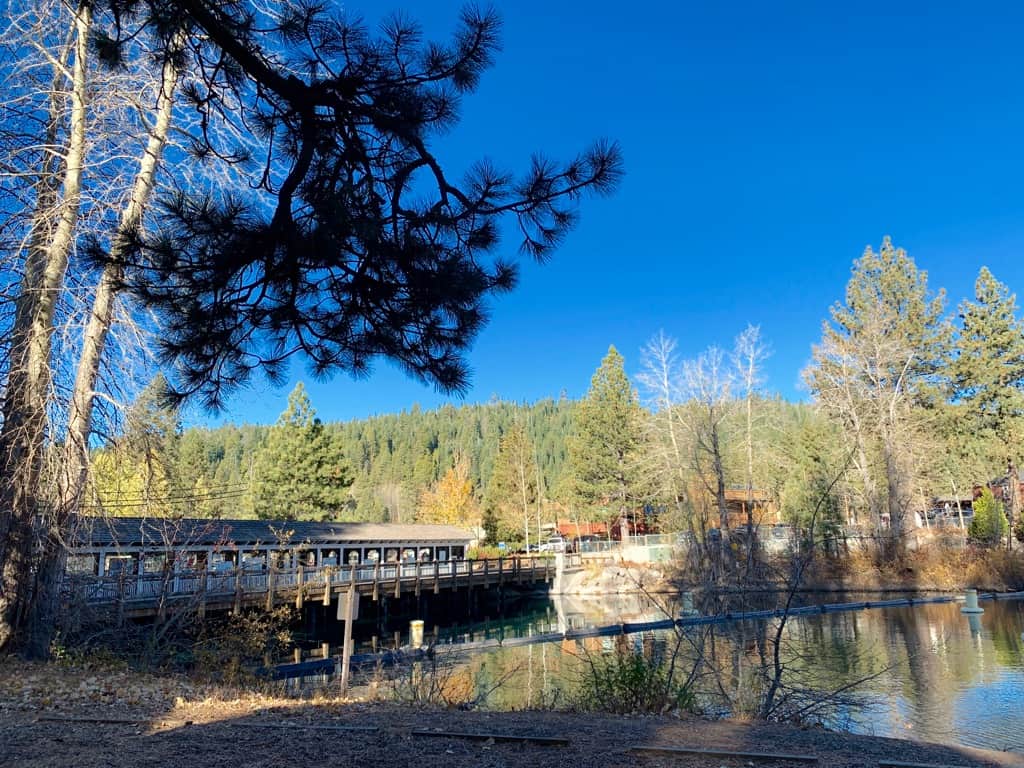 The historic "Fanny Bridge" is across the street from the Visitor's Center, so you can't miss it. It is a great spot to catch the sunset or a chance to take a good look down the Truckee River, which happens to be the only outlet of Lake Tahoe! The name of the bridge comes from all the "fannys" (as in American slang, which means your "rear end or tush"!) that can be seen from the road.
The Fanny Bridge receives a lot of visitors who lean over the bridge for a view, thus "your fanny"! I just call it the bridge with the funny name! When I visited in October, I was lucky enough to be the only one on the bridge. I walked out on the bridge to get a good look at the gorgeous color of the aqua-marine blue waters of the Truckee River and feel the breeze in the air! It was nice!
11:00 AM Enjoy the Gatekeeper's Museum
Just behind the "Fanny Bridge" is the Gatekeeper's Museum in a small inlet that is peaceful with breezy trees. The true spirit of North Lake Tahoe comes into view as you visit the Gatekeeper's Museum. It is a focal point of the area in which it emphasizes cultural and geographical histories. It also houses the Washoe Indian baskets from times past. The view of the lake and the gardens is also quite spectacular from here. And, if you are up to it, you can also practice your Stand-up Paddleboarding skills right here on the river, as there is no wake, so it is the perfect place for a beginning paddle boarder to start! And speaking of getting a bit of exercise…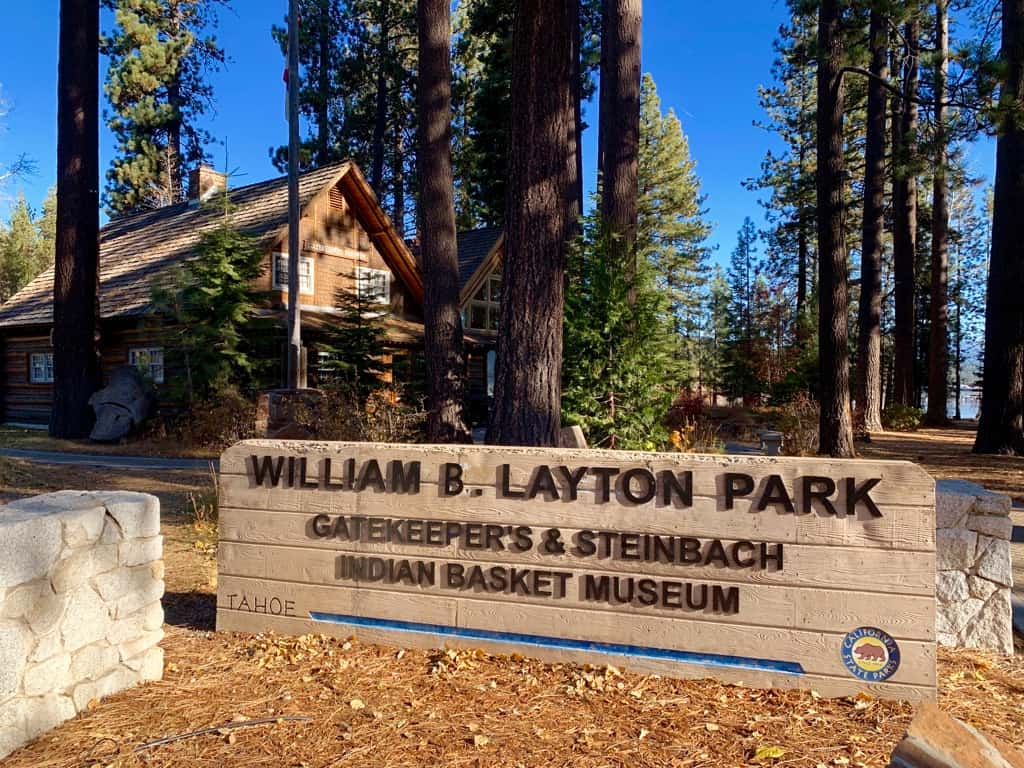 12:00 Noon Bridgetender Tavern and Grill
By now you will be getting hungry, so walk across the street to Bridgetender Tavern and Grill. Once you have visited the Visitor's Center, Fanny Bridge, and the Gatekeeper's Museum, head on over to this tavern and grill for some tasty meals with a lakefront view (sort of). Monday's lunch special at this tavern is the Grilled Mahi Mahi Tacos with Avocado-Lime Slaw. I ordered these fish tacos and loved them! Just make sure to tell them I sent you!
65 W Lake Boulevard
Tahoe City, CA 96145
---
2 PM
Here is where your day can vary depending on if you are tired by now! If tired, go ahead and drive to your hotel and check-in. If you are not too tired, then head on over to the shops right past "the Wye".
2 pm to 5 pm Visit the Shopping Districts, Including Local Galleries
James-Harold Galleries and North Tahoe Arts
A quiet but enticing way to spend an afternoon is to check out the art galleries in the area. The James-Harold Galleries is located in Boatworks Mall in Tahoe City and it is famous for showcasing art glass and limited-edition prints. At North Tahoe Arts, visitors can check out the stunning artwork from local talents. They are currently holding a fine art raffle, in which there are over $10,500 worth of prizes, so go get a ticket! Good luck!
Watson Cabin Museum
And not too far from the galleries is the Watson Cabin Museum. If you are going to visit the Gatekeeper's Museum, then you should not miss the chance to visit the Watson Cabin Museum. This museum pinpoints the greatest cultural memories that North Lake Tahoe has had to offer.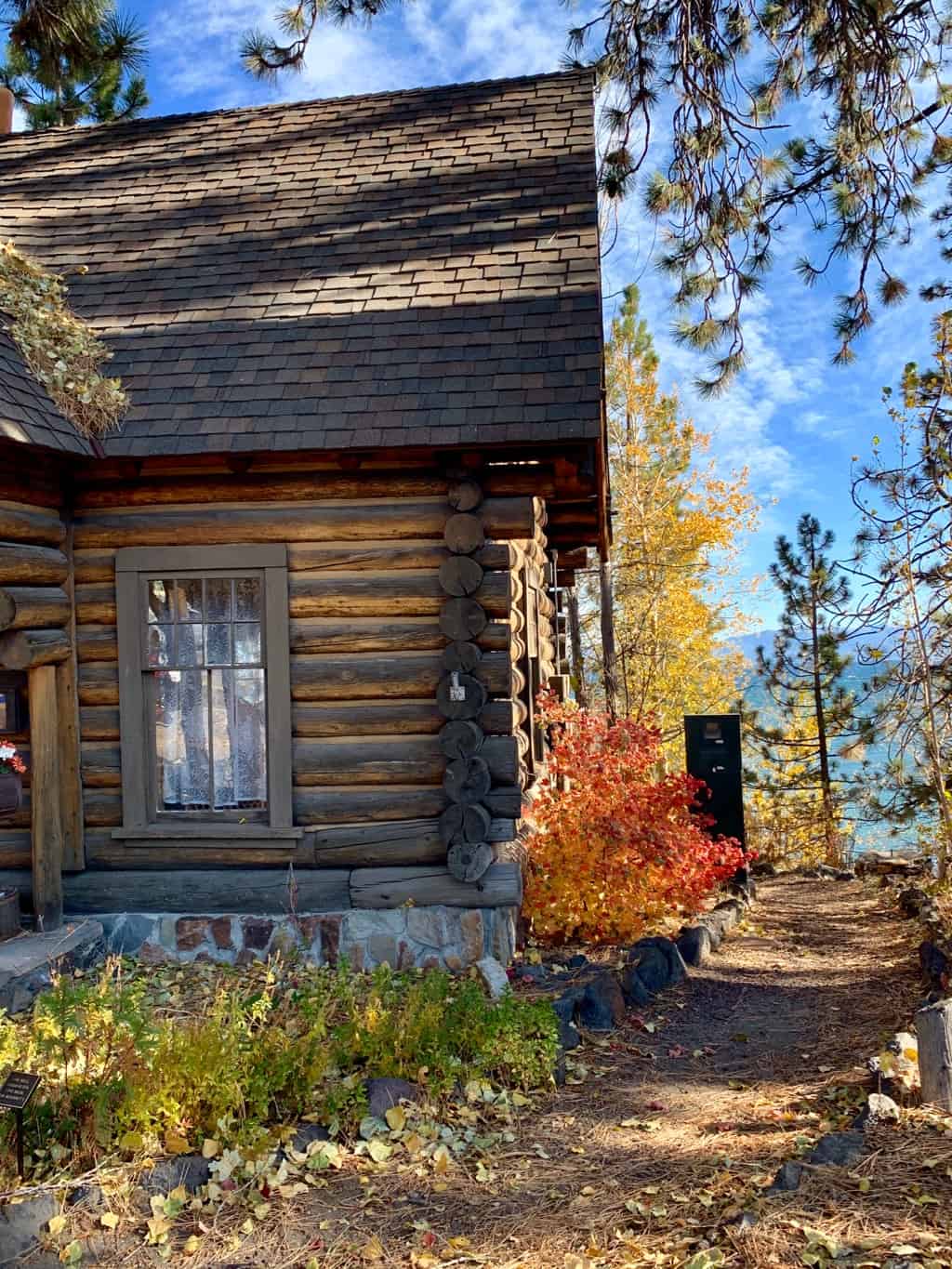 Heritage Plaza
While you are visiting Watson Cabin Museum, stop next door to the Heritage Plaza where the giant Bear Statue is located. It is here where you can learn about the early inhabitants of Tahoe City and the notables from this area in plaques along the square.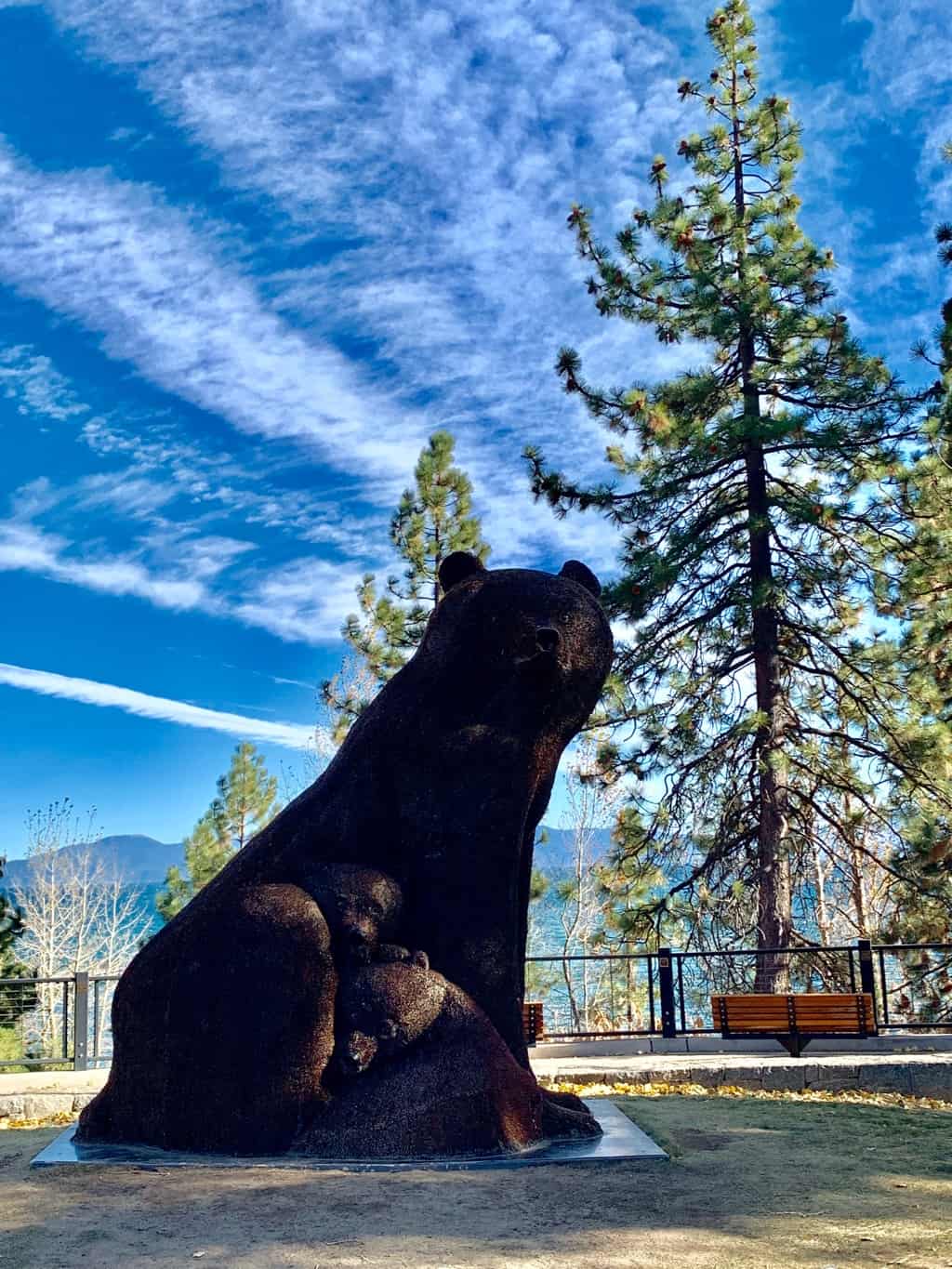 Cobblestone Center for Shopping
The Cobblestone Center has something for everyone, from singles to families and locals to vacationers. There are quaint boutique shops and cozy restaurants to enjoy a fine glass of wine or beer. If you are in the mood for a manicure, then Exotic Nails is sure to relax your hands and mind. It did mine! While relaxing may be at the top of your list, a little adventure never hurt anyone.
At the Alpenglow Sports shop, they have everything you might need for a fun sporting event. You can purchase items for backpacking, rock climbing, hiking, and skiing. You can even go paddle-boarding, do lakeshore yoga, enjoy fun runs, and take a swimming clinic or guided hikes with their at their Alpenglow Mountain Festival.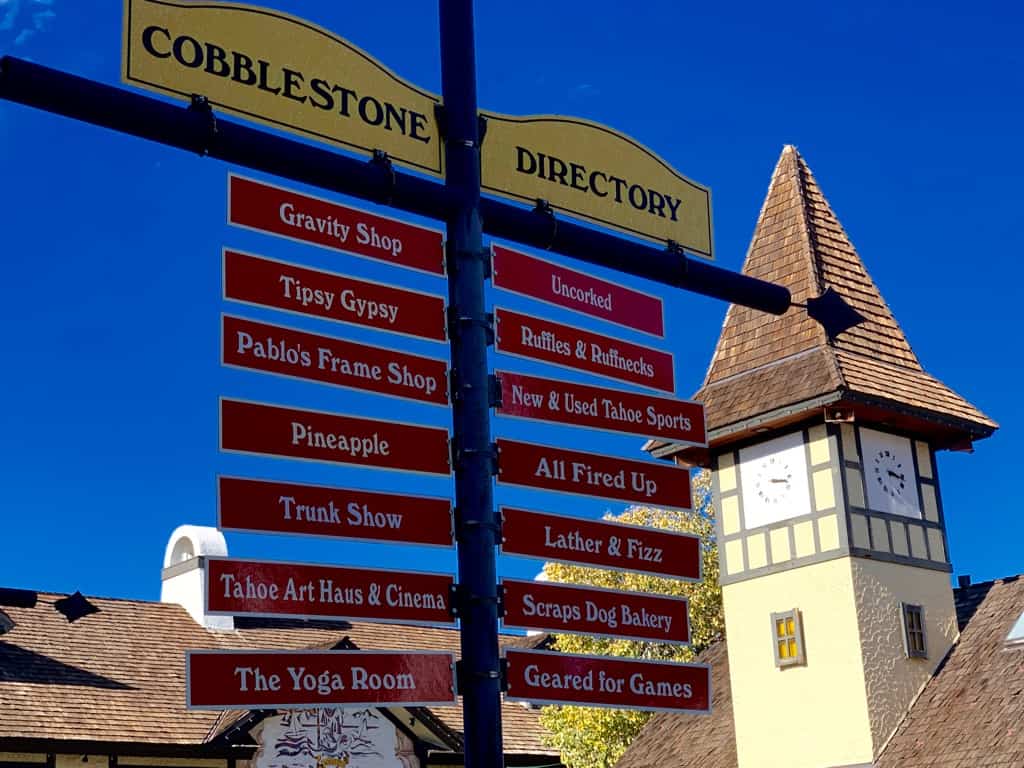 Check-in to Your Hotel (if you haven't already!)
---
And if you don't like shopping, I can recommend renting a boat ride out on Lake Tahoe. A day on the water is so much fun!
---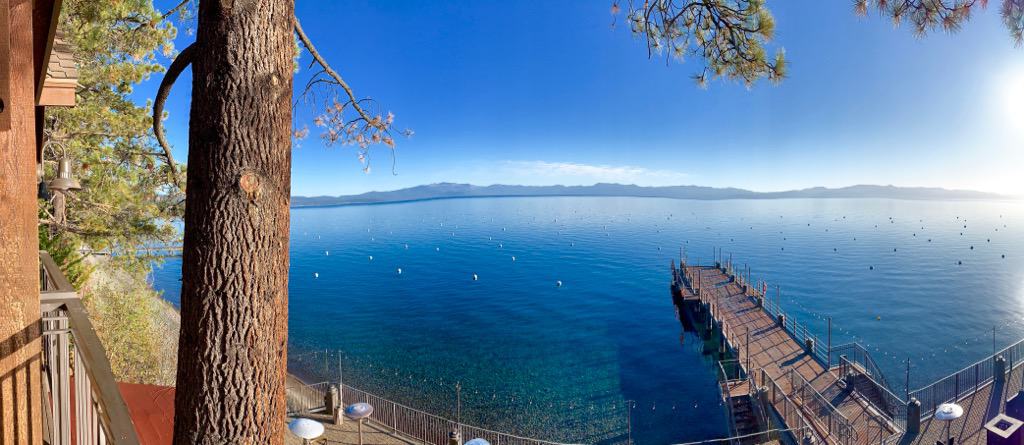 The West Shore Café and Inn overlooks the stunning west shore of Lake Tahoe with fabulous views. This cozy inn has 4 suites and 2 guest rooms available and each has premium bedding and towels, free Wi-Fi and more. This inn is directly on a private beach, which is quiet and tranquil. Guests can enjoy free parking, a free in-room breakfast, a marina on-site and a stunning fireplace in the rooms.
I stayed in the Marlette Peak Suite!
See a video of the Marlette Peak Suite here.
I absolutely loved my stay here. The Marlette Peak Suite that I stayed in had the best views of the West Shore of Lake Tahoe ever! There was even a pier to walk out on if you want to get closer to the water down below. I woke up to a magnificent sunrise in this modern, yet rustic lodge suite with a gas fireplace in both my bedroom and the living room! They even had a writing desk for me to get a bit of work done and a mini-fridge with two chairs that face North Lake Tahoe in a sitting room arrangement. It was perfect! It has an outdoor balcony as well. The bathrooms were gorgeously decorated with stunning gray-slate countertops which I loved. They have both a bath and a tub combo shower.
My bedroom featured a California King bed with a flat-screen TV and a second balcony so I could enjoy the great outdoors from either my living room or my bedroom! This suite reflects the serenity that all travelers strive for when they go on vacation! I woke up in the alpenglow of North Lake Tahoe and loved it!
5160 W Lake Boulevard
Homewood, CA 96141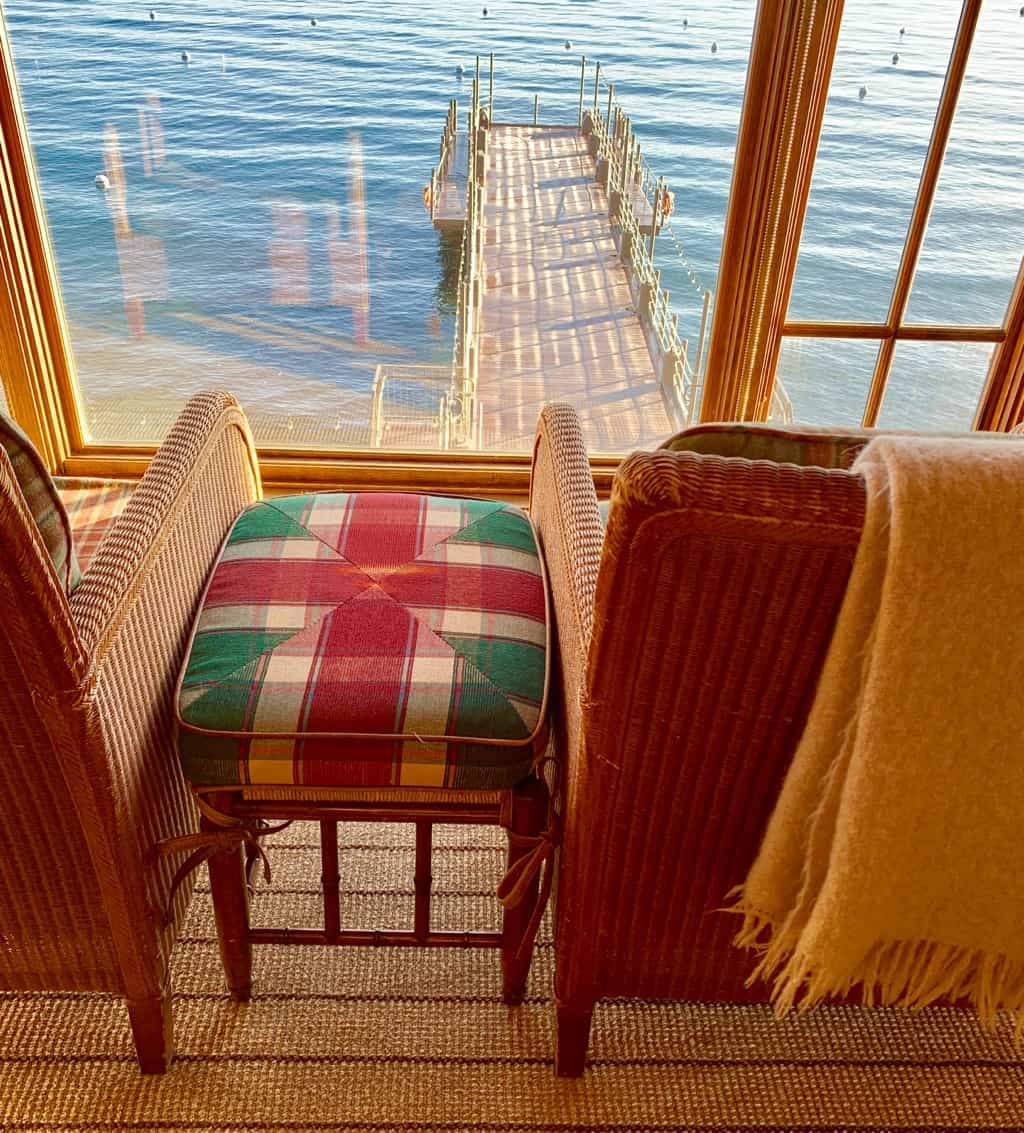 ---
7:30 pm Dinner at Za's Lakefront
Food is served every day from 11 am-9 pm. My suggestion is to eat at this restaurant during the Football Brunch on Sunday from 10 am-3 pm if you happen to be here on a Sunday! The view is gorgeous! They serve up delicious Caprese sandwiches and a baked hoagie sandwich to die for!
---
Day 2: Get Up Early and Exercise
6:30 AM Hike Eagle Rock Trail Head*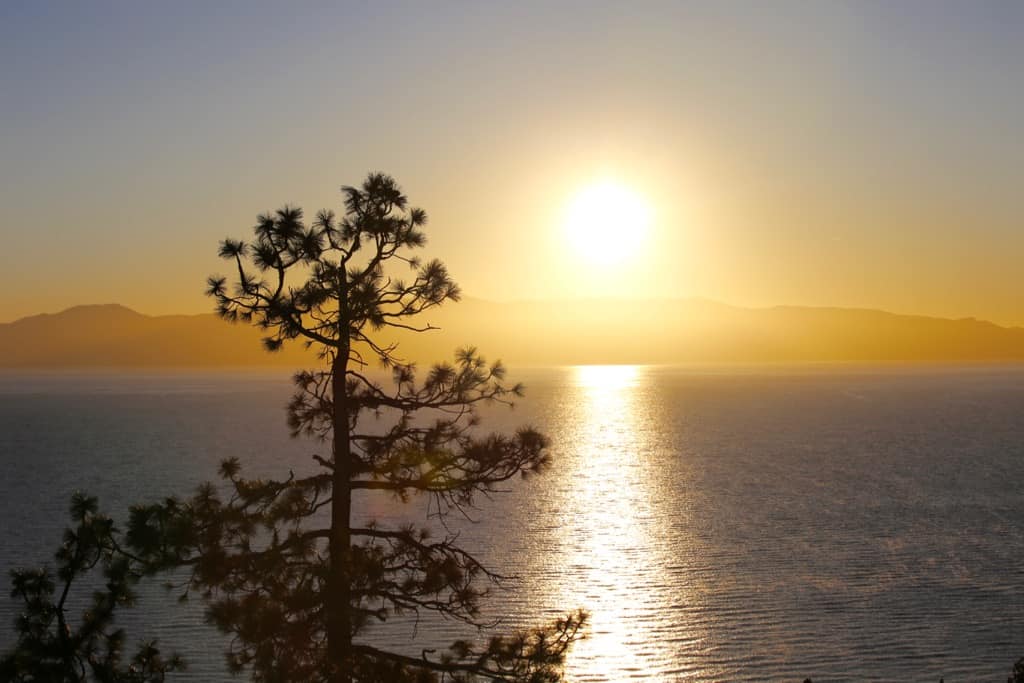 I had the chance to hike the trail at Eagle Rock, which is a quick round-trip hike of 1.4 miles. I was told it is the perfect place to go hiking, bird watching, and has amazing views of Lake Tahoe and the mountains. I concur with the advice given and I was lucky enough to get up early and hike up to the top of Eagle Rock at 6:30 am, just at the sun was rising.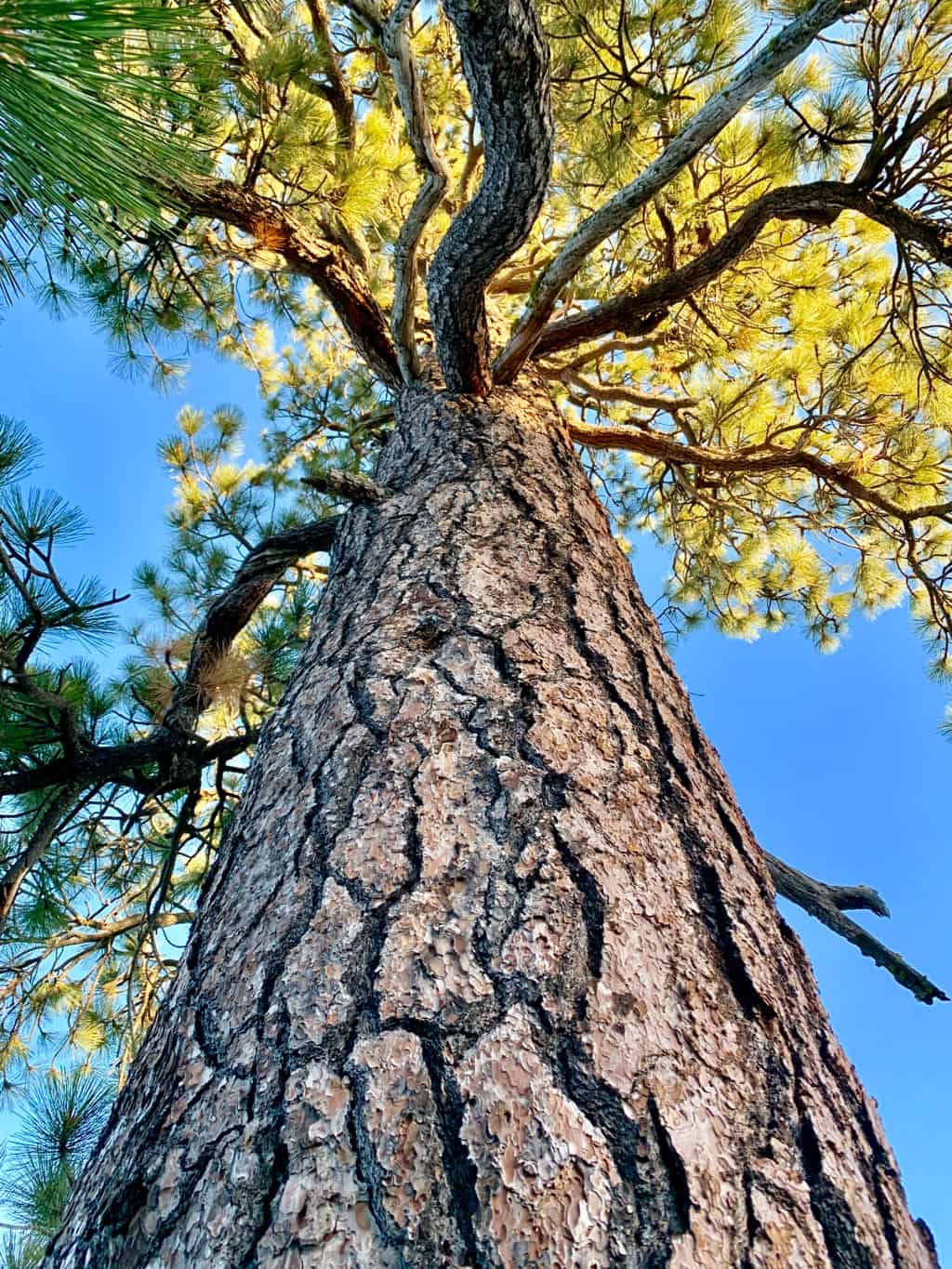 The views seem like they go on forever and it is a great chance to see Lake Tahoe from high above it all to get a good look at how massive this lake is. Honestly, I loved being out in nature and to breathe the fresh air. I guess I was super lucky, as I was the only one up there by 7 am!
*There are other options to hike: Sugar Pine Point State Park or Tahoe East Shore Trail.
10 AM Fire Sign Cafe
After you hike up Eagle Rock, you will be ready to have a hearty breakfast! With over 40 years of experience, this cafe serves the best breakfast in town. You are sure to find tasty coffeecakes, sweet potato muffins, cobblers, and a homemade blue-raspberry sauce. But that is just the beginning! People literally stand in line to enjoy the lemony hollandaise sauce and perfectly cooked eggs in the eggs benedict platter with a made-from-scratch Bloody Mary's! Everything here can be adapted for vegan and vegetarians, so if that is you, you have no worries here!
11:30 AM Golf at the Resort at Squaw Creek Golf Course
After breakfast, it is tee time, so drive on over to the Resort at Squaw Creek Golf Course! Golf is a calming sport to engage in while visiting North Lake Tahoe. Although the Resort at Squaw Creek golf course is closed during the winter, I found it to be open for this pre-winter itinerary in North Lake Tahoe. They say the spring and summer months are perfect times to enjoy tee times. With four sets of tee times available, all are perfect for the family golfer to the pro-golfer. Renowned golf course architect Robert Trent Jones, Jr. designed this gorgeous golf resort in an environment of natural wetlands and a habitat of wildlife. It blends well into the mountain terrain.
And since it is surrounded by six majestic Sierra peak mountains at the base of Squaw Valley, it is the perfect place to enjoy a bit of shopping.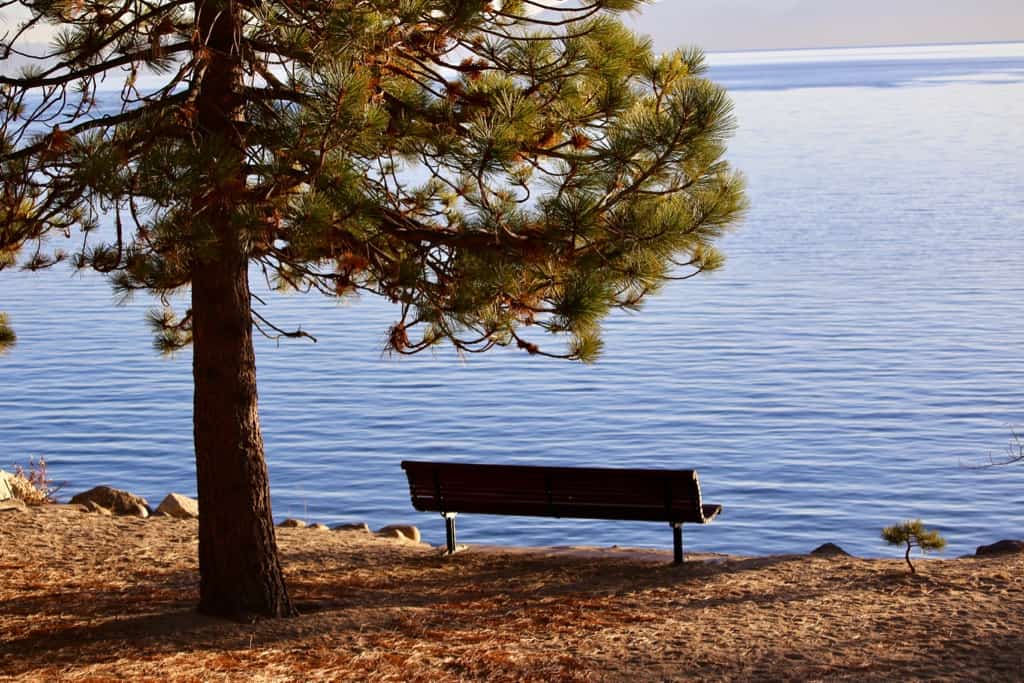 1:15 PM Shopping at The Village at Squaw Valley
While you are in the neighborhood, you might as well check out the shopping at the Village of Squaw Valley. Some might say that shopping is a woman's best friend and I would bet that it's probably true. At the Village at Squaw Valley, boutique shops are lined up and are ready to welcome you with open arms (or wallets). Some of the shops you will find here are Gallery Keoki, Estelle Sports, Oakley, and Patagonia. Grab a lunch around here while you are at it.
*Commons Beach is Worth a Visit
On your way back to your hotel, stop by Commons Beach. This four-acre beach is home to many free Summer concerts and a large barbecue area. It is family-friendly. If you are in the mood to relax and enjoy the fresh air, then Commons Beach is the spot to be from what a local waiter told me. He said he loves it even more in the summer, but I thought it looked like a great place to hang out anytime! It was just a bit cold for my liking on this 72-hour itinerary in the prewinter!
Go back to the hotel and rest up from all that exercise!
7 PM Pioneer Cocktail Club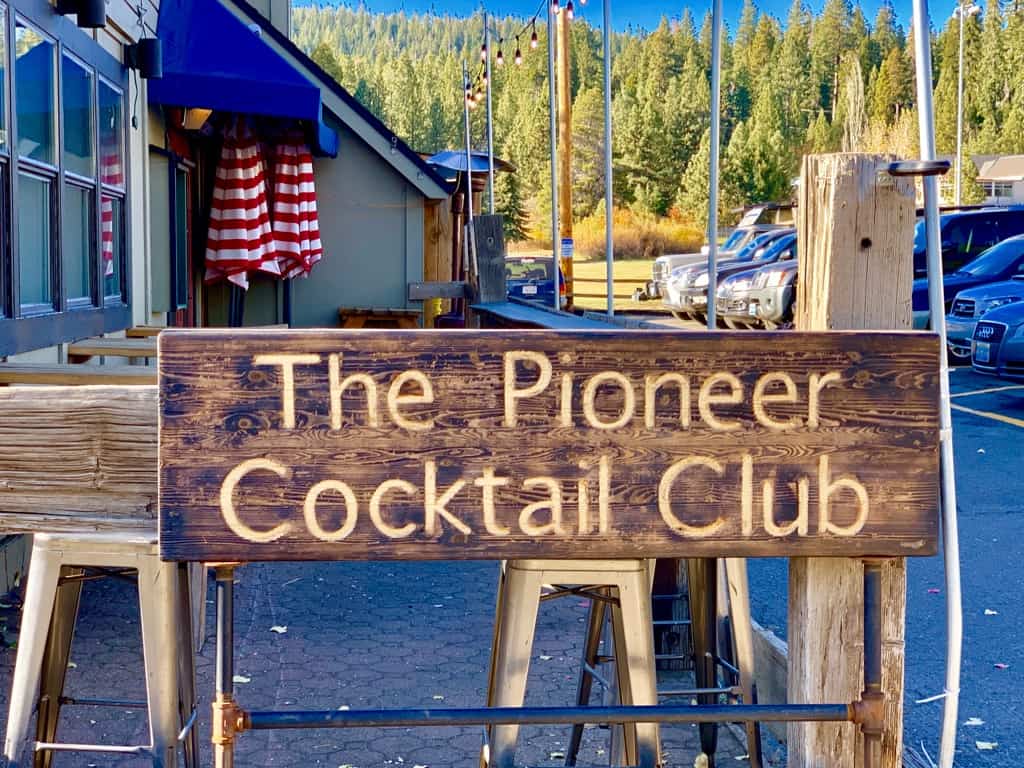 Enjoy a late-night drink and snack at a new and upcoming restaurant. You can choose from beers on tap such as Alibi IPA or go for a tastier concoction such as a Honey Blonde Ale, a Heretic "Make America Juicy Again" Hazy IPA or a Fumo de Tigre. They have plenty of libations and thirst quenchers to whet your appetite. As for me, I don't waste my tie on beer and went for the "Summer Ready" cocktail – with Tito's Vodka, Raspberry Fig Leaf Syrup, and tonic.
OR Visit:
7 PM Uncorked Tahoe City
Pre-dinner, enjoy a wine tasting experience at Uncorked Tahoe City, which features hundreds of California wine labels, plus provides a gorgeous boutique setting for you to enjoy.
8 PM Wolfdale's Cuisine Unique
Head on over to Wolfdale's Cuisine Unique just the finest dining in all of North Lake Tahoe in Tahoe City. It has been open for over 40 years and now sets the standard as a local institution! Of course, reservations are suggested at this high-end Lakeview restaurant, which starts serving dinner at 5:30 pm. I recommend starting your dinner at around 8 pm, so you can have time to have a drink at the bar before being seated!
Then enjoy an appetizer of seared bay scallops and the main course of either a parmesan petrale sole with truffle fries and asiago cheese or a double thick Durham Ranch filet mignon with demi-glace, mushrooms, and butternut mashed potatoes! You won't be sorry you ordered this! And you will soon see why this restaurant has endured so many decades as the ingredients are top-notched and locally sourced when possible, the food is phenomenal, and the service I was provided the night I went was outstanding,
The Master Chef Douglas Dale worked as a ceramic artist before becoming a professional chef who was trained in Japan (which must be why he sent out a few Asian delights dishes before I ate my main meal!). Chef Douglas Dale thinks about all aspects of the guest's experience in fine dining, even down to the plates that he designed in partnership with a ceramicist in Ohio. He has thought of everything over the years!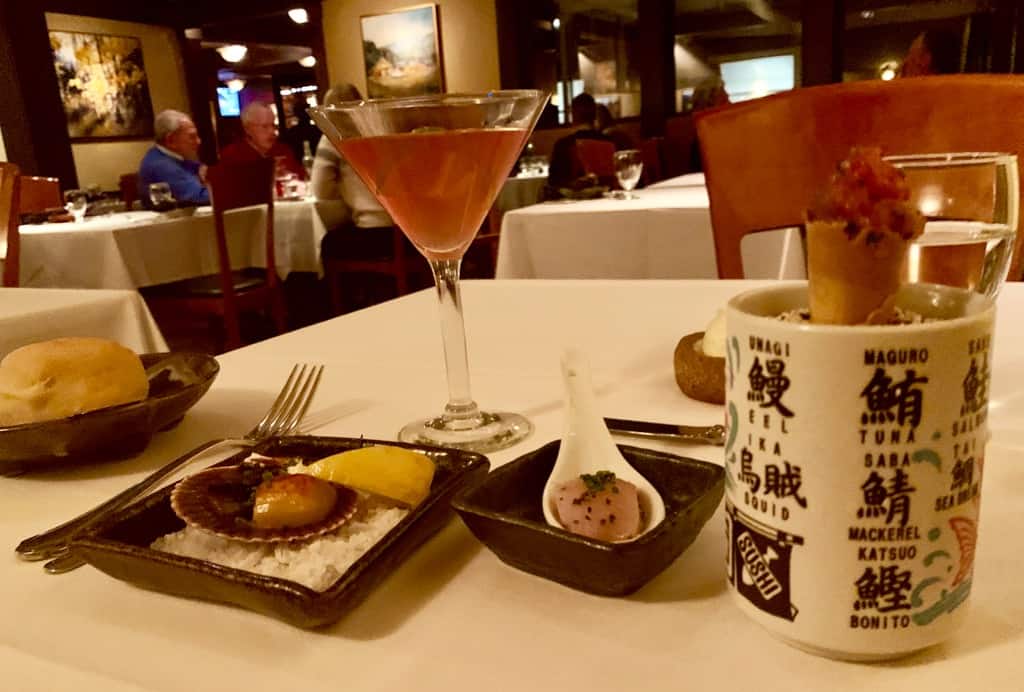 WOLFDALE'S CUISINE UNIQUE TAHOE CITY
640 North Lake Boulevard
Tahoe City, CA 96145
---
Day 3 Drive To The Incline Village
9:00 AM: Enjoy your complimentary breakfast delivered to your room at West Shore Cafe and Inn!
This hotel speaks to those you are looking to relax, unwind, and enjoy a peaceful vacation. Guests can enjoy a trip to the local spa, fitness center, Jacuzzi and/or swimming pools (indoor and outdoor). Free Wi-Fi is available, as well as dry cleaning, valet, or self-parking. They have it all, they even have "cash and carry" foodservice inside the hotel for a quick snack or to-go lunch.
11:00 AM: Lone Eagle Grille (Hyatt's Beachfront restaurant)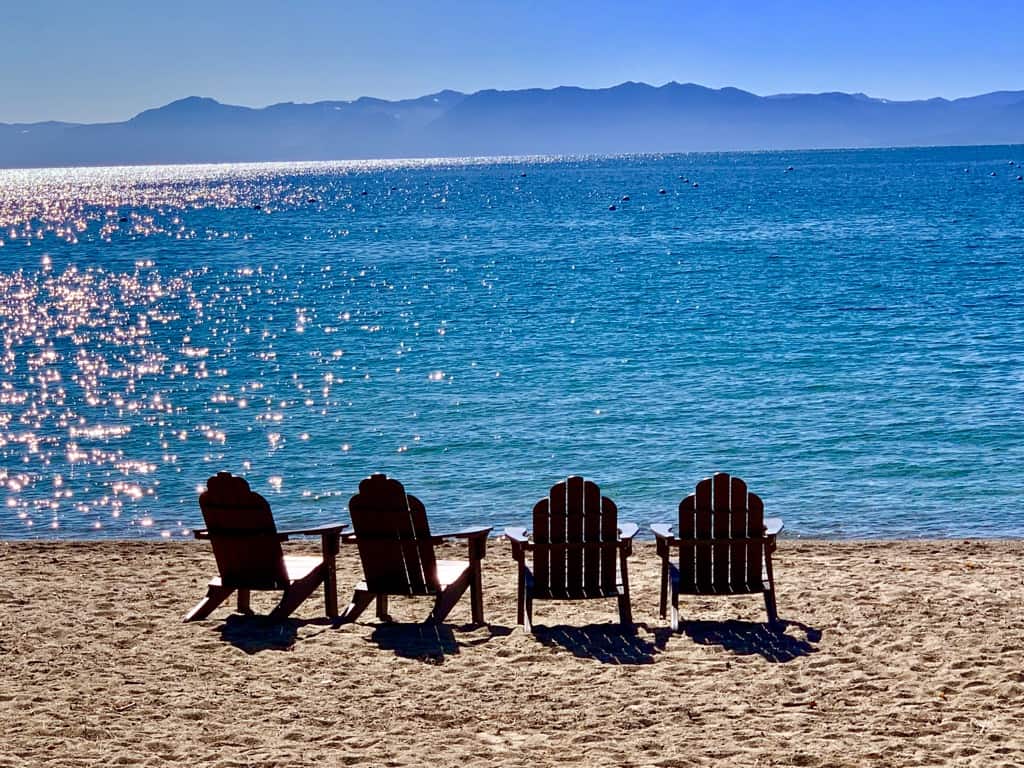 This quaint private beachfront restaurant was perfect for my lunch prior to my spa treatment. I had a chance to enjoy the view and lunch at this luxury restaurant. It was exquisite! Its view looks out on to their private beach with Adirondack chairs. The views of the Lake from here are gorgeous! A late-dinner is also a wonderful time to visit because you can choose tasty meals and drinks from the lounge menu such as Seared La Belle Farm Foie Gras, and a Pear Martini!
1:00 PM: Do the "Aroma Wellness Journey" Spa Experience at Hyatt Regency
I did get a chance to do other enjoyable things in Lake Tahoe, and in fact, it is probably one of my favorite things to do on a trip: SPA! The Hyatt Stillwater Spa and Salon at the Hyatt Regency – Lake Tahoe Resort in Incline Village is an exemplary way to showcase luxury travel and wellness. It is a little further up the road from Tahoe City, but well worth the drive.
Guests can enjoy a Moor Mud wrap, Lake Tahoe Stone massage, or a Luminous Vitamin C facial, but I was blessed with having the Aroma Wellness Journey that included a mix of essential oils, a foot bath, and then a massage with the oils that helped me destress. All of these treatments and more are a welcoming treat as you relax at this luxury hotel. I had enough time afterward to enjoy the steam, sauna and the outdoor jacuzzi!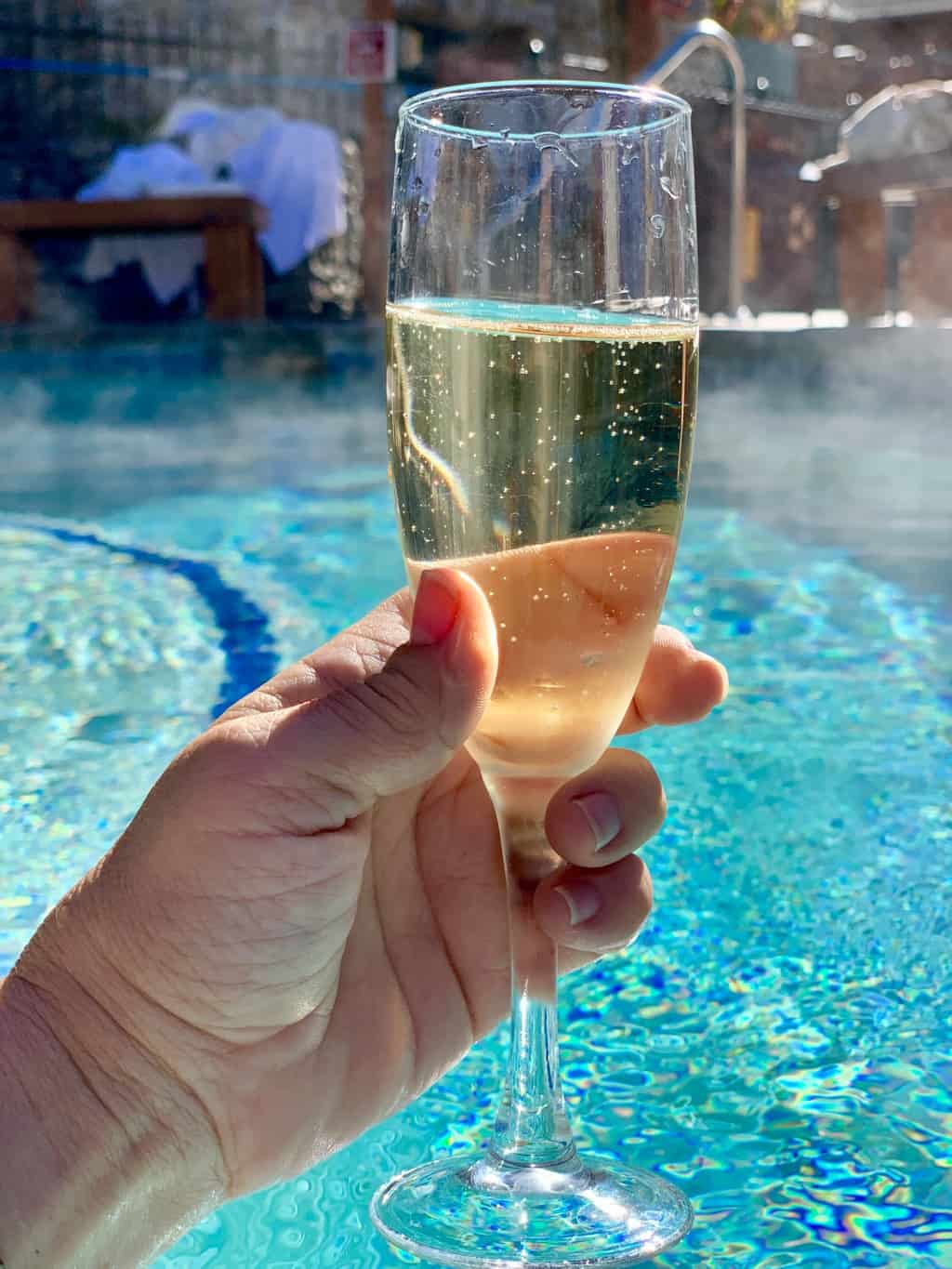 Well, there you have it. North Lake Tahoe is a great place for relaxation and exploration These lists have got you covered from the best things to do, places to eat/drink and lodging areas. Now, it is up to you to decide where you want to go and when!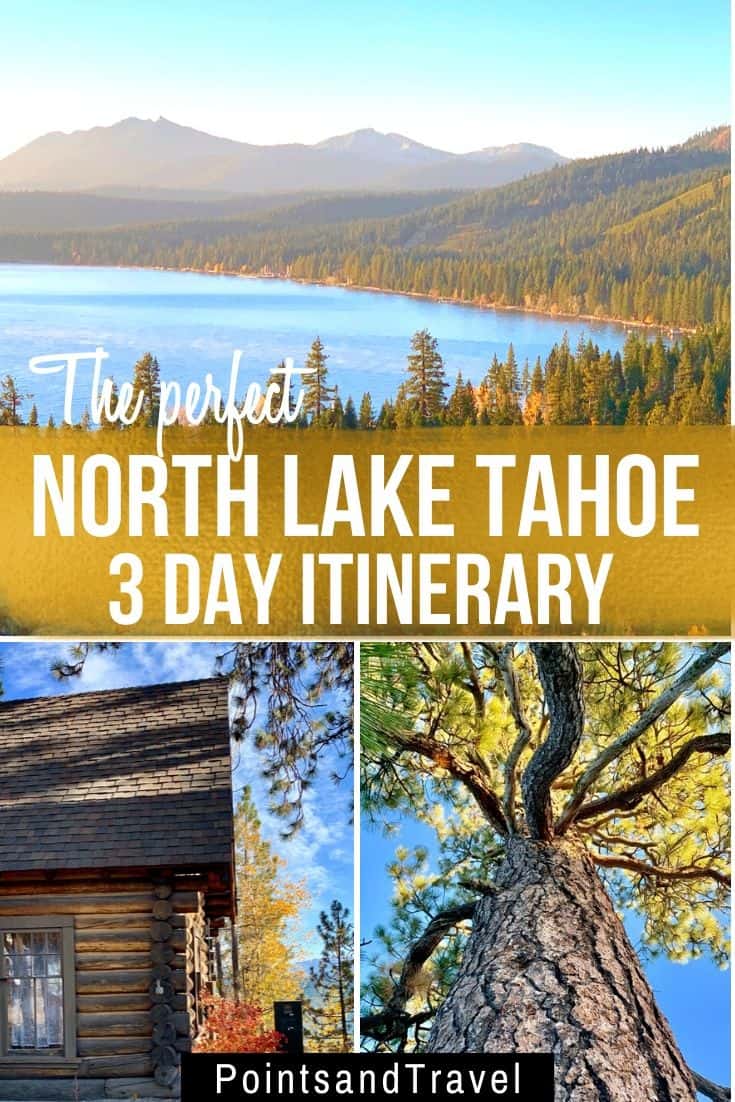 Disclosure: As is common in the travel industry, Dr. Maloney was provided with accommodations, meals, and other compensation for the purposes of review for this article by the North Lake Tahoe Tourism Board. While it has not influenced her review, PointsandTravel.com believes in full disclosure of all potential conflicts of interest. All Photos are by the author or are mentioned below the photo. There may be affiliate links in this article.