By Cacinda Maloney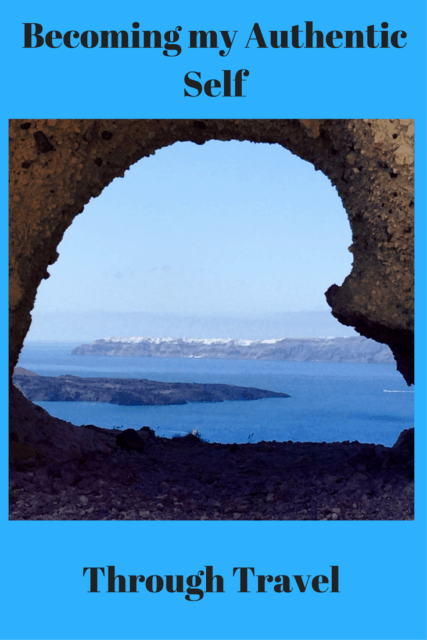 I arrived late last night, 24 hours after leaving Rome to make it to my final destination, which was the USA.  I was thrilled to see my family, as 32 days without them was quite a long time for any family and mine was no exception.
Anxiously awaiting my luggage at the airport, I reminisced with my son about the great time I had on my 32-day journey across Europe and caught up fast about things going on at home.  However, after a full 3 or 4-hour barrage of catching up with the family, I realized something.
Reflection: Traveling To Become My Authentic Self
Americans are workaholics.
They are a "do" society.  And I am not immune to this, even when leaving the States for over a month.
Here is me catching up on what my workaholic husband did while I was gone:
Took our oldest son on a college visit weekend
Made serious emotional decisions about ours son's college
Re-upholstered 6 dining chairs in the kitchen with leather, himself
Did a pool remodel (with 5 quotes, meeting each person personally)
Bought 2 giant and 2 small throw rugs for the great room
Bought 6 pillows for the great room sofa
Had the captain's chairs for the pool re-upholstered
Bought a new flat screen TV for my office with speakers and set it up (even though I told him I don't watch TV anymore)
Bought 5 new outdoor fans for the patio and had them installed with help
Bought 2 new outdoor umbrellas, new pool toys, 2 new outdoor chairs and 1 outdoor rug for the pool area
Bought and installed 4 outdoor pull-down window shades
Bought 4 outdoor mats
Bought and installed a new shower head for the kid's bathroom
Had his car taken to the shop for a windshield replacement
Dealt with the accountant for the taxes
Did the required FASFA for our son's college
Dealt with the insurance company regarding an accident our son was involved in
Ran a highly successful Chiropractic Clinic 5 days a week for all four weeks, without missing a single day (actually he has only missed one day of work in 19 years).
Did his regular scheduled weekly 1-hour radio show for the clinic
Remembered to buy me a beautiful Mother's Day plant
Reflection: Traveling To Become My Authentic Self
The point is, he was exhausted by the time I came home and so excited to see me (and I imagine needed to get a little relief from all the work) and probably some recognition for all the work he had done.  After telling me how tired he was, I looked at him and said,
 "I believe at the end of the day, you need to look back at what life is all about and realize what really matters "
Which he replied:
" Wow, being away in Europe for a month sure did give you that European perspective about family, friends, food and living!"
In 32 days, I, on the other hand, had visited 3 countries, 15 cities via planes, trains, yachts, buses, vans, cars, and taxis meeting more than 50 new people on a journey throughout Europe.  Some might say that I am a workaholic when it comes to travel, but I say it is a passion.
Each of us has to learn our own life lessons and for me, this journey was to remind me what is important in life.  To see the way Europeans live, and eat and socialize was such a reminder of the way I want to live my life.
I no longer care if you like my house, my possessions, or me.  If you were going to like me, you already would have and if you thought my house was beautiful before, you should see it now.
I care more about the condition of my soul at this time in my life than the condition of my possessions.
Reflection: Traveling To Become My Authentic Self
I wanted to write this quick post, as a reminder to myself what is important in life:  God, family, friends and really living in the moment.  Food, fun, and family, not just doing a "to do list" day in and day out, not even a travel one.
I don't want to go back to that workaholic life because at the end of life, you die and you have nothing to show for it.  I want to die, knowing that I am loved by my family and friends and that even though I was once on that workaholic path, I am making conscious decisions in my life to get out of the rat race, become less materialistic and to live in the moment as my authentic self.
Thank you to those who have encouraged me to do so, I appreciate the support I have received along the way.  Even though my husband is not quite there yet, one day, I hope he makes it.  Soon, I think he will stand up and take notice, as living the example may be the only way he can understand.