Ruidoso New Mexico is a great escape for an outdoor adventure-filled vacation that not that many people know about outside of the state of New Mexico (I call this "unique and off-the-beaten-path"). This makes it more pristine and less crowded, so for me, that makes it an even more desirable place to visit! Discovering it tucked away in the Sacramento Mountains of New Mexico will be one great adventure for you and your family, as Ruidoso is the perfect getaway with picturesque mountain views for days. Located directly next to the Lincoln National Forest, it is THE place for the city dwellers that are ready to get out of traffic jams and the city heat. A trip to Ruidoso New Mexico is also an absolute must for anyone from around the world. As it doesn't matter if you speak English, Spanish, or Japanese, the people of Ruidoso are extremely welcoming. So get out a map and figure out where Ruidoso, Mexico is and soon enough, you will be on an outdoor adventure of your dreams. Better yet, I will show you where it is, where to stay, and what to do when you get there, so continue to read on.
Ruidoso New Mexico: Where is it located?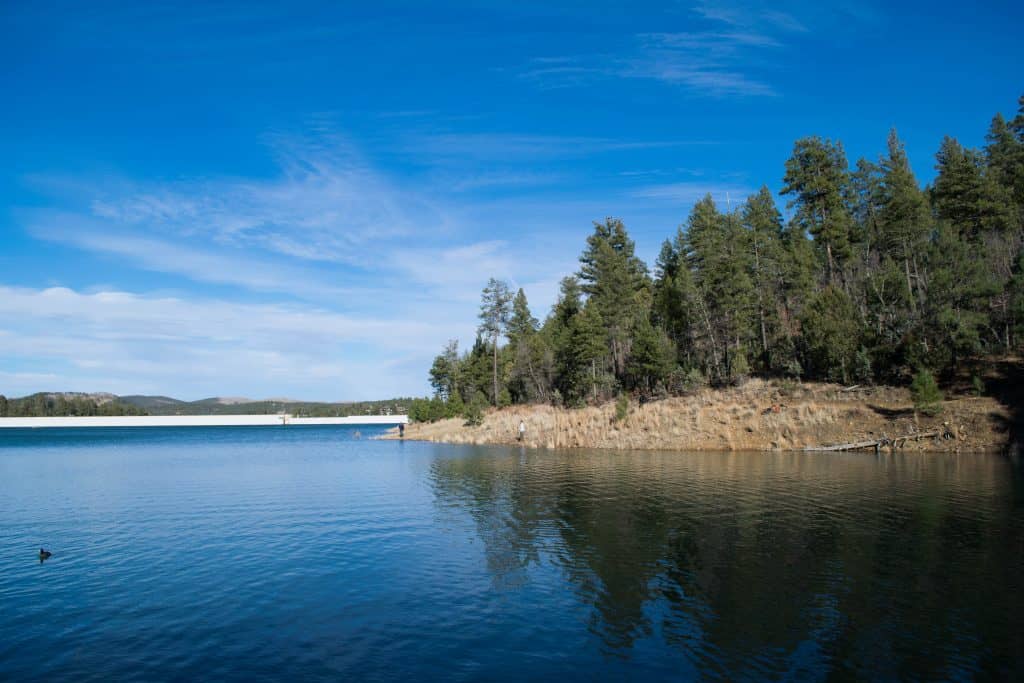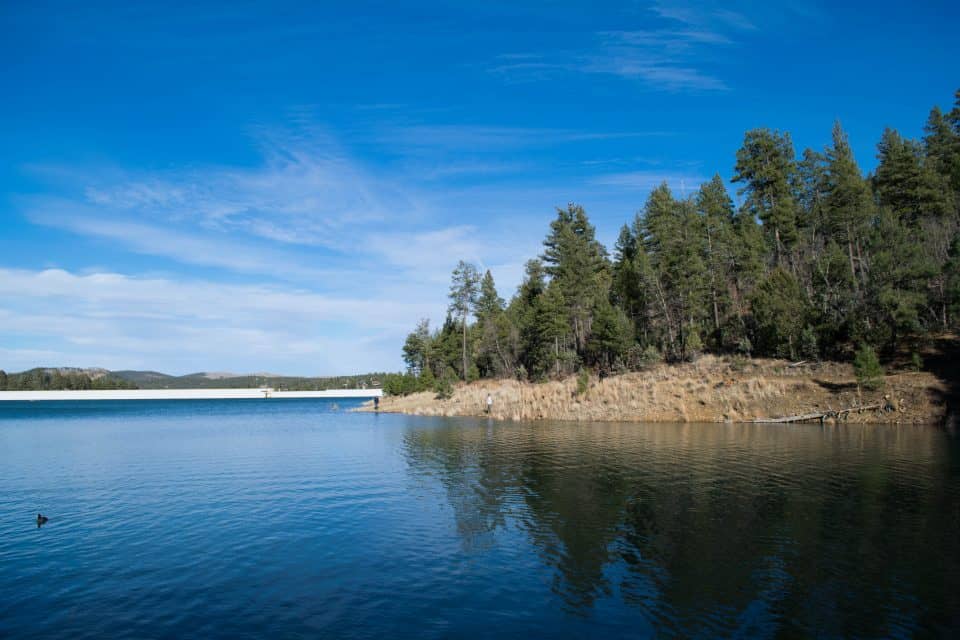 Ruidoso was first settled by the Mescalero Apache Indians and in Spanish means "noisy" or Rio Ruidoso "noisy river". Ruidoso, New Mexico is located in the county of Lincoln in the state of New Mexico, in the Southwest of the USA. The closest airport to Ruidoso is the Sierra Blanca Regional Airport, which is situated roughly 15 miles northeast of the city. For those of you who are road trippers, Ruidoso, NM is easy to access by U.S. Route 70, NM 37, and NM 48. In New Mexico, it is an hours drive to the White Sand Monument National Park, three hours from Albuquerque, and an hour to Roswell. The total square miles of the town is roughly 15, including land and water. Although the population is a little scarce, roughly 8,000 people, the hospitality that guests receive is first-rate. I can't say enough about how friendly these local townspeople are.
Things to do in Ruidoso New Mexico
There are many diverse things to do in Ruidoso, New Mexico while visiting this area of the Southwest United States. Whether it snows, rains, or shines, the town of Ruidoso can adapt to any climate and there are plenty of daring activities for you to do. You can hike in the National Forest, which allows you to see mountain views every day. You could go horseback riding, fly-fishing, and even mountain-climbing within the Lincoln National Forest. Ruidoso is known for its mountain biking and fly-fishing locally but is really one of their best-kept secrets. Other active things that visitors can take a stab at are skiing in the winter and ziplining in the summer.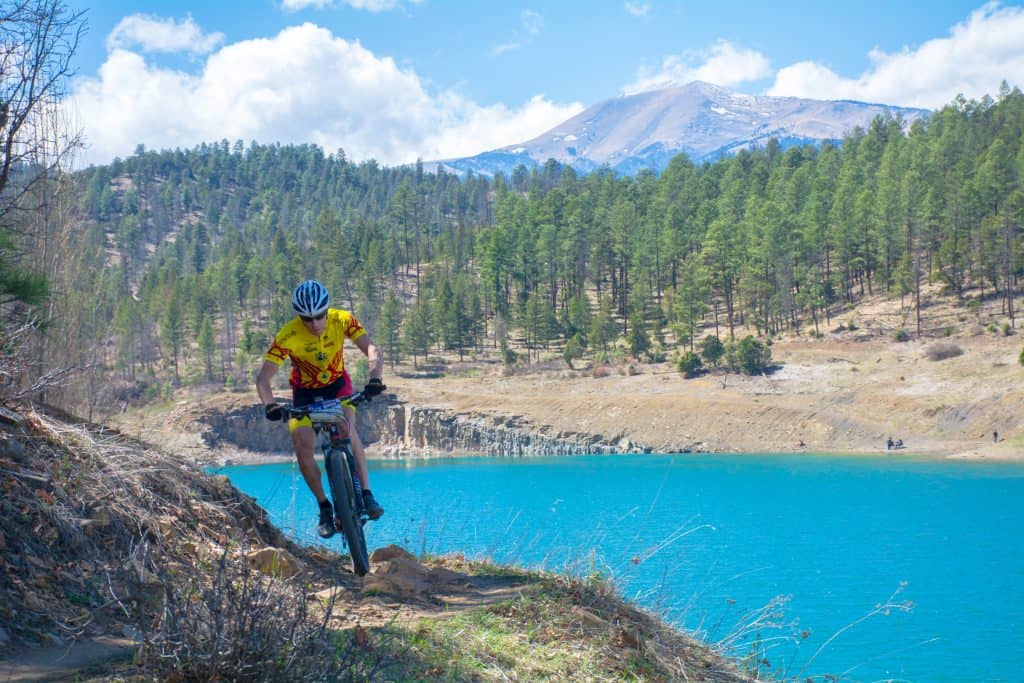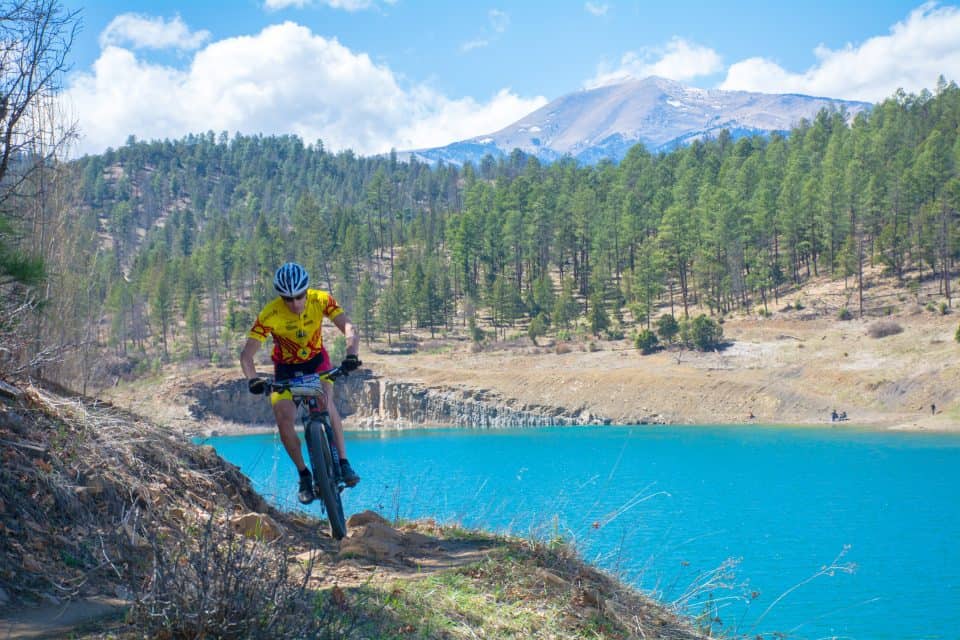 There are so many things to do in Ruidoso that it would be impossible to cram everything into one trip, so you will have to come back for more. Let's take a look at some of the activities previously mentioned:
Ruidoso New Mexico: Can I go skiing? YES!
The first ski area and resort in Ruidoso was built in 1938 is known as Ski Apache. The spectacular mountain views of the Sierra Blanca along with the Sacramento Mountains are a crowd-pleaser for everyone! During the winter months, skiing is the all-time favorite sport to engage in. Skiing, as well as snowboarding, snowmobiling, tubing, and a horse-drawn sleigh ride are other options in the winter.
Ruidoso New Mexico: But What about the Summer Months?
With over 41 miles of trails within 5 minutes of Ruidoso's midtown shopping district, a mountain biker or hiker has immediate access to Ruidoso's trail systems. The Ski Apache also allows for Spring and Summer activities like gondola rides and mountain biking. Who needs to head to Venice, Italy for a gondola ride when you've got Ski Apache in Ruidoso? Obviously, these two gondola rides are different, but you know what I mean! The Ski Apache serves as the gondola ride to the top of the mountains. Believe me, you won't regret going to the top of the mountain for the best viewing spots.
A true adventurer would not shutter at the thought of zip-lining. Ruidoso's Apache Eagle Ziprider allows for a great time! A view of the stunning mountains and sparkling Lake Mescalero is just what every zipliner hopes to see on their high-flying journey! It is located at the Inn of the Mountain Gods.
You can also swim, kayak or fish in the many alpine lakes in the area. You can go to Grindstone Lake, Alto Lake, and Mescalero Lake. It seems there are endless water-related things to do in Ruidoso, New Mexico.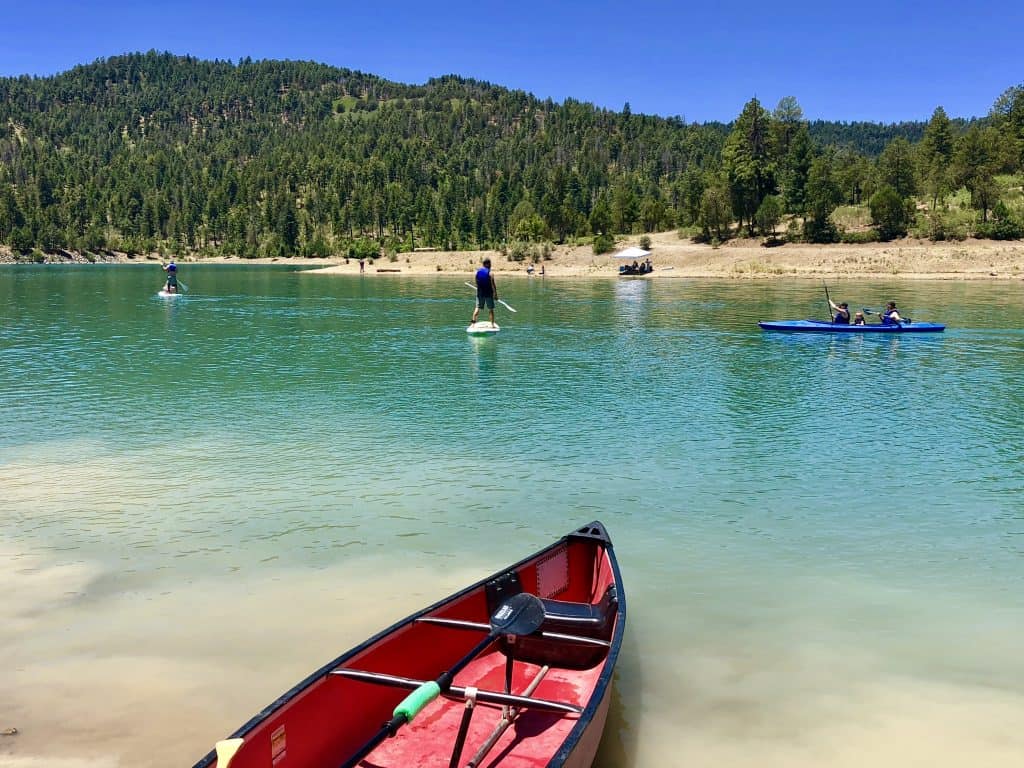 Ruidoso New Mexico: What about Festivals and Theaters?
A trip to the Ruidoso Art and Wine Festival is a must! Be sure to coordinate your trip to come during the summer months of so that you can come during the festivals. Don't forget also about the Cowboy Symposium. A live performance at the Spencer Theater of Performing Arts is awesome as well.
Ruidoso New Mexico: How about Flying J Ranch?
Want to get in the western cowboy or cowgirl culture? At the Flying J Ranch, you can do just that complete with a live gunfight, chuck wagon dinner, and there is even a sheriff in town! The kiddos can ride ponies, rope cattle, and go inside Indian teepees. The Flying J Western Show is action-packed with world-class yodeling, fiddling, guitar and banjo picking, and even a comedy act, so there is something here for everyone.
Ruidoso New Mexico: Ruidoso Downs Race Track
And don't forget about a tour of the Ruidoso Downs Race Track. If you are over 18, you can place your bet on your favorite horse at the Ruidoso Downs Race Track!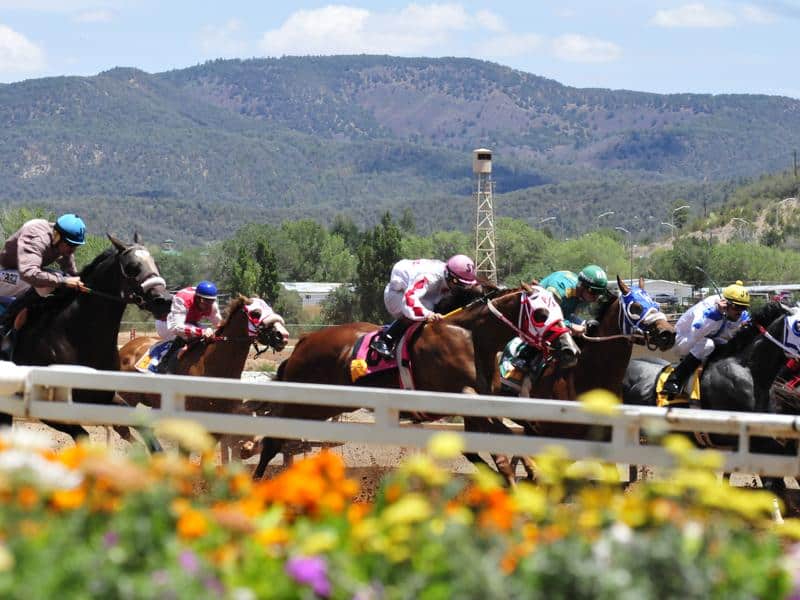 Ruidoso New Mexico: Where Should I Stay?
There are plenty of hotels and lodging options where visitors can relax and enjoy their Ruidoso vacation! Guests can choose to spend their vacation at bed and breakfasts, cabins, condos, hotels, motels, vacation rentals, and even RV parking!
Ruidoso Lodging: Bed and Breakfasts
Ruidoso, New Mexico lodging can begin at a bed and breakfast inn such as the Casa del Cocinero, Ellis Store Country Inn, or the Dolan House.
Ruidoso New Mexico: Ruidoso cabins
Renting a cabin, especially during the winter, is an amazing way to spend your vacation. Ruidoso is known for providing great overnight stays. One of the greatest things about staying at a Ruidoso cabin (or RV lodge) is that the fun comes to you and you do not have to seek it out, you are in it! I highly recommend this experience, plus you will have your own kitchen to do quick meal prep as well as many have their own gas grill and hot tub. Plus, many of the Ruidoso cabins are set up for families and have golf greens and horseshoe games to play with outside. Ruidoso NM cabins include places such as Apache Village Cabins, Bottlehouse Cabins, Canyon Creek Lodge, Cozy Bear, Escape Resort, Idle Hour, Mountain Air Cabins, Ruidoso Lodge Cabins, and Sierra Blanca cabins.
Even More Ruidoso cabins:
A stay at the Dan Dee Cabins or Noisy Water Lodge can guarantee that you are sharing in the town's history by sleeping in cabins that were built in the mid-late 1930's.
Ruidoso Lodging: Hotels and Motels:
 For those looking for a hotel/motel: check out the Comfort Inn, Best Western, and the Holiday Inn Express. Another popular place is also the Inn of the Mountain Gods. Owned by the Mescalero Apache Tribe, it is located a little over 7 miles from Ruidoso, New Mexico.
Ruidoso Lodging: Condo Rental:
For those looking for a condo or RV park, then check out these places: Condotel, Fairway Meadows Condos, Arrowhead Motel & RV Park, Along the River RV Park, and Pine Ridge Campground & RV Park. The Pine Ridge Campground and RV park allow guests to camp out, have a bonfire, and sing & dance under the night sky of Ruidoso.
There are more places to stay here.
Weird Facts of Interest about Ruidoso New Mexico:
Just like every city, Ruidoso is not without its interesting facts:
The actor Neil Patrick Harris, known for his role as Doogie Howser, M.D., grew up and spent most of his childhood in Ruidoso, NM.
Flash flooding on July 26-27, 2008 left the town of Ruidoso partially destroyed. The damage left behind by Hurricane Dolly in 2008 was not enough to break the spirits of the people of Ruidoso. Ruidoso townspeople picked up the broken pieces of their town and rebuilt a better and safer city for the world to see.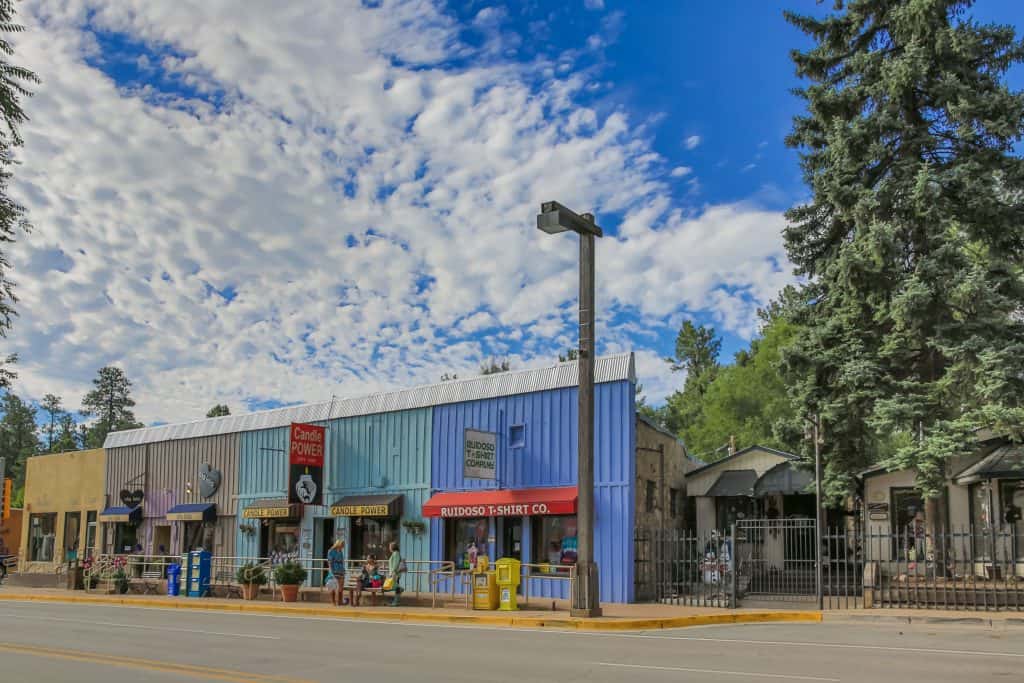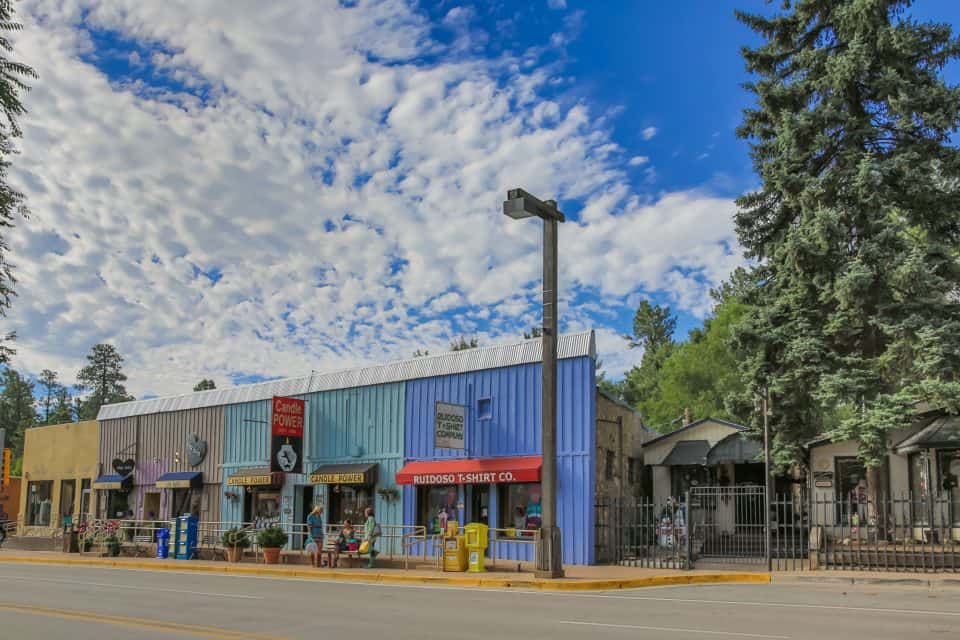 Ruidoso is a village that has been coming to life over the years and enticing people to visit for a slice of Ruidoso heaven. There is no doubt that Ruidoso is a fun, adventurous, and stunning place to bring your family. Why don't you give it a visit and try it out!
Disclosure: As is common in the travel industry, I was provided with compensation for the purpose of review by the Village of Ruidoso, New Mexico. While it has not influenced my review, PointsandTravel.com believes in full disclosure of all potential conflicts of interest. All Photos are from them.