Are you ready to escape? As many of you know, I just completed a breathtaking ebiking ride through Utah, visiting St. George, Snow Canyon, Dixie National Forest, Bryce Canyon, and ultimately Zion National Park. It was exhilarating and honestly, when I heard about this trip, I wasn't even sure I could do it physically. I mean, who can ride 25-45 miles a day on a bicycle and then hike 2-6 miles in the national parks? What was the terrain going to be like? How exhausted would I be?
---
What's in this post:
hide
Ebiking for Fun in Utah!
---
Well, rest assured, that if I can do it, you can do it too! I specialize in soft adventure and this one is right up my alley. Since the invention of ebiking, the reality of a bicycle trip through these magical lands has become true! My journey with Escape Adventures out of Las Vegas was challenging, fun, adventurous, and made me feel at one with nature. And who of you doesn't want to feel that?
Ebiking Tour with Escape Adventures
Escape Adventures has some great tours for an e-biking adventure and one of their central locations and starting points is in Las Vegas. Which seems like the perfect place to start (they also have locations in Moab, UT). From the Vegas location, in the months of May to September when the weather is just right, they have ebiking tours that can take you to St. George, Dixie National Forest, Bryce Canyon (with hiking down into the canyon), as well as to Zion National Park. Their tours go for 5-day and 7-day ebike tours. Many of the rides will be on a bike pathway and others are along the highway.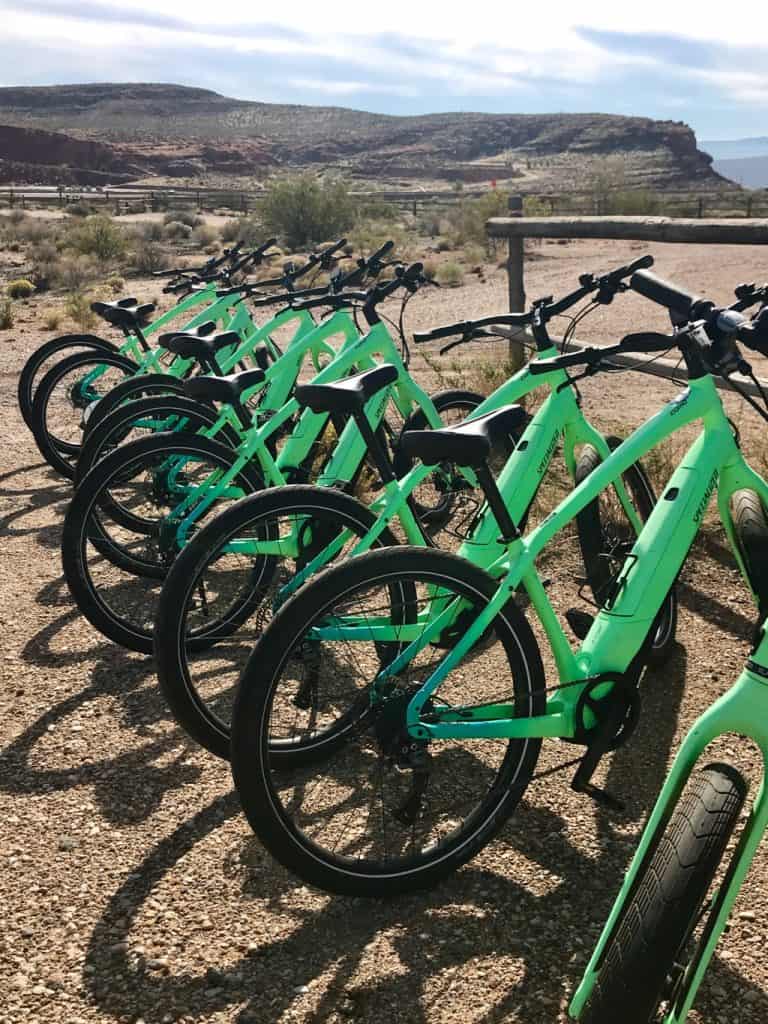 My abridged version of a five-day tour was a three-day mini trip. My group went ebiking for roughly 20-45 miles per day on the e-bikes and then hiked roughly 2-6 miles per day for 3 days. My ebiking tour included stunning views of both parks, meals prepared by the guides, and even a nighttime fire pit. In between hiking and e-biking, we stayed at small inns and hotels along the route.
The crew handled every aspect of the e-bike with regards to maintenance, loading, and unloading, so for that part, I am grateful! As my ebike did get a flat (which apparently is rare on their tours!) They were there to serve and help each participant along the way. And if you don't feel up to riding or your legs need a break from riding, you can always ride along in the van that follows the trip. I can't say enough about how accommodating these strong (and fun!) guides were.
What is Ebiking? Ebiking History
The "normal" bicycle as seen today comes in various sizes, mechanics, and speeds. The original bicycle was developed in 1817 in Germany. Over a period of 50 years, inventors and engineers thought of ways to improve the German bicycle. The bicycle was given many names such as velocipede, dandy horse (ha!), and human-powered vehicle. Oddly enough, I rode my first ebike in Germany on an excursion from a Viking River Cruise!
The 1860s brought the bicycle to life throughout many countries and the French gave the bicycle the name that we use today. Through the 20th century, the bicycle wave took over Europe but slowly declined in the USA. Heading into the 21st century, developers and inventors have searched for new ways to improve the bicycle. There have been added features and designs to mountain bikes, BMX bikes, racing bicycles, and cruising bikes. But the latest bike craze has been geared towards the ebike or electric bicycle.
E-biking Production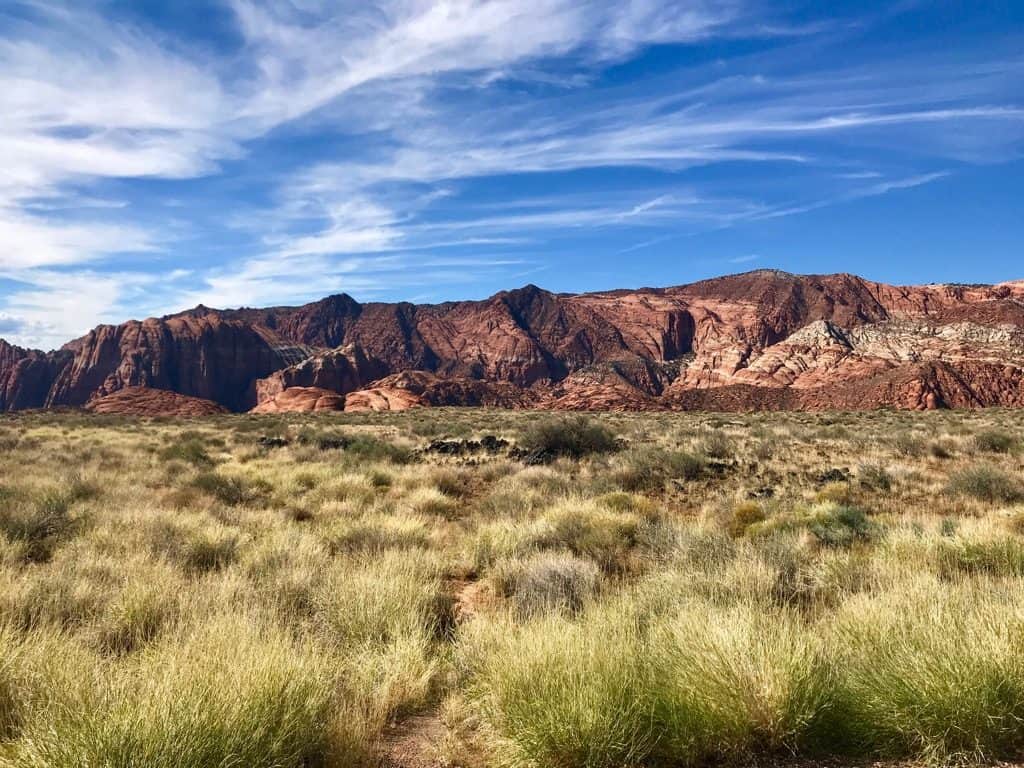 The electric bicycle, also known as an e-bike has grown in production and use since the early 21st century. The original concept of an e-bike was developed during the 1890s. The genius designs by Ogden Bolton Jr., Hosea W. Libbey, and Matthew J. Steffens during the late 19th century gave way for a new group of bike enthusiasts. Despite the designs for an e-bike, the concept did not gain momentum until more recently. Just like a car has different motors and speed limits, e-bikes work in a similar way. Depending on your style of cycling and the desired speed you wish to achieve, each type of e-bike is different.
Ebiking Craze hits Europe
More recently, the ebiking craze hit Europe like a ton of bricks. There are many ebiking tours through countries such as Germany, Netherlands, and Austria. It is important to understand that each country has its own set of rules as to the use of an ebike: the proper speed limit, age requirement, etc. As of 2016, the ebike craze has increased in size and production sales.
The countries with the largest ebiking records are the Netherlands, India, and now China. Bike booms or bike crazes have developed sporadically over the years with the latest one starting in 2008, around the time of the economic crisis around the world. I also recently rode an ebike from port to port while on a Crystal Cruise ship in Europe. Even as far back as four years ago, I was ebiking my way through Spain! So the craze has been going on for a while now.
What is the Classification of e-bikes?
Ebikes are classified by using the following definitions:
Ebikes with Pedelecs: Pedelec, also known as a pedal electric cycle, offers cyclists a smooth ride with the assistance of a powered motor. This motor increases to a relatively low speed. It can top out almost 16 miles per hour. This type of bicycle is the closest to the "normal" bicycle because it provides limited assistance via the pedelecs. These types of e-bikes have no other option than to be pedaled, as opposed to the throttle-based e-bikes.
Ebikes with S-Pedelecs: Although this form of e-bikes has a pedal-assisted powered motor, it has the potential to increase its speed past 16 miles per hour. This is the class of e-bike I used on my latest trip with Escape Adventures. I would say the e-bike I rode got up to about 25 miles per hour with peddle assist. Aside from the speed, the motor operates at close to 750 watts as opposed to the ebike with pedelecs which reaches only 250 watts.
Ebikes with power-on-demand: Similar to a scooter or moped, an ebike with power-on-demand also the cyclists to use the handlebars or grip to increase the speed of the ebike. Even though the ebike with power-on-demand has the ability to operate on throttle alone, it can still be used by only riding the pedals. Since this form of ebike is almost completely motorized, it can reach a speed of 20 miles per hour, without the assistance of pedelecs or human movement.
Ebikes with power-on-demand and pedal-assist: This form of ebike uses the pedal assist as well as the power-on-demand to work properly.
What should I bring with me e-biking?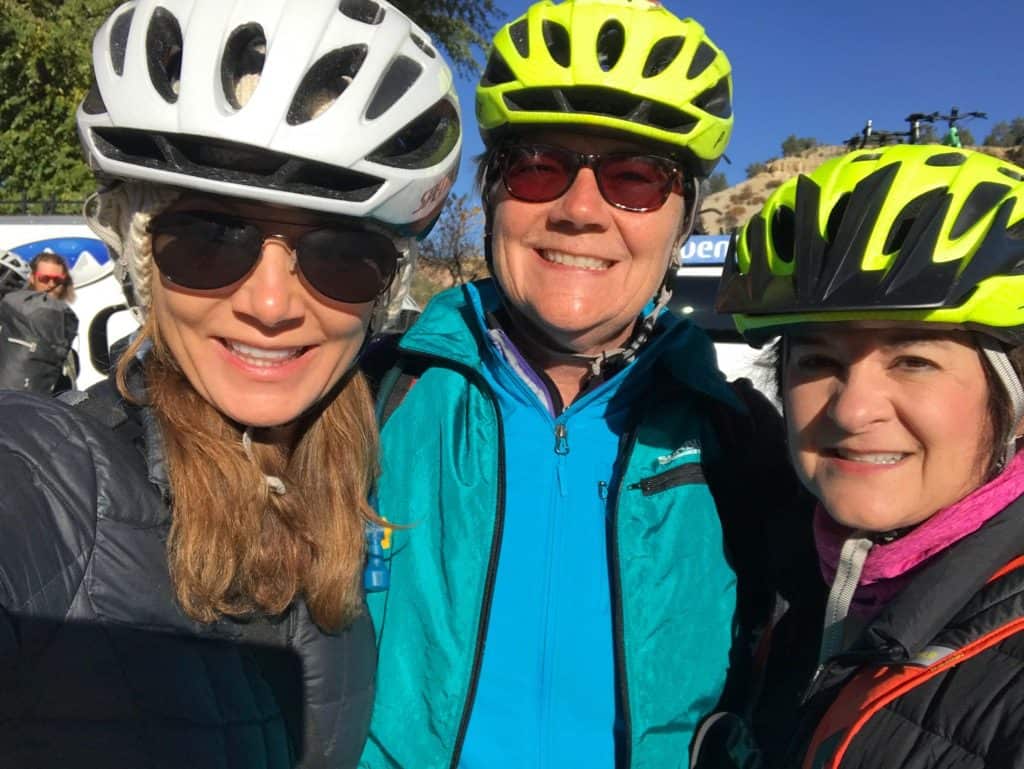 Whenever you go ebiking, you should always pack the necessities. A normal bike ride and e-bike ride do not require a completely different set of tools, but on a tour, they typically have all the things needed to fix your ebike with them.
The most important item to bring with you, of course, is water, either make sure you have a CamelBak branded backpack filled with water or a squirt bottle. Other essential items to pack for an ebiking adventure are:
Friends! It is always more enjoyable to e-bike with friends!
A cell phone and a portable/battery-operated charger
Protein snacks
First aid kit
Proper protection gear – sunglasses, riding gloves, neck (wind) guard
Helmet – Wear a helmet, as well as hand protectors (gloves). I read that helmets reduce the odds of a head injury by almost 50% and the odds of a head or neck injury by 33%. Just do it!
Sunscreen
Light and breathable clothing. Do not wear baggy clothing that could get caught in the bike chain. Wear reflective clothing if possible so that you are visible by passing cars and motorcycles.
Be sure to wear proper shoes!
As mentioned before, bring water!
Is riding an electric bike good exercise?
Without a doubt! YES! I just completed an ebiking tour and after three days, my legs were sore from all the riding! But it was that good sore that you get from all that exercise!
Ebiking Health Benefits
Ebikes are a great form of exercise for almost everyone. One of the health benefits of ebiking is the reduction of heart disease, which is a major problem in the USA. Similar to stationary bikes, the e-bike allows people to have assistance while pedaling but also take in some fresh air as opposed to sitting in a stinky gym.
For those who have had trouble losing weight like me, you can count on the ebike for assistance in that department. An easy ride with an ebike can help burn calories and increase the mobility of many people. By ebiking, you are bound to shed some pounds and add to a healthy lifestyle. Plus don't forget the USA Government recommends that we get at least two and a half hours of moderate-intensity aerobic exercise – or one hour and 15 minutes of vigorous-intensity aerobic exercise – per week.
Should I buy an ebike?
If you are looking for great exercise, want to get outside, and think that is a mode of transportation that might inspire you to exercise, then I say yes! In fact, after my first experience on an e-bike tour in Europe, I requested for my birthday (which happened to be the next month) from my husband to buy me an ebike! Since we didn't know that much about what type of e-bikes to buy at the time and, of course, I wasn't sure I was really going to ride it, I asked for a basic and cheaper model!
He bought me this one on Amazon by Ancheer and I have been very happy with it! Now, of course, the price will go up from there as the quality of the ebike goes up. On average, an e-bike costs $500-$800 for a basic ebike. Of course, there are more expensive bikes, but just trying to give you an average price. The e-bikes we rode with Escape Adventures retail for $2500.
Ebiking and the Environment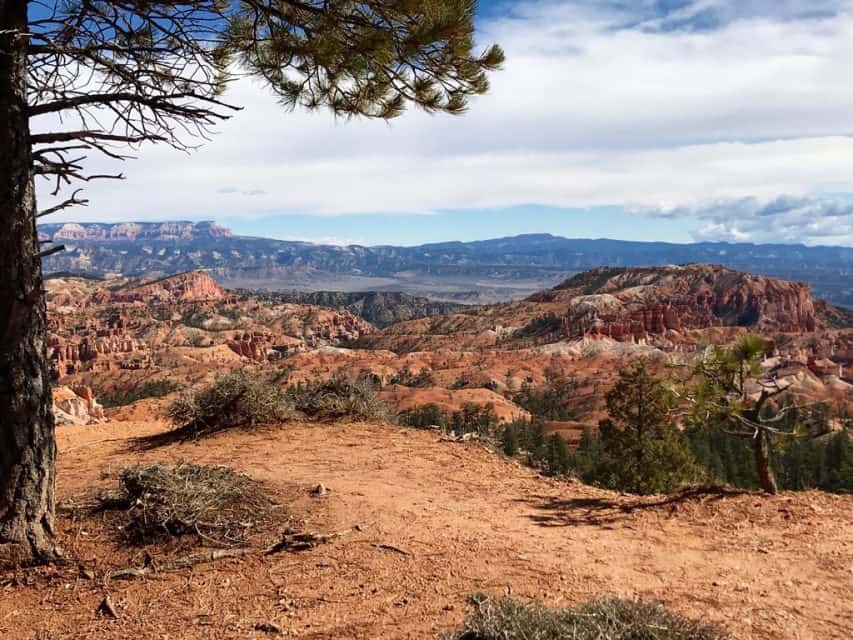 People want to use an ebike not only for its health benefits but also because of its effect on the environment. An ebike is less likely to add to the pollution problems that exist worldwide. The energy efficiency of a sedan is 13 times worse than that of an ebike. For those of you who own an SUV, put it away when you can and take out the ebike. The use of an ebike is 18 times more energy-efficient than if you were to drive an SUV. Keep these numbers in mind next time you ride around in the car. Aside from these factors, the safety records for ebiking has been quite remarkable. There appears to be fewer traffic incidents and decreasing fatal accidents by increasing the use of ebiking.
Are E-bikes Safe?
I would say they are safe. Now obviously, you have to take safety precautions and follow all rules of the road like a traditional bicycle rider. I would also suggest that you wear reflective clothing or bright-colored clothing so that you can be seen from a passing automobile. However, as far as the safety of the e-bike itself, when you pull on the brake, the motor will automatically stop spinning. This means that e-bikes have a better braking system than traditional bikes. You also have the ability to accelerate more quickly on an e-bike than a traditional bike. I found that this rapid acceleration was important to get my e-bike through intersections on the road more quickly. So overall I would say they are basically safe.
Can I ride an ebike everywhere?
No, you can't. Technology is changing and it takes a while for places (the USA Government) to catch up with what is going on in the biking industry. We were able to ride our bikes up to the entrance of both Bryce Canyon and Zion National Park. Zion National Park has a ban on ebiking within the park itself, but Bryce Canyon allows for ebiking for individuals, just not with groups. For the latest information on ebiking within national forest lands, visit here. For me, one of the places I enjoyed riding the ebike the most was the riding path at St. George in Utah.
Ebiking Wrap UP
So, whether you are heading on a special ebiking tour in the USA or Europe, OR choosing a leisure ride around a local park, riding an ebike is the way to go. The excitement of feeling the wind in your hair and observing wonderful sceneries should be enough to get you on a bike path.
---
Make your next adventure an ebiking tour of the world!
---
Want to go on Other Adventures in the USA?
The Ultimate Guide to Horseshoe Bend
Ruidoso NM: The Ultimate Guide to Outdoor Adventure
American Attractions on Your Next USA Road Trip!
Antelope Canyon – The Ultimate Guide
Disclosure: As is common in the travel industry, I was provided with accommodations, meals, and other compensation for the purposes of review by Escape Adventures and its PR agency. While it has not influenced my review, PointsandTravel.com believes in full disclosure of all potential conflicts of interest. All Photos were taken by the author/or were given permission from the photographer. Affiliate links may be located in this article.