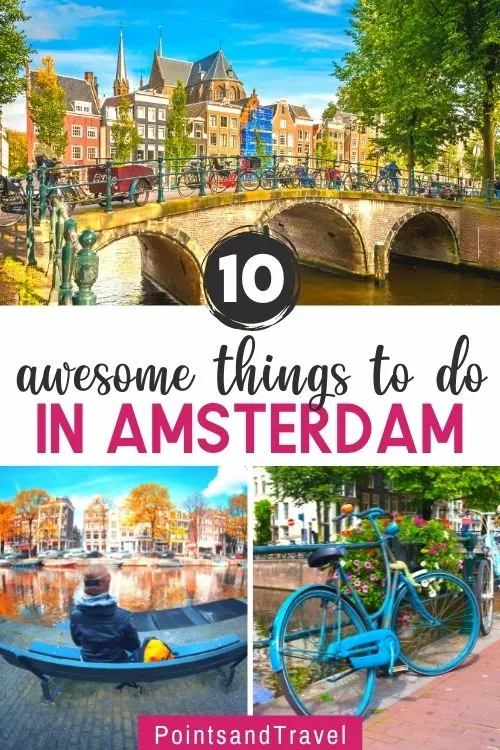 From its world-class art museums to its floating flower markets, the city of Amsterdam is reinventing itself from its hedonistic side to now focusing on its rich artistic heritage. Culturally, it's one of Europe's most diverse and eclectic destinations. With its fascinating history that spans seven centuries, today it is a charming mix of shopping, museums, coffee houses, restaurants, and flower markets.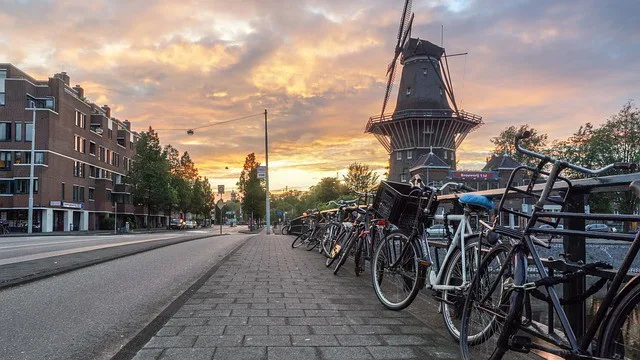 I put together this list of Amsterdam points of interest for first-time visitors so that you will not miss a single thing. You can pedal your way through the city on a bicycle (where you will find utterly hundreds of them parked on every bridge) or walk on foot and use the well-equipped tram system. This vibrant city will give you plenty of things to do, see, and eat the next time you are here.
So here are my recommendations for Amsterdam for first-timers:
Amsterdam Points of Interests
Rent a Holiday Apartment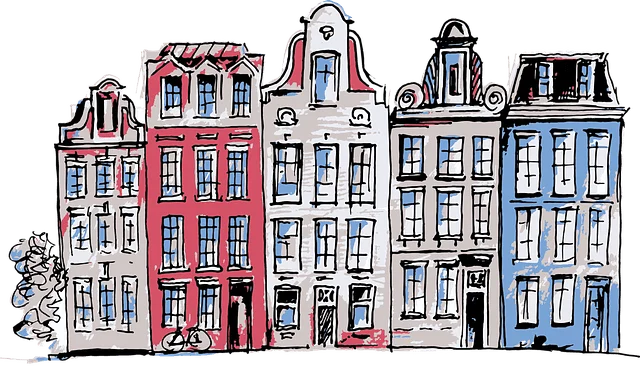 When traveling with family, it is always better to get a house or apartment than to spend the money on multiple rooms in a hotel. Amsterdam has plenty of apartment choices for your family. You should think about renting an apartment in the Centrum Neighborhood of Amsterdam as that will be the best base for you guys to have the most fun on your trip. You will be surprised at how much "value" you will get out of staying in a home or apartment instead of a hotel with multiple rooms. Although, I have given you a few options for both, so keep reading.
Stay on a Houseboat!
An original way to enjoy Amsterdam is to stay on one of the city's houseboats and here, once again, you can get value for your money spent. Take a look at HouseboatRental.Amsterdam, where you can peruse their website for a large selection of houseboats all over the city. Maybe it is not a complete luxury, but it could be fun for a family with kids!
Make A Reservation for a Delightful Dinner
Combining the flavors of French and Dutch at Gouden Reael, you will be grateful I suggested this tasty and authentic restaurant. I was lucky enough to hear about this little gem in the city that is owned by a husband-wife team. It appears that mostly locals hang out here, as it is a bit off the beaten track for tourists, but it is well worth the cab or tram ride.
The food is mouthwatering and the service impeccable, as well as the ambiance that makes this such a special experience while in Amsterdam. And if that is not enough for you, I have a full article on eating Amsterdam right here for you!
Visit a Small Island for Dinner: Vuurtoreneiland!
For a unique dining experience, there is nothing like Vuurtoreneiland. It is located on a small island in the IJmeer (a "bordering lake"), where a boat ride takes you to eat a five-course meal out in nature! It is just off the coast of Durgerdam. On the island is an old lighthouse and an abandoned fort, but you will be eating in a greenhouse! This is a once-in-a-lifetime experience, so just book it! You can thank me later!
More Amsterdam Points of Interests in Amsterdam:
Visit One of the 50 Museums in Amsterdam
With more than 50 museums in the city, Amsterdam is a museum lover's dream. Arguably the city's most important museum is the Rijksmuseum, which features works by Dutch masters such as Rembrandt and Van Gogh. I particularly enjoyed the Van Gogh Museum, which contains Van Gogh's largest collection of art and allows you to follow him chronologically as he progressed through life! And the NEMO science center photographed above is great for the kiddos.
But don't forget the Anne Frank House. She was one of the most recognizable figures of the Holocaust and her diary tells what life was like during the Nazi occupation of Amsterdam during WWII. Get tickets online before you go, so there is no standing in the queue. While everyone else is standing in line waiting, you will already have your tickets in hand and go through the doors, walk up to the counter, and go directly in!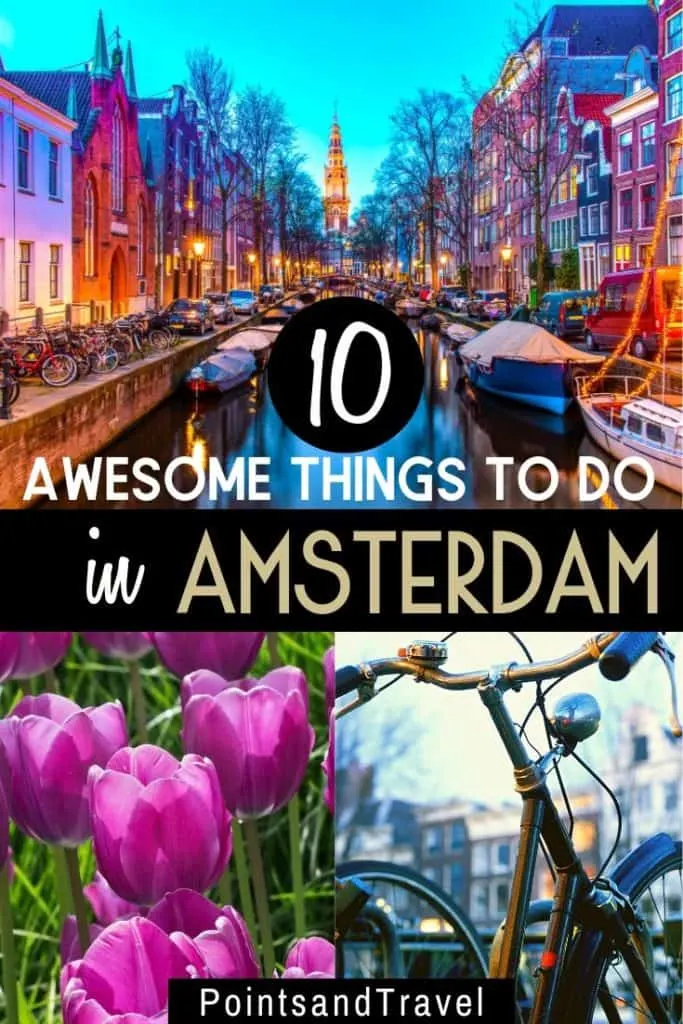 Visit A'dam Toren
A'dam Toren is just one of Amsterdam's hidden gems. It is a 22-story tower by the waterfront across the River IJ (The name IJ is from an obsolete Dutch word meaning "water".) from Central. Formerly it was the headquarters of Shell, but now it is the home to a lot of companies, a hotel, restaurants, and a few bars. Make your way to the sky bar where you can sip a few cocktails and eat at one of the revolving restaurants. You can even go to the observation deck to try out Europe's highest swing! You should check it out!
View Street Art on Spuistraat Street
This street in central Amsterdam is full of cool street art and graffiti. Bring your camera because some of it is definitely photo-worthy! Find the yellow "snake house".
Rent a Bicycle and Get to Pedaling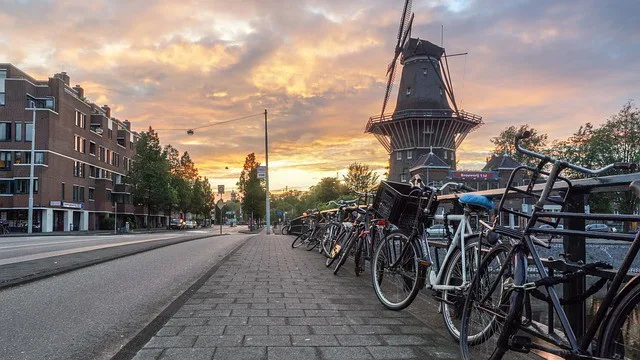 This town is a bicycle town and so when in Rome… do what the locals do and ride a bike. There are several places around town that rent them and it makes for an easy-breezy way to get around town and is much more fun than any cab or tram ride. You can also get an introduction to the city with an Amsterdam Historical Ride Tour.
Even More Amsterdam Points of Interests:
Visit the Flower Market
We all love those gorgeous flowers that originated in the Netherlands, specifically thinking the tulip in all its brilliant colors. The most famous market is the Bloemenmarkt along the Singel and one of my favorite Amsterdam points of interest.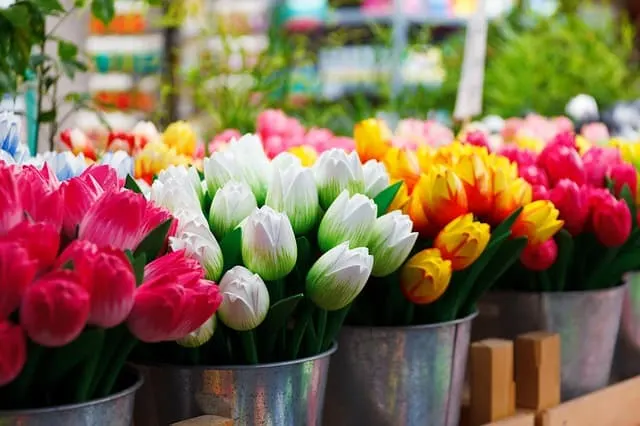 Visit the House of Bols
A unique adventure and interactive experience in the world of cocktails, liquors, bartending and the Dutch spirit Genever at the House of Bols. Here you will be introduced to the world's oldest distilled spirit brand since 1575 made right here in Amsterdam!
Shop the Nine Little Streets!
I love this quaint area of posh, yet affordable shopping that is within walking distance from a hotel that I have stayed at several times, the Hotel Pulitzer. This is also just down the street from the Anne Frank House, so the location is perfect! Collectively it is known as the nine little streets. It is located in the middle of the canal belt in Jordaan. It is a neighborhood of quaint and quirky streets with cafes, boutique stores, lots of shops, and bars. You can find pretty much anything here.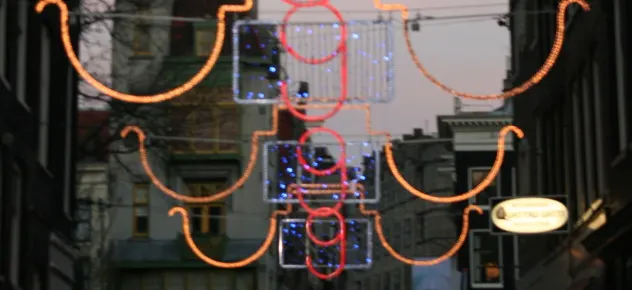 Make your way to the Red Light District
Last, but certainly not least! If not just for a gander you must go, but a great alternative to the creepy men and scantily clothed women, you could take a guided walking tour of the Red Light District instead. A little bit of knowledge goes a long way compared to peering into the bewitching red lights. Also going during the daytime works too! I just wouldn't take the kids!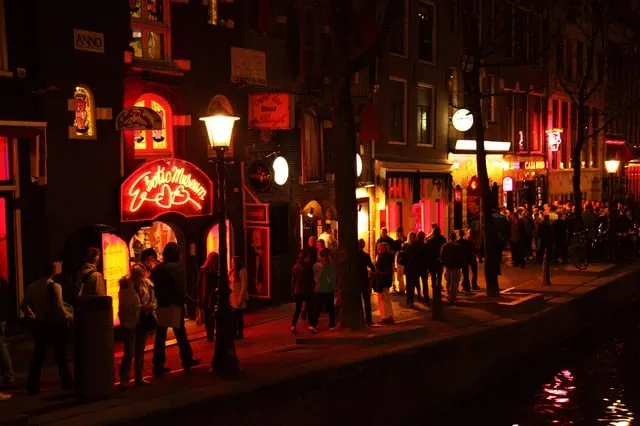 So there you have it, Amsterdam Things to do For First Time Visitors!
---

Where to stay in Amsterdam
As you may or may not know, Amsterdam only has 850,000 people living within the city limits and although people think of it as a large city, it is quite small in comparison to other European cities. As far as neighborhoods, Amsterdam is divided by "the ring" area and "outside the ring" area, meaning you are either inside of A10 Highway or you are outside of the A10 Highway. Amsterdam is broken up into 8 districts or boroughs, which are further divided into neighborhoods.
This article will be about the neighborhoods that lie inside the ring, which are divided even further into smaller areas. In other words, the recommended hotels are within the ringed area itself. This area is divided into approximately 11 (eleven) different boroughs. The word "neighborhood "is literally translated as a "stadsdelen". Once you look at a map and understand these areas, you will be better able to choose the hotel that is right for you.
Understanding Amsterdam's Ring or Neighborhoods
Most tourists stay in Centrum or Old Centrum, which is broken down into 11 or so areas, so those will be the areas we will concentrate on. So let's get started understanding the best neighborhoods in Amsterdam to stay.
Centrum or Old Centrum
As the name suggests, Old Centrum is the oldest neighborhood in Amsterdam and is where most tourists end up staying. In Old Centrum, there are restaurants, shopping, and plenty of places to enjoy the nightlife. Old Centrum is divided into smaller neighborhoods and each has a culture, history, and ambiance all its own. Old Centrum is divided into 11 different neighborhoods, so let's take a look at those 11.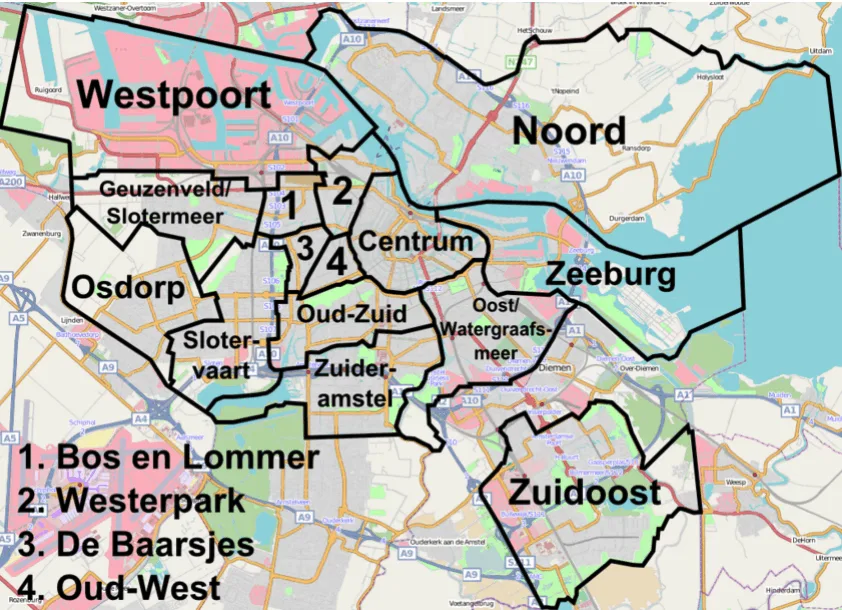 Canal Belt Neighborhood: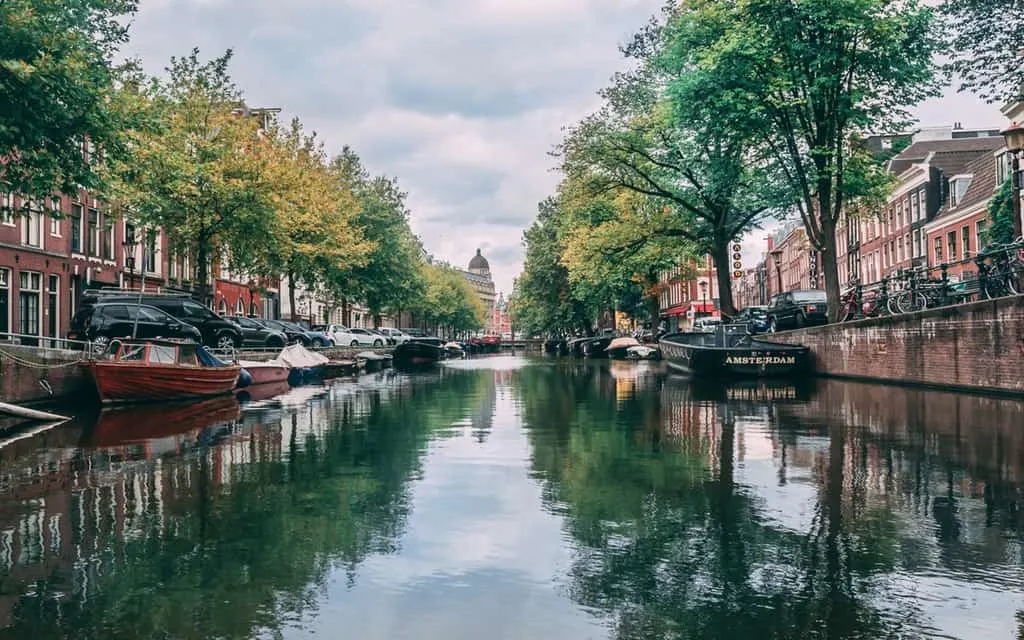 This neighborhood is very special as it has been granted the UNESCO world heritage status, as it has houses that are built on semi-circular canals and is built in the old city center area. Canal Belt is literally the iconic photo of Amsterdam you have seen.
Luxury: Andaz Amsterdam Prinsengracht – a concept by Hyatt
Luxury: Pulitzer Amsterdam
Luxury: Hotel Seven One Seven
Check Prices Here: Booking.com
Dam Neighborhood:
Built in the late 1200s, the Dam is centrally located between Damrak and Rokin Streets where you will find the Royal Palace, the National Monument, Nieuwe Kerk (the New Church), and Madame Tussauds! When the springtime comes, they have a giant carousel in the central square and during Christmas time they have a market in its place.
Luxury: Hotel Estheréa
Luxury: The Dylan Amsterdam
Luxury: Luxury Suites Amsterdam – Member of Warwick Hotels
Check Prices Here: Booking.com
De Jordaan Neighborhood: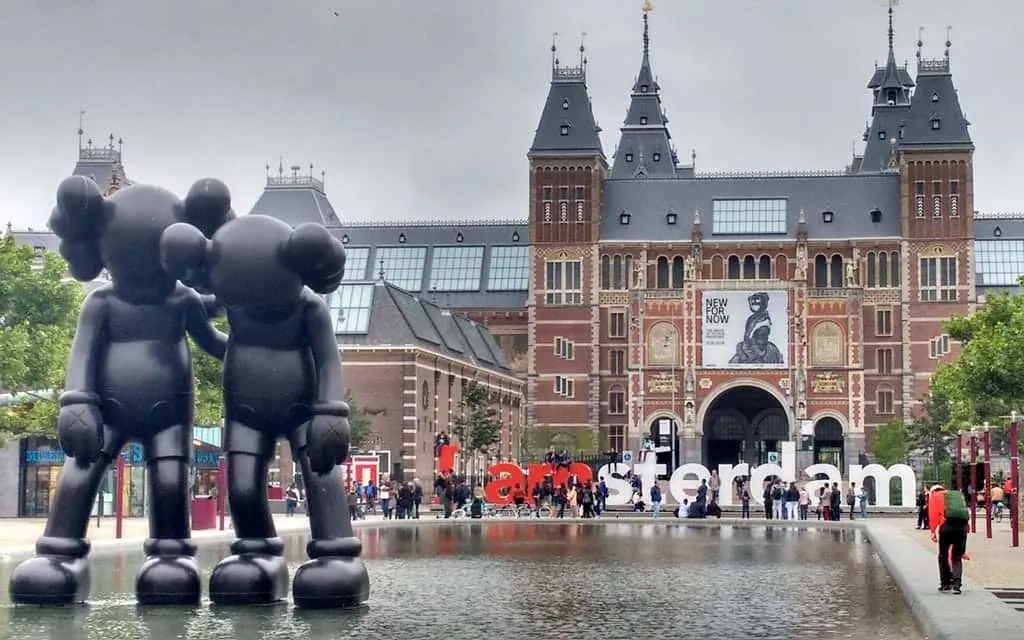 This neighborhood is newly renovated and is great for working professionals and tourists alike. There are plenty of upscale shopping areas, restaurants, and bridges to make walking around enjoyable. This area is one of my favorite places to explore and great for taking photographs. This area was once the neighborhood for the working class and immigrants who came to the city. This is a very popular place to stay in, especially to visit the Moco Museums (Modern Contemporary Museums) of Van Gogh and Rijksmuseum Museums!
Luxury: Hotel TwentySeven – Small Luxury Hotels of the World
Luxury: Mr. Jordaan
Check Prices Here: Booking.com
De Wallen (Red Light District) Neighborhood
Known as the Red Light District, you will get more than you bargained for in this area full of red windows, sex shops, and coffeehouses. It is not really a place you would want to stay! Young people with little sense are typically are found here.
No recommendations!
IJ Waterfront Neighborhood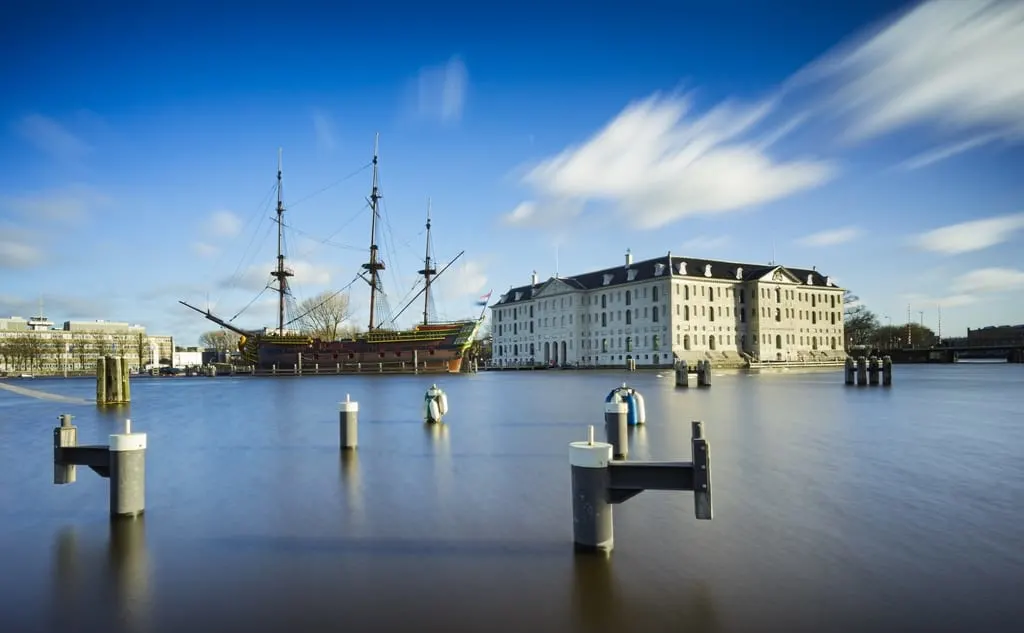 Many times people are coming into Amsterdam for a layover and this is the area that I can recommend to stay for this, as it is close to the Central Station. Here you will find many rooftops lounges for amazing scenic views. This area is being developed fast and includes many artificial islands, art installations, and warehouses. It seems it is becoming a popular place where old buildings are being replaced by new apartments and modern facilities. Here you can visit the Maritime Museum, NEMO, and Muziekgebouw aan 't IJ This is also the area where cruise ships dock.
Luxury: The Hendrick's Hotel
Check Prices Here: Booking.com
Leidseplein Neighborhood
Only stay here if you are young and looking for some nightlife! Talk about the epicenter of all things in the night, Leidseplein is the happening place to be at night with its massive number of bars, cafes, and of course, its most well-known night club the Melkweg.
Moderate: American Hotel Amsterdam
Moderate: Hotel La Bohème
Check Prices Here: Booking.com
Nieuwmarkt Neighborhood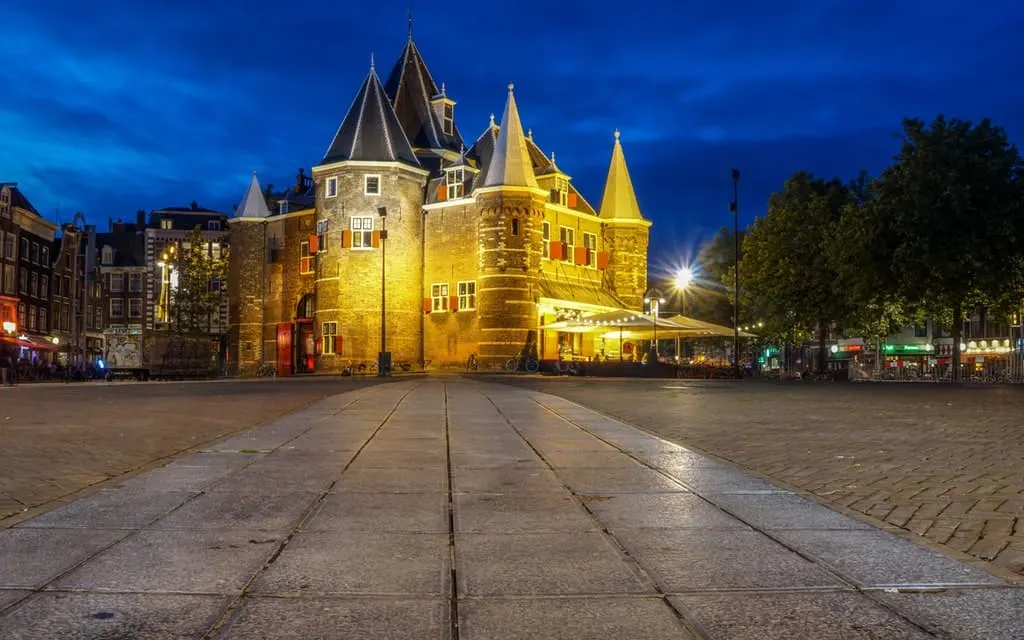 Just a short walk from the Amsterdam Central Station, Nieuwmarkt is also right beside De Wallen or the Red Light District. Again, most likely, not my favorite place to recommend for a first-time visitor to Amsterdam. Nieuwmarkt is the location of the original gate in the Medieval city walls that were converted into a weigh house in the 17th century, where the De Waag building is. This area is considered Amsterdam's Chinatown.
Moderate: Radisson Blu Hotel, Amsterdam City Center
Moderate: La Bohème
Check Prices Here: Booking.com
Old Jewish Quarter and Plantage Neighborhood

The Old Jewish Quarter and Plantage (plantation) was once outside of the city walls in the 17th century. This neighborhood is famous for the Waterlooplein Market as one of the most popular markets in Amsterdam. Staying in this neighborhood would give you access to going to the markets to get some fresh fruit, vegetables, and flowers. Points of interest would be the Old Portuguese Synagogue, the Jewish Historical Museum, and Hollandsche Schouwburg. Also, the Artis Zoo and the Hortus Botanicus are in the neighborhood.
Boutique Luxury: Motel One Amsterdam-Waterlooplein
Moderate: Hyatt Regency Amsterdam
Check Prices Here: Booking.com
Rembrandtplein Neighborhood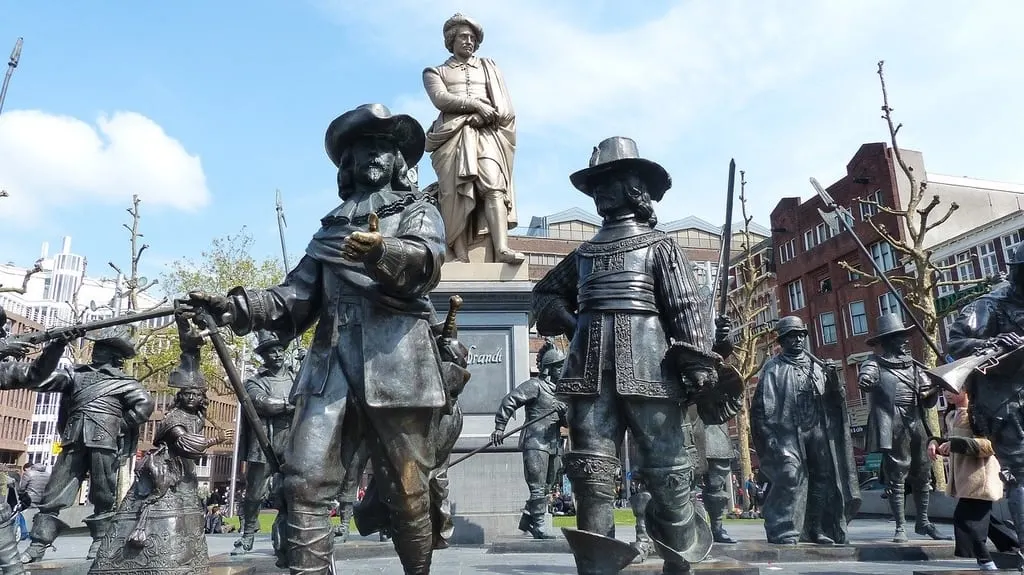 This neighborhood also has many bars, but it does seem more local, as this is where many of the locals plus tourists hang out. It is also where most of the ex-pats live and enjoy. There is also an old theater here built in 1921, so it is worth a visit – the Tuschinksi Theater. Until Rembrandt's statue was put in the square in 1876, the area was called the Botermarkt (or butter market).
Moderate: NH Collection Amsterdam Grand Hotel Krasnapolsky
Check Prices Here: Booking.com
Spiegelkwartier Neighborhood
Spiegelkwartier literally means "mirror quarter". This neighborhood is full of art and antique shops. This is an awesome area to shop in to find unique, unusual, and gorgeous art.
Check Prices Here: Booking.com
Spui Neighborhood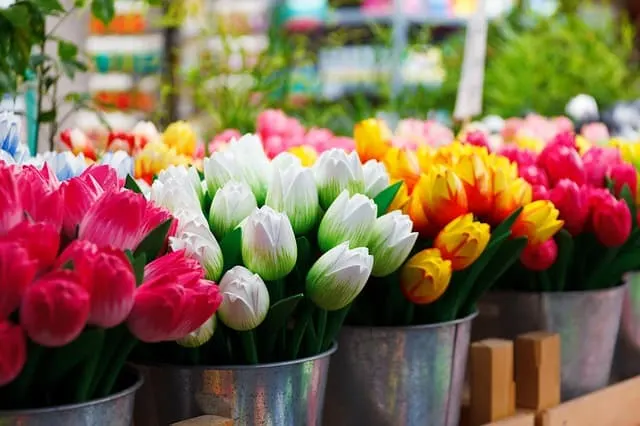 This neighborhood is the heart of the old city and has plenty of shops, chic restaurants and is close to the famous Flower Market. There are also old authentic brown cafes and trendy fashion outlets here, as well as consignment shops. The Amsterdam Historical Museum is located here. It is a great area to learn more about Amsterdam and is easily walkable to restaurants and bars.
Check Prices Here: Booking.com
Areas to Avoid in Amsterdam
As mentioned before, I would avoid staying in the De Wallen or red-light district, as the areas are quite shady. Plus, if you are with your family, I am pretty sure you don't want to show them the sex shops and prostitutes.
Obviously, there are many other neighborhoods in Amsterdam, but as far as a place to stay for visitors to Amsterdam, we will only mention the Old Centrum area, as this is where most visitors to Amsterdam stay.
What is the difference between "Holland" and "the Netherlands"?
Now after all of that, you may be wondering, what is the difference between Holland and the Netherlands? Geography can be tricky, so let me explain. The Netherlands is divided into 12 provinces:
Drenthe
Flevoland
Friesland
Gelderland
Groningen
Limburg
North Brabant
North-Holland
Overijssel
South Holland
Utrecht
Zeeland
Each province has its own government led by a governor and an assembly. "Holland" is the name of two provinces in The Netherlands: North-Holland and South Holland. Together they are referred to as "Holland." Holland contains the capital city of Amsterdam. So, if you're ever confused if Amsterdam is in Holland or The Netherlands, the answer is that it is in both!
Disclosure: As is common in the travel industry, Dr. Maloney was provided with accommodations, meals, tours, and other compensation for the purposes of review in partnership with the official Tourism Board of Amsterdam. While it has not influenced her review, PointsandTravel.com believes in full disclosure of all potential conflicts of interest. All Photos are by the author, given authority over, or are licensed under creative commons. There may be affiliate links in this article.