Sicilians love their healthy and locally-grown foods such as apricots, artichokes, olives, and beans. Some of the most notable savory foods include arancini (rice balls), pecorino cheese, and stuffed eggplant. Yet aside from the yummy savory foods they have, Sicily has some of the most delicious Sicilian desserts in all of Europe. The world-famous cannoli and torta di ricotta (ricotta cake) are indispensable sweets that make your mouth water just by saying them.
---
What's in this post:
hide
Sicilian Desserts
---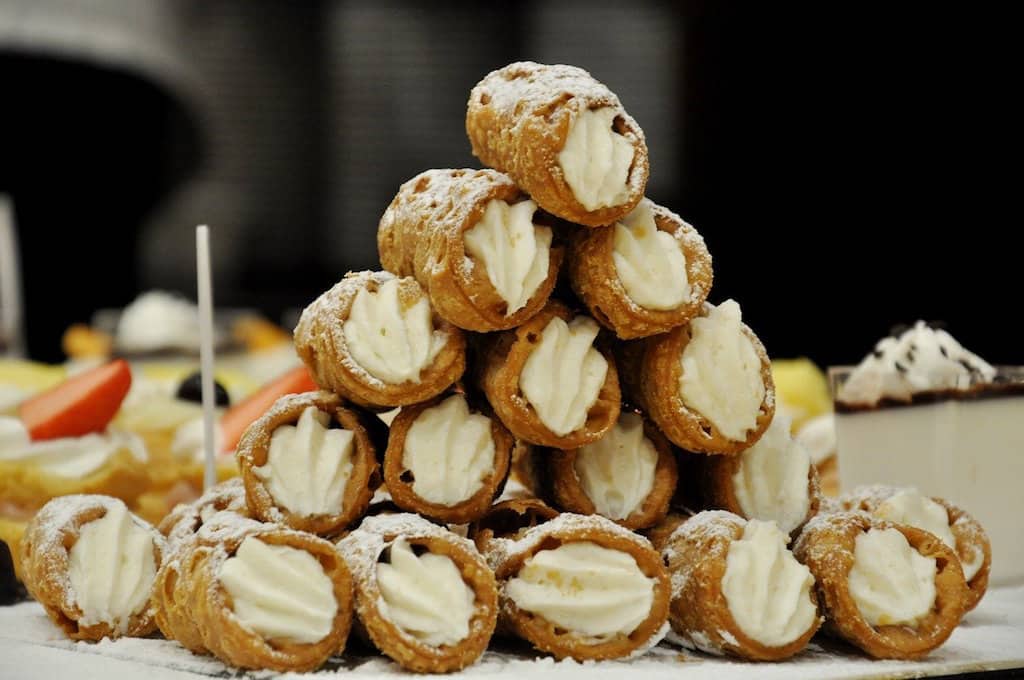 In the past, control of Sicily shifted to many foreign rulers which contributed to the knowledge of different spices and meals, which have made their way into the Sicilian cuisine. Sicilian cuisine is a distinguished part of the culture of this stunning island. Fresh seafood such as sardines, sea bass, tuna, and swordfish are staple foods in Sicily and are easily found along the coastlines.
Sicily is an island located south of the Italian peninsula and is one of the 20 regions of Italy. Historians believe that Sicily was first inhabited around 8,000 B.C and is now home to more than 5 million people. Like most Italian regions, Sicily has a strong and unique culture. It has been home to many great poets, architects, philosophers, musicians, and scientists. Sicilians love opera and have the largest opera house in Italy, the Teatro Massimo in Palermo, the region's capital.
Now that I've got you hooked on going to Sicily, let's look at the most loved and popular Sicilian desserts.
Only the Best Sicilian Desserts
Agnello Pasquale
Although the name literally translates to "Easter Lamb", you will not bite into a cooked lamb for this Sicilian dessert. This is a classic Sicilian dessert that is prepared and eaten during the Catholic Easter. It is believed that the Agnello Pasquale was created in the early 20th century in the small town of Favara. This dessert is made from pistachio paste and then covered in almond paste and decorated to resemble a little lamb, which is symbolic of innocence in the Catholic religion.
Arancia Candita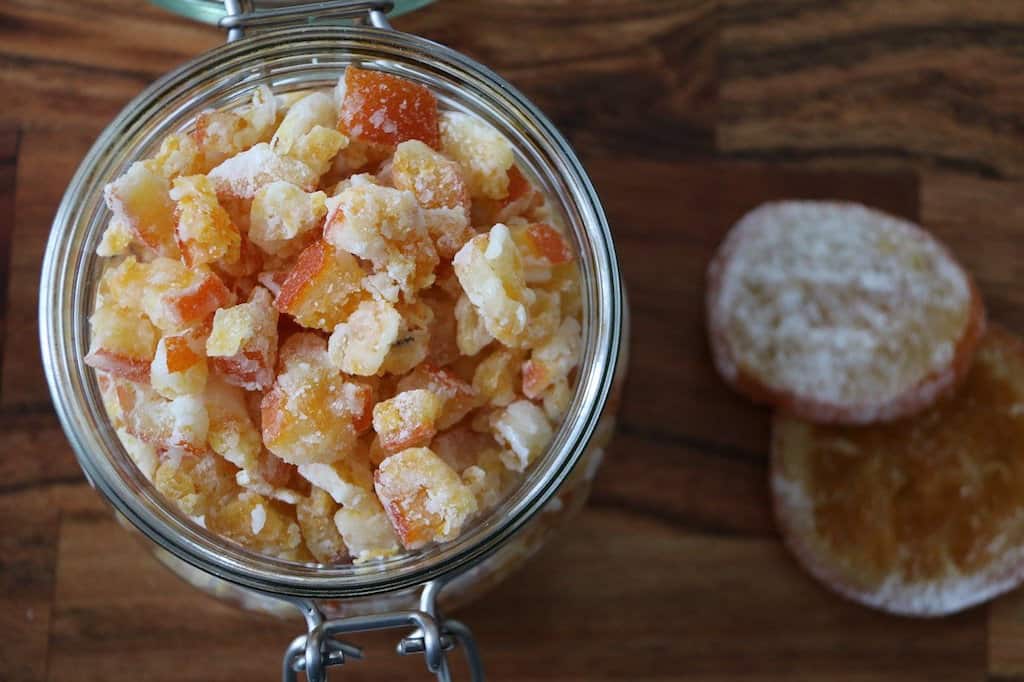 This Sicilian dessert is a candied orange that is covered in sugar. If you are expecting a gooey center or filling in this Arancia Candita, then you will be surprised to find none. The simplicity of the Sicilian cuisine has turned a simple fruit into a sugary, but slightly bitter, delight. Although you can find whole oranges covered in sugar, they are most commonly found in strips or bite forms, which make them easier to eat.
Bacione di Taormina
This "Taormina Kiss" dessert will have you puckering up your lips to kiss the pastry chef who made it. This scrumptious dessert is shaped into a ball and is made with cocoa and almond filling. The Bacione di Taormina is usually coated in chocolate and then topped with nuts.
Biscotti di Mandorla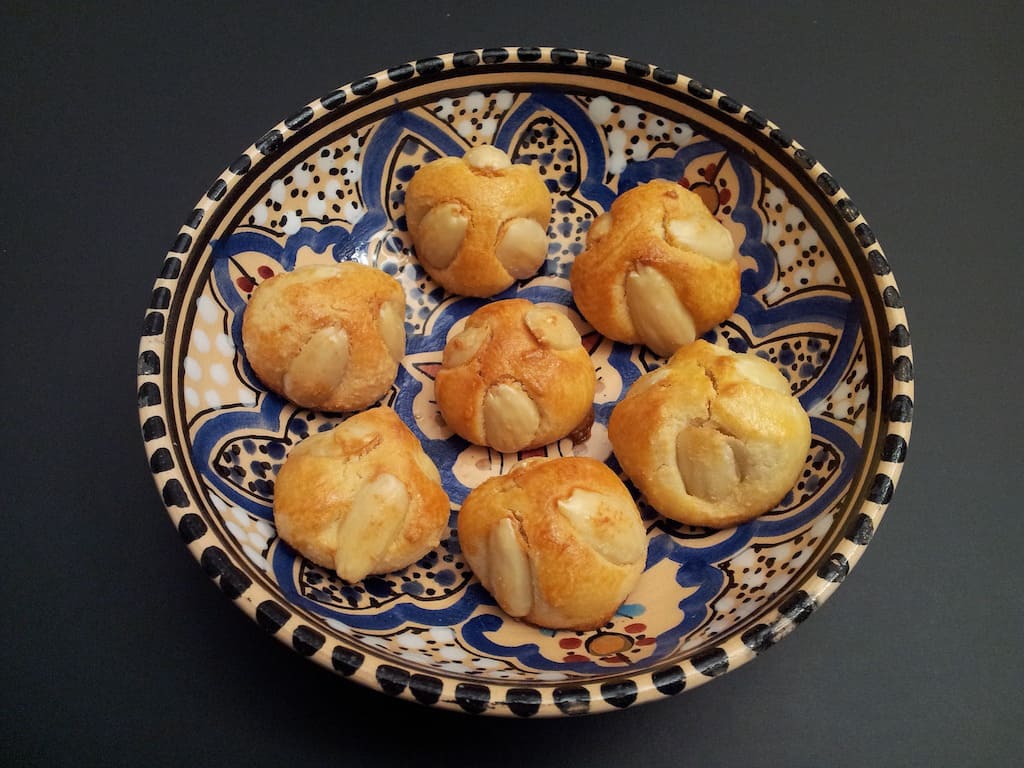 These cookies are famous throughout Italy and the world. We have Sicily to thank for these delicious almond cookies. The biscotti di mandorla is a classic Sicilian dessert that packs a powerful punch with every bite you taste. The cookies are baked to perfection with a crispy outside and a soft and chewy almond inside, which is probably why they are a most-loved dessert in Sicily.
Brioche con gelato
If you ever thought of putting Italian's version of ice cream (gelato) in a croissant (or brioche bun) is strange, then you never tried the Brioche con gelato. This Sicilian version of the American ice cream sandwich will have you wanting more after each bite. Some pastry shops will toast the brioche buns to add an extra layer of crisp to contrast from the cold gelato. I prefer the pistachio gelato, but you can choose any flavor of gelato to add to your bun. This reminds me of the Tartufo I found in the south of Italy in the town of Pizzo.
Buccellato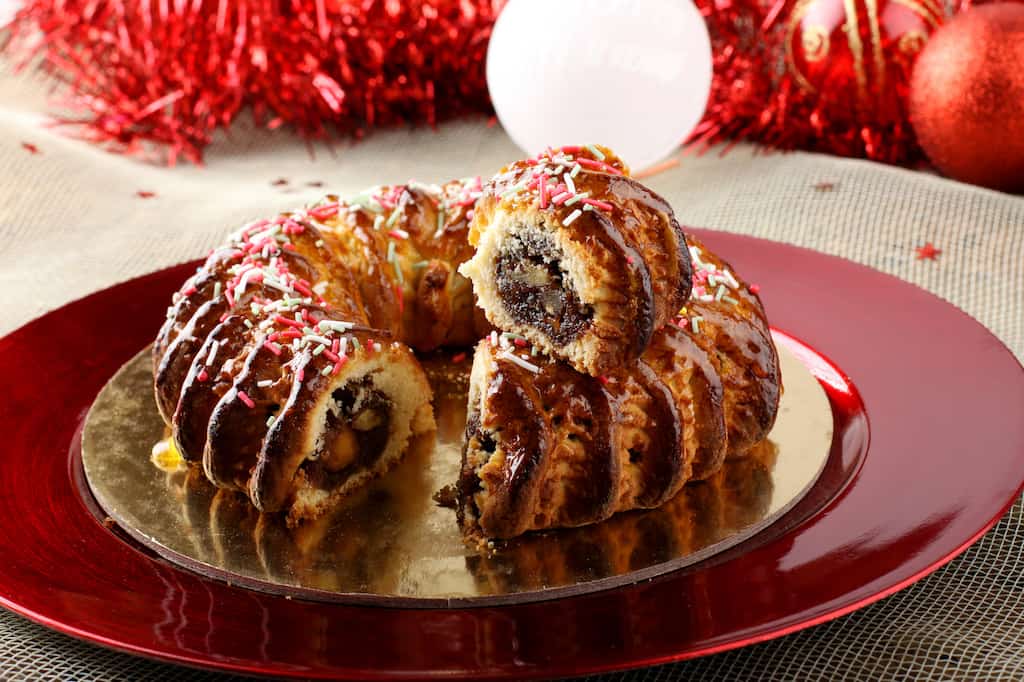 As you may have noticed, Sicilians love almonds. The Buccellato is a circular cake that is stuffed with nuts, almond paste, raisins, figs, and topped with candied fruit peels. The real surprise of this yummy cake though, is that it is brushed with a jam glaze after it is baked. This comes as a complete surprise and an unexpected treat. This Sicilian dessert is typically only served during the Christmas season.
Cannoli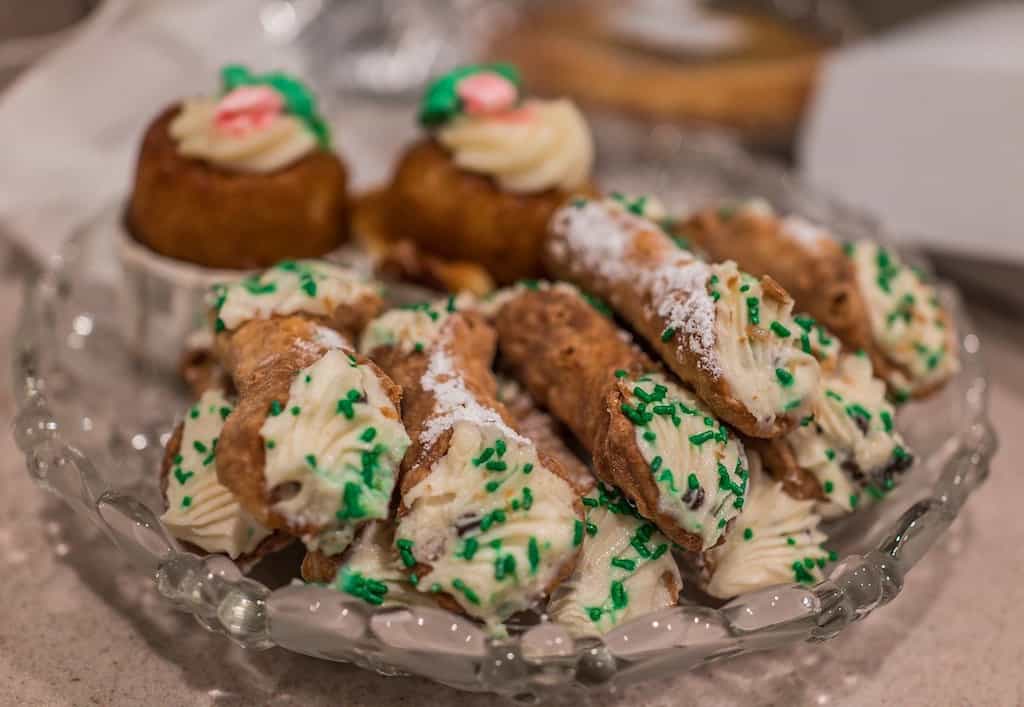 We have finally arrived at the most popular and loved Sicilian dessert, cannoli! They're the most famous Sicilian pastry in the world! The cannoli dates back to the 9th century when they were created under the Arab rule, which brought forth almonds, jasmine, cinnamon, and aniseed. In English, cannoli is used as a singular word, but in Italian, the term cannolo is the proper singular noun.
Cannoli used to be served only during the Carnival season to promote fertility, but nowadays this delicious Sicilian dessert is found year-round. The main and original ingredients are a fried pastry dough and Pecora or sheep's milk ricotta filling. It is then topped with powdered sugar. Pastry shops promote different types of cannoli centers and topping such as a chocolate filling, topped with chocolate chips, pistachios, or even fruit. Click here for a recipe to make your own.
Cassata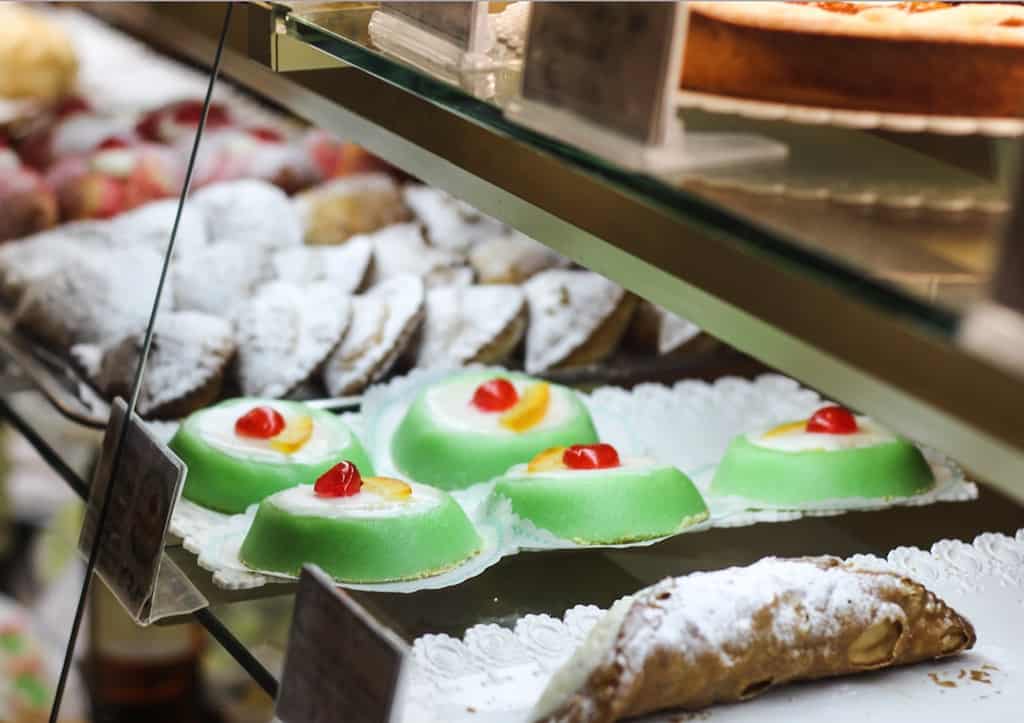 Cassata is one of the most famous Sicilian desserts as well. It is made with a liquored sponge cake, candied fruits, and ricotta cheese. Sicilians often eat this dessert during Easter and in the springtime. I believe this is one of the most colorful Sicilian desserts, as it is decorated in colored marzipan and topped with colored icing, usually orange, green, or pink.
Cassatelle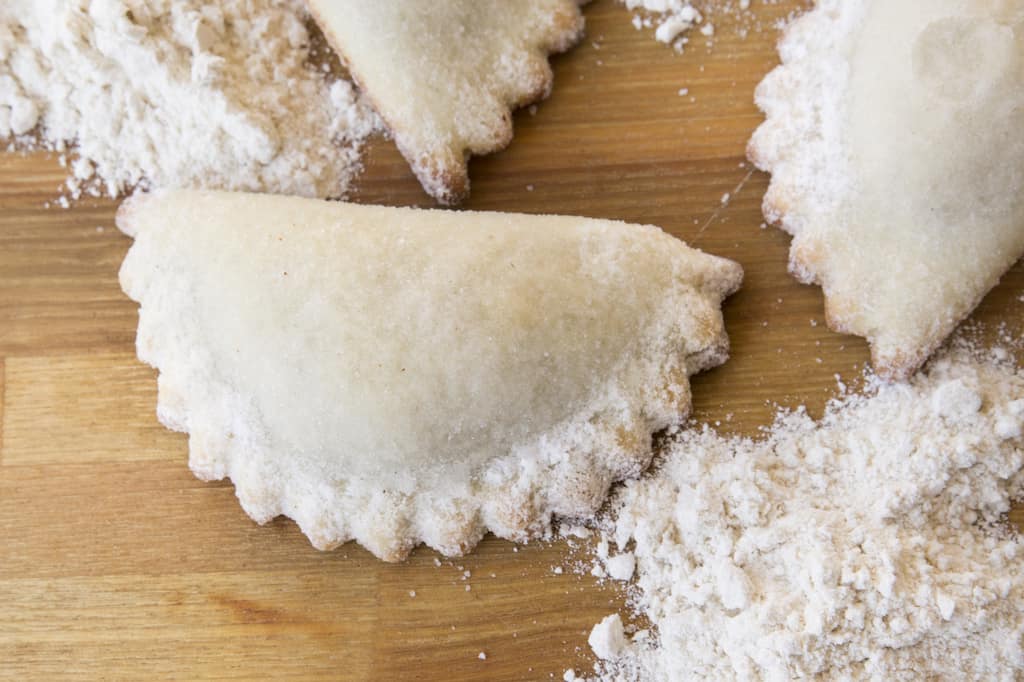 In the province of Trapani, the traditional Sicilian dessert of Cassatelle is served during Carnival (which occurs roughly 40 days before Easter). This sweet dessert is deep-fried and filled with cocoa and almond. Other versions of Sicily's delicious sweet include ricotta cheese, lemon, and figs. The best part of biting into this dessert is the crispy outside and getting powdered sugar and cinnamon on your face!
Granita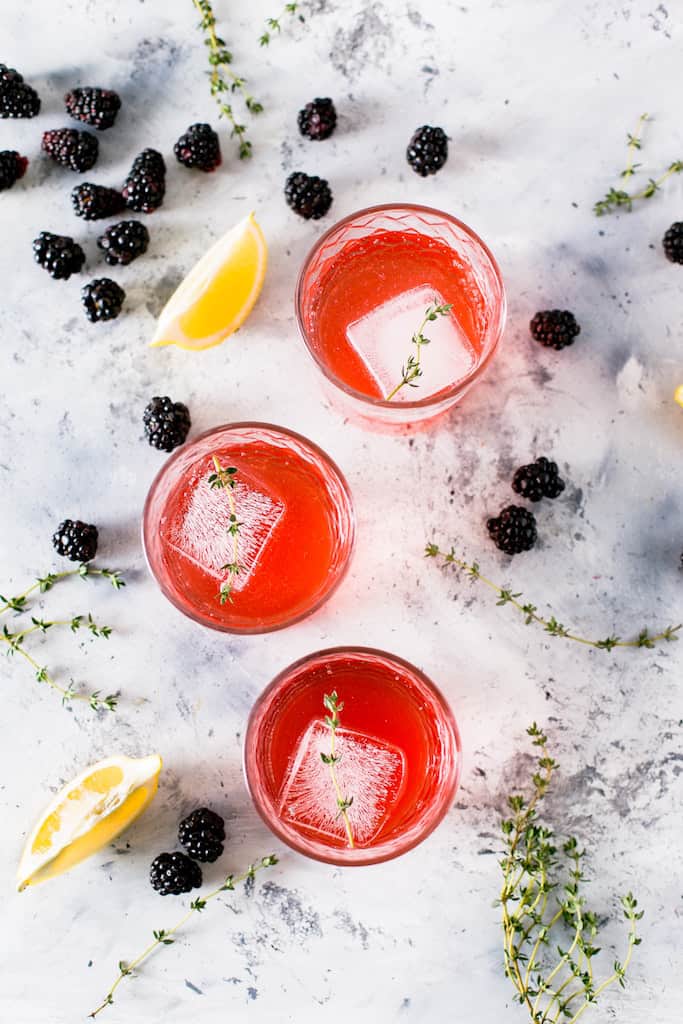 The original semi-frozen slush, Granita, hails once again from the island of Sicily! See what I mean? They have so many wonderful desserts! This refreshing dessert is usually served during the summer. The most common and popular flavors include Granita al Limone (lemon), Granita di Caffè (coffee), and Granita di Mandorla (almond). Drinking coffee granita is more popular in Messina, which is the harbor city in Northeast Sicily right across from the straits of Messina. While almond granita is the most popular in Catania, which is along the east coast at the foot of Mount Edna. Click here for a lemon granita recipe.
Mattonella di Cioccolato con fichi
This Sicily dessert is shaped like a brick, hence the name, which translates to Chocolate brick with figs. The main ingredients of this mattonella di cioccolato con fichi are dark chocolate, butter, sugar, cookies, fresh whipped cream, figs, and rum (which is optional). The secret ingredient to help blend the flavors together and add a kick is cinnamon!
Marzipan
Marzipan is a sugary substance made with ground almonds and honey or sugar. It is used mostly in the city of Palermo, the capital city of Sicily. Frutta di Martorana is fruit-shaped sweets made with marzipan and colored to perfection. These sweets are consumed during Easter and All Saints' Day on November 2nd.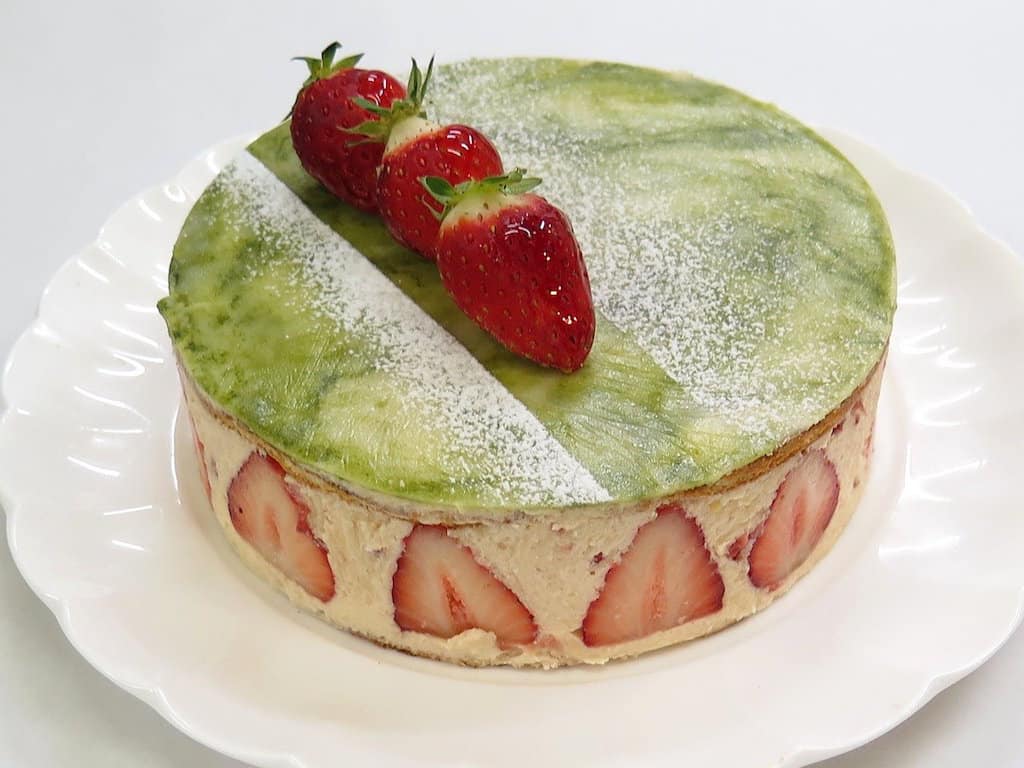 Paste di Mandorle
It's clear that Sicilians have a special bond with almonds since it is used in a lot of their dessert recipes. This scrumptious paste di mandorle is made with almond paste, candied fruit, and white chocolate. This beloved dessert includes all things Sicilians love to eat, which makes it so popular.
Torta Setteveli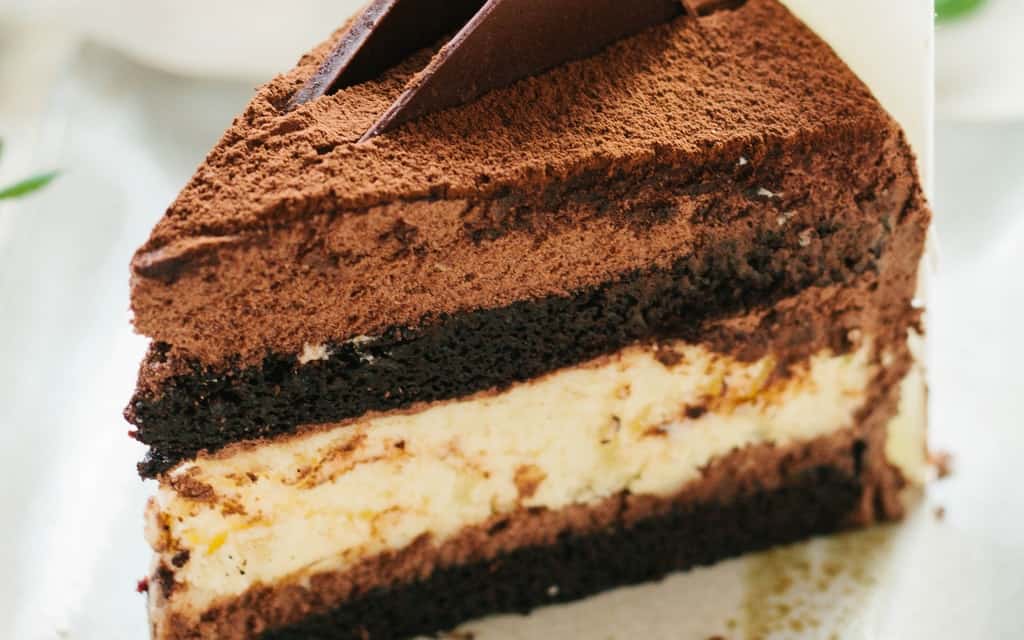 This seven-layer cake was created in Palermo during the 1990s and it is a popular birthday cake. The torta setteveli is made with chocolate mousse, hazelnuts, and chocolate cake. While the ingredients may seem common, the execution and completion are what makes this a hard dessert to make. Why stress out to make this cake, when you can have the best time eating all seven-layers of gooeyness?
Torta di Ricotta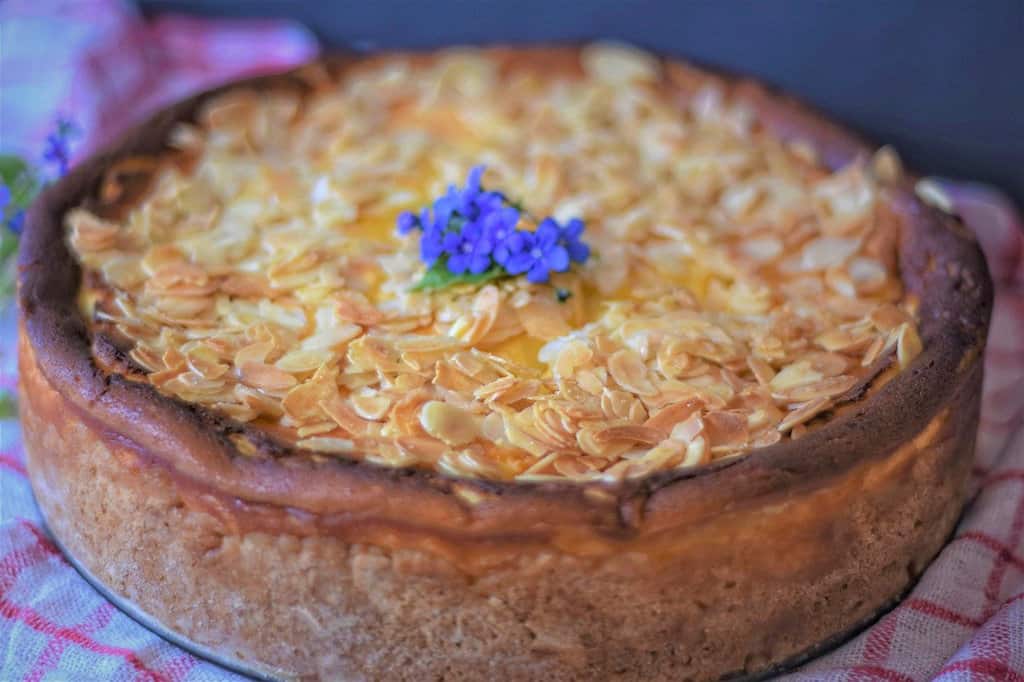 You should think of this Torta di Ricotta as the Sicilian version of a cheesecake. Ricotta cheese originally has roots in Sicily, which makes it a special food in their culture. The perfect bite of this Ricotta cake will include fresh Pecora ricotta, sponge cake, small pieces of pistachio, slices of candied oranges, and dark chocolate. The smoothness of the ricotta blends perfectly with each bite as you will think you have gone to dessert heaven in Sicily.
Torrone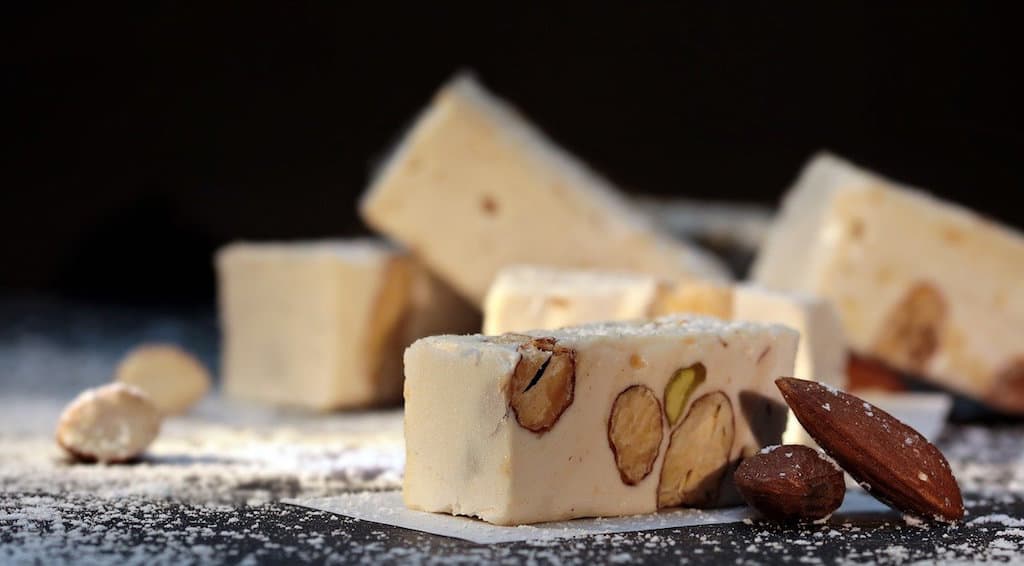 Although this dessert is eaten everywhere in Italy, this Sicilian nougat is the most famous. It is made with honey syrup and sugar and occasionally nuts and fruit. With each bite of torrone, you will taste the hard shell but with a soft and chewy center.
I don't know about you but I have worked up quite the Sicilian dessert appetite. I can just imagine biting into the chewy center of a biscotto di mandorle or tasting the several chocolatey layers of the torta setteveli. No matter which Sicilian dessert you choose to eat, they are all mouth-watering and delicious!
Want to read more about Italy?
Hidden Gems in Rome – Discover the Secrets of an Ancient City
Furore: The Hidden Gem on the Road to Rome
How to Drive from Rome to Positano: Guide to the Amalfi Coast
Top 7 Things to do in Genova Italia