I'd say the Amalfi Coast is right on up there with the top 10 places to see before you die! You have got to go and experience it for yourself. Take your spouse on a romantic getaway. Fly into Rome, rent a car, and drive from Rome to Positano. See it for yourself, at your own pace and leisure. That's what we did on our 19th wedding anniversary! We landed in Rome, rented the car, and headed on out straight away, as we didn't want to waste any of our valuable Italian time.  Of course, we were a bit jet-lagged, so once we got the car and finally figured our way out of the airport, we were off to the open road. The one main sight to see as you are driving from Rome to Positano is the Abby of Monte Cassino (about 82 miles southeast of Rome). This is totally worth a pit stop, as by this time you will be ready to get out of the car to take a gander and stretch your legs.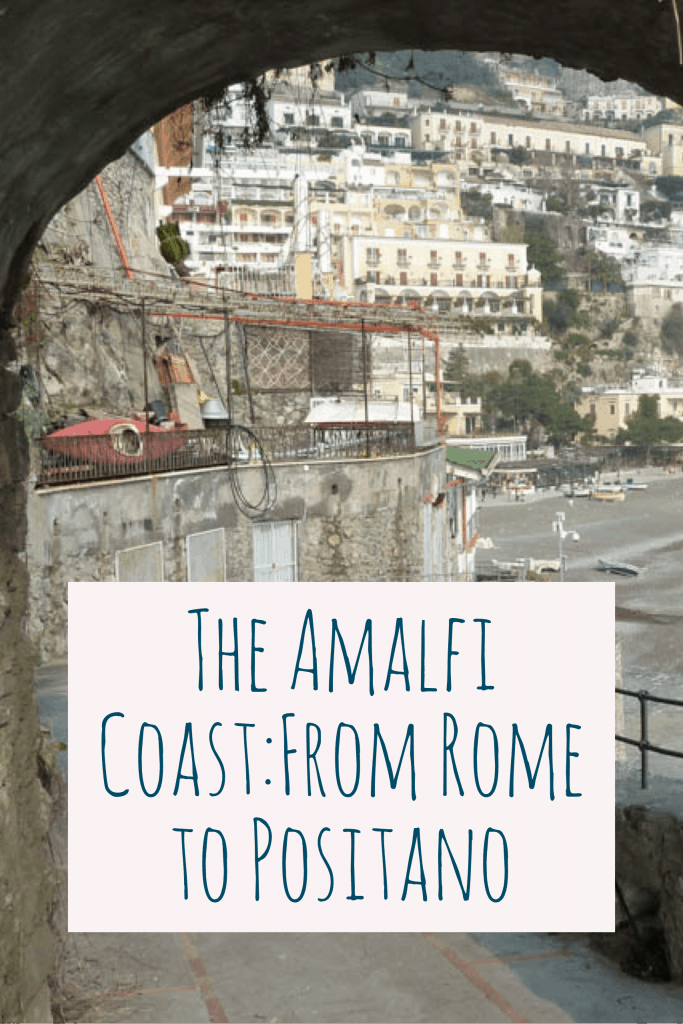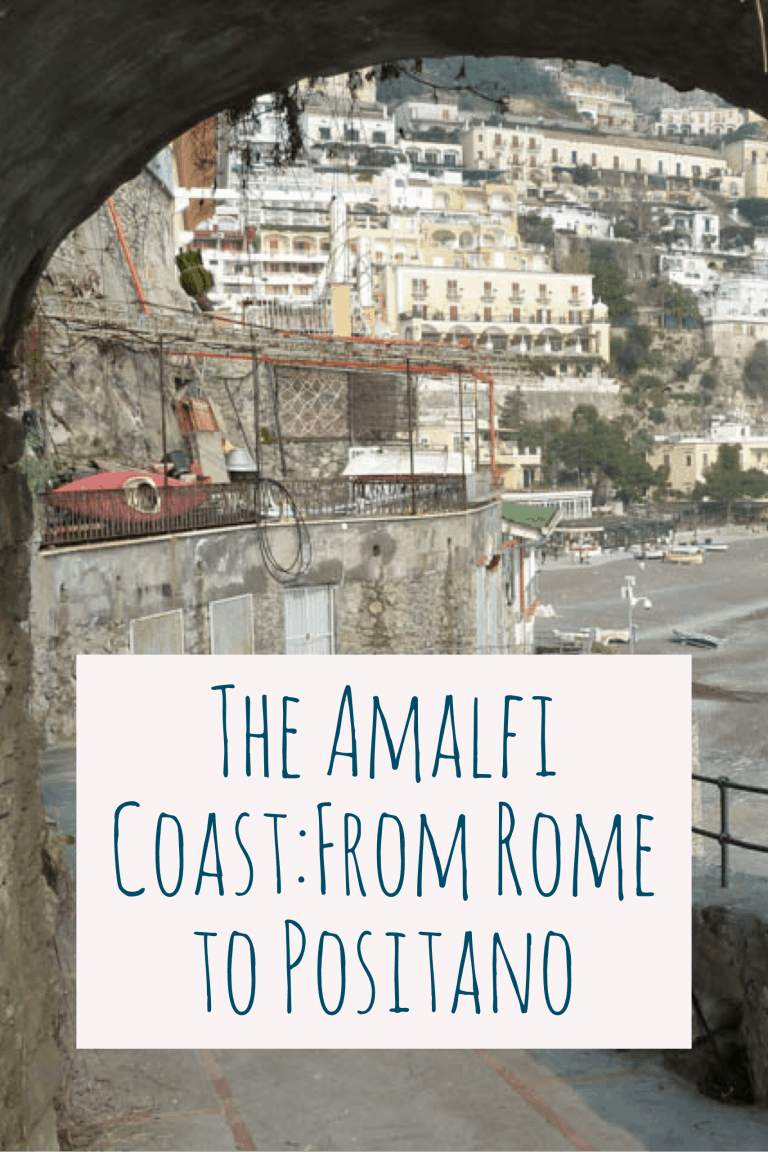 Italy: from Rome to Positano, a drive down to the Amalfi Coast:
This is article #1 in a series of articles about how to take a drive down the Amalfi Coast (from Rome to Positano), where to stop, where to stay, and what to do.
First Stop From Rome to Positano: Abby of Monte Cassino
The Abbey of Monte Cassino is a monastery built in 529 AD on the top of the hill above the town of Cassino.  It has some amazing views of the valley below.  And the best part is that there is practically nobody there!
Second Stop From Rome to Positano: Herculaneum (Scavi di Ercolano)

Then it was back in our rented Peugeot and on to Herculaneum. We opted to go see this mini Pompeii because of time constraints on the way to Positano. It is right dab smack in the middle of Naples and we enjoyed seeing it. Herculaneum was buried by the volcanic eruption of Mt. Vesuvius in 79 AD, so it is basically a preserved city from that era.  Look at the picture below, where above the ruins, you can actually see modern day apartments.  It is above because these ruins were buried and then dug out and there are just regular Neapolitans walking around in their neighborhood above with this ancient ruin right in their backyard.
From Rome to Positano continued: Herculaneum
These photos actually depict art from the walls and floor, tile inlays and the tiled fireplace inside one of the houses.  It is amazing to me that this is so well preserved and that the people of this time were so advanced in their designs, art, and architecture.  *click on the small photos for a treat!
From Rome to Positano: Eat Pizza!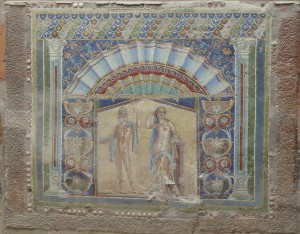 We thoroughly enjoyed this adventure and it is actually unbelievable that this ruin is right smack in the middle of Naples, with apartments and condos all around the area.   Upon our exit, we were starving by then and decided, since we needed to get on the road fast to get down to Positano, that we would go for some fast food pizza, especially since pizza's birthplace is Naples.  Well, we were pleasantly surprised when we found a quick little pizza joint just outside of the parking lot of Scavi di Ercolano called La Terra di Ercole.  After rushing in the American style, we realized that this was not the place for fast food pizza even though it looked like that on the outside.  Instead,  they asked us to sit and brought out the white tablecloth and offered us a refreshing limoncello, while they began to actually hand make the pizza dough in front of us.  We had to just slow down and go with the flow…and we are so glad we did,  as it was memorable pizza, to say the least!
From Rome to Positano: Back on the road quickly (well almost!)
Then it was on to a quick exit of Naples, and back on the road to Positano. One quick tip about renting a car and driving in Italy from an American perspective:  We skip the extra insurance and just rent with a credit card that has primary auto insurance (we figure the chance of anything happening is slim). We usually get a GPS with the car if we are going to be getting out of a city, as the city can be hard to get around in.  You won't need one if, of course, you have an international phone.
---
QUICK TIP ABOUT RENTING A CAR IN ITAY: Always pay attention to the CONTROL signs overhead, the drive-thru signs on the freeway. Apparently, there are lots of speed traps on the roads of Italy and every time you go thru one of these CONTROL signs, you will hear a little ding sound coming from your car.  This is some kind of signal that a contracted company knows who you are based on your rental agreement (or who the owner of the car is).  Why does it matter?  Because the rental company will give your information and credit card number to the Italian Government, that is why it matters!  And then for years, you will be receiving a ticket from the Italian Government for you to pay.  Use a credit card to rent the card that has no foreign transaction fees and is a primary auto insurance. Then cancel the card when you get home. That way the Italian Government can't charge your $190 Euro fee on the card since it has been canceled!
---
RECOMMENDED READING ABOUT ITALY BY REGION:
Authentic Italian Recipes for the Soul
Tuscany Region, Italy:
Luxury Italy: A Journey for the Soul
One of the Best Place to go in Italy
Hotel Adler Spa in Tuscany, Italy
Lazio Region, Italy:
5 Reasons to Rent an Apartment in Rome
Get the Scoop on the Best Gelato in Rome
Tiber Island: A Tiny Island in the Middle of Rome
Campagna Region, Italy:
The Abbey of Montecasino and Herculaneum
Emilia-Romagna Region, Italy
La Bottega del Legno: The Woodshop in Forli, Italy
First Words: La Biblioteca Malaestina in Cesena, Italy
A weekend trip to Cesenatico, Italy
Altavita Winery: The High Life of Cesena
The Magnificient Masselina Estate and the Women of Faenza, Italy
Veneto Region, Italy:
A Voyage Thru Time: Things to do in Venice, Italy
The Oldest Coffee House in Italy
More Things to do in Venice, Italy
Best Things To Do In Venice, Italy
Puglia Region, Italy:
The Power of Travel Seen Through the Eyes of a Travel Company
Liguria Region, Italy:
Portofino, Italy: At least Once in a Lifetime
Genoa, Italy and the BW City Hotel
Treat Yourself to the Suite Life: Hotel Splendido, Portofino, Italy
Hotel Splendido: Absolutely Splendid
The Poetry of an Old Fisherman's Village: Bocadasse, Italy
Italy Revealed: Camogli, Italy
Le Marche Region, Italy:
Make this Your Next Authentic Italian Vacation
Food, Friendship, and Wine in Le Marche Region, Italy
The Lost Art of Print Blocking in Carpegna, Italy Regenerated
Calabria Region, Italy: