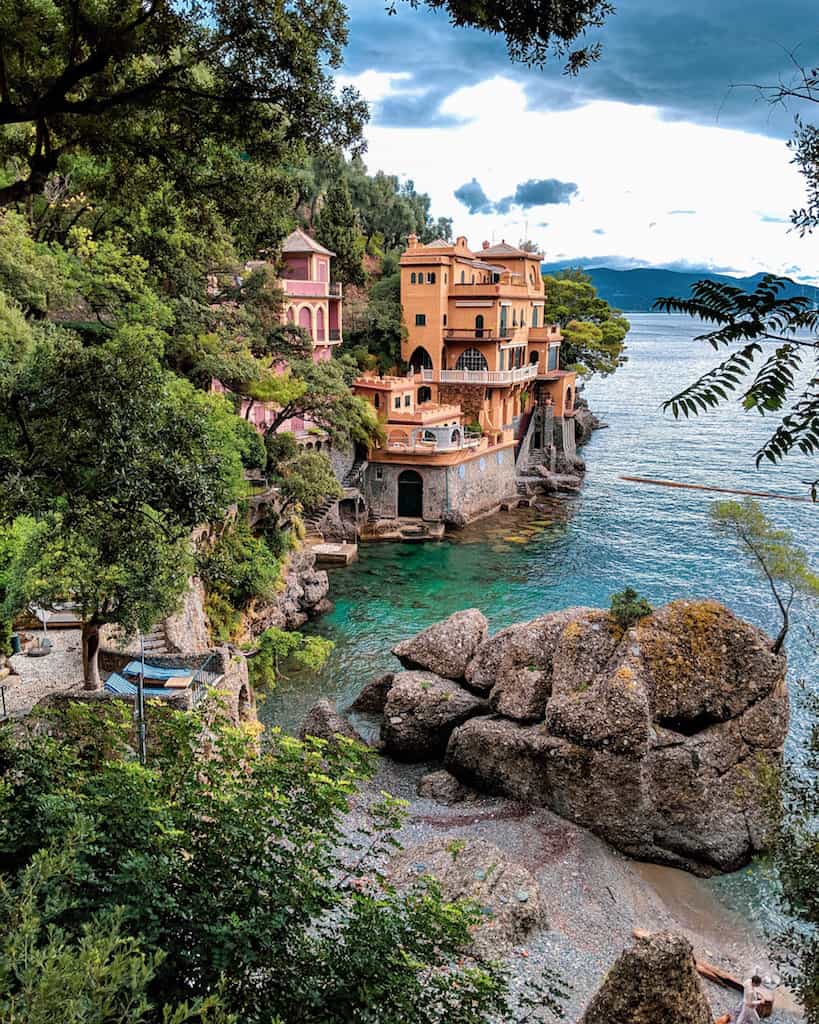 Portofino, Italy is a small fishing village along the Italian Riviera known for its good looks and visitor, the Hollywood crowd, and beyond! But you don't have to be a celebrity or wealthy to visit this gorgeous seaside town in Northern Italy. For me, it is the perfect town. The half-moon-shaped harbor, with its pastel houses lining the streets along the shore, hasn't had a new house built here since 1935! The pretty pink and yellow houses with the perfectly painted shutters retain their old-world charm.
---
What's in this post:
hide
✦ Portofino, Italy
✦ Here is WHY You Should Visit Portofino!
---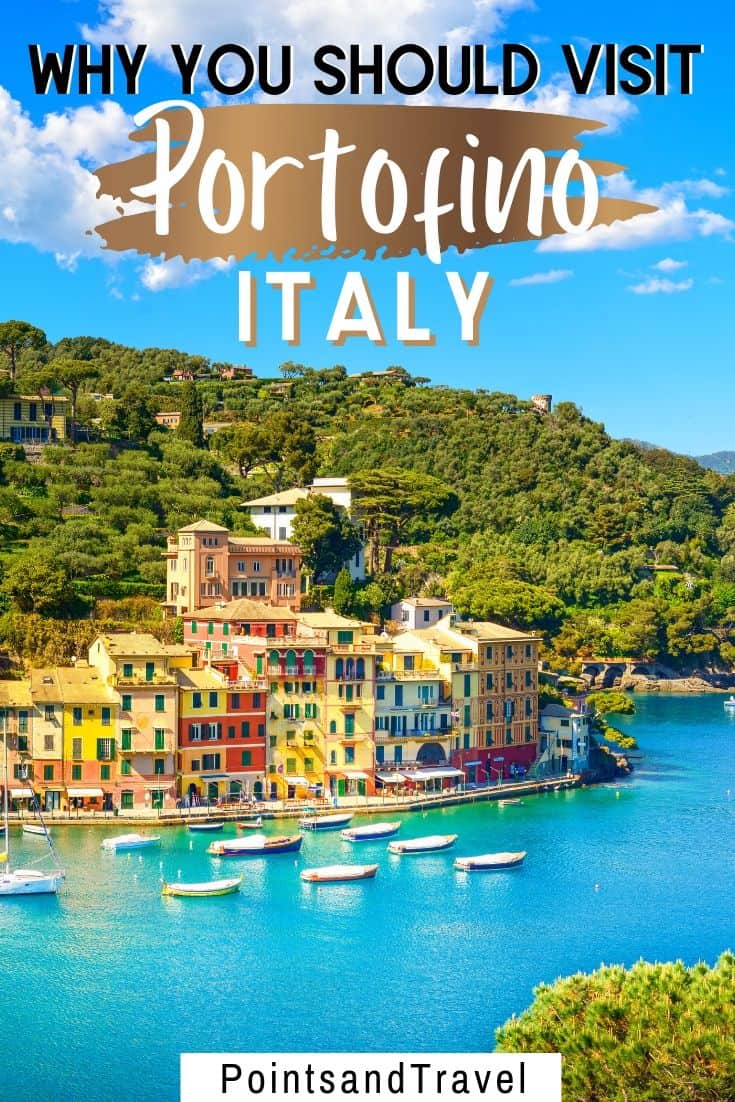 ✦ Old World Glamorous Hollywood
Peaking through to the bustling harbor offset by the staggering scenery, it makes for an irresistible retreat. It is one, that over the years, has attracted writer Truman Capote and glamorous Hollywood stars, including Liz Taylor, Richard Burton, Humphrey Bogart, and Clark Gable from Old Hollywood. To Sarah Jessica Parker and Matthew Broderick with their three children, Beyonce and Jay-Z, and even Kourtney Kardashian comes here to sail down the Riviera!
---
✦ But don't come here for the stars… come here because it is breath-taking!
---
✦ How to Get to Portofino from Genoa
✦ Via the Genoa Cristoforo Colombo Airport
I flew into the lovely city of Genoa, Italy, since it has the main airport in the Liguria region known locally as the Genoa Cristoforo Colombo Airport (GOA). Be sure and spend a day or two in this old-world city. I even took a few hours of my day for a trip to Bocadasse, a tiny fishing village nearby.
✦ Rent a Car
I rented a car and made my way up to Nervi, a real working city. I drove along the coast until I reached the gorgeous Santa Margherita town. You could stay here if you like, as it is a much more economical city and beautiful in its own right.
✦ Train from Genoa to Santa Margherita Ligure
Portofino does not have its own train station, so if you are taking a train from Genoa or even from the Cinque Terre, the closest train station is in Santa Margherita Ligure.
✦ Bus, Boat, Car, or Private Driver
From here you can either drive into Portofino or if you are ready to ditch the car, you can take public transportation (a bus) to Portofino. Just ask the driver where to get off for the Belmond Splendido if you are staying there. For me, I turned in the car in Santa Margarita Ligure and took the bus to the Hotel Splendido. Otherwise, a private driver, a boat, or a car works fine too.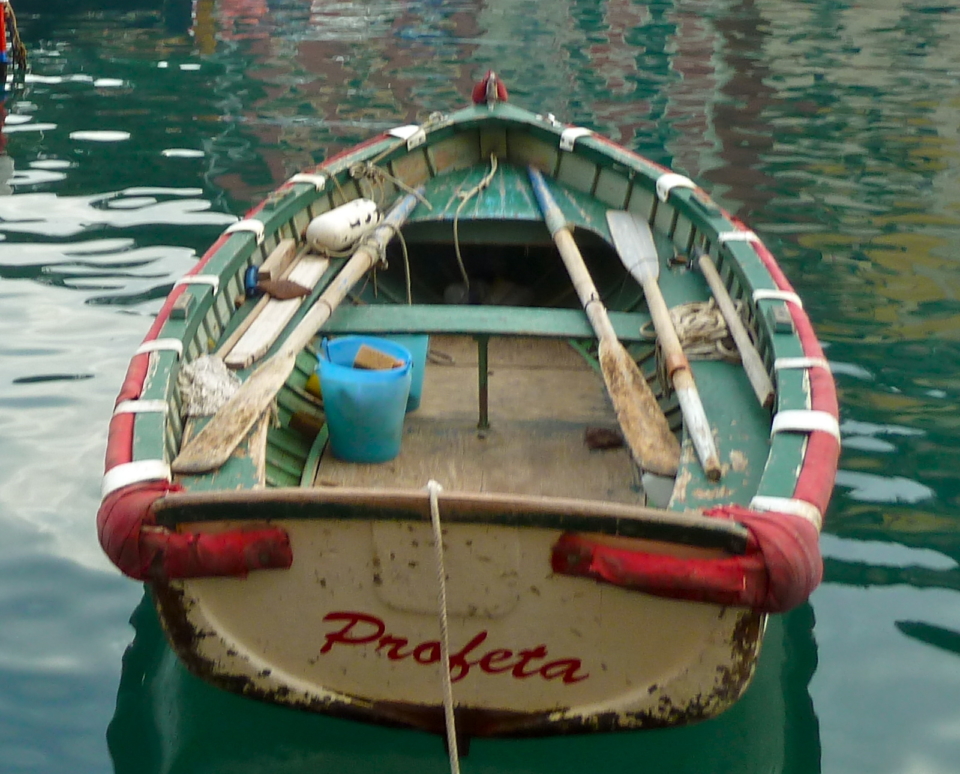 ✦ Even Walking from Hotel Splendido to Portofino!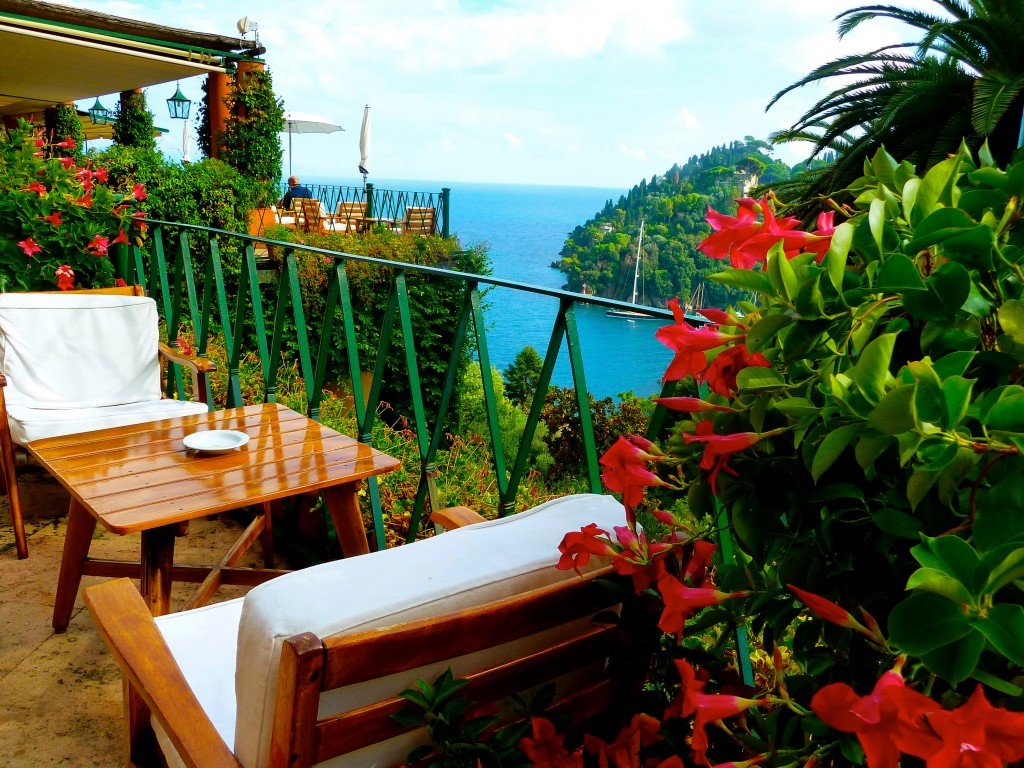 When we were coming down the mountainside cliff on foot from Hotel Splendido, I could barely believe my eyes. We had made our way down through the forest-green pathway on the wiggly roads and came upon a few houses in those gorgeous Italian pastels. This was the type of place that you could easily say to yourself, "I could live here." "This is Portofino, Italy." Or at least, this is what I was saying to myself!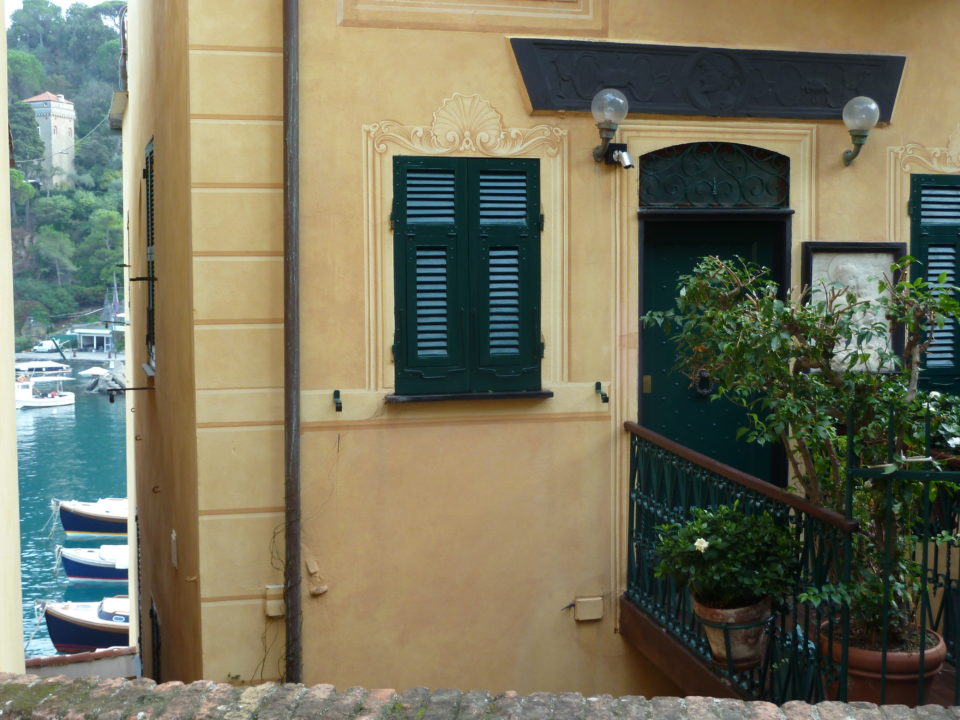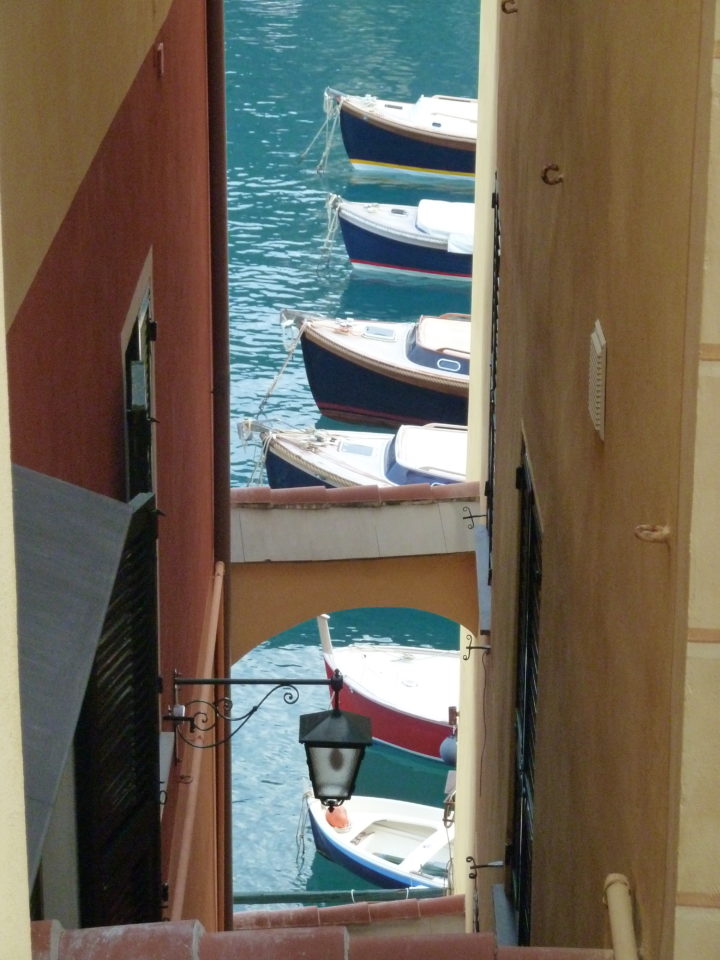 ✦ Portofino's Charming Piazzetta
The charming Piazzetta is lined with cafés, shops, restaurants, and luxury hotels, while the main street, Via Roma, glitters with designer boutiques and artists' workshops. Louie and Chanel both live here!
✦ Sit, Relax, and Drink Vino in Portofino, Italy
We sat there with our glasses of wine admiring the boats coming in and going out of the harbor. I think I could sit here all day and just people watch. Looking out over the clear green water which is teaming with a vast array of marine life, I would occasionally gaze up at the castle that sits on top of the hill overlooking this tiny village. Being here is like a fairytale movie set in Hollywood, as the staggering beauty makes you gasp and it is hard to believe that it is actually real. But it is!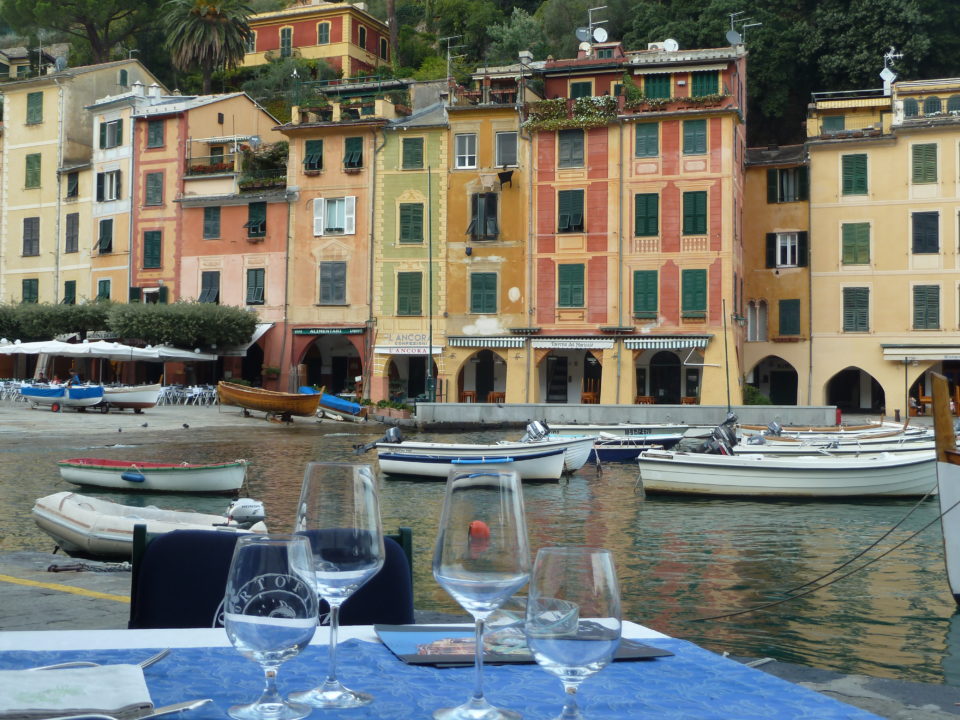 ✦ Portofino Italy: Where to Eat & Drink
Portofino is the place to see and be seen by the world's rich and famous. As their staff parks these multi-million dollar yachts out in the harbor, they jet-set in for a quick lunch at:
✦ La Critta – An American Bar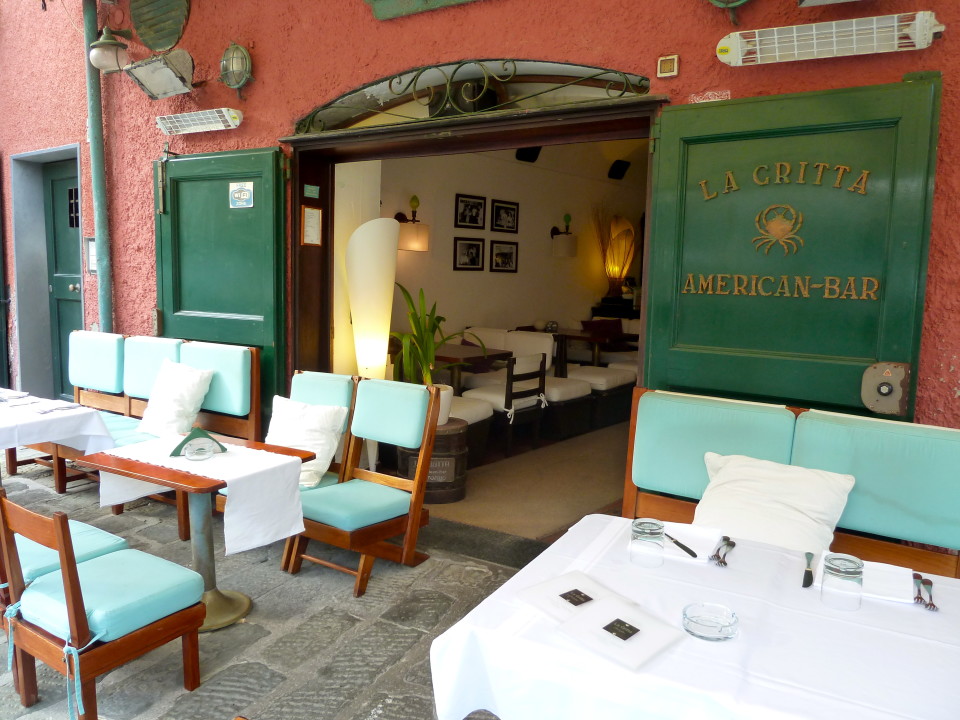 ✦ ChuFlay Bar and Restaurant – Owned by Splendido
My Chuflay Restaurant Experience! – Where I ate in Portofino.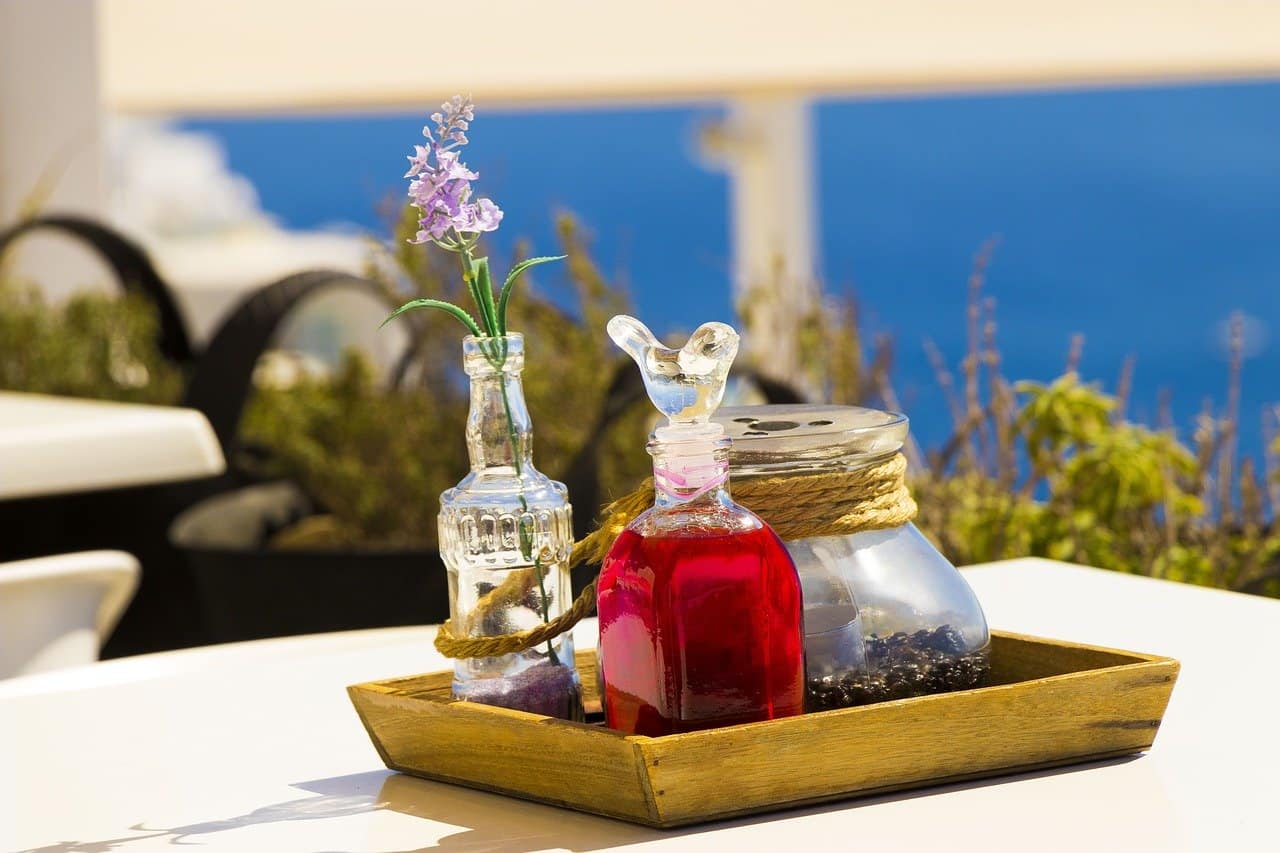 ✦ Where to stay in Portofino, Italy
As I mentioned before, I stayed at the fabulous and old-world style Hotel Splendido in a gorgeous suite. I cannot say enough about how awesome my stay was in their gorgeous suite. I reviewed it here. It is located high up on the hill with a view of Portofino. They also have a sister hotel that is down in the town called Splendido Mare.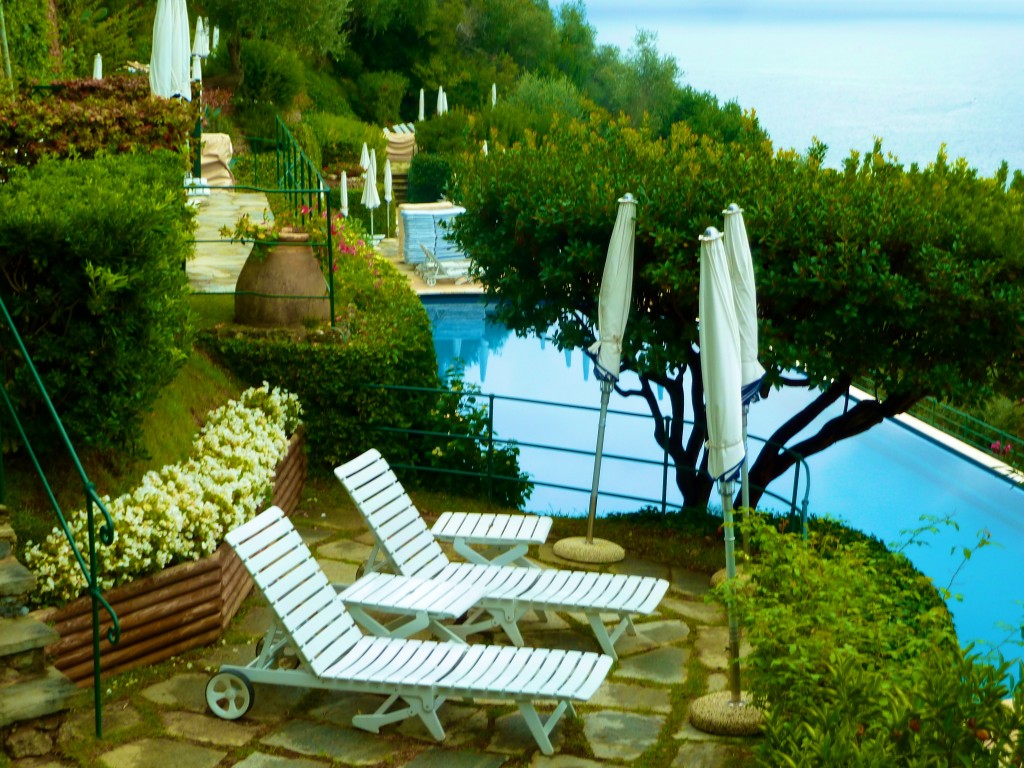 ✦ Belmond Splendido Mare Hotel
At Belmond Splendido Mare Hotel, you'll be steps from Portofino Marina in a gorgeous 86 room luxury hotel. The Church of St. Martin, Portofino Regional Park, and Castello Brown are within half a mile. Breakfast will be included in your say. It features a stunning restaurant, an outdoor swimming pool, and a poolside bar!
✦ Hotel Piccolo Portofino
The Hotel Piccolo Portofino is a four-star luxury hotel in Portofino near the Church of St. Martin and just steps from the Portofino Marina. They have a restaurant and bar, as well as free breakfast and wifi with your stay. With over 23 rooms, it is a great place to stay!
✦ Eight Hotel Paraggi
Eight Hotel Paraggi is close by in Santa Margherita Ligure and is a very popular 5-star hotel on the beach! It is located near San Fruttuoso Abbey. At this hotel, you will be steps from Paraggi Beach and only a five-minute walk from Portofino Regional Park. Nearby within 2 miles is the Abbey of Cervara and the Church of St. Martin. You will be served a free breakfast and there is a restaurant and bar in the hotel. There is also free wifi in the 12 soundproofed rooms!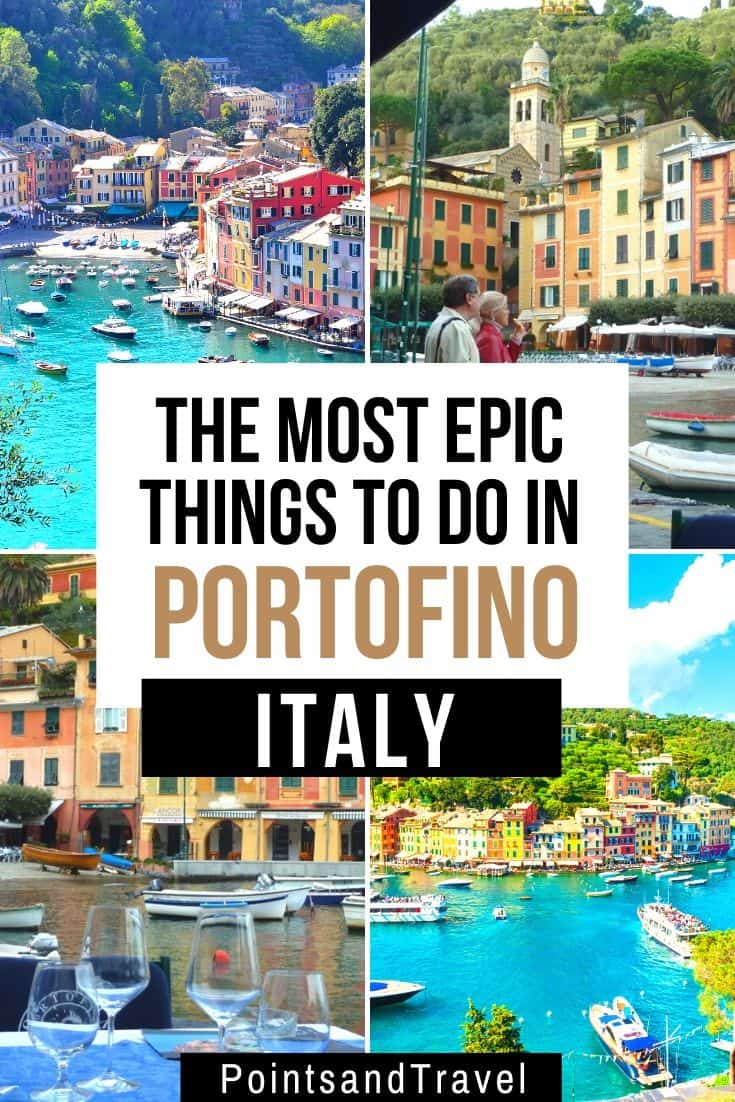 ✦ What to do in Portofino:
✦ San Fruttuoso Abbey di Capodimonte
This abbey was built in the 11th century and is among pine and olive trees that grow high in the sky. It is located across the harbor on the other side of the peninsula. You can get there from Portofino either by a two-hour walk (nice hike) or by boat or private driver. Under the water near the San Fruttuoso Abbey is a huge bronze statue of Christ, the protector of scuba divers and sailors.
The Belmond Hotel Splendido even offers day trips on their yacht for a visit and they even have a planned scuba dive for there as well. They plan scuba diving weddings there too! In July, there is an underwater procession to the statue where a laurel crown is placed upon Christ's head.
✦

Castello Brown
The castle Castello Brown is a huge fortress built in Portofino in the 16th century. It sits above Portofino and you can walk to it by a footpath near the Botanic Garden. Once inside, you can view the furnishings that belonged to the Browns as well as photos of many famous visitors to Portofino. It has now become a museum and was once the residence of Yeats Brown – the British Consult to Genoa in 1870. The castle has great views of Portofino.
✦

San Giorgio Church and Lighthouse
This Romantique-styled yellow Catholic church, San Giorgio Church, was built in 1154. You can reach the church from the harbor of Portofino via walking. There is also a scenic pathway that takes you all the way out to the lighthouse on Punta del Capo. There are many nice viewpoints on this steep walk path of Portofino. You can get a classic Portofino postcard view on this walking path.
✦

Portofino Regional Park
The area that stretches behind Portofino is a protected area called the Portofino Regional Park. It is accessible via the many hiking trails both along the coast and on the inland route. Many of these routes offer spectacular views. The northern part of the park is wooded, In the southern part, there are more wildflowers and grasslands.
✦

Portofino Marine Protected Area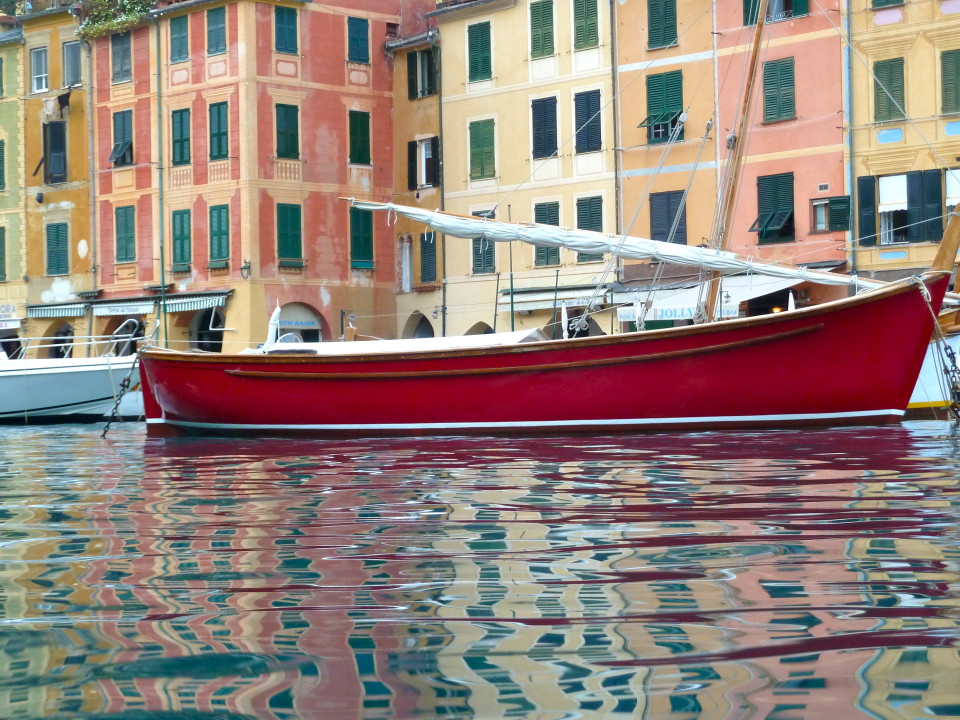 Since I am a scuba diver, I love that they have a Portofino Marine Protected Area where most of the water along the coast from Santa Margherita is a protected area. They have over 20 dive sites and diving can be pre-arranged through local dive agencies in Portofino. Swimming is also allowed. But some boating is restricted near the shorelines. Parts of the coastline are very rugged and steep, so while hiking, be aware of the conditions!
✦ Quick Day Trips from Portofino
Portofino sits along a peninsula in the Tigullio Gulf, not too far east of Genoa in the northern Italian region of Liguria. There are plenty of towns nearby that are worth a visit: Santa Margherita and Camogli are a few that make a nice day visit. Also, there are plenty of things to do and opportunities for hiking, scuba diving, and boating in the area. Or you can just sit back, relax, and enjoy the view!
Be sure to plan a full day of outings for Portofino so that you can relax and take it all in. I'll leave you daydreaming about your next trip to Portofino!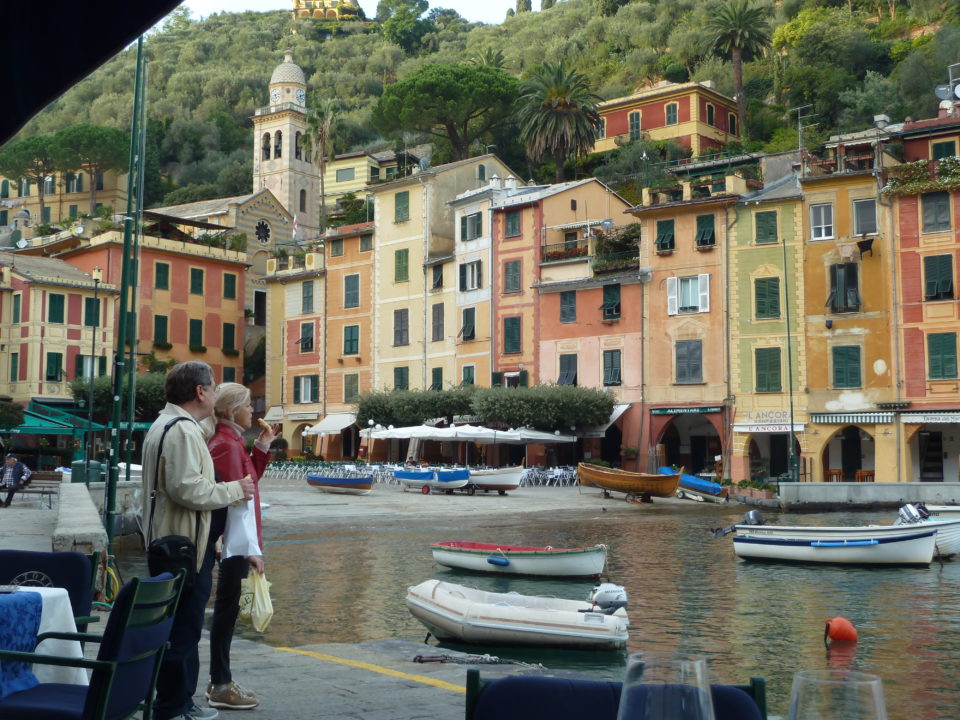 In the meantime, here is some more recommended reading for things to do in the area around Genoa:
Le Rune, Genoa, Italy Where to eat in Genoa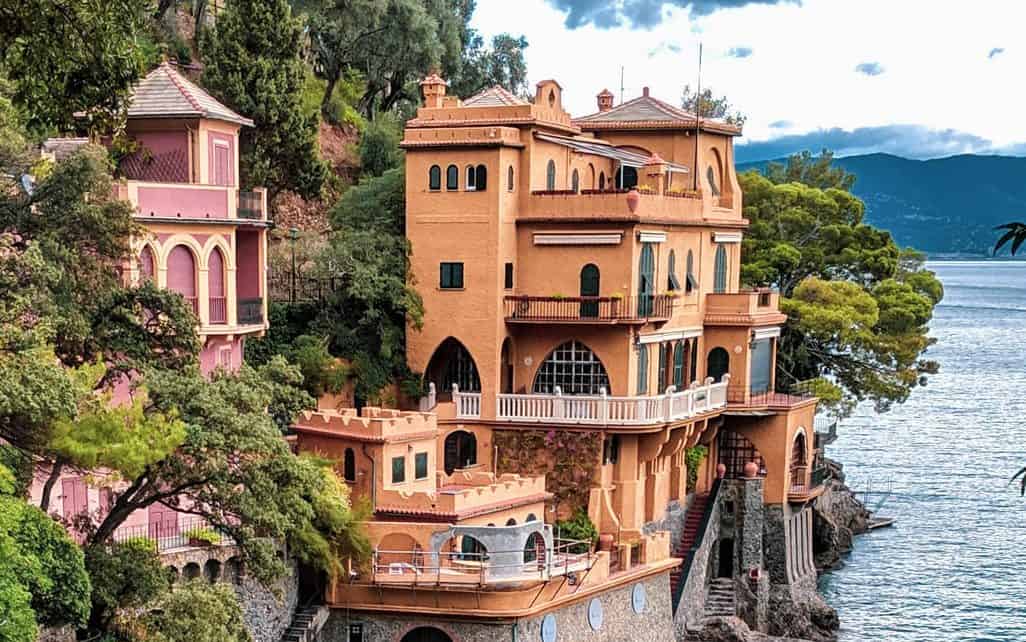 Disclosure: The writer believes in full disclosure and wanted to let you know that this trip was provided by Hotel Splendido. As is common in the travel industry, the writer was provided with accommodations, meals, and other compensation. There are affiliate links in this article.