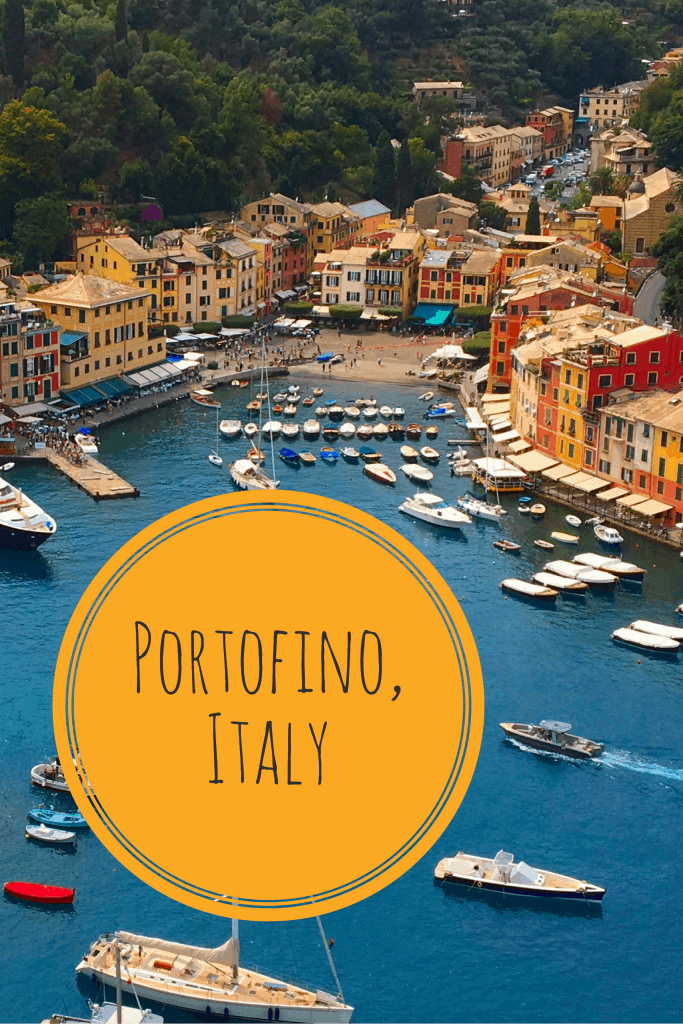 Coming down the mountainside cliff from Hotel Splendido, I could barely believe my eyes. We had made our way down through the forest green pathway on the wiggly roads and came upon some houses with old world charm.  This was the type of place that you would say to yourself, "I could live here." "This is Portofino, Italy." Portofino is a small Ligurian fishing village in which no new houses have been build since 1935. The pretty pink and yellow houses with the perfectly painted shutters retain an old-world charm.  Peaking thru to the bustling harbor all offset by the staggering scenery, it makes for an irresistible retreat, and one that over the years has attracted writer Truman Capote and the glamorous Hollywood stars, including Liz Taylor, Richard Burton, Humphrey Bogart and Clark Gable from back in another time.  O, sure, Beyonce and Jay-Z come here, but they don't really belong!
Portofino, Italy
This is the place to see and be seen by the world's rich and famous.  As their staff park these multi-million dollar yachts out in the harbor, they jet set in for a quick lunch at
La Critta – An American Bar.
The charming Piazzetta is lined with cafés, while the main street, Via Roma, glitters with designer boutiques and artists' workshops.  Louie and Chanel both live here!
Portofino, Italy
We sat there with our glasses of wine admiring the boats coming in and going out of the harbor, I think I could sit here all day and just people watch. Being here is like a fairytale movie set in Hollywood, as the staggering beauty makes you gasp and it is hard to believe that this is real.
I'll leave you with the daydreaming of your next trip here.
Portofino, Italy: How to get there
Fly into Genoa, Italy.  Be sure and take a day or two in this old world city, then rent a car and make your way up to Nervi, a real working city and drive along the coast till you reach Santa Margherita.  Stay here, as it is a much more economical city and beautiful in its own right.  From here you can either drive into Portofino or if you are ready to ditch the car, you can take public transportation (a bus) up to Portofino, just be sure and ask the driver where to get off.  Plan a full days outing for here so that you can relax and take it all in.  There is not that much to do here other than gawk.
RECOMMENDED READING:
Authentic Italian Recipes for the Soul
Tuscany Region, Italy:
One of the Best Place to go in Italy
Hotel Adler Spa in Tuscany, Italy
Italian Vacations –  – Make This Your Next Authentic Italian Vacation
Under the Middle-Aged Tuscan Sun
Luxury Italy: A Journey for the Soul
Luxury Firenze Hotel: Il Salviatino
Lazio Region, Italy:
5 Reasons to Rent an Apartment in Rome
Get the Scoop on the Best Gelato in Rome
Tiber Island: A Tiny Island in the Middle of Rome
Campagna Region, Italy:
The Abbey of Montecasino and Herculaneum
Positano, Italy: Bellisimo Part 1
Positano, Italy Bites Deep: Part 2
Furore, Italy: The Most Beautiful Place on Earth
Emilia-Romagna Region, Italy:
La Bottega del Legno: The Woodshop in Forli, Italy
First Words: La Biblioteca Malaestina in Cesena, Italy
A weekend trip to Cesenatico, Italy
Altavita Winery: The High Life of Cesena
The Magnificient Masselina Estate and the Women of Faenza, Italy
Veneto Region, Italy:
A Voyage Thru Time: Things to do in Venice, Italy
The Oldest Coffee House in Italy
Puglia Region, Italy:
The Power of Travel Seen Through the Eyes of a Travel Company
Liguria Region, Italy:
Genoa, Italy and the BW City Hotel
Treat Yourself to the Suite Life: Hotel Splendido, Portofino, Italy
The Poetry of an Old Fisherman's Village: Bocadasse, Italy
Italy Revealed: Camogli, Italy
Le Marche Region, Italy:
Food, Friendship, and Wine in Le Marche Region, Italy
The Lost Art of Print Blocking in Carpegna, Italy Regenerated
Calabria Region, Italy:
Disclosure:  The writer believes in full disclosure and wanted to let you know that this trip was provided by Hotel Splendido.  As is common in the travel industry, the writer was provided with accommodations, meals, and other compensation. There are affiliate links in this article.