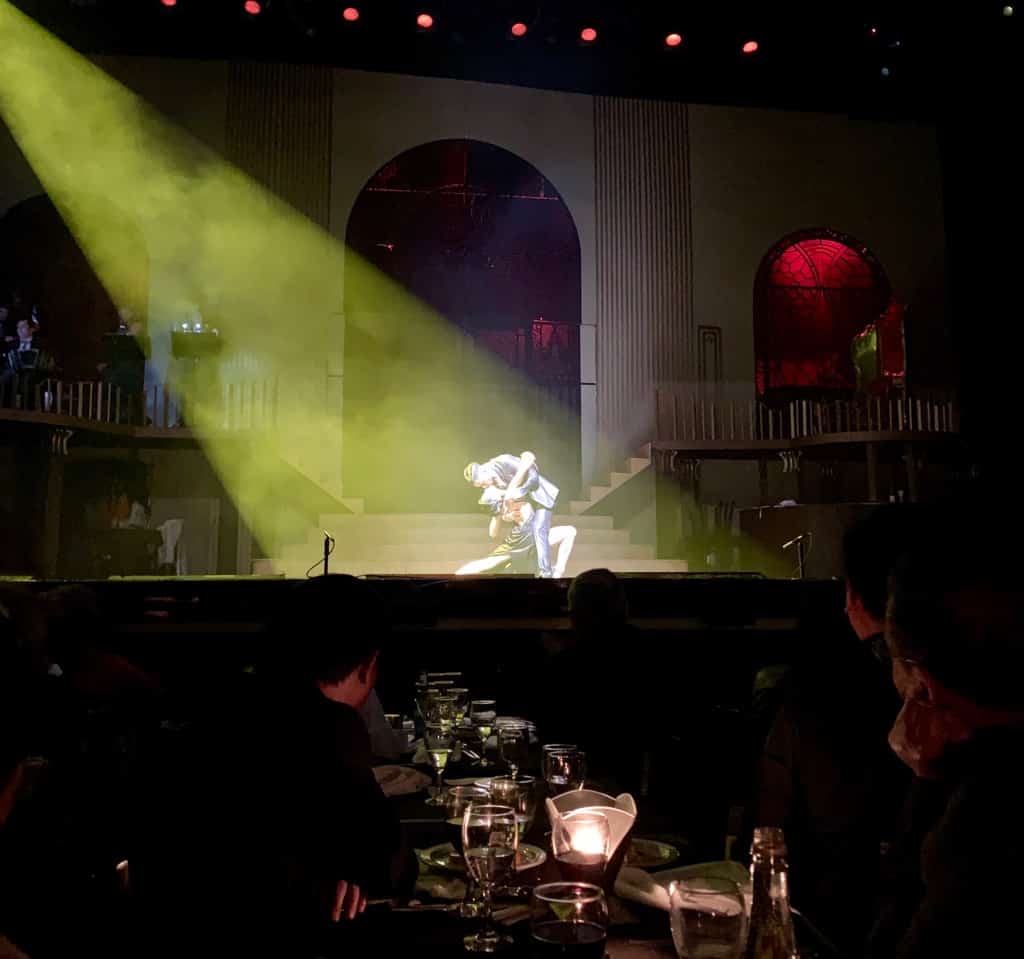 Like every big city, Buenos Aires has many popular tourist attractions that can be found on almost any street corner in Argentina. In fact, Argentina has many popular tourist attractions that are labeled "must-sees". Argentina's vast metropolis is a melting pot of food, cultures, and colors. With football history icons like *Diego Maradona and La Boca, cemetery visits, and, above all, tango, everything seems to be a "must-do". But it is also a city of neighborhoods – each with a distinct blend of local cultures, almost all worth visiting. So it can be tricky to feel like you have really experienced Buenos Aires. So when I explored the San Telmo neighborhood, I found someone interesting! Mafalda and her friends were hanging out on a white park bench.
---
What's in this post:
hide
Meet the Cultural Icon: Mafalda!
---

Mafalda: The Challenger
Sometimes there is something about a six-year-old girl who challenges a nation. Only she's not really even a girl, but a boy. A boy who became a comic book hero. The naivety of a girl, who was a boy, and how she/he can reveal a view of the world that is unlike what an adult might think. She tells it like it is. In her own, matter-of-fact, way. She reflects her thought about the Argentinian middle class and progressive youth, Oh, as I mentioned before, her name is Mafalda. Mafalda hates soup, by the way! She cares more about humanity and world peace and… loves the Beatles! As she should.
Comic Mafalda's Sense of Humor
I wasn't a kid that grew up read Mafalda, but as an adult, I get her sense of humor. In a way, the comic strip is much like Peanuts, where kids are wise beyond their years while contemplating conundrums. You might call it the "Peanuts of Latin America", and every Spanish-speaking person is aware of it. They recognize almost any comic strip, even though it hasn't run for decades. Also like Calvin and Hobbs, with huge imaginations and smarty remarks, or even like Doonesbury with its social commentary. Quino (Joaquín Salvador Lavado Tejón) manages to poke fun at politics and human nature in a funny way.


---
The kind of ideas that he works with are of the most difficult, and I am amazed at their variety and depth. Also, he knows how to draw, and to draw in a funny way. I think that he is a giant.[32]
---
Argentina Mafalda's "Way with Words"
For over 10 years since 1964, Mafalda appeared in the local Argentina newspaper, Primera Plana, then El Mundo in 1965, and then went to the weekly magazine, Siete Días Ilustrados, when El Mundo closed in 1967. Quino officially stopped publishing new Mafalda stories in 1973. His weekly commentary quested social and political ideals with a refreshing perspective, oftentimes humorous, that results from observing life as a child would see it.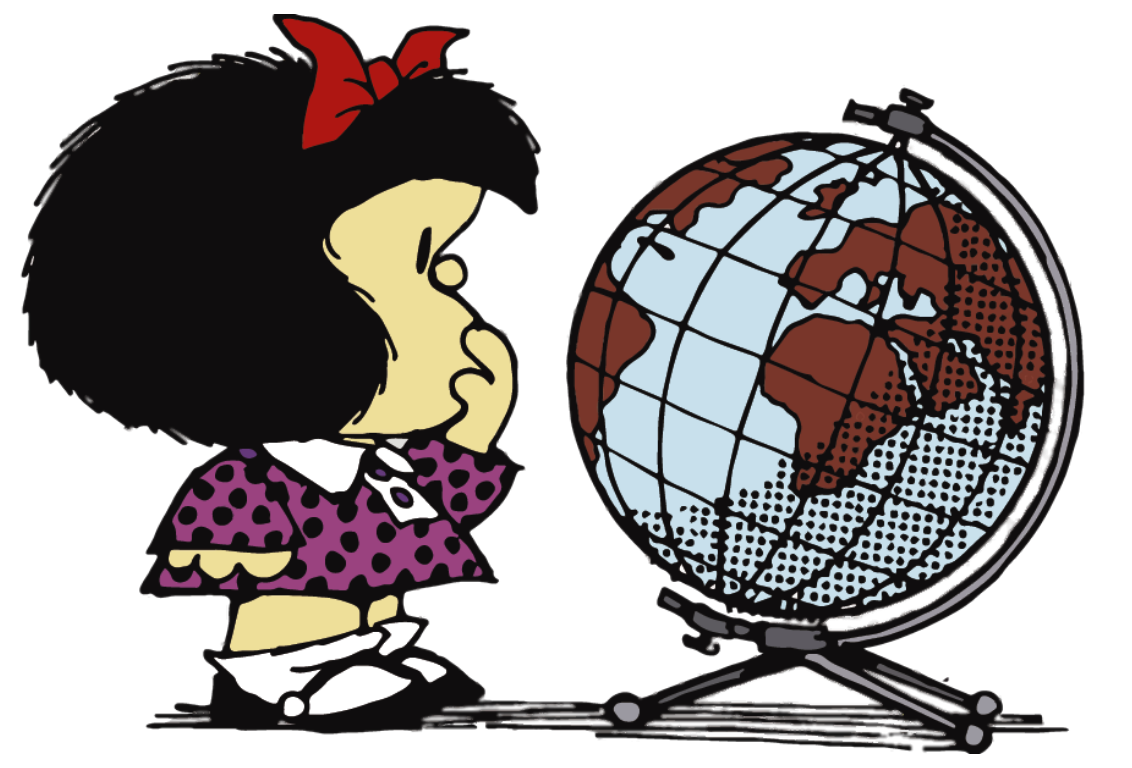 Comics Mafalda's Other Mediums
But the original comic strips have since been republished in a series of animated books, have been repurposed for television, and even featured in a 1982 movie called "Mafalda The Movie". Nostalgic fans and now younger generations will now be exposed to the cultural icon that is Mafalda through these other mediums. And during that entire time, Comic Mafalda only aged five years! Image how old she would be today!
Somehow readers were drawn to her since she spoke about community and questioned the state of the world but lived in a time when as a child she could do the questioning. Readers were drawn to her throughout Latin America and especially in Buenos Aires, Argentina. No one would say anything if they were an adult, but speaking from a child's point of view, made people ponder her thoughts.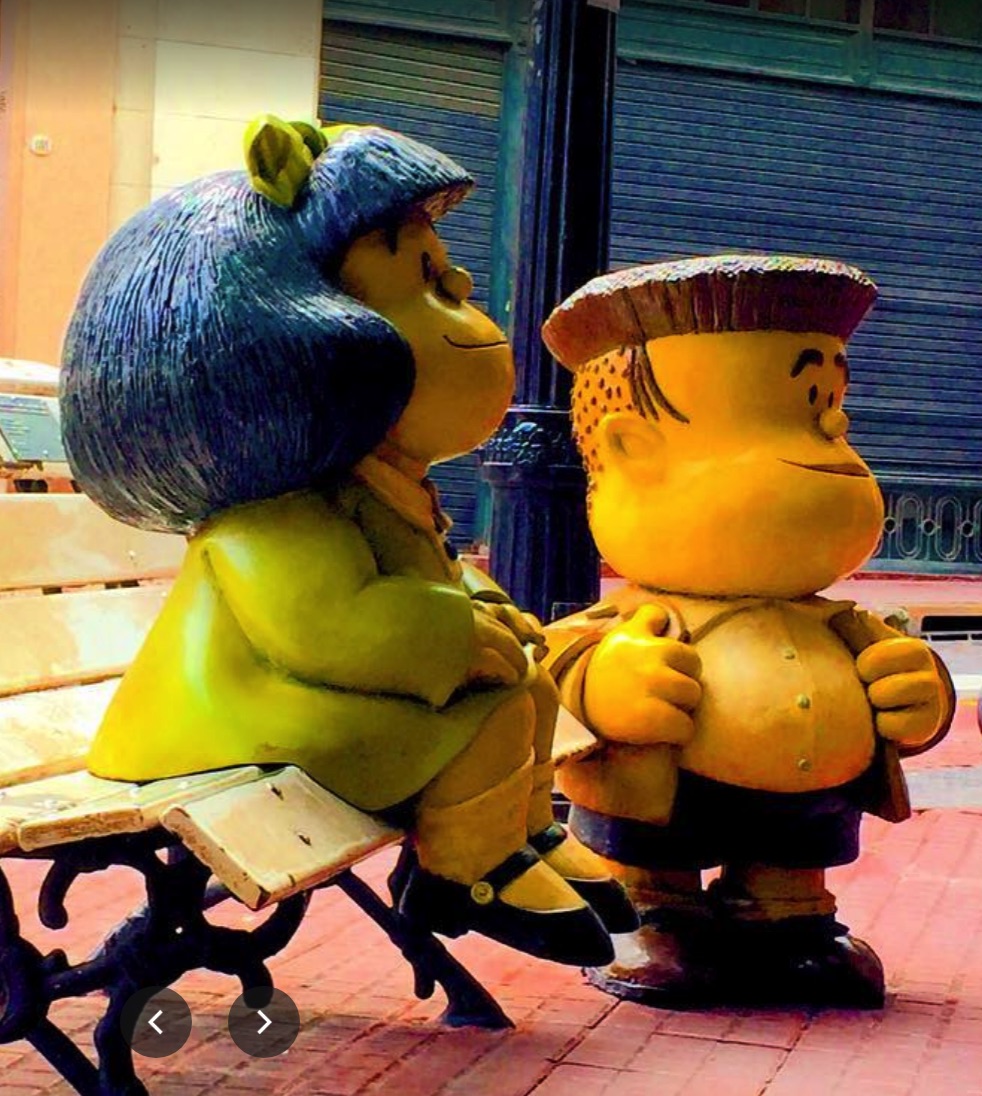 Who on Earth is Mafalda?
Well, like I said before: she is a girl, written by a man, as an original comic strip that published in a few newspapers in Buenos Aires, Argentina. Soon she became a cultural icon. She was created by Joaquín Salvador Lavado Tejón, whose pen name was Quino. He gave snappy comments and a smart observation about the world around him in Latin America.
In fact, she and her friends have become a cornerstone of Argentina's popular culture, and especially in Buenos Aires. She went on to become a sensation across Latin America and the globe with her witty remarks. Cartoon Mafalda and her friends are loveable and relatable pretty much where ever they go. And now you can find them on a white bench.
Where in Buenos Aires Can I find Comic Mafalda?
Just go on over to the San Telmo neighborhood, which is where the cartoon little girl lives …there you will find a life-sized statue of Mafalda sitting on a park bench in Buenos Aires. She is a cute little thing with a matching hair bow and dress; and of course, she has a grin from ear to ear. Manolito and Susanita, two of her friends, are there too.
Tourists usually stumble across these tiny statues by chance, but I am here to tell you exactly where you can find her: 700 Defensa, Buenos Aires, Argentina, just outside the old home of the cartoonist Quino. She is still sitting on a little white bench on the corner of Chile and Defensa Streets. This comic statue of Mafalda and friends was installed in 2009.
While in this San Telmo neighborhood, be sure and visit the El Ateneo Grand Splendid bookstore (amazing!), the Teatro Colon, and the Mercado San Telmo, which are all fairly close by. San Telmo is picturesque and super colorful. It feels like a bohemian area of Buenos Aires that, honestly, nobody should skip. The bars and restaurants are pretty interesting too. So look around twice for a little bit of fun and enjoy San Telmo.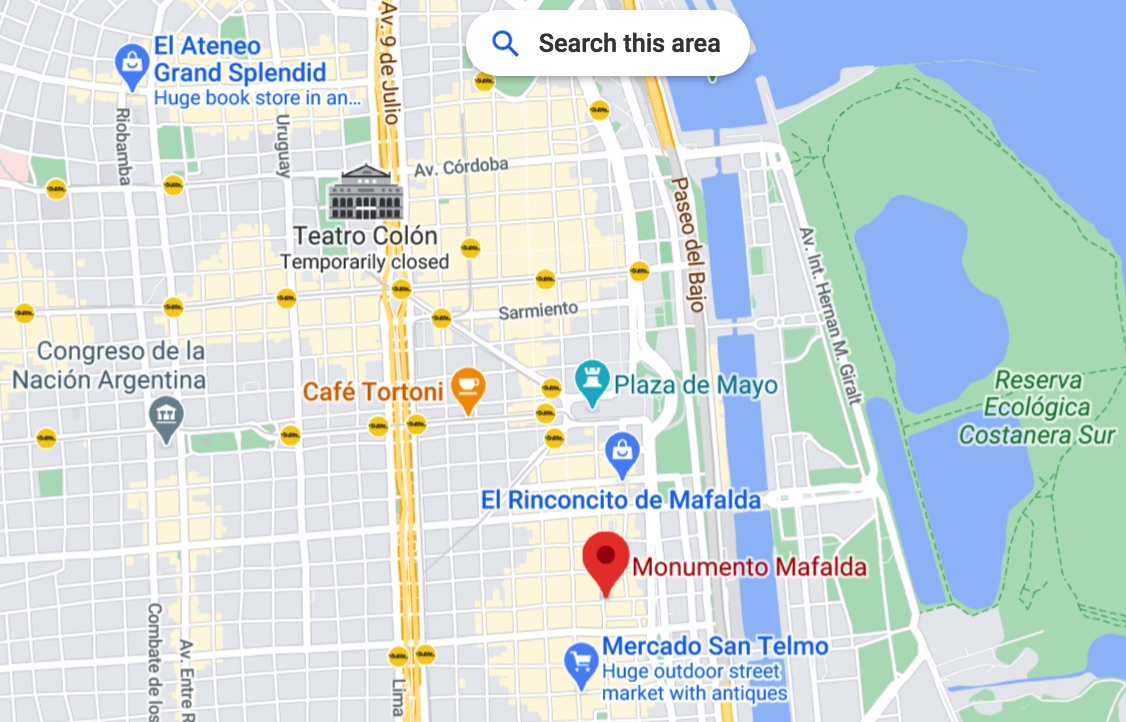 Cartoon Little Girl Often Mentions her Friends
Felipe, a smart kid who hates homework and loves Cowboys and Indians
Manolito, a capitalist kid always scheming and never takes a day off
Susanita, a frivolous anti-feminist; And a gossip queen with a sharp tongue
Miguelito, a dreamer, and philosopher; somewhat of a rebel without a cause
Libertad, a tiny kid named "Freedom" – politically inclined – prone to over-react
As well as Comic Mafalda's Family Members
Her father, who has an office job in Buenos Aires and is always wanting to destroy the ants that ate his prized plants. He was a horticulturalists. He avoids confrontation at all costs. Her mother, a housewife, and pianist.
Her parents represent the first generation of parents after the end of the 2nd World War. They brought up their children in an anti-authoritarian way – so they have their hands full with Mafalda!
Her baby brother Guille, who was forever a fan of Bridgett Bardot and a troublemaker.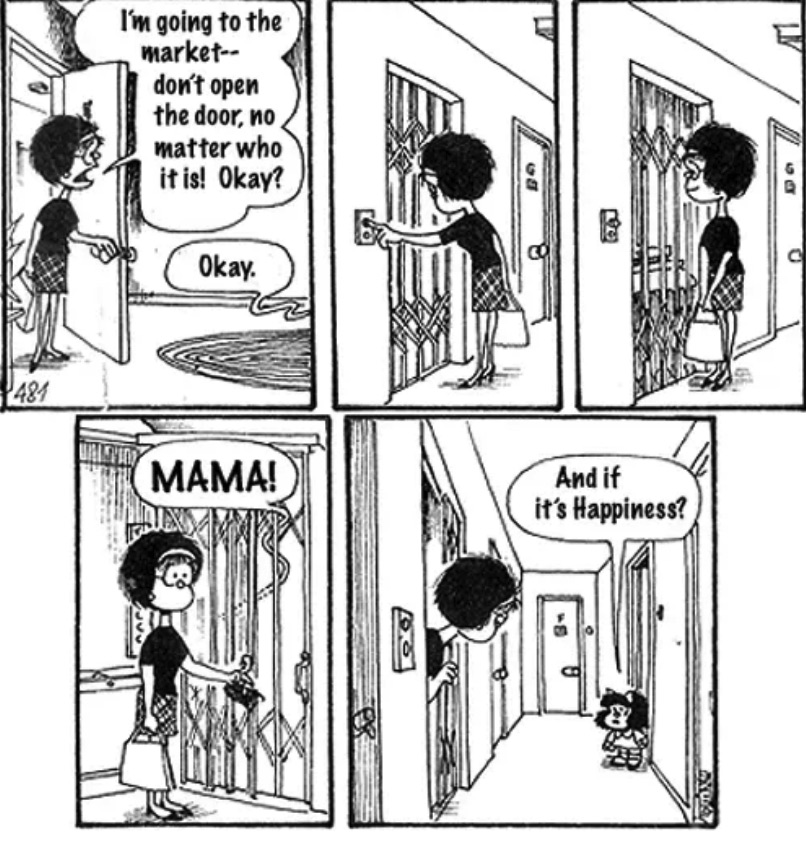 What to Know Before You Go
You can see the statues of Mafalda and her friends at any hour, of any day of the week. The cute statue of Argentina Mafalda and her friends is right on the street, as often you will find a line of fans waiting to take a photo with them. The best day to go would be midweek, say Wednesday or Thursday if you want to avoid having to wait.
But a fun day to go is on Sundays, as there is a street fair. On this day, they close off the street to cars, but you can walk close to the nearby statues. Plus, nearby is a gift comic shop dedicated to Quino and his beloved comic Mafalda. Many fans will even line up to have their photo taken with the beloved characters.
The Thing about Comic Mafalda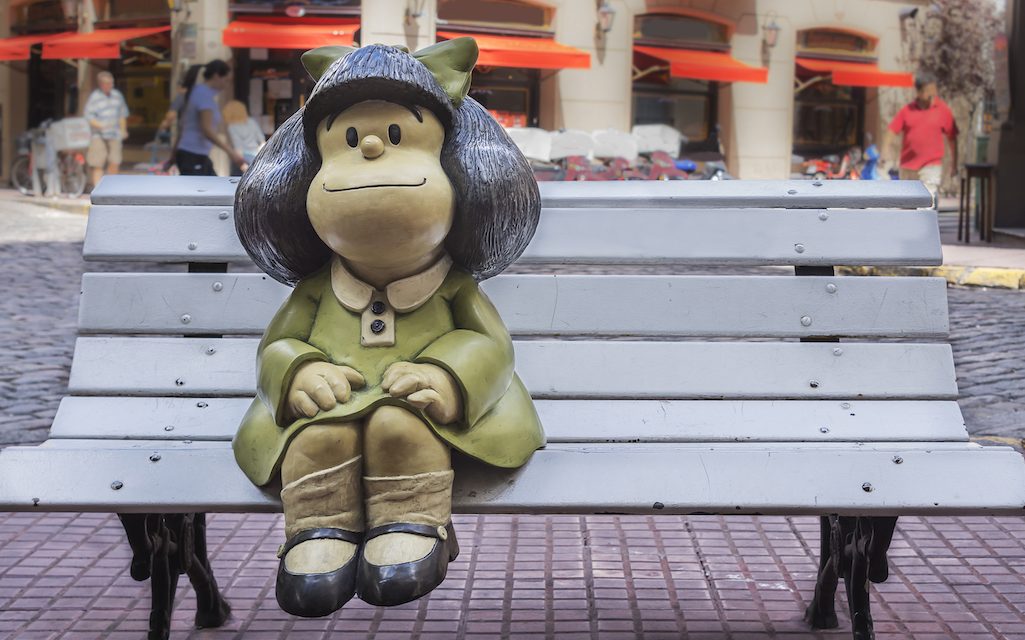 As you read old Mafalda comic strips, you will see that she looked beyond the primary school problems – things like doing homework, skipping ropes, and boy germs. She was more interested in the meaning of life. Or the Vietnam war and nuclear weapons. She questioned life.
To me, it is so strange that almost 60 years after Mafalda disappeared from the daily pages of the comic strip that she still elicits such an endearing response. I am not quite sure why, but maybe she just wanted to stand up to the villains, since she was caught up between a world war and a cold war. Who knows?
Come Visit Argentia
My last visit to Argentina left me stunned, amazed, and yet bewildered that their economy was in the dark hole, yet everywhere I went, the Argentinian people were out celebrating life with a glass of wine in hand. They seemed to enjoy the times, regardless of their economic difficulties. Maybe they just want to enjoy the simple truth from a 6-year-old girl, just like Mafalda.
As Isabella Cosse writes in her study of Mafalda – A Social and Political History of Latin America's Global Comic, Mafalda developed at the same time as Argentina's political and social development was occurring as a voice for democracy and freedom. She analyzes the comic's appeal across multiple generations.
From Mafalda speaking directly to her opposition of the 1966 Argentine coup, to Spanish students' protest signs painted on her face. Cosse provides insights into Argentina Mafalda's production, circulation, and incorporation into the social and political conversations and the unexpected power of humor. (This book was published in English and in Spanish).
One last sad note: The creator of Mafalda, Quino, died on September 30th, 2020 in Mendoza, Argentina at the age of 88. He will be missed by all of Latin America.
---
There's much more to Buenos Aires than just the Comic Mafalda statue and the fact that she hates soup – but it is a great start. Mafalda reminds me of this video: "The Soup Nazi".
And just in case you were wondering… there is another Mafalda… only she lives somewhere else… like in a San Francisco Park in Oviedo, Asturias, Spain! There she sits… just waiting for you to come to Spain for a visit.

Best Accommodations in Buenos Aires to Visit Mafalda
If you stay close to the city center of Buenos Aires, you'll be near many of the main sights and have easy access to other neighborhoods.
With great value and a central location in San Telmo, this
apartment
is a good option.
And when it comes to the top end, the Palacio Duhau – Park Hyatt or Faena Hotel Buenos Aires is the ultimate in luxury!
Pin me: Guide to visiting Mafalda!