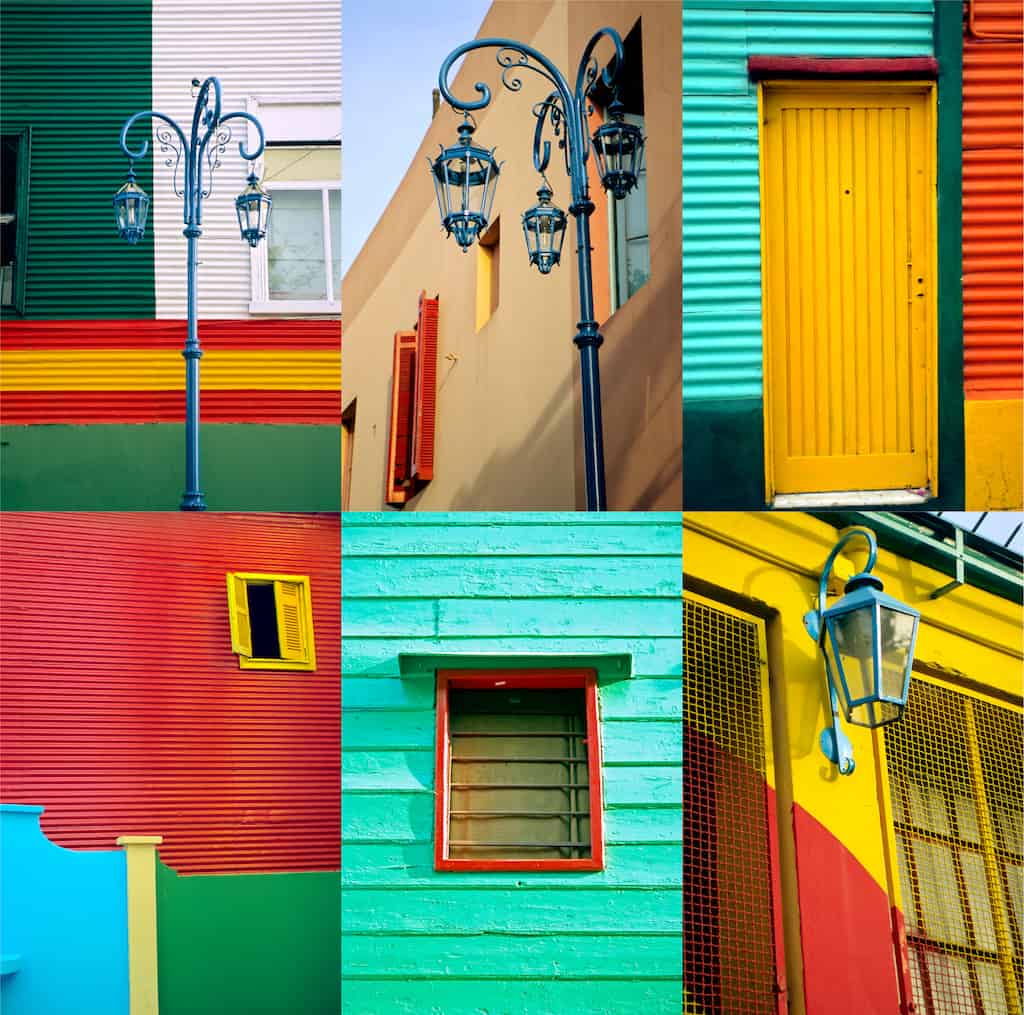 Like every big city, Buenos Aires has many popular tourist attractions that can be found on every website you read about the country of Argentina. Many times as tourists, we go to popular tourist attractions that are labeled "must-sees". And so many times I have gone and come away feeling a bit misguided. This article is not to say you should visit La Boca, but to analyze if La Boca is really a "must-see" for you. For me it was, but each of us is a bit different in the way we choose how we want to spend a few hours.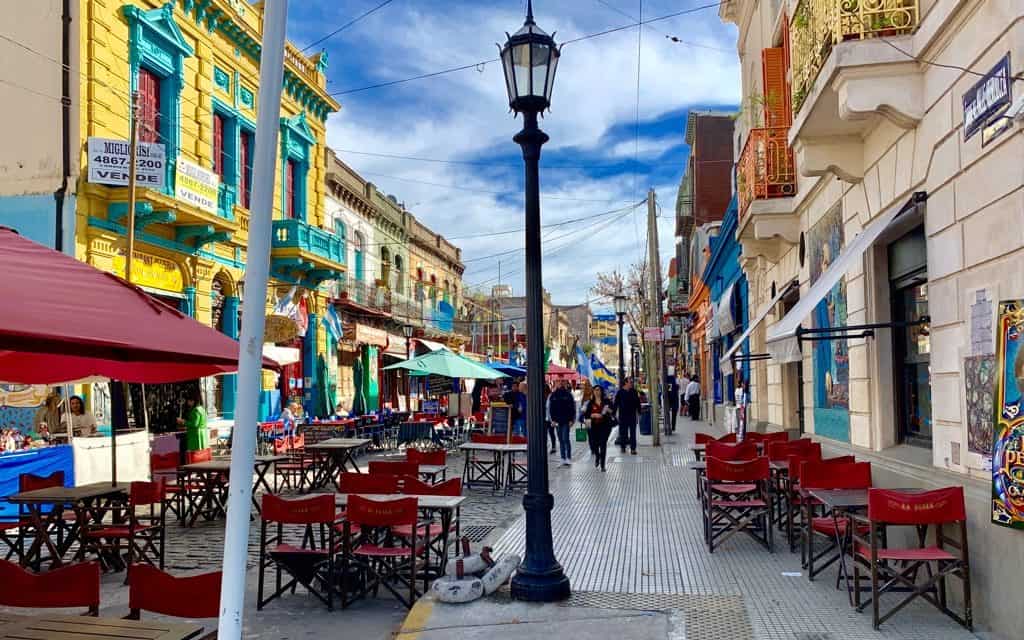 ---
Caminito La Boca – A Colorful Buenos Aires Neighborhood
---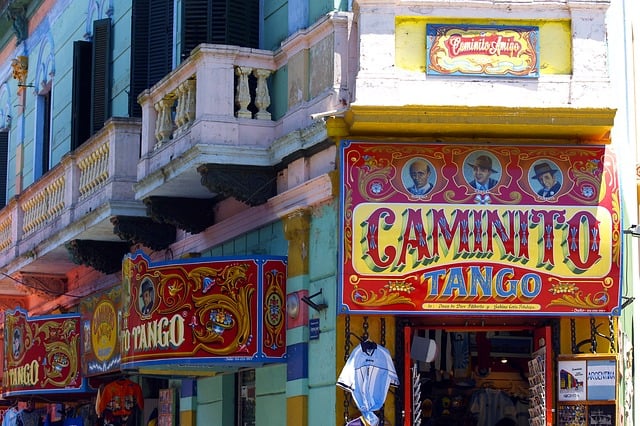 La Boca in Buenos Aires is famously the place to find a few major attractions that you may want to visit as a tourist. Most tourists will want to see Caminito Buenos Aires and the fútbol stadium known as 'La Bombonera'. This area is well known for its colorful buildings down by the River Riachuelo.
And it is also the place where Diego Maradona played fútbol.! With a kaleidoscope of colors in every direction—you will find tango dancers to colorful statues to works of arts. But does this neighborhood offer more than these two attractions? Of course, it does, but I want to tell you about these two first.
Caminito La Boca Neighborhood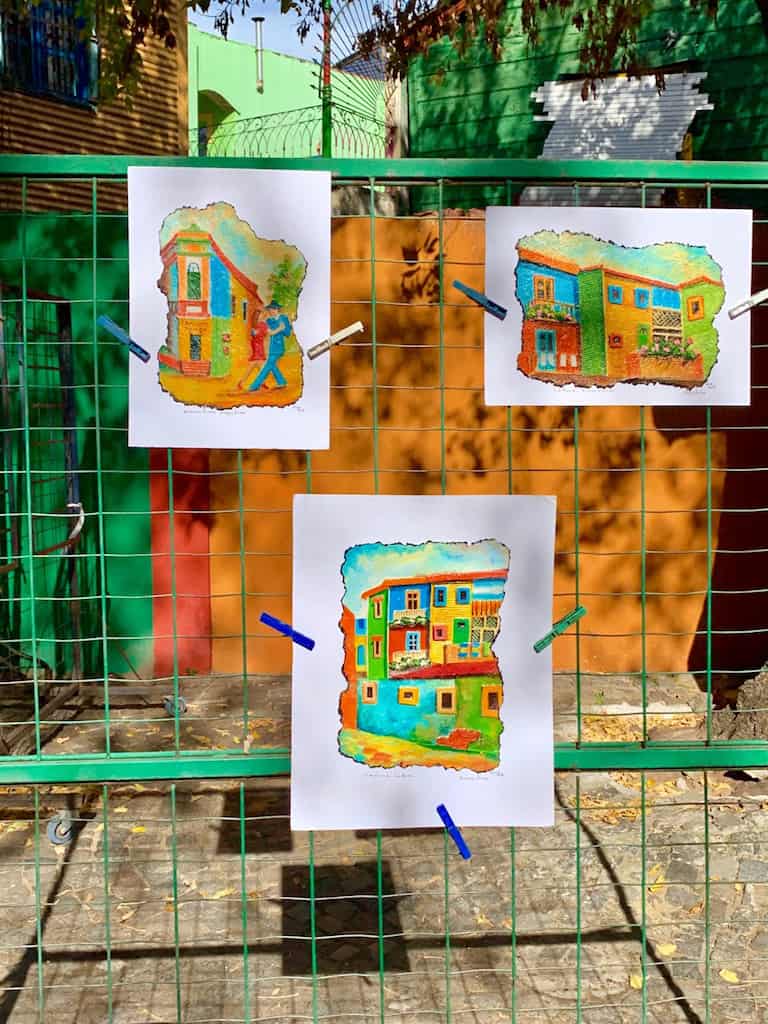 There is a tiny little street in Boca Buenos Aires neighborhood that is lined with the most colorful art, buildings, restaurants, food stands, shopping areas, ice cream shops, and tango dancers called Caminito La Boca or El Caminito. From the fake storefronts and the shanty houses to the pedestrian streets. to the sidewalks themselves, El Caminito Buenos Aires is like a rainbow of colors. From pastels to colorful works of art and statues, you will find all types of things to see and do in Boca Buenos Aires.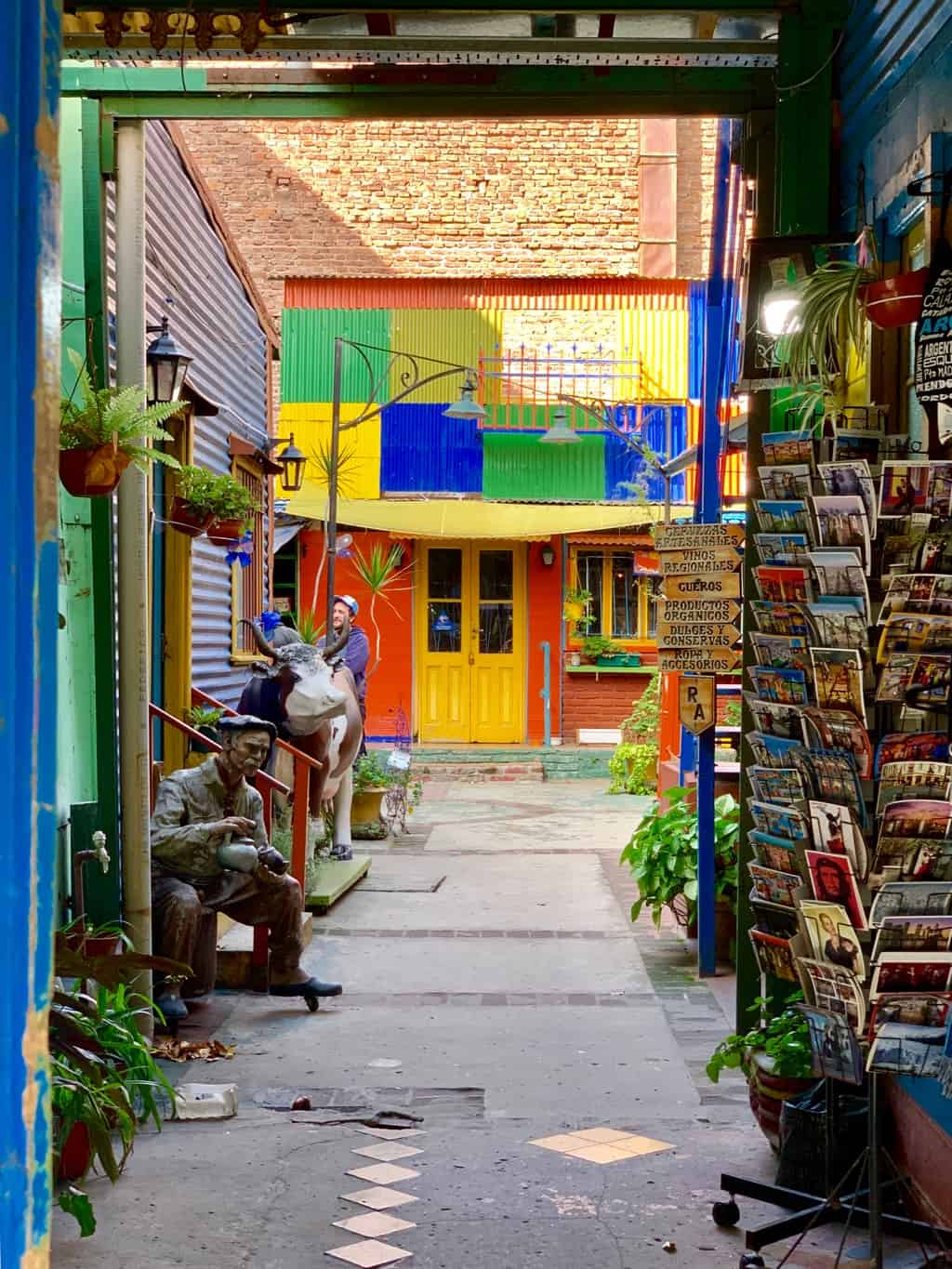 In fact, practically every tourist that comes for a visit to Buenos Aires comes to this cute little area. Literally, the entire space is dominated by the talented tango dancers that love to dance the night away. Or they love to teach you how they swing dance and want you to dance with them (mostly for a price). However, they are always so inviting to teach you what they know and would love to have you dance along. In fact, I had just arrived that day, being a bit sleepy from my overnight coming from Lima, Peru, that I took them up on a few moves before leaving!
---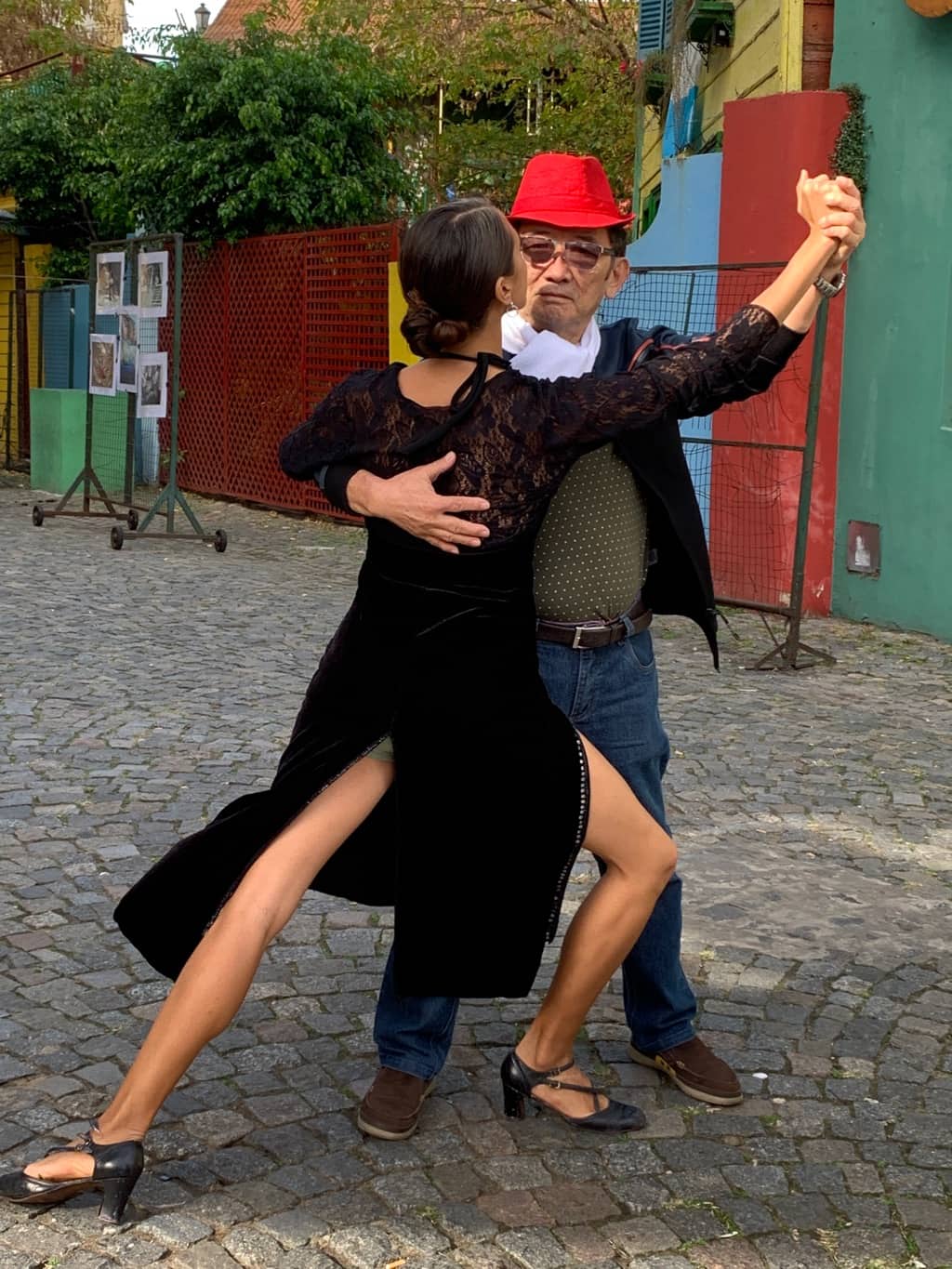 ---
From this to this?
---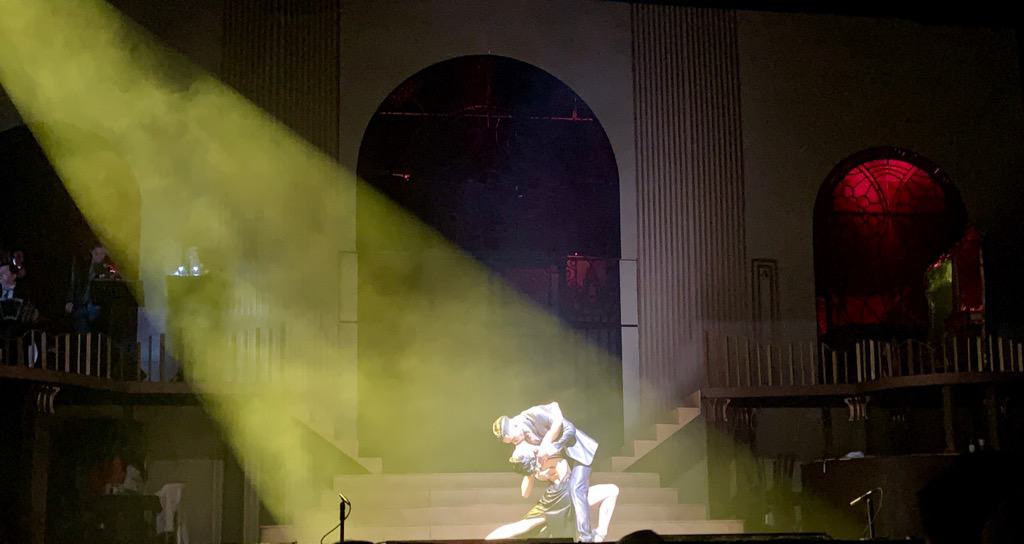 ---
La Boca Is A World Of Color
In a city that comes alive after dark, I give "thanks to the tango dancers' for keeping this age-old tradition alive. They can easily serve up quite a lively party scene in the local La Boca Buenos Aires neighborhood. And you will see plenty of people buzzing around where they practice their skills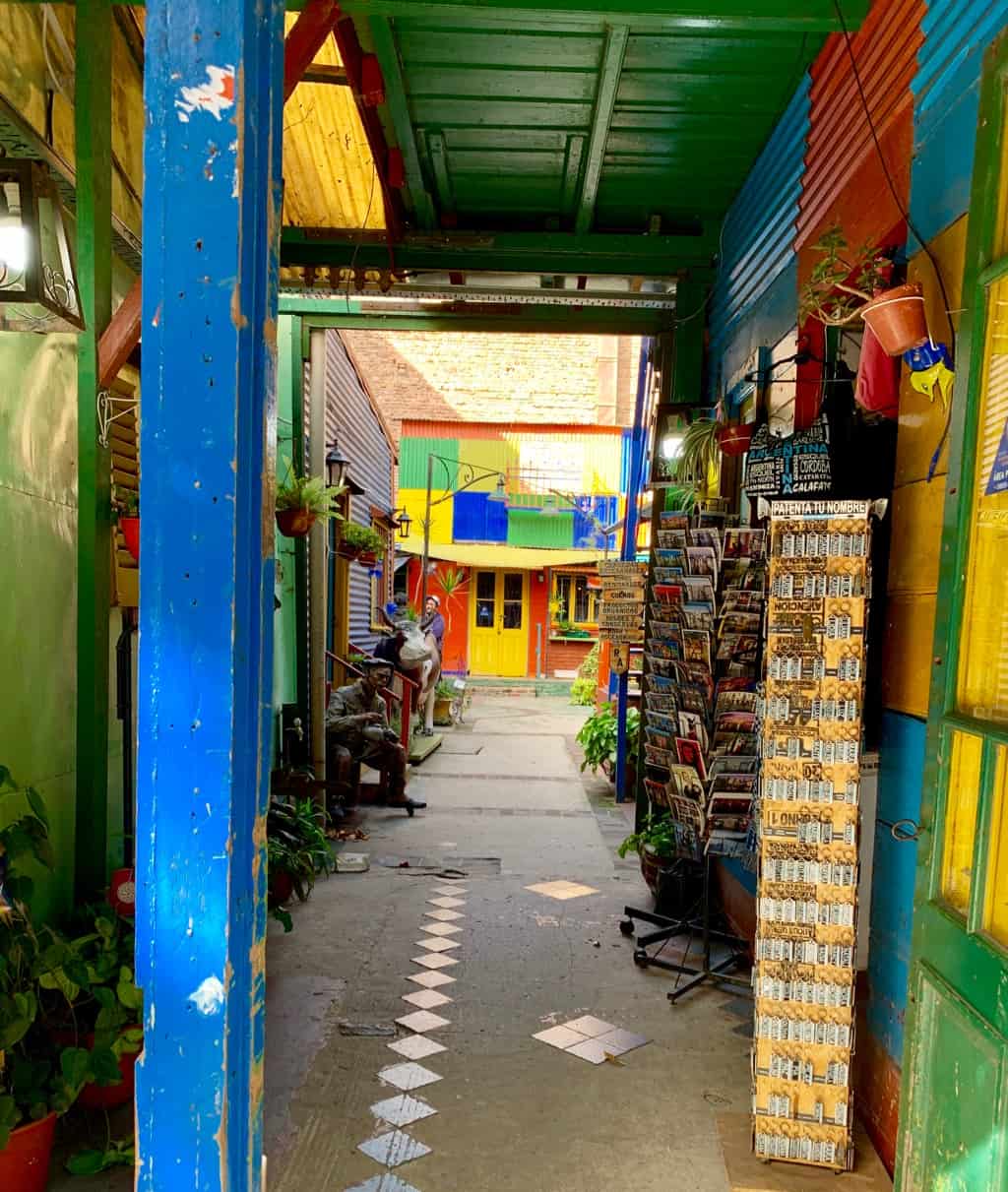 Hands down, I feel La Boca is the most colorful and photogenic neighborhood in all of Buenos Aires. It sort of has an avant-garde or bohemium vibe and is super popular with the droves of tourists that visit the area.. (But, don't forget that I do love Recoleta – the gorgeous cemetery area as well.) Although La Boca has gotten a bit touristy since my last visit 10 years ago, I still recommend it for a quick stop. I love the atmosphere of the colorful houses, the joy of taking photographs of the tango dancers, and the party atmosphere.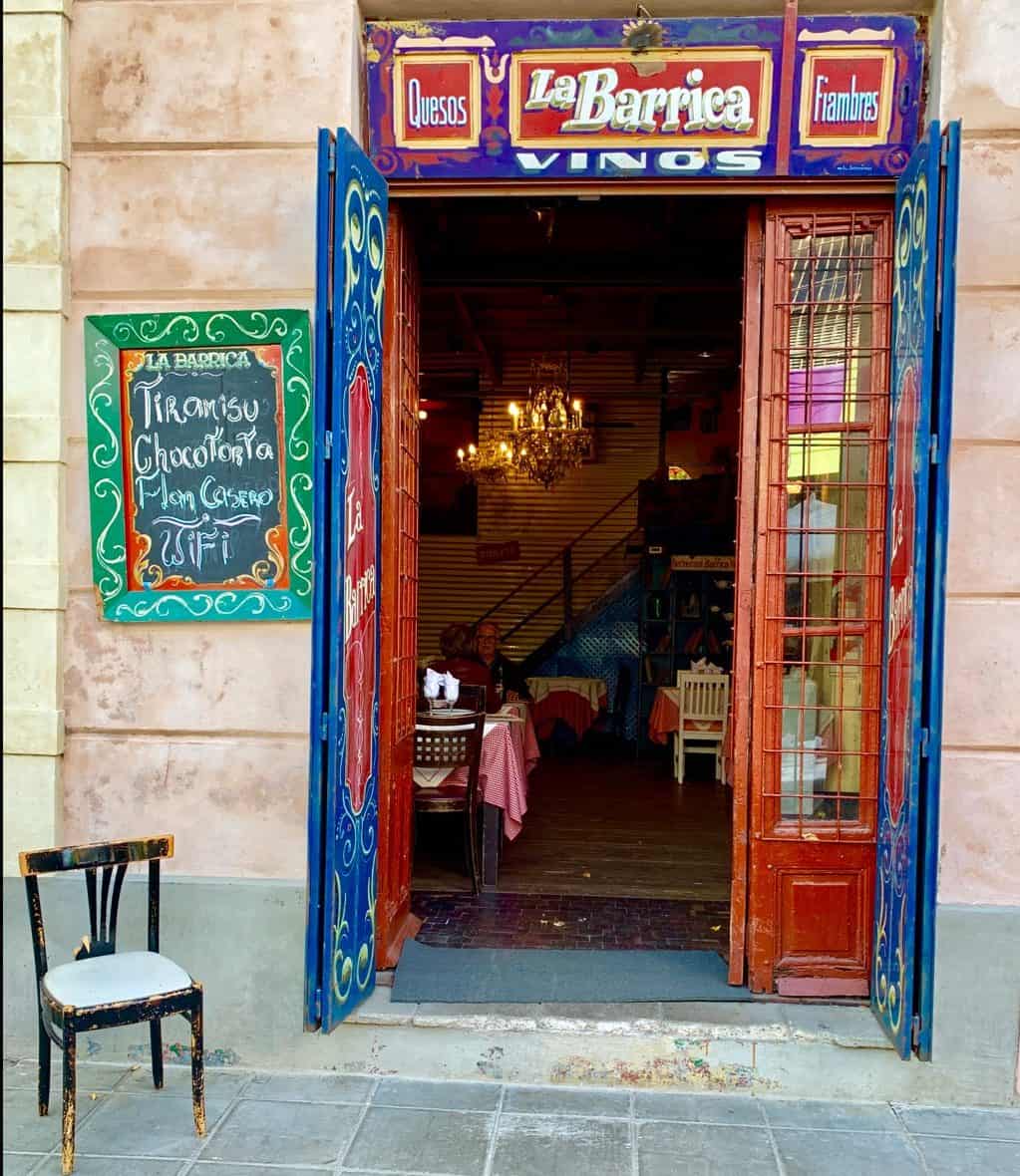 A Real Neighborhood
However, I did decide to find a real neighborhood behind the façade of this one and wandered a few blocks away from all the dazzle of the tango dancers and restaurants. Luckily, that is where I found the authentic versions of the colorful corrugated iron houses that were the inspiration for the caricatures statues that lined Caminito Buenos Aires.
But I do have to admit, somehow, I liked this area just a little bit better since it was a real neighborhood with a real pizza joint. And although the pizza wasn't the best, it also didn't cost me $40 bucks, like the pizza in Caminito La Boca would have. This pizza joint felt more like real life.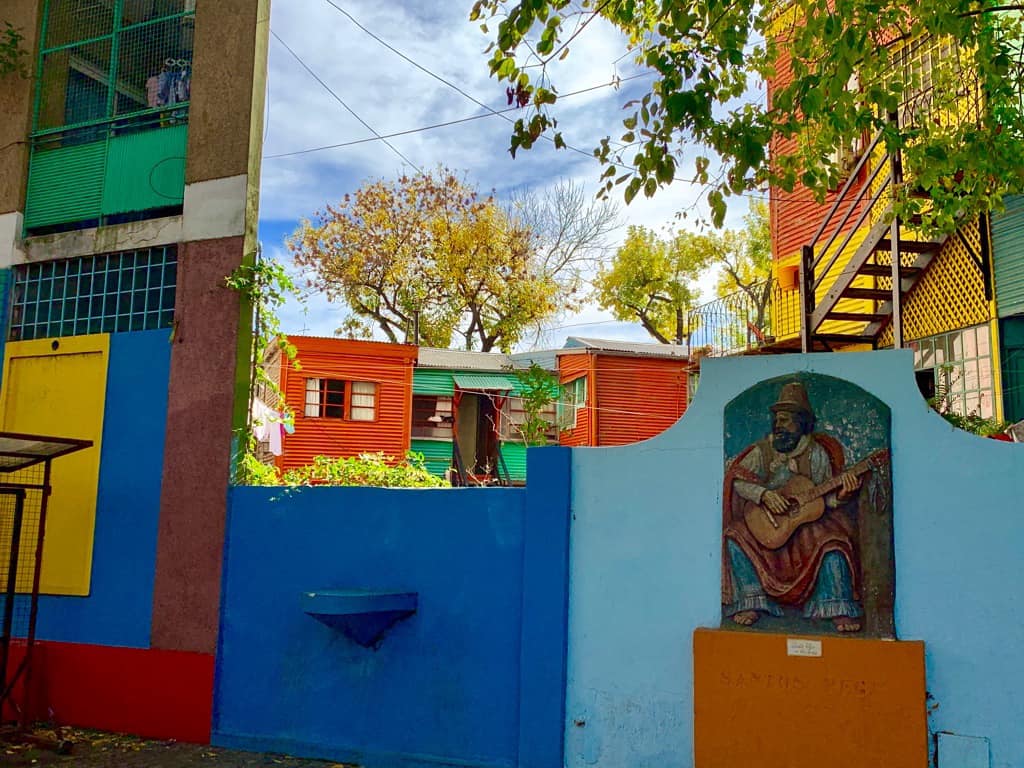 Visit La Boca Stadium
Fútbol is such a wildly popular sport in Argentina. Many people I met referred to it as a religion, given the passion and hysteria with which the most fervent supporters approach the game. And since you are already in the La Boca neighborhood visiting Caminito La Boca, you might as well visit the famous La Boca Stadium that is close by.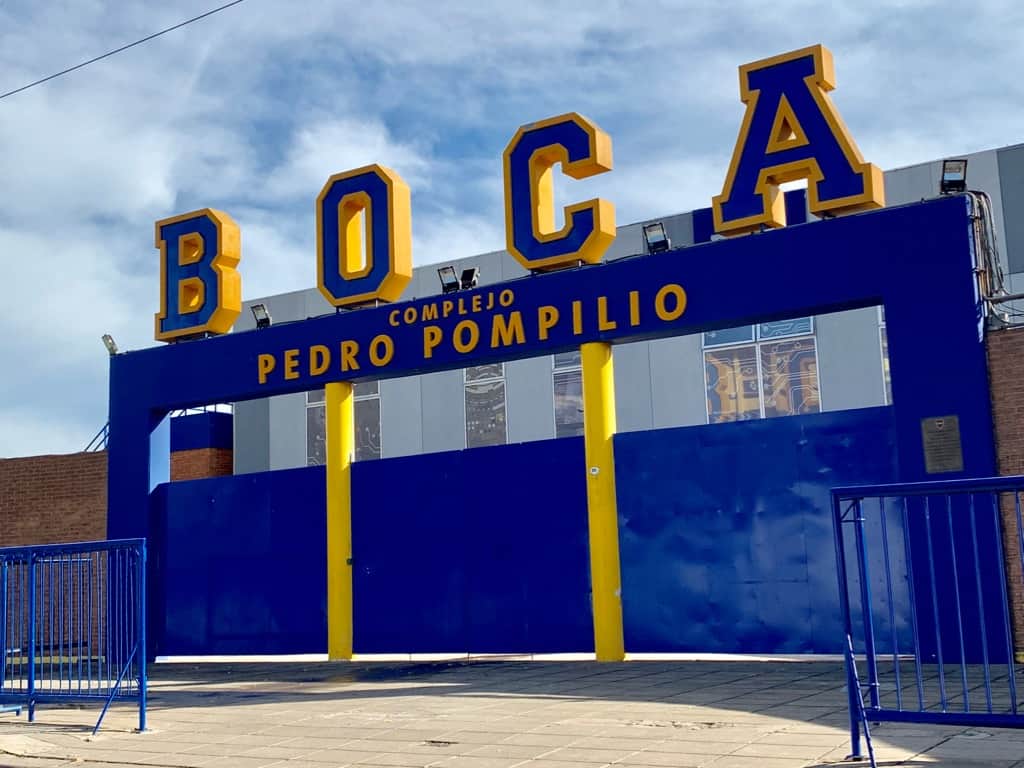 If you are a soccer fan (in Buenos Aires it is known as fútbol), and even if you are not, you may want to enjoy the nearby Estadio Alberto J. Armando stadium (Some times called "La Bombonera"). If you recall, this is where Diego Maradona once played and is home to the fútbol club Boca Juniors. Unfortunately, Diego Maradona passed away at an early age in 2020.
Things to see and do in La Boca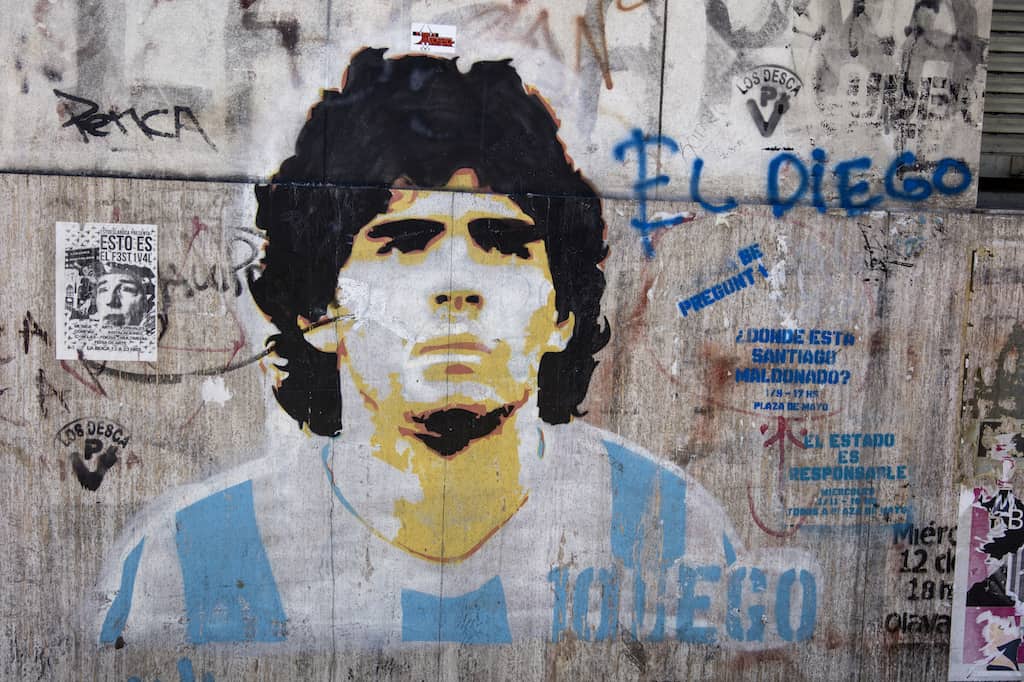 La Bombonera is not exactly the most gorgeous stadium in the world, but as mentioned before, the stadium is home to the world-famous Boca Juniors. You even have a chance to tour this massive stadium and see how large it really is. When I was there last, they had tons of kitty cats inside the stadium, as I guess the cats also enjoy watching the games too!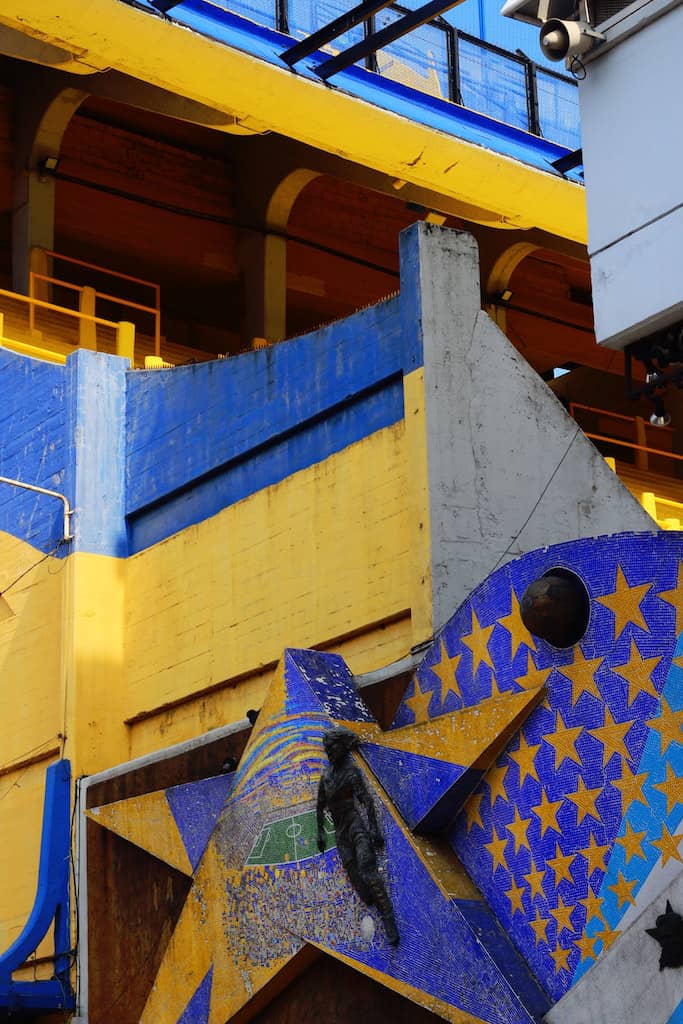 However, I think the best way to see the stadium is during a game, and even better if La Boca happens to be playing their enemies Club Atlético River Plate. The clash between these two teams is known as the "Superclasico". It is always included on the list of '100 things to try before you die'!
There are a ton of companies that do La Boca tours that allow you to see a game and tour the stadium; one is Landing Pad BA. So if you are keen on seeing a game of Boca Juniors playing, be sure and hit them up!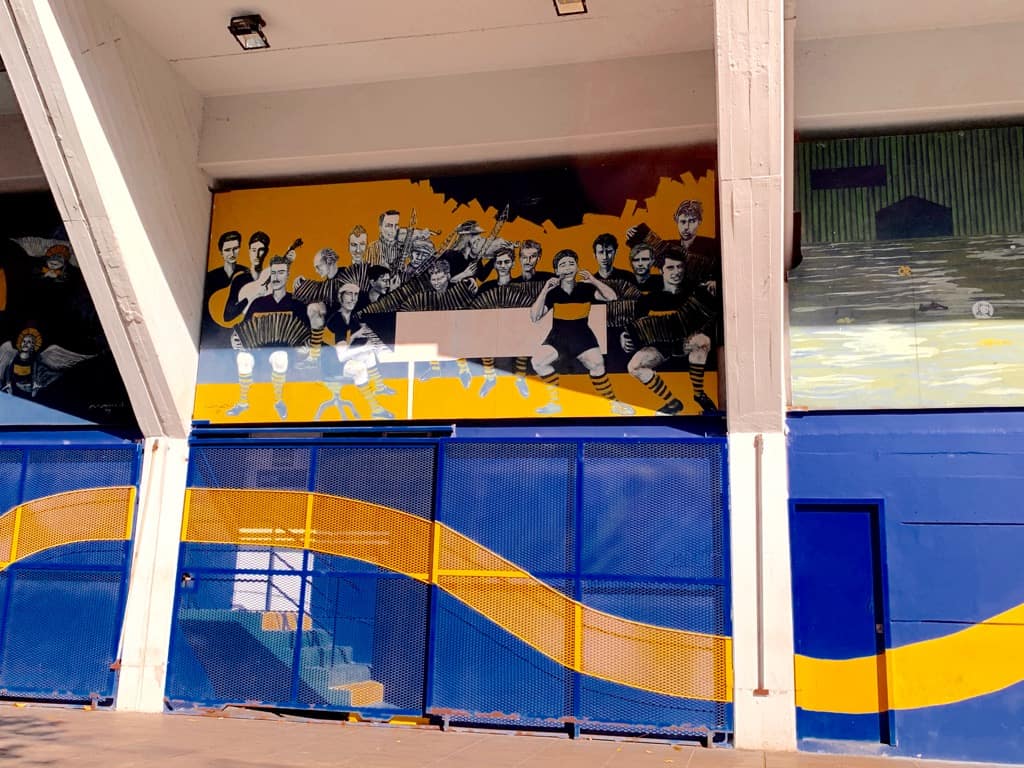 Located in the southeast end, the La Boca neighborhood can be quite far from the area you may be staying in, like in the Palermo, or Recoleta neighborhood. But I do think the time it takes to get over there is worth it, even if it is simply for the photography. As mentioned before, the area you will want to explore is called Buenos Aires Caminito.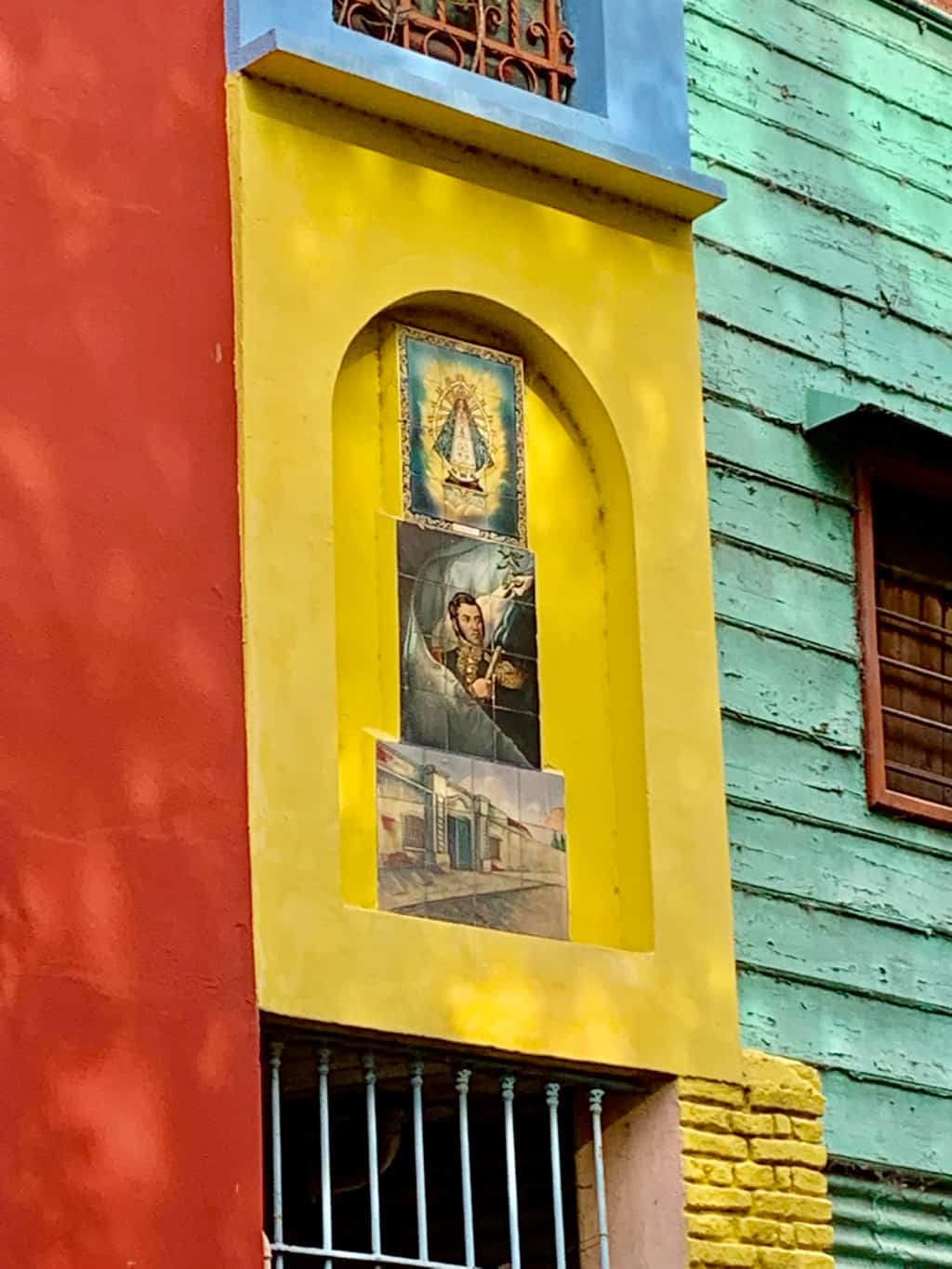 History of El Caminito
Some people may not know this, but Boca Caminito used to be a railway route. This barrio used to consist solely of shipyards and the people who worked here stayed close by. Many of the houses were built with cast-off shipbuilding materials. Basically, the homes were constructed of materials such as corrugated iron, planks, and sheet metal.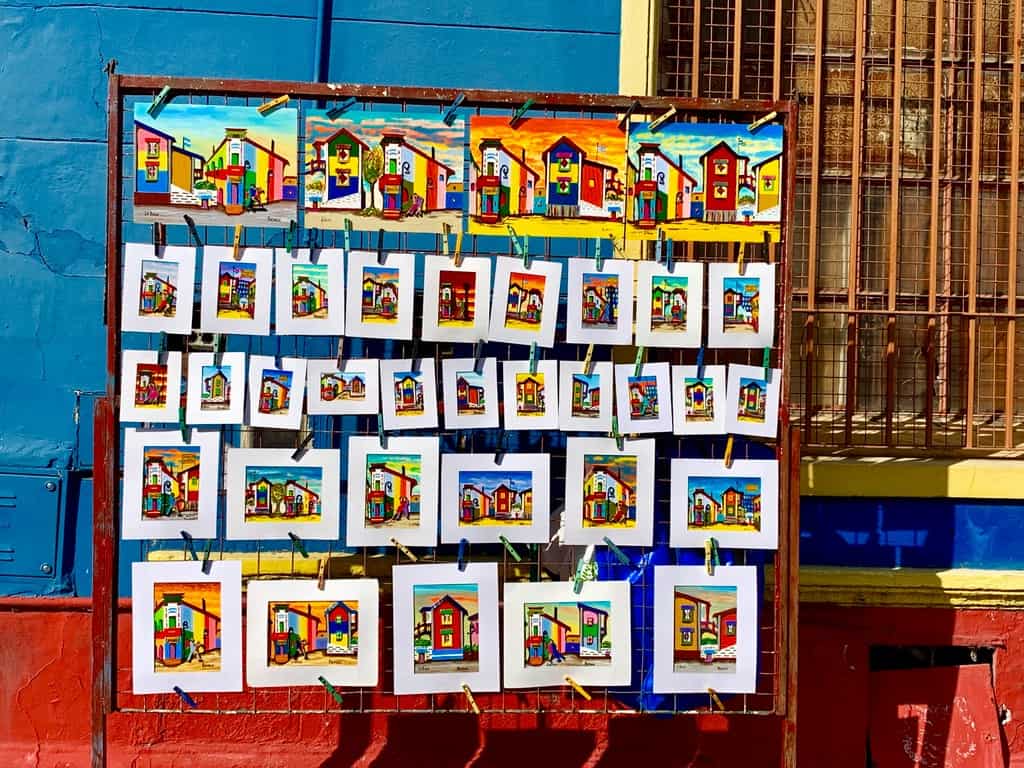 Many of the people who worked in La Boca were from Genoa, Italy. More importantly, they came from the area known as Bocadasse, Italy. So the descendants claim that the name La Boca comes from that association! The connection to the Italian cities was so strong back in the late 1800s that La Boca actually seceded from Argentina for a brief moment and even flew a Genoese flag! It is hard to say exactly where the name La Boca came from, but everyone has a story… just ask.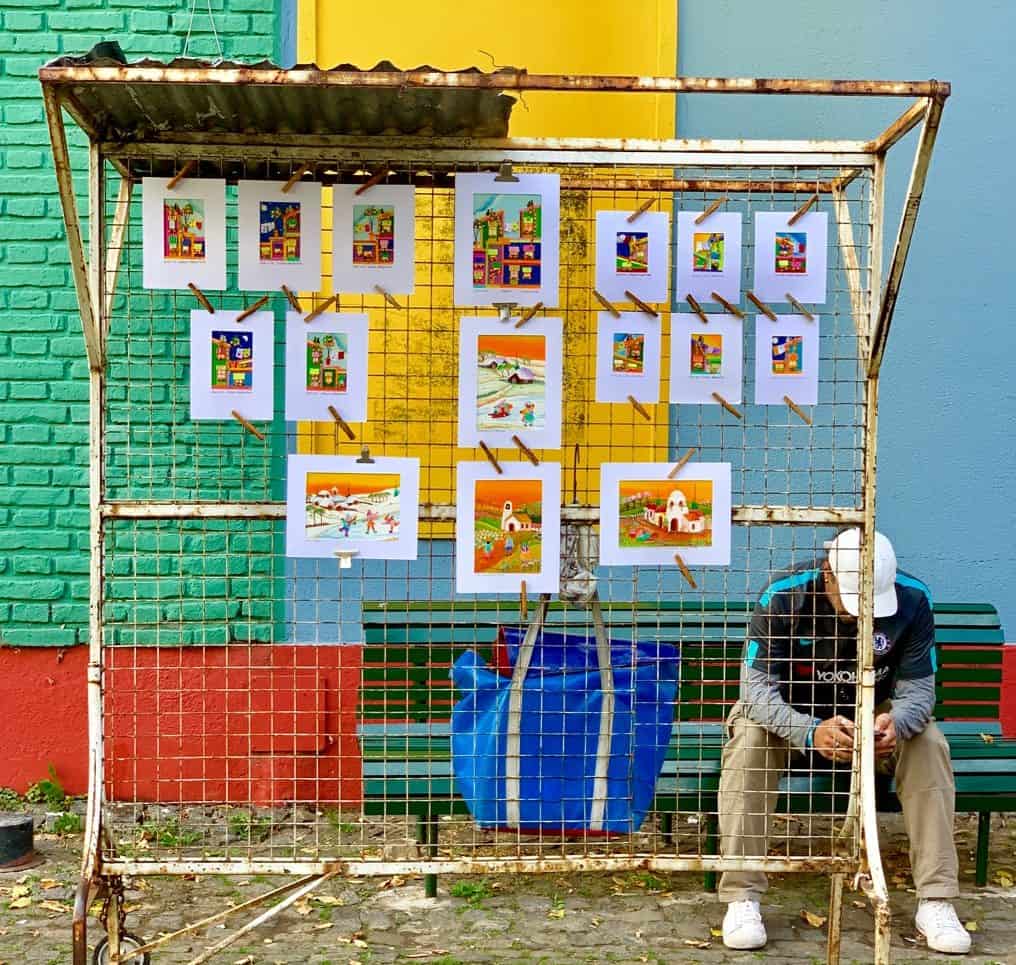 Also, this is primarily where the immigrants stayed when they arrived on the local boats. Because they were new to the area and were looking for cheap places to rent. They ended up here. And since they didn't have that much money, they began painting their houses with leftover paint that they could find at the nearby dockyard.
That is how La Boca came to be!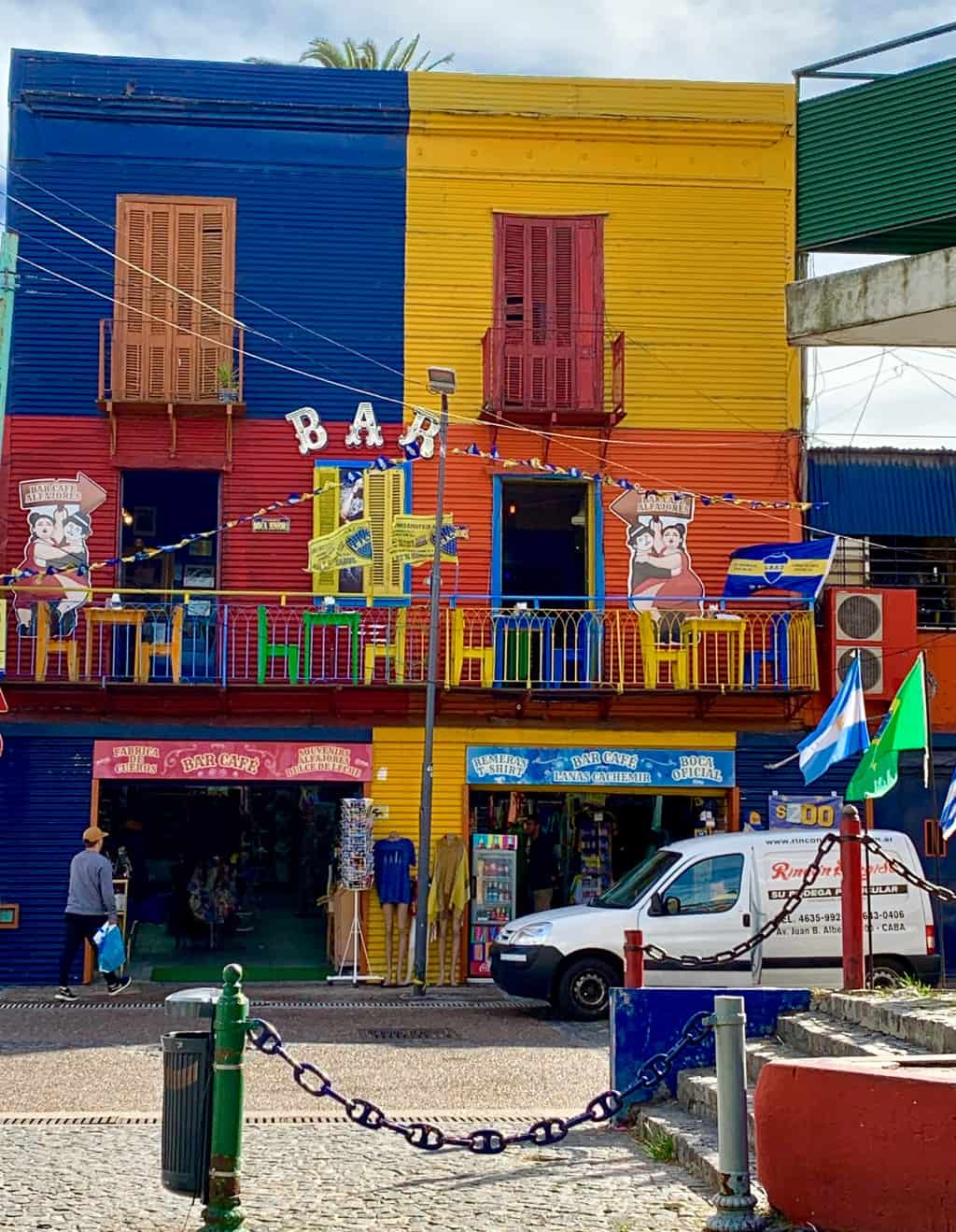 Working-Class Neighborhood
They say that el Caminito Buenos Aires also got started from the work of La Boca artist Benito Quinquela Martín. In 1960, he painted the walls of abandoned buildings, and then he built a stage for artist's performances. Soon thereafter, it became a haven for stage artists and creative painters.
Speaking of artists, la Caminito (which translates to "little path") was actually named after a 1926 tango song about "lost love". The song is said to have been inspired by La Boca artist, Benito Quinquela Martín. But now, with its cobblestone streets, colorful corrugated-metal (iron) houses, and artists' studios, La Boca Caminito en Buenos Aires still looks pretty good. However, you may get the feeling you are on a movie set!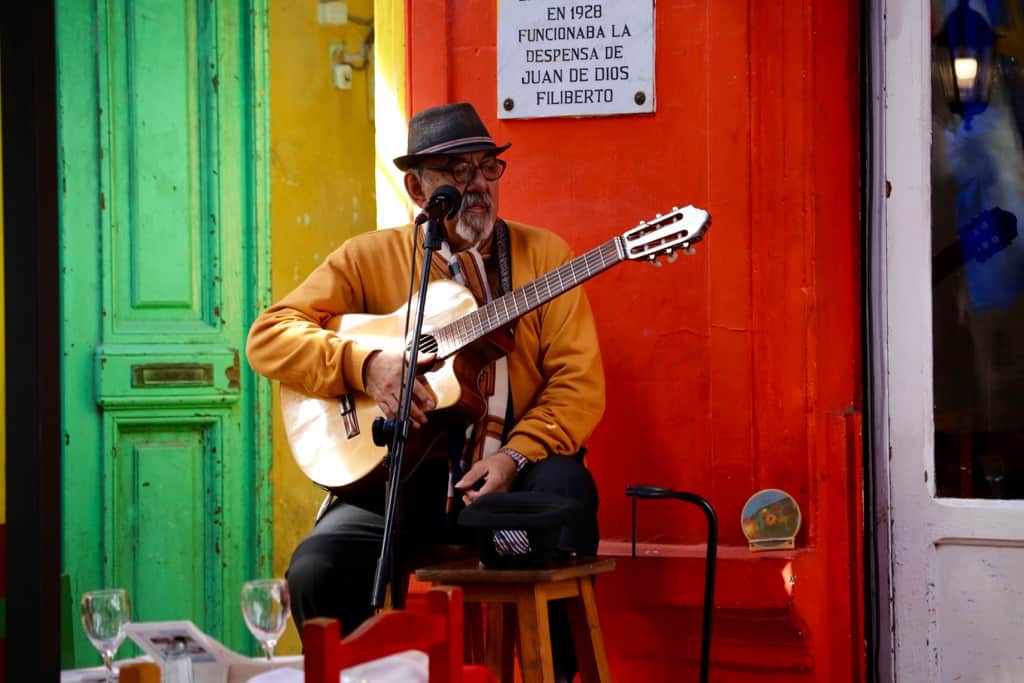 Come see La Boca Caminito At Least Once
Many people feel that La Boca has become absolutely rampant with tourists – as some say it is full of hawkers, hustlers, and overpriced ice cream and souvenirs. They continue to have tango dancers near the outdoor cafes, which is actually a lot of fun if you haven't seen it before. But once you get tired of the fútbol at La Bombonera and of the Diego Maradona impersonators at La Boca Caminito you can head over to Fundación Pro A. This is an excellent, contemporary art museum that hosts international art exhibitions. So a bit more upscale than La Boca!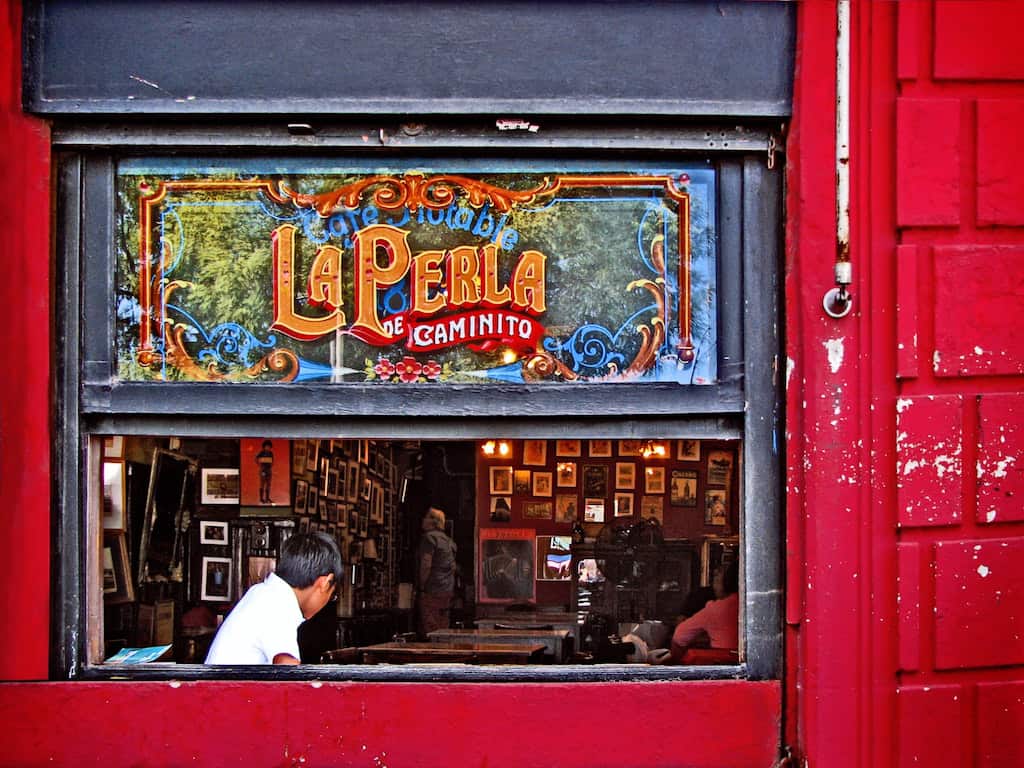 Other Cool Places to Visit
La Boca is the type of place you can wander around, taking in the sights of the pseudo-art galleries lining the vibrant streetscapes, listening to the sounds of buskers entertaining the crowds, and the smell of grilled meat (parrillas) wafting out of the restaurants. With mouth-watering steak dinners and salads that are paired with a full-bodied Buenos Aires Malbec, there are restaurants on every corner. And for those of you who are brave enough, and enjoy an evening visit, you can take in one of the many tango shows that continue into the late hours of the night.
Concerns about Safety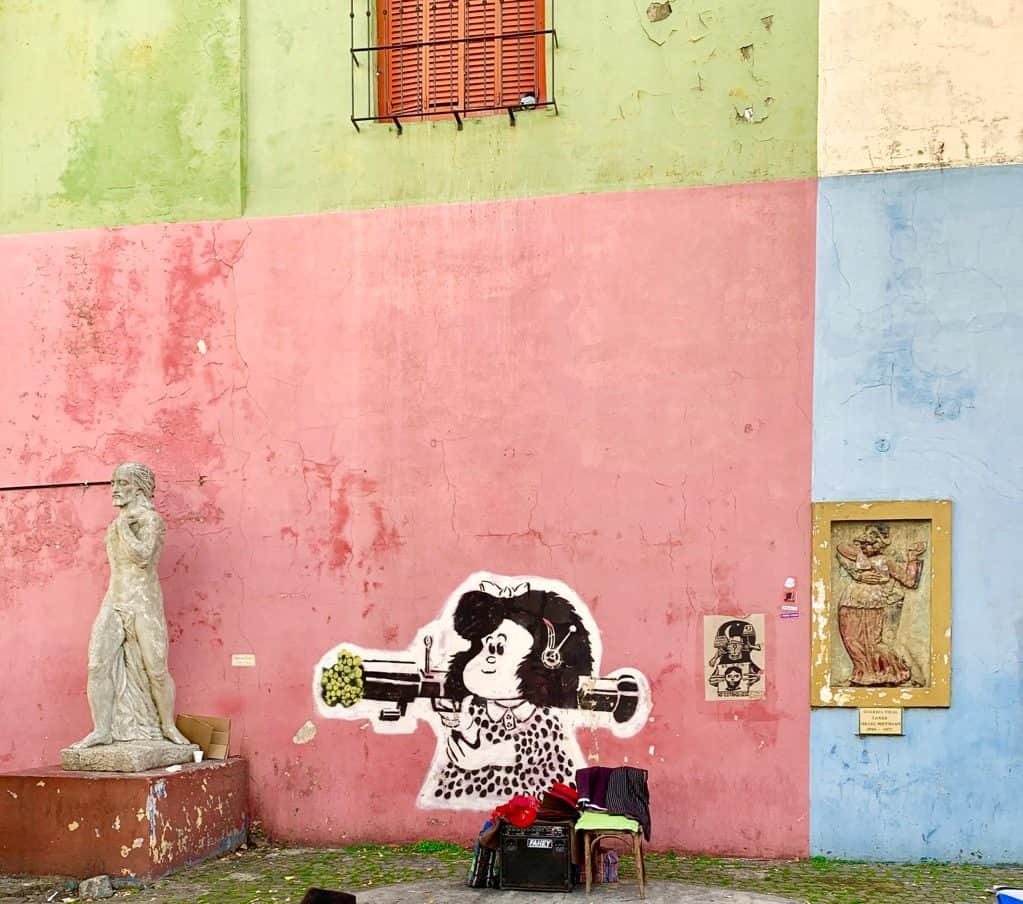 And while Bario La Boca is one of the most visited areas of the city, do keep in mind that this area of Caminito La Boca is full of tourists. It is best to stay near the El Caminito and the few adjacent blocks close by. This area tends to be where there may be pickpockets, so keep your valuables close. During the day, just keep your cell phone and money in a safe place on your person and you should be fine. However, I wouldn't wander too far away at night in this La Boca neighborhood alone. You never know what could happen, especially if you have been drinking. So be aware of your surroundings.
And since there are only a few square blocks to explore, tourist should give yourself a few hours to see this colorful La Boca, before heading off to tour other areas of Buenos Aires.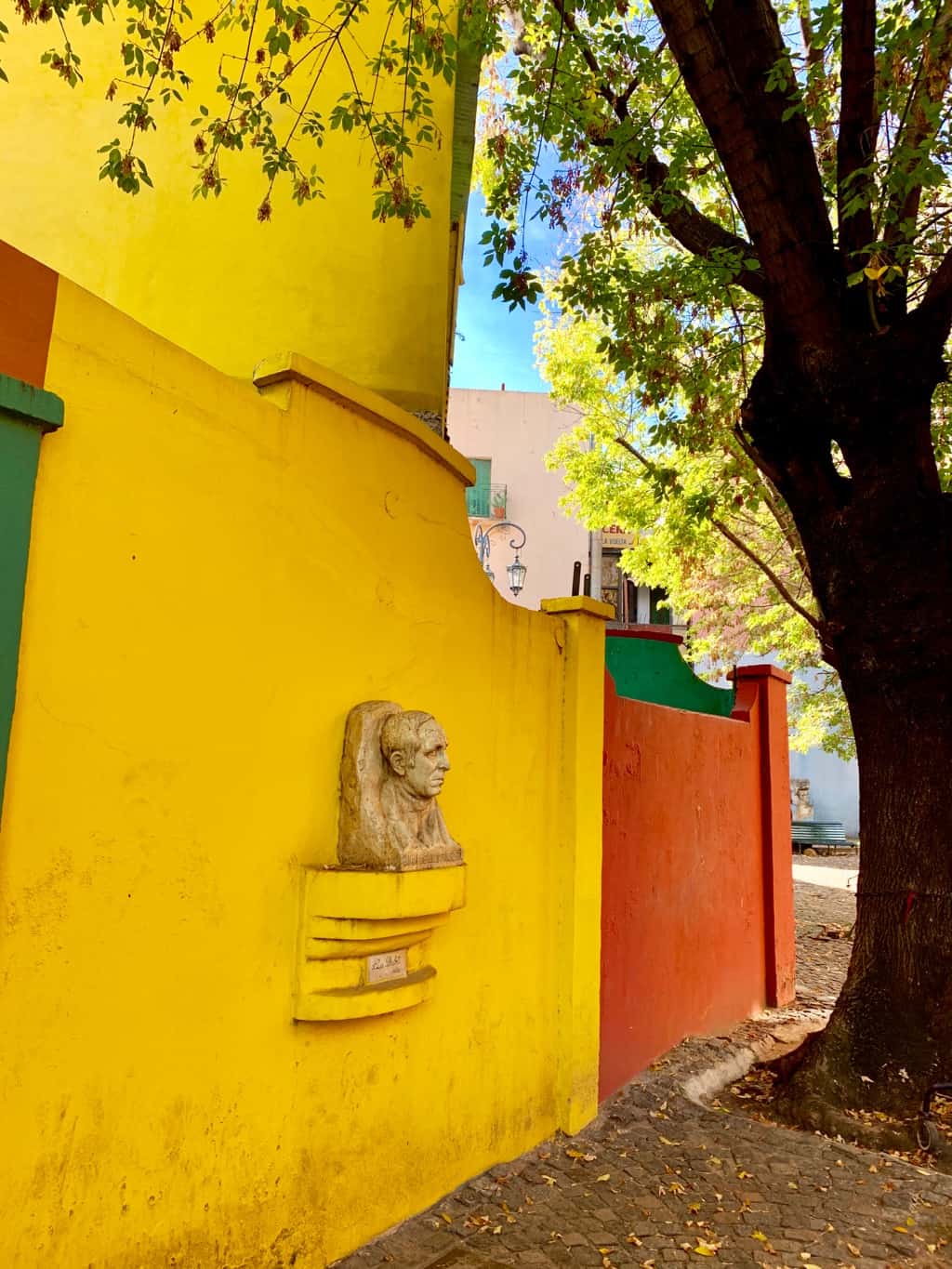 Barrio La Boca by River Riachuelo
By the way, I was wondering? How is your Spanish? Even beginner's in Spanish should know that la boca meaning is 'the mouth' in English. The barrio of La Boca is named that because it is located right at the mouth of the River Riachuelo. This river runs along Buenos Aires' southern border. In fact, as I mentioned before, this proximity to the river is just one of the many reasons for La Boca's existence! Today La Boca remains a pretty rough, working-class neighborhood, despite the tourists who come here to see its attractions every weekend.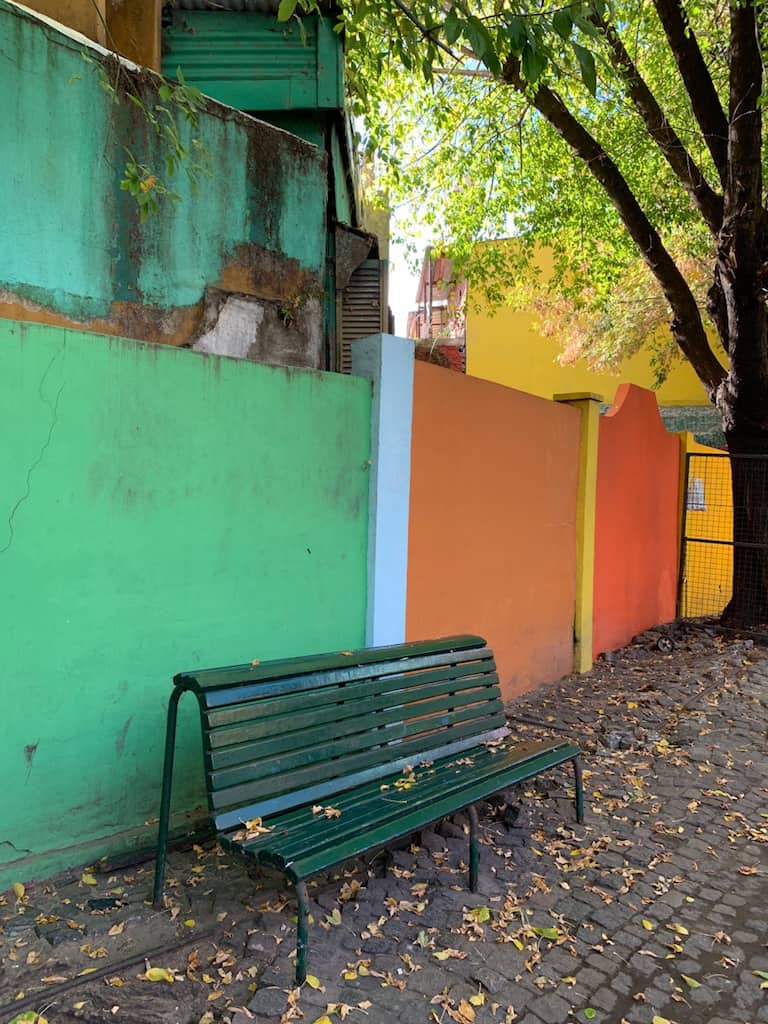 Where to Eat: Restaurants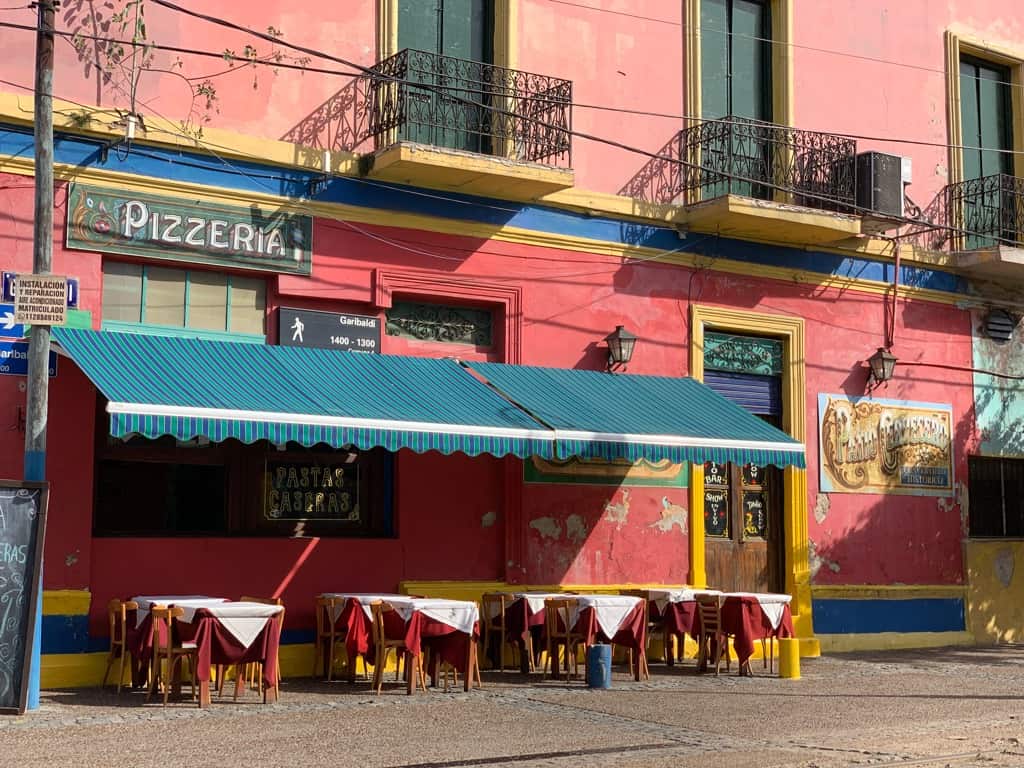 The La Boca neighborhood has a pretty good selection of decent restaurants, and fewer bars or nightclubs. Because most of La Boca is best described as 'seedy' after dark, it's advisable to take taxis or Ubers to and from your hotel.
Bodegon El Obrero is a La Boca institution of a restaurant. The Castro brothers from Asturias, Spain opened El Obrero in 1954. It is one of those neighborhood grills (or parrillas) that has become wildly popular for grilling. They serve traditional dishes that are served by the family of the two founders, with generous portions of succulent meats from South America. Inside the restaurant, you will find sporting memorabilia that adorns the walls. Mostly the people that come here are a mix of locals and tourists that are just looking for an authentic experience. Order from the parrilla menu, which is written on a chalkboard, or go for the homemade soup.
Patagonia Sur is on the other end of the spectrum and is an exclusive restaurant owned by Argentina's most famous chef (Francis Mallman), He has a set three-course menu. But everyone who goes there says it is worth it. The menu features fresh, local ingredients and he serves up a twist on Argentina classics dishes. I especially loved his homemade empanadas.
II Matterello La Boca, an Italian cantina, is a favorite among the locals and tourists alike. Since many of the local residents are descendants of Genoa, this is evident in the fare they are serving up. They make food from their authentic Italian recipes with everything from Italian lasagna to ravioli to tiramisu for a dessert.

Street Art In La Boca
I did want to let you know that there is some great street art to photograph in La Boca. I photographed many of these pieces of graffiti from a car. I am always interested in bizarre street art and often wonder how the tourists passing through the neighborhood relate to the characters portrayed in the murals on the walls.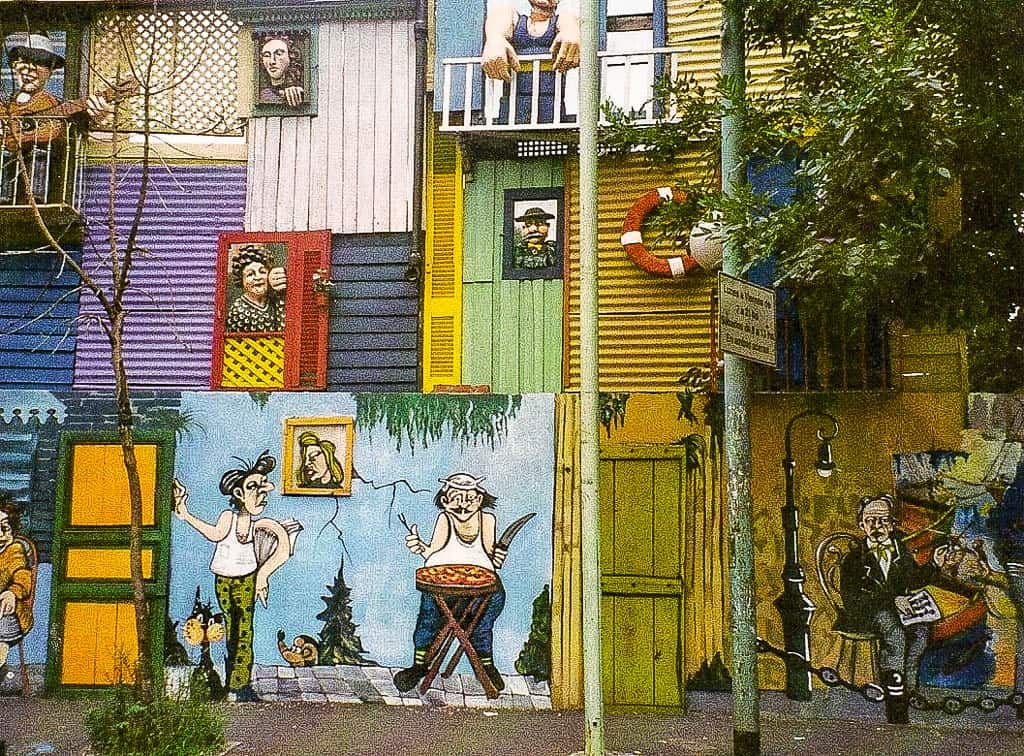 Photographing Statues In La Boca
One of the more touristy things to do in La Caminito is to search out and photograph the following statues:
Juan and Eva Perón, Argentina's former president and his equally famous first lady and wife.
Fútbol legend Diego Maradona – I find this the most interesting- that the statue of Maradona is placed one floor above the street level. I guess that means tourists have to look up to see Maradona like we look up at religious and political leaders. That seems crazy to me!
Che Guevara, perhaps the world's most famous revolutionary.
Would I return to La Boca? Yes, of course, I would!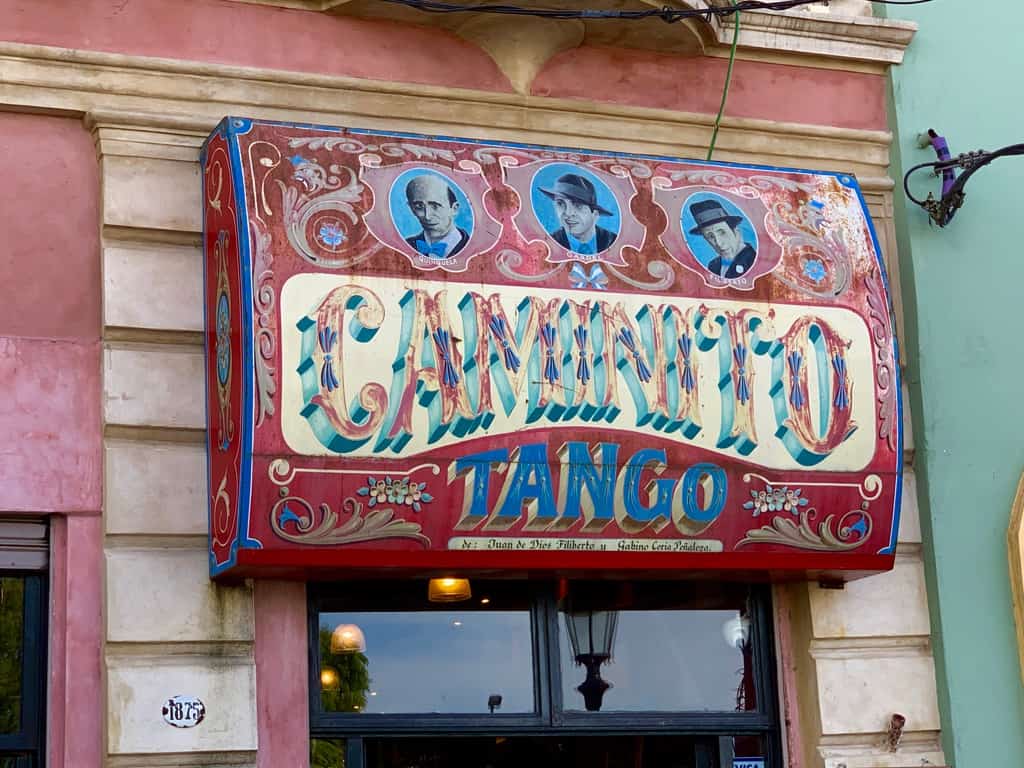 ---
Want to read more about Argentina, or nearby Chile?
The Ultimate Guide to Iguazu Falls
15 Places You Need to Visit in Chile
10+ Traditional Chilean Foods and Drinks You Must Try!
A Tribute: Sergio Castillo, a Chilean Sculptor
---
Where to stay in Buenos Aires:
Recoleta Neighborhood
Loi Suites Recoleta: Located in the Recoleta neighborhood. It is in the perfect location within walking distance to the historic Recoleta Cemetery. One of my favorite places to visit! You will find nice art galleries, bars, cafes, and restaurants nearby.
Palladio Hotel Buenos Aires – M Gallery by Sofitel Located more in the heart of the Recoleta fashionable neighborhood. A stay in this place is a total luxury.
Palermo Viejo Neighborhood
Fierro Hotel Buenos Aires: Guests love this boutique property's large rooms (especially the suites with a private jacuzzi, friendly staff, and excellent breakfast.
Puerto Madero Neighborhood
Faena Hotel Buenos Aires A chance to stay here would be devine! The original Faena Hotel is simply fun, gorgeous, and like something out of Hollywood! It has to be seen to understand that you will be getting the total Argentinian experience. From the rooms to the shows, the bar, and of course the delicious restaurant known as El Mercado Cafe. I have never seen a hotel like this one before!
Palermo Neighborhood
Caravan BA: A budget-friendly hostel, which is a hit with travelers due to its price and cleanliness in the Palermo district.
The Glu Hotel: The modern, spacious rooms at the Glu Hotel feature balconies overlooking the Palermo district, and gets top marks for its customer service.
---
You may also like to read up on South America:
My Trip to Guyana in the South American Rainforest
Kaieteur Falls: Majesty Brought to Life in Guyana