Buenos Aires – A Comprehensive Guide on What To Do!
Buenos Aires is the largest city in Argentina and currently home to more than 40 million people! It is also the capital of Argentina and known as the "Paris of South America!" I can honestly attest to that, as this city is absolutely gorgeous with its European-style buildings and architecture. It is as if you have been dropped in the middle of Europe, only with a Latin twist!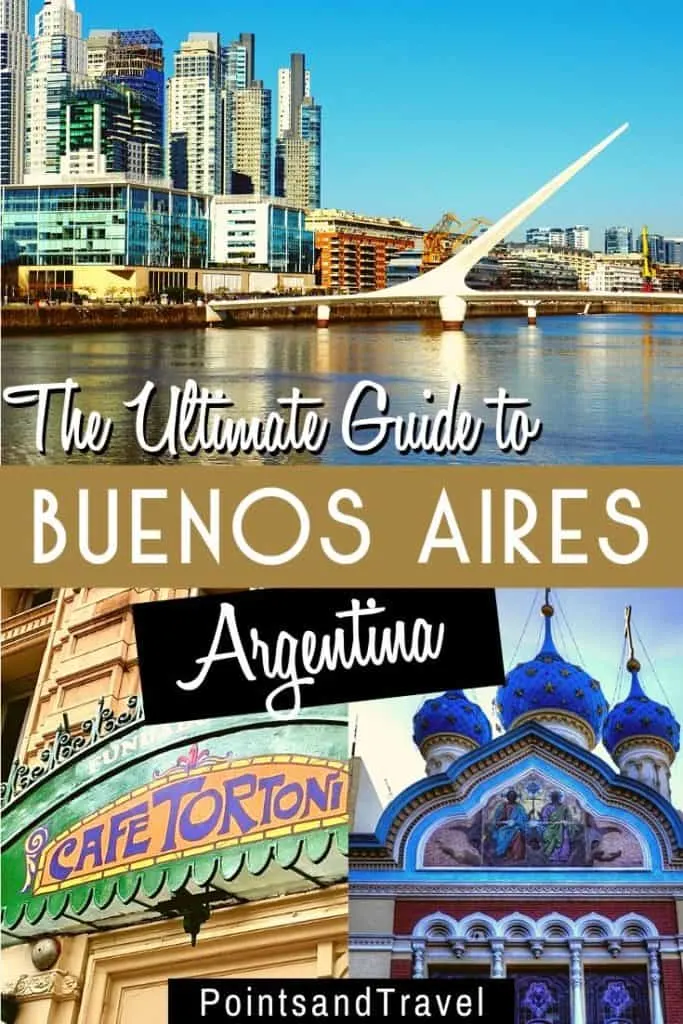 Buenos Aires is also a busy city that has a lot of hustle and bustle going on in all hours of the day and night. Buenos Aires is also the national center for technology, education, culture, politics, and business in Argentina. While walking through the streets of Buenos Aires, you may feel connected to its European-style rather than what you thought South American was like because of its gorgeous curb appeal. I know every time I have visited, I fall in love one more time!
Buenos Aires Culture
Obviously, the official language is Spanish, but with an Argentine accent versus the Mexican ones I am used to in the USA. Plus, many people speak English and they will always want to "practice" their English on you, which I find adoring. Futbol (soccer in the USA) is like a religion to the Argentina people. So these games have become huge cultural events. Diego Maradona was and continues to be the pride of Argentina, as many Argentinians consider him the greatest futbol (soccer) player to ever live.
Aside from being avid futbol fans, Argentinians also enjoy art, food, literature, music, and fashion. You see this everywhere in the streets from amazing restaurants, theater performances, tango, and milonga dances, to stunningly gorgeous bookstores and, of course, the most well-dressed fashionista's in all of South America. And even though they complain about the economy and the latest economic news, they are still out every night enjoying their wine and Campari with orange juice at the finest restaurants in town!
Sometimes I don't think they realize what an amazing "lifestyle" they have in South America, unlike many in the USA who don't have much of one. We are more of a "work culture" and they are more of a "family and friends culture". In business, they call it a "be" versus a "do" culture. Which is something that I miss in the United States. Americans seem to work too much and not enjoy daily life.
Argentinian's tend to be more connected to their family and friends. They tend to spend time with them late into the night. In fact, most of the Argentinian's I spoke to don't even start dinner until almost 10 pm. They stay up late, they eat late, and they enjoy the company they are with. Sure they have smartphones and keep up with the latest news, but they put them away during dinner time and actually enjoy each other's good conversation!
Buenos Aires International Airports
Hopefully by now that you are thinking about taking a trip to Argentina. Traveling to Buenos Aires from the USA, you would be flying into either Ezeiza Airport (EZE) or the Jorge Newberry Airport (APE). They are the most common airports used for international flights. Some airlines that fly from the USA to Buenos Aires are American Airlines, Delta, United, Aerolineas Argentinas, and Latam. I flew American Airlines and can recommend that airline since on the day I flew out of Buenos Aires home there was a strike at the airport and Aerolineas Argentinas and LATAM were both grounded for the day. Their flights were canceled!
---
So what are the best things to do in Buenos Aires? Well, keep on reading to find out the top spots to check out while in this busy European-like city. But first, let talk about how to get around and where to stay.
---
Buenos Aires Transportation
Sube Card
For sure the cheapest way to get around Buenos Aires is by public transportation. Buses and subway are efficient and easy to use and connect the various neighborhoods. You can also get a SUBE card to use public transportation and then top it up with credit. You can get a SUBE Card at hundreds of locations throughout the city, including the post office, Correo Argentino. It is also available in shops or kiosks throughout the city and specifically has the "SUBE" logo on them.
When you see that logo at a store, you can buy or recharge your SUBE card at that location. Also, the government has a specific website which lists all of the locations where you can buy and recharge your SUBE card. Click here to find a location near you to purchase a SUBE card. Also if you want to leave the city and visit other nearby towns in Argentina, the intracity buses are actually a common way to travel and are quite comfortable. Affordable first-class seats for long-distance travel is also available and the seats recline like a bed and meals are served!
Uber or Cab
But while in the city, I like the convenience of Uber when I am only in town for a week or less. Uber works fine in Buenos Aires (I was just advised to sit in the front seat and keep the window up!) or a cab works well too. The app called Cabify can get you a ride and you know how much it cost before they arrive. So there are plenty of options once you arrive. I also frequently used the service available through Yampu Travel called Alchemy DMC, where I would have a driver pick me up at a specific time and location.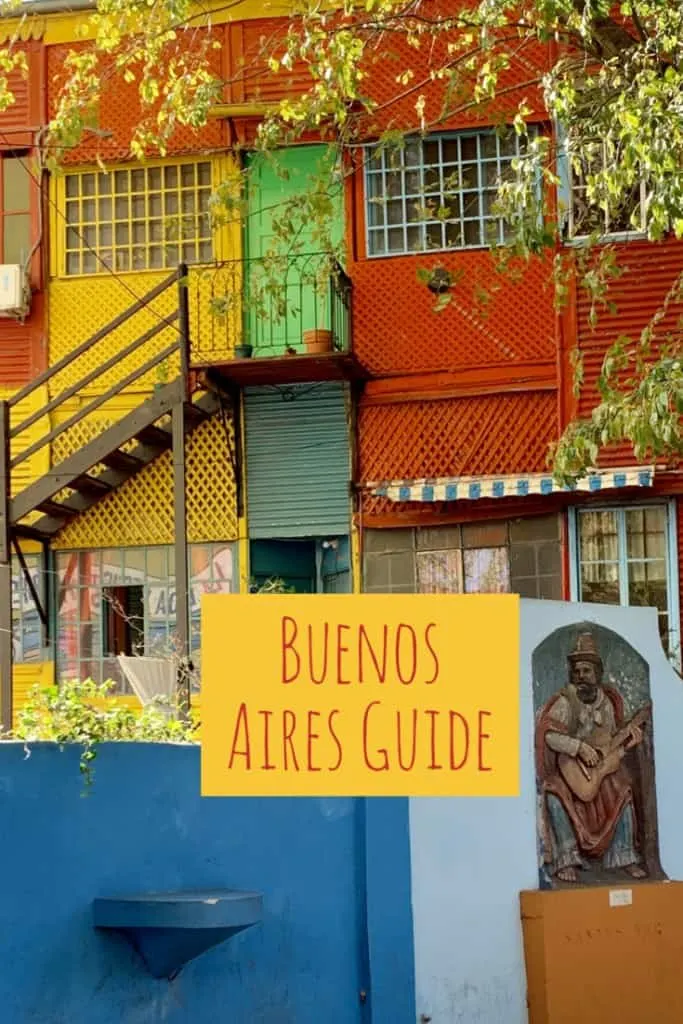 Buenos Aires Smart Luxury Hotels
But before you get there, let's find some amazing places for you to stay! I found quite a few. Just so you know, tourists paying with a foreign credit card do not have to pay the 21% hotel tax typically charged, which is a great saving to foreign visitors.
This 4-star hotel, Loi Suites Recoleta, located in the exclusive neighborhood in Recoleta. It is in the perfect location, within walking distance to the historic Recoleta Cemetery. It is a "must visit" place when visiting Buenos Aires. In this neighborhood, you will find exquisite architecture, art galleries, and a lot of bars, cafes, and restaurants.
It has a heated pool, sauna, and gym. Everything you need to keep you nice and relaxed after a day of exploring the city. And of course, free internet with breakfast included in your rate. They also have things like laundry available, so you can bring a carry-on! Also, when you fly to Iguazu Falls, you most definitely will want to stay in their eco-oasis hotel there as well.
This hotel, Palladio Hotel Buenos Aires – M Gallery by Sofitel, is also located in Recoleta, but more in the heart of this fashionable neighborhood. It is a 5-star property that has 113 spacious rooms/suites with all the amenities you can imagine! A stay here is total luxury with balcony suites and 24-hour room service, you will not want to leave. I know I didn't! And yes, it has a heated rooftop pool, a spa, and a fitness center for your use. As well as two fashionable bars and restaurants.
I cannot say enough about the excellent service I received when I stayed here. Be sure and stop by the Negresco Bistro for an amazing spread for breakfast or a delightful lunch. And I discovered the illuminated Negresco Bar in the heart of Recoleta with its excellent atmosphere and some of the best cocktails ever, plus delicious tapas!
Faena Hotel Buenos Aires has to be seen to even get the concept of this outstanding Argentinian Hotel located in Puerto Madero. When I say Argentinian, I mean it. It is the total Argentinian experience from the rooms to the shows, the bar, and of course the delicious restaurant known as El Mercado Cafe. I have never seen a hotel like this.
In fact, the owner, Mr. Alan Faena, opened up another one in Miami (voted the #1 hotel in Miami for two years in a row by Conde Nast Traveler readers) and I can't wait to visit it! The suites in this place are unlike anything you have ever seen. This is where all the celebrities stay as it is the place to see and to be seen. The crown fountain in the swimming pool is the icing on the cake!
---
Ok, now that you are all settled in, let's find things to do in Argentina!
---
TOP 17 Things to Do in Buenos Aires, Argentina:
So what ARE the best things to do while visiting its capital city Buenos Aires? Well, keep on reading to find out the top spots to check out while in this busy European-like city.
Recoleta Cemetery
While it may sound creepy to visit a local cemetery, you must see this cemetery. In fact, La Recoleta is my number one recommendation in all of Buenos Aires. I loved every moment of visiting this famous and beautiful cemetery. Visiting this enclosed city will show you how the rich and famous were put to rest and how they continue the spirit of doing it even now. Of course, the most popular site in the cemetery is the tomb of First Lady Maria Eva Duarte de Peron.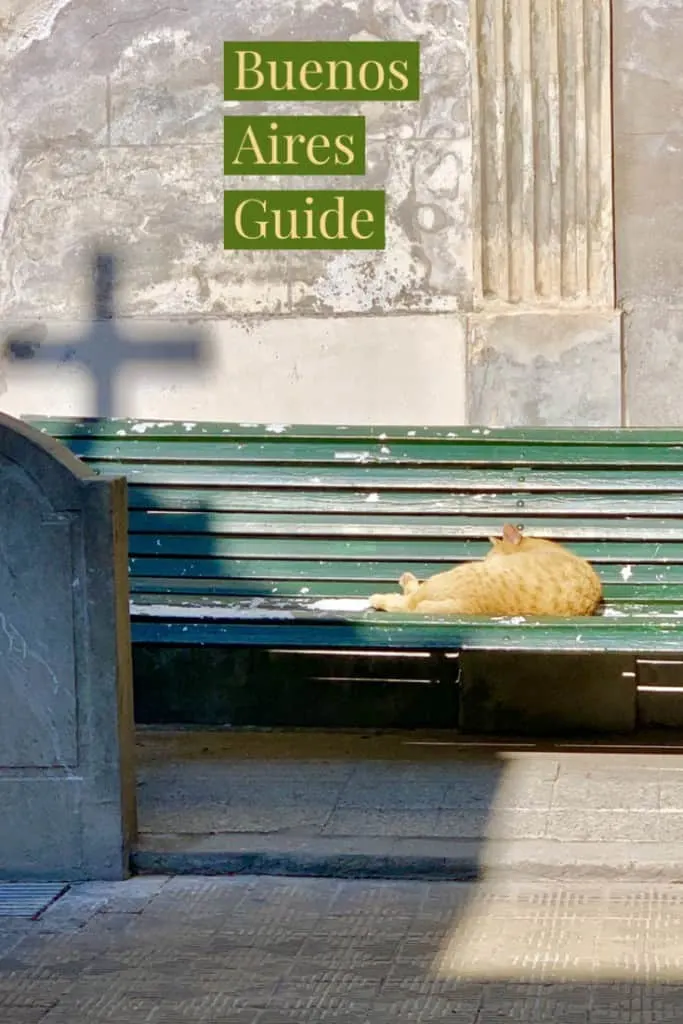 Recoleta Cultural Center and Church
While visiting the Recoleta Cemetery, you can also stop by the Franciscan church, Basilica de Nuestra Senora Del Pilar, which is next door and the Recoleta Cultural Center. This cultural center is great for families, singles, and young children to explore art, graffiti expositions, and musical performances.
Microcentro Area
A walk around this artsy part of the city is an essential activity in Buenos Aires. This barrio is where the famous Obelisk is located and the building of the Ministry of Health. A quick stop to visit the huge steel image of Eva Peron located on both the north and south side of the building is a must. Or at least a dive by, where you can see her smiling at the people and then frowning at the government!
Walk along the Puerto Madero River
Walk along the river and the businesses along Puerto Madero will keep you busy. This newly renovated area is home to many stylish restaurants and the Faena Hotel mentioned above. A brief walk through this hotel will lead you to a bustling restaurant called El Mercado Café to enjoy lunch. The food here is spectacular and the Campari with OJ is a perfect afternoon treat!
Plaza de Mayo
This famous city square is home to the Metropolitan Cathedral, where the current Pope Francis preached as the Archbishop of Buenos Aires. Aside from this cool fact, it is also where the Pink House (Casa Rosada) of the President is located. Plaza de Mayo is located in the financial district and is a central hub of Buenos Aires.
Plaza Naciones Unidas
This is a quick stop among the stunning parks and plazas of Buenos Aires. The stunning steel-made sculpture of the Floralis Genérica is located here. The steel petals bring a sense of hope and rebirth to those who visit this flower petal that opens and closes with the sun!
Take a Day Trip to El Tigre Delta
This small city is about 20 miles (35 km) from Buenos Aires and a famous weekend destination for locals and tourists. It is possible to take boat tours around the river delta. There is also a naval museum, craft and antique shops, and a casino.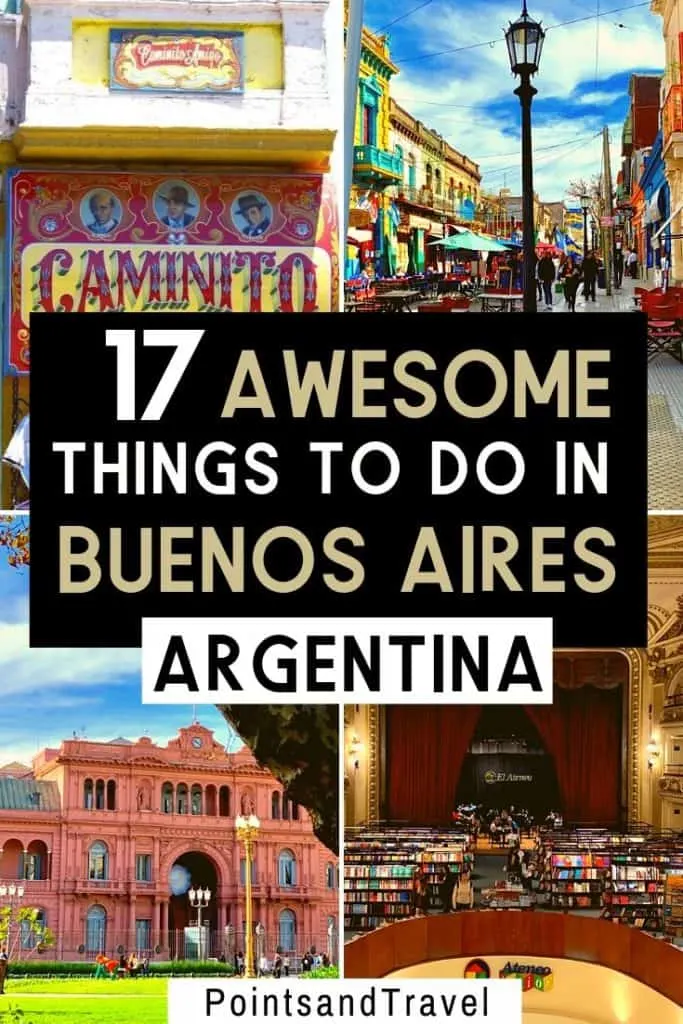 Parque Lezama
This is a comforting and welcoming landmark to visit. This beautiful park is perfect for family picnics and close to the San Telmo Market. Visitors of this park can check of the nearby Russian Orthodox Church of the Holy Trinity.
Caminito in La Boca Neighborhood
This little street (walkway) is literally lined with colorful buildings, food stands, artisan shops and is dominated by talented tango dancers. Although it has gotten a bit touristy since my last visit 20 years ago, I can still recommend it for a quick stop and photography of the colorful houses and atmosphere.
Visit La Boca Stadium
Since you are already in the La Boca neighborhood visiting Caminito (above), you might as well visit La Boca Stadium where Bombonera, better known as the Boca Juniors are located. Do keep in mind that this area is full of tourists and it also tends to be a pretty shady area, so keep your valuables close and your friends closer! (Just kidding, but it should be fine during the day just don't wander around at night in this area alone.)
Jardin Japones
A gorgeous park that celebrates the mix of two amazing cultures, the Argentine and Japanese. The infusion of the two cultures allows for a tranquil walk through the Zen garden.
El Ateneo Grand Splendid Bookstore
In the year 2000, the inside of a historic and palatial theater built-in 1919 was refurbished into a large bookstore. It houses thousands of books, music, and even a café on the stage! It is known as El Ateneo Grand Splendid Bookstore. It is quite spectacular and great use of an old building and its architecture. They even retained its original rounded balconies, frescoed ceilings, the very ornate wooden theater boxes, the plush red curtains on the stage and all the detailed trimmings of the building.
Museo de Bellas Artes
Stunning sculptures, paintings, and artifacts from the 19th and 20th centuries are put on display at this marvelous museum. This museum exhibits gorgeous art pieces from many famous artists in the world.
Museum of Latin American Art
This "upscale" museum features many new and old artists. There are new exhibitions on display each month, including film and out-of-the-box art shows.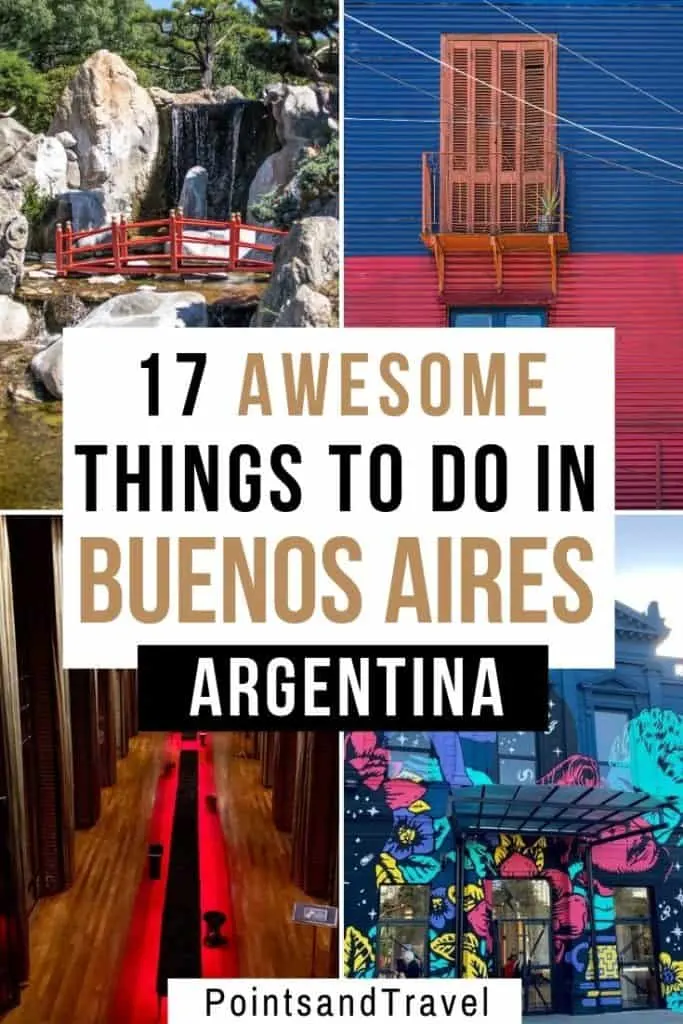 Visit Plaza LeValle and the Teatro Colon
Northwest of the Obelisco with three blocks of parks is Plaza Lavalle. It surrounds some amazing buildings such as the Teatro Colon, the Teatro Nacional Cervantes, the neoclassical Escuela Presidente Roca (an educational facility), and the French-style Palacio de Justicia where the supreme court is located. Like most important cities in the world of music, the Teatro Colon is an opera house that has housed famous operas and ballets since 1857. You can take in a show or ask for a guided tour of this seven-story building.
Take in a Tango Show or Two
If you didn't already know, the tango dance was originally choreographed in local brothels in and around Argentina and Uruguay in the 19th century. But it really took off at the beginning of the 20th century. It was spread to North America and Europe due to the accessibility of record distribution. It is known as the traditional dance of both Argentina and Uruguay. It owes its unique style to both country's immigrants, drawing on African, European, and indigenous influences. Along with tango, they also introduce you to the dance and song known as Malonga. You can enjoy a dinner and the show at Tango Porteno, the El Viejo Almacen, and even El Querandi. All are known to be great tourist destinations for the Tango and Malonga.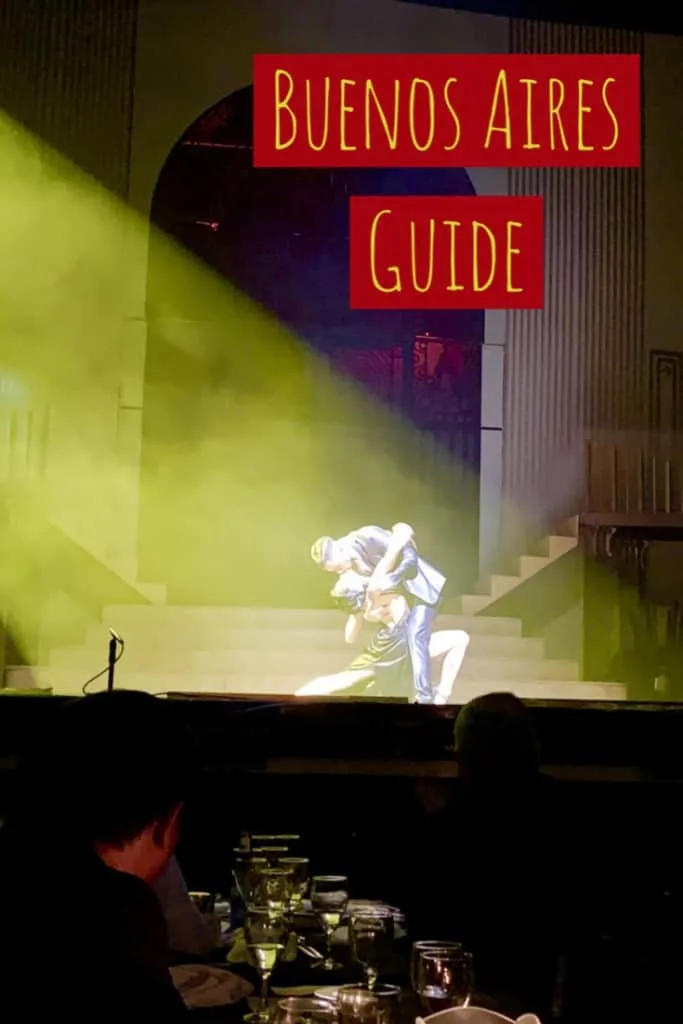 ---
Want to read about the Flamenco dance in this article about Seville, Spain: Top 15 Things to Do?
---
Go Shopping on Calle Florida (Street)
Calle Flordia, also known as Florida Street, is the best spot for your shopping excursion and is car-free for pedestrians since 1971. You can admire the local street art, as well as retail stores, restaurants, statues, and a shopping mall. In the evening there are street performers, tango singers and dancers, and even comedy acts. It became a popular shopping street due to its proximity to the Financial District.
---
And while you are in Buenos Aires, Argentina, there is no excuse not to visit Iguazu Falls in the North. You came all the way here, didn't you? So do one more quick flight, as it is worth it!
---
Buenos Aires: Where To Eat
You have walked and walked and walked, enjoying this gorgeous city. Now you are hungry! When looking for a great restaurant in Buenos Aires, don't forget to add these places to your bucket list.
This charming café opened its doors in 1858 and is the oldest coffee house in Buenos Aires. Come in, take a seat and order some coffee and dessert. They also have nightly tango in the back! I was here 20 years ago and remember it fondly!
Even though you are in Buenos Aires, it doesn't mean you can't enjoy some delicious French food. The chef Matin Rebaudino, has more than 18 years of experience and cooks up dishes like Codorniz de Capilla Del Senor and Petit Four.
When you are in the mood for cigars and amazing drinks then this private spot is great for you. Keep in mind that the door is locked and it requires a reservation to enter. So dial them up, make a reservation and fell like a King as they cater to you!
Looking for a perfect and rich cut of meat should not be hard to find at this restaurant. Their specialty and motto seem to be meat, meat, and more meat – The Argentinian Way! You can enjoy meals such as Morcilla Vasca, Empanadas de Carne, and Chorizo Criollo de Rueda. I even had a chance to meet the chef! He has several locations.
This is one of the most iconic and important hotels in all of Buenos Aires. It combines the old-world European culture with the Argentina traditions. Perfectly executed meals include the pizza de mozzarella, ribs de cerdo con barbacoa, and pesca blanca del dia. Be sure and try the provoleta as well! I took the above photo BEFORE the restaurant was open!! After 10 pm, it was packed!
Negresco Bistro & Bar at the Palladio Hotel Buenos Aires – M Gallery by Sofitel
As mentioned before, this is a delicious tasting restaurant in the heart of Recoleta with a fantastic menu and a fantastic bar with cocktail makers that will rock your world. The tapas were fantastic!
Things to know before going to Argentina
Language: Spanish with an Argentinean accent.
Religion: Roman Catholic
Safety: Petty crime is common in Argentina, so be aware of your surroundings and your smartphones. Don't leave them on the table while eating.
Currency: Argentinean Pesos
ATMs: Typically I find it safe to pull out cash out of Bank ATMs with no problems.
Rest Time: Other than Buenos Aires, most of the smaller towns in Argentina take a siesta and stores close from 1-5 pm. In Buenos Aires, most stores are open during the day.
Argentinian Diet: Asado, or an array of BBQ'd meats are a staple. They consume the highest amount of red meat in the world.
Mealtime: Many dinner-type restaurants open later than in the USA: between 6 and 8 pm for the tourists. The locals don't typically eat until after 9 pm and on the weekends even later, closer to 10 pm.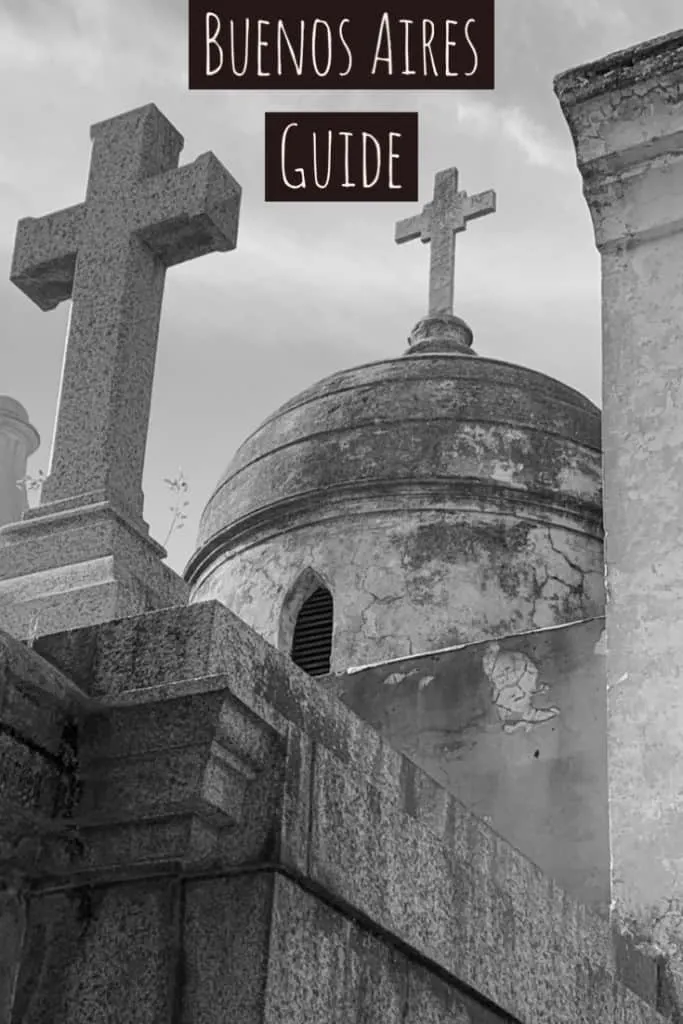 When to Go to Buenos Aires, Argentina
And just so you know, the mild temperatures of September to November make this the perfect time to visit Buenos Aires. Springtime is blooming during these months, which guarantees warm weather, no humidity, and fewer crowds. The Summer is December to February, which can get hot and sticky and the Fall is March to May, when it is a bit nippy at night, but can warm up during the day. The Winter is June to August, so depending on what type of weather you want to experience, be sure and remember that the southern hemisphere has different seasons than the USA.
It is possible that once you arrive in Buenos Aires, Argentina, you won't be able to decide which spot to check out first. You can mix things up with a walk along the river in the morning, then chowing down on a tasty dish at La Cabrera midday. Then take in a late-night tango show. Regardless of which of these best places you choose to visit in Buenos Aires, you are sure to have a blast, as I know I did!
Recommended Reading on South America:
My Trip to Guyana in the South American Rainforest
Kaieteur Falls: Majesty Brought to Life in Guyana
Why Chile Should Be In Your Future
15 Interesting and Fun Things To Do in Ecuador
If you would like to go to Buenos Aires, Argentina with Yampu Tours, they have graciously provided me with a special code for my readers: You can receive $200 off their next trip from now until Labor Day weekend.
Code: YAMPUSUMMER19
Disclosure: As is common in the travel industry, I was provided with accommodations, meals and other compensation for the purposes of review by Yampu Tours. While it has not influenced my review, PointsandTravel.com believes in full disclosure of all potential conflicts of interest. All Photos were taken by the author/or were given permission from the photographer. Affiliate links may be located in this article.