A little-known gem hiding in the South American Rainforest is Kaieteur Falls. It ranks towards the top of the list for waterfalls around the world in a number of categories. It is the tallest single-drop waterfall in the world at 741 feet. When combined with the steep cascades to the bedrock below, the total height of the waterfalls comes out to 822 feet. Although there are many waterfalls in the world that plunge down from a much higher starting point, few waterfalls have the combination of height and volume of water that makes Kaieteur one of Guyana's most popular tourist attractions. Hundreds of thousands of gallons of water flow off this massive plateau at 23,400 cubic feet per second making it one of the most powerful waterfalls in the world.

---
What's in this post:
hide
Kaieteur Falls – It is Worth the Visit!
---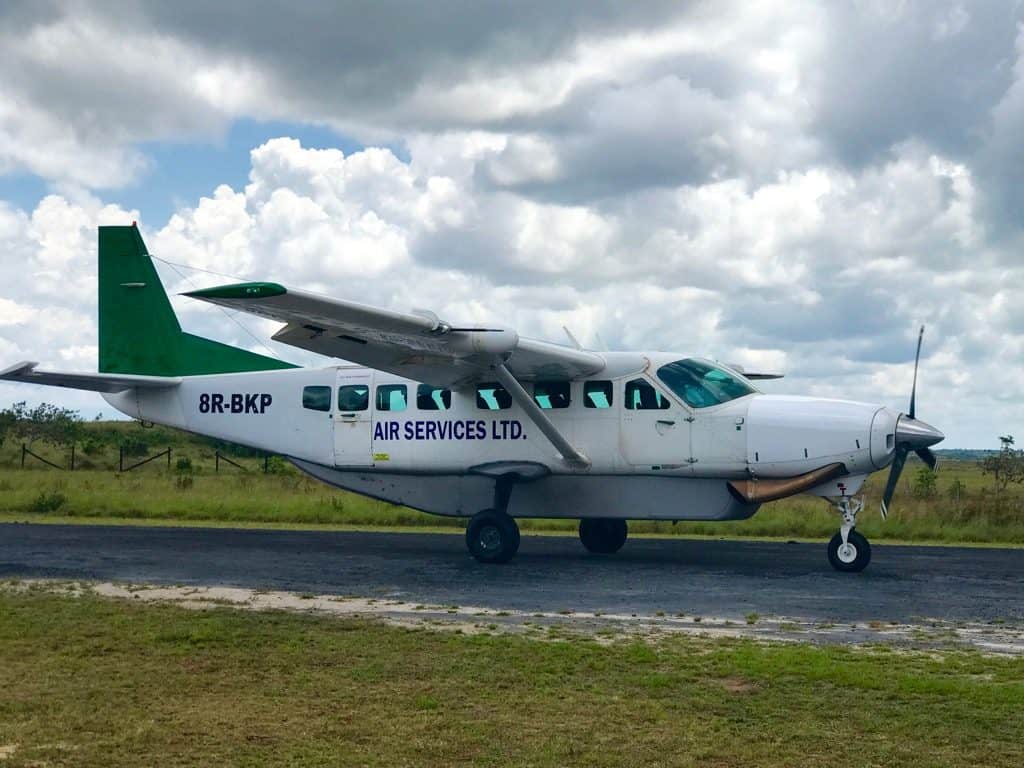 Kaieteur Falls is beautiful and beloved by those who visit but it is not such an easy place to come by. Located in the heart of Guyana, Kaieteur Falls is not a 'quick trip into town' like your other activities might be when visiting this former British colony. Below you will discover everything there is to know about the falls as well as how to get there to help make your visit to Kaieteur as memorable for you as it was for me.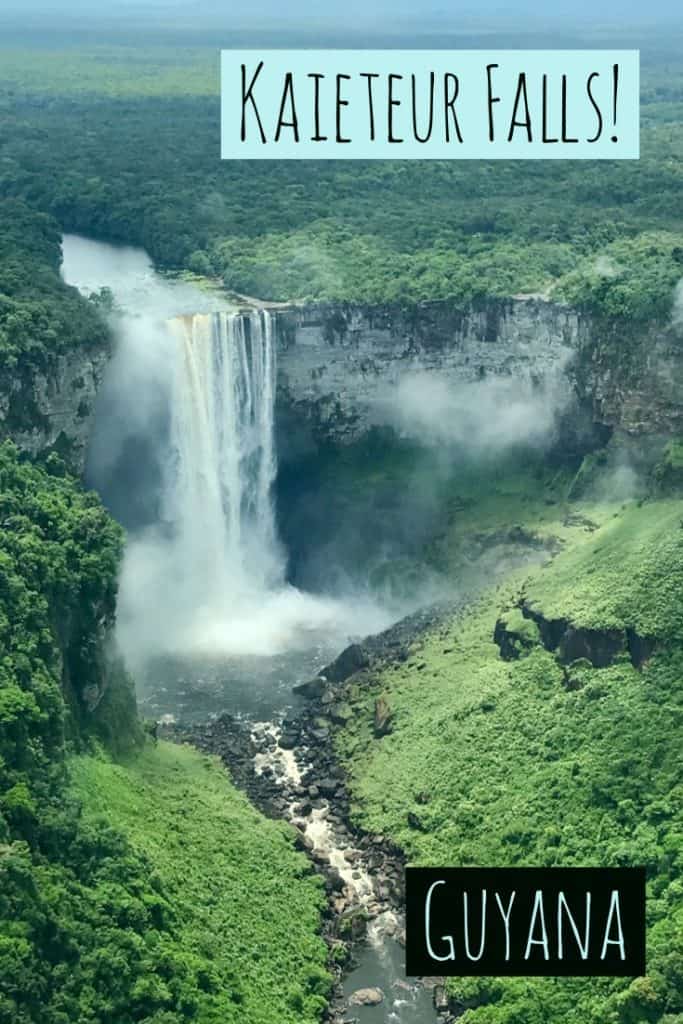 Kaieteur Falls – Fast Facts
Like I mentioned before, Kaieteur Falls is one of the most powerful waterfalls in the world with 23,400 cubic feet of water flowing down every second. It is about twice the height of Victoria Falls on the border of Zambia and Zimbabwe in Southeastern Africa while it is about four times higher than North America's Niagara Falls, which is situated between the United States and Canada. The Potaro River supplies Kaieteur and its majestic fall views. After it flows downward it feeds into the Essequibo River, the largest river in all of Guyana. The falls are located inside of Kaieteur National Park in the Potaro-Siparuni Region.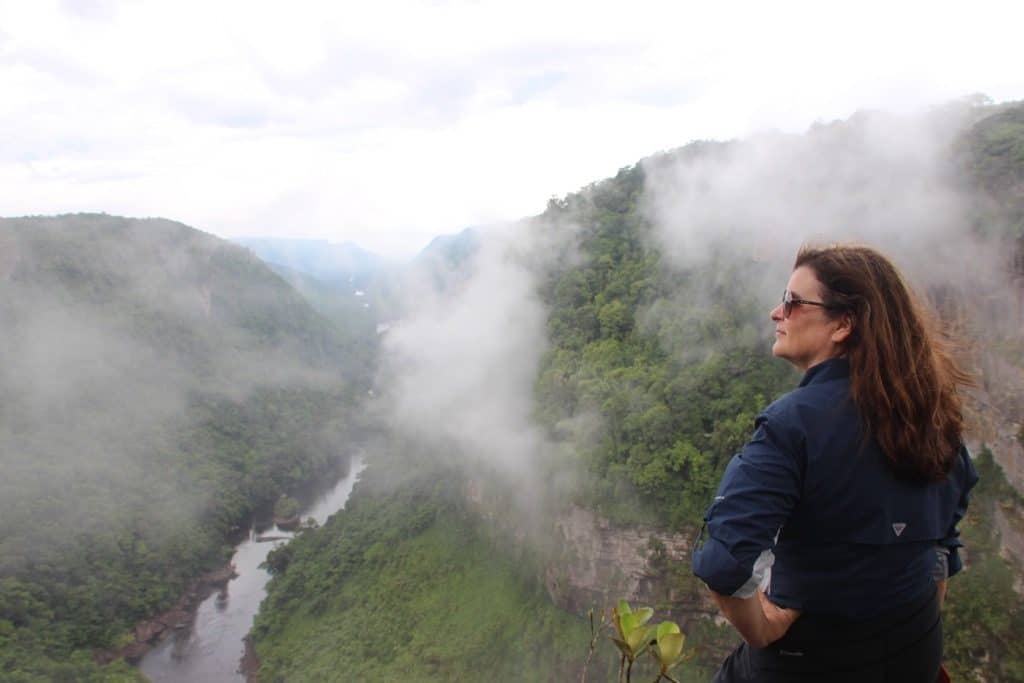 Kaieteur National Park – In The Amazon or Not?
You guessed it, Kaieteur Falls is the namesake of this national park. Established in 1929 to protect nature and its wildlife, Kaieteur National Park is home to hundreds of species of endemic animals that we will discuss later. The specific area that incorporates these falls is known as the Guianan moist forests, an ecoregion that is technically classified outside of the Amazon drainage basin. So while a visit to Kaieteur Falls is not one to the drainage basin you are still within the Amazon Biome. Your bucket list checkmark is safe, so don't worry!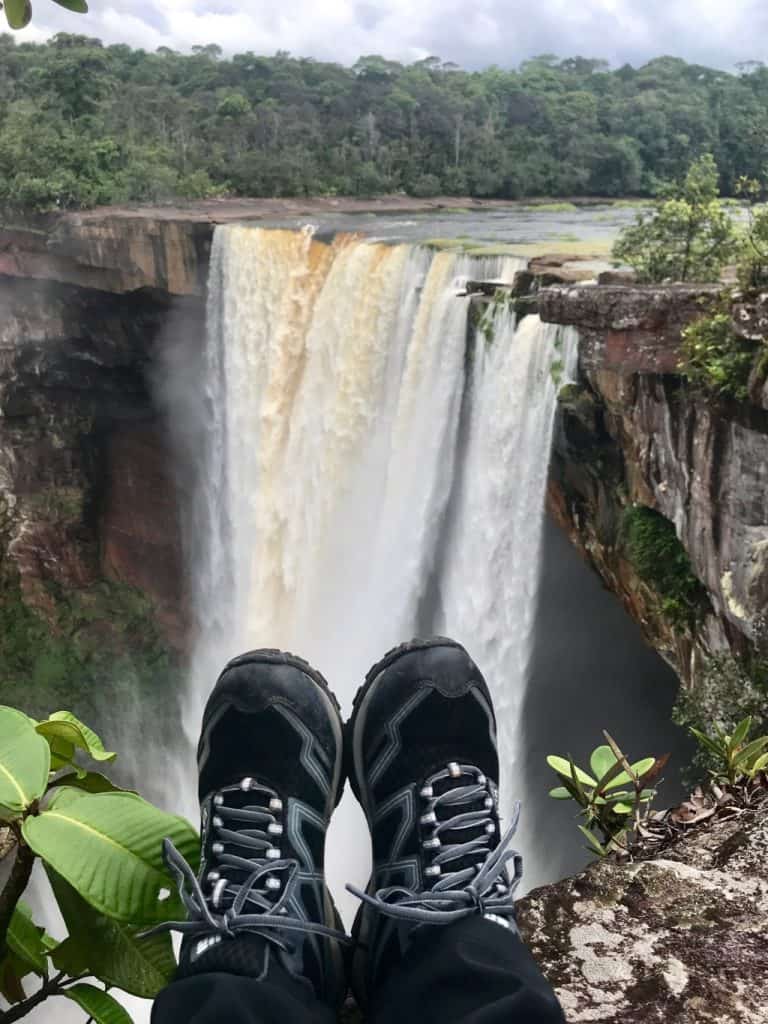 Kaieteur Falls, Guyana – How to Get There
Once you arrive in the capital city of Georgetown, you have a few options when beginning your trek into the Amazon in search of these powerful yet majestic falls. Either a multi-day hike or a chartered flight to Kaieteur is possible. Although I decided to take the chartered flight, I would not rule out the hike for the more adventurous traveler. If you decide to hike to the falls, be prepared for a four-day trek that begins with a drive to the mining town of Linden, a two-hour drive from Georgetown. From there you will take the Lethem/Brazil Trail south on-foot through the moist forests to Kaieteur Falls. Do not worry if the hike sounds daunting as you can return to Georgetown with ease from the Kaieteur International Airport (KAI). Located just over a half-mile (0.62 mi) from the top of the falls, the airstrip is only a 15-minute walk away.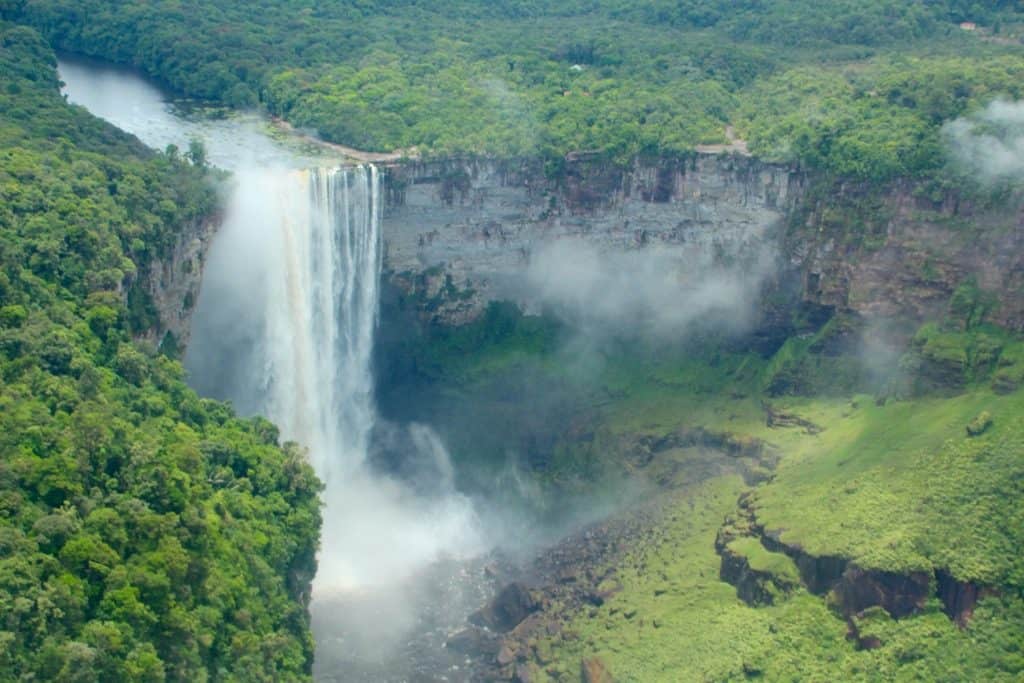 Kaieteur Falls Charter Flights
Kaieteur International Airport services just two airlines so it is essential you plan your charter flight with them specifically. These airlines are Trans Guyana Airways and Roraima Airways which, from Kaieteur Falls, fly to the Georgetown destinations to Eugene F. Correira International Airport (OGL) and Cheddi Jagan International Airport (GEO), respectively. As large commercial flights to Kaieteur Falls is unheard of, it is important that you fly with a small group if only to split the cost of a charter flight. Otherwise, it can be wind up being very expensive to fly out to the Falls on your own. Here I have put together a general list of flights as well as their duration when flying between Georgetown and one of the country's main airstrips:
Georgetown to Kaieteur: 50 minutes
Georgetown to Annai: 75 minutes
Annai to Kaieteur: 25 minutes
Annai to Georgetown: 2 hours (detour to Lethem)
I arrived at Kaieteur Falls via charter plane (the more conventional way) from the Rock View Lodge just a two-minute walk to the Annai Airstrip, since I was coming from a 4 day trip in the South American Rainforest and stayed here the night before.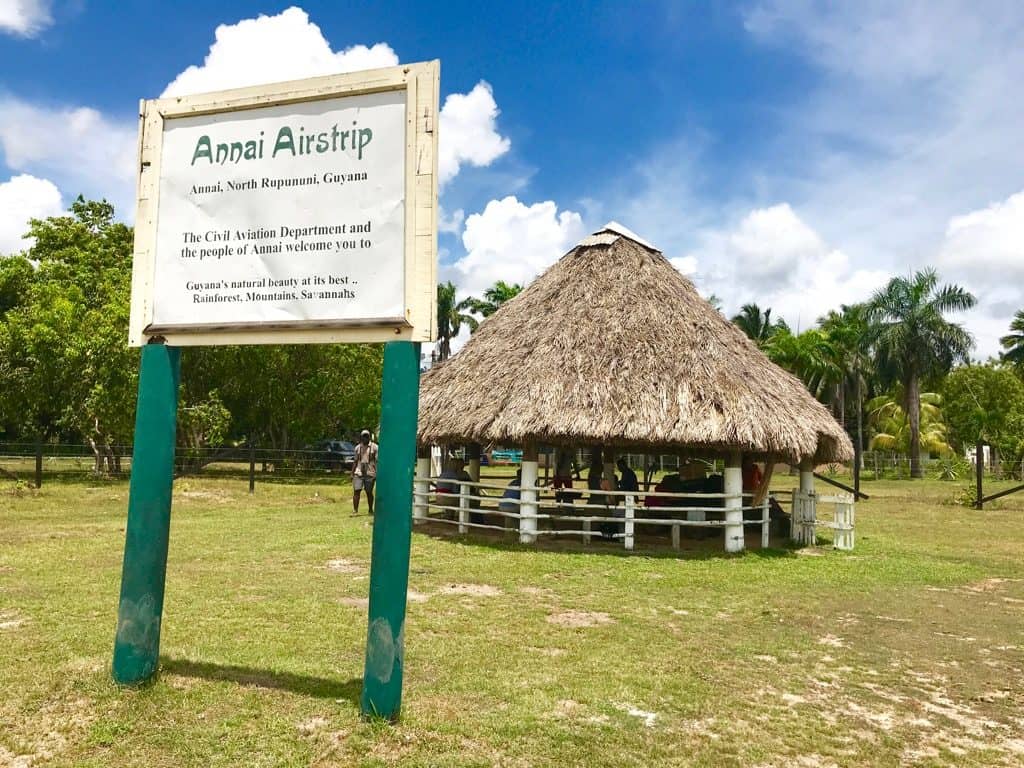 Given its remote location, it is seemingly difficult to arrive at Kaieteur Falls via aircraft but as long as you do your research on flight options, this obstacle can be overcome with ease.
Kaieteur Falls Were Discovered By Charles B. Brown
As you can see, Kaieteur Falls is not the easiest place in the world to get to. With the comfort of modern technology, the falls are still widely accessible to a number of world travelers hoping to catch a glimpse of the mass amounts of water pouring over its edge every second. But imagine how difficult it must have been to reach the falls in the past when prop planes and 4×4 vehicles were missing from the local life of those who lived in Guyana at the time.
This was the reality for the individual credited with discovering Kaieteur Falls over 150 years ago in 1870. Charles Barrington Brown, a British geologist appointed as a government surveyor of British Guiana, discovered the falls on an expedition through the colony's central rainforest. Brown did not have enough time to properly investigate the falls to his liking and so returned much better prepared almost a year later. His discovery had marked the first time a westerner had seen the magnificent falls but they had been a part of the local tribal life for at least a millennium before.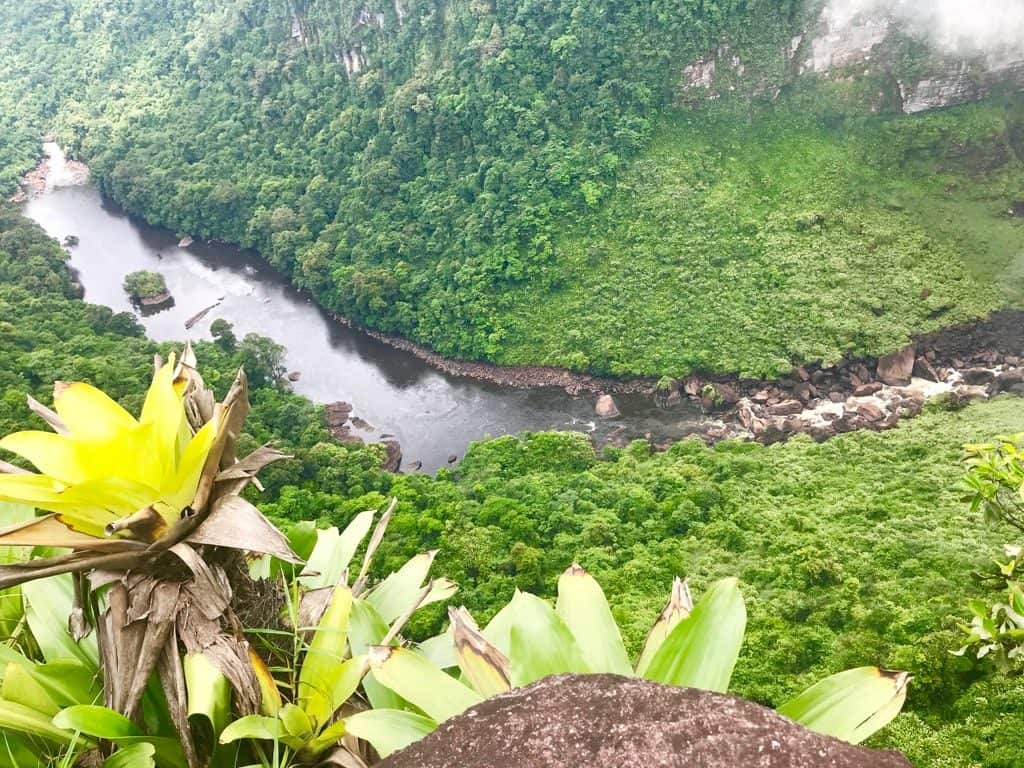 How Kaieteur Falls Got Its Name
There are two local legends that I want to highlight that try to explain the origin of the name Kaieteur. The first, a Patamona Indian legend, states that the falls were named after Kai, a chief who acted to save his people by paddling over the falls in an act of self-sacrifice to Makonaima, the great spirit. The second (and my personal favorite) was told to Brown the night his group discovered Kaieteur Falls. The local Amerindians said that Kaieteur was named after an unpleasant old man who was placed in a boat and shoved in the fall by his relatives. Thus the fall was named "Kaieteur," which means "old-man-fall." So if you have an unruly relative in your midst, why not take them to Kaieteur Falls for a scenic ride down the river!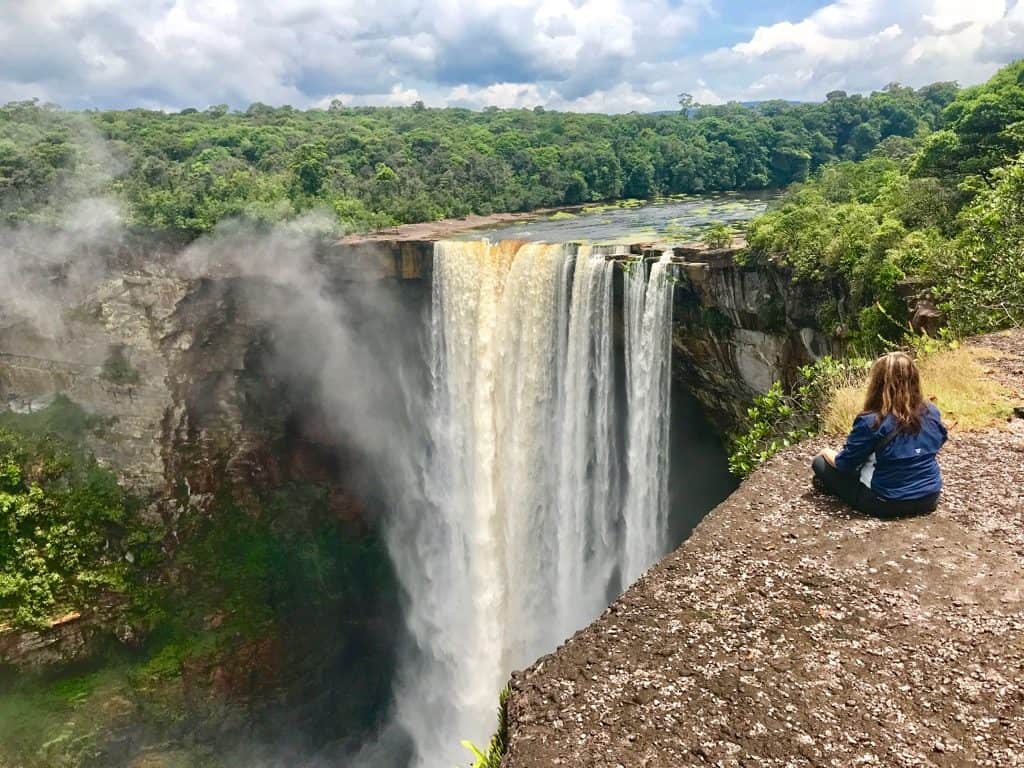 Kaieteur Falls In Pop Culture
Being a major tourist hotspot in Guyana, Kaieteur Falls has been featured in a number of television programs highlighting its awe-inspiring views. From Discovery Channel to BBC to Animal Planet, the falls have been used to highlight the sheer power nature has on offer and lets us know about what certain environments are capable of when guarded against human interaction. Animal Planet featured the falls in their popular series River Monsters with Jeremy Wade where he fished for Guyana's most notorious inhabitants, the piranha fish. With the rich mining in Guyana, Discovery Channel's program Gold Rush also made an appearance in Kaieteur National Park. Finally, David Attenborough, the narrator, and presenter of BBC's top nature documentaries arrived in Guyana to educate millions on Kaieteur Falls and the unique wildlife that inhabits the surrounding area in Life on Earth. There, Attenborough covered the native frog species, like the golden frog that thrive in the moist conditions left by the Potaro River overflowing throughout the plateau's edge.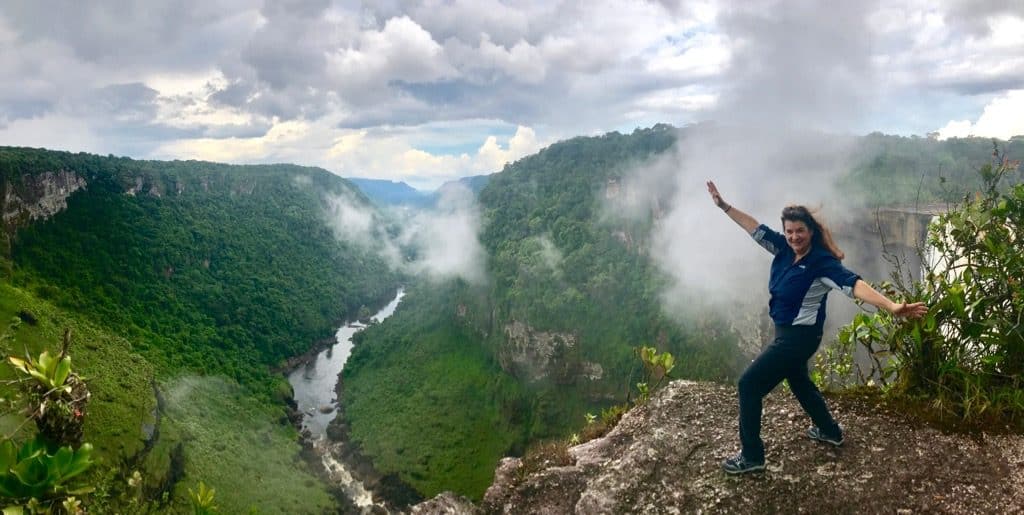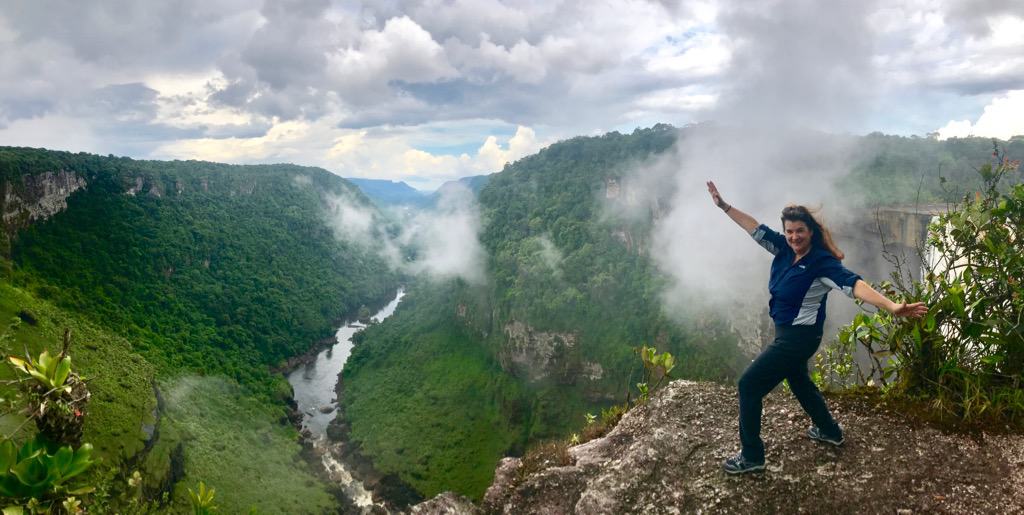 Kaieteur and Its' Frogs!
Given that you are going to explore the Amazon river basin, it goes without saying that you will encounter some of its diverse wildlife while making your way to Kaieteur Falls. The endemic frog species that David Attenborough and BBC filmed make up only a small fraction of the plants and animals that make their home in Kaieteur National Park. The amphibians he covered in his special include the diverse families of Hylidae, poison dart frogs and the 199 Leptodactylidae frog species that inhabit South and Central America. Of the near 200 of them, many make their homes near the falls. Reptiles in this ecoregion include the black caiman and the yellow-spotted river turtle, both of which are dependent on conservation efforts to boost their populations. Unfortunately, when I was there, I didn't see a single one but granted, I was only there for a few hours.
Mammals Located Near Kaieteur Falls
Besides the scaly and slimy, Kaieteur Falls' neighborhood is home to a number of mammalian and avian species that thrive in the overgrowth. Over 220 species of mammals have been identified in Guyana alone with over 100 identified as bats. Caves and crevices created by falls like those of Kaieteur have allowed for numerous bat species to gain cover in places inaccessible to most animals. Different types of monkeys like the black-bearded saki and red-faced spider monkey also call Kaieteur National Park home, living their entire lives high up in the canopy alongside the massive Harpy Eagle and the Cock on the Rock birds. While others, like the six-banded armadillo and the giant otter, are much more comfortable on the ground.
Kaieteur Falls, Guayana – Conclusion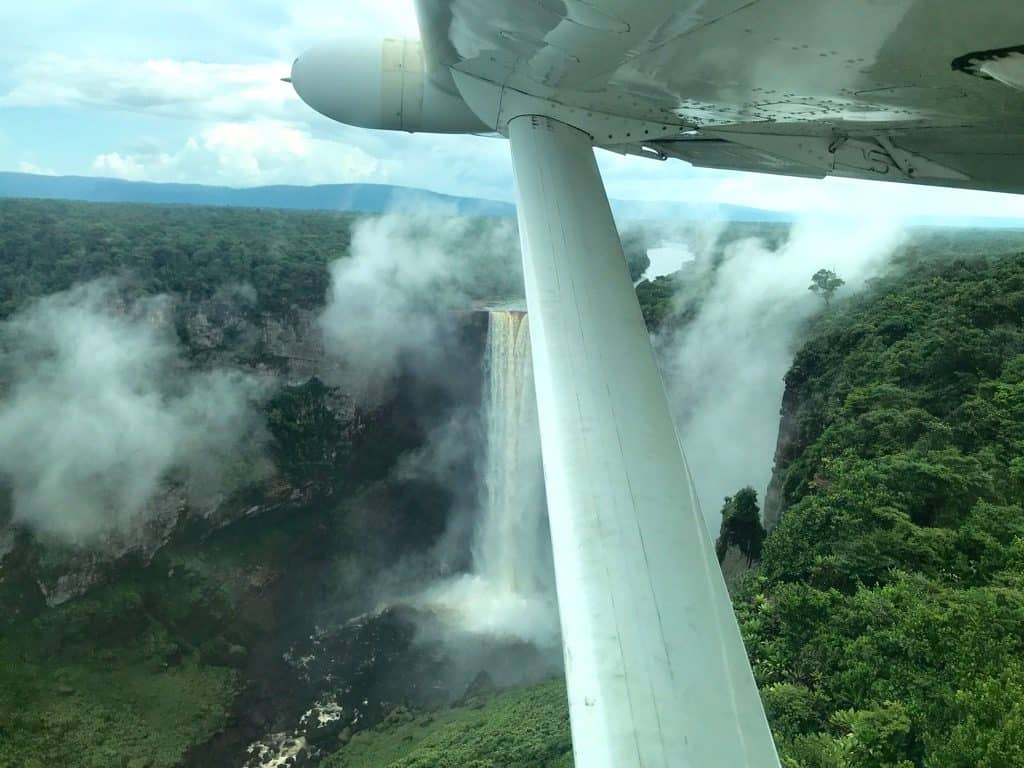 A beautiful waterfall is hidden in the Amazon River Basin, Kaieteur Falls should be a top destination for you as you plan your adventure dream trip into the wilds of Guyana. What it lacks in height, it makes up for with sheer power. The mass of water that flows down the plateau's edges and the innumerable plants and animals that it maintains make Kaieteur Falls seem like something out of a new world expedition finding buried treasure. Its remote location will allow you and your group to immerse yourselves in the sights and sounds around you as you explore this hub of life deep within the South American rainforest.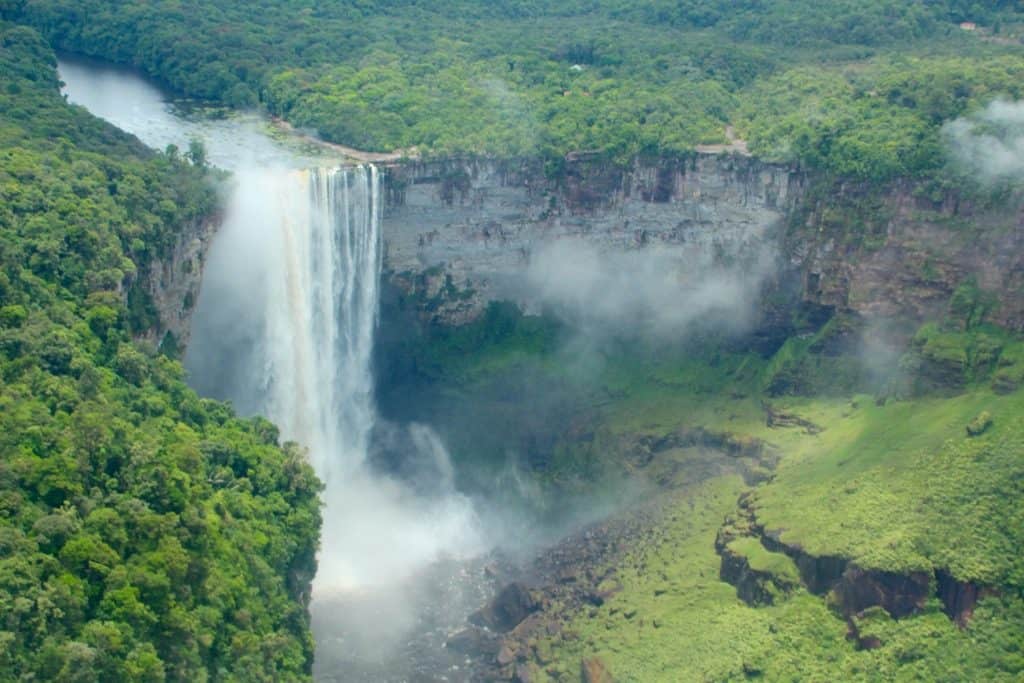 ---
Recommended Reading
Guyanese Food: Learning A Culture Through Food
My Trip to Guyana in the South American Rainforest
How to be a Pirana Fishing Expert!
---
Disclosure: As is common in the travel industry, I was provided with accommodations, meals, and other compensation for the purposes of review by Guyana Tourism and its PR agency. While it has not influenced my review, PointsandTravel.com believes in full disclosure of all potential conflicts of interest. All Photos were taken by the author/or were given permission from the photographer. Affiliate links may be located in this article.