Caye Caulker is a minuscule little island off the coast of Belize. Roughly 3000 people live on this breathtaking island that sits off the Caribbean Sea. If you are one of those people who love to visit "off the beaten track" places, then I would recommend visiting Caye Caulker Belize. The island itself is less than 1 mile from east to west and 5 miles from north to south. The tranquil island is so tiny that you can walk around the whole island in about an hour—barefoot in the sand, naturally.
What this island lacks in size, it certainly makes up for in scenery and fun outdoor activities like snorkeling with sharks in the Hol Chan Marine Reserve and scuba diving the famous Blue Hole. Surrounded by the spectacular Belize Barrier Reef (which happens to be the second-longest in the world) Caye Caulker in Belize is the perfect base for two runaways from the 9-5 daily grind …I meant adventurers who want to have fun!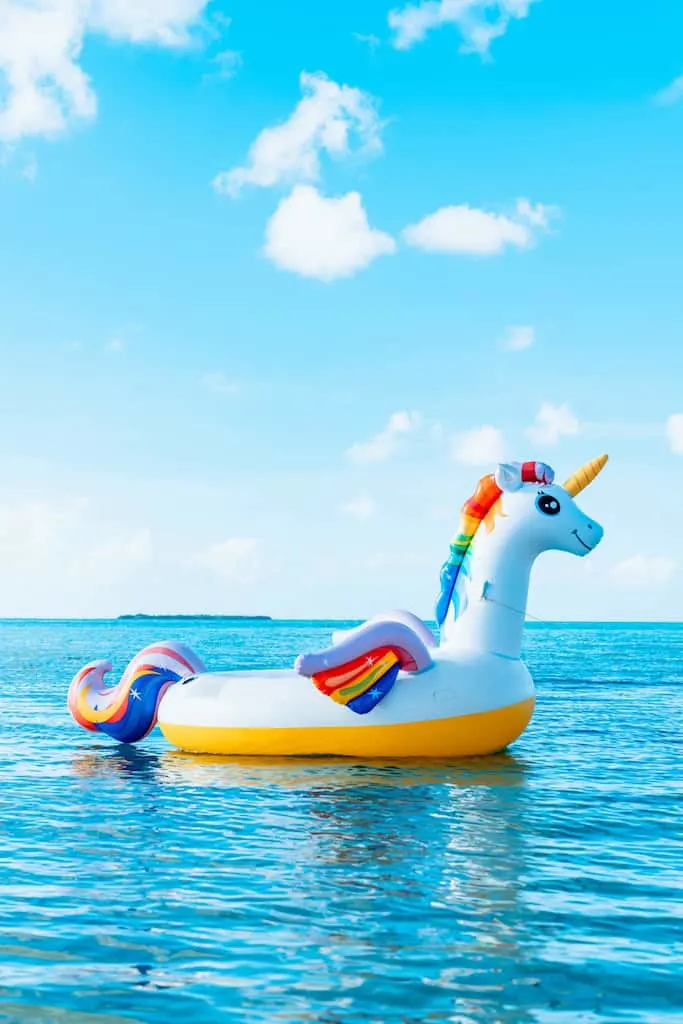 ---
Caye Caulker Belize: 5 Reasons to Visit
---
In fact, Caye Caulker is often noted for being the hip spot for backpackers to visit. Laidback and relax is the motto of Cay Caulker and in my opinion, it is a must-follow rule while vacationing in Caye Caulker Belize.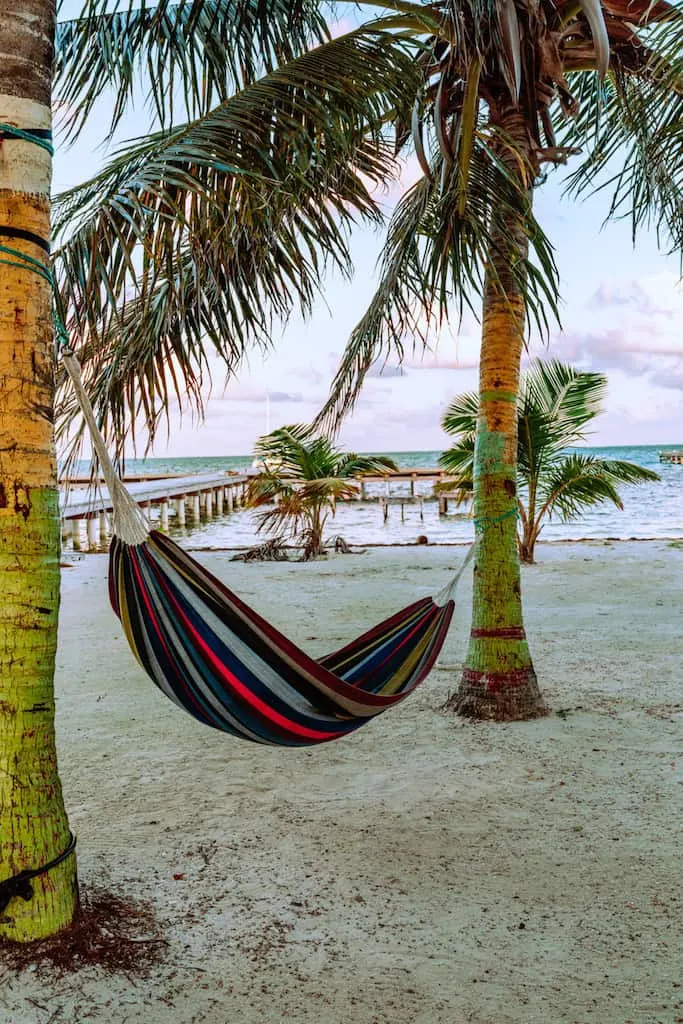 Name Game of Caye Caulker
Caye Caulker in Belize is an interesting place and has quite an unusual name. There are a few different theories as to where Caye Caulker got its name. This limestone coral island may have gotten it from the Spanish pronunciation of Cayo Hicaco, which translates to "the island of coco plum".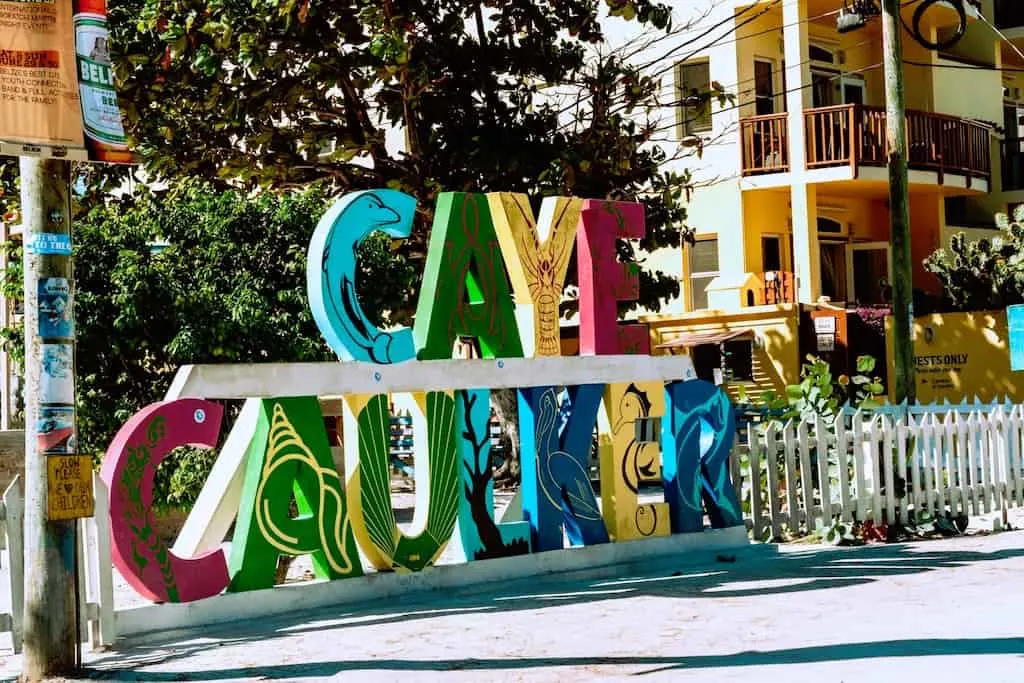 Another interesting theory is that wooden boats were caulked together to make them more resistant, which may have led to the name, Caye Caulker. Old maps have the name of this island written as Cay Corker, which may be a reference to sailors stopping at this island to refill and "cork" their water bottles, due to the large supply of fresh water on the island. Regardless of these theories, you can choose what to believe, Caye Caulker Belize is a mesmerizing island to visit.

Best Time to Visit Belize Cay Caulker
For ideal weather, I would recommend visiting Belize Caye Caulker between mid-March to mid-May. Hurricane season starts in the Fall and it is best to avoid the unpredictable weather of this season. Temperatures in Caye during the months mentioned above usually range from the mid-'70s to the low 80's in Fahrenheit. During these months, the sun does not scorch you, so you can go easy on sunscreen. The sea temperature is perfect all year for swimming, scuba diving, and other water activities, such as standup paddleboarding and other fun activities.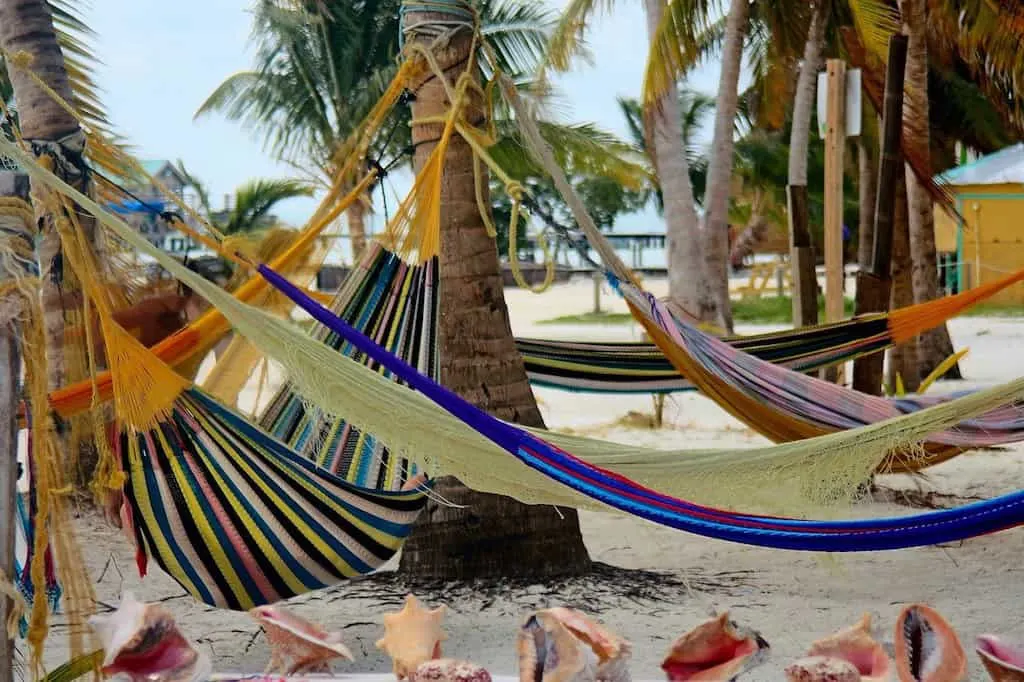 How to get to Caye Caulker
If you are an international vacationer like I am, the first step to getting to Caye Caulker Belize is to arrive in the country of Belize. If you are flying to the country, you will land at the Philip Goldson International Airport (BZE) which is just 20 minutes away from Belize City. When you get to the International Airport you will have three very convenient options to get to the beautiful island of Caye Caulker:
#1st Way: From the airport, you can request a ground taxi to the water taxi terminal and book a water taxi to Caye Caulker. The water taxi ride will cost roughly $20-$25 and takes about 45 minutes to an hour.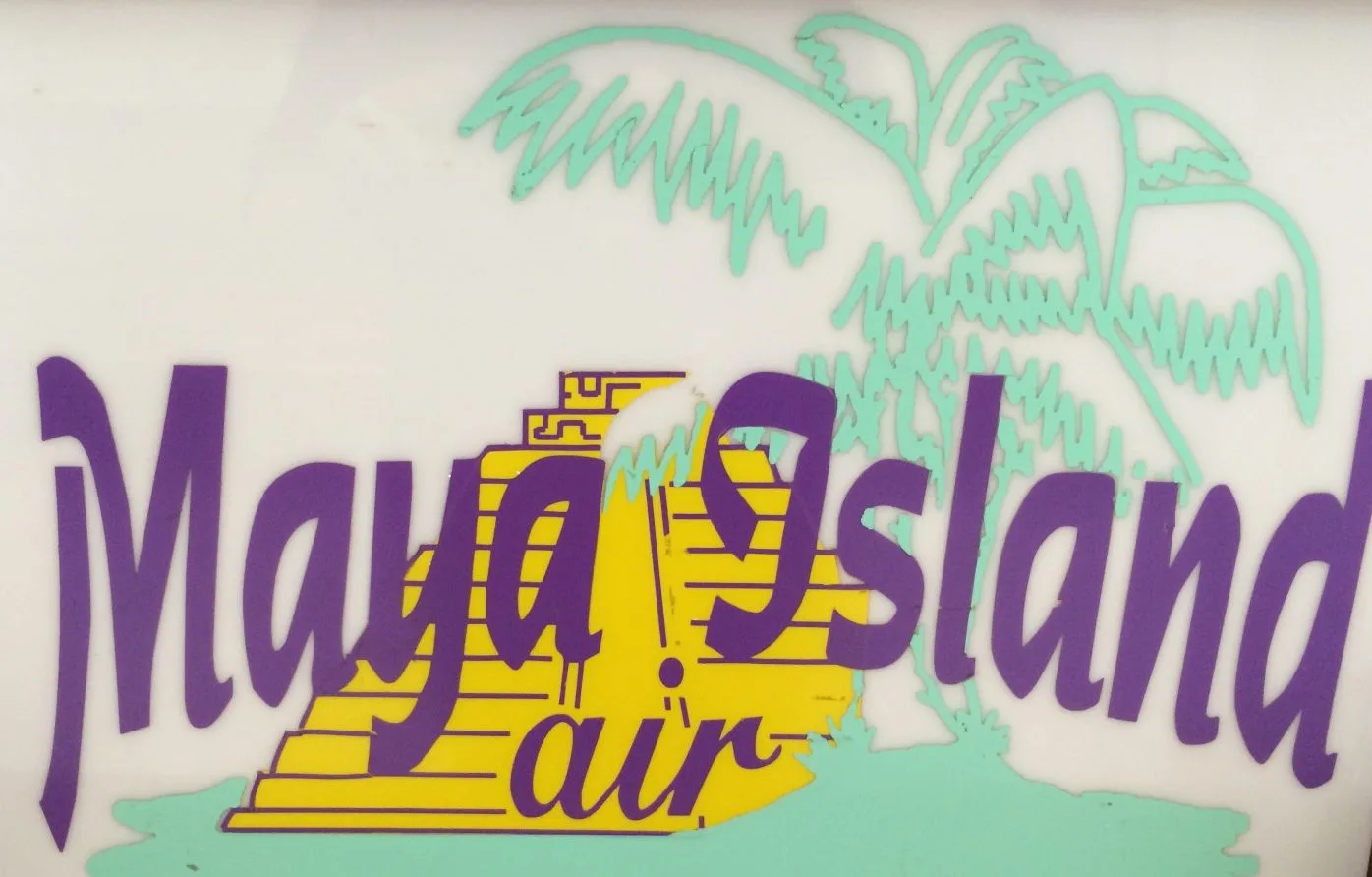 #2nd Way: Another way to get to the island is to take an 8-minute flight to Caye Caulker from Philip Goldson International Airport (BZE). Mayan Air and Tropic Air is a local airline that can provide you with small aircraft that fly from the International Airport to and from Caye Caulker.
#3rd Way: I flew into BZE, first to Ambergris Caye, so my flight was 15 minutes to Ambergris Caye, and then a few days later on I took that 8-minute flight to Caye Caulker Belize. You can click here to book an express water taxi and to find out more information.
My 15-minute flight to Ambergris Caye and then Caye Caulker!
When I flew over, it was hot, so I had oozing sweat running down the back of my neck. I lunged hard to enter the tiny seaplane door, which would be my home for the next 15 minutes. I sat under the wing on the right-hand side for a perfect picture-taking opportunity. From the tarmac, my heart was pounding when I actually saw the tiny prop plane I would be riding in and sudden past experiences came rushing back (like the time I took the tiny prop plane in Costa Rica!).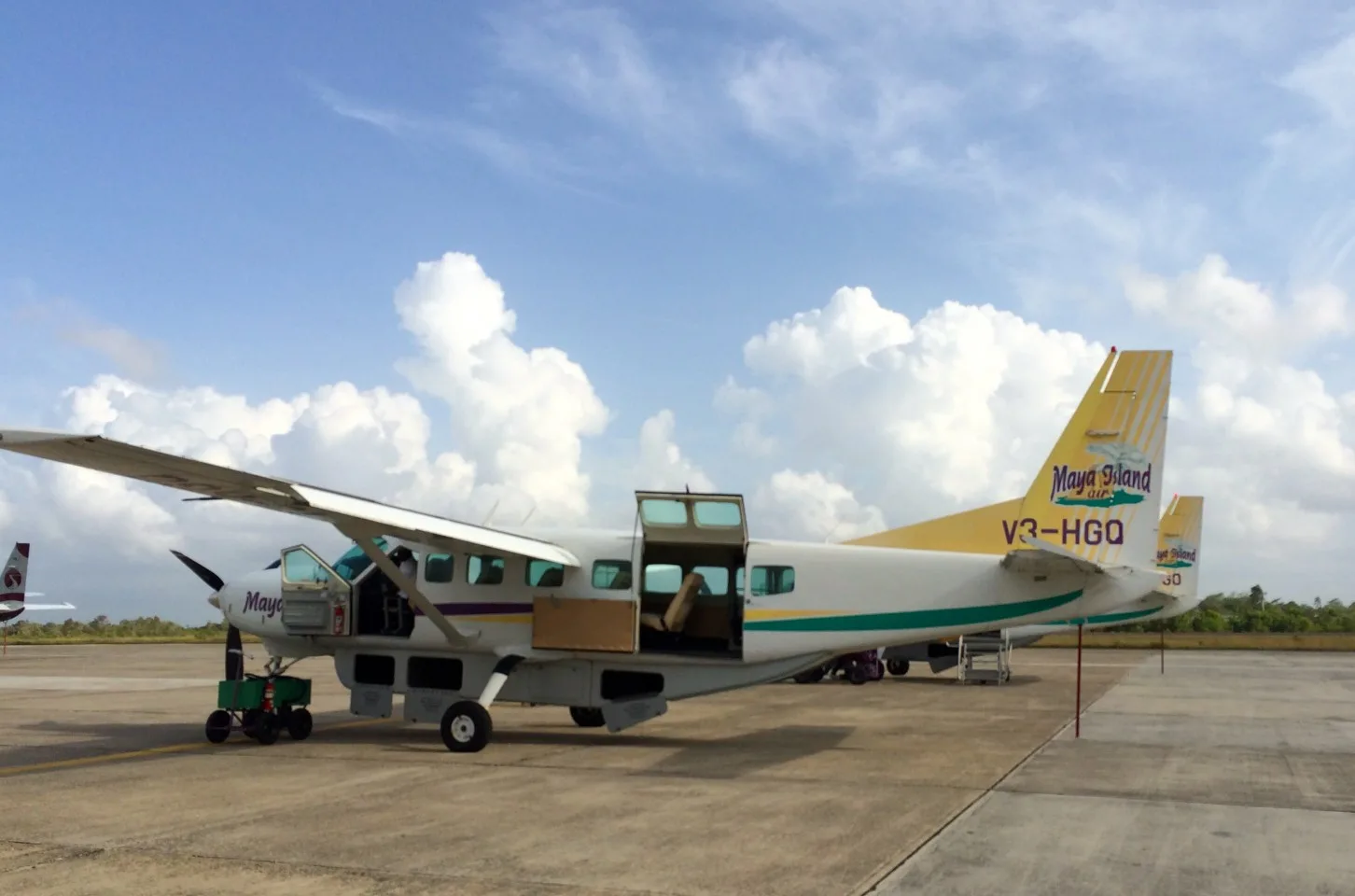 I was excited, a bit scared, and thrilled all wrapped into one. Belizean paradise is quite easy to find, you just have to know where to look. This, my second trip to Belize, took me flying past the mainland and on to the island of Ambergris Caye to the town of San Pedro. Greeted at the BZE airport by the Maya Island Air agent, after immigration, with a sign, I was happy to see them since we had been flying all night and now they easily found us!
Scenic Flights to Ambergris Caye and Caye Caulker
Smaller airlines run all the flights you need, including anything from just logistics flights to and from the mainland to more scenic flights out to interesting sights, such as the Blue Hole. Although my flight was a logistic one, it was actually thrilling and scenic, as well.
Buckled in, my leg rubbed the guy beside me and I moved my leg, as the heat was stifling until the plane started its propeller. The airstrip appeared to be in the middle of a mangrove field. Soon we were up, up, and into the most gorgeous blue skies, I have ever seen!
With my camera in hand, I am always one to start clicking away at the scenery below. At first, we followed along a canal or river but soon made our way out into the open ocean where the tiny bits of land jutted out of the glassy sea. The way in which the sun was shining down upon the water, made an endless ripple of glare in my eyes.
Down below were tiny uninhabited islands and a huge ocean. But soon, I began to see a larger island appear that would be Ambergris Caye.
And just like that, the flight was over. Coming in over the inlets of water and houses, we landed on the town's airstrip and were whisked away to the holding area until 5 minutes later our luggage was unloaded and my paradise vacation with my family began. We stayed for a few nights in Ambergris Caye (which was fabulous) and then later took the 8-minute flight to Caye Caulker!
5 Reasons to Visit Caye Caulker Belize
Now let's take a look at the top things to do in Caye Caulker Belize and five reasons why you should go.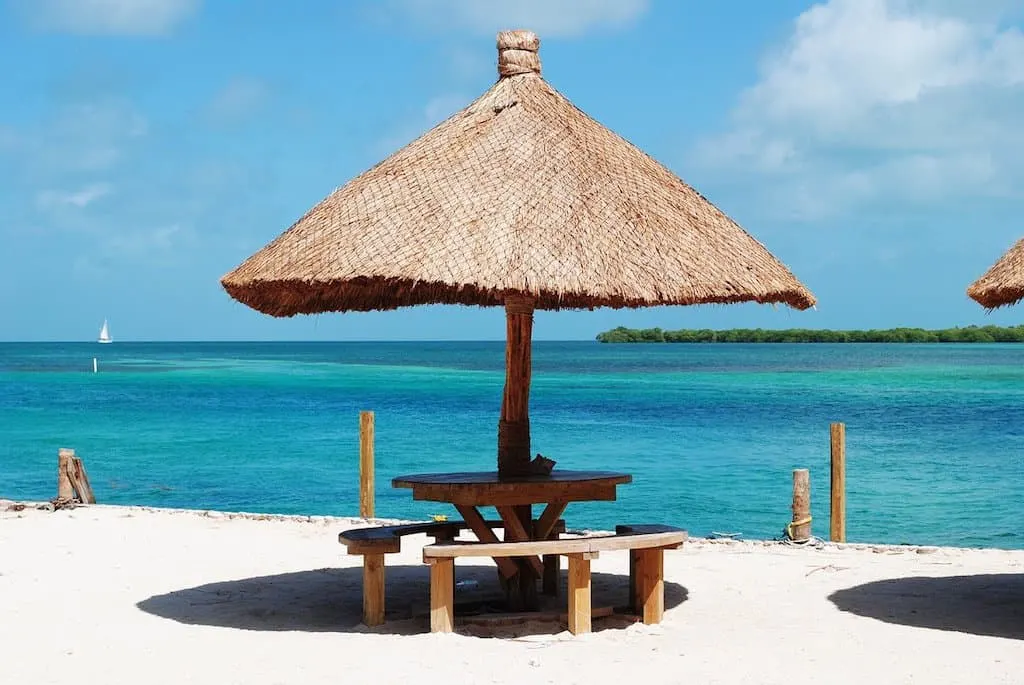 #1. The Scenery, Location, and Colorful Houses!
If you were thinking of lounging away under swaying palm trees and dazzling white sand shorelines, then you thought right. The scenery is everything at Caye Caulker and the surrounding turquoise and teal-colored sea will make you immediately fall in love. The idyllic island of Caye Caulker Belize would not be complete without the stunning location and plenty of colorful houses. The brightly-colored houses and restaurants are intense and memorable. Get your camera phone ready to take Instagramable pictures of the turquoise-blue, green, pink and yellow houses, purple shacks, and red-orange hotels. Staring out into the ocean leaves your eyes mesmerized with a kaleidoscope of color.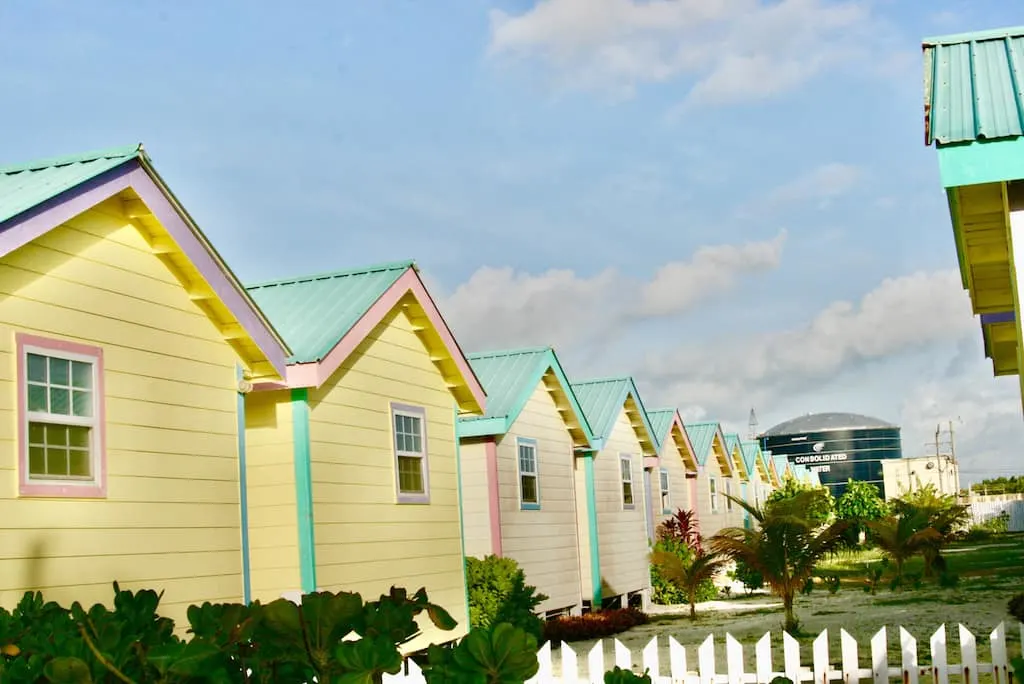 Although tourism is key in Caye Caulker, don't expect the locals to be at your beck and call at all hours. The location of this island is meant to be a relaxing spot for people to visit and enjoy their time in a laid-back atmosphere without the hustle and bustle of everyday life back home. Go for a relaxing bike ride or walk along the beach and enjoy the stunning location and scenery in Caye. There is even a restaurant named the Rainbow Grill that I will tell you about later!
#2. Go Manatee Spotting
Manatee spotting and snorkeling are activities that usually go hand in hand. You will need to book a tour to swim with the manatees and this is one activity I hope that you try! Aside from the manatees, you usually get the chance to see other live animals such as turtles, stingrays, seahorses, and small sharks.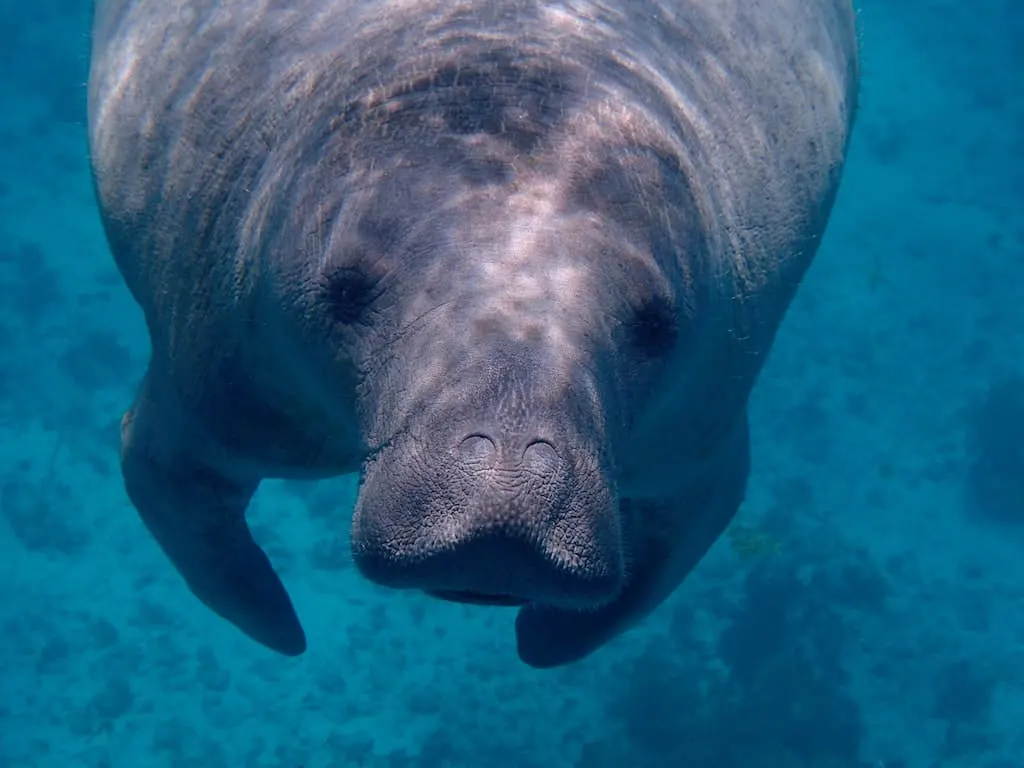 I recommend using an established tour company such as E-Z Boy Tours to book your manatee spotting experience. With this tour company, guests can enjoy a 7-hour trip around the Swallow Caye Wildlife Sanctuary and St. George's Caye for a chance at spotting the manatees and to go snorkeling.
#3. Dive or Fly over the Blue Hole
A scenic flight or dive over the Blue Hole is one of the most requested activities to do in Belize. This glorious and terrifying sinkhole is almost 1,000 feet long and 410 feet deep. The Blue Hole is the largest sinkhole in the world and one of the best diving sites in the world. It is a personal choice to either fly above or dive in the blue hole. I recommend flying over it first. Flying over the Blue Hole allows you to see the true depth of and the beauty of one of Mother Nature's gifts.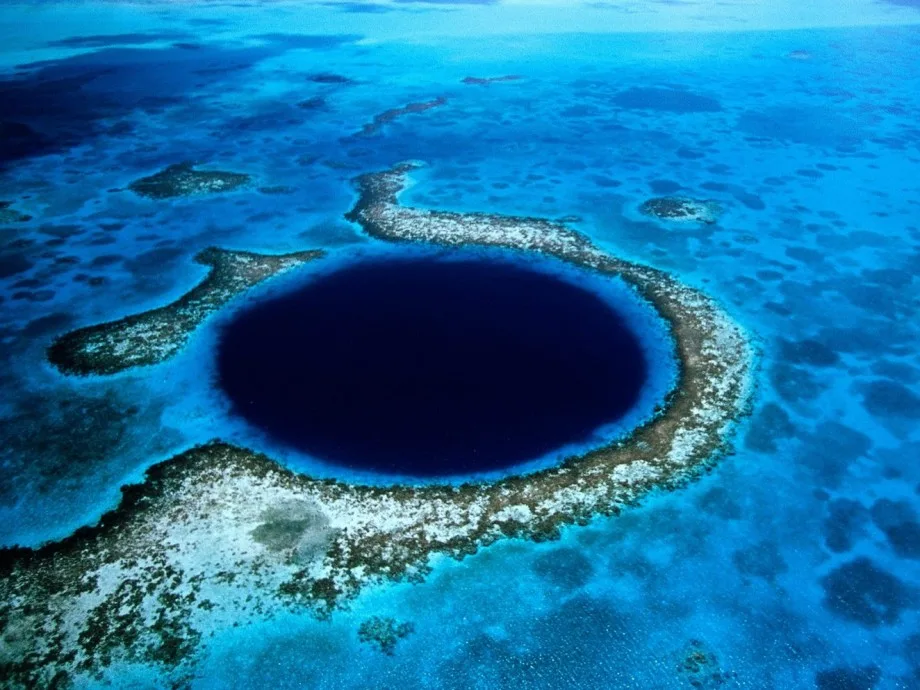 If you are a diving enthusiast (like me!), then I recommend that you book a tour with Amigos Del Mar. Divers can enjoy a full day of diving into the Blue Hole and visiting the Long Caye Wall. Unfortunately, I still have NOT been successful at diving the Blue Hole yet, but I am always up for trying again!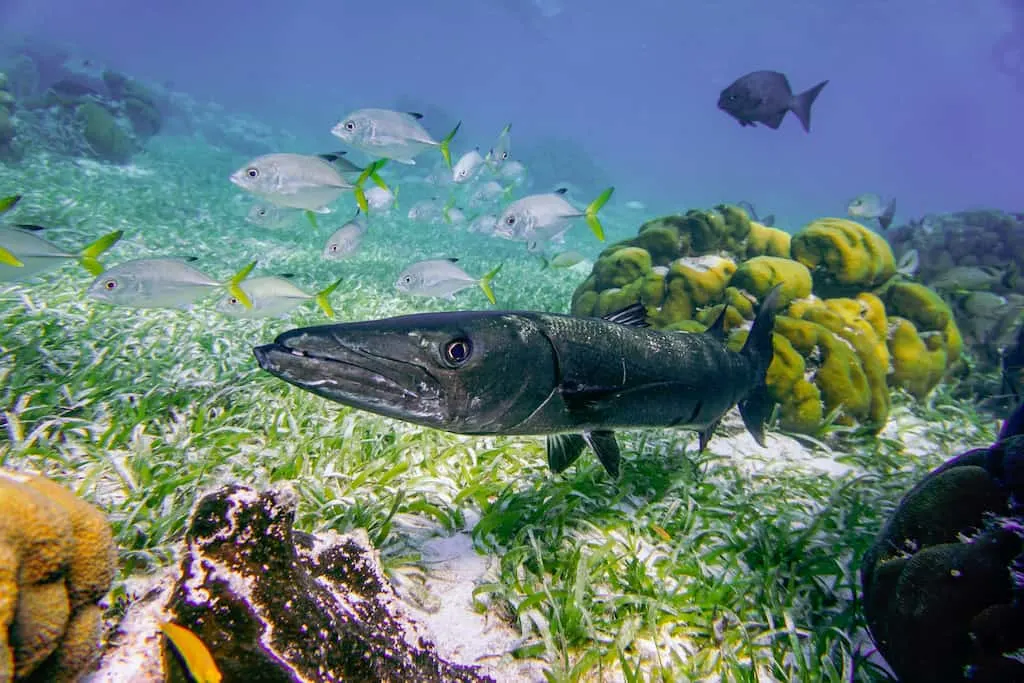 #4. Snorkel Hol Chan Marine Reserve & Caye Caulker Marine Reserve
You can enjoy a snorkeling experience in Belize with a San Pedro Tour. Departing from Caye Caulker, the Avendia Hicaco company offers a tour for people ages 11 and over. A Hol-Chan Snorkeling Tour includes lunch at the San Pedro Ambergris Caye and a snorkeling adventure at the Hol-Chan Marine Reserve. There are four zones to dive into at this reserve: Zone A (Hol Chan Cut), Zone B (Seagrass Beds), Zone C (Mangroves), and Zone D (Shark Ray Alley).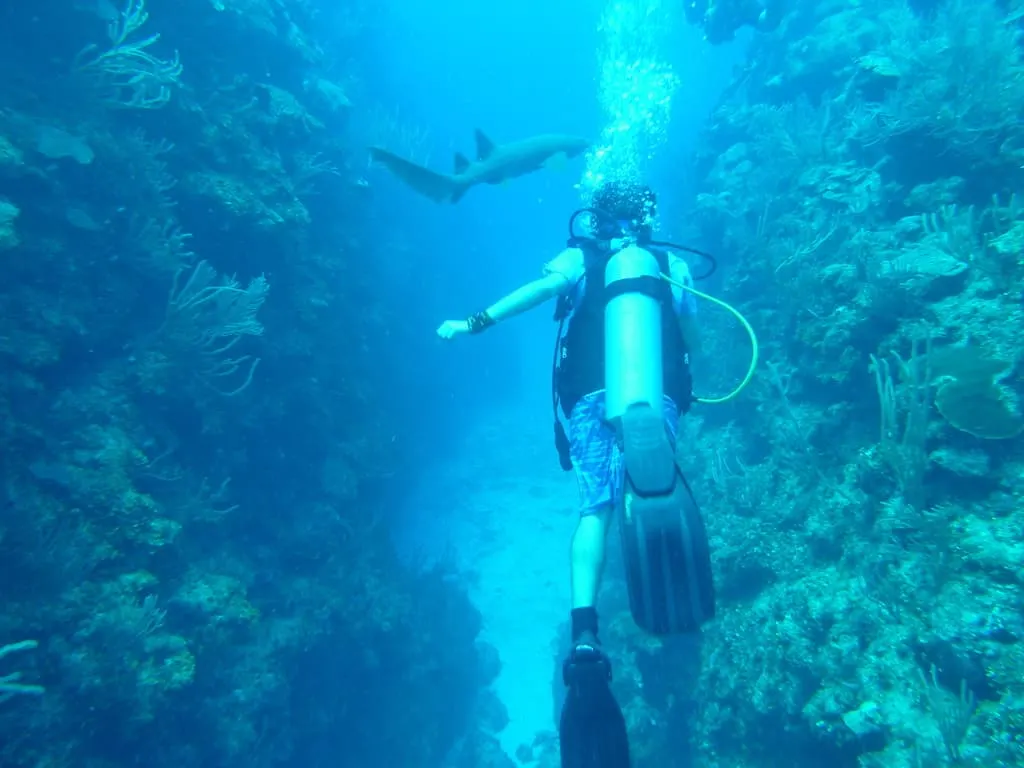 Diving and snorkeling options at the Caye Caulker Marine Reserve allow you to explore the natural dive site of live corals, hammerhead sharks, turtles, and many other marine life animals. You can choose a guided cave tour, a night dive of the coral gardens, and a San Pedro area tour. Believe me, I am ready to try this as well.
5. Enjoy the "Split"
One of the defining moments of Caye Caulker came in the form of a violent hurricane. The island of Caye Caulker took a big hit when Hurricane Hattie struck in October of 1961. By the time this horrific hurricane hit the island, it was already a Category 4 hurricane with terrifying wind gusts. The violent winds and water surge of this storm led to a small crack to become a big "split" along the already small island. Over the years, manmade attempts were made to create a tourist attraction out of this split and it eventually worked.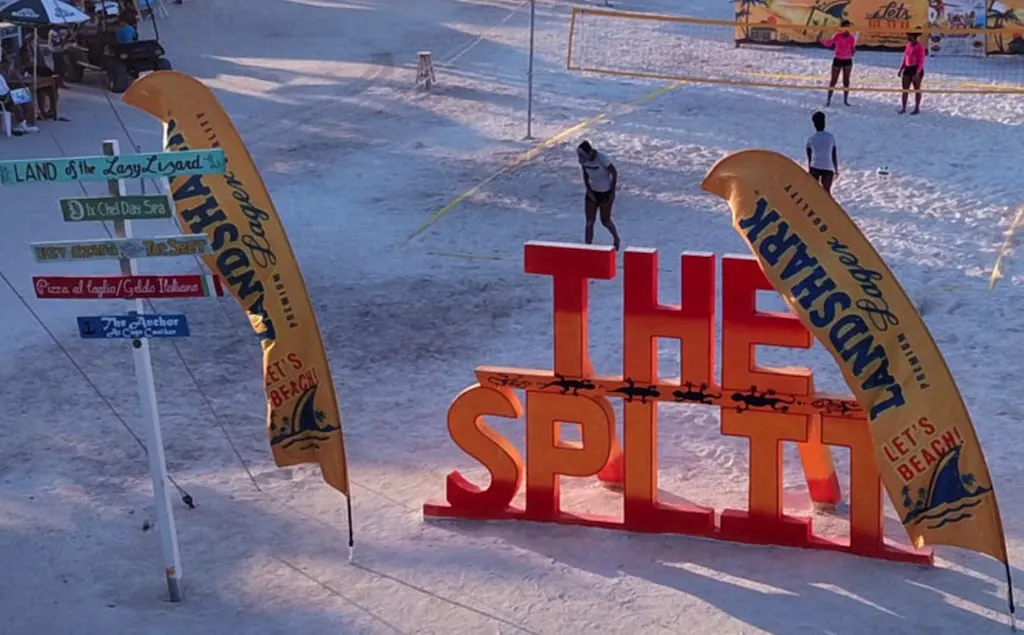 The "Split" (as everyone calls it) is one of the best places on the island, if not the Caribbean. It is a great place to hang out, listen to music, enjoy the scenery, and eat at the famous Lazy Lizard. The Belize Barrier Reef is the best seen at the split. There are plenty of shops at the split such as an art gallery, Treasures (a souvenir shop), and Juicy@theSplit (which allow you to create a customized smoothie or fruit juice.
The pace is slow in Caye Caulker—as it should be when you're on vacation, I think. Your days are spent stand-up paddleboarding, snorkeling, swimming, and cozying up to a beach bar to sip a cool cocktail.

Where to Eat in Caye Caulker
Don't let the size of this island fool you, Caye Caulker has plenty of dining options to choose from. Whether you are in the mood for BBQ, seafood, meat, or vegan, this island has you covered. Let's take a closer look at yummy food options and the best places to eat.
As you walk down the colorful streets of Caye Caulker, you are sure to see a restaurant or two that will intrigue your attention. One of those restaurants for sure is the Caribbean Colors Art Cafe. This cafe doubles as an art gallery, in which you can purchase art right off the walls. The food is a perfect blend of healthy, international meals with an emphasis on vegan and vegetarian-friendly options. I recommend eating at this cafe for breakfast and trying the breakfast burritos, frozen coffee, and banana pancakes. Yum, yum! You know I won't steer you wrong!
If you are looking for the freshest seafood on the island, then I would look no further than Roy's Blue Water Grill. If I were you, I would start off by ordering the yummy tropical shrimp salad (which includes edamame and grilled shrimp). Other fish options at this restaurant include Coconut Crusted Fish, Thai Curry Shrimp, and Spiced Calamari.
As I mentioned earlier, Lazy Lizard is one of the hippest places to eat and drink. This bar and grill is located right on the split and offers a tasty menu with many options, beach cabana service, and a remarkable view. This restaurant offers entertainment nightly, whether it be music or the newly added comedy night! The menu includes nachos, quesadilla, ceviche, local beer, local rum, and plenty of frozen and on the rocks drinks. It is the perfect place to spend a comfortable day with your family or friends.
And just in case you do BOTH Ambergris Caye and Caulker Caye, be sure and eat at The Truck Stop in San Pedro on the island of Ambergris Caye. It is delicious!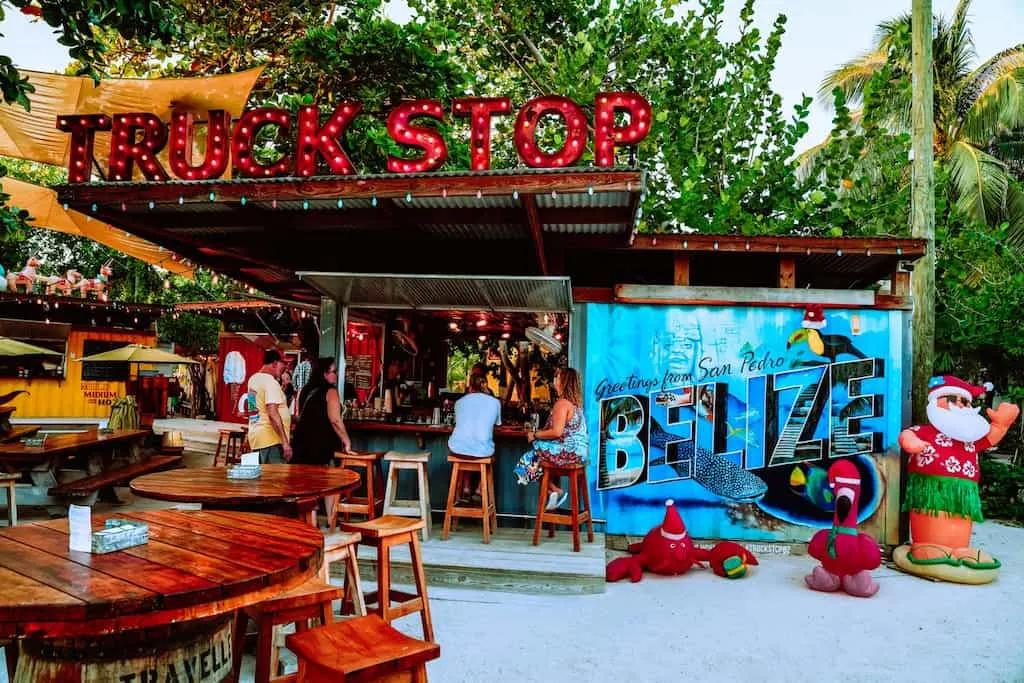 Where to Stay in Belize Caulker Caye
Just like the plentiful restaurants, there are many lodging options to choose from while in Belize Caulker Caye. Let's look at a few options of places to stay ranging from affordable prices to five-star luxury.
Tropical Paradise Hotel
If you are booking through sites such Booking.com, the price of a hotel room for 2 adults can range from $45-$50 per night. This hotel, Tropical Paradise Hotel, offers free Wi-Fi, air conditioning, beach access, housekeeping, and plenty of restaurants nearby such as the Pasta Per Caso Anna & Armando, Namaste Cafe, and Roy's Blue Water Grill.
Colinda Cabanas
Booking a stay at this beautiful hotel, Colinda Cabanas, will cost roughly $83 per night. It is an excellent hotel to stay in that offers free parking, bicycles, a private beach and balcony, complimentary toiletries, a concierge, and a kitchenette. Within .3 miles of this hotel, you have access to the beach, the Red Flower Gallery, and the Split.
Blue Zen Caye Caulker
One of the best beach resorts in Caye Caulker is the Blue Zen. This is a unique resort because it offers condos to each guest that are equipped with at least 2 bedrooms, 2 bathrooms, a kitchen, and a private floor. The property amenities include a bar and lounge, pool, restaurant, free Wi-Fi, beach access, family-friendly activities, and a fishing pier. The price of this resort might cost you an arm and a leg (roughly $230/night) but it is well worth the tranquil atmosphere, impeccable service, and luxurious accommodation.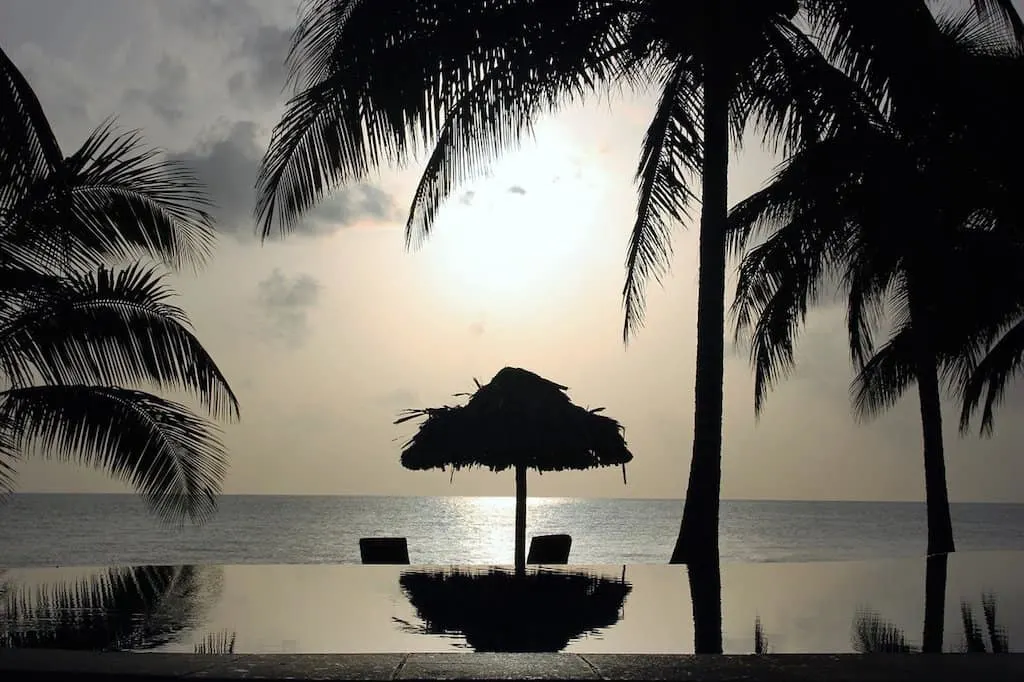 Now that you have taken a mental tour of Caye Caulker, wouldn't it be nice to actually visit? I hope you are picturing yourself on a lounge chair, soaking up the sun, and then staring out at the Belize Barrier Reef on the Split. There are numerous places to visit, activities to engage in, and places to stay at Caye Caulker, Belize. The only job you have to do is leave your worries behind and book the most soothing and dreamy vacation of a lifetime.
Where to stay in Ambergris Caye:
Disclosure: My trip from Belize City to San Pedro was courtesy of Maya Island Air, which in no way interfered with the excitement, fear, and thrill I had riding their scenic plane across a vast ocean!