The natural depth of a lake is a fascinating wonder that intrigues numerous people to learn more and to take time to visit some of the deepest lakes in the world. A lake is a large body of water that is surrounded by land. Lakes usually do not flow into rivers and are mostly made up of fresh water. Many of the deepest lakes of the world are scattered in several countries. They are found on every continent and in every kind of environment—in deserts, on plains, near mountains, and near seashores. Lakes can vary in size from small enough to fit in your backyard (like a pond) to the largest in the world. They can also vary in depth. I enjoy visiting and learning more about the deepest lakes of the world.
---
Deepest Lakes in the World
---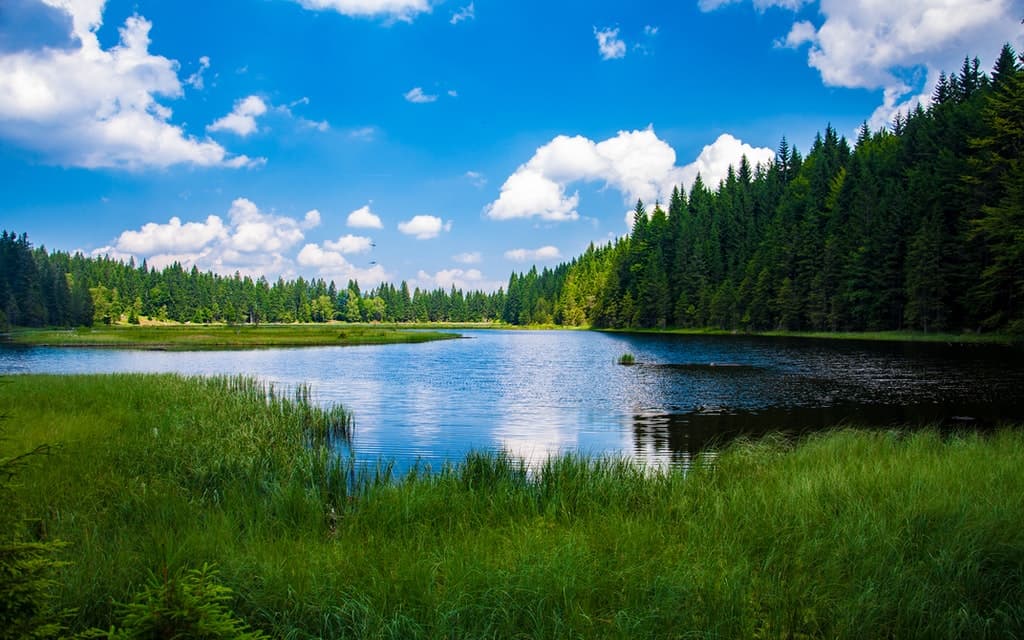 The world's deepest lake is Lake Baikal in Russia. At its deepest depth, it is more than 1 mile below the surface. Although Lake Baikal covers less than half the surface area of Lake Superior -which is one of North America's Great Lakes. Lake Baikal is about four times deeper and holds nearly as much water as all five of the Great Lakes combined! Wow!
Deep Lakes vs. Shallow Lakes
The US is home to many deep lakes, but Crater Lake is the deepest lake in the US. But what is a deep lake versus a shallow one? Most lakes are categorized based on their morphology ( the branch of biology that deals with the form of living organisms, and with relationships between their structures.). But here we would like to see the difference between deep versus shallow lakes.
The depth of a lake has a profound effect on its relationship of organisms to one another and to their physical surroundings. The very bottom of a deep lake is cold and stays very dark because light from the sun cannot reach the bottom of the lake. While during the Spring, the water mixes a bit more in a deep lake.
Thermal stratification refers to a lake's three main layers, each with a different temperature ranges. Deep lakes separate into three layers in the summer months. This stratification cuts off the upper water layers (epilimnion) from the middle layer (metalimnion or thermocline), and the colder deeper water (hypolimnion). Therefore preventing interaction with the sediment. On the other hand, shallow lakes mix all summer and winter because sunlight reaches the bottom of the lake and warms the entire lake all the way through. Therefore, a shallow lake's waters are mixed.
The Importance of Lakes
The earth is considered a "water planet" since it has approximately 14,108 cubic kilometers of water. But most of this water is in the ocean. What we have left is freshwater and of that. much of it is in the Antarctic or Arctic ice caps. So basically, we can only access the water in lakes and in rivers. Of this, freshwater lakes are the best available freshwater sources on earth. I think lakes are important to humans as water resources for fishing, recreation things like swimming, scuba diving, water skiing, and boating, as well as areas for tourism.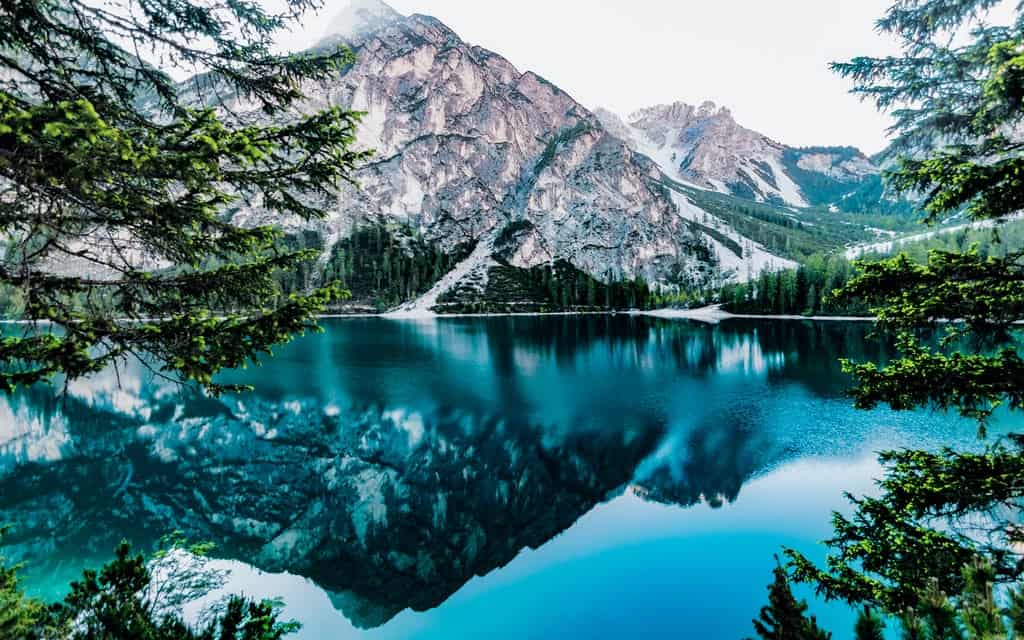 Where does the Water in a Lake Come From?
The water in deep or shallow lakes comes from melting ice, rain, snow, streams, and groundwater seepage. Most lakes contain freshwater.
What makes a Lake Healthy?
The most important things in a lake are its chemicals, such as nitrogen and phosphorus. These chemicals allow nutrient-rich plants and algae to grow. Then organisms can feed off the algae and the plants, thus creating a complex, healthy ecosystem. As you may know, a lake must have a healthy amount of oxygen as well to sustain life.
Lakes are Classified as either Open or Closed
All lakes are classified as either open or closed. If water leaves a lake, it is said to be open, this is when the water leaves by a river or other outlet. All freshwater lakes are open. If water only leaves a lake by evaporation, then the lake is classified as closed. Closed lakes typically become salty or leave a saline solution around their rim in the soil. As the water evaporates, it leaves behind salts.
Deepest Lakes in the US
Now let's take a closer look at 6 deep lakes in the US, with Crater Lake being the deepest lake in the US.
#6. Lake Clark in Alaska, US
I find it fitting that the 6th largest lake in the US comes from my maiden name CLARK! My family would get a kick out of that! Lake Clark is located north of Katmai National Park in Alaska. Due to the remote area of this lake, I recommend booking a tour to the Lake Clark National Park and make a reservation to get a better experience on the lake. Here are some directions to visit the Lake Clark National Park and Reserve.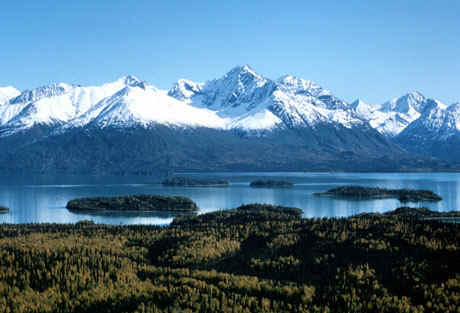 Too bad Lake Clark was named after the Chief of the Nushagak, John W. Clark (instead of my family – but hey, I am ok with this!) This lake is 1.056 feet deep (322 meters). It is a lake that has inflows and outflows to the Six Mile Lake, Newhalen River, and Iliamna Lake. I love this deepest lake in America! Have you been for a visit?
#5. Lake Pend in in Idaho, USA
Lake Pend is located in Oreille, which is situated in northern Idaho. In my opinion, a few great ways to visit Lake Pend is through a cruise or boat tour. You can sightsee on a cruise all while learning about the history of this interesting lake.
This lake has a depth of 1,152feet (351 meters). The Cabinet and Bitterroot Mountains near Lake Pend made an impact on this lake, which led to glaciers being formed. Lake Pend has inflow sources from Clark Fork River, Trestle Creek, and Pack River. The Rivers that contribute to the outflow include Pend Oreille River and Spokane Valley.
#4. Lake Superior in the Four US States and Canada
Lake Superior is one of the US Lakes that is shared by Canada, but primary lies in the states of Minnesota, Wisconsin, and Michigan. Lake Superior is accessible from different states depending on where you wish to visit. I recommend taking a boat tour departing from Michigan in order to get the full Lake Superior experience.
Lake Superior ranks pretty deep on this list at 1,332 feet (406 meters). Per its total area mass to be the deepest lake in the USA (but does not have the largest depth on this list). In fact, if you were to add up all the water in Lake Michigan, Lake Huron, Lake Ontario, and Lake Erie, this would finally total the volume of water in Lake Superior. Even the Empire State Building would sink beneath the surface of Lake Superior because it is only 1,250 feet tall! Think about that for a minute!
This lake holds between 10-20% of the freshwater found on earth! Similar to other lakes on this list, this lake was formed 10,000 years ago due to glacial retreat. The largest river to deposit water into Lake Superior is the Nipigon River.
#3. Lake Chelan in Washington, US
In the north-central part of Washington lies Lake Chelan. This lake is located in a secluded area and people do not usually travel by Lake Chelan. The most common way that people access this lake is via the North Cascades National Park.
The depth of this lake is 1,486 feet (453 meters). This lake has two primary inflows from Stehekin River and Railroad Creek and one outflow to the Chelan River. Lake Chelan is comprised of 2 basins which are the lower Wapato basin and the larger Lucerne basin.
#2. Lake Tahoe in CA and NV
Now, who among you doesn't love Lake Tahoe? I know I certainly did on my winter visit. Lake Tahoe is located in two states, California and Nevada. It is considered to be the largest high-altitude lake in the US. Visitors usually like to tour either North Lake Tahoe or South Lake Tahoe. You can click here to find out more information depending on which part of the lake you want to visit. As they are entirely different.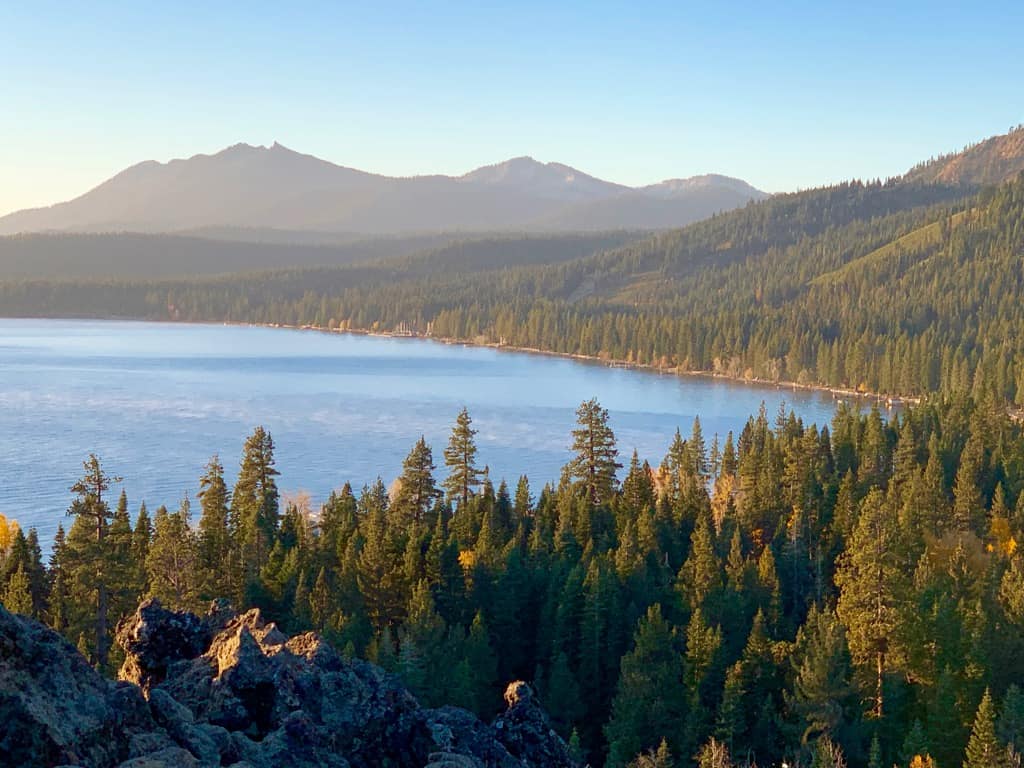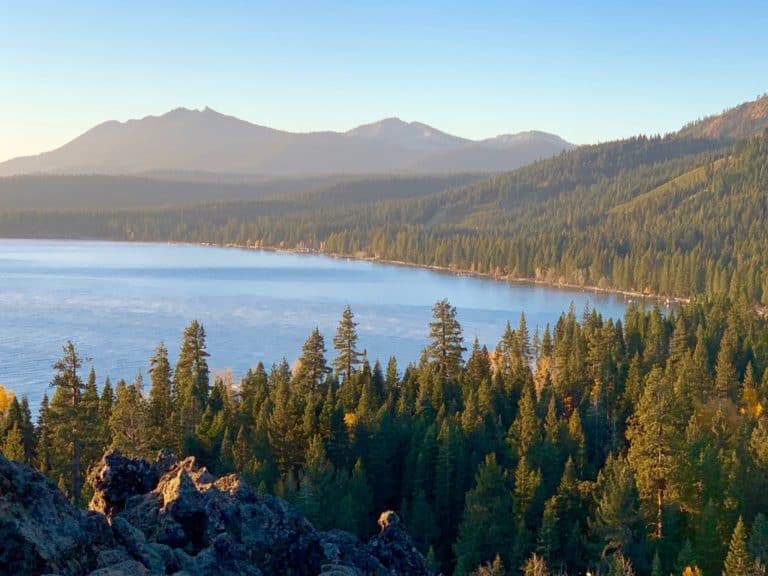 Lake Tahoe has a depth of 1.645feet (501 meters). Due to the famous ice age, over 2 million years ago, this lake was formed. The clear water of Lake Tahoe and beautiful scenery adds to the increasing number of visitors each year. It is the perfect place for guests to enjoy recreational activities nearby.
Deepest Lake in the US
Finally, we come to the deepest lake in the United States, Crater Lake.
#1. Crater Lake in Oregon US
One of the most crystal clear and deepest lakes in the US is Crater Lake in the state of Oregon, USA. This deep lake is situated in the Cascade Mountain Range in the southwestern part of Oregon. Crater Lake is one of the most accessible lakes in the world because it is part of the Crater Lake National Park.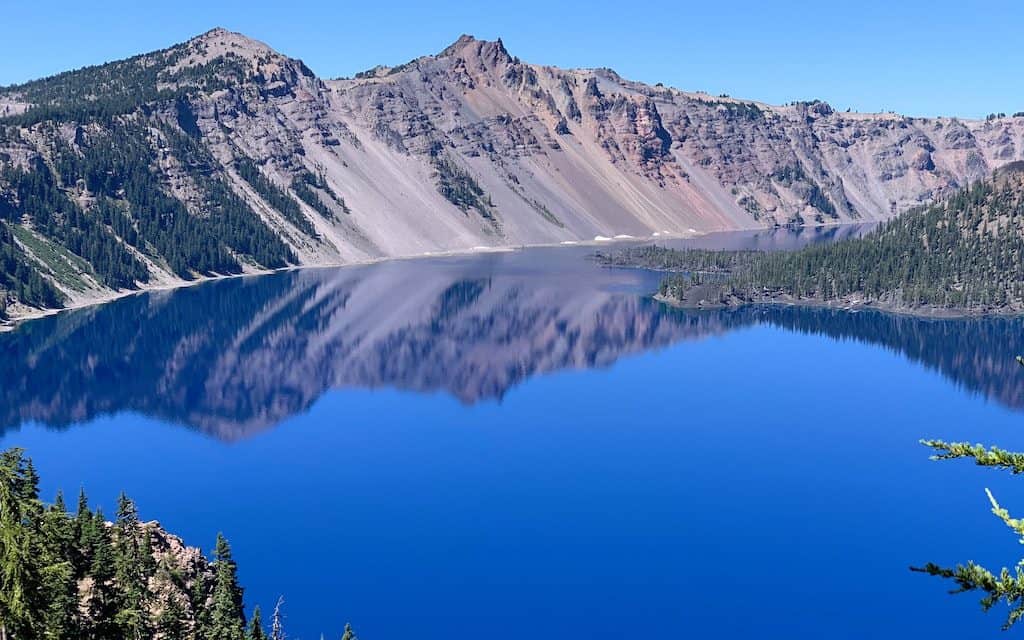 The easiest way to Crater Lake is by flying to Eugene Airport and then taking a 15-minute drive (by rental or taxi) to the lake. Other options to getting to Crater Lake are via Highway 58 or Interstate 5. Crater Lake is 1,943 feet deep (592 meters). This sparkling lake is located in a volcanic caldera. This lake was formed when the volcano, Mount Mazama, collapsed on itself, creating a new lake.
Although Crater Lake is not the deepest lake in the world it is the deepest lake in the US. The water of Crater Lake is extremely blue because no streams or rivers flow into the lake. The insane color of this lake led to its first name, Deep Blue Lake in 1853 and Blue Lake before settling on the name Crater Lake.
Deepest Lakes in the World
And now we will do the countdown of the deepest lakes of the world.
#8. Great Slave Lake near Yellowknife, Canada
Most lakes are located in the Northern Hemisphere and that includes the Great Slave Lake in Canada. The closest town to this lake is Yellowknife, which is also the capital of the Northwest Territories. The best way to get to Great Slave Lake is by flying to Edmonton or Calgary and then driving to Yellowknife. If you are looking to book a tour then I recommend checking out these winter and summer tours of Great Slave Lake.
Great Slave Lake is classified as a glacial lake and it is 2,015 feet deep (614 meters). Over 10.000 years ago, the glaciers in the area began to melt, which contributed to the formation of the Great Slave Lake. The odd name of this lake comes from the native people, Dene, who was known as Slavey. Numerous rivers flow into this lake such as the Talstan River and Hay River.
#7. Lake Ysyk near Celestial Mountains crests in Kyrgyzstan
When one thinks of a lake, the continent of Asia does not immediately come to mind, but Lake Ysyk is located in Asia. To be more specific, Lake Ysyk is situated in Kyrgyzstan, which borders the Celestial mountain crests. It is the 7th deepest lake in the world and the 10th largest lake in the world by volume.
The peak season to visit this last is June to September. There are several ways to get to this lake, such as traveling by bus from Bishkek, taking a taxi or train from Bishkek to Balykchy.
Lake Ysyk has a depth of 2,192 feet (668 meters). Over 200 rivers flow into this lake but no water flows out. This lake is famous for its breathtaking scenery and for being one of the largest mountain lakes. Lake Ysyk is also known as Kyrgyz Ysyk-kol or Yssy Kul, which means "Warm or Hot Lake". The name alludes to the fact that this lake never freezes even though it is surrounded by snow-capped mountains.
#6. Lake Nyasa or Lake Malawi in Tanzania, Africa
Let's switch gears and head to the continent of Africa to Lake Nyasa, also known as Lake Malawi. Along the Japanese Rift Valley in Tanzania is where you will find the 3rd largest lake in Africa. Lake Nyasa has shorelines in Mozambique, Malawi, and Tanzania, which makes it easier to travel to. Flying to Malawi's international airports, Lilongwe and Blantyre is the best way to start the journey to this lake. From either airport, car services such as taxi, bus, and a rental car are available to reach Lake Nyasa.
Lake Nyasa/Malawi is 2,316 feet deep (706 meters) and has a primary inflow from the Ruhuhu River and an outflow to the Shire River. One of the main natural attractions that draw people to this lake is fishing. The crystal-clear water of Lake Nyasa allows for the colorful fish to easily be spotted and caught. Other wildlife that is spotted at this lake include crocodiles, fish eagles, and hippopotamus.
The World's Deepest Lakes:
#5. O'Higgins/San Martín Lake between Chile and Argentina
As we move throughout the world, our next stop is in South America. Surrounded by the lightly-snow dusted mountains is the O'Higgins/San Martin Lake. This lake is split between Chile and Argentina, hence the two names (O-Higgins for Chile and San Martin for Argentina). Tourists often traveling from El Chalten in Argentina and then make their way via ferry to Villa O'Higgins in Chile. I love that two of the deepest lakes in the world and in the United States are in countries where I and my husband are from! My husband is from Chile!
This lake has a depth of 2,742 feet (836 meters) and an elevation of 250 meters. One of the characteristics of this lake is the finely grained rock particles that melt into the water, known as glacial milk or rock flour. This odd but interesting characteristic is what causes the water to appear light-blue with a milky touch. Different streams and rivers flow into this lake, but the primary inflow is the Mayer River.
#4. Lake Vostok in Antarctica
The largest of the subglacial lakes in Antarctica is Lake Vostok. This lake was found by Russian scientists under the central East Antarctic Ice Sheet near the South Pole. Most people cannot visit Lake Vostok as part of a tour unless you are part of a research team. The closest a person can get to this lake is a tour on-board a ship (with binoculars).
The depth of this lake is (2,950 feet or 900 meters). The coldest temperature ever recorded was found at Lake Vostok at -128.6F or -89.2C. Despite being known to have the coldest temperatures, the water of Lake Vostok does not easily freeze because the bottom of the lake is heated by the Earth's core.
#3. The Caspian Sea in the Middle East
Don't let the name confuse you, the 3rd largest "classified lake (not a freshwater lake) is the Caspian Sea. This sea is bordered by 5 countries: Russia, Iran, Azerbaijan, Turkmenistan, and Kazakhstan. The eastern part of the Caucasus Mountains is where the Caspian Sea is located. Many uninhabited islands are strewn throughout the Caspian Sea, which makes visiting a little difficult.
The Caspian Sea has a depth of 3,360 feet or 1,025 meters). This sea is responsible for 40% of the total lakes in the world. It has no primary outflow but has an intake from over 100 rivers including, Ural, Emba, and Terek Rivers.
#2. Lake Tanganyika in 4 Countries
The second deepest freshwater lake in the world is Lake Tanganyika. This African great lake is not only the world's longest freshwater lake, it is the second oldest lake in the world after Lake Baikal. Similar to other lakes on this list, this deep lake is split into 4 countries, Tanzania, Zambia, Congo, and Burundi. The easiest way to visit this lake is via a ferry boat, which connects to the port towns of Kigoma, Kalemie, and Mpulungu.
This lake has a depth of 4,710 feet (1,436 meters). Lake Tanganyika is an ancient lake that has only one primary outflow, the Lukuga River. Several rivers such as Ruzizi, Kalambo, and Malagarasi Rivers offer inflow sources into Lake Tanganyika.
Several species such as cobras (snakes), crustaceans (like shrimp and arthropods), crocodiles, and other fish live in this lake. Yikes! It is also home to its very own sardine species, sponges, and jellyfish. As well, there are around 250 species of cichlid (or aquarium fishes) in the lake, 98% of which are native.
And Now, the World's Deepest Lake:
#1. Lake Baikal in Siberia
The largest freshwater and deepest lake in the world is Lake Baikal. It is located in south-central Siberia and is surrounded by breathtaking mountains, rivers, and forests. In 1996, UNESCO declared this lake a World Heritage Site and named it the deepest lake in the world. It also happens to be the oldest lake in the world at 25 million years old.
This lake is the deepest lake in the world with a depth of 5,315 feet (1,620 meters). During the winter, this lake freezes and creates icicles in the grottos throughout the lake. Once the ice begins to form on Lake Baikal, it becomes completely transparent. The rivers Selenga, Barguzin, and Upper Angara contribute to the inflow and the source of outflow comes from the Angara.
Baikal Lake was formed by an ancient rift valley that now happens to be considered one of the clearest lakes in the world. Home to approximately 60 native fish species, 250 bird species, a freshwater seal population, and a plethora of about 2,500 other animal species. In fact, Lake Baikal now has over 1,000 plant species.
So there you have it, the 14 deepest lakes in the World and the 5 deepest lakes in the USA.