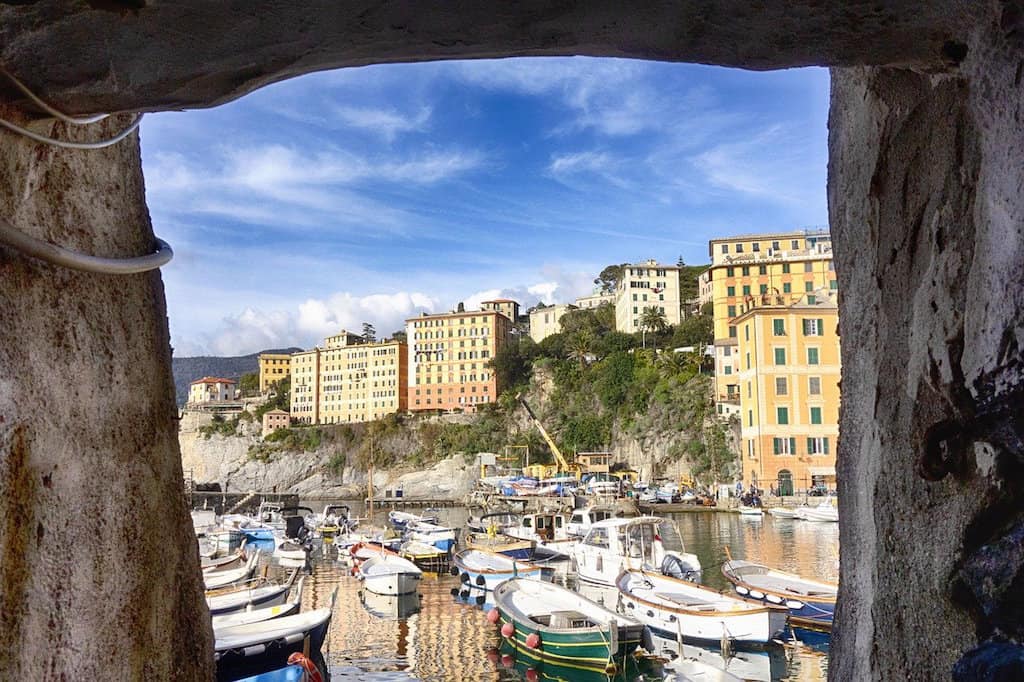 What's in this post:
hide
Italy Revealed
Camogli: Travel +Leisure Feature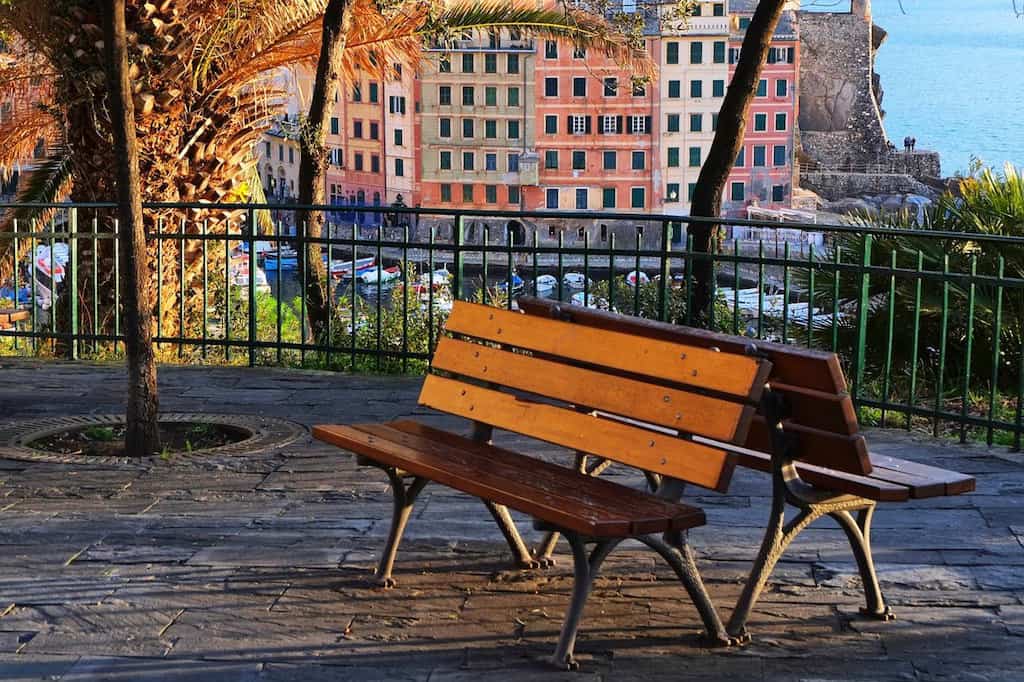 I was surprised to see Travel + Leisure with my beloved Camogli, Italy photo featured directly on the front cover. Camogli is like a slice of the Riviera from decades ago before the designer stores came to line seaside promenades. Before the celebrities parked their yachts in the marinas. Camogli is an exquisite village with a perfectly placed seafront rimmed with wonderfully colored palazzi and houses. I only recently discovered it and hoped that not too many tourists would find it themselves this year.

Camogli: Front and Center Stage
From what I understand, the Italians, mostly Milanese and Turinese, feel the same way, since Portofino has been flooded with tourists lately, I even spoke to some shop owners that didn't know a thing about the cover of the famous magazine, and seemed quite surprised.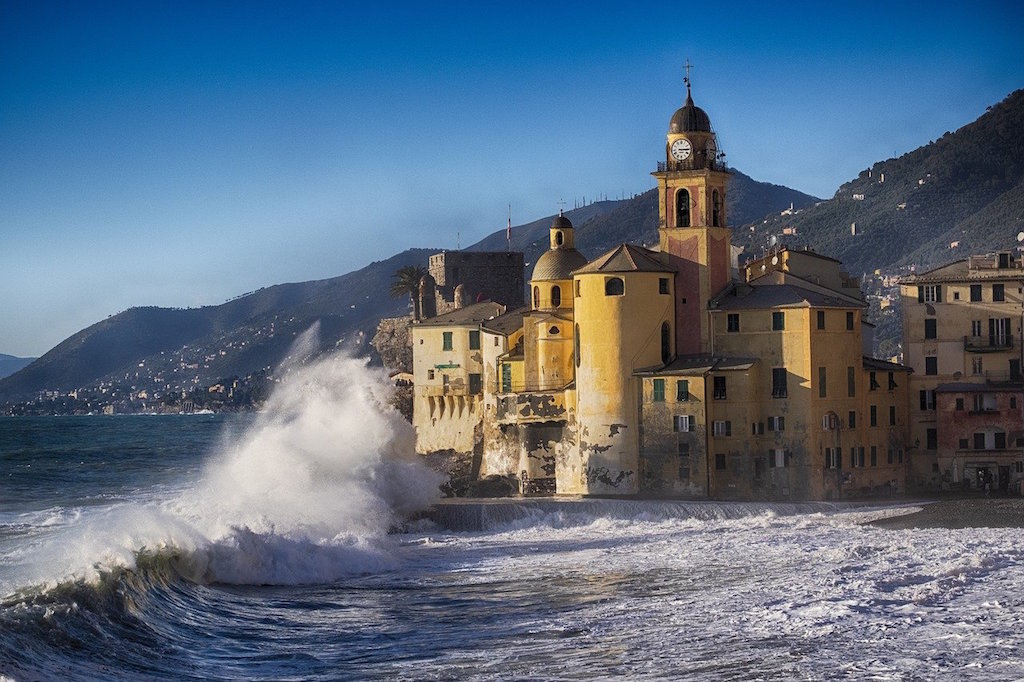 Camogli has that WOW factor!
Camogli is one of the more beautiful towns in the Italian region that has a "wow" factor. This may be why Camogli on the Italian Riviera has never really stepped out of the glamorous shadows of its neighbor Portofino. It is certainly not like the tourist attraction of the Cinque Terre. It is a stunning town with impressive multi-colored houses. The building facades are painted in tones of amber, apricot, cinnamon, and pale pink decorated with architectural elements. It also has a picturesque harbor and a little fortress at the top of a rocky promontory.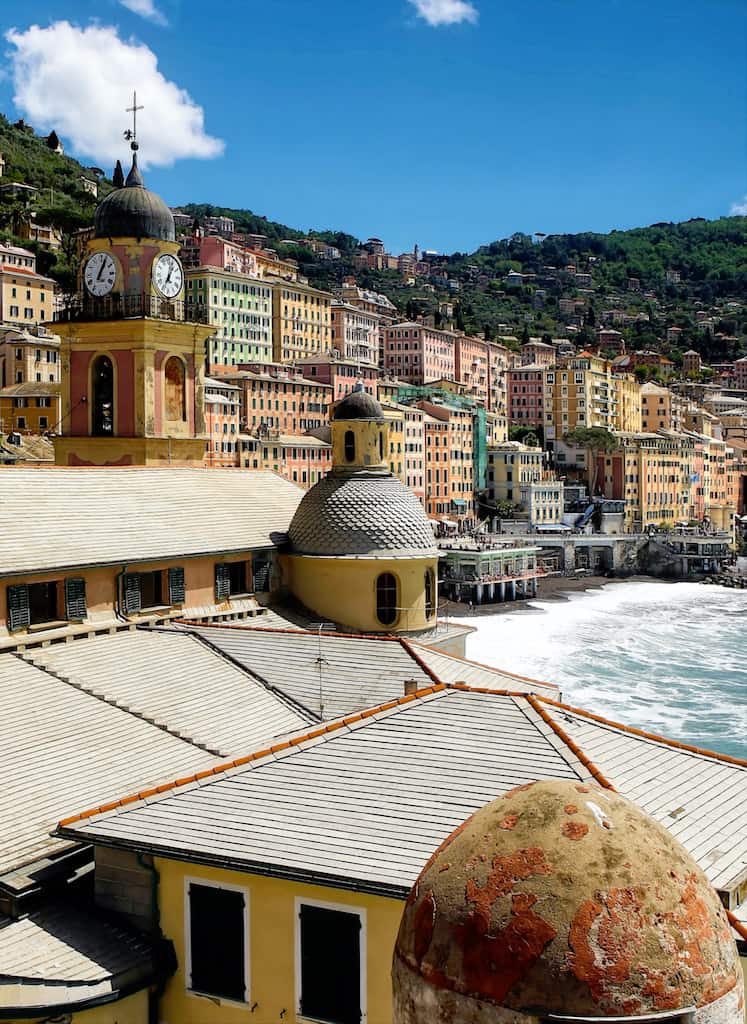 What's in a Name?
The name Camogli, roughly translated, means either "houses packed closely together" or "houses of wives". Which aptly fits this town. The houses of wives probably refer to the wives of the fishermen who made their living in the village while their husbands were at sea.
I went to Camogli on a day trip from Nervi, in the region of Liguria, Italy last year, and returned again this week by way of Portofino. Camogli truly is a lovely beachside town. I guess I am not surprised it has finally hit the national spotlight, although it is currently lazy and filled with primarily Italians only. Who knows what will happen to this sleepy little town when the tourists start to come?
Camogli Serves Fresh Seafood
When I arrived last year with friends for lunch, we went there just to stroll, as it is easy on the eyes… a place to go to relax and enjoy the Italian sun and the sea. The café's serve scrumptious fresh plates of pasta and freshly grilled fish. There is a wide choice of restaurants along the seafront, many very reasonably priced. Be sure and try the delicious plates of pasta (spaghetti and Ligurian-style trofie al pesto), the focaccia, and the seafood (grilled sea bass, seared tuna, or the fresh catch of the day. Also, don't leave without trying Genoa's famous sweet bread, pan dulce.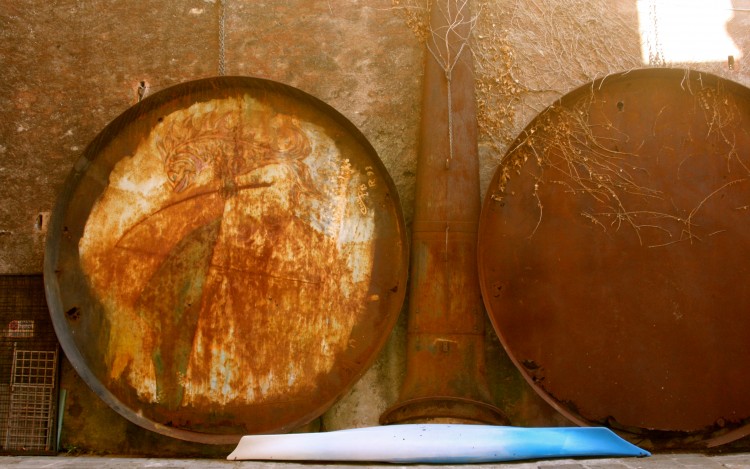 Camogli Fry Fish Festival
The town is also famous for its paella and has an annual Paella Festival and Fish-fry Festival. In fact, the sleepy Italian fishing town of Camogli which is located along the coast south of Genoa in the region of Liguria has hosted a weekend-long festival dedicated to fried fish since 1952. They even have giant statues of frying pans, as you can see below!
This Fish-fry Festival is held during the second weekend of May in honor of Saint Fortunato, the patron saint of the fisherman. During this time, the streets are lined with tents selling traditional Ligurian cuisine. But the must-see event is the Sagra del Pesce, which takes place on Sunday.
I am particularly loving the Fish Fry Festival because it supports a great cause. Proceeds from the festival are donated to the Camogli Fisherman's Cooperative. This cooperative supports the slow food practice of a centuries-old style of fishing known as tonnarella fishing. This is a simpler fishing style where a few chambers come together with a net. This is a sustainable form of fishing that has been done in Camogli for the last one hundred years!
Camogli: Black Pebbles on the Beach
Camogli is not the latest designer bikini, as it has a low-key vibe. Although it is easy to find plenty of Alfa Romeros, BMWs, Mercedes, and Ranger Rovers nearby. Our day was spent slowly strolling along the boardwalk, people watching, and visiting the shops, local churches, and cafes. Mothers with their strollers, girls laying out on the black pebbles of a beach, old men reading the newspaper or sitting in groups talking, toddlers frolicking about as their mothers chased after them so they did not get too close to the water's edge.
The boardwalk or promenade is a great place to people-watch, especially on a weekend afternoon. I saw everything from families frolicking in the sea to ladies enjoying their afternoon cocktails to camera-toting tourists.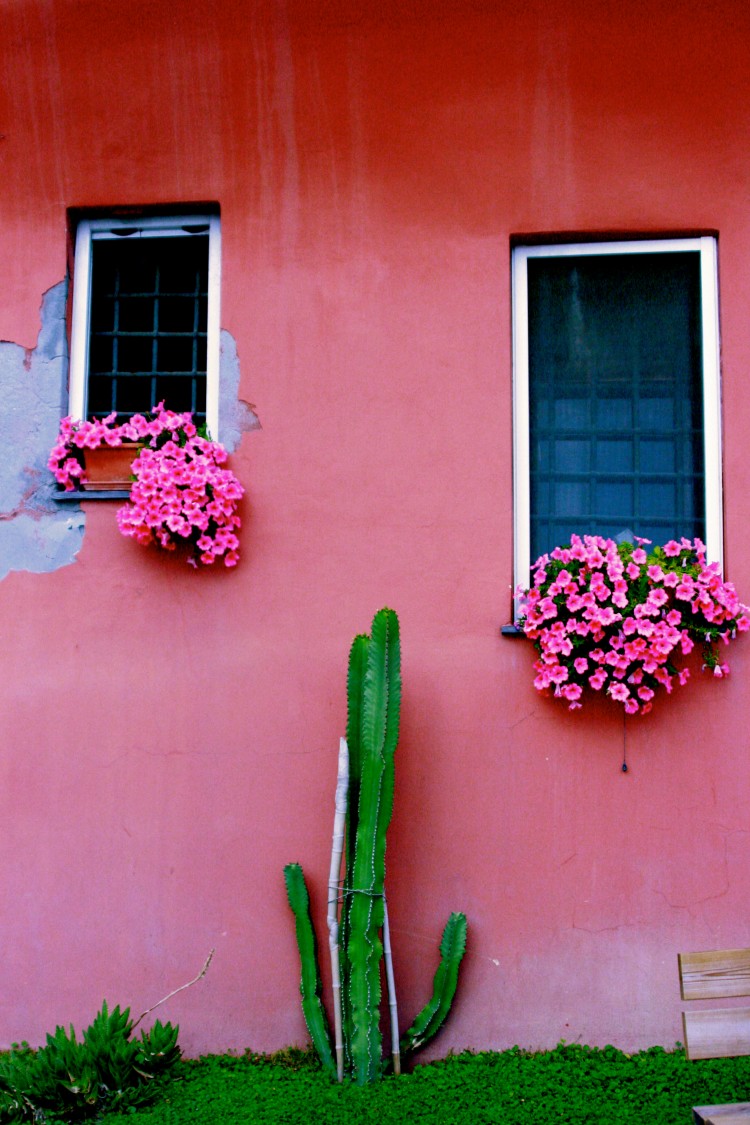 Camolgli's Italian Pink Flavor
Camogli has that slow Italian flavor, where you just want to sit and soak up the sun. On this trip, I spoke to a shop maker who is a shoe cobbler, he offered the style and the size, then made it right in front of you. It is so amazing to me that this exists to me, not in a factory, but in a shop along the boardwalk.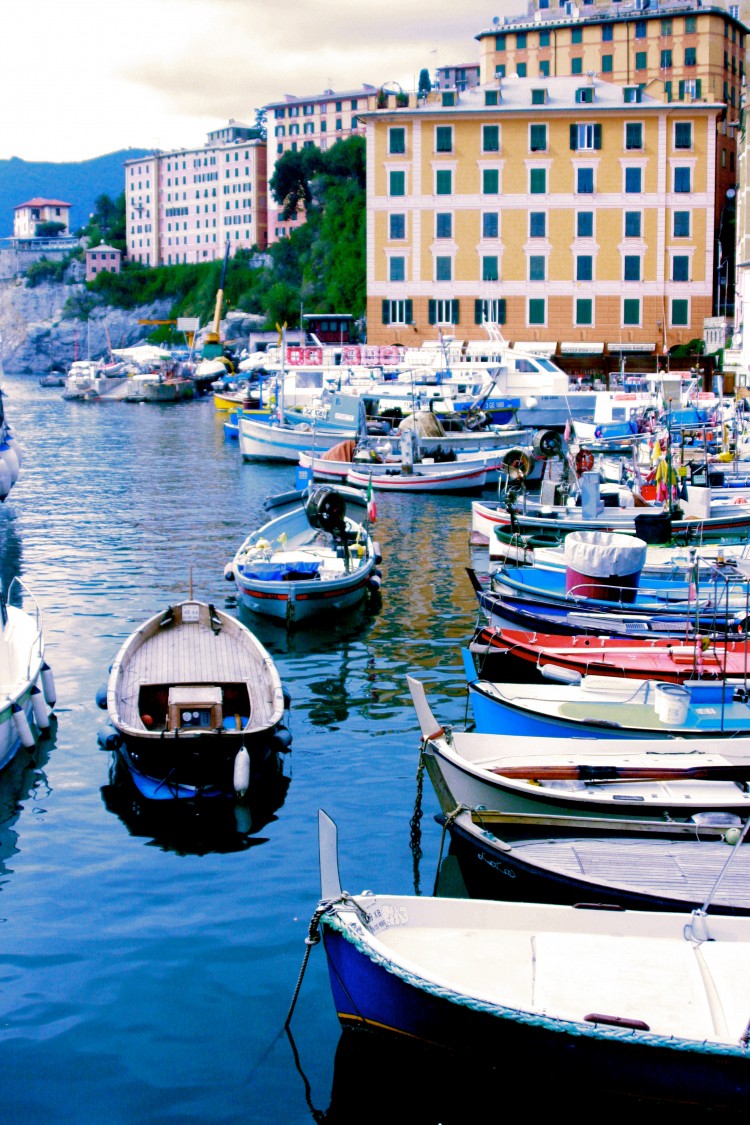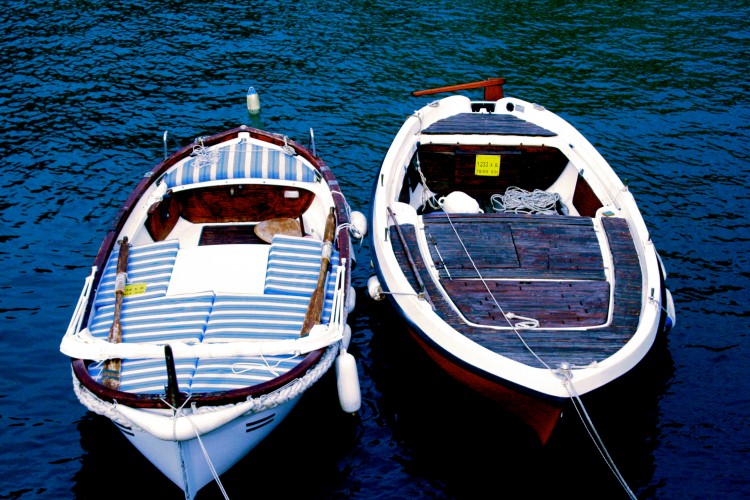 Be Sure to Walk to the End of the Beach
We walked down to the end of the beach, where the majestic canary yellow building stood and I was wondering what it was. It ended up being a church and so I tucked my head inside, then strolled along the boardwalk where the yachts and small boats in this working-class Italian fishing village were.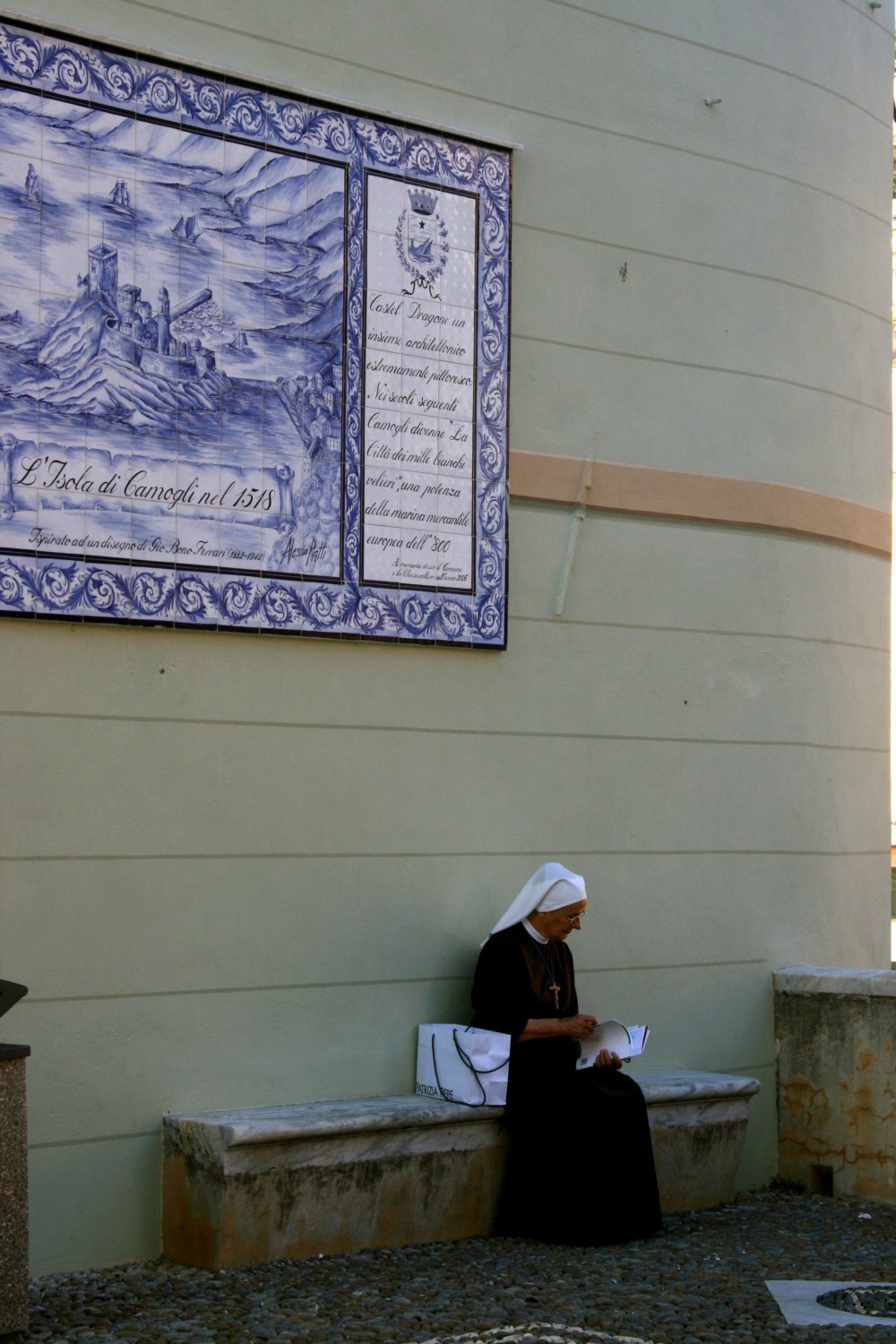 I admired the boats of all kinds, fishing, diving, sailing, and each in every color.
A Camogli Sunset
Finally, as time passed we went for drinks to watch the sunset. While the restaurants and wine bars lining Via Giuseppe Garibaldi, the main promenade, are hopping on a summer weekend, it seems people don't come to Camogli expecting to find some over-the-top nightlife. Instead, they come to watch the sunset like me. This sunset made shimmering diamonds in my eyes from the blaring sun, making it almost unbearable to watch until it sunk below the horizon.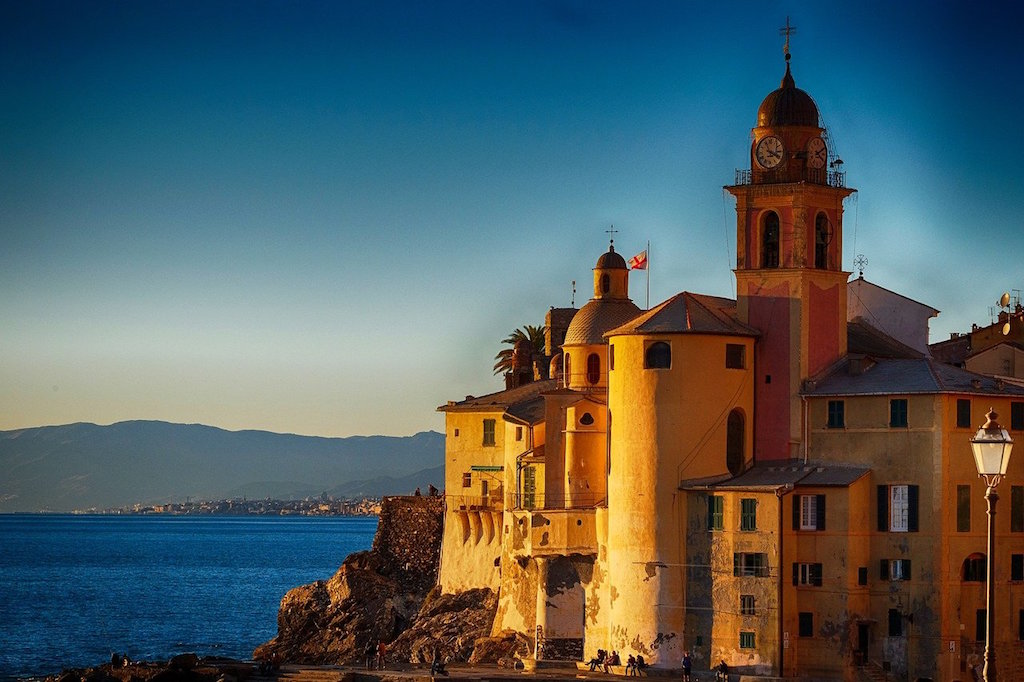 The beauty of the light hitting the sea made it an end to a perfect afternoon. As the sun went down, we clang our sipping cocktails together with glee, as we knew this was a special day that we got to spend in Camogli, Italy.
RECOMMENDED READING:
Authentic Italian Recipes for the Soul
In the Liguria Region, Italy