---
Croatia is a haven for many tourists who want to explore central Europe. It has been a popular destination for travelers with good reason. It boasts stunning beaches, historic sites, impressive national parks, and of course, delicious food. If you ask the locals and other travelers what the best way is to explore Croatia, they will recommend that you rent a sailboat.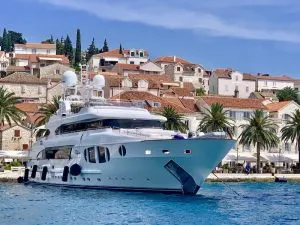 ---
What's in this post:
hide
Private Crewed Yacht Charters in Croatia 2022
---
---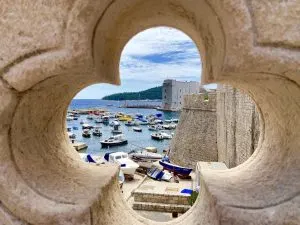 Why is Sailing in Croatia Popular?
First, you have the crystal clear waters of the Adriatic Sea. Thanks to the rocky shoreline and pebbles, the sea remains unaffected by swirling clouds of sand. Second, the Croatian Adriatic coast is 1104 miles or 1,777 km long. This means that you will find plenty of bays, archipelagos, and small islands waiting for you. Third, there are 718 Croatian islands which is why they call it "Land of a Thousand Islands." Forty-eight of these islands have towns and cities and are home to historical monuments, gorgeous beaches, and more.
For example, the Dalmatian Islands are known for the impressive Venetian architecture that dots the land. The structures have been preserved over the centuries and seeing them up close is an experience you will not forget. In fact, these historical buildings rising from the unspoiled land give them a more dramatic look. It is not surprising that many flocks here because of these attractions.
Fourth, using a Croatia Yacht Charter is the perfect choice for families or small groups. This is because renting a private boat gives them the freedom to explore popular tourist destinations at their own pace.
Lastly, the yacht charter fleets here are in tip-top shape. Aside from that, you can expect high-quality service without spending a lot of money. There are around 3,500 bareboat charter yachts that are handled by more or less 300 charter companies in the country. This means that you will not run out of options for a private yacht for your trip here.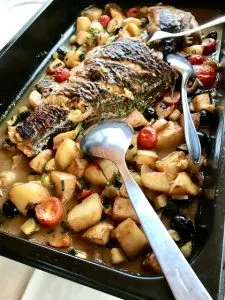 Types of Boats For Rent in Croatia
The Adriatic Coast is home to thousands of rental boats that are ready to take guests on an adventure of a lifetime. Among the available options that you can rent are monohull sailboats or catamarans. It is possible to hire motor yachts or just go for a full board cruise for your next family sailing holidays. On the other hand, if you have Skipper's license, you can choose any type of boat that you can drive yourself. Just make sure that you have the necessary papers with you when you arrive at the port for a smooth transaction.
Here's a breakdown of rental boats that you will find in Croatia.
#1 Sailing Yacht or Sailing Boat
The rental price will cost you around $135 a day and up. This is usually a monohull sailing yacht which is ideal for any point of the wind. In addition, this is a cheap option if you want to go island hopping or want to go and visit sandy beaches to relax and unwind. The sizes range for couples only, small families, and full-sized luxury yacht charters.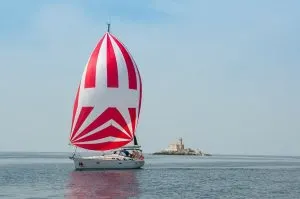 #2 Catamaran
Renting a luxury catamaran charter is a trend in Croatia. This is not surprising because this boat is stable and has enough space to accommodate guests. In fact, this is a great choice if you are traveling with a large group. Among the amenities that this boat will have are en suite toilets, showers, and a place to entertain too.
#3 Power Catamaran
Although this type of boat is relatively new, it is gaining popularity among travelers. In fact, the two hulls that it comes with make it more stable in the waters. Additionally, since there is no mast or sails to worry about, it has more deck space to enjoy. If you want to go on a luxury catamaran charter, choose one that has a professional skipper at the help and experienced crew members on board for the best sailing experience.
Ports and Marinas to Visit
Are you wondering where you go on your yacht charter Croatia? You can start with the major ports and marinas in the country like Pula, Split, Dubrovnik, and Biograd just to name a few. Aside from that, you can traverse the Dalmatian Coast or go hopping on the beautiful islands.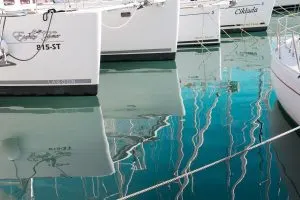 The distance between Dubrovnik to Zadar is 155 nautical miles. On the other hand, traveling from Zadar to Pula in the Istrian Peninsula is 70 nautical miles of beautiful coastline. If you are following this route, you can drop anchor in any of the islands here to enjoy various water sports with the group. On the other hand, there are three marinas to choose from if you are heading out to Split. The most popular is the ACI Marina Split which is near the historic center.
Since Croatia is home to numerous islands, you will have your hands full when it comes to choosing where to start your adventure. For starters, there is the island of Hvar which is known for its active nightlife. Aside from that, Hvar has an impressive fortress that you should visit, including an old town that boasts of rich history. On the other hand, if you are into medieval towns, make your way to Stari Grad.
In addition, you can visit Skradin which sits at the entrance to the Krka National Park. This national park's main attraction is its waterfalls that come from the Krka river. Take note that Krk is the largest island in Croatia with ample tourist spots. Afterward, you can continue your cruise all the way to Korcula, Brac, and Losinj.
Best Places to Visit in Croatia While Sailing
Renting a luxury motor yacht is just one part of your adventure in Croatia. Next is finding the best spots to visit. Fortunately, the larger islands in the country offer more to their guests. Let's take a look at the tourist hotspots to add to your itinerary.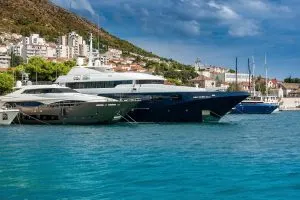 #1 Kornati National Park
Located in the Kornati archipelago, this Kornati National Park is part of the UNESCO World Heritage list. This is not surprising as it is the densest archipelago that you will see throughout the Mediterranean. Travelers can only moor in designated places where mooring buoys appear. You will find a wide range of local restaurants here as well.
#2 Split
Split is home to Diocletian's Palace which was built by Diocletian to serve as his retirement residence. It lies in the center of the town and is a must-see while you are in the area. You can also head out here by plane if you like since you can land at the Split airport.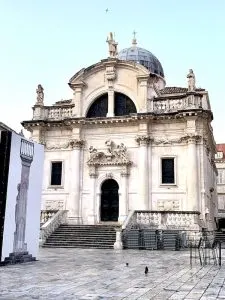 #3 Dubrovnik
The "Pearl of the Adriatic" is another perfect place to add to your itinerary. There are several activities that you can do here and one of them is to walk around the Old City Wall. This will take you two hours at least but worth it. Another interesting sight to see here is the Old City gates. In addition, there is a cable car that will take you up the mountains to give you a good view of the city below.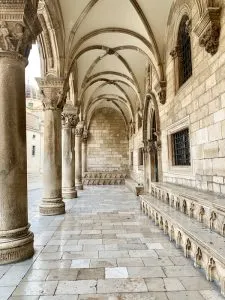 #4 Brac Island
From the Krka National Park, you can make your way to the island of Brac Island where you will find the popular Zlatni Rat. This is one of the most beautiful beaches that you can visit in Croatia. Aside from its unique shape, this beach offers a crystal clear sea. Combine this with the Mediterranean climate and you will not be too eager to get back on the boat. Also, don't forget to visit the olive groves of the island. You'll learn a thing or two on how they make olive oil the traditional way.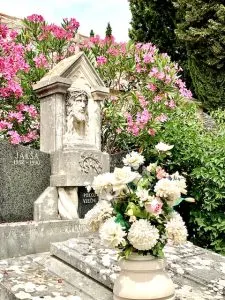 #5 Plitvice Lakes National Park
This UNESCO World Heritage Site is accessible from Split, Sukosan, Zadar, Zagreb, or Biograd. Since you are visiting by boat, you will moor in one of the docks. Then arrange a trip that will take your group around the park. Here you will find yourself enveloped in the natural beauty of Plitvice Lakes National Park.

Best Time to Go Sailing in Croatia
If you are thinking of going sailing in Croatia, you need to time your trip well. The sailing season starts from April until the month of September. On the other hand, if your itinerary includes a trip to Dubrovnik and Split then the sailing season can extend up to October. You can expect fair winds during these months. However, the summer months bring moderate winds which can be tough to sail with.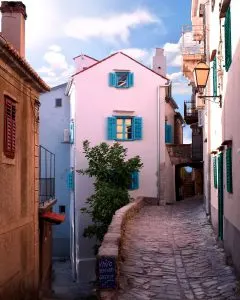 Fortunately, there are plenty of elongated islands that offer the ideal place for cruising grounds. This is the right place to bring your family to as the waters are calm and clear. On the other hand, if you want to visit when there are fewer crowds, do it between the months of November to April.
Yacht Charter FAQs
#1 What to Consider When Renting a Boat?
Budget is one of the factors to consider if you are planning on renting a boat. Aside from that, you should also think of the number of people in your group, your sailing experience, as well as weather conditions. Fortunately, charter prices vary depending on the size of the boat that you want to rent. If you are looking for special offers, you need to book months ahead. On the other hand, you can spot some best offers for last-minute booking which happens a few months before your trip.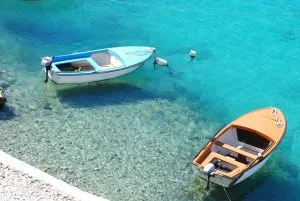 #2 What are Obligatory Extras?
This refers to the extra fees that you will have to pay for certain items on board the boat. This can vary from one boat to the next. It can include the local tax and final cleaning just to name a few.
#3 Which Yacht is Ideal for You?
Choosing the best yacht for you depends on several factors. For example, you need to determine the number of people in your group to know the number of cabins. Aside from that, you should also consider if you want to hire a skipper or be the one to navigate the waters. Of course, if you want to enjoy the best service, booking a full board luxury yacht service is a good option.
#4 Are There Any Extras to Pay For?
You will need to stock up on food and drinks prior to setting sail. Your Captain can tell you where to purchase your needs. Don't forget that you will also be paying for your Skipper's meals throughout your trip so you need to add that to your budget. In addition, you will also have to pay the local tax for each crew member once you head to port. You can pay for this at the marina.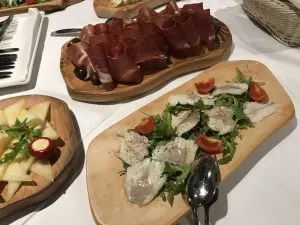 But if you want the best trips:
#4 Luxury Yacht
Luxury charter yachts are applicable for a catamaran, sailing boat, or motorboat. This type of boat rental comes with a skipper, a host or hostess, plus a crew who will cater to your needs. A skippered yacht charter like this gives you the opportunity to make your own itinerary. Additionally, you will have more range with this kind of sailing compared to other boats so you can experience a variety of activities on it.
#5 Gulet Charters
Meanwhile, booking a gulet charter is another great idea if you are ready to go on a sailing vacation in Croatia. While you are on board these impressive luxury sailing yachts, you will be fed and entertained by the crew throughout the trip. The Captain, on the other hand, will be the one to guide the vessel into the popular marinas and ports to give you an immersive experience. Even first-timers enjoy gulet charters as a way to see Croatia's best places to visit.
#6 Superyacht
A superyacht or mega yacht is a boat that is around 24 meters in length. They can be sailboats or sailing yachts or even motorboats. Aside from that, these boats are usually found in the middle of the Caribbean and will also have their own chartering areas. On a good note, they can pick you up wherever you are unlike other private charters where you have to make your way to their marinas. A superyacht will have a professional crew on board who will ensure that you will have a great time. Also, their skipper will have extensive knowledge of the cruising areas that you want to visit.
#7 Motorboat
This boat type pretty much covers a wide variety of boats. You can choose from a motorboat with cabins or, if you want to have more privacy, opt for a private boat trip if you are going on a fishing trip. Whatever you choose, you will find that these boats are comfortable, spacious, and have enough kick to them for traveling great distances.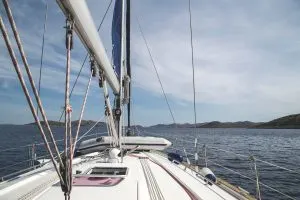 Go Bareboat or Rent a Skippered Yacht Charter?
You have two options when it comes to yacht rentals in Croatia. Either go bareboat or rent one with a skipper. Both are good choices, but let's see their advantages.
#1 Captained Charter
If you want to enjoy a no-fuss sailing trip in Croatia, booking a captained charter is a great idea. In terms of price, the cost of renting a monohull sailing yacht is $135 plus the cost of an extra day for the Captain's fee and his food. Of course, the prices will go up if you choose a bigger boat to sail in.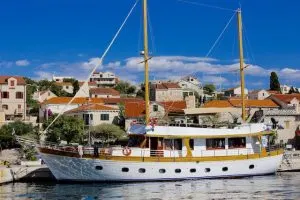 There are instances when the Captains are the boat owners themselves. You are lucky if this is the case since they know where to find secluded beaches that you can visit and other tourist attractions. No matter what charter destination you have in mind, the Captain will steer your boat to it as you sit back and relax.
#2 Bareboat Yacht Charter
If you are ready to set sail on your own, then a bareboat yacht charter is the best choice for you. Aside from it being cheaper, you will have more privacy since it is just you and your guests onboard the boat. As long as you have the relevant sailing experience and knowledge of the surrounding area, you will not have any problems renting a boat here.
Wrapping it Up!
Recent years show that the number of tourists in Croatia has gone down because of the pandemic. However, things are picking up once more as the world is opening its borders to tourists. It doesn't matter if you wish to see the house of Marco Polo or want to immerse yourself in pine forests, you will find everything you need in Croatia.
If you want to make the most out of your trip to this beautiful country, why not time your trip when there are special events? For example, February is for Carnival where you can enjoy local cuisine, parades, and more. Another is the Full Moon Festival which is often held in Zadar.
As you can see, there is so much to see and do in Croatia. Although you can reach it by plane, or go around the cities by car, there is something unique about sailing around it instead.