Cozumel Island has everything you need for your dive vacation. Aside from its charming town nestled on the western shore, the warm, clear waters give you a glimpse of a whole new world under the sea. There is an abundance of corals and sponges, as well as numerous invertebrates too.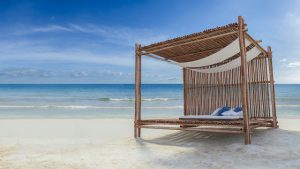 ---
What's in this post:
hide
12 Cozumel Dive Trips
---
---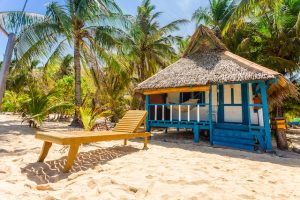 What makes this island more enticing to travelers is the ease with which tourists can reach it. In fact, there are direct flights from the United States to here, cruise ships that dock on the island, and several all-inclusive resorts too. Also, the friendly locals will put you at ease.
Best Cozumel Dive Resorts to Consider
Like it was mentioned before, the beautiful Cozumel is the perfect destination for scuba divers. No matter what your skill level is, you can scuba dive in its gorgeous waters. In fact, the best way to explore the crystal clear waters of Cozumel is to opt for a dive package instead. If you are not sure which inclusive hotel to choose or if you prefer a vacation rental, take a look at the options below.
The Westin sits in front of the best beaches in the Yucatan Peninsula. You might think that this resort will get crowded and noisy. However, because of its location, the surrounding area tends to be peaceful. Aside from that, the water temperatures are fairly warm with good visibility. This is why it is fun to go snorkeling here.
If you have an open water certification, you can go diving at one of the diving sites in the area. However, if you want to have a guide with you, Pro Dive International can take you down into the waters to see impressive walls and more. In addition, you can go on your first and second dive here with your divemaster guiding you every step of the way.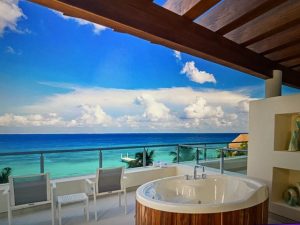 Presidente Intercontinental Cozumel Resort & Spa
Booking a stay here means a chance to dive with Scuba Du S.A. This is a Padi dive center that can take you out to the warm water of Cozumel. Each diver can handle 7 divers per dive group. In addition, this dive resort is in front of the Arrecifes de Cozumel Marine Park. Here you will come across sea turtles, dolphins, and if you are lucky, an eagle ray.
This resort has its own private white sand beach with the lush tropical jungle around it. Among the amenities here are swimming pools, putting greens, and a spa, just to name a few. You can even use their tennis court to play singles or doubles.
ScubaTony Cozumel works with Casa Phoenix in terms of offering scuba diving tours. What you'll love about this vacation rental is that it is a beachfront rental. In fact, you will have an ocean view at the back and access to the town in front. This means that you can go diving, swimming, or snorkeling any time you want. Each suite comes with its own hot tub, expansive private terrace, and heated pool too.
In terms of diving tours, ScubaTony has a small dive boat that can accommodate six passengers only. If you are a certified diver, you can go on their 2 tank dive trip. On the other hand, if you prefer that you dive with your group, book their private charter diving.
Booking an Allegro Cozumel dive package with Salty Endeavors is perfect for divers. This family-friendly resort has plenty of lush vegetation around it, plus easy access to dive sites like the Palancar Reef. Also, the accommodations are spacious and comfortable. Among the amenities that they offer are flat-screen TVs, balconies with hammocks, plus air conditioning.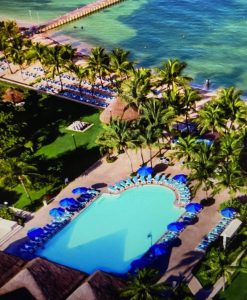 They have tennis and basketball courts here too. Also, the pier outside makes it easier for your dive boat to pick you up. The best part is that you don't have to worry about seasickness because it will take you less than 5 minutes to reach the best dive sites in the area. Here you will find a wide array of sea creatures like a nurse shark.
Another dive resort that you should set your sights on is Secrets Aura Cozumel. Their dive package includes a 5 Night Special + resort coupon that you can use to avail of their services. Aside from that, this package also comes with 3 days of 2-tank boat dives courtesy of Dive House Cozumel.
This is an all-inclusive beachfront resort that offers plenty of daytime activities and nighttime entertainment. In addition, dive trips will start on the resort's pier where you will be picked up and taken to the best diving sites.
This is Cozumel's first dedicated diver resort that you should consider for your dive vacation. In fact, this is an intimate place that caters to guests who want convenience and affordability. Among the amenities available are a freshwater swimming pool, on-site restaurant, and gift shop.
Also, they have a Padi 5-star Dive Shop here called SCUBA-Cozumel. You can purchase your gear here like a dive computer. Divers can head to the pier where the boats await you.
Iberostar Cozumel is the furthest resort that you can reach in the town. What this means is that the boat ride to Palancar Reef is short. In fact, the coral reef here is part of Cozumel Reefs National Marine Park and is one of the best dive spots in the area. The good news is that the marine park fees will be included in the dive price so you can start exploring the waters.
Dressel Divers Club operates the diving tour in Iberostar where you can get up close to bull sharks and whale sharks that swim around the lush walls of the reef. Also, if you want to take a break from diving into the Caribbean Sea, you can go snorkeling from the surface. Aside from that, there are ancient ruins nearby that you can visit too.
If you are traveling to Cozumel with the whole family, you will want to stay in Occidental Cozumel. This family-friendly all-inclusive beachfront resort has soft white sands and clear blue waters for you to enjoy. Aside from that, the Mexican vibe to this place, not to mention its proximity to the best reefs makes this one of the most popular hotels in the area. There are seven restaurants on-site plus three swimming pools that you can relax in.
Aside from that, there are water sports available here like beach volleyball and water polo. Your kids can spend some time in the resort's game room while you go and enjoy the spa services. The dive operation here is handled by Pro Dive International. It doesn't matter if this is your first dive, you will be accommodated by the team.
Playa Azul Golf Scuba Spa
This upscale resort has all the amenities and services you will need on your diving vacation. In fact, each of their spacious rooms has a flat-screen TV, air conditioning, and a coffee maker too. Room service is part of the service that you can take advantage of here.
Aside from that, you will have access to the Cozumel Country Club golf course if you want to play a round of golf. This country club north of San Miguel also has a pier where your dive boat can pick you up. Aside from an early start time, you can also opt to go on a night dive too.
Meanwhile, Hotel Cozumel & Resort offers a relaxed atmosphere for its guests. In fact, this is one of the best places to book a dive package in Cozumel. After all, it is near the edge of the town so you can easily visit the tourist hotspots and local restaurants. Aside from the outdoor pool on the property, there are buffet restaurants to enjoy too.
If you are ready to go diving, you can get picked up by one of the large boats from the pier where you will be taken to the Cozumel Marine Park. Here you can see the colorful marine life that lives here. In addition, you can also take advantage of their full certification course from Dive Paradise.
Fiesta Americana Cozumel All Inclusive
Fiesta Americana was affected by Hurricane Wilma but was remodeled into a modern resort that tourists flock to. In fact, the airy rooms have impressive views while some have hot tubs on the terrace. Aside from that, they have an outdoor pool, game room, and a private beach club too.
Also, it is the perfect place to go snorkeling because of the stellar visibility even from the shore. On the other hand, you can also go diving several times in the Palancar Reef. You are sure to have a good time here.
Another dive resort that you will find on the beautiful island of Cozumel is Sunscape Sabor. This resort offers comfortable rooms to its guests complete with minibars, balconies, or terraces. Aside from that, there are three international a la carte restaurants on the premises plus live entertainment. Among the amenities that they are offering are a fitness center, outdoor pool, and a spa just to name a few.
If you are looking for the best scuba diving resort, this could be it. Among the dive destinations that you can visit are the Palancar Garden and Punta Sur Reef. The latter is where you can go on wall dives. You can go on drift dives here too where you can let the current take you to where you are going with minimal effort on your part.
Wrap Up Cozumel's best Diving Adventure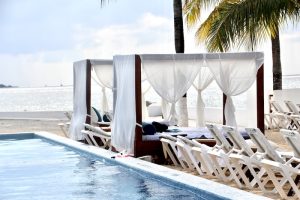 If you are looking for the best time on your next diving adventure, do visit Cozumel. After all, this is the best diving spot in the entire world. You can even come here on a day trip from Playa del Carmen if you like. Expect a comfortable boat that will take you to the best dive spots in the area. Take note that some of these diving companies prefer to work with small groups. This way, they will be able to keep an eye on everyone. If you want to know more about their special deal, you can talk with them through their live chat.