No matter what region you are in Italy, there's one Italian treat that never fails to please the entire group: Gelato in Italy! But what is this Italian Gelato? Is Gelato Italian? Where did it come from? And what makes it so different than ice cream? Is gelato Italian ice cream? Let's dig into this fun frozen treat and see what makes it so special. First of all, frozen creamy treats aren't new.
---
What's in this post:
hide
Gelato in Italy
---
In ancient Roman times, Italians ate what today may be known as snow ice cream. Fast forward a few thousand years and they have turned that treat into a modern-day monopoly on what some American's consider to be the very reasons that they visit Italy in the first place! The Italians have discovered a way to turn this frozen treat into an American (and worldwide) obsession.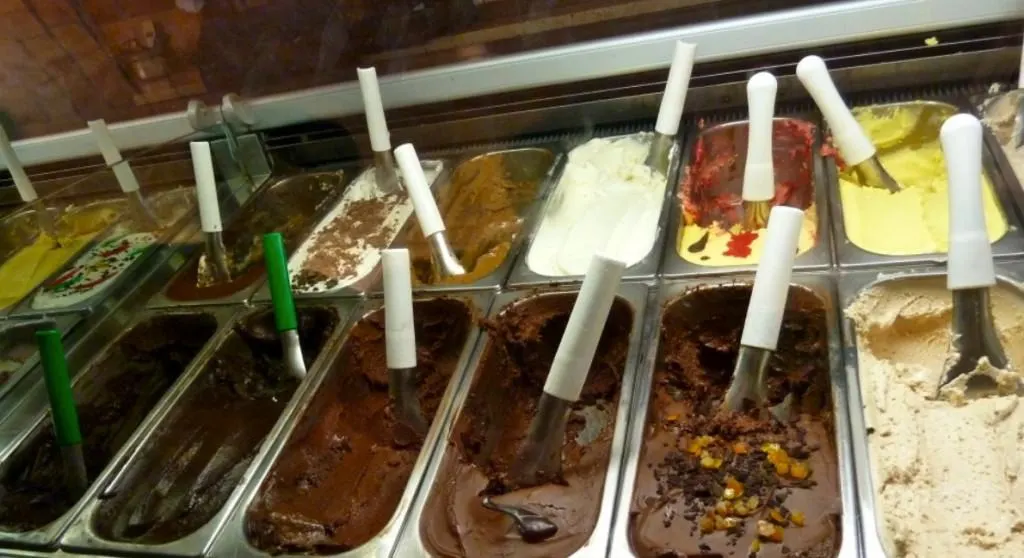 Gelato from Italy – Gelato vs. Ice Cream
But why does it taste so much better than ice cream? Because it has way less butterfat. About 6 % of butterfat is in Getalot in Italy compared to ice cream in the United States which has about 14% butterfat. That means that Italy Gelato freezes less solidly than ice cream and it is actually served about 15 degrees warmer than ice cream, so it melts faster.
Other reasons have to do with its density, it is much higher. Here in Italy, they cannot legally increase the weight of the cream by adding too much weight by adding in additional water and air. Typically Italian gelato is not made for long-term storage and so gelato Italiano is made typically in small batches and is typically fresher and of a higher quality.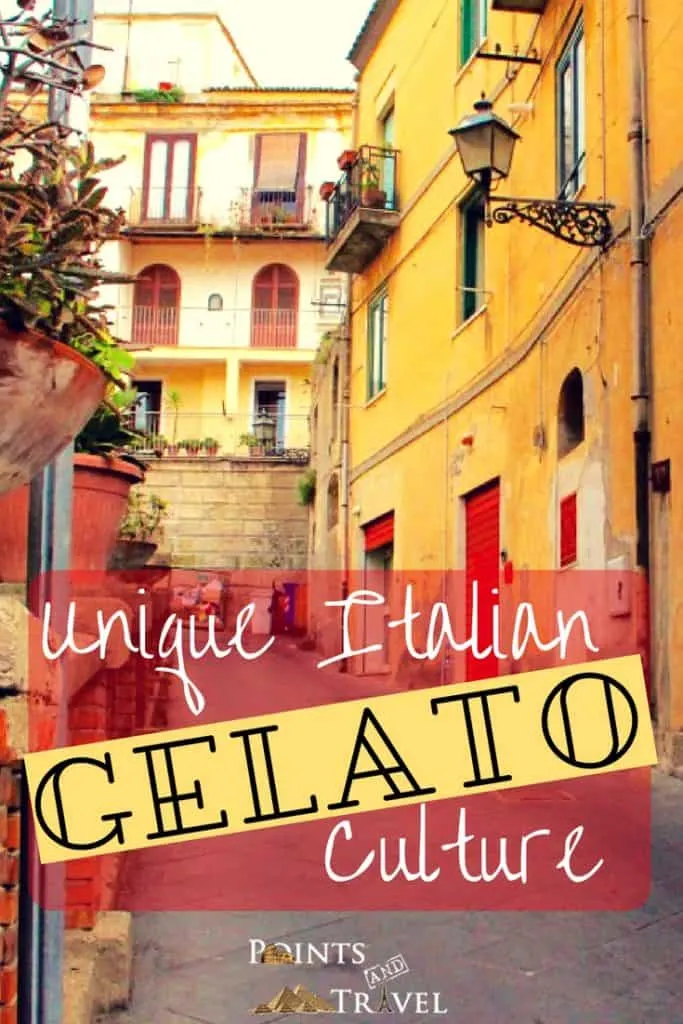 Is Gelato Italian? I Found A Unique Gelato
I had only one purpose in mind on my recent visit to Pizzo, Italy. It may or may not have something to do with Italian Gelato, but I will tell you about that in a minute. Because first I want to tell you what it feels like when you walk into a southern Italian town when you are NOT a Southern Italian! I was in the toe region of the boot-shaped Italy known as Calabria, having not quite made my way to Sicily, the little island across from the toe.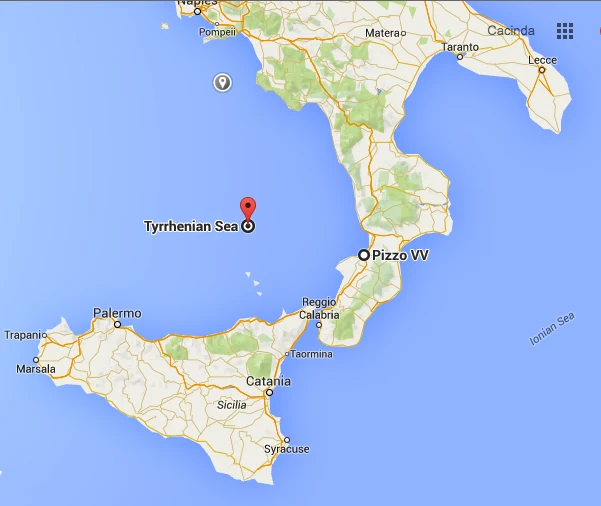 Gelato in Italy – They Know Why We Are Here
I was walking and photographing doors and windows around the curvy cobblestone streets. Southern Italians were going about their day, some peeking out their windows to see this misfit group of travelers in their tiny town. But they knew why we were here.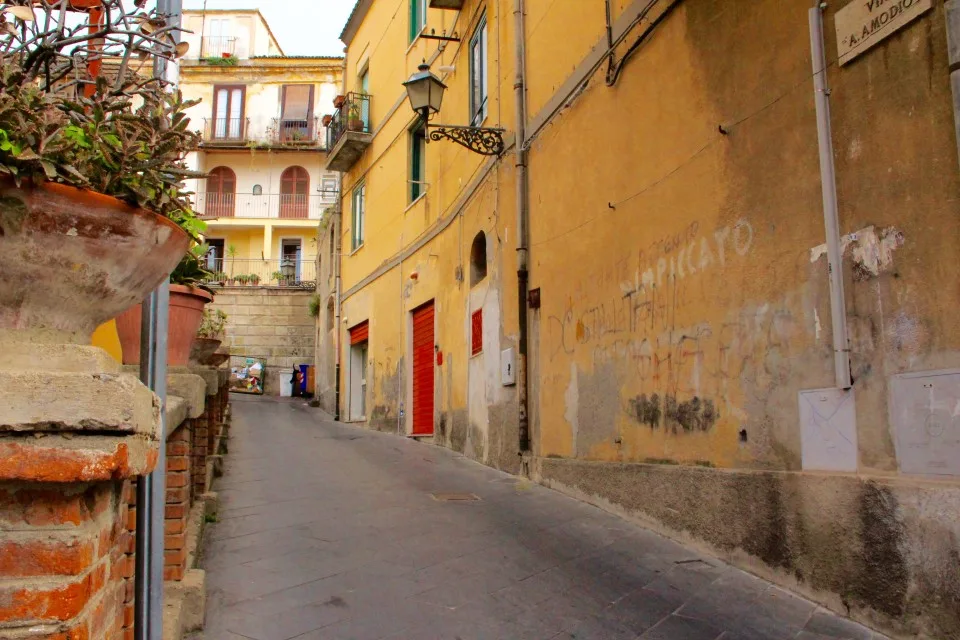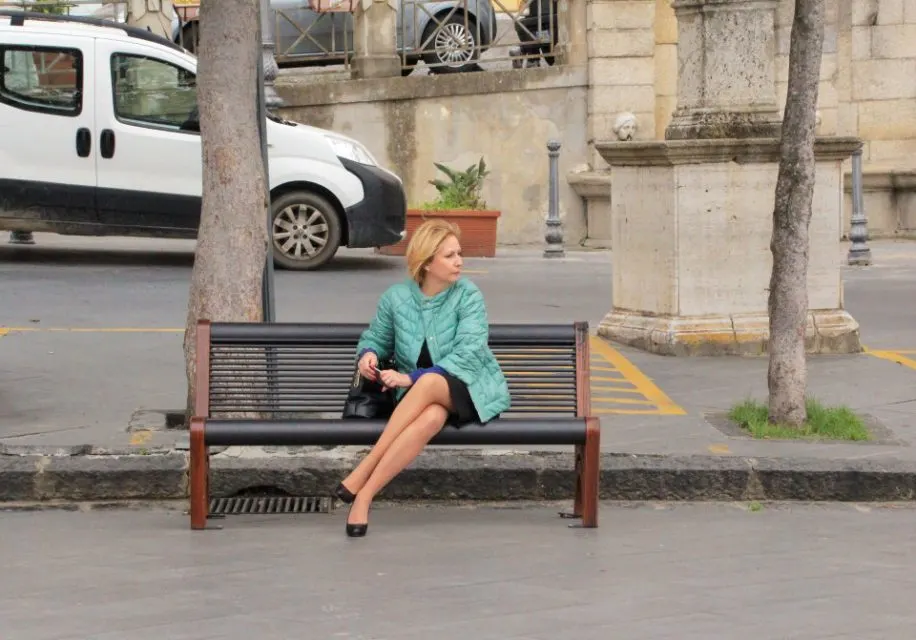 Movie Set The Godfather
The day was nothing short of me feeling like I was walking on to a movie set of The Godfather. You know the one, the wildly popular movie where Director Coppola paints a chilling portrait of the Sicilian clan's rise and fall from power in America.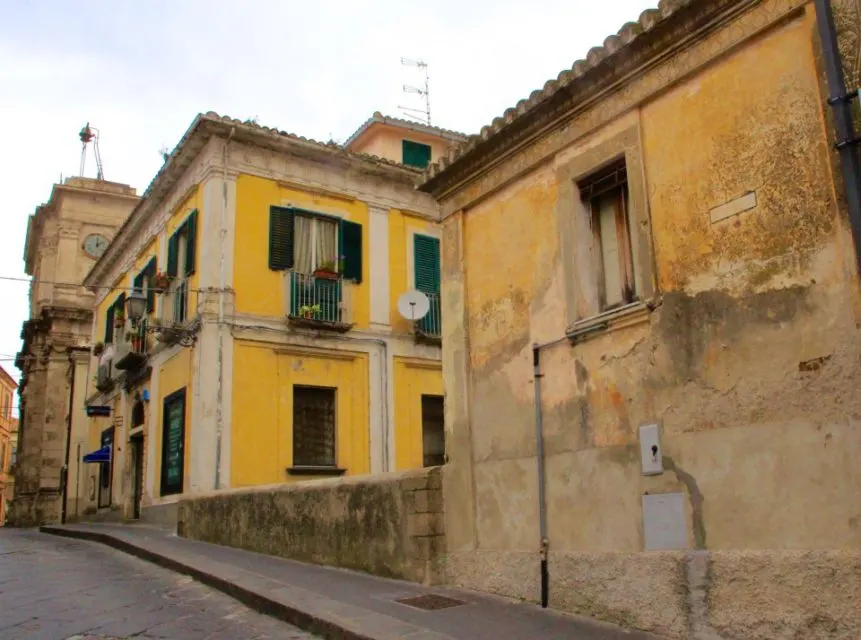 I had spied a group of Italian men playing cards at a table in an open-aired square by the sea, thinking I would use the long lens of my DSLR camera to capture some "authentic" Italian moments. I walked passed them, as to not draw attention, and then turned and found my spot to photograph them from.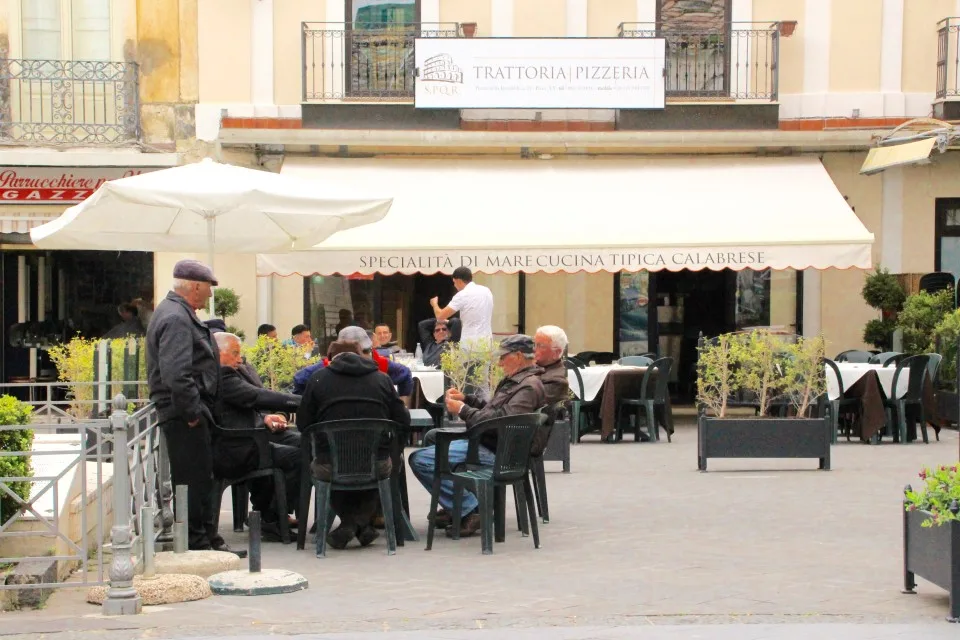 When out of the corner of my eye I see a guy across the street giving them some kind of hand signal. They immediately looked up, smiled, laughed, and offered me to come on over and hang out with them! These Italians are certainly a jovial bunch!
Italian Gelato – Tartufo
I can now reveal that the reason I was in Pizzo was for research! In fact, our tour guide, Chef Mark McDonald, said the only reason people even come to Pizzo is for this same exact research – known as Tartufo, the delicious dessert we were about to eat!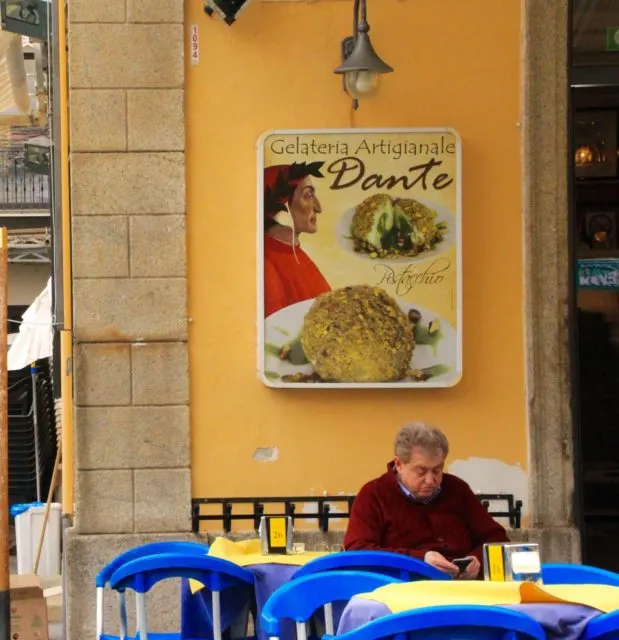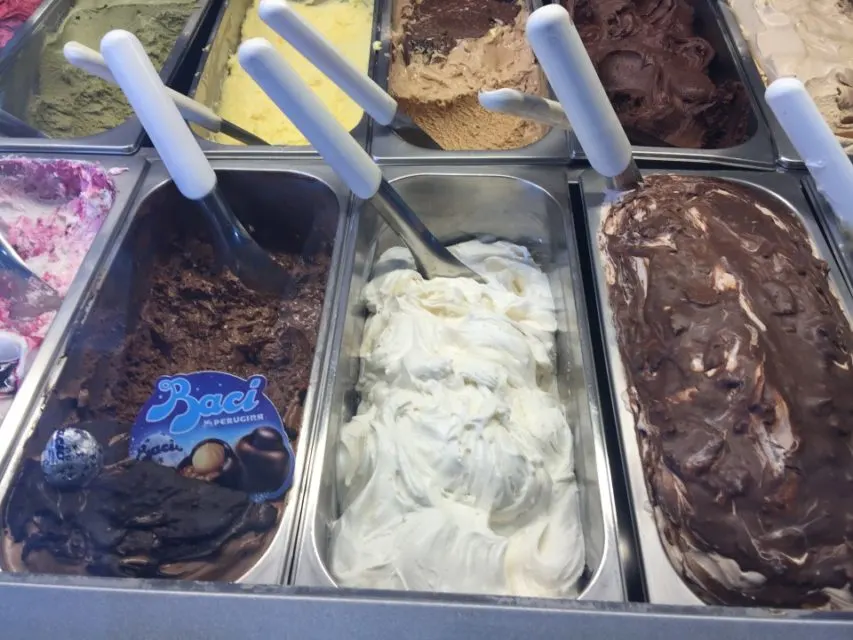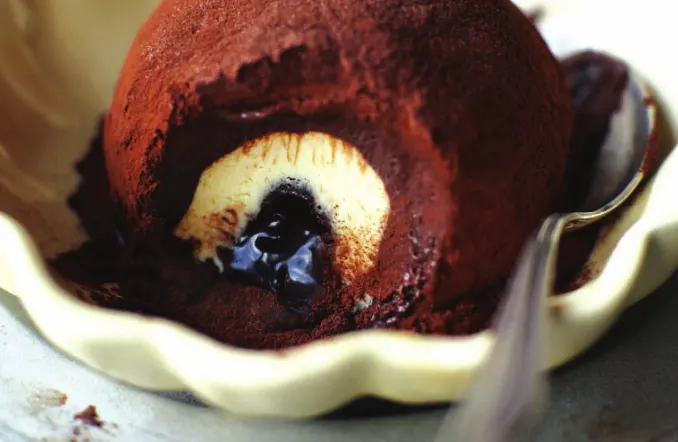 Gelato Italian Ice Cream – Nationally Approved DOP
Even the Italian Government gave it their official seal of approval with the nationally-approved DOP (Denominazione d'Origine Protetta) seal. This seal confirms that the food product is from this region of Italy and has national geographical indication protection.
This IGP ((Indicazione Geografica Protetta) designation determines that it is made from fresh, all-natural ingredients and is blended according to the artisanal process. I had never heard of this Italian designation before, but in Italy, it is a BIG deal, as only in Italy is gelato Italian Ice cream considered such a serious thing.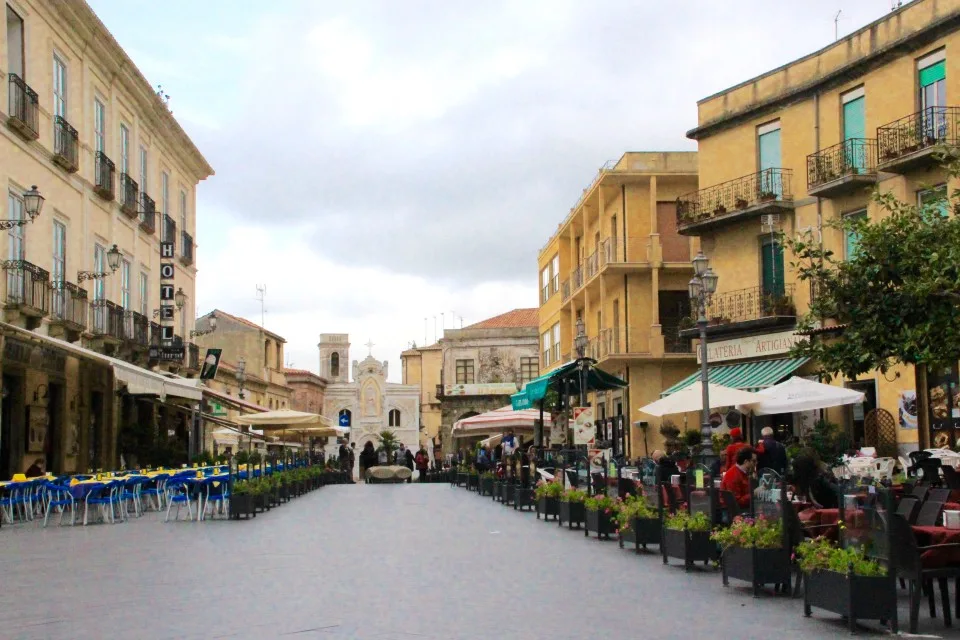 Alas, we rounded the last corner to Piazza della Repubblica, I spied with my little eye: rows and rows and rows of gelato shops on the sea view veranda along the Tyrrhenian Coast. The main square was bursting at the seams with cute and fun Italian gelato shops.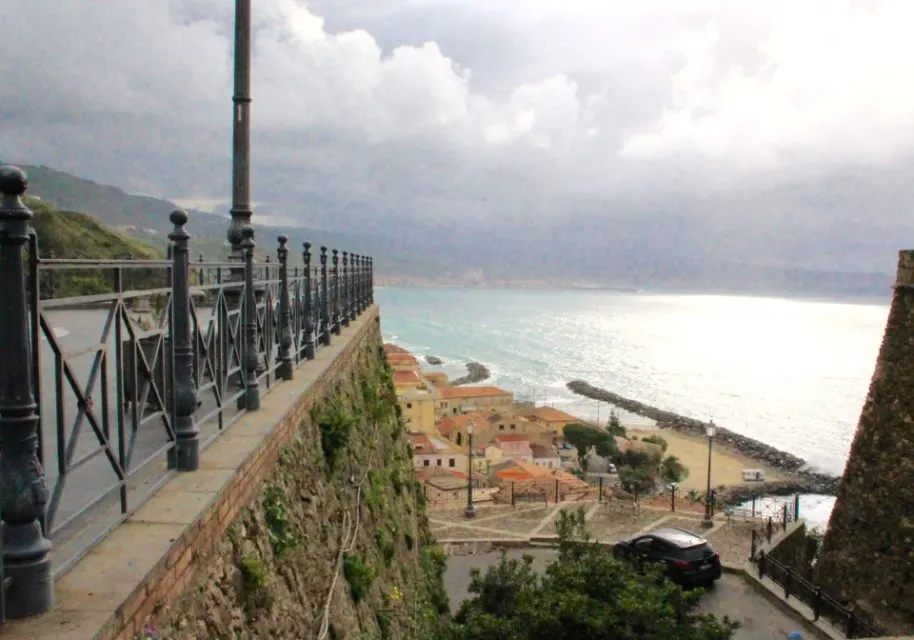 Say what?
Yes, that's right, Italian gelato shops!
But these aren't your ordinary Italian gelato shops, no Siree! These are Tartufo Italian gelato shops. I felt like I was in Gelato, Italy! If that is such a place! There were Tartufo Italian gelato ice cream shops everywhere!
Tartufo Italian Gelato – Made only in Italy
He scooped a small portion of hazelnut and chocolate gelato into the palm of his hand, molding it carefully into the shape of an apple. He then carved out a hole in the center, dripped a ganache of dark chocolate into the tiny opening, then sealed the hole, and wrapped it in wax paper.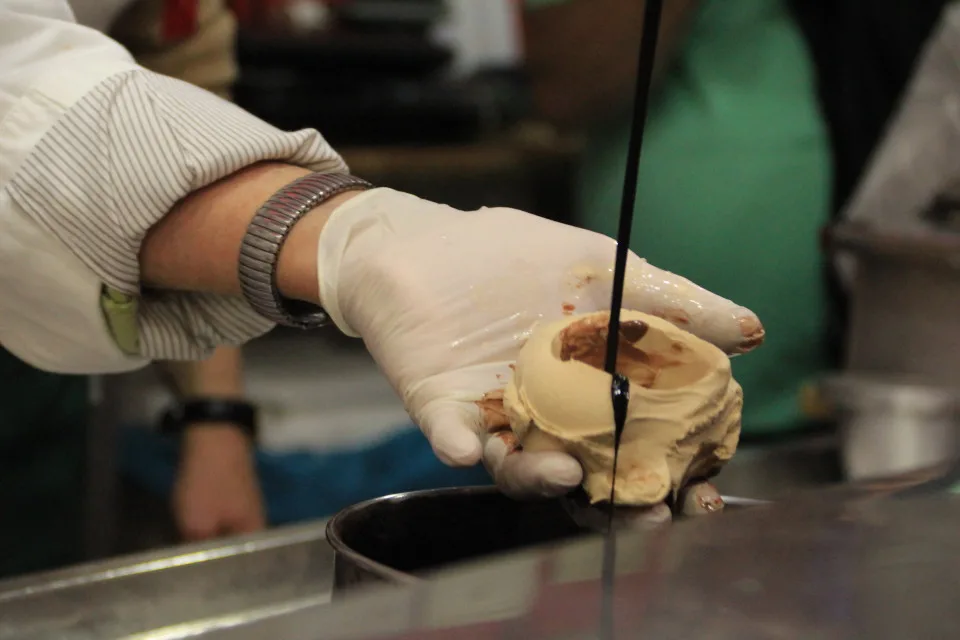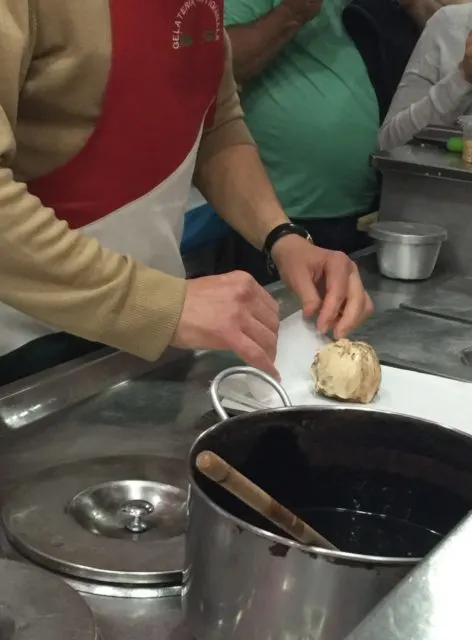 Gelato on Italy – Tartufo Italian Gelato
He and his son wrapped the Italian Gelato up like a Christmas gift, tied it with ribbon, and then swiftly put it in the freezer. I stood there in awe as one-by-one, they were rolled, carved, dipped, and wrapped.
Later I would devour an entire gelato Italiano Tartufo (or two!) after it had been rolled into the chocolate sauce while frozen and then sifted with cocoa powder.
Gelato Italiano – Delicious!
---
Earlier at dinner, one of the people on my tour mentioned that she and I could share one of these Italian gelato balls!
I gasped!
---
Something I know about myself: I have two stomachs, one for regular food and one for sweets! I insisted I had plenty of room for my very own Tartufo! Even though the other stomach was bursting at the seams. The word "tartufo" means "truffle" in Italian.
It is typically composed of two flavors of gelato with chocolate liquid ganache or fudge sauce in the center, dipped in chocolate, and then rolled in cocoa powder. Usually, the two flavors of gelato they use are chocolate and hazelnut. But the different choices of gelato are endless and you can pretty much choose whatever tickles your fancy. But in general, the gelato is freeze-dried, while the center is liquid and eaten on a plate!
And what liquid goodness it is!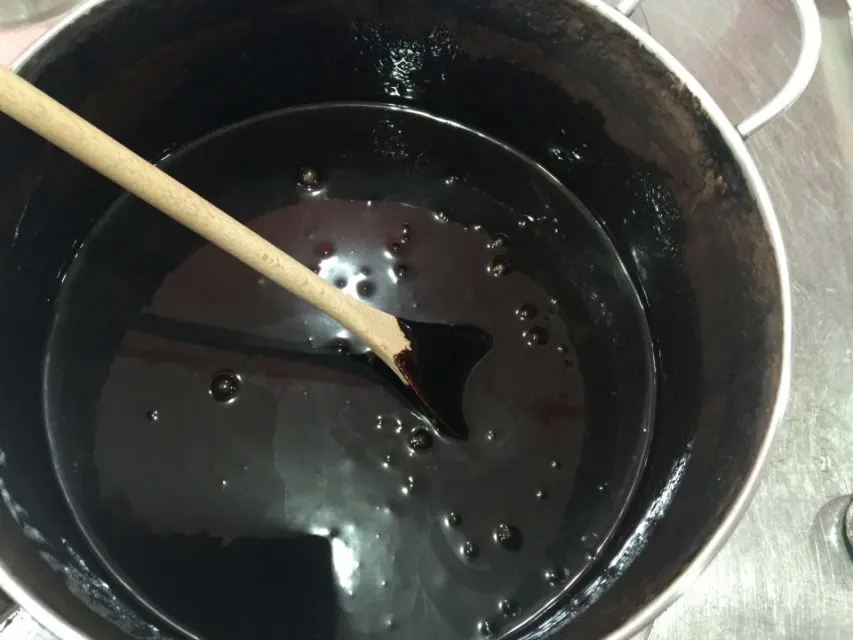 There are many stories about how the tartufo di pizzo became a desert, some say a cousin of the King didn't have enough cups to serve the gelato in and figured out a way to serve it on a plate. While others say it began with the arrival of a gelateria shop opened in the 1950s. But if you are to believe anybody, it has to be Chez Taoi according to our host Chef McDonald, who brought us to his shop. In this town, tartufo is legendary.
Is Gelato Italian? – Yes it is says Chef Chez Toi
However, newcomer Chez Taoi, started his skill at making Tartufo back in 1973 when he took over a gelateria with his brother, who is now retired. Now Chez enjoys working with his son at his side. Today they make Tartufo 4-5 times a week, in batches of about 100.
He invents all types of combinations of flavors, with choices like fruit sorbet, walnut, and pistachio flavors. Luckily, while we were there, we received an impromptu step-by-step demonstration of Tartufo making, the ultimate Italian ice cream truffle.
This is just one of the amazing experiences you can have on the Splendors of South Italy Foodie Tour with Chef Mark McDonald. We did a lot of amazing excursions and this is only one of the great times you will have on this tour! Read more about Chef Mark exploring his roots.
Oh, and here is where you can get the scoop of the best Italian Gelato in Rome in case you end up there on your tour of Italy!
RECOMMENDED READING:
Furore, Italy: The Most Beautiful Place on Earth
Portofino, Italy: At least Once in a Lifetime
Disclosure: This article was written on behalf of Chef Mark McDonald of the Old Vine Cafe and his Culinary Travel Experiences.