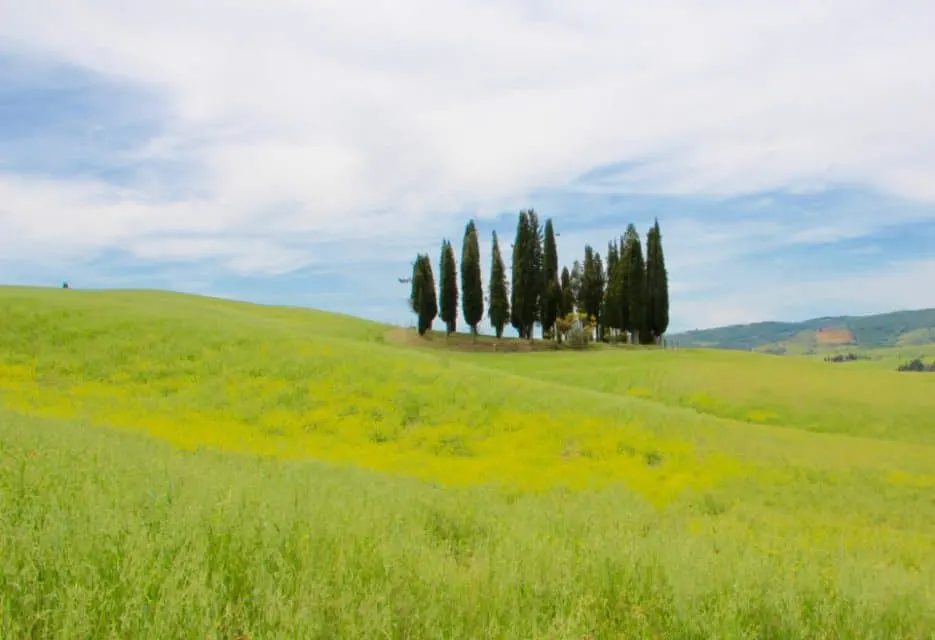 ---
We had arrived in this tiny little town in Italy in the middle of Tuscany and were anxious to see what was meant by this Italian "relax spa" called Hotel Adler. I had heard Italians relax differently than Americans, so I was ready to find out the differences at Hotel Adler. Coming from Florence, we had just come from the luxurious IL SALVITINO, so we thought nothing could impress us more… yet it ended up that we had something VERY special waiting for us!
---
What's in this post:
hide
Hotel Adler
---
Eurail Pass
We had ridden the train using our Eurail pass from Florence to Chiusi- Chianciano Rail station near the village of Bagno Vignoni. The rail pass was easy to use and no reservation was needed since it was considered a local train. The train from Florence was only about a 2-hour ride away and I slept or stared out the window flying past me until we finally arrived.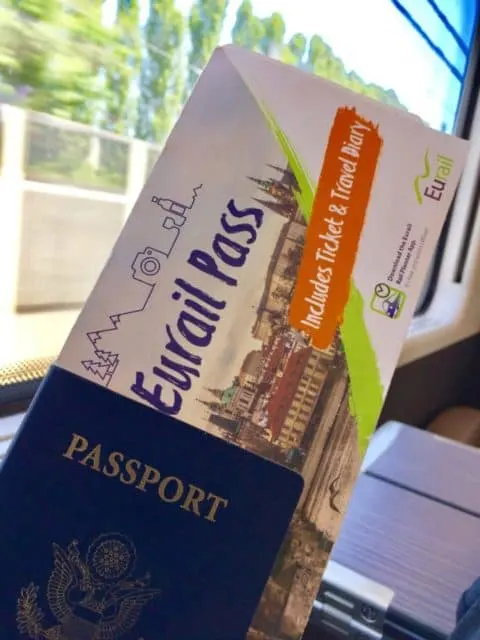 ---
Recommended Reading:
Authentic Italian Recipes for the Soul
Luxury Italy: A Journey for the Soul
5 Reasons to Rent an Apartment in Rome
Get the Scoop on the Best Gelato in Rome
Tiber Island: A Tiny Island in the Middle of Rome
---
Pick up From the Train
Stepping off the Chiusi train platform #3, I had hoped someone would be there, as I had a hurried morning and didn't have time to confirm my pickup with the Hotel Adler via email. Yet, there he was, a strong, older gentleman with a big smile and a sign that said 'MAHONEY", no worries that my Irish married name is MALONEY, as I knew he must be the one to pick me up and I was very thankful! He not only grabbed my large bag, but my companion's bag as well as if they weighed nothing and led us to his waiting vehicle that was close by.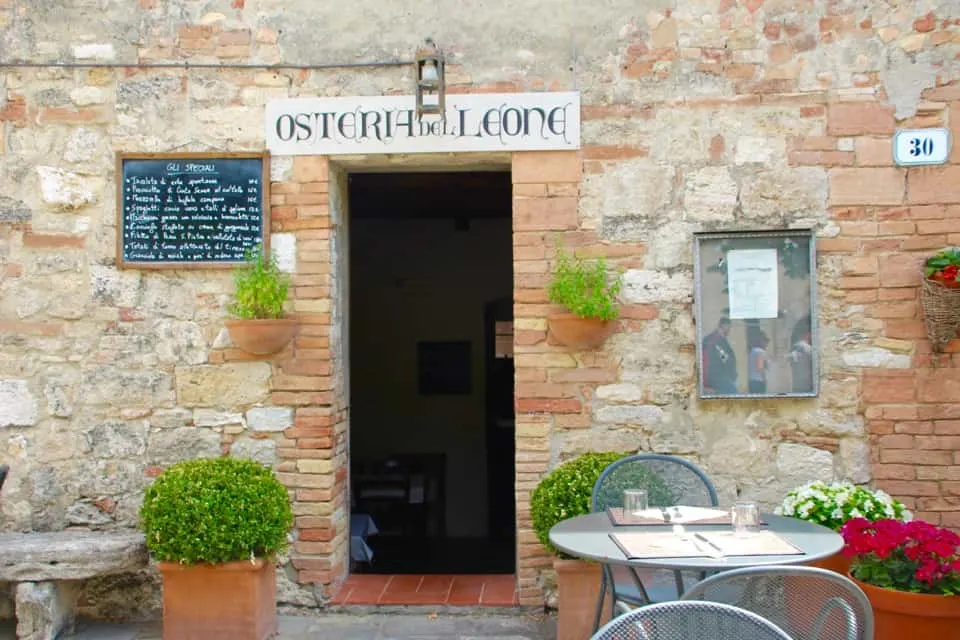 Winding through Tuscany
Once we got in his vehicle, we winded through the Tuscany area famous for its picture-perfect hillsides with cypress trees. We then came to the entrance gate of Hotel Alder. Immediately we were checked in, given several papers about the Hotel Adler spa center, given schedules for food and dining, as well as various offerings for day tours and activities, and then escorted to our Hotel Adler room.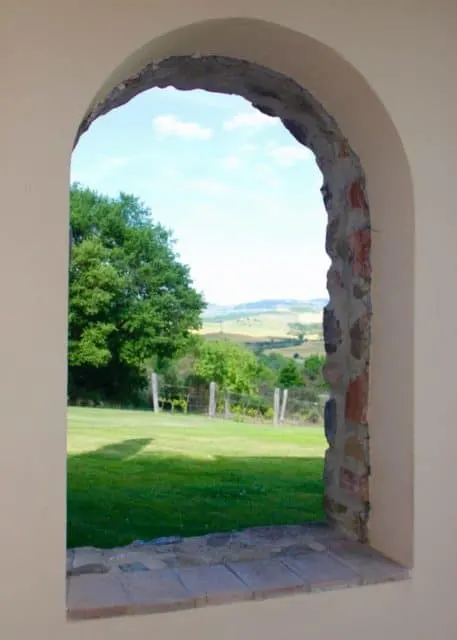 Most Luxury Spa in the World
At first, I was a bit surprised, as I was expecting the most luxurious spa in the world and when I got here, honestly I was a bit disappointed – BUT WAIT! What I came to realize after a few days of relaxation is that Hotel Adler was most likely not built to be an OVER THE TOP luxury spa-like a lot of the other luxury resorts in the USA, like the Ranch at Rock Creek in Montana or the Four Seasons Scottsdale in Arizona. As the purpose of the Hotel Alder is for people to LEARN how to relax and so the interior design of Hotel Alder reflects that in its modest decor. The countryside landscape and hot springs are the stars at Hotel Adler.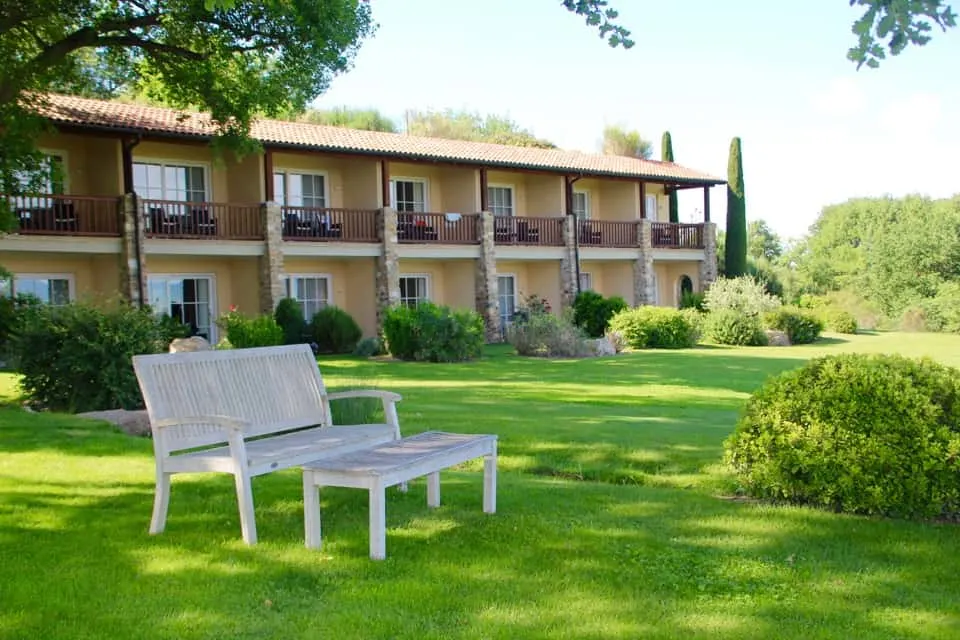 As my Italian friend says, Americans need to learn:
"Il Dolce far niente"
Or
"The sweetness of doing nothing" and "Sweet Idleness"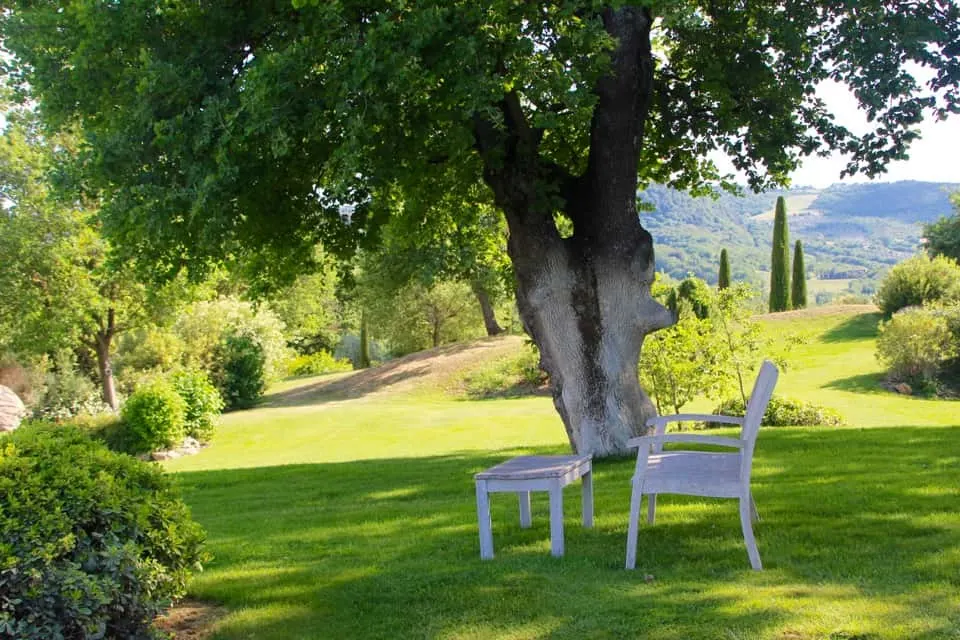 The Guest Rooms at Hotel Adler
---
Recommended Reading:
Authentic Italian Recipes for the Soul
Luxury Italy: A Journey for the Soul
5 Reasons to Rent an Apartment in Rome
Get the Scoop on the Best Gelato in Rome
Tiber Island: A Tiny Island in the Middle of Rome
---
Private Suite in Hotel Adler
There are 90 rooms at Hotel Adler. My suite was a ground suite with a private terrace and chairs outside for amazing views of the Tuscan hillside. The furnishings are of light-colored wood with matching hardwood floors. Each suite has a sitting area with a sofa. The room also comes equipped with a bathrobe, flip flops, and spa towels, as well as spa amenities for the shower that are specially made products that are also sold at the Hotel Adler gift shop.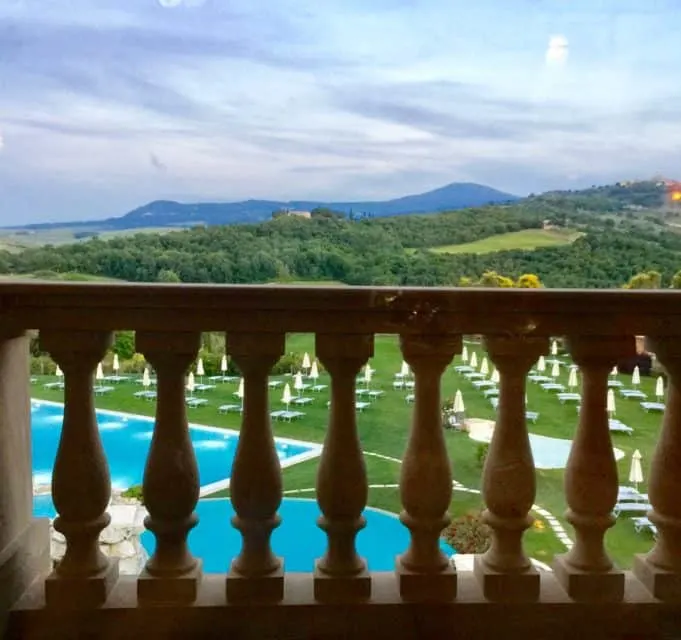 The Spa Facilities at Hotel Adler
Bathrobe Chic
At Hotel Alder, the dress is bathrobe chic, where there is no pretension. Hotel Adler is a place where you let yourself go and the magic begins to happen. They teach you that now is a time to embark on your journey of rest for your mind and for your soul. You actually don't "get" that when you first arrive, as you are coming from the crazy hectic world from the outside.
Here at Hotel Adler, this is your cocoon, where you will emerge a different person. Where the beauty of nature, the heat of the natural hot springs, the oils of the massage, and the steam from the sauna will impetrate your mind and soul. And like a brake, they will slow your life down. This is how the soothing begins and then the magic begins to happen at Hotel Adler.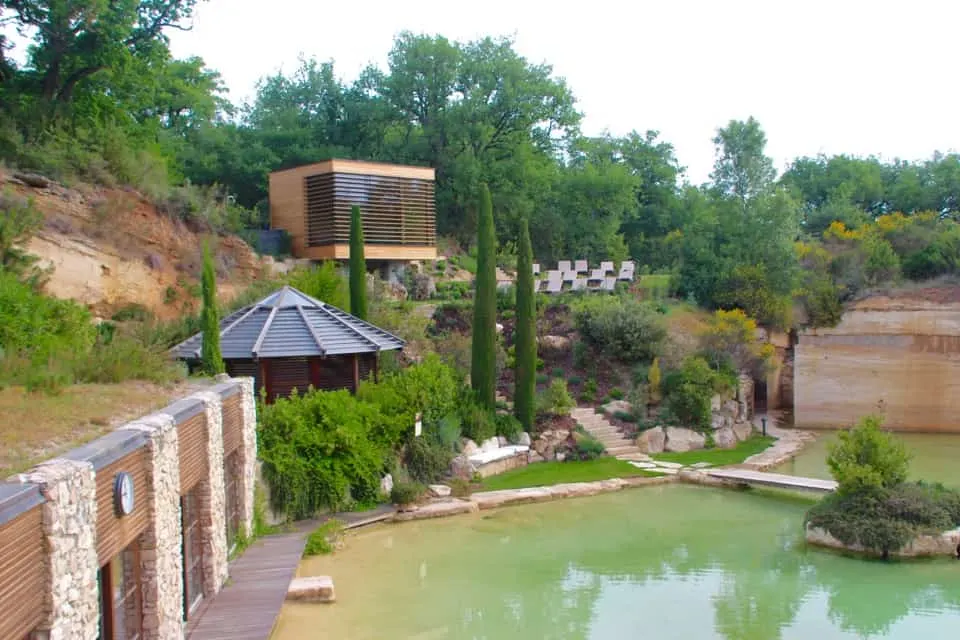 ---
Recommended Reading:
The Abbey of Montecasino and Herculaneum
Positano, Italy: Bellisimo Part 1
Positano, Italy Bites Deep: Part 2
Furore, Italy: The Most Beautiful Place on Earth
La Bottega del Legno: The Woodshop in Forli, Italy
First Words: La Biblioteca Malaestina in Cesena, Italy
A weekend trip to Cesenatico, Italy
Altavita Winery: The High Life of Cesena
The Magnificient Masselina Estate and the Women of Faenza, Italy
---
It took me a few days to realize this as I entered the spa room for my first treatment. Here I was in my white Hotel Adler bathrobe when I was handed a tiny paper panty and asked to change and get on the table face up in the private treatment room. There I laid, waiting for her to come in which reminded me of the time I was in Monaco for a Thermes spa treatment. I have come to realize that Europeans do spa differently than Americans.
Honestly, it is ok with me, just different, and at this moment, as I laid basically naked on the table with no cover, my body remembered this experience from before. Two of the biggest differences is that in Europe for women, they massage your breasts and your stomach and they see you completely naked during the process of a massage and when they prepare a bath for you. In the States, we are constantly being covered up with a sheet or towel and not seen naked as much.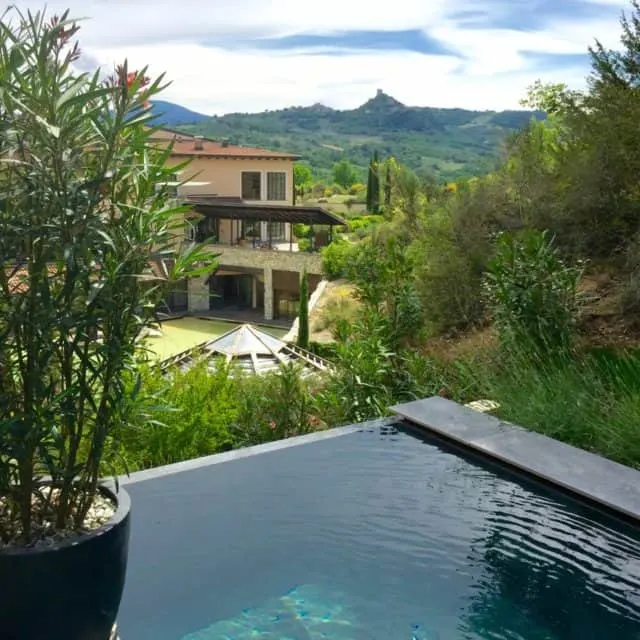 Italy's Leading Wellness Spa
As the days passed, I came to realize why people come here and why Hotel Alder has become one of Italy's leading wellness spas. I realized why they sit around in their white bathrobes and why they really do nothing all day long. The clients here have hectic and busy lives in the city and this is the place where nothing is required of you.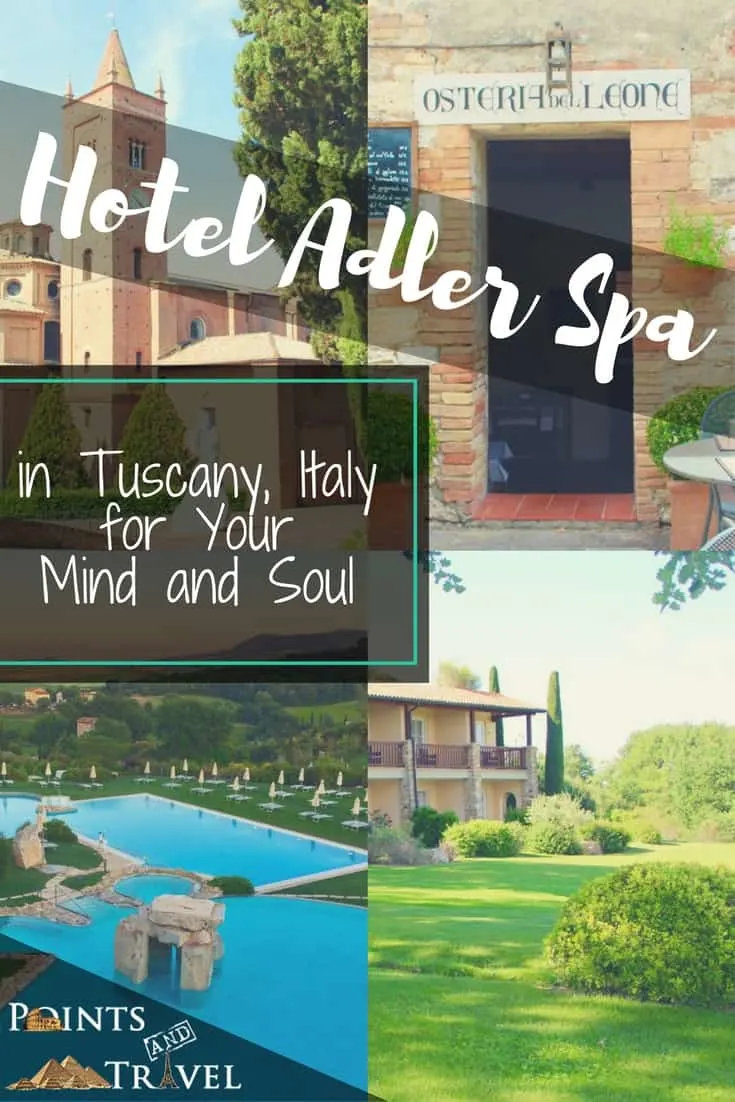 The spa itself is quite extraordinary at Hotel Adler, as it is centered around hot springs. There is a silent area where up on top of the mountainous hill, they have a gorgeous Finnish sauna complete with a freezing plunge and negative edge dipping pool. Inside the sauna, they have different scents depending on the hour you are there. From orange/lemon citrus to lavender/chamomile herb, this treatment is exhilarating.
---
Recommended Reading:
A Voyage Thru Time: Things to do in Venice, Italy
The Power of Travel Seen Through the Eyes of a Travel Company
Portofino, Italy: At least Once in a Lifetime
Genoa, Italy and the BW City Hotel
Treat Yourself to the Suite Life: Hotel Splendido, Portofino, Italy
Hotel Splendido: Absolutely Splendid
The Poetry of an Old Fisherman's Village: Bocadasse, Italy
Italy Revealed: Camogli, Italy
---
The Grounds of the Hotel Adler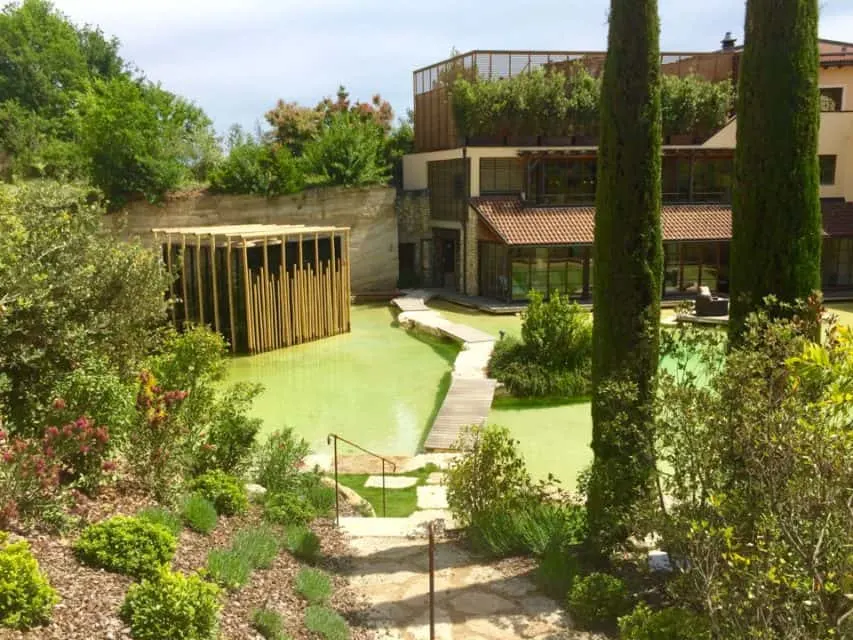 Looking down the hill below, you will see the tranquil waters of the hot springs, with a wooden plank bridge across it.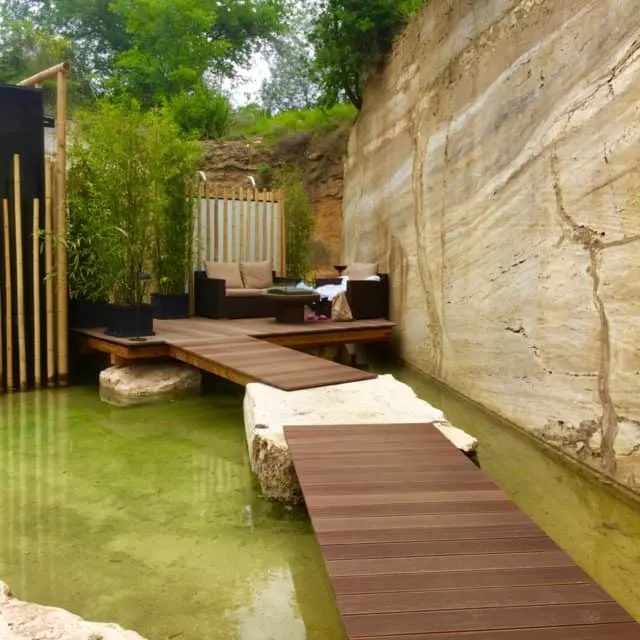 That bridge leads to you another extraordinary spot, which is a thermal hot springs cave. This has a steam room, as well as a relaxation area with candles burning inside the cave. It is quite wonderful.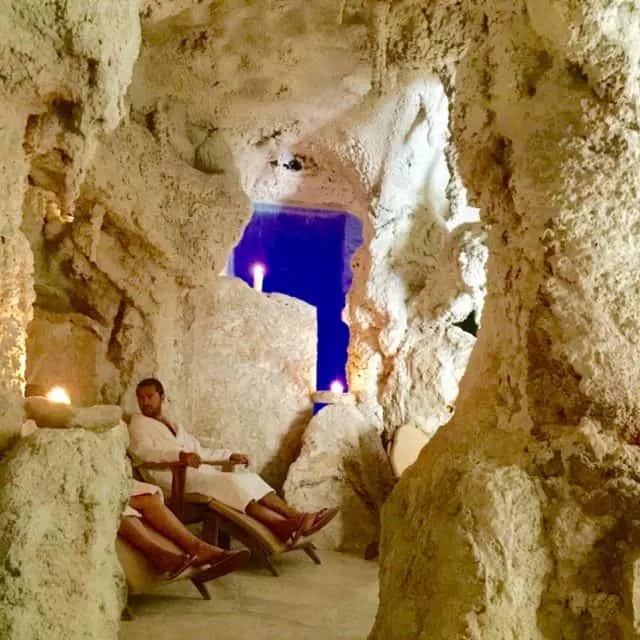 From there, there are other relaxing things to access such as the relaxation room or the water lounge beds upstairs, all with amazing views of the hot springs. But that is not all, as that is just the quiet area of the Hotel Adler Spa.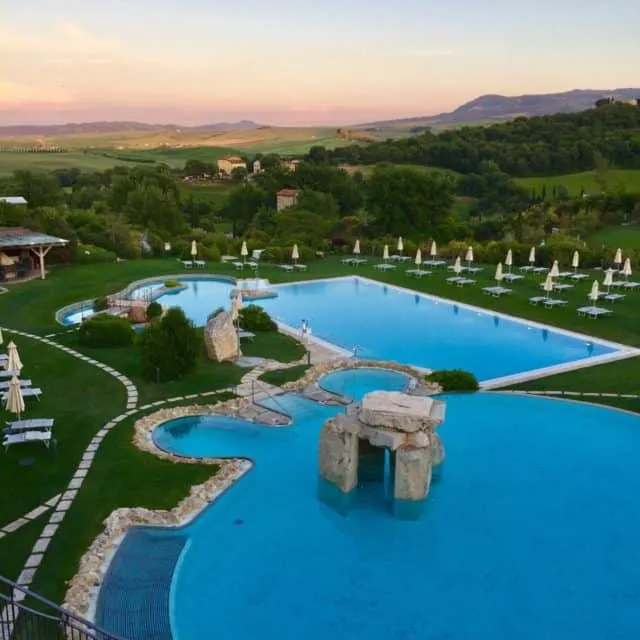 Hot Springs Bathing Area
They also have a hot springs bathing area with a Stonehenge-like water feature and Jacuzzi jet actions along the rim of the pool. Hotel Adler also has an integrated hot spring and water swimming pool with a smaller lazy river. The entire grounds at Hotel Adler are beautiful with views that overlook Tuscany that look like a painting.
Dining at the Hotel Adler
Once you check-in to the dining area once, they know who you are. After that, you have an assigned table that you sit at every night which provides consistency with your wait staff knowing your particulars. The food is served buffet-style for bread, salads, and desserts, but the main entrees are ordered off a short menu with choices where typically 3 courses are offered.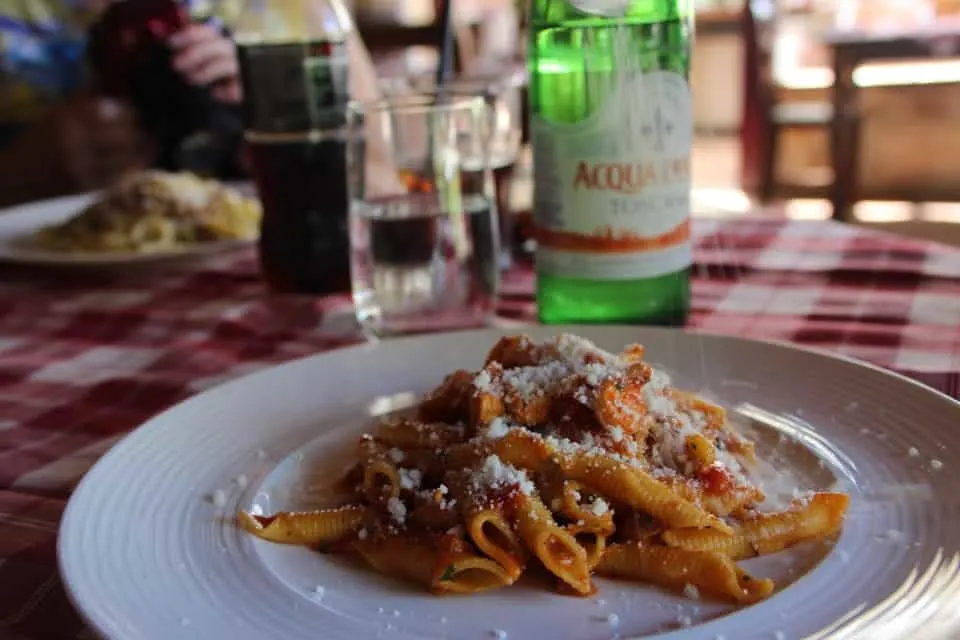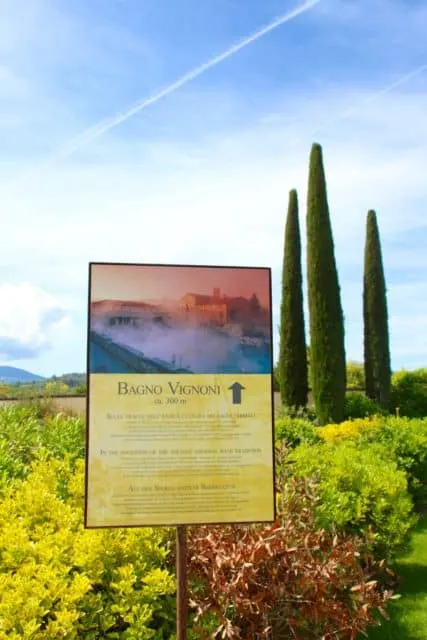 Nearby villages to the Hotel Adler
Let's say after a few days you are nice and relaxed (because you will be by then) you can take a morning 5-minute walk to visit the small village of Bagno Vignoni. It is an easy walk from Hotel Adler to the town. The village is quite lovely with its own hot springs built right into the center square of the town. Here you can do a little shopping and stop for a quick coffee or glass of wine. You can also take a walk or hike around the hot springs that surround the town. I saw several people dipping their feet into the hot springs.
While there, I also took a day trip to the Abbey of Monte Oliveto Maggiore and a few small villages in the area.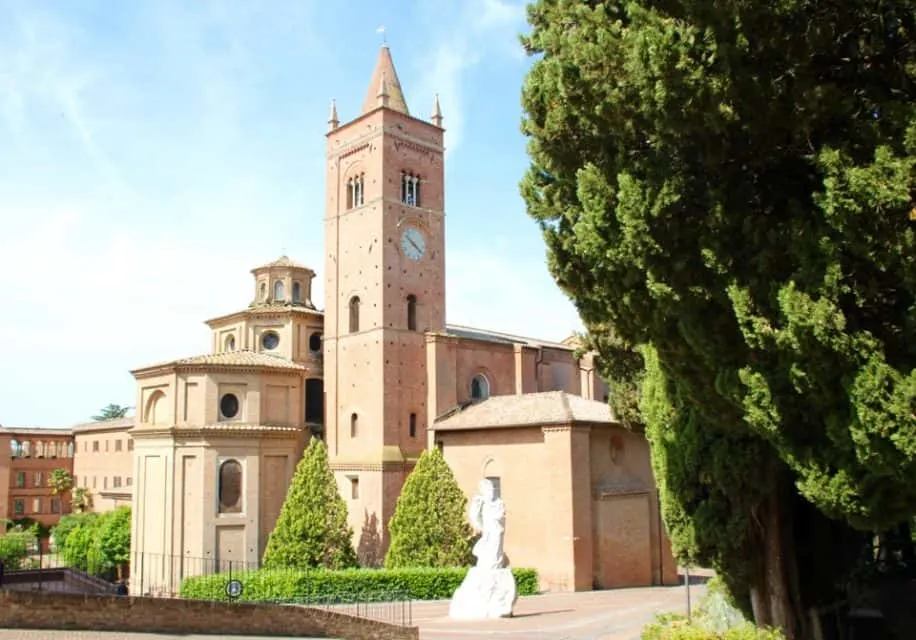 I felt like Hotel Adler was a home away from home. I wished I could have stayed even longer than the three nights that I stayed. Once you get into that relaxation mode, you certainly don't want to leave. I would have like to explore more of the walking paths and visits to the various villages nearby. This is a gorgeous Tuscan setting that will put your mind at ease to help in your routine of wellness in life.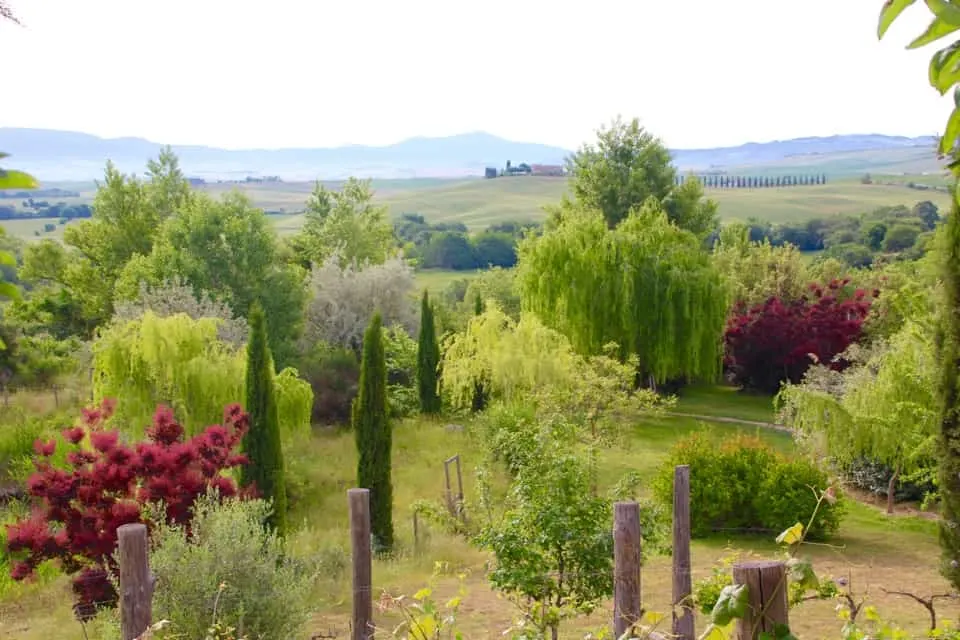 ---
More Recommended Reading:
Make this Your Next Authentic Italian Vacation
Food, Friendship, and Wine in Le Marche Region, Italy
The Lost Art of Print Blocking in Carpegna, Italy Regenerated
Disclosure: As is common in the travel industry, Dr. Maloney was provided with accommodations, meals, and other compensation for the purposes of review by Hotel Adler. While it has not influenced her review, PointsandTravel.com believes in full disclosure of all potential conflicts of interest. All Photos by the author.