Cesena, Italy is a gorgeous community located in the central region of Italy called Emilia Romagna. This city is just 9 miles from the Adriatic Sea and was once an important town during Roman times which was famous for its wine making abilities in the region. My impression is that not that many people have heard of this region of Italy even though it has much to offer a tourist. Cesena is within an easy drive to beautiful coastal towns such as Rimini, Pesaro, and Cesenatico. It has a population of about 97,000 and is one of the smaller cities in the region.
When visiting Cesena a name you will hear over and over is Malatesta. Why? Because the history of Cesena is the history of the Malatesta family who developed Cesena back in the 1400 – 1500's. They built two of the most important monuments that are here today. The Biblioteca Malatestiana and La Rocca.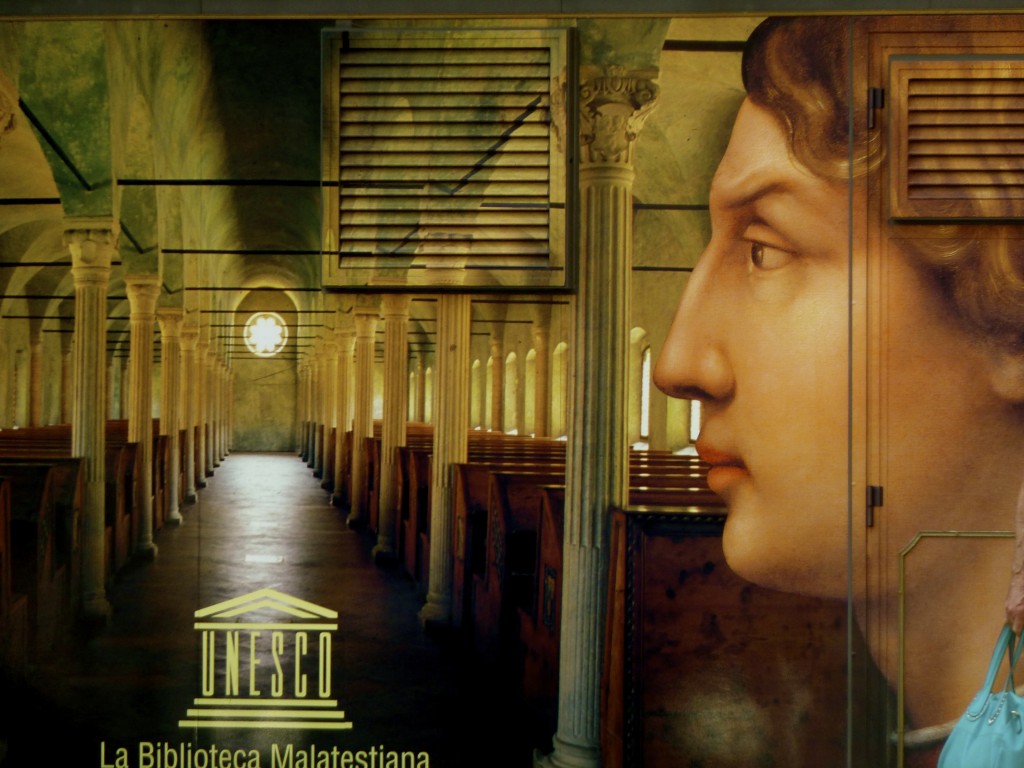 ---
What's in this post:
hide
Fun Things to do in Cesena Italy!
---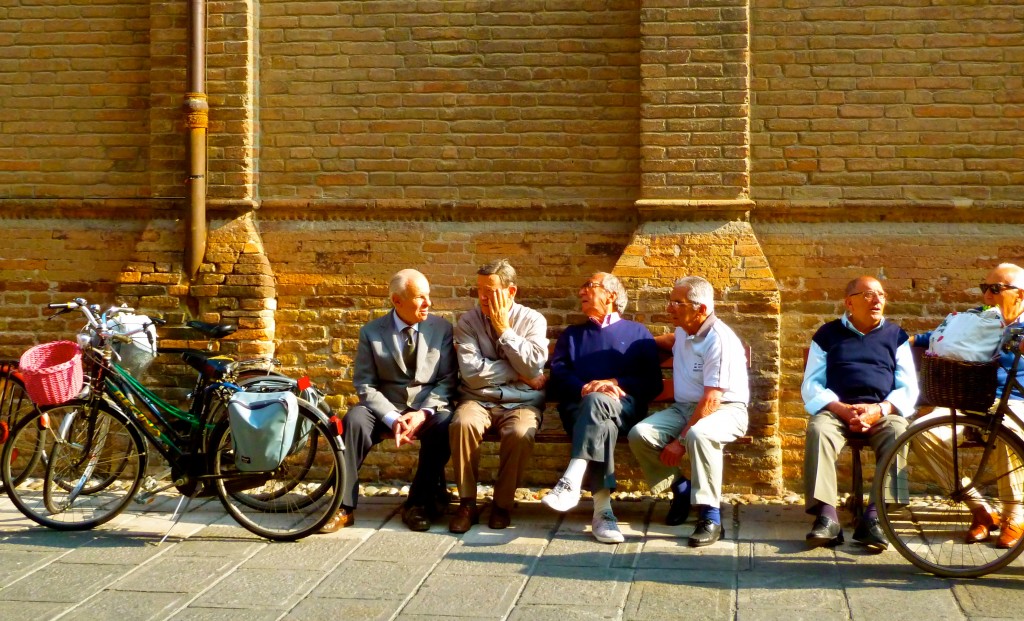 Cesena, Italy
I actually loved visiting this town, as there are so many interesting historical sites to see, but more than that, they have a secret I have been dying to tell you about! So read on if you are looking for a local Italian experience, where the people are just going about their day in no rush, great architectural and cultural attractions, and plenty of fun things to do. As if would be a shame if you mist this brilliant place known as Cesena, Italy.
Cesena, Italy: They have a secret
While strolling the streets of Cesena, Italy, I was introduced to the local library, a gem at the foot of the Apennine Mountains. There was nothing unusual on the outside of this location, it was just a building that would not reveal its treasures inside right away. I love it when I come across something so magnificent, that I am dying to tell you about it…
Cesena, Italy: Daily Life
Local Italians were everywhere in the streets, as this is not a city of tourists, but a city of locals doing their thing. It is such an amazing sight to see so many people just hanging out, in cafes, on their bicycles with their cell phones, and shopping in the markets.
Cesena Brings Me Out of Hibernation
I feel like I have been hibernating for a very long time and now "Spring has sprung" and I have come out to see what is going on in the world, as I live in a city where it is so boiling hot that we barely know our neighbors, and rarely go outside to talk with them. I live in a city of hot concrete, cars, and garages. Once that garage door button is pushed, and I go from my air-conditioned office to my air-conditioned house, that's it! No more interaction with people. But here, life is different. People are social, life is vibrant and alive.
#1 Biblioteca Malatestiana: Library in Cesena Italy
But I digress, back to what I wanted to tell you about… the local library. Not just any ole' library, but the oldest library in all of Europe known as the Biblioteca Malatestiana. This space was built in 1447 by the Lord of Cesena, Malatesta Novello. Back then they had Lords!
It is the only one in the world called a humanistic-conventual library. What in the world is that? Well, basically means that they have preserved its structure, furnishings, and codices (manuscripts of handwritten books) since its opening in the mid 15th century, all of this despite wars and natural disasters.
Ok, it is at this point that I have to make a confession! See below the confessional!
Cesena, Italy: Confession
I confess that I had no idea about this, as the tour leaders were speaking in Italian. I tend to be a wanderer with my camera and so I never heard what I am about to tell you:
---
"They have not even altered the microclimate and conditions of the temperature and humidity of the room, using no electricity, not even a candle since 1447."
---
I think this is an amazing feat! I was able to photograph this place for at least 5-7 minutes before the guard came and shooed me out of the room! I have read that other writers were not able to obtain any photographs like these I was able to take! I am truly thrilled to see the photographs I took as the room itself was simply stunning!
---
La Biblioteca Malatestiana, Cesena, Italy
---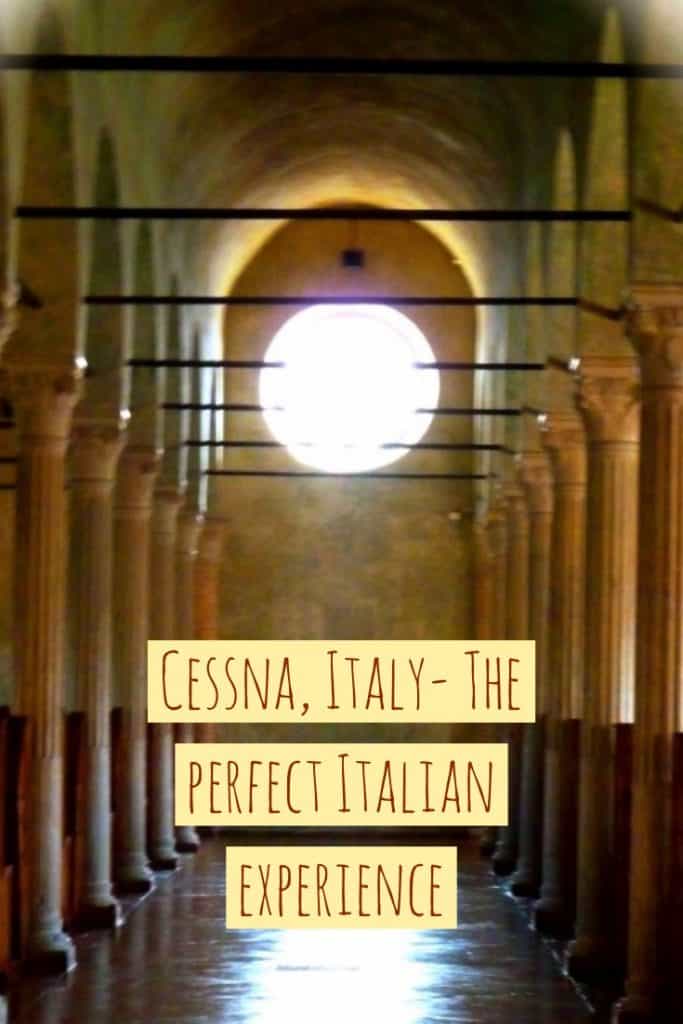 ---
" In a good bookroom, you feel in some mysterious way that you are absorbing the wisdom contained in all the books through your skin, without even opening them."
― Mark Twain
---
Magnificence Cesena, Italy
Now there was a closed entry with an amazingly carved door, that the custodian/guard did come and open, as he gestured me in the room, so I thought I was supposed to go in!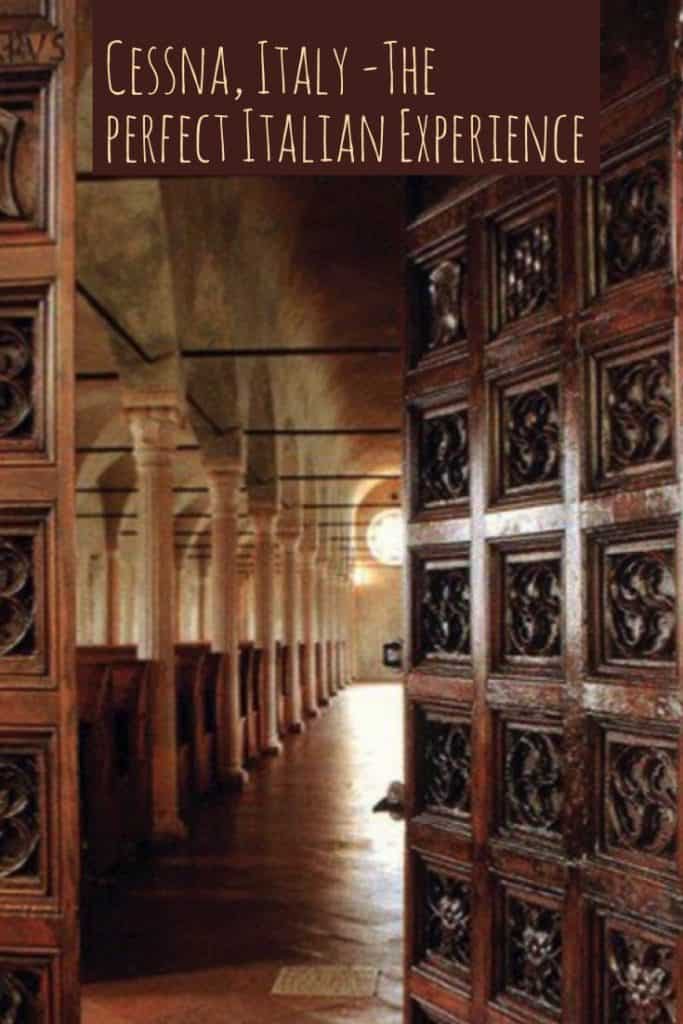 The main door is made from walnut and carved by Cristoforo da San Giovanni in an ornate Gothic style, with repeated rows of rosettes and helixes in a checkered design. At the top of the doors is an elephant emblem of the Malatesta Novella family. What I love about this place is the symmetry of the aisles and the 44 Venetian style windows and how the morning light shines thru to the pews.
Cesena, Italy was Silence
I also love how the silence of the room makes you think back into a time almost 600 years and wonder about who these monks were and why they carved their names into the walls and on the desks. That is what is so fascinating about history and time, how you wish you could know more about each of them and their lives back in the 15th century.
Inside, the library shows geometric designs that are typical of the Italian Renaissance. The columns are made from local stone and there is a vaulted ceiling. Also, there are 58 desks with a coat of arms carved on the end of each pew. While the library is open to the public, it is not a lending library.
The books remain attached to the wooden desks by heavy wrought-iron chains, subdivided by subject, and kept in a specific order.
However, I think this building was designed perfectly for reading your favorite book!
One last note, because it is so unusual, in 2005, La Biblioteca Malatestiana was recognized as the first UNESCO "Memory of the World" site in Italy.
Fun Things to do in Cesena, Italy:
#2 La Rocca Malatestiana
Remember I mentioned the Malastina family before? Well they built this old castle in Cesena, Italy in the late 1300's. They built it on top of two previous defensive fortifications. During the 15th century, this castle served as the main defensive outpost for the city. Today, it is actually in remarkable condition, as I had a chance to explore the grounds, have lunch there, and go to the top to see the cities viewpoint. Once inside, you will find the Museum of Agriculture – which provides great insight into the rural life of the Emilia Romagna region.
#3 Piazza del Popolo
Cesena has several beautiful squares but the Piazza del Popolo (People's Square) is undoubtedly the most important. Of course, while you are in town, you cannot miss this town square, where the gorgeous limestone Masini Fountain is the center of attention. When I was there last time, they a small outdoor market near the fountain where you shop.
---
Recommended Reading about the Food!
Authentic Italian Recipes for the Soul
Liguria Region, Italy
TOP 7 Things To Do In Genova Italia