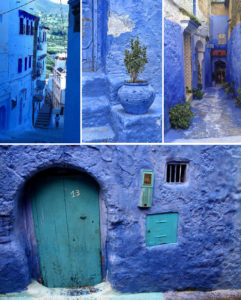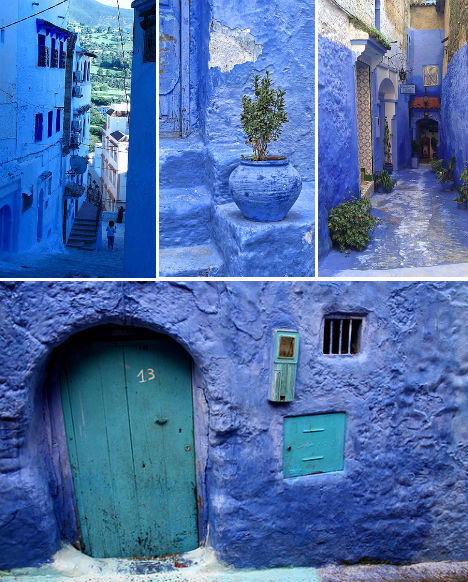 Click above to listen while reading.
Chefchaouen, Morocco
off the beaten path…
by Cacinda Maloney
Have you ever heard of the Blue City?  In the twilight glow, I see Chefchaouen.  The name refers to the shape of the mountain tops above the town, that look like the two horns (chaoua) of a goat.  This place is what I call shades of blue rinse.  Chefchaouen was painted blue by the Jewish refugees who lived there during the 1930's.  It is located in NW Morocco.  You will have to see it to believe it.  Up in the Rif Mountains, just inland from Tangier.  There she glows.
This city was founded in 1471, as a safe haven for Jewish and Muslim refugees from Spain and Portugal and they brought with them their Andalusian flare of architecture and the practice of adding balconies, patios and tiled roofs to houses.  It had been closed off to Christians for years, but now has a great influx of mainly European (especially Spaniards) travelers here on vacation and Catholic holidays.  Chefchaouen was ruled by the Spanish for several centuries and many people still speak a Spanish dialect.
One thing that makes this place as mellow as it is, is that hashish is commonly grown and sold here along with other herbs and spices and so, when the vendors ask you to look at their shops, soon they forget that they asked you!  Needless to say, the shopkeepers are very laid back here and the shopping is easy.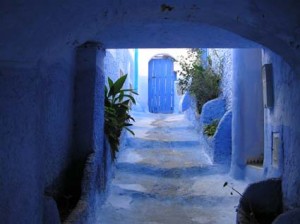 The place to stay is Casa Perleta, ranked a #1 on Tripadvisor, which gets nothing but rave reviews.  The suite with one double bed and living area converting to two additional beds for  €85  is a steal with breakfast included.  From here,  walk to the small falls and Spanish mosque on the hill.  They provide a great view of the town.