Get off the beaten path… Have you ever heard of the Blue City Morocco? Some call it the "blue pearl of Morocco." Every time I think of it, I think of that Willie Nelson song called Blue Eyes Crying in the Rain. "In the twilight glow", for me, I see Chefchaouen -often referred to as simply Chaouen. The name refers to the shape of the mountain tops above the town, they look like the two horns (chaoua) of a goat, translated literally, it means "watch the horns".
The blue city in Morocco is what I call shades of blue rinse. Chefchaouen, famous for being a blue city in Morocco, was painted blue by the Jewish refugees who lived here during the 1930s, at least that is the story I am going with, as I heard many different stories as to why it is blue. It is located in Northwestern Morocco. You will have to see it to actually believe it exists. It is up in the Rif Mountains, just inland from Tangier… "It is there that she glows!"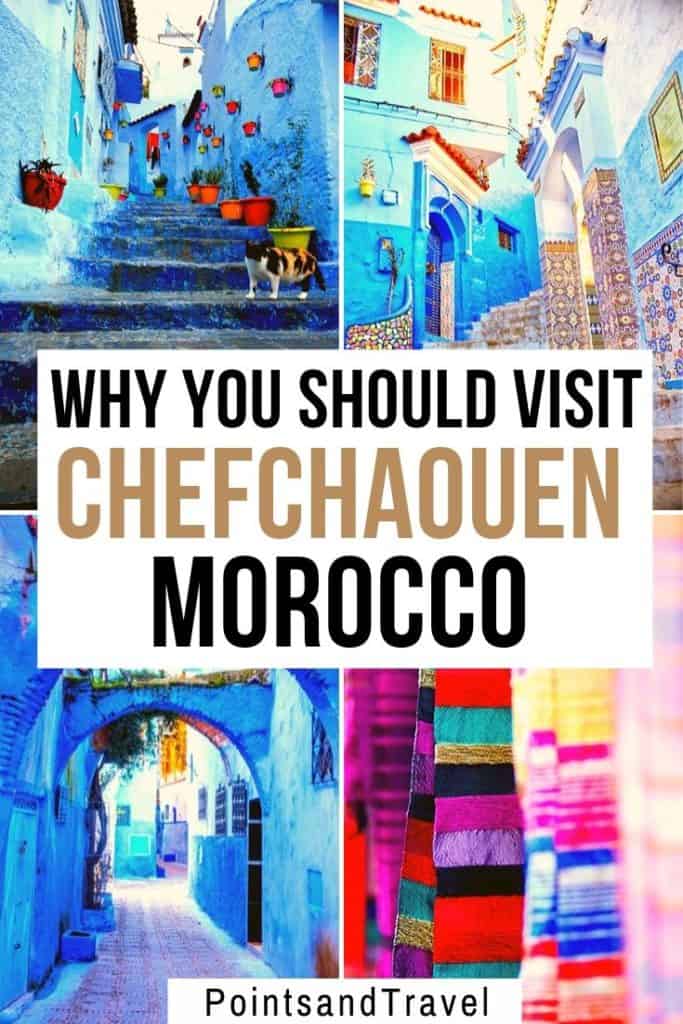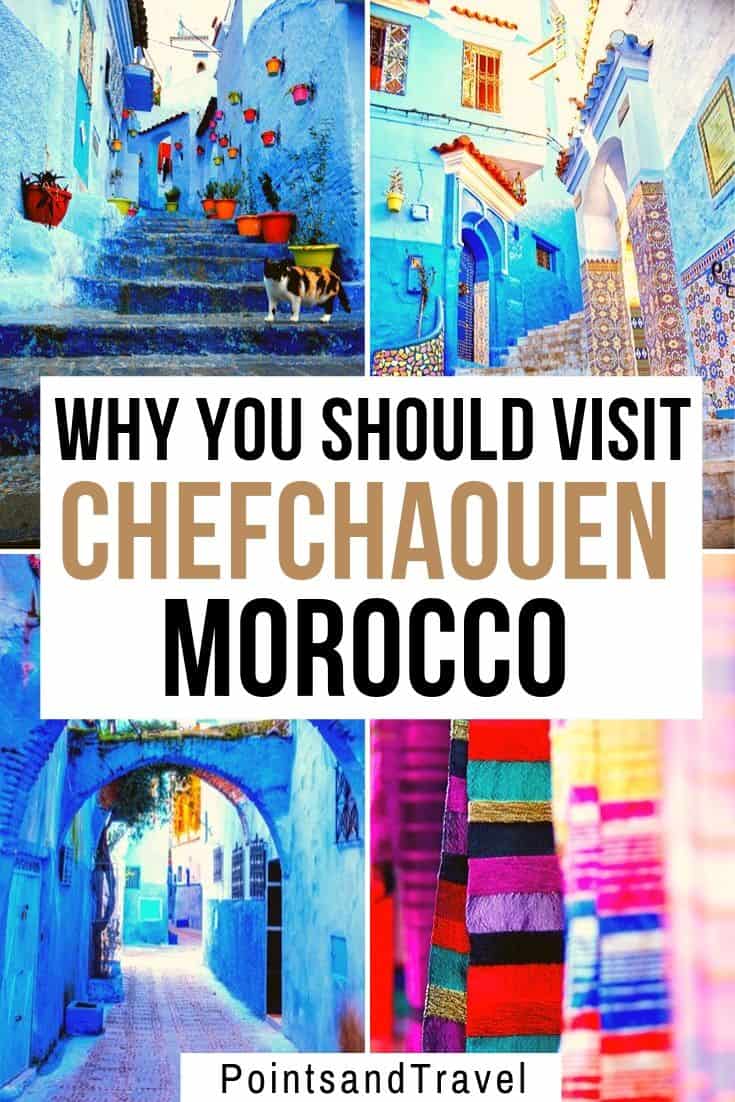 ---
Click on the link above to listen while reading.
---
✦

History of the

Blue City in Morocco
This city was founded in 1471, as a safe haven for the Jewish and Muslim refugees coming from Spain and Portugal. They brought with them their Andalusian flare of architecture and the practice of adding balconies, patios, and tiled roofs to their houses. It had been closed off to Christians for years, but now has a great influx of mainly European (especially Spaniards) travelers that come here on vacation and Catholic holidays. Chefchaouen was ruled by the Spanish for several centuries and many people still speak a form of the Spanish dialect.
✦ Why is it called the "Blue City"?
As mentioned before about the Jewish refugees who came here in the 1930s, that is the story that makes the most sense to me. But I heard everything from it reminding people of the sea or even the sky to the illusion that it kept things cool and that it keeps mosquitoes away. I believe it probably follows along with Jewish customs from the old days. I asked some locals why is it called the blue city and they say it is simply because blue has a calming effect. I think by now since this city is so old, no one really knows or cares to remember.
✦

Blue City Morocco: That Melancholy Feeling
One thing that makes this place as mellow as it is, is that hashish is commonly grown and sold here along with other herbs and spices and so, when the vendors ask you to look at their shops, soon they forget that they even asked you! Needless to say, the shopkeepers are very laid back here and the shopping is very easy.
✦ A Photographer's Dream
Chefchaouen is a perfect place to just wander around and take photographs. Everywhere you look, there is another shot to be taken. Most of the buildings in Chefchaouen are painted using a talc or chalk-based paint in many different shades of blue. Since it is quite away from some of the bigger cities in Morocco, you can do some local shopping here while photographing the city.
The prices are a bit higher, but I would recommend it since you won't be hassled as much here as in some of the larger cities. It is the perfect place to wander around and just enjoy the scenery. But don't forget, it is typically HOT, so dress in cooler type clothing, because even though there are alleyways to explore, there are also many stairs that go UP, UP, UP!
✦ What to Do In The Blue City
Kasbah Fortress Museum – While in the Blue City Morocco, be sure and visit the Kasbah Fortress Museum. It is a 15th-century fortress and dungeon in the main square – Place Outa el-Hammam. It was built in 1471 and features a beautiful garden and a small museum. You can climb the towers inside the museum for some views of the Blue City Morocco and of the Grand Mosque.
Look for the cats! The what? Yes, Cats are pretty much everywhere and on every corner, so since I am a cat lover, I loved the fact that they love cats here too!
✦ Clothing: What to wear in Chefchauoen
Morocco is a Muslim country, so it is important to dress conservatively. It is important to cover up any exposed skin – like your shoulders, knees, midriff, and back. It is important to respect the culture of the country when you are traveling. I would recommend bringing loose and lightweight clothing, as it gets hot throughout the day. But bring a lightweight jacket for the nights as you are in the mountains and it cools down then.
✦ Getting To Chefchaouen, the Blue City in Morocco:
As mentioned before, Chefchaouen is built on the Rif Mountain range in the far north of Morocco and may be considered more difficult to get to. The only way there is by road, winding up a rocky landscape. Your best bet is to either fly into Casablanca and take the CTM bus, which can take up to 6.5 hours or fly into Fez (and take the CMT bus) which takes only 4.5 hours.
I am not really a "bus person", so I preferred to renting a car and driving. Driving in Morocco can be a bit crazy, but I have a husband who loves to drive, so it was only about 2 hours from Tangier, which I think is the BEST option overall. I recommend using a parking garage to put the car away once you get there and then explore the blue city on foot.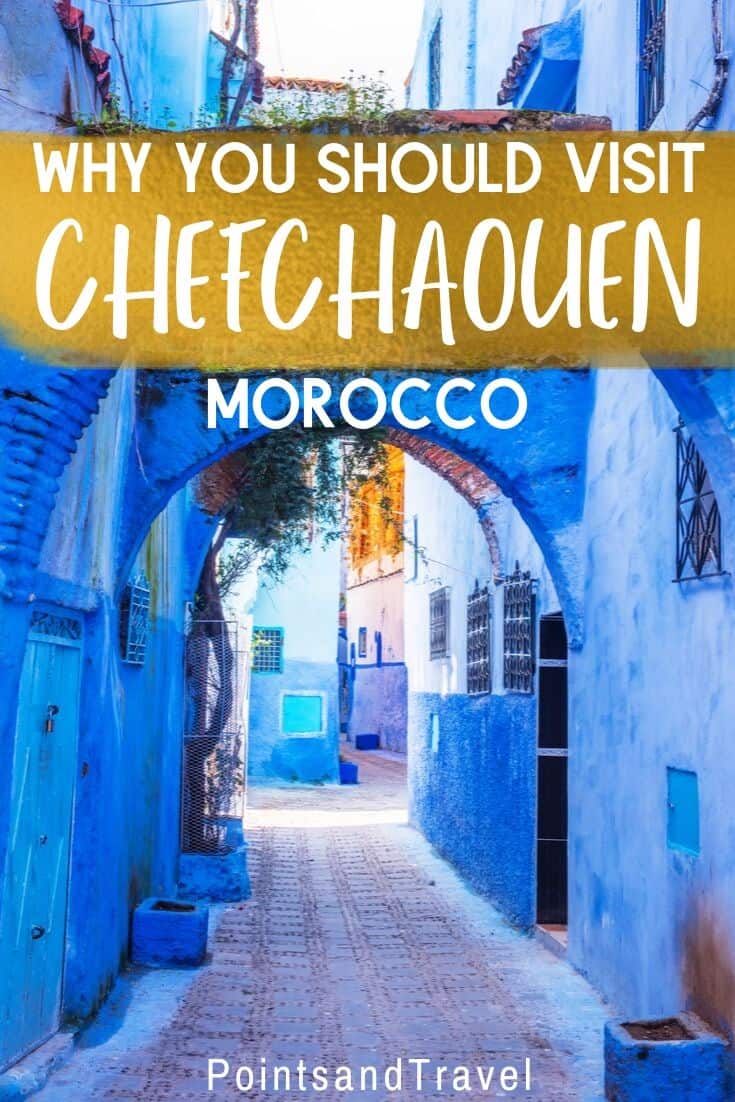 ✦

Where to Stay in

Blue City Morocco
One of the places to stay is Lina Ryad & Spa, the only 5-star ranked hotel in the area which gets rave reviews. The hotel has 17 air-conditioned suites and is about one mile from Chefchaouen. Don't forget you can walk to the small waterfalls and the Spanish mosque on the hill. They both provide a great view of the town.
✦

Blue City Morocco:

Helpful Information
The language spoken in Chefchauoen: English, Spanish, Arabic, and French.
WiFi: Most places have free WiFi. Some good, some bad!
What type of cash they use: Almost everywhere takes cash so get some Moroccan Dirham, denoted as MAD or Dhs from your bank before coming here. There are a few scattered ATM's around, but don't count on it! Credit cards are almost unheard of!
Disclosure: There are affiliate links in this post.
Recommended Reading: