5 Places You Must See on a Southwest USA Roadtrip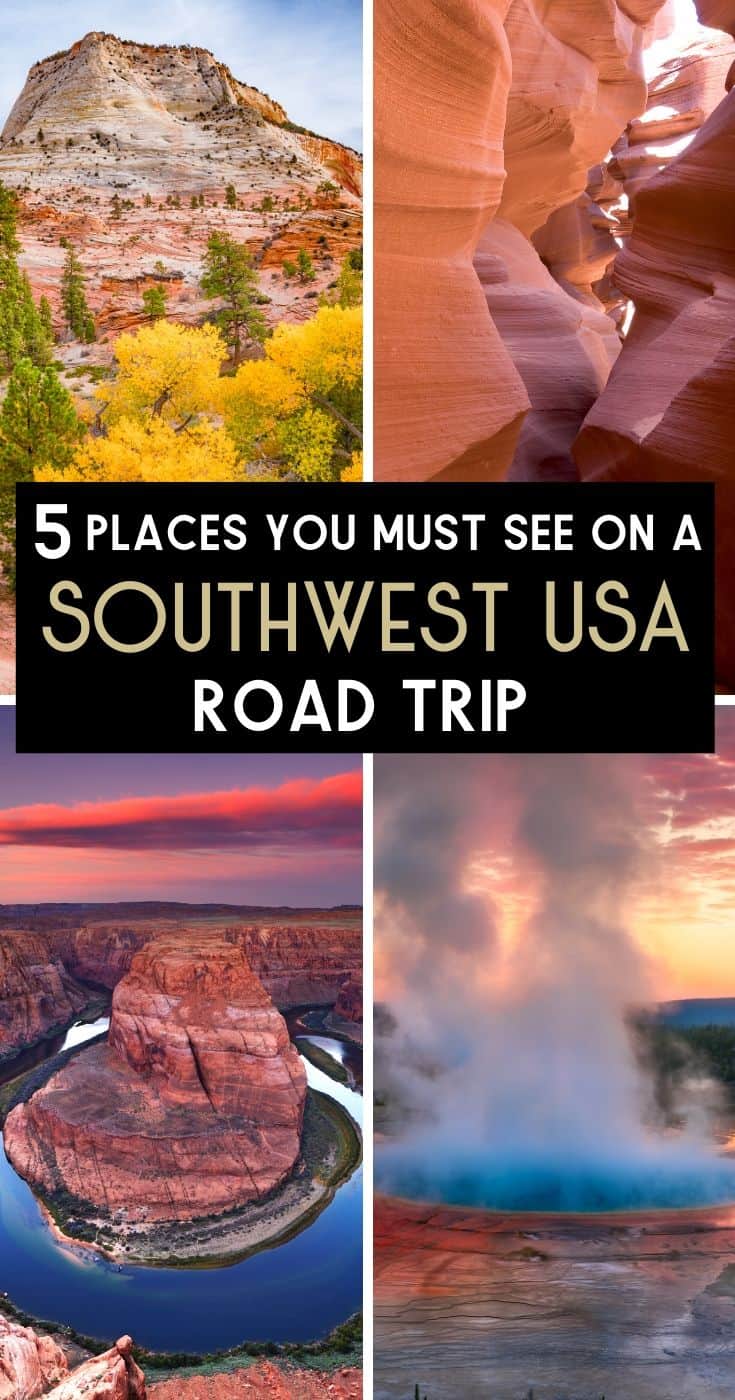 There is a lot to see this summer in the great American Southwest. You can take a road trip to some amazing American attractions in the Southwest and West Coast of the USA with ease. The places I highlight here have a lot of history to offer, some as many as 40 million years! The rocky landscapes that stretch for thousands of miles are all sites worth seeing, where mountains and canyons alike share the spotlight as some of the most beautiful areas of the United States of America (USA).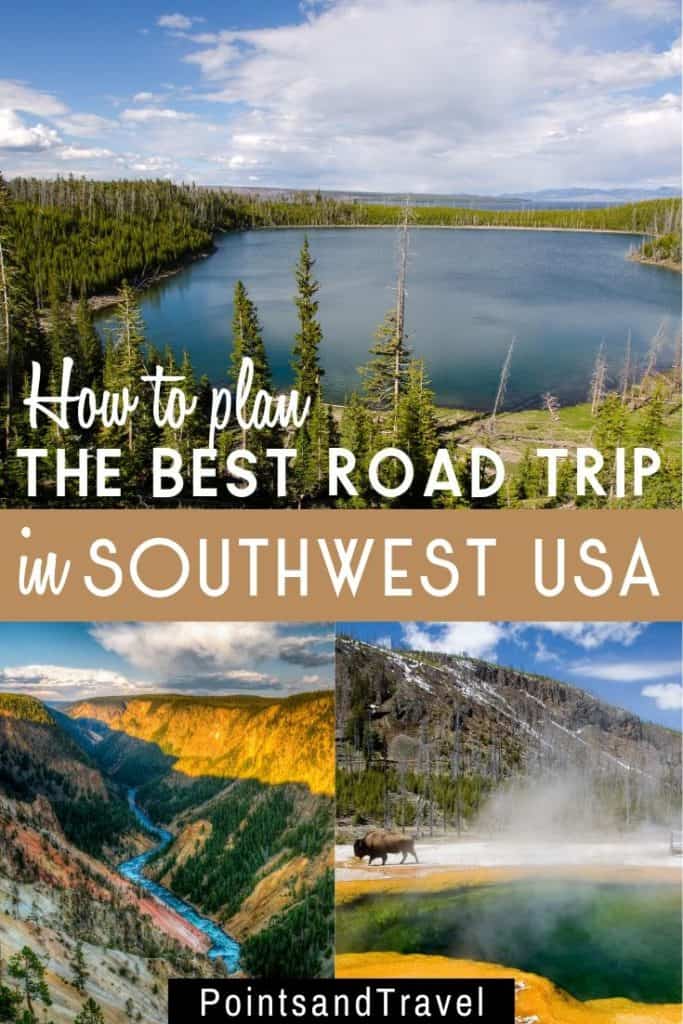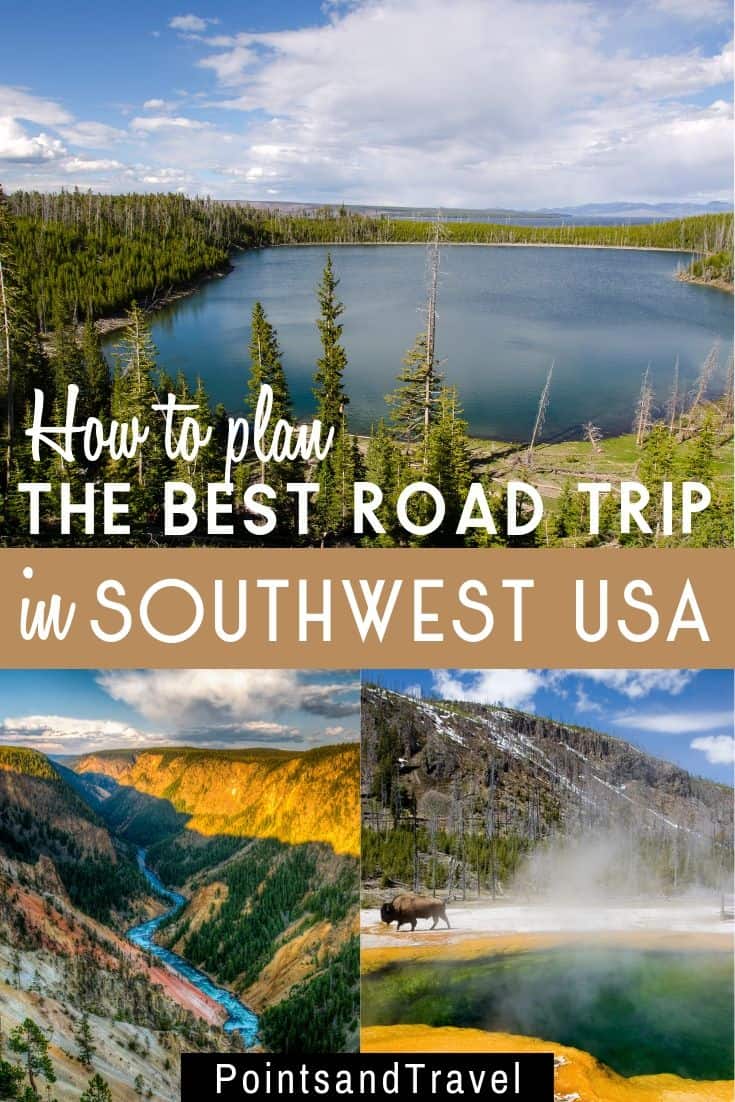 I recently took a road trip this past June and I wanted to give you the rundown of my favorite places. To explore my home state of Arizona and beyond, I decided on a nine-day road trip through the American West with a pit stop in Bozeman, Montana.
The trip would take me and my brother through Arizona, Idaho, Montana, South Dakota, Utah, and Wyoming. We found some places I never even knew existed in this part of the world. There were a lot of stories to tell from this trip but only the best of the best attractions made this list of the best American attractions in the Southwest. The American attractions that everyone should put on their bucket list are Antelope Canyon and Horseshoe Bend in Arizona, Zion National Park in Utah, and Yellowstone National Park in Wyoming.
American Attractions: In the state of Arizona
Being born and raised in Phoenix, Arizona, I sometimes forget what my state has to offer just a short few hours away. I had visited the Grand Canyon growing up like everyone else, but I knew that Arizona had much more natural beauty to offer. Our adventure started early on a Monday morning and by the afternoon we had reached our first destination: Page, Arizona.
Page, Arizona is a quiet town on the edge of the Navajo Indian Reservation with a lot of cultural history tied to the landscape around it. The American attraction in this part of the road trip included all different types of canyons with some of the best in the world ready to be photographed.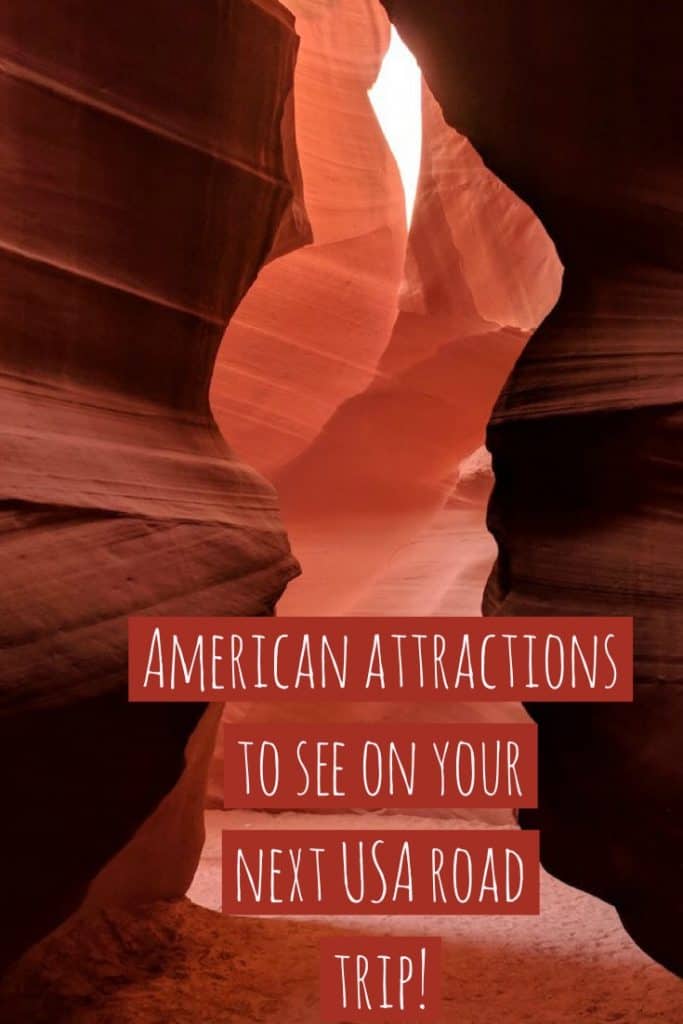 Horseshoe Bend, Arizona
The viewpoint of Horseshoe Bend is a must for hikers and adrenaline junkies alike. With a short 1.5-mile hike to the edge of Glen Canyon from U.S. Route 89, you can see the winding river of its namesake. You can get right up to the edge of the steep cliff with a 1000-foot drop, so be careful and always test the rocks before you step on them. This amazing landscape is just 10 minutes south of Page and is a great activity leading up to the main attraction, Antelope Canyon.
Antelope Canyon, Arizona
If you are a lover of nature, you have most definitely heard of Antelope Canyon sometime during your life. Even if you are not, it is pretty difficult to avoid pictures of this natural beauty that hides in the rocks of Northern Arizona. Upper Antelope Canyon is a trip of a lifetime and I highly recommend it to anyone looking for a reason to spend time outdoors. The area is accessible only by guided tours. After a 20-minute drive outside of town in a decked out desert vehicle, our group arrived at an unsuspecting collection of rocks surrounded by sand in all directions.
The slot canyon formation is one of the more beautiful types of canyons in the world and Upper Antelope Canyon takes the cake. Turn the corner of the entrance and you immediately understand why so many people from around the world go to photograph it. The winding layers of sandstone have been brushed away over millions of years to produce one of the most amazing natural landscapes the world has to offer. A truly amazing tour ended with a sense of joy knowing that I had joined a lucky group of people to have visited this untouched gem.
---
Other American Attractions We Love: Visit Savannah, GA!
---
American Attractions: In the state of Utah
Zion National Park
The next stop on the list of American attractions was Zion National Park, only an hour and a half from Page. Only one-third of national parks in the United States require an entrance fee and after driving and hiking through Zion I understand why. Being so close to Arizona, the landscape has similar aspects to the "Grand Canyon State" but at the same time offers a unique view into the American Southwest found nowhere else. Sandstone layers are visible all around the park in steep slopes and rounding hills alike.
Running through the center of the park is a paved road that offers visitors the chance to cover a lot of ground while making stops to explore the amazing landscape around them. One place not to miss in Zion National Park is the Angels Landing viewpoint. It is the park's most popular hiking destination and is just 2.4 miles from start to finish. It overlooks Zion Canyon which can be seen atop this single massive stone. It is breathtaking just how small you feel when overlooking the curved rocky valley where only birds chirping breaks the silence.
Visitors Center – Zion National Park
When you have had enough fun in the great outdoors, go to the visitor's center. As it has a lot of information (as well as air conditioning) that you can enjoy before making the trek outside once again. Lessons on the history of the prehistoric people and communities, geological formations and wildlife run all day. This helps you to appreciate the area you are in. Hikes of different lengths and degrees of difficulty are available all over the park. There is something for everyone who visits this American attraction.
American Attractions: In the states of Montana and Wyoming
Yellowstone National Park
After a night in Salt Lake City and a day driving through Idaho, we arrive in Bozeman. We decide to relax for a day before starting the second leg of the trip with a highly-touted first stop, Yellowstone National Park. Regarded as the first national park in the world, Yellowstone is a UNESCO World Heritage Site internationally known for its trees, mountains, and geysers that complement its diverse wildlife.
The summer months offer up herds of bison in the thousands as well as, grizzly and black bears, elk, moose, and wolves as some of the almost 60 species of mammals within the park's boundaries. Not to mention, all of this and more can be seen from the roads that wind through the park. However, wildlife is just one aspect that makes this my favorite park of all time.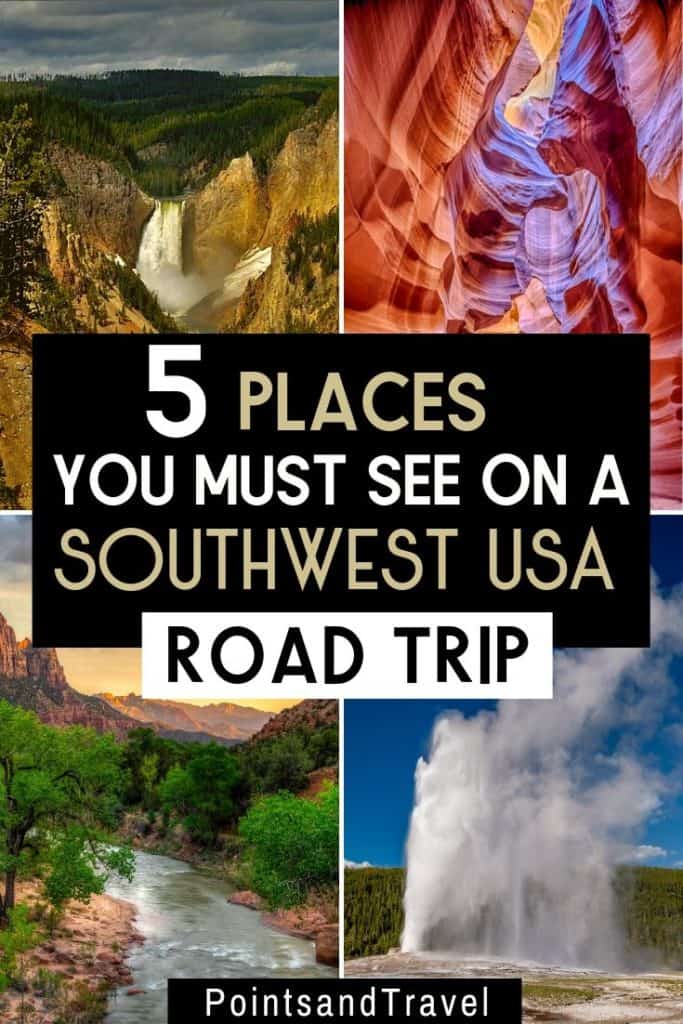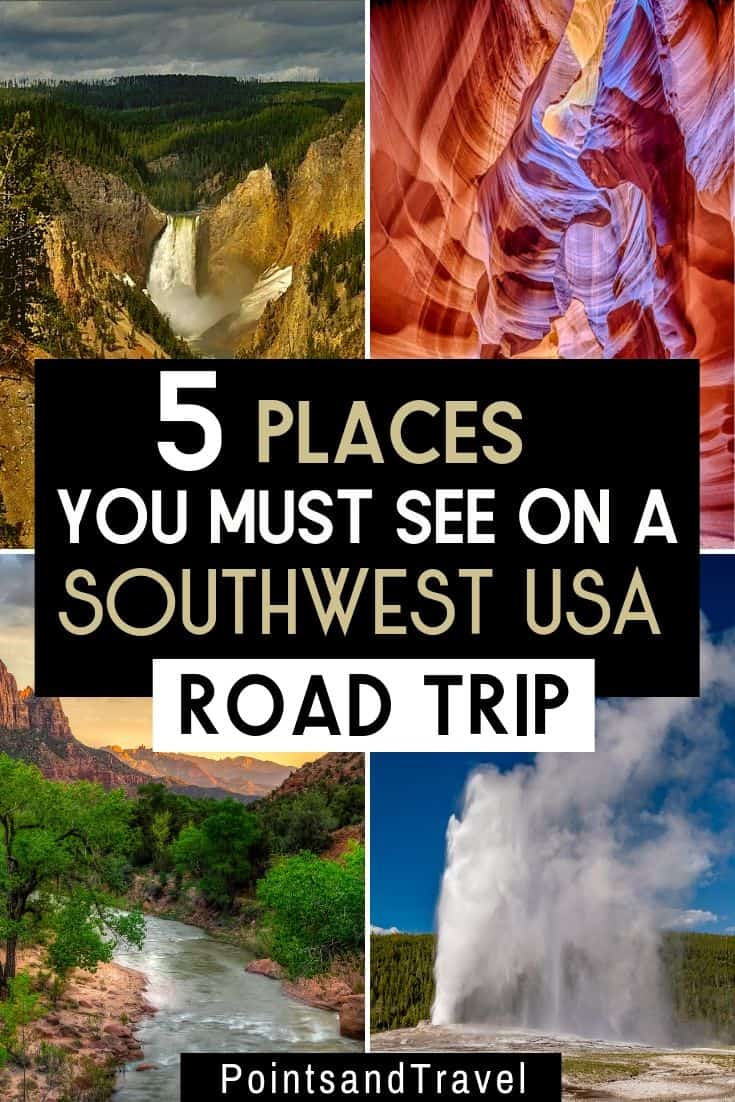 Mammoth Hot Springs
Massive geothermal areas stretch throughout the park with Mammoth Hot Springs, Steamboat Geyser and Old Faithful being the most popular. I was able to visit all three and understand why people came from all over the world to see this amazing landscape up close and personal. Contrary to what you first might think, Mammoth Hot Springs is no day spa with surface water temperatures as high as 205 degrees Fahrenheit; a relatively low temperature around the park given that the water is superheated from magma chambers underground. You can, however, soak in the (not so) Boiling River north of the hot springs.
Old Faithful, Yellowstone Park
The main attraction is obviously Old Faithful, a cone geyser that has erupted every 44 to 125 minutes since the year 2000. We know this thanks to a dedicated team of researchers working to have an up-to-date schedule on eruptions of Old Faithful and its neighbors in the Upper Geyser Basin where walkways provide easy access to the spectacles at a safe distance.
You can find the schedule online days in advance with corrections made constantly to better accommodate you on your trip through the park. When I was there the eruption came and went like clockwork. Old Faithful erupted exactly when it was reported to (7:03 pm) within the estimated 3 to 10 minutes' duration. I was truly amazed by the accuracy of the event and it was comforting knowing that if a worst-case scenario arose I would only have to wait about an hour or so to see Old Faithful prove herself once again.
---
Montana State has a prediction center for all of the geysers in the Upper Geyser Basin.
---
American Attractions: Conclusions
Old Faithful and the other geological features made this trip a special one and showed me what could be seen in my West Coast backyard. Some destinations were harder to reach than others but each one made the experience that much more memorable. With every area having its own story to tell, discovering more about the region I am from was a great learning experience that I am very thankful for. Sharing the experience with my only sibling made it that much better. We grew as people and I think that that same opportunity to grow lies ahead for anyone looking to duplicate this trip.
Recommended Reading about the GREAT Southwest USA:
Antelope Canyon – The Ultimate Guide
The Ultimate Guide to Havasu Falls!
The Ultimate Guide to Horseshoe Bend
Ruidoso NM: The Ultimate Guide to Outdoor Adventure
---
Guest Author…
Diego Maloney has traveled to 33 countries in his short 23 years. He has lived in 4 countries on three continents (Chile, Jamaica, Spain, and the United States). He has the heart of an adventurer having run with the bulls in Pamplona, sandboarded in the Sahara Desert, hiked Machu Picchu, and scuba dived with sharks in the Caribbean and French Polynesia. He loves football (soccer) and geopolitics and hopes to make a career out of these passions in the form of global security for events like the FIFA World Cup. He has a Bachelor's degree in Global Securities from Arizona State University and is currently attending John Hopkins University in Washington DC for his Master's degree in Global Securities.