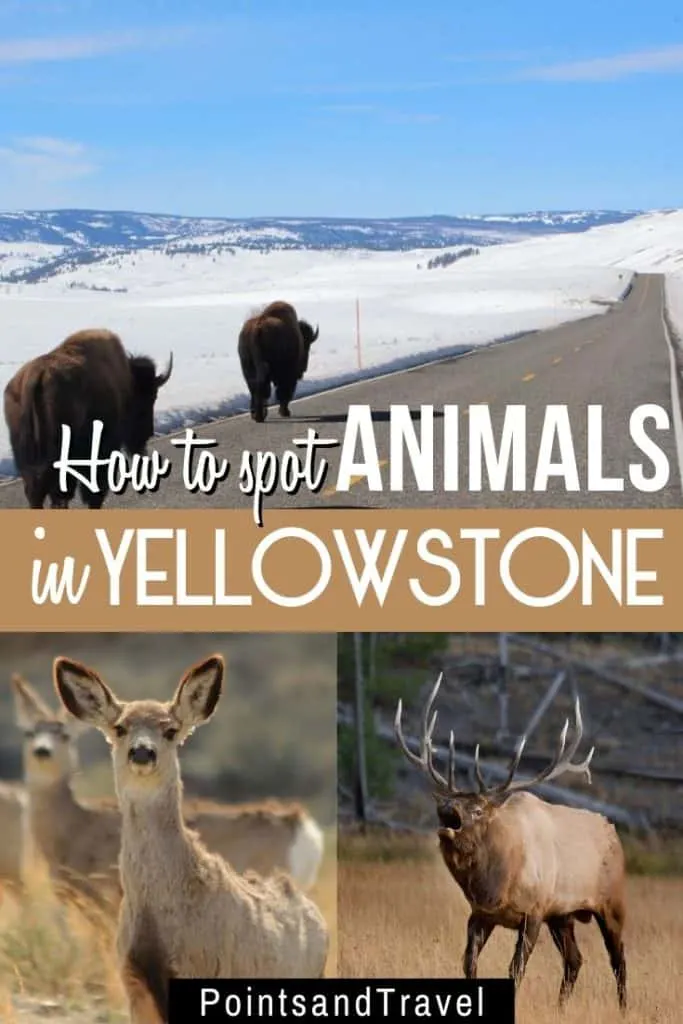 I had never heard of the expression, "a bluebird day", but I ended up hearing it several times on my recent trip to Yellowstone Country, Montana. I guess bluebirds come out when the sun is shining, even if there is snow on the ground from the night or days before. Regardless, it was was a gorgeous day!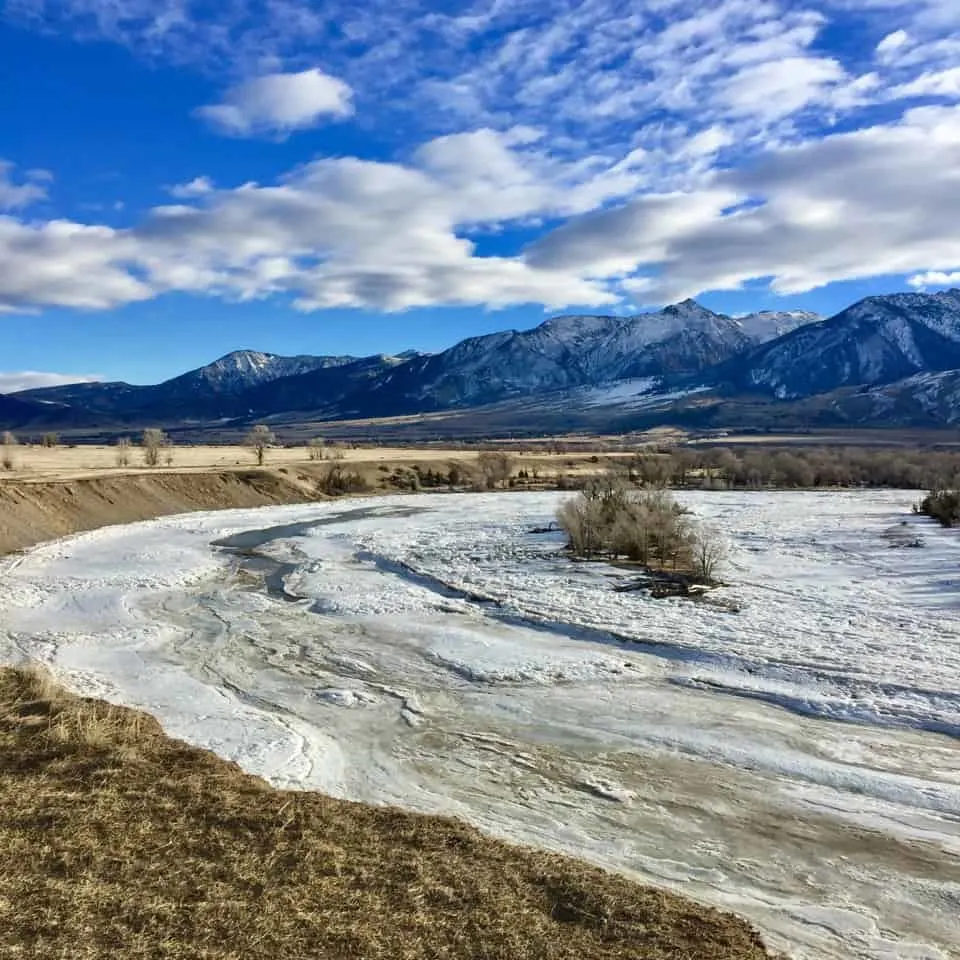 ---
Are you taking your kids to Yellowstone?
Read here for 5 family-friendly things to do in Yellowstone
---
What's in this post:
hide
Animals of Yellowstone National Park
On one hand, it seems many of the animals in Yellowstone National Park tend to come out the colder it is, but on the other hand, we seemed to have a chance to see many of the animals that have their home in Yellowstone National Park. So what did we actually end up seeing?
"We abuse land because we regard it as a commodity belonging to us.
 When we see land as a community to which we belong, we may begin to 
 use it with love and respect." Aldo Leopold
How to spot animals in Yellowstone
Animals of Yellowstone National Park
Bison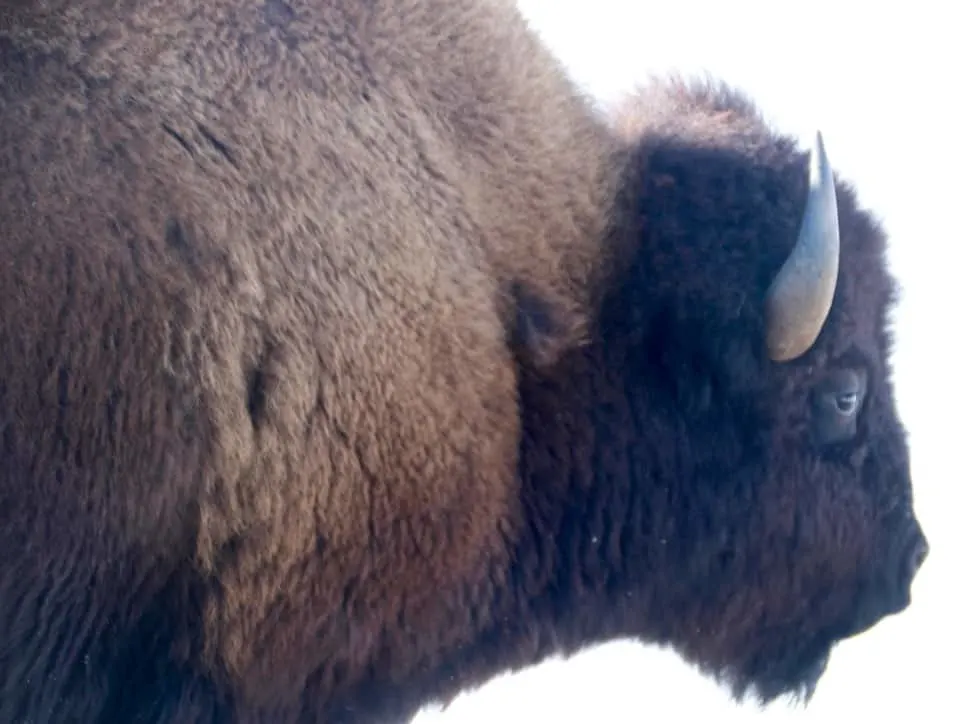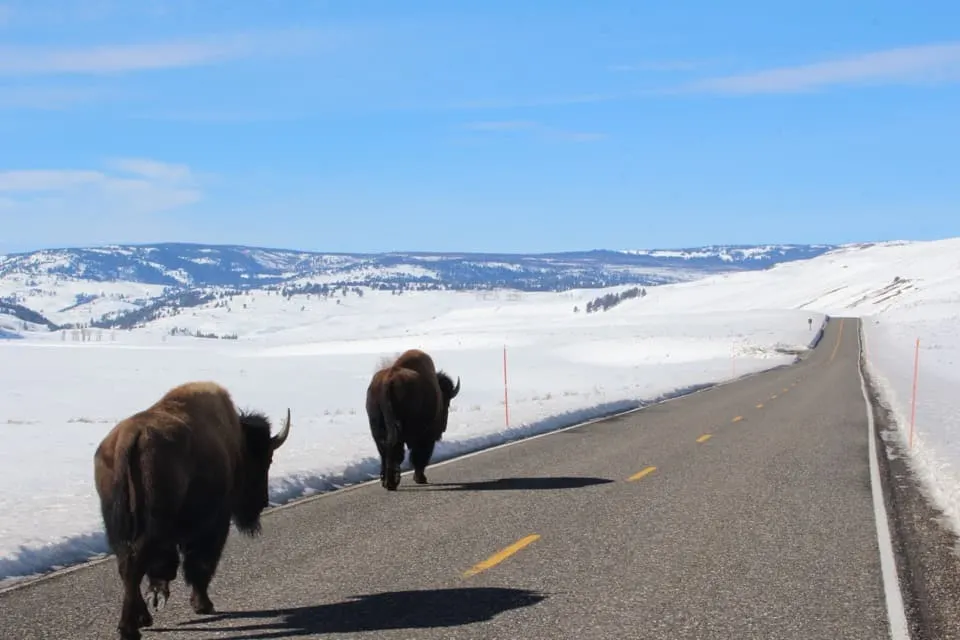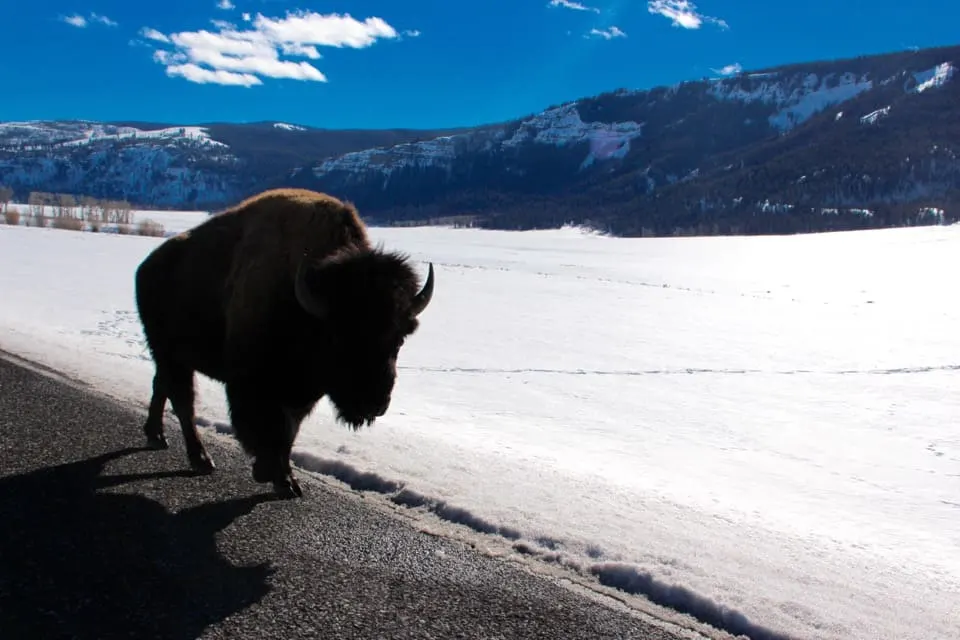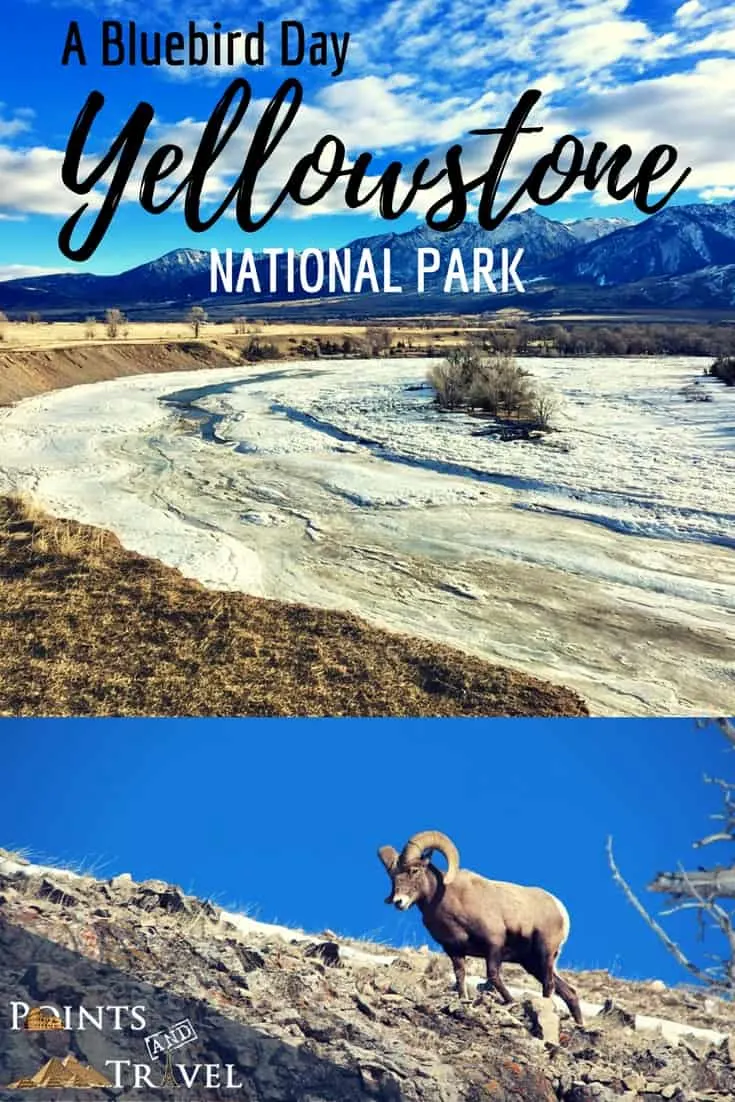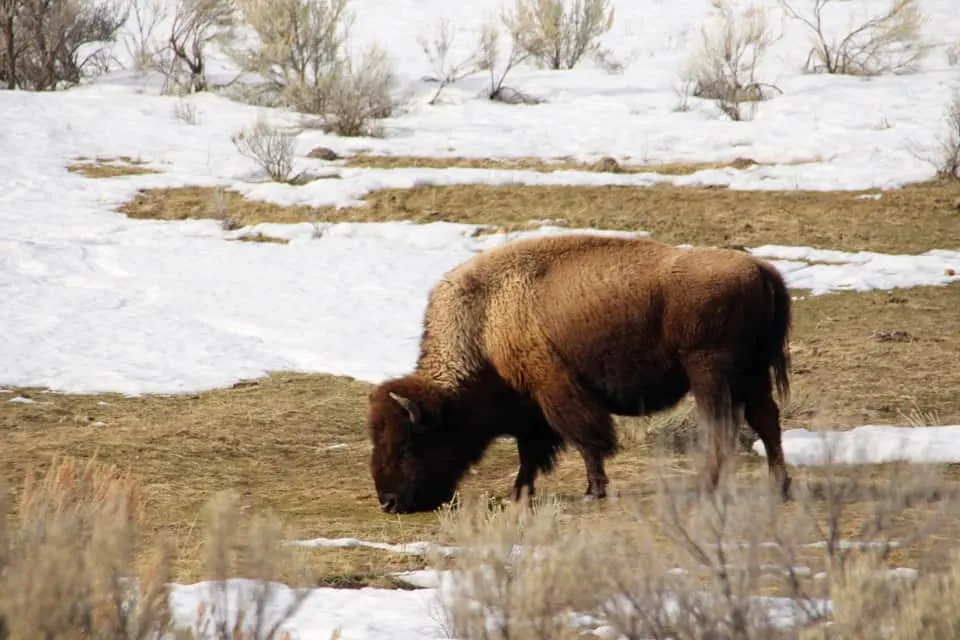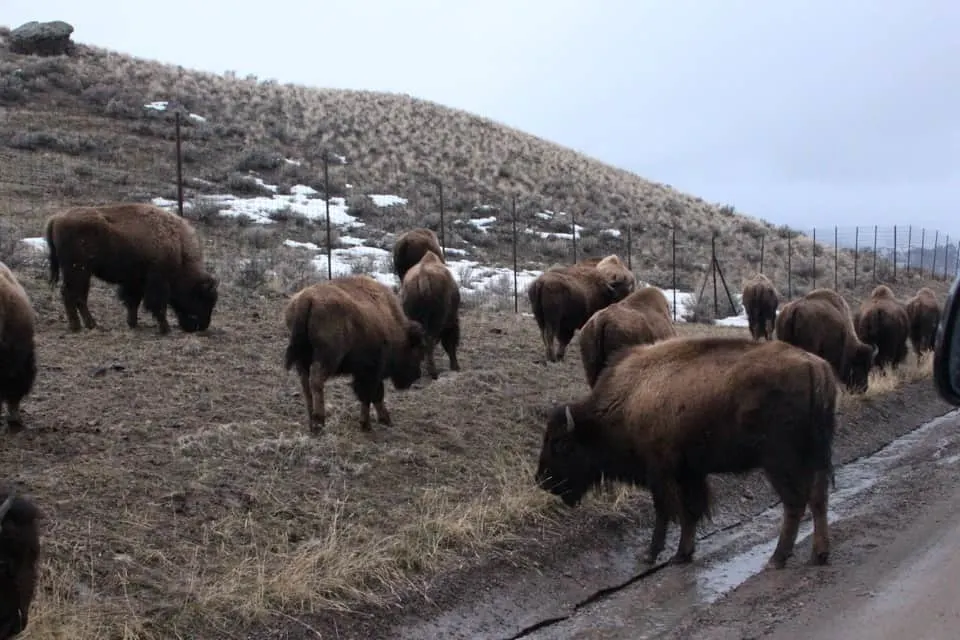 Red Fox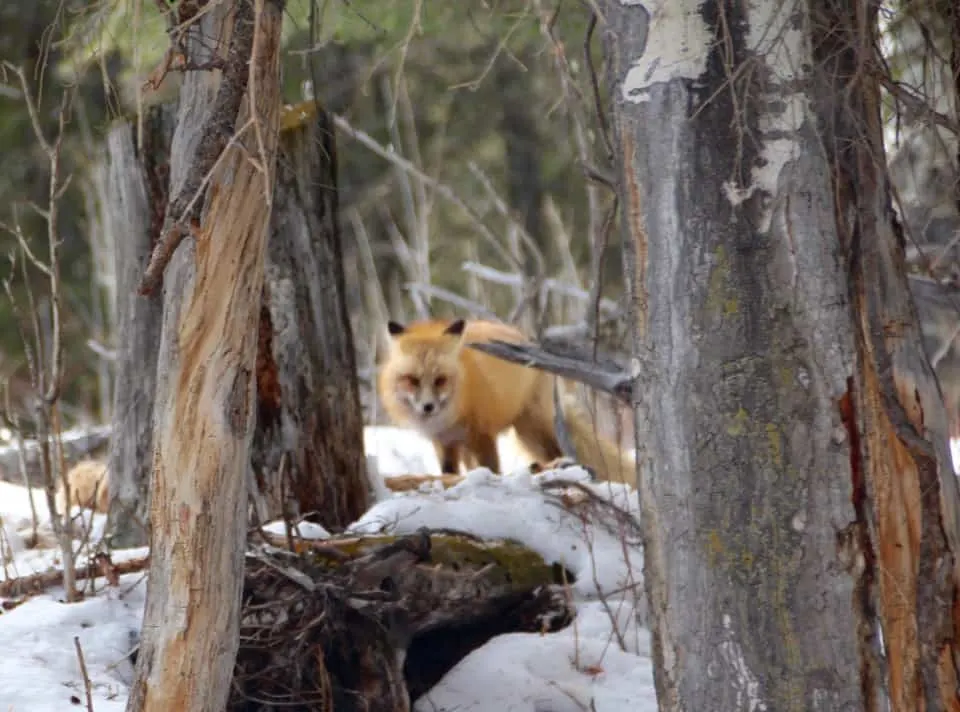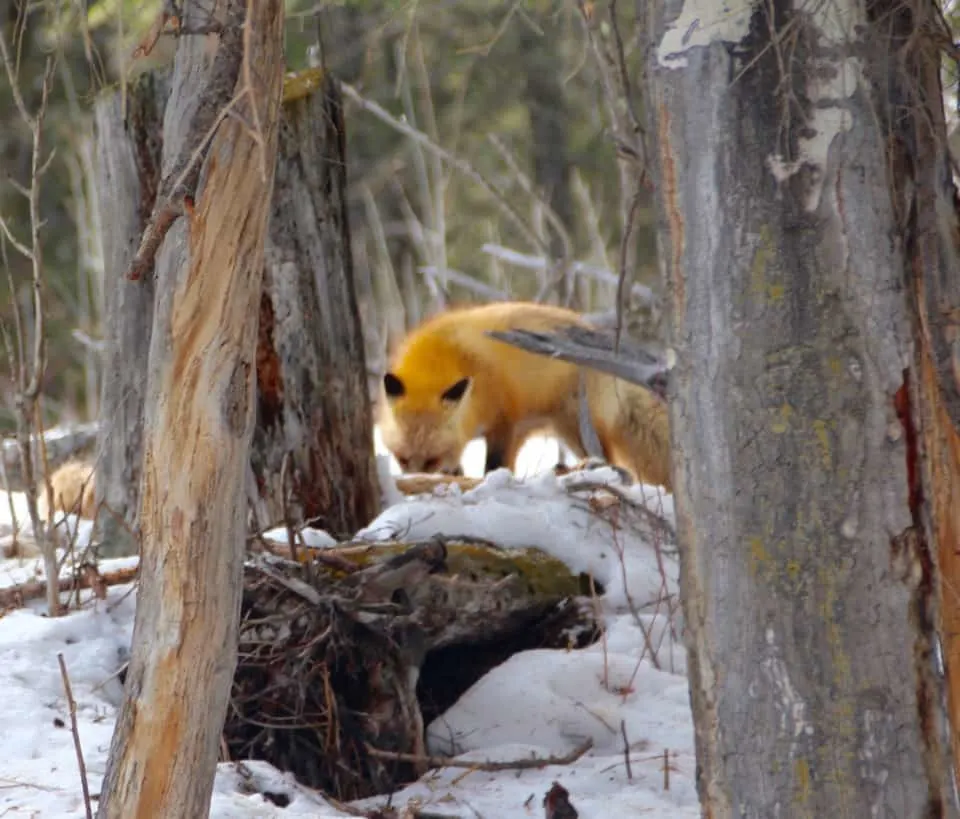 Elk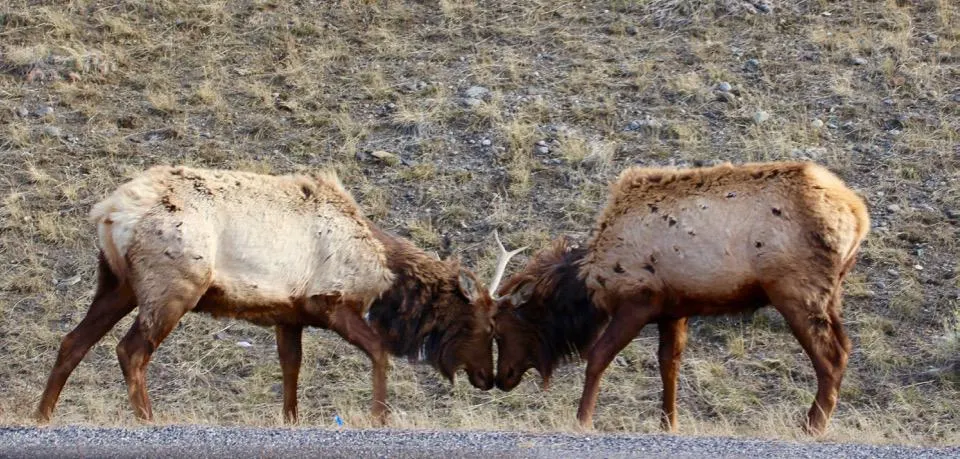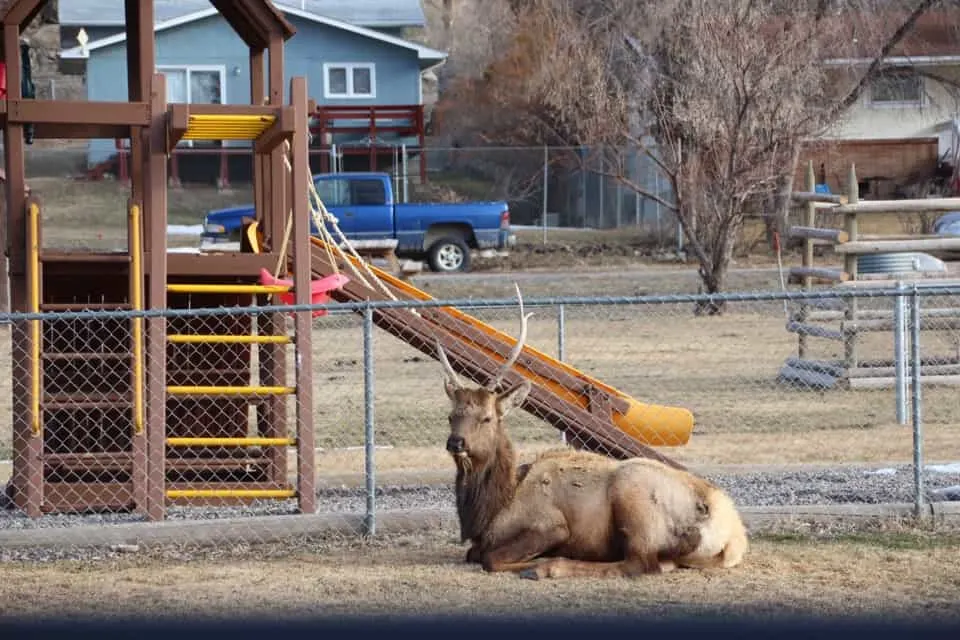 Bighorn Sheep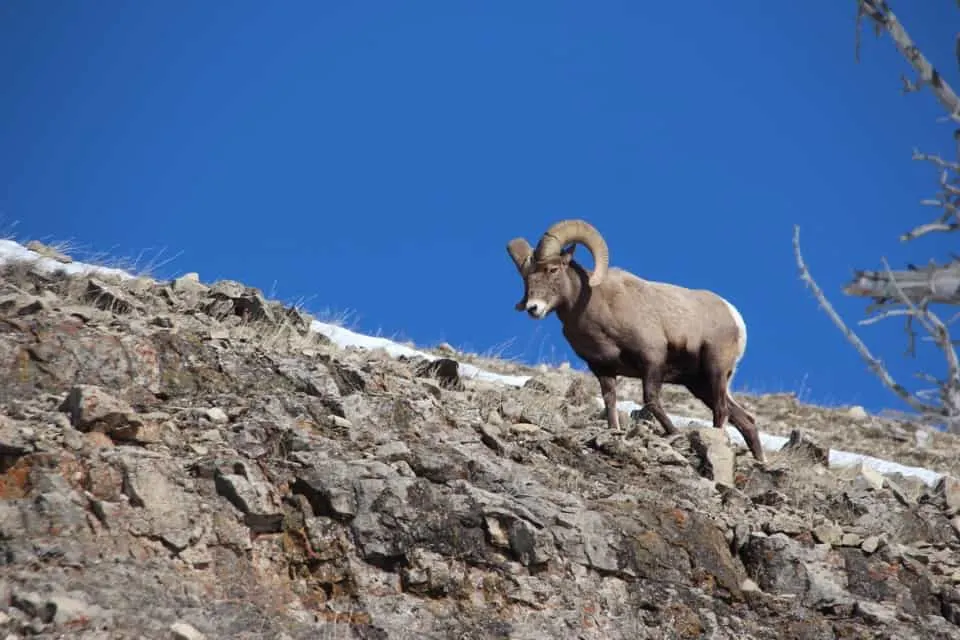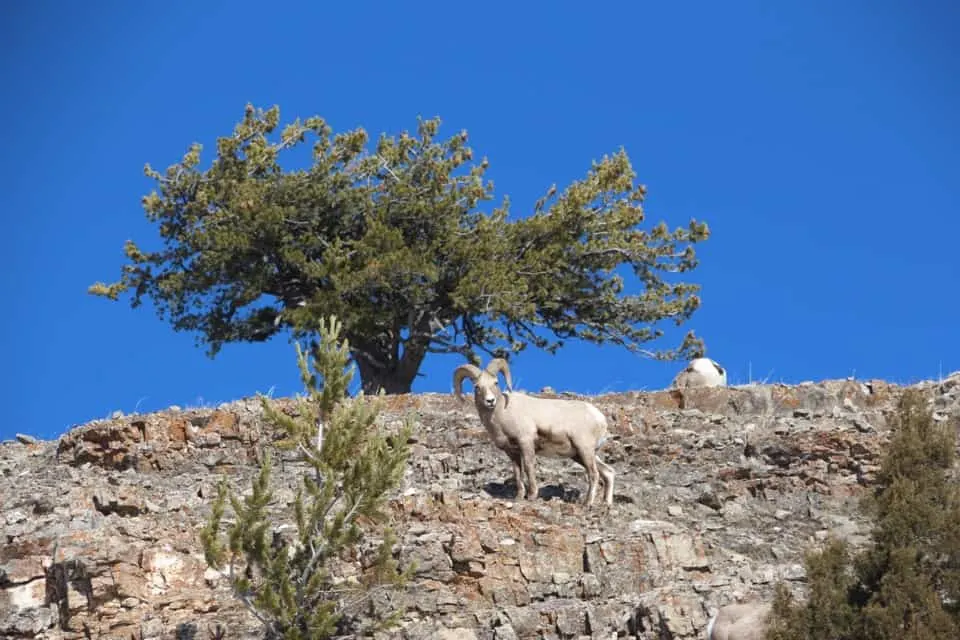 Cow Elk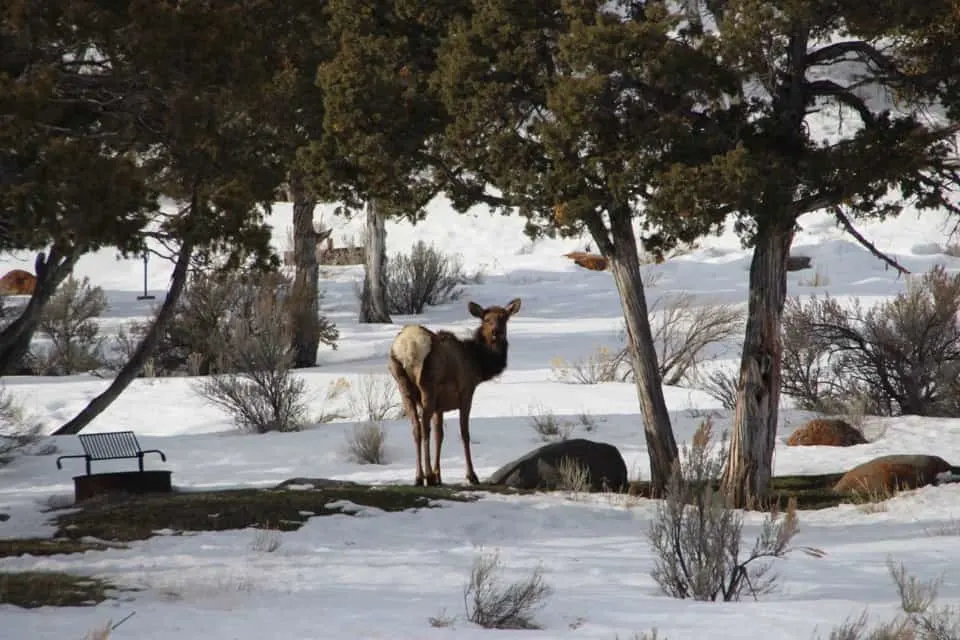 Mule deer or white-tailed deer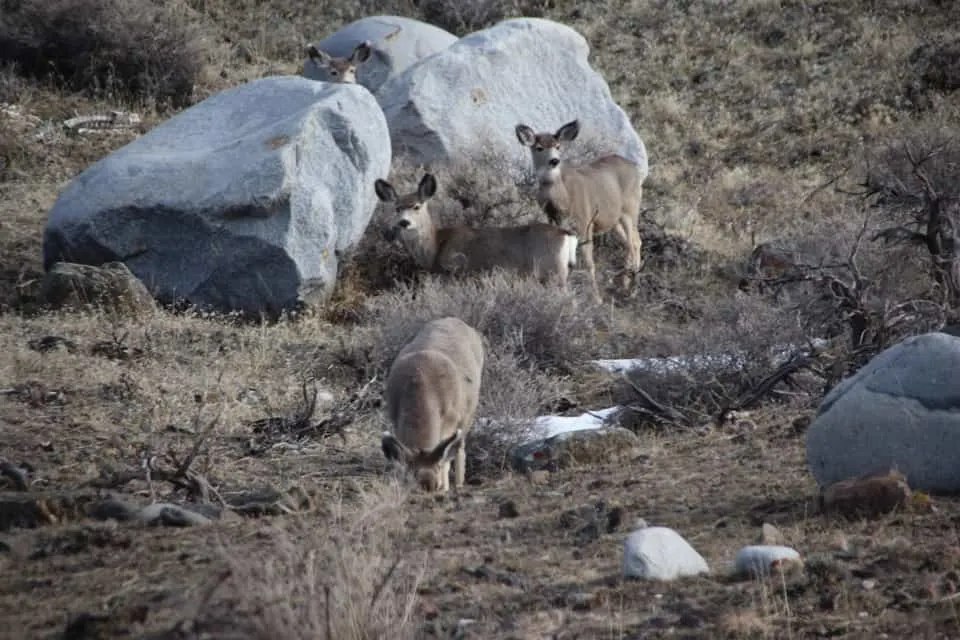 Gray wolf
I was only able to spy a gray wolf through the wolf whisperer's scope! I call Rick McIntyre the wolf whisperer since he has been in Yellowstone National Park every day for over 20 years. He is a veteran wolf researcher. Mr. McIntyre has spent this time watching and studying wolves in Yellowstone for the National Park Service.
For over 70 years, there were no wolves in the park. The Leopold wolf pack was reintroduced to the park in 1995. Since wolves are at the top of the ecosystem, they control it. In the years that followed, wolves brought the elk population down and protected the open valleys from overgrazing. However, the number of elk killed was double than what was estimated. Many local hunters stir controversy by protesting that the wolves will end up killing ALL of the elk. You can imagine that the debate today is still strong.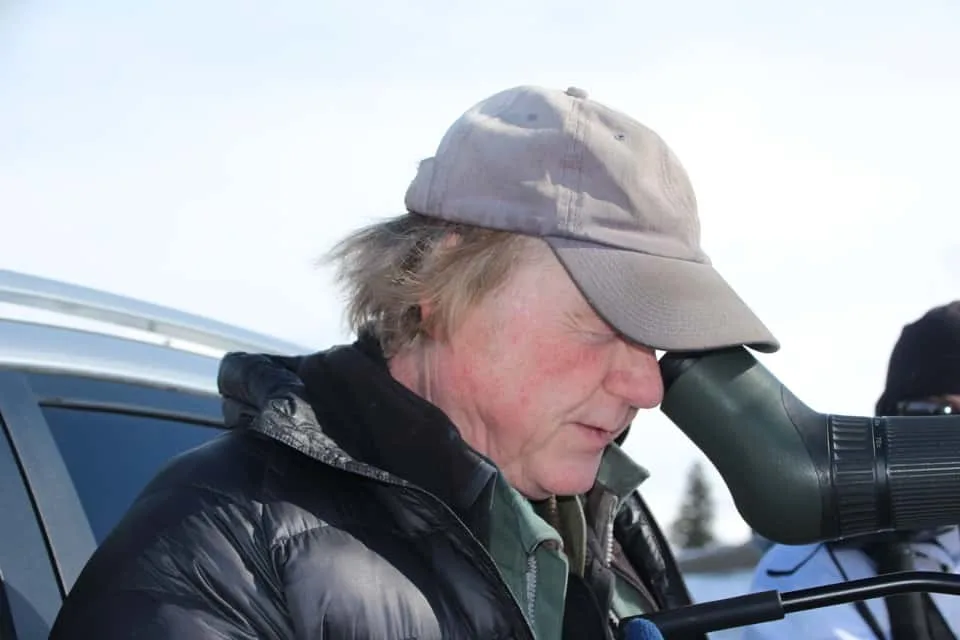 "He saw in her eyes the death of a fierce green fire."- Aldo Leopold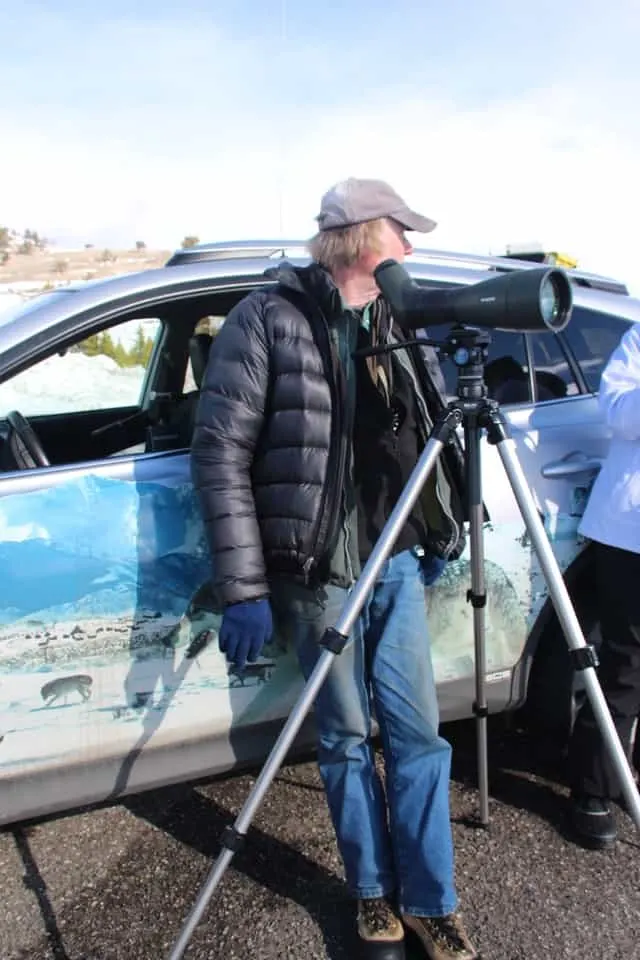 Bears
These guys are not exactly in Yellowstone National Park, but I did see them right outside of Bozeman at a Montana Grizzly Encounters.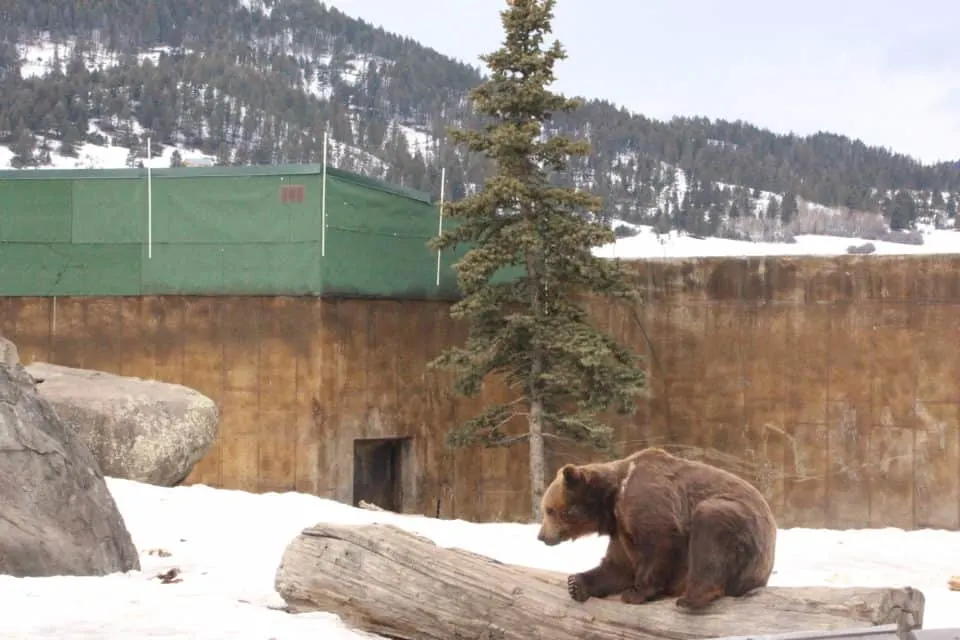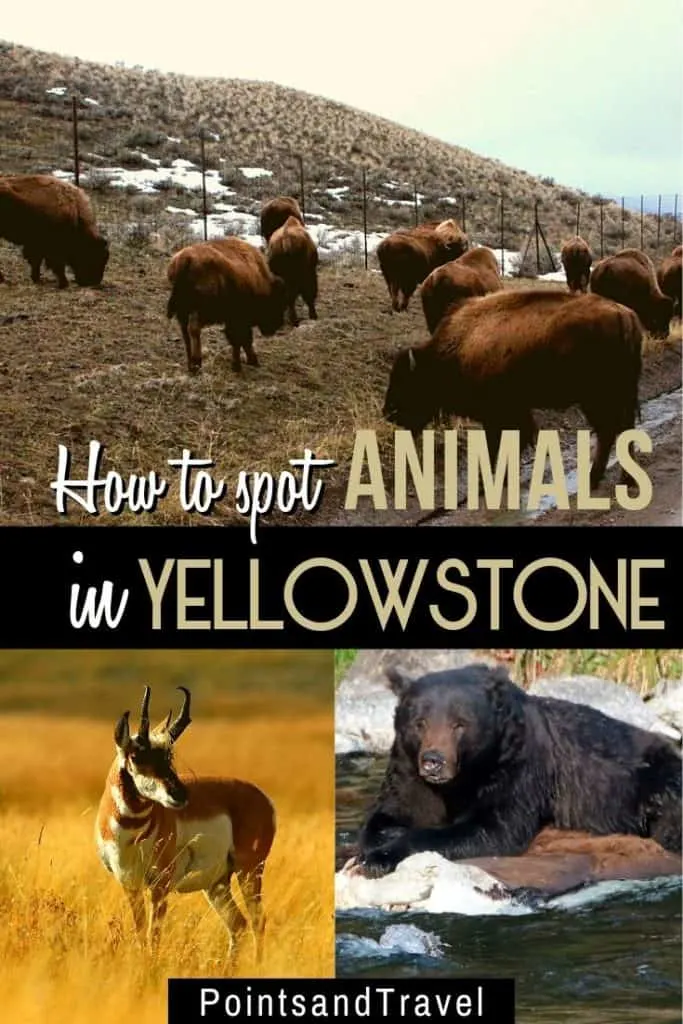 Recommended Reading
Tall Tales: Dog Sledding Montana
The Ranch at Rock Creek, Montana
A Bluebird Day at Yellowstone National Park
Disclosure: My time spent in Montana was sponsored by Yellowstone Country, Montana.