Upper Antelope Canyon should be named the best canyon to visit in Arizona (OK, maybe second best)! You certainly know of the Grand Canyon in Arizona because of its grandeur. But don't stop your visit in Arizona at the Grand Canyon. Take a trip to Upper Antelope Canyon, the most popular slot canyon in the world! It is merely a few hour's drive from the Grand Canyon's gorgeous South Rim and right on the cusp of Utah. In fact, no trip to Arizona is complete without a trip to the famous Antelope Canyon.
---
What's in this post:
hide
Antelope Canyon!
---
But don't forget about Havasu Falls as well! My sons recently took a road trip through the great American Southwest and had a chance to visit the stunning Upper Antelope Canyon on their road trip and they really enjoyed it. I think you will enjoy it too!
Upper Antelope Canyon – Where is it located?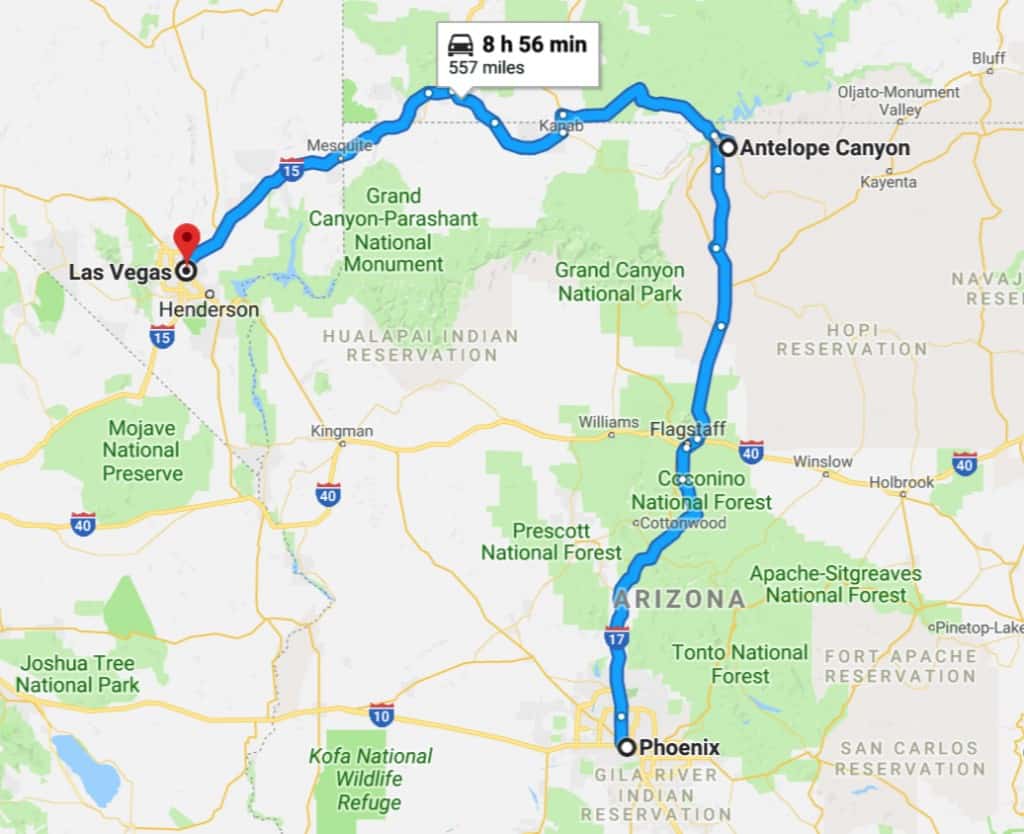 Upper Antelope Canyon sits in the northern part of Arizona near the town of Page. The canyon sits on Navajo Nation land. These cavernous-like rock formations are situated right off of Route 98. For those who choose to visit this extraordinary site from Phoenix, Arizona, then you will have some distance to cover. Phoenix is almost 280 miles away from Antelope Canyon and it can take roughly 4 1/2 hours to arrive at this destination. You can rent a car from Phoenix and then drive to Page, AZ. It is also almost an equal distance from Las Vegas, so that could be another option of getting to Upper Antelope Canyon. The drive time between Las Vegas and Page is also about 4 1/2 hours.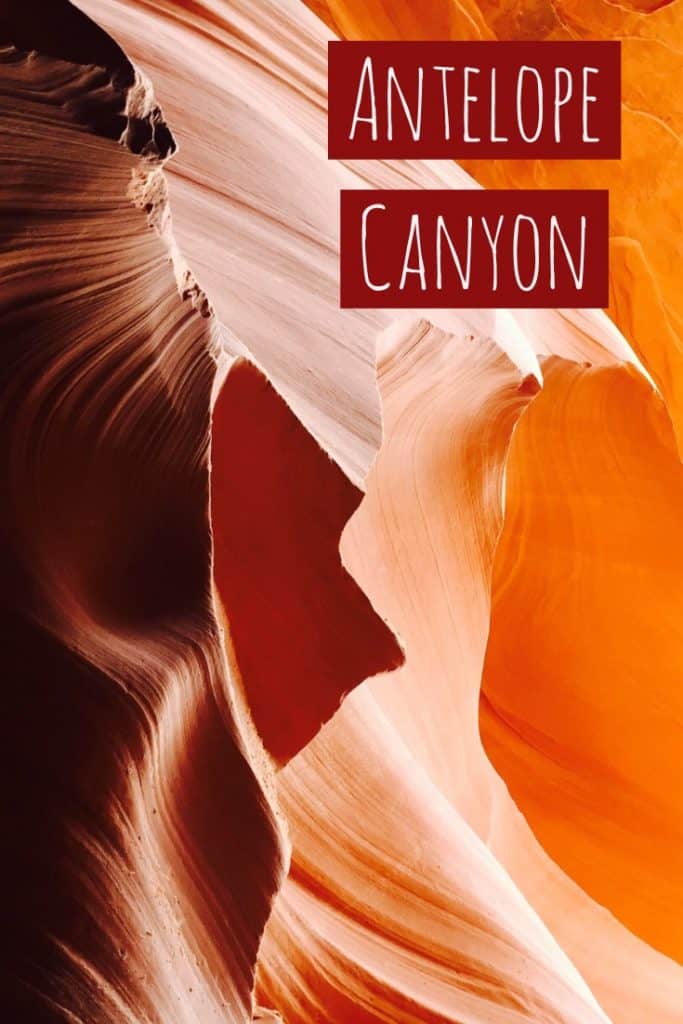 Upper Antelope Canyon – Where to stay?
Page, Arizona has many lodging places and tour guide packages to Antelope Canyon. Most of the tours depart and return to Page. If you are looking for an all-inclusive day trip from Phoenix, then check out 360 Adventures. This company offers a full-day trip from Phoenix (limited days) and the trip includes water, breakfast, lunch, entrance, and tour fees for roughly $300+. Most hotels in the Phoenix area are listed as pick-up and drop-off hotels.
There are no hotels or lodging areas in Antelope Canyon. The closest thing that one may find to Antelope Canyon hotels is at the nearby city of Page, Arizona. Campsites are available on Lake Powell near the Wahweap Marina. Also, know that camping is prohibited at Antelope Canyon. Luxury hotels are lacking in this area, so just be aware of that! A new addition to hotels in this area is the Hyatt Place and it is a good choice to stay. Another place to stay might be the Best Western Plus at Lake Powell. This hotel has packages that include breakfast and a quadruple room for as low as $90 a night. The Red Rock Retreat is a quiet lodging area with apartment-like rooms for families starting at $75 per night.
There are many hotels in the area that you can choose to stay in and all have different amenities and rates. Remember that the peak season for visiting Upper Antelope Canyon can affect the availability and prices of the lodging.
Antelope Canyon – Two Canyons in One
There are two canyons, the upper and the lower canyon. Tours run pretty regularly every hour. And there are more tours during the busy seasons. They typically last for an hour and there is minimal hiking involved.
Antelope Canyon – Upper Antelope Canyon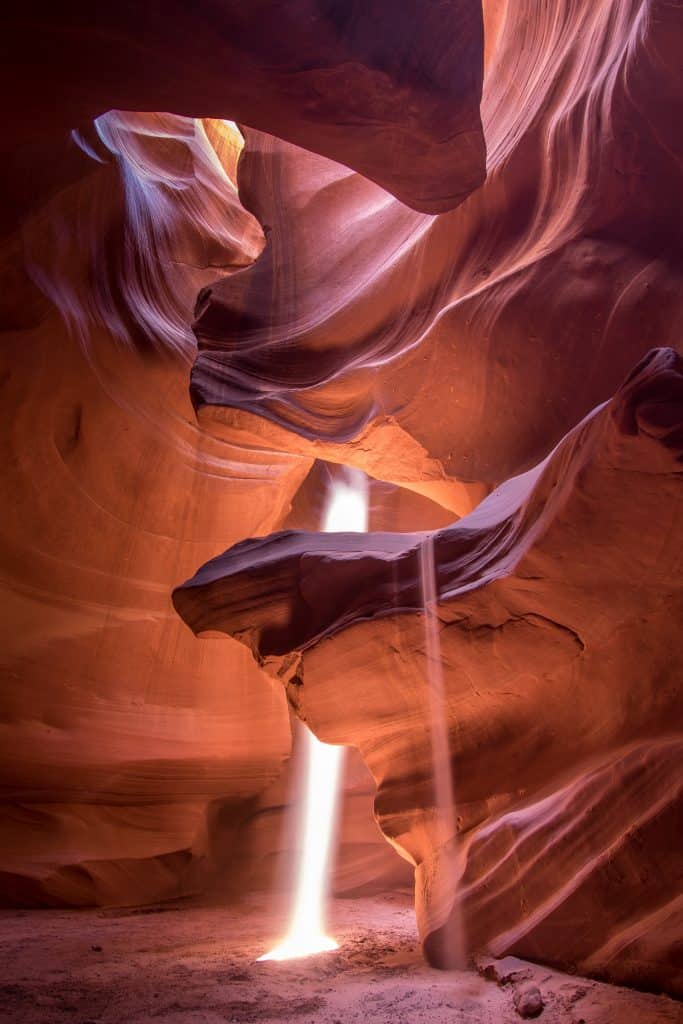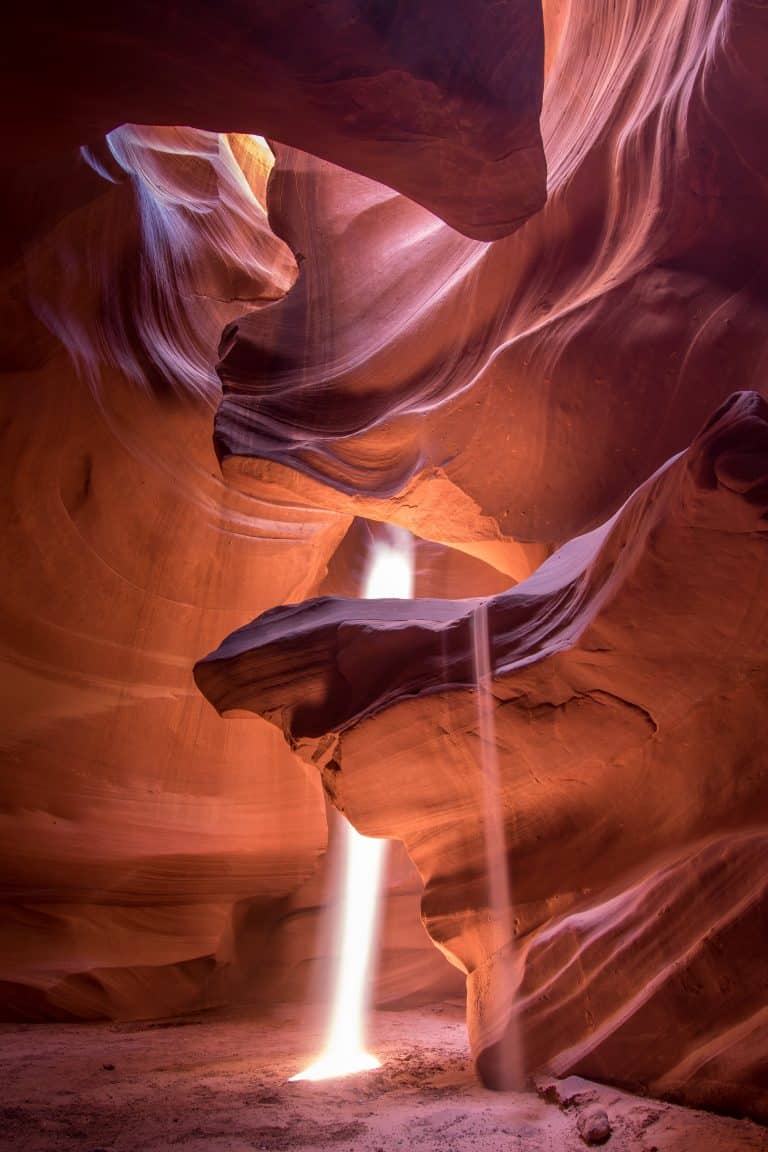 Upper Antelope Canyon is also known as Tse Bighanilini, which means "the place where water runs through rocks." in the Navajo language. If you are not the rock-climbing type, then an upper antelope canyon tour is perfect for you. Despite the name, the upper antelope canyon is not on the top floor of anything but on the ground level of the canyon. Another reason people prefer to visit upper antelope canyon is because of the sparkling light beams that shine through the holes and curves of the rocks. Although these light beams are less visible during the winter, the best time to see these light beams is from March to October.
Upper Antelope Canyon
For those looking to check out the light beams, there are specific days to go that are best -. a sunny midday tour. This tour would help you capture the sparkling beams of the Upper Antelope Canyon. It should go without saying that if you are visiting on a cloudy day your chances of seeing a light beam are slim to none. People from all over the world visit Antelope Canyon for the hope of catching the glimmering light shining through the upper antelope canyon. They also hope to get a photo of this remarkable vision.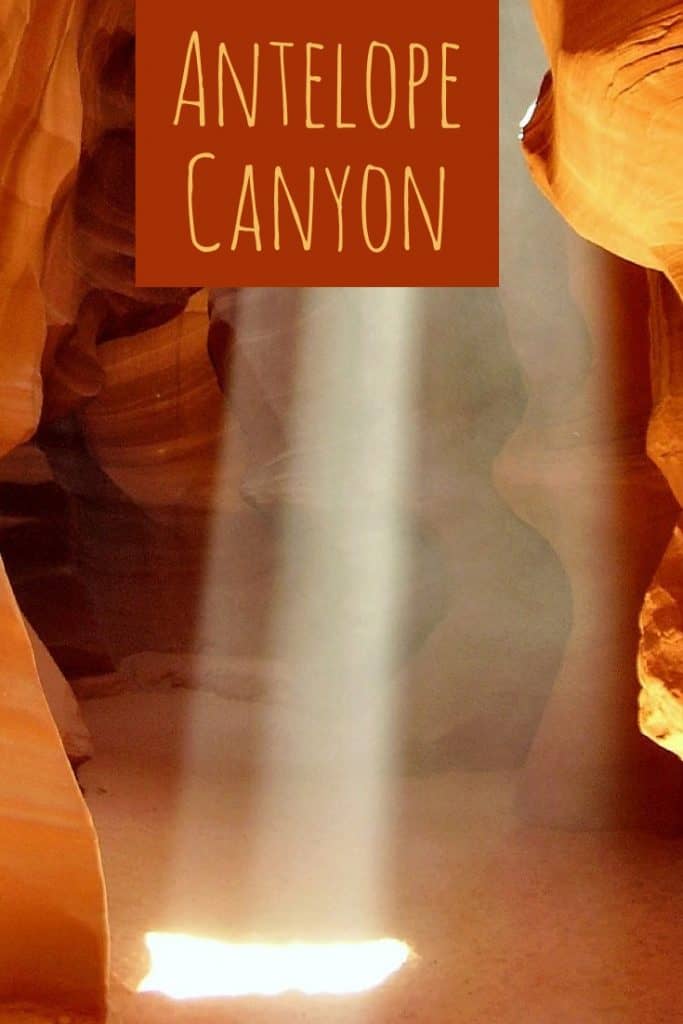 Antelope Canyon – Lower Antelope Canyon
Lower Antelope Canyon is also known as Hazdistazi which means "spiral rock arches" in the Navajo language. The lower antelope canyon has various steps, narrow spots, and slippery areas that may require some assistance to travel through. So, the lower antelope canyon tour is not for those who are claustrophobic or scared of climbing. It is also narrow at the bottom, but wide open at the top, thus shaped like a "V". This opening makes the Lower Antelope Canyon feel warmer and brighter. It also has more narrow passageways to squeeze yourself through. Also, this is the canyon that has ladders to climb, so it is a bit more fun than the Upper Antelope Canyon.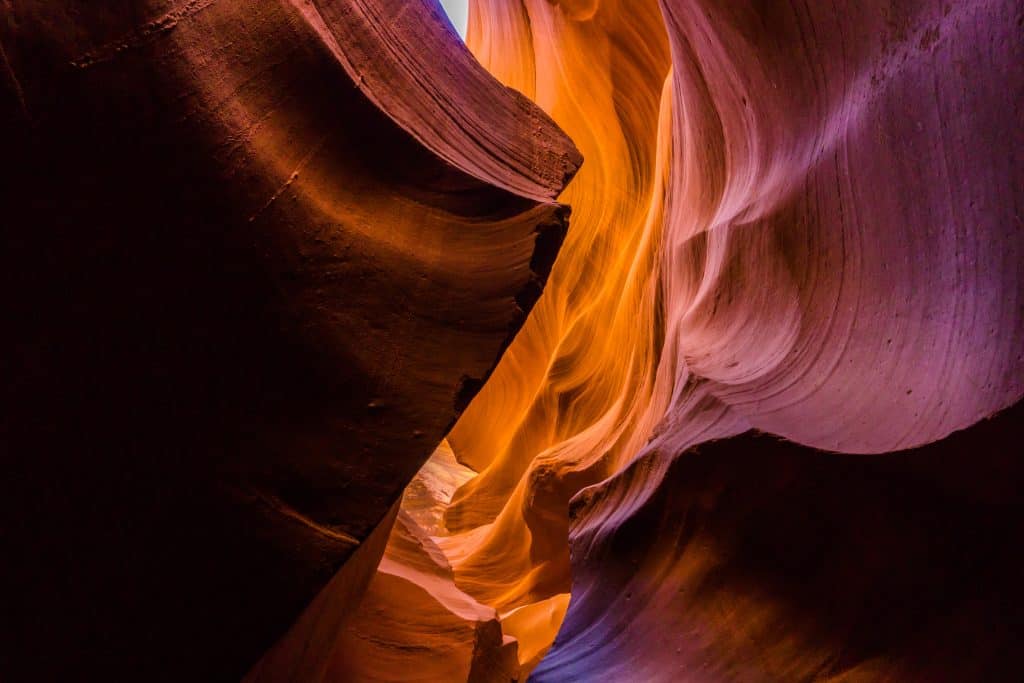 Antelope Canyon – How is the Weather and When Should I Go?
The weather in Arizona is desert-like and can become very hot. The hottest month to visit is July and the coldest month is December. The busiest time for Antelope Canyon tours is from April to September, with peak times from June-August. Light beams are not visible during the winter months but the quietness of the Antelope Canyon makes this the perfect time to enjoy a relaxing visit.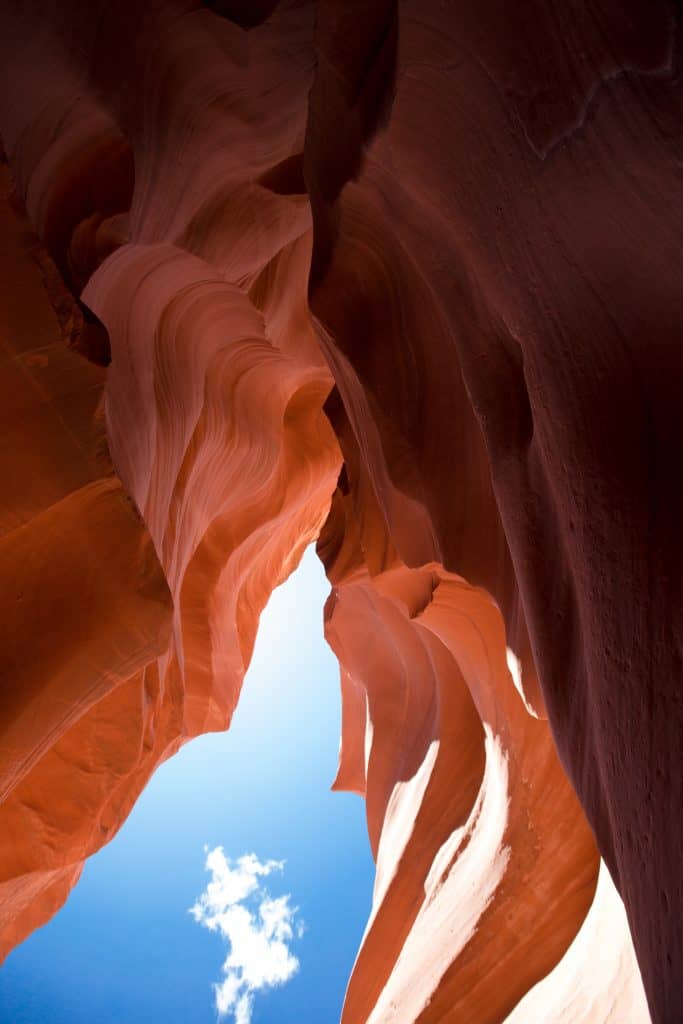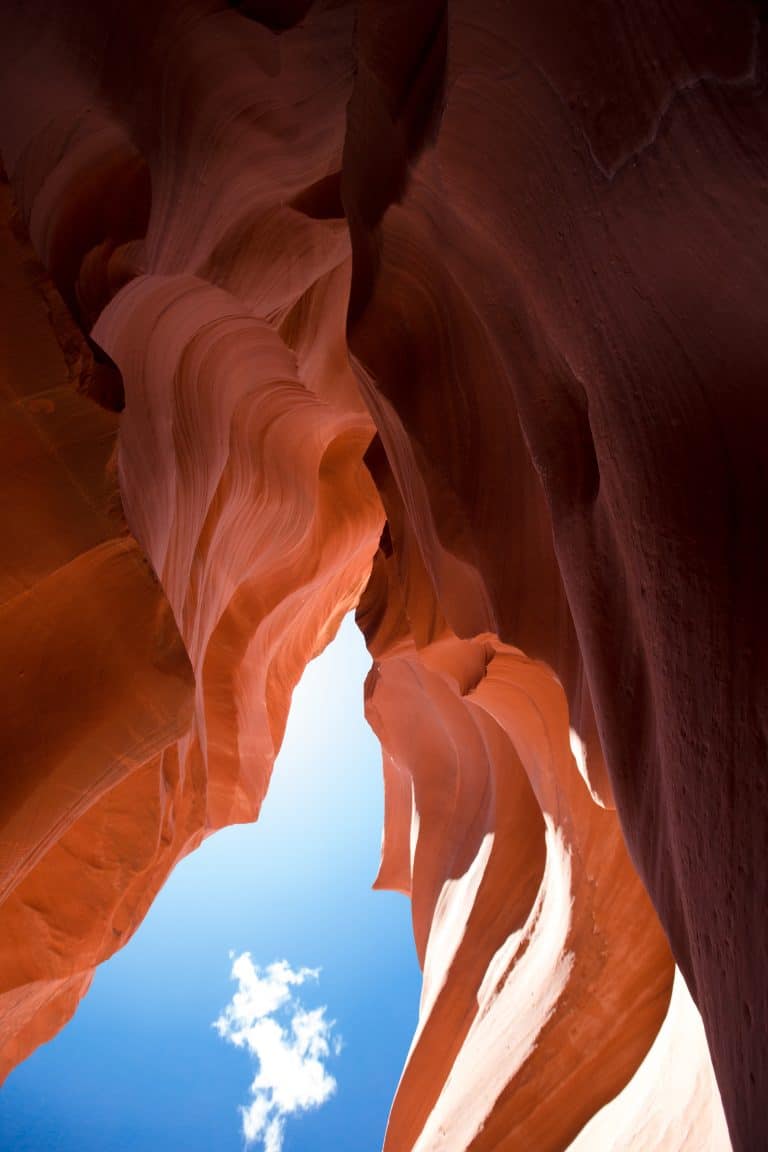 Upper Antelope Canyon – What created this gorgeous place?
Navajo Sandstone is the primary factor that has allowed the Antelope Canyon to be the amazing site that many visits today. Over the years, flash flooding and erosion of this form of sandstone have led to the formation of the Antelope Canyon. As mentioned before, this canyon is split into two sections, the Upper and Lower Canyons. The upper section of this canyon is also known as the "The Crack". The lower section of the canyon is also called "The Corkscrew".
Upper Antelope Canyon – Can I go into the Canyon on my own?
If you want to visit Antelope Canyon on your own, then you are out of luck. Without a proper tour guide, you cannot enter the canyon. One of the more famous tours is Antelope Canyon Tours. Up until 1997, the Antelope Canyon was public land and could have been accessed without any authorization. Today, for safety concerns and other reasons, the canyon is accessible only via tour guides.
Upper Antelope Canyon – What To Bring and What Not to Bring
Backpacks are not allowed to enter the canyon because they can cause damage to the canyon, so be sure and leave these behind. Water is a must, so be sure and bring water with you on your Antelope Canyon tour.
Upper Antelope Canyon- Regular Daily Tours
Depending on the type of tour package you are purchasing, the fees can vary. The tour guide packages usually include the entrance fee and taxes. Upper Antelope Canyon tours usually last an hour and a half, including the ride to and from the canyon. There are 5 daily tours in the off-season and 7 daily tours during the peak season. Prices can vary depending on your age and time.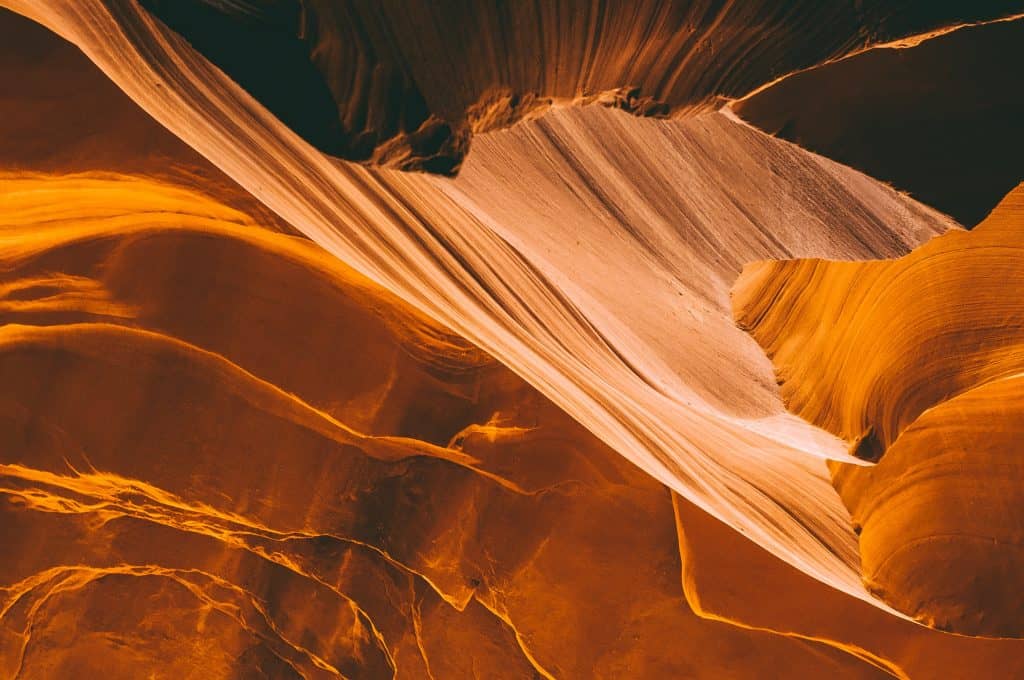 Upper Antelope Canyon – Specialty Photography Tours
There are regular tours as well as photography tours of the Antelope Canyon. The best way to ensure a more personalized experience, in my opinion, is to book a specialized photography tour. It is a bit more expensive, but you will be able to capture better photos since it won't be as crowded. A photography tour of upper Antelope Canyon usually lasts about 160 minutes. No kiddos are allowed. The rate for this type of tour is often over $100, but worth it in my opinion.
Keep in mind that these tours sell out quickly and that there are no photo tours during major holidays or bad/dusty weather. But also remember that the elusive light beams that you get here are not guaranteed and do depend on the time of day, the month of the year, and the amount of sunlight available.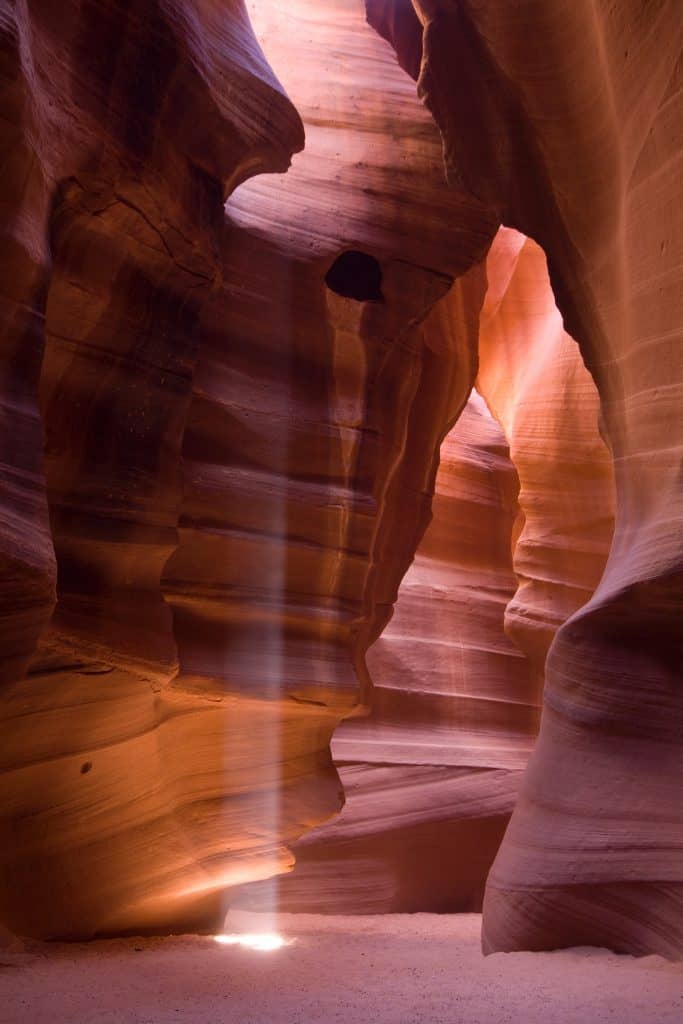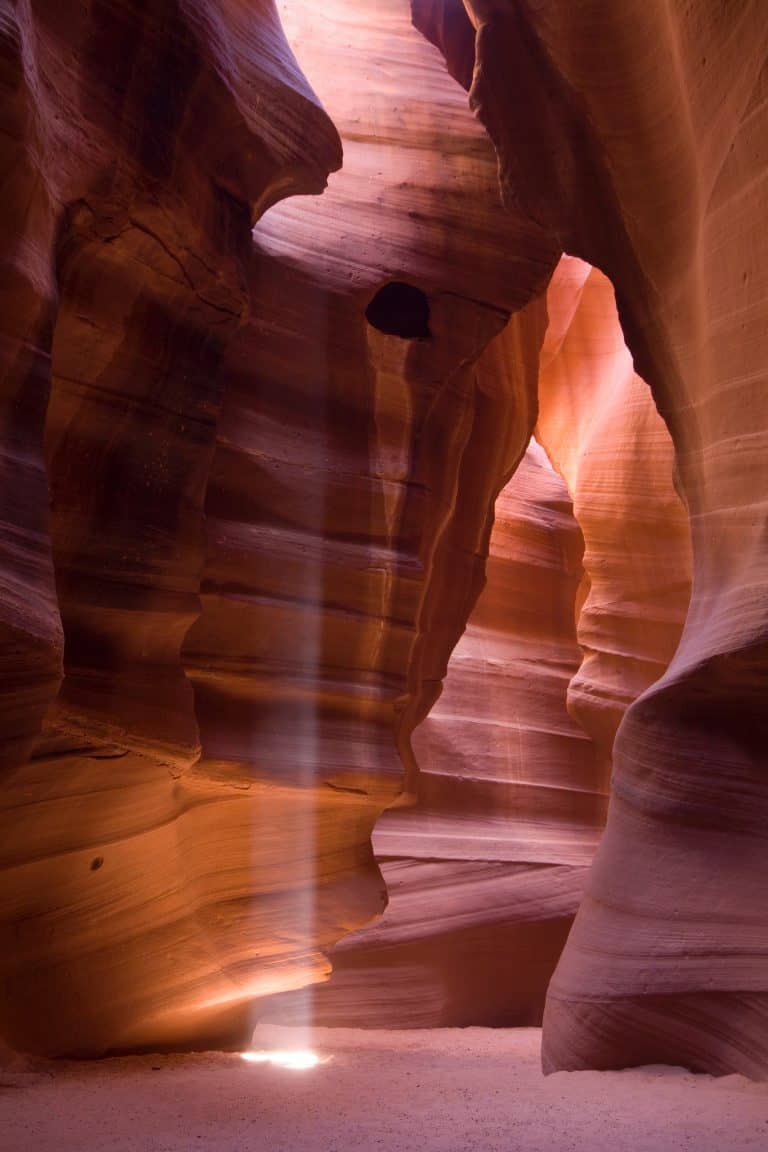 Currently, there are only five tour companies with concessions to upper Antelope Canyon Tours, but only one offered photography specific tours and that was Adventurous Antelope Canyon Photo Tours. Also, keep in mind that these photography tours are strictly for photographers, so you need to show up with a DSLR and even a tripod to prove that you know what you are doing! They reserve the prime time and spots for photographers. Also, each of the tour guides in the upper Antelope Canyon is respectful of the photo tour groups and will have their groups step aside so that photo groups can get through so they do give you priority over the other groups.
Antelope Canyon – Which Tour Should I take?
The popularity of the Upper Antelope Canyon and the Lower Antelope Canyon has recently skyrocketed, so you will need to be ready in advance for tickets with the tour companies. They run tours every 30 minutes between the hours of 8 am to 4 pm. Both tours are fantastic, but each depends on what your goals are for visiting. For sure, if you are a photographer, do the photography tour, even though it is more expensive. I find that the lower antelope canyon tour is fun for the climbing aspects of having ladders. If you have time and the money, do both!
Upper Antelope Canyon – Flash Flood Safety
One of the dangerous parts of visiting the Antelope Canyon is the unpredictability of a flash flood during the monsoon season. Antelope Canyon experiences a decrease in tourists during the monsoon season, but there are still visitors during this season. One of the saddest days in Antelope Canyon's history is when eleven people lost their lives in a flash flood on August 12, 1997. Thanks to new technology and better resources, the risk of tourists getting trapped in a flash flood has diminished. It is thanks to these new methods that several tourists were saved in 2010 after a couple of flash floods occurred.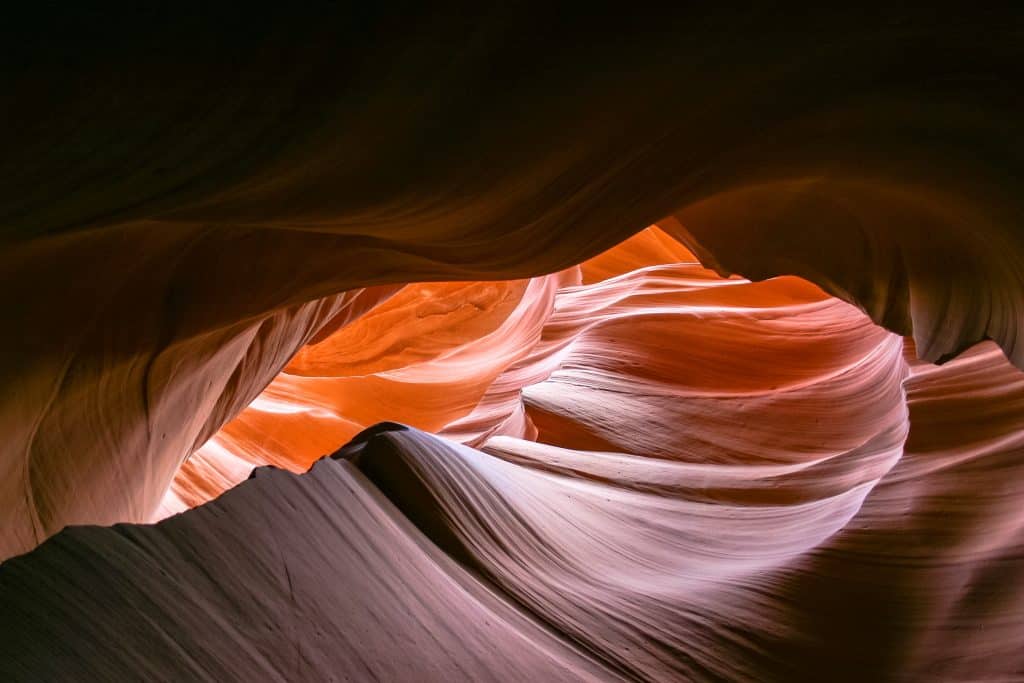 While visiting the amazing Upper Antelope Canyon, there are a few things to keep in mind. The Navajo people are very attached to this canyon and consider it sacred. There should be no vandalizing of the canyons and it should be treated with respect. Another interesting fact about this canyon is that Navajo lands do not recognize daylight savings time. Therefore, the time zones can be a real pain for those who do not keep track of the right time. The best thing to do so that you don't miss your tour is to call the tour company ahead of your scheduled tour and confirm the time in the Navajo time zone. That way you know when to show up!
Upper Antelope Canyon – Slot Canyons
Also, just so you know, upper and lower Antelope Canyons are not the only slot canyons in this area, they are just some of the more popular ones. There are also ones like Rattlesnake Canyon, however, it is slightly less impressive, has no beams of light coming through the canyon, and is a bit rougher to tour.
Upper Antelope Canyon – Wrap up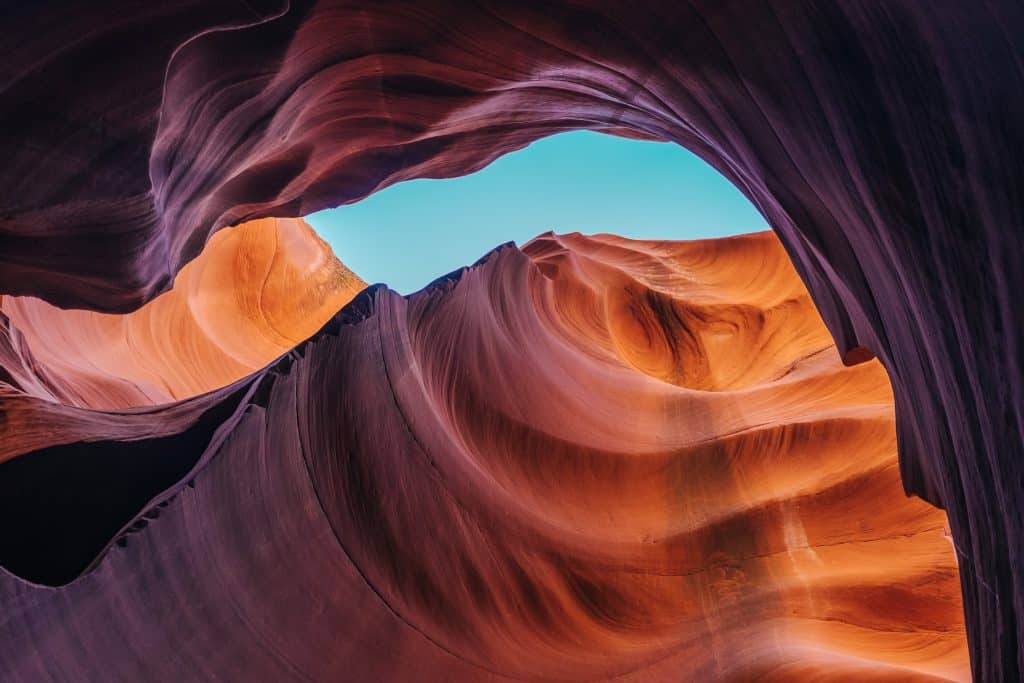 If you find yourself traveling to Arizona on a whim, to visit family or other attractions, do not skip out on the chance to visit the Antelope Canyon. These two canyons roped into one have been attracting visitors for years with their charming light beams and stunning rock creations. Be one of the lucky ones to get the full-on experience of visiting the Upper or Lower Antelope Canyons. Let the light shine into your life through the way of "The Crack". Jam-pack your camera or smartphone with memories and photos of an amazing trip to the 60-foot cliffs of the Antelope Canyons.
Want to go on Other Adventures in the USA?
The Ultimate Guide to Horseshoe Bend
Ruidoso NM: The Ultimate Guide to Outdoor Adventure
American Attractions on Your Next USA Road Trip!