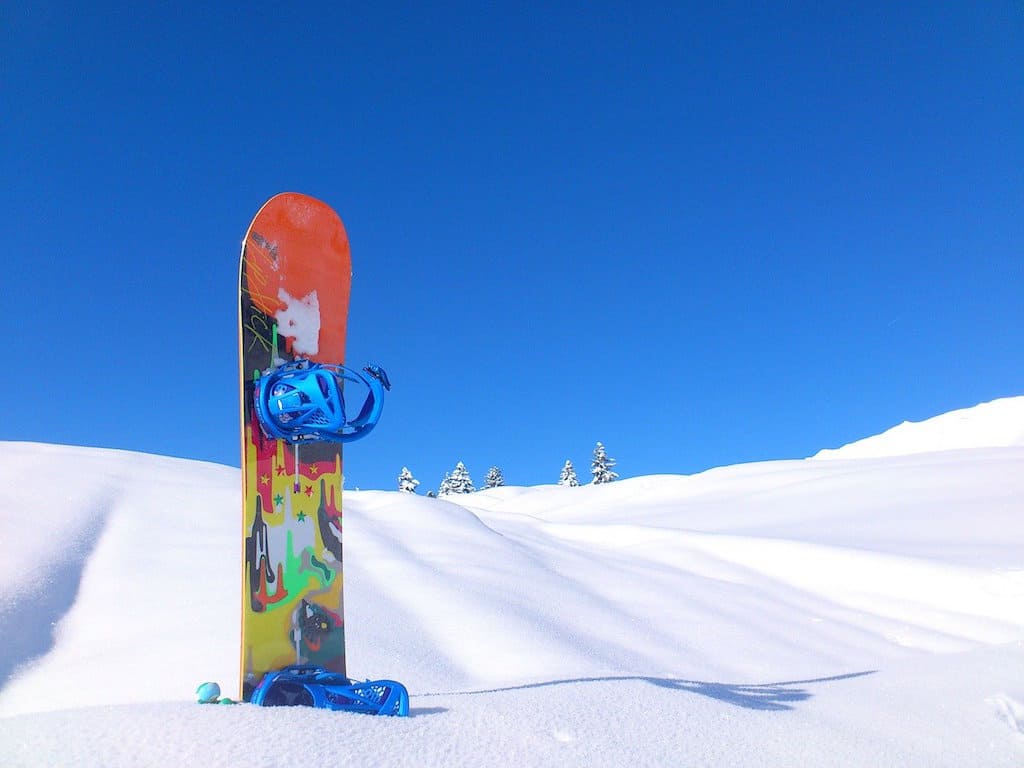 Park City, Utah, located about 32 miles from Salt Lake City, is known for its excellent ski resorts: primarily Park City, Deer Valley, and Woodward Park City. It also hosts a very popular and annual Sundance Film Festival. Remember Robert Redford? He happens upon this beautiful part of Provo Canyon, then purchases some land. This is where indie filmmaking made its mark! And with miles of biking and hiking trails, there are plenty of activities in Park City, Utah… things for skiers, snowboarders, and outdoor enthusiasts alike. So I wrote this article for you to find the fun things to do in Park City, Utah.
---
Things to do in Park City!
---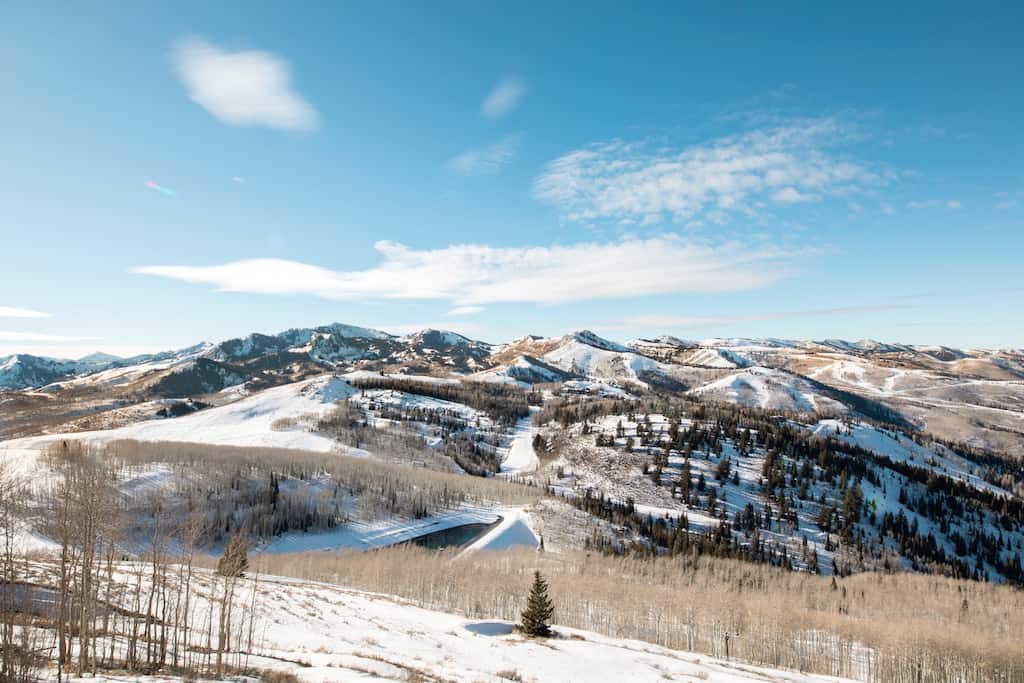 Where is Park City?
Flights into Park City!
Unfortunately, there is no direct airport into Park City or Deer Valley (except for private jets), so the best route is to fly into the Salt Lake City International Airport (SLC). Being a mere 35 minutes away from Park City, and with over 800 daily flights, there is no better way to get to both locations. For us, arrival into Salt Lake City, Utah comes easy and smooth. For once, we are happy that things are effortless and uncomplicated.
Car Rental or Shuttle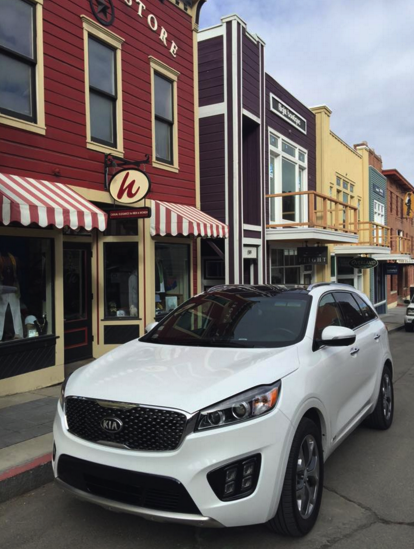 From there, we rented a car – a Kia Sorento, this rental SUV is perfect for this family of four ski trip. Our bags are packed in the spacious trunk and we are off to a long weekend to Park City Mountain Resort. In 30 minutes we arrive in Park City – with no harrowing mountain passes, and tire chains are not required! They also have a shuttle service if you prefer to get there that way, but for us, we like having a car in Park City, as that way we can drive to dinner, go for groceries, or go to Deer Valley as well.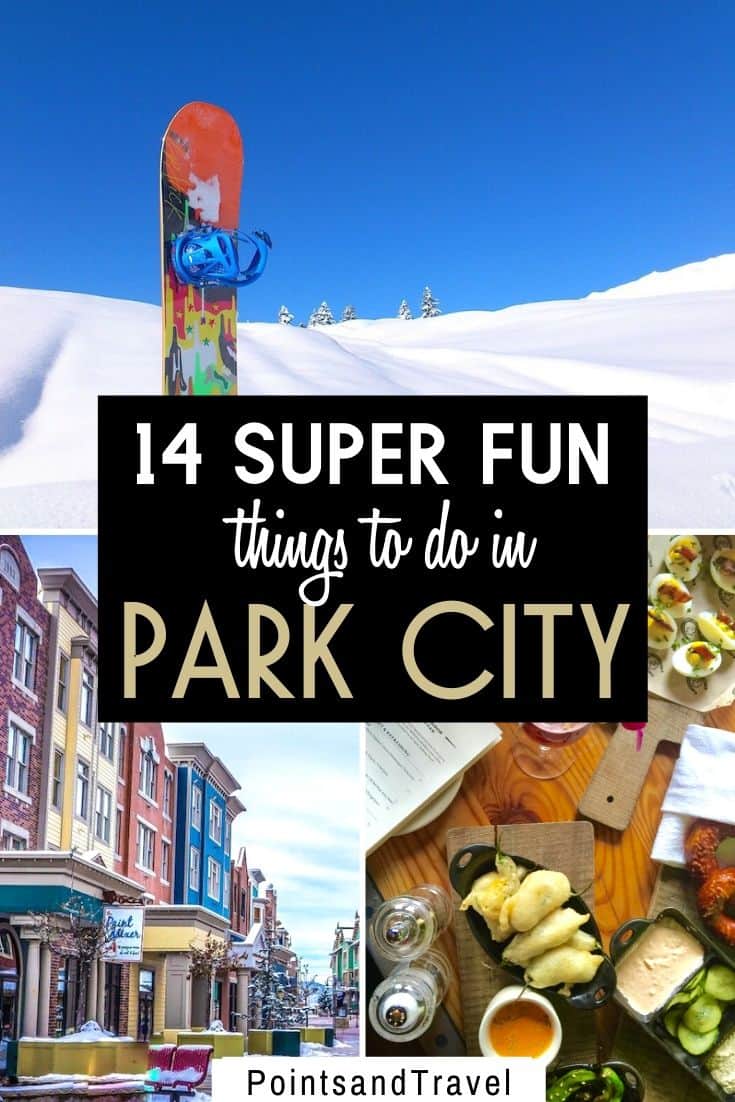 This time we have the entire family in tow. We are a ski family, the kids and my husband are mega skiers at this point in our lives. They love their time on the slopes. I don't know if it is just my age or that I am really a sunshine girl, but either way, après ski, is still my favorite! But I know there are plenty of fun things to do in Park City! So let's get started!
What is the Park City Area About? Activities in Park City
#1 Park City Area: 3 Resorts, 1 Destination
One thing that is super cool about Park City and Deer Valley is that they are literally within minutes of each other and you can enjoy both mountains on one visit to the town. We always like to come here for that, as they both have great slopes. There are three resorts here: Park City Mountain Resort, Deer Valley, and Woodward Park City.
1.) Park City Mountain Resort offers diverse terrain for all abilities, including good concentrations of intermediate runs. An eight-passenger Quicksilver gondola car brings skiers from the bottom of the Silverlode Lift at Park City to the Canyon's Flat Iron Lift (or vice versa) in about nine minutes. Passengers can disembark at the midway station on Pine Cone Ridge to ski down three runs on the Canyons side or gate-accessed terrain into Thaynes Canyon on the Park City side. That way you can access 300 trails and 7,300 skiable acres of terrain all in one resort. This makes it the largest single ski resort in the United States (after they merged the Canyons and Park City.)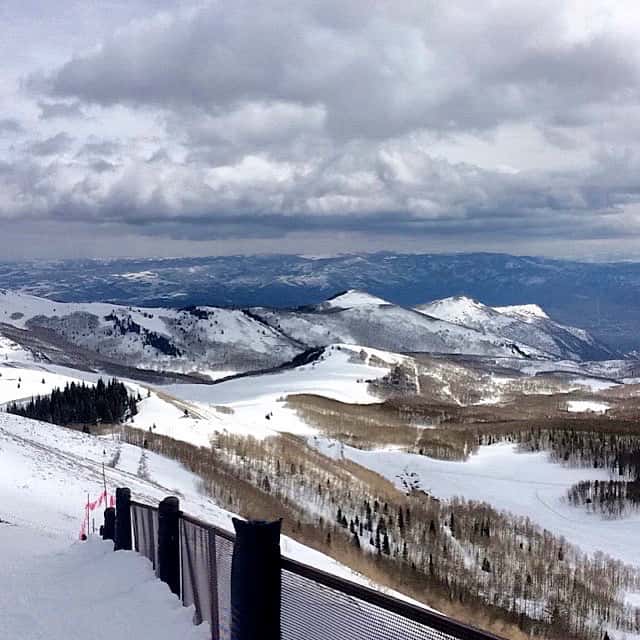 2.) Deer Valley, a skiers-only resort (no snowboarders), with 6 mountains – Little Baldy Peak, Bald Eagle, Bald, Flagstaff, Empire, and Lady Morgan. They have a higher percentage of beginner terrain than the other two Park City resorts. We loved the upscale Deer Valley area, which graciously does not allow snowboarders, one of only a handful left in the country that doesn't. Our youngest son does both ski and board and so we rented both skis and a snowboard for him. This so that he could ski and board both mountains with us.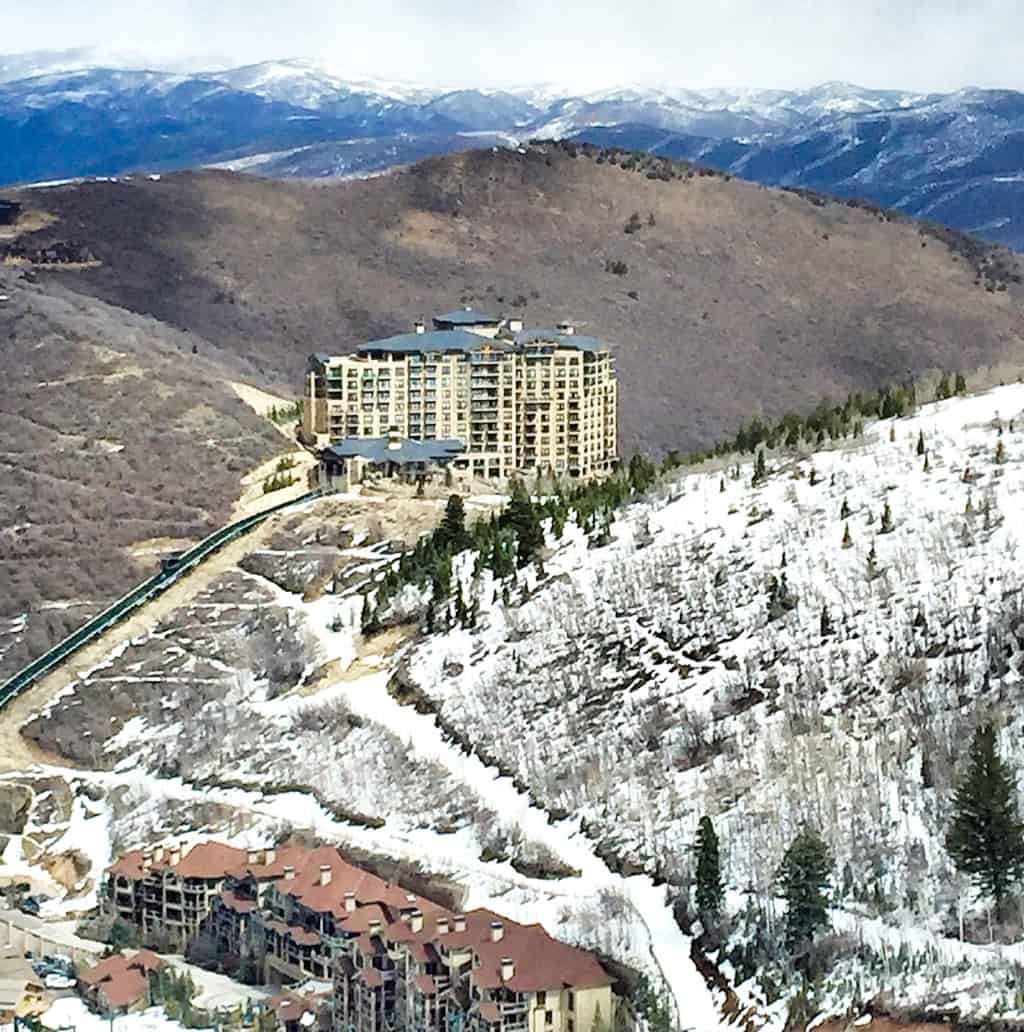 3.) Woodward Park City is the nation's first all-in-one action sports and ski resort. Woodward boasts a 125-acre campus with an action sports hub, action sports parks, and mountain parks. From lift-accessed snowboarding, skiing, and tubing in the winter, the resort is designed to offer a lot of choices for crazy sports enthusiasts of all ages and abilities to play from beginner to expert. In the summer, they offer biking, skateboarding, BMX, scooter, parkour, cheer, and digital media.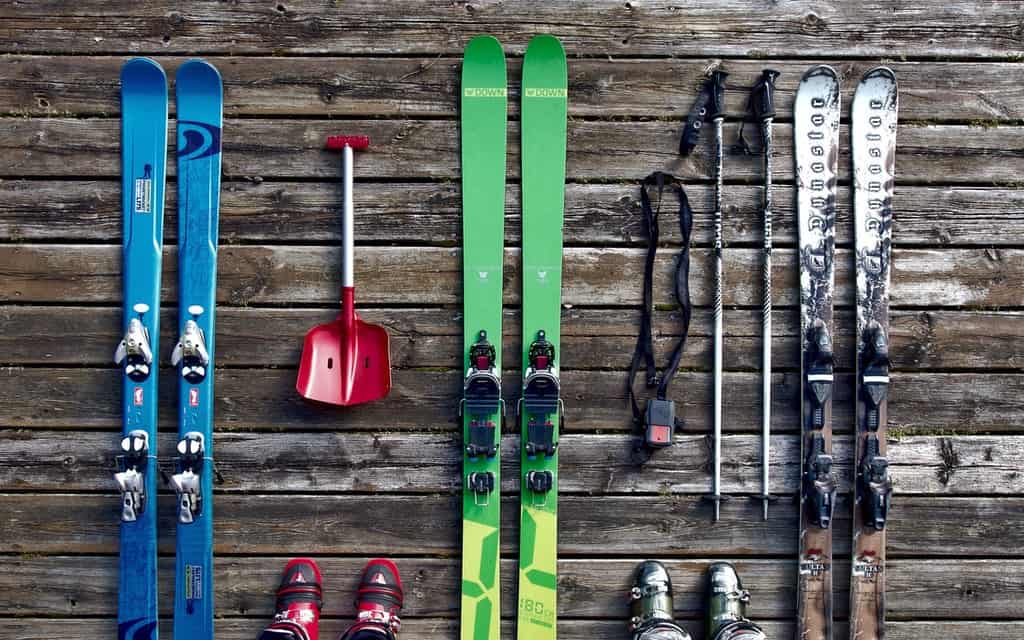 Things to do in Park City, Utah
#2 Park City is GREAT for families and kids!
Don't forget to bring the whole family, as Park City is great fun for kids and has children as young as 3 years old taking ski lessons or as young as 4 years old for snowboarding. My kids did it when they were young and look at them now, they are mega skiers! These resorts also have childcare available at the resorts if you want to let them hang out while you ski. This makes it fun for you and a fun thing to do in Park City for your little ones!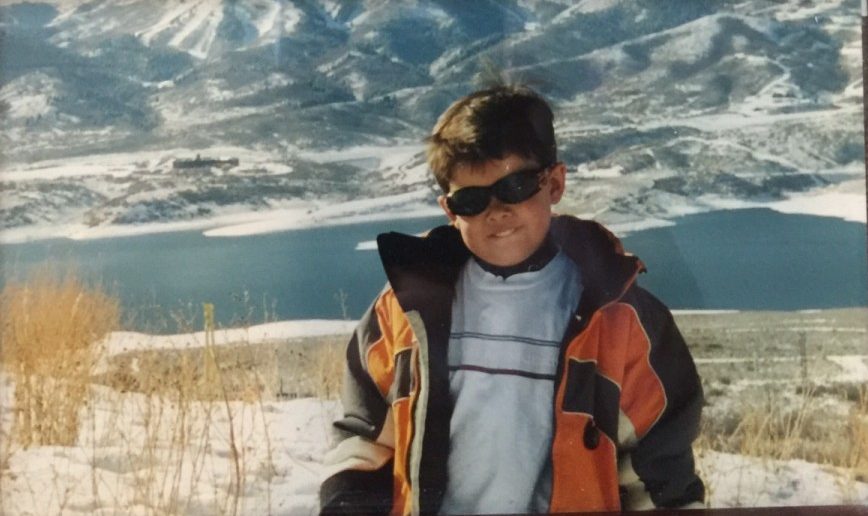 We loved returning to Park City and Deer Valley, as it holds a special place in our hearts from when we first began skiing as a family. It was the first ski area we visited with our boys when they were young. And now we returned with them practically as adult kids to show them the area once again.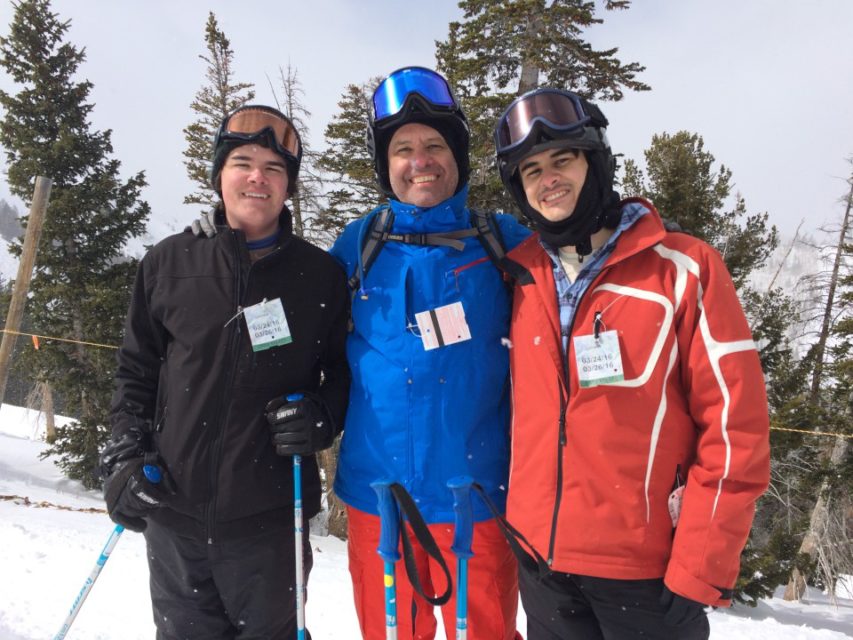 ---
The Maloney's are back in Park City!
---
#3 Alpine Coaster Visit
There are plenty of fun activities in Park City and Alpine Coaster (located inside the Park City Mountain Resort) is one of them. It is a gravity-driven coaster built on elevated tracks and quite similar to a bobsled ride. In fact, Alpine Coaster is the largest coaster of its kind in all of Utah. Sometimes it reaches speeds of up to 30 mph, but you are in control of your own speed by applying the brakes.
The coaster is an operator-controlled device, so this is for thrill-seekers only! The Alpine Coaster car zips you through more than a mile of bends, hairpin curves, and loops around its tracks. So buyer (and thrill-seeker beware!) The track is placed in the beautiful mountain scenery of Park City Mountain Resort so riders can enjoy the snow and trees as they glide down the mountain. I hope you have little (now grown-up) thrill-seekers as I do! They loved this fun thing to do in Park City! This is a must-do in Park City, Utah.
#4 Visit the Park City Main Street Historic District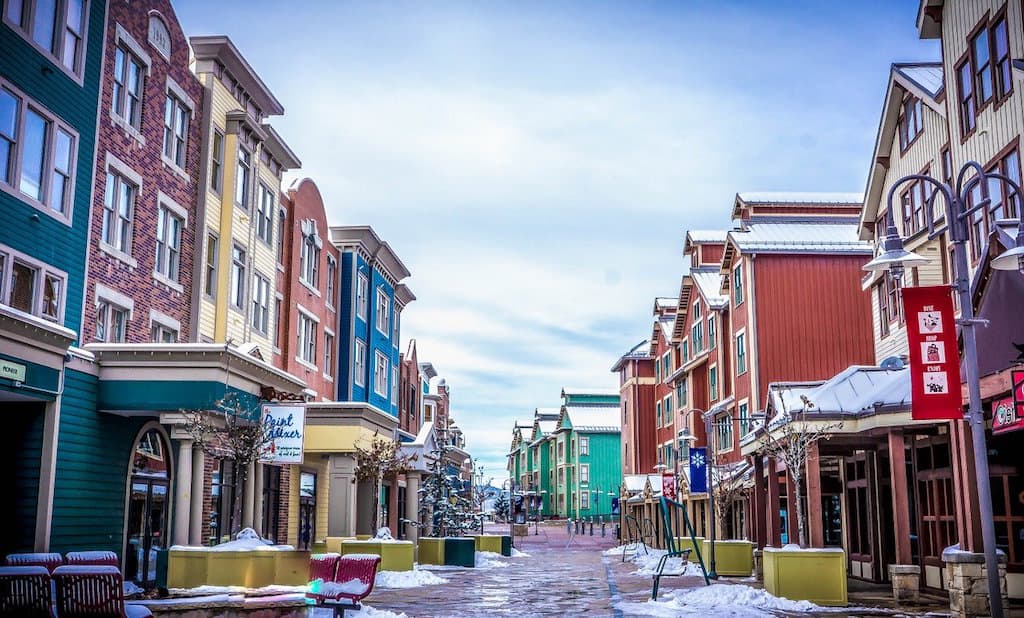 Park City Main Street Historic District has 47 buildings on 13 acres along Park City's Main Street. It has been listed on the U.S. National Register of Historic Places. It has a very cozy apres-ski feel to it. I believe it represents one of the best examples of a silver mining town in Utah. Here in Main Street Historic District, you can see a piece of good ole' Americana by noting the architecture of this charming "old west" mining town from the mid-1800s. There is even a small park dedicated to these miners who established the town. The famous statue is there to welcome you.
After a fire in 1898, Main Street was rebuilt in a variety of architectural styles that you see today: Mission, Queen Anne, Spanish Revival, and Victoria. We love to come down here after a day of hard skiing and I believe it is one of the best things to do in Park City because there are so many choices for a relaxing evening. This historic district now houses more than 50 restaurants, many tour companies, ski, and bike rental places, as well as 100 boutique shops.
#5 Aloha Ski Rental Park City
We chose Aloha Ski Rental Park City in the downtown area, which has 9 convenient Park City ski shop locations, including 2 at the base of Park City Mountain Resort and 4 slopeside at Canyons Village. That way, wherever we are, we could find them quickly if needed. They were our first stop and had amazing service. They set us at ease, fitted our boots, and talked to us about our needs, even though the place was jam-packed with potential new skiers in the store. Their attentiveness and jovial spirit were well noted. This is a must-do in Park City Utah, as the people were so super nice!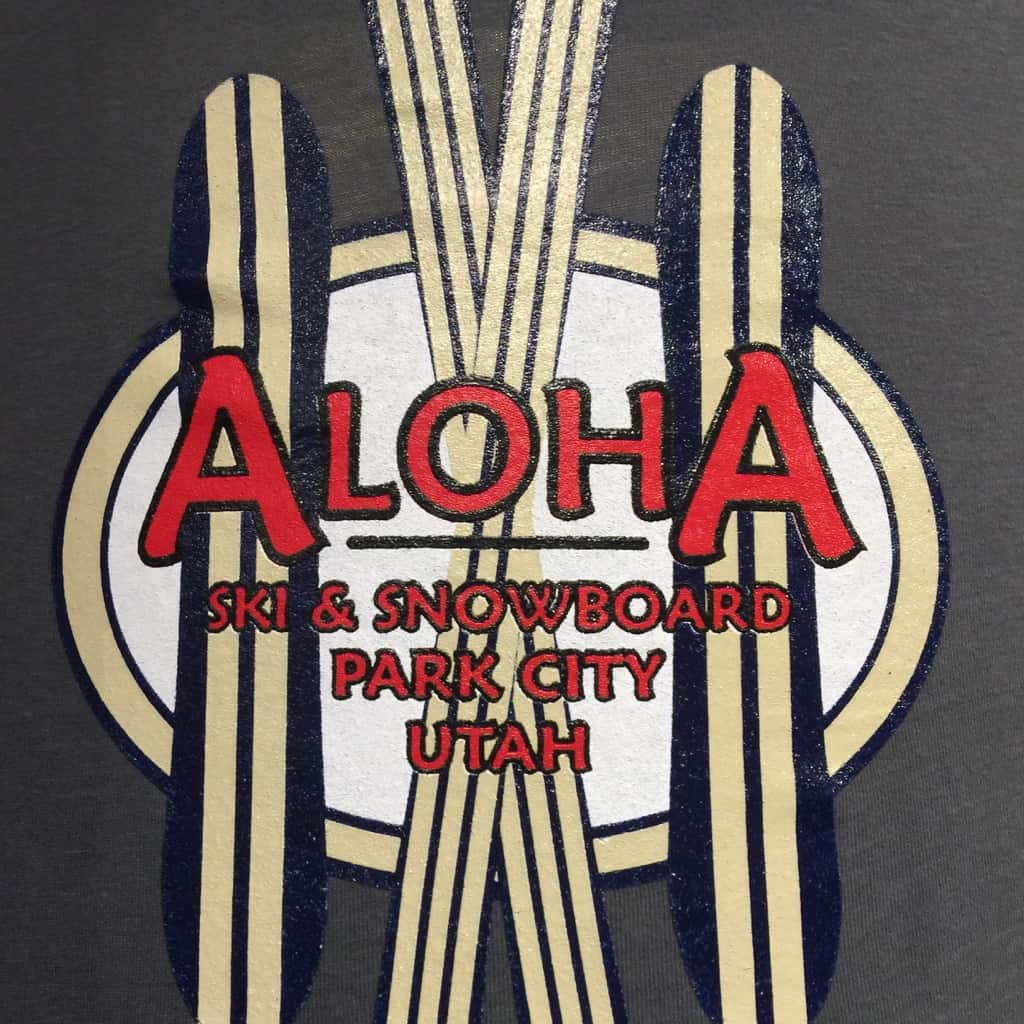 #6 Check out the Park City Museum
Also located in the main street historic district is the Park City Museum. It is a local history museum primarily to preserve the heritage and history of Park City. It has many artifacts and interactive exhibits, as well as guided group tours, historic home tours, and historic walking tours if you are a history buff. They also have education programs for the kids, so bring them along. They even have history presentations and scavenger hunts.
#7 Meet Franz the Bear or Loosey the Moosey
Walking down Main Street, you will have a chance to meet Franz the bear, a local, bronze statue, and favorite among the locals. There is even a Bear Bench, where Franz sits not too far from the Loosey the Moosey. Franz The Bear was sculpted in 2000 by Michele Vandenheuvel. He is quite popular when people visiting the city stop by for a photo. Some days you may have to wait in line to get a photo with Franz the ber!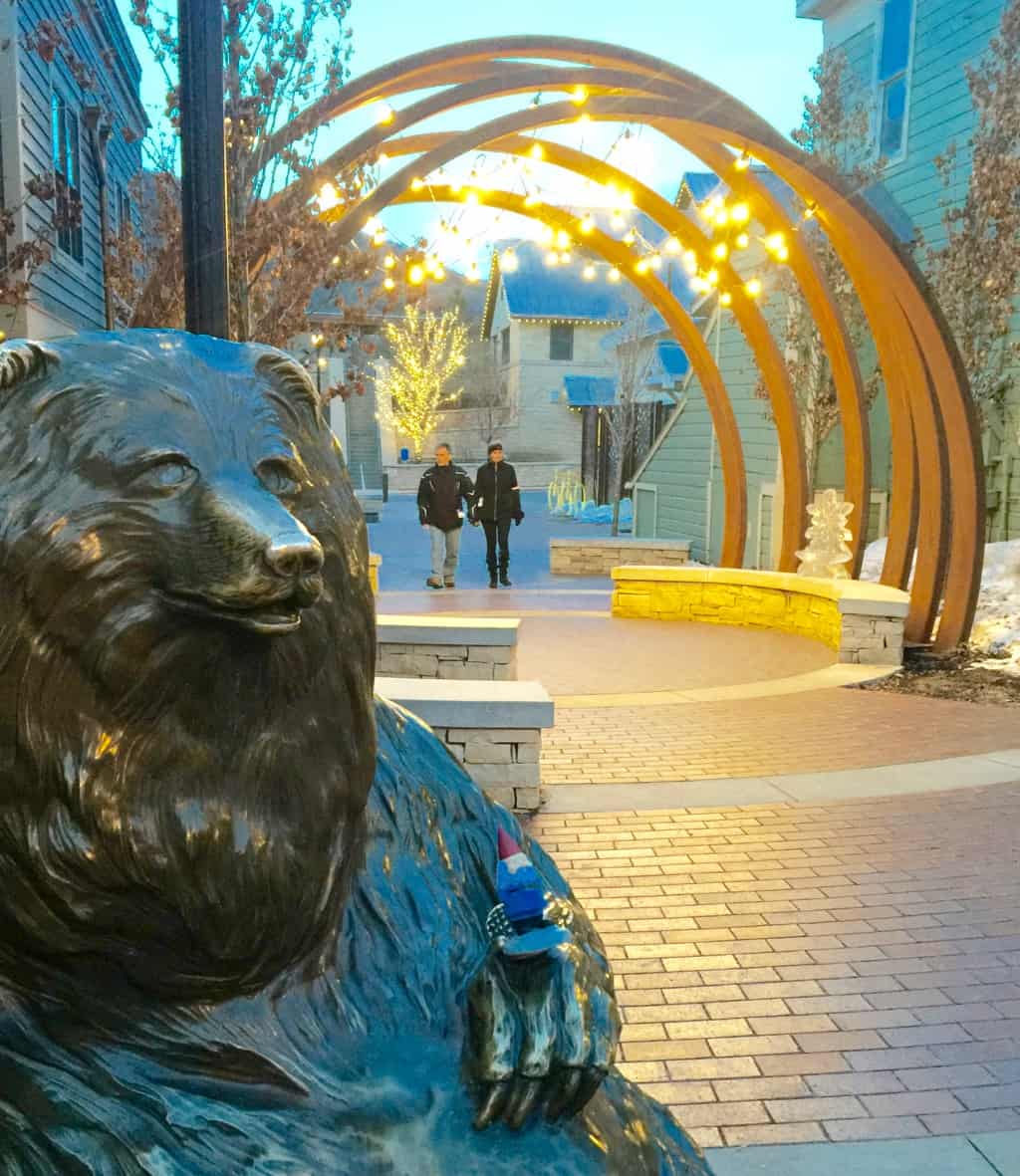 Loosey the Moosey is the remaining mood from a fundraiser that was to benefit the Park City Performing Arts Foundation, the Egyptian Theater, and the Kimball Arts Center. At one time, there were 21 life-sized moose decorated around town that was to be auctioned off. Today "Loosey the Moosey," lives in front of Park City Clothing Company. But the photo below is not of him!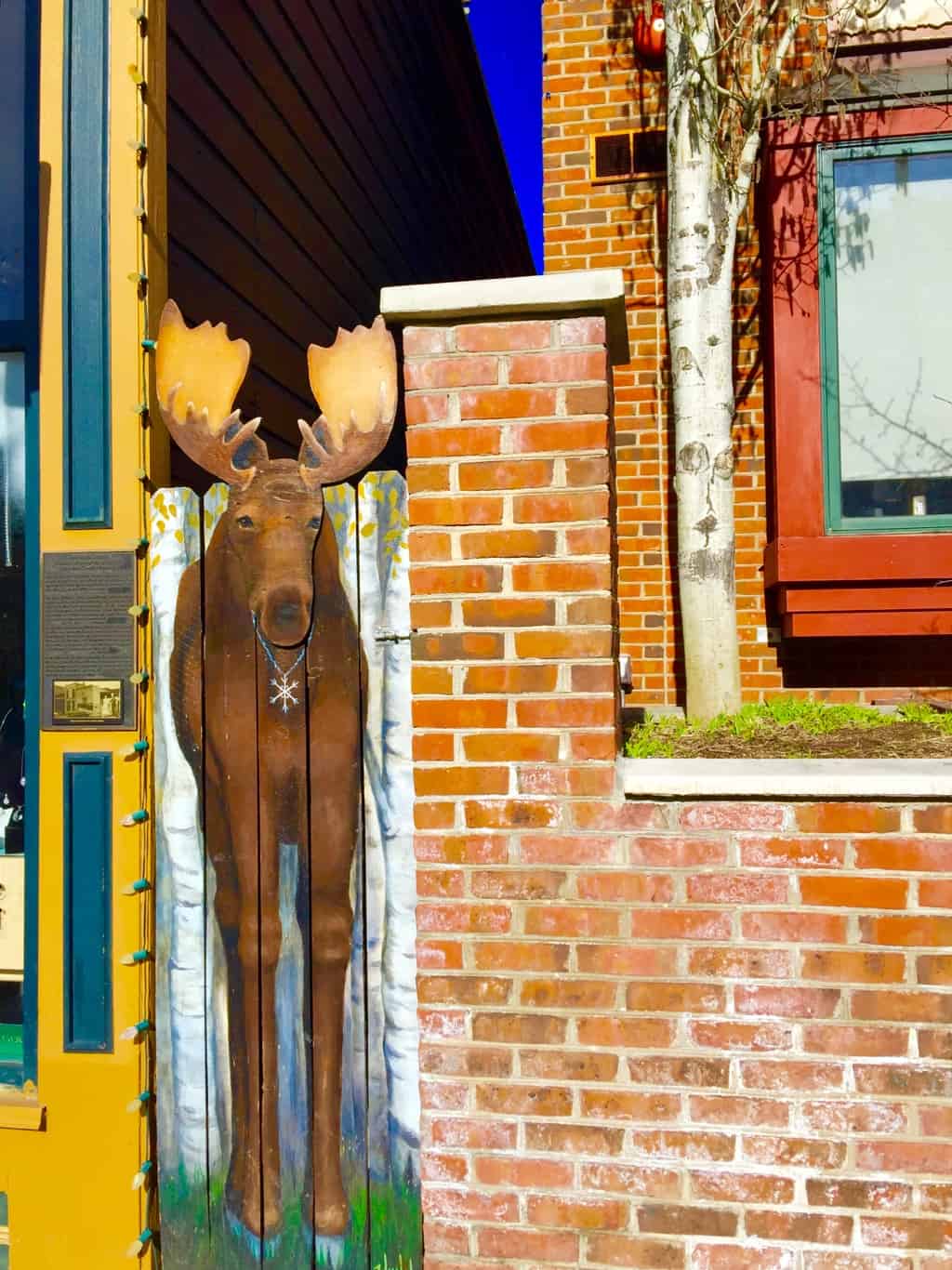 #8 Find a few Banksy Murals
Park City is home to several works of street art by one of the world's most famous and anonymous street artists. You can also check out a few Banksy murals as you walk around Main Street. But where are they? How many? Left here are 3 Banksy murals: Camera Man and Flower, Praying Boy, and Dirty Rat.
Camera Man and Flower are on the wall of Java Cow at 402 Main Street. Praying Boy is painted on a parking garage wall close to Camera Man at 437 Main Street. And Finally, Dirty Rat is painted on the stage door of the Egyptian Theater at 328 Main Street. However, it is currently safeguarded in a storage room in the theater.
---
I especially thought the Camera Man and Flower were cool!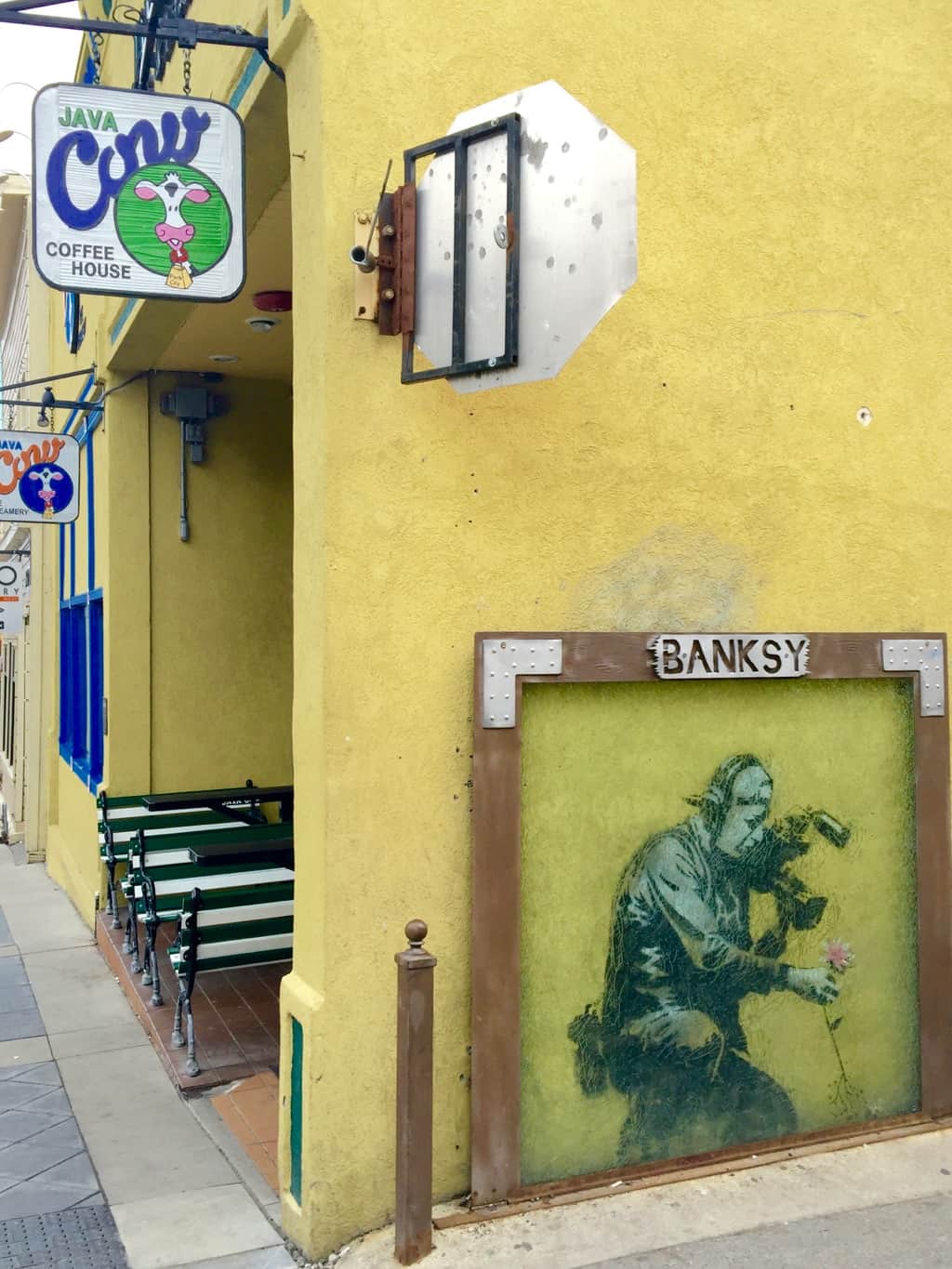 #9 Take in a Special Event at the Egyptian Theater
The Egyptian Theatre was constructed between 1922 and 1926 and the architectural style was influenced by King Tut's tomb! It is decorated with Egyptian motifs of hieroglyphics, lotus leaves, and scarabs. It was originally built for vaudeville acts, however, it was mostly used as a movie theater. In 1963, the name of the theater changed to the Silver Wheel Theatre. But reopened its doors again as the Egyptian Theater in 1998. It is now a venue for fun comedy acts, films, and special events.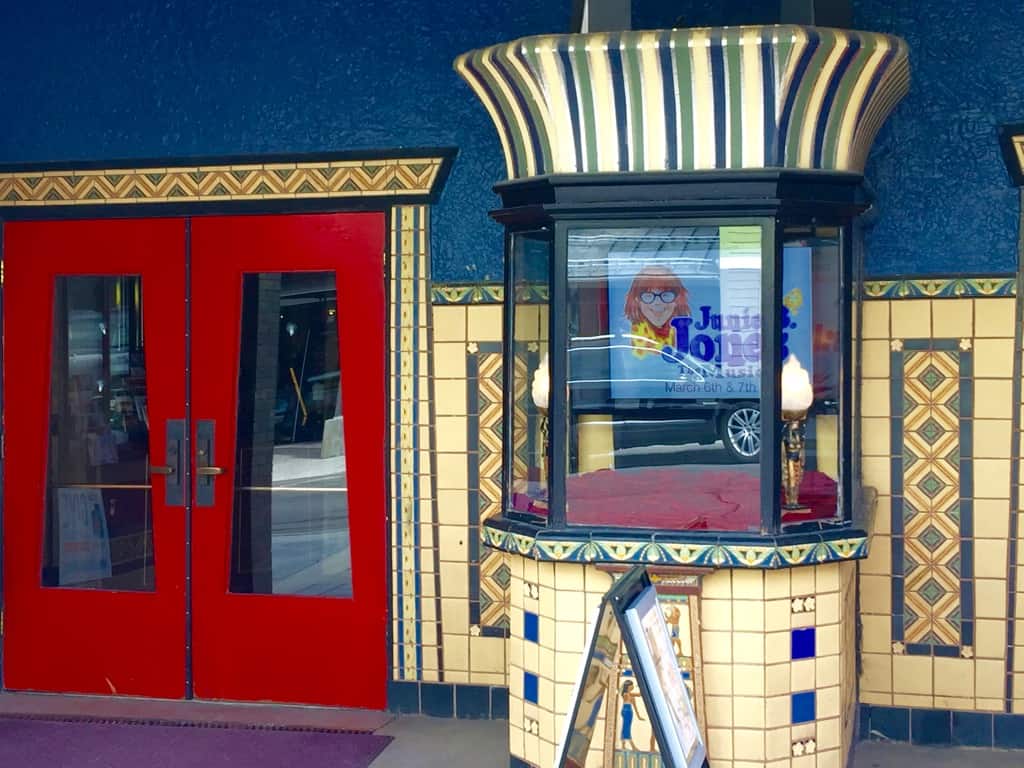 #10 Stop by the Park Silly Sunday Market
The Park Silly Sunday Market is an open-air street market and festival. However, this silly street market will not take place in 2020 due to Covid-19. The Market will return on Sunday, starting June 6 – September 26 (excluding July 25, August 1 & August 8), 2021. The Market typically includes performers, musicians, kids activities, artists, and chefs. There are different vendors every week. It is a treasure box that has unique and eclectic arts and crafts, antiques, delicious gourmet foods, and farmers' market fruits and vegetables. The market typically opens every Sunday from June to September.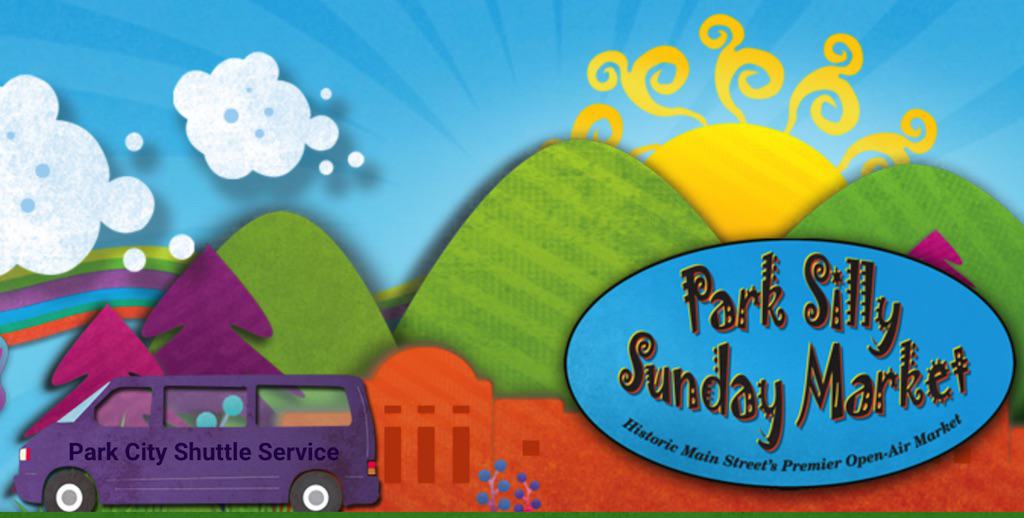 #11 Visit the Utah Olympic Parkway
Located over on Olympic Parkway, Utah Olympic Park is a winter sports park that was built for the 2002 Winter Olympics. It has things such as a bobsled track, a mountain coaster, the Alf Engen Ski Museum, the George Eccles Salt Lake 2002 Olympic Winter Games Museum, and a zipline. As well as extreme tubing, an alpine slide, a discovery course and more!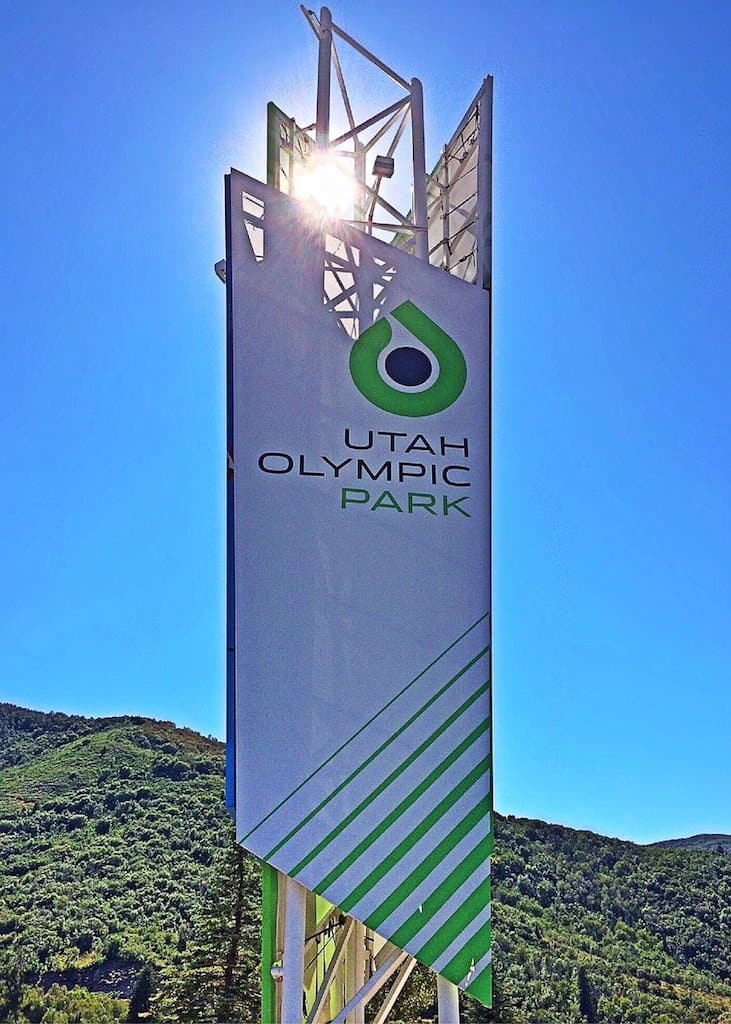 #12 Woodward Park City
Woodward Park City (formerly Gorgoza Park) is an indoor action sports hub located on Kilby Road in Park City. It offers mountain biking, BMX, skate, scooter, cheer, trampolines, and more! So what is an indoor action sports hub? Woodward Park City offers over 66,000 square feet of an action-sports concrete park, a pump track, mini ramps, a parkour zone, and a spring floor, As well as, Olympic grade trampolines, foam pits, and digital media labs.
#13 Park City Has Great Vacation Rentals
Wyndham Vacation Rentals was our condo rental of choice, which is the world's largest professional manager of vacation rental properties. Picking up the keys was easy at their headquarters in the city center of Park City. Soon enough we were quickly unloading our things and off to the ski rental place and buying groceries for a family of four.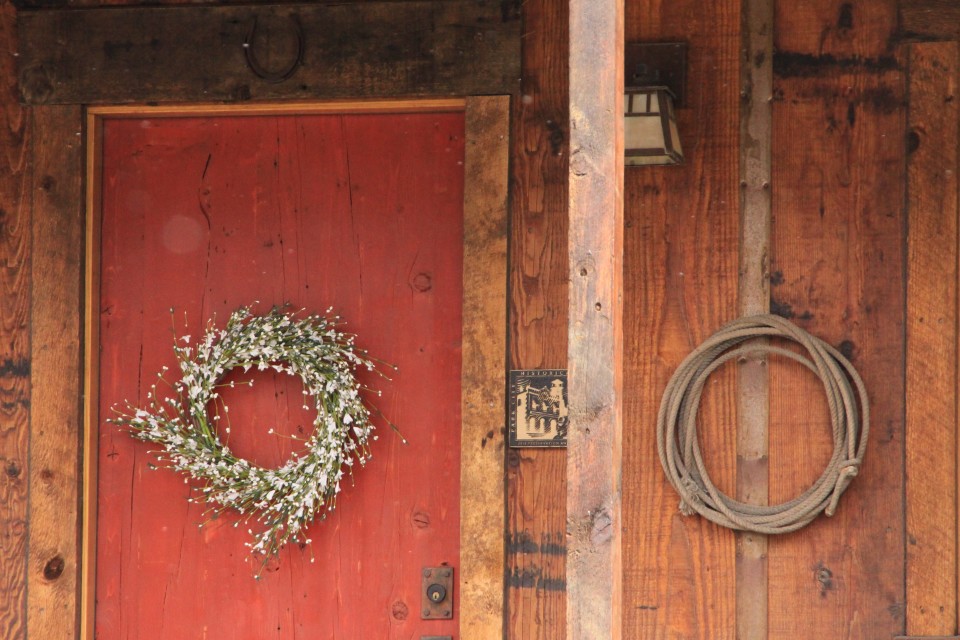 One thing that makes condo rental easy for families is the fact that it had a full-sized kitchen, plus room for everybody to stay together in a family-like setting. We luckily found our place was within walking distance to the slopes of Park City, and although we never walked the hill to get there, the convenience of how close it is was important to us when making our rental decisions. We are kind of the lazy ski family, so many days I would haul off the boys and my husband to drop them at the front, so they wouldn't have to walk and carry all their equipment. Then I would return to our condo for a little "me" time, before returning to the park to ski a half day.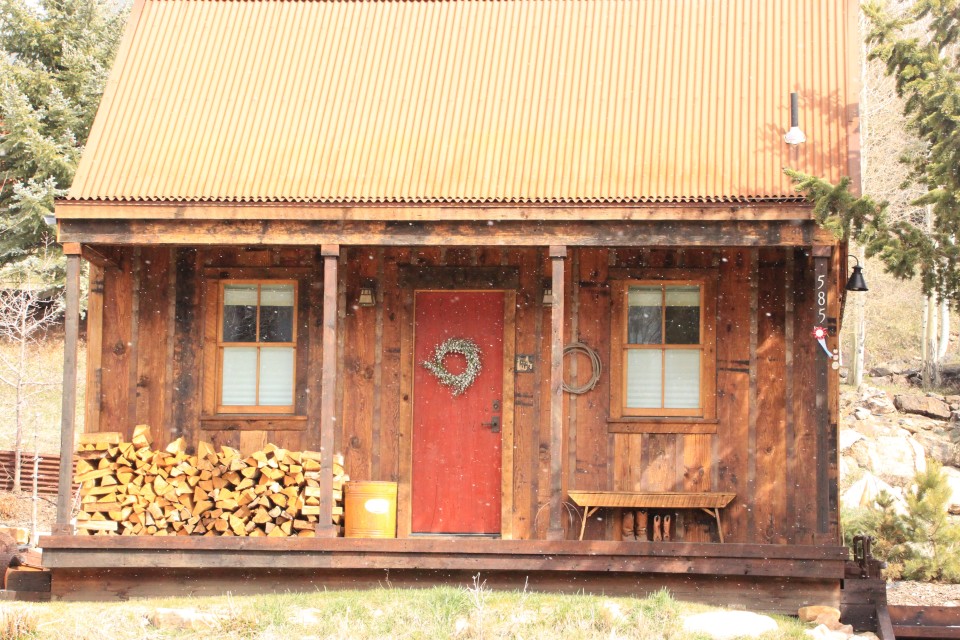 Don't forget to buy groceries! Upon our arrival in town, we were off to the local supermarket to stock our cabinets with food so that we could be up at the crack of dawn and be the first ones on the mountain! Ok, well, that didn't necessarily happen every day, but still, it could have!
#14 Favorite Lunch and Dinner Spots
There are numerous eating and drinking establishments, so be sure and go into town to enjoy the spirits and cuisine.
High West Distillery and Saloon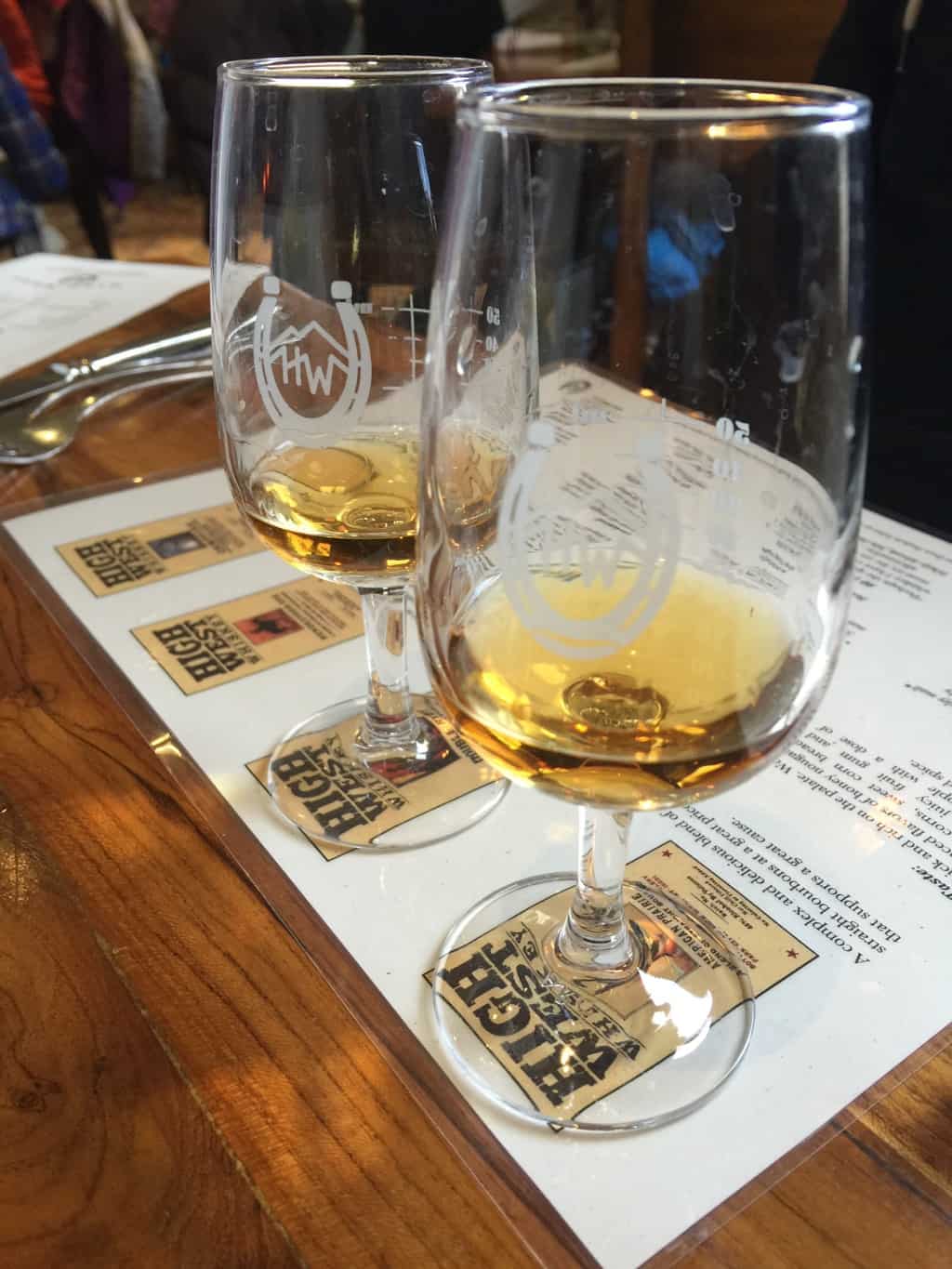 We particularly enjoyed our time spent at the High West Distillery and Saloon, so be sure and stop in for either a cold one or a fabulous lunch. They are located in a nicely restored 1914 Victorian home. The place is very popular and jammed packed full of people when we went. But once inside, the staff was super fun and even informed us on how to order multiple drinks because of Utah's liquor laws!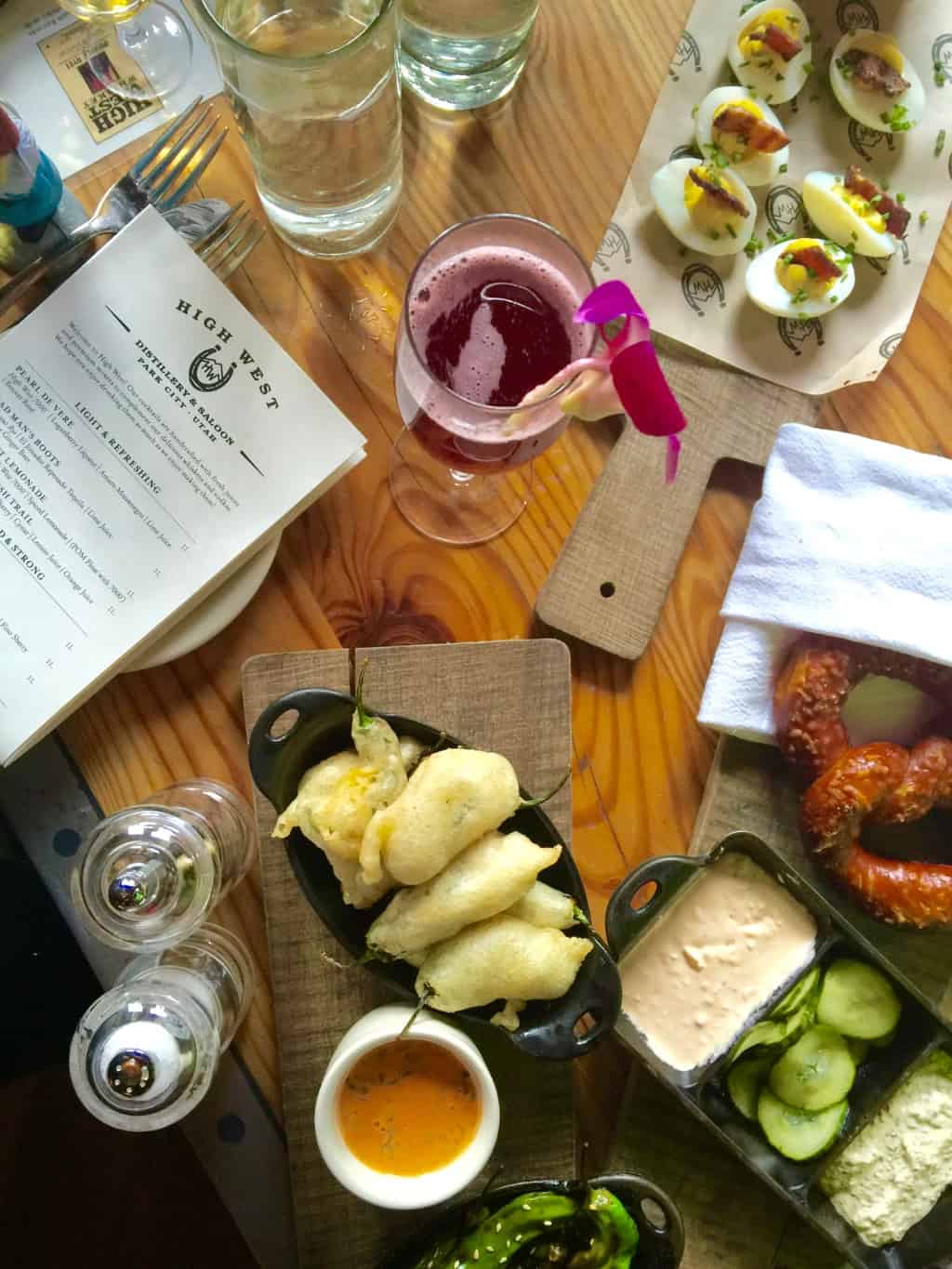 They make a large range of whiskeys and vodka, and you can try them at the Saloon, but sat in the restaurant and had lunch. They also serve great-tasting food called nouveau Western fare. In fact, many dishes feature whiskey or vodka in the marinade or sauce. High West Distillery is the only distillery in the world where you can almost literally ski into, as it is located at the bottom of the Quittin' Time ski run! So be sure and stop by their store to get a bottle of whiskey for later. In my humble opinion, this is a must-do in Park City Utah, as this place is great!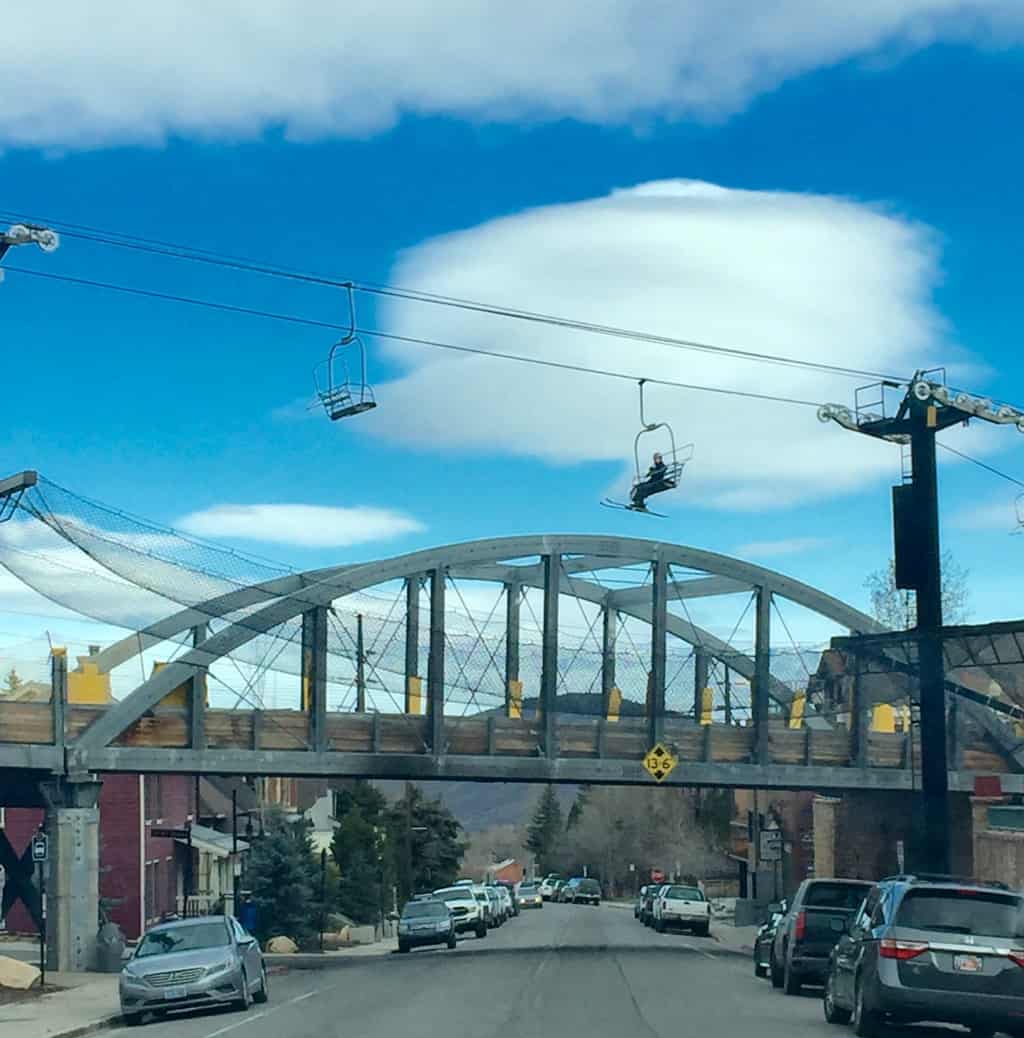 Chimayo
Grappa
Another fine-dining restaurant, Grappa, serves the best tasting Osso Bucco I have ever tasted. It is a slow-braised veal shank that is lightly floured, braised, and slowly cooked for up to 8 hours. The sides creamy polenta, caramelized brussels sprouts, pancetta, rich red wine tomato jus, and a toasted pine nut gremolata. Delicious!
No Name Saloon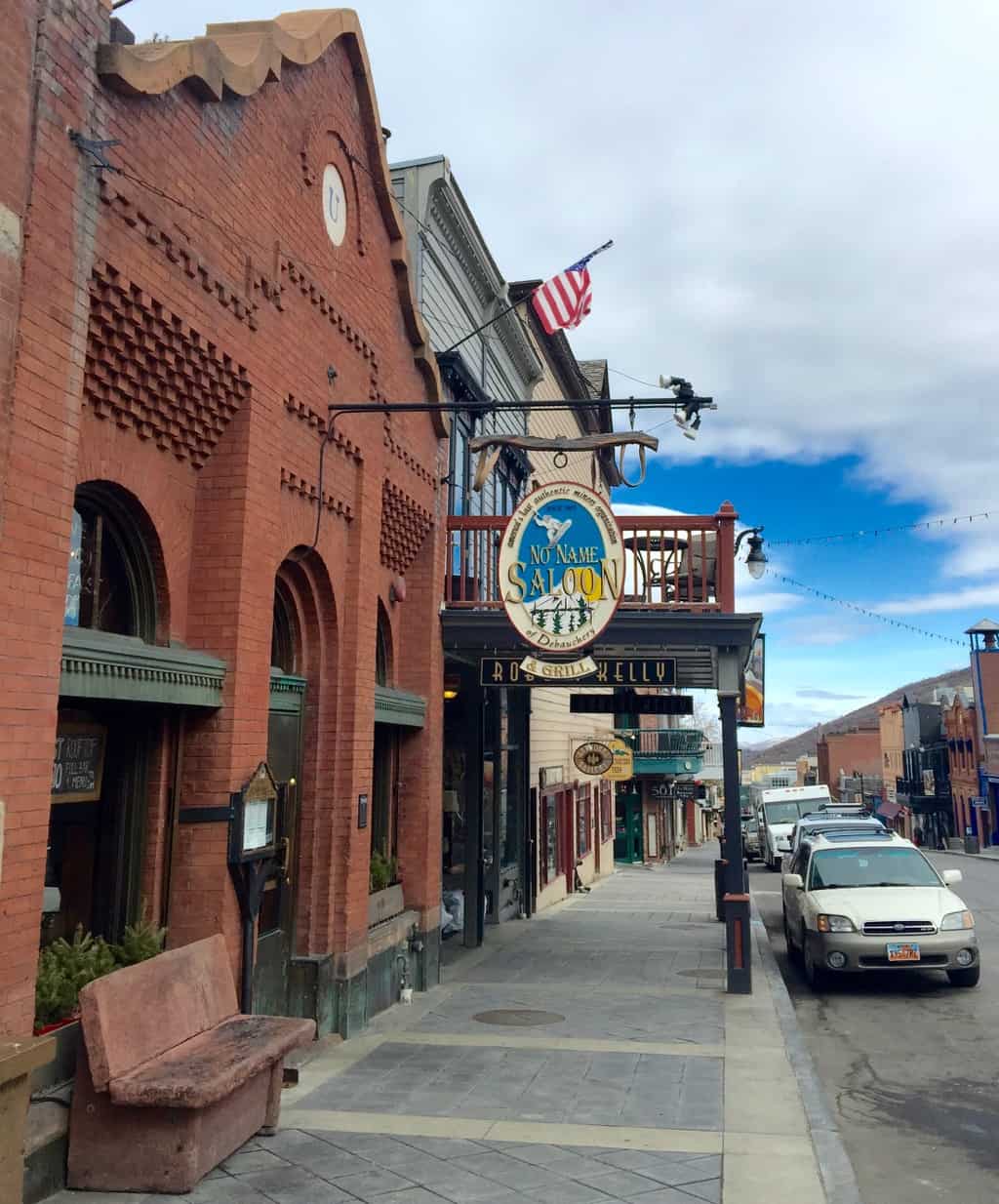 O Sharks Bar and Grill
Powder
If you need a reason to mosey on over to the Waldorf Astoria, then I have a reason for you… it is the Powder Restaurant that I am smitten with! They have an exhaustive menu that is souced by all local ingredients. Their menu changes seasonally – so get it while you can!
Zoom (Now Closed)
The building that Zoom used to operate in now occupies was once the Union Pacific railroad depot! This casual, yet elegant setting, preserves Park City's pioneering roots. It was a part of the Sundance Resort family of fine restaurants but is now currently closed.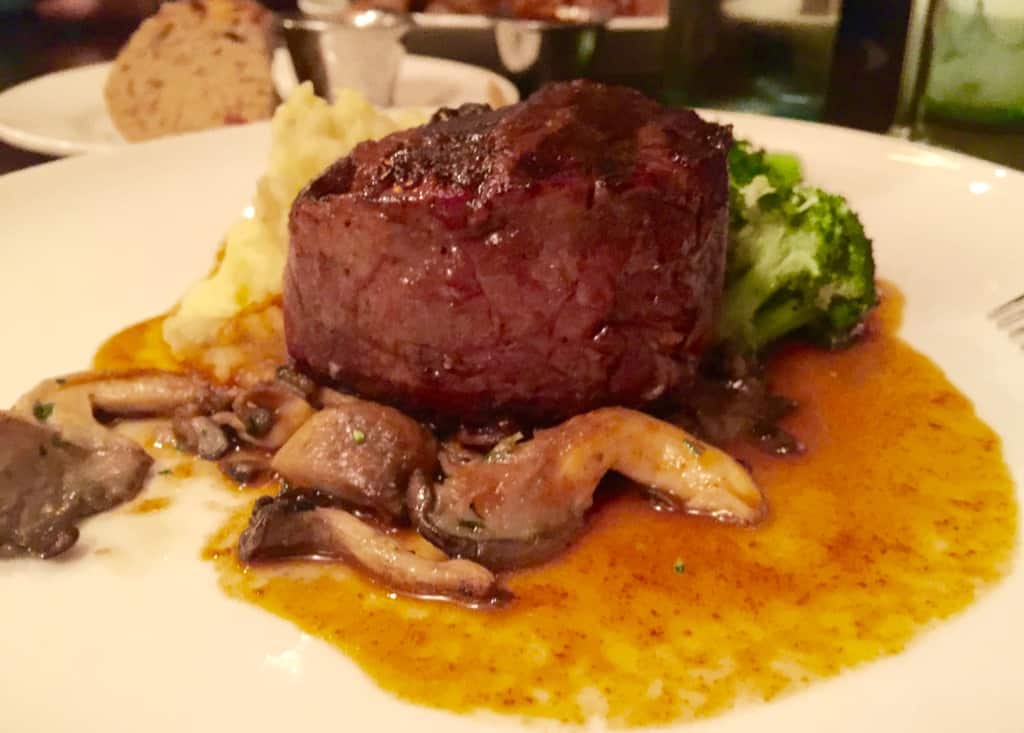 Riverhorse On Main
Riverhorse on Main is a spectacular fine-dining restaurant located on historic Main Street and is one of the best Park City restaurants. It is great for an elegant evening out with your significant other or a place to celebrate special occasions with family or friends. My menu favorite: Pan-Roasted Chilean Seabass with a wild mushroom consomme, cellophane noodles, spinach, chili and lime essence.
The Pub to Flannigan's on Main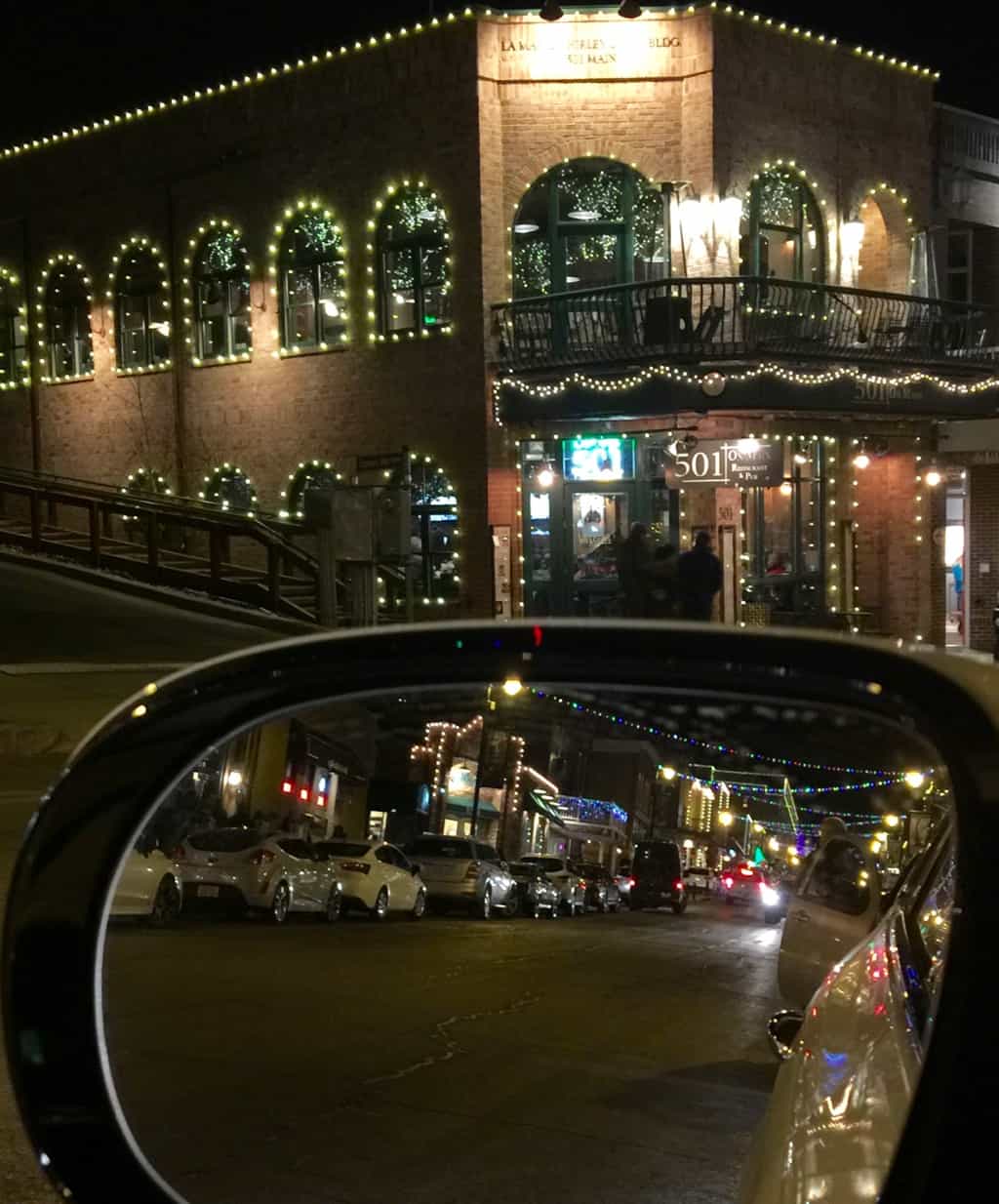 Be sure to make Park City, Deer Valley, and Woodward Park City a part of your ski season and if you miss that, you can always visit in the summer, which I hear is just as gorgeous. The ski trails turn into hiking trails and it is supposed to be awesome. Although I have not done this, I would also love to visit there in the summer!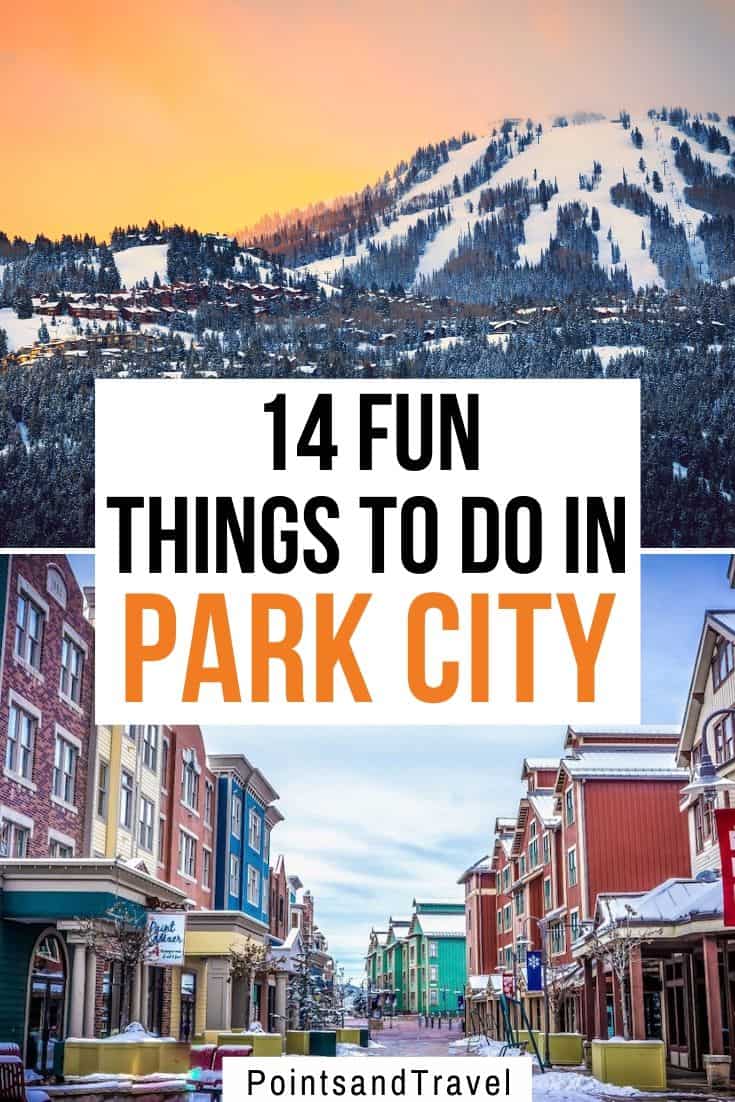 Disclosure: Our trip to Park City was courtesy of Wyndham Vacation rentals in conjunction with Kia, Park City Chamber of Commerce and Convention Center, Deer Valley Ski Resort, and Aloha Ski Rentals. The amazing time we spent in Park City and Deer Valley was all our own.