When I found out that the creators of the TUMI brand, the former CEO Charlie Clifford and Larry Lein and the former executive vice president were behind ROAM luggage, I was ecstatic! This exciting new customizable luggage brand ROAM has the same styling and durability that the TUMI brand has long been known for. It is a beautiful, luxury, high-quality, durable luggage and I knew it was going to be good. But I didn't know how good until something happened to my luggage. But that part I will tell you a bit later, for now, I want to introduce you to my fully customizable luggage called ROAM Luggage!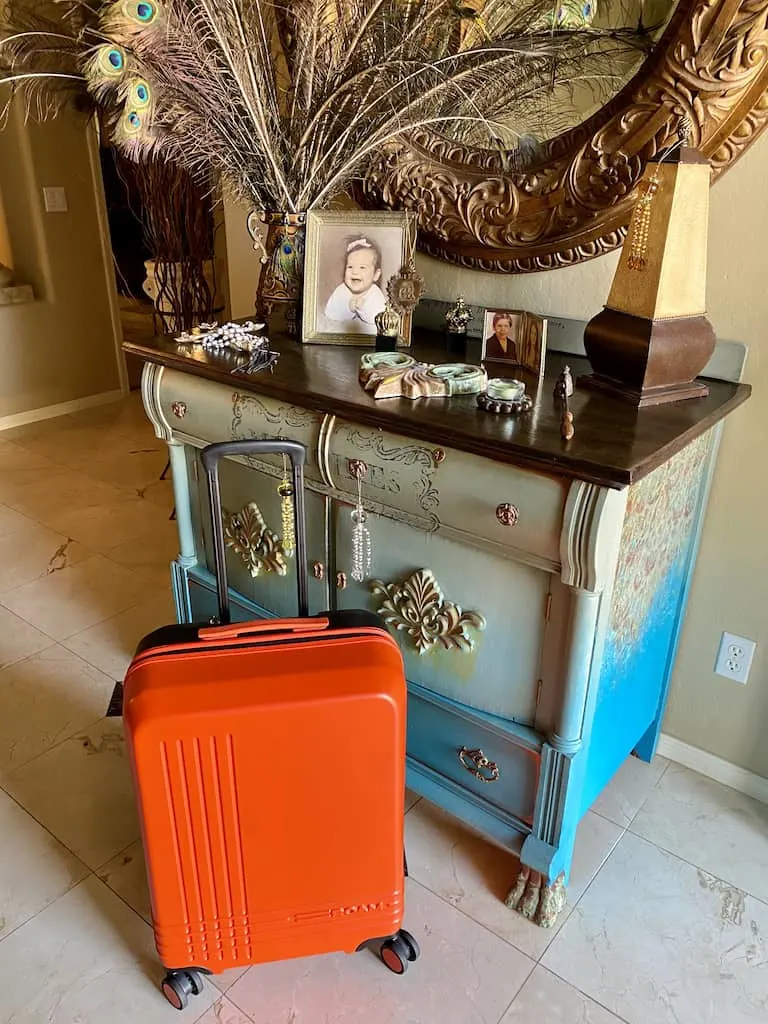 ROAM Customizable Luggage has Arrived
Once I got my hands on a piece of ROAM luggage, I couldn't wait t try it out. I received the Journey style of luggage via the mail. This piece is what they call the medium check-in size of luggage. But before it was received, I went on their website and customized my suitcase to fit my own sense of personality and design. I went with a blue front shell, black back shell, blue accents and wheels, and a black zipper to add some pop. I also made sure I had monogrammed luggage with this free feature. Honestly, it was so beautiful when it arrived.
Fully Customizable Suitcase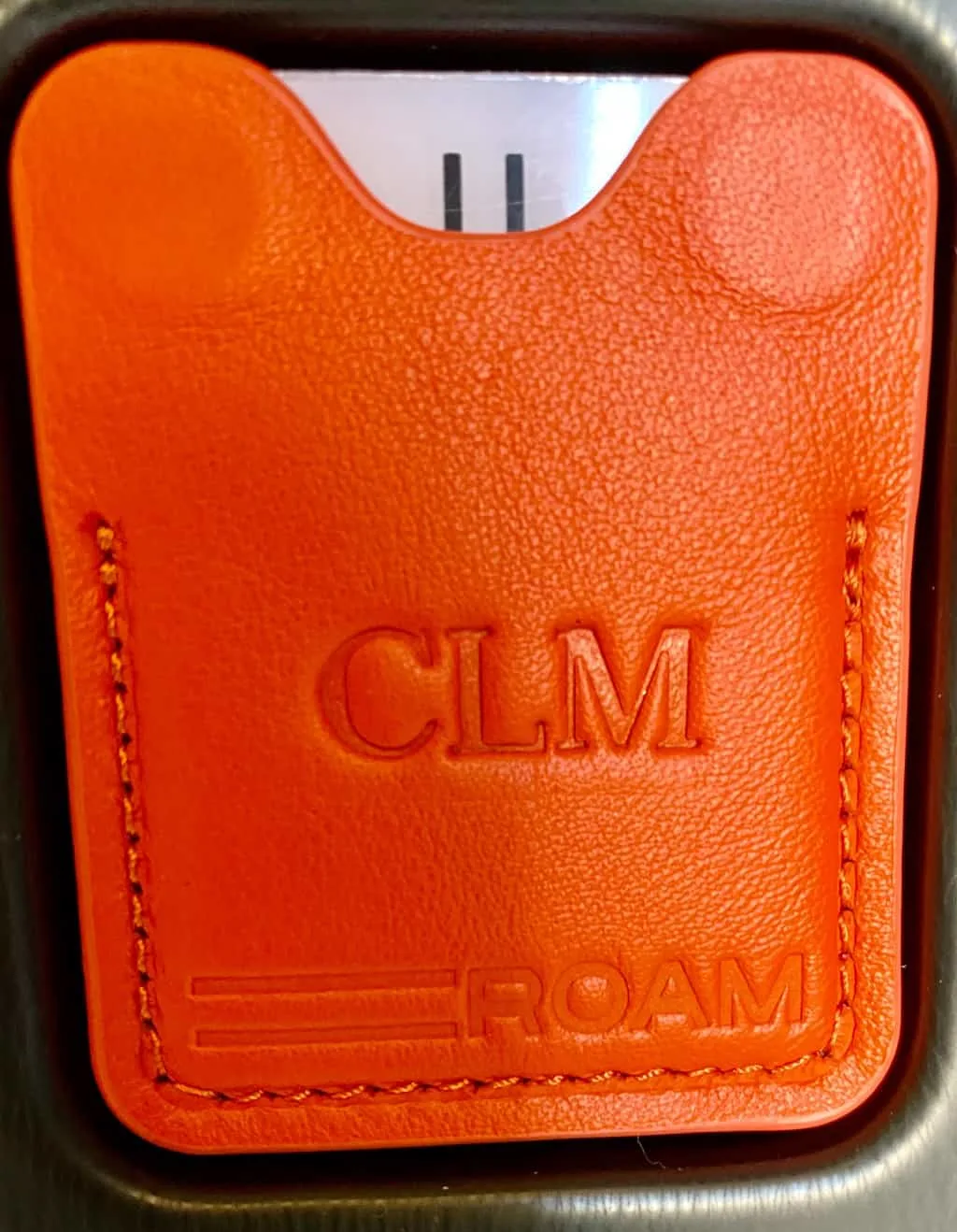 I love the fact that you are able to personalize every last detail to suit your own needs. And believe me, it comes in as many different colors as you want. 11 actually. For virtually every single feature you want to create – front shell, back shell, wheels, handle, zipper and stitching. Over 1 million possible color combinations. You can add a monogram at no additional cost, as I have always wanted monogrammed luggage! In fact, my customizable suitcase is easy to spot coming off the revolving luggage belt! I never have to worry about not being able to spot my very own monogrammed suitcase.
That's the thing, ROAM has made its luggage fully customizable, as who wants made to order pre-made luggage? Why not make that the BIG differentiator and get what YOU want? There are four sizes of customizable suitcases you can choose from – The Jaunt (carry-on), the Jaunt XL (wider carry-on), the Journey (medium checked bag), and the Globetrotter (large checked bag). They are all crafted from the highest quality of 100% polycarbonate and made to order!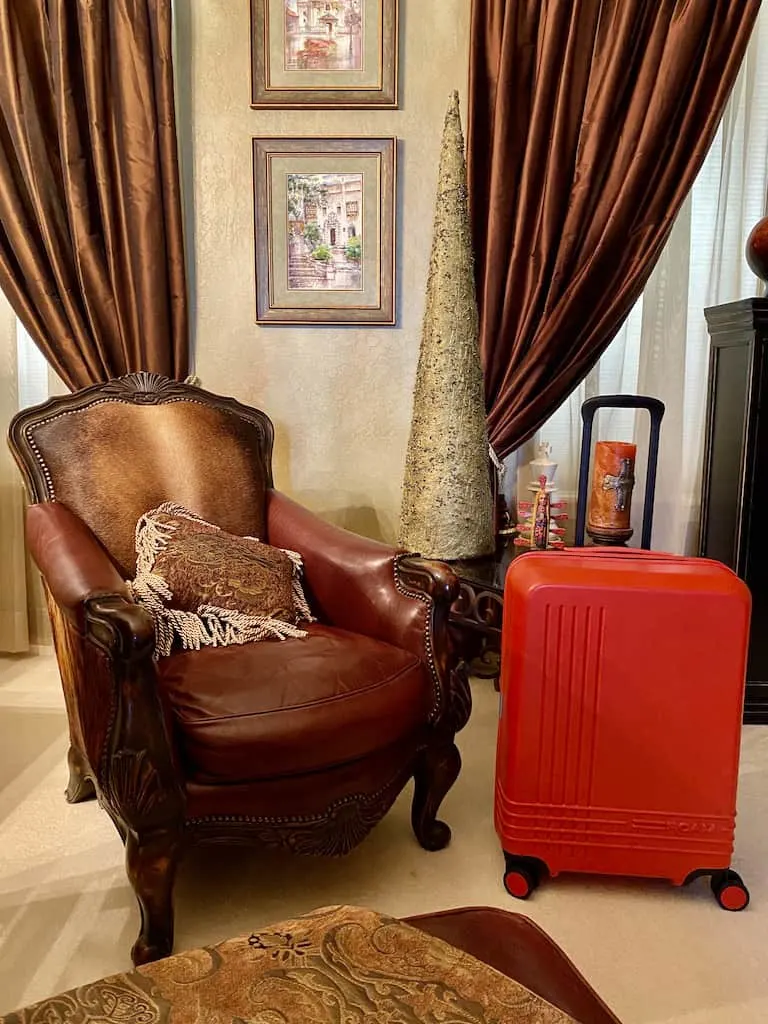 ---
So NO MORE BLACK LUGGAGE and trying to figure out which one coming off the belt is yours! LOL
---
ROAM is the first brand to offer fully customizable suitcases directly to the consumer! And when I say customizable, that is what I mean – customizable luggage. And don't forget that it also offers a waterproof zipper to keep your belongings dry and fully integrated with the TSA lock combination.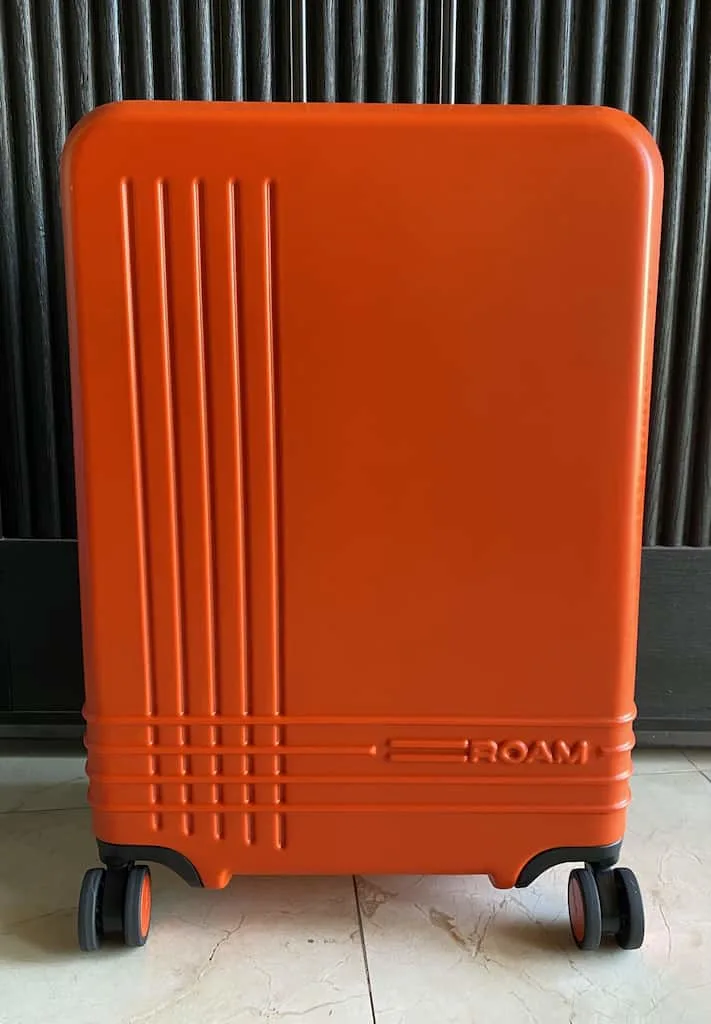 Waterproof Customizable Luggage
No more wet clothes when you see your luggage being dragged out on the airplane tarmac in the pouring rain! Plus, each of the suitcases' four wheels has ball bearings that spin smoothly on any surface – from cobblestone streets of Positano to the Airport hallways of Qatar Airways. This suitcase is ready for your globetrotting ways! Plus, ROAM offers free shipping on every customizable suitcase!
I chose the Journey midsize checked luggage because typically I am a light packer. But when I go internationally and am staying in luxury hotels, I prefer to have a few more things to throw in my handbag.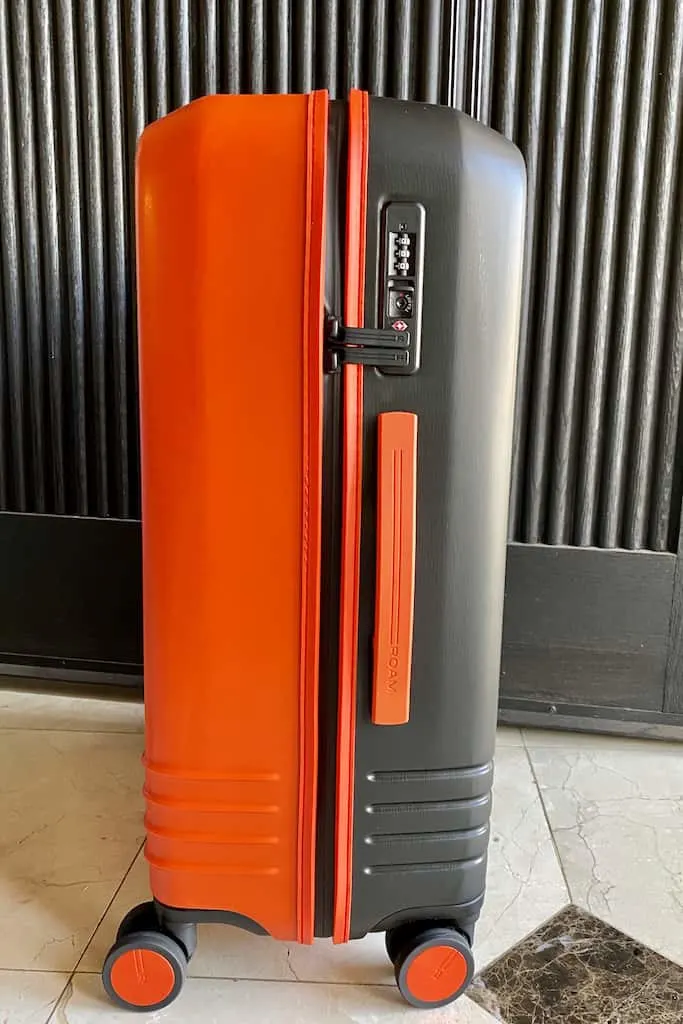 Here are a few things I loved about ROAM luggage:
ROAM luggage is stylish, durable, and I had plenty of space inside my luggage.
ROAM luggage WHEELS were sturdy, have ball bearings, and are able to handle all landscape types! They were ultra-quiet and had an ultra-smooth ride!
The luggage is lightweight and strong and made from 100% polycarbonate!
The color of the luggage is the color of the polycarbonate, so it doesn't scratch off.
Ok, so all of that is well and good until something happens!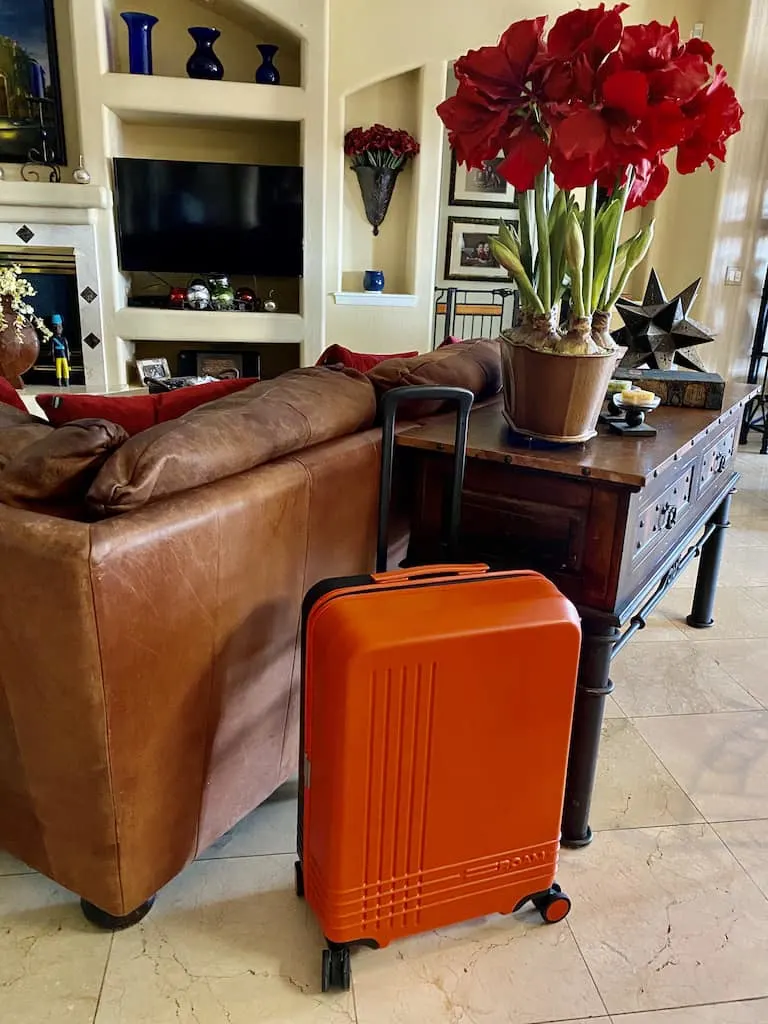 So, What happened?
Well, let me tell you what happened! I was flying back from my amazing trip to the Galapagos islands and staying in Guayaquil overnight when the hotel loaded up my luggage in the back of their van. They were taking me to the airport for my final flight home before COVID-19 happened. I gave them my fully functional, fully customizable luggage that I was using for this ROAM luggage review.
My Broken Customized Suitcase
Once we arrived at the airport, I stepped out to get my luggage, the driver unloaded it and LOW AND BEHOLD – there was a giant HOLE in my luggage the size of a SOFTBALL! Like what?
Yes, that is right, somehow it must have fallen on something in the van or who knows what, but now I could literally see my clothes, as the gash was all the way through. I could stick my hand through it! I had to so do some quick thinking and found one of those fully plastic wrap places where you pay $5 to have your luggage wrapped at the airport. As I wanted on that plane to get back to my family. Once I returned home, here is what happened.
Document the Damage to the Customizable Luggage
I took a few photos, went on the website to get their email, and emailed them photos and explained what happened. They told me where to send the luggage, I mailed it to them and within a few weeks, I received what looked like a brand new piece of luggage! See, now that is what I am talking about – this ROAM luggage is fully warranted! ROAM has a lifetime limited warranty that works for me! ROAM warrants its customizable luggage against defects in material and workmanship.
Limited Lifetime Warranty!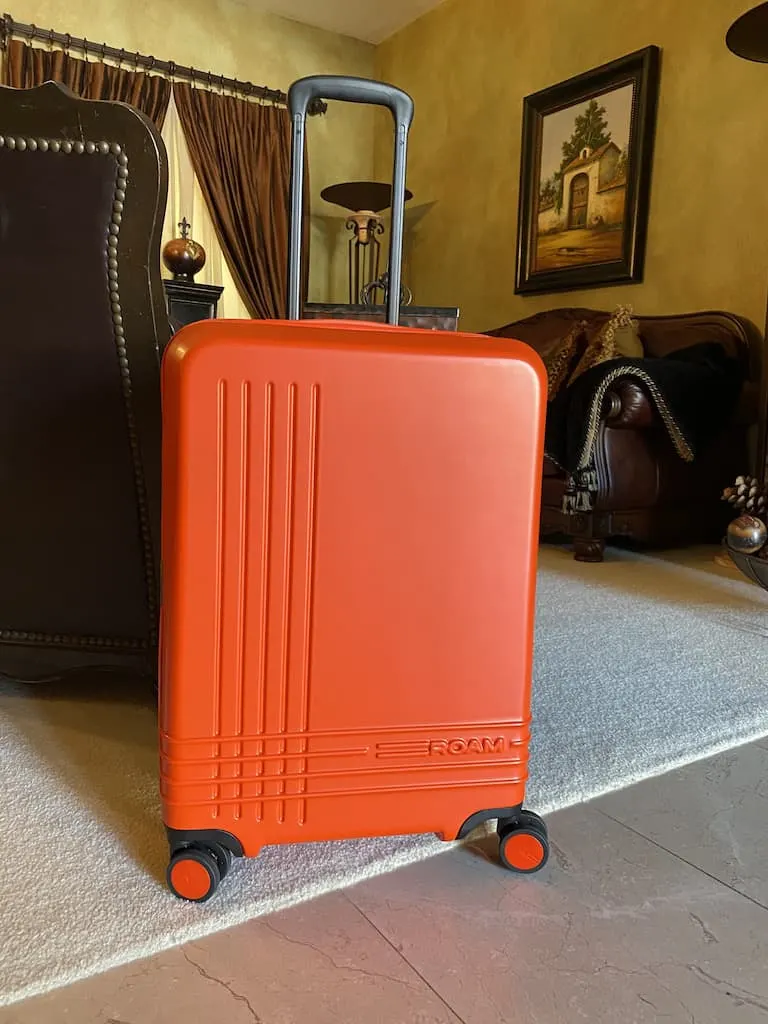 I love the fact that their limited warranty covers the following:
Cracks in the front or back shell (exactly the problem I had)
Wheels, handles, or telescoping handles that are no longer usable
Zippers that can no longer be opened or closed
Fabric tears that render linings and compression boards non-functional
So there you have it, a fully customizable suitcase that is not particularly cheap, but will do you well on your globe-trots around this gorgeous world for travel! Don't you just love this new red/orange color? My older ROAM luggage was blue, but this really "pops" and will definitely stand out on the luggage belt at the airport!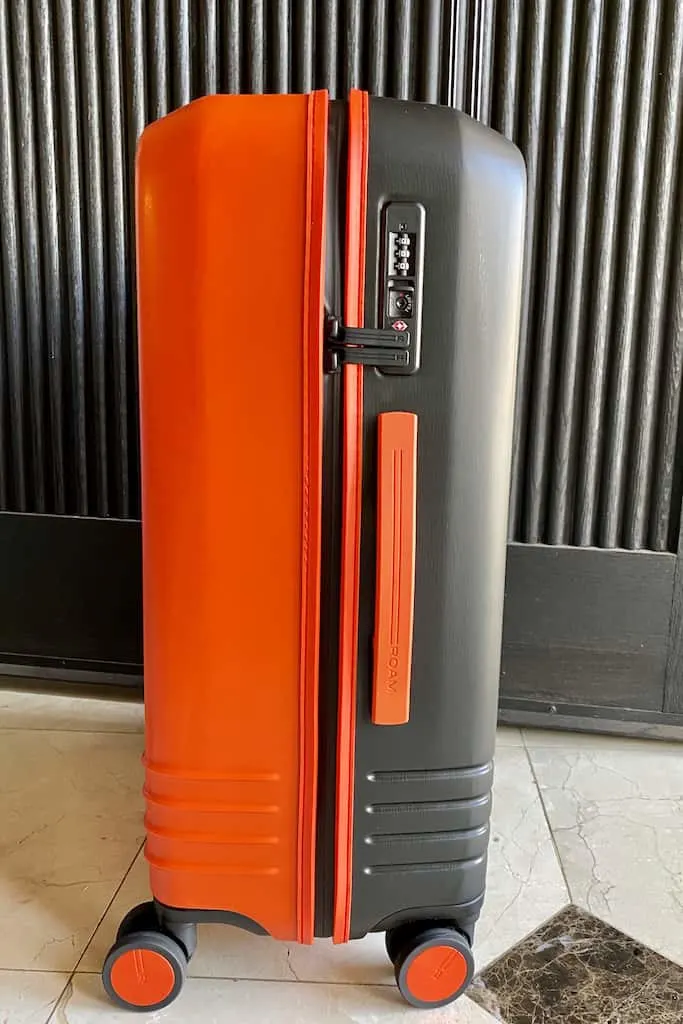 Disclosure: As is common in the travel industry, I was provided with compensation for the purposes of review by ROAM luggage. While it has not influenced my review, PointsandTravel.com believes in full disclosure of all potential conflicts of interest. All Photos were taken by the author/or were given permission for use. Affiliate links may be located in this article.