Walking the city streets and along the St. Lawrence River of old Quebec City, I felt as if I could hear the sounds of the past from the old shipping boats that came into the harbor. In fact, Old Quebec City was built upon the St. Lawrence River, where the French merchants brought in goods from far away lands. Along with the stunning visual surroundings, the snowy climate of Old Quebec City has tourists flocking to visit it all year long. Although the winter is one of the most visited seasons because of its gorgeous snow-kissed views and honestly, I loved it!
There are also many adventurous winter activities to do in Quebec City. Keep reading to find out 15 of the most exciting and fun things to do in Quebec City in the Winter. Now I want to go back in the Summer, just to see the old city in a whole new light!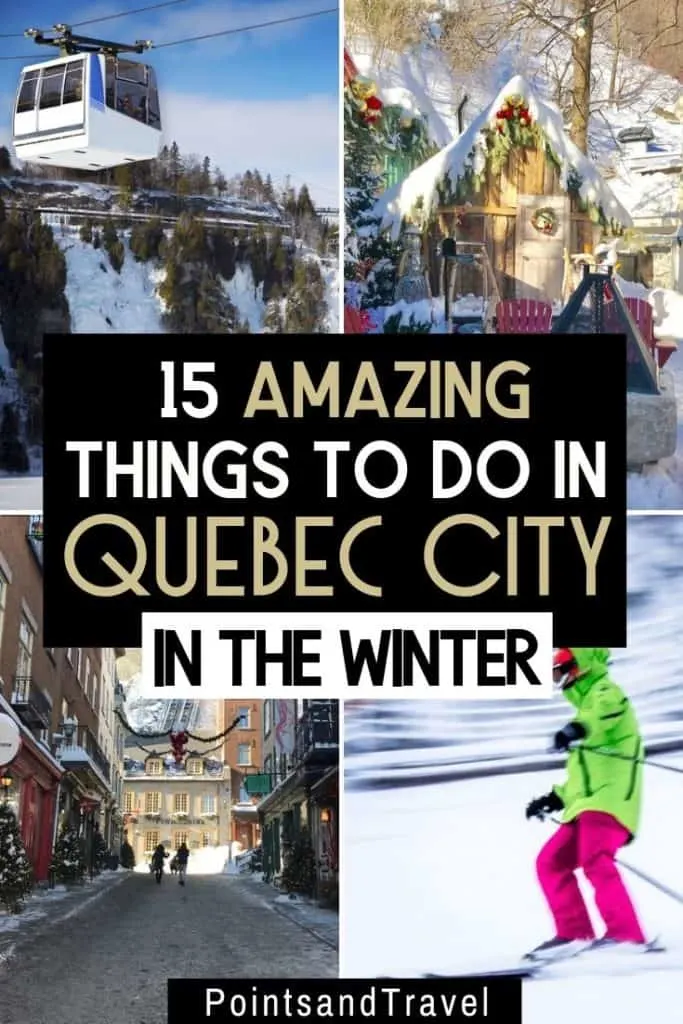 I had dreamed of going to Quebec City, Canada many times after hearing the whisperings in the travel world of it being a mesmerizing French city in North America. With cobblestoned streets that are dusted with snow, a looming castle perched high on a cliff above the Old City, and the flowing ebb of the icy river, Quebec City meets all the requirements of a backdrop for fun and exciting things to do in the Winter!
Quebec City is absolutely delicious (and I don't just mean the food!). Sometimes cities get this reputation of being charming and quaint, but then when I visit them, I am disappointed. That did not happen in this unique French city in Canada. It certainly deserves every bit of the mutterings I had heard.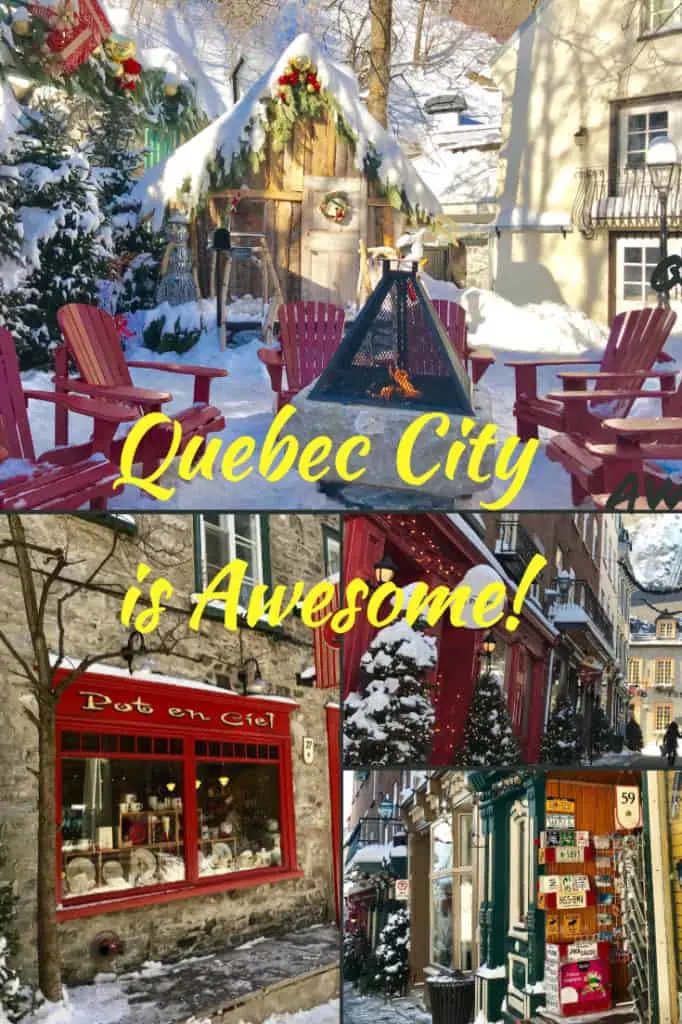 Old Quebec City went beyond my expectations and I was delighted at every turn of the road as we frolicked down snow-covered streets to what felt like Christmas in January or at the very least a winter wonderland at every turn. And as I heard, that Christmas feeling stays around old Quebec City for a very long time, as do the snow-themed decorations.
I am delighted to have visited this UNESCO World Heritage site. I believe it is one of the most picturesque places in all of North America in my humble opinion. It looks exactly like a village you would find in Europe or in the Southwestern area of France with its cobblestoned walkways, architecture, and French being spoken everywhere.
We spent hours checking out the charming storefronts with each being more endearing than the last. I hope you enjoy this article about 15 exciting and fun things to do in Quebec City in the winter as much as I did writing it!
---
✦ Are you looking for more Quebec City inspiration? You can see everything my husband and I did in Quebec City on my Instagram Story highlights located here. You can also see more photos from the trip on my Instagram account if you scroll down to the snow!
---
There is no better way to spend the wintertime in old Quebec City than to stay at the Fairmont Frontenac. This place is legendary. In fact, for your first visit to old Quebec City, I would say this is a must! This grand hotel offers plenty of guest services from bell staff, florists, laundry services, to luxury car rentals. If you would rather spend some time indoors than to embrace the snowfall outside, this hotel has an indoor pool as well as a whirlpool, gym, fitness and meditation classes, and a spa. Plus, 1608 Wine & Cheese Bar was bustling every night that we stopped by for a nightcap.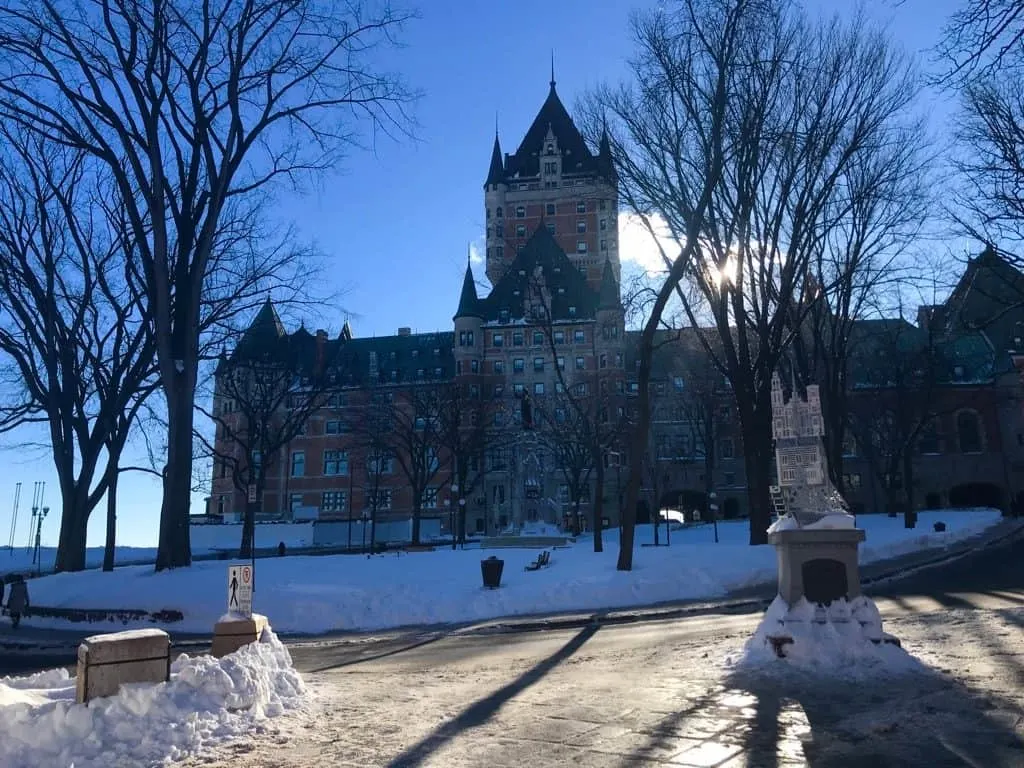 Le Château Frontenac | Address: 1 Rue des Carrières, Québec, QC G1R 4P5, Canada
✦ Go Shopping at Quartier Petit Champlain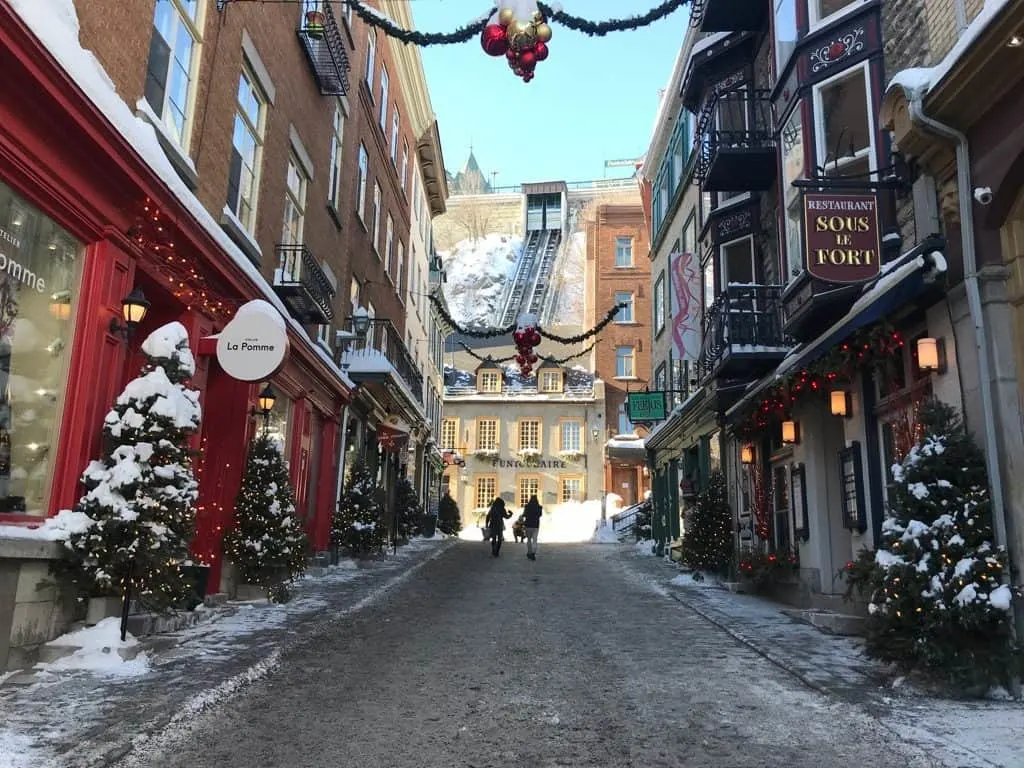 Quite frankly, I absolutely loved this tiny little street and the area it is in. Even the taxi driver was proud that this tiny street was named the best street to shop in all of Canada! I couldn't wait to go see it for myself and it is absolutely adorable! This perfectly decorated street in Quebec City offers plenty of excitement and novelties for any shopper to enjoy.
You can check out the ice sculpturing contest, the winter carnival, shop for souvenirs and indulge in the finest sweets of the city. They even have the famous red Adirondack chairs set up around a fire pit that typically seen in all of Canada's national parks.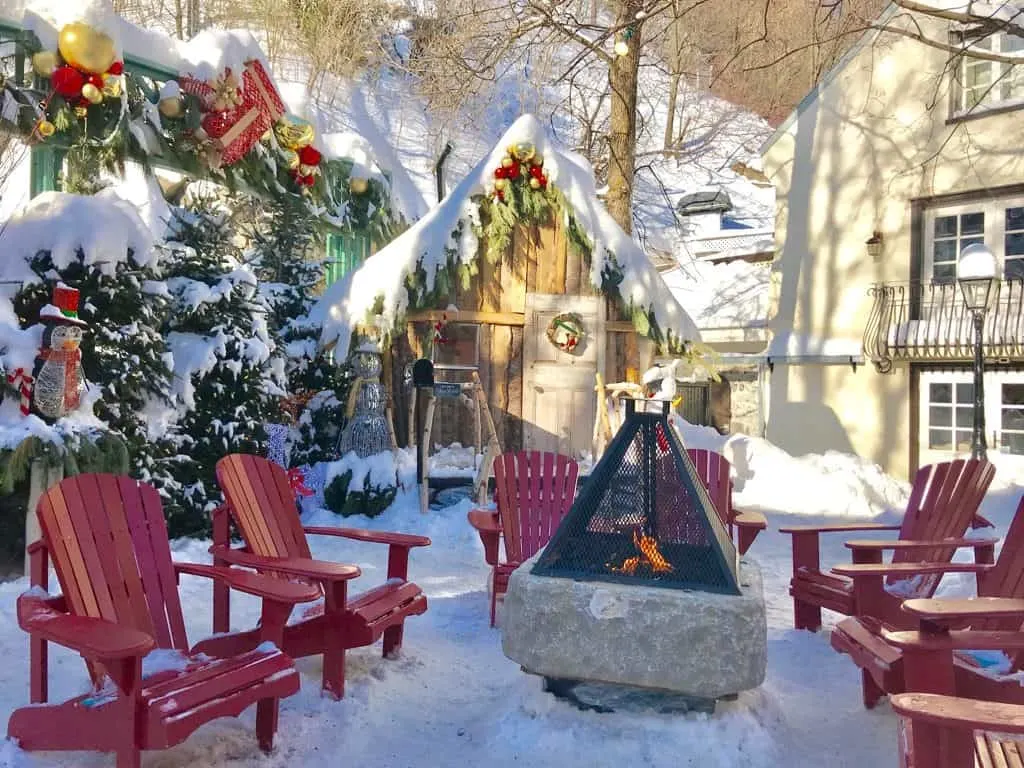 Quartier Petit Champlain | Address: 61 Rue du Petit Champlain, Québec, QC G1K 4H5, Canada
✦ Experience the Strom Spa Nordic
The winter is known as the season that makes people want to snuggle under warm blankets and relax. Well, at the Strom Spa Nordic, you can do just that. This honestly is one of the most amazing indoor/outdoor spas I have ever been to in the winter. I loved the concept of negative edged pools along the St. Lawrence River.
At each station, they have hot therapy, cold therapy, and a relaxation station. They even offer one of the only floating saltwater heated pools in North America, along with infrared heat, dry and wet saunas, steam rooms, a heated lazy river, and of course, all the cold plunges your heart desires.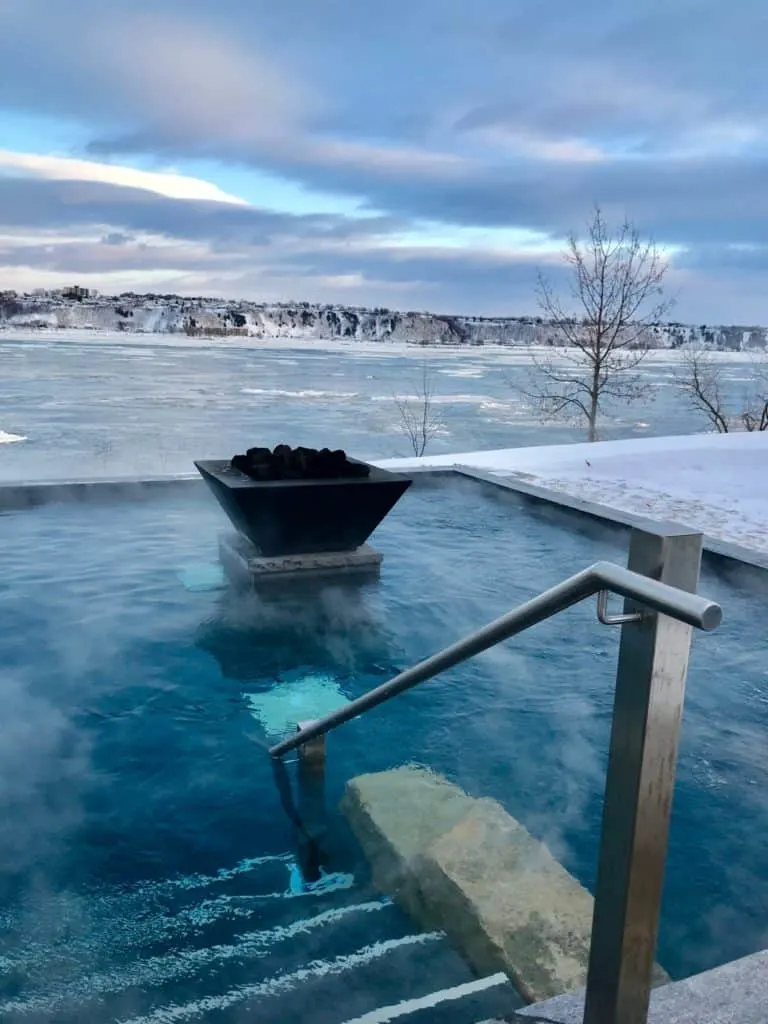 For additional therapy, they offer packages that offer a Swedish massage, hot stone therapy, and even a romantic package for two! All of your worries will melt away once you relax with a thermal experience from Strom Spa Nordic. But don't just take my word for it… go, as it is the perfect afternoon in old Quebec!
English is Spoken here!
Are you afraid no one speaks English in Quebec City? Well, you are absolutely wrong, as of course, you will hear French spoken here quite often, but most everyone we spoke to also spoke English, so don't worry about that! I do recommend learning a few basic French words– as I know they will appreciate it and since French is the dominant language of Quebec City.
Strom Spa Nordic | 1001 Boulevard de la Forêt, Verdun, QC H3E 1X9, Canada
✧ Go on the Toboggan Slide
Found right in the middle of Old Town Quebec, you can find the toboggan slide. Clocking in at over 70 km/hour, the toboggan slides at Dufferin Terrace are sure to give you a full blast through the snow. As you slide down the slopes, the overview of the Quebec City will leave you speechless. This is an absolute must-do while visiting the city! Also, it is very close to the Fairmont Le Chateau Frontenac, so there are no excuses not to try it!
Au 1884 | Place Terrasse Dufferin, Québec, QC, Canada
✦ Ride the Funiculaire du Vieux-Québec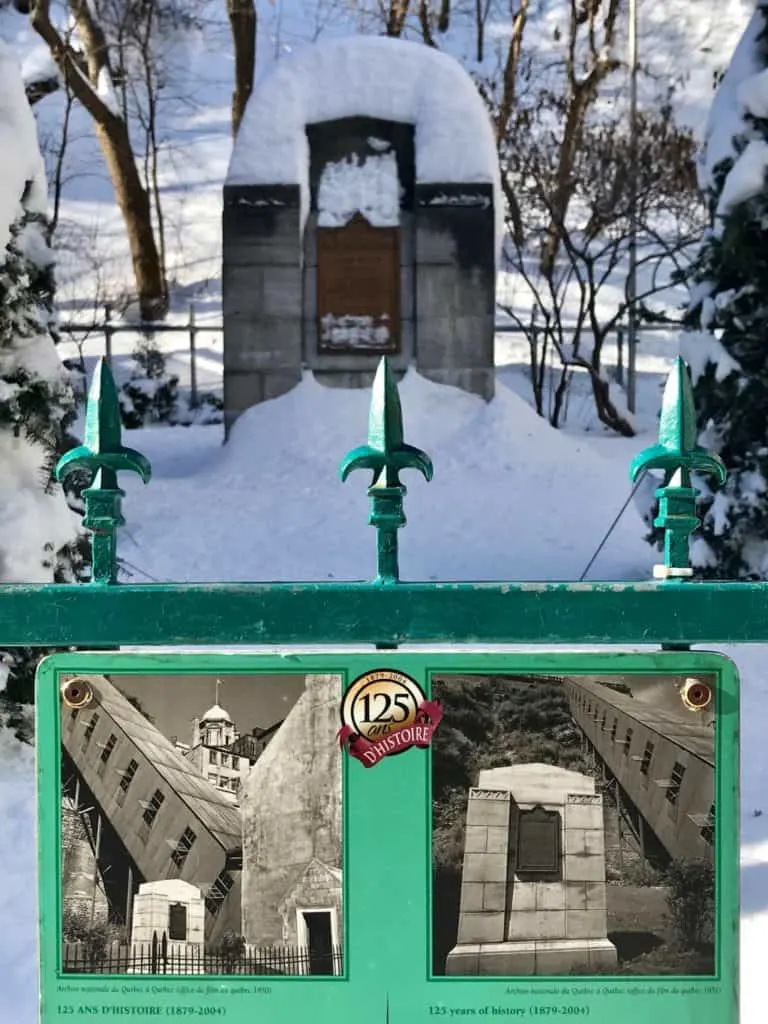 Funiculars, also known as cable cars are a rare form of transportation used so long ago, but even today, they are like a well-oiled machine and working perfectly to get you around the city. It is the only funicular of its kind that is still in use in North America and is called the Funiculaire de Vieux-Quebec.
You can even take the funicular to one of my favorite thing to do in the Quebec City in the winter (Quartier Petit Champlain), as it is right around the corner from the Fairmont Le Chateau Frontenac, so it has easy access from the hotel.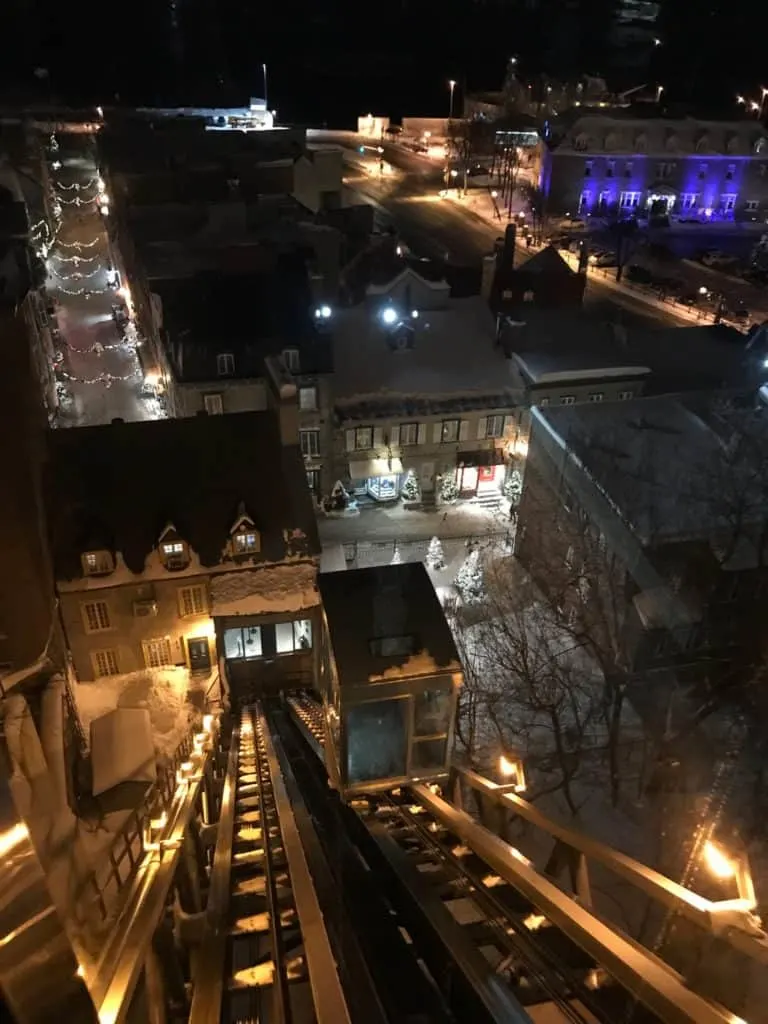 Funiculaire du Vieux Quebec | Address: 16 Rue du Petit Champlain, Québec, QC G1K 4H4, Canada
✦ Bundle up and Explore the Historic Vieux-Quebec, Oh and

Eat

!
Remember that visiting old Quebec City in the winter means you need to bundle up! Wear your most comfy and warm hat, scarf, gloves, and boots. All of your warm clothing will be put to good use when walking around the historic streets of old Quebec City.
You should check of the Place Royale, Grand Allée with its rows of ice sculptures and restaurants, as well as, these two shopping streets: Rue Saint-Jean and Rue Saint Joseph. Stunning views on the street of Rue Saint-Jean include the oldest Catholic Church in North America, Norte-Dame de Quebec Basilica, and Seminaire de Quebec.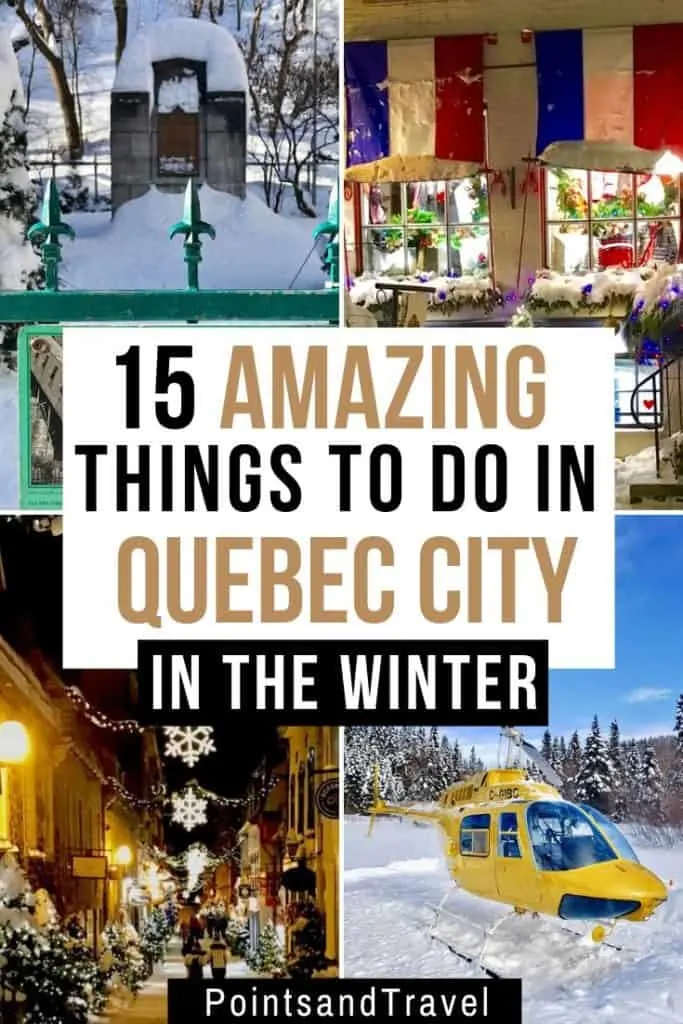 Amazing food can be found throughout Quebec City but restaurants such as Shaker, Pub Edward, and Poutineville are crowd-pleasers on Rue Saint Joseph. In old port, try the L'Echaude, it literally is the best classic French restaurant we found. The service and the food were impeccable. You will be glad you did, we certainly were!
We also enjoyed a lunch at Chic Shack and dinner at Aux Anciens Canadiens for some local traditional flare. However, don't miss the trendy Chez Boulay Bistro Boreal for one of the best Nordic meals in town! For cocktails, we tried the 1640 Bistro and the hotel bar 1608 Wine & Cheese Bar at the Fairmont Le Chateau Frontenac. Both were excellent. The food in this town is wonderful and there are so many more places I could mention!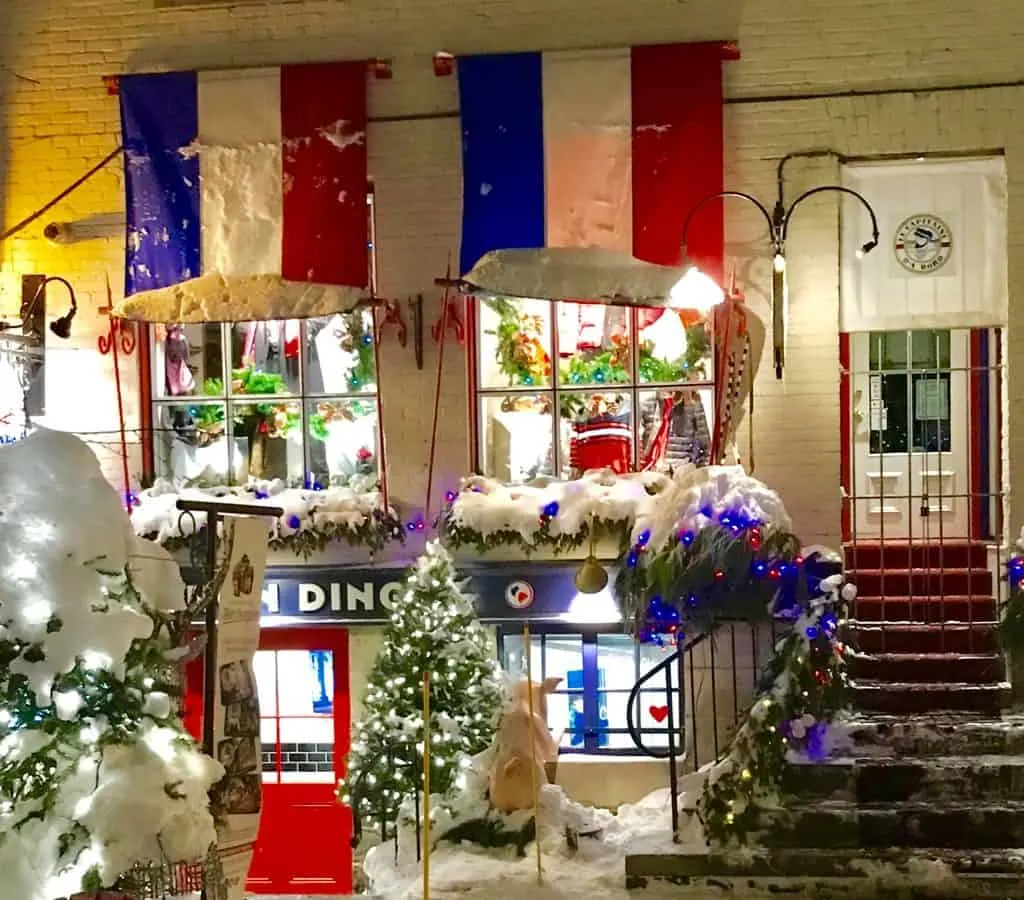 A famous tradition dating back to 1894, Quebec City is famous for hosting the best Winter Carnival is Canada. Tourists can feel like there are one with the people of Quebec City. This carnival lasts for 10 days each year (between the end of January and beginning of February).
Each day brings new adventures such as contests, tailgating, canoe race, luncheons, and ice skating with Bonhomme. I even saw them getting ready with ice sculpting down one of the main streets.
✦ Grab a Gourmet Coffee
The best way to warm up from the chilly weather is with a gourmet coffee. We had a wonderful French coffee experience at Boulangerie Paillard. Not only do they offer gourmet coffee, but they also offer delicious handmade bread, croissants, pastries, and even pizza! You can find one of the four quaint shops in old Quebec City (Vieux-Quebec) along Rue St. Jean.
Enjoy a delicious meal from the top of the Hotel Le Concorde Quebec. You can order scrumptious meals from sweetbread, roasted scallops, Osso Bucco, and foie gras. Aside from the impeccable meals, this restaurant rotates around the city offering panoramic views that go on forever!
Exciting and Fun Things to do NEAR Quebec City in the Winter:
✦ Go Dog Sledding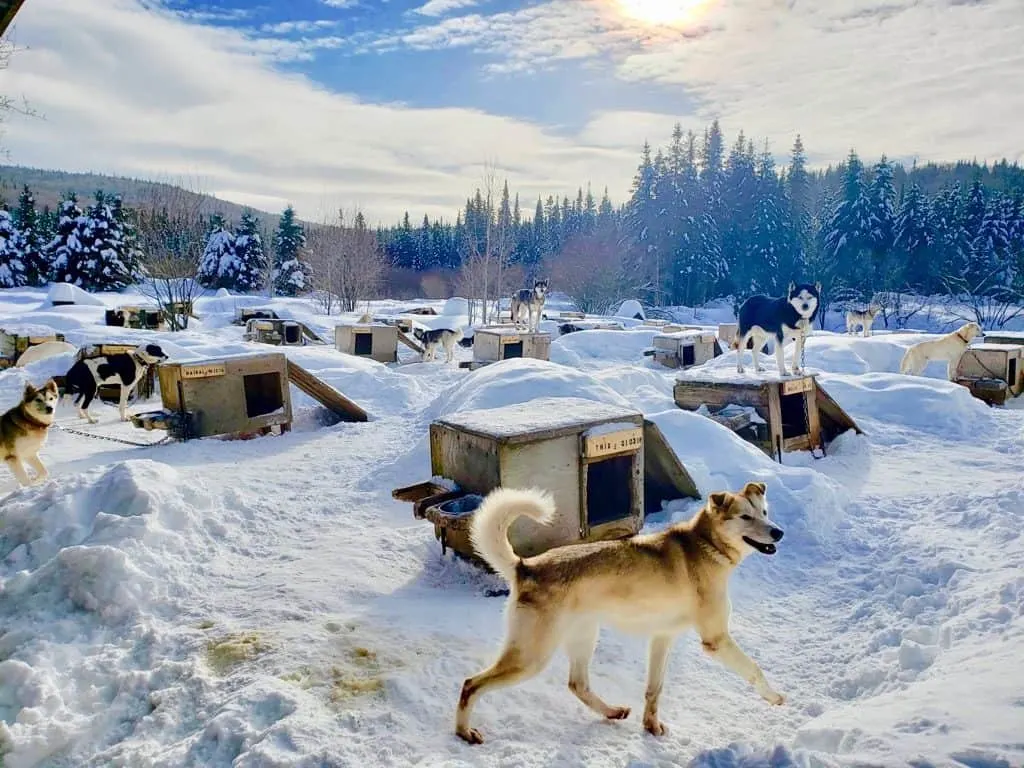 Adventures Nord-Bec Stoneham maybe a little outside of the city (30 minutes from Old Quebec City), but it is definitely worth the trip during the winter. (FYI, they do have Quebec City pick up at the local hotels). An adventurous and super fun winter adventure awaits you as you arrive in the Valley Jacques Cartier. Whether it is your first-time mushing or you have done it before, you will not have another dog sledding adventure like the one at Adventures Nord-Bec Stoneham.
The track is well-groomed and many miles long, so you will have plenty of time to be outdoors enjoying this winter wonderland. You will be given the reins to become a real musher for the day with a guide on a separate sled, so don't think you won't be doing a lot of the work! But seriously, the dogs are fully-trained, safe, and quite frankly adorable!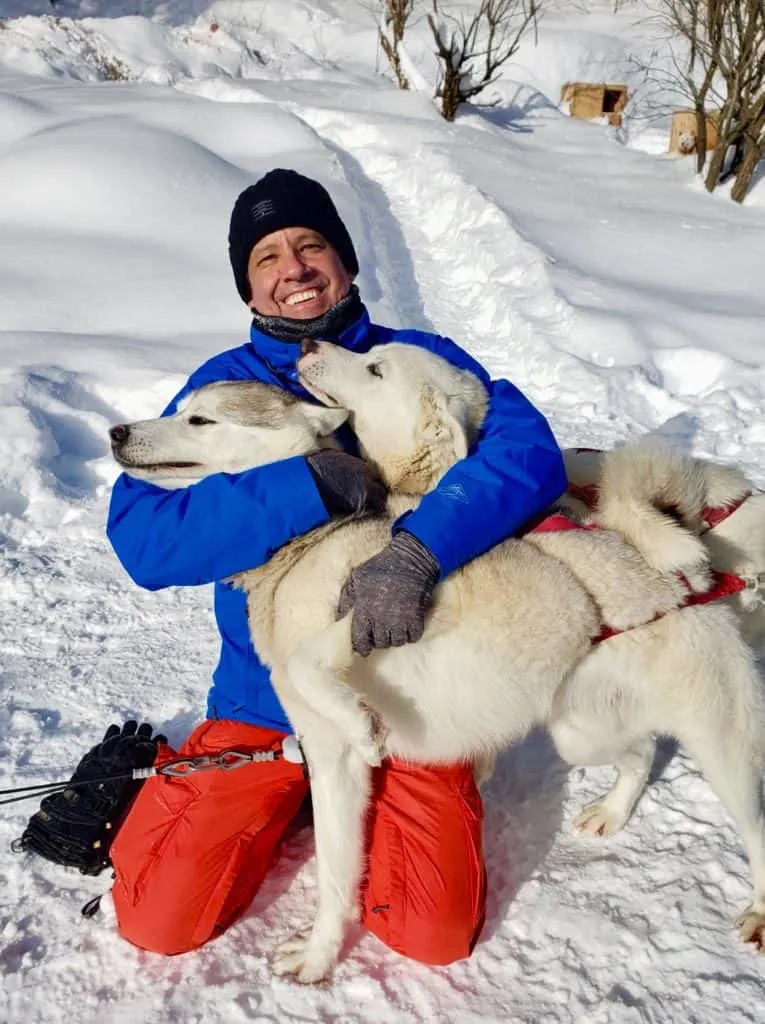 Adventures Nord-Bec Stoneham | 4 Ch des Anémones, Stoneham, QC G3C 0A4, Canada
✦ Take a helicopter ride
An amazing thing to do either before or after dog sledding is to go on a helicopter ride with Adventures Nord-Bec Stoneham while you are there. This company offers packages for dog sledding plus a 10-minute helicopter tour of the area. You can enjoy a small snack, quick dog sled handling instructions, a visit to the kennel, along with the helicopter tour, and dog sledding all at the same time on the same trip.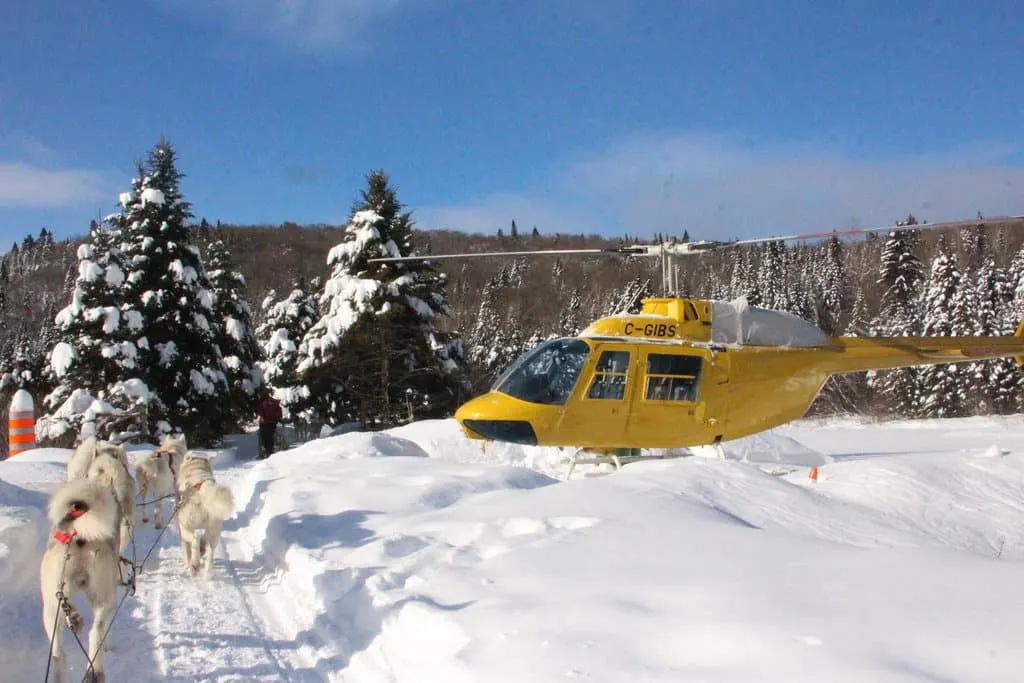 Adventures Nord-Bec Stoneham | 4 Ch des Anémones, Stoneham, QC G3C 0A4, Canada
✦ Experience A Winter Wonderland Park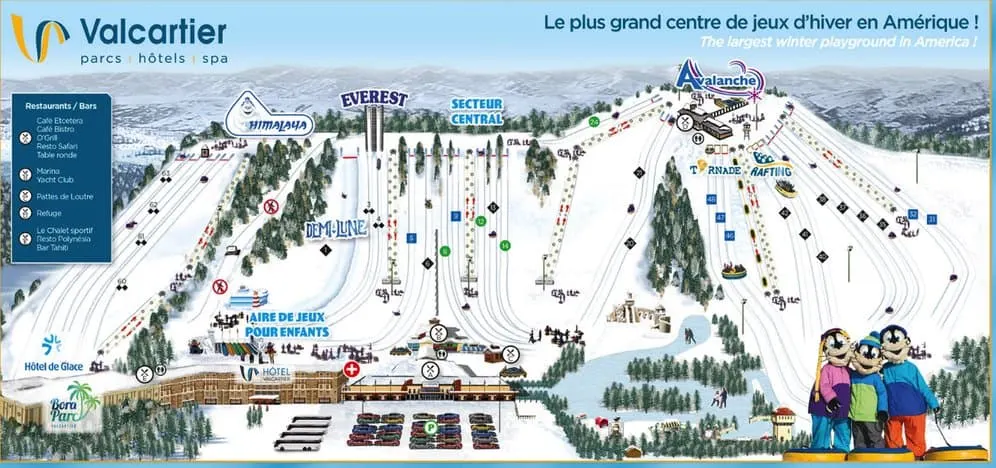 Now, this I was not expecting at all! The park, Valcartier, is a true winter wonderland for kiddos, as you can take the whole family on a fun adventure at this Winter Playground. With over 35 snow slides, Valcartier is considered the largest winter playground in all of Canada. You can enjoy winter activities such as snow rafting, inner tube sledding, and skating. It is also a family-style hotel with as many indoor activities inside as there are outside. So bring the whole family, get yourself a room or a suite and stay for a while!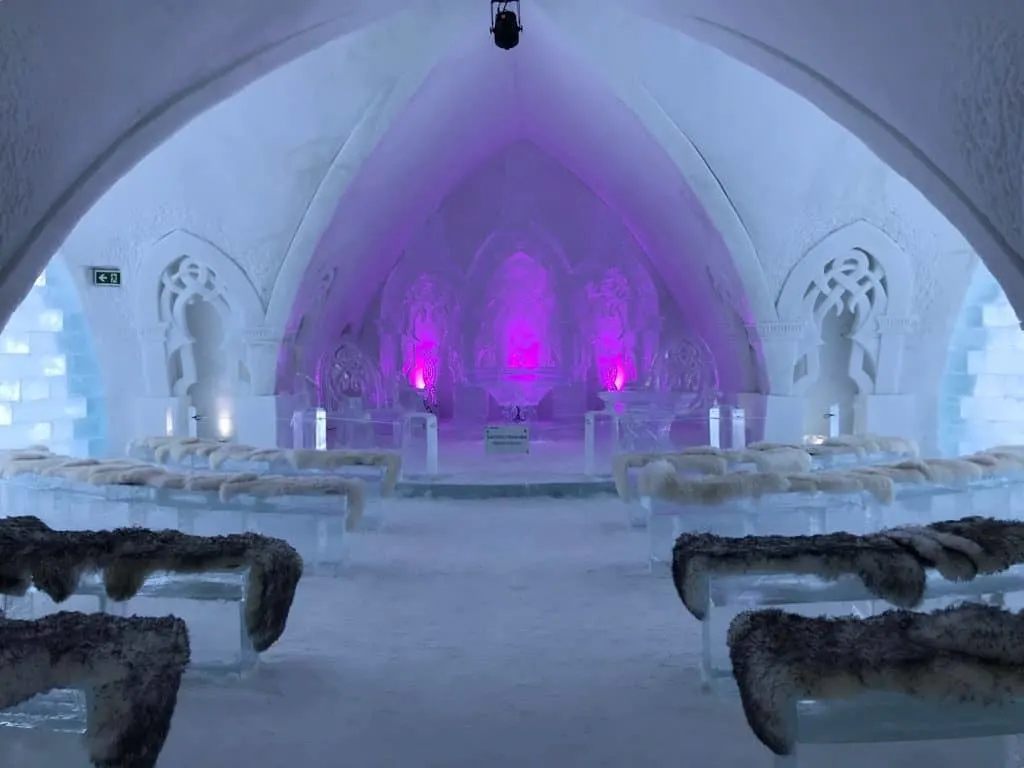 But that is not all they have at Valcartier, remember I told you it is a family-style hotel? Well, they also actually build a 43 room ice hotel on the property! Say what? Yes, it is true! Winter lovers are sure to instantly obsess over the Hotel de Glace or Ice Hotel. This unique hotel offers ice workshops, themed suites, decorated ice sculptures, and a famous ice bar! Aside from all the icy details of this one-of-a-kind hotel, you can warm up at the Aroma Spa.
And if you do get a room here, just in case you cannot make it through the night sleeping on a bed of ice, you will also have a room at the Valcartier hotel as well! So there is NO reason not to at least try it! We absolutely loved this frozen tundra and were astonished that something like this can even be built! It is a MUST SEE to believe!
As the entire Hôtel de Glace is made of snow and ice! It is an architectural wonder that is created every winter and destroyed every spring. They keep it open to the public during the day and close it at 9 pm each night to allow the people with reservations to stay for the night! It takes about 2 months to build and is open for about 3 months out of the year! This year's theme is "a winter's garden", as each year they have a theme.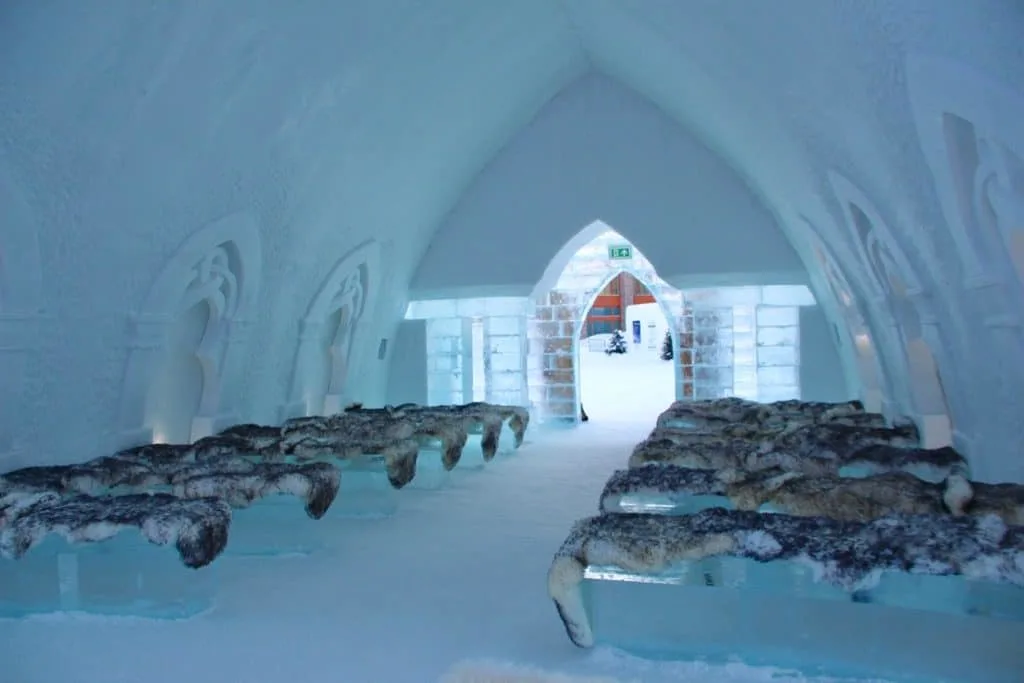 ✦ See The Waterfalls at Parc de la Chute-Montmorency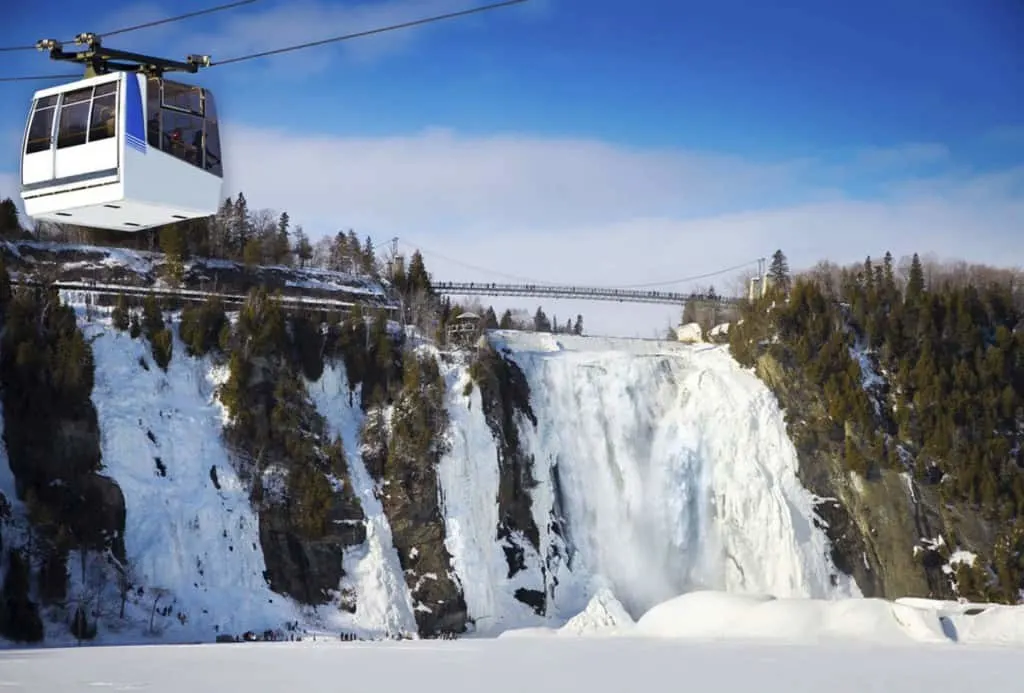 While Niagara Falls may take the cake in terms of great waterfalls in North America, Quebec City has its own waterfall at the Parc de la Chute-Montmorency. This waterfall is over 80-meters high and although it is difficult to visit in the Winter, it is worth a trip out there to view the frozen falls!
You can go on a cable car ride or head out on a walking trail (weather permitting) to visit this waterfall that is close to the city. They even have an ice climb challenge! Are you up for it?
The Waterfalls at Parc de La Chute-Montmorency | 5300 Boulevard Sainte-Anne, Québec, QC G1C 1S1, Canada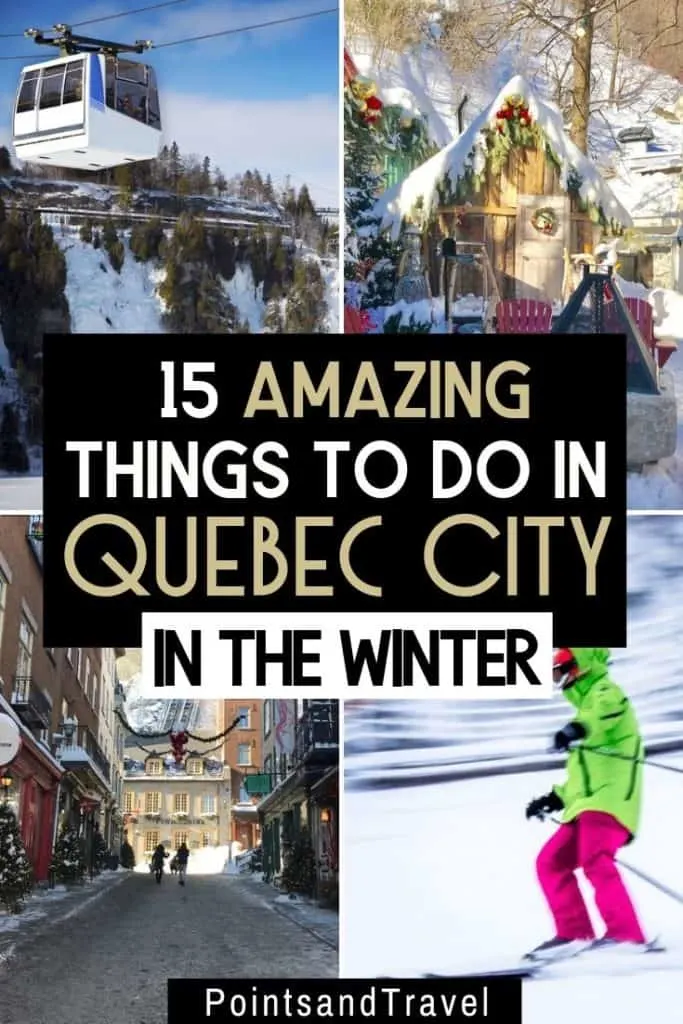 ✧ Hit the Slopes – Skiing, Snowboarding, Tubing, Sledding
One of the most important things to do in winter in Quebec City is to hit the slopes! Whether you enjoy skiing, snowboarding, tubing or sledding, a visit to a ski resort is a must. Some of the best ski resorts to visit during winter are Monte-Saint-Anne, Stoneham Mountain Resort, Le Relais Center, and Le Massif de Charlevoix. Expert skiers may choose to visit Le Massif de Charlevoix for its 770meter drop and 7 extremely difficult trails. Ski Bus offers shuttles services to and from the best ski resorts near Quebec City.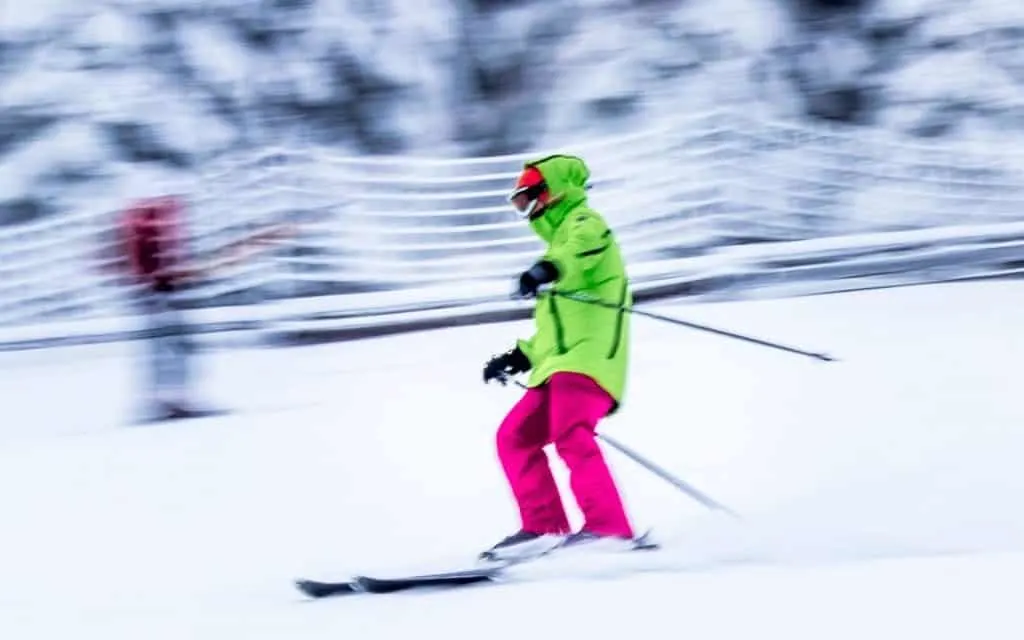 With this amazing list of exciting and fun things to do in Quebec City in winter, you won't have any moments to spare!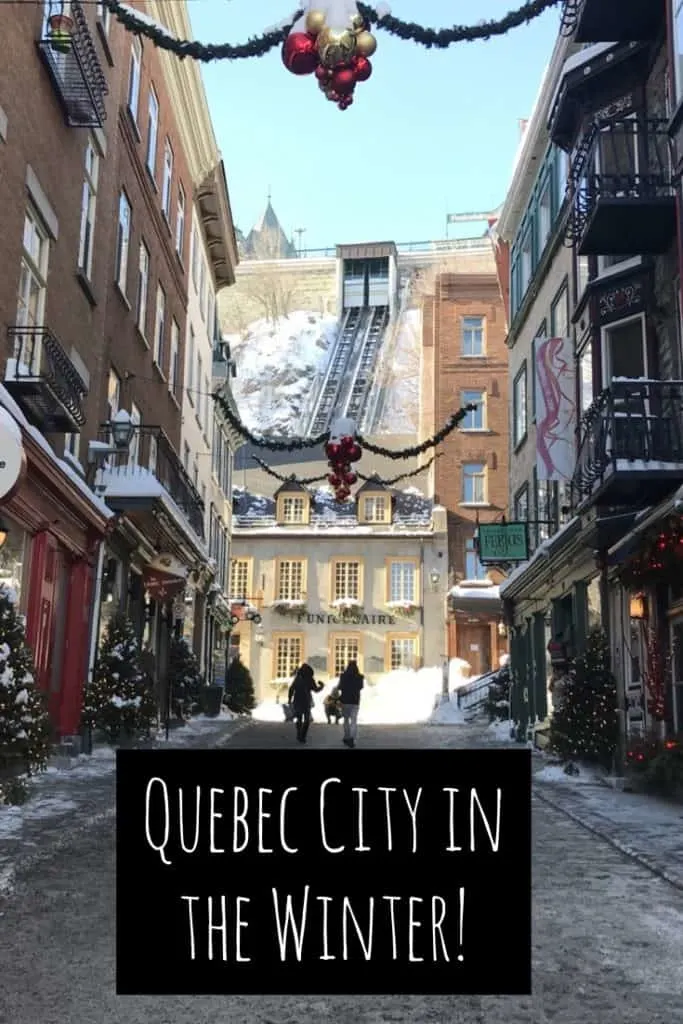 Disclosure: As is common in the travel industry, I was provided with accommodations, meals and other compensation for the purposes of review by Quebec City Tourism. While it has not influenced my review, PointsandTravel.com believes in full disclosure of all potential conflicts of interest. All Photos were taken by the author/or were given permission from the photographer. Affiliate links may be located in this article.