Located in the northwest corner of Big Sky country, Whitefish sits along the Amtrak Empire Builder route, as well as being just 11 miles from Glacier International Airport. Whitefish is a "come as you are" town, where a pair of Carhartts with muck boots work just as well as designer label jeans and Gucci boots. The locals are a mix of cowboys, die-hard outdoor enthusiasts, fly-fishermen, and just all around warmhearted people who come to this ski Whitefish town.
---
What's in this post:
hide
Montana's Winter Wonderland – Ski Whitefish
---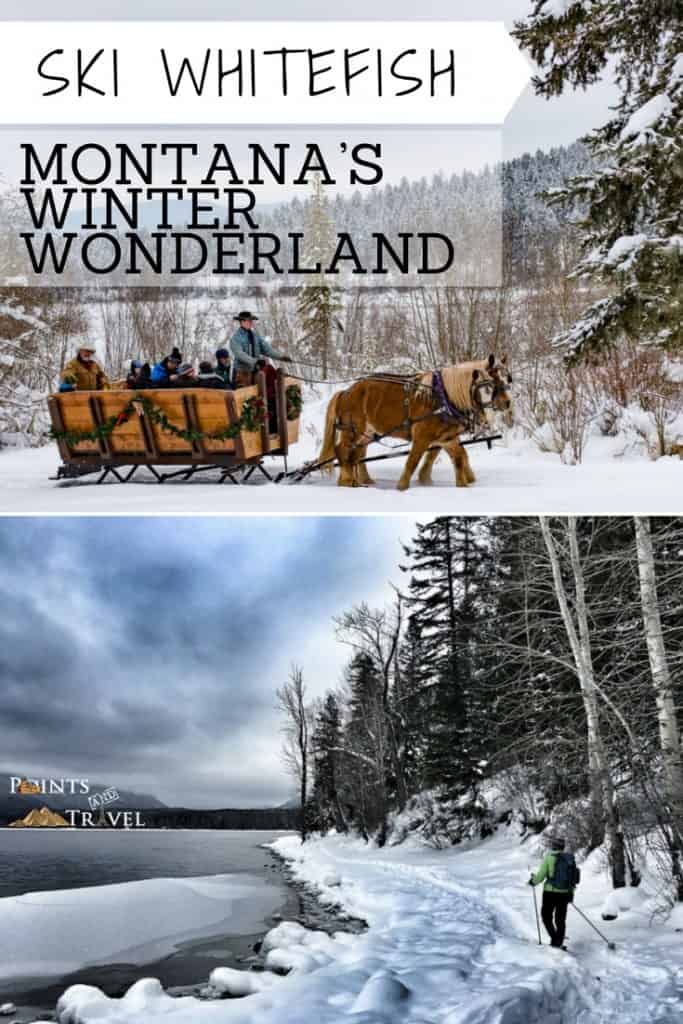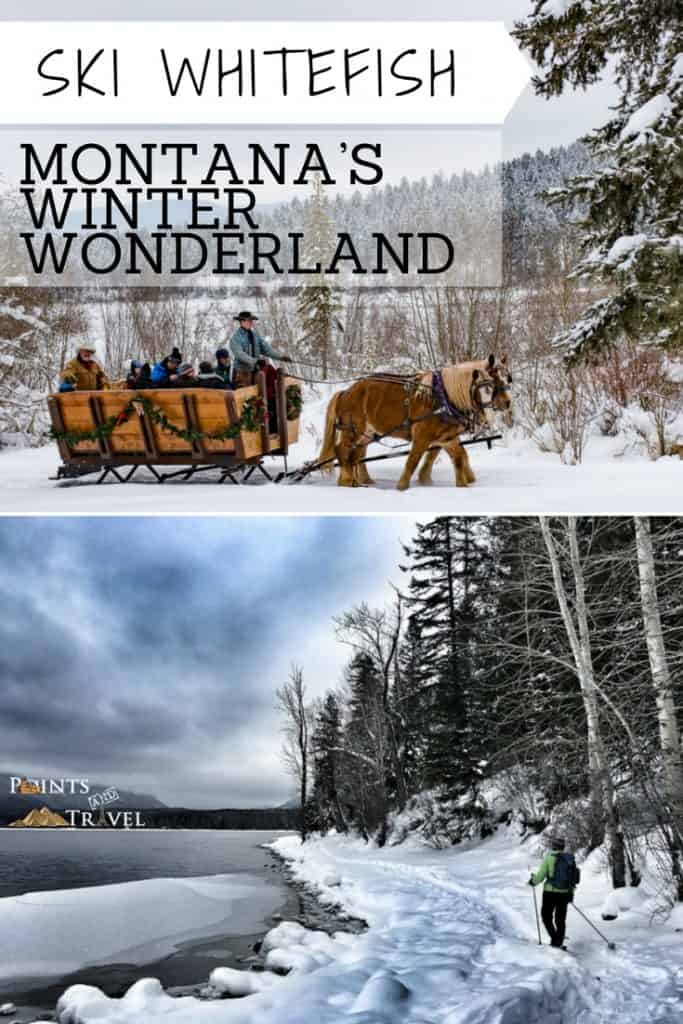 Ski Whitefish MT
Whitefish is a classic ski town best known for Whitefish Mountain Resort, which was named No. 10 by SKI Magazine readers in 2018's annual resort guide of Best in the West. Ski Whitefish has eleven chairs, 4 terrain parks, and 3,000 acres, you would be hard-pressed to wait in a lift line for than a few minutes. Dining, shopping, and lodging, including the slopeside Kandahar Lodge, reminiscent of a Swiss chalet, are part of the Resort experience.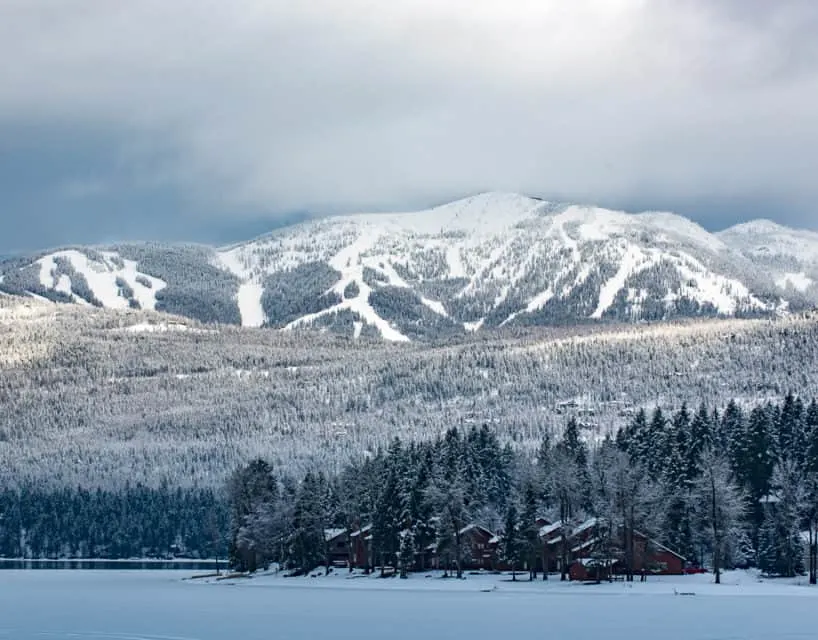 Montana's Winter Wonderland – Mush On
You can ski Whitefish, MT but skis or snowboards aren't the only means of playing in the snow. If mushing a team of dogs has always been on your bucket list, you can cross this one off near Whitefish. Both Winter Woods Dogsled Tours and Bigfork Base Camp will let you in on the action, helping to harness up the dogs and then taking command as a musher or hunkering down in the sled for a comfortable ride.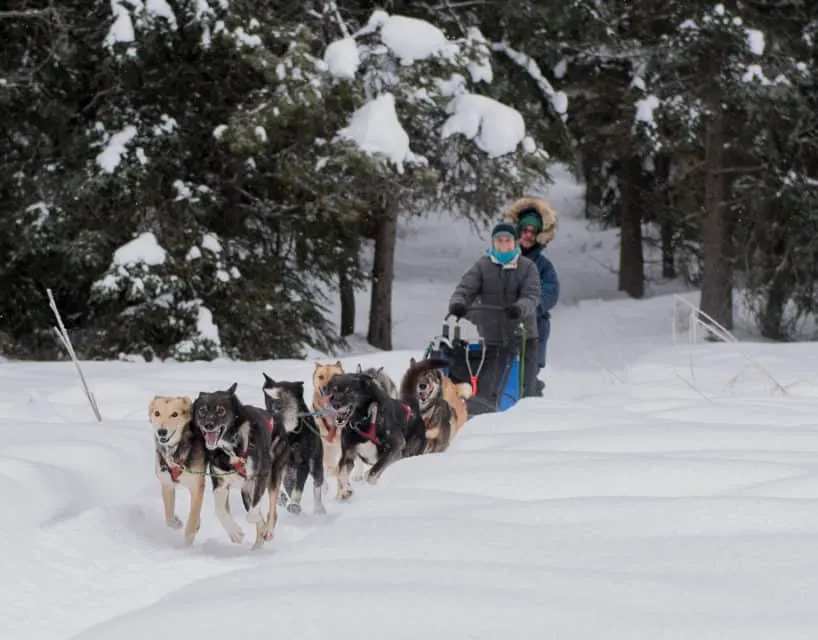 Gliding Through Glacier National PArk
The west entrance to Glacier National Park is 45 minutes from the town of Whitefish. You can drive the epic Going-to-the-Sun road for the first 11.5 miles from the west entrance to Lake McDonald Lodge. From here, it's a great jumping-off point for cross-country skiing or snowshoeing. A ranger-led winter snowshoe walk is available at the nearby Apgar Visitor Center during the weekends from mid-January to March 18, 2018.
Bring your own snowshoes or rent for a small fee at the Visitor Center. There is a remarkable sense of peace in the quietness that comes from gliding through knee-high snow on a pair of cross-country skis or snowshoes in a larger than life landscape. Sportsman Ski Haus and Glacier Cyclery & Nordic are Whitefish resources for rentals of skis and snowshoes.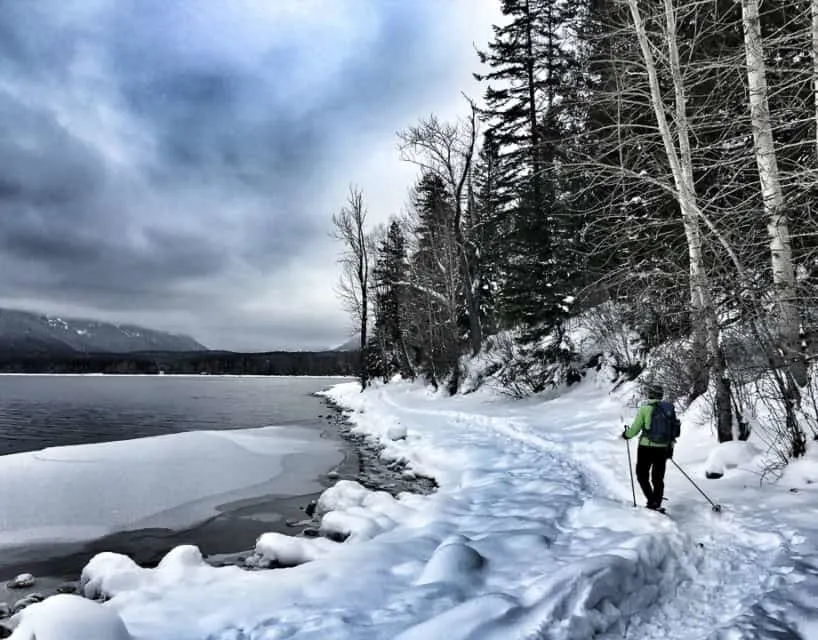 More Ways to Rock the Snow
Dashing through the snow in a two-horse open sleigh is possible at Bar W Guest Ranch. Warm-up with cocoa and cookies after the ride. If cross-country skiing sounds appealing, over 30k of groomed trails between the Whitefish Lake Golf Course and Big Mountain Nordic, offer an invigorating way to burn off a few calories within a mile of the town. For the bike lover, fat tire biking has forged its way onto the winter scene in the past few years. The Whitefish Bike Retreat, nine miles from Whitefish, Mt is a one-stop show for trailside hostel lodging, renting fat-tire bikes, and exploring groomed trails via bike.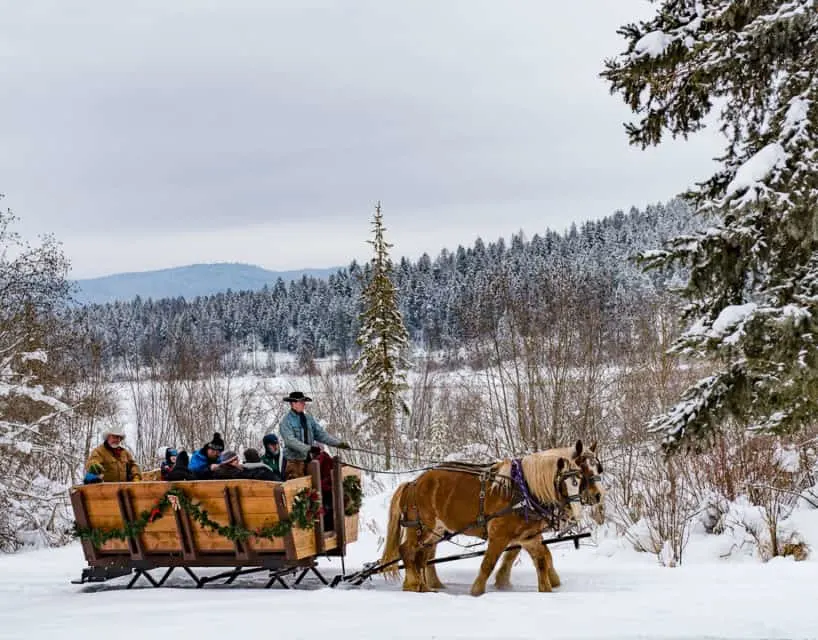 Ski Whitefish, MT -Downtown Delights
If the weather isn't cooperating, look no further than downtown Whitefish which is a pure delight to explore and wander. There is no shortage of boutiques, coffee shops, art galleries, unique clothing stores – all very walkable. At Stumptown Art Studio, you can amble in anytime and paint pottery, fuse glass or create a mosaic piece. Take home more than great memories from a ski Whitefish visit, with a piece of art created by you at this non-profit community art center.
A local favorite is Montana Coffee Traders, for java roasted locally. Not to be missed here are creative breakfast and lunch options, baked goods, locally crafted gifts, and trendy stuff you won't be able to resist buying. The relaxed atmosphere at Coffee Traders lends itself nicely to surfing the web or checking your email.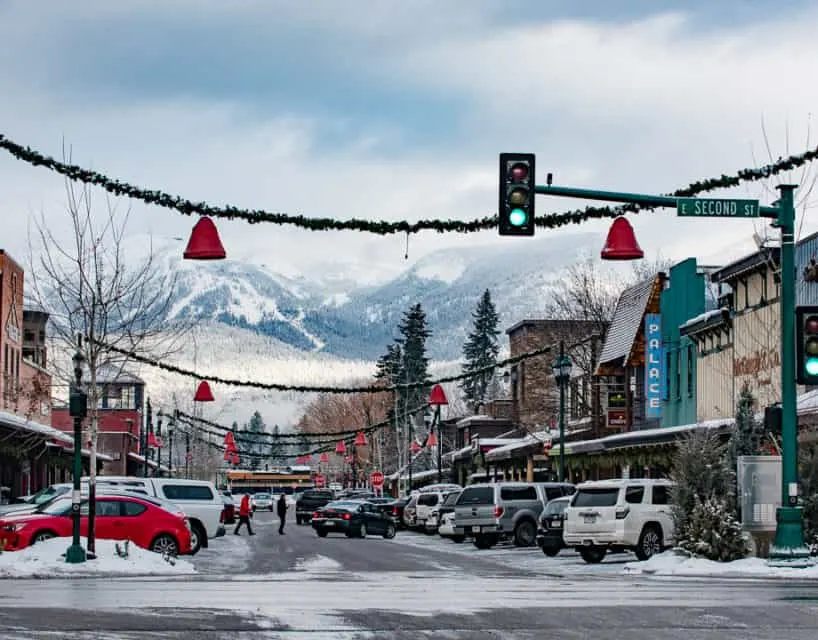 SkiWhitefish – Bunking Down
If there ever was a place to warms up your toes on the hearth by the fire with a good read and a glass of wine in hand, it is Hidden Moose Lodge, tucked into the pines at the edge of ski Whitefish. For the second straight year, Hidden Moose has won the USA Today 10 Best Readers' Choice Awards for the best ski hotel. A luxurious option in town is the Garden Wall Inn, with its scrumptious breakfasts, using locally sourced products.
The coziness of either property makes it a challenge to get outdoors – a great problem to have. Owners of both properties are great outdoor enthusiasts and love to share ideas for how to make the most of your ski Whitefish visit. The new kid on the block for lodging is the Firebrand Hotel, a swank upscale property in the heart of Whitefish, complete with a spa, bar, and restaurant on site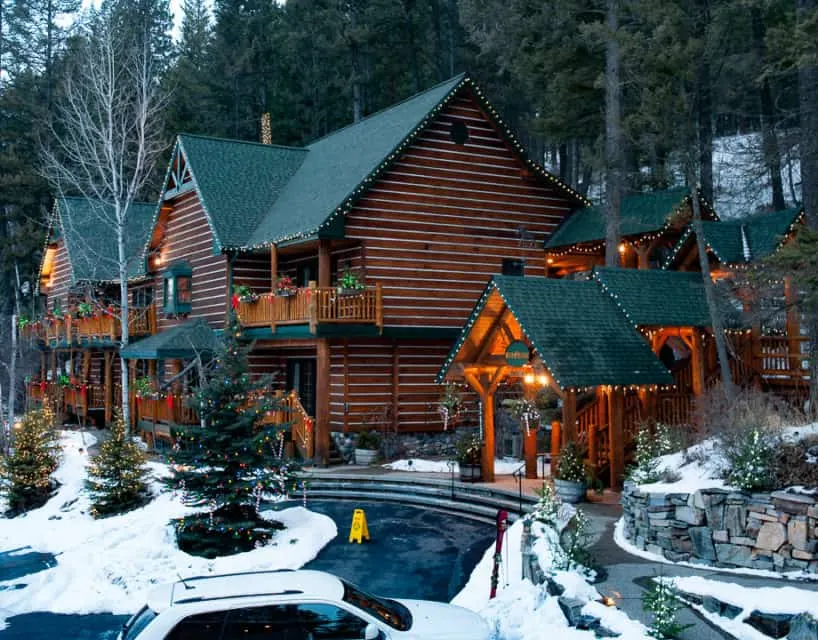 Whitefish Montana Restaurants to Try
For being a small community, Whitefish is a hub of amazing eateries. Whitefish Lake Restaurant is located in a 75-year old log clubhouse on the golf course. Known for their exquisite steaks and prime rib, it's mandatory to finish a meal here with homemade peppermint ice cream. Head to Loula's for the lemon stuffed french toast with raspberry sauce.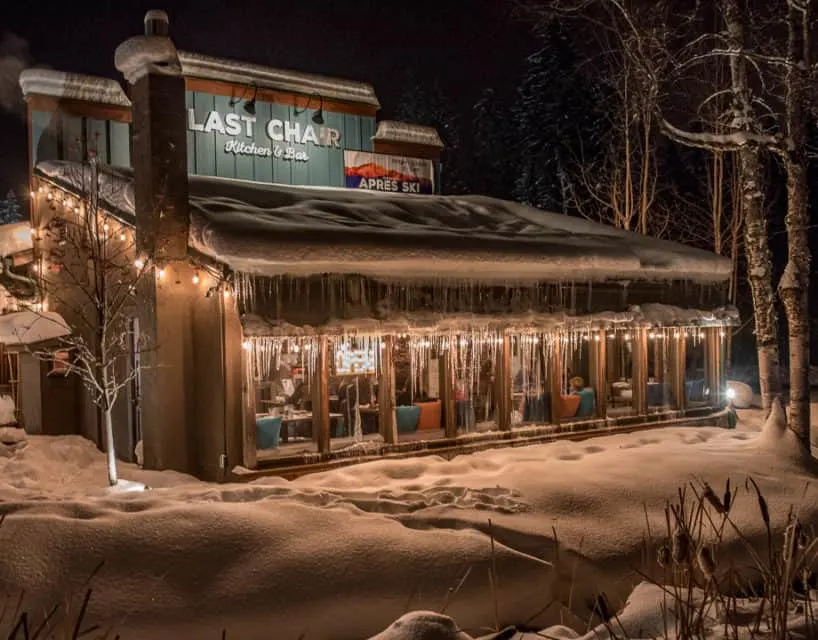 Last Chair Kitchen and Bar is a cozy and casual family-friendly establishment. Their specialty is chicken and waffles – a Southern version with buttermilk fried chicken, sitting atop a savory waffle and served with a huckleberry – gorgonzola cream, maple balsamic, and side of collard greens. Wasabi Sushi Bar also gets rave reviews. Even on a cold winter day, Sweet Peaks Ice Cream is a must-stop for locally made ice cream with creative flavors.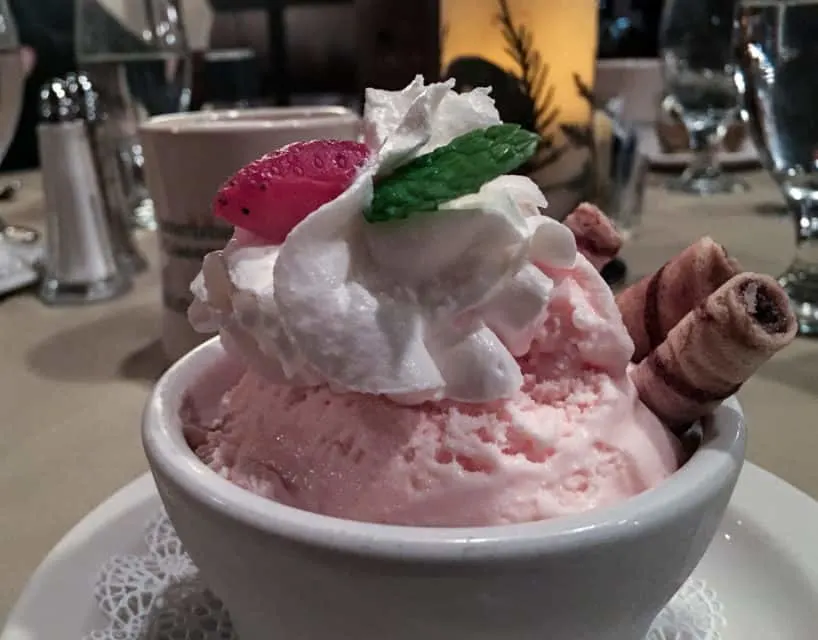 Local Libations in Montana's Whitefish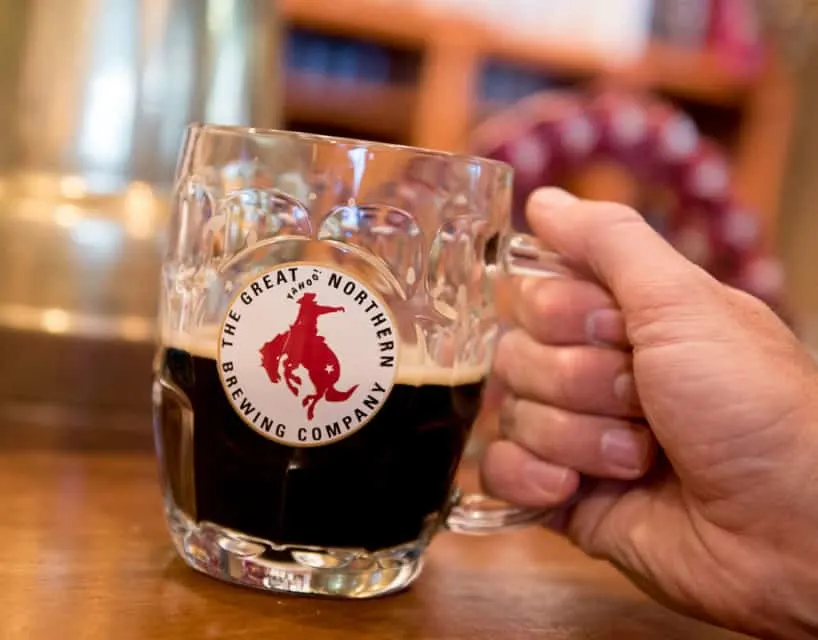 If there is a Montana community that knows how to embrace winter with the gusto of a dark lager, it's Whitefish. Montanan's love their watering holes. The state boasts over 65 microbreweries that are always filled to capacity by late afternoon into the evening, with Whitefish home to two of them. The Great Northern Brewing Company stands like a beacon in downtown Whitefish with its three-story glass exterior beautifully lit.
A favorite at Bonsai Brewing, both kid-friendly (supervised) and dog-friendly, is the "Kinda Did Sour Blond". Spotted Bear Spirits, named after the nearby Spotted Bear Ranger District, is all about "lovely libations" A personal favorite is the "Snowghost", consisting of vodka, coffee liqueur, half n' half, cold brew, and soda.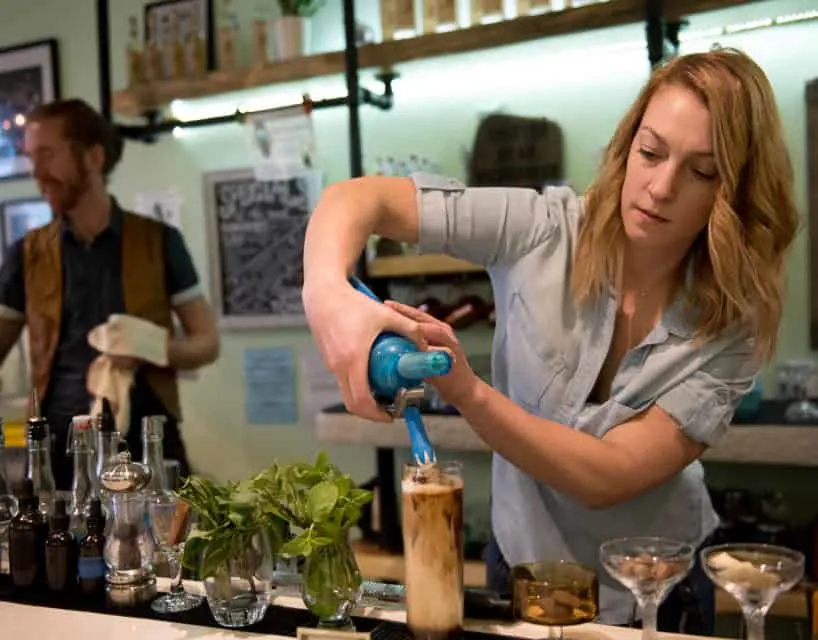 Community Respect in Montana's Whitefish
Whitefish is a come-as-you-are town, where they aren't setting fashion trends, or concerned about your social status on the rungs of life. It's about embracing a place where making the most of outdoor recreation and all it has to offer is of utmost importance. It's a community keen on protecting its natural resources and supporting local businesses.
While my days of skiing Whitefish are long past, Whitefish remains my go-to Montana winter destination for all the reasons I've talked about. Throw in some stunning winter landscapes for photographing, and it simply doesn't get any better than this winter wonderland.
---
Recommended Reading:
Big Sky Country Montana: Vine & Dine
The Ranch at Rock Creek, Montana
A Bluebird Day at Yellowstone National Park
A Road Trip to Yellowstone National Park, Montana