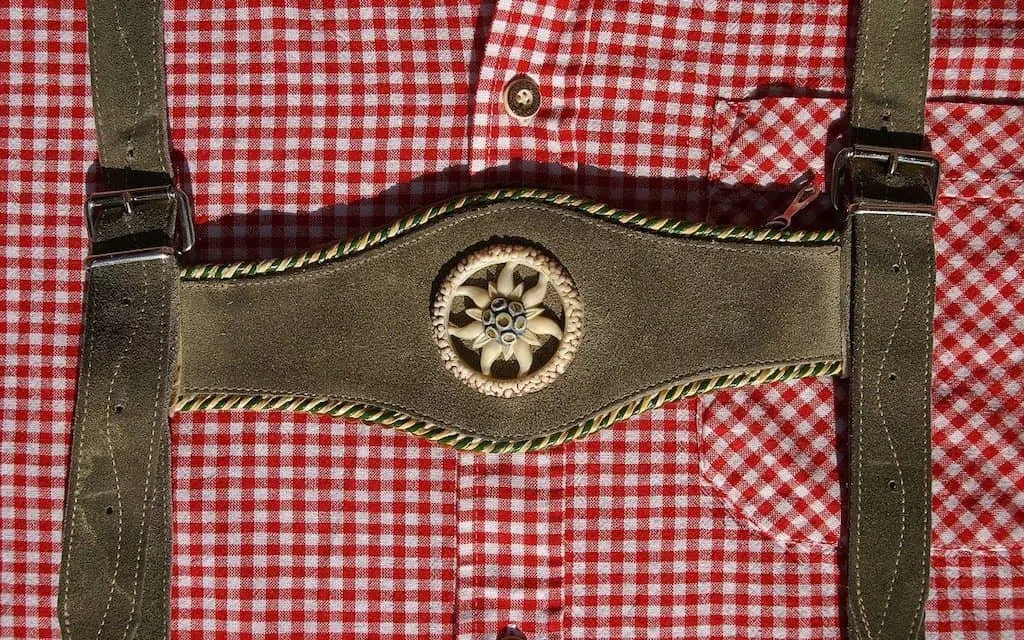 ---
What's in this post:
hide
The Ultimate Guide to Lederhosen
---
I hope you've been looking forward to this as much as I have! The Bavarian tradition of Oktoberfest is coming up and it'll be a blast. So, what's the point? Well, contrary to popular belief that your German ancestry required for entry into this festival (not really!!), we're celebrating "Bavarian Culture" not necessarily German culture in general. You may think wearing lederhosen outfits would suffice, but no alcohol was served during these early years when they had first started holding festivals with just beer tents.
Remember when you visit, that the beer in these "party tents" may be a bit stronger than the lager you are used to consuming, so your party may be over sooner than you planned. Each year, the Oktoberfest includes activities such as races, amusement parks, music. and German food and beer.
Oktoberfest and Lederhosen
As one of the most famous annual festivals in Bavaria, Germany, October fest, also written as Oktoberfest is known as the world's largest party! This exciting festival usually begins in mid-late September and concludes the first Sunday in October. The original idea of Oktoberfest came from the 1810 festival to celebrate the union of the future King Louis I and Princess von Sachsen-Hildburghausen.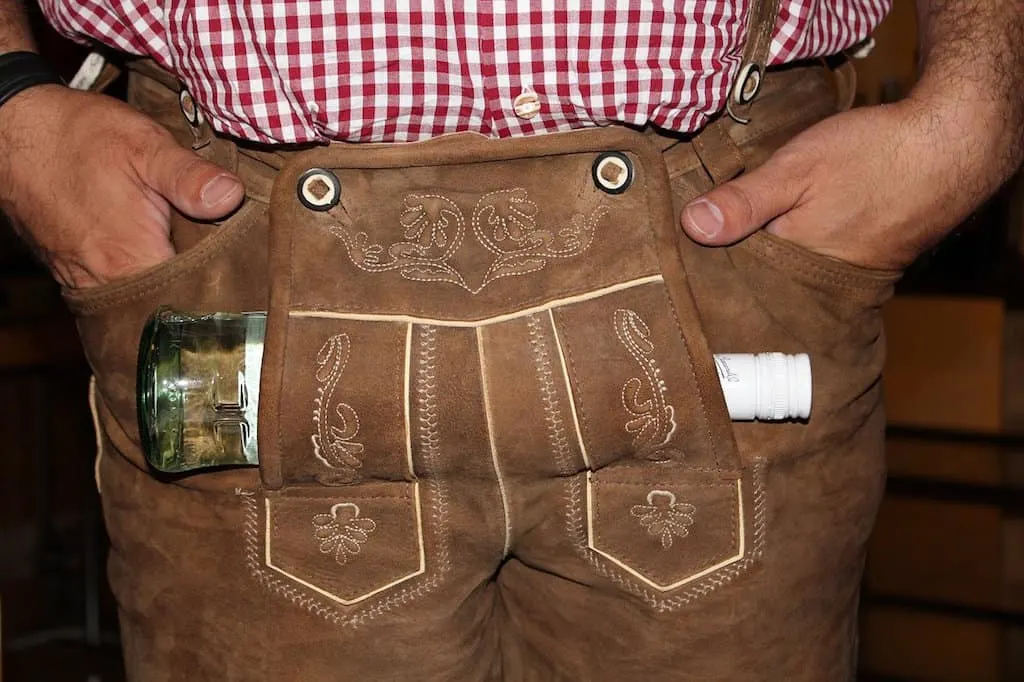 Oktoberfest Clothing
Although many things have changed since the original Oktoberfest, there is one thing that remains constant, the Lederhosen clothing. Bavarians are proud people and love to wear authentic and traditional lederhosen (for men) and dirndls (for women). The traditional lederhosen and dirndl as Oktoberfest clothing that can be dated back to the 1700s.
It is very common to see people dressed in traditional lederhosen and dirndls at Oktoberfest. The idea of immersing yourself in this type of once-popular Bavarian garment is a great way to show appreciation to the Bavarian culture. Bavarians are typically not jealous of outsiders wearing their traditional clothing nor do they think it is offensive. So, now that you have wrapped your head around the words lederhosen and dirndls, let's go into further detail of the Oktoberfest clothing.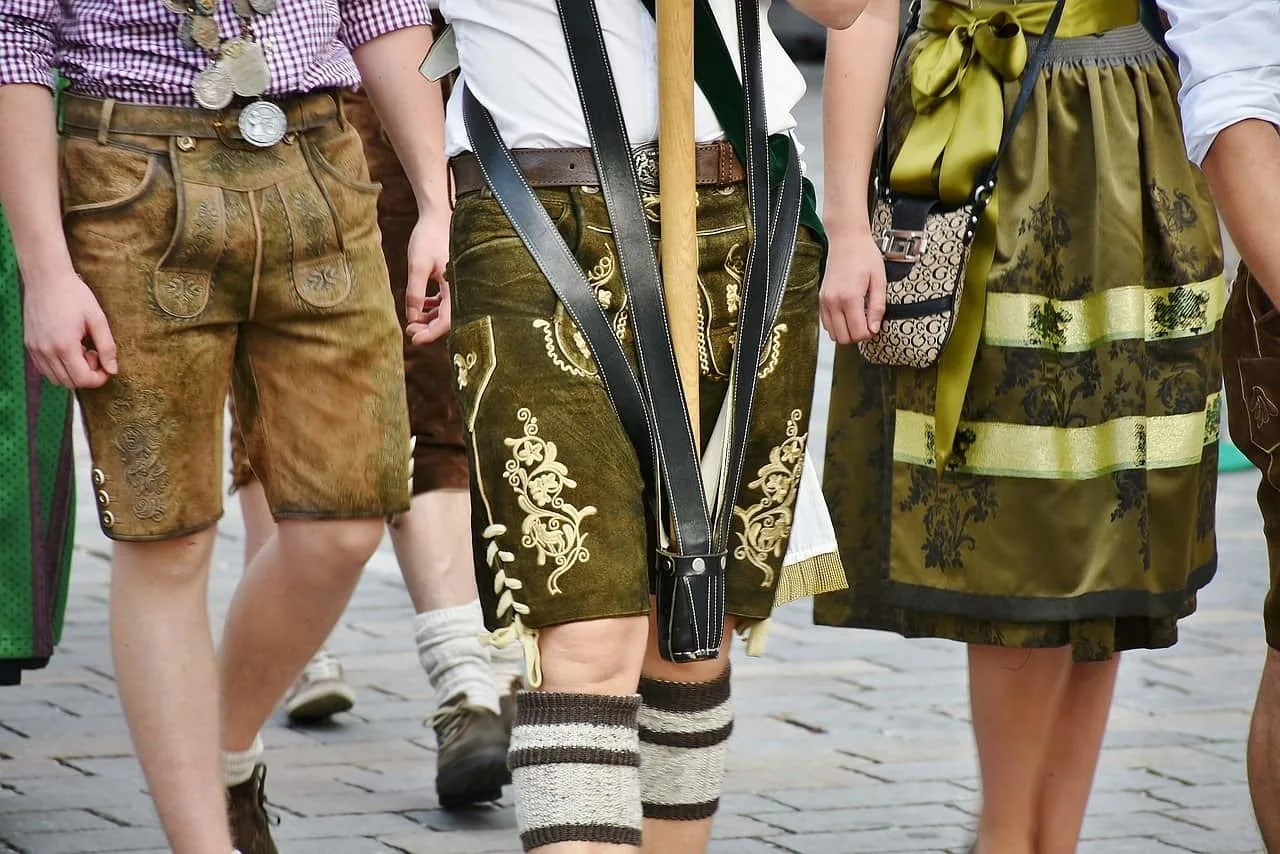 Authentic Lederhosen
Nowadays not much has changed from the original style of the lederhosen. They are knee-length leather trousers and still have a "front drop flap" and suspenders. Depending on the material of the lederhosen, they can be economical or expensive, ranging from $100-$1,000. Some of the materials used to make lederhosen are durable goatskin, deerskin, and cowskin leather.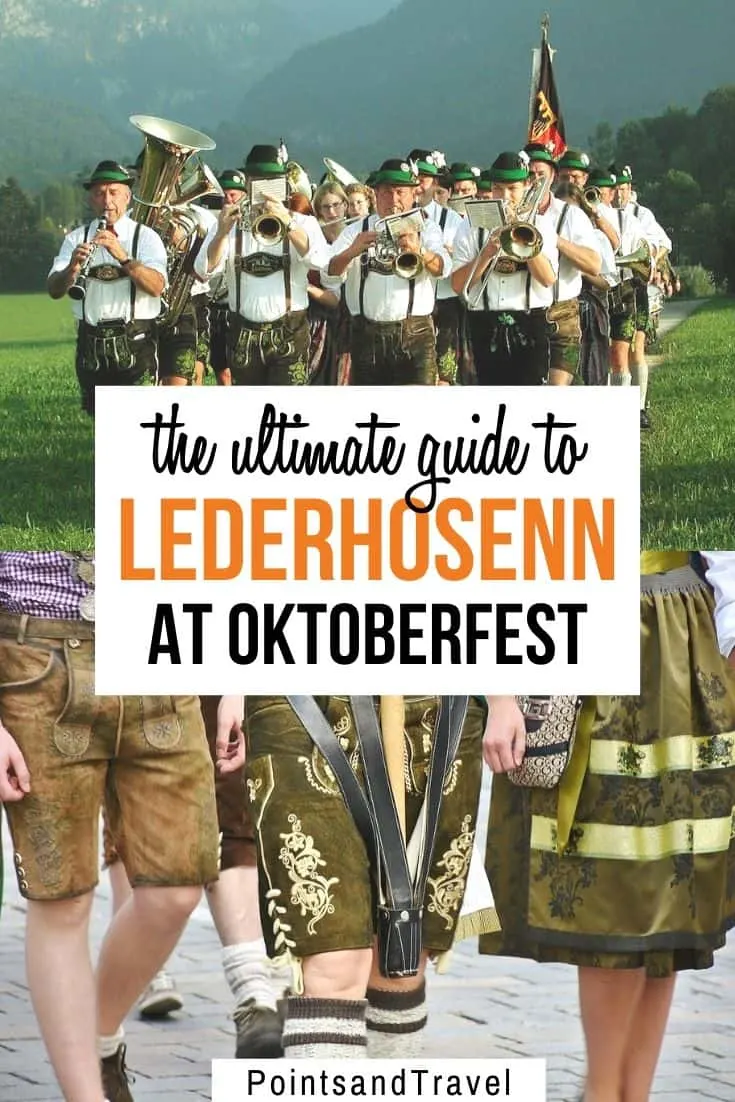 In Munich, lederhosen is often sold as a set which includes a shirt, shoes, and even knee-high socks. Many times the shirt is a Bavarian checkered shirt or a Bavarian box embroidered shirt. Shoes worn with Lederhosen tend to be soft suede leather shoes with a robust rubber sole and side-style lacing. The socks tend to be knee-length with stripes or can be loferl, which are calf warmers with ankle-length socks. Sock colors are generally off-white. Lederhosen range in neutral colors such as black, brown, and gray.
Tyrolean Hat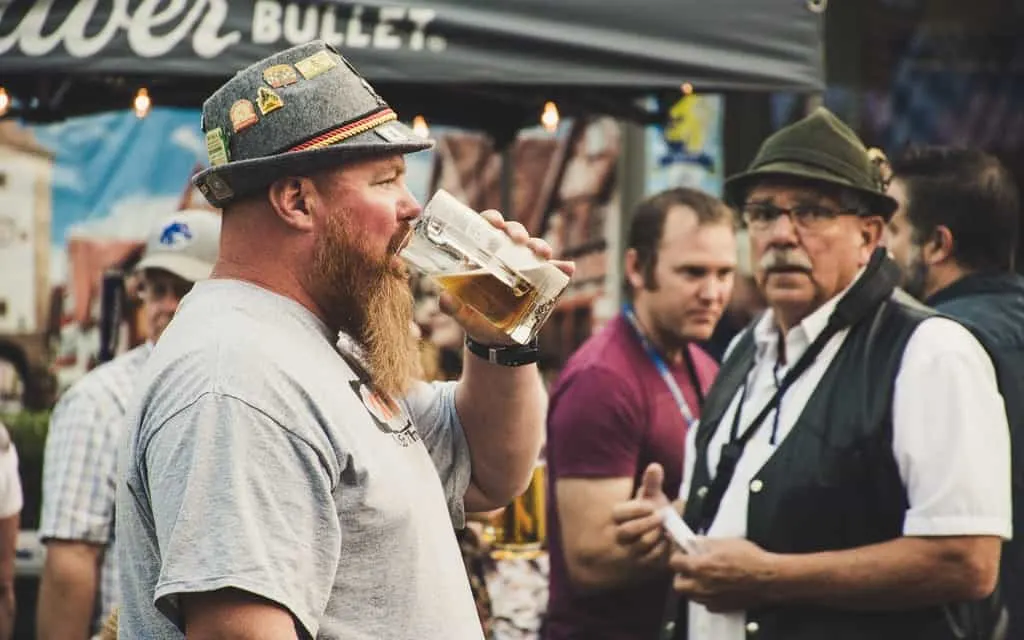 Another part of the Lederhosen outfit is the hat worn called a Tyrolean hat. It has also been called a Bavarian hat or Alpine hat. This hat came from a historical region in the Alps called Tyrol (which is today now a part of Germany, Austria, Italy, and Switzerland). Tyrol is a western Austrian state that is known for its ski resorts, historic sites, and many folk traditions.
This typical hat had a crown that is tapered to a point and was typically made of green felt with a brim. It was very popular in the Zillertal Valley. These hats were decorated with feathers or flowers around the hatband along with pins from the region. People love to decorate their tyrolean hat to make it personal to themselves!
Generational Lederhosen
You can get your lederhosen tailor-made with an embroidery linked to a region in Bavaria that you or your family comes from if you like. But if you are not from the area, that's ok too! Just choose the one that you like the best! They say that the best type of lederhosen you can wear to Octoberfest is one that was your grandfather's or older. These are typically heirlooms that are passed down from generation to generation. Authentic lederhosen in this area is regarded as having a history along with it, which makes it an investment in the Bavarian culture. It reawakens memories of how things "used to be" says one Bavarian man I spoke to. He says it is about being "proud of Bavaria and Munich". (I will drink to that!)
Traditional Lederhosen
The first indicated lederhosen-style clothing can be traced back to Otzi, also known as the Iceman. This mummy was found in 1991 along the border of Italy and Austria. His mummified body was in a very well-preserved state, which helped determine that he lived between 3400-3100 BC. This mummy was wearing clothing that resembled today's version of the lederhosen. The traditional lederhosen shape that we know and love today was popular in the 1700s and was made from fur or animal hide. These short or knee-length trousers were typical attire for the Alpine German and Austrian regions. They were common for working peasants and considered trousers of the peasant communities.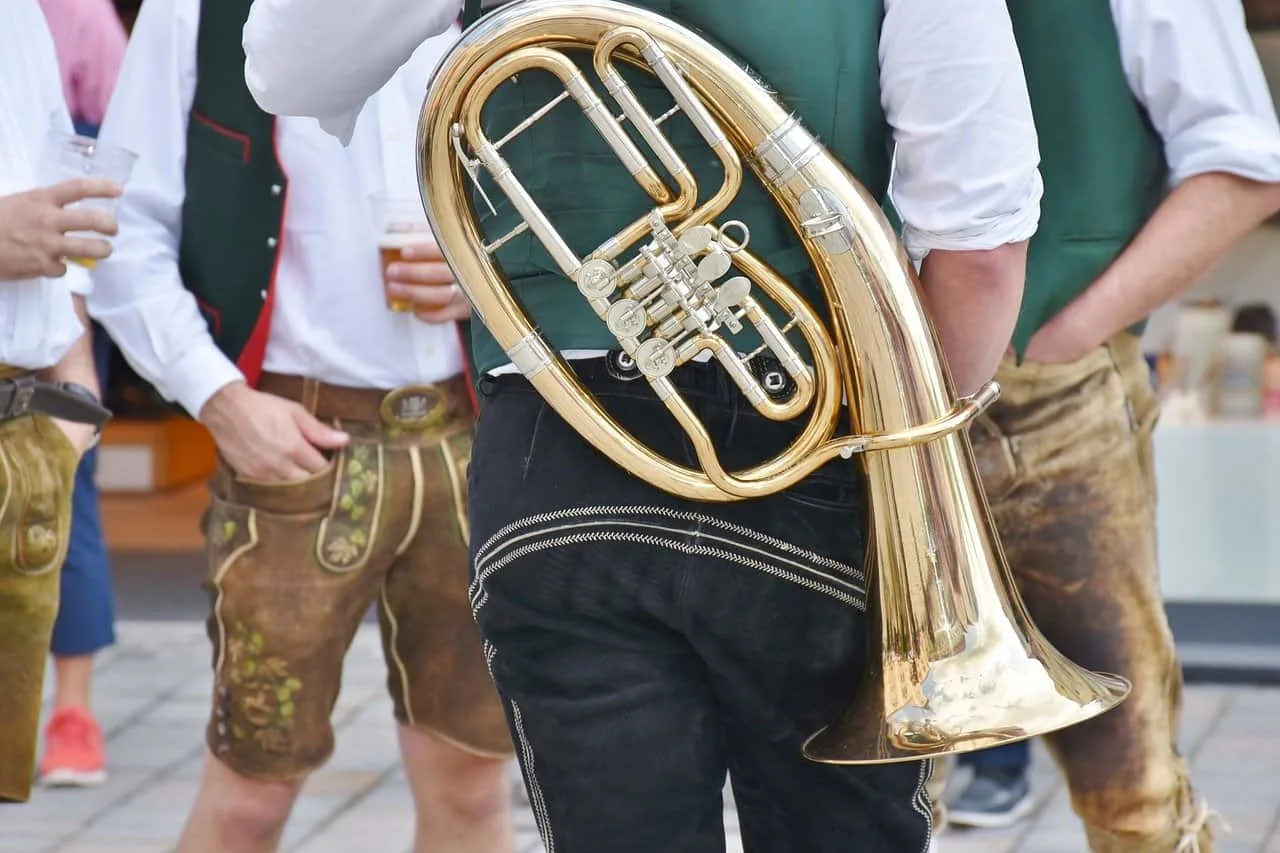 Lederhosen
Lederhosen are considered trousers of the working-class community, literally translated as "leather pants". Other than animal skin trousers, there were also other trousers worn by different people throughout Europe and were especially common attire for horse riders and hunters. Lederhosen were popular trousers until they fell out of style in the 1800s. It was during this time period that cotton pants became more popular and comfortable.
It wasn't until King Ludwig II's reign in the mid-late 19th century that lederhosen became popular again. King Ludwig II, who was from Bavaria, expressed his love for these trousers and they instantly reemerged as a fashion staple. Today, every man from peasant to aristocrat has begun to wear lederhosen again. You can literally pick them up off the rack or even get a designer model! Some of the Bavarian men I talked to said that Lederhosen for men in Munich is just something they wear on an ordinary day!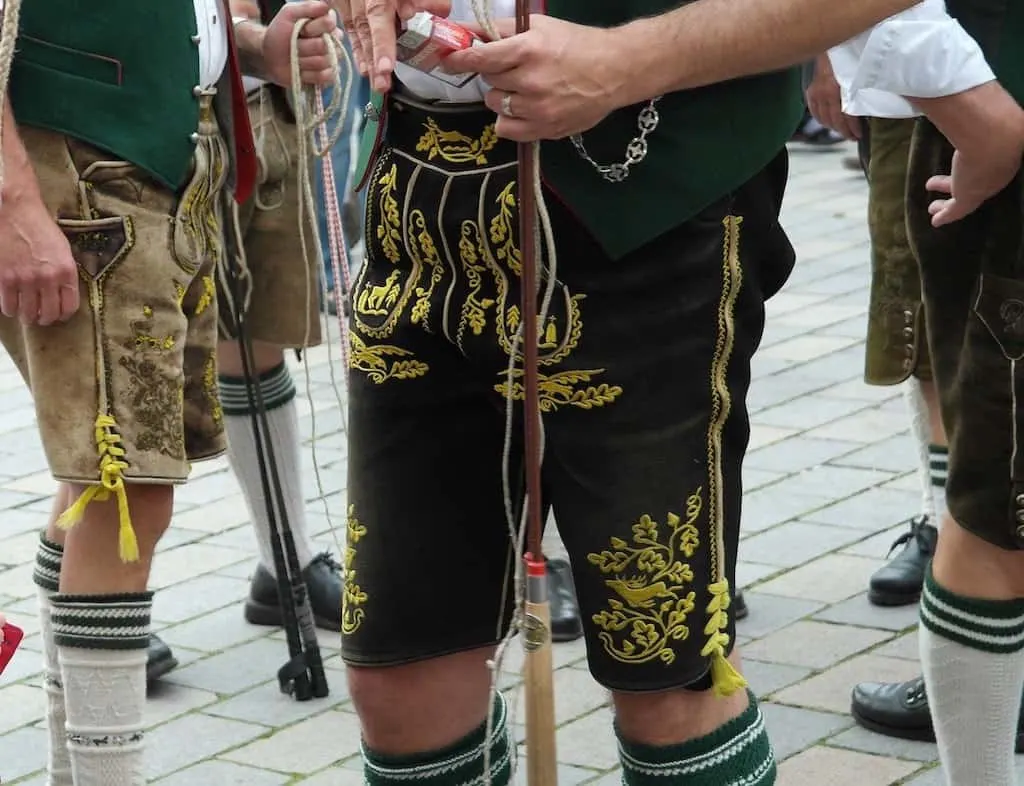 Men's Lederhosen
Peasants who usually wore goat or sheep-skin trousers insisted that their Lederhosen be dyed black. Aristocrats could afford several pairs of the softer deerskin lederhosen. Nobility often chooses to decorate their lederhosen with noble symbols to distinguish their rank. Others chose regional or town symbols to celebrate their culture. Most men own several pairs of lederhosen and split them into categories such as what they would wear for work, for every day, and for special occasions.
Take Care of Traditional Lederhosen
Always air out your lederhosen after you've worn them. They are sure to have beer spilled on them at least once when at the party tents! When storing them, make sure they are kept dry. Then when you get them out again, all you need to do then is apply some leather spray. I can suggest to get them professionally dry cleaned every few years.
Bundhosen or Kniebundhosen
There is a less-popular version of these trousers called Bundhosen or Kniebundhosen. They are the longer/pants version of the lederhosen. Lederhosen has been so engrained into the Bavarian culture that they can avoid extinction, except for the one time when blue jeans became popular.
---
Fun Fact: Blue jeans were invented by Levi Strauss, a Bavarian-born businessman!
---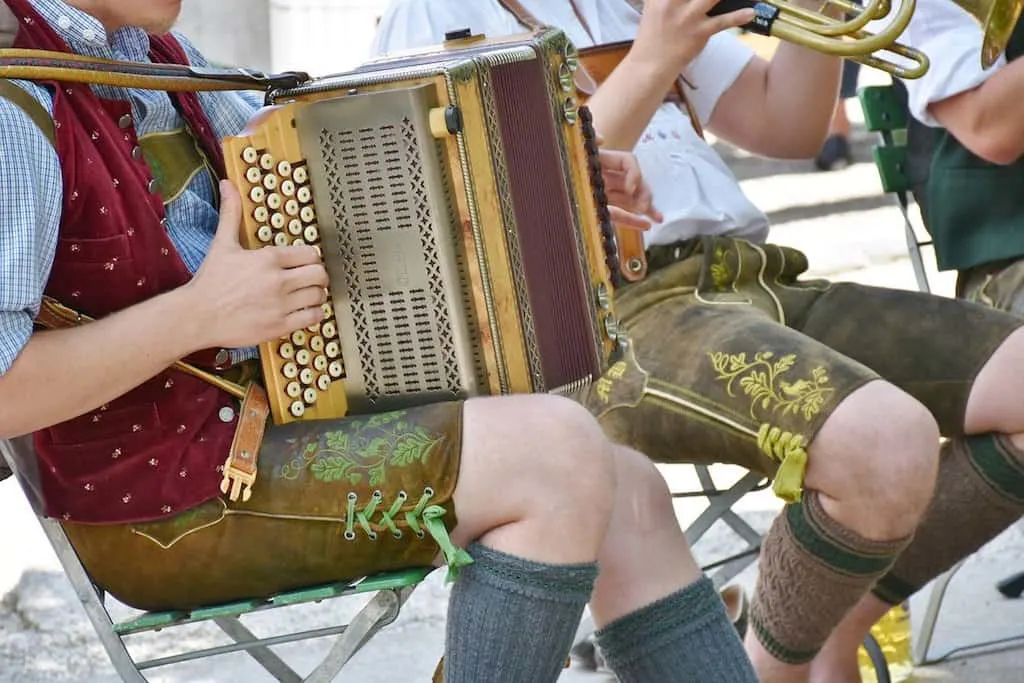 ---
Read more about Germany:
Historic Germany in the Spring!
Things to Do in Regensburg Germany If You Only Have a Day
10 Age-Old German Landmarks You Must See to Believe!
---

Women's Dirndls
Enough about menswear and let's talk about women's dirndls. This is the traditional dress worn by women and is linked to the countries of Austria and Germany. It dates back to the traditional Alpine peasant clothing that was created during the 1800s as well. That is to say that it was worn by countrywomen. This style of dress was considered the uniform of housemaids. It didn't become so elaborate until it was worn by the city women. Wealthy Austrian and Bavarian city-women spent weeks at a time in summer resorts and it was here where they started to wear the dirndl dress outfit.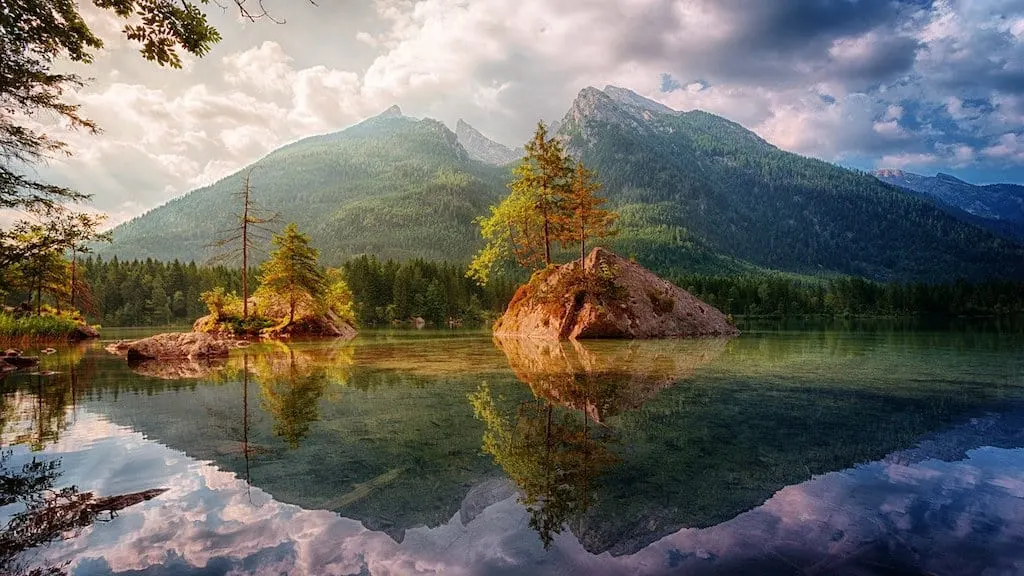 Dirndls Can Signify Where You Come From
The dirndl consists of a tight bodice that covers a puffy low-cut blouse or smock that was checked or a floral print with a full high-waisted skirt, and apron. During the 19th and 20th centuries, the color of a dirndl often distinguished your rank or origin, such as black, blue, and soft pink. Women choose different fabrics for their dirndls such as wool for the winter and cotton for the summer. Similar to lederhosen, dirndls have different styles and colors depending on the region or town you come from.
Dirndls length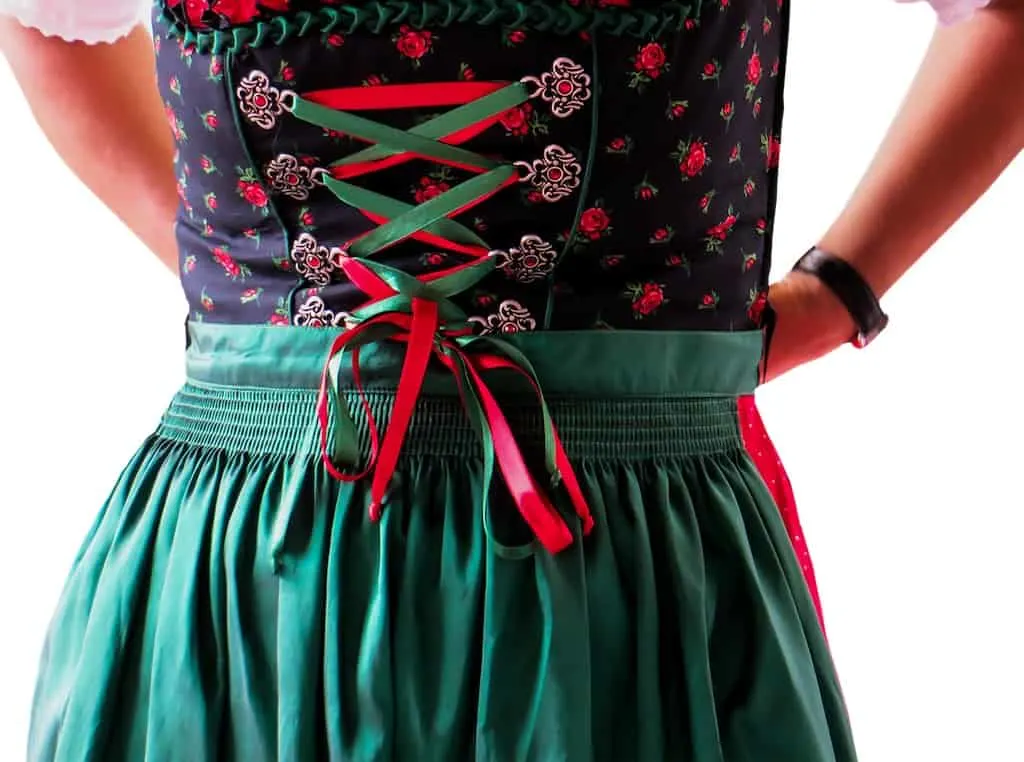 The most common dirndl length is the long dirndl which goes down to the ankles. Other lengths of dirndls used today include middle (to the knee) and mini (above the knee). A classic white blouse is the standard color to use for a traditional dirndl today. Women usually opt for a short sleeve shoulder, which makes the dirndl more traditional for October.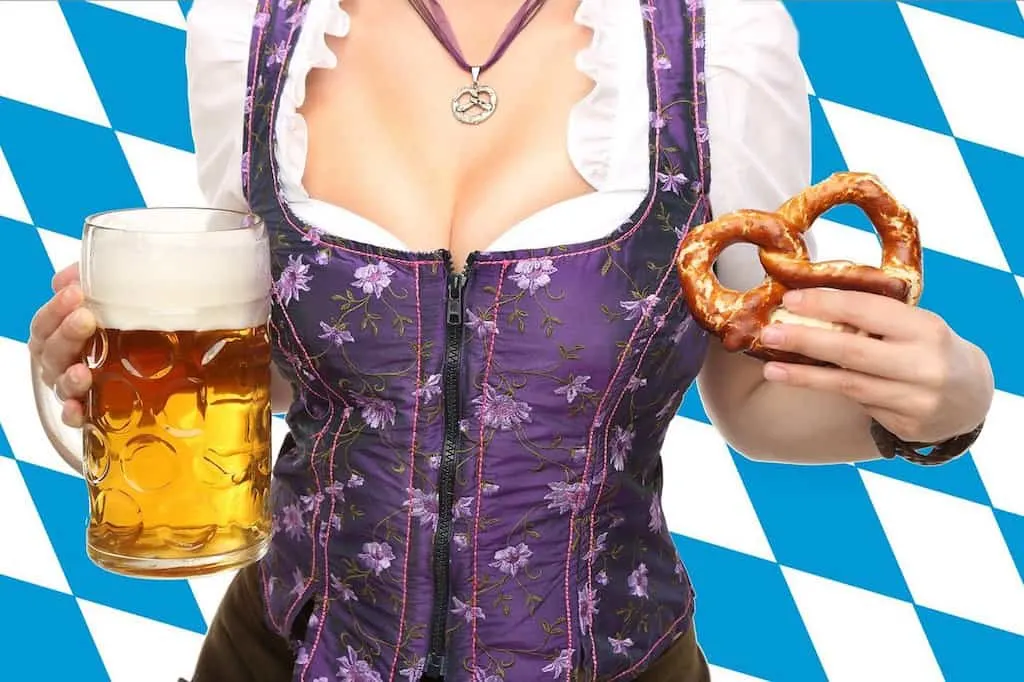 Women usually wore dirndls in their everyday life and had specific ones for formal occasions. An apron is a staple part of this dress but there is a legend that links the apron with your marital status. For example, if an apron is tied on the right then that means a woman is married. If an apron is tied on the left, then she is single. Although there are plenty of "sexy" dirndls you can purchase, I would recommend the traditional-style for Oktoberfest. Dirndls are a part of the "spirit of Bavarian life" and everyone wants to be a part of that at Oktoberfest. They want to feel like they belong!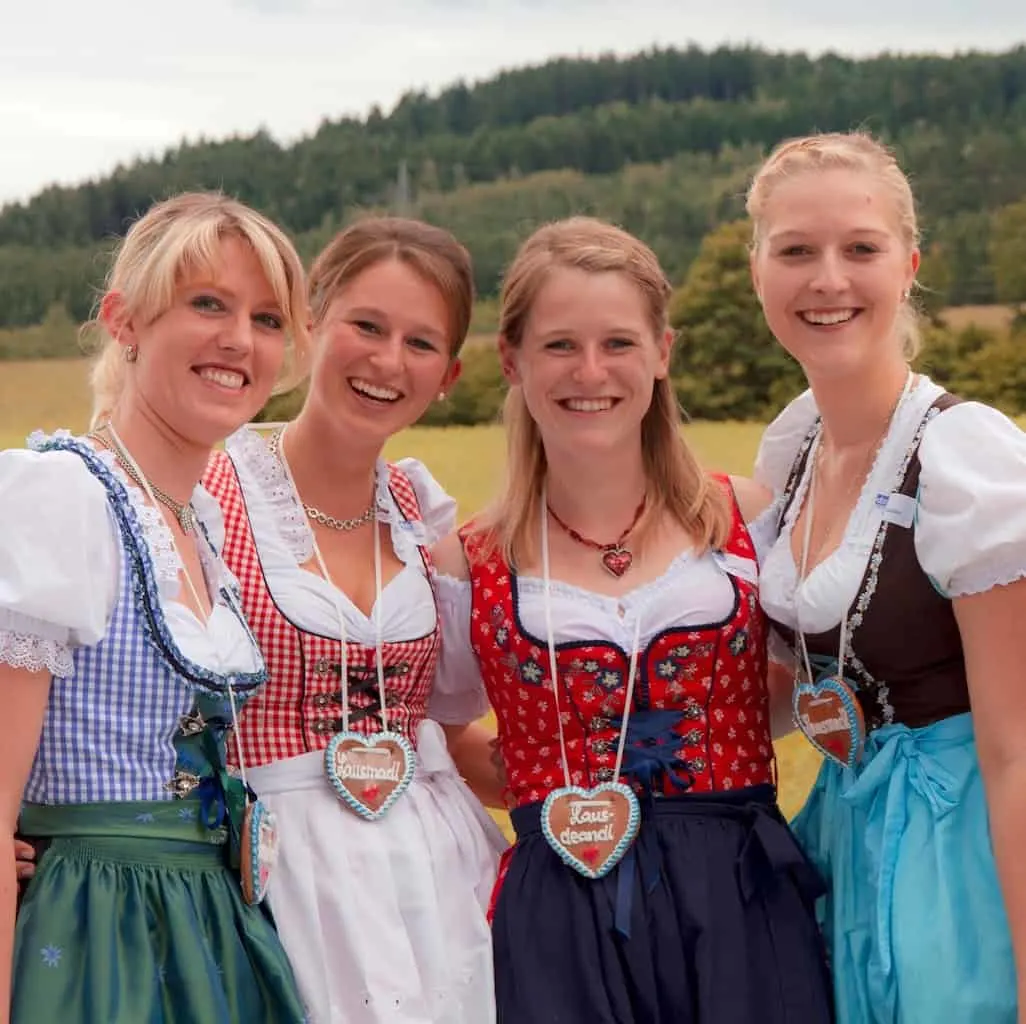 Dirndls also celebrate the female form. However, I did want to mention that today, they make women's lederhosen! Yes, just like the men's lederhosen version, but in a more fashionable fit! There is a lot of walking at Oktoberfest, so you want to wear your Oktoberfest lederhosen outfit with comfortable shoes. A bonus tip: wear your hair in pigtails so you can feel like an authentic Bavarian woman. And just so you know, many Munich Germany women wear dirndls every Sunday when they go out.
Children Lederhosen and Drindls
Today, the young ones also want to join in the fun and are often dressed in either the Lederhosen or the dirndls. You will see many shops in Munich similar to the photo below, especially around and during Oktoberfest. They come in all shapes, sizes, and colors!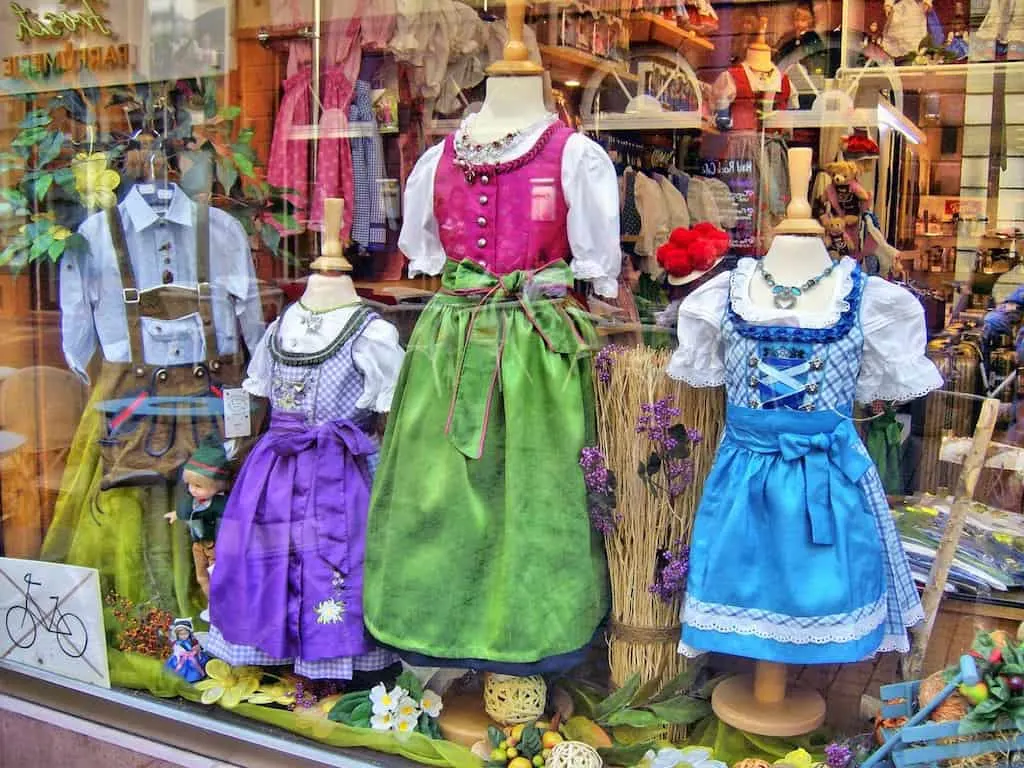 Stangassinger Lederhosen
If you decide to make your way to Bavaria, Germany for Oktoberfest with the other 5 million visitors, try to borrow an older and authentic version of this Oktoberfest clothing for your festivities. If you need to purchase traditional clothing, then you may do so at many of the Munich shops. One famous place to buy Lederhosen is the Stangassinger Lederhosen store in Munich.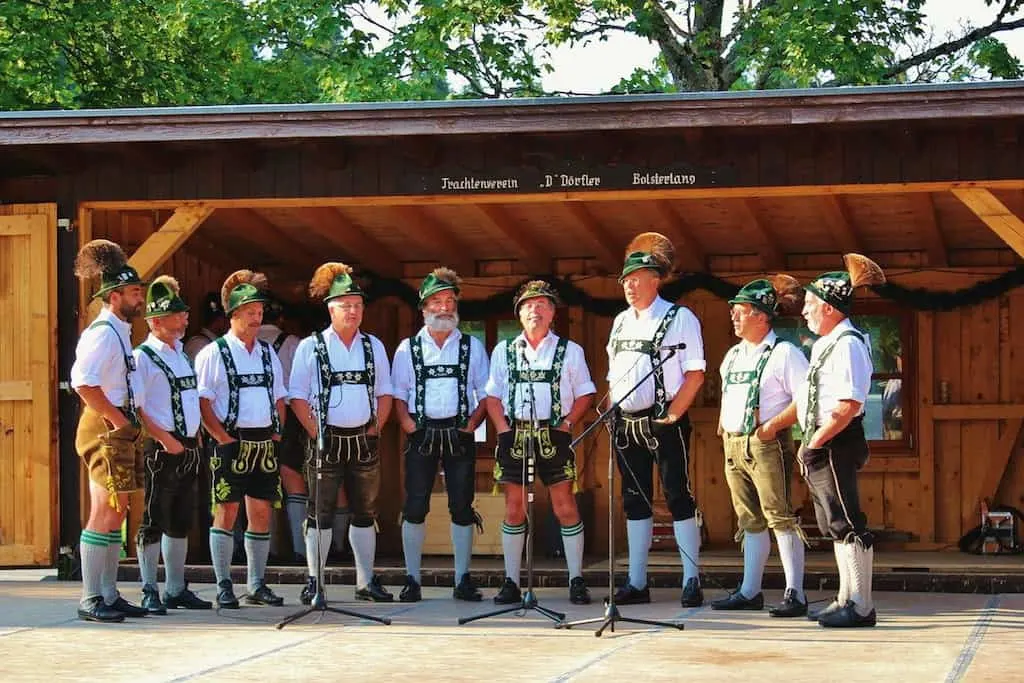 The Stangassinger Lederhosen store is known far beyond Germany for its unique masterpieces of traditional Bavarian costumes that they make. The Stangassinger Lederhosen store continues with its family tradition of making lederhosen with passion! They use the highest quality of leather, the finest embroidery, and make sure you get the perfect fit. They also make hand-knitted stockings, braces, and traditional accessories to inspire you.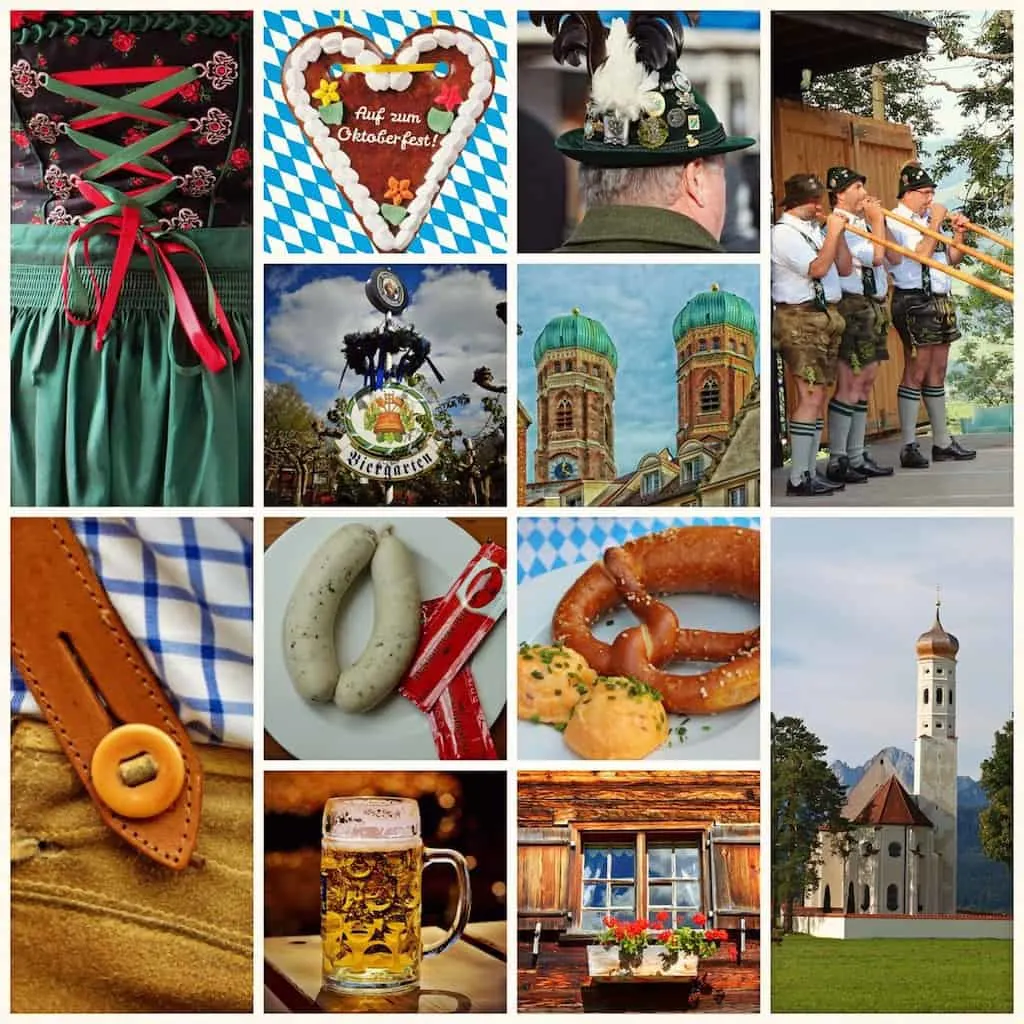 You can also check out this website to purchase your own lederhosen or dirndl and wear them to Oktoberfest.
---
Read here about Berlin, Germany:
Swinging in a Ballhaus in Berlin, Germany
Reflections of the Wall of Berlin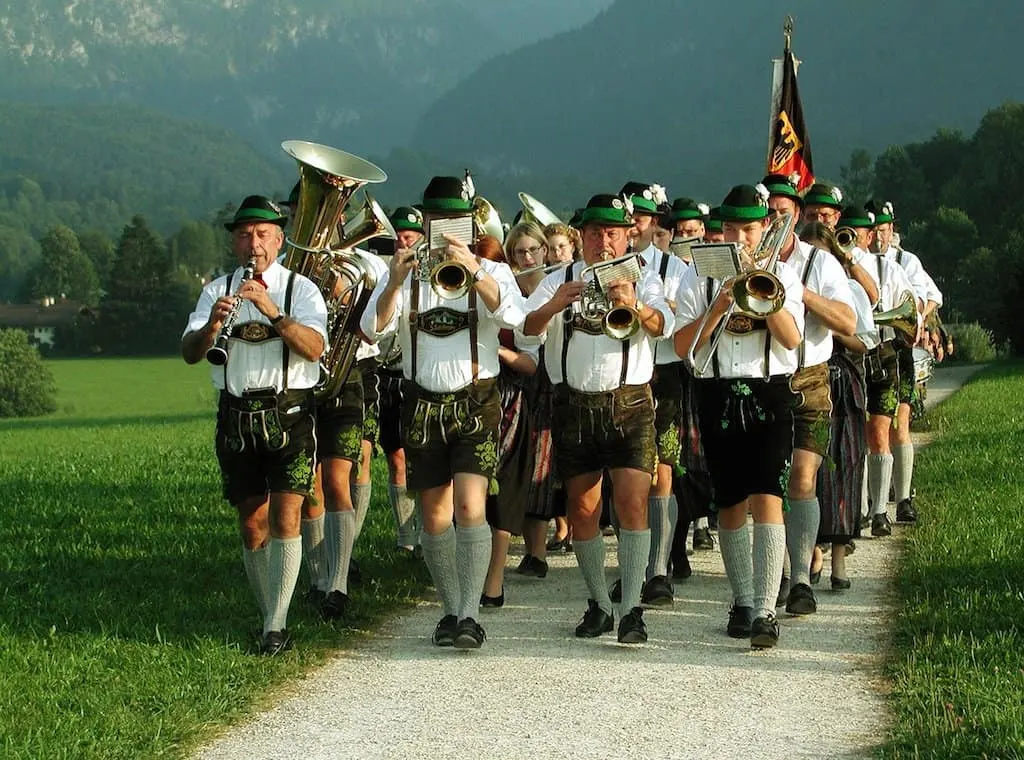 ---
Want to read more about Germany's Black Forest?
"Carnival: Enchanting Creatures Lurking in the Black Forest"
"Carnival: More Enchanting Creatures "
Breisach Germany – The Black Forest of Hansel and Gretel
Bollenhut – The Traditional German Hat from the Black Forest
Or a guide to Germany's Carnival?
Guide to celebrating Carnival in Schramberg, Germany
Carnival Raft Race in Schramberg, Germany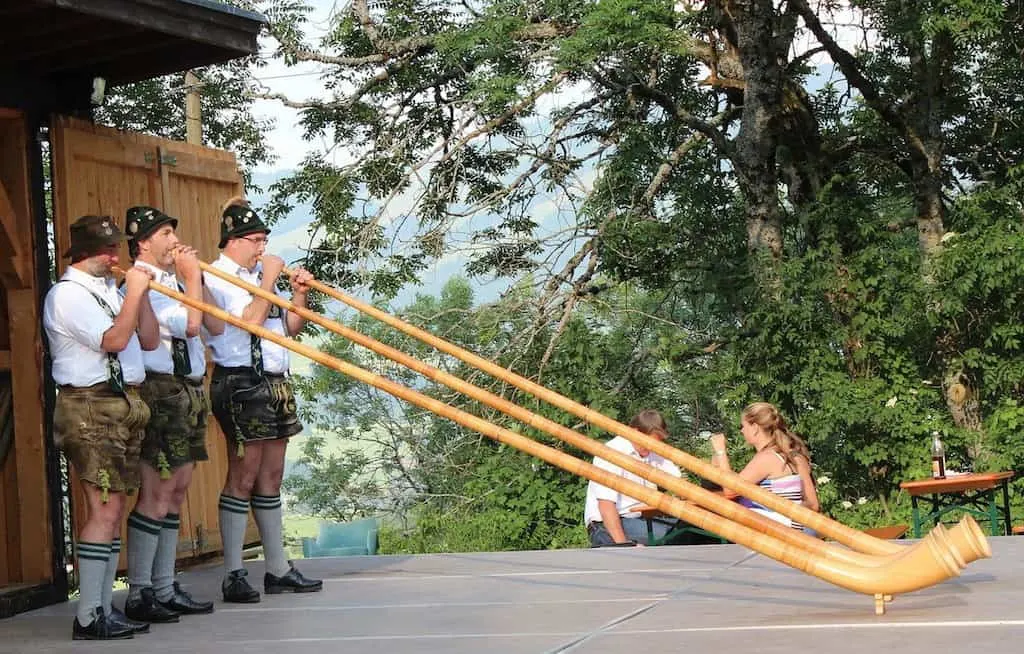 Disclosure: I have been to Germany so many times that I can no longer count, but many of my trips have been sponsored. As is common in the travel industry, I was provided with compensation for the purpose of review. While it has not influenced my review, PointsandTravel.com believes in full disclosure of all potential conflicts of interest. All Photos used in this article, Pointsandtravel has been granted the usage rights of these photos. There may be affiliate links in this post.