A visit to the Black Forest in Germany may bring you sounds you may remember from your childhood: "Cuckoo, Cuckoo, Cuckoo!" that Cuckoo Clock Sound. Remember from an episode of the Carol Burnett show or even "In the Pink of the Night" by the Pink Panther (if you are old enough!) Are you able to bring to mind an awareness of when the Pink Panther had trouble falling asleep and bought a cuckoo clock to wake him up? What a scene!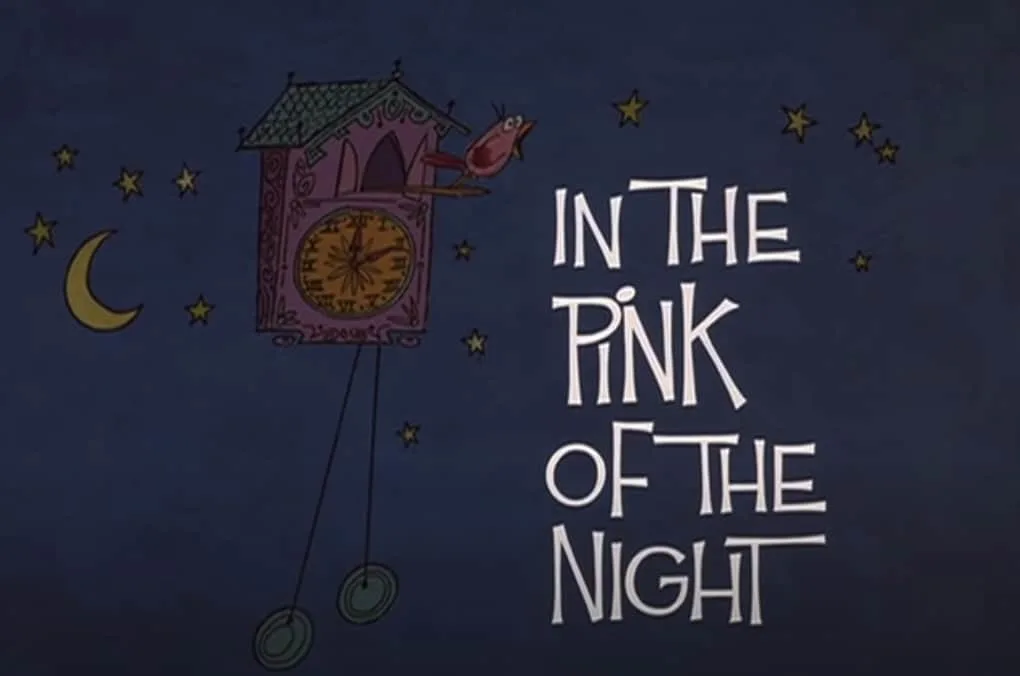 ---
Cuckoo clock Sound!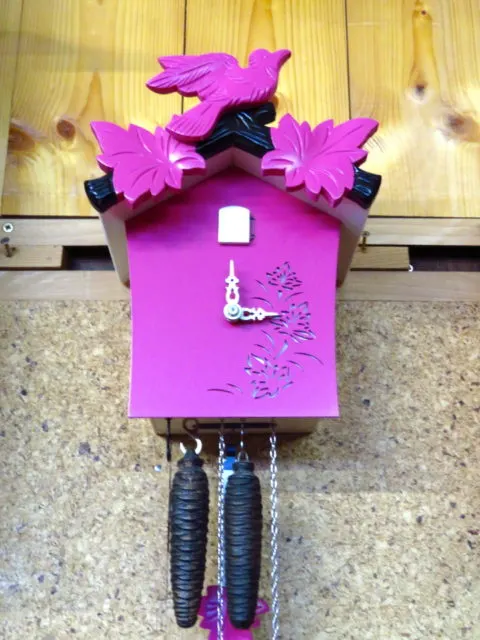 ---
Did you know that deep in Germany's Black Forest is where many modern-day fairy tales were born? The Brothers Grimm stories that my mother used to read to me came alive during my recent visit to the Black Forest. Germany is where traditions and customs are still very much alive. Just being here reminds me of the Black Forest clocks my mother would describe to me as a child. In fact, while here, I actually saw Cinderella herself, the wicked witch, as well as Snow White and her Seven Dwarfs! There was also a myriad of other mystical creatures from the Black forest that I came across as I toured this enchanting land… the lands of Germany and its cuckoo clock sound I so fondly remember.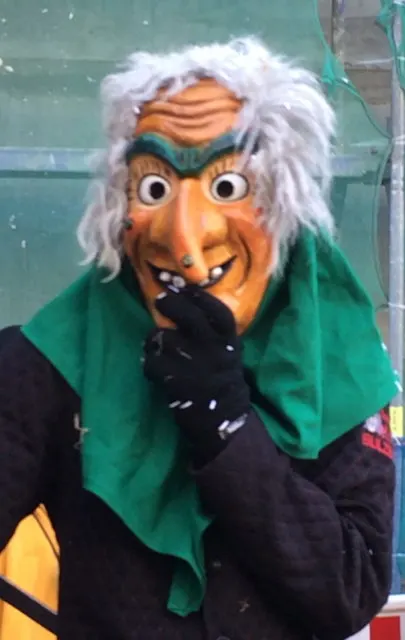 ---
Do you also remember the Stories of Hansel and Gretel from the Brothers Grimm?
---
Southern German Culture and Traditions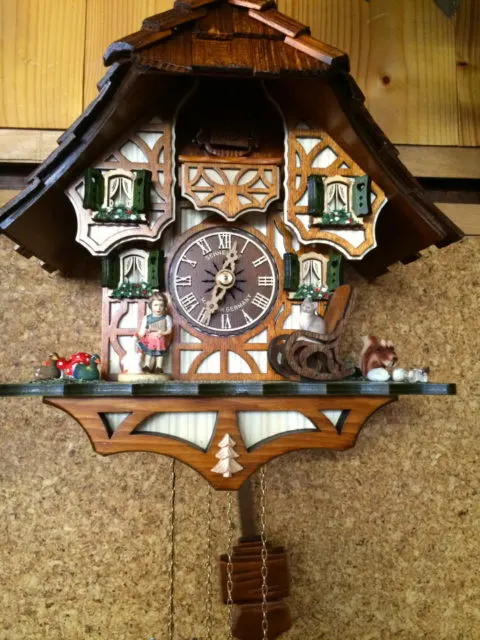 The Black Forrest area in Germany is filled with small villages of proud Germans, who represent the Southern German culture and traditions. This is where the people still "live" the traditions, yet they have adjusted to the modern-day way of life in the 21st century. This area is also quite a bit different from Northern Germany, as well as, other areas within Germany that I have visited. I would say that this area of Germany is definitely worth a visit. Especially for the sounds that you will encounter!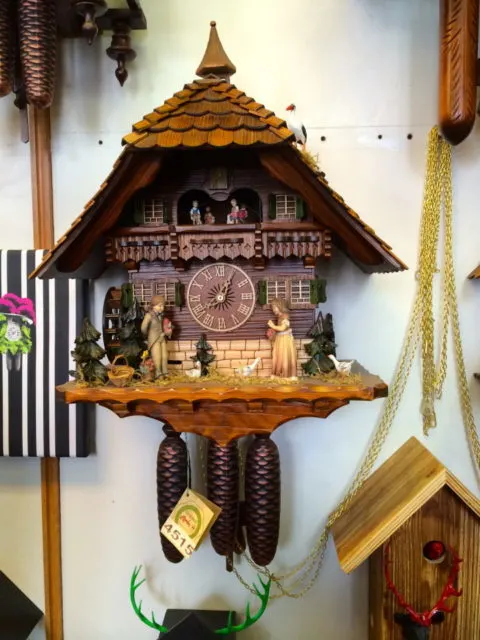 Germany and its Imaginative Storytelling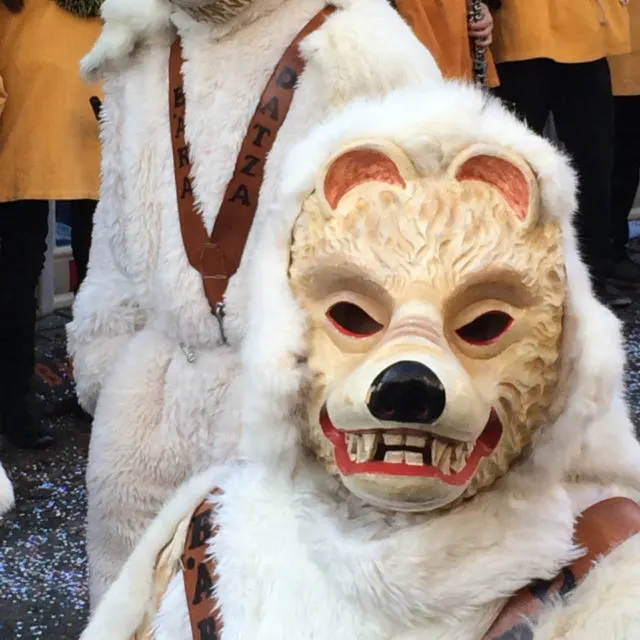 As I sit back and think of all the famous stories that have come from this region, I am quite astounded at its enormity. Here in southwestern Germany, the winters can be excruciatingly long with temperatures well below freezing. When the farmers in the region could no longer go out and tend to the land, they had to find something to do with their idle time in the dead of winter. Thus began the legends of late-night imaginative storytelling.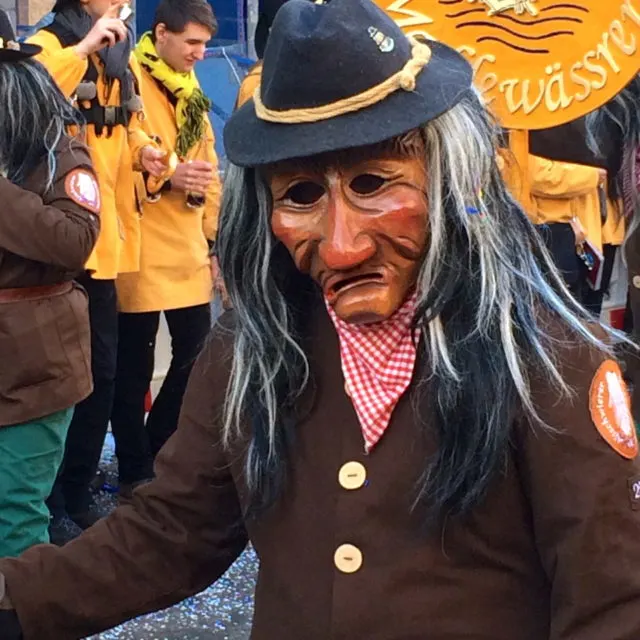 The Makings of a Cuckoo Clock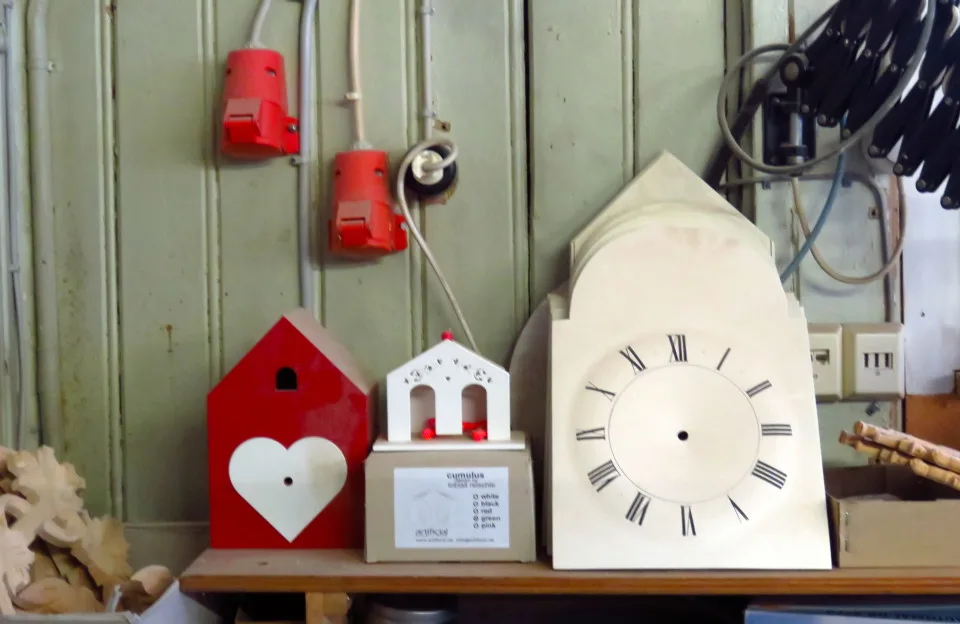 With their idle hands, the farmers also created the woodcarvings that make their now-famous cuckoo clocks. This area alone was once the center of clock making in Germany, which was the major industry in the region since the 18th century. In fact, when building a cuckoo clock, the design of its exterior is almost as important as the way in which it functions. That tiny bird pops out every hour on the hour to greet you. But you must remember that the cuckoo sound is actually made by air pumping out of two bellows that are typically made of wood and located at the top of the clock! As this is no ordinary feat! The movement of a cuckoo clock consists of a system of brass and steel gears. It is these gears that keep time and triggers the cuckoo clock to function. When purchasing a cuckoo clock, you may choose a one-day or eight-day movement.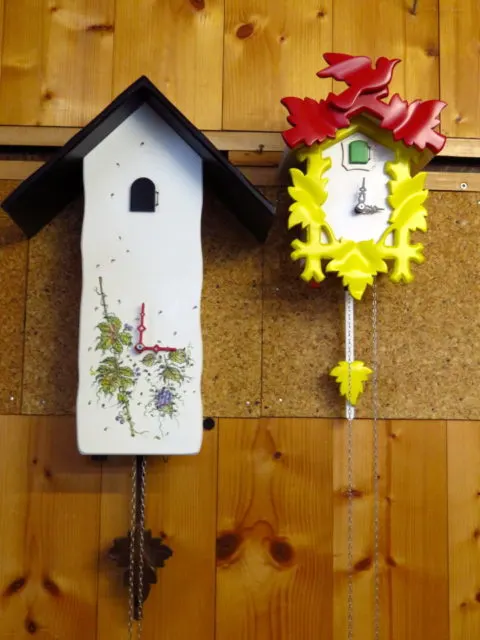 That Cuckoo Clock Sound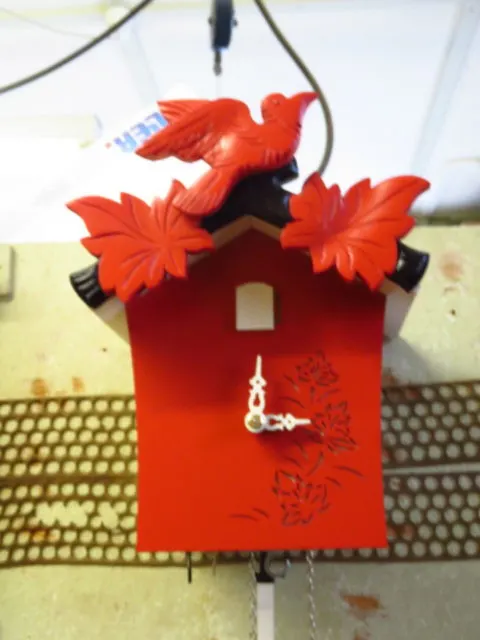 While in Schonach, Germany, I was able to explore many local German traditions and tour the woodshop of the President of the Black Forest Clock Association, Mr. Ingolf Hass. He is also the owner of Rombach & Haas, also known as ROMBA, which was founded in 1894 by his great grandfather. This makes him a fourth-generation cuckoo clockmaker! Wow! You can imagine how much knowledge he must have learned from the men in his family.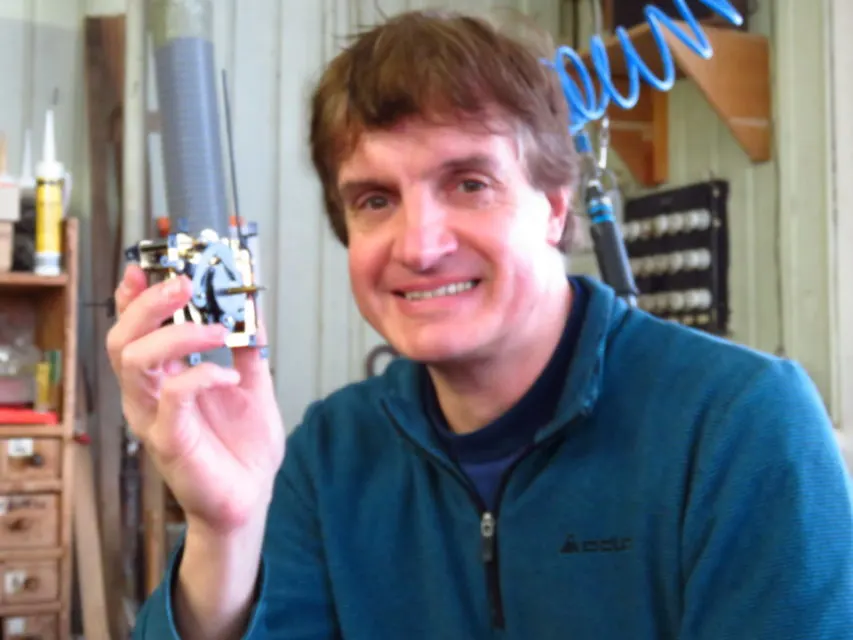 But I have to tell you that only a few years ago, he wasn't the most popular guy in town. His ideas to modernize the cuckoo clock as we know it, led him and his wife Conny to start experimenting with different materials, looks, and mechanisms for cuckoo clocks and cuckoo clock sounds.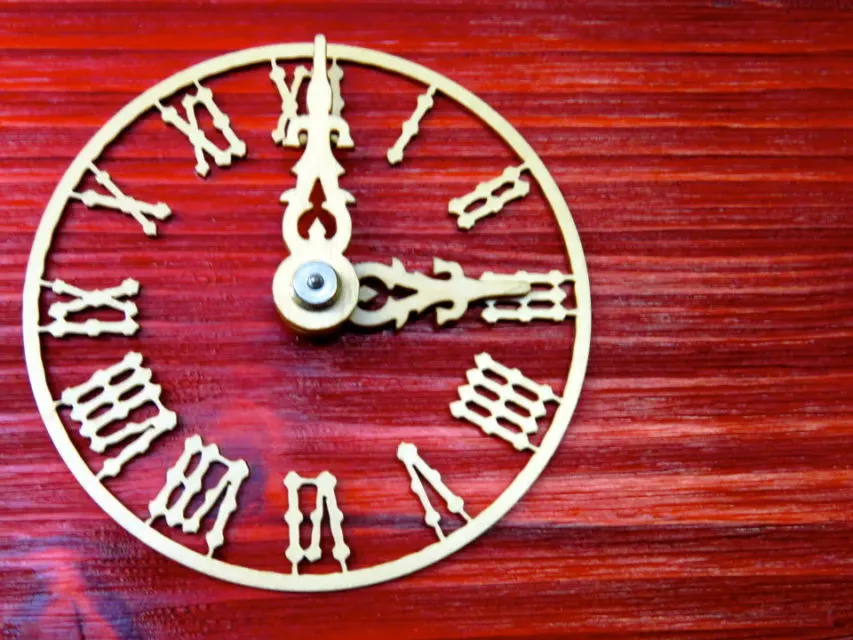 Couple Creates Interesting Cuckoo Clock Sound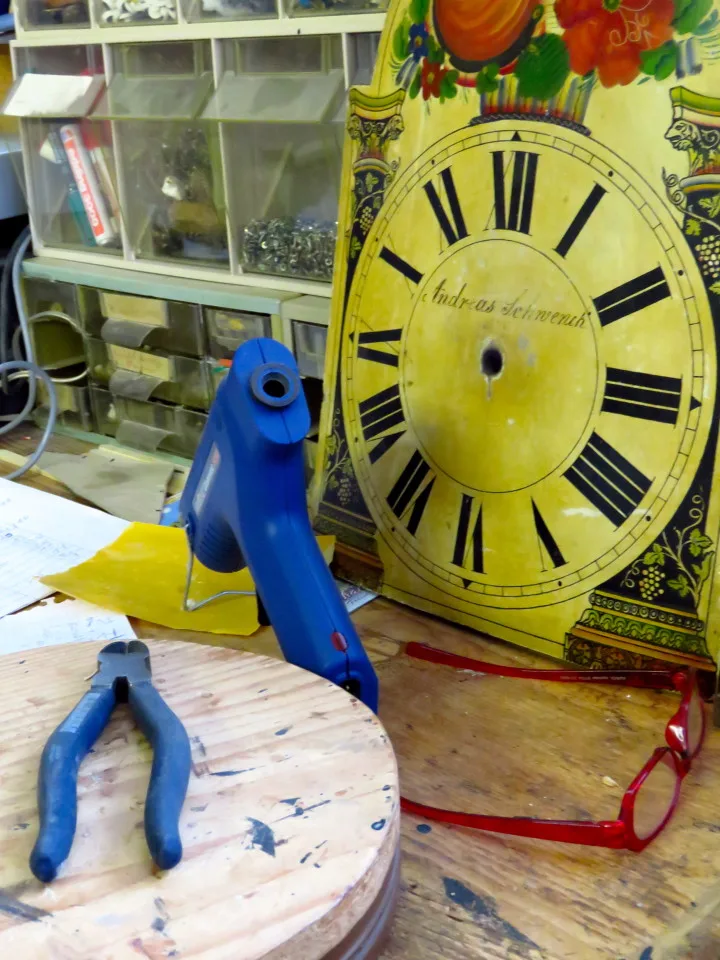 Together, they created new looks for the modern-day cuckoo clocks, yet kept with the traditional "cuckoo" sound (in some interesting formats), as well as the weighted clock mechanisms that make a cuckoo clock sound unique. In an area as traditional as the Baden-Wurttemberg, which is the state within Germany that the Black Forest is located in, near Bavaria, this was quite an uphill battle making waves against the (wood) grain. (pun intended!).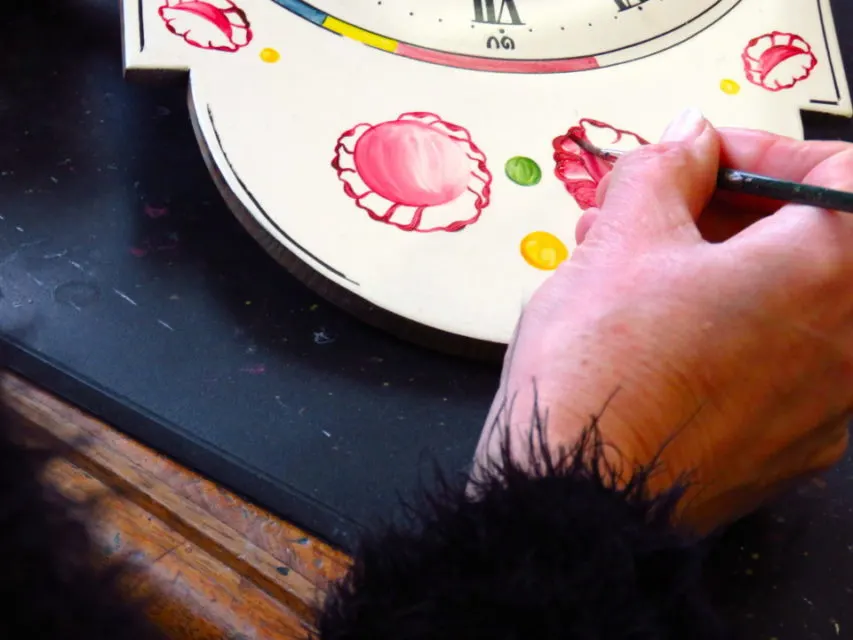 Sounds from the Black Forest, Germany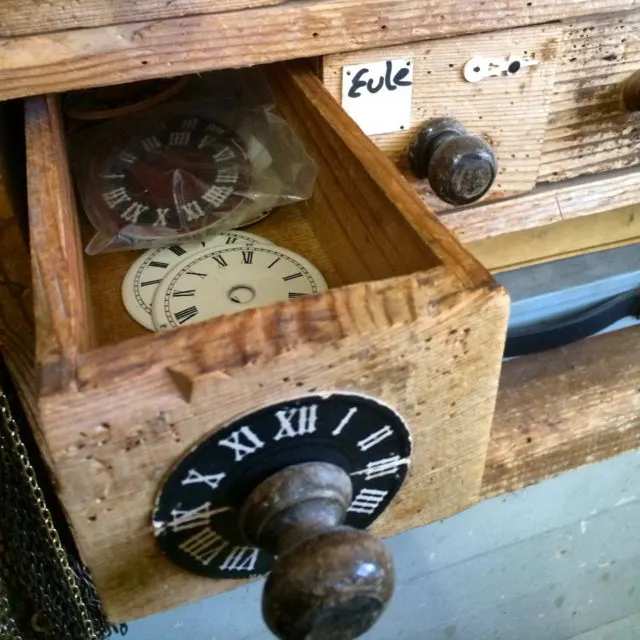 Today, however, the two of them have actually revived the industry of the cuckoo clock, in the sense that that the old cuckoo clocks had become "too kitschy" for the younger generation Germans. Now the young married couples are flocking to get a modern version of the one hanging in their Grandmother's house. They buy them for their swanky apartments in the big cities with unique cuckoo clock sounds – such as "dong dong" or "chong chong" versus the old sounds of a bird call that made the sound "koo-koo" or "cuckoo". In fact, these young newlyweds love them and are buying them as gifts for their friends who are also getting married.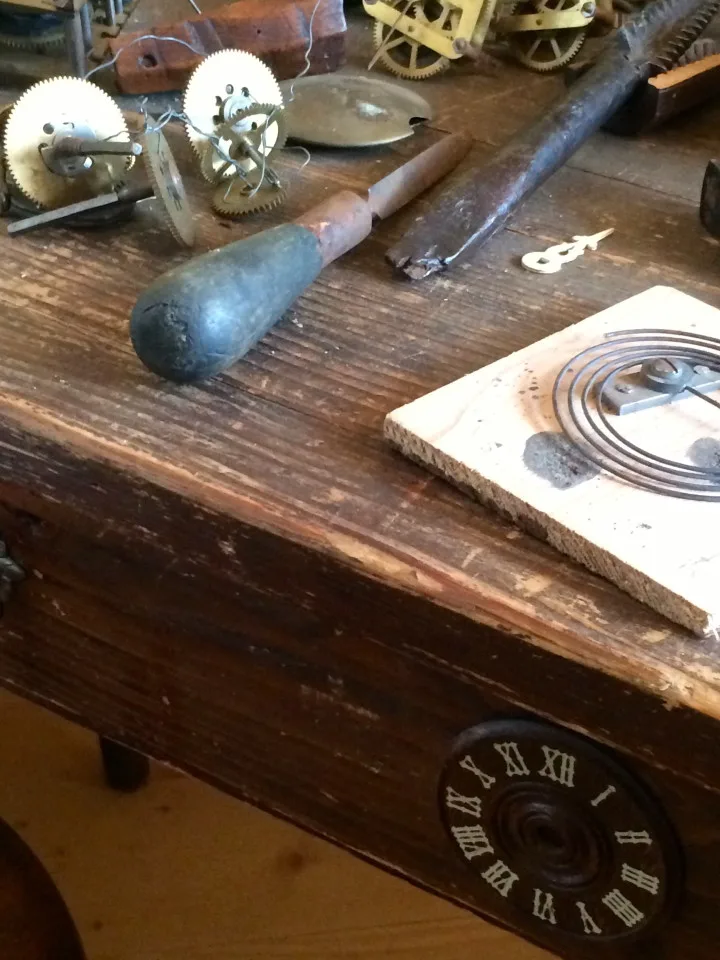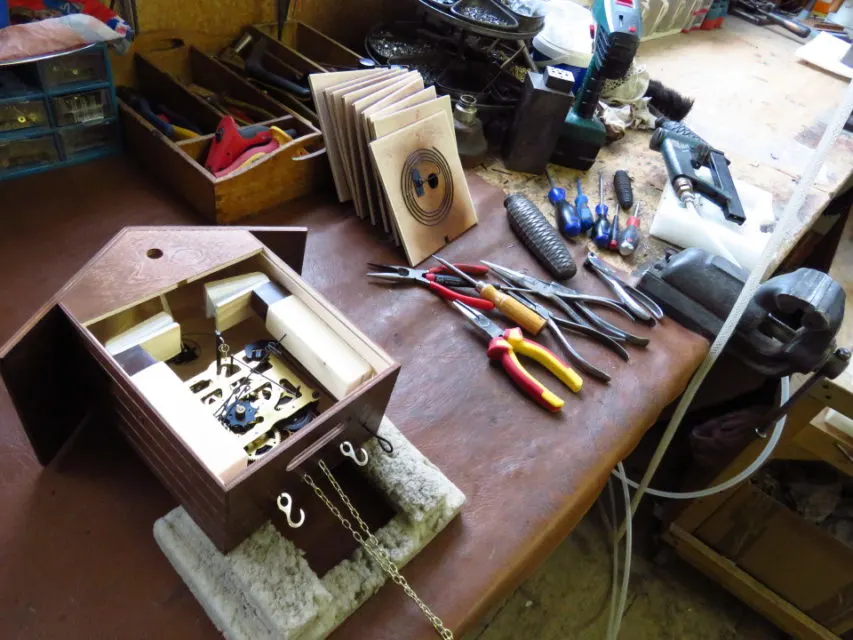 What Makes A Cuckoo Clock "tick"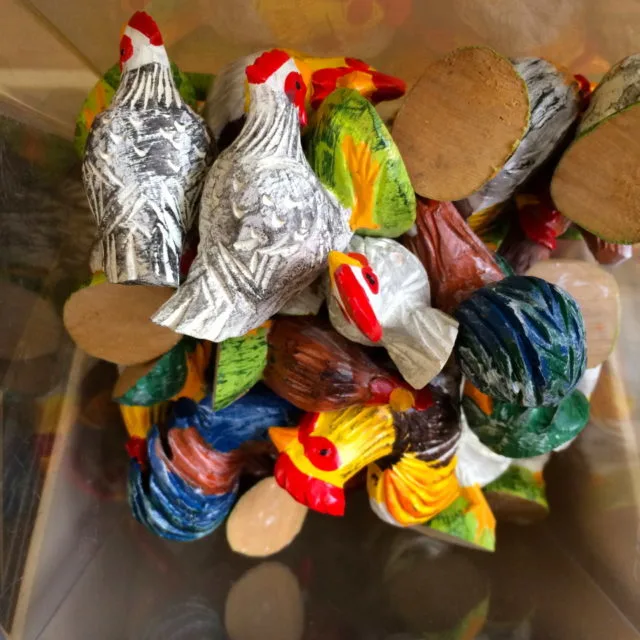 Learning what makes a cuckoo clock "tick" takes a lot of skill. As I entered the old wooden clock workshop, I received a history lesson on the makings of a cuckoo clock. You remember them, right? The ones where there is a bird that appears thru a small trap door and comes out and says "cuckoo, cuckoo, cuckoo" while the clock strikes the time of day. They are mechanical clocks with a clock case, the cuckoo pipes or bellows (which makes the actual sounds), and the weighted pendulum that regulates the clock.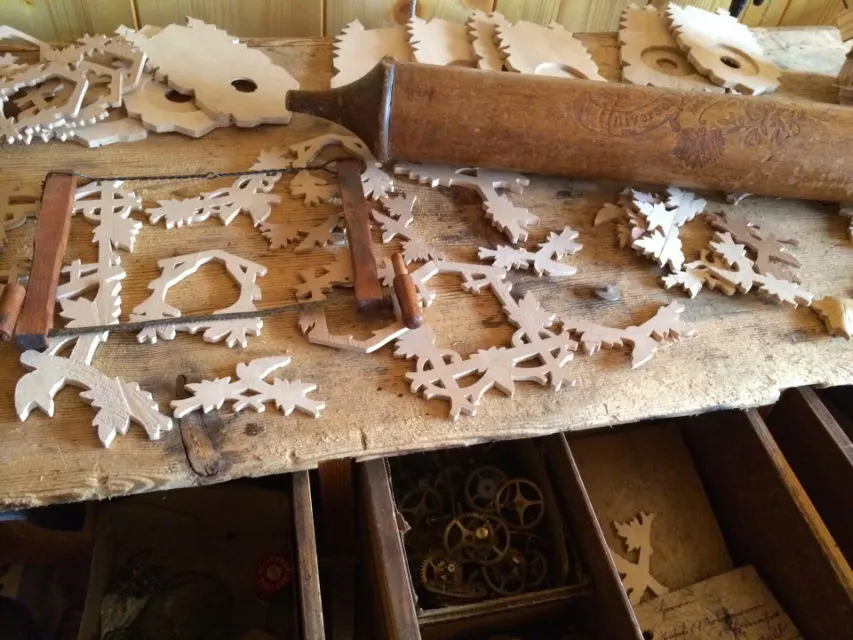 There are also 2 types of movement: one day or eight-day, where the cuckoo clock is weight driven and has to be wound. While touring the shop, one can still see the workbenches from the 18th century and Ingolf pledges to keep everything just as it was back when he inherited this cuckoo clock shop. He walks on the traditional ceded wooden floors and pulls knobs made from the wood of the curio cabinets that hold the small components of the clocks.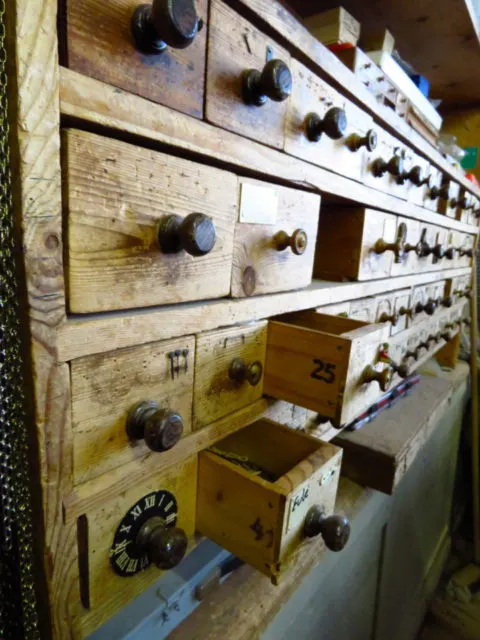 The Modern-Day Cuckoo Clock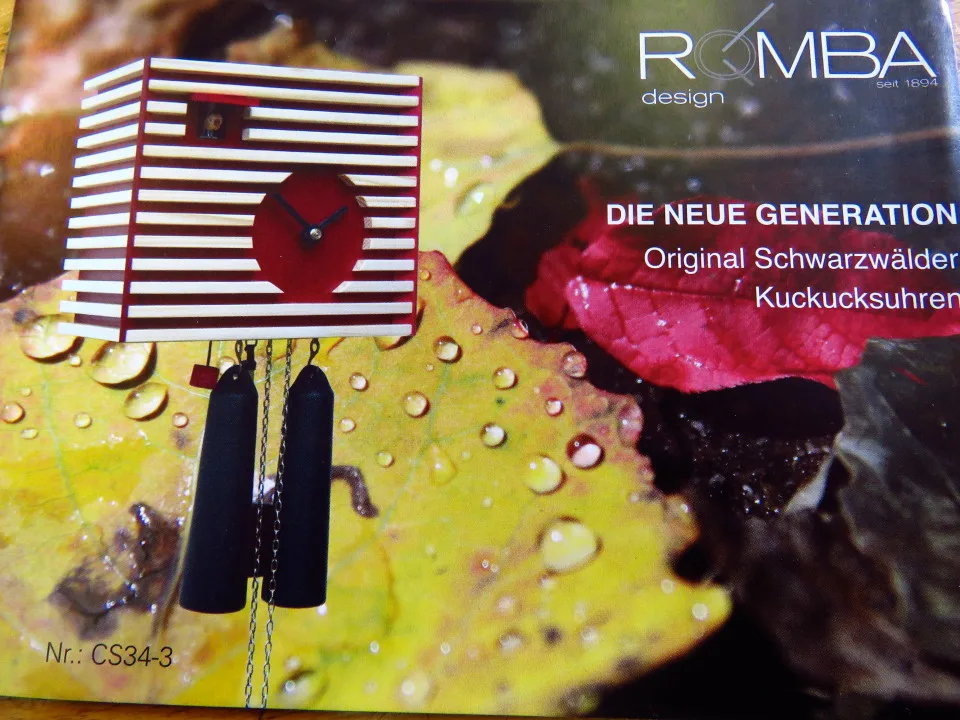 From here, we made our way to his showroom floor, where I saw clocks made from metal to flat wood. I saw red clocks, white clocks, and pink clocks next to traditional château wooden ones. Clocks with carvings, clocks painted a solid color, clocks with painted pictures, you name it, there is a clock here made just for you.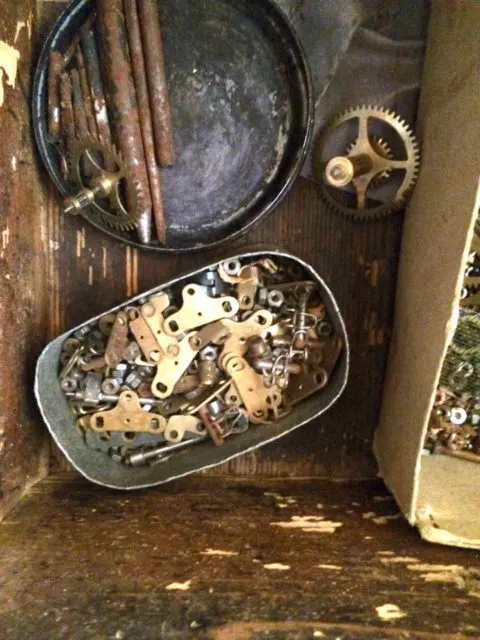 If you don't find one to your liking, just have one designed especially for you. Conny Haas has been painting cuckoo clocks for over thirty years and uses her superb artistic skills to create amazing works of art. The prime minister of Germany liked the Hass' clocks so much that he had his secretary make a standing order of a particular clock that he gives as gifts to dignitaries that visit him. Here is what it looks like: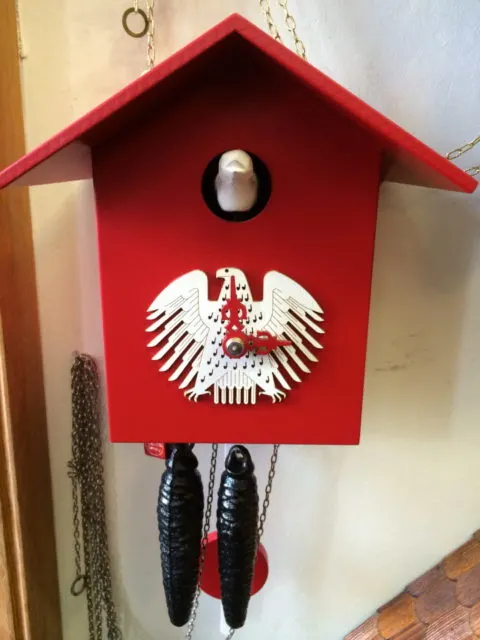 Come for a visit to the Black Forest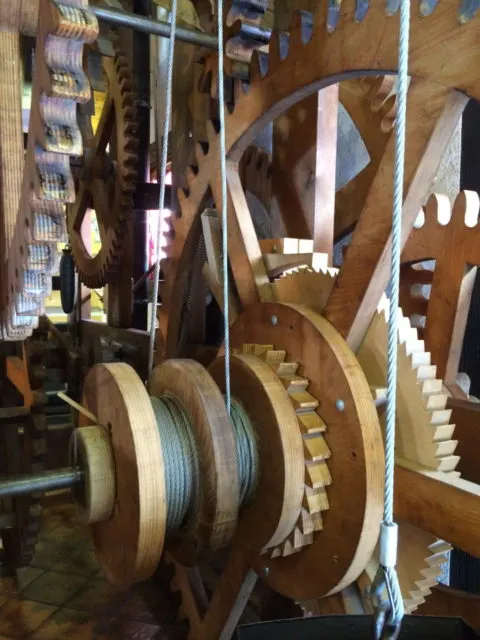 So if you are in the mood for some history, some art, watching craftsmen do their thing, then Schwarzwald or the Black Forest is the place for you to see history in the making. And while you are there, might as well make your way over to the world's largest Cuckoo Clock nearby in Schonach, which is actually a two-story building that houses the mechanism or the one near Breisach, which I think is a much prettier stop and has an area of the black forest that you can actually walk down into without much effort.
Disclosure: My trip to JoinGermanTradition was sponsored by the German National Tourism Office, the amazing time I had visiting the Black Forest was all my own!