That was my mantra when I stepped off the plane in Yangon, Myanmar. To be honest, I had googled a few images from this Southeast Asia destination to get a sense of what kind of photos I could come home with. Since I was traveling with a group of photographers on a trek. The awe-inspiring photo had to be a shot of hot air balloons rising up over a series of pagodas bathed in a dreamy golden sunrise. This was the one image I hoped to nail down, the Myanmar pagoda photo.
---
What's in this post:
hide
Myanmar Pagoda Photo
---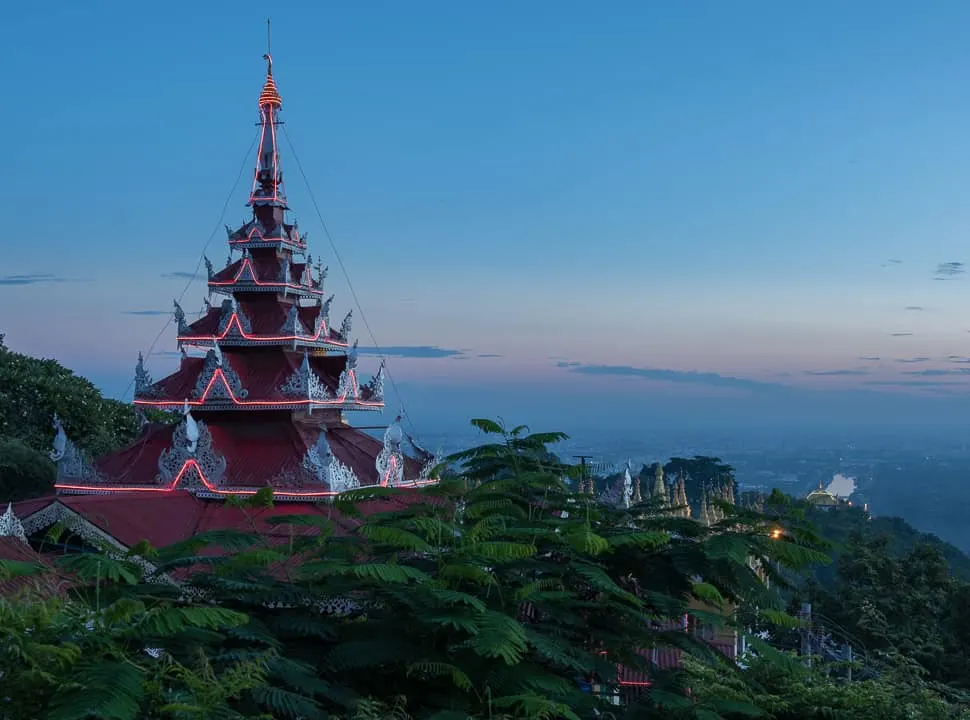 ---
"I'm going without expectations."- Donnie Sexton
---
But beyond that, I remained open to whatever this trek had in store for me. Myanmar, formerly the country known as Burma, is tucked between the countries of Thailand, India, Laos, and China and has only been open to tourists since 2012 due to political strife. In my nine-day visit in November, I didn't see another American, save for our small group, which left me feeling completely charmed by a place not overrun with tourists.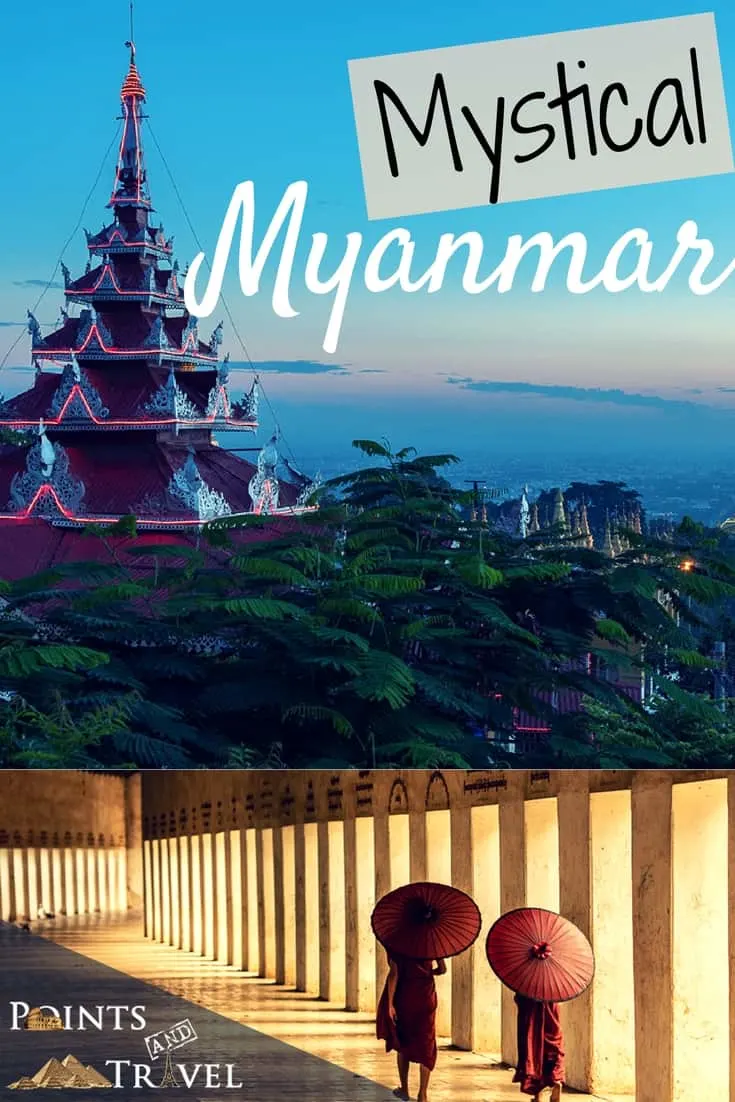 Yangon was the beginning of the Trek
Our trip started in Yangon, the former capital and largest city in Myanmar, as well as had the best international air connections. After checking into the luxurious Chatrium Royal Lake Hotel, we spent a few hours wandering the Shwedagon Pagoda, the highlight of this traffic-congested city.
If there was ever a gigantic treasure chest of gold and jewels that were magically overturned from the heavens, its contents landed on Shwedagon…the place is simply dazzling. The complex was dotted with nooks and crannies filled with Buddhist statues, a variety of beautiful alcoves for worshiping and meditating, Candles were aglow and flowers were strewn about as offerings.
Walk amongst the Gold, Gemstones, and Mirrored Glass
I simply walked in awe among all the gold, gemstones, and mirrored glass columns, wishing I had sunglasses to shield from all the brilliance surrounding me. Each day of the week has a unique shrine within this complex, so depending on which day you're born (an important component of Buddhist beliefs) you can pay homage at the appropriate site. There was an abundance of Burmese locals in thoughtful meditation and worship all throughout Shwedagon, their devotion not lost on me.
Myanmar Pagoda Photo
The only downside to this striking pagoda and all others we visited where you're allowed to climb on or walk inside is you cannot wear shoes or socks (out of respect to Buddhism). My tender feet were not happy about this, and by the end of the nine days, they were screaming at me.
From Yangon, our group boarded a short flight to Bagan and checked into the lovely Tharabar Gate Hotel, a tranquil oasis located in the heart of one of the most important archeological sites in Southeast Asia.
Old Bagan Ancient Capital of Burma
Unlike congested Yangon, Old Bagan, the ancient capital of the Burmese Empire, was very peaceful and laid back. Just outside the hotel were rickety old carts pulled by horses for transporting visitors – had I just stepped back in time? We were told that back in the 11th and 12th centuries there were over 10,000 temples, monasteries, and pagodas in the area, primarily Buddhist in nature.
Today, over 2200 pagodas and temples remain, along with many monasteries. Some of them were damaged in the August 2016 earthquake, but repairs are underway. What I knew for certain was that the iconic image I had in mind to capture would happen in Bagan.
Hire a Guide
Our local guides, MM and Romi, knew the ins and outs of this place, which prove invaluable in helping us navigate the countryside littered with pagodas over the course of two days. They casually mentioned it was best to stay on the dirt paths and not wander into the tall grass around the pagodas, due to snakes.
Snakes? Are you kidding me?
A vision of those giant Burmese pythons that swallow people whole popped into my head. No one is a bigger baby than me when it comes to snakes. I took a few deep breaths and realized there was safety in numbers – I attached myself at the hip to MM and Romi.
Myanmar Pagoda Photo
Thankfully, in the interest of preservation, the government banned climbing on most of the pagodas in March of 2016, although a few are set aside for limited access. MM knew precisely where we could climb up to get that killer shot of the hot air balloons at sunrise. I was psyched and so were my companions. There were no complaints about getting up at 5 am to get to the location and into position. We were dropped off at a very tall pagoda and told to head to the top.
So it was here, after climbing four sets of narrow stairs straight up, barefoot over rough stones, and holding the dew-covered slippery railing with both hands in the dark that I was going to get my shot. We set up tripods and waited for sunrise. Soon a handful of Japanese photographers showed up and tried to weasel their way in between us, but you have no idea how territorial photographers can be when they have staked out a plumb location and a latecomer wants to hone in on it!
Well, as life would have it, that shot never happened. The looming storm clouds followed by rain put the kibosh on the balloons taking off and chased the sun away. The best I could do was capture a moody scene punctuated with pagodas. Disappointing, but that's a photographer's life.
Myanmar Pagoda Photo
Beyond the Pagodas
Beyond the pagodas, the monasteries of Bagan were high on our list of places to check out. Buddhist monks are everywhere in this country, especially in and around Bagan. The amazing thing about these monks is they go on about their business paying absolutely no mind to visitors and/or photographers. Their daily rituals of collecting food offered to them from locals, eating, studying, worshipping, shaving, tidying up their living quarters are an open book for anyone interested in observing.
Spellbound to Say the Least
I was spellbound by this slice of life served up to me – men and boys alike all dressed in maroon colored robes and flip flops, and never uttering a word, at least while in public. I tried to imagine what this austere life would be like. Did these young ones play, laugh, sing, and wrestle around as only boys do? Did they get to see their families? And what was with many of the older ones sporting tattoos? Romi mentioned that Buddhist boys are required to enter "monkhood" two times in their young lives to study Buddhism, thus allowing their parents to earn merit.
I'm glad I checked my expectations about Myanmar at the door, as it has allowed me to absorb this culture without prejudice. I've come home fascinated, but also curious and want to know more about what I've witnessed. Part two of Myanmar continues with the Water Dwellers of Myanmar's Inle Lake.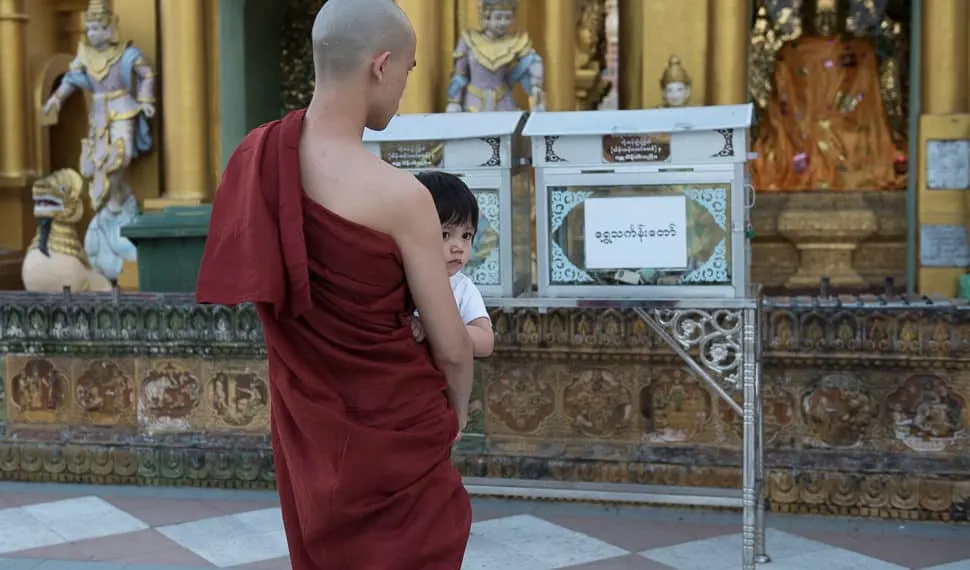 Disclosure: This story is a result of my observations as a trip leader during a photo trek to Myanmar through Mentor Series. This article was written by Donnie Sexton and you can follow her on Instagram @donniesexton1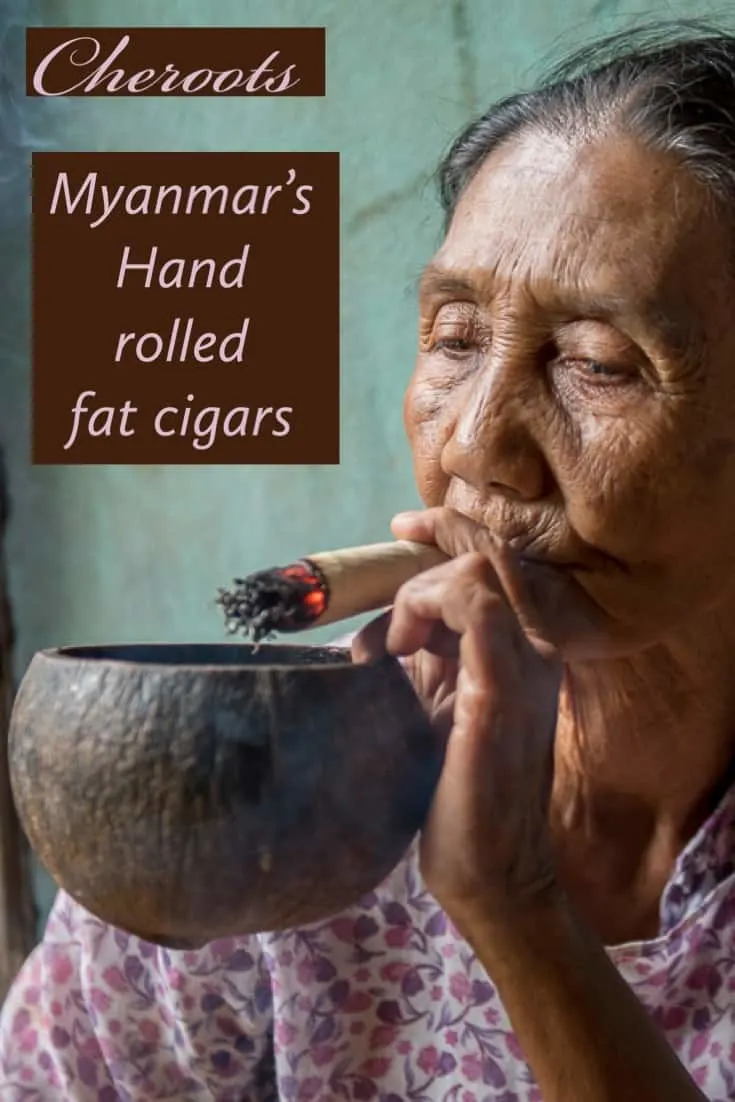 Donnie had been with the Montana Office of Tourism for 26 years, splitting her time as staff, photographer, and working closely with the media. She is a self-taught photographer and has been fortunate to take a few workshops along the way with some inspiring instructors. She has an insatiable appetite for travel that has been documented primarily through her photos. She always tells a story behind her images that defines a destination or an experience.