Puerto Penasco is an amazing vacation destination in the Sonoran Desert in Mexico. It's a great place to take your family, friends, or even your significant other for their next getaway. Puerto Penasco Mexico has everything from beautiful beaches and warm waters to gorgeous desert landscapes that will make any traveler feel like they've been transported into another world. Puerto Penasco also offers numerous activities such as scuba diving, snorkeling, fishing, and more! If you're looking for a new location to explore during your next vacation then look no further than Puerto Peñasco (Rocky Point) Mexico!
---
What's in this post:
hide
Ultimate Guide to Puerto Penasco Mexico
---
---
I've always said that Phoenix Arizona was the perfect place to live except for one thing – we do not have a beach! But in a way, we do, as Arizona's Beach is in Puerto Penasco, Mexico, just a few miles down the road, well 212.3 miles that is! We Phoenicians call it Rocky Point (or Arizona's Beach) and it lies at the Northern tip of the Gulf of California in the gorgeous Sea of Cortez in the state of Sonora.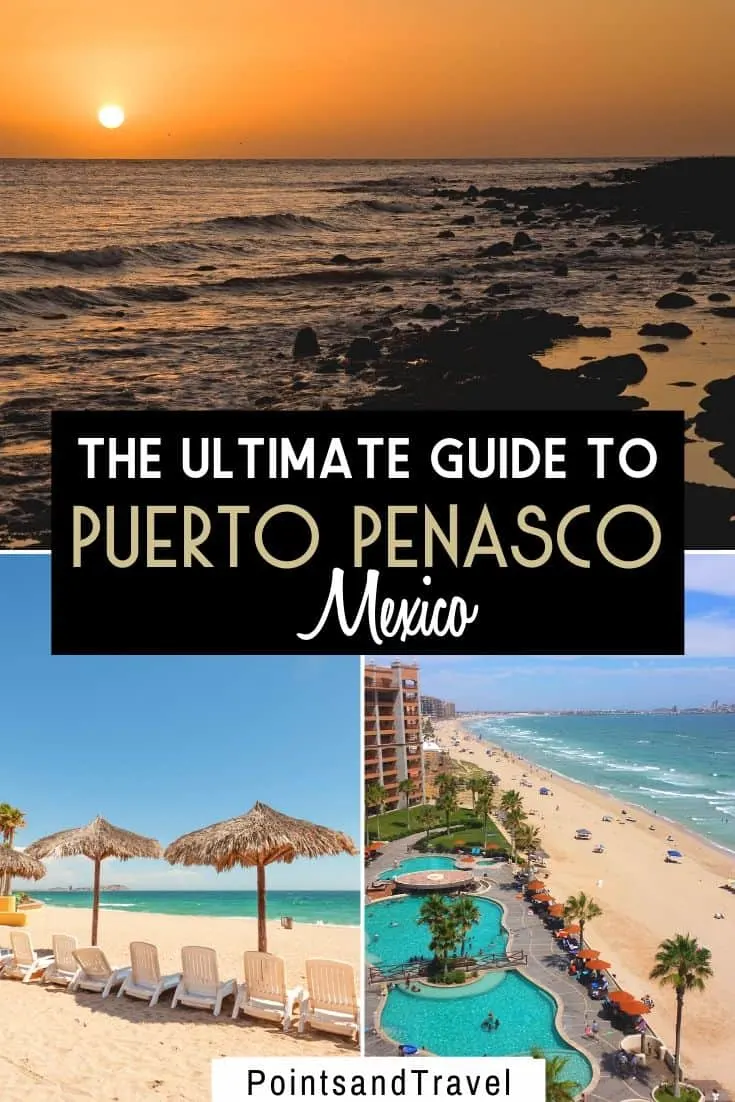 The road to Puerto Penasco can take Phoenicians about four hours to drive there and for San Diegans about five and a half hours to get here by driving. However, at least for our family, each year we make our annual trek across the border to sunbathe on the sand, splash in the waves, and enjoy the sparkling sun of the stunning Sea of Cortez. This article will not only tell you the fun things to do in Puerto Penasco, but also where to stay, and where to eat the best food!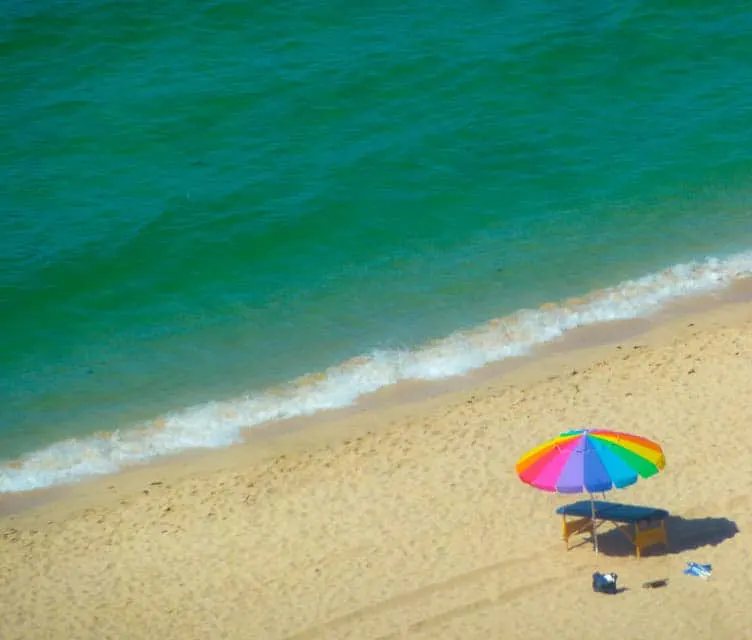 ---
Bring Everyone's USA Passport! You will NEED IT to cross the Border! Don't forget!
---
You guys know that I am kidding about calling Puerto Penasco Arizona's Beach, but honestly, it really is a great vacation for most Phoenicians and Southern Californians. And it is the closest beach we have! But really it is a quick jaunt from both states, and the differences between Rocky Point, Mexico, and Phoenix, Arizona, or even Southern California are worlds apart.
Puerto Peñasco started as a quiet fishing community and it has grown in popularity. Today, with the close proximity to the Mexico-USA border, Puerto Peñasco makes it a favored destination for USA vacationers from Arizona and California, but also people from Mexico as well. So let's go explore Puerto Peñasco!

Puerto Penasco has beautiful scenery and lovely beaches. Rocky Point, Mexico is just a little bit of paradise for some folks who don't have the time or money to travel farther south in Mexico. Puerto Peñasco's population boomed quickly because it was seen as an affordable place to live, but also a great destination for tourists from both sides of the border!
When Is the Best Time to Go to Puerto Penasco?
It is best to go to Rocky Point from October to February, as the weather will cooperate with you much better. We are here in August and we should know better since we are from Phoenix. It seems whatever weather we have in Phoenix, they have the same weather here in Puerto Penasco, and right now it is hot!

How to get to Puerto Penasco
How to get there: Take I-10 West out of Phoenix to State Highway 85 South. Follow 85 through Gila Bend, Ajo, and Why until you reach the Arizona-Mexico Border. From there, stay on the same road and watch for signs to Puerto Penasco. Drive time: Approx. 4 hours. Use Google maps to see how traffic is and try to leave early in the morning to be there by noon or 1 pm.
Stop in Ajo, Arizona for a Photo Opportunity
Each time we get closer to the Arizona-Mexico border, we always stop for a photo opportunity at the blindingly white church in the desert town of Ajo, right before the border. We do this even if is a quick, rolling stop, but usually, we do get out of the car! Of course, there is a back story. Some twenty years ago, we got out and took a gorgeous photo of the Immaculate Conception Church in Ajo, Arizona.
We then had Ortiz Villa de Moro, an artist from Santiago, Chile, create a painting of this very church. The artwork still hangs with pride over our mantle above the fireplace in our home.
Also, we do see more Dairy Queen's along the route to Puerto Penasco, while in Arizona! This is always a treat to stop for soft ice cream by the side of the road! And we don't care how hot it is, as we go to Puerto Penacos because we really enjoy the sea, the sand, and the sunsets.
---
But hey, if you do get a chance to go to Ajo, Arizona, you might as well read about the Sonoran Desert Inn from my fellow writer Andi who has stayed there!
---
Rocky Point, Mexico: Arizona Mexico Border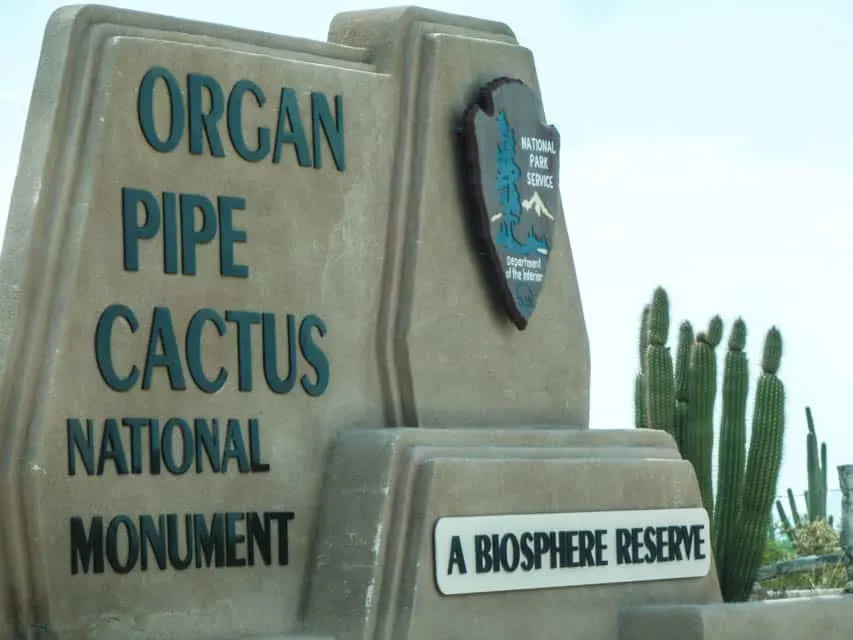 What is most apparent at the beginning of a road trip from Phoenix to Puerto Penasco is the desert landscape changes. There are more open-roads and fewer people. Then the towns begin to shrink and they become smaller and less populated. Eventually, you will see the Oregon Pipe Cactus Monument, an International Biosphere Reserve, it is teeming with plants and animals if you take a close look. And just know that you are getting closer to the Arizona-Mexico border.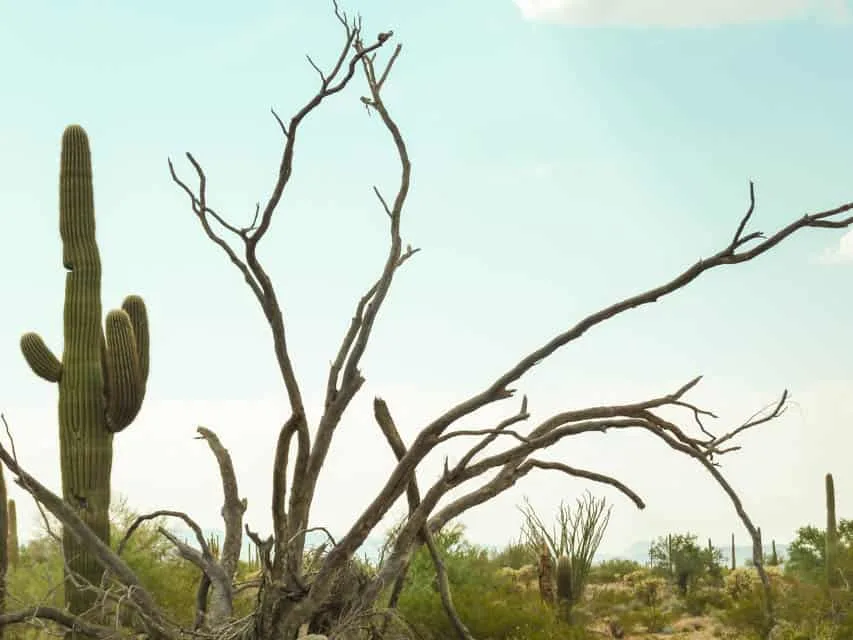 ---
Buy Car Insurance BEFORE YOU GO
One thing to know before you go is that you will need travel car insurance for Mexico before you cross the border. I either go through AAA before I leave or we grab Mexican Insurance as you get closer to the border. Just get it, as you should not travel without it.
It normally runs around $25-30 on the side of the road before the border. I suggest saving time and doing it with your own insurance carrier over the phone. I printed it out (and have a hard copy in the car) with me. You can risk without it, but what if your car gets stolen? It's such a racket, but better safe than sorry.
---
Once you Cross the Arizona-Mexico Border
Once you have crossed the Arizona-Mexico Border, don't be alarmed or surprised to see police with guns blazing, that is just how they do things down here. And when you see the ambulances on the side of the road stopping cars for money, be sure and give. They need all the help they can get, even if it is just a little bit. So now only a few more hours to go to get to Puerto Penasco!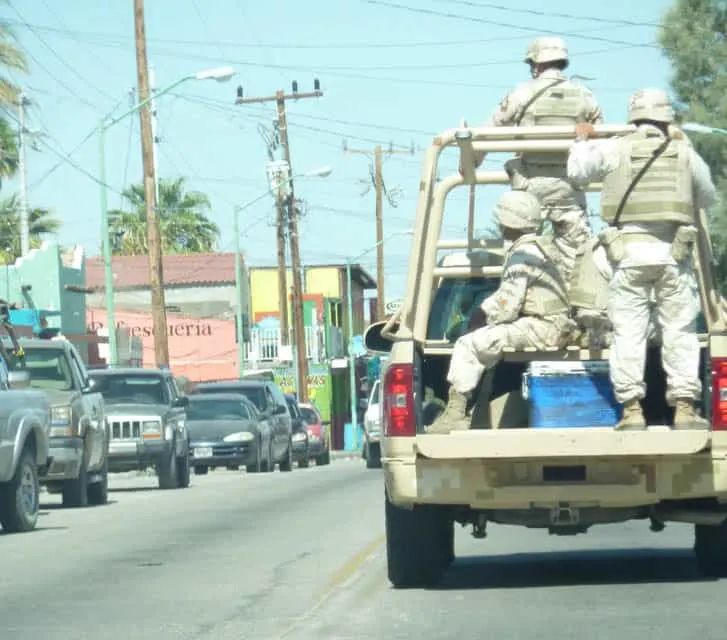 Once You Have Arrived in Puerto Penasco:
#1 Make a Beeline for the Malecón Kino for Lunch
As soon as we arrive, we always make a beeline for the ocean. That is the one thing we don't have here in Arizona, so we always want to see the ocean first! And even though I call it Arizona's Beach, really many just call it Rocky Point Beach. The Sea of Cortez shines brightly back at us, gleaming spots are coming off the water, blinding our eyes with the pelicans and birds swarming the sides of the beach.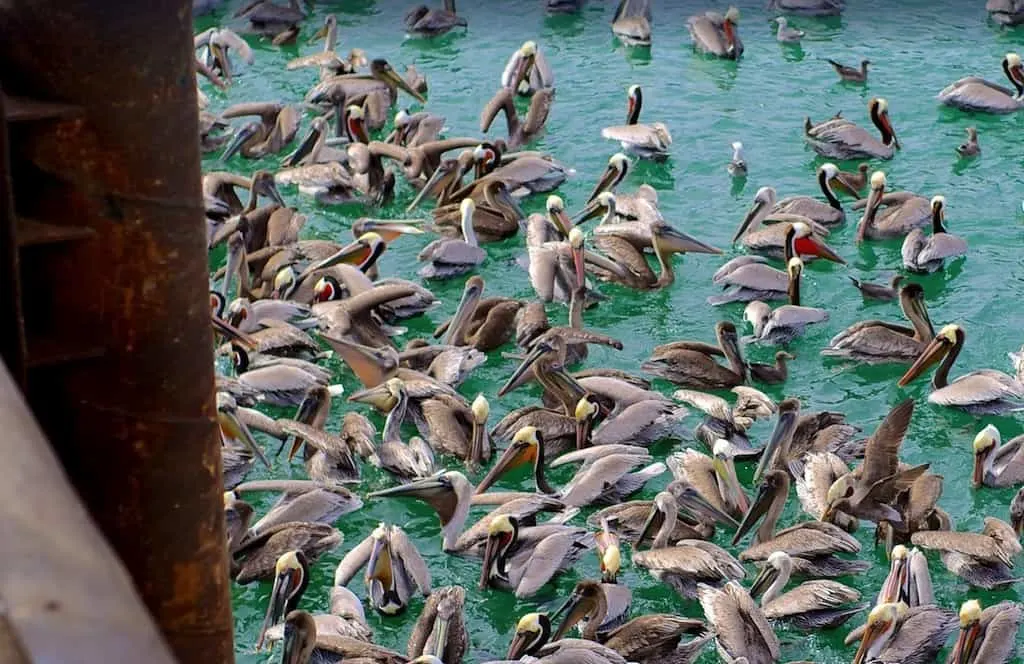 You can start at Puerto Penasco's historic quarter, the Old Port to the Malecon in an area sometimes called "the curve" for our favorite spot for lunch. It has been about a four-hour drive. So it is the perfect time to have a little seafood lunch. The fish are always fresh and prepared in such an interesting way: grilled with the head and tail still on! But what I really love are the margaritas, the pico de gallo (with chips), and the handmade tortillas! My husband always wants a cold Pacifico with a lime, and the kiddos want ice-cold orange Fanta's bottled in Mexico, so we place our orders!
I order the shrimp and always get a kick out of reading the menus that have been translated into English. Today I will have Butter Garlic Shrimp: "Coocked" w/ butter, garlic, and white wine! At least this time, I don't spy shrimpS on the menu, as I usually do on a translated Mexican menu! But I do spot the "coocked" versus cooked mistake and we all have a laugh as we think it is cute!
---
One last thing I wanted to mention about the main area of town. It is known by many names: Malecón Kino, El Malecon, the Old Port, the curve, and downtown!
---
#2 Shop for Souvenirs along the Malecon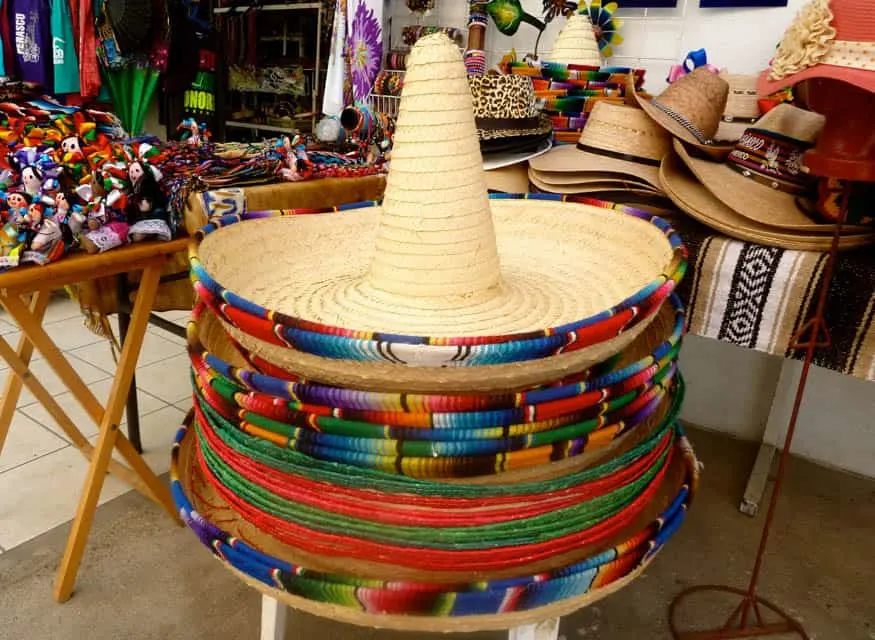 After lunch, we went for our usual stroll of shopping for nick-nacks of all things Mexican-related. Shopping really for nothing, but enjoying with pleasure all the handcrafted items that we see. One thing is for sure, the sights are colorful, but it is scorching hot outside, which shortens our time shopping!
(I did notice that the quality of many of the products here is not the same as you get when you are at a more mainstream Mexican coastal resort or a larger metropolitan Mexican city area, just so you are aware.) They have been man-handled just a bit more! But they are still just as good!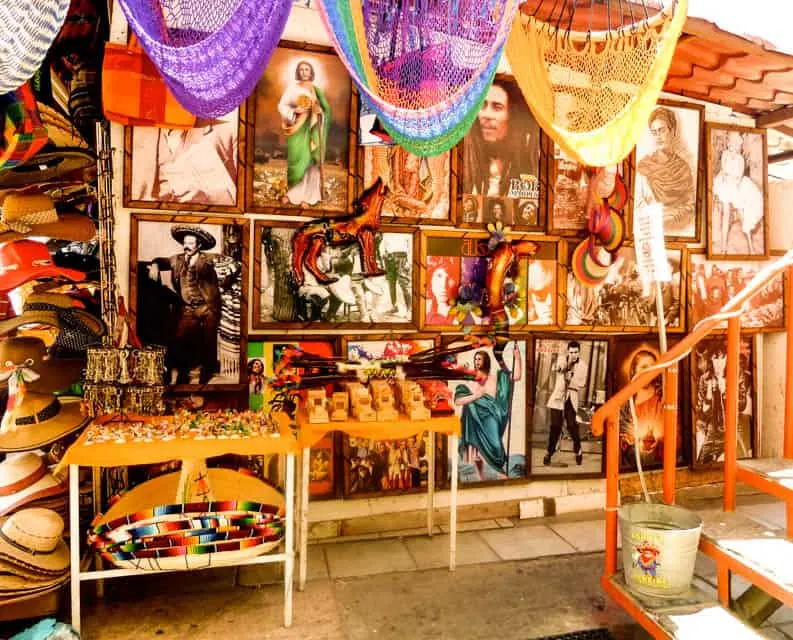 We stroll along the waterfront Malecón Kino, which is home to these handicraft shops, pottery workshops, ice cream parlors, and restaurants. They also have a stinky fish market, where we buy some seafood for us to cook in our condo later during the trip. While you are down here, you can check out Posada la Roca, a hotel where Al Capone once stayed. Legend has it that Capone used the city as a base for smuggling liquor across the border! Who knows if that is true? LOL! But other vendors here sell everything from street food or may even have local drink specialties.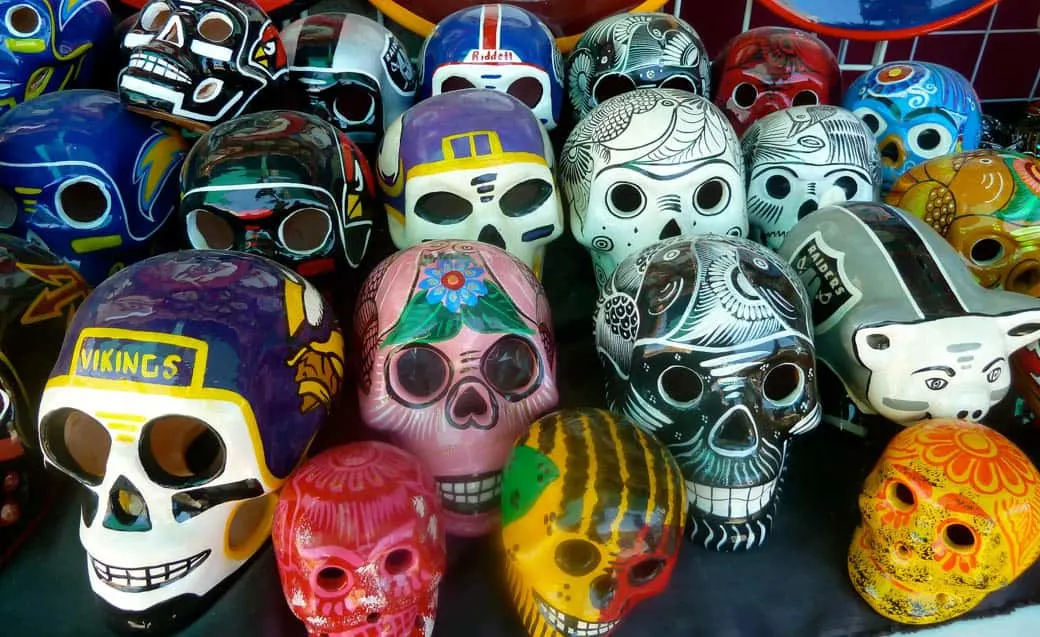 We wander on down to the boardwalk alongside the Sea Of Cortez, which is the main street. Here you will discover street food vendors. There are bars and nightclubs in the area for later in the evening. Also along the boardwalk is where you will find the "Puerto Peñasco" sign here. Stop and take a photo opportunity if you get a chance. (It's relatively new!)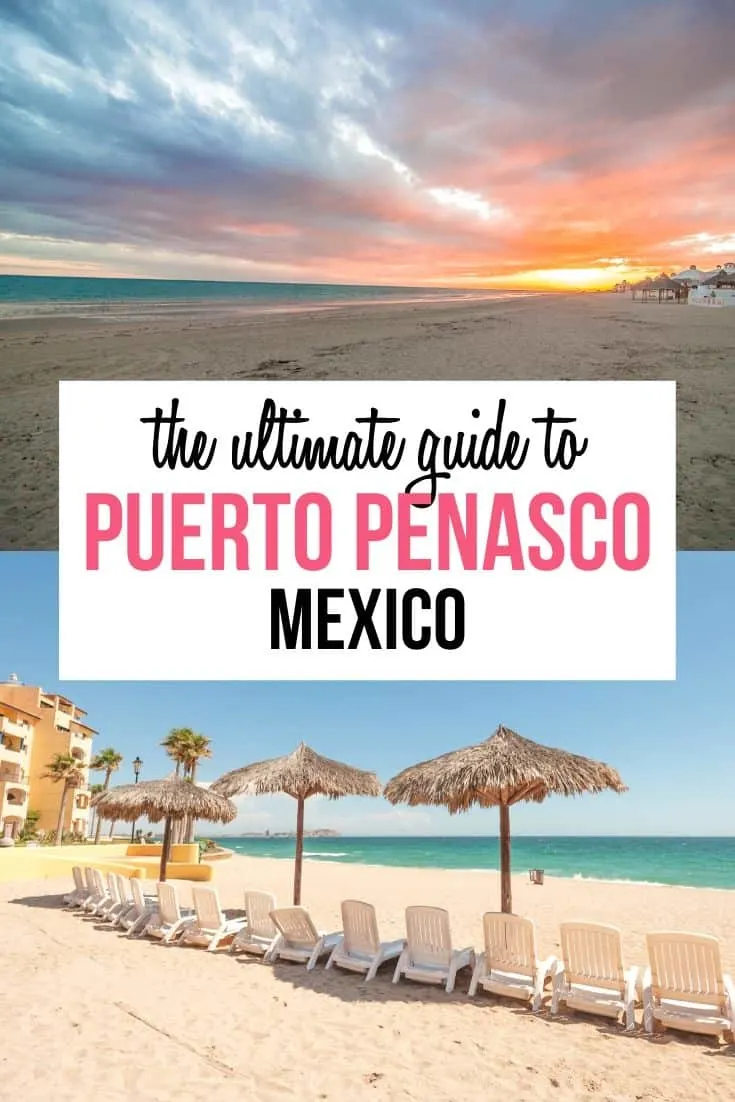 #3 Time to Jump into the Sea of Cortez
What makes Puerto Penasco so appealing? Because it was seen as an affordable place to live but also a great destination for tourists from both sides of the border! You can find all types of accommodations here. From places that are more upscale than others to hotels right next to the beach.
Once we have located our digs, the first thing the kids want to do is go down to the Sea of Cortez. Being water babies in the desert is a curse, as we never can get enough ocean time. There is a wide range of activities to do along the beach, as there are plenty of things to do in Puerto Peñasco. The beaches are wide and offer plenty of opportunities for swimming, water sports, snorkeling, kayaking, fishing, and collecting seashells. When my kids were young, they especially enjoyed collecting seashells in Las Conchas, a private enclave to stay in that I mention further below in the where to stay section.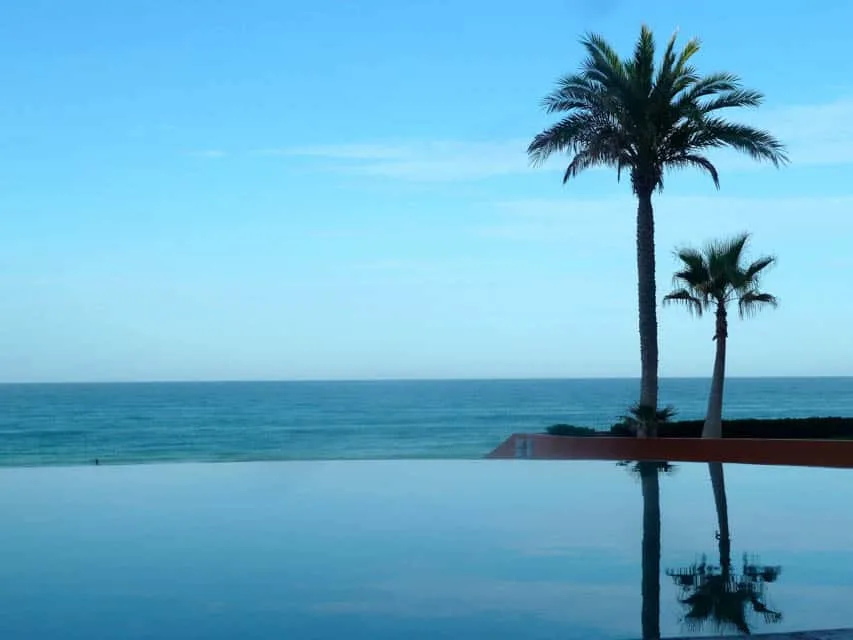 The two closest beaches to the center of Puerto Penasco are Playa Bonita (literally translated as Pretty Beach) and Sandy Beach. Eventually, Playa Bonita stretches to the West until it turns into Sandy Beach. These are the two beaches where you will find most of the fun activities that I mentioned doing in Puerto Penasco.
Puerto Peñasco is famous for its dramatic tidal fluctuations and along with this, you find plenty of tide pools. Exploring these tide pools is fun to do with the kiddos, so bring along a bucket to collect your seashells, as you never know what you're going to find! You may come across baby crabs, conch shells, jellyfish, live starfish, sand dollars, sea slugs, or even octopus!
---
Bonus Tip: If you take seashells from Puerto Penasco, make sure you check to see if there is anything living inside of it before you pack it away.
---
#4 Rent A Watercraft: Jet Skiing and Sea Doo's
All along the beachfront near Bella Sirena, you will find plenty of guys out here just waiting to get your money by allowing you to use their Jet Skis and Sea-Doos and even water scooters. They can range anywhere from $15-50 dollars per half hour, so be sure and bring your negotiating skills along with you! They basically show you how to turn it on, how to brake, and tell you not to go too fast! But my boys always push the limits and before you know it they are out there having the times of their lives!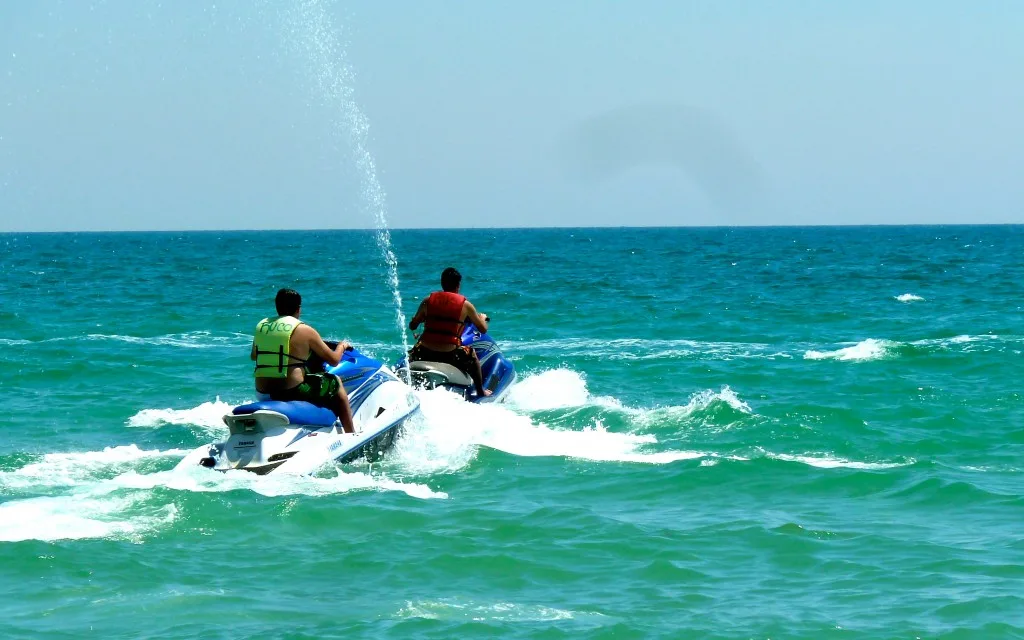 #5 Set up a Spot On the Beach and People Watch
As for me, the boys helped me carry down our beach chairs, towels, and such and set us up a spot on the beach where I can watch them from. But I also just love to people watch, and today the sands are busy with the locals walking about selling everything from hats to scarves to jewelry and massages on the beach. I even had a few girls approach me that wanted to braid my hair! Everything is sold at the beach these days!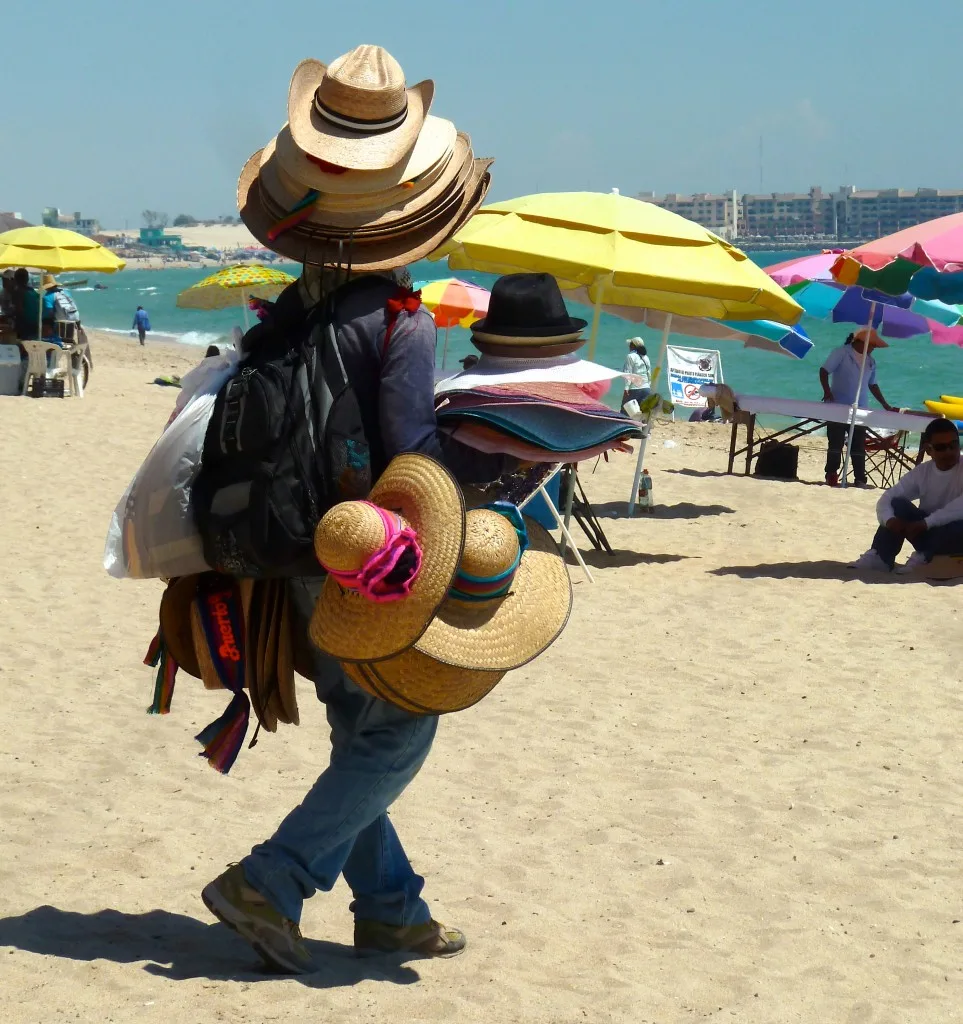 The hat salesmen walking in the sand always remind me of the book I used to read to my kids, call "Caps for Sale: A Tale of a Peddler by Esphyr Slobodkina in the 1940s. Remember that book? And all the monkeys and their monkey business? Ok, I must have just dated myself!
#6 Purchase a nice cold Coconut Drink On the Beach
Typical for Puerto Penasco is the beach vendors, they are always trying to sell you something. Today I spot a woman cutting up coconuts on the beach. She works hard, carrying all the things she needs to make you a nice drink of cool coconut juice. When she has no customers, she sets up underneath her umbrella as the winds blow.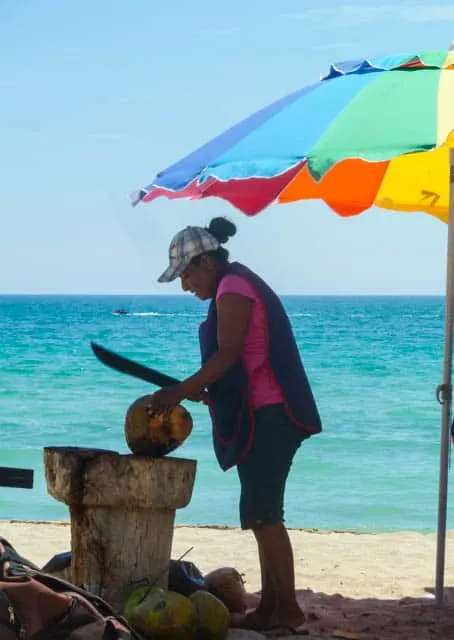 #7 Rent ATVs and go Dune Buggying!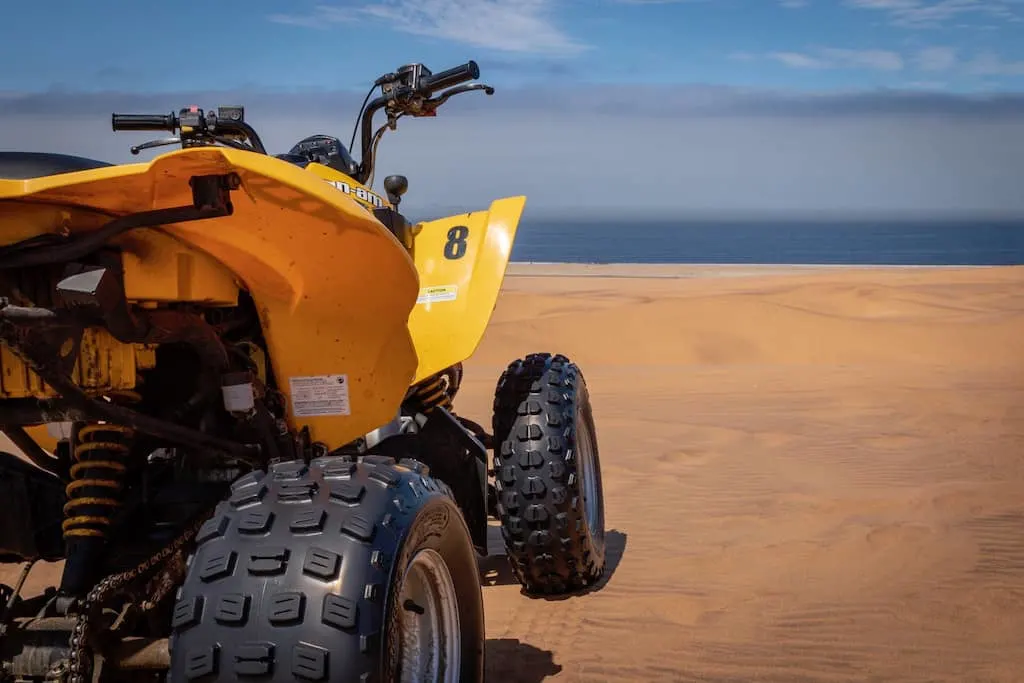 We have been going down to Rocky Point or Puerto Peñasco for years. Back then we had to rent one (ATV) when we first arrived because the area is so vast. Apparently, they are legal on the streets, but you can also go out in the sand dunes or off-roading areas of the rugged desert terrain where there are lots of hills to ride on. It is a popular mode of transportation in Puerto
We have been going down to Rocky Point or Puerto Peñasco for years and we had to rent one (ATV) when we first arrived because the area is so vast. Apparently, they are legal on the streets but you can also go out in the sand dunes or off-roading areas of the rugged desert terrain where there are lots of hills to ride on. It is a popular mode of transportation in Puerto Peñasco. Going dune bugging is super fun and you will see ATVs (all-terrain vehicles) driven all over town. Once our Land Rover Truck broke down in Puerto Penasco years ago. And we had to rent one to get around and honestly, it was a lot of fun.
You can't ride on the beach on an ATV anymore (we used to), but there are tons of off-road locations around town. Also near Cholla Bay, Las Conchas (private), Playa Encanto, Sandy Beach, and near Bella Sirena. One of the best places to off-road on an ATV though is Competition Hill, which is located next to Cholla Bay because the hill has 300 foot long runs with a 30-degree slope!
#8 Learn to Paddleboard
With so much water around Puerto Peñasco, you can enjoy all types of water sports, including scuba diving, snorkeling, kayaking, and paddleboarding. My buddy rented their equipment right on the beach down from Bella Sirena. I also heard that you can rent paddleboards from The Club at Isla del Mar. They have kayaks there to rent too.
#9 Take A Banana Boat Ride
No trip to Rocky Point is complete unless you actually take a banana boat ride! It is so much fun! My kiddos loved it! Hop on right from shore and hang on for a fun and scenic ride. A banana boat is an inflatable boat that holds up to eight people. It is typically yellow, thus the name 'banana boat". The boat is then pulled by another motorized boat or jet ski with the intent to throw off the riders. The faster they go, the more you better hand on! Soon you will find yourself hurtling over waves and racing through the surf as you splash along the beautiful coast of the Sea of Cortez. They typically charge around $5 for a 10-minute ride. But believe me, after 10 minutes, you will want to get off!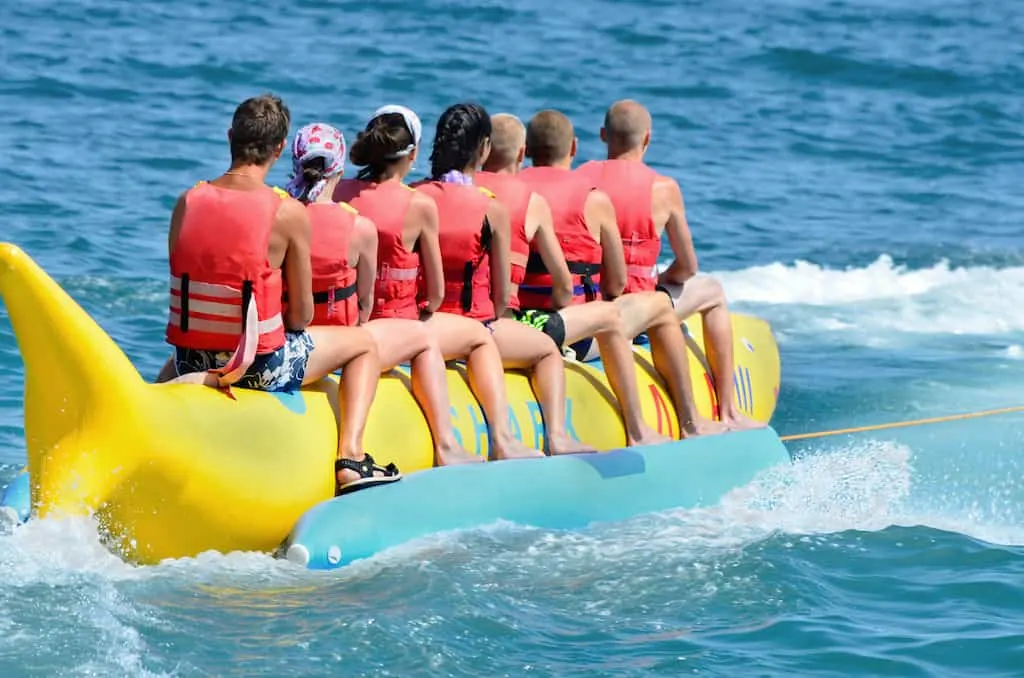 #10 Take a Hike
Some of my favorite memories from Puerto Penasco are the many scenic hikes. My family and I hiked to a nearby natural water well, just up the road from our condo in Residencial Las Palmas Resort (which is where we stayed for a few days). We took it slow, as there were plenty of other people on this popular hike with us. The water was so fresh and cold! It came right out of an underground spring high above Rocky Point's tropical coastline. You could feel that you're drinking something clean and pure.
And when you get back to Punta de Mita Village… go eat at La Sirena for dinner or lunch (or both!). They have great seasonal seafood dishes like shrimp ceviche served with warm corn tortillas.
#11 Go Golfing
The Club at Isla Del Mar has a Jack Nicklaus Signature Golf Course with most of the holes by saltwater lagoons or near the Sea of Cortez. There is wildlife everywhere so the course is practically one part golf, one part nature trek. So pay attention as it is easy to get distracted. It is meticulously maintained and has 18 holes. The fairways are in immaculate condition and the greens are lush. So if the weather is right and if you love to golf, this is a great place to spend your afternoon.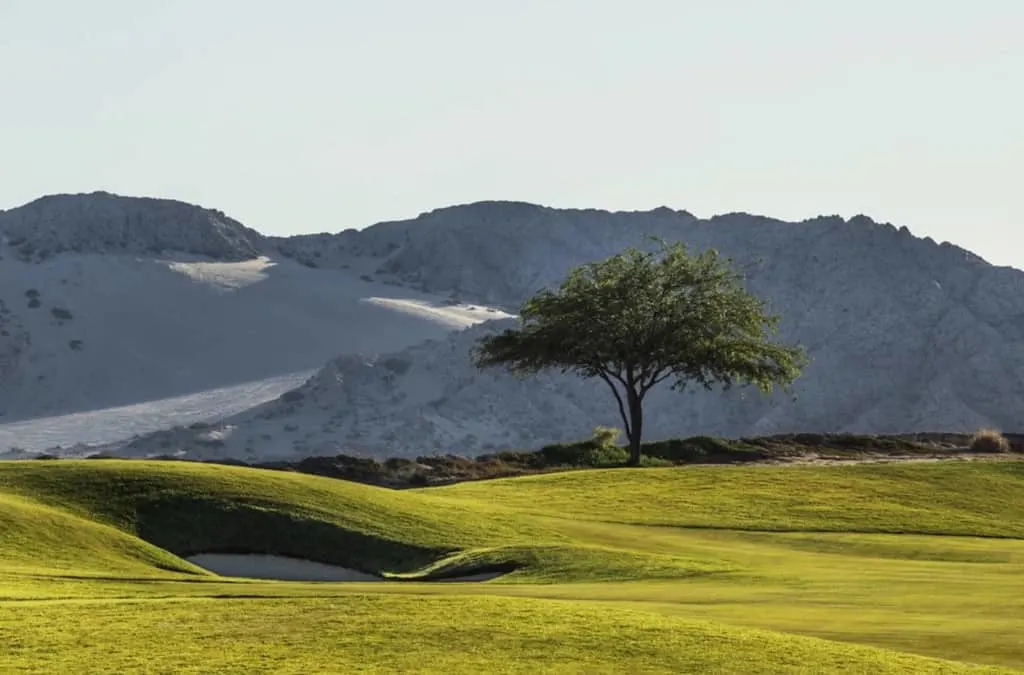 Also, The Links at Las Palomas has a golf course that showcases land sculpted by the winds, dunes, and the tides of the Sea of Cortez. It is an 18-hole championship course that is par 72. They also have a driving range, chipping and putting green, and a pro shop. They do require you to wear a collared shirt, no jeans, and not to bring outside liquor into the club. That sounds reasonable to me!
The Mayan Palace Puerto Penasco also has a golf course, the Nicklaus Design Golf Course at Vidanta Puerto Peñasco that was named "one of the 20 best and most fascinating courses in the world" or according to Golfweek Magazine, one of the best golf courses in the Caribbean and Mexico. Apparently, it is the most challenging golf course around town. So check it out as well.
#12 Spend Time Relaxing in Rocky Point, Mexico
Once we are all "sunned" and "beached" out, we head to the room in our new condo at Bella Sirena that we rented for some R & R (rest and relaxation). We sat for a while, took a quick nap, and ate some of the food that we brought down with us from Phoenix.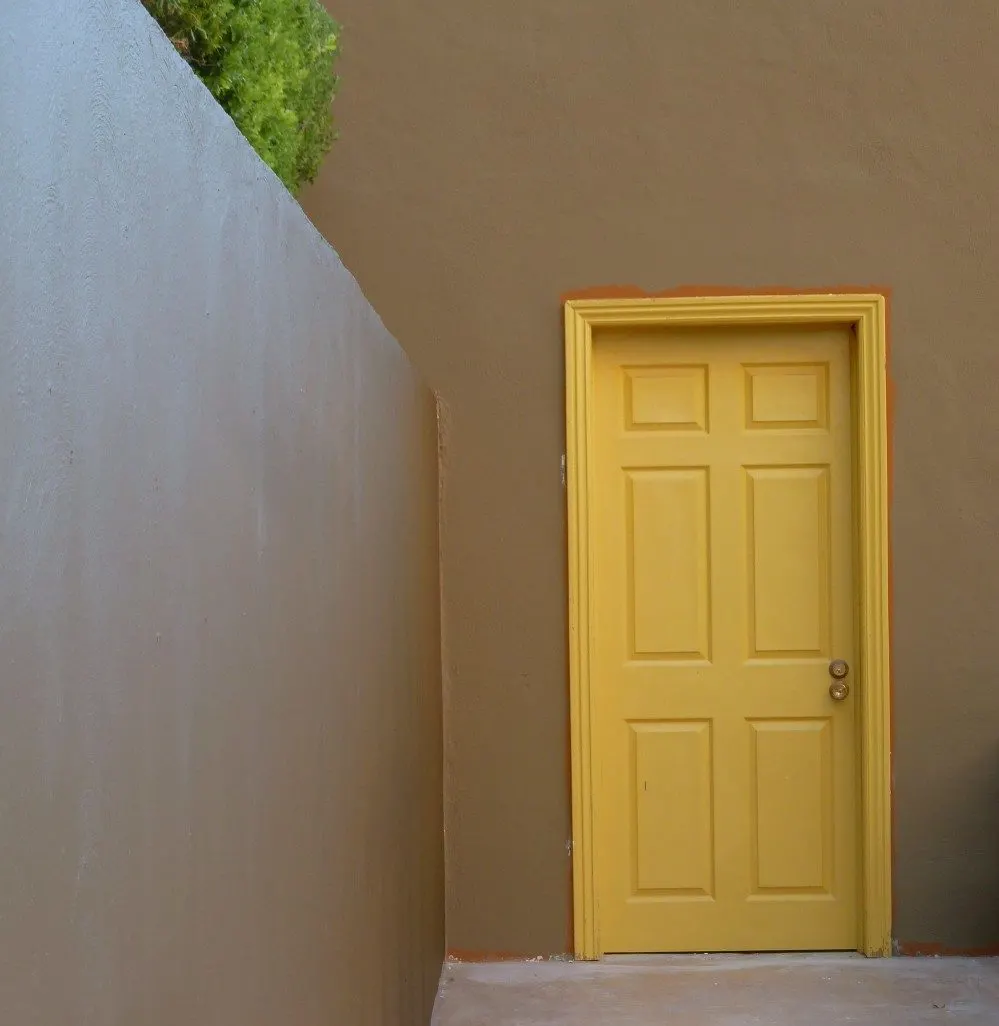 But before you know it, my boys got restless. So instead of rest and relaxation, they were off again to go buy firecrackers. See, you never know how your day will end up! But our condo at Bella Sirena turned out gorgeous and we were glad to try out a new place for us!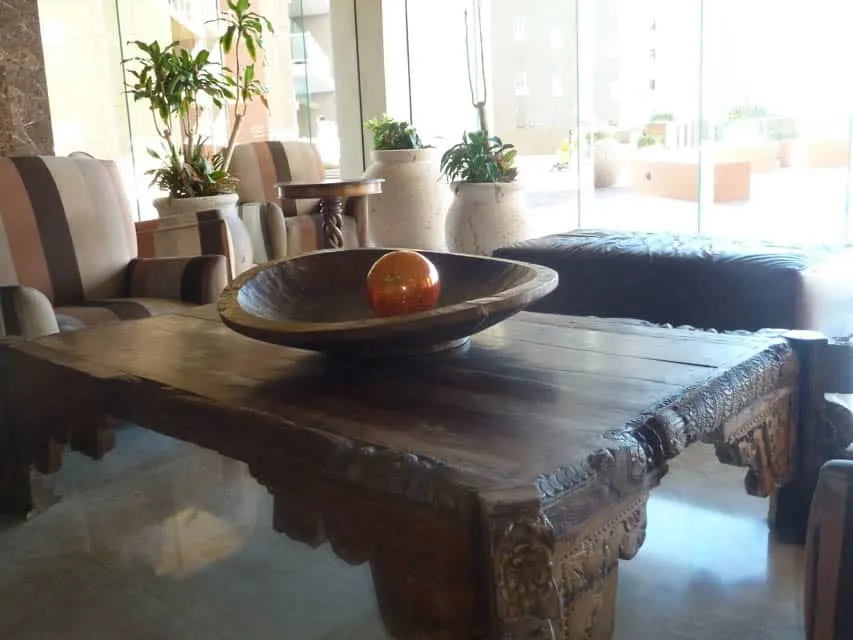 #13 Buy Firecrackers! Then Pop, Pop, Pop!
The boys, by now, are wanting to go out and pop the firecrackers that they bought at the local store and so off we go into the night, because one thing I know about teenage boys, they like fire and firecrackers!
Well, we just finished off day one in Puerto Penasco with dinner at La Casa del Capitan Restaurant. The sunset was spectacular, I wonder what tomorrow has in store for us?
#14 El Pinacate UNESCO Biosphere Reserve
The next morning after we are sunburned a bit and ready to go explore, we decide to visit El Pinacate UNESCO Biosphere Reserve. Mexico has 34 UNESCO sites to explore and one of them happens to be located a mere 40 minutes from Puerto Peñasco. In 2013, UNESCO named it the most important destination in Northwest Mexico and the whole state of Sonora, Mexico to visit! This reserve has the highest concentration of maar volcanic craters in the world. It is also the largest active dune field in North America. The El Pinacate and Gran Desierto de Altar Biosphere Reserve is a vast stretch of dormant black and red lava flows, sand dunes, and diverse plant and wildlife species.
But what does it look like? Like visiting the moon! For almost 4 million years beneath the earth, hot magma melted rock creating a massive subterranean of hot liquid slowly building up pressure. This pressure eventually exploded through the desert floor and tall mountains were formed. Then they exploded with lava chunks that cooled all over the desert. It now has a moon-like crater that's over a mile wide with lava tubes, 'moonscape', black pumice soil, cinder cones, and, well, a sleeping volcano underneath!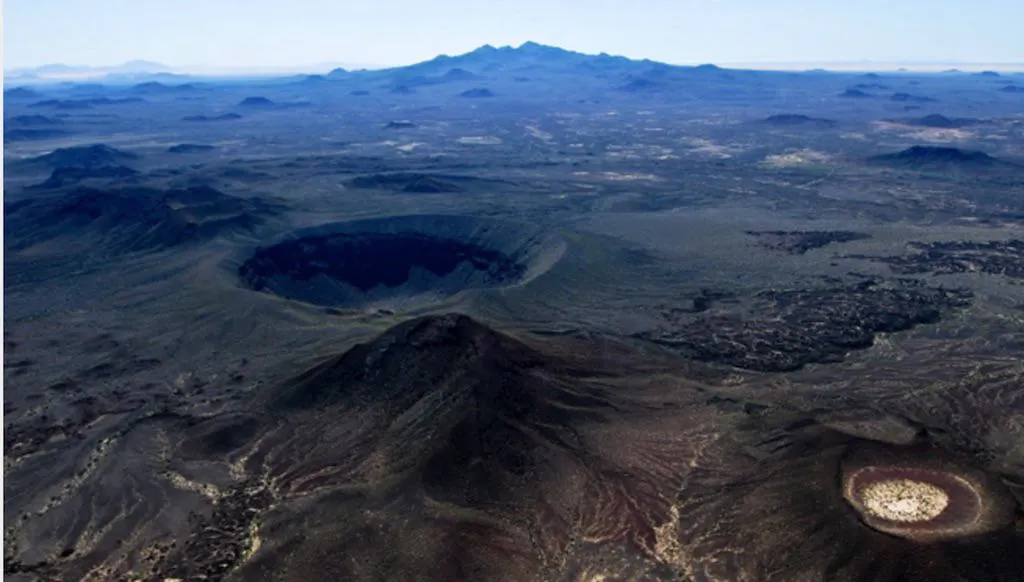 ---
Little Known Fact: In 1970, the Apollo 14 astronauts from NASA trained for their moon landing at El Pinacate Biosphere Reserve, as the rough, barren landscape was the closest 'match' they could find to the lunar surface.
---
How to get El Pinacate: El Pinacate is easily accessed from Rocky Point, as the Schuk Toak (Pinacate Reserve) Visitor Information Center is located west of the turn-off at milepost KM 72 along the Penasco-Sonoyta Highways and is 40 minutes from Puerto Peñasco. A tour of El Pinacaete takes about 3 hours. The words "Schuk Toak" literally mean "sacred mountain" in the Tohono O'odham dialect.
#15 Visit Zona Arqueológica de Kino Viejo & Other Misc. Places
Zona Arqueologica de Kino Viejo: This archeological site is one of my favorite parts of Rocky Point, Mexico because it has remnants from various cultures including Toltec, Mexica, Spanish Colonial, Anglo American, and Yucatec Maya. You are really able to get an enlightening look into not only the local culture but the cultures that came before them.
"The Big Ditch" – This is a man-made ditch built in the 1800s by the Spanish. It covers about 27 miles of coastline and was designed to collect water for land irrigation, but it also provides some natural protection from storms.
Parque De Las Islas Gulf of California: A protected sanctuary & ecological reserve on one side, with high cliffs looming over sandy beaches on another! There are several restaurants here as well if you're looking for something different than traditional Puerto Penasco cuisine or want to try seafood fresh off the boat.
#16 Vist the Tequila Factory
Once we finished exploring the Biosphere Reserve, we were hungry and ready to try out the Tequila Factory. Now mind you, this isn't for everyone, but it certainly is for us! During the tour, you will hear about the history of tequila, the process to make it, and get to taste six types of tequila (Anejo, Antiguo, Blanco, Gold, Reposado, and Triple Distilled.). They also have flavored tequilas to taste as well. For me, Reposado is my favorite, but for my husband, he likes the Anejo. Remember Repasado and Anjeo are sipping tequilas!
I like the tequila tour because you get to learn more about its history and then taste a few different types of Tequilas. In addition, they also have flavored tequilas too! So for my husband, he likes the anjeo but prefers sipping his drink not mixing with orange juice or pineapple juice which are some popular combinations people do in Puerto Penasco Mexico.
---
Watch this for a laugh! Three Amigos Bar Scene
---
#17 Rocky Point ZipLines
Now I don't know if you guys are up to this, but if you have teenagers or college-aged kids, they are going to love it! Zipping 30 miles per hour through the air over the desert does sound fun, doesn't it? This new activity in Puerto Penasco, Rocky Point ZipLines, has quickly become a favorite among tourists. So check this out:
For the last 3 years or so, Rocky Point Ziplines has one of the biggest ziplines in all of Mexico. The course has five zip lines with lengths from 300 ft to 2ooo ft.
The tour costs $60 and takes about 1.5 hours to complete.
#18 Ride Horse Along the Beach
Now, this is something I can get into! I love riding horses, and (especially when I get t0o) along the beach at sunset! I think this is the perfect activity for families or friends. It seems to be offered all around town, so for this, you just have to look for horses! We rode near Las Conchas and it cost us about $25 for a half-hour ride.
If you like riding horses, then you should also visit the La Escondida Ranch, which is about a 45-minute drive from Puerto Penasco.

#19 Walk on the Rocky Point Fishing Pier
The Rocky Point Mexico fishing pier is a great place to get some leisurely exercise and watch the fishermen. The fishing pier extends out over the water for about 1500 feet, with an observation platform at its end. Any time I walk on or near this Pier it reminds me of one of those old-fashioned wooden piers that you see in movies like "Cape Fear". It has been there since 1959!
#20 Take a Sunset Cruise
One thing I know about Puerto Penasco is that it has phenomenal sunsets, so to really enjoy them, there are a few things that you can do. And one of them is to take a Señorita Rita Sunset Cruise and enjoy them from the deck of their catamaran. This two-hour cruise departs from the Naval Station in the Marina and sails at 4:30 pm. Be sure to call and make a reservation because the times may change. Also, be sure and bring your camera, as the dolphins usually always show up to show you their magic!
Señorita Rita offers an open bar that includes margaritas, mai-tais, softs drinks, and draft beer. Along with sub sandwiches, chips, and other snacks if you get hungry! The prices are $25 for adults and $10 for children. The Señorita Rita can also be hired privately in case you are a big group, just ask.
But they are not the only ones offering sunset cruises. Check out Del Mar Charters, Eco Fun Rentals Land, Sea Excursion, Rocky Point Boat Charters. and Santiagos Ocean Services. Sunset cruises usually last two hours and depart around 4:00 – 5:00 pm. They all offered similar options and their prices may vary, but typically range from $25-30 per adult and $20 per child.
#21 Don't forget to Try All The Good Restaurants
Restaurants we recommend include Capones, Casa del Capitan, Colin's Cantina, and La Fondita. Honestly, there is nothing quite like taking in a sunset at Casa del Capitan... with the drinks flowing, the sun setting, and the food, it is one of my favorite places to go. In fact, Rocky Point (or Puerto Penasco) is known for its history as a shrimp fishing hub. Plus their south-of-the-border seafood cuisine is second to none in most places that you have dinner at. Even down to the most simple tacos al pastor and quesadillas, it won't be hard to find delicious food in Rocky Point, MX.
There are so many choices for places to eat in Rocky Point Mexico that it's hard to pick just one! We also loved eating at La Sirena in Punta de Mita Village because of their excellent seafood dishes. Things like shrimp ceviche served with warm corn tortillas and great seasonal specialties such as fresh lobster tacos or Yucatan style red snapper fish. But like I said, there are plenty of other options too: Tequila's Beach House restaurant has an amazing view overlooking Playa Conchas and they have wonderful food including blackened Mahi topped with bacon and avocado. While El Camaleon Restaurant is the perfect place for authentic Mexican seafood and a great atmosphere.
The thatch-roofed palm-fringed El Oktopus is just across from the Malecon. The seafood here is outstanding, and I would order their seafood tacos or the paella, which is delicious!
#22 See a Mexican Baseball Game
Now, this is something we did the last time we visited…we actually went to see the Los Tiburones play! Unlike most destinations in Mexico, when you visit Penasco Point, the sport everyone likes to see play is baseball. They play at the Francisco Leon Garia Stadium, which is right next to Plaza la Madre. Tickets are cheap (under $5 USD) and the food and beer are flowing. If you're visiting during the Springtime (between April and July) I can completely recommend that you see a Mexican baseball game.
#23 On the Route Home – Get Street Tacos
And one more thing: The best street tacos are on the route to Puerto Penasco, Mexico from Phoenix and back!!
Carne asada on flour or corn tortillas with pico de gallo, and cabbage. We all stand there, our mouths watering, waiting for the next bite. At only a buck apiece ($1), we could hang out here for a little while, but instead, we grab it to go. We pile back into the car for the now three-hour road trip home.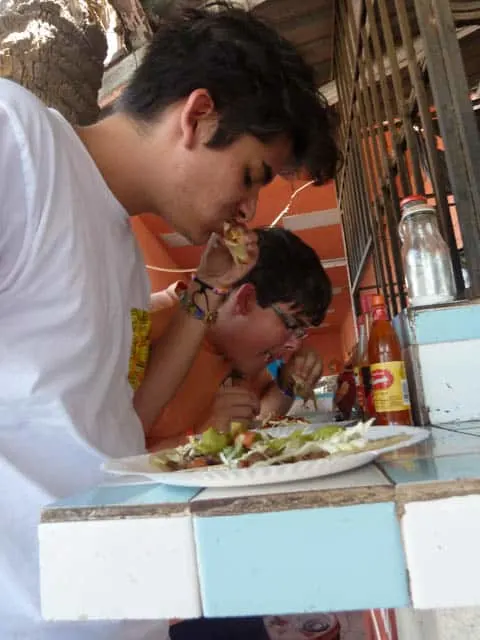 ---
Where to Stay in Puerto Penasco?
Overall there are about 12 resorts and hotels within Puerto Peñasco. But of course, they have countless numbers of houses and apartment rentals, as well as boutique hotels, and small bed and breakfast places. For me, I always want to stay upscale and really check out where I am going to stay before I get there, as I prefer luxury accommodation. Here are my top resort recommendations in Puerto Penasco.
Las Palomas Beach And Golf Resort (Luxury)
Las Palomas Beach and Golf Resort have over 800 condos that are waterfront with views of the Sea Of Cortez in Sandy Beach. The condominiums also have kitchens, living rooms, usually a balcony or terrace, a dining area, and range from 1 to 4 bedrooms. Las Palomas Beach and Golf Resort is the only resort in Puerto Penasco to be awarded the 4-diamond rating from AAA. They are family-friendly and have a kiddy pool, plus water slides. They also have a full gym and luxury spa facility.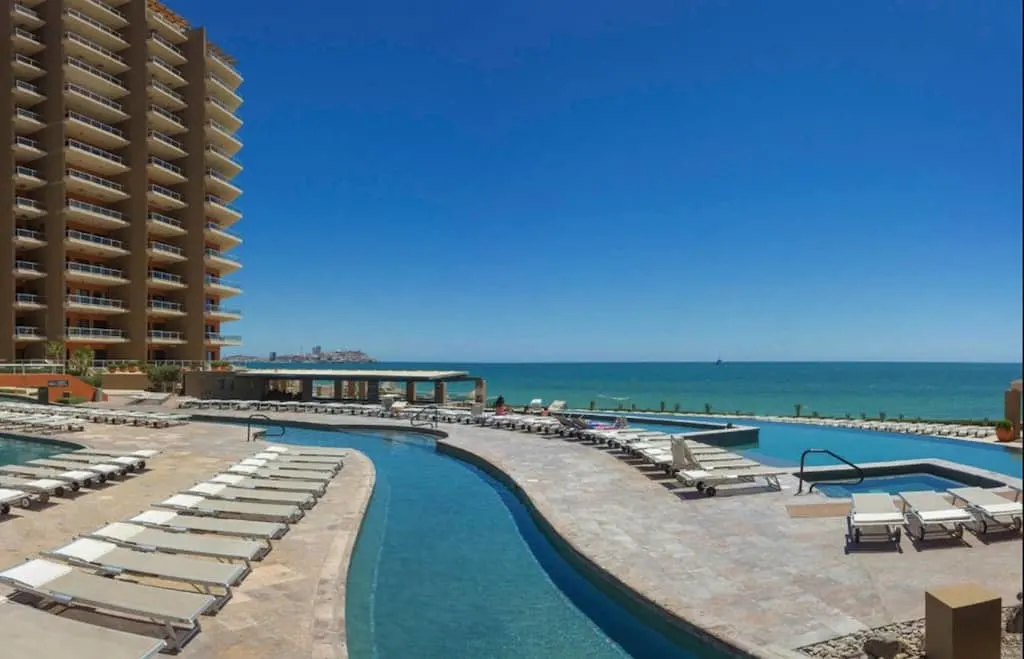 Las Palomas Beach and Golf Resort also have an 18-hole, par 72 golf course, fabulous courtyards with an infinity-edge-pool, plus two swim-up bars for you to enjoy your fresh Margarita, They also have a Lazy River, heated whirlpool, barbecue areas, a boutique store, a fitness center, and two restaurants, La Maria and Citron Fine Cuisine. They are just 10 minutes from Old Port and Downtown.
The Dream Weaver Inn (Boutique)
The Dream Weaver Inn gets great reviews online and is of good value if you want a hotel that is a bit quieter without direct access to the beach. It is more of a boutique hotel with seven rooms located near the Malecon. There is a public patio that provides extraordinary views of the Sea Of Cortez. The hotel, however, does offer a shuttle to the beachhead trail. I haven't stayed here but have heard good things.
Bella Sirena (Luxury)
It doesn't take long for drops of sweat to roll down our necks and soon enough we are ready to find our rented condo. On this trip, we stayed at Bella Sirena as they had availability at the last minute, although there are quite a few local Rocky Point websites that offer private homes that are beachfront or close to it, which I prefer. Bella Serena is located on the north shore of the Sea of Cortez.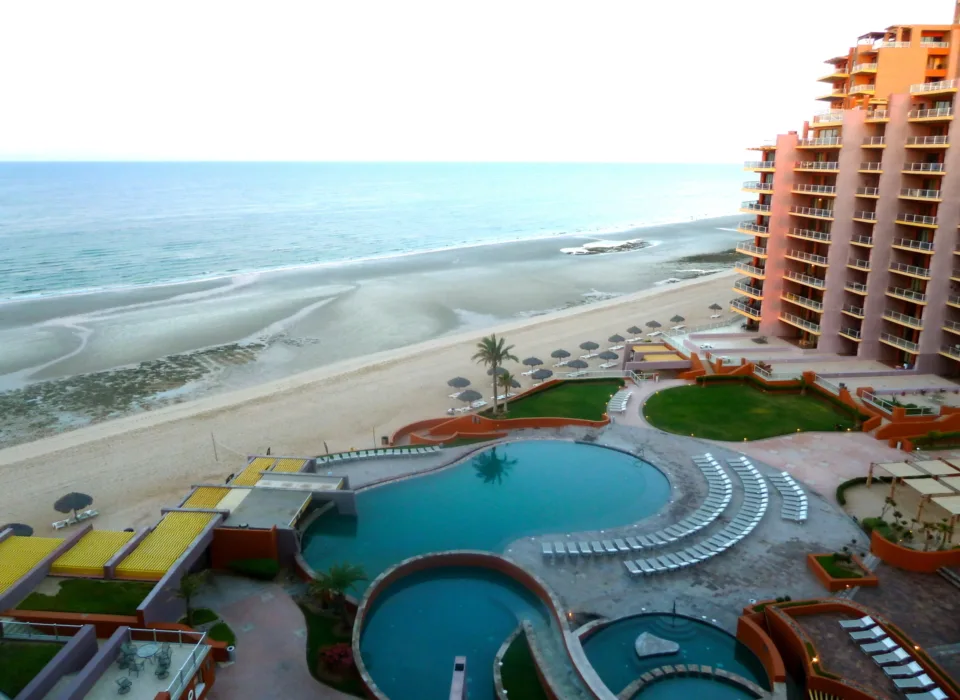 Bella Sirena is one of the newest and most luxurious full-service residential resorts complete with old-world architecture inspired by Mexican and Tuscan Villas. They have over 220 elegant homes and condos over 14 acres of land. They also have a gorgeous pool, but the beachfront is not private and on holiday weekends you will see swarms of people. So much so that they made me dizzy selling everything from hats to massages to cold drinks!
Las Cochas Private Enclave (Luxury, mostly)
For years, we always stayed in the private enclave of Las Conchas. And I continue to recommend it as the beaches are private and you don't see as many people coming around. It is a gated community of mostly beachfront property and million-dollar homes. I still love it there and will continue to rent million-dollar homes at Las Conchas.
And if you stay in a home and need information on buying groceries for the house, then read my article about what to buy in a Mexican grocery store. This will help you know what to find there, buy, and cook while in Mexico. Also, a tip about Las Conchas, be sure to head to the beach during low tide for seashell collection, as it can return up to a mile or more depending on the time of year. Las Conchas is great for families with smaller kids, as the water is still and never really gets higher than your waist for miles and miles.
Penasco Del Sol Hotel ( For Younger Travelers)
This hotel is a bit more for younger travelers (live music and volleyball court), but still is very nice. Just steps from the beach, the Penasco Del Sol Hotel has 208 guest rooms and suites and offers furnishings that are decorated in bright, tropical color palettes. They even have pooch packages for those of you who want to bring your dog! They are literally just minutes away from Puerto Peñasco's nightlife and main tourist hot-spot. This is a less expensive hotel and probably a two or three-star hotel.
Where to Eat in Puerto Penasco?
There are so many choices for places to eat in Rocky Point Mexico that it's hard to pick just one!
It's not a stretch to say that the best food in Rocky Point is gorditas. You can find them all over town, but my favorite place for these Mexican treats are at El Cielo (street) or La Casita del Pescador because their prices are better than most places and they're still delicious. Pack your appetite when you eat here–they have heaping portions of everything on the menu so I always feel like I got bang for my buck. Plus, they don't mind if you take pictures either which makes it even more fun!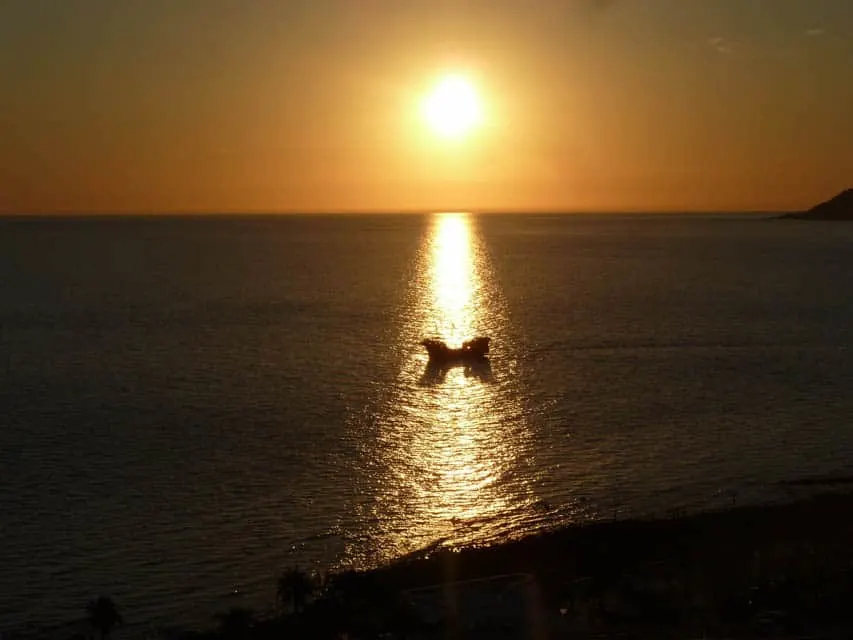 La Casa del Capitan located on top of its own private hill, there really is no better place to see the sunset! It literally rises above all the other restaurants in Puerto Penasco and is known as La Casa Del Capitan. La Casa is set on the highest point in Puerto Penasco's Old Port area overlooking the entire downtown. I will warn you to watch out for the Margaritas, they are the best! They also have the best Micheladas! What is Micheladas? It is a mixture of beer, lime, salt, Chili powder/ Chile piquín (Tajin), salsa inglesa (Worcestershire sauce), Jugo Maggi, and Tabasco sauce with ice! The food is delicious too!
El Oktopus, Iguana Banana, Shark Bite, Tekila Bar, Boo Bar, Mary's Seafood Restaurant are all located along the Malecon.
Manny's Beach Club, which is at Playa Mirador, also close to the Malecon. More bar than a restaurant.
El Tapeo Wine Bar located at and has delicious Seafood Paella.
Combo Taco, which is located off the main highway, has great fried fish!
Wrecked At The Reef, a huge grill and bar located on the beach and closer to the resorts with USD pricing!
Need a quick, cheap lunch? Then check out Pollo Lucas, as it hits the spot for chicken and rice, at a cost of $8 for an entire family meal. One whole chicken meal gets you rice, tortillas, beans, cabbage, and salsa for literally the cheapest meal around town.
La Pachanga is a Mexican seafood restaurant that only serves the freshest of fish, and their dishes are filled with flavor! I highly recommend trying the mariscada de playa dish which includes octopus, shrimp, clams, and whitefish. For those who don't like seafood, you can always get tacos or papas as well. They also have beer on tap for your enjoyment! All around it's an amazing experience here at this hidden gem right on Rocky Point Beachfront.
Items to Pack for Puerto Penasco, Mexico: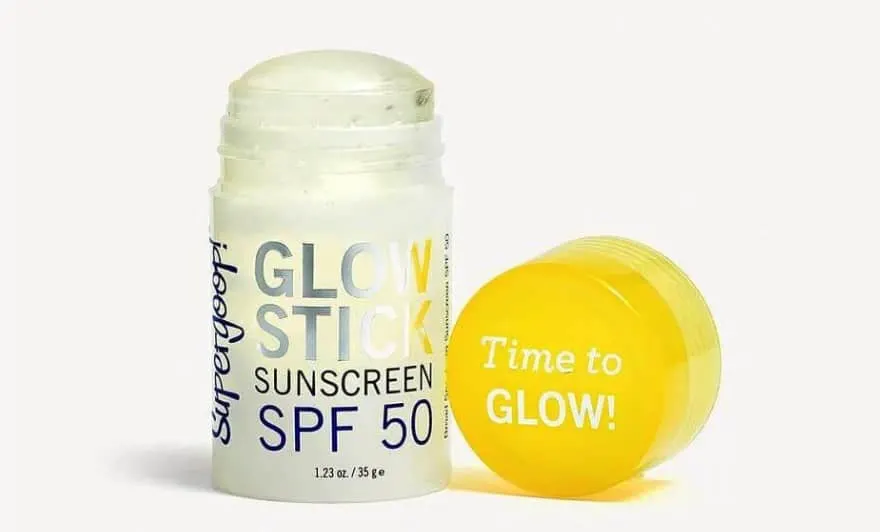 Bring a rub on Glow Stick SPF 50 (these things work great!) or Spray on Sunscreen. Rocky Point is HOT in the Summer.
Bring a day bag to carry your things in
Bring a pair of good quality sunglasses
Bring water shoes
Bring shorts and t-shirts and sandals
Bring slightly better clothes – dressier shorts or dresses for evening dinners with a scarf to cover-up
Bring a good quality camera for those beautiful shots – I bring my iPhone and my DSLR
Puerto Penasco is a mixed bag
Puerto Penasco is pretty rugged and an off-the-beaten path, so don't expect too much glitz and glamour. This is, after all, Mexico and it is by no means a high-end resort town, but it is guaranteed that you will have good food and a lot of fun relaxing on the beach!
When visiting Puerto Peñasco you get to experience the best of both worlds, a small-town with traditional Mexico characteristics as well as a beach town with sand dunes, great food & drink, and hard-working people. Mexico is such a mixed bag, yet it wears this on its sleeve. It is so obvious that its people and its culture are vibrant and warm, yet they struggle with day-to-day life in many ways.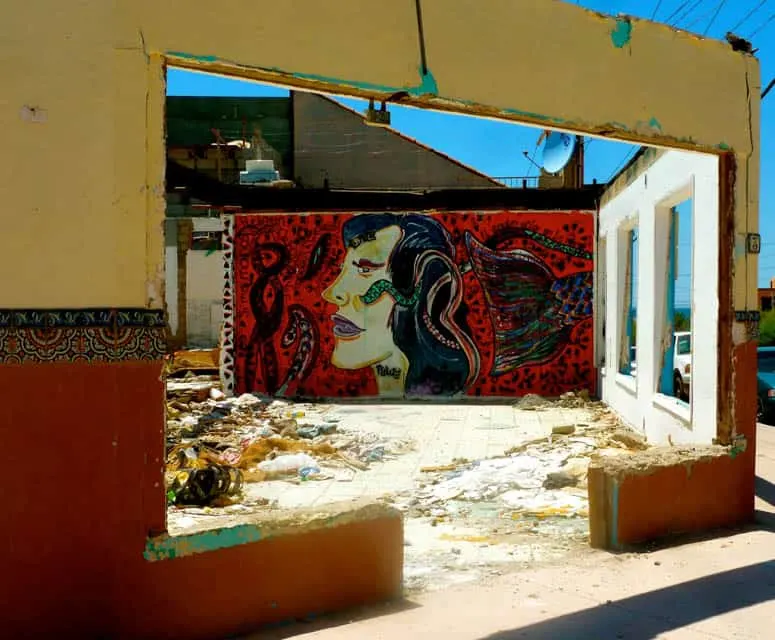 Many buildings are blown out in Puerto Penasco and trash is strewn about in the downtown area. When Americans get hit with bad economic times, the locals here get hit a hundred times worse. I honestly don't know how they do it. But the people here are strong and I can see that they are proud and resilient. You would think that we would eventually tire of this place with all the dirt roads and now expensive meals (it used to be cheap to go to Mexico!), but I have to tell you, Puerto Penasco always brings us back.
Puerto Penasco Travel Tips
Be sure and buy Travel Car Insurance before you get here
Bring USA cash (for spending) and have a credit/debit card for the place you are staying (typically)
Most restaurants, vendors, and taxis prefer USA cash
Most hotels and restaurants use bottled filtered water for their ice and drinks
Always bring and drink bottled water
Brush your teeth with bottled water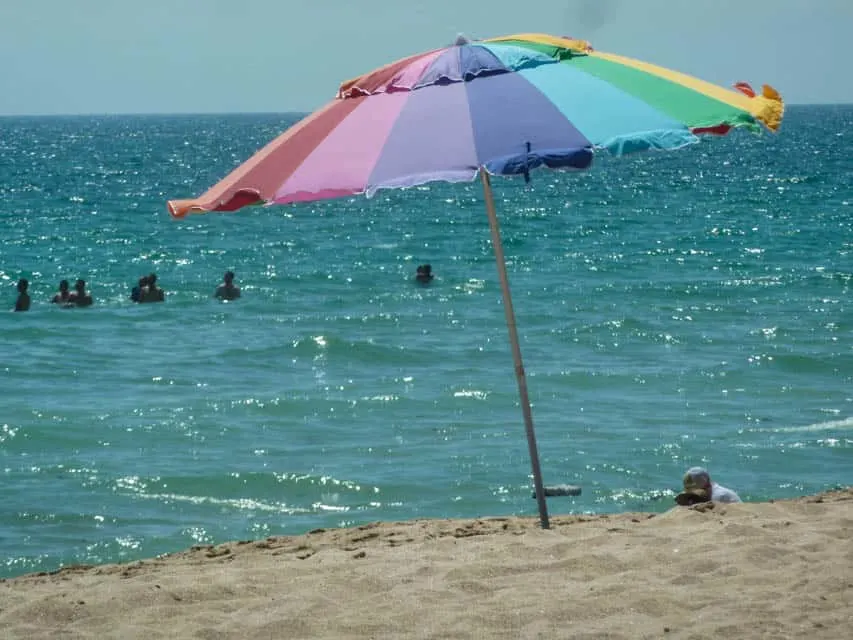 Here are a few other articles I have written about Mexico:
The Circus is in Town; Zihuatanejo, Mexico
Zihuatanejo, Mexico: Unplugged Paradise
Oh the Colors of Mexico: Zihuatanejo