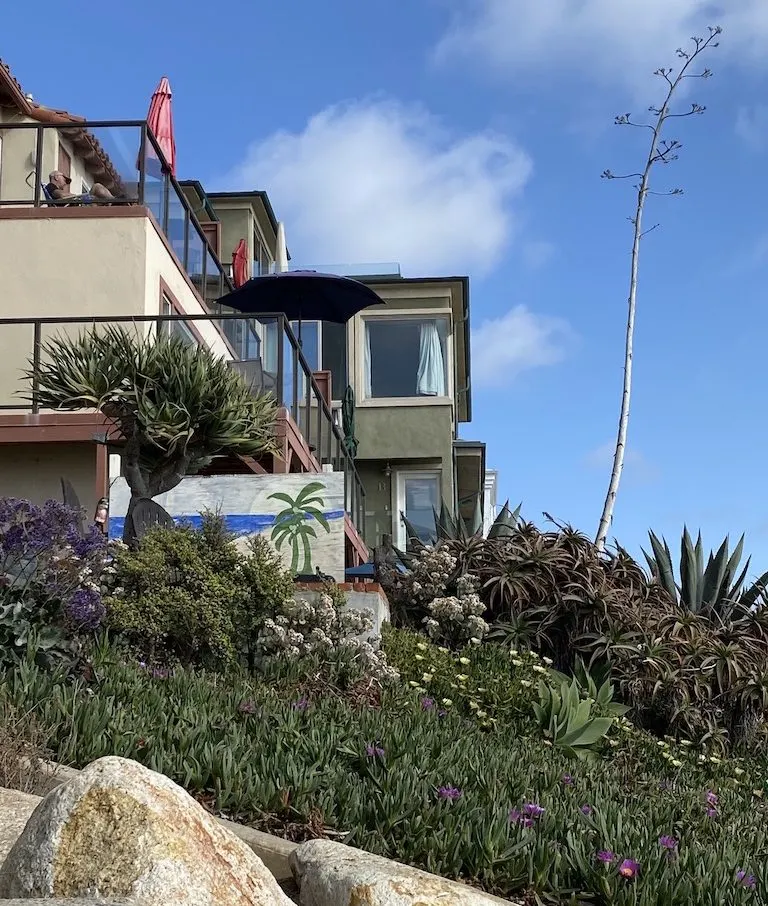 Carlsbad California is a great vacation spot for families due to its laidback and fun beaches with kid-friendly attractions such as Legoland California and SeaLIFE aquarium. Carlsbad also has its own version of a little downtown area called Carlsbad Village, which has a wide range of shops, restaurants, and bars – all within walking distance of Carlsbad's gorgeous beaches. With its quaint downtown area, fun beaches, and fantastic shopping options, it's no wonder that people come from all over to visit this exciting coastal town. So stay at the Westin Carlsbad Resort & Spa, dine there and few other great restaurants in the area, and bring your kiddos. I can guarantee you will have a blast!
---
What's in this post:
hide
Things to do in Carlsbad California for fun!
---
Carlsbad, California is a small town located about 30 miles north of San Diego. It has been voted the Happiest Seaside Town in America and one of the Top 10 Small Towns to Live In by CNNMoney. Carlsbad Beach is consistently ranked as one of the best beaches in Southern California for surfers and sunbathers alike. Carlsbad is home to Legoland California, the San Diego Zoo Safari Park, and a popular surfing beach. But everyone already knows that! As I have been there done that!
THE PLACE to Stay: Westin Carlsbad Resort & Spa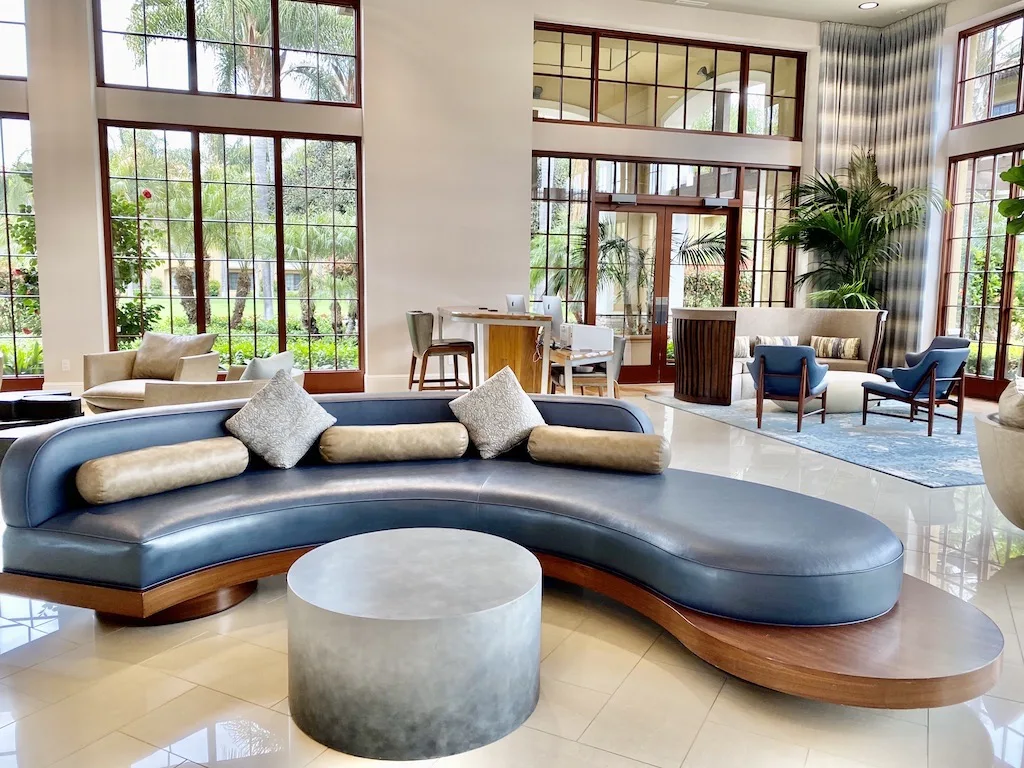 So, you are obviously going to need a place to stay while visiting Carlsbad, and what better place to choose than the Westin Carlsbad Resort & Spa. This resort is the perfect oasis to unwind from your lively and pleasant adventures in Carlsbad. This Southern California resort combines comfort and luxury to treat each guest with a memorable getaway.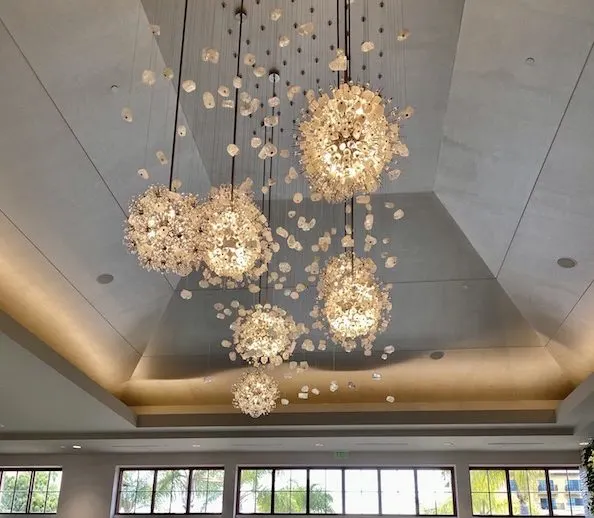 Here you will find a gorgeous swimming pool, a stunning sun terrace with outdoor fire bowls, movie nights, a Kids' club, an indoor play area, family rooms, free shuttle service, spa facilities, a fitness center, and the list continues goes on and on. Each room at the Westin offers comfort in the form of a luxurious mattress, air conditioning, flatscreen TV, refrigerator, and private bathroom. They also offer an 18 hole golf course that was named "Top 10 Courses You Can Play" by Golf Magazine, called the Crossings.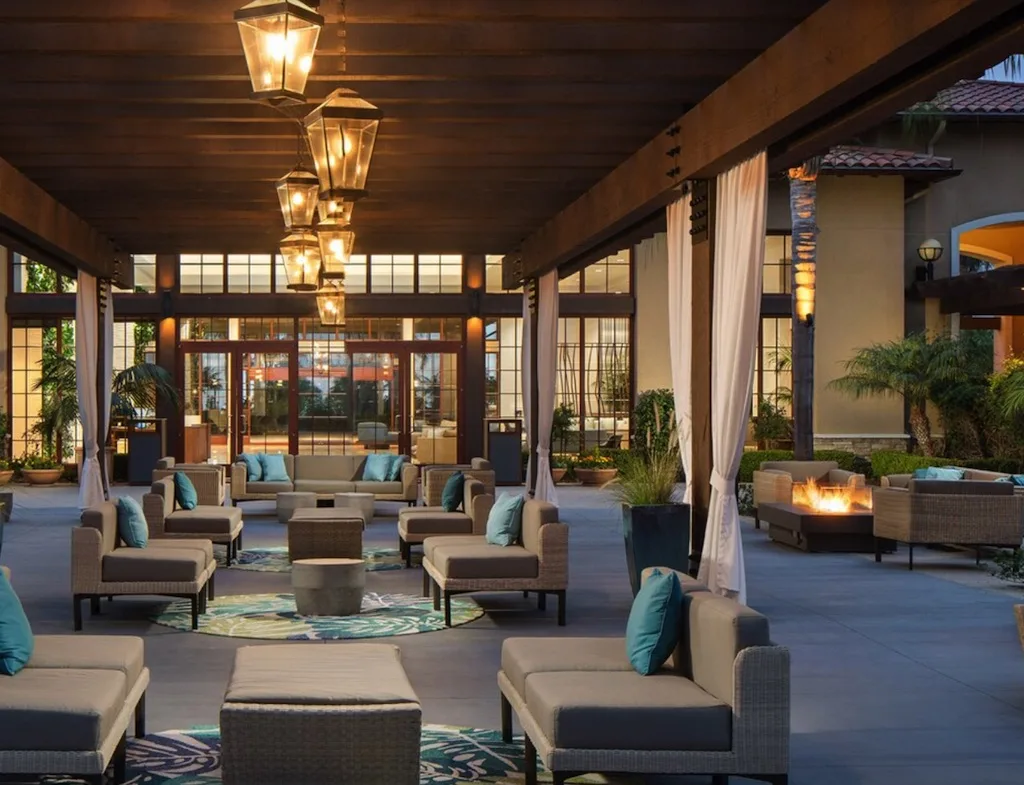 20 Twenty Restaurant
The true game-changer however, that sets this resort aside from the others is the impeccable food offered at the on-site 20 Twenty Restaurant. This restaurant offers globally inspired dishes such as grass-fed short ribs or filet mignon with garlic butter. They also offer original cocktails such as a Spanish Margarita or Maple Bacon bourbon, both of which have lots of flavors. You also must taste the Baja Striped Bass, Baja Ceviche, and the scrumptious roasted pineapple upside-down cake. All delicious!
---
But if you're looking for something more than just beaches or theme parks in Carlsbad, try these activities…
---
1. Spend a Day at the Beach: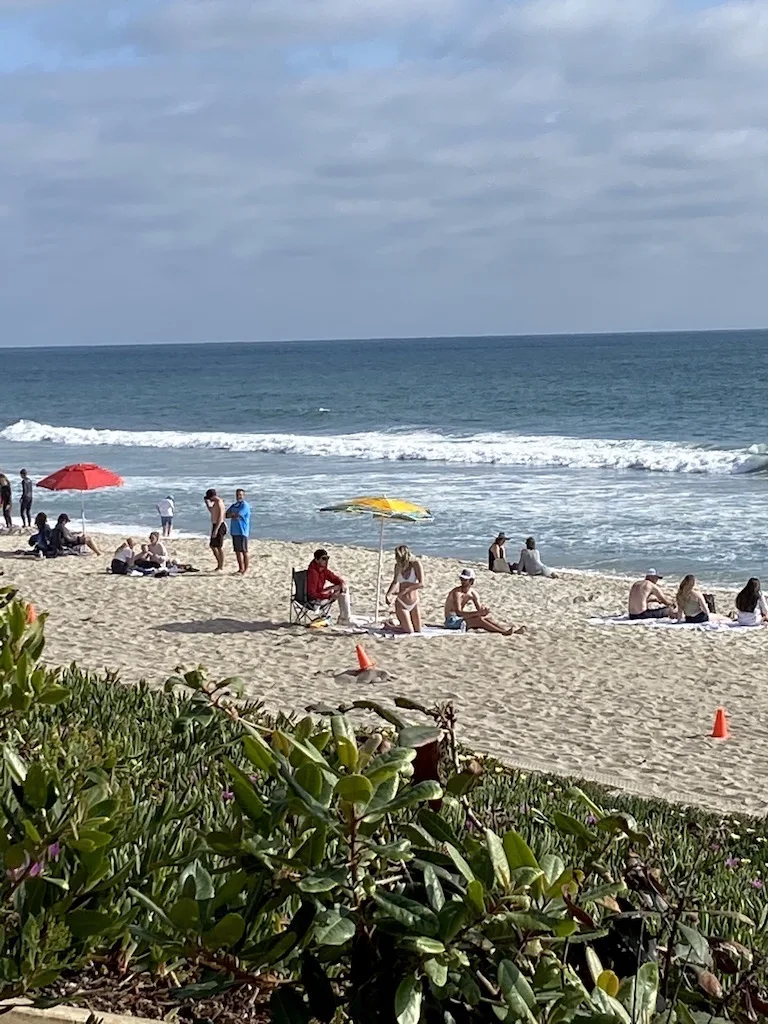 When you find yourself in Southern California, you cannot miss the opportunity to visit Carlsbad City Beach. The city of Carlsbad has a stunning beach that is lined with rocks and lavender fields. Most people refer to this beach as Carlsbad City Beach but in reality, it is the Carlsbad State Park. The main entrance to the beach is located at Ocean Street and offers free parking. Visitors at this beach can enjoy sunbathing, swimming, walking, and surfing. Plus there is always a lifeguard on hand.
Carlsbad Beach is a great place to relax with activities such as surfing, skimboarders, and bodyboarders. The beach doesn't have the typical sandy shores found at beaches in other parts of California. It has more boulders which are dangerous for small children so watch out!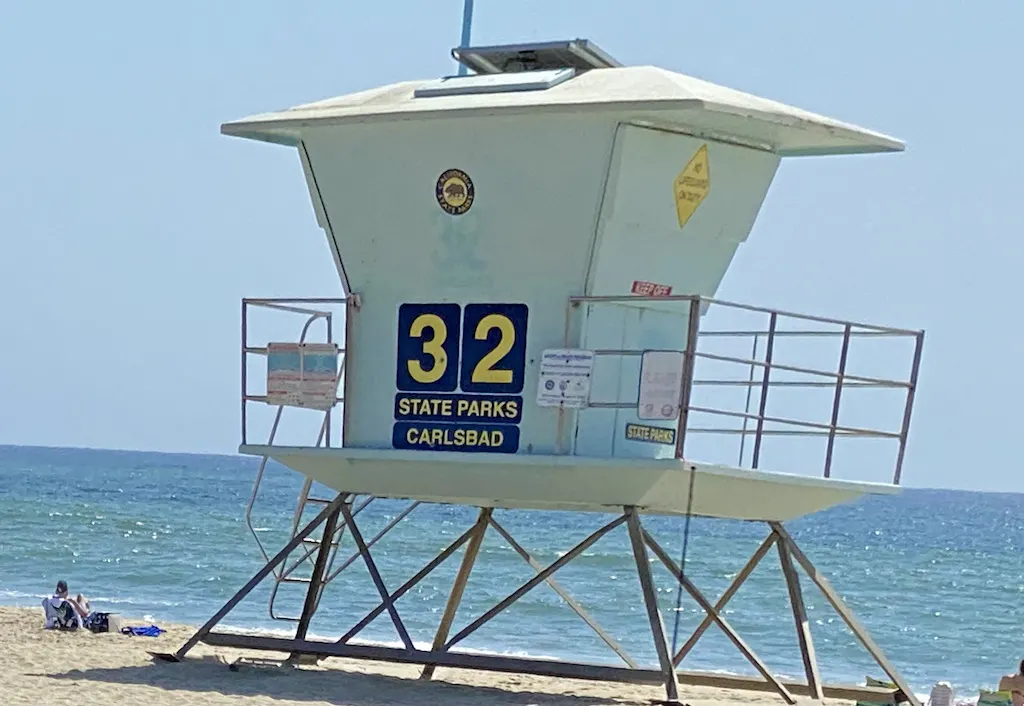 2. Carlsbad Lagoon
Aside from the beach, you must visit the Carlsbad Lagoon Rentals on Harrison Street. Visitors can enjoy kayaking and engage in other watersports at the Carlsbad Lagoon Watersport Rentals. The best part about this lagoon is you do not have to bring your own equipment because there are rentals. You can choose from Bayliner, pontoon boat, Craig cat, and fun cat rentals (all of which are motorized). Non-motorized rentals include kayaks, paddleboards, and pedal boats. Is Carlsbad Lagoon safe? Absolutely! Carlsbad Lagoon's website says that the lagoon has lifeguards on duty during peak hours and additional emergency services available. They have it all!
These thoroughfares divide the Carlsbad Lagoon into three different sections moving from the coast inland – the outer, middle and inner Lagoon. All three sections are 8-10 feet deep at their deepest part of the high tide.
Also, there are lots of restaurants nearby. There are a few places that deliver right to the beach here.
Can you bring your own kayak to Carlsbad Lagoon?
Do I need a Carlsbad Lagoon permit to launch my own kayak or paddleboard? You certainly can bring your own kayak or paddleboard. However, you are required to have a city permit to be on the Carlsbad lagoon.
3. Shopping in Carlsbad
Carlsbad Premium Outlets (We loved it!)
If the day brings forth the sun and good weather, then try your shopping luck at the Carlsbad Premium Outlets. We practically spent an entire day there shopping in stores like Adidas, Ecco, Hugo Boss, Kate Spade, Michael Kors, Nike, Polo Ralph Lauren, Puma, Tory Burch, and Under Armour.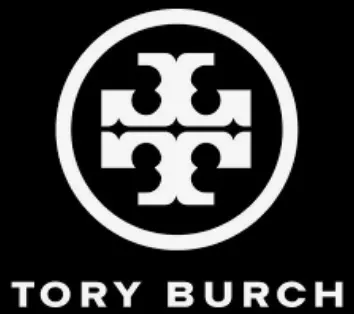 I think we spent thousands but got more merchandise than we could almost carry back! We even had to stand in line in one store, as it was so popular! Also, don't forget to energize yourself with a hot or cold venti coffee from Starbucks.
Carlsbad Mall
Shopping is one of those must-do activities whenever you visit a new place. Shopping excursions are fun because you can buy accessories, souvenirs, and more for yourself or your loved ones. One of the great places to go shopping is the Carlsbad Mall. The stores at this mall include American Eagle, Bath & Body Works, Express, Foot Locker, H&M, Macy's Sephora, and Zara. After your shopping excursion, you will probably be in the mood for some grub and you can eat at the following places inside the mall, the Cheesecake Factory, Panera Bread, and Yard House.
Carlsbad Village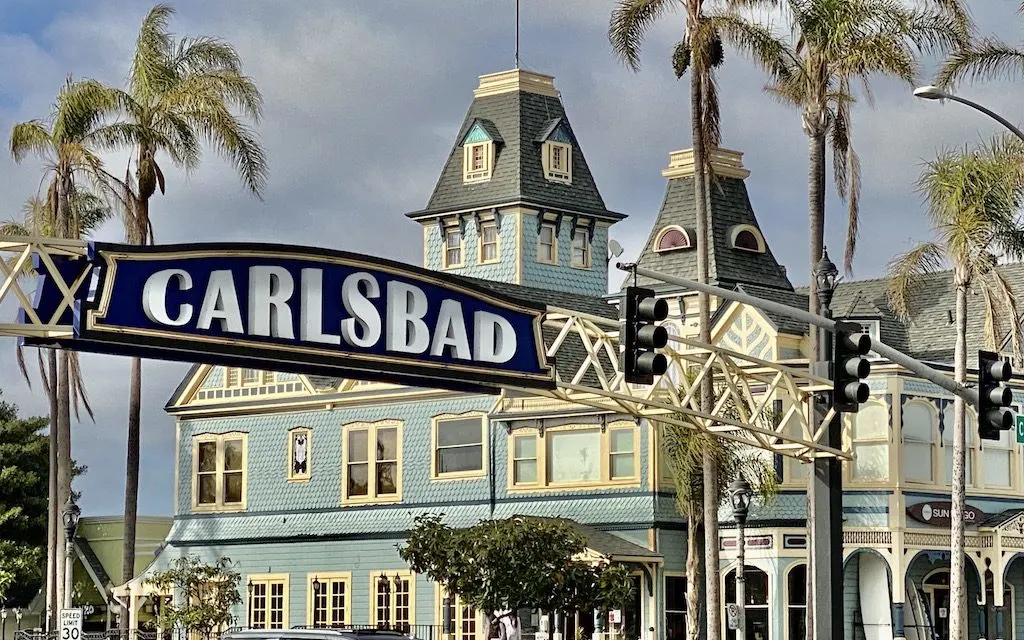 A unique spot for shopping or visiting is downtown Carlsbad Village. Carlsbad Village is a popular spot for shopping and visiting with live art displays. The North Coastal Art Gallery offers free admission to shows and art displays such as the "Sticks & Stones". Aside from this gallery, guests can enjoy a trip to Olde Ivy Antiques, Barrio Glassworks, and Carlsbad Village Coins. All these shops offer unique items that are not found elsewhere on San Diego's coast. Of course, there's no shortage of clothing stores either! A few notable ones include H&M, Urban Outfitters, Forever 21, and American Eagle.
4. State Street Farmer's Market on Wednesday
The Carlsbad State Street Farmer's Market is ranked 4th of all the markets within San Diego County! This "new" market is a fresh-air grocery store focusing on fresh fruits, cheese, eggs, honey, fish, nuts, meat, and vegetables. This smaller market compared to the years past, is focusing on certified growers to provide the highest quality and freshest food possible. You will also find fresh balsamic vinegar, hot sauces, olive oils, and samples of delicious food from the local Carlsbad chefs.
5. Poinsettia Community Park
A great spot to immerse yourself in nature is the 42-acre Poinsettia Park. This Park offers tennis courts, softball fields, a basketball court, picnic areas, and playgrounds. Head to 6600 Hidden Valley Rd between 8 am to 10 pm for a great outdoor adventure, as there is plenty to do! This free outdoorsy spot is perfect for families with kids. There are plenty of day camps and programs to keep the little ones entertained all summer long! Just bring your own equipment or buy it at the concession stand on site.
6. The Flower Fields
The Flower Fields is a flower garden found on the Carlsbad Ranch in Carlsbad, California. It is a 30-acre botanical garden that opens once a year from March 1 through Memorial Day Weekend. Here you can see over 500 varieties of flowers, including favorites like tulips and irises! They have attractions such as the "Tecolote Giant Ranunculus", a greenhouse filled with cymbidium orchids.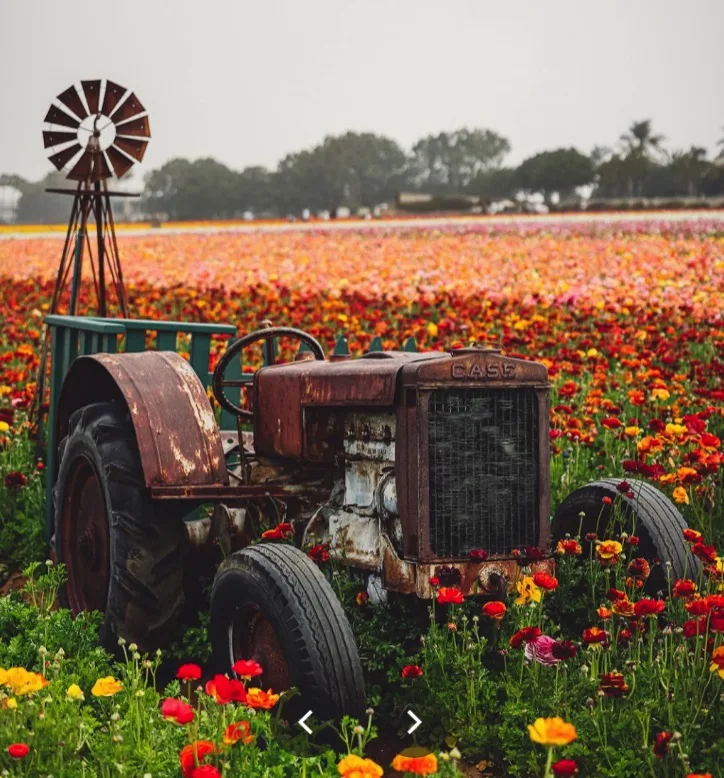 Also, a 300-by-170-foot American flag made out of red, white, and blue petunias, educational tours, and antique tractor-wagon rides! The tractor wagon transports visitors around the planted fields, stopping off to let folks walk around and enjoy the scenery. The Antique Gas and Steam Engine Museum of Vista, California provides the antique tractor and wagons rides for the guests.
7. Pantoja Adobe Ranch House
Nowadays, the Pantoja Adobe Ranch House is known as the Old Rancho. This ranch is situated on over 13,000 acres of land. This historical site was once a working ranch during the mid-19th century. The original owner of this ranch was Don Juan Maria Marron and then the Kelly family (who currently still have ownership). Thanks to this beautiful and historic property, visitors have a chance to see how this treasured land has become the heart of Carlsbad. Go check it out for yourself at 2770 Sunny Creek Road in Carlsbad.
8. Carlsbad Village Theater
The Carlsbad Village Theater was built in 1927 and has been dazzling audiences ever since. This newly renovated theater (renovated in 2000) has kept the charm of the old theater and added new seats, stage system, and lighting. Live performances are a big hit among the locals and tourists. Watch live performances by musicians at Carlsbad Village Theater. You can also catch a stand-up comedy, plays, and dances. When you head to 2822 State St in Carlsbad you know that a fun experience awaits you.
9. Surfrider Beach Pavillion
If you are looking to head outdoors then you will want to catch a different kind of performance near the ocean. The Surfrider Beach Pavilion. At this pavilion, you won't be catching the waves or a show but you can be the star of the days as you help clean up the beach or donate. The San Diego Country created a Surfrider Foundation that allows people to donate their time and money to be a Surfrider Coastal Defender. Make your experience in Carlsbad a memorable one and choose to help the environment as well as meet new people.
10. Carlsbad City Library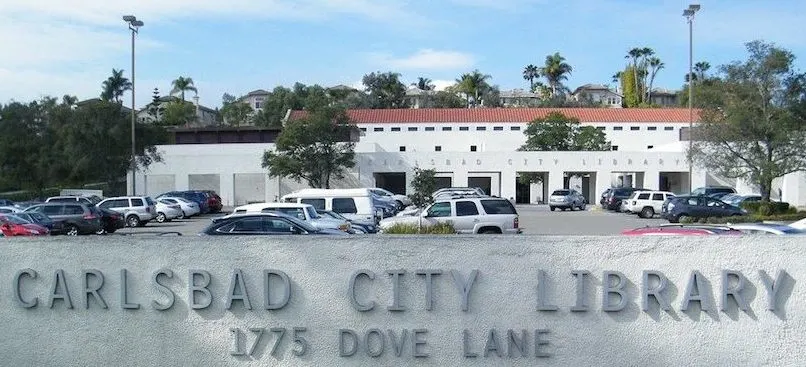 An unusual and yet satisfying activity to enjoy is a trip to the Carlsbad City Library. This library offers a Virtual DNA Interest Group book club, Virtual Family Storytime, and obviously tons of books to read! Other programs to engage in at this library are the Good Life Lecture Series, Grow Your Garden, and the Library Got Game.
11. Bowling at the Surf Bowl
Family fun is exactly what you will get when you go bowling at the Surf Bowl. Since Carlsbad does not have bowling alleys (yet), the closest one is found in Oceanside. Although the Surf Bowl is temporarily closed, they should be up in running very soon. When they finally reopen, you can have a Kid's Birthday Party, participate in a league or watch a tournament. Refer to the Surf Bowl website for updates and more information.
12. Art and Music Scene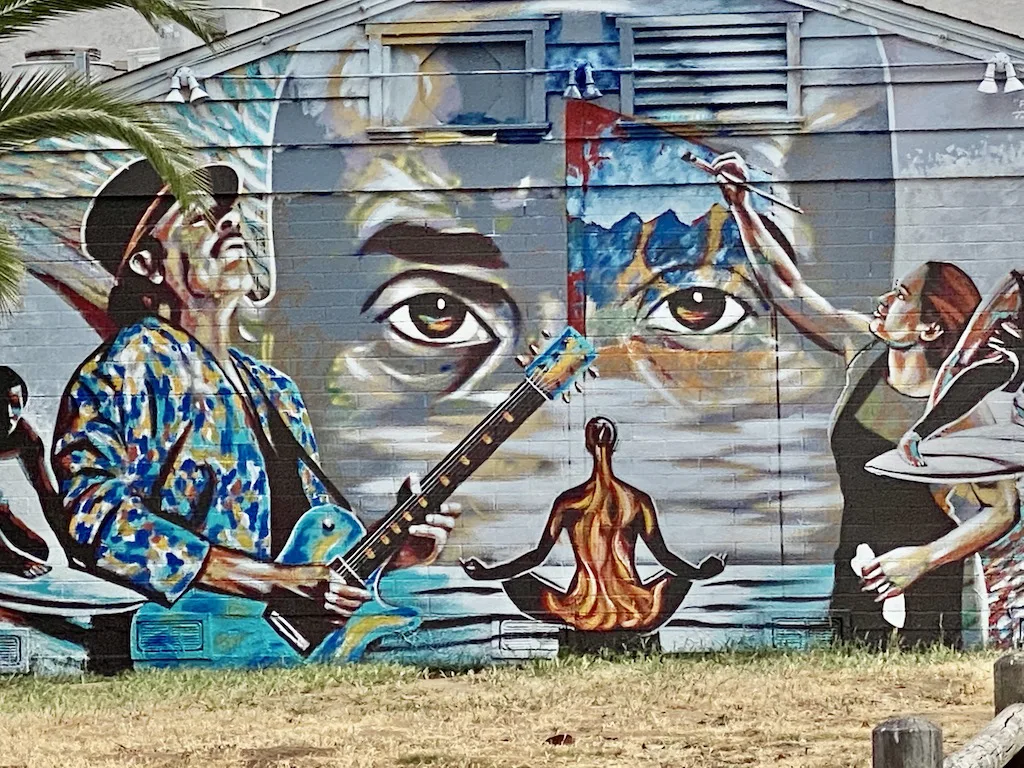 Check out Crossroads Art Center
The Crossroads Art Center is open Mondy to Saturday from 10 am -5 pm and Sunday from 12 pm -4 pm. The artwork displayed at this center includes things like "Louis Briel's: The Many Faces of Louis Briel", Driveway Drag Queens, James River Art League, and The Brushstroke Collaborative.
The Museum of Making Music
As of right now, the Museum of Making Music in the city of Carlsbad is set to reopen on June 15, 2021. The newly renovated museum will offer musical stylings from Julia Jordan Kamanda and a Latin Percussion from David Castaneda. All these attractions will surely have something new for you every time you visit!
13. Restaurants in Carlsbad CA
Leucadia Pizzeria (Delivery and Take-Out only!)
There are plenty of wonderful restaurants in Carlsbad and one of those places is the Leucadia Pizzeria & Italian Restaurant in Carlsbad. Delicious food options on their menu include customized pizzas, deluxe pizzas, grilled shrimp salad, Lobster pizza, cedar plank salmon, and chicken pesto sub. But if you really want something from out of this world, try the Lobster Mac & cheese or the fried Mozerella or the tomato bisque!
Corner Pizza
But if you want to sit down and eat your pizza, then I can recommend Corner Pizza. With that simple, beachy elegance and a great neighborhood feel, you can appreciate great pizza and a sexy wine list. For now, seating is limited to a whole bunch of picnic tables outside with heaters.
Mikko Shusi
The local and neighborhood sushi bar is fantastic from what I would call the finest sushi experience I have had in a good long while! Just look at that delicious food, plus saki!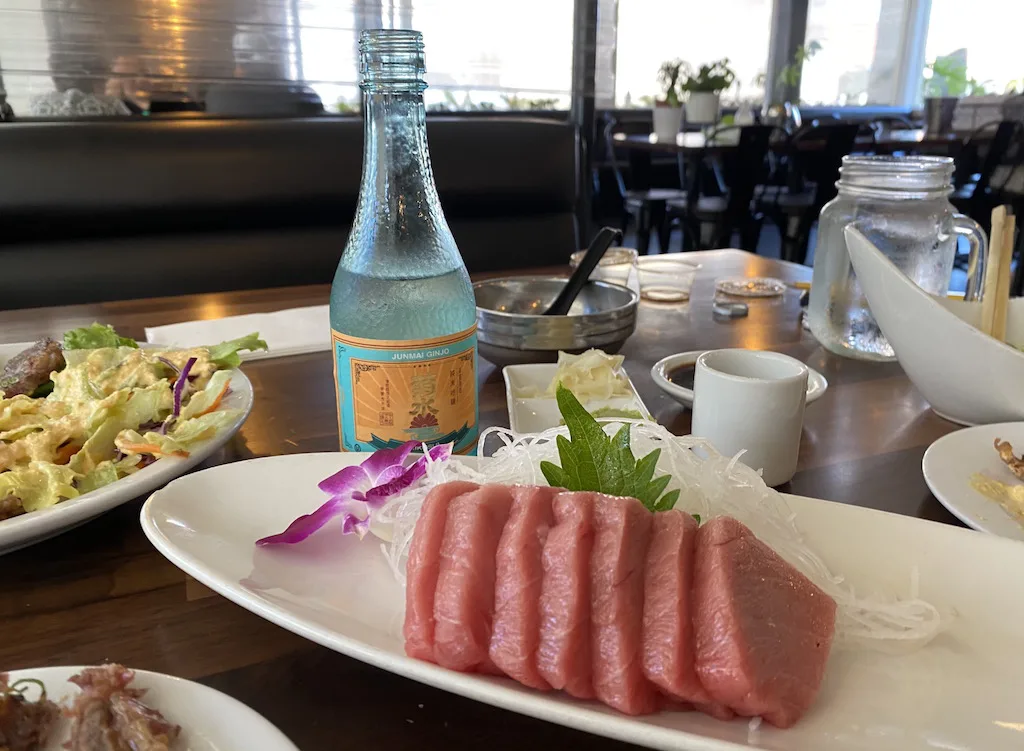 Bluewater Grill
If you want to eat on the patio of a great restaurant then look no further than the Bluewater Grill. The grill has some of the best cocktails, appetizers, and seafood ever. Items on their menu include dishes such as Fried Calamari, Oysters on the Half Shell, Rainbow Trout, Lemon Pepper Mahi Mahi, Rock Lobster Tail, Beer Battered Fish & Chips. The drink and dessert menu feature items such as Captains' Mai Tai, 'American Mule, Classic Spanish Sangria, Wine, Draft, and Bottled Beer and Java Mud Pie.
Beach Plum Kitchen
While visiting this lovely city, there is no way you should skip out on the most important meal of the day. The best way to have a yummy Carlsbad Breakfast is at the Beach Plum Kitchen. You can choose from outdoor or indoor dining and they are open between 7:30 am and 2 pm.
The items on their menu vary from eggs, waffles, coffee, tea, and even a Little Chef's Menu for kids. I recommend ordering the Carnitas & Eggs, Wild Smoked Salmon Scramble, Gluten-Free Pancakes, Quinoa & Coconut Porridge, Ben's Breakfast Burrito, and a Kids French Toast for the little ones. Don't forget to add a hot espresso, dirty chai latte, or hot tea to your order.
La Paloma
For great food in Carlsbad California, you need to look no further than La Paloma. Guests are treated like family here – from locals to visitors alike. This Mexican restaurant uses fresh ingredients to create an authentic experience that will have your mouth watering even before you've taken a bite of one of their tacos!
La Ruex
If you want a quick bite to eat then head over to La Ruex. This chic cafe is perfect for catching up with friends and enjoying one of their delicious lattes or frappuccinos which are made by the baristas on site!
14. I want Sweets!
Where do I go if I want something sweet? What about ice cream? If these questions sound familiar then go ahead and head out to Carlsbad Creamery to find a wide variety of flavors. This friendly ice cream shop has been around for decades and is well known among locals!
But do they have other ice cream shops? Yes, they do! For a good old-fashioned ice cream experience that will transport you back in time to your childhood days then head over to the Carlsbad Ice Cream Company. This family-owned business has been around for 60 years and still makes everything from scratch just as it was when their doors first opened.
15. Carlsbad Bars:
Wow, all this talk about food and drinks has put me in the mood to go to cool bars. Carlsbad has quite a few and I wanted to visit at least a few during my trip.
La Costa Wine Co
A great place to share a bottle and nosh on some snacks. Plus you will have great wines at La Costa Wine Co. along with a great selection of olives and almonds! This is a gem of a wine company with a bar that offers boutique and excellent wines. There is a varying price range for the wines, so don't think you have to break the bank to enjoy a glass of delicate wine. It's sort of hidden in a strip mall and it's easy to miss the entrance to the mall complex. But don't worry! Make a right when you hit La Costa Street and then turn right near Equinox Gym… but just drive past it. Then you will see the entrance.
Crackheads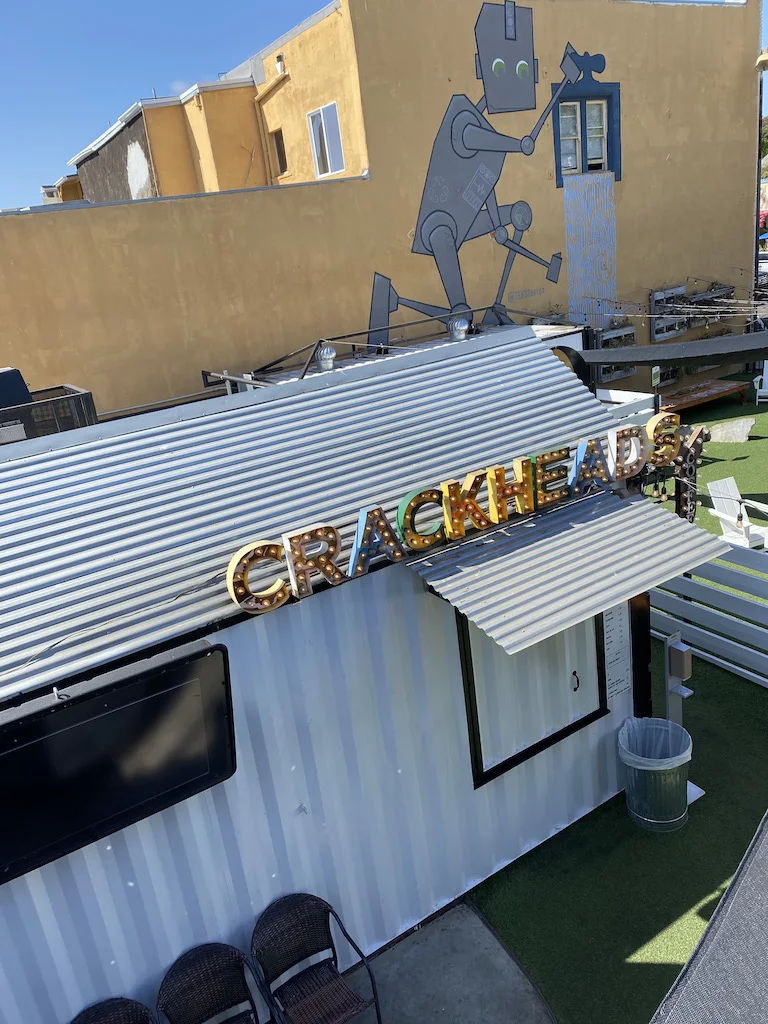 Omg! We loved this tiny upstairs, downstairs bar with food! So we decided to come here for brunch. We found the name funny so much that we had to laugh! We ended up getting the softy crackheads breakfast sandwich and the guacamole avocado toast. Those are both now my favorite dish here! Due to COVID, it was outdoor seating, but then again, this entire place is outdoor seating. They have spaced the seats out perfectly so don't worry about that, but do wear a mask coming in and going out, plus a bathroom visit.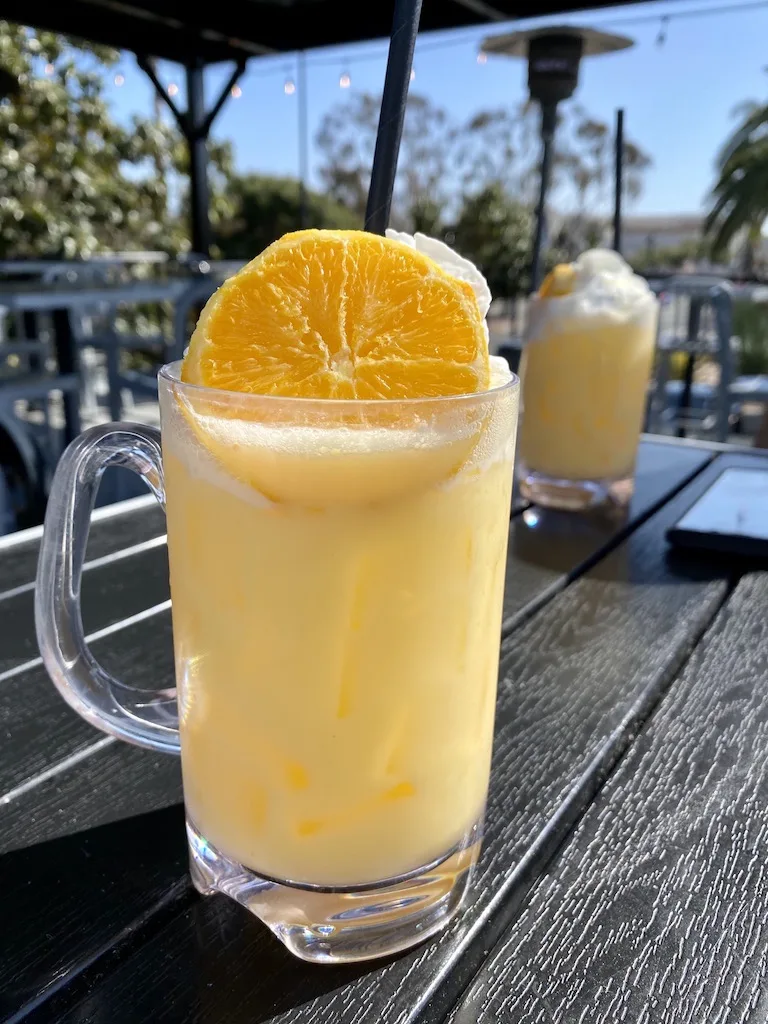 We sat upstairs with our drinks (called cracksickles) and there is a nice view of Carlsbad Village and a great breeze from the beach. This place is unpretentious and we loved it! Plus, dogs are welcome.
Burgeon Beer Co
What better way to unwind from your Carlsbad trip than with a quick tour of a brewery plus a cold brew in your hand. The Burgeon Beer Co has a Brewery Beer Garden that offers on-site consumption as well as a quick tour of the beer garden. They make award-winning, small-batch craft beer. You must try the light and crisp Blonde Ale, the nut-brown Nitro Coffee Burl, and the citrus Juice Press. Make sure to purchase the Carlsbad Crush 4-pack to go! My husband said "This place is dangerous. The whiskey is way too smooth and you will get buzzed right away!"
The Alley Nightclub
One of the favorite bars in Carlsbad according to the locals is The Alley. This bar is located on 421 Grand Ave and offers great drinks, live bands, and karaoke. Locals love to spend the late evening chatting with friends, listening to live music while sipping on a cold beer. This place is super cool.
Village Pub
The Village Pub opens from 2 pm until 2 am and is located at 2990 State St aka Carlsbad Village. The bar has a friendly staff, awesome bartenders, and delicious drinks. Order yourself a bowl of popcorn, a cold brew, and enjoy your evening in a cool dive bar.
Barrell Republic
The Carlsbad Village is not in the habit of disappointing its visitors and there you will find another great bar, Barrell Republic. It is home to the revolutionary self-pour tap system, they are the undisputed mecca for craft beer lovers! With three locations in Pacific Beach, Carlsbad, and Oceanside, Barrel Republic promises the ability to pour your beer, share with friends, and enjoy like-minded San Diego craft beer enthusiasts. The beer menu includes Pupil, Kook Slams, Sour on Love, Purple Haze, Golden Child, Made Marion, and Cali' Creamin beers. While you're enjoying your drink don't forget to order the Garlic Butter Pretzel Bites, the Caritas tacos, or Barrel Burger. All delicious!
Does Carlsbad Have Nightlife?
Yes! Carlsbad is known for its great nightlife. If you're looking to have a good time then head out and explore the local bars like Baja Sharkeez closer to Hermosa Beach. Here they are known for its fish tacos and have fun atmosphere. Stop in for some Monday Fajitas on Sizzlin' Skillets, Taco Tuesdays, Burger & Beer Wednesdays, and Burrito & Mojito Thursdays. The beer is cold, the staff is fun and you will never want to leave!
Plus you Are What you Eat!
Check out Jimbo's Sports Cafe. Jimbo's Carlsbad is a one-stop-shop in The Forum shopping center. They are located just under 2 miles from interstate 5 off of Calle Barcelona- on the border of Carlsbad and Encinitas. Happily married and the father of four children, Jimbo is an avid runner and a strict vegetarian. The same guidelines apply at his home as it does in his stores — no white sugar, no harmful chemicals or preservatives, and all organic ingredients whenever possible. So stop on by his high-quality, organic food store!
How to Get to Carlsbad, California
The San Diego Airport is only a 40-minute drive away from Carlsbad and has a large range of domestic flights. Popular flight routes from around the country make stops at the San Diego Airport such as flights from Phoenix, Las Vegas, Seattle, Denver, and Salt Lake City. Aside from flying into that airport, you can also opt for the Carlsbad Airport, also known as the McClellan-Palomar Airport. This airport is roughly 3 miles from Carlsbad and services airlines such as Advanced Air, Taos Air, personal planes, and helicopters.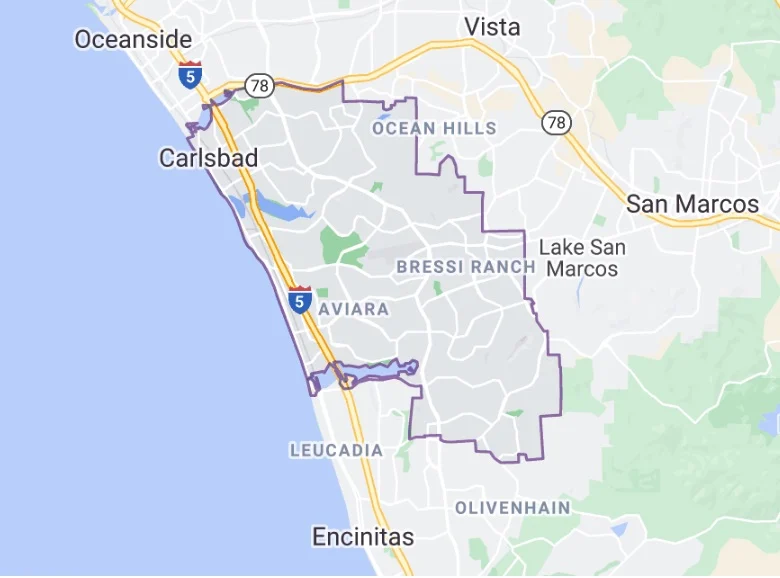 To get a better idea of where Carlsbad is located, click here for a map of Carlsbad, CA.
Good Time to Go to Carlsbad
In my opinion, the best time to visit Carlsbad is between the months of July and November. These months are the least foggy days as well as the least precipitation. If you time your vacation just right then you are sure to hit up all the amazing spots in Carlsbad, including the beach.
As you may have gathered after reading this article, a trip to Carlsbad, California is packed with lots of fun and interesting things to do. Your next best vacation should surely be in Carlsbad, thanks to its natural flower field and beach beauty, as well as amazing shopping centers, great restaurants, and dive bars! Whether you wish to walk around the Carlsbad Village, sip on a cold beer at the Barrel Republic, or shop till you drop, Carlsbad at everything it would want in a vacation and more!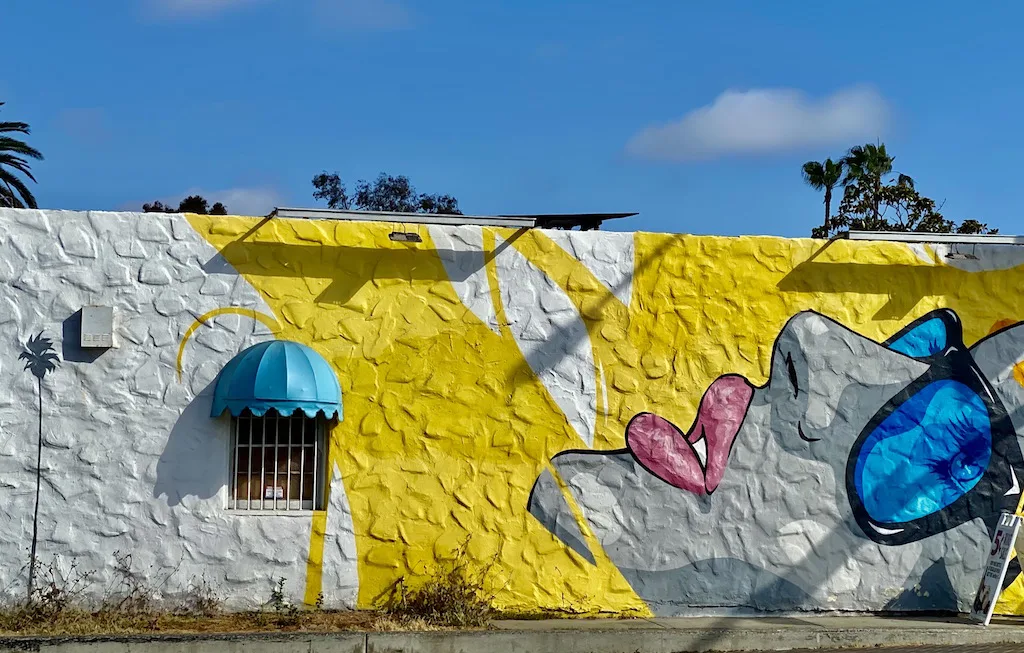 Just North of Carlsbad is Laguna Beach. If you are looking for the perfect place to take a scenic drive, then this beach town is your answer. The city's serene and natural beauty will leave any visitor feeling refreshed and renewed with life as they explore the quaint downtown area or hike up coastal trails such as San Gregorio State Park.