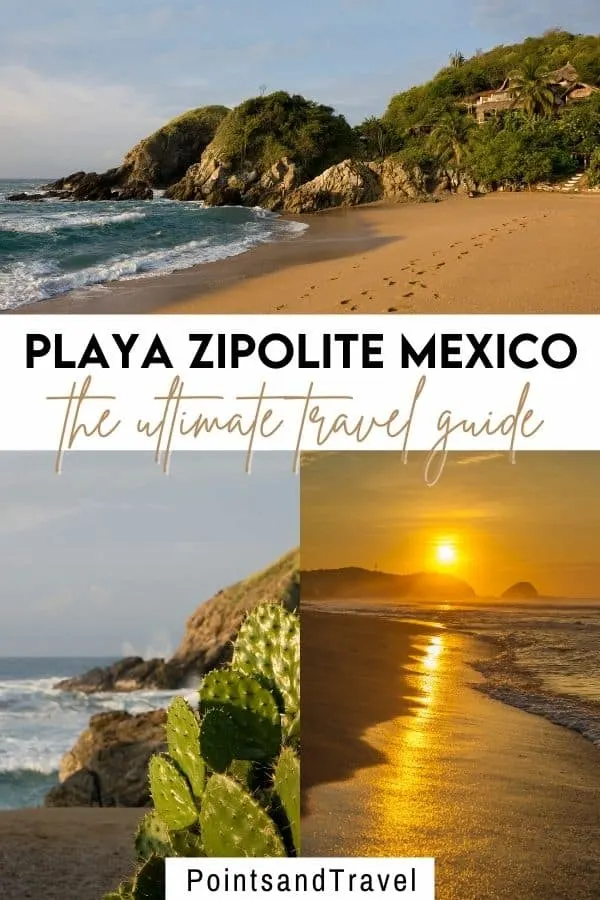 Along the Southern Pacific Coast of Mexico lies the beach community of Zipolite Playa or Playa Zipolite, depending on who you ask (Mexican or Gringo!) Both names are acceptable! This community is situated in the visually-stimulating state of Oaxaca, which, as you know, I can't say enough about this region's culturally rich charm, golden sandy beaches, and amazing beauty. I also had a chance to visit Mazunte and Puerto Angel. These charming beaches are not overrun by tourists like the country's more famous beaches, so they are great places to have a more local experience while enjoying the sand and surf.
---
Zipolite Playa
---
When visiting the Mexico's state of Oaxaca, be sure and try out their local smoky drink of Mezcal, and visit Hierve el Agua and the remnants of the Zapotec and Mixtec culture found at Monte Alban. These are both things I would not want you to miss! But if you are looking for a golden sandy beach and are exploring the area, then keep on driving south to the sea.
Here you will find along Mexico's southern Pacific coast the beach town of Playa Zipolite, Mazunte, and Puerto Angel. Mazunte and Zipolite are known for their laid-back attitude and hippie spirit. There is something you should also know about Zipolite Playa. It only has a population of fewer than 1,000 people, so as you can imagine, it is pretty laid back, peaceful, and quiet. It can certainly bring out the inner hippie in you too if you let it! But if you already put out bohemian vibes, then you will fit right in! These laid-back beaches are for adventurers, backpackers, and people with the hippie spirit!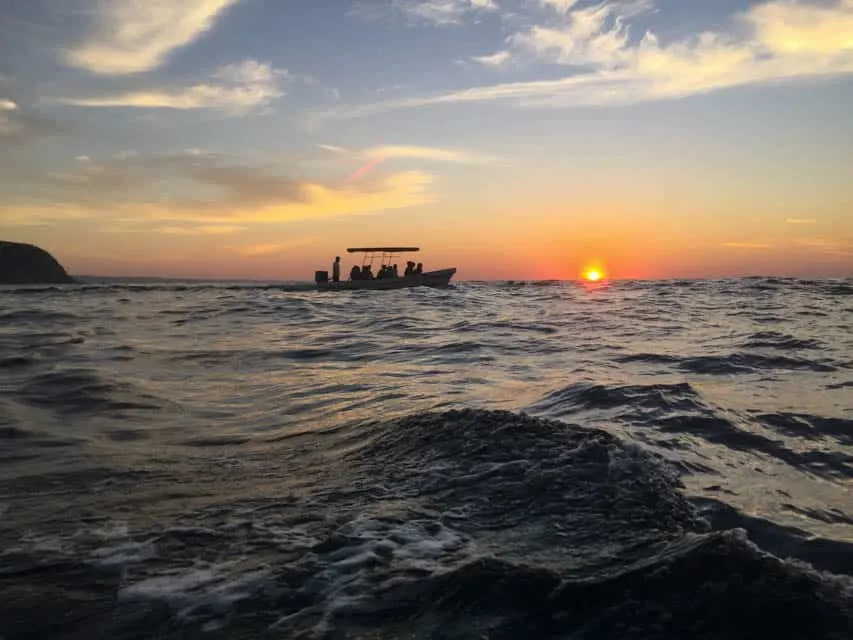 ✦ Zipolite Mexico's Main Focus is The Beach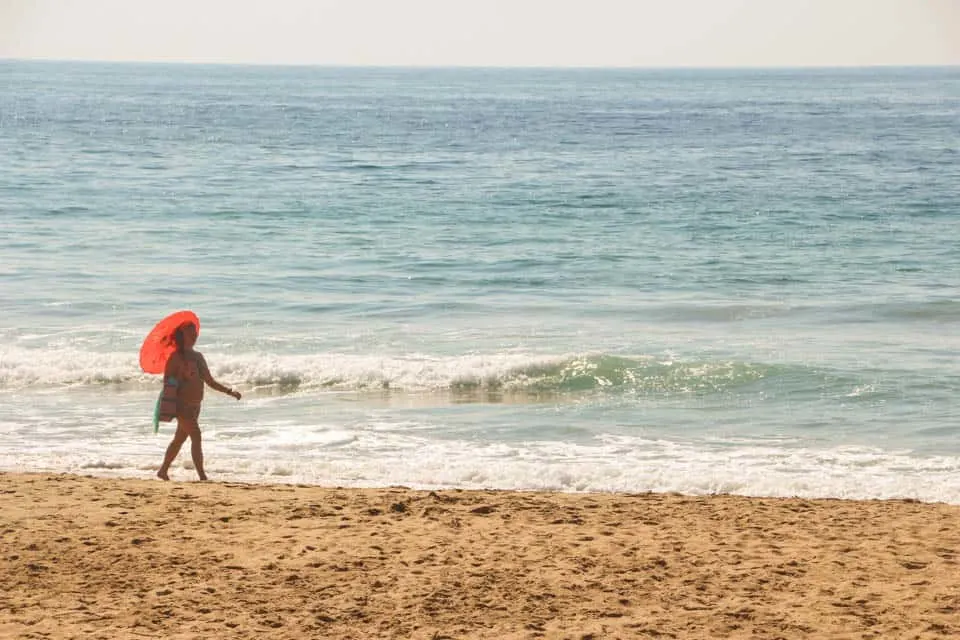 The main reason people come to Mexico's southern Oaxaca coast is to relax on the beach. Basically, they need to get away from it all… the city, the crowds, and too many people. Time spent here will be lounging around by the pool, taking a dip in the ocean, and enjoying cheap, authentic, and local Mexican food and drinks. The main focus of Zipolite Mexico is the beach at Playa Zipolite. With a beach that is less than a mile and a half long, one may wonder what is there to do here? You can visit museums, do some hiking, and take day trips to nearby communities. Overall, you will probably do more lounging than anything.
But this admittedly-rustic seaside town makes its claim to fame as one of Mexico's nude beaches. (Shhh! Better not mention THAT to your friends!). As of 2016, Playa Zipolite is the only legal nude beach in Mexico, but don't let that detour you, as there is more here than what meets the eye! (Pun intended). Personally, I was a little surprised when I first got here, as I had no idea there were nude beaches, but after a while, you just don't look.
And since Zipolite is Mexico's only legal nude beach – it is pretty unique! If this is out of your comfort zone, no need to worry – clothes are allowed too! Either way, it's great to know there's a place where all sorts of people are welcome to strut their stuff, regardless of pretty much anything! It's not a fashion show down here! The people are just being themselves.
Keep reading to discover what you need to know to enjoy a Mazunte and Zipolite beach vacation. Learn how to get there, where to stay, which beaches to visit, and what to do once you arrive!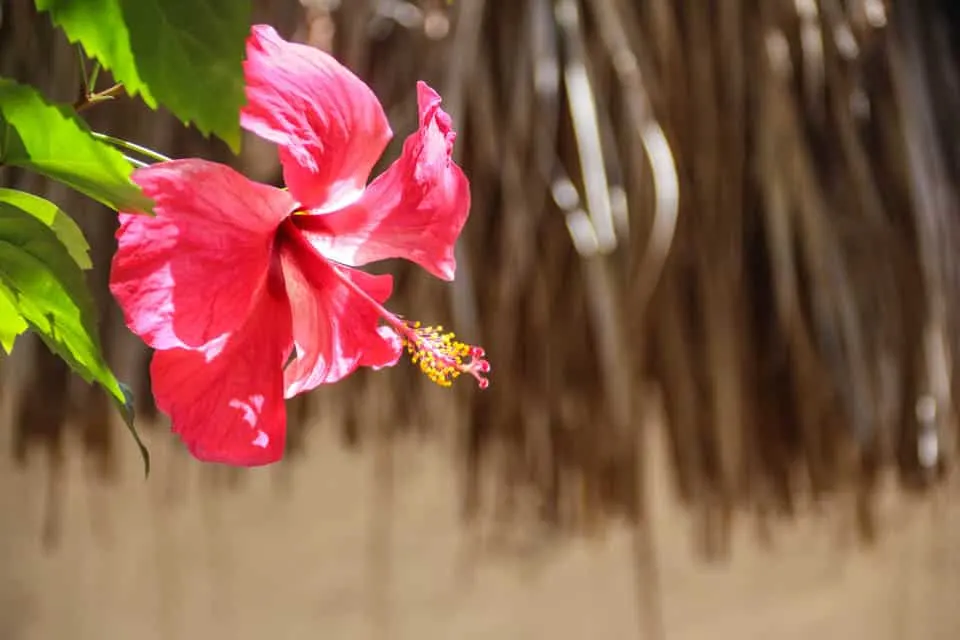 ✦ How to Get to Mazunte and Zipolite
Mazunte playa and Zipolite playa are only about 3.5 miles apart from each other. So if you visit one, you might as wee visit the other one too! And Puerto Angel is another 1.8 miles east of Zipolite playa, which is worth a day trip to visit this beach town. But getting to this part of Mexico is NOT THAT easy! Getting to Zipolite Playa is the most difficult part of your journey. Depending on where you are coming from, a plane, train, or bus ride into Mexico is needed.
From your arrival destination, it is best to take a trip to Puerto Angel, Mexico, and then make your way to Playa Zipolite. A car or taxi ride will take roughly 1 hour, while the bus route using Bus ADO can take up to 1 hour and a half. Another way to get to Playa Zipolite is to fly into the airport in Puerto Escondido (PMX) and take a taxi or car ride into town. Be careful to note that the road to this town is narrow and winding, so take extra caution when driving. The ride is about an hour and 25 minutes. However, you can also fly into the smaller Huatulco airport (HUX) which is about an hour away. Either way, it is not that easy to get here!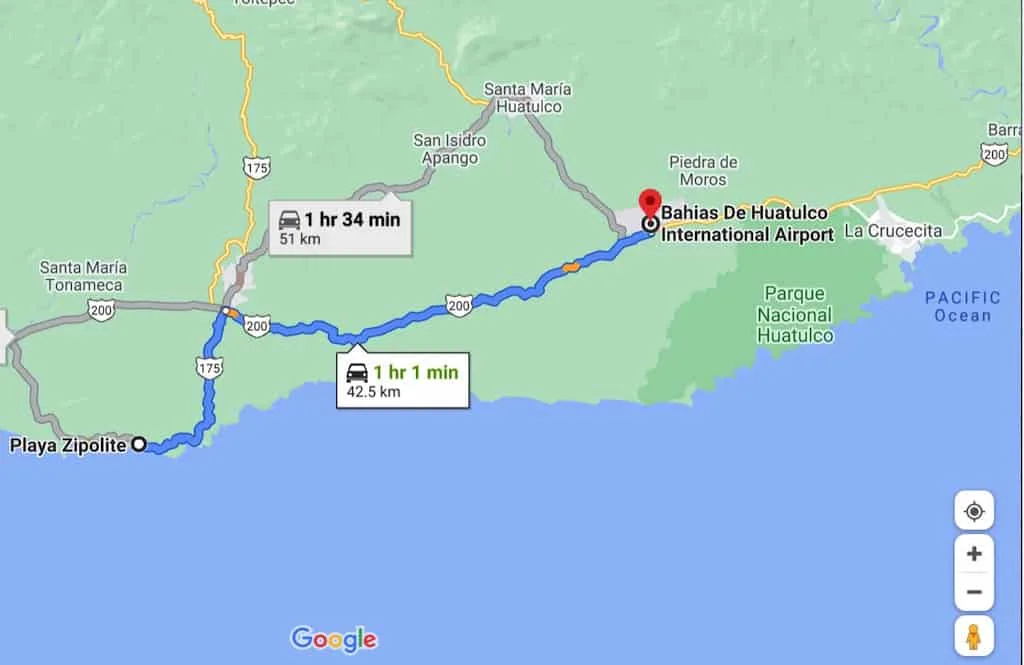 Cheap Way to Playa Zipolite
Basically, you fly into either Huatulco (HUX) or Puerto Escondido (PXM) Airport. Once you land, you can get from Huatulco to Zipolite Playa or Mazunte Playa via a shared van (Colectivo), but I don't recommend that as most travelers do not want to be crowded, there are lots of stops along the way, and you will need room to put your luggage. Also, typically the driver does not speak English. However, this is the cheapest route.
Mid Range Price to Playa Zipolite
By using buses and taxis, you can go from the Huatulco Airport (HUX) in a shared taxi to Huatulco Ado Bus Station, then from there, take a comfortable and air-conditioned bus to Pochutla. Or you can get off the bus at the Pochutla-Puerto Angel intersection off of Highway 200, which is just beyond the military checkpoint) and take a cab from there. Pochutla is a cute town, so you may want to stop there and have an inexpensive lunch.
Most expensive Route from Huatulco Airport to Playa Zipolite
You can grab a taxi cab at the Huatulco Airport (HUX) and go directly to Playa Zipolite or Mazunte Playa for around $30 and takes about one hour of your time.
Fly in Via Puerto Escondido (PMX)
Another way to get to Playa Zipolite is to fly into the airport in Puerto Escondido (PMX) and take a taxi or car ride into town. The routes from Puerto Escondido (PMX) airport are about the same as flying into Huatulco Airport (HUX). Be careful to note that the road to this town is narrow and winding, so take extra caution if you are driving. The ride is about an hour and 25 minutes.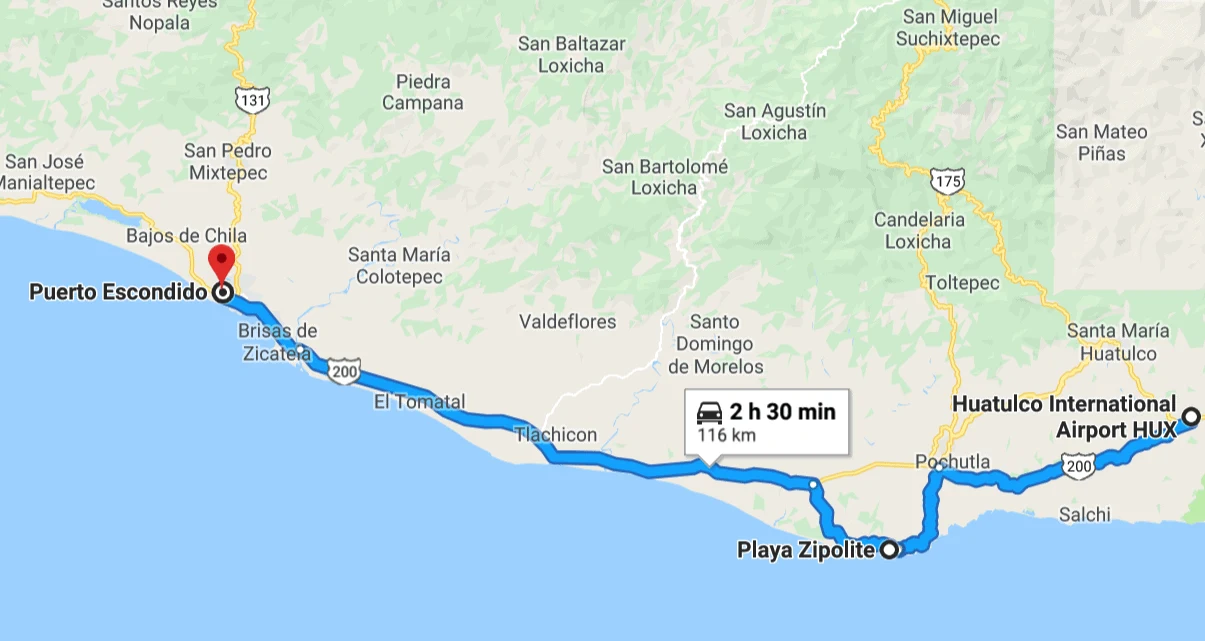 Playa Zipolite Has A Frothy Blue & Thunderous Surf!
One of the BIGGEST pulls to Playa Zipolite is to surf! So you can imagine there are plenty of surfer dudes and dudettes in the area, thus the bohemium-like atmosphere is all around. The rough waves have been a great attraction to these surfers, but have also given a fright or two to others who aren't as good.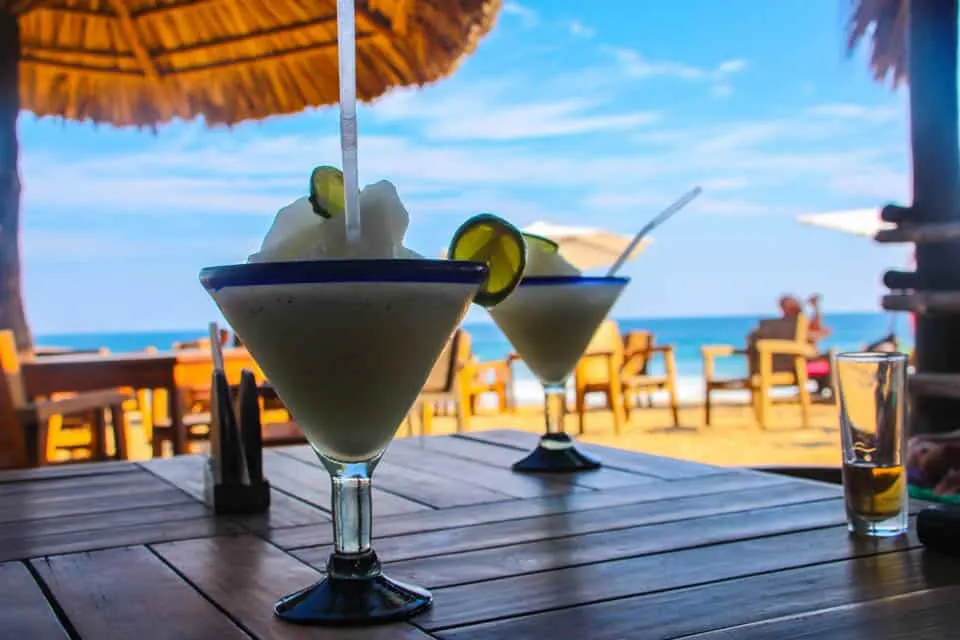 The best way to experience the waves of Zipolite Playa is probably to book a surfing lesson so you know what you are doing while you are out there! And there are plenty of surfers to teach you how, so just ask around for a guide. Playa Zipolite, which has been nicknamed, the Beach of the Dead, as it has strong rip tides and a dangerous undertow. So it is important to make sure you know what you are doing when you attempt to surf in Zipolite Mexico!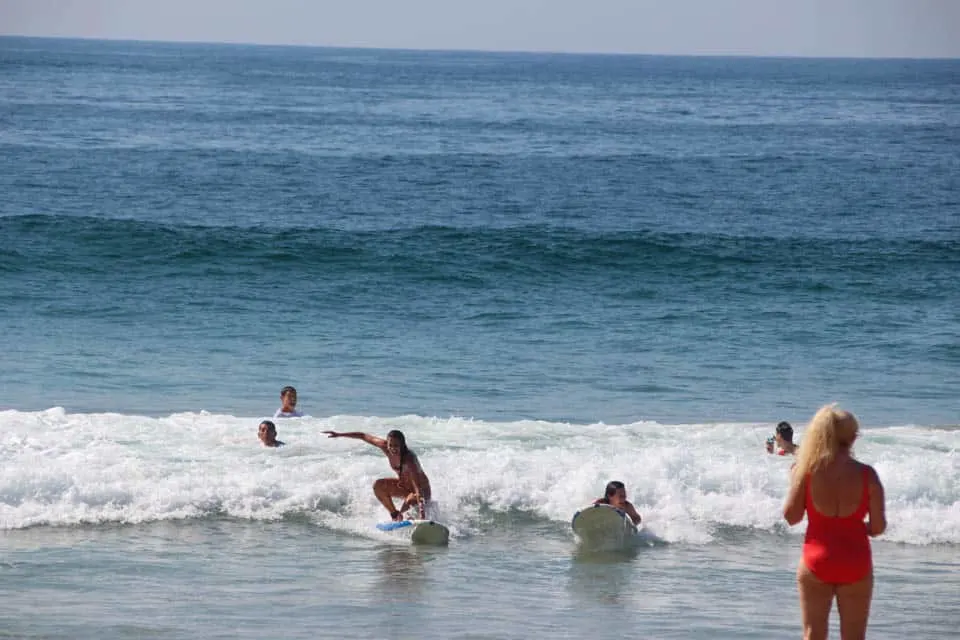 ✦ Nude beach in Zipolite Playa
Playa Zipolite is known for having Mexico's only nude beach, but the entire beach is not nude, just a small portion near the aptly-named Hotel Nude. Be sure to note that it is not recommended to swim here, since the waves in this area are so strong. Also note that only about 1/3 of the people in this area go nude, as most of the locals keep their clothes on!
✦ Zipolite Mexico is also for Swims & Snorkels!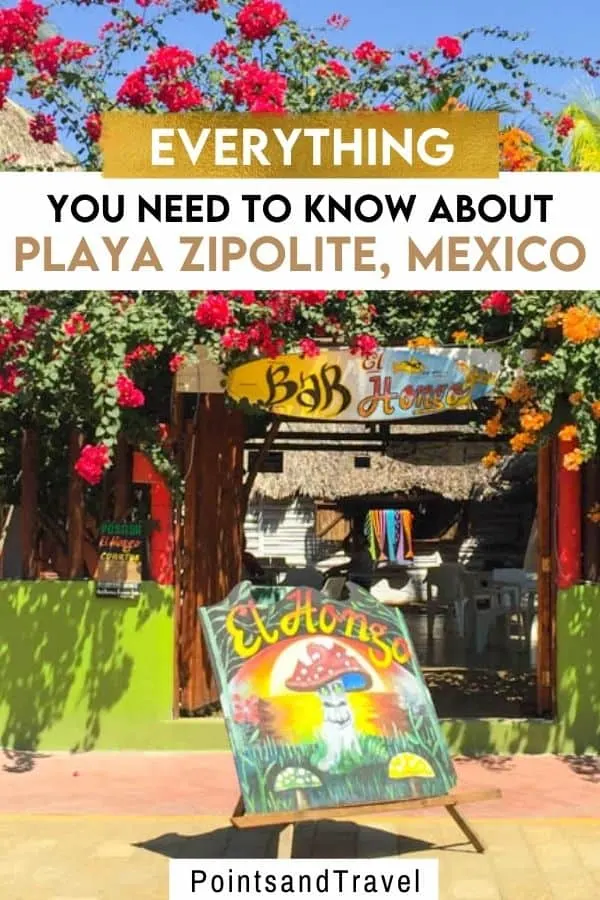 But don't think that surfing (or nudity) is the only thing to do here. Surfing may be adventurous and fun, but while at the beach, why not go for a swim? Swimming in Playa Zipolite is just as adventurous yet calming at the same time if that makes sense. Those who go for a swim in the warm water will certainly want to go snorkeling as well.
The seawater is so warm that you may think you are in your personal bathtub. The crystal-clear and warm water of Zipolite Oaxaca is a great treat for those who like to snorkel. But if you just want to lie on the beach with a drink in hand, that's OK too!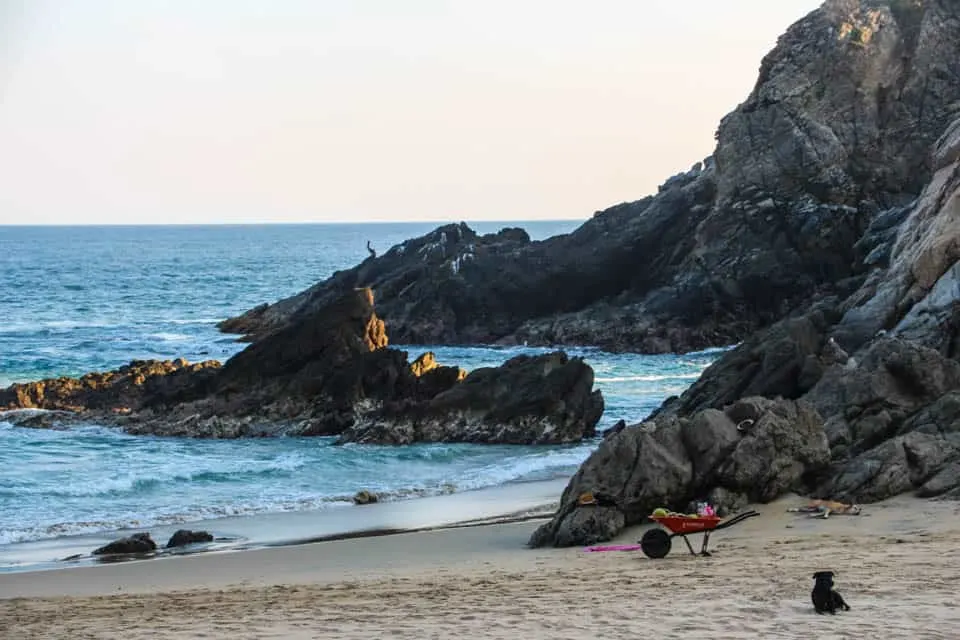 ✦ Playa Zipolite's perfect Swimming Pool at El Aquimista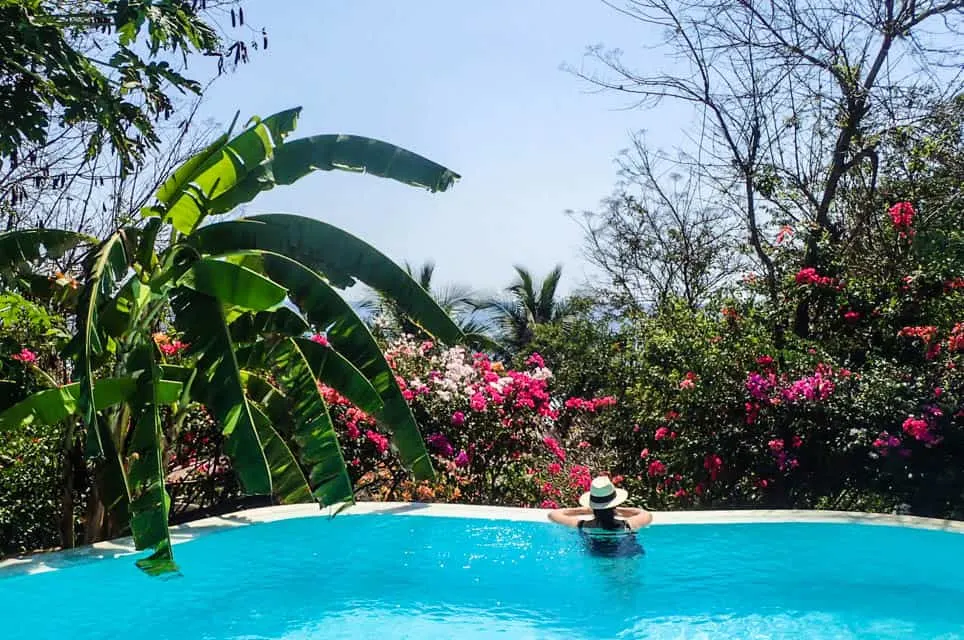 But sometimes, all you want is a gorgeous swimming pool and the Hotel El Aquimista has one! It has a stunning negative-edge infinity pool with the most beautiful bougainvilleas surrounding it. As the sun begins to come down in the sky, it is best to escape to the crystal clear waters of this infinity pool! With oversized lounge chairs and palm tree shade, it is the perfect escape in Playa Zipolite.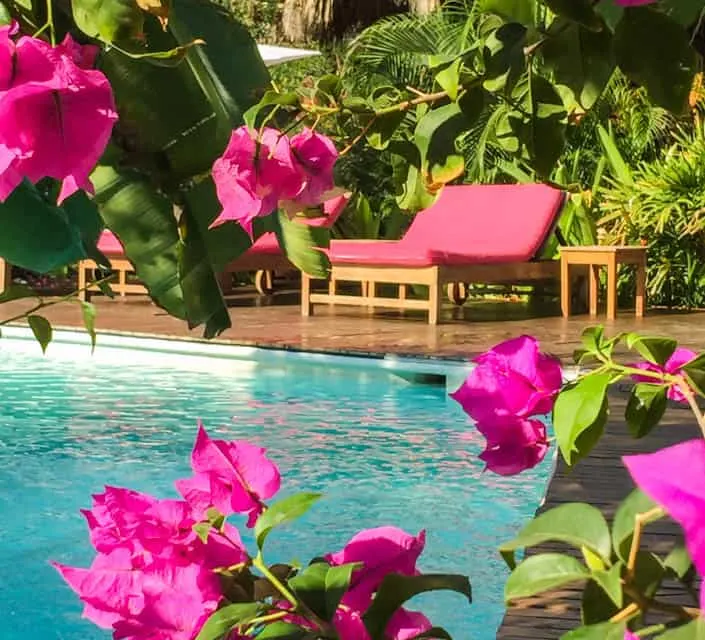 ✦ Is there a Need to do Anything in Zipolite Mexico?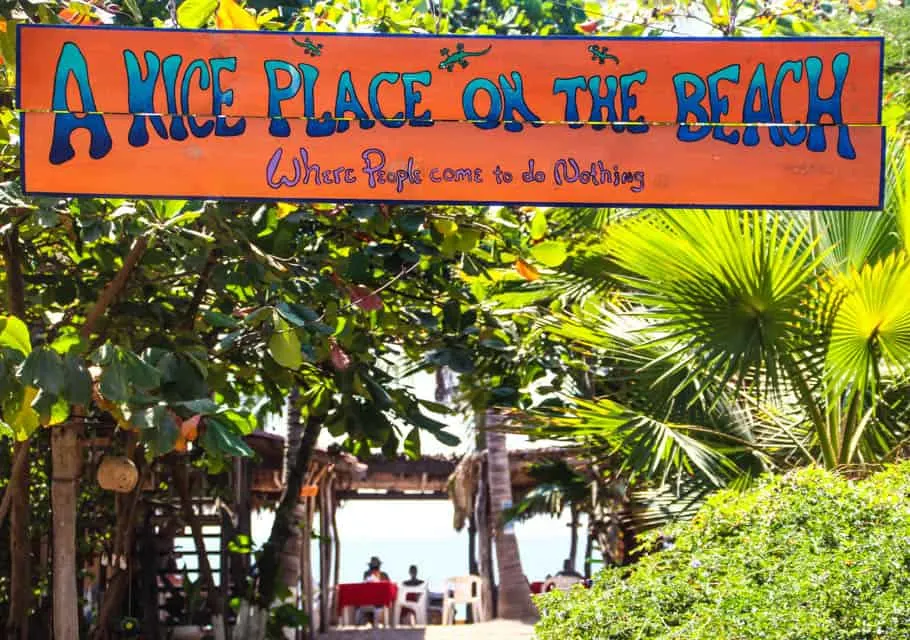 If you are getting away from a busy home life then do nothing while in Playa Zipolite, that's one of the best parts! Since this resort town has few tours and events, try relaxing for a bit and see how doing nothing feels! Honestly, it is a hot and lazy beach in the summer. And siestas are not only for Europeans hanging out on the beach, as the Mexicans do it too.
Why not join in on the hype and take a mini-break from your busy day and relax in a hammock along Playa Zipolite. Not much has changed from the hippie days of the 1960s and 1970s. Just so you know, the use of marijuana is legal in Playa Zipolite and many people utilize that here. There is a melancholy atmosphere. So, if you want to do nothing while feeling extremely relaxed, then smoke some weed and enjoy the sea view. (I personally don't partake, but many do!)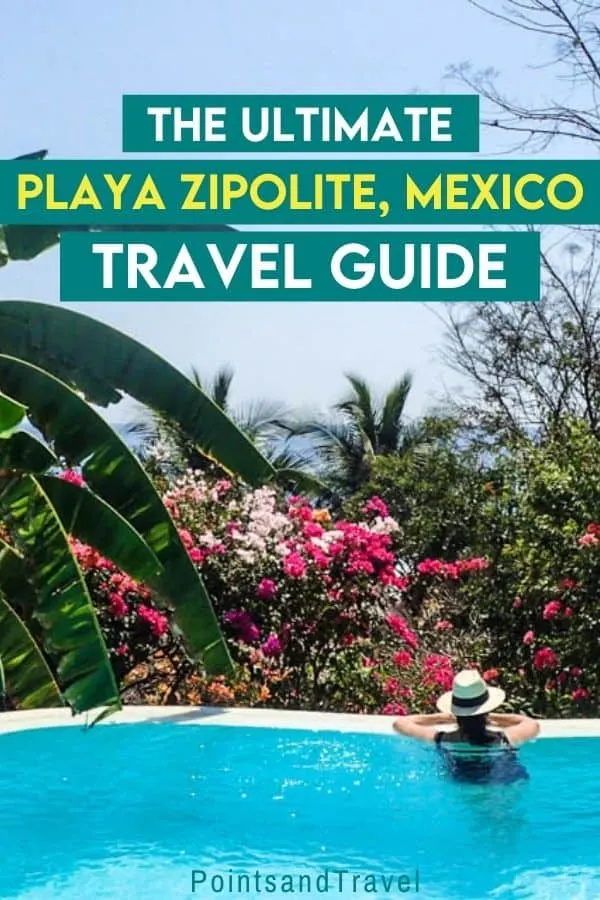 ✦ Mazunte Playa
Further to the east is Mazunte Playa, which has three distinct beaches separated by a mountainous outcrop known as Punta Cometa. Playa Mermejita is a hidden beach on the other side of Punta Cometa. Getting to Playa Mermejita requires a bit of a hike, but it is a private beach where you may be the only one there! Playa Cometa is in a little tiny cove near Punta Cometa and requires a walk down from the hillside. Whereas Playa Riconcito is the main beach.
A word of caution: Be sure and be careful in this area, as many people have drowned. The beaches at Playa Mazunte have potentially dangerous currents, and great care should be taken if you plan to go into the water. If you really want to swim or snorkel, head over to Playa Zipolite or Puerto Angel for the calmer beach in the cove.
Things to do on the Pacific Coast of Mexico
#1 Sea Turtle Museum
Centro Mexicano de la Tortuga (Mexican Sea Turtle Center) is a small facility that has several species of turtles that you can visit. Founded in 1991, the center educates visitors about the sea turtles in the area that were once hunted, but have now been given the seal of protection from the Mexican government. Do note that the hours of operation of the Sea Turtle Museum is typically Wednesday through Sunday in the morning. Admission is $2 USD.
Thousands of turtles come ashore right on Playa Riconcito near Playa Mazunte to dig holes in the golden sandy beach. They lay their eggs, typically from June to December. Hopefully, you will be there during that time and see the lifecycle of the local turtles.
#2 Catch a Sunset? Punta Cometa!
The best place to view the sunset or sunrise in Oaxaca is Punta Cometa near Playa Mazunte. This amazing peninsula has been the best-kept secret of the locals for years. There are no street indications on how to get there and the locals would prefer it that way (but it is only 15 minutes from Playa Zipolite).
With that being said, locals would be happy to point you in the right direction of Punta Cometa to view the best sunset of your life, so just ask. Another way to watch the sunset is to go on a local fishing trip that concludes with a stunning sunset Cruise.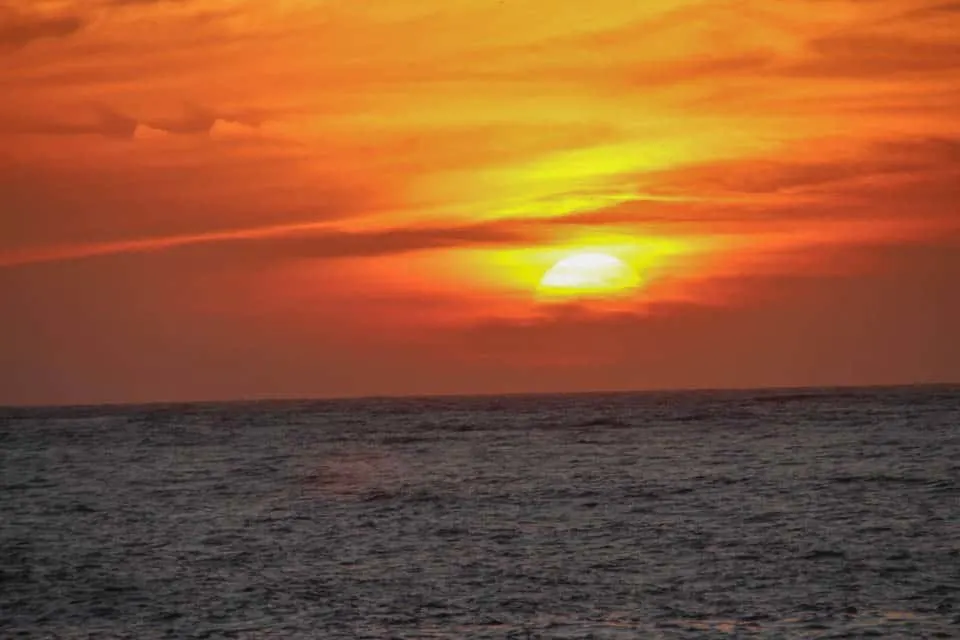 #3 Go Shopping in the Downtown Area of Playa Zipolite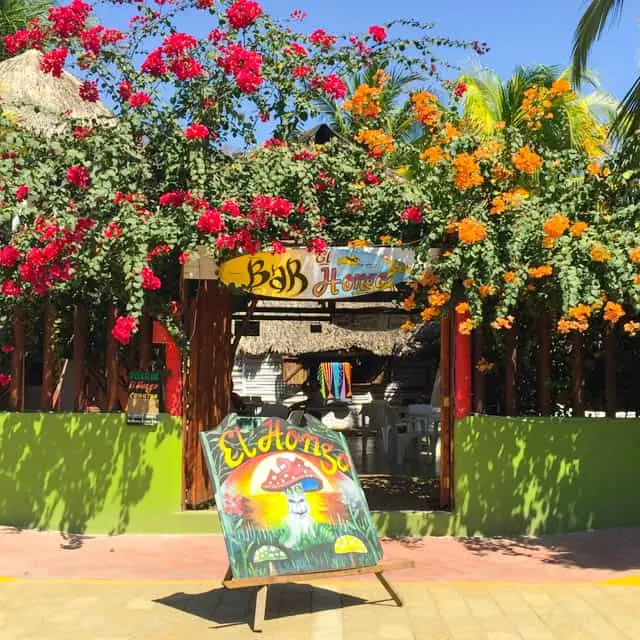 Right down the main street is where most of the action is in this town. From local restaurants to shopping, this is the main drag. The local shops offer handmade creations and souvenirs that you will not find anywhere else. Much of it is locally made. While shopping in Playa Zipolite, take note that there are only a few ATM machines at Playa Zipolite, so be sure and bring some cash. I didn't see any currency exchange places, but most places accept US dollars.

#4 Check Out the Graffiti: Street Art?
There is a very small but impressive amount of beach-themed graffiti on some of the side streets of Zipolite Playa. Be sure to look down the alleyways and explore the entire downtown area where the restaurants are.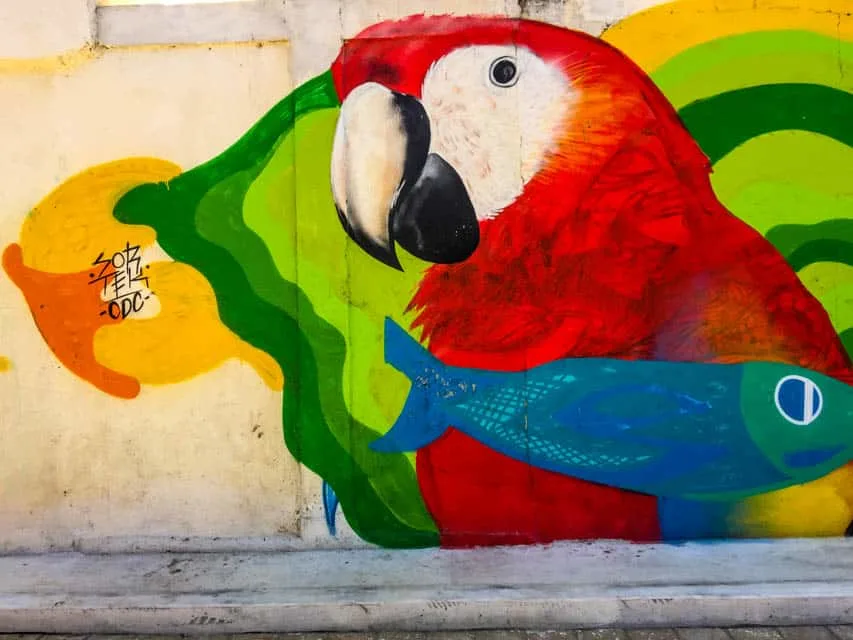 #5 Playa Zipolite and Playa Mazunte have Annual Festivals
Nude Festival: Of course, they have to have a nude festival in Zipolite Playa! There is a three-day Festival Nudista, which began in 2016. This highly popular event among the Dutchmen includes body painting, hikes, surf lessons, beach volleyball, and yoga
Circus Festival: This festival takes place in March at Mazunte Playa and features workshops and performances by circus people. They give workshops in juggling and other circus skills!
Jazz Festival: The International Jazz Festival takes place in Mazunte Playa in mid-November. It's one of the most popular festivals in the area.
Heck, sometimes they even have a giant funfair for kids when I was in town, as well as, a rodeo which was an eye-catching performance, to say the least!
✦ Where to Stay in Playa Zipolite?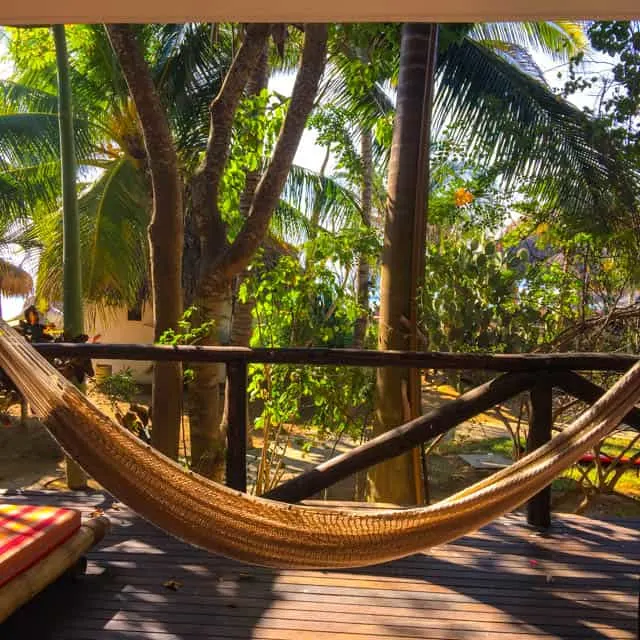 One of the best hotels to stay at in Zipolite, Mexico is Hotel El Alquimista (admittedly the options are slim). But I stayed here and did enjoy it. Guests can choose from 17 different ocean view cabins that are equipped with beds, ceiling fans, mosquito nets, bathrooms (including hot water), and a safety box. If you are looking to splurge, then the King Size Bed Cabin with a pool is the way to go! You will be able to lounge in a hammock on a private terrace that overlooks the splendid sea. These rooms also have air-conditioning, which is a must in the summer! Some of the other rooms don't have air conditioning, so be sure and ask.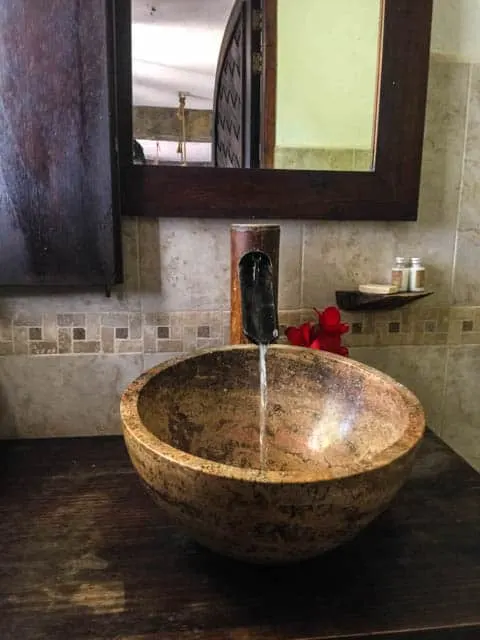 They also have a top-notch yoga/spa area that allows you to book massages, facials, and natural body scrubs at great prices. Guests can be one with nature while taking a yoga class with a first-class view of the ocean. Literally! In the middle of getting tanned and relaxed, you should probably find time to eat.
A little further up the beach is Baha de Luna. It is a hotel, restaurant, and is beachfront as well. It has single, double, and full house cabanas to rent!
✦ Best Places to Eat in Zipolite Mexico: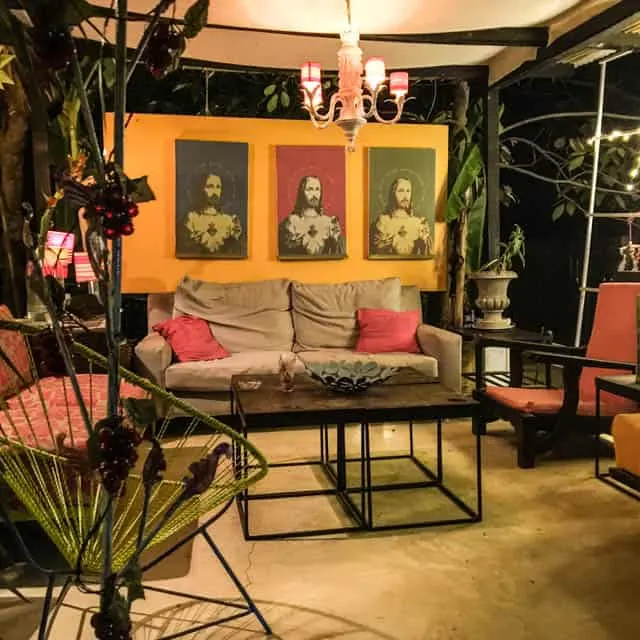 The best place to eat in Zipolite Oaxaca is La Providencia and most likely it is THE BEST PLACE TO EAT in the state of Oaxaca! I can't say enough about this amazing gem of a place. It was completely unexpected in this hippie atmosphere town, as it is simply gorgeously decorated and the food was exquisite!
This friendly Mexican restaurant offers fresh seafood, gluten-free meals, and vegetarian-friendly options. I had the empanada appetizer and the coconut shrimp with the mango salsa! It has a full bar, outdoor seating, and a unique atmosphere. It is located merely a block from the beach. Chef Paco and Host Javier are the best hosts ever! Be sure and check out their new location which is bigger, cooler, and has more parking!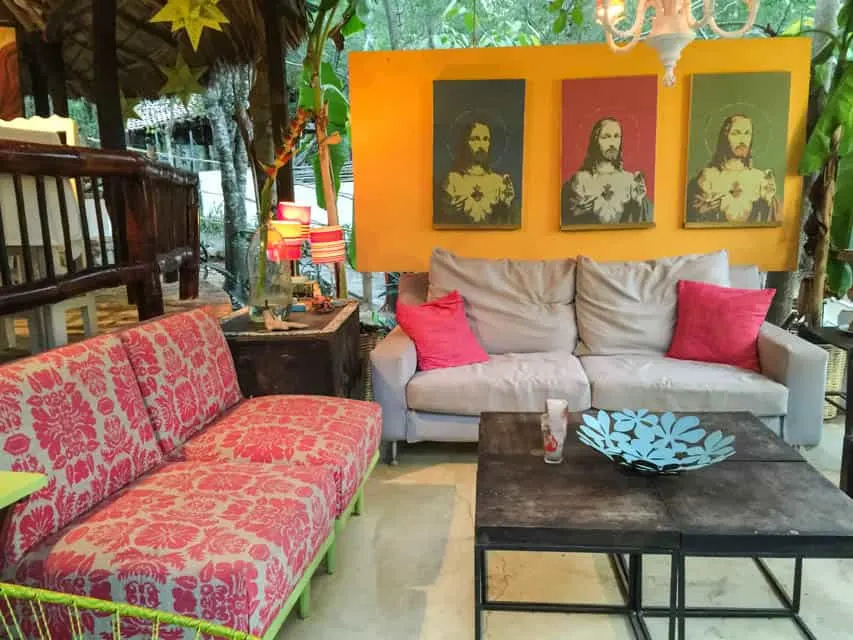 Another restaurant to visit while in Playa Zipolite is the restaurant at Hotel El Alquimista, where I stayed. They serve delicious breakfasts with coffee and freshly squeezed juices. They have traditional cheeseburgers and fries as well as salads. And don't forget the drinks!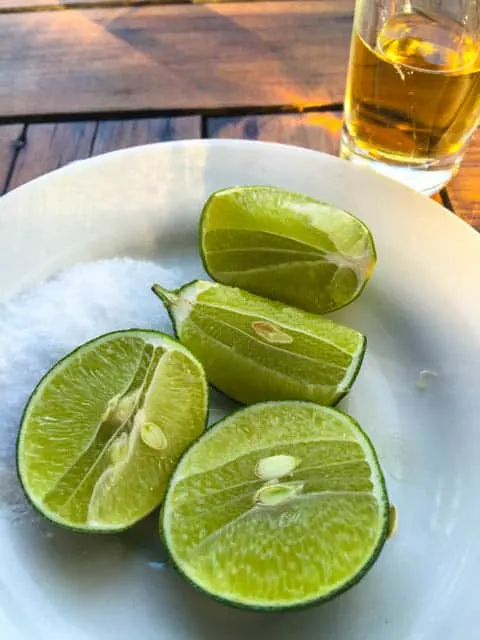 If you are craving an omelet or bacon, then try Orale Café. It has a stunning garden view and a warm atmosphere.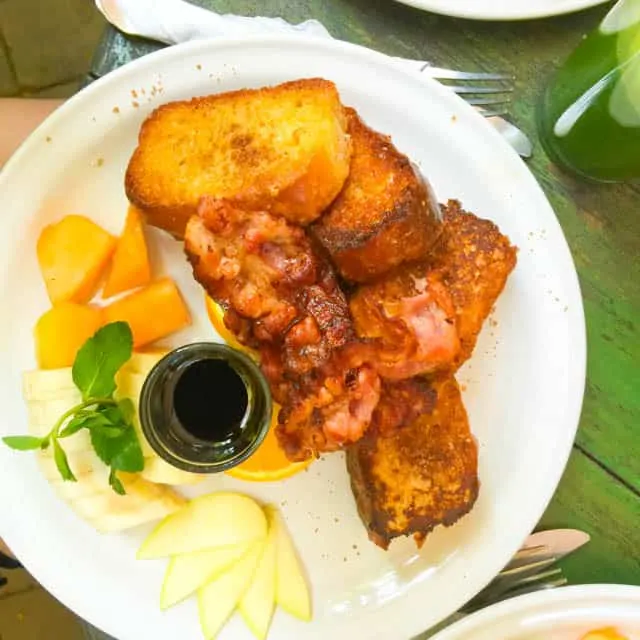 I tried all of these restaurants and they were all delightful!
Being a part of a local community is heartwarming. Regardless of how long you are visiting Playa Zipolite, Mexico, you can feel a part of something larger than you. The people are friendly, the beach is beautiful and the sunsets are to die for. This is the perfect place to be yourself and relax. Casual dining, a relaxed atmosphere, and blissfulness are all included in a trip to Playa Zipolite, Oaxaca, Mexico.
Want to read more about 10 Popular Mexico Destinations & Cities to Visit?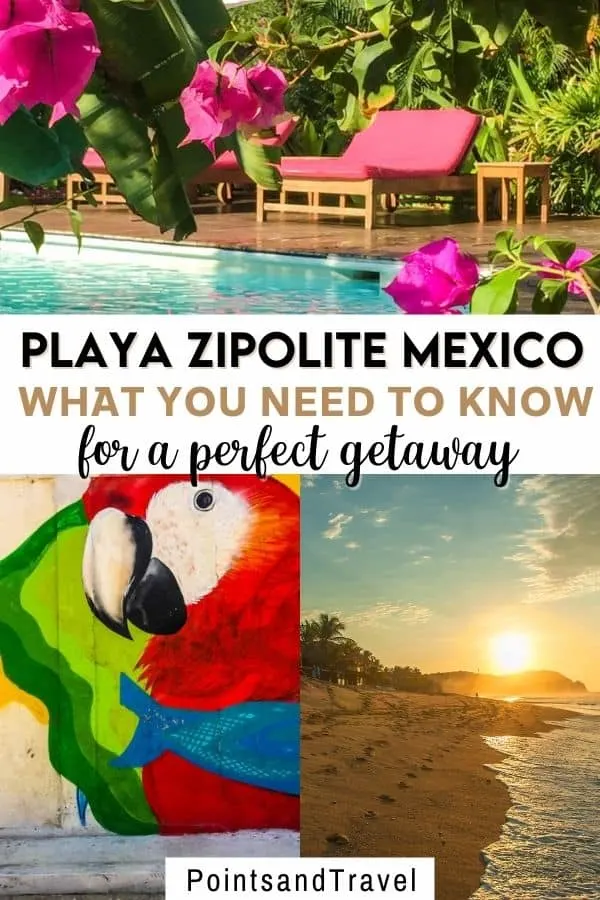 Disclosure: As is common in the travel industry, I was provided with accommodations, meals, and other compensation for the purposes of review by Cantimplora Travel. While it has not influenced my review, PointsandTravel.com believes in full disclosure of all potential conflicts of interest. All Photos were taken by the author/or were given permission from the photographer. Affiliate links may be located in this article.