I recently took a fascinating trip through Asia with Hong Kong as a stop. I was on a Holland America cruise ship's "around the world" Asia Pacific Voyage. While on the ship, I would walk the deck on a regular basis. But what joy I found when I was able to step off the ship, step out of the concrete jungle of Hong Kong's city center and go on a calorie-burning hike. A hike with jaw-dropping views! You may not even realize it, but Hong Kong has no shortage of scenic hiking trails that are just a short distance from the city center. They also have many trails with varying amounts of difficulty for you to choose from.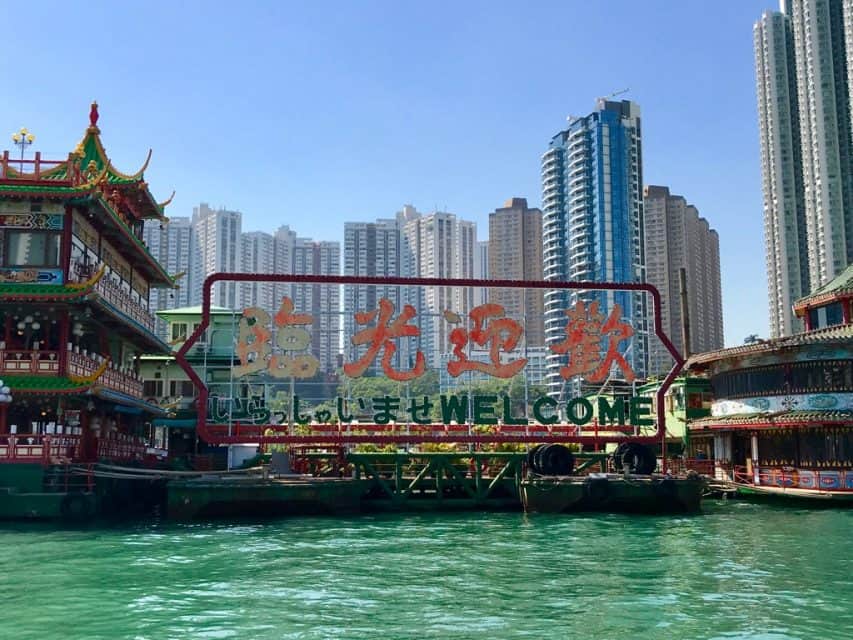 I used to be so afraid of hiking, afraid that I wouldn't be able to keep up with the group I was hiking with. I didn't want to be embarrassed by my lack of physical ability. I was afraid I would be a sweaty mess by the time the hike ended so much so that I didn't even want to begin the hike. I may still get that way with really hard hikes, but today, I can honestly say that I can do easy to moderate hikes due to my change in lifestyle and diet! I do prefer to go at my own pace, as I have shorter legs than many. As in the old days of my hiking, if I didn't hustle, I would fall behind fairly quickly.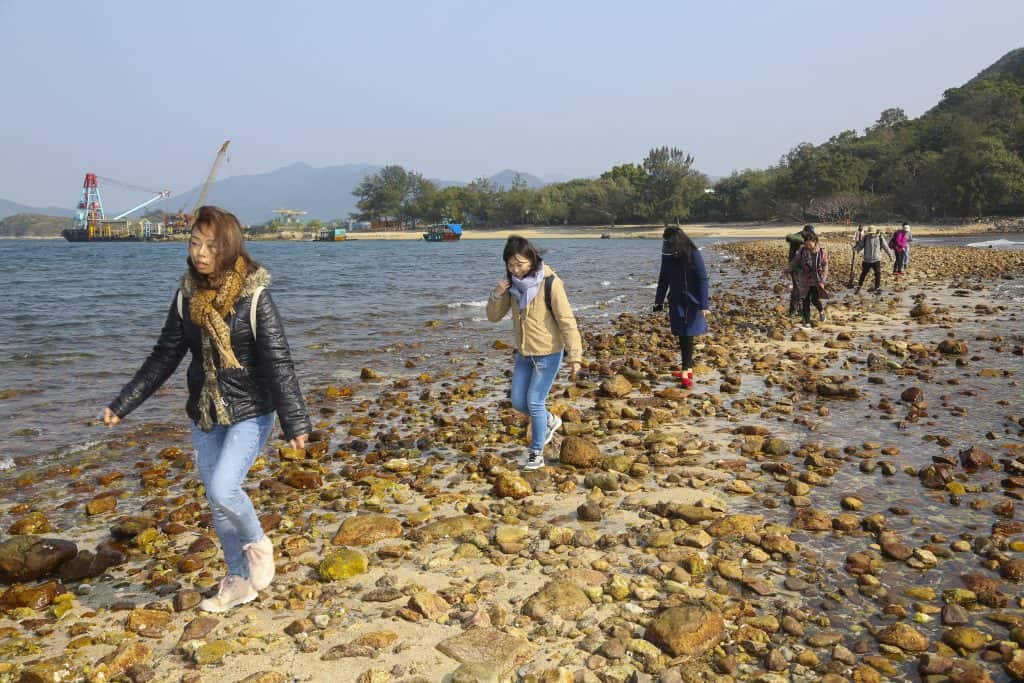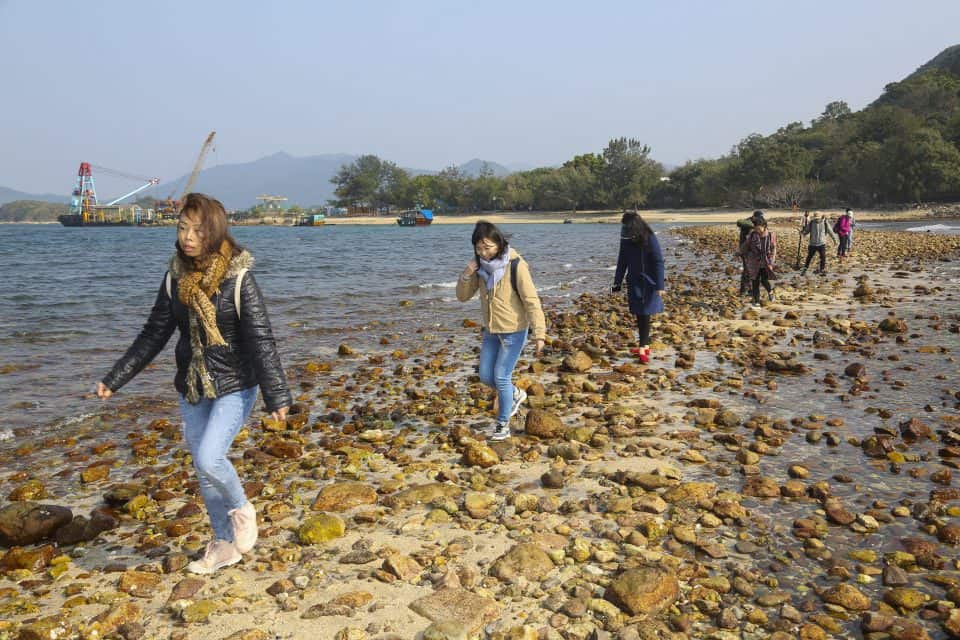 I have researched hiking trails to get you (and me) out of the city center of Hong Kong. I have listed here a beginner's Hong Kong hiking bucket list for us to accomplish on our future trips to Hong Kong. This spring, Hong Kong Tourism is highlighting five special hikes, Lantau South Heritage Hike, Geopark Boat Tour, Lai Chi Wo Hiking Tour, Sai Kung Volcanic Rock Region, and Geopark Hiking Tour designed to bring locals and visitors alike closer to nature.
Hong Kong Hiking Bucket List
Dragon Back's Hike
This half-day outing from busy Hong Kong will keep your interest. It features trails that wind along mountains, through forests, and make their way down to the white sand of Big Wave Bay (Tai Long Wan). You might even have time to take a relaxing swim in the South China Sea or just sit and watch the surfers! They have trails from easy to moderately challenging. And the stunning views of all the Hong Kong islands will make it worth the sweat!
---
Hiking tip: Pack a swimsuit or a spare shirt. You may want to jump in the water or you may get wet from both sweat and ocean spray.
Want to go Hiking elsewhere? Check out this Day Hike in Sicily
---
Geopark Hiking Tour (Guided)
The Geopark Hiking Tour features interesting landforms: a natural geological site of spectacular rock formations that were formed by volcanic activities over 140 million years ago. It has been shaped by weathering and waves and is quite spectacular to see. Here there is a hexagonal volcanic column of a wall that is the world's largest example of hexagonal columnar jointing. There are also many cool-shaped formations as you look around. You can also walk along Reservoir Road and into Sai Kung Country Park. The views from this area are stunning. This hike wraps up in the Sheng Yiu Hakka Village Museum, that preserves the history of this area. You can spend an entire day hiking this area and the trail is 4 km long.
---
Hiking tip: Use bug spray to avoid getting bit by mosquitos and use sunscreen even if it's cloudy.
---
Hong Kong Hiking Bucket List
Lai Chi Wo Hiking Tour (Guided)
Lai Chi Wo Hiking Tour is beautifully set into the landscape with a coastal grouping of mangrove roots that intertwines with plants. It is a park in the northeast of the New Territories and is one of the most pristine areas of Hong Kong. The area still has wild boar and deer, as well as plenty of birds and butterflies. The hike begins in Wu Kau Tang and goes past abandoned rice fields. It then follows a stream to the inlet of the Yan Chau Tong Marine Park. With reddish colored rock along the coastline, it then arrives into the villages of Sam A Tsuen and Siu Tan. You continue to walk to the Hakka Village of Lai Chi Wo, said to be one of the oldest surviving fung shui woodlands in Hong Kong. You will marvel at the beauty.
---
Hiking tip: Don't rush to get to the top of the mountain immediately. Slow down and take deep breaths. Enjoy the moments you are on the trail. The journey is a part of the fun!
---
Lantau South Hike
Lantau Island is the largest island in Hong Kong and located at the mouth of the Pearl River. The Lanau South Hike trail is obviously located on the south side. The trail crosses both the Sunset Peak and the Nam Shanau Nam Shan Peak. These are the two main mountain ranges on the island. The trail goes along the slopes of both peaks. One section of the trail overlooks the Cheng Sha Beach!
---
Hiking Tip: Pack plenty of water and salty snacks and definitely bring a camera.
---
Hong Kong is the perfect place to start working on your fitness goals. Fortunately, over the course of the last year, I have been able to change my physical life. I finally implemented some changes with that age-old resolution to get back into shape. I have altered my eating habits, lost 40+ lbs, and started exercising for the first time in at least 5 years. So now, when it comes to my travel, I like finding active walks and hikes to do while I'm on a trip so that my personal goals and my travel goals match up.
Recommended Reading About Hong Kong:
3 Port Cities in Southeast Asia Not to Miss: Hong Kong, Singapore, and Bali
Disclosure: As is common in the travel industry, I was provided with compensation for this article sponsored by the Hong Kong Tourism Board in partnership with iAmbassador. While it has not influenced my review, PointsandTravel.com believes in full disclosure of all potential conflicts of interest. All Photos by the author or were provided by the Hong Kong Tourism Board.