Mexico has become the go-to place not just by the Americans who live nearby, but also by snowbirds who want to experience tropical life. The country itself is rich in history which you can get a glimpse of as you walk through their old colonial towns. Aside from that, they also have fantastic beaches where you can wear your sunglasses lying on the beach! What fun!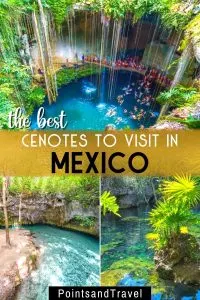 ---
What's in this post:
hide
Ultimate List Of The Best Cenotes in Mexico
---
---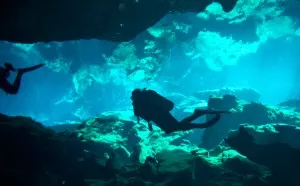 For first-time visitors, make sure that you add the cenotes of Mexico to your itinerary. These freshwater sinkholes are among the best places for you to swim. Of course, when you search for cenotes online, you might be overwhelmed with the results. In fact, there are at least 6,000 of these sinkholes found in the Yucatan Peninsula. You'll find them in tourist hotspots such as in Playa del Carmen, Merida, Tulum, and Valladolid.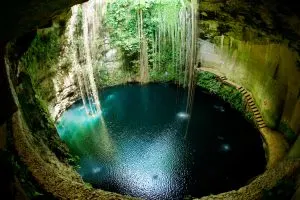 Although there are thousands of cenotes in the Yucatan, only a handful are open to tourists. You need to learn which ones these are so you can plan your trip well. After all, visiting a cenote is one of the highlights of any Mexican trip because of the beauty and mystery surrounding them.
What is a Cenote?
The word cenote is a regional term that is commonly used in the Yucatán Peninsula. It refers to the natural sinkholes in the earth's limestone bedrock that contain groundwater. Aside from that, these freshwater sinkholes are all over the peninsula because of their geological characteristics.
Also, an underground labyrinth and underground rivers connect the region aquatically. History shows that the Mayans consider them as sacred places for the god, Alux. In fact, they also perform human sacrifices here to honor their gods.
It is not surprising why the ancient Mayans would consider these as sacred ground. With their crystal clear water that comes in deep blue or turquoise hues. Plus the caves with rock formations like stalagmites and stalactites, are the ideal homes for their deity.
Visiting a Mexican Cenote
Fast forward to today, and visiting a Mexican cenote has become one of the main attractions in the country. If you check the map of cenotes in the country, you will find that some of them fall under the tourist hotspots. This means that they will come with a high entrance fee plus the crowd will be bigger too. Also, there are some that will require tourists to wear life jackets for their safety.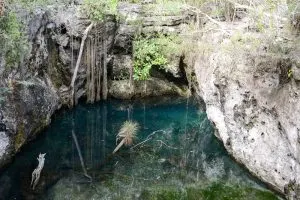 Take note that cenotes have a delicate ecosystem. And because of this, the local government enforces rules to protect them as much as possible. Among the rules here are not wearing sunscreen, bug repellants, or lotions that can blend in the water, and avoiding touching the rock formations too.
What are the Types of Cenotes?
There are four types of cenotes that you will find in the Yucatan. Knowing how they vary will help you determine which cenote to add to your list of places to visit.
#1 Open Cenotes
This type of cenote looks like a pond or even a lake at first glance. However, they can be extremely deep. Over several centuries the roof that covered these sinkholes collapsed, leaving them exposed to the changing weather. These ones are the oldest that you will find in Mexico.
#2 Semi-Open Cenotes
These cenotes have partially collapsed roofs. Aside from that, this type of cenote may be connected to other cenotes underwater or underground even.
#3 Cave/ Cavern Cenotes
Unlike the previous two cenotes, this one has its roof still intact. Cave diving is popular here and with good reason. The gorgeous underwater scenery here is an experience you will not forget any time soon.
#4 Underground Cenotes
This type of cenote does exist but is not visible to many. In fact, these cenotes are pockets on the earth's surface that are completely covered.
Where are the Best Cenotes in Mexico?
There are around 6,000 cenotes in Mexico at the moment. Only a handful are open to the public as some cenotes are on private lands. Since there are still dozens to consider, here is a list of the best ones that you can check on your trip here.
#1 Cenote Dos Ojos – Tulum
This cenote lies between Tulum and Playa del Carmen and is a popular spot for scuba divers and snorkelers. Aside from that, the Dos Ojos cenote got its name because of the two cenotes you'll find in the area. If you look at them from above, you will find that they do look like two eyes hence the name Dos Ojos.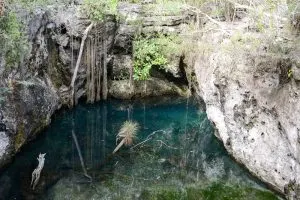 What makes this a great place to visit is the cave swimming experience you'll get here. The stalactites and stalagmites around the area add to the beauty of the place. Aside from that, there is also a bat cave accessible by diving into its depth. Once you reach the bat cave, you will see the bats flying overhead. You should bring your diving or snorkeling gear with you if you are heading out here to see its beauty.
DATA: There are facilities available such as a picnic area, snack bar, changing area, and locker rentals. You will have to pay $17 or MXN 350 to enter the cenote.
#2 Gran Cenote – Tulum
Another Tulum cenote that you should add to your list is the Gran Cenote. Its turquoise water and stunning rock formations are the main draws here. In fact, it is one of the best snorkeling and scuba diving spots, and with good reason. Seeing the stalagmites rising from the ground with a light beam shining through the clear water creates a spectacular underwater scene.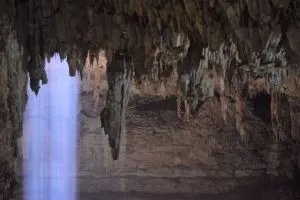 Aside from that, you can swim together with the small fish and freshwater turtles that consider this cenote their home. There are other creatures here like the bats found on the eastern end of the cenote. On the other hand, if you visit here in February, you might find a toucan flying overhead.
DATA: There is an entrance fee of $15 here but this will include access to their shower and bathroom facilities. However, there are no restaurants nearby. But there are a few food stalls outside the entrance.
#3 Carwash Cenote – Tulum
Car Wash cenote is an open cenote just 9km away from Tulum's downtown. The real name of this cenote is Aktun Ha which means "water cave" in Mayan. Since the cenote is near the main road, taxi drivers often stop here to wash their cars hence the name "Carwash".
Meanwhile, tourists flock to Cenote Carwash because of its crystal clear waters as well as its underwater garden. Aside from that, there is also a jumping platform here that comes with a rope swing to get that adrenaline rush. Scuba divers should check out the underground cave system where impressive structures can be seen.
In addition, marine life on this cenote is thriving. There are plenty of turtles and tiny fishes swimming around here. You can even spot some friendly crocodiles on the shore sunning themselves.
DATA: The entrance fee here ranges from $5 to $10. Among the facilities available are changing rooms, picnic tables, restrooms, and swimming and diving gear that you can rent.
#4 Cenote Calavera – Tulum
Another cenote that is worth visiting in Tulum is the Calavera cenote. For starters, this is one cool-looking cenote that is accessible through three different holes. You may not notice it until you see a small hole on top that reveals the freshwater underneath. Those who have a stout heart can jump from any of the three holes or just use the ladder to access the pool below.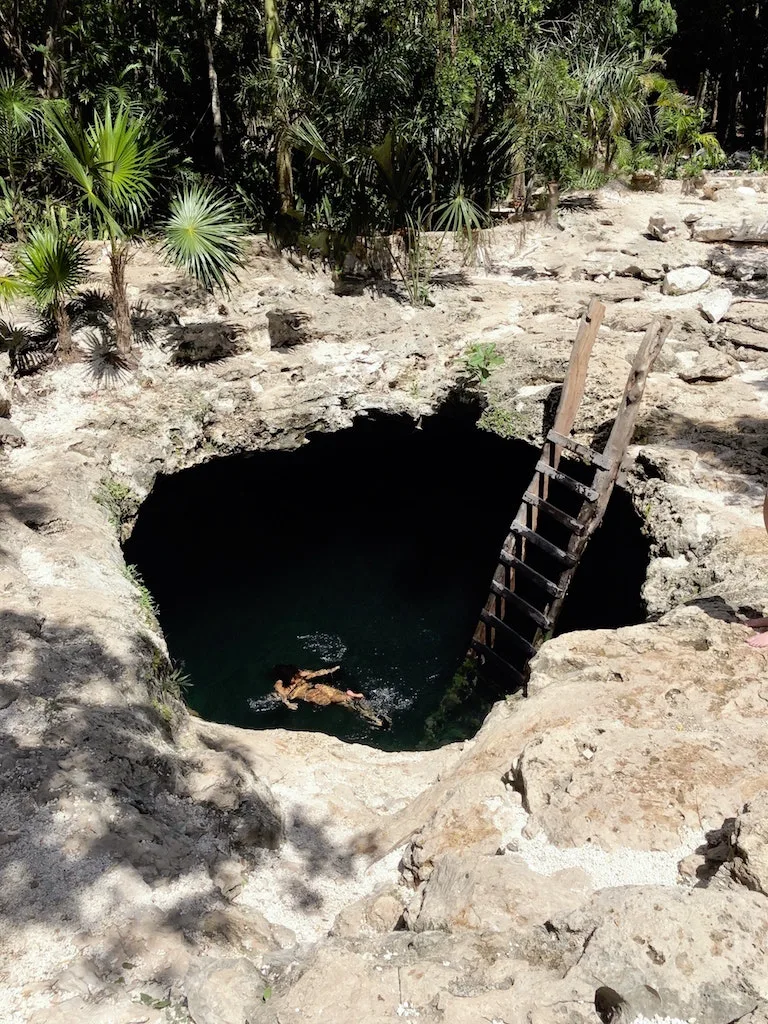 Take note that there are plenty of bats here so if you are afraid of them, you might want to check other areas instead. Since this cenote is small, only six or so people can enter it at one time. If you want to fully explore it without worrying about the crowd, the best time to be here is early in the morning.
Fortunately, this cenote is just a short distance from downtown Tulum so you can ride a bike or a taxi to get here. In addition, the name Calavera, when translated, is a skull. This is because if you take an aerial view of the cenote, the three holes give it a skull-like feature.
DATA: You only need to pay an entrance fee of $12. But they will charge you extra if you have a GoPro or other device.
#5 Cenote Escondido – Tulum
Cenote Escondido is an open-air cenote that is a short trip from the town of Tulum. Many refer to this hidden cenote as Mayan Blue (which fits it well) because of its stunningly blue waters. At first glance, you might mistake this cenote for a river because it measures 20 feet by 150 feet. Aside from that, the lush forest that surrounds it adds to its overall beauty.
The best way to reach this spot is to go on a guided tour. One reason behind this is that you can visit two cenotes in one since Escondido is near Cenote Cristal. How about that? Also, the tour can also include a trip to one of the Mayan ruins nearby which is a must for travelers.
For backpackers, you can rent a bike or scooter to get to the cenote on your own. The best way to spot this hidden gem is to stay on the right side of the road until you find Cenote Cristal. From here, simply pay the entrance fee and walk to your destination. Aside from that, you will see several picnic tables, bathrooms, and shower areas on the premises. Make sure that you take a shower first before heading into the water.
#6 Cenote Sac Actun – Tulum
One of the cenotes that you will find in Tulum is the cenote Sac Actun. If you want to get the most out of your trip here, it is best that you join a guided tour for $31.20 per person. It is worth the price especially when you get a few gears to go with it. Getting here means renting a taxi from Tulum. You should hire a taxi for the rest of the day so you won't have any difficulties finding a ride back to the town.
This cenote doesn't come with facilities which means that you'll have to leave your belongings in the taxi. You should secure your smartphone by purchasing a waterproof casing. There is an extra charge if you will use a GoPro camera. Aside from that, the tour will last for an hour at least, but you'll learn more about this pet cemetery. Also, you can go swimming in the pool too if you like.
#7 Cenote Azul – Riviera Maya
Cenote Azul is a popular place among locals and tourists alike. It is close to Playa del Carmen. In fact, it is just a short drive from the town which will take you around twenty minutes. This is why it becomes busy during the weekends when more people come and visit it.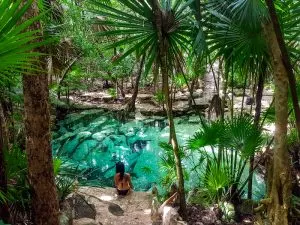 This open cenote looks more like a shallow lake instead of a cave. You can spot plenty of fish in the water when you go swimming or snorkeling. Aside from that, there are several picnic tables around the area where you can rest and have something to eat. Furthermore, there are facilities like restrooms and shower rooms here plus snorkeling gear rentals if you want to see the fish up close.
#8 Cenote Jardin del Eden – Riviera Maya
Cenote Jardin is a hidden gem that lies halfway between Playa del Carmen and Tulum. Enclosed by the lush vegetation of the jungle, this is not well-known among tourists. This makes it the best place to do your cenote exploration away from the crowd.
This is an open cenote which means that its roof collapsed over the course of several centuries. You can even jump in from above if you are brave enough to do so. In fact, there are different areas where you can jump from the cliffs or from the trees even. You can also choose a wooden platform as your jumping point too. Aside from that, scuba divers will also find underwater caves here that are worth exploring.
Since the use of sunscreen and other skin products is not allowed here, the waters remain crystal clear. The water can be chilly at times but you can still enjoy your swim here. Aside from that, you can sit and relax on the edge of the water and get a foot massage courtesy of the marine life here.
DATA: The entrance fee is only $10. The fee will give you access to their two bathrooms but there are no food stalls available. They do allow guests to bring non-alcoholic drinks during their trip. For beginner swimmers, you can rent life jackets here as well as snorkeling gear.
#9 Casa Cenote – Riviera Mayan
Casa Cenote is another option that you can visit in the Riviera Mayan. You can reach this spot using their taxis, uber, or driving a rental car. Most of the time, taxis will stop at the crossroad with the dirt road leading to the cenote or to the sea.
What makes this a good exploration site is that the waters are clear. Additionally, you get to swim across the jungle where you will see different sea creatures. Thanks to the crystal clear water, you should not pass up the chance to go snorkeling.
As you swim around the cenote, you will see the long tree roots from mangroves become homes to different types of fish. Aside from that, freshwater fish like mollies, guppies, and platys are common in the area. Even scuba divers will find this cenote a great place to take underwater photographs.
#10 Cenote Cristalino – Riviera Maya
If you are planning on a day trip to one of the cenotes near Playa del Carmen, don't forget to add Cenote Cristalino to your options. This cenote got its name because of the crystal clear waters. However, make sure that you wear the right swimming gear because of its cool waters. In fact, this is the best option for locals who want to go on a refreshing swim because of the cold water.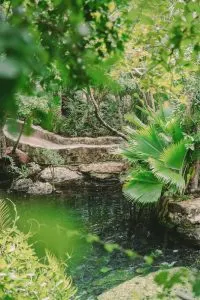 Aside from that, be ready to experience fish nibbling on your toes when you dip your feet here. Don't worry, they won't eat you. Think of them as giving you a foot spa where they remove your dead skin cells. Since the waters here can be deep, you will need to wear a life jacket before entering the water.
DATA: You only have to pay $7 for the entrance fee. Also, if you are going to rent snorkeling gear you need to pay a small fee too. You will find a shower and bathroom area here plus stalls that sell snacks.
#11 Cenote Xlacah – Merida
Tourists in Merida should plan a trip to this cenote to get some reprieve from the heat of the sun. This cenote is on the ground level of the archaeological site of Dzibilchaltun Ruins. After exploring one of the best Mayan ruins here, go for a swim in this cenote.
Although the site of the ruins is a bit small, you can still explore and climb the pyramid here. Additionally, there is a sculpture garden and other structures that you can take photos of. Afterward, change into your bathing suit and go for a swim in Xlacah. This is an open cenote meaning that there is no roof covering it. Also, the water is quite cool which is quite welcome after exploring under the sun.
DATA: Tourists should bring their snorkeling gear since there are no equipment rentals available. Go snorkeling to see the creatures living here. Take note that diving into the pool is not recommended since the edges of the cenote have shallow waters. You will need to pay the entrance fee of $11.
#12 Cuzama Cenotes – Merida
Meanwhile, Cuzama Cenotes are among the top cenotes that you will find near Merida. What makes them extra special is their proximity to the Chicxulub crater. If you know your history, this crater was formed by an asteroid that hit the earth millions of years ago. In fact, this may be the one that triggered the extinction of the dinosaurs.
The three Cuzama cenotes are Chacsinniche, Bolonchoojol, and Ucil. Chacsinniche is a semi-open type of cenote that is ideal for swimming or jumping into the waters. Unlike the other two, it has plenty of natural light illuminating the area. Meanwhile, accessing the clear waters requires you to use the stairs wedged into the rock.
Bolonchoojol, on the other hand, requires tourists to go down 15 meters into the cave using a vertical ladder. There is light filtering into the cenote thanks to the breaks on the ceiling. In fact, this is the reason why the waters here change from turquoise to emerald.
Ucil is unique in the sense that you will feel like you are "Alice" off to an adventure in Wonderland. You need to climb down a small passageway underneath the roots of a tree. Although you are entering a cave, the place is well lit because of the artificial lights set up here. You will find gorgeous rock formations here but make sure that you don't touch them.
#13 Cenote Zacil Ha – Valladolid
Although going on a day trip to the cenotes in Valladolid is doable. It is better if you spend a few days in the town to fully appreciate their sinkholes like Cenote Zaci. This is the perfect place where you can unwind after a day of exploring the beautiful Valladolid. In fact, it is a 10 to 15-minute walk from downtown Valladolid.
One of the best things that you'll like about this cenote is that it is semi-open. This means that there are plenty of areas that offer shade. Aside from that, you'll find other guests here diving from different spots so keep an eye out.
The water in cenote Zaci is a bit deep which means that you will not be able to see the blue water perfectly. Additionally, this is not a good spot for snorkelers but you can cool down here. Afterward, you can have something to eat at the on-site restaurant where you can sample different local cuisine like cochinita pibil, sopa de lima, and panuchos.
DATA: The entrance fee will only cost you $1.50 which will give you access to their changing rooms and bathrooms. You can rent a life jacket here but that's it. There is no other swimming gear available.
#14 Cenote Oxman – Valladolid
Cenote Oxman has numerous jungle vines draping down into the crystal clear waters below. This beautiful place flies under the radar which means that there are fewer people to bump into as you explore the cenote.
You will find this cenote within Hacienda San Lorenzo. This complex has a swimming pool, lounge chairs, palapas, and an on-site restaurant too. You can even sunbathe here to get that tan you've been dreaming of.
Aside from that, one of its best features is the rope swing that you can use to leap from the edge and into the cenote. This makes a dramatic entrance for you. Those who are just starting out can use the ladders to get to the pool.
DATA: In addition, getting access to this site will only cost you $4.00 plus there are changing rooms with toilets and showers.
#15 Cenote Suytun – Valladolid
The first thing that you should do when you arrive at Valladolid is to go on a guided tour to Cenote Suytun. Why? Suytun is one of the most beautiful cenotes that you will find in the country. So there is simply no reason why you should miss it. In fact, it is popular among tourists which is why you will see this place often on Instagram.
One reason why it is quite popular is because of the unusual platform that stretches into the center of the cenote. However, take note that the water levels change here often. In fact, as of now, the water on the platform is at 9 feet or 3 meters. You will need to swim onto the platform to get the perfect shot for your Instagram account.
There is a small opening above the cenote that lets natural light in. Even if you don't want to swim, you can still enjoy the cenote from above. Since this is a popular place for both tourists and locals, you should go here early in the day to avoid the crowd. Check the parking lot to see if there is already a crowd.
#16 Cenote Dzitnup/ Cenote Xkeken – Valladolid
The colonial city of Valladolid has been attracting tourists who want to immerse themselves in history. Aside from that, they come here to see nearby cenotes like Dzitnup or Xkeken which is one of those sinkholes worth visiting.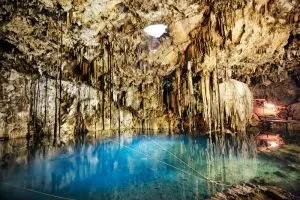 DATA: Upon arriving on the site by driving your rental car, you will pay an entrance fee of $2.50. This will get you a locker room to store your personal effects. Plus access to their facilities like bathroom and shower area. You don't have to bring a lot of food here because there are food vendors outside the cenote. Just pick up your meal after exploring the cenote to your heart's content.
Meanwhile, the steps leading towards the water are a bit slippery so be extra careful. Although there is not enough natural light getting inside, the locals have put up artificial lights to brighten up the space. Although this does not make it a good choice for snorkeling, you can still swim in the waters. Additionally, there are ropes strung around the water so beginner swimmers can have something to hold on to.
#17 Cenote Samula – Valladolid
The best way to see the sinkholes in Valladolid is to join a cenote tour on a bike. Most of the tours will take you to Oxman, Xkeken, and Samula where you can go swimming in the clear waters.
One of the biggest draws of this place is its vaulted ceiling accompanied by plenty of lighting. It is a magical experience that you will not forget once you visit the place. However, the entrance fee is higher compared to others but it will be worth it once you see the location. Additionally, the place can be full of people at times because of its popularity.
On a good note, once you are done with cenote Samula, you can go exploring other tourist attractions nearby. One of these is the Chichen Itza ruins which is one of the Seven Wonders of the World. After you are done exploring the ruins, you can go swimming in one of the nearby cenotes like Oxman and Zaci.
#18 Cenote Ik Kil – Valladolid
Meanwhile, Cenote Ik Kil is yet another option to consider if you are looking for popular cenotes in the area. Although it is not as beautiful as the others, its close proximity to Chichén Itzá and draws the crowd here. After all, what better way to cool down after exploring the famous ruin than by going for a swim at the nearby cenote?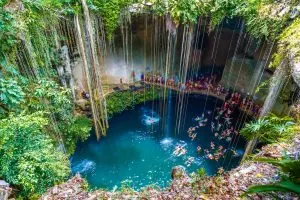 One thing that you will notice when you get here is the fact that it has a resort feel to it. This is not surprising since this is one of the cenotes in the area that have been developed for tourism. Aside from their onsite restaurant, you'll also spot several facilities like changing and shower facilities, locker rooms, and more.
What makes Ik Kil unique is that it is 85 feet below the surface. This means that you will have to climb down a flight of stairs to reach the water. Make sure that you have your water shoes on to help your feet gain some traction on the steps since they can be a bit slippery. You will need to swim around the corner before you will see the open cenote. Aside from that, Ik Kil is a sacred cenote for the Mayans which is why the locals are a bit protective of this spot.
Life jackets must be worn before heading into the waters for your safety. This is because the water can get pretty deep here. You can swim or float as you gaze at the open ceiling if you like. If you want to make a big splash, there is a diving platform that is not too high from the water.
Wrapping Up the Cenotes
The Yucatan Peninsula in Mexico is not only known for its beautiful beaches, but also for its numerous cenotes that dot the land. As you can see, there are sinkholes that stretch from Tulum all the way to Valladolid that are worth including in your itinerary.
What's great about these tourist hotspots is that it took them centuries to become the way they are today. From open-air cenotes to underground cave systems illuminated by artificial lights, you will not run out of options here. It pays to go on a guided tour when exploring the cenotes since you will learn a thing or two about them.
If you are planning on visiting Mexico soon, don't forget to make time to see the country's popular cenotes. After all, they offer a unique experience to each and every one of their visitors. For sure, once you see a cenote, you will be itching to see the rest.