Cancun is one of Mexico's most popular travel destinations, thanks to Cancun's all-inclusive resorts with their fabulous white sand beaches and turquoise water. Cancun is a fantastic vacation destination for people who want to relax on the beach, enjoy great weather, and explore Cancun. Cancun has luxury resorts and budget hotels that cater to every travelers' needs. 994 miles away from Mexico City, Cancun is a municipality on the northeastern coast of the Yucatán Peninsula in Mexico's Quintana Roo state. Fly into Cancun airport and be surprised with a fun family vacation or a couples trip.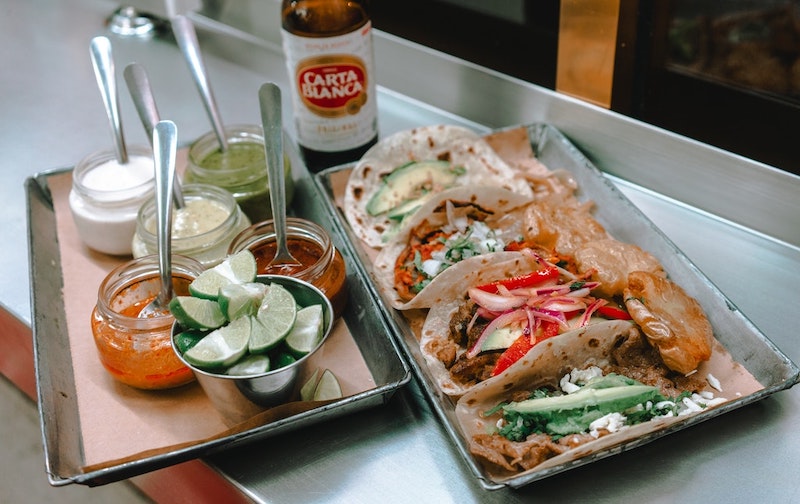 Cancun also has many best things like snorkeling or scuba diving in one of Cancun's numerous coral reefs, catching a wave at Cancun's famous surf breaks, or zip-lining through the rainforest canopy.
---
What's in this post:
hide
Cancun 4 Day Itinerary:
What to Expect from Your Perfect Vacation
---
---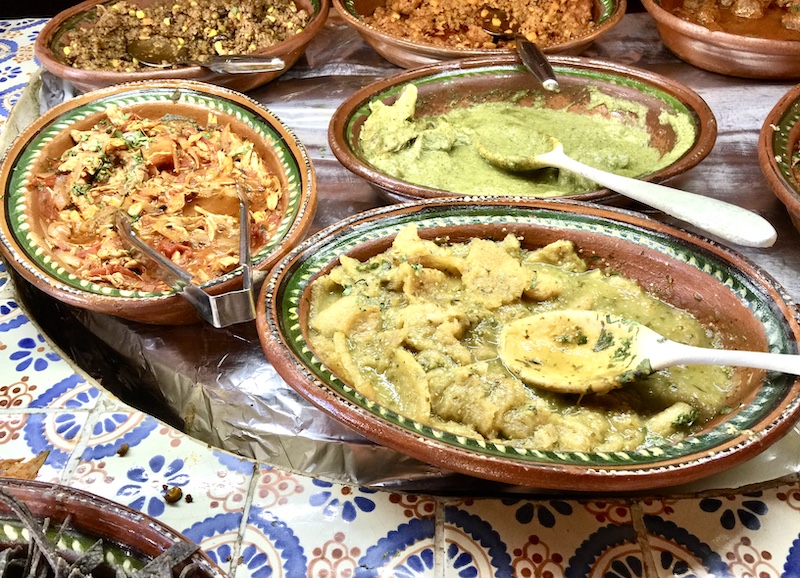 Most tourists come to Cancun for the adventure of seeing lagoons and caverns, as well as exploring the culture of the Maya people. However, it's also a fantastic location to take in the world-renowned vacation getaways while relaxing on the lively beach strip. Whatever your purpose for visiting Cancun, Mexico's dynamic metropolis will provide you with an action-packed beach holiday.
4 Day Cancun Itinerary in 2022!
There are numerous tourist attractions to cover depending on how many days you can stay in Cancun. Cancun is home to cenotes, Mayan temples, and Mayan archeological sites that are remnants of the past.
They also have a famous nightlife scene is where you can sip cocktails by Cancun's world-renowned beaches. You should take time out from your beach lounging in one of the Cerca de la Isla Mallorca hotel lobbies for a quick break. Here you'll find numerous shops, boutiques, pubs, and restaurants like La Sirena Grill & Bar. It serves scrumptious seafood platters at affordable prices, making it easy to share tasty tapas with friends. Most importantly, enjoy fantastic views overlooking Cancún Bay while tucking into Cancun's succulent seafood.
I hope this travel guide helps you plan your trip.
Cancun Itinerary Day 1: Archaeological site
El Rey Ruins
Start your day trip by exploring El Rey Ruins. They were once a Mayan ceremonial center now open to the public. The ancient ruins are located in Cancun's Hotel Zone and can be easily accessed by walking, biking, or taking a taxi. They are a great place as your first stop if you're visiting Cancun for the first time.
While they are not the most famous or biggest Mayan archeological site. But they are great to start with. We won't be spending the first day driving two hours to one of the more well-known sites. We'll get there eventually. The best approach to view the ruins is with a qualified historian as part of a guided tour to learn more about the magnificent and looming structures.
The hundreds of iguanas that have overrun the former Mayan city are a must-see for visitors to El Rey. Have your iPhone ready for some hilarious and amazing Instagram photos.
Playa Delfines
After finishing up at the El Rey Ruins, it's a great time for some relaxation on Playa Delfines (the Dolphin Beach). This beach is known for its crystal-clear waters and white sand beaches that will make you feel as if you're in paradise. It's a great place to spend your day swimming, sunbathing, and/or snorkeling.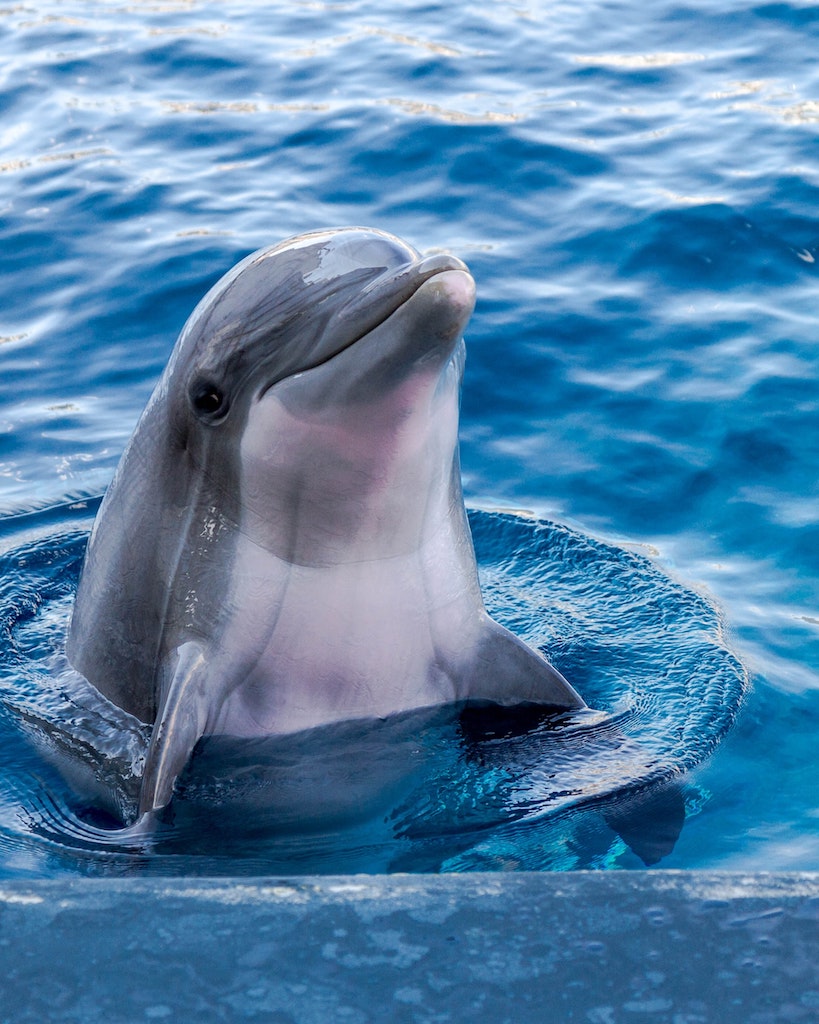 Playa del Fines, or Dolphin Beach, is also known as El Mirador (The Lookout). You will enjoy a peaceful end to the day on the beach. As here, due to an untouched zone devoid of the usual amounts of hotels, restaurants, and resorts, you can enjoy yourself.
Take in the scenery and soak up the rays while listening to live music produced by some of Mexico's best musicians. So make the most of the wonderful Mexican sun, rent an umbrella if you're feeling fancy, and soak up the atmosphere. It is Cancun's only public car park beach! You will have an amazing experience!
El Meco Archeological Site
After a day at the beach, it's time to check out Cancun's ancient city history. El Meco Archeological Site is a Mayan ceremonial center first built in 450 AD and abandoned in 900 AD.
The site is located about 20 minutes from downtown Cancun and can be easily accessed by an Uber or Lyft. Unfortunately, the ruins are not as well preserved as other sites, but they are still a cool place to visit if you're interested in learning more about Mexican history and Mayan culture.
Playa Tortugas
End your day by visiting Playa Tortugas, located about 20 minutes from Cancun's Hotel Zone. This popular tourist destination is known for its clear turquoise waters and white sand beaches. These will make you feel as if you're in paradise. It's the right place to spend your day swimming, sunbathing, and snorkeling. You can also find some good restaurants here serving fresh seafood if you get hungry.
Playa Tortugas is famous for its laid-back atmosphere. This makes it the ideal location to unwind after a busy day. Wander along the beach to the pier, where you may reflect on all of your discoveries from ancient civilizations.
Cancun Itinerary Day 2: The Main Attractions
You'll spend the second day of this Cancun Itinerary exploring the more famous Mayan ruins outside Cancun. You can spend a full day in Chichen Itza if you want.
Chichén Itzá
On the second day of this Cancun Itinerary, you'll be visiting Chichen Itza, one of Mexico's most famous and well-preserved Mayan ruins. The ruins are located about a two-hour drive from Cancun and can be easily accessed by rental car.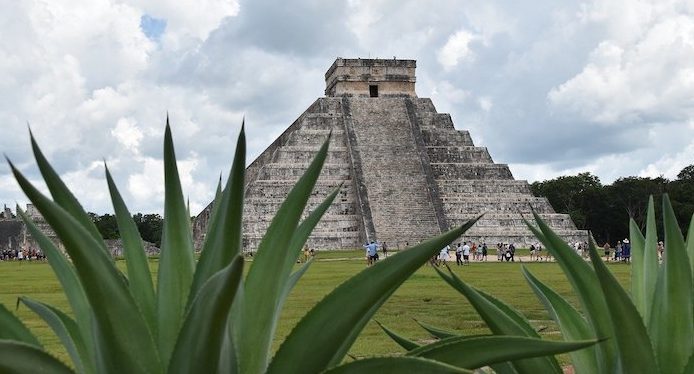 Chichen Itza was first built in 600 AD and abandoned in 1000 AD. The ruins are now open to the public and attract thousands of tourists every year. The ruins are a UNESCO World Heritage Site and cover 4 square miles.
The main attraction at Chichen Itza is El Castillo (The Castle), a 97-foot tall pyramid that is the largest structure at the site. However, you may also enjoy exploring the Temple of Kukulkan (the feathered serpent god) and the Ball Court, where Mayan games were once played.
Mercado 23
After exploring the ruins, you'll be heading to Mercado 23 in the late afternoon. This market is located in Cancun's downtown area and is a great place to find traditional Mexican food at a fraction of the price you would pay at an on-site restaurant.
The Mercado 23 is a fantastic spot to get an insight into Cancun's culture. It was the first in the city, and it is still one of the most popular markets. You'll discover everything from crafts to grains, medicinal plants, tortillas, good food, and more unusual shops.
The market is open every day from early morning until late night and offers everything from tacos and burritos to quesadillas and enchiladas. You can also find fresh fruit juices, smoothies, coffee, and mexican drinks here if you need a pick-me-up.
Mercado 23 is definitely worth visiting if you want to experience authentic Mexican cuisine.
Ik Kil Cenote
Spend the remainder of your second day of Cancun Itinerary visiting Ik Kil Cenote, located about a 15-minute drive from Cancun's Hotel Zone. This cenote is known for its emerald green waters and limestone caverns. The natural pool at Ik Kil Cenote measures around 30 feet deep and 50 feet wide, making it perfect for swimming or snorkeling. You can also enjoy lounging on the rocks surrounding the water entrance if you don't feel like getting wet!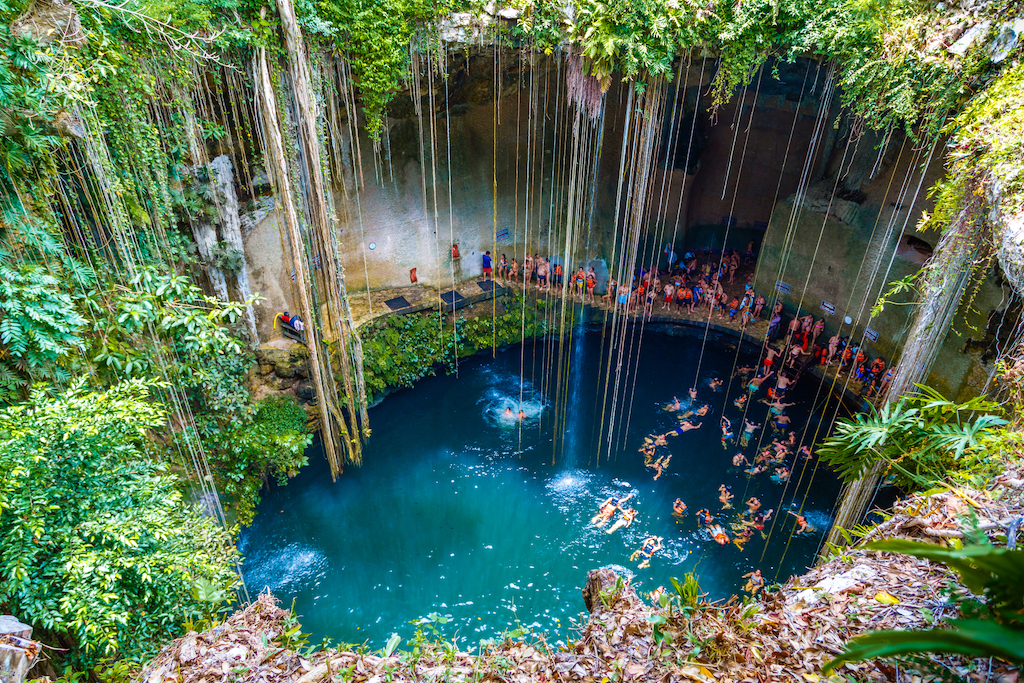 This wonderful cenote has become one of Cancun's most popular attractions because of its beautiful scenery and fresh air. This place provides an excellent opportunity to admire nature. But it's also a great spot to relax for the next day and escape the hustle and bustle of Cancun.
Cancún Itinerary Day 3: Isla Mujeres
The whole third day of the Cancun Itinerary will be Isla Mujeres, a small Caribbean sea island located about a 20-minute ferry ride from Cancun. This picturesque island is known for its white-sand beaches, crystal clear waters, and coral reefs.
Isla Mujeres is the perfect place to enjoy marine life by spending the day swimming, snorkeling, sunbathing, or diving. You can also visit Turtle Farm, a conservation project that hatches and releases sea turtles into the ocean.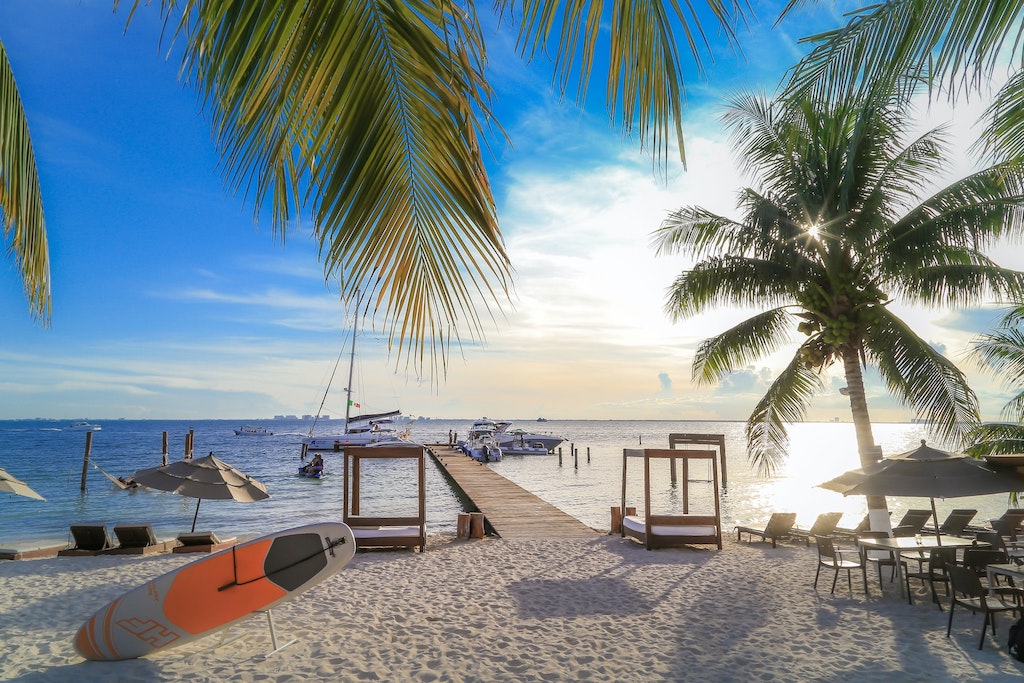 If you're feeling adventurous, you can also explore the island by renting a bike or golf cart. There are plenty of the best restaurants and bars to enjoy on Isla Mujeres, so make sure you leave time to experience them all!
The second-longest coral reef system globally is a stunning island located on the Mesoamerican Barrier Reef. The Reef is home to dolphins, whale sharks, eels, tropical fish, nurse sharks, lobsters, and magnificent eagle rays. Perfect for snorkeling or scuba diving!
In style, rent a golf cart and drive down to Punta Sur, the southernmost tip and highest point on Isla Mujeres. A unique, beautiful historic/eco-park with Mayan ruins of Ixchel, a lighthouse, trails, and iguanas sunning in the sand. Please spend some time hanging out on the dramatic cliffs as massive waves smash into them. The residents of this tiny island are known for the beautiful buildings that line its streets. As a result, your journey will be bright and cheerful!
Cancun Itinerary Day 4: Surfing Lessons and Playa del Carmen
Unfortunately, all good things must end, and Cancun Itinerary Day Four will be your last day in the Mexican city. But don't worry – you still have plenty of activities to keep you busy!
Surfing lessons
This may be your opportunity if you plan your first trip to Cancun and have never surfed before. Cancun is ideal for novices, and learning how to surf is the easiest way to get in touch with the area's beautiful seas and beach culture.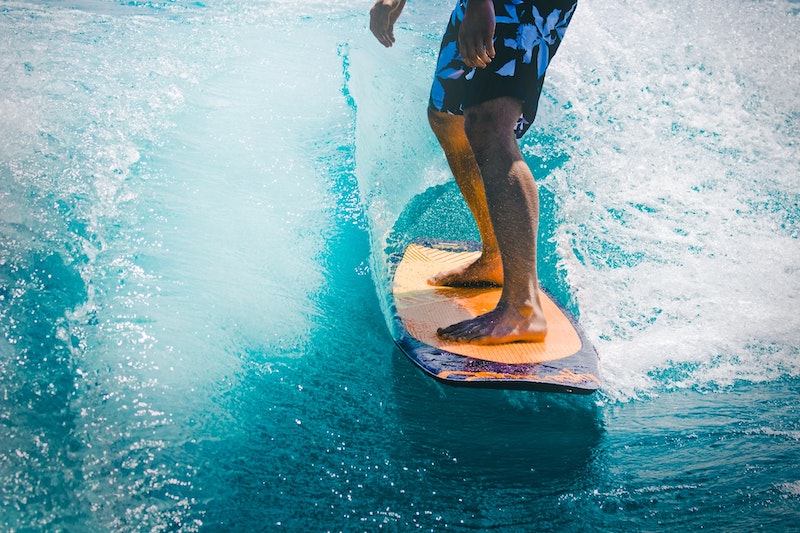 Several surf schools are on the beaches in the Hotel Zone, including Good Vibes Surf School, located within Ocean Dream Hotel in Chac Mool Beach. All of the equipment is provided, however, there may be some extra costs involved. The lesson begins with some beach training and then moves into the waves.
Playa del Carmen
After your surfing lesson, you'll probably want to head to Playa del Carmen, one of Mexico's most popular beach towns. This vibrant small town is known for its eclectic mix of restaurants, bars, and shops.
Playa del Carmen is also home to some beautiful beaches, making it the perfect place to spend the afternoon. You can enjoy swimming, sunbathing, or simply relaxing on the sand.
After a workout at the beach in the morning, this is the ideal location to visit after spending your day snorkeling or relaxing on the beach. If you're looking for a little bit of nightlife, Playa del Carmen has plenty of options. From trendy nightclubs to relaxed beach bars, there's something for everyone in this town!
What to Do with More than 4 Days in Cancun?
If you're going to be in Cancun for an extended period of time, that's fantastic! There's plenty to do in the region if you have enough time. And you'll not get bored quickly. But, on the other hand, if you're planning on staying in Cancun for a long period of time, this is the perfect way to explore some hidden gems.
Here are some of the top activities and attractions to check out if you have much time in Cancun:
Tulum Beach
This stunning beach is a great place to spend the day with water activities. The turquoise waters and white sand beaches are picture-perfect, and you can enjoy swimming or snorkeling in the water!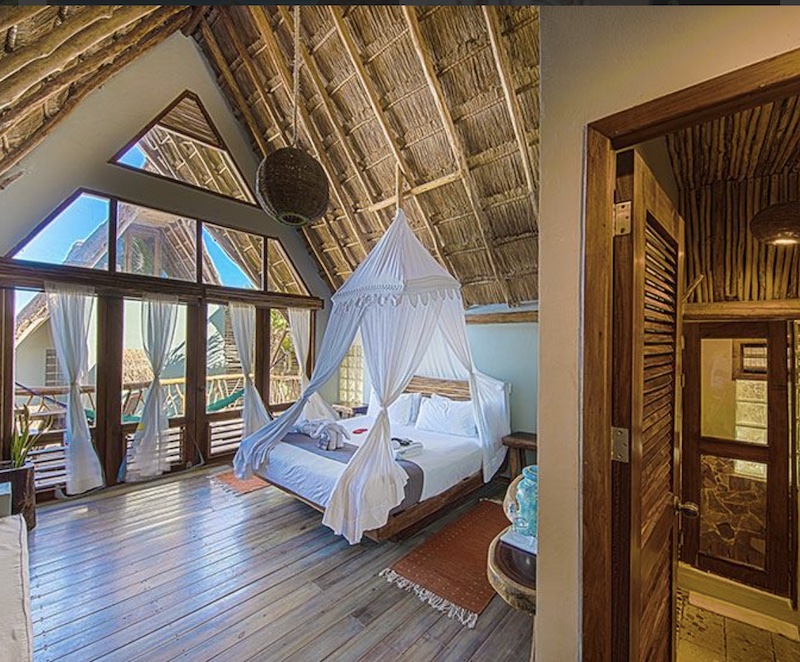 The Cancun region offers plenty of diving opportunities – from coral reefs to shipwrecks, there's something for everyone! Have some excellent cenotes to look at while you're here: Gran Cenote, Casa Cenote, and Cenote Cristal.
Mayan Riviera
This Riviera Maya of Cancun is home to several beautiful Mayan ruins, including Chichen Itza and Tulum. In addition, there are lots of tours available to explore what the region has to offer!
Snorkel & Cenote Tours
The Cancun region is home to some of the most beautiful cenotes in Mexico. A cenote is a natural sinkhole formed when the limestone bedrock collapses, and they're popular for swimming and snorkeling.
Xcaret Park
This eco-park is one of the most popular attractions in Cancun, and it's easy to see why! There may be extra costs involved, so bring your wallet. You can enjoy exploring Tulum ruins, swimming with dolphins, zip-lining through the jungle, etc. The limestone soil that forms Cancun's underground rivers allowed for the formation of numerous subterranean waterways. This subterranean adventure will be completed by walking, swimming, or floating on an enormous tire. This theme park is definitely worth visiting if you have more than four days in Cancun!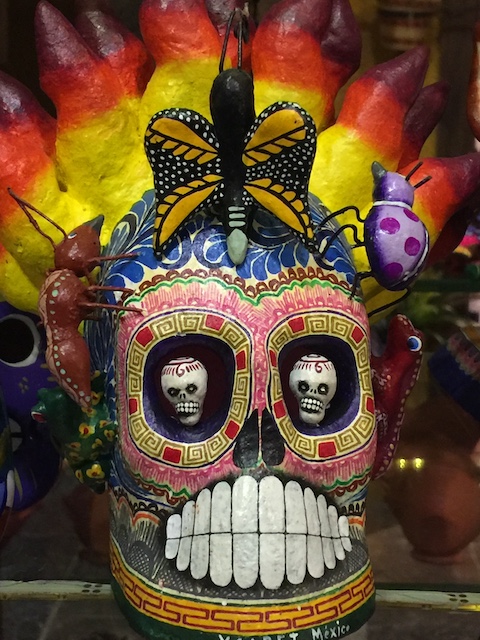 Cenote Dos Ojos
The Cenote Dos Ojos (Two Eyes Cenote) is one of the most beautiful and amazing diving sites in Mexico. This cenote is located just outside of Playa del Carmen, and it's definitely worth a visit if you're in the area! This cenote is known for its two large sinkholes connected by a series of underwater caves. If you're an adventurous type, this cenote is perfect for you!
Cancun Wax Museum
Visit the Cancun Wax Museum. Get into character with international hotshots, stand next to your favorite sports and movie legends, and see Elvis, Albert Einstein, Pope Francis, and other famous figures..
Coco Bongo
Coco Bongo, the best nightlife spot with live performances, cocktails, confetti, and a never-ending party. This world-famous nightclub is a great place to spend an evening. The club features several floors of entertainment, including a dance floor, live band, and DJ. There's also a bar on every floor!
Sian Ka'an Biosphere Reserve
Just south of Cancun is the Sian Ka'an Biosphere Reserve. It's not exactly a theme park, but that doesn't mean it isn't fun. This wetland area has an abundance of wildlife, including birds and reptiles! The Sian Ka'an biosphere reserve and is a UNESCO World Heritage Site is one of Mexico's most beautiful places.
Where to Stay in Cancun
There are plenty of options if you're looking for a place to stay in Cancun. From an all inclusive resort to boutique hotels, there's something for everyone! However, if you want to concentrate on the ruins and cultural events, the downtown and surrounding areas near the main road are a fantastic place to go.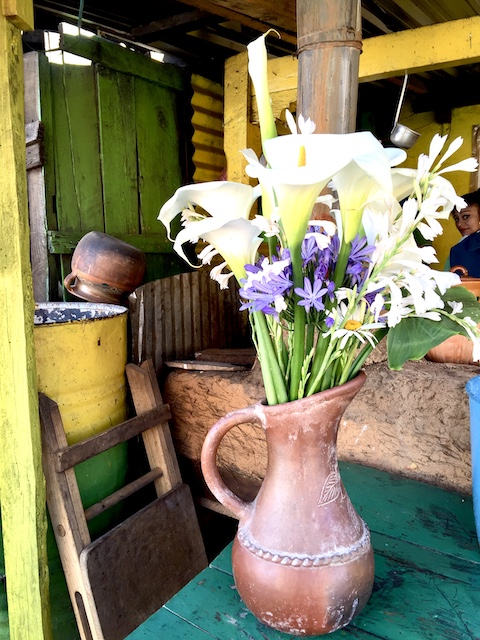 The Hotel Zone, also known as Zona Hotelera, is ideal for beach parties and evening strolls. It's a mile-long beachfront walk filled with every conceivable hotel, club, and restaurant… So if you're looking to get home after having a blast or indulging in Caribbean cuisine, this is your spot!
A taxi or public transport for approximately 30 minutes will bring you to the center of the Hotel Zona if you travel through Cancun International Airport.
Here are some of the best places to stay in Cancun:
Oh! Cancun – The Urban Oasis – Best Luxury Hotel Cancun
If you're looking to indulge, this is the perfect hotel – Oh! Cancun. It's Cancun's first luxury eco-friendly resort and offers an incredible spa with a full menu of beauty treatments, including massages and body wraps! All rooms come equipped with air conditioning, flat-screen TVs, minibars stocked daily with drinks and snacks… The list goes on :)
Hotel Kavia – Best Budget Hotel in Cancun
This hotel is perfect for those looking to save a few bucks. It offers clean and comfortable rooms, an outdoor pool, complimentary breakfast, Wi-Fi, and parking. They also have a tour desk on-site, so you can easily book all your Cancun private tour activities with the help of the group tour guides!
Mezcal Hotel Hostel and Bar – Best Hostel to Stay in Cancun
At Mezcal Hotel Hostel and Bar, there is something for anyone younger than 30. You can swim in the pool, relax in a hammock, or chill at the bar. This is one of Cancun's finest hostels. The hostel encourages guests from all over the world to socialize. They also have an HD TV to watch sports. Plus entertaining activities such as Yoga, Zumba, Salsa Lessons, and Karaoke.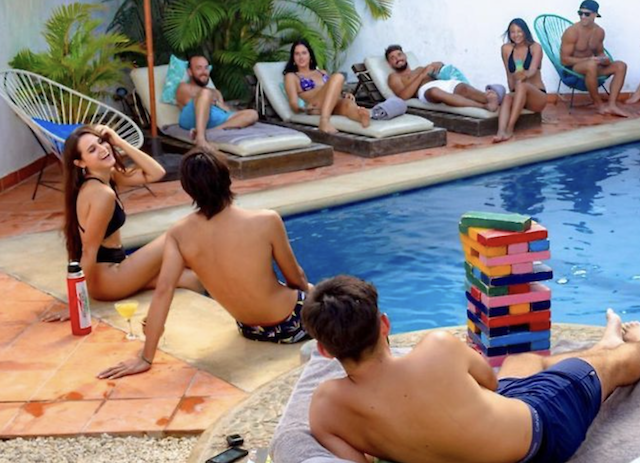 Best Time to Visit Cancun
Cancun has an incredible year-round climate with little fluctuation in temperature, humidity levels. Cancun is the perfect spot to visit any time of the year! However, from December through April, Cancun sees its peak season. This means that hotel prices will be higher than normal. And there's a high chance you'll have difficulty finding last-minute reservations at popular hotels.
May – October tends to see lower rates on flights to Cancun and hotel rooms. So this might be your best bet if you're looking for cheaper accommodation. The only downside is that it can get chilly during May and October, especially when taking a dip in the ocean or swimming in Cancun's famous cenotes.
The best time to visit Cancún is from December to April during the peak season. However, even though the peak season is busier, you'll have near-perfect weather and find some of the cheapest flight and accommodation rates just in time for summer vacation and spring break.
The Cancun Lifestyle
Cancun has a very distinct Cancun lifestyle. There are many Cancun's, each with its unique atmosphere and personality that varies from club to bar. If you're looking for the full Cancun experience, then head downtown! Here you'll find hundreds of bars playing live music. Karaoke is one famous activity in Cancun! You can also try your luck at Mexican horseshoes (like horseshoes but far more entertaining!) and billiards or darts.
After doing all these favorite things, choose your favorite spot on the beach and watch beautiful people party into the night. The entire city takes advantage of its stunning beaches, so if you're looking to experience Cancun's true essence – this is where you need to go – but they have safe beaches too!
Cancun has many nightlife options, whether you're a party animal or prefer a calmer scene. However, if you're looking for the full Cancun experience, head downtown to the Zona Hotelera. You'll find hundreds of bars playing live music.
What to Prepare for a Short Trip to Cancun
Before your trip, it's important to remember a few things:
When it comes to packing for Cancun, there's more to your list than you may realize. Sure, flip-flops and a swimsuit are at the top, but some nice shoes to walk around the ruins are also essential.
Cancun is located in Mexico and uses the Mexican peso. Therefore, make sure you have some pesos on hand before you arrive!
Tipping is customary in Cancun. Restaurants usually add a service charge of about 15%, but it's always good to leave an additional tip if the service is exceptional.

If you're planning on drinking, be aware that alcoholic drinks in Cancun can be expensive. Especially at clubs and bars downtown. People visiting from the United States will not face any problem as most popular places will accept US dollars, but it's always best to have pesos on hand just in case.

Cancun is a safe city, but it's always important to take precautions and be aware of your surroundings. Never leave your belongings unattended, and avoid walking alone in dark areas at night.
A day tour to some nearby ruins, such as Tulum or Chichen Itza, is a must-do while in Cancun.
At La Isla Shopping Village, you may shop till you drop.

Cancun is one of the most beautiful and diverse places on Earth. From its stunning white sand beaches and crystal blue waters to ancient Mayan ruins, there's something for everyone here!
Final Thoughts
If you want to travel the world, this is a great place for beginning your adventures. It's easy to fly into Cancun from North America and Europe. Making it an ideal location for exploring Mexico. However, if you're looking for someplace more exotic, then head over to Latin America!
Cancun is an incredible city with something for everyone. The best way is to enjoy the world-famous archeological sites, whether you're looking to party or relax on the beach. But Cancun also has it all! With this 4-day itinerary, you'll be able to experience everything Cancun offers in just four days. Enjoy!
There's much to be explored here with world-famous archeological sites and a dazzling array of beaches. Walk through legendary ruins, feel the sand in your naked toes and enjoy all the amazing experiences Mexico is about. Here in Mexico, you will have too much fun!